How to Find a Great Gym WordPress Theme
Building a great reputation for a new gym or fitness starts with a powerful website. A website is a must-have for all types of businesses. And yes, that includes gyms and personal trainers as well.
Of course, a small business such as a gym or a fitness center can't afford to spend thousands of dollars on building a website from scratch. Thankfully, WordPress will help you cut down that cost to just around $100.
All you need is a domain name, web hosting, and an effective WordPress theme to get your official gym website up and running. But, how do you find the perfect WordPress theme for your gym website? Do you need any special features in that theme to make your website more successful? Let's find out.
Here are some of the main features you should look for in a gym WordPress theme!
We've made our own free gym WordPress theme for you to download as the perfect starting point for your gym, fitness centre, or spa website.
You can use drag-and-drop functionality to build your own gym website with WordPress, add gym classes and events, integrate social media, showcase your team, services, and much more.
It's completely free to download, try out, and customise with you own content. No strings attached!
Download our Free Gym WordPress Theme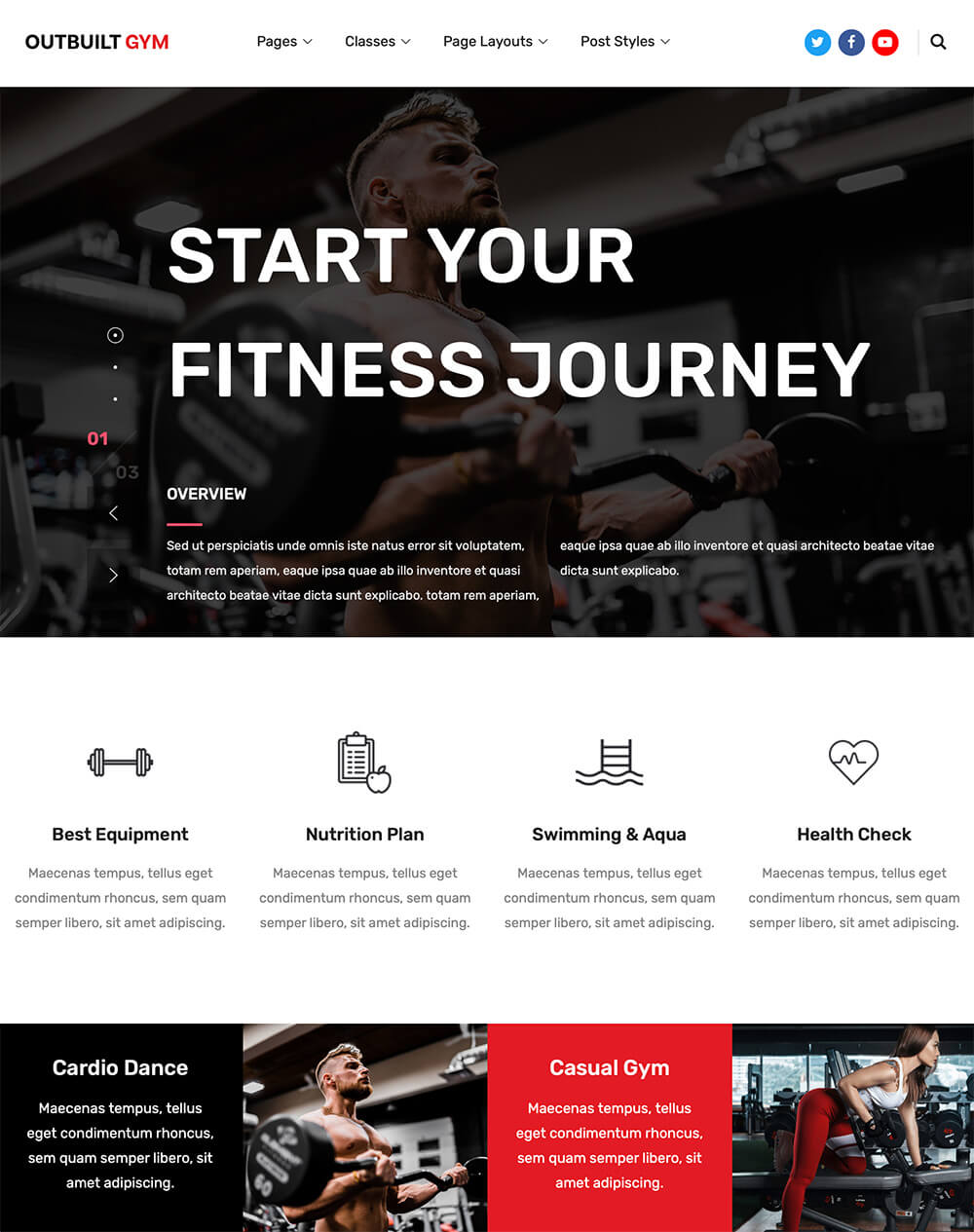 A Homepage With A Large Header Image
A major part of your gym website is photography. Your audience isn't just interested in reading all the great things about your gym or the fitness program. They want to see the pictures of your gym, see workouts in action, and watch how others have achieved the perfect body after going to your gym.
You need to be able to convince your visitors of the effectiveness of your gym from the very beginning. That process starts with the website homepage!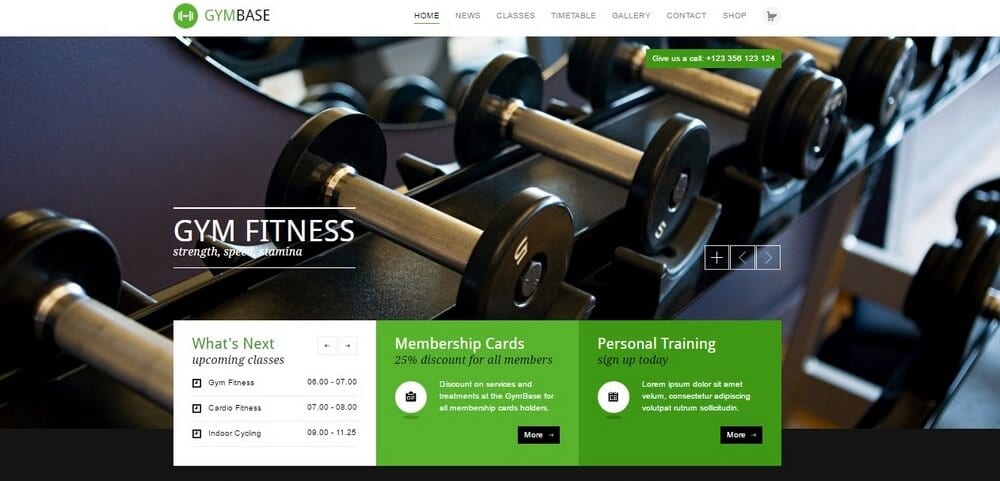 (Example: GymBase WordPress Theme)
By adding an attractive and a motivational image to your homepage, whether it's someone working out or an image showing the equipment in your gym, it will help convince the audience of what your gym or the fitness program is capable of.
Another new trend you'll see on most gym websites is a video background. It's also an effective way to grab the attention of your website visitors.
Built-In Shop To Sell Products
Working out is not enough to get in shape and develop a great body. You also need to add certain supplements for gaining the ideal amount of vitamins and protein required to build the perfect body.
Members of your gym shouldn't have to go buy these supplements from another store. You should offer these products through your own website. Allow your members and website visitors to learn about each product, what it does, and why it's beneficial for them, directly through your website.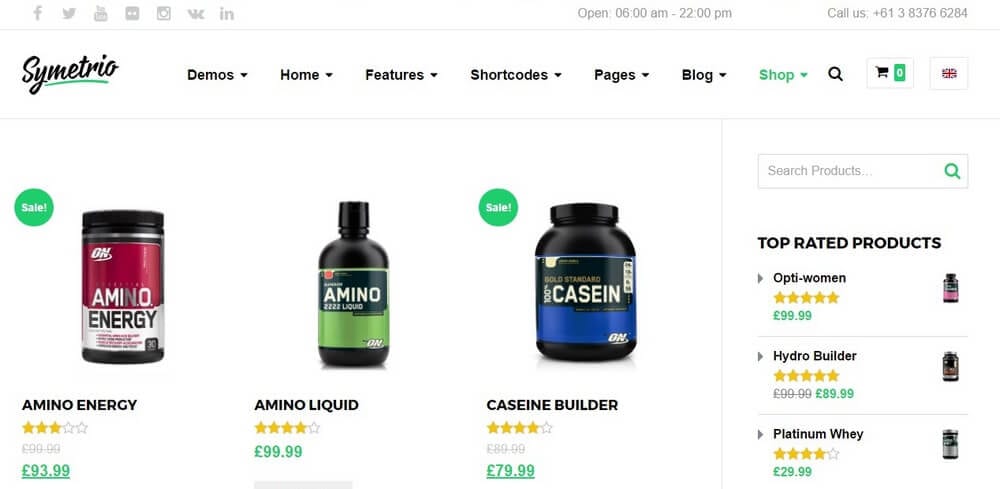 (Example: Symetrio WordPress Theme)
So, make sure to find a theme with a shop to sell supplements and workout gear from your website. This will also help add an additional income stream to your existing business.
A Section For Classes
It doesn't matter how small or big your gym is, you should be able to offer a complete experience to your members through your website. This includes educating them about the benefits of exercise and fitness.
Most sports and gym websites include a section for classes that teaches people how to get started with a fitness program, which exercises they need to start with, what kind of a diet they should create to achieve best results, creating nutrition plans, etc.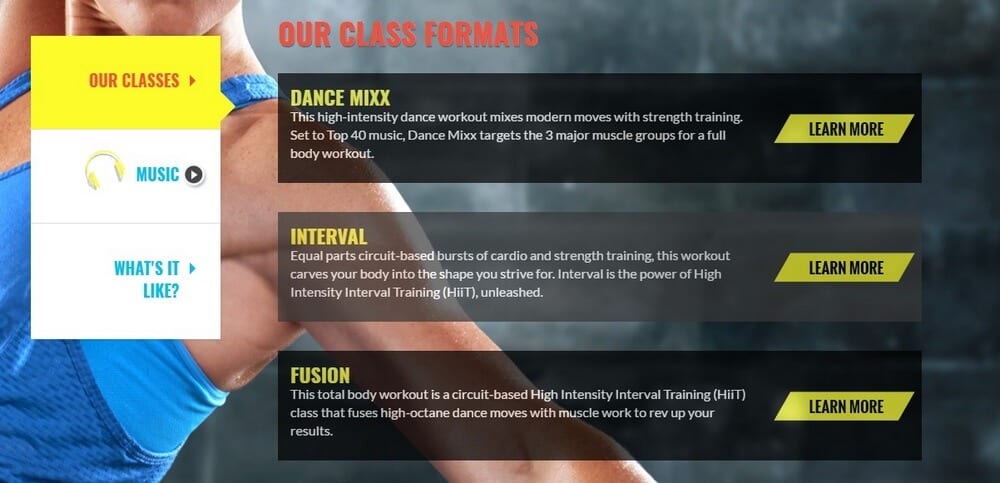 (Example: Jazzercise)
Your gym website should also include a classes section to teach your members of these basics. Or you could even use this section to create an online fitness course and sell it to your audience as well.
An Events Page For Upcoming Events
Almost all gyms and fitness centers have special programs and classes that help people achieve the best results through a course of time. They often display these events through an event page on the gym website. It's important that your website also includes a section for showcasing your upcoming events.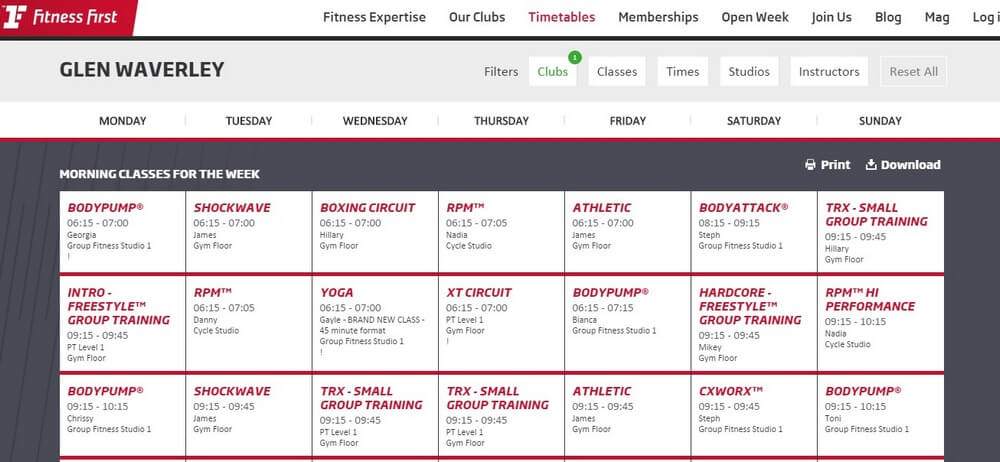 (Example: Fitness First)
A great gym WordPress theme should include an events page or a schedule for clearly organizing your events and displaying them for your audience through a clean interface. A calendar-like user interface would be the best way to do it.
Info About The Trainers
Are your trainers talented enough? Do they have the right amount of experience? What times are they active in your gym? Your website visitors and members will want to learn this information through your website. Make sure that you don't disappoint them.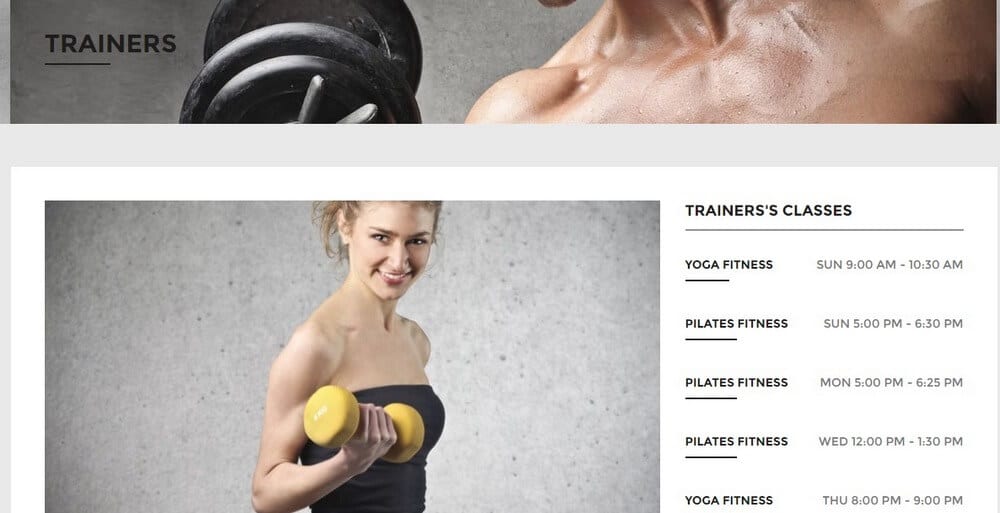 (Example: Fitness WordPress theme)
Look for a WordPress theme that allows you to showcase your team and trainers to the world. It should allow you to create profiles for each trainer with information about their experience, what type of areas they specialize in, and have a timetable showing exactly when people can find each trainer in the gym.
A Gallery And A Blog
Give your visitors a tour of your gym by adding a gallery full of stunning photos to your website. Show them what kind of equipment and facilities they can expect to find in your gym. You can also include a video gallery as well. Most gym WordPress themes come with galleries.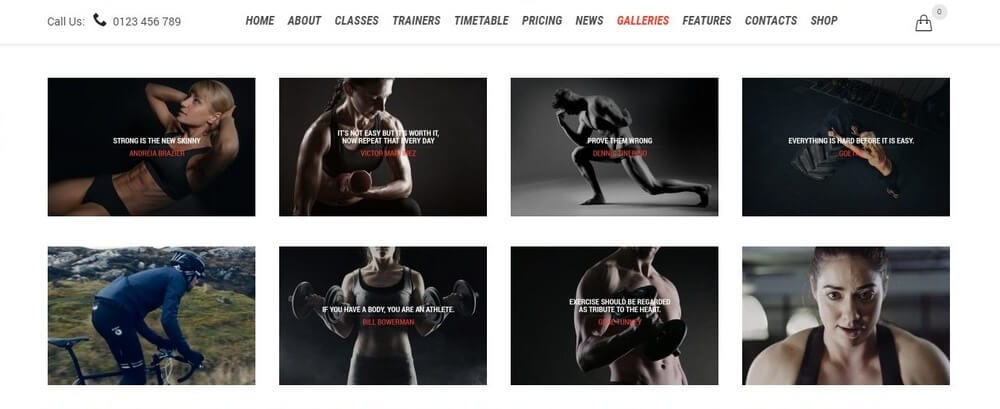 (Example: Gym & Fit WordPress theme)
A blog is a must for every online business. It's not just a way to educating people about the benefits of fitness and your programs, but it also plays an important role in building links to your website and improve website SEO.
So, look for a WordPress theme with a blog layout to make the most of your website.
Conclusion
Another feature that would make your gym website much more effective is an online scheduling system that lets users schedule a session with a trainer. Some themes come integrated with this feature. But, even if your favorite theme doesn't have this function, you can always add a scheduling system using a WordPress Calendar plugin.
If you need inspiration for finding the perfect theme for your gym website, have look at our handpicked collection of the best gym WordPress themes.