10 Best WordPress Calendar Plugins Compared
A calendar can be a great tool for many types of websites. Especially if your company or service website relies on a booking system, events, and venues, ticketing system, or schedules. And some of the best WordPress calendar plugins can make this easy!
That default calendar widget on WordPress is fairly underpowered though, and it's very likely that you'll need a much more advanced calendar to set up features like online booking and schedules.
In this article, we take a look at some of the best calendar plugins available on WordPress and compare their best features to help you figure out the best calendar plugin for your website. Let's get started!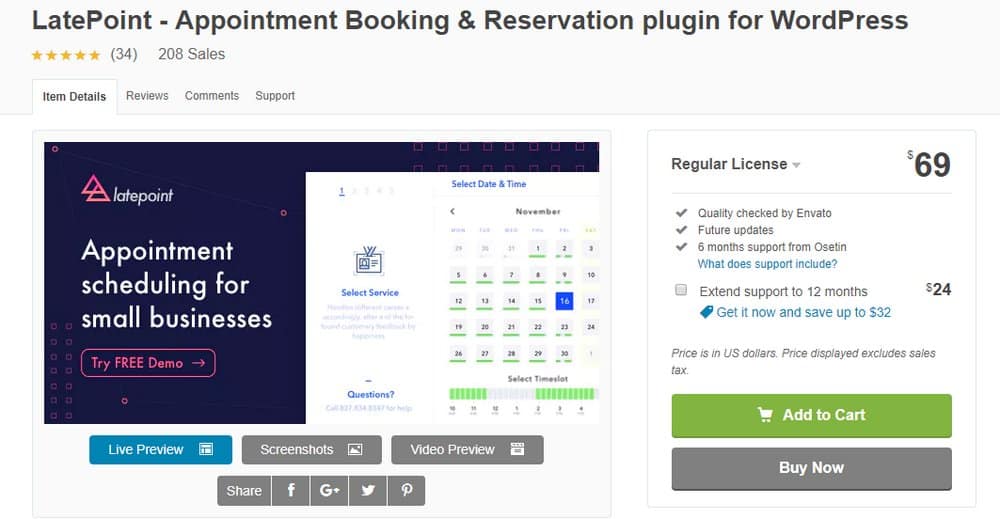 Price: $69
Works With: WordPress 4.6 or better
Compatible With: Google Calendar, Twilio
Offering a smooth and simple experience to users is an important feature every booking and scheduling plugin must have. LatePoint is an exceptional calendar plugin that offers a fully optimized user experience through its modern and innovative UI design.
Instead of confusing people by making them go through calendars and multiple pages, LatePoint uses a booking wizard that guide users through appointment making process step by step.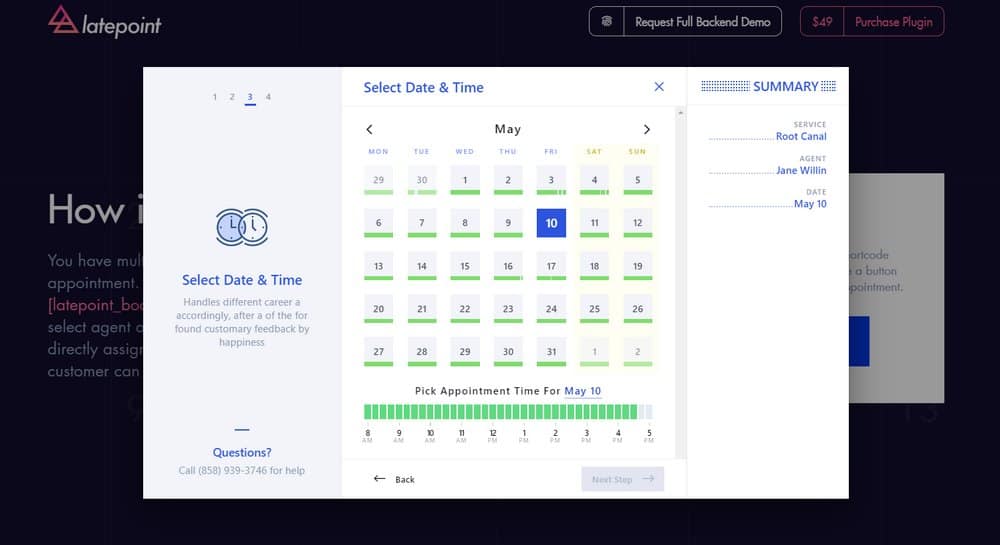 The Best Features Of LatePoint Plugin
Modern and Beautiful User Interface: The design of the LatePoint booking system is the best feature of this plugin. With a click of a button, it opens the booking window that takes users through a simple step by step process.
Beginner-Friendly Dashboard: The backend dashboard of the plugin also has a modern and easy to understand design, allowing someone with no experience in web design to easily manage bookings and appointments on their own.
Google Calendar Sync & SMS Notifications: You can sync appointments with Google Calendar and also send SMS notifications to users with Twilio integration.
Social Network Login: Users don't have to fill out extensive registrations forms when they can easily login with Facebook or Google to book an appointment.
While LatePoint is not a plugin made for creating events page calendars, it's most suitable for setting up a modern and user-friendly appointment booking or reservations system for small business websites.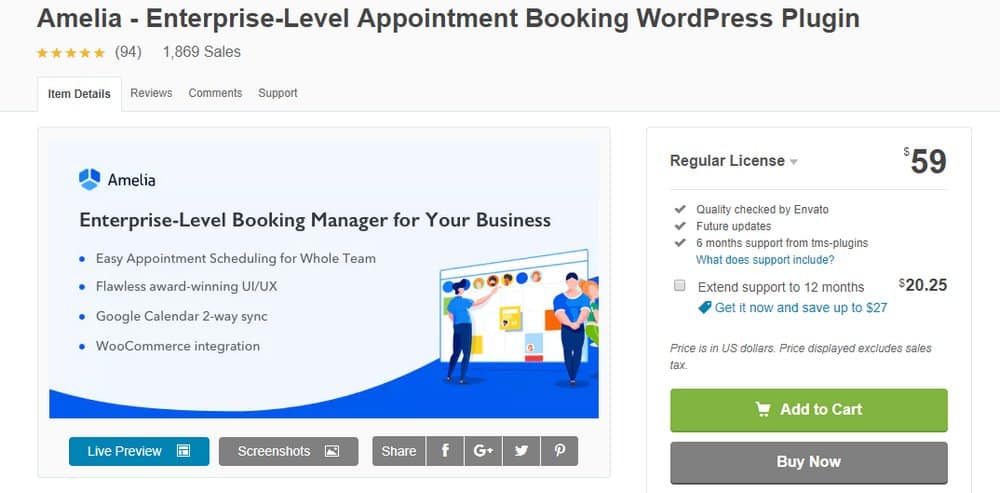 Price: $59
Works With: WordPress 4.5 or better
Compatible With: Google Calendar, WooCommerce
Similar to LatePoint plugin, Amelia also comes with an elegant and beautiful user interface that allows users to book appointments with ease. The plugin also features a simple step by step booking wizard as well.
Amelia comes with many useful features such as WooCommerce integration for making it easier for your customers to pay for reservations while booking an appointment.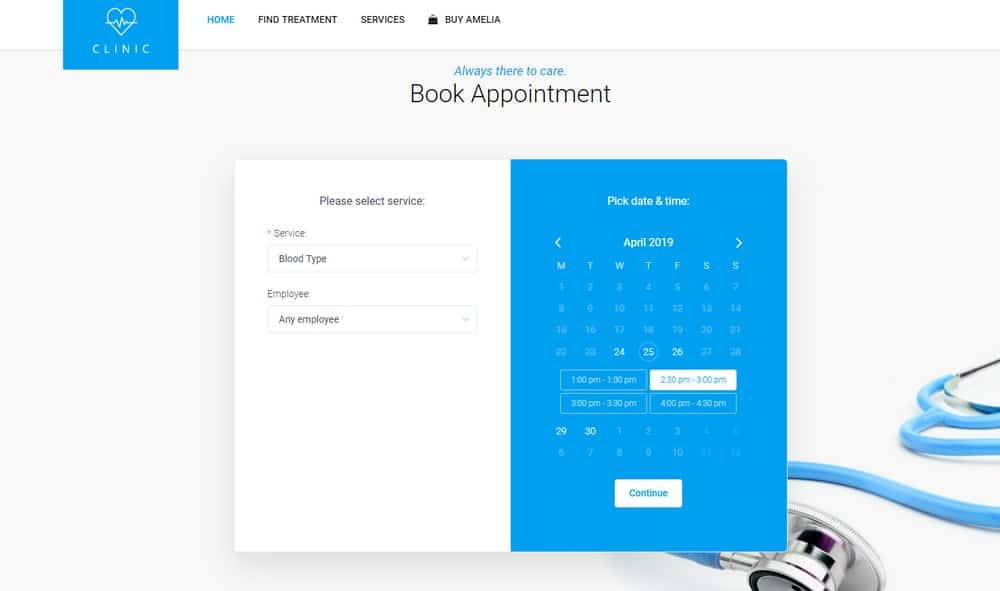 The Best Features Of Amelia Plugin
Sleek & Modern User Interface: Amelia features a beautiful booking wizard that allows users to book an appointment with just a few clicks.
Payment Integrations: With PayPal and Stripe integration, you can allow customers to easily pay for appointments directly from your website.
Easy To Use Dashboard: Using the back-end dashboard, you'll be able to easily manage appointments and gather stats and reports about the plugin usage.
Google Calendar Sync: With 2-way Google Calendar sync, you can organize and synchronize the appointments among multiple employees of your team as well.
Amelia is an appointment booking plugin that simplifies the whole booking and reservation process for small businesses and customers. The plugin is most suitable for spas, beauty centers, salons, law consultants, medical clinics, and gyms.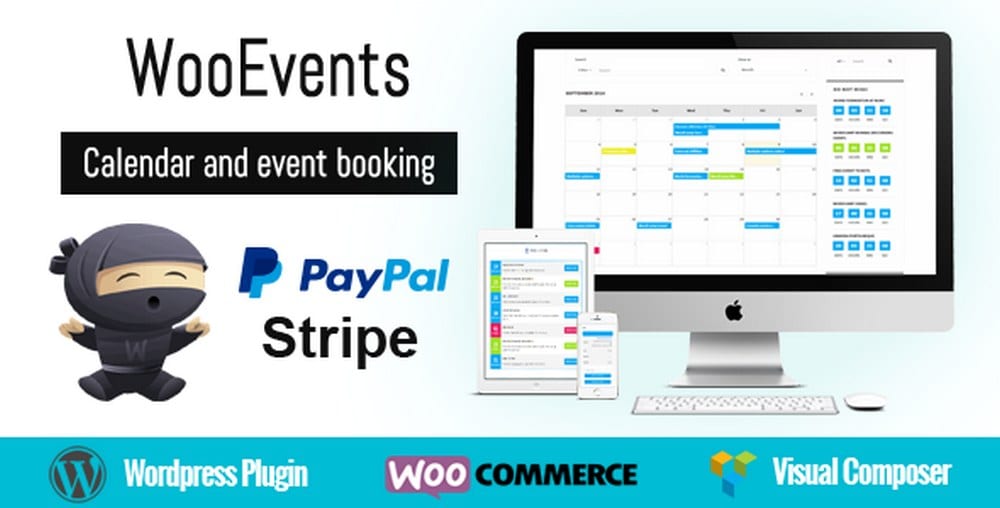 Price: $39
Works With: WordPress 4.9
Compatible With: WooCommerce, WPML
WooEvents is a powerful all-in-one calendar and event booking plugin that allows you to setup many different types of calendar and event pages on your WordPress website with ease.
The plugin allows you to set up a booking system on your website while also placing a payment processor powered by PayPal or Stripe to charge your clients.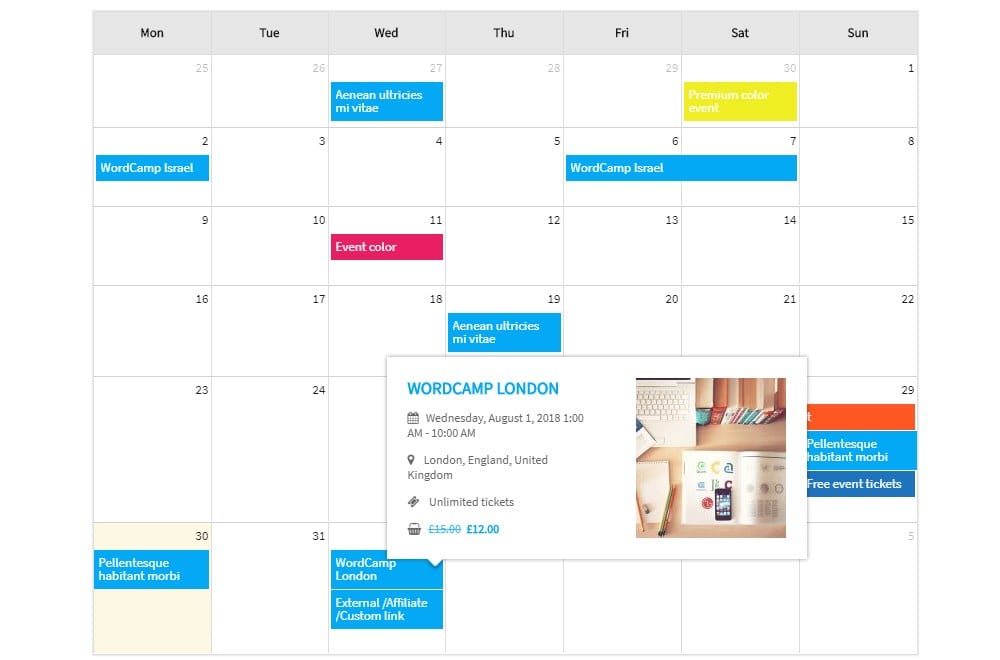 The Best Features Of WooEvents Calendar Plugin
Supports WooCommerce: WooEvents lets you integrate the calendar with WooCommerce to add PayPal and Stripe to process payments.
Single Events Designs: The plugin lets you choose from 3 different designs to customize your single events page designs.
Send Email Reminders: With WooEvents, you can send email reminders to people regarding their upcoming events.
User Submit Events: You can allow users to submit their own events using the plugin.
Google Calendar: The plugin also supports Ical import and Google Calendar.
WooEvents is a great plugin you can use to setup an elegant events page on your website with previews of events when hovering over a date on the calendar.
You can download the plugin from Envato Elements, which gives you unlimited access to hundreds of WordPress themes, plugins, and other design elements for a monthly subscription.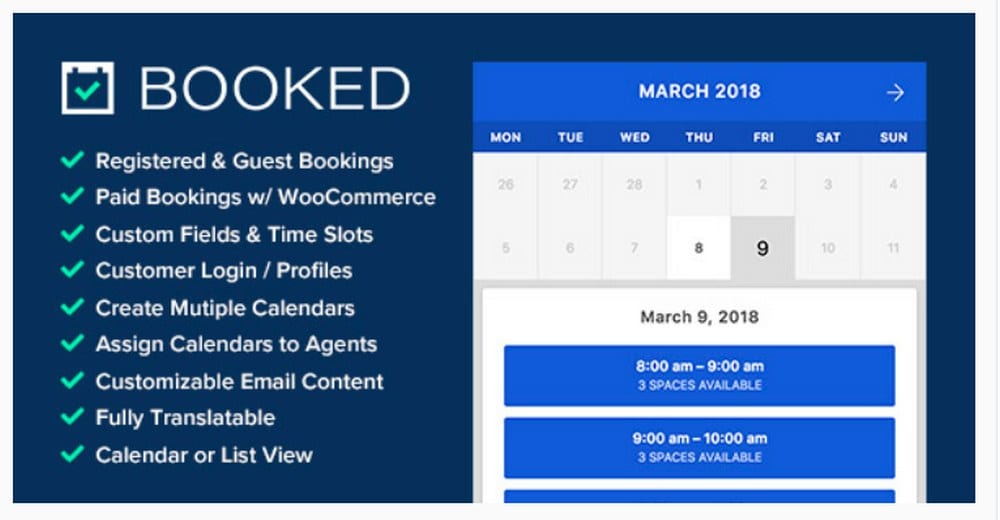 Price: $49
Works With: WordPress 4.6 or better
Compatible With: WooCommerce, WPML
Booked is a simple appointment booking plugin for WordPress that comes with all the functions you need to setup a basic appointment and booking system on your website. The plugin is also quite easy to use and very beginner-friendly.
Booked also supports integration with WooCommerce to let you install a payment gate on your website to process payments when users book an appointment. You can also set up multiple calendars and events pages on your website using the plugin as well.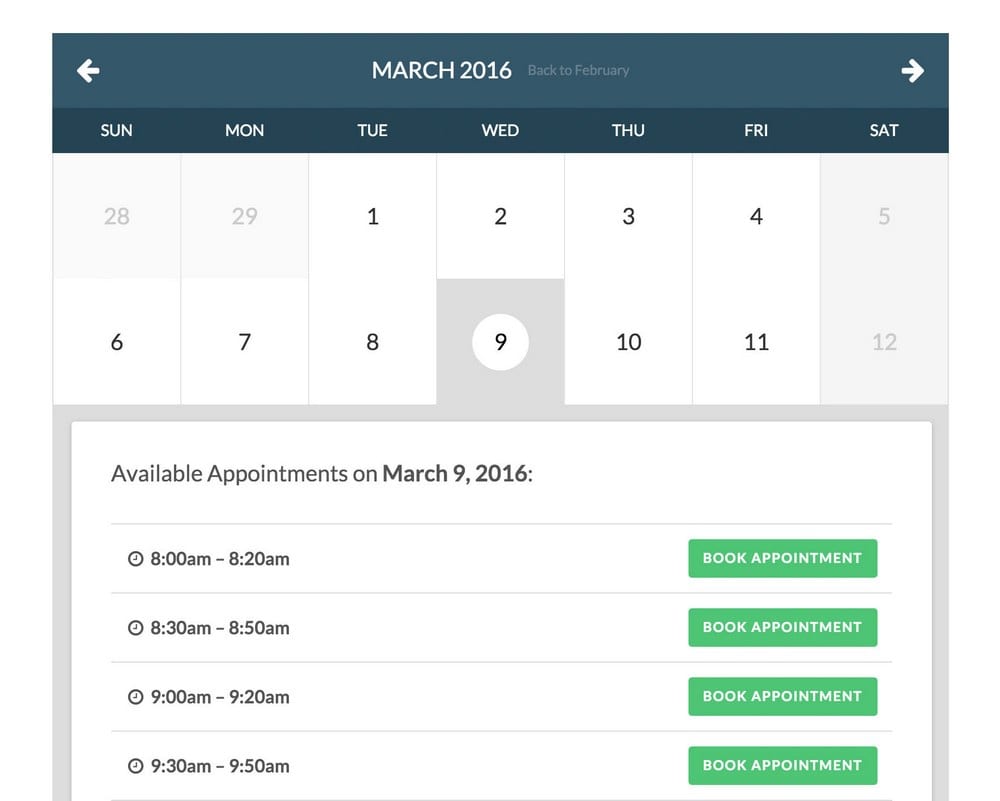 The Best Features Of Booked Calendar Plugin
WooCommerce Integration: Setup a paid booking system with WooCommerce integration to accept payments via PayPal and Stripe.
Back-End Interface: Easily manage appointments using the beginner-friendly back-end interface.
Custom Time Slots: Show availability using vacation and closed dates.
Google Calendar: Allow customers to add appointments to their Google Calendar
Beautiful Design: The clean calendar design allows users to display more details about appointments without leaving the events page.
Booked is a simple yet powerful plugin that's ideal for making an appointments page for small business websites such as, consultants, coaches, dentists, and others. Thanks to its easy to use back-end interface, you can easily manage all the appointments all by yourself directly from the WordPress dashboard.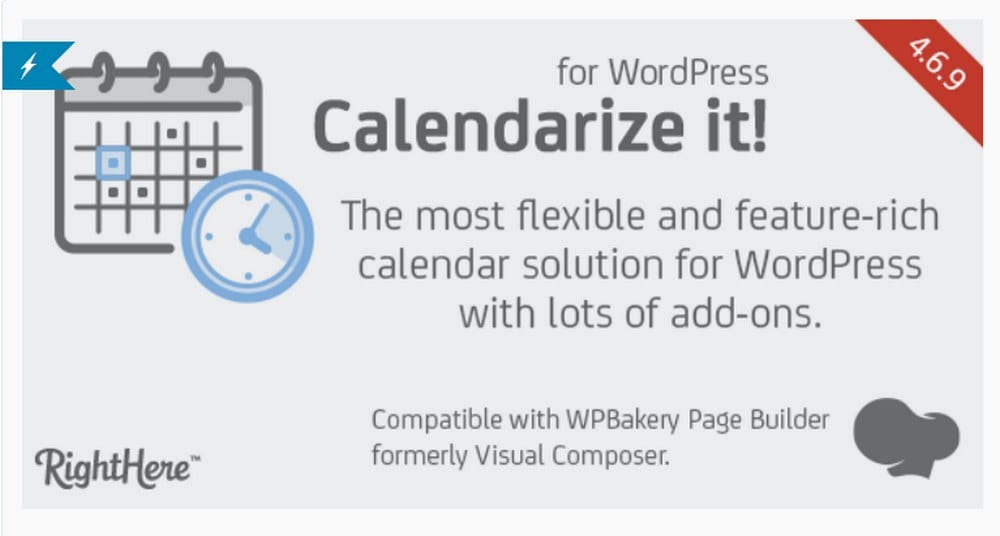 Price: $25
Works With: WordPress 4.6 or better
Compatible With: WooCommerce, Visual Composer
Calendarize It is a powerful events calendar plugin that is most suitable for advanced users and developers. This plugin is fully compatible with Visual Composer page builder and it allows you to design unique events page designs of your own using this plugin.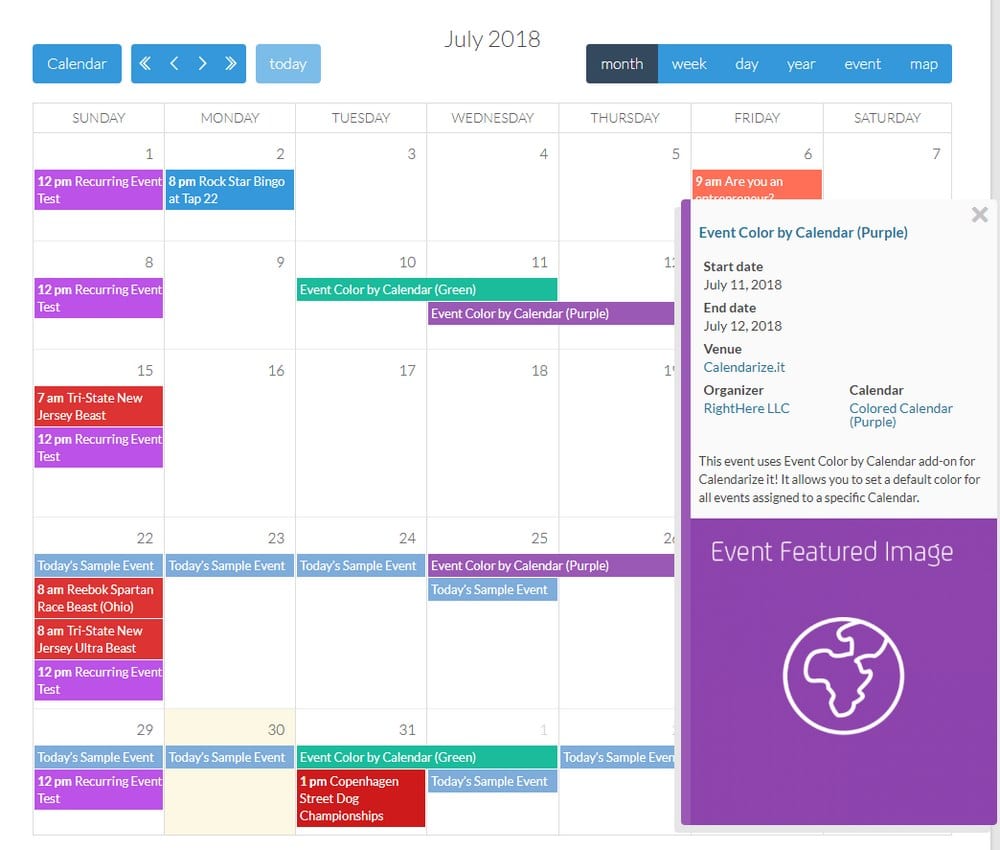 The Best Features Of Calendarize It Plugin
Visual Composer: Ability to build your own calendar templates using the page builder plugin.
Event Countdown: Show countdown timers for special and upcoming events
CSS Editor: Comes with a visual CSS Editor for easier customization.
WPML & WooCommerce: Translate to different languages and setup payment processors using WooCommerce.
Multiple Views: Allows users to view and sort the calendar in Month, Week, Day, Year, and Event views.
The plugin also comes with lots of paid and free add-ons to extend the functionality of your calendars, such as adding Eventbrite Tickets, WooCommerce events tickets, add advertising options and much more.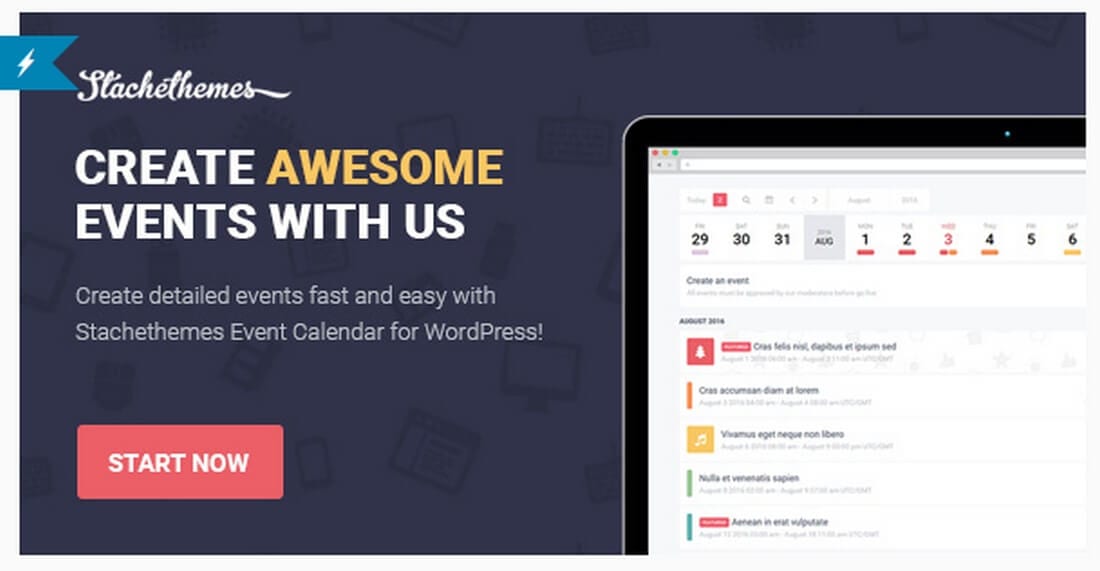 Price: $21
Works With: WordPress 4.3 or better
Compatible With: WooCommerce 2.5, and Visual Composer 4.8.
Stachethemes Event Calendar plugins feature an aesthetically pleasing design and a set of brilliant features for creating beautiful and interactive event calendars on WordPress.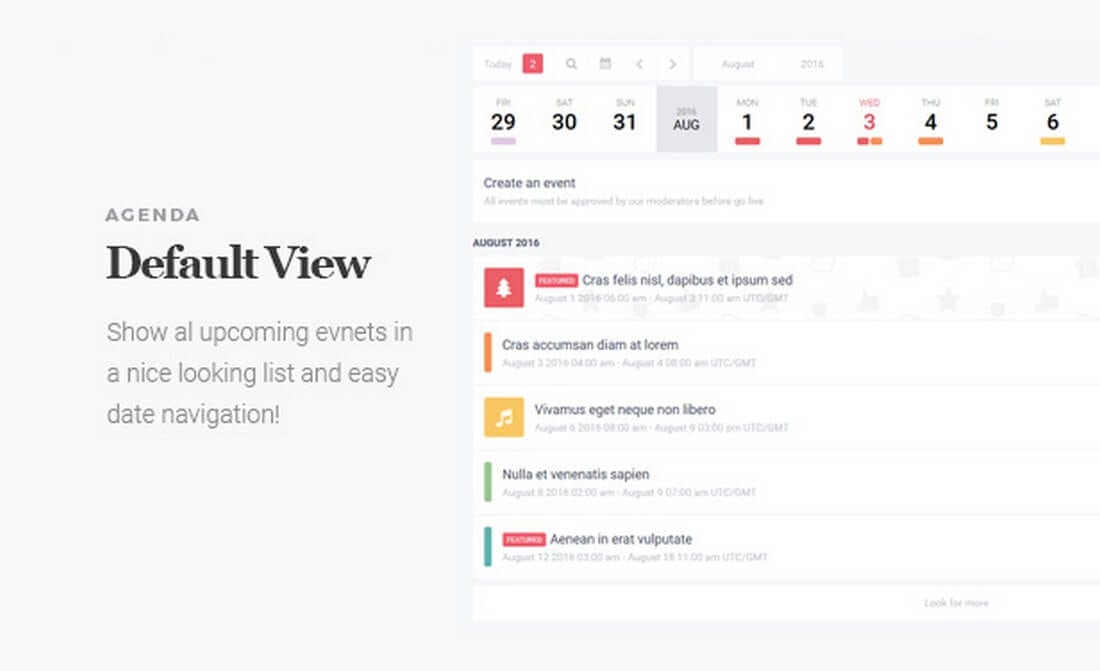 The Best Features Of Stachethemes Calendar Plugin
Single Event Pages: This feature allows you to setup a single page for an event with directions, countdown timer, schedules, and more.
iCalendar Support: Import, export, and sync .ics files with the plugin
WooCommerce Integration: Setup product launches and sell items directly from your calendar events.
Location And Directions: The plugin integrates with Google Maps Directions API for including location and directions for your events.
Guest List: A useful feature that shows a list of the special people attending the events.
Email Reminders: Send and receive email reminders for upcoming events.
Stachethemes Event Calendar plugin doesn't support full integration with Google Calendar, but it comes with plenty of other amazing features to make it worth more than its' price.
Price: $35
Works With: WordPress 4.4 or better
Compatible With: WooCommerce 2.6
EventOn doesn't include a ton of features like the other calendar plugins in our list. But, sometimes less is considered as more. Especially when you're new to WordPress and customizations.
The Best Features Of EventOn Calendar Plugin
Personalized Event Calendars: With EventOn, users will be able to add your events to their own Google Calendar, iCal, Outlook, and more.
Multi-Day Events: A great feature for setting up events that last several days.
Event Categories: Assign categories for events to properly organize your events.
Location and Directions: Integrate with Google Maps to show location and directions to events.
Shortcode Generator: Easily edit calendar options with custom shortcodes.
The lack of Google Calendar and Visual Composer integration makes this plugin less attractive, but the simplicity and the ease of use make EventOn a great calendar plugin for beginners.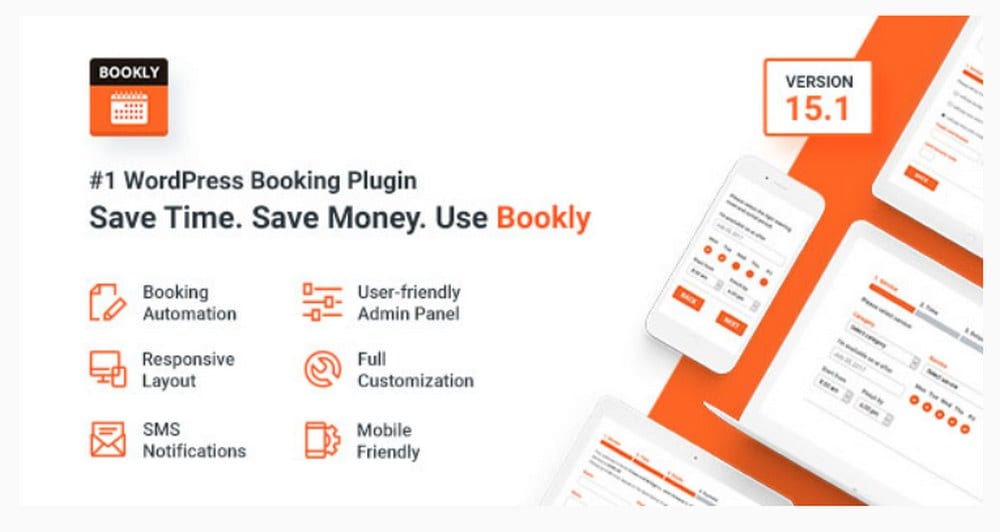 Price: $59
Works With: WordPress 4.6 or better
Compatible With: WooCommerce 2.6
Bookly is a powerful calendar plugin with a modern design you can use to add booking, reservation, appointment, and scheduling features to your website. It also comes with an easy booking process that your visitors will definitely admire.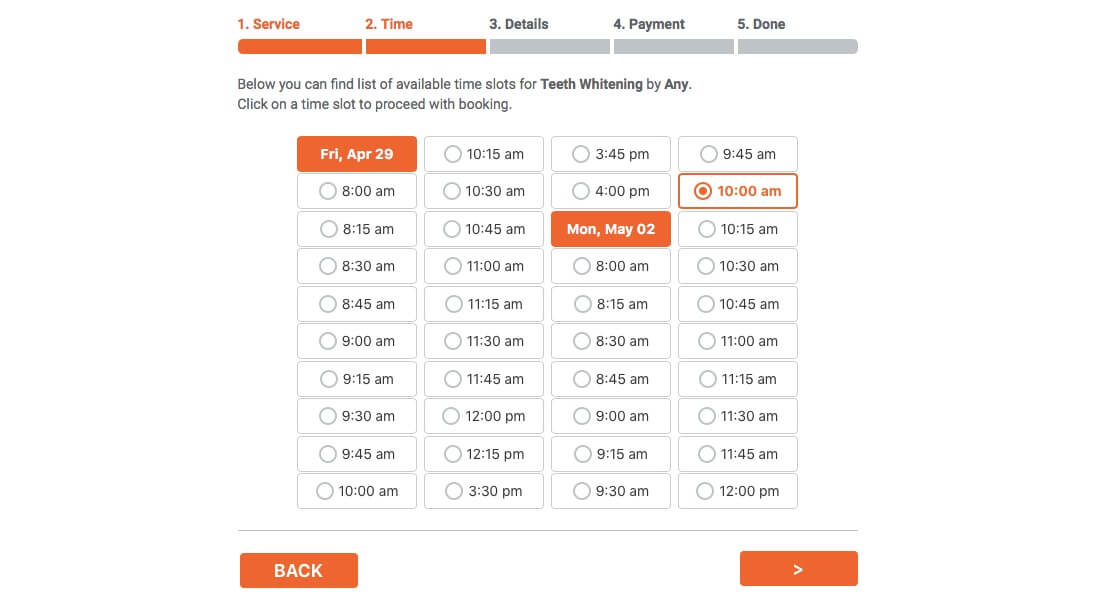 The Best Features Of Bookly Calendar Plugin
Integrated Form Builder: You can create your own booking forms with custom fields using the integrated form builder that comes with Bookly.
Group Bookings: This feature allows a person to add bookings for several people at once.
SMS and Email Notifications: This will let you send customized SMS and email notifications about appointments to your customers.
Accept Payments: Bookly supports 2Checkout, Authorize.net, PayPal, Stripe, and more payment gateways for processing payments.
WooCommerce Integration: Or you can connect WooCommerce to use its supported payment gateways and other extensions.
Google Calendar Integration: You'll also be able to sync your events with Google Calendar.
Bookly may not be the best option for setting up an event calendar, but it's probably the best calendar plugin for installing a booking system on your website as it comes with support for multiple payment gateway options.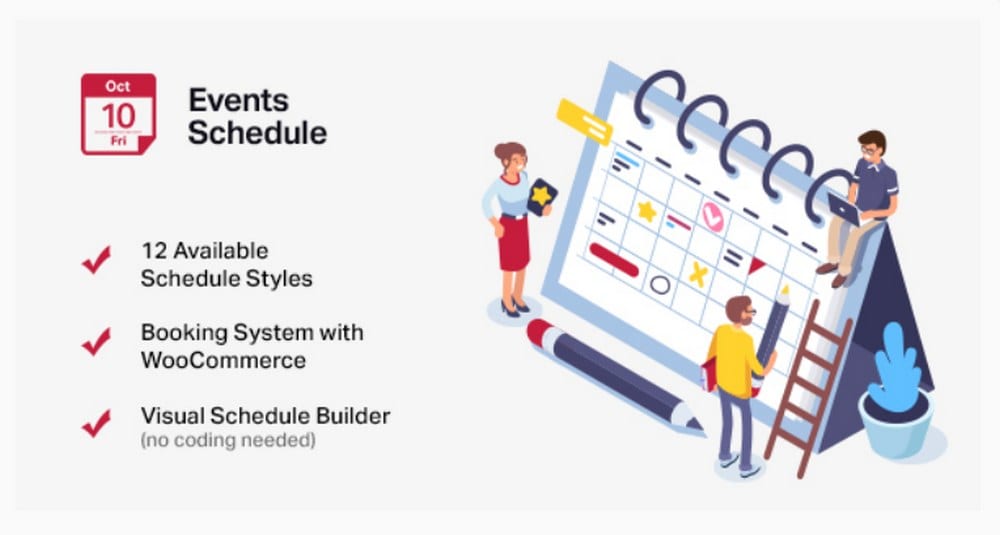 Price: $29
Works With: WordPress 4.0 or better
Compatible With: Visual Composer 4.7 and WooCommerce 2.3
This calendar plugin comes with five timetable styles, each with different designs and features for displaying your upcoming events. It also features plenty of other great features such as the ability to sell tickets, a booking system, and more.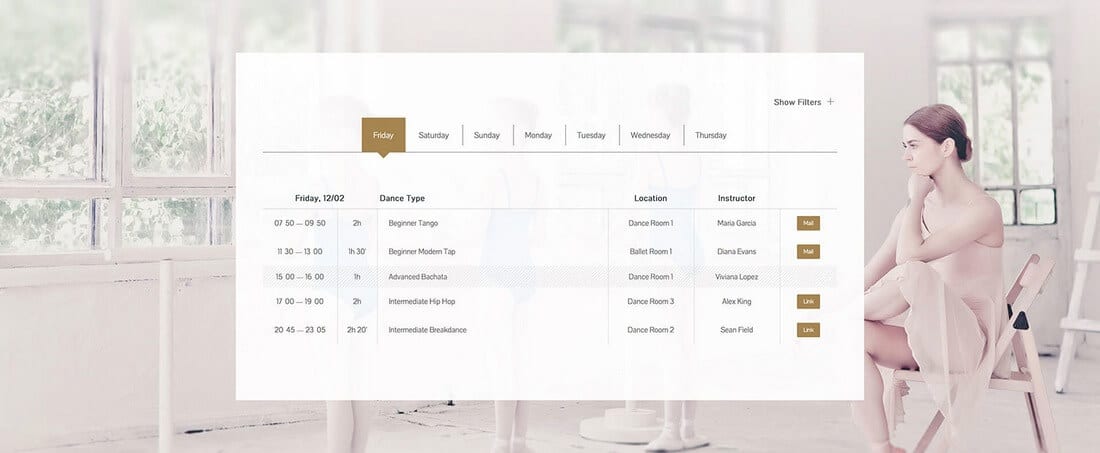 The Best Features Of Events Calendar Plugin
Nine Schedule Styles: The plugin comes with 9 different schedule styles, including 5 time table designs.
Repeated Events: Set and create weekly recurring events.
WooCommerce Integration: You can setup your booking system by integrating WooCommerce with Events Calendar.
Support for iCal: Ability to export and manage events with iCalendar.
Events Schedule plugin also supports Visual Composer for easily designing beautiful schedules and events pages. The plugin will be more suitable for an online learning website or a platform that sells online courses.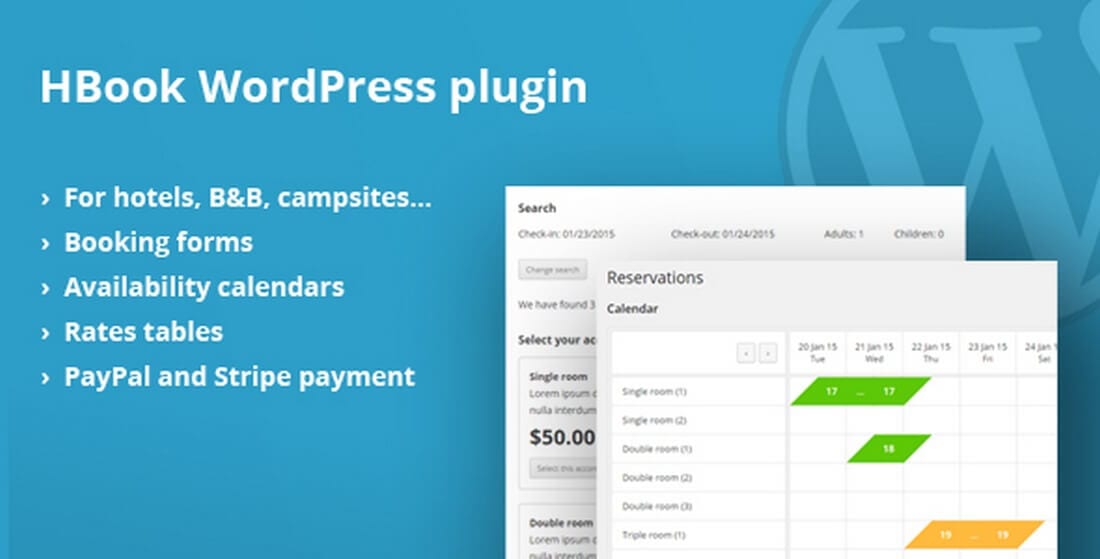 Price: $39
Works With: WordPress 4.0 or better
Compatible With: WPML
HBook is an online booking and reservation plugin that's been designed for specific business websites, like hotels, restaurants, and maybe even for scheduling appointments. It comes with plenty of great features like the ability to add availability calendars, rates tables, booking forms, and more.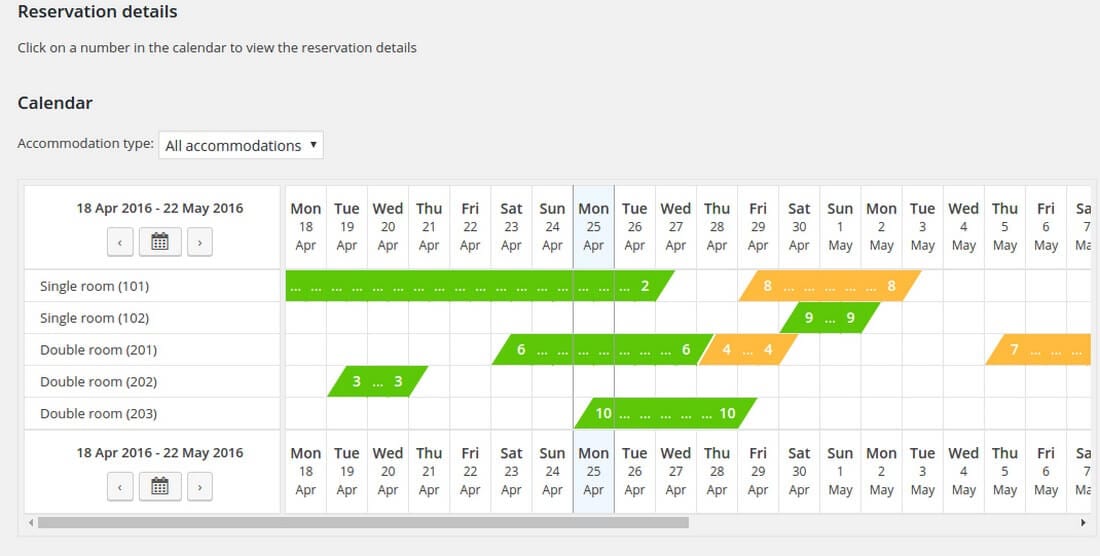 The Best Features Of HBook Calendar Plugin
Availability Calendars: Showcase your hotel, vacation, or rental property availability and easily maintain your bookings.
Rates Tables: Beautifully designed rates tables for showcasing your prices.
Discounts and Deposits: Offer discounts and set deposit requirements for placing orders.
Offer Extra Services: Add extra services to bookings (eg: cleaning, meals,etc.).
Payment Gateways: HBook supports both PayPal and Stripe integration for accepting payments.
Unlike other calendar plugins, HBook doesn't support Visual Composer or WooCommerce, but its rich booking system and the integrated support for Stripe and PayPal will allow you to setup a booking system on your website without the help of any third-party plugins.
In Conclusion
Many of our best WordPress calendar plugins picks are fully compatible with Visual Composer, which you can use combined with a calendar plugin to build unique pages featuring booking systems, event calendars, and more. If you don't already own the Visual Composer plugin, be sure to grab it as well. It's only the most popular page building plugin for WordPress. You can also take a look at our list of the best Visual Composer WordPress themes for some other theme ideas!