40+ Best Gym WordPress Themes 2024 (Free & Premium)
We've collected our favorite gym WordPress themes for a sports club, or health center. Event calendars, community features, and e-commerce integration are standard — everything you need on your gym website!
Having a high-quality website for your gymnasium is key. You need to represent the services, exercise classes, and memberships you have on offer. And you'll want to do it with a website that inspires clients to better themselves, improve their fitness, and join your gym!
All the themes featured in today's collection can do just that. They feature bold, impactful imagery that emphasizes fitness and health. And they come with features that are perfect for anyone running a gym — membership signup forms, class schedules, trainer information, directions, and more. Our list of tips on how to find a gym WordPress theme covers some great advice on tracking down the right design.
Using WordPress to build your site can save time and money — you can choose from one of many templates as a starting point, and use drag-and-drop tools to build the perfect site that you're looking for. It's much quicker and simpler than building your own site from scratch!
5 Tips for Building a Gym Website
Before you get started on choosing a cool WordPress theme from our list to build your gym or fitness website, make sure to follow these tips to find the right theme that'll help you achieve your goals.
1. Show Off Your Gym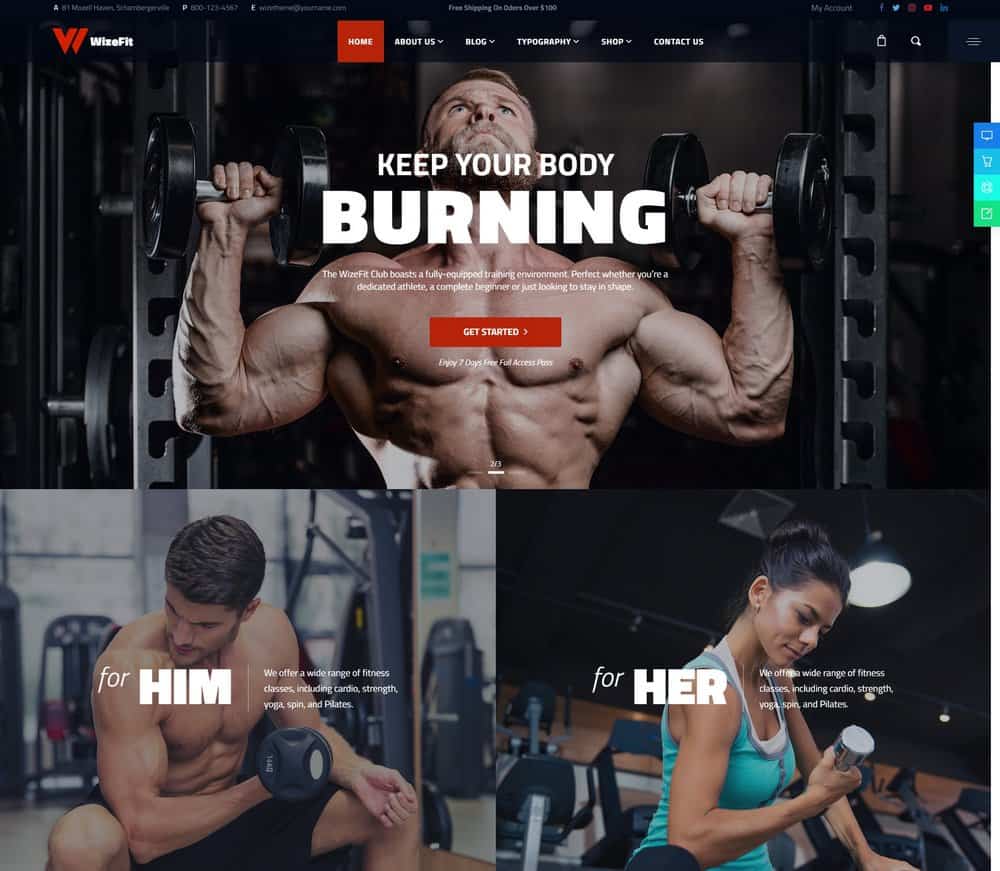 First and foremost, you should pick a WordPress theme that helps you show off your gym with lots of images, sliders, and videos. Because the first thing most people do when visiting a gym website is checking out what kind of equipment and a studio they have.
Setup your website in a way that promotes your gym with lots of visuals, this includes adding lots of images to your homepage and adding a gallery page to showcase different equipment and facilities you have in the gym.
2. Add A Schedule/Booking Page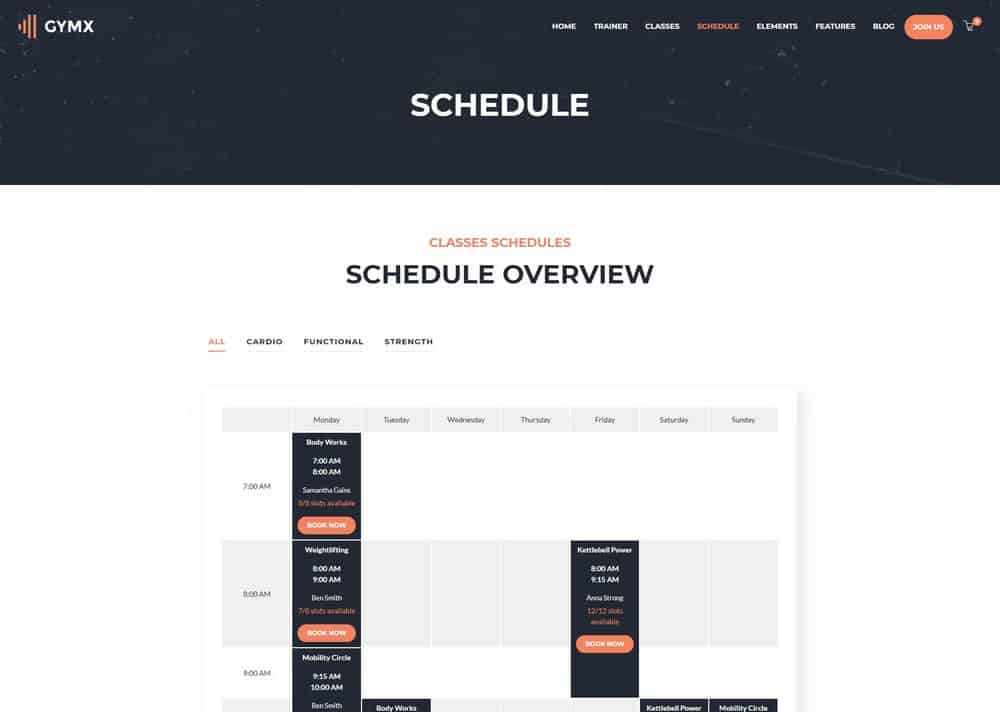 Most gyms offer personalized training programs for individuals. If you have that type of a professional gym, you should consider adding a schedule or a booking page to your website to let people choose their own schedule to book appointments with your trainers.
3. Showcase Your Trainers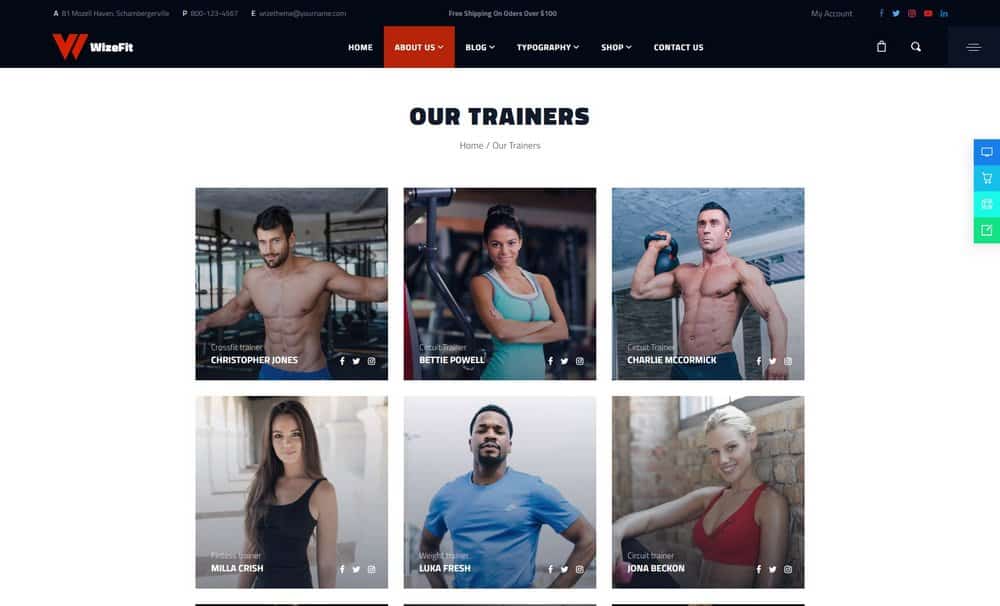 The trainers are the backbone of any gym. The better the trainers are the more repeat customers you'll get. Make sure to give the spotlight to your superstar trainers by adding a page showcasing the trainer profiles.
This will show your potential customers that you're not just an empty gym with metal equipment and that they can expect to interact with talented and experienced humans at the gym as well.
4. Promote Your Memberships & Classes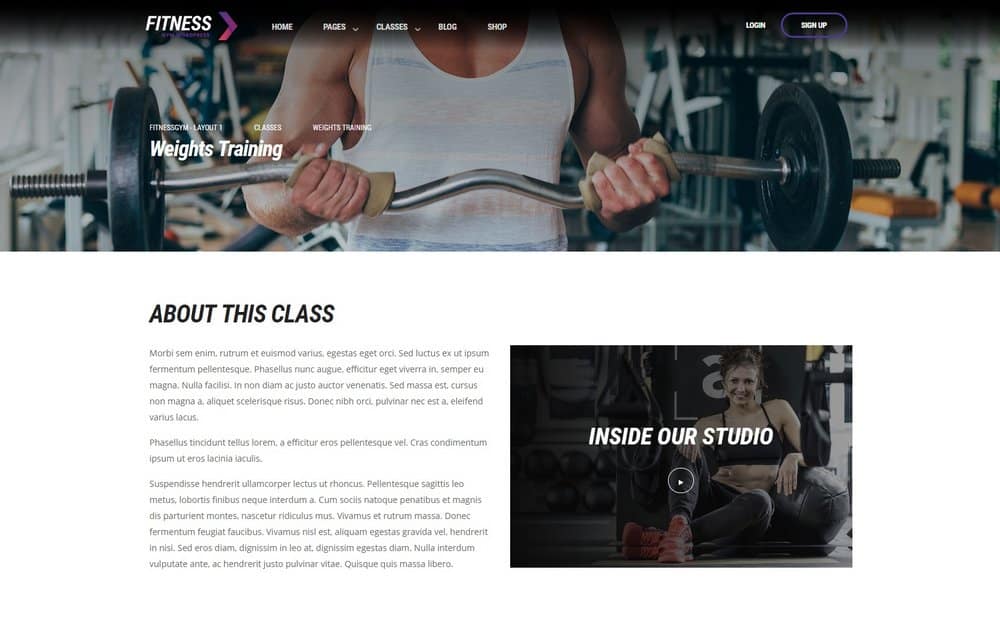 If you offer special classes, programs, or memberships for your gym, you can leverage your website to promote those classes and programs online. For example, you can use your class pages as landing pages when promoting your gym on social media campaigns to educate people on your special programs.
5. Sell Supplements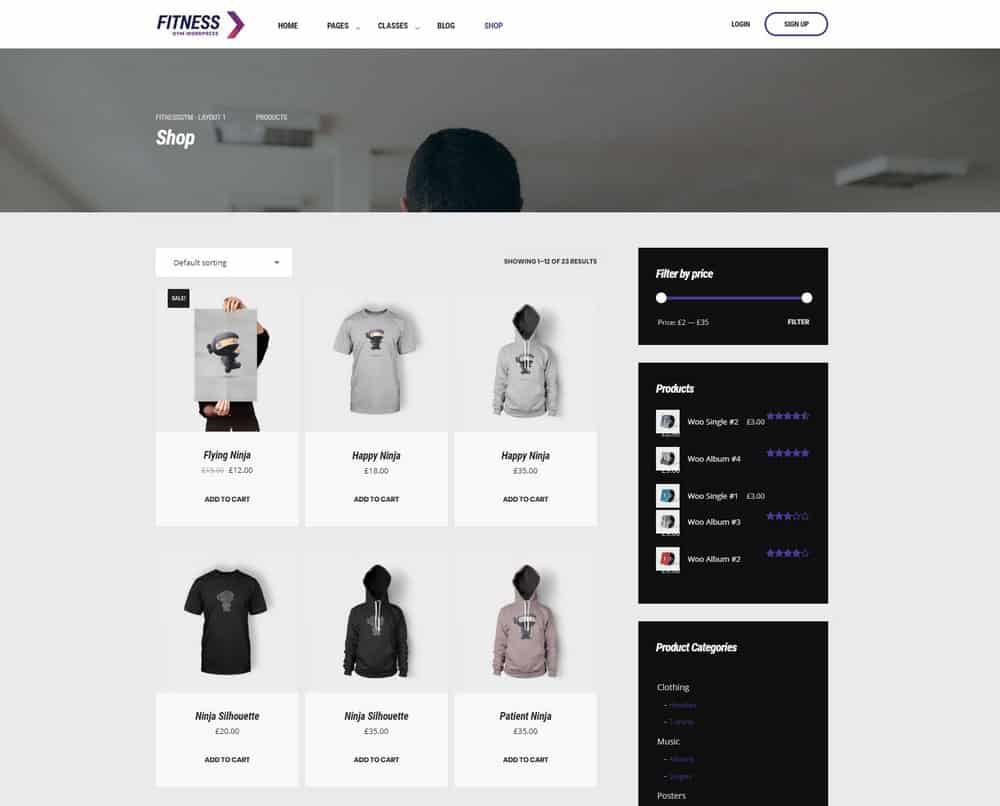 Your gym website doesn't have to be just an information hub for your gym or fitness center. You can also monetize your website by selling merchandise and supplements through your website.
Choose a WordPress theme that comes with a shop layout and support for an eCommerce plugin such as WooCommerce to easily setup an online store for your gym website.