How to Add, Install & Use Photoshop Actions
Photoshop actions are one of the most useful features of Photoshop that helps you save time and money. With actions, you can enhance photos, add effects, create graphics, and do much more with just one-click.
However, most Photoshop users are still unaware of the full potential of actions. We want to change that. So in this guide, we help you discover how useful Photoshop actions can be and how to use them to your advantage.
It's very easy to add actions to Photoshop. It can be done in a few simple steps. We'll walk you through that process. But first, let's learn what a Photoshop action is and why you should use them.
Get everything you need to supercharge your Photoshop workflow. From just $16, get unlimited access to thousands of Photoshop actions, Lightroom presets, templates, graphics, fonts and photos.
What is a Photoshop Action?
A Photoshop action is a sequence of pre-recorded tasks that you can run to apply specific adjustments and edits to your images without having to do the work yourself.
For example, if you want to adjust the brightness of a photo you have to create a new adjustment layer and manually adjust the brightness setting until you get it right. This can be very time-consuming if you have to apply the same setting for multiple photos over and over again.
Instead, you can record your process into an action. That way you can apply the same adjustment settings on all your photos by simply playing the action file. The action will automatically create the adjustment layer with the exact brightness settings for you.
In addition to creating actions, you can also install actions created by others, including professional designers and photographers.
Why Use Photoshop Actions?
Photoshop actions can do all sorts of tasks including resizing images, applying effects, retouching photos, and more.
If you're a designer, you can use actions to easily create cool effects like turning portrait photos into cartoon drawings or turn ordinary text layers into retro logos.
Photographers will also find actions useful as they help retouch photos, resize, and even apply quick enhancements when processing photos in batches.
Even if you're using Photoshop for fun, actions are a great way to experiment and discover what Photoshop can really do for you.
How to Create & Export Photoshop Actions
Creating your own Photoshop actions is very easy. Here's how it works.
Step 1: Enable the Actions Panel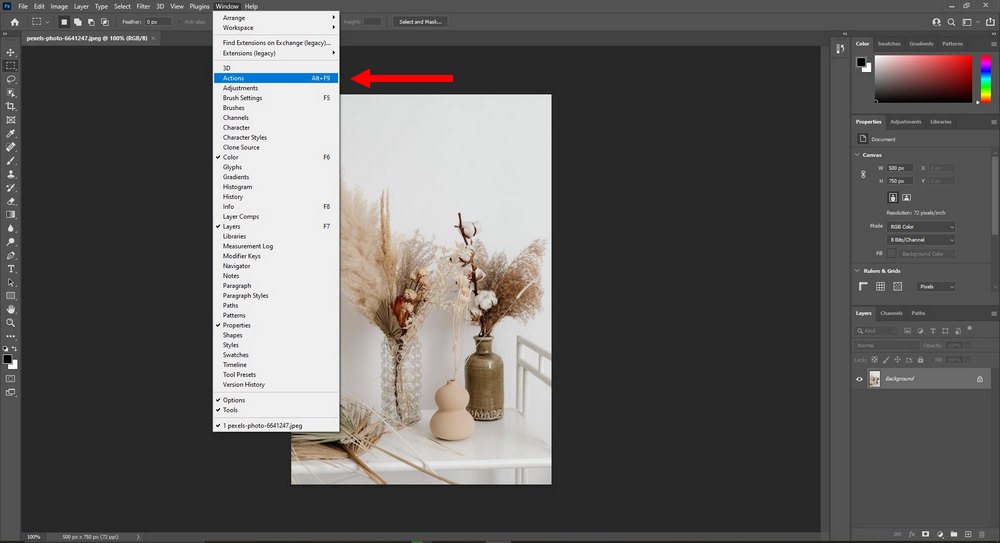 Start by adding the actions panel in your user interface. Go to the Window menu and select Actions. This will enable the actions panel from where you can create actions.
Step 2: Create an Action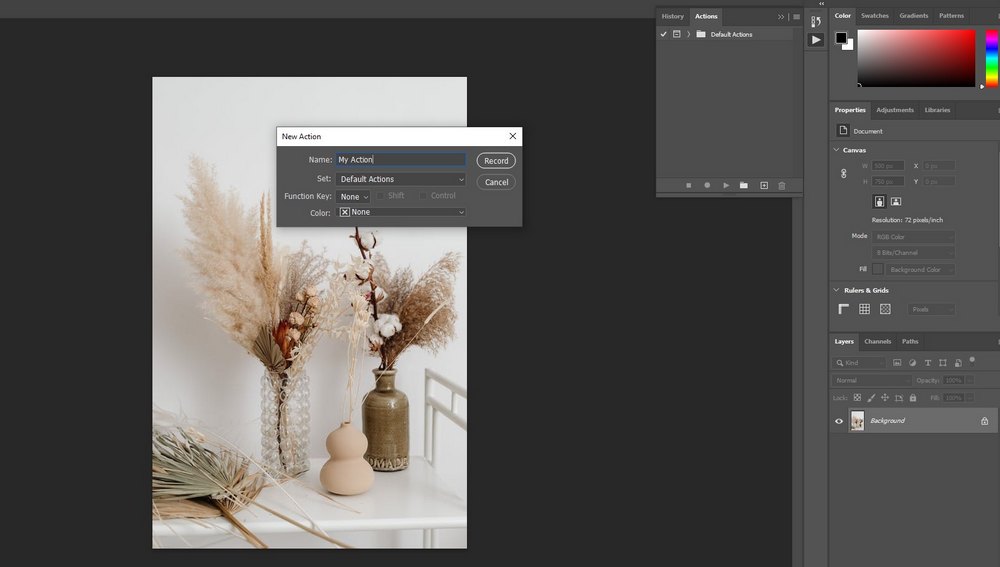 To create an action, click on the plus (+) icon in the actions panel. Give your new action a name and click the Record button to start recording the action.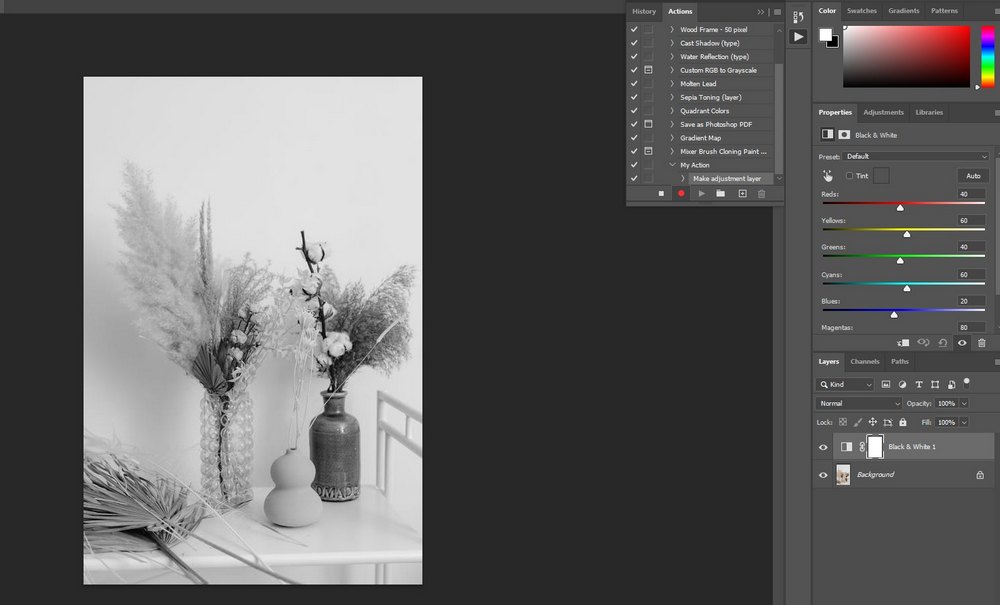 Now go do any of the adjustments you want to make to your photo. Once you're done, click on the square button to stop recording. Your action will now be saved.
Did you forget something? Then click on the Record button again and make the changes. They will be added to your action.
That's it! Now you can use your action on any other photo you want.
Step 3: Export Your Photoshop Action
If you want to share your action with a friend or even sell it in a marketplace, you can do so by following the steps below.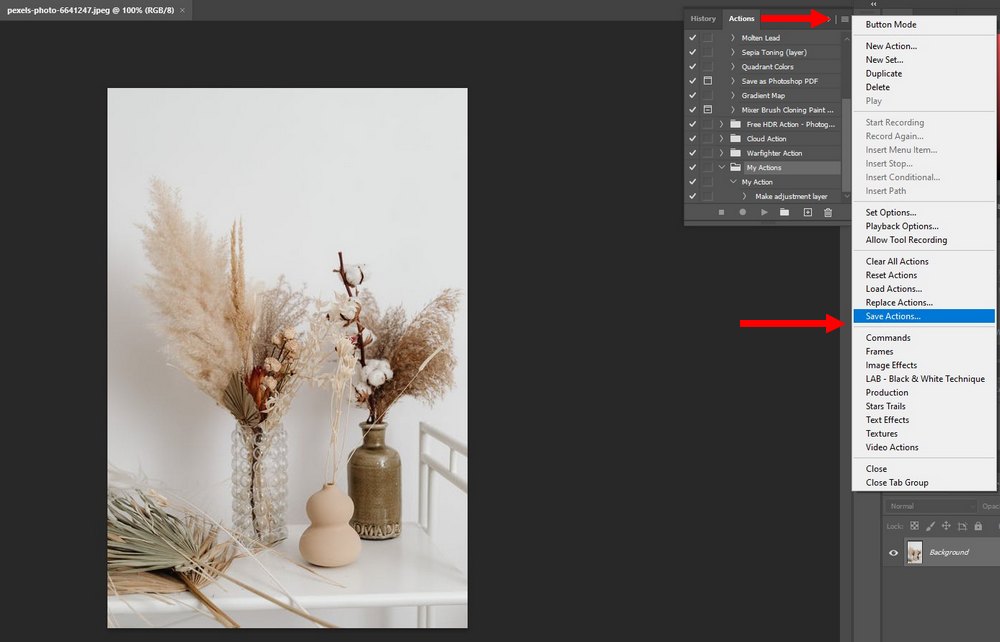 First, make sure your action is in an Action Set folder. Then select the Action Set and click the menu icon on the top-right corner of the Actions panel.
Now select Save Actions, give your new action file a name, and save it as an ATN file.
How to Install Photoshop Actions
Before we learn how to use actions, let's find out how to install third-party actions in Photoshop.
Step 1: Extract the ZIP File
If you've downloaded a Photoshop action from a third-party marketplace or website, it will likely arrive in a ZIP file.
Locate the ZIP file in the Downloads folder on your computer, right-click on the ZIP file, and select Extract Files.

Among the extracted files, you'll find an .ATN file. This is the Photoshop Actions file format.
Step 2: Import ATN File in Photoshop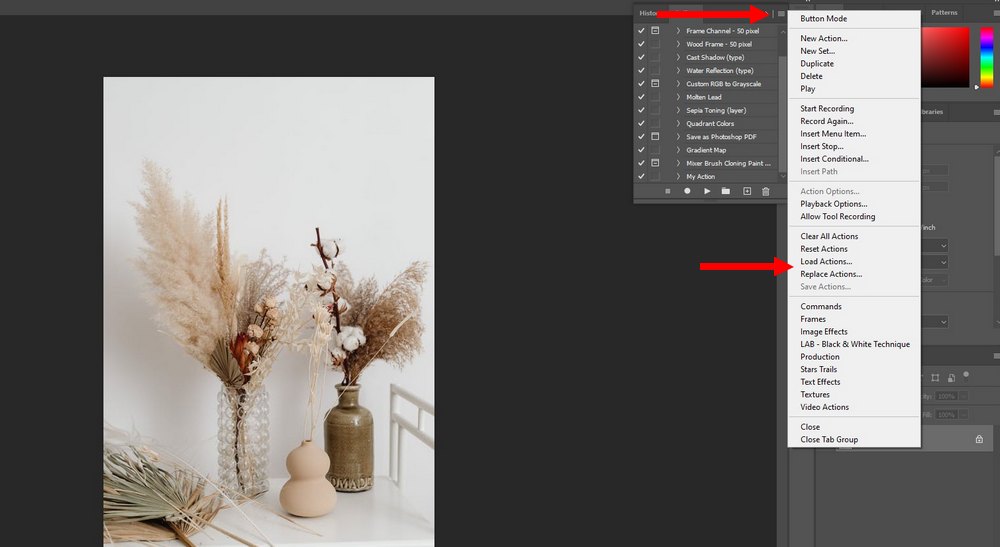 Open Photoshop and go to the Actions panel. Click on the menu icon on the right-hand corner and select Load Actions.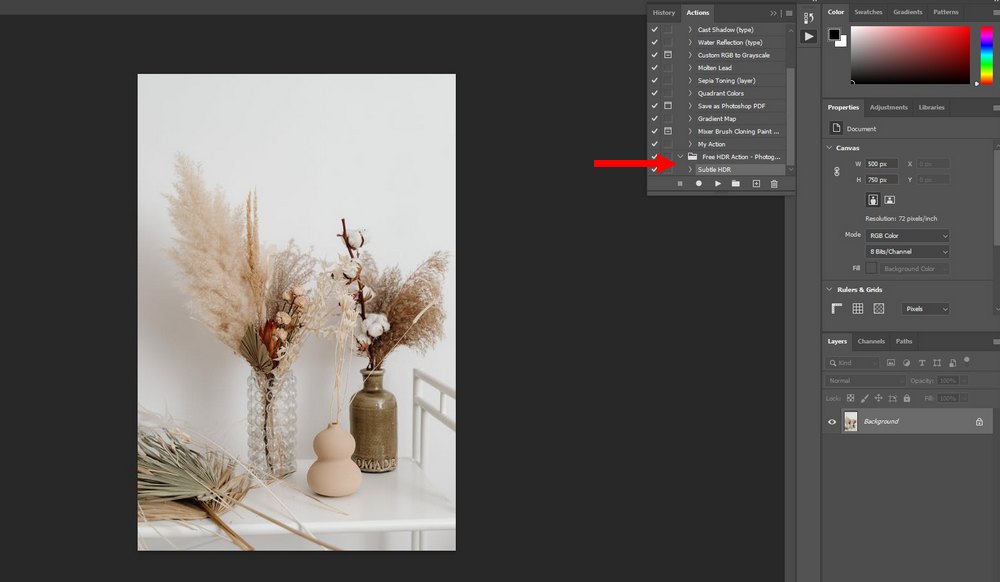 Locate the downloaded ATN file and open it. This will add the actions in the ATN file into your Photoshop actions collection.
Or, simply double-click on the ATN file and it will install itself. It's that simple.
How to Use Photoshop Actions
Using Photoshop actions is easy.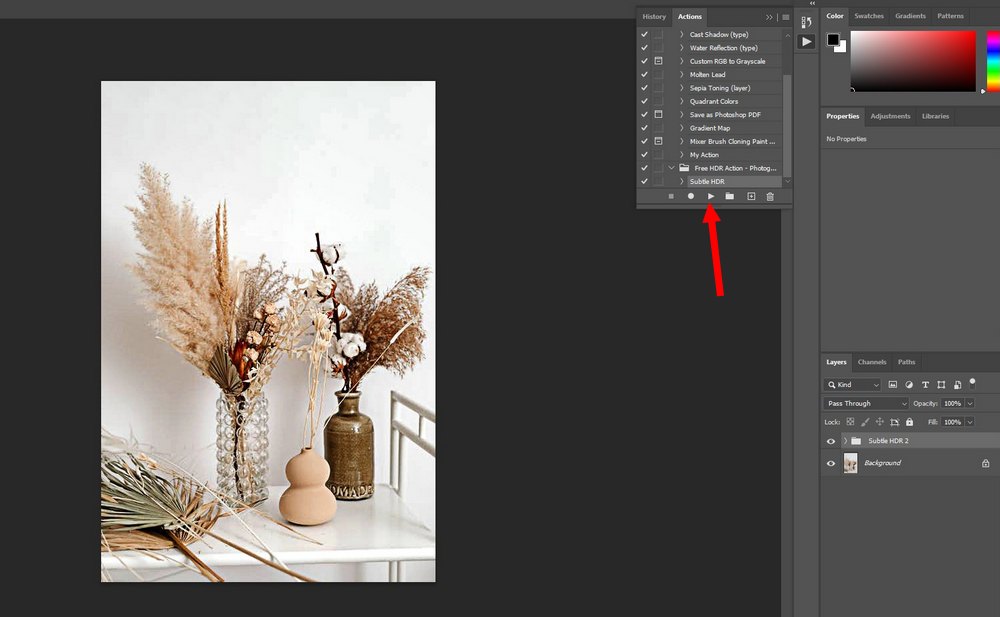 For most actions, all you have to do is click the Play button in the Actions panel to run the action. And it will instantly run the task sequence to apply the effect to your photo.
However, there are also more advanced actions that require additional work and resources. For example, in order to run certain actions, you'll need to create a mask or new layer and select an area to apply the effect. As well as install patterns, brushes, and texture files that come with the action.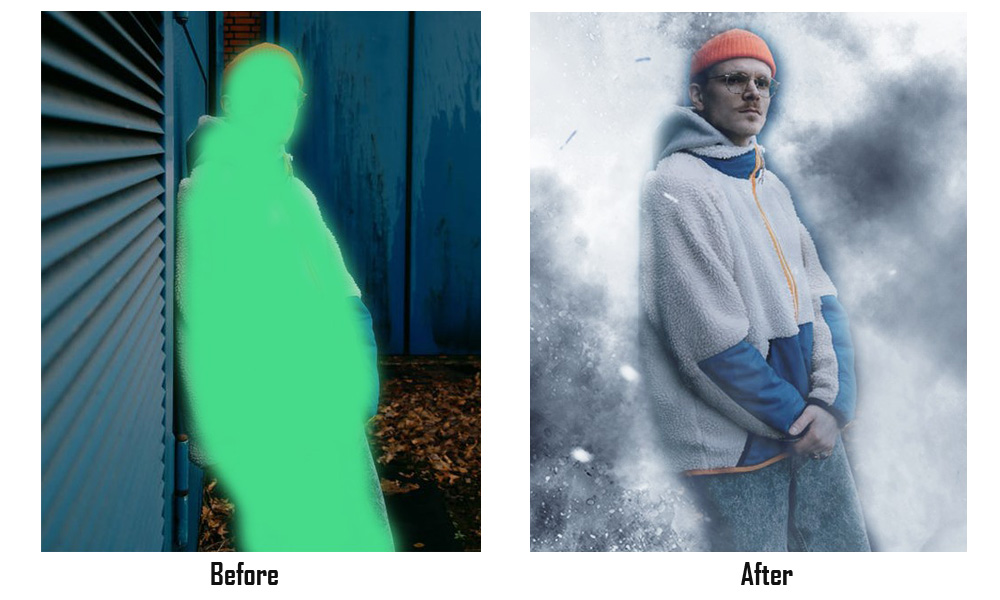 For example, this particular Photoshop action requires you to create a new layer, name it "brush", and brush over the character in the portrait before playing the action.
Where to Get Photoshop Actions
Now the biggest question is where can you get time-saving Photoshop actions to make your life easier? There are several places you can go to download actions.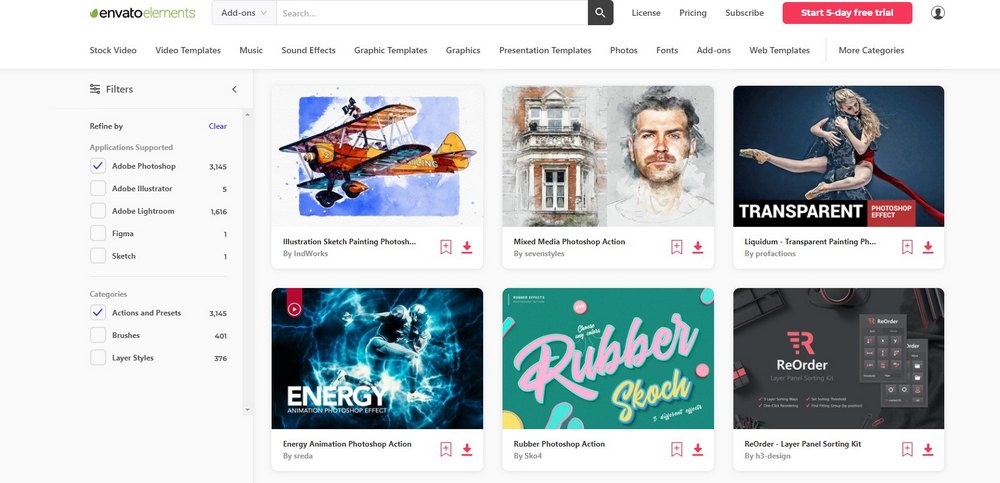 Envato Elements is a marketplace full of design resources, that includes thousands of Photoshop actions. This site is the perfect place to download actions as it gives you unlimited access to the site for a single price. Once you subscribe to Envato Elements, you can download anything on the marketplace.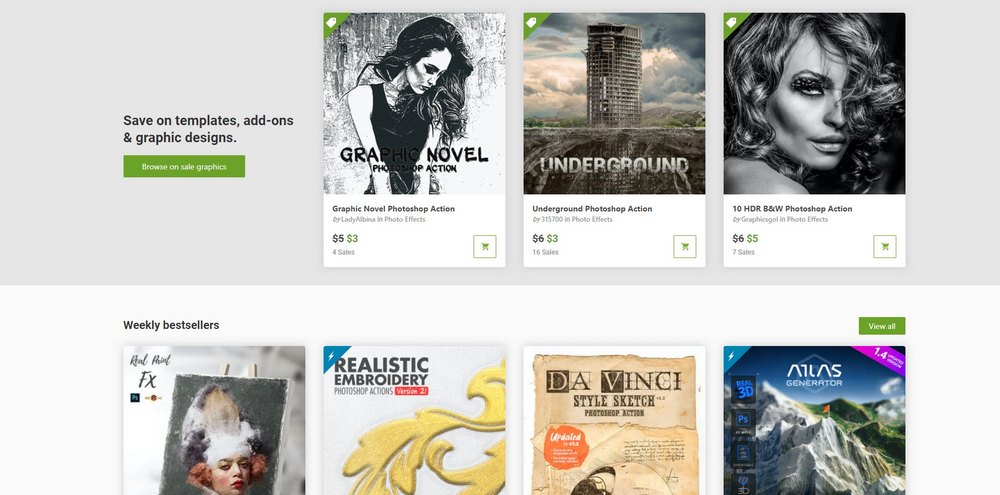 GraphicRiver also has a large collection of Photoshop actions starting at just $2. This site allows you to download actions individually. It's ideal if you just want one or two actions for your projects.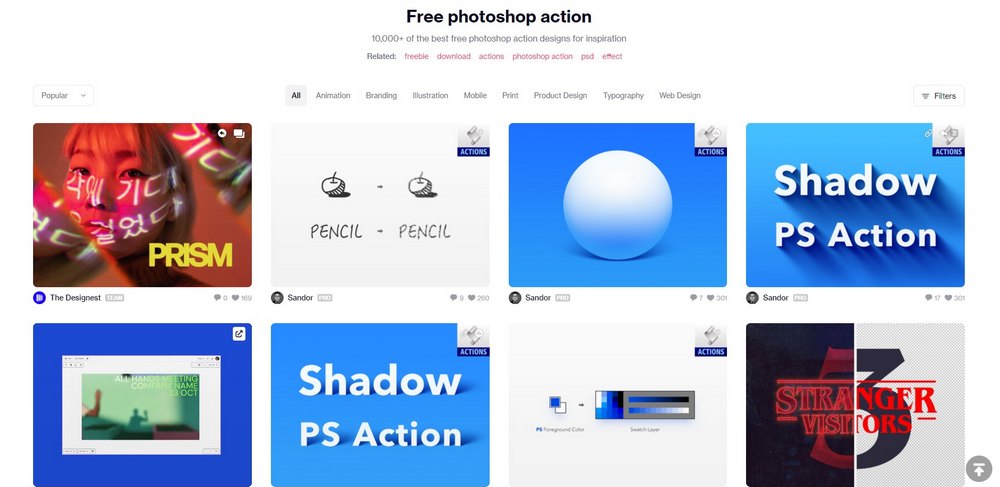 If you can't afford premium actions, you can download free Photoshop actions from sites like Dribbble. Dribbble is a networking site for designers where they also share free design resources like PS actions.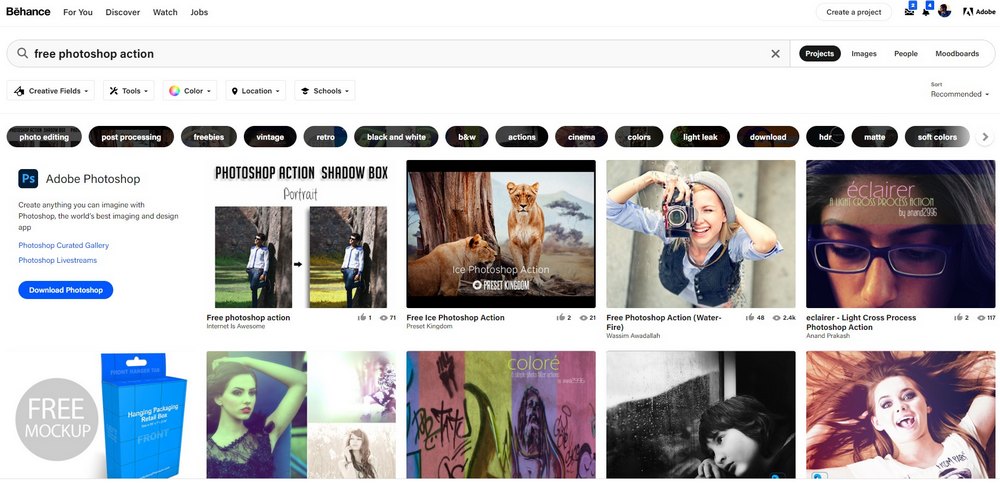 Behance is another designer networking site that features lots of free resources, including Photoshop actions. Just be mindful of the licensing when using free actions as most files are restricted to only personal use.
You can also explore our Photoshop actions collections to find handpicked actions for your projects.
In Conclusion
Once you get the hang of it, you'll never be able to work without actions. Hopefully, this guide will help you create more amazing designs in Photoshop using actions.
Be sure to read our how to add fonts to Photoshop guide for more tips.