27+ Best Distressed Photoshop Effects + Textures (Get a Distressed Look) 2024
There is no shortage of unique and captivating artistic styles that you can bring to the table. When it comes to tailoring your visual design projects, the styles you choose to employ often shape the entire aesthetic of your designs. So, picking the right style is important, and one of the most iconic artistic styles that has transcended artistic generations is the distressed Photoshop effect.
The distressed look often referred to as a grunge effect, is a fantastic way to inject personality and emotion into your work.
It's for that reason that we've decided to compile a range of the best distressed filters for Photoshop. Our list includes a range of premium and free distressed brushes, textures, actions, and much more.
So, if you've ever found yourself wondering how to distress an image in Photoshop, then look no further than our list right here.
Read on to see how you can emulate an incredible distressed look in Photoshop!
Get everything you need to supercharge your Photoshop workflow. From just $16, get unlimited access to thousands of Photoshop actions, Lightroom presets, templates, graphics, fonts and photos.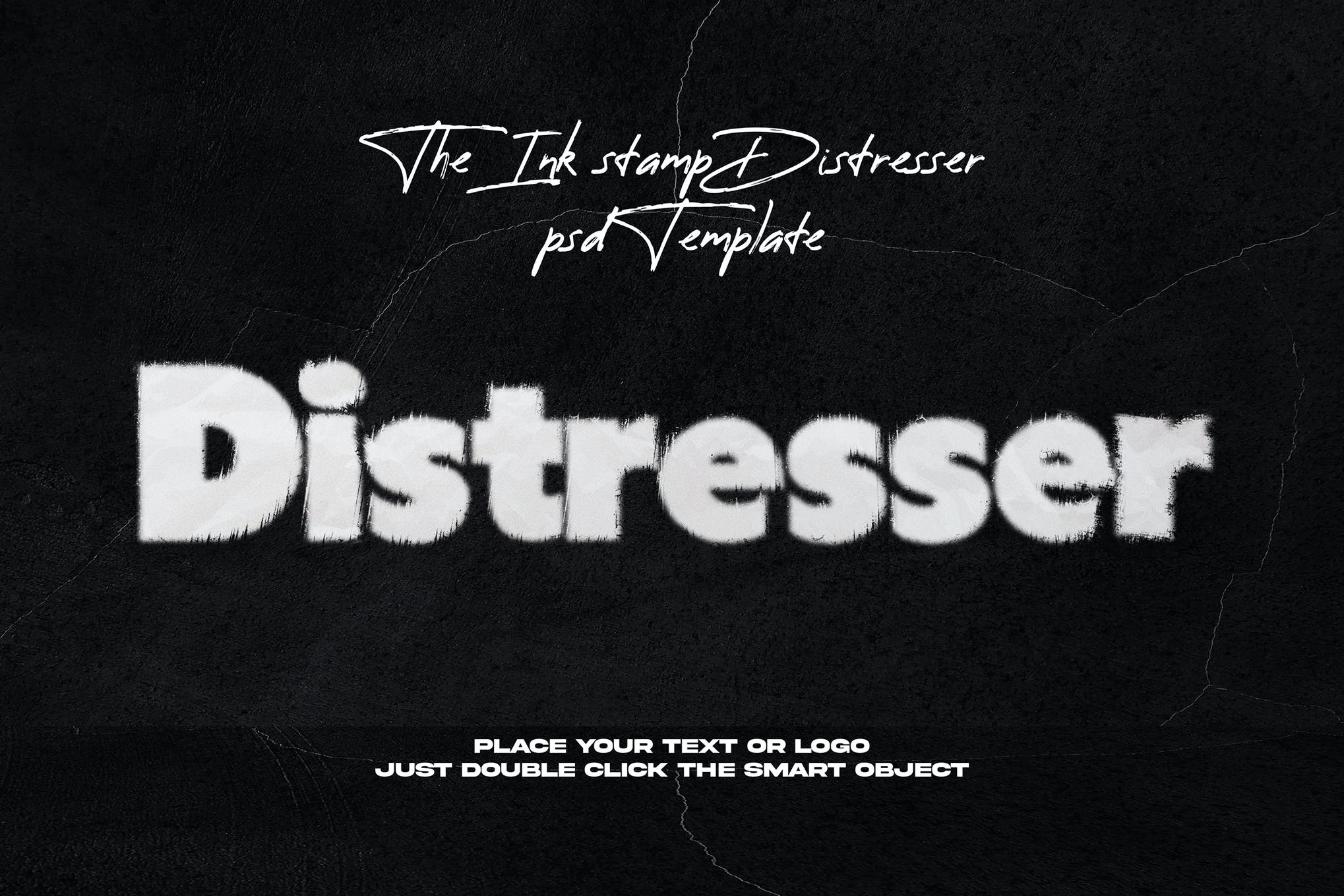 If you're wanting to give your texts, and logos an ink stamp distressed effect without having to get your hands stained, this distressed filter for Photoshop is an excellent contender for your cash. Use this Photoshop add-on with confidence; you won't be disappointed.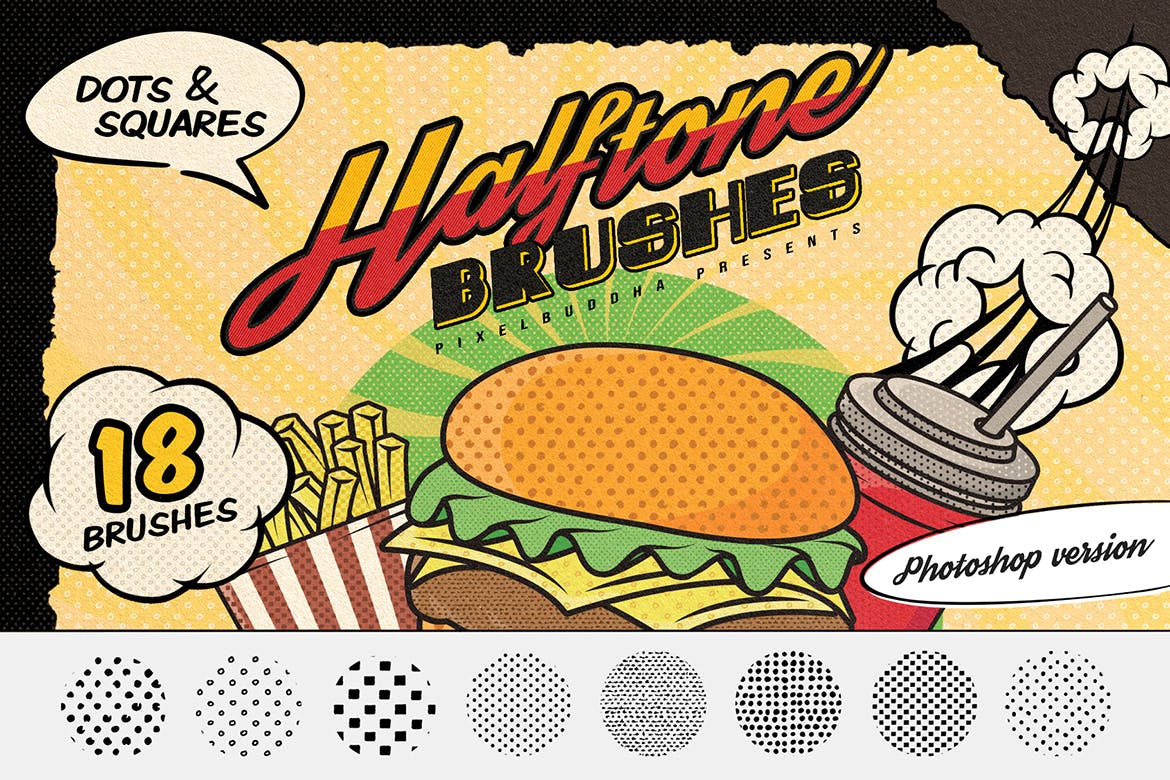 Use these dots and squares brushes to create a vintage distressed look in Photoshop with ease. The package comes with 18 halftone brushes and 4 old paper textures perfectly fitting to a range of creative projects including presentations, comics, book covers, and stationery designs.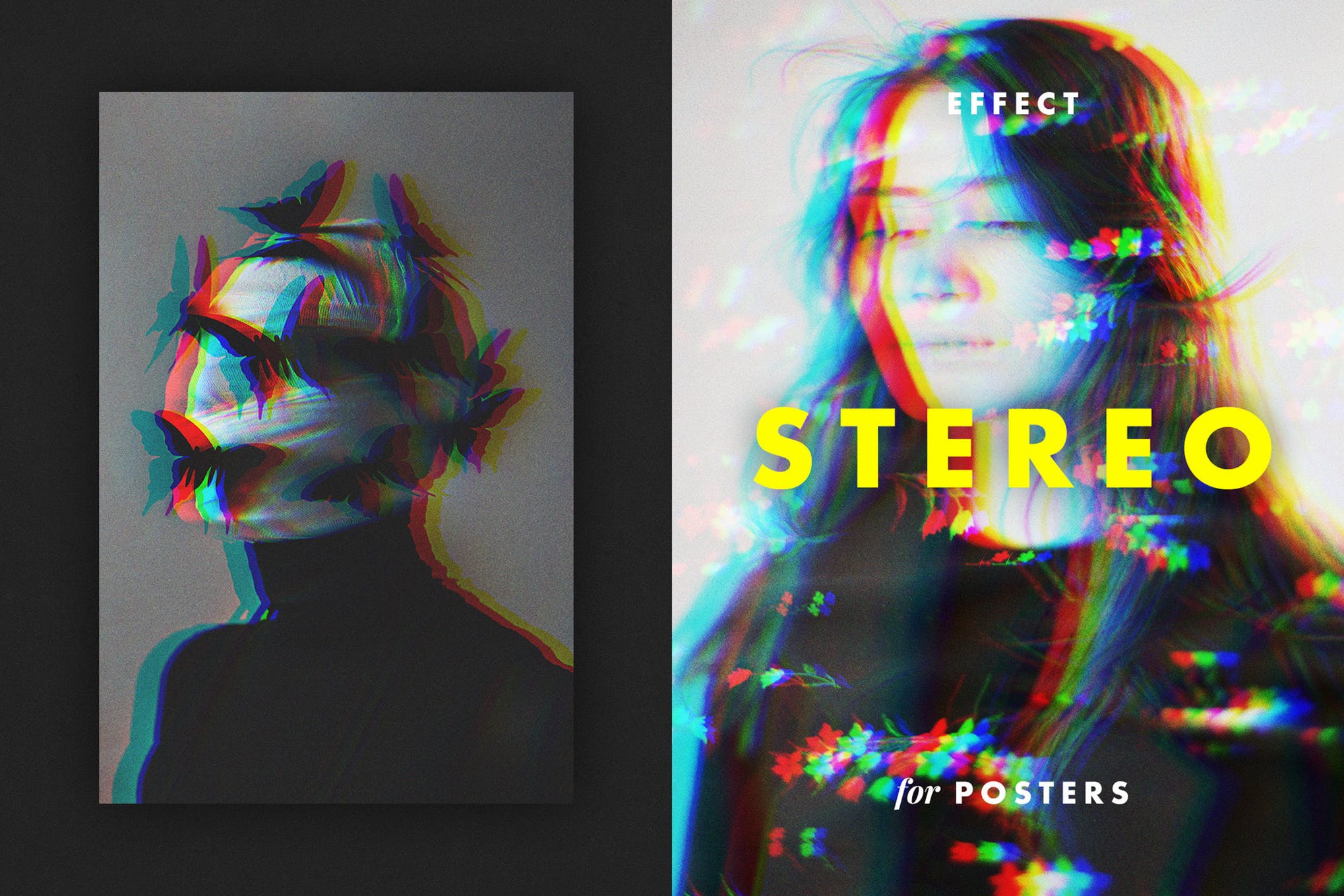 This Photoshop product allows you to emulate the colors of television static, and create incredibly unique digital designs that can be printed on posters. It includes a range of glitch, noise, and pixelation effects that can help you create a dream-like distressed look in Photoshop.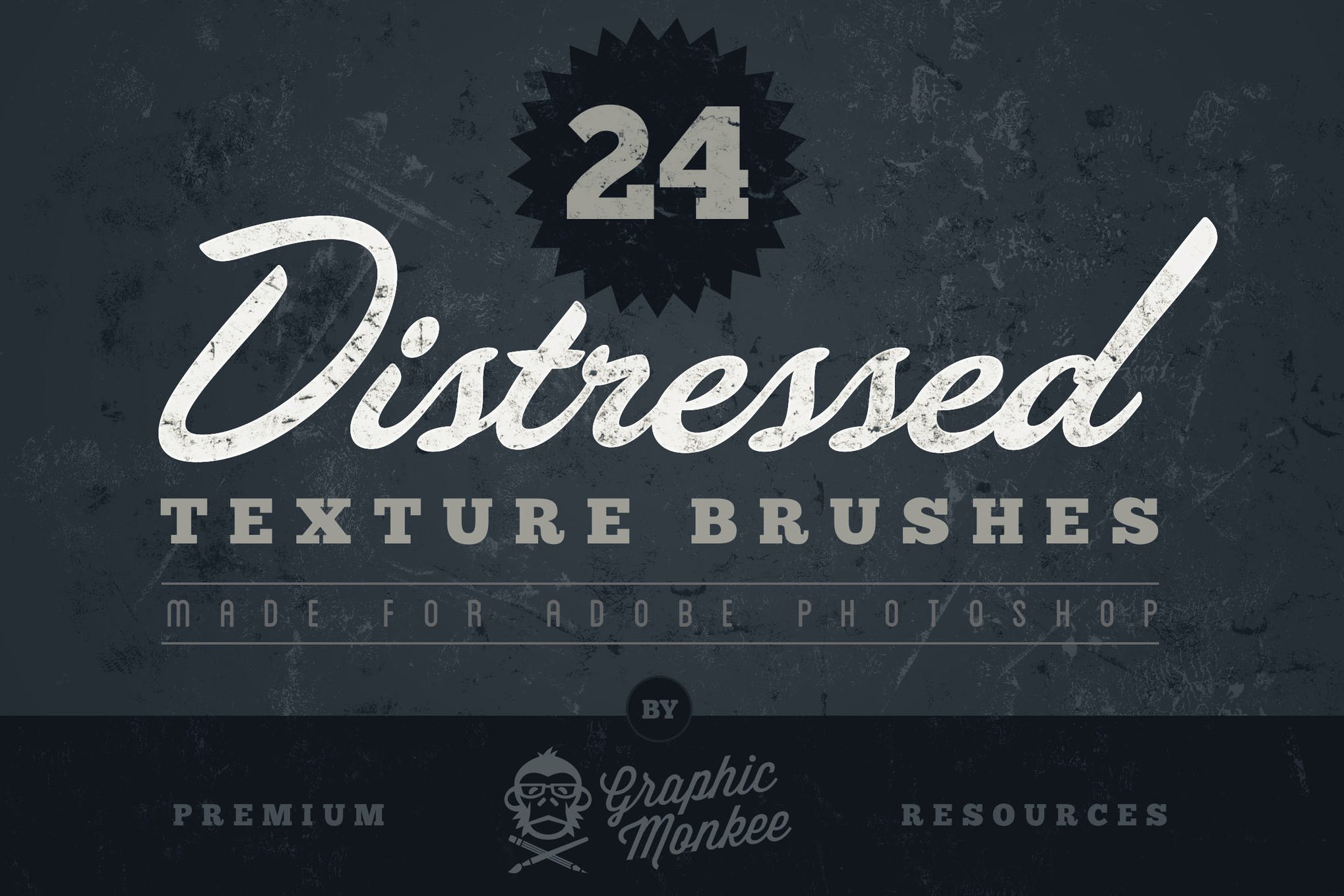 When it comes to achieving a distressed look in Photoshop, you can't go past this carefully crafted brushes collection. Inside you'll find twenty-four distressed Photoshop brushes, each tailored to provide you with creative control over how you apply the distressed aesthetic to your artworks.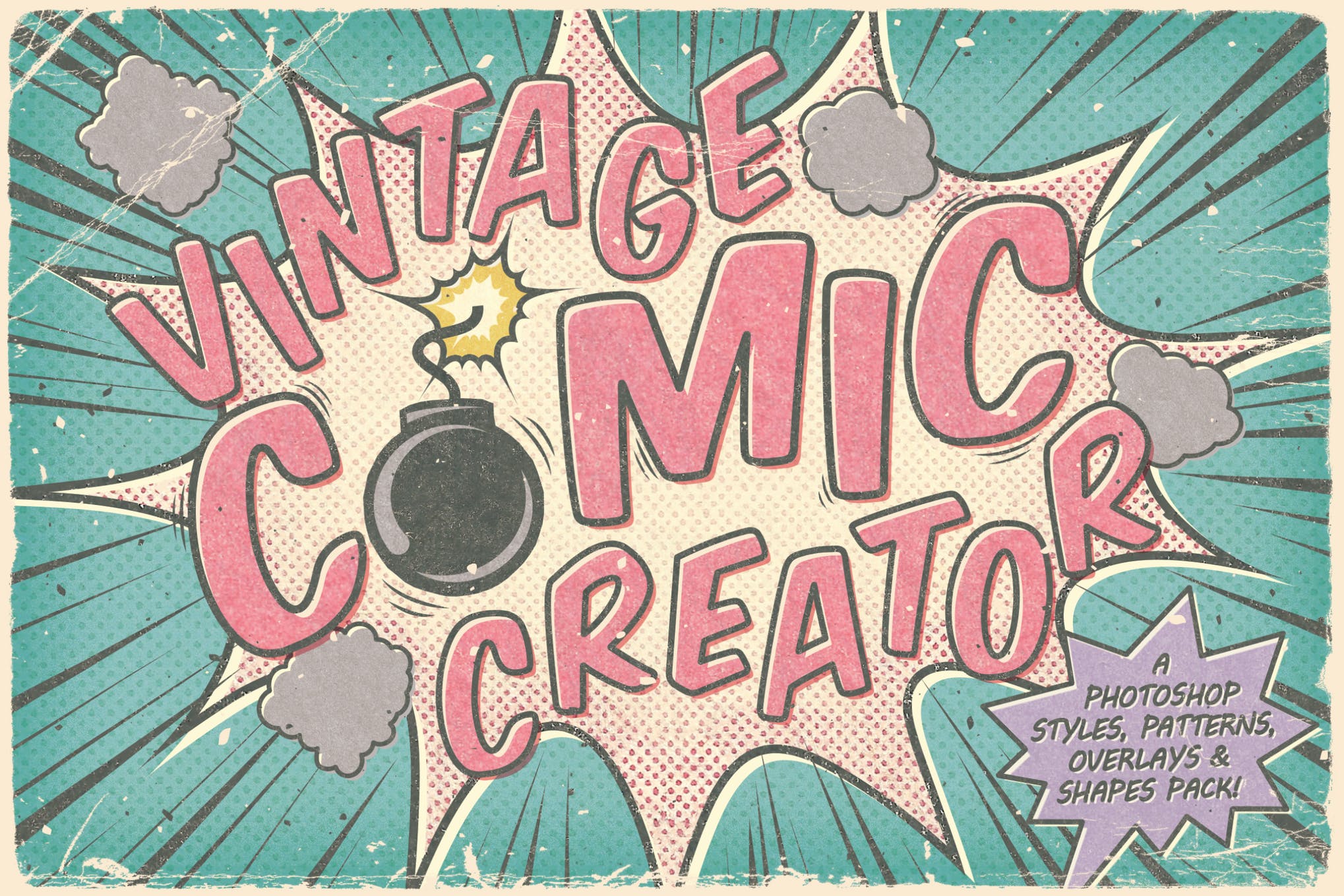 Want to emulate the look of a comic book that hasn't seen the light of day for years? Well with the Vintage Comic Creator, you can! This effect allows you to bring out that ripped, distressed, and weather-beaten look to any of your visual designs with ease.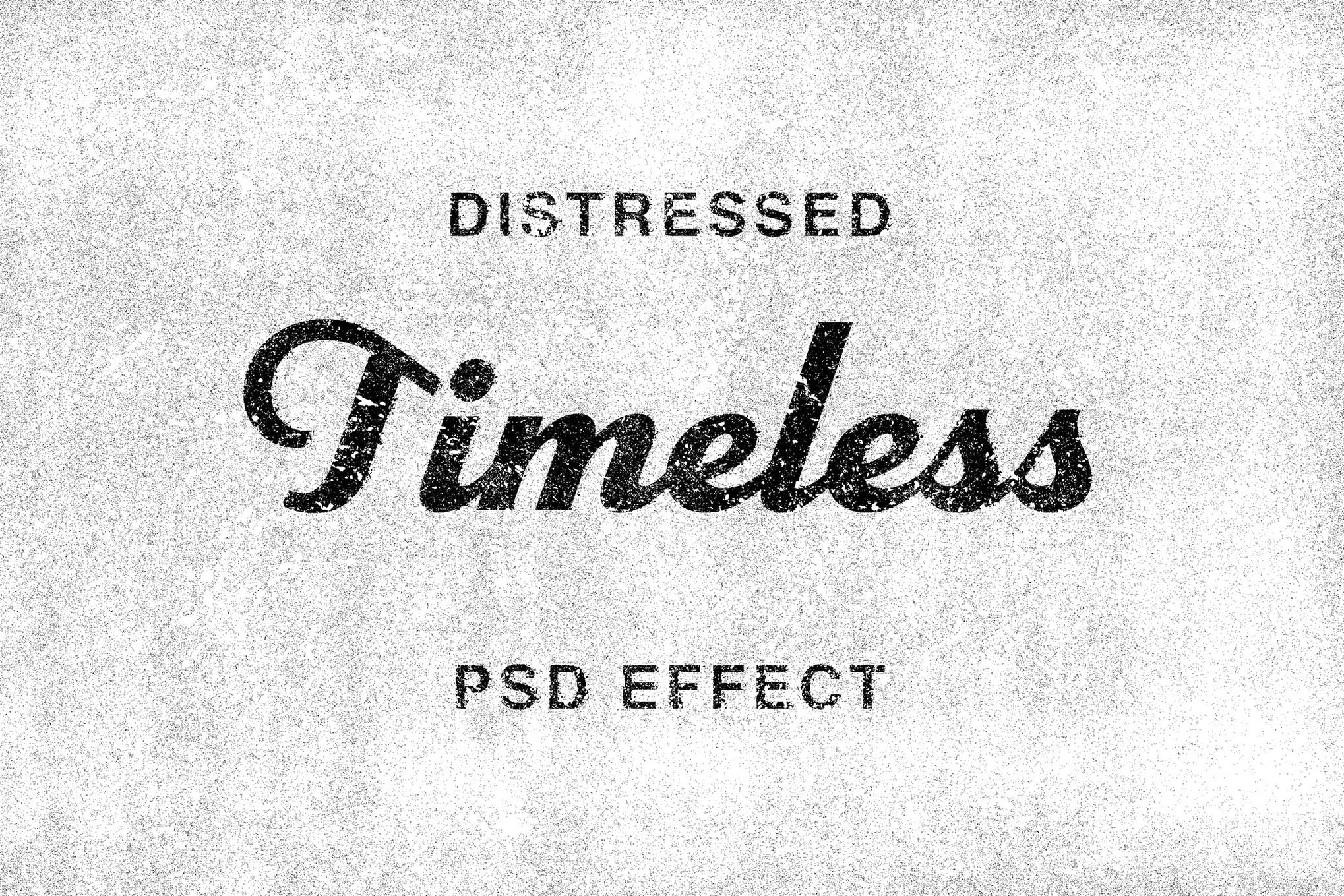 Timeless is a distressed overlay for Photoshop, allowing you to quickly and easily give your typeface designs a distressed look in seconds. It's a perfect resource for those that have a pre-existing typeface they want to use, yet want to bring in a grungy, messy look over the top of it.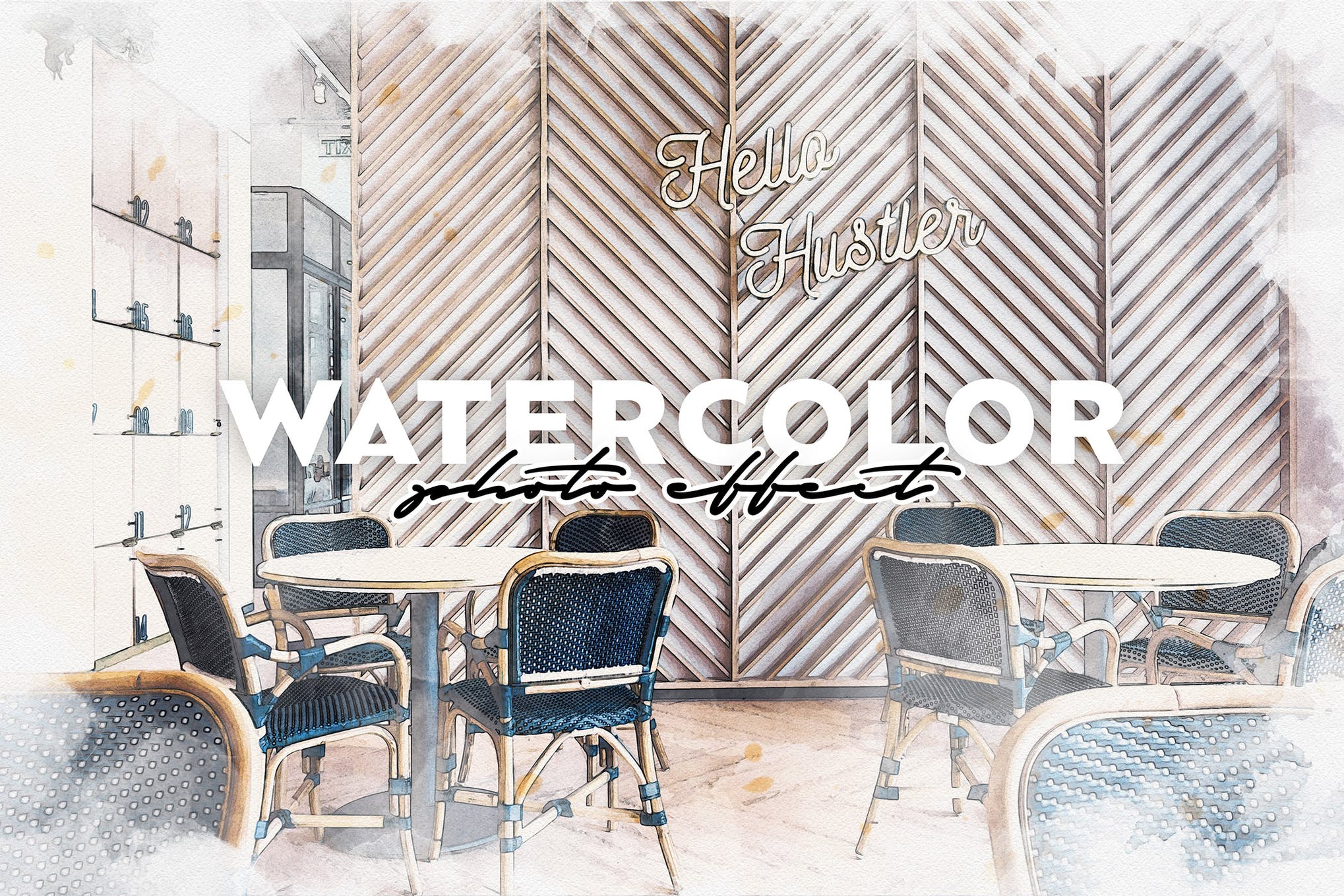 Bring together the iconic watercolor style with a distressed overlay using this Photoshop effect. It will help you transform any image you desire into a watercolor distressed edges Photoshop masterpiece without you having to actually paint to achieve the desired look.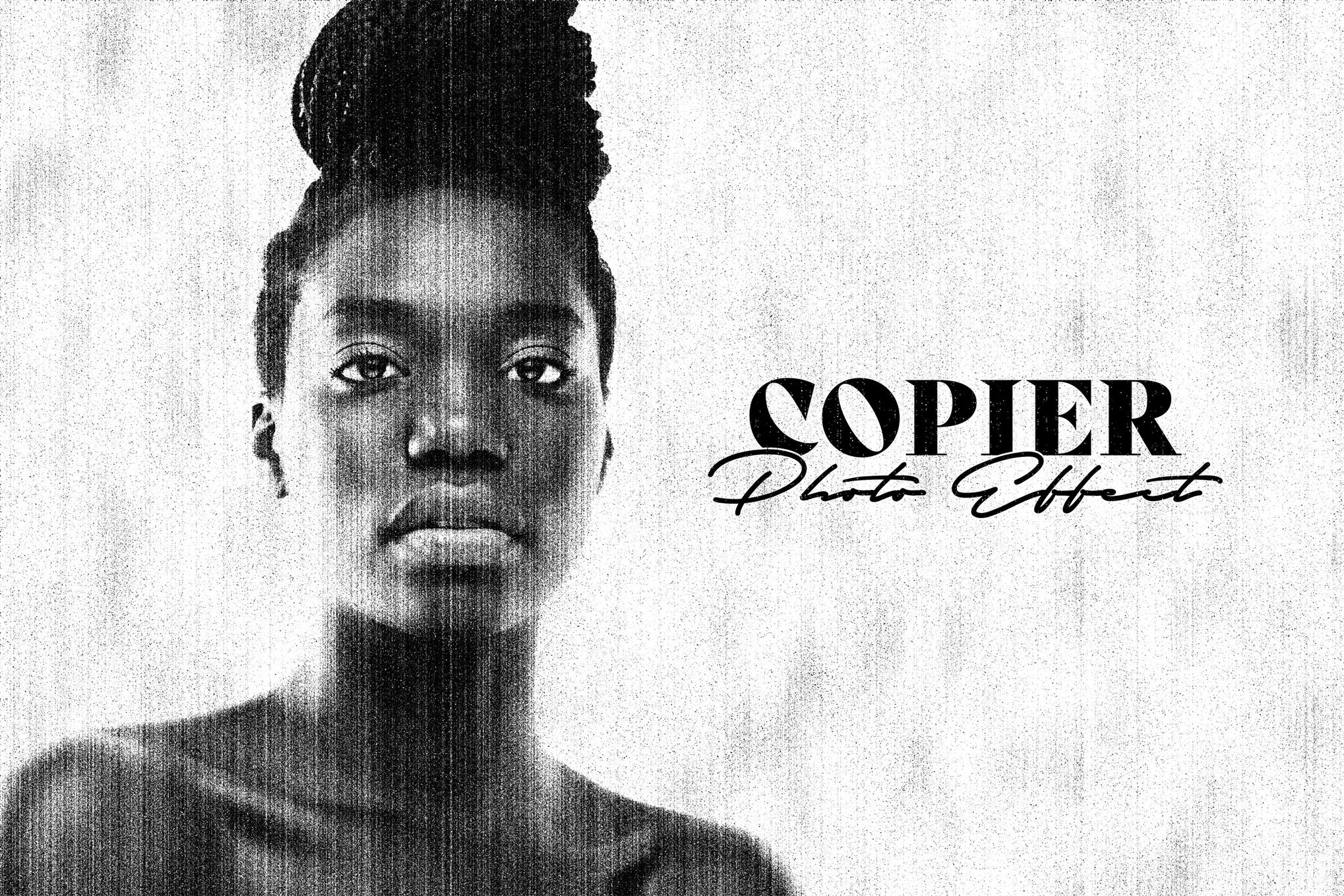 We don't often realize how distressed a photocopier makes pictures appear, especially ones with terrible rollers. Yet now, with this Photoshop plugin, you can emulate the photocopier effect effortlessly. Whilst a more unique distressed style, it will excel in a wide range of visual design projects.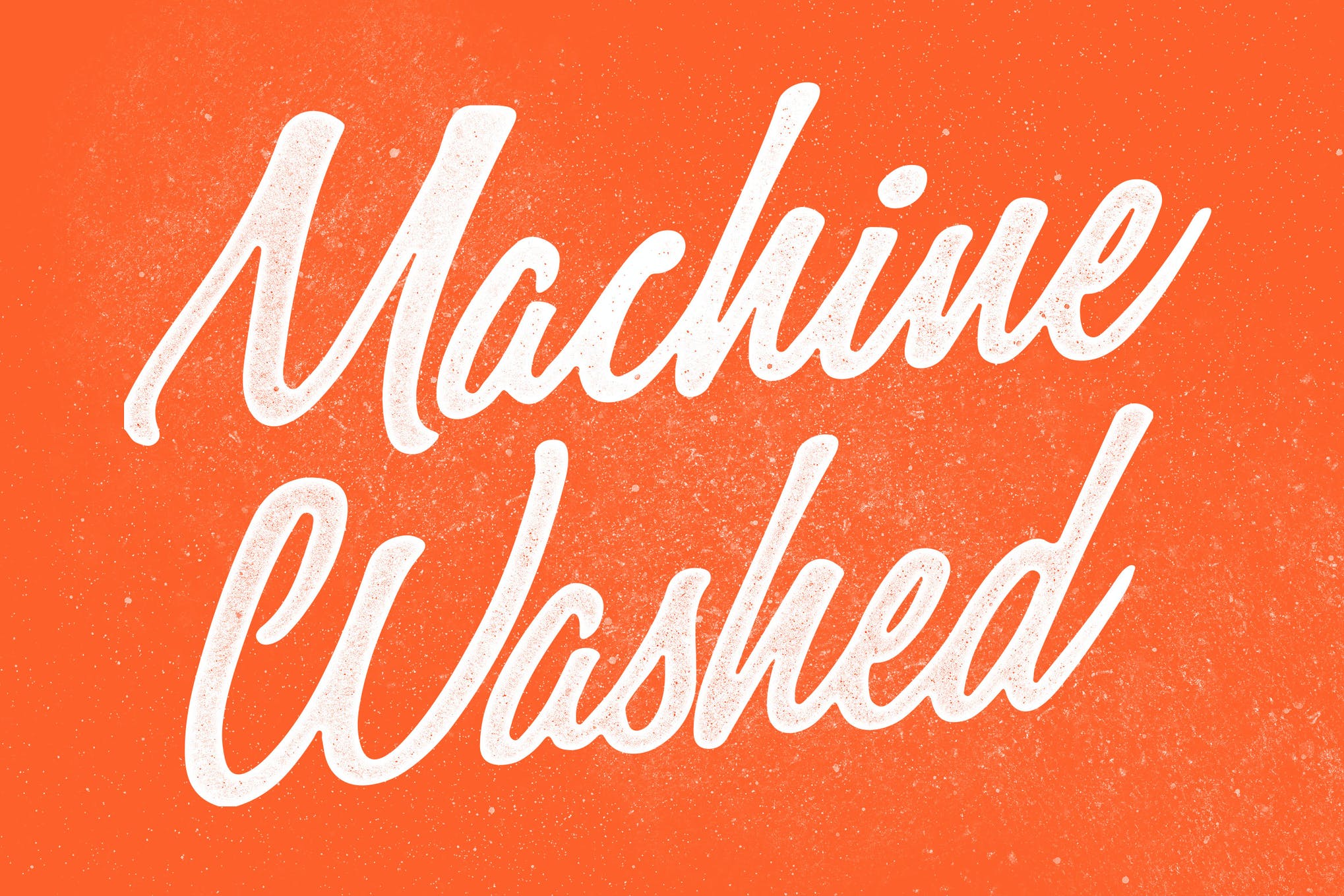 Take advantage of Machine Washed, a set of distressed Photoshop brushes, and bring worn-out, scratchy, and scruffy effects to the page with ease. Inside you'll find eighteen brushes, each with its own unique gradient, weight, and aesthetic. A perfect choice for those looking to expand their visual design toolkit.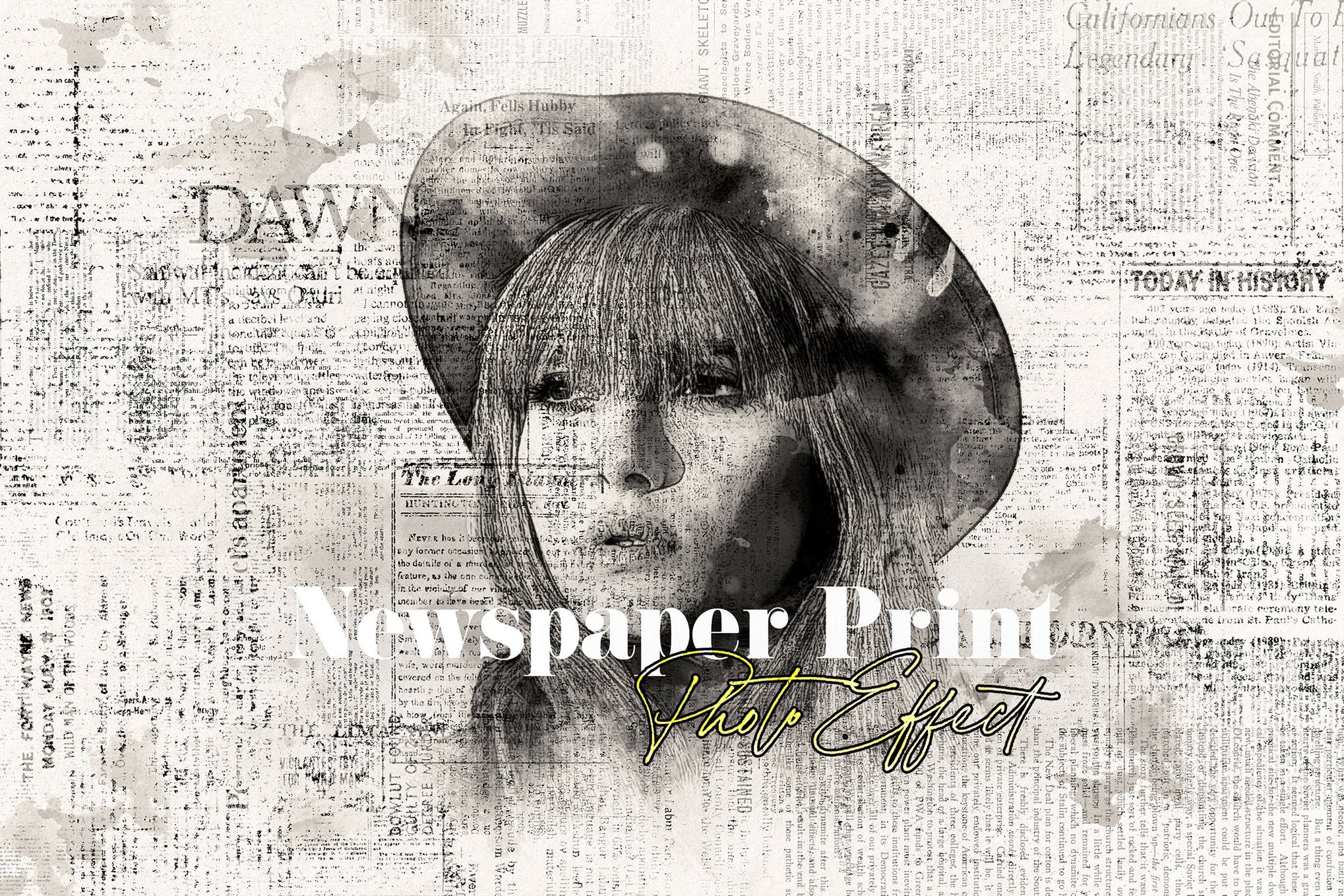 Bring back the 19th-century newspaper aesthetic with this distressed texture Photoshop effect. It provides you an element of creative freedom, with its extensive customization options, and overlay choices. A more unique but effective approach to executing a distressed filter in Photoshop.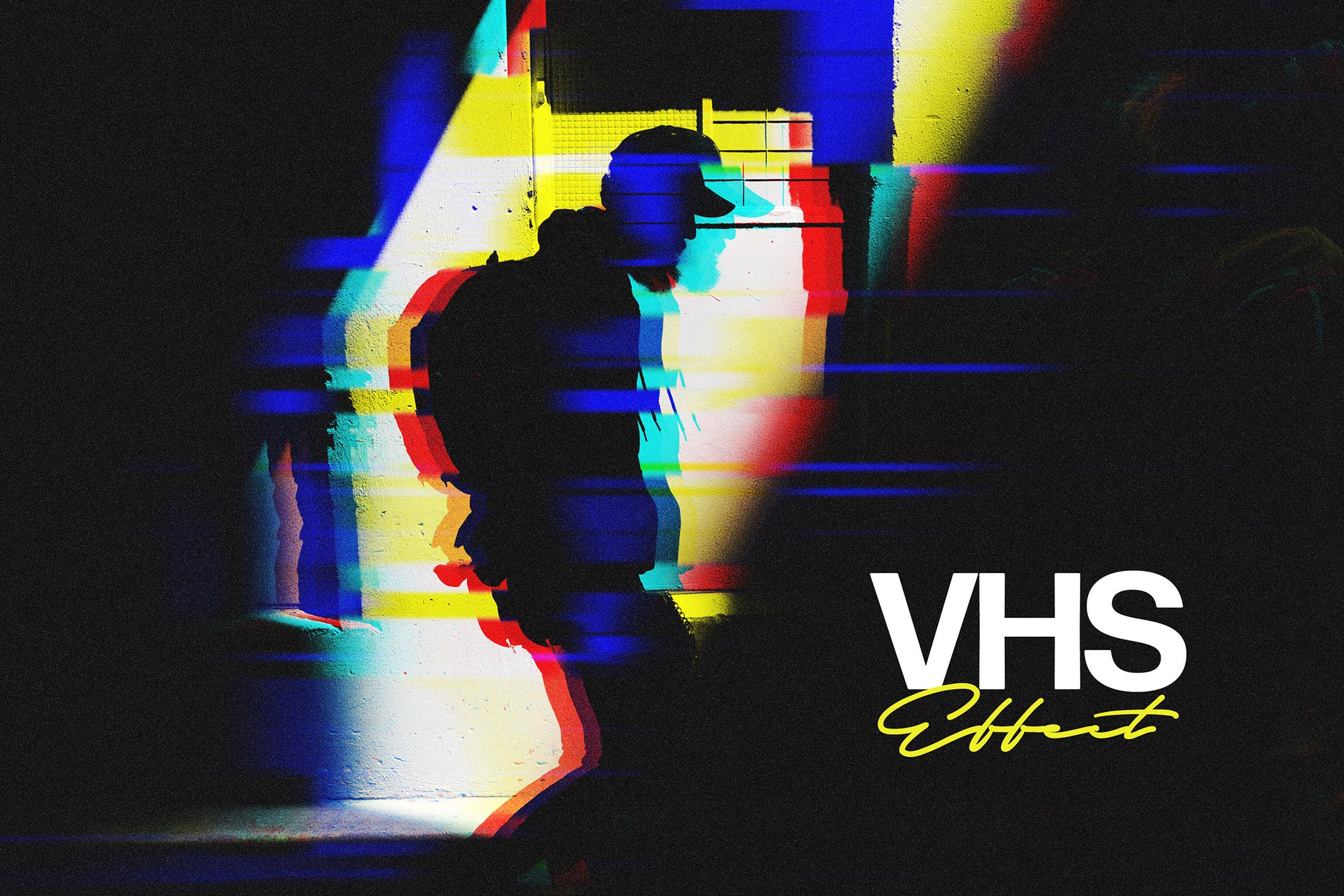 Here we have a solid option for the cyberpunk and gaming design fans. This plugin can be used to apply retro broadcasting effects with noisy, and scratchy overlays to your artwork, and put all your worries about how to distress an image in Photoshop to rest.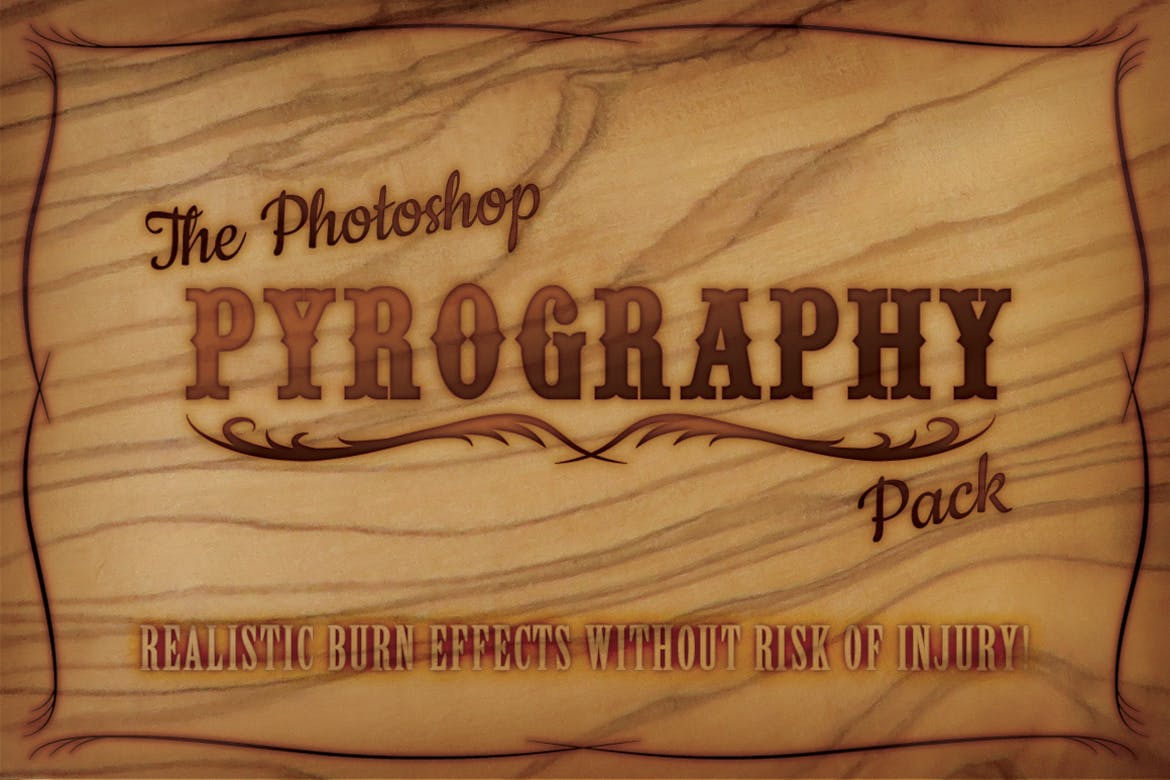 The Photoshop Pyrography Pack may seem like an odd addition to this list, but it does enable you to emulate a wide range of distressed styles on the screen. It comes equipped with over seventeen different styles, and a range of assets, all for you to tailor into your very own special distressed masterpiece.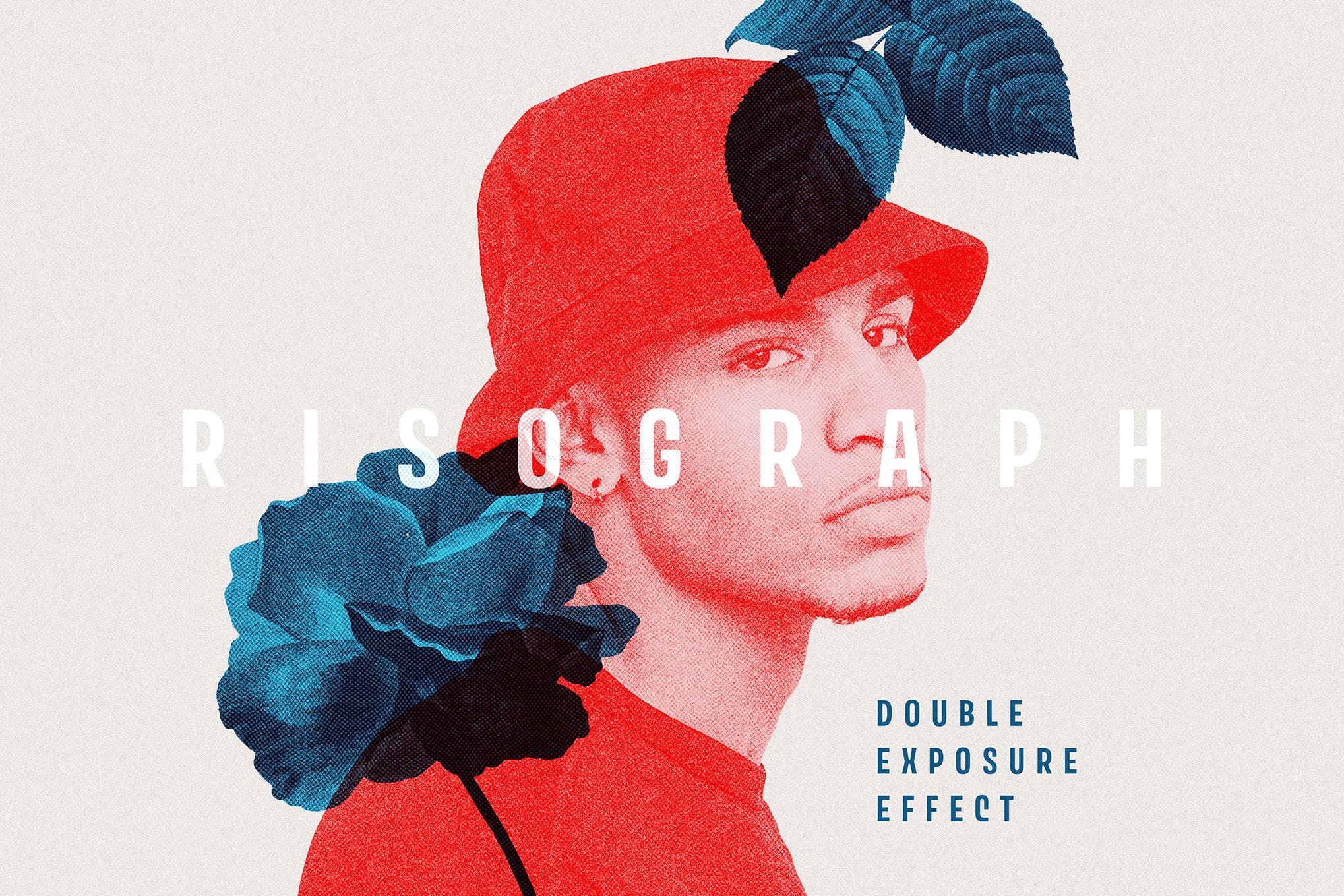 This photoshop plugin brings together both the double exposure method and the distressed overlay style, into one neat resource. It's a fantastic style that will add a unique touch of retro noise, and film grain to your designs.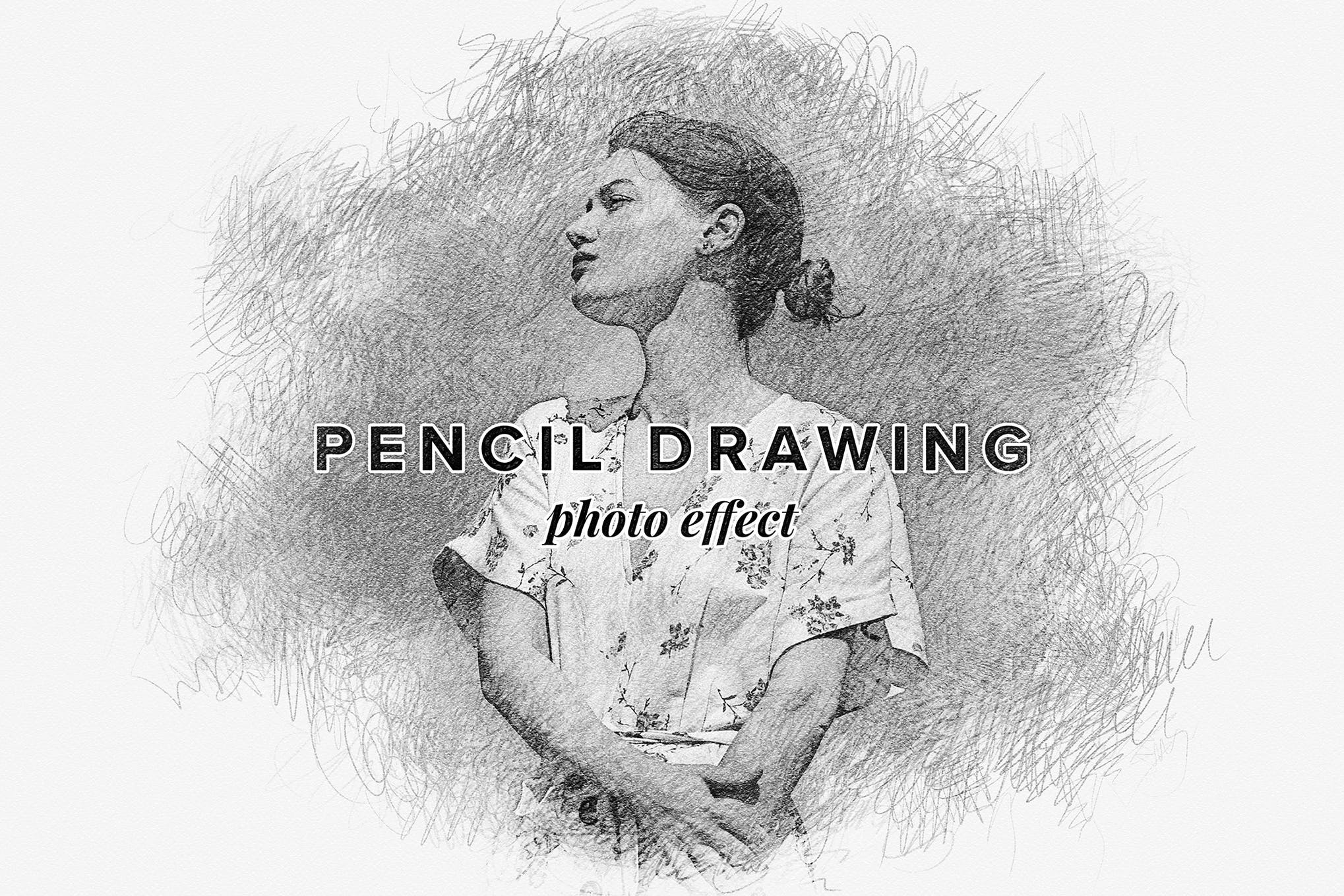 Use the Pencil Drawing photo effect and bring out those distressed edges in Photoshop in an easy-breezy manner. This effect will help you transform any image you desire into a pencil drawing, and provide a range of grunge, or distressed aesthetic options to help you execute the style.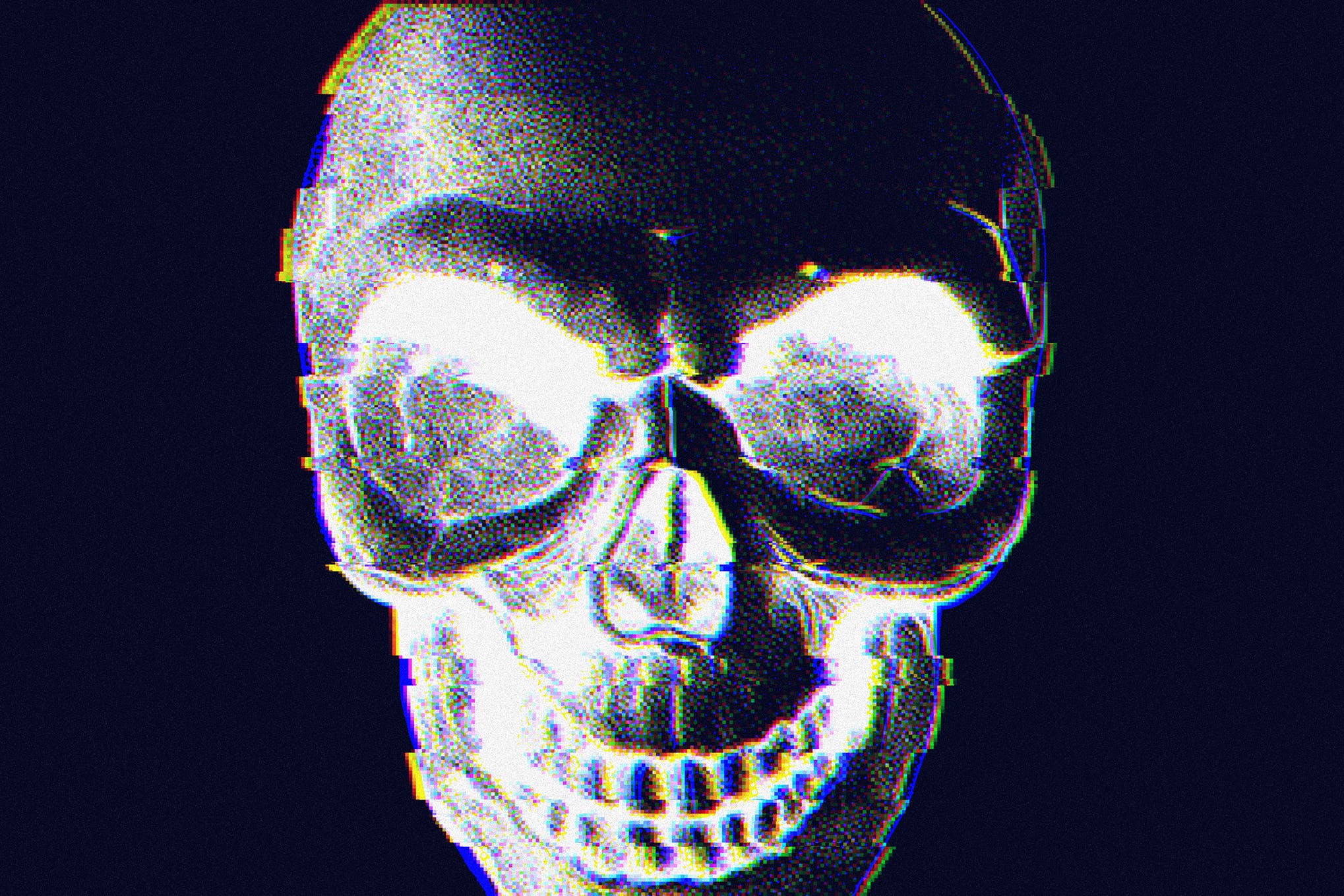 Fancy texts and logos with crashed pixels effect? Look no further than this asset that will help you create a distressed edges Photoshop look in no time at all. It's a great distressed texture Photoshop plugin for your texts, and logotypes, and deserves to make it to your shortlist.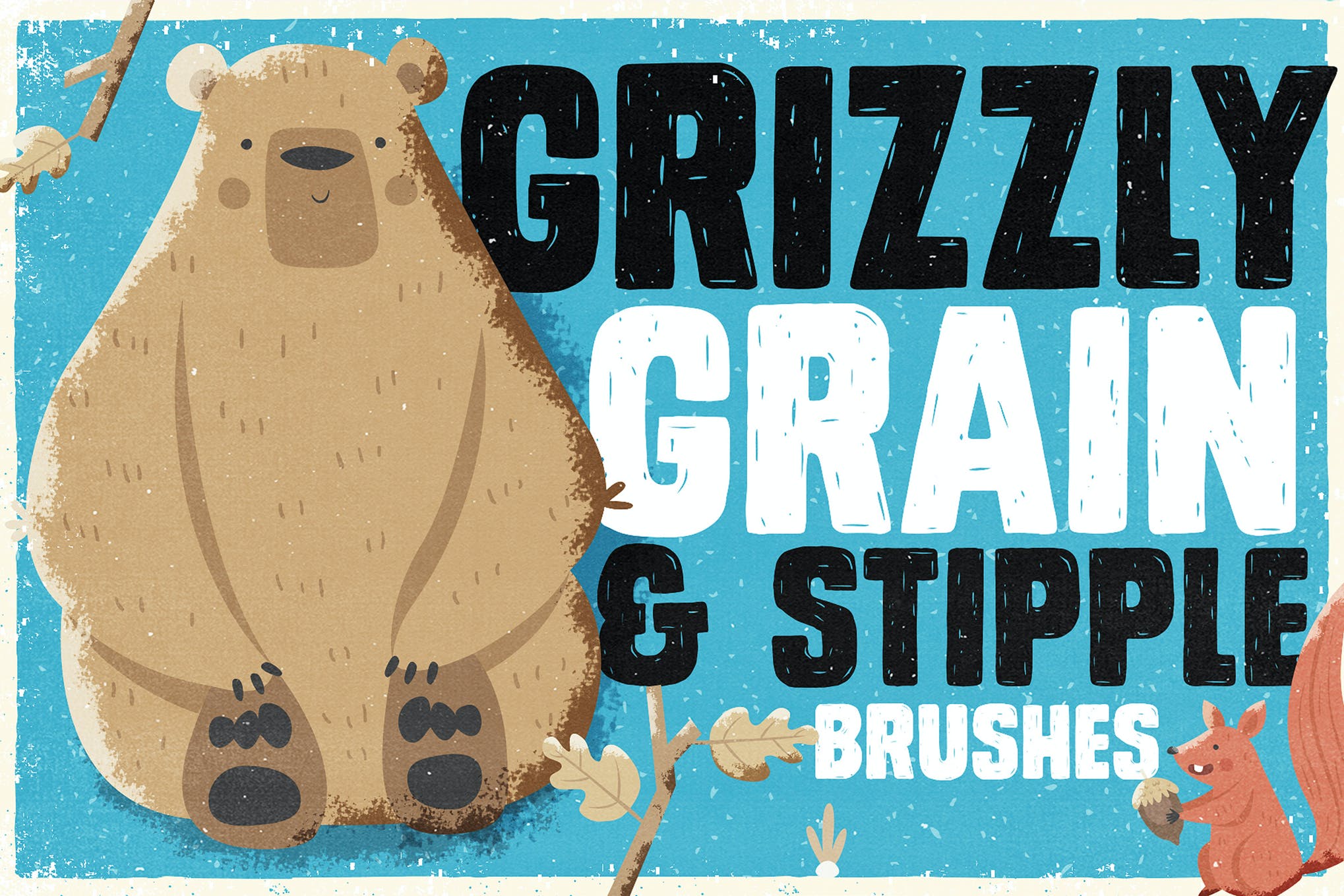 Never again wonder how to distress an image in Photoshop all thanks to the Grizzly Grain & Stipple Shader Brush collection. Whether you need a rough distressed look in Photoshop or a more dotted type of aesthetic, these brushes will quickly, and simply, transform your artworks into a grunge fantasy with only a few clicks of a button. A great resource for beginners looking to trial the Photoshop distressed effect for themselves.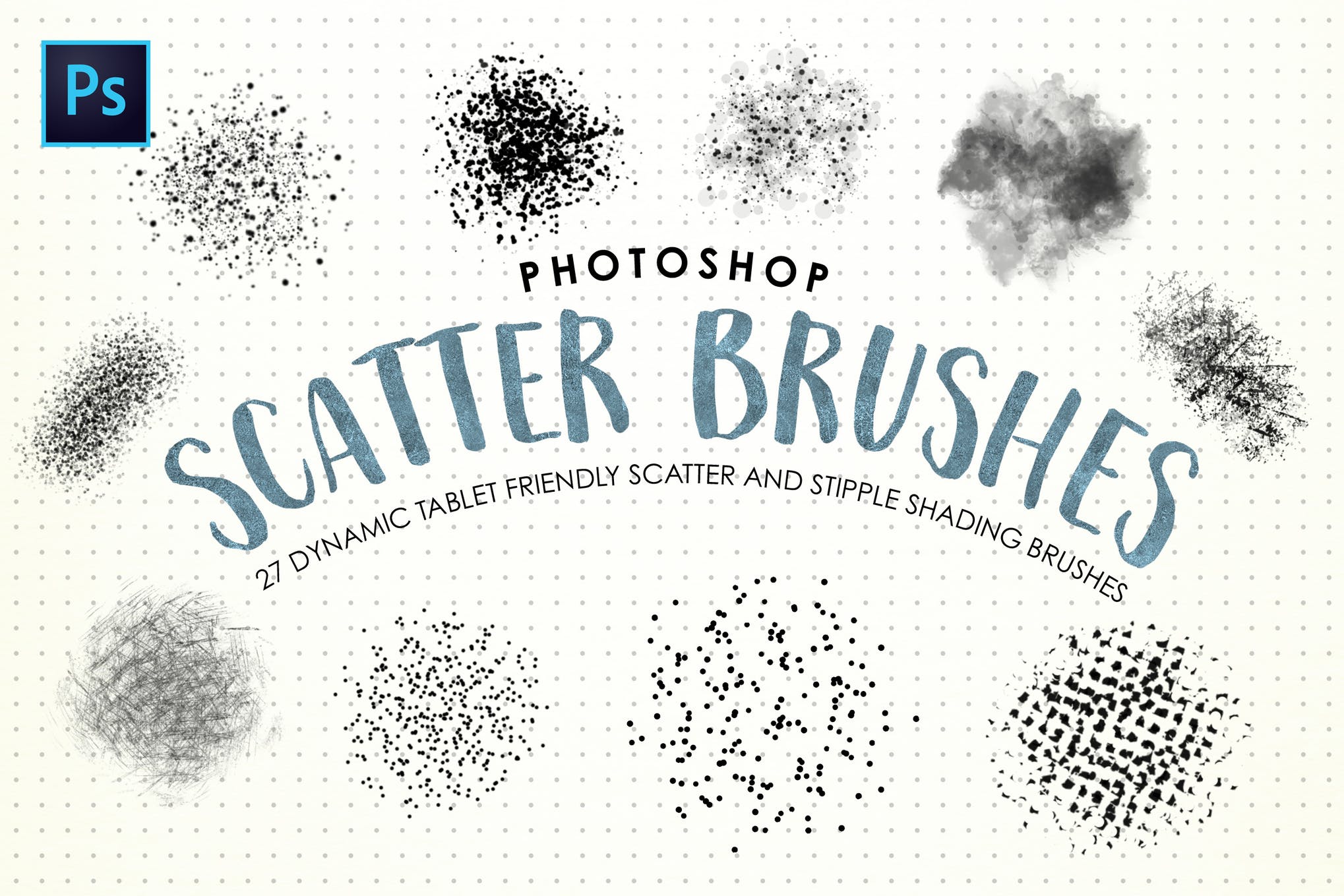 Take back an element of creative freedom with the Scatter and Stipple brush collection. Inside are twenty-seven carefully crafted distressed Photoshop brushes, each well equipped to help you emulate a grungy, worn-out look, and add natural shading, depth, and texture to your designs.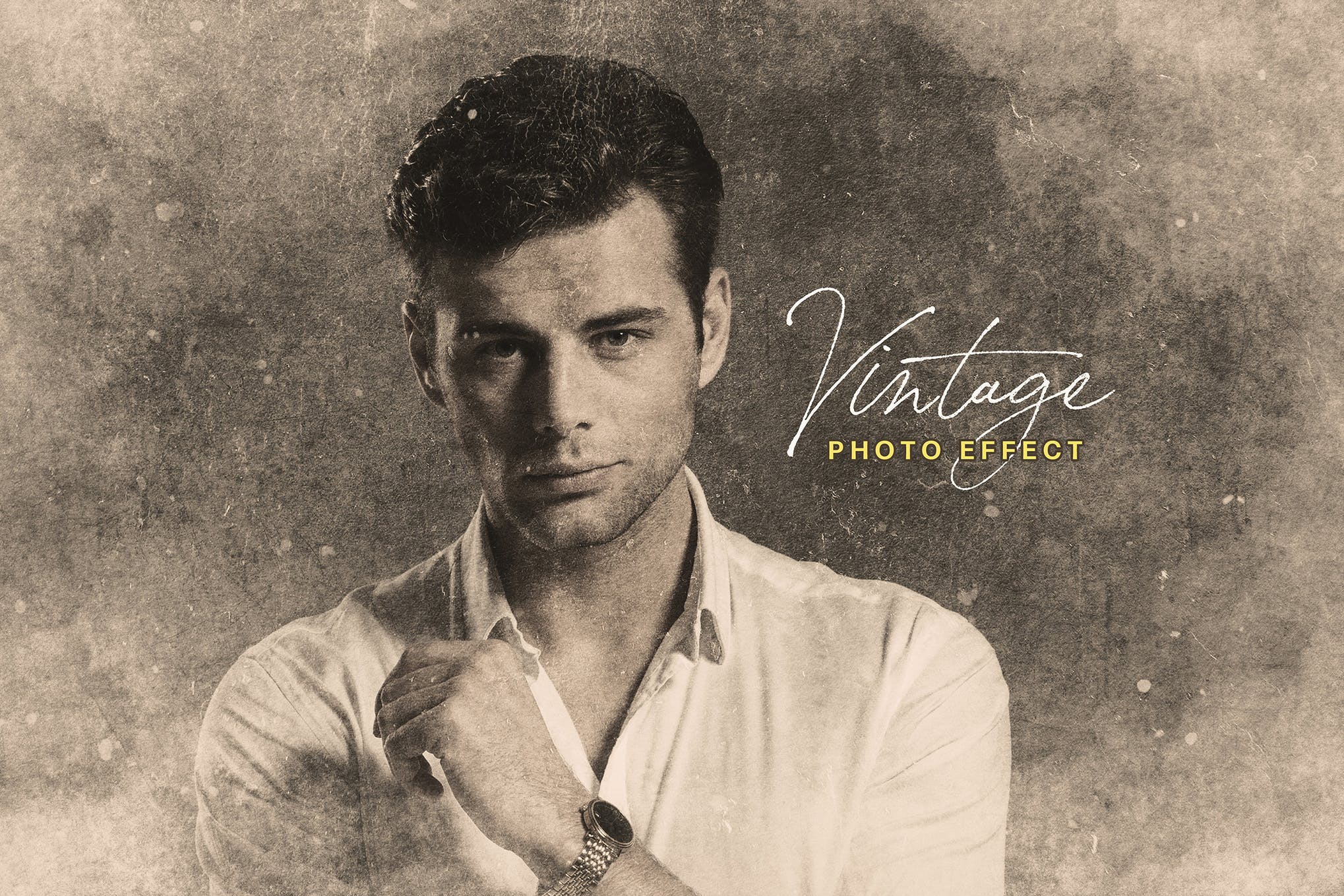 Bring a touch of vintage personality to the table with this Photoshop effect that's all about washed-out colors, film grain, and scratchy textures. Providing a more traditional approach to tailoring a distressed aesthetic on the page, this effect is a simple to use solution that is sure to impress.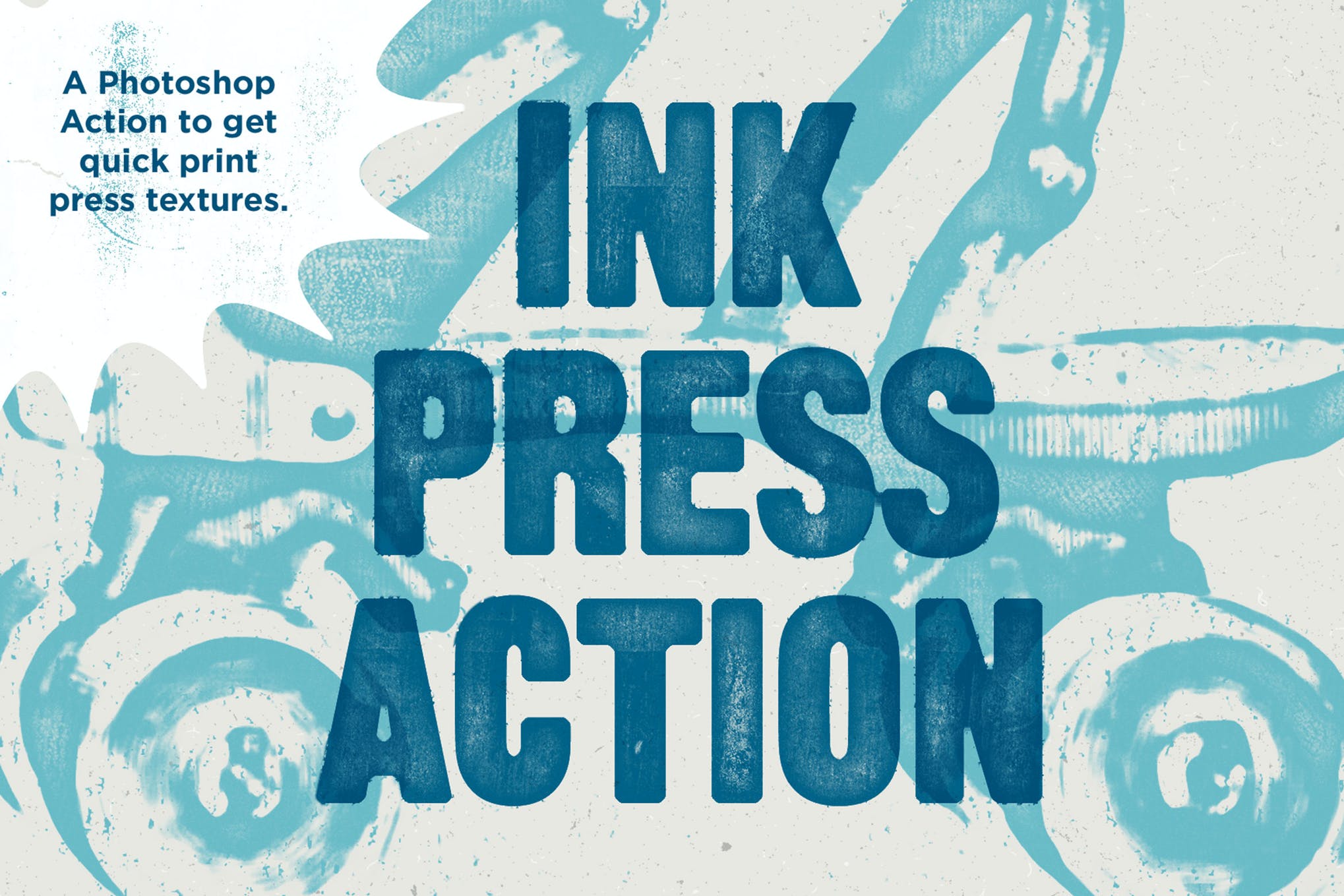 This Photoshop action helps you achieve a vintage letterpress look in the easiest and most efficient manner. The pack contains three distressed overlay Photoshop actions and twenty patterns that can be fully customized to your heart's content.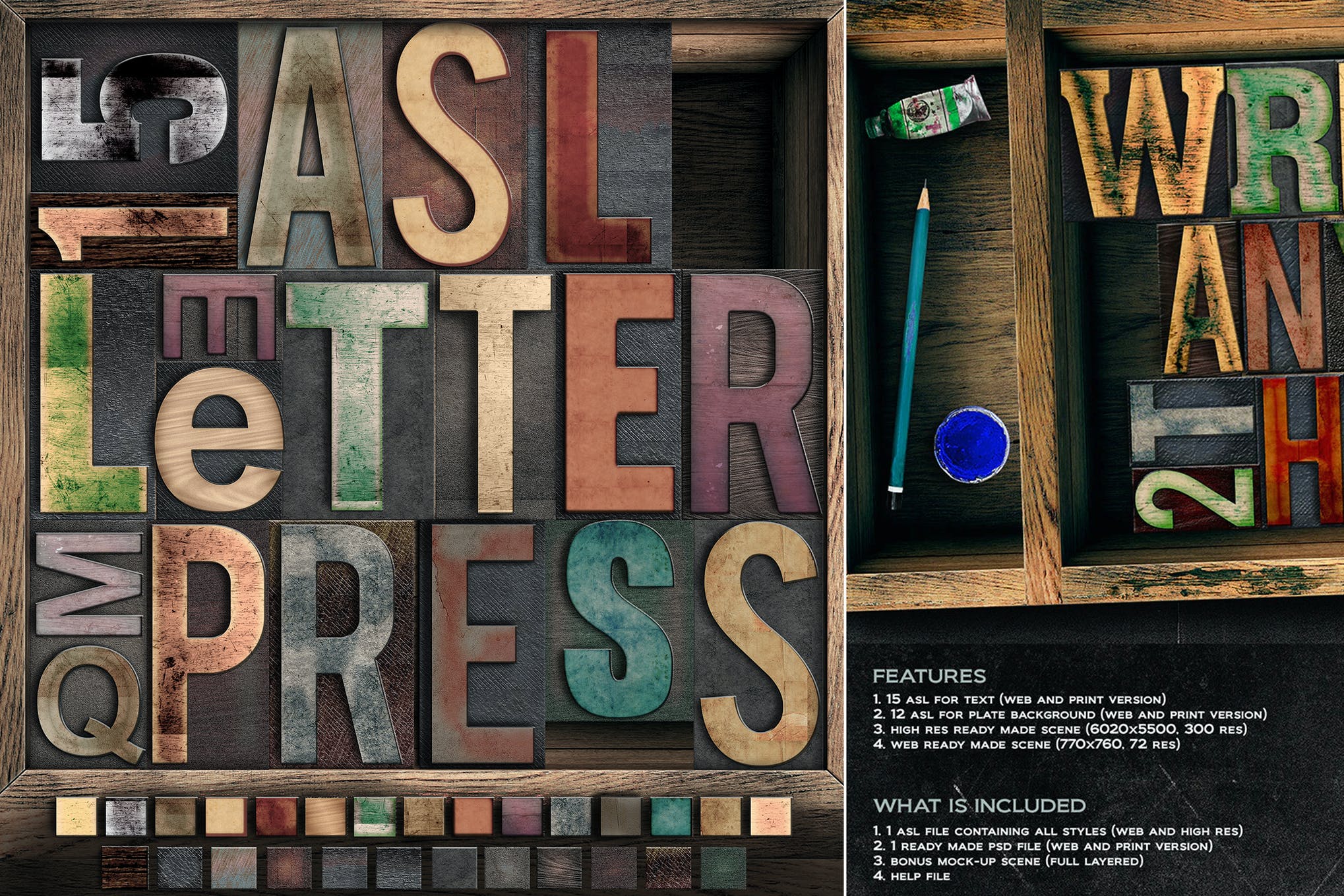 Want to bring that distressed texture to your typeface designs? Then you need to check out the Letterpress Wood Edition for Photoshop. Inside is a range of grunge character designs, all tailored on a gorgeous wooden aesthetic. A perfect distressed texture Photoshop plugin for both professional and creative visual design projects!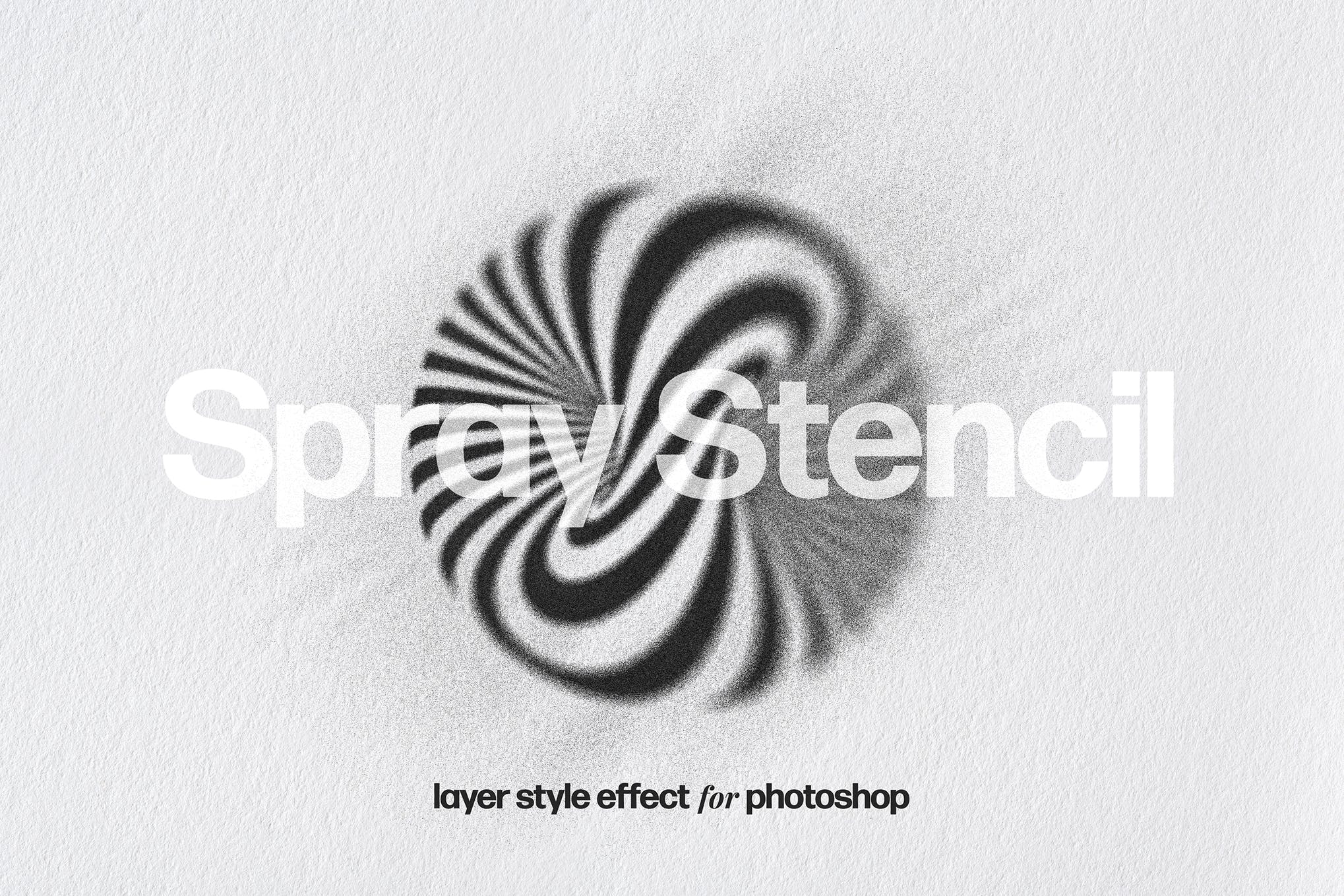 Bring together both the sprayed texture and the distressed aesthetic, to create an artwork that's truly out worldly. This effect will quickly transform any image you desire into a sprayed work of art with splatter edges. A fantastic beginner' resource to achieve a distressed edges Photoshop look.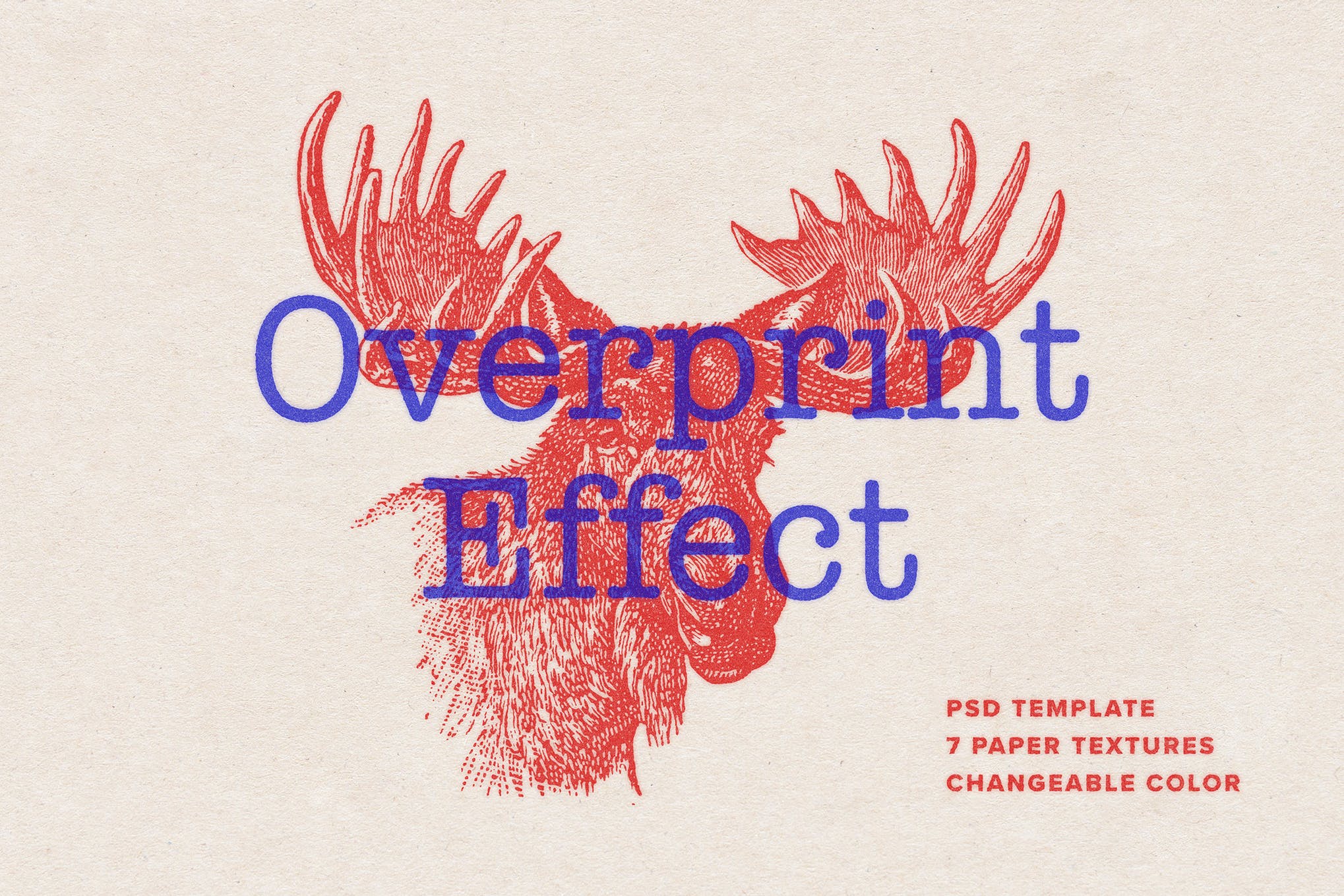 Create a truly captivating distressed aesthetic with the Overprint Photoshop effect. This will transform your images into a retro style, taking you back to the times of old encyclopedias, and vintage factory posters. Offering a wide range of customization options to truly make it your own, this distressed texture Photoshop effect is a perfect resource for beginners and professionals alike.
Free Photoshop Distressed Effects
You don't have to spend any money to get your hands on some great distressed Photoshop effects. Let's take a look at some free options that manage to stand out from the rest: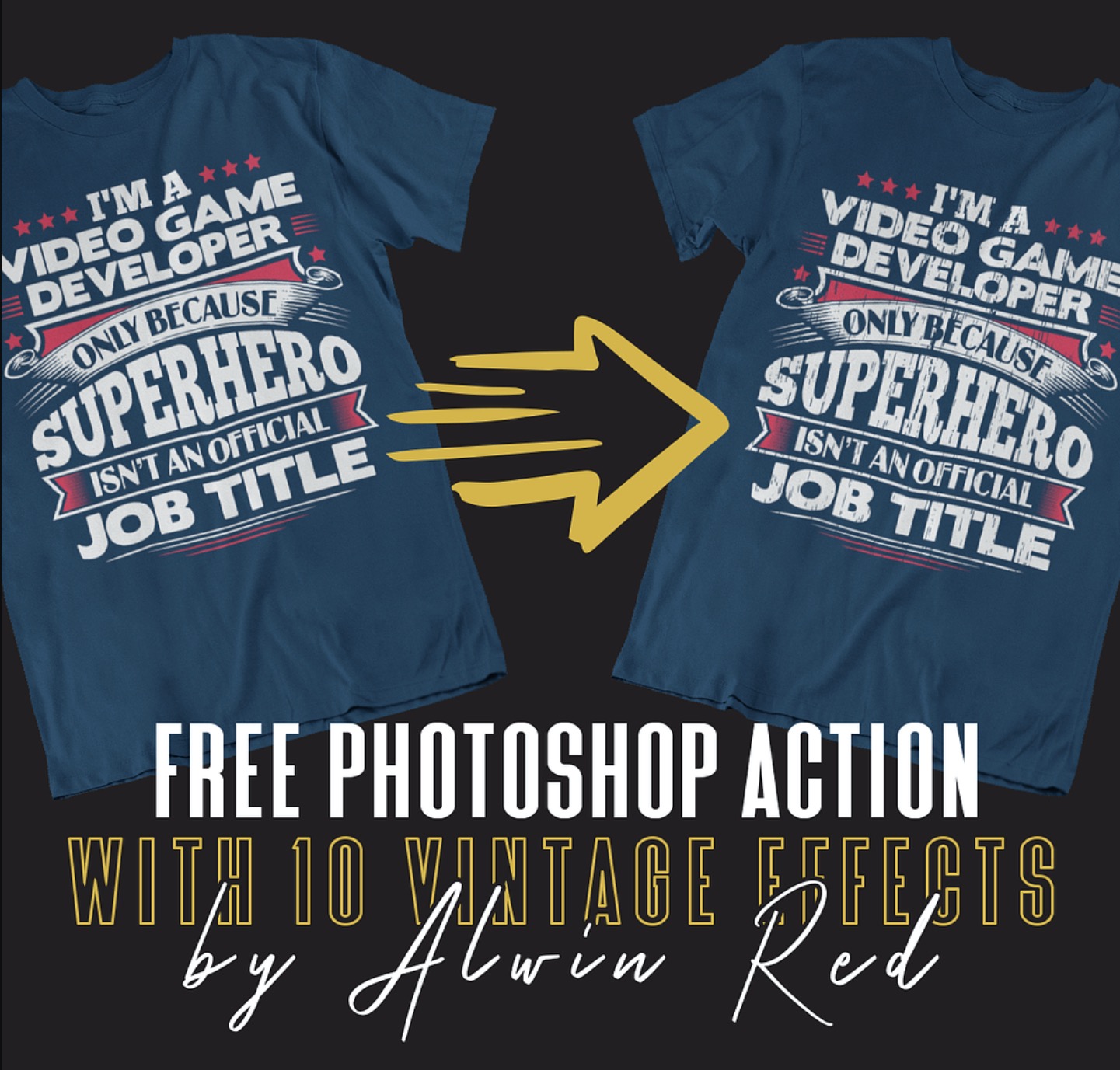 If you're a t-shirt manufacturer looking to boost sales or a graphic designer wanting to showcase t-shirt designs in your portfolio, this Photoshop action can come in very handy. It will produce ten distressed copies of your original t-shirt design allowing you to choose the one that you like the most.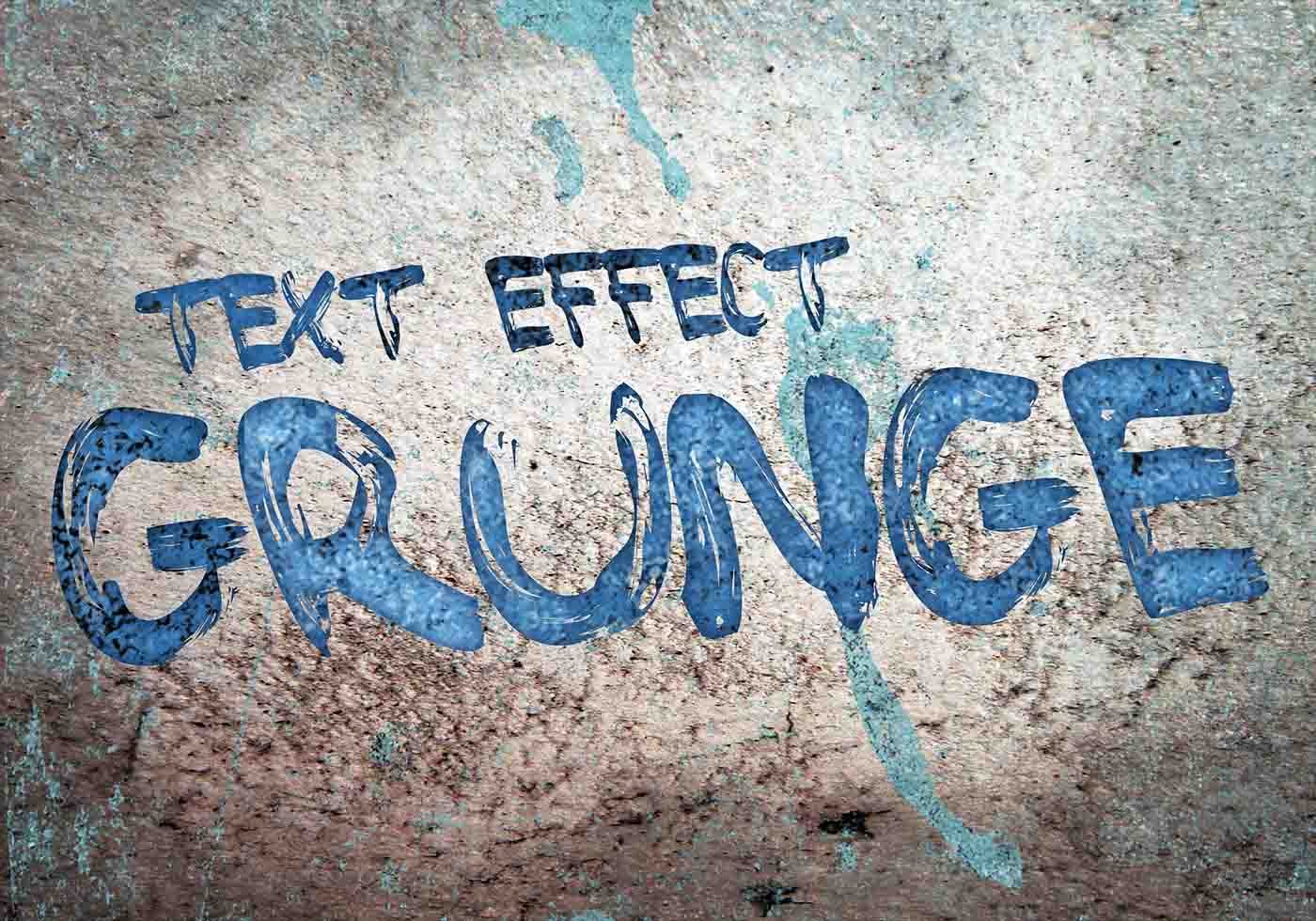 Bring a little personality to your text designs with this distressed texture Photoshop plugin. Helping you achieve an urban graffiti style look, this is a great resource for anyone wanting to toy around with the Photoshop distressed effect.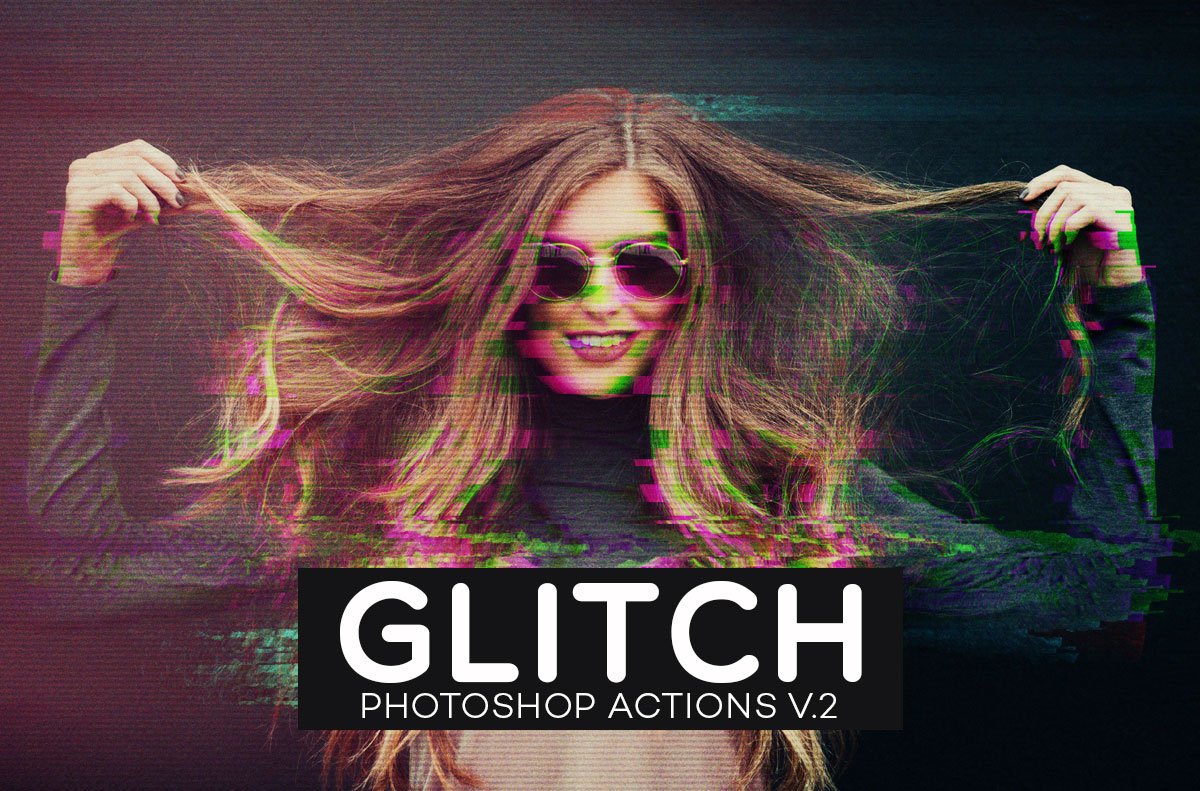 This Photoshop action provides you everything you need to mold a glitch, and VHS style picture, and bring a range of distressed styles to every corner. Bringing together both the glitch aesthetic and distressed style into a single package, this resource provides you the best of both worlds at no cost at all.
Create Amazing Distressed Designs with These Resources Today!
It can often be difficult to go through endless streams of resource libraries, trying to find the good distressed edges Photoshop resources to begin using. Yet, thankfully with this list, your search is over. Now you have everything you need to create amazing distressed designs with a few clicks of a button!