20+ Best Hoodie Mockup Templates (Free & Pro) 2024
Hoodies are one of the favored pieces of clothing in the 21st century, so it's no surprise that designers love to use them as canvases for their designs. This has led to a growing demand for hoodie mockup templates to showcase designs on social media platforms, online stores, and blogs.
If you're working on a hoodie design, we've got the perfect collection of hoodie mockup templates for you. In this post, we're featuring hip and stylish hoodie mockup templates. We also made sure to include a few free hoodie mockup templates too.
Have a look at the collection below, start downloading, and enjoy seeing your hoodie design on a stunning mockup!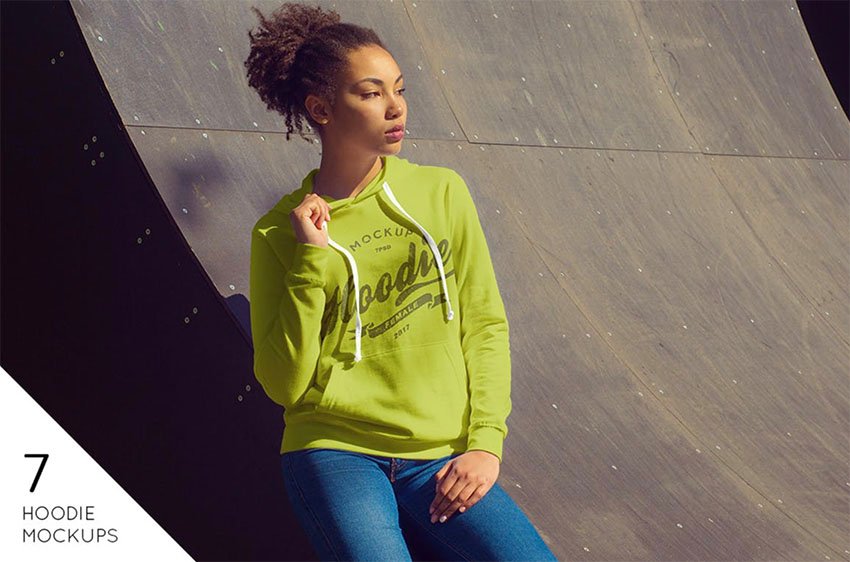 Looking for a wonderfully stylish blank hoodie template to test your design? This one offers seven different PSD templates with the model shot from different angles. The files are all organized in layers, with easy-to-use smart objects.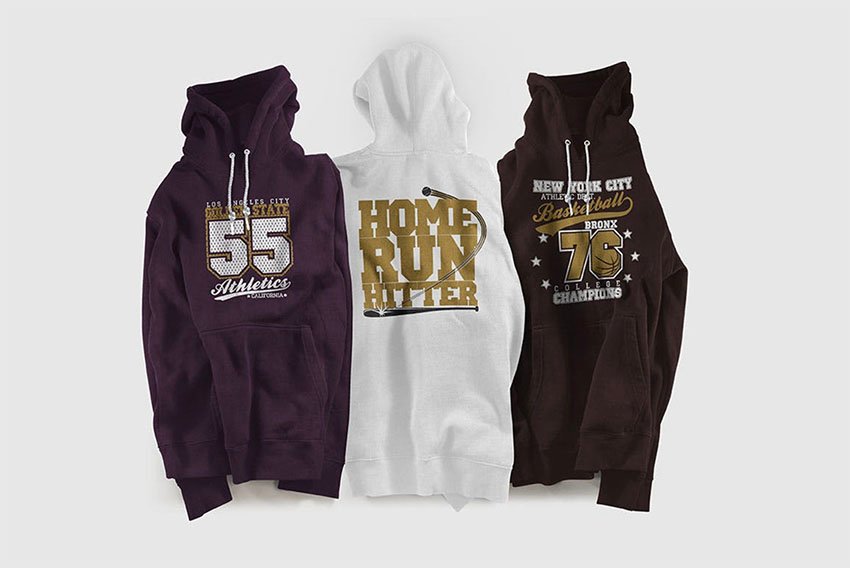 Use these hoodie sweatshirt mockups to display your newly created logos and/or designs. The mockups are printed in 13 high-resolution PSD files that are neatly organized in clearly named layers. Editing is made easy using smart objects. A PDF guide is included in case you get stuck.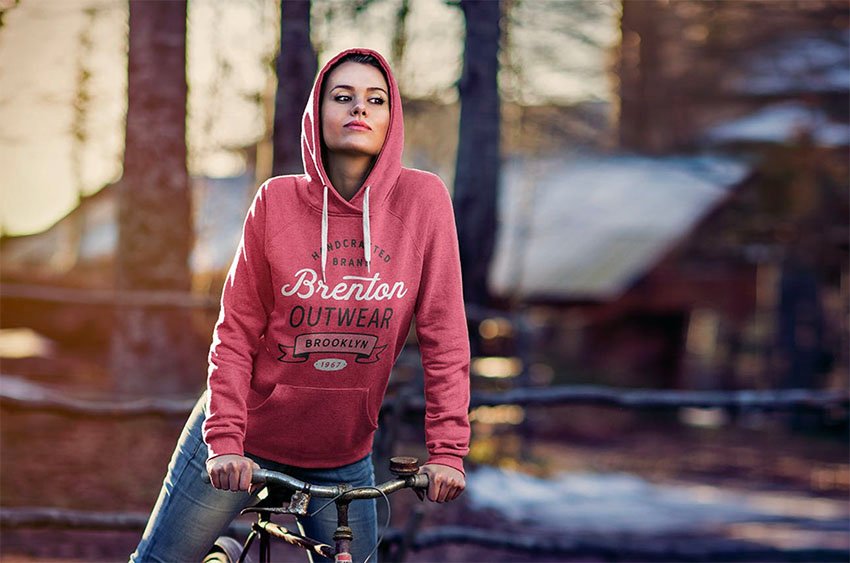 Looking for the right pullover hoodie mockup templates to showcase your latest designs? Then check out this collection of hoodie mockups in PSD file format. You can change just about everything about these images—backgrounds, reflections, shadows, colors, etc.—to create just the right look for your project.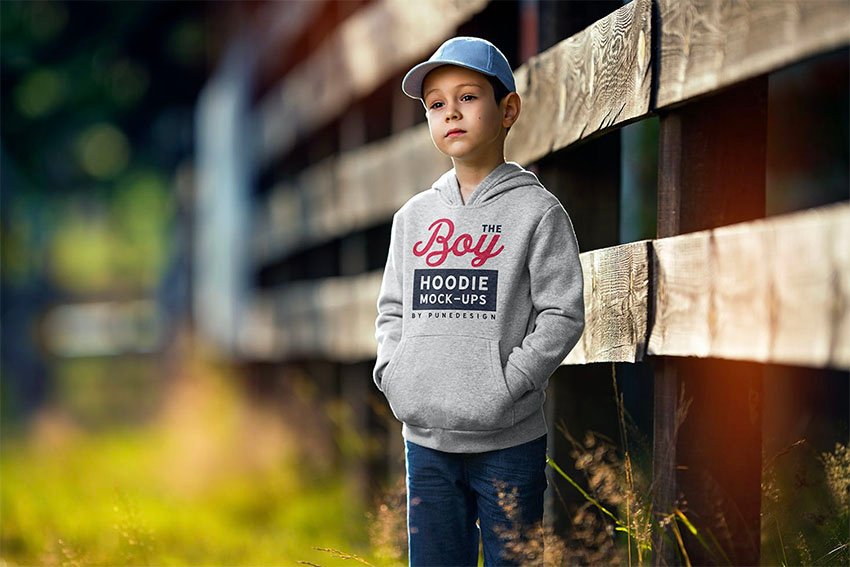 If your target audience is children or parents of children, then you'll love this blank hoodie template for children. The set offers you four downloadable hoodie mockups in PSD format. The files are all high res and fully layered to make editing easy.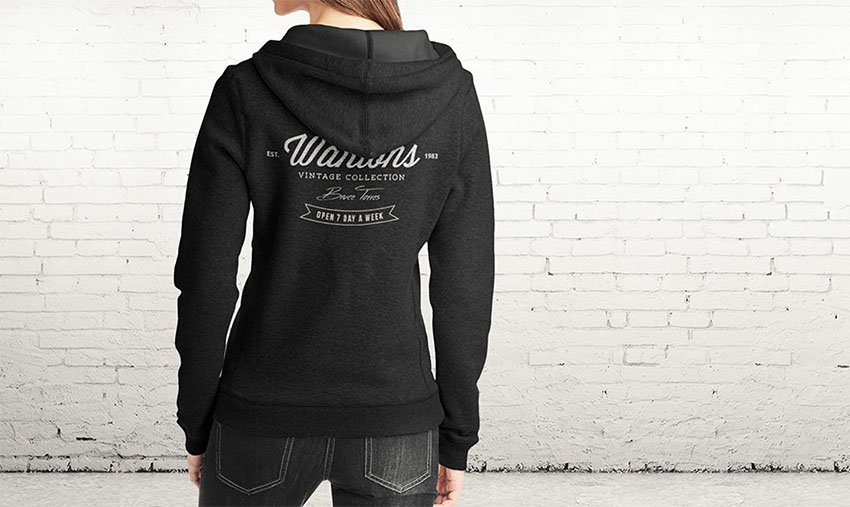 Looking for a black zip hoodie template? Well, this is the mockup for you. There are three different views and eight different backgrounds to choose from, and editing is super easy using smart objects. Add your design and then mix and match angles and backgrounds to create a look that's uniquely yours.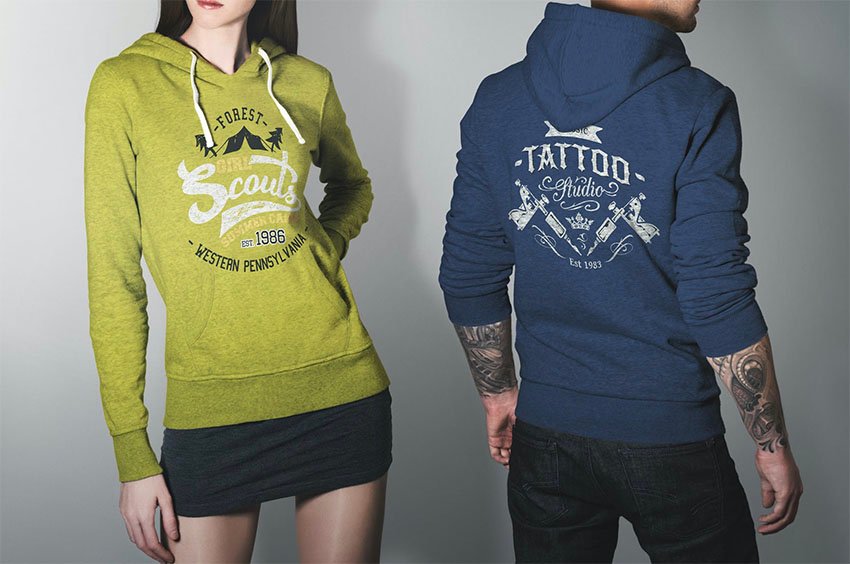 Check out these premium hoodie sweatshirt mockups. They're ideal for adding to your social media, website, or catalog. There are ten mockup templates included, with both male and female models. All images are in high resolution and easily edited via smart objects.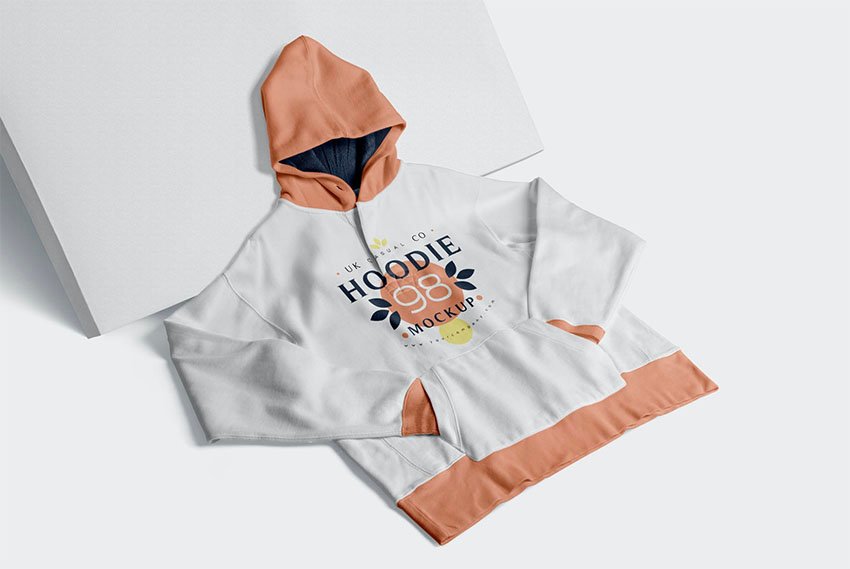 These six hoodie design templates are presented in well-organized layers with smart objects, which make them very easy to customize. Apart from adding your own design, you can change the backgrounds, colors, shadows, effects, etc.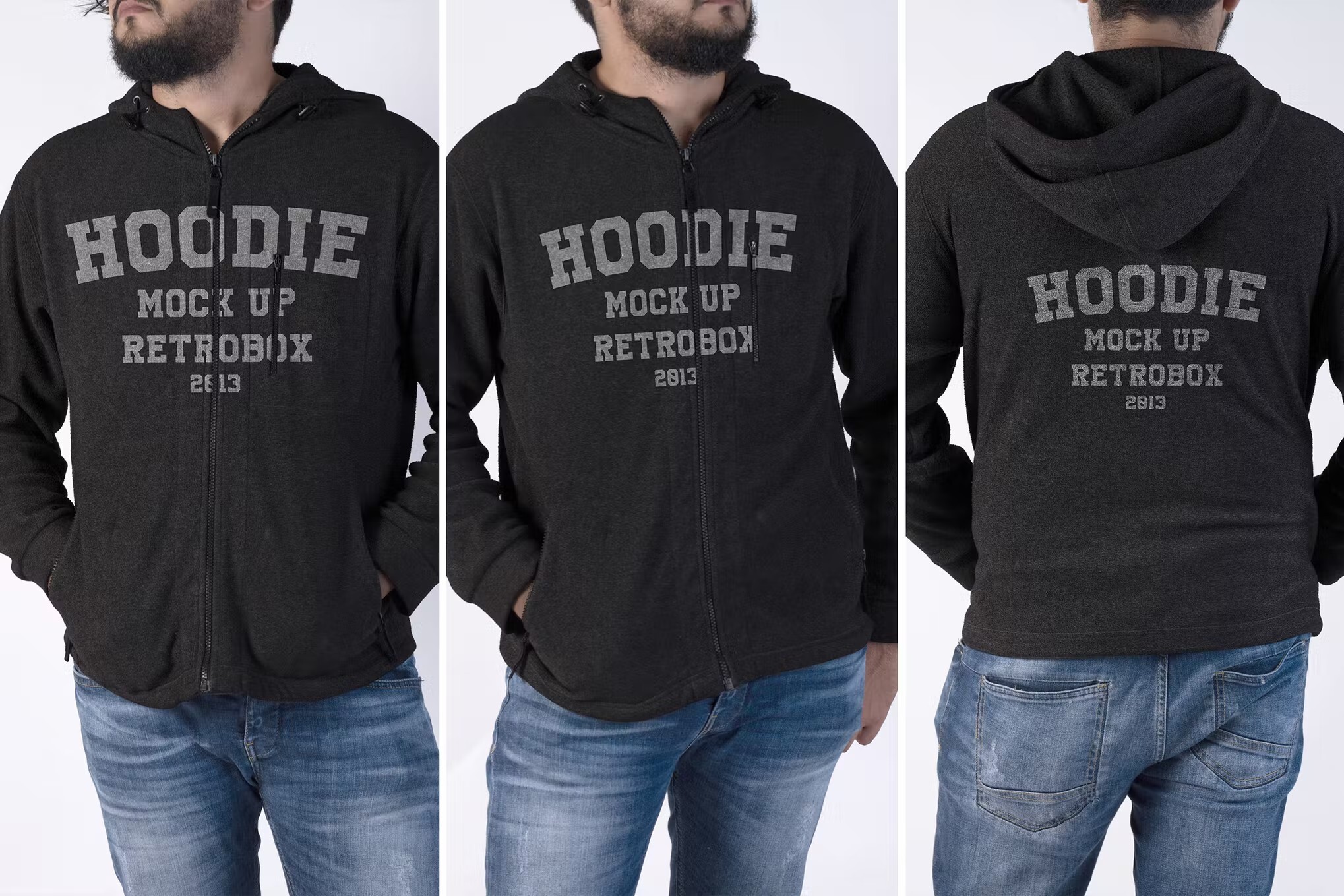 This black zip hoodie template contains the three files you see pictured here. Upload your design to the front and/or back and customize the template as needed using the smart objects available.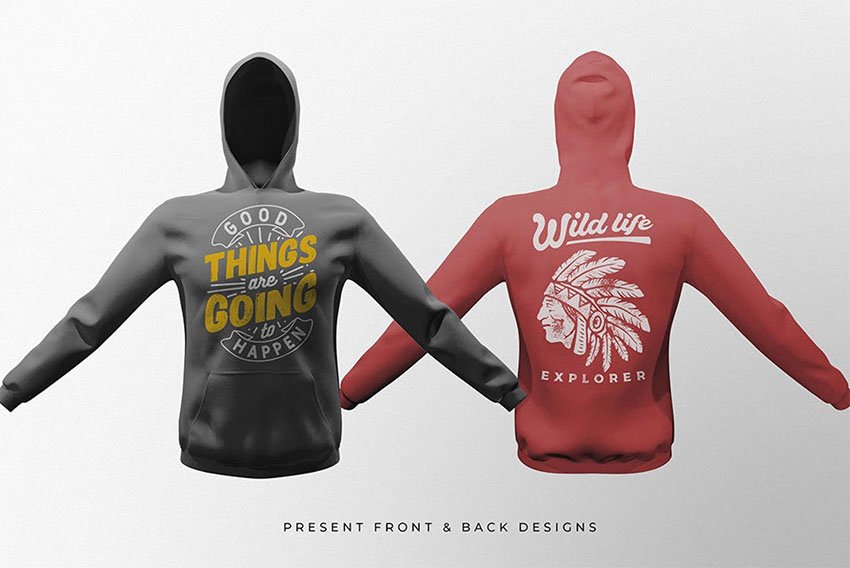 Download this hoodie mockup PSD file and customize it by adding your own logo or designs, modifying the colors, background, etc. The mockup comes in three views—front, back, and three-quarter view. All layers are well organized, and all editing is done through smart objects.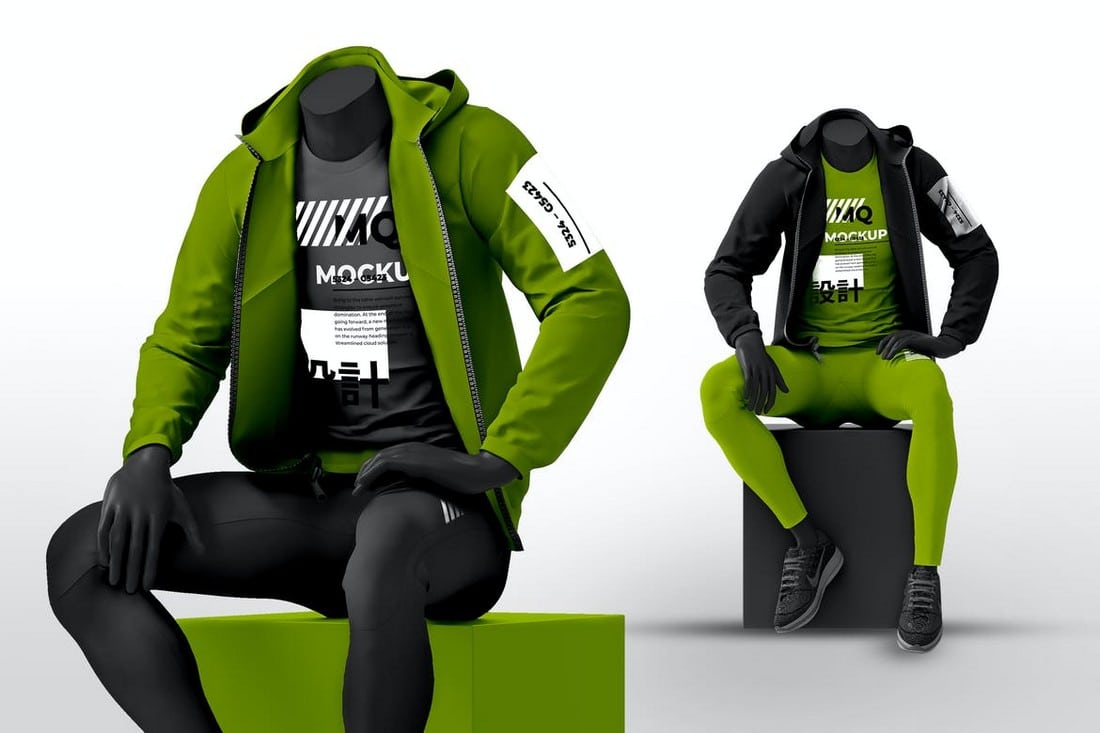 If you're looking for a high-quality mockup to showcase hoodie designs on an online store or a shop, this mockup will come in handy. It features a hoodie mockup template with a mannequin that will help present your design in a professional way. The template is fully customizable as well.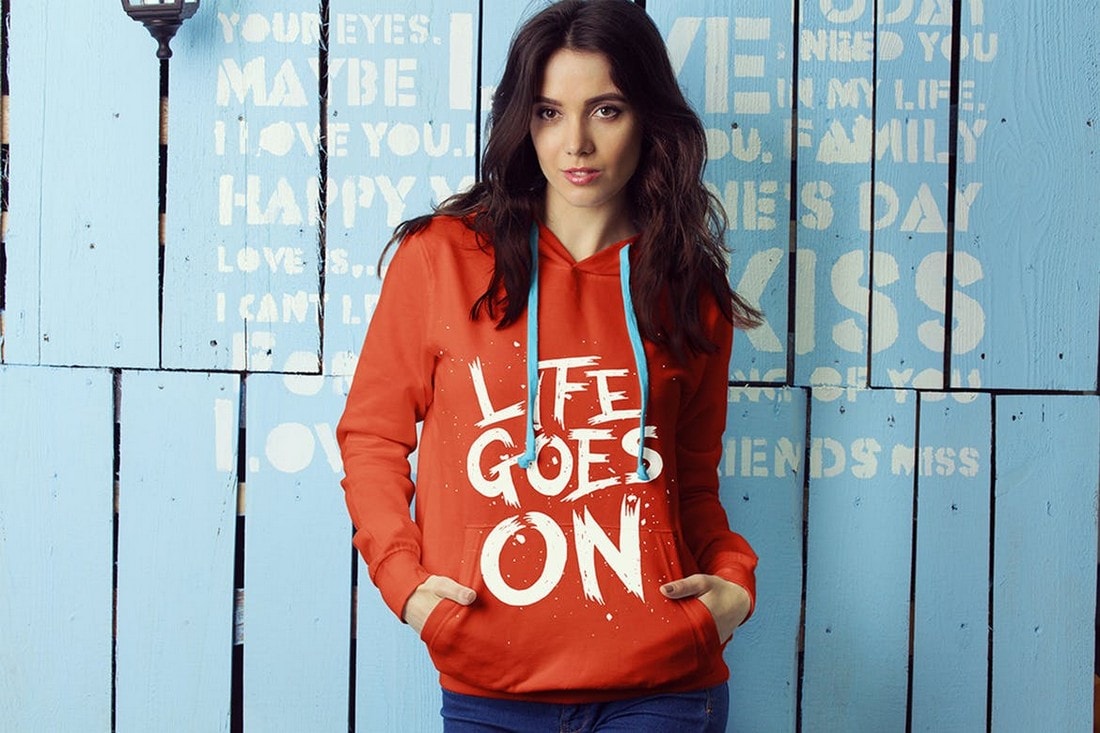 A collection of stylish hoodie mockup templates featuring a female model. This mockup is available in 7 different versions. Each template comes as a fully-layered PSD file and you can customize it to your preference to showcase your own designs.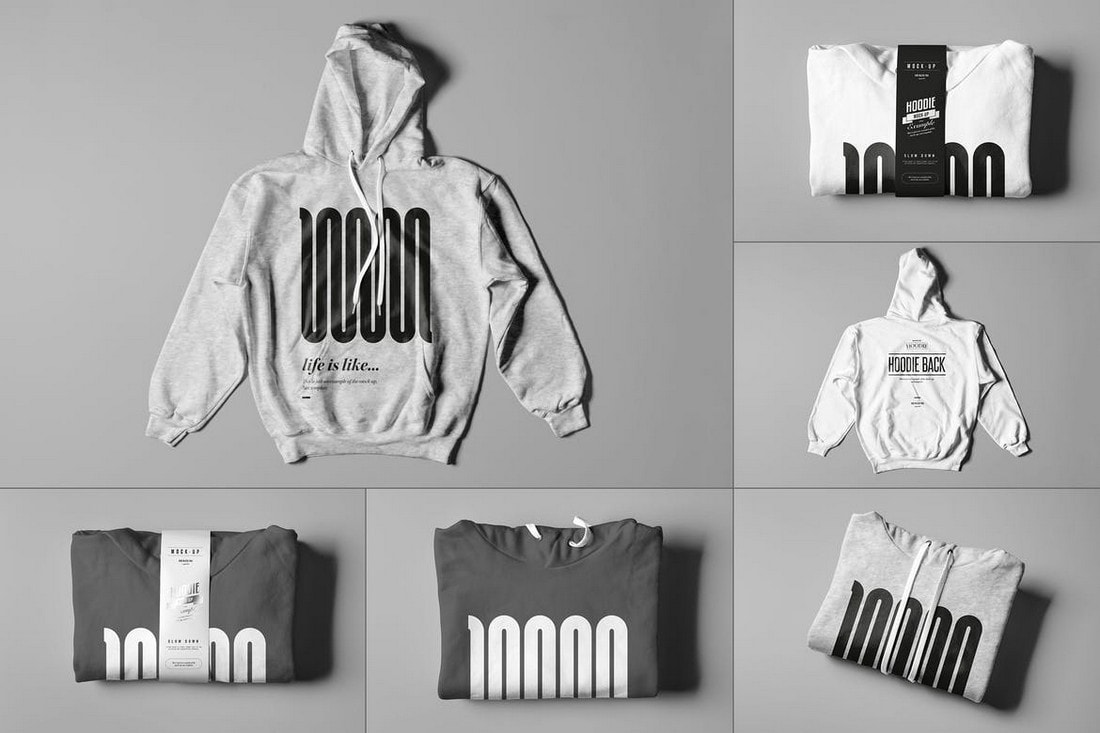 If you want to show off how your hoodie designs look like when it's folded, this mockup template will definitely come in handy. It includes a hoodie mockup with a full view and a set of folded views. A total of 6 mockup templates. You can easily place your designs in each template using smart objects in Photoshop.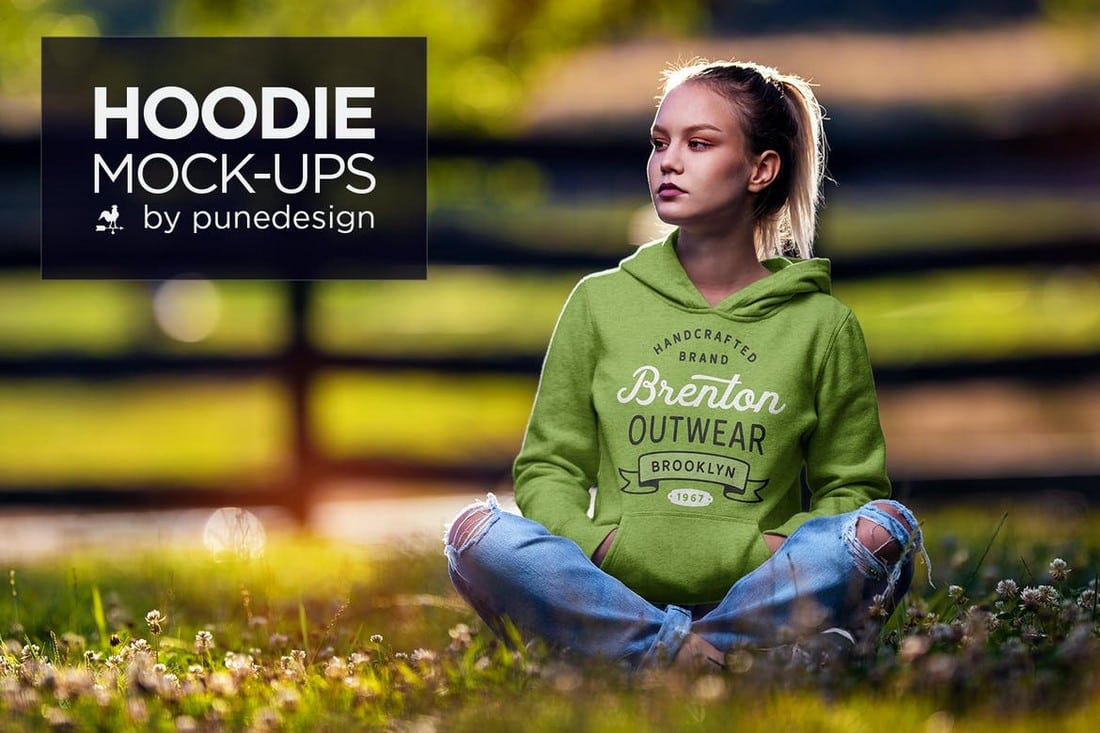 A set of casual hoodie mockup templates showing a woman wearing a mockup while in a sitting pose. The template is available in 3 different views. And you can customize the colors, shadows, and reflections of the mockup using Photoshop.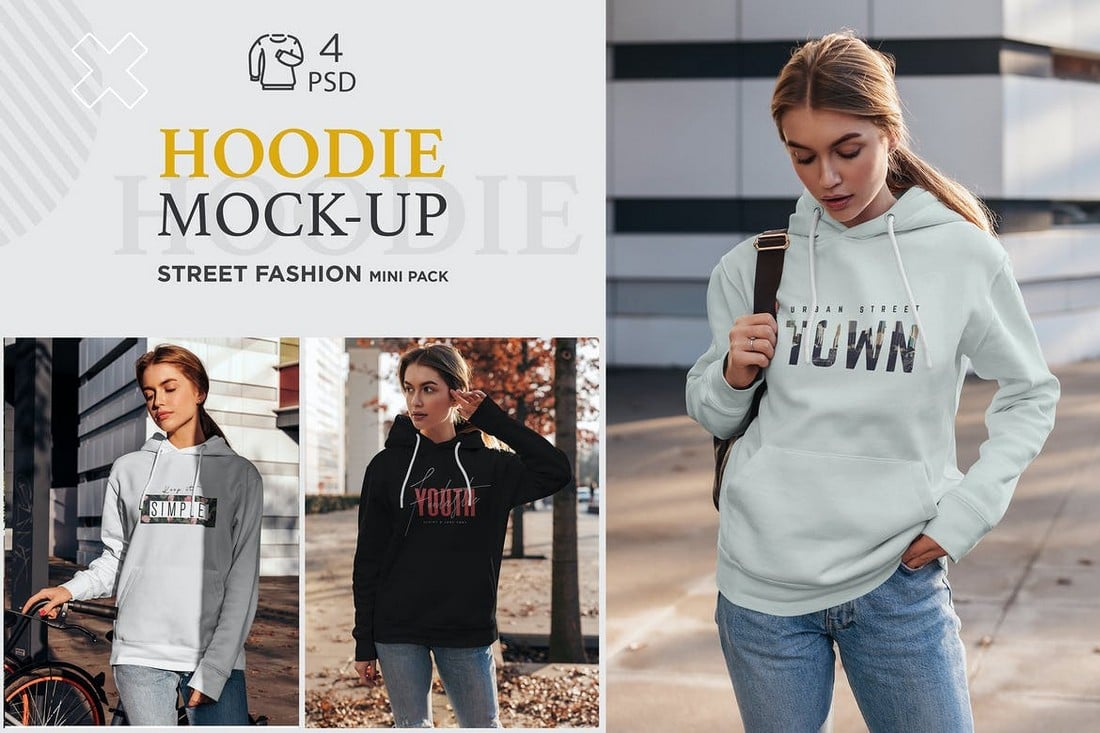 Another collection of glamorous hoodie mockups featuring a professional model wearing a hoodie. This pack includes 4 different hoodie mockups with different angles and poses. You can also easily change the colors of the hoodie and the ropes as well.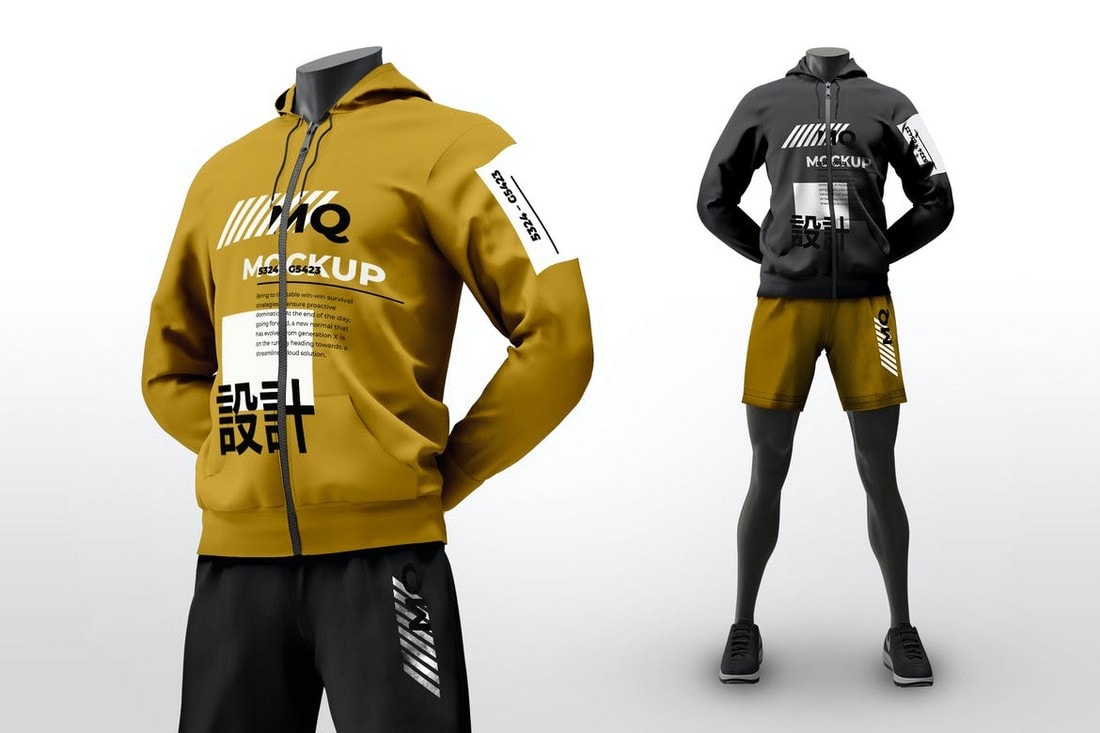 If you're working on a hoodie design for sporting events or even jogging hoodie/sweatshirt, this mockup will come in handy. It features a hoodie mockup with a mannequin with a pose that's ideal for showing off sports hoodies.
Free Hoodie Mockup Templates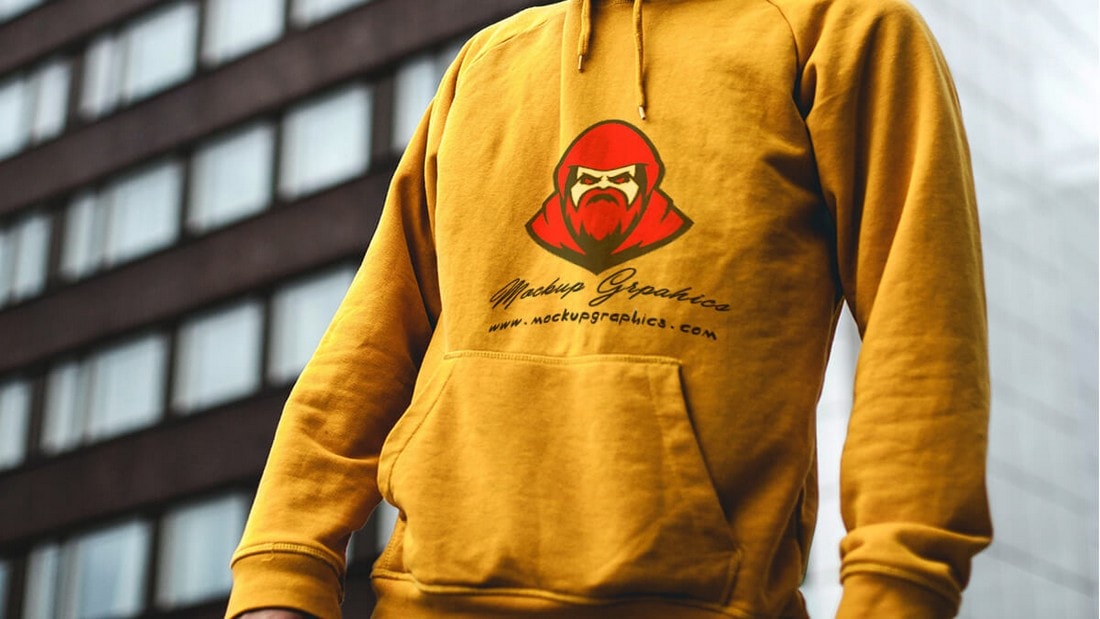 A free hoodie mockup featuring a close-up view of the design. This mockup template is easily customizable and comes with smart object layers for placing your own designs with just one click.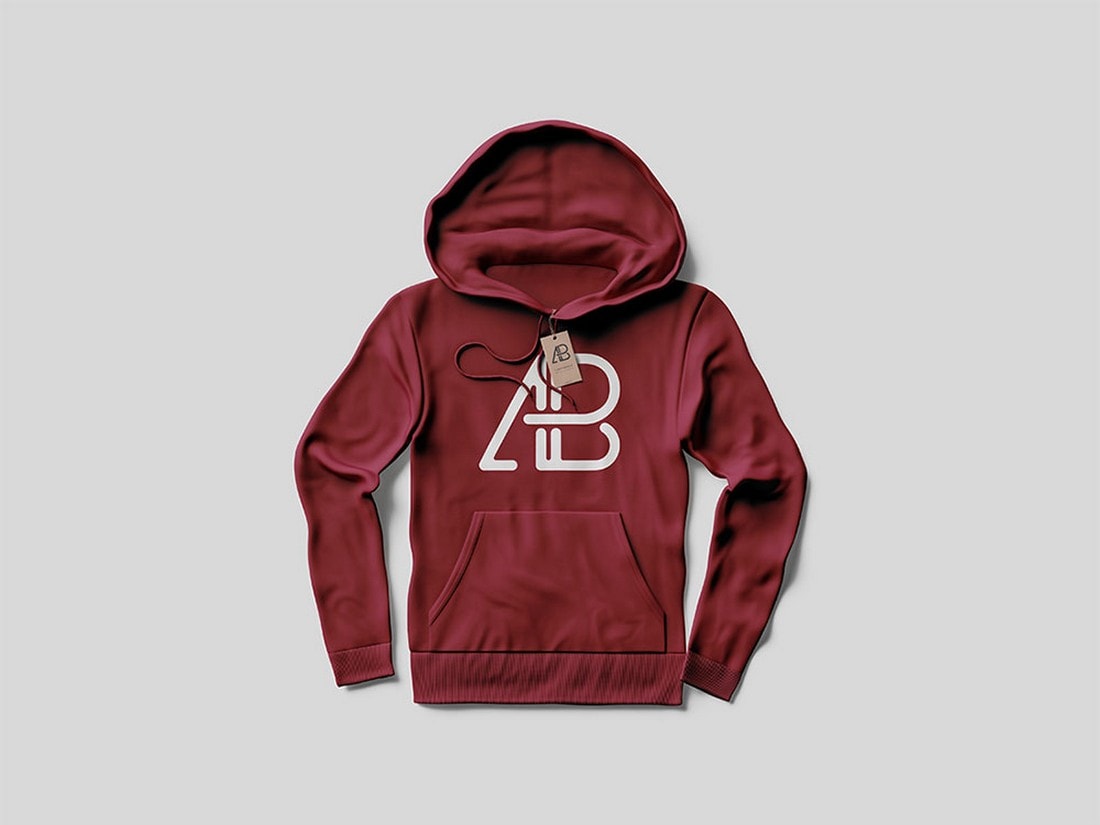 This free hoodie mockup is quite special. Mainly because it comes with an attached product tag, which is also editable. You can use it to show off your hoodie designs on social media to promote them and attract customers to your online store.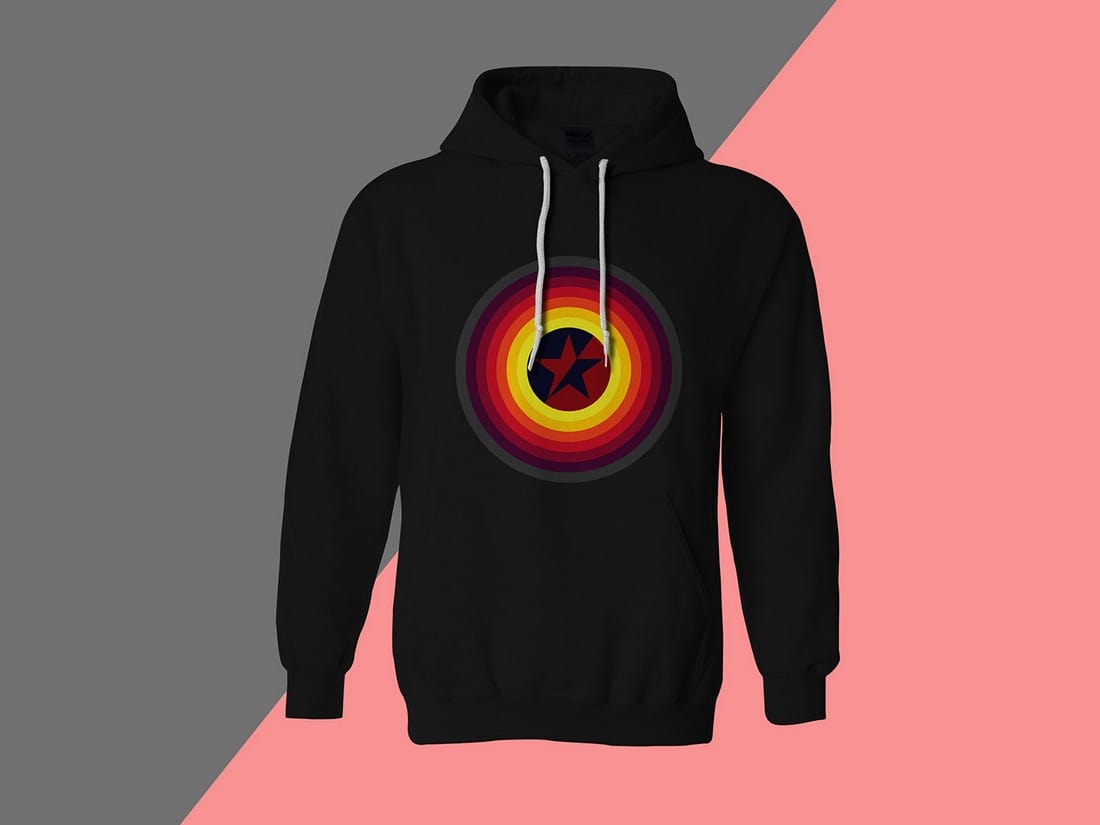 A simple and casual mockup featuring a black hoodie design. This mockup is perfect for showcasing your designs in design portfolios as well as product pages. The color of the hoodie can be easily customized with Photoshop as well.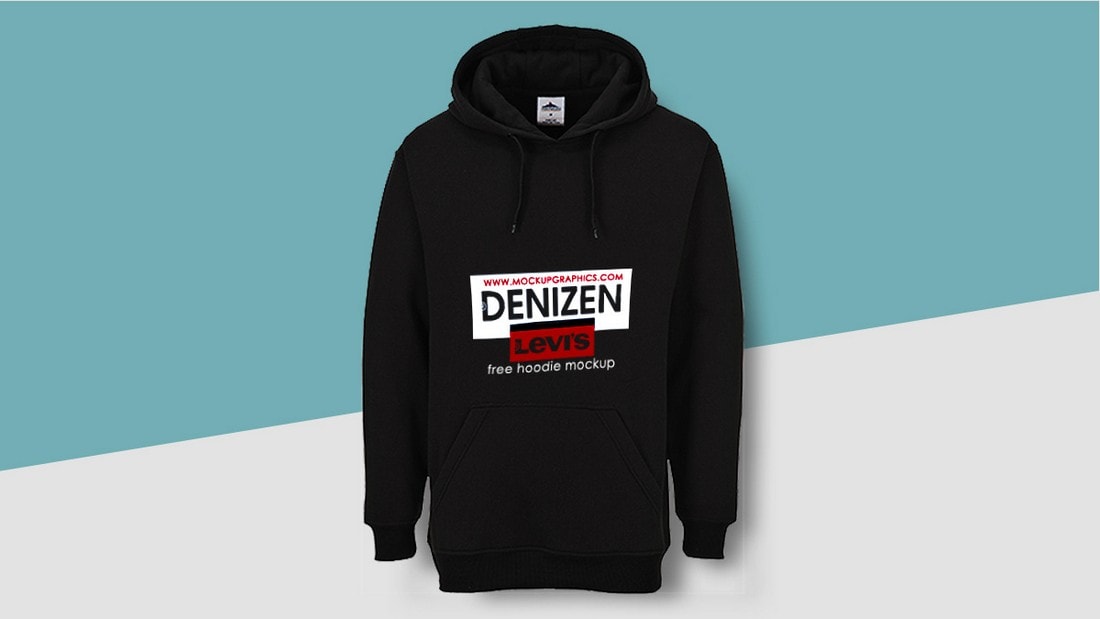 Another hoodie mockup featuring a dark black color. This mockup is perfect for showing off designs that can be highlighted on a dark background. It's free to download and use.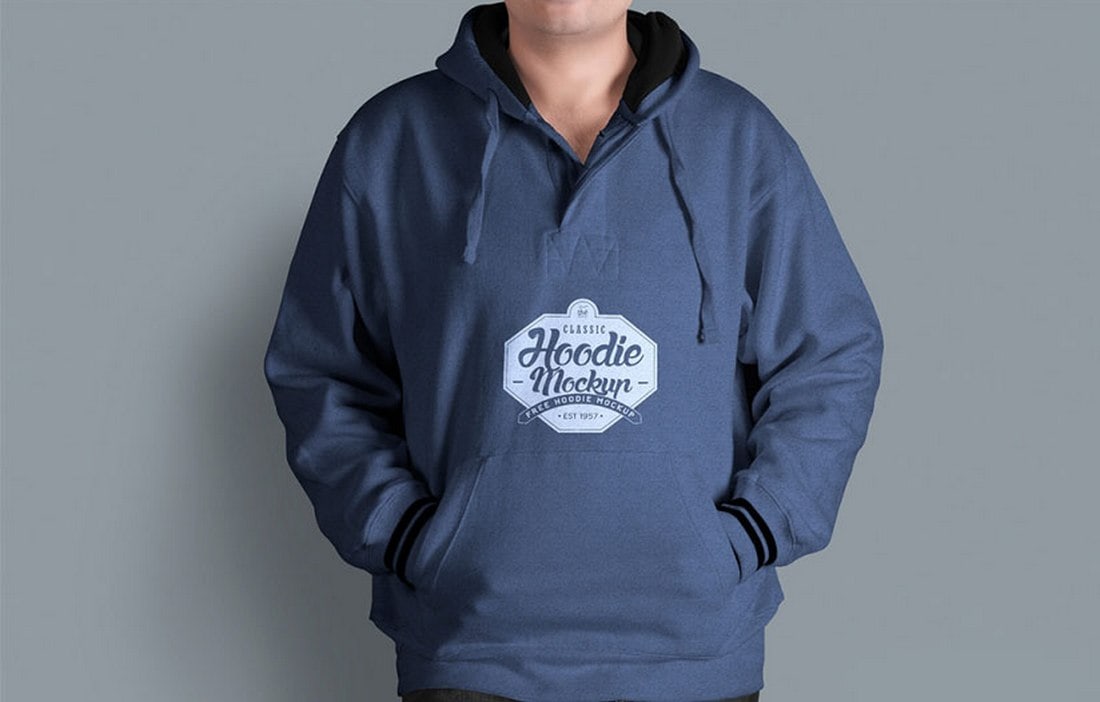 Even though this is a free mockup template, it features a very high-quality design. This mockup includes multiple angles of the hoodie with a realistic view. You can customize it using Photoshop.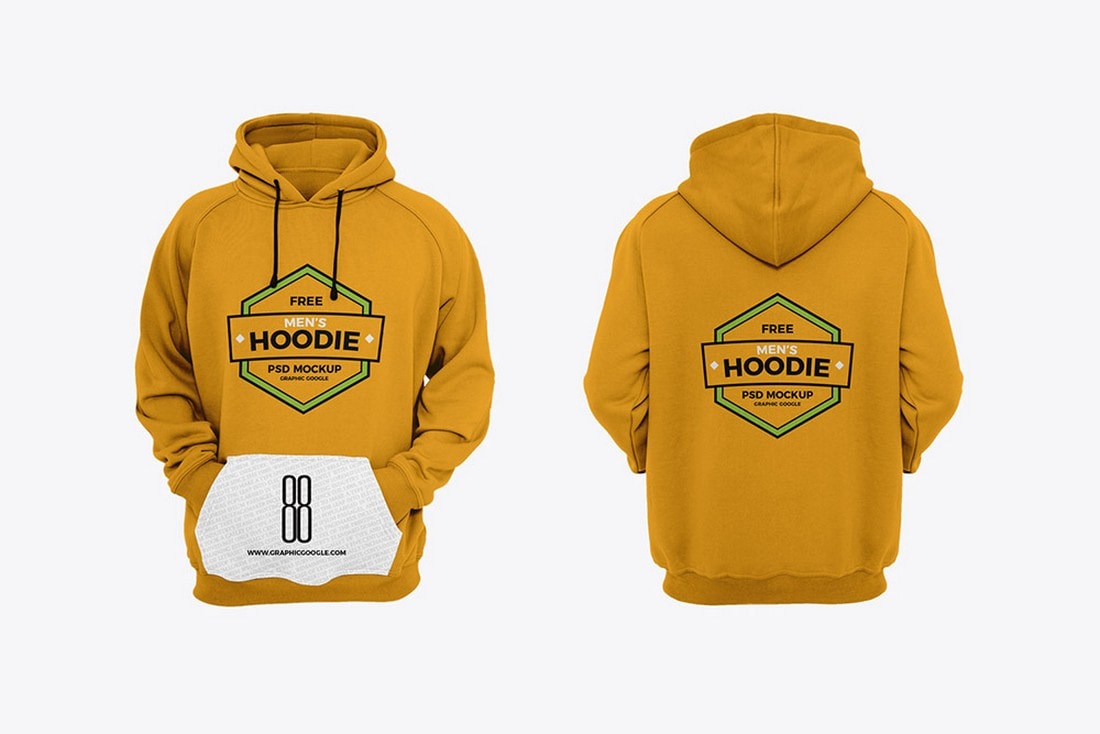 Another free hoodie mockup features a very simple yet stylish design. This mockup doesn't show anyone wearing it. Making it more suitable for showcasing your hoodie designs in a store page or a portfolio.