25+ Best Geometric Fonts (Free + Pro) 2022
In this post, we bring you some of the best premium and free geometric fonts for all kinds of professional and personal projects.
Geometric fonts are the ideal choice for designing typography with the perfect shapes and curves. Even though they follow strict geometric rules and guidelines, geometric fonts can also be quite creative. Our collection is proof of that.
Ideally, geometric fonts are used to create clean and minimal typography, especially for business and corporate designs. But we didn't stop there. For this collection, we gathered fonts with wild and creative geometric designs.
Be sure to download all these fonts.
Get every varied font and typeface you could ever need with one simple subscription. From just $16, get unlimited access to thousands of fonts, typefaces, graphics, templates, photos and illustrations.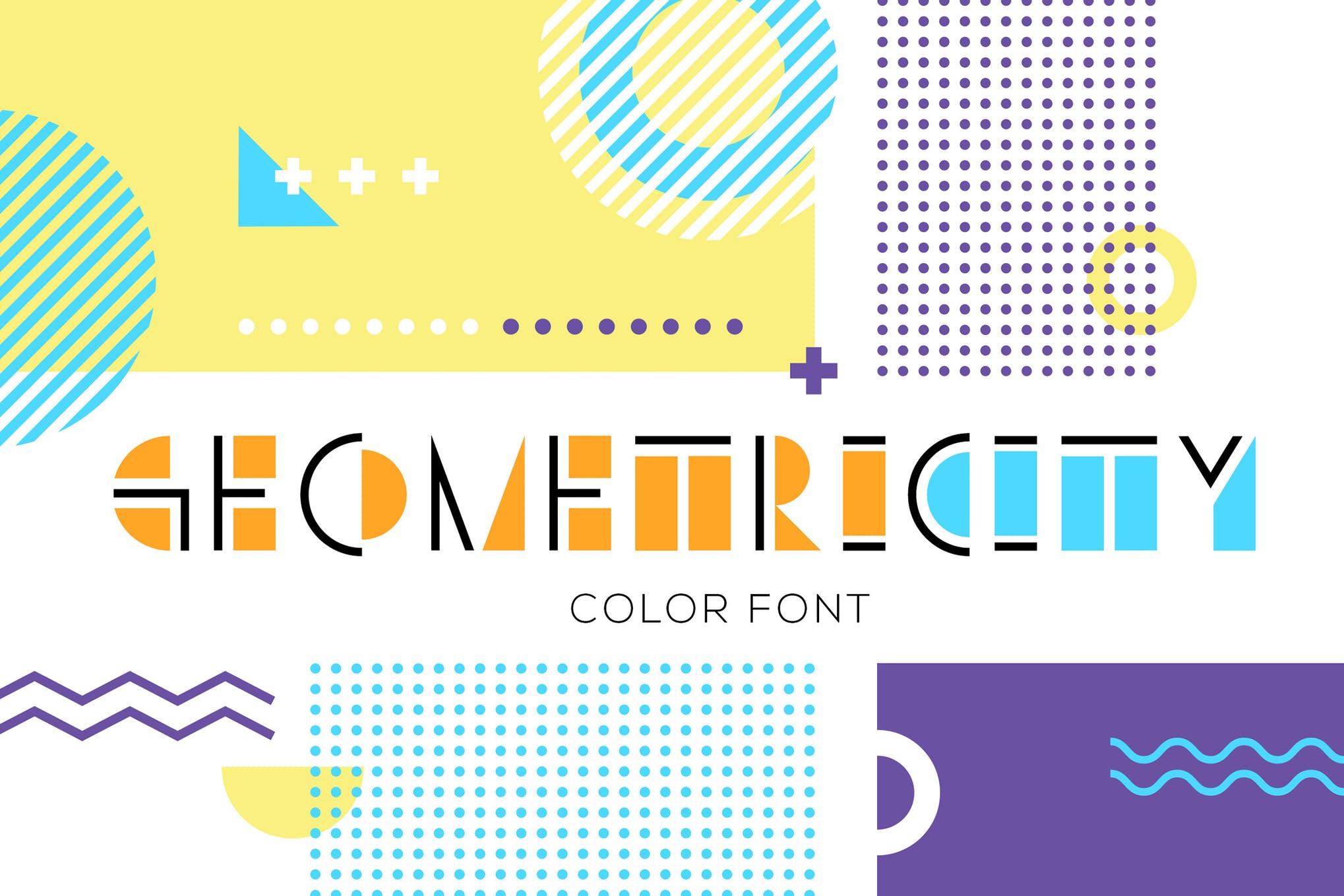 Geometricity is an effortlessly stylish, and chic typeface that will instantly demand your reader's attention, and keep it there. Although far from being a simple business font, Geometricity still offers a decent amount of legibility.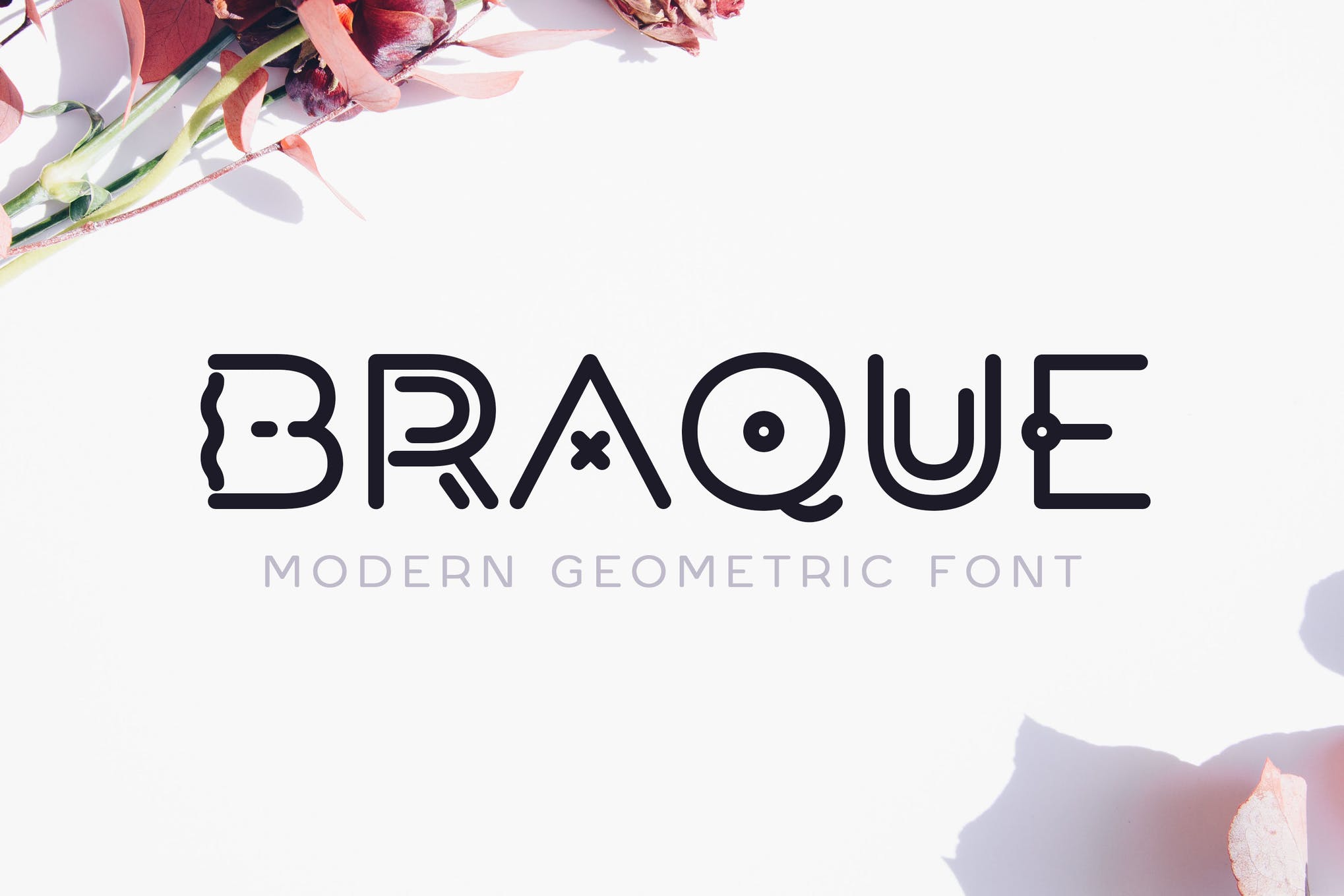 Braque is a simple sans-serif font with a modern-day geometric design. It will look good on a variety of designs including titles, logotypes, posters, quotes, etc – anything that needs an incredibly unique yet minimal abstract look.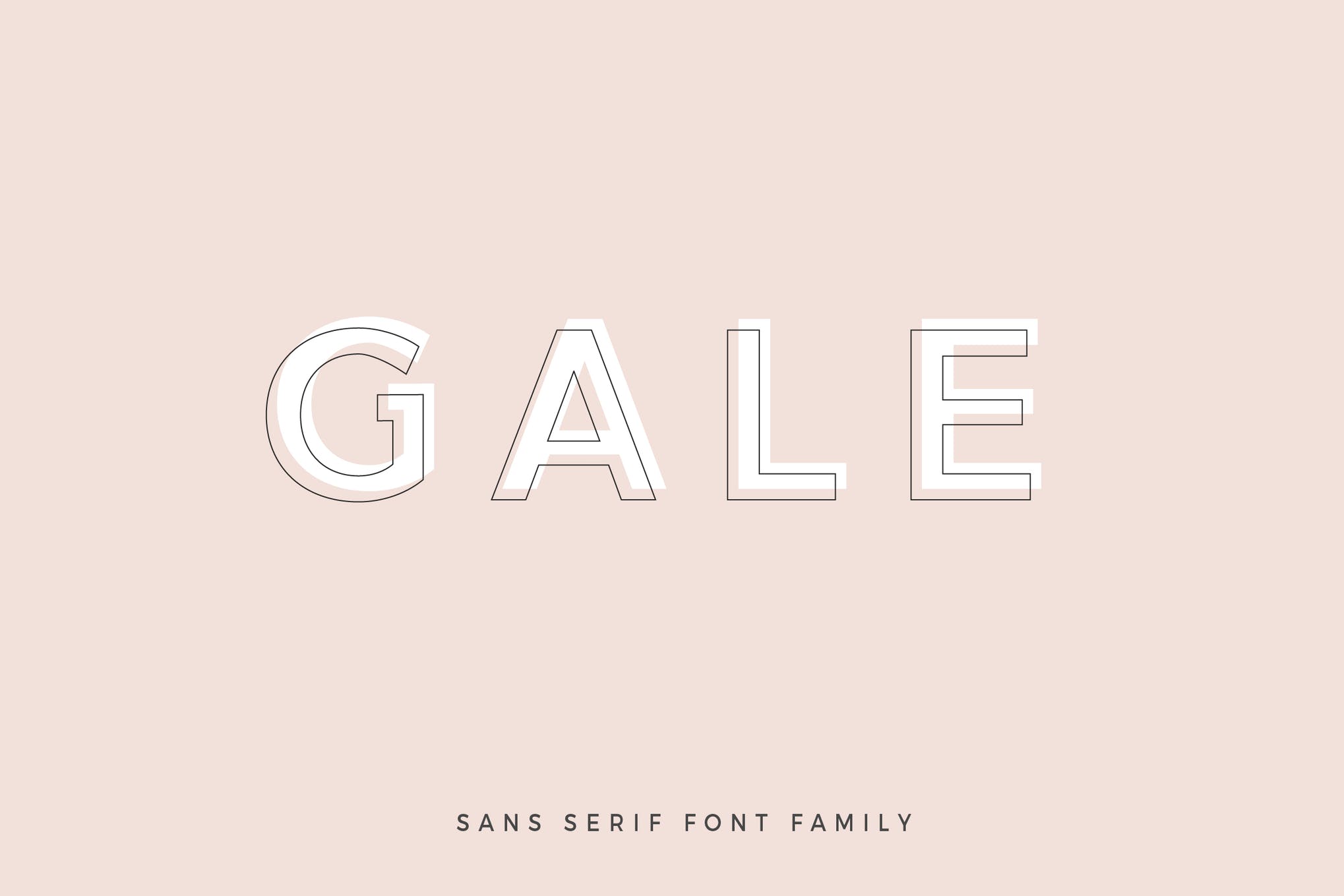 If you're looking for a feminine, and dainty typeface for your next project, check out Gale. It's a clean, and minimal sans-serif font that will surely become an indispensable part of your lettering toolkit thanks to its versatile design.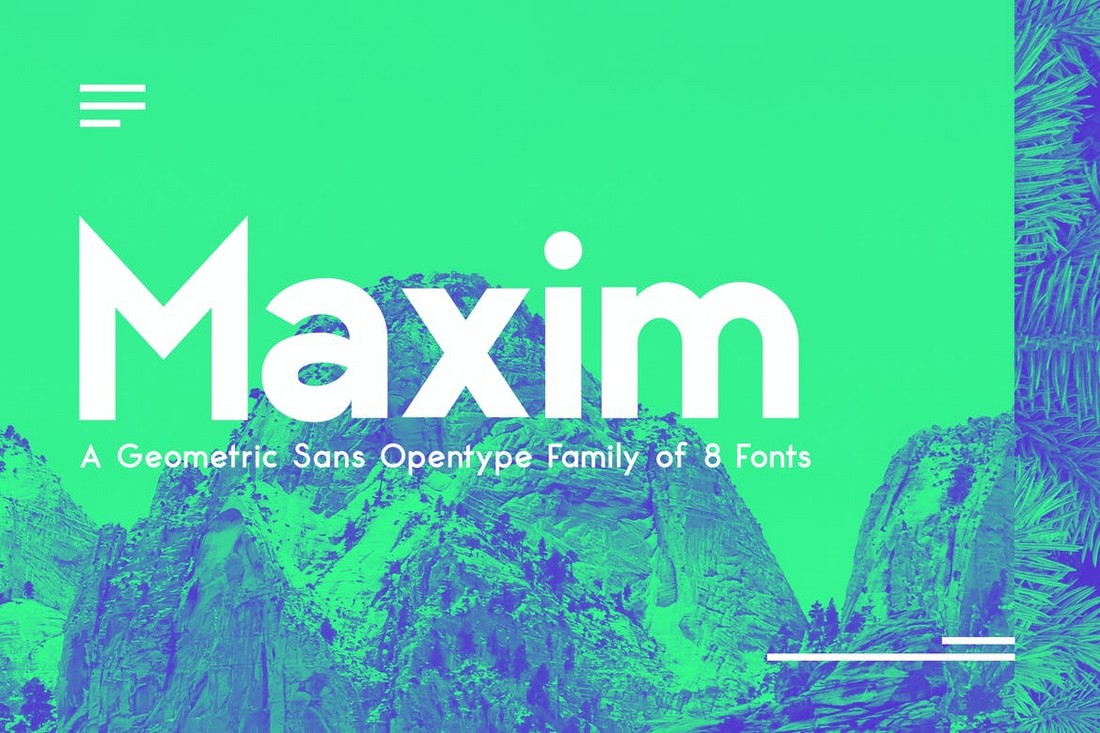 When it comes to designing attractive titles and headings, a sharp font goes a long way to help grab the attention of the audience. Maximus Sans is the perfect font to achieve that goal. It features sharp geometric letters and lets you choose from 8 different font weights.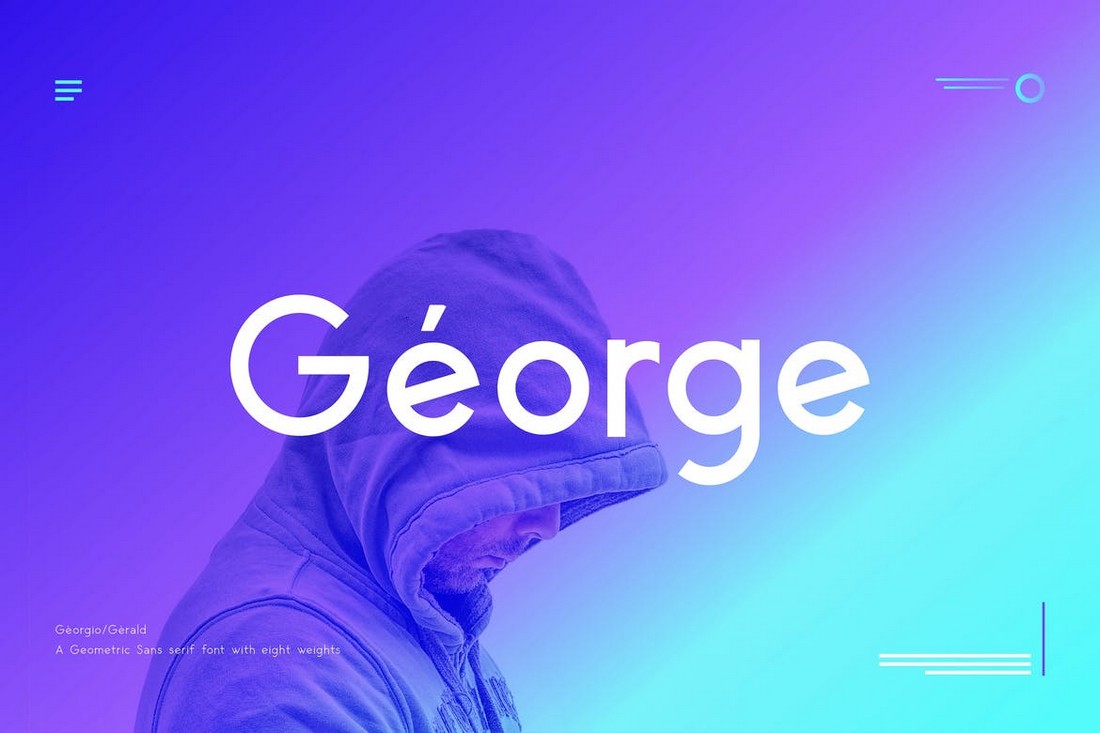 If you're working on a logo, label, or flyer design for a luxury brand, this font will allow you to craft titles with elegant designs. George is a stylish geometric font that features a simple yet classy look. It comes with multiple font weights ranging from light to bold as well as italic variants.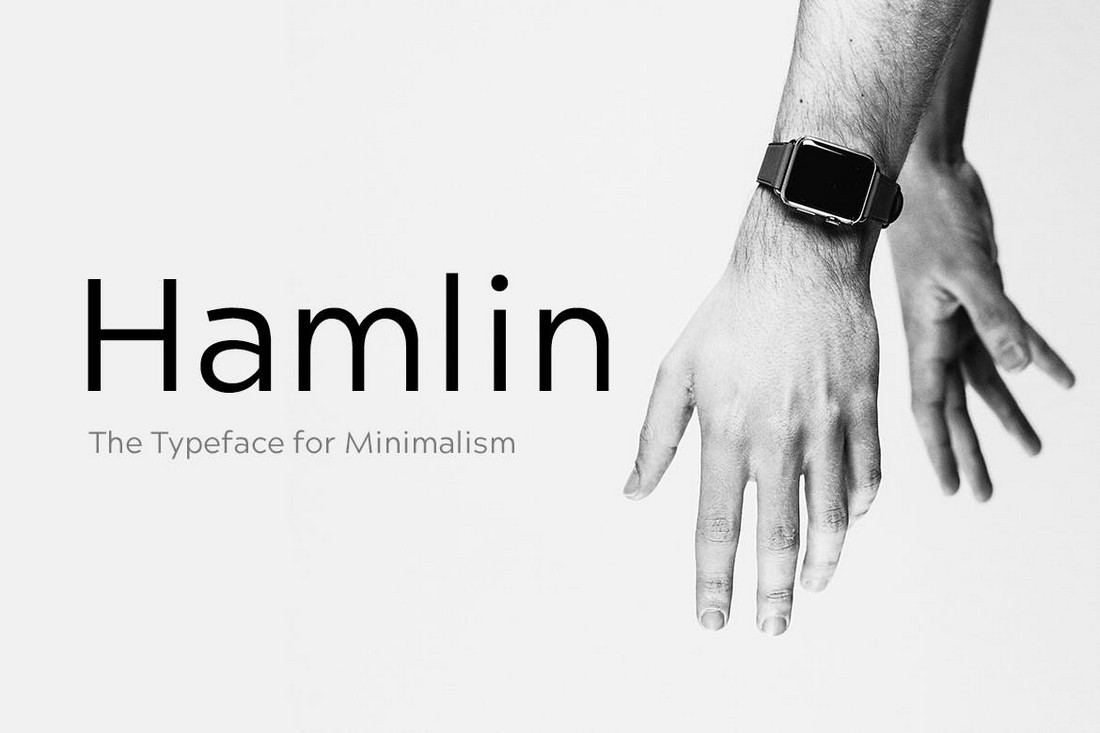 Hamlin is a clean and minimalist geometric font designed for crafting titles with perfect typography. The font is especially suitable for fashion, interior design, and various other branding designs. You can choose from 4 different font weights and it comes with Web Font versions as well.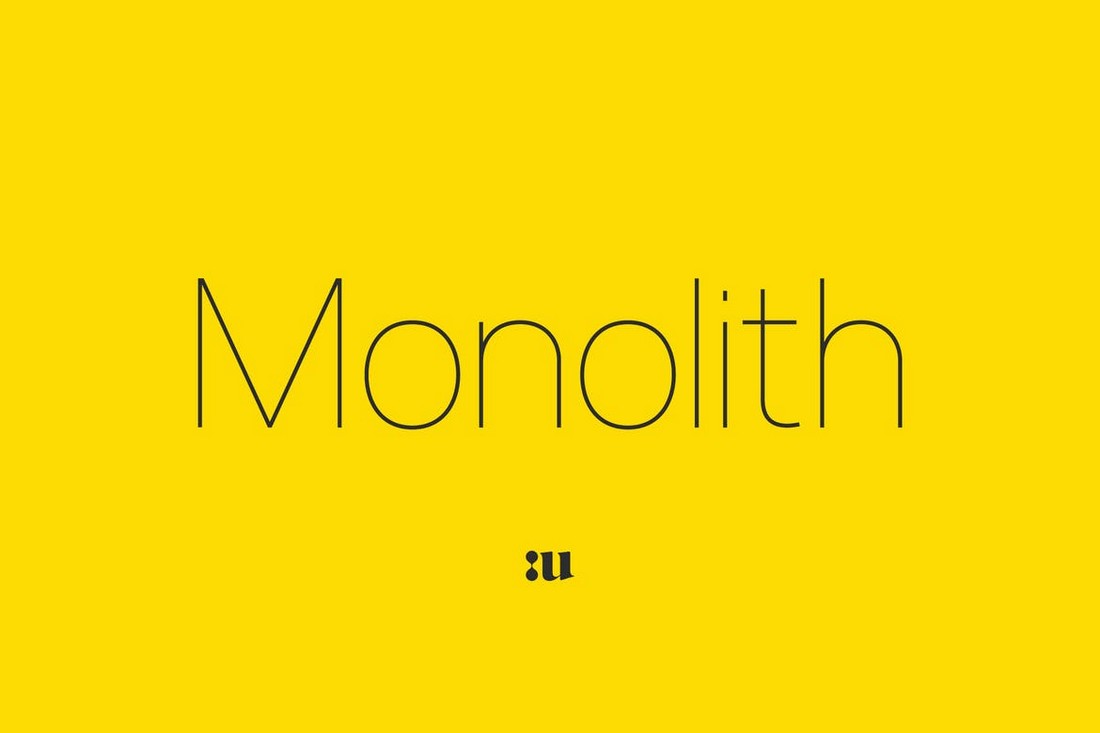 Want to create an ultra-minimalist look with your typography? Then this font is the right choice for you. Monolith is a geometric font family that features light and regular font styles with italics. Each letter in this font is crafted to perfection to showcase the elegance of minimalism.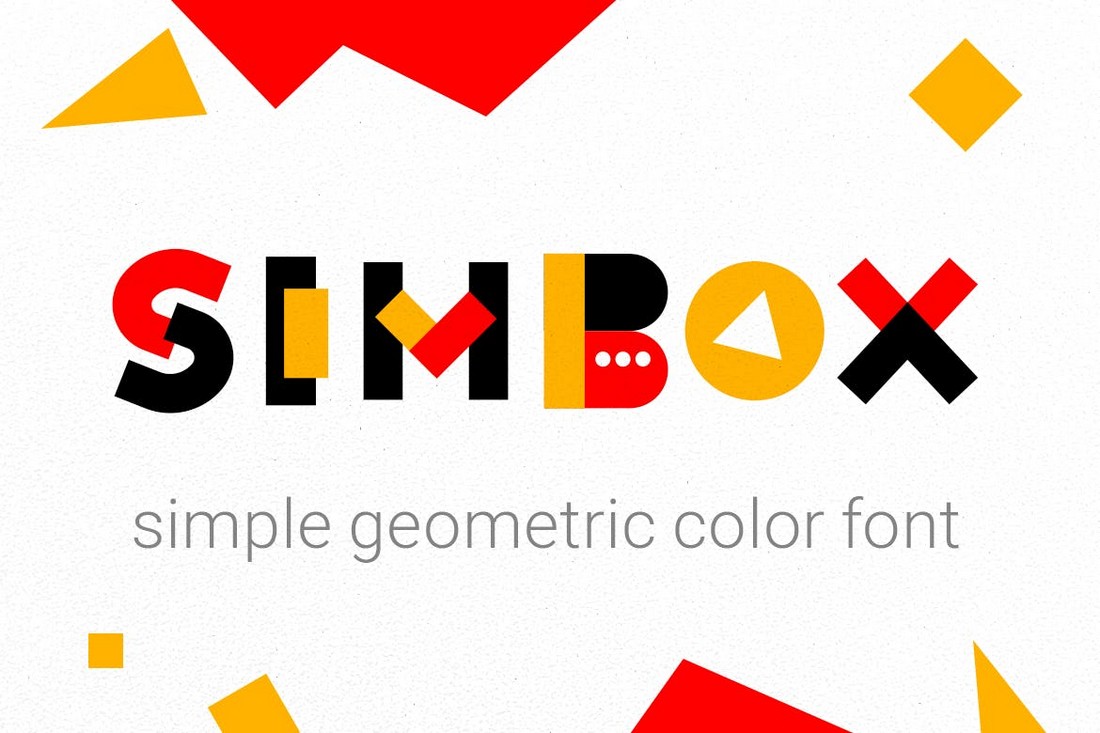 This font takes the genre of geometric fonts to the next level. It combines different shapes together to create a unique letter design. And the font includes alternates with colorful letters as well. Simbox is a color font, which is not supported by older software. Color fonts only come in OpenType (OTF) format.
This is a family of free fonts you can download and use completely free with personal and commercial projects. It features 7 font weights with clean geometric letter designs.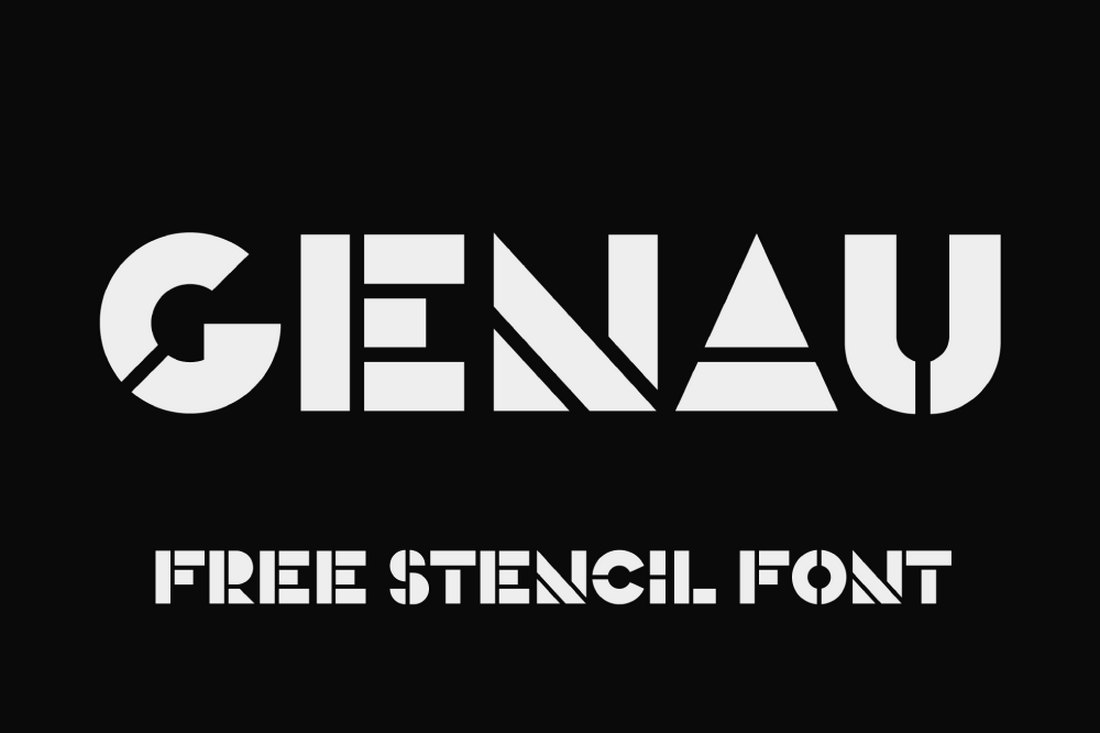 Genau is a stencil font featuring a unique geometric letter design. This font is also free to use with your personal and commercial projects.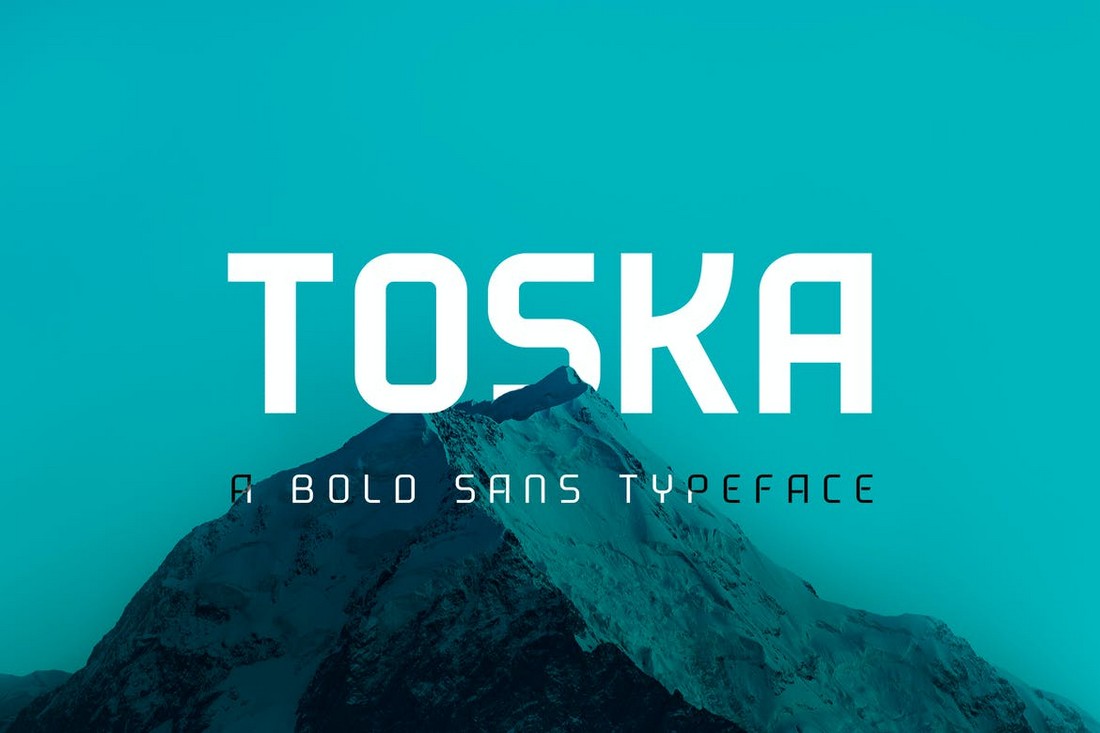 Geometric fonts come in all shapes and sizes. This one has big bold letters that will allow you to design attention-grabbing titles for posters and banners. The font comes in light, regular, and bold weights, each with italic variants.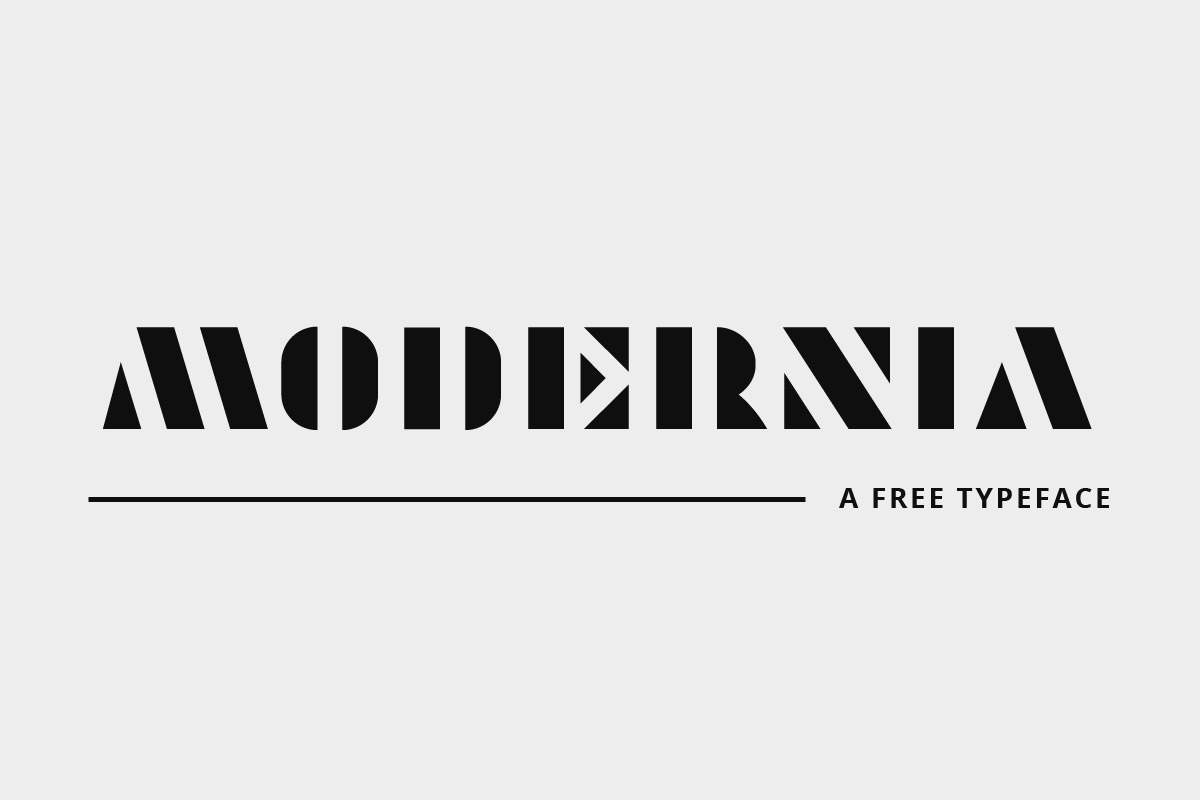 Modernia is a bold, and powerful geometric font that deserves to be added to your shortlist. It comes with uppercase letters, numbers, and multilingual support, and can be used for a range of brand identity designs including posters, banners, watermarks, logos, and more.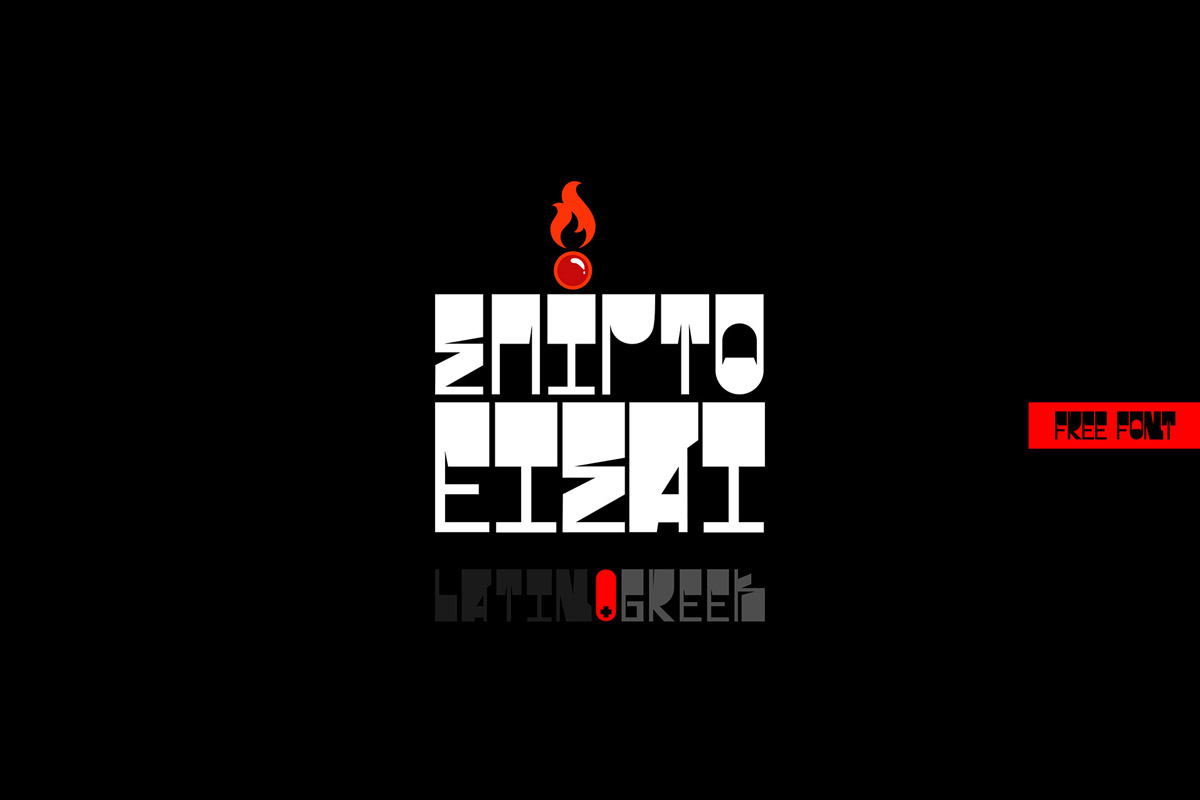 Spirt O is a thick, and chunky geometric font designed exclusively for headlines, and posters that demand big, fat lettering. This fun and quirky typeface is free for personal and commercial projects.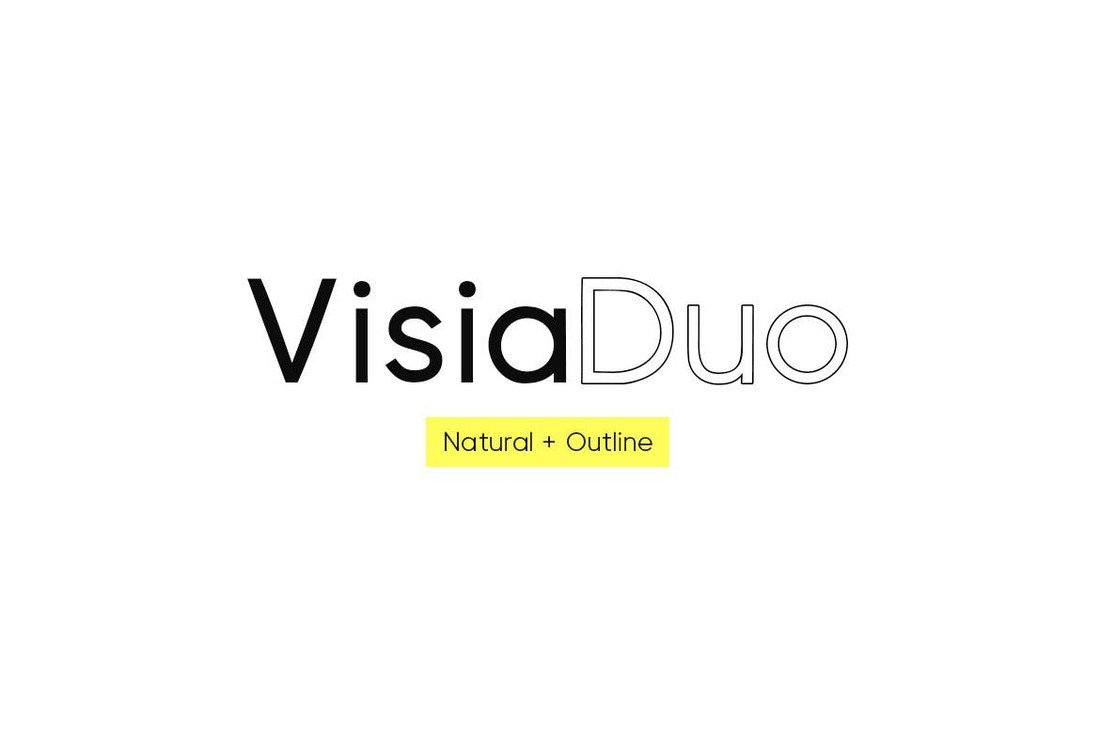 Visia is the perfect example of a geometric font. It has clean-cut letters with a minimal design. And it fits in perfectly with any type of design project, including logos, branding designs, resumes, corporate identities, and more. It includes 8 fonts. You can also grab VISIA Pro for more font choices.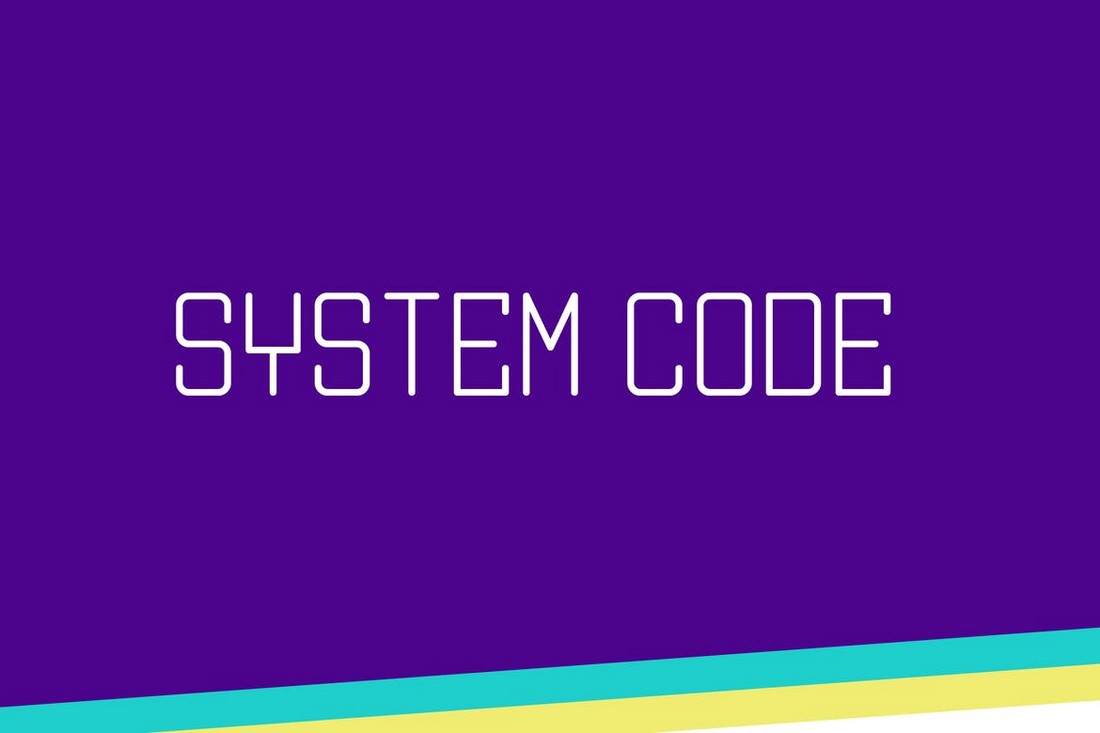 This is a unique geometric font you can use with technology-themed designs. The creative letter design makes this font look like the fonts used in programming. You can use it to give your titles a more tech-inspired look and feel. It's an all-caps font with a set of alternate characters.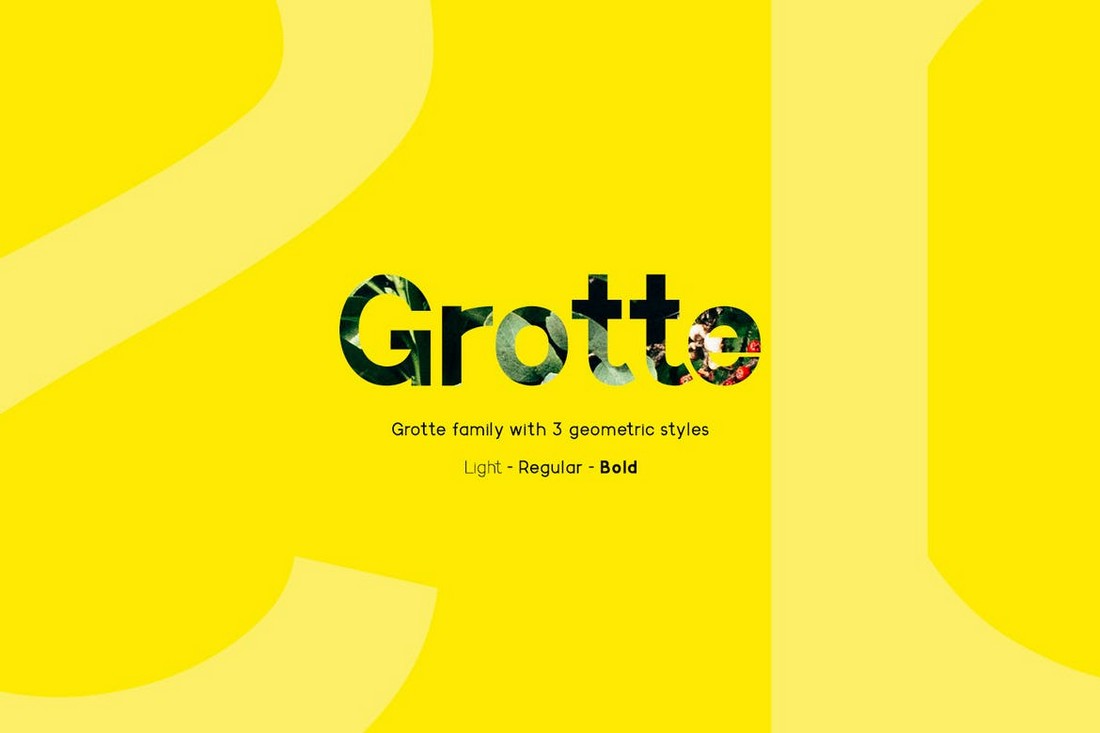 Grotte is the perfect geometric font you can use to design typography for casual and lifestyle-themed designs. It has clean and bold letters that will fit in nicely with various branding projects. The font comes in 3 weights and includes multilingual support for several languages.
Just as the name suggests, this geometric font comes with a space-inspired letter design that will give your typography a futuristic look. Sputnik has minimalist and modern letters that are ideal for both print and digital designs. The font is available in 2 weights and includes a Web Font version as well.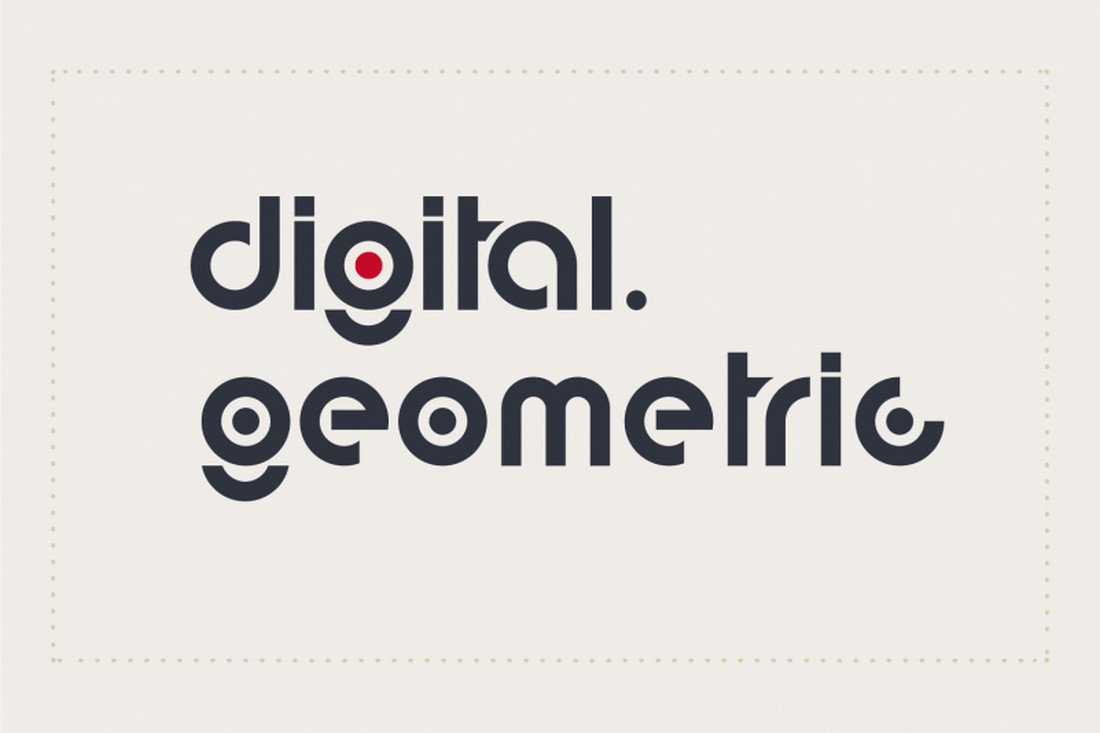 A creative font with unique letters. This font comes with a stylish geometric letter design that's perfect for making titles and headings for various design projects. It's free to use with personal projects.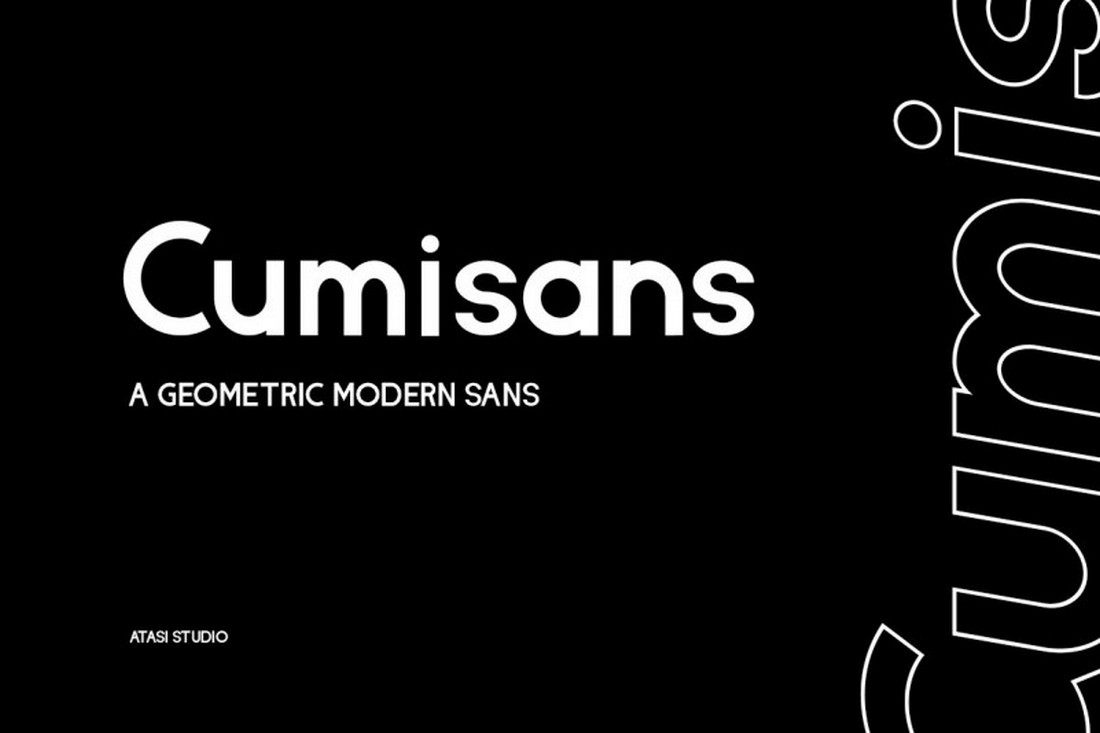 Cumisans is another free font with a set of geometric characters. It's perfect for designing typography for social media, posters, book covers, and more. The font is free to use with personal projects.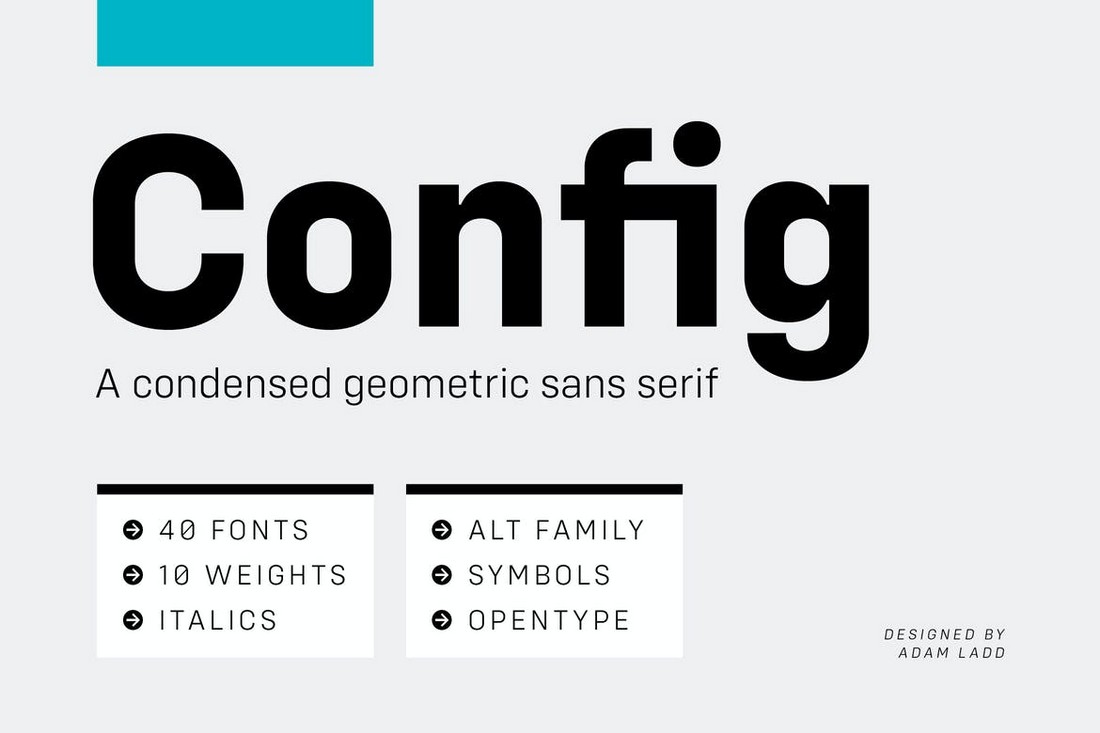 Config is a big collection of fonts that includes 40 fonts featuring 10 weights, italics, alternates, ligatures, 600 glyphs, and more. But more importantly, each font in this family is crafted with a condensed geometric design. This makes this font family one of a kind.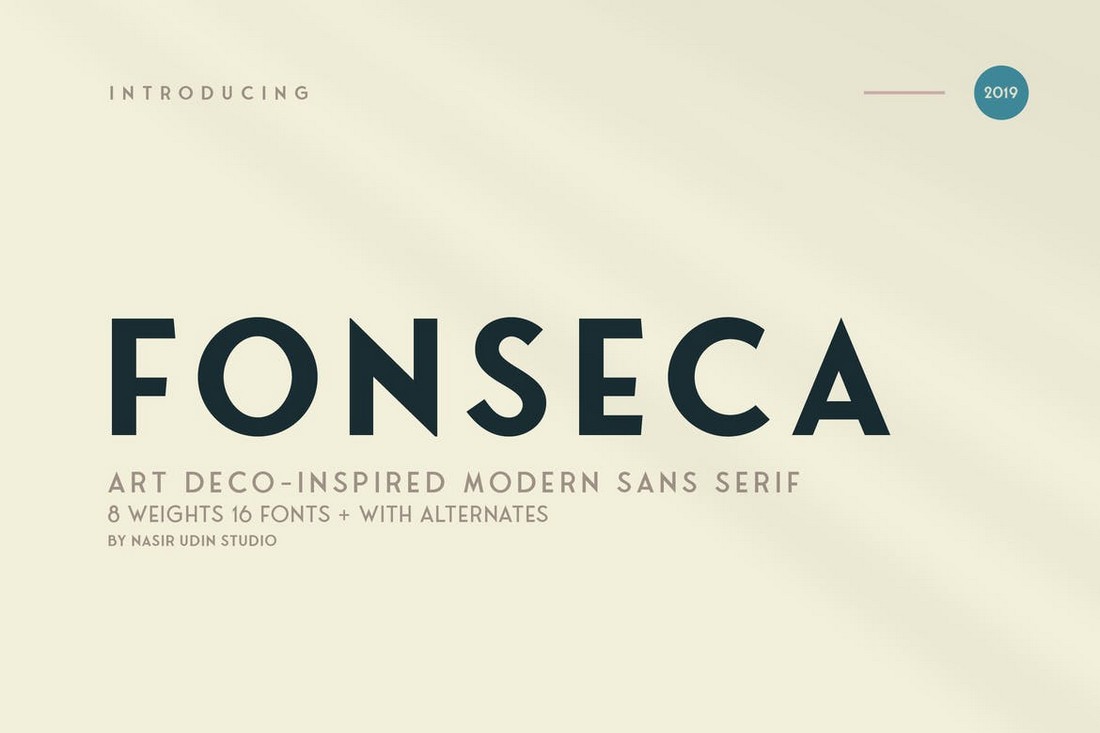 If you're a fan of classic art deco-themed typography design, this font will allow you to craft typography in the same design style. Fonseca is an elegant geometric font that is perfect for magazines, social media, and various other lifestyle designs. The font includes 8 different fonts with separate oblique versions.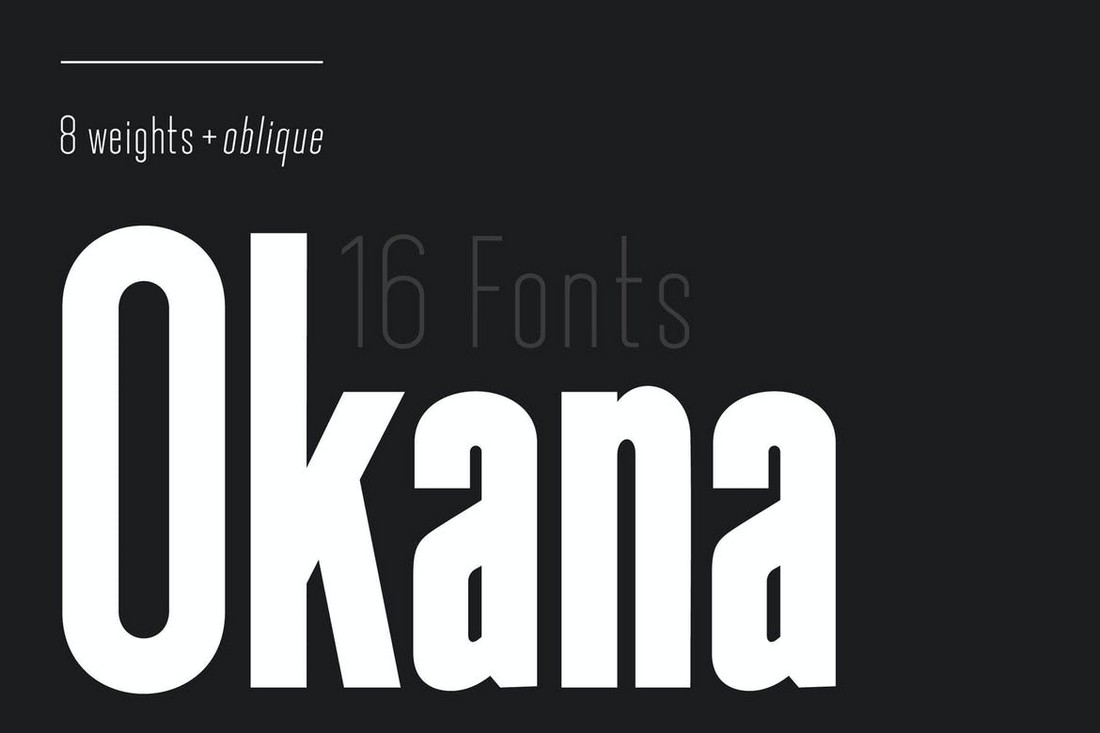 Okana is another geometric font family that is made just for professional work. This one, however, is different from most other geometric fonts because it features tall and narrow letter designs. There's a total of 16 fonts in this family, including 8 regular fonts and 8 obliques. The font has multilingual support as well.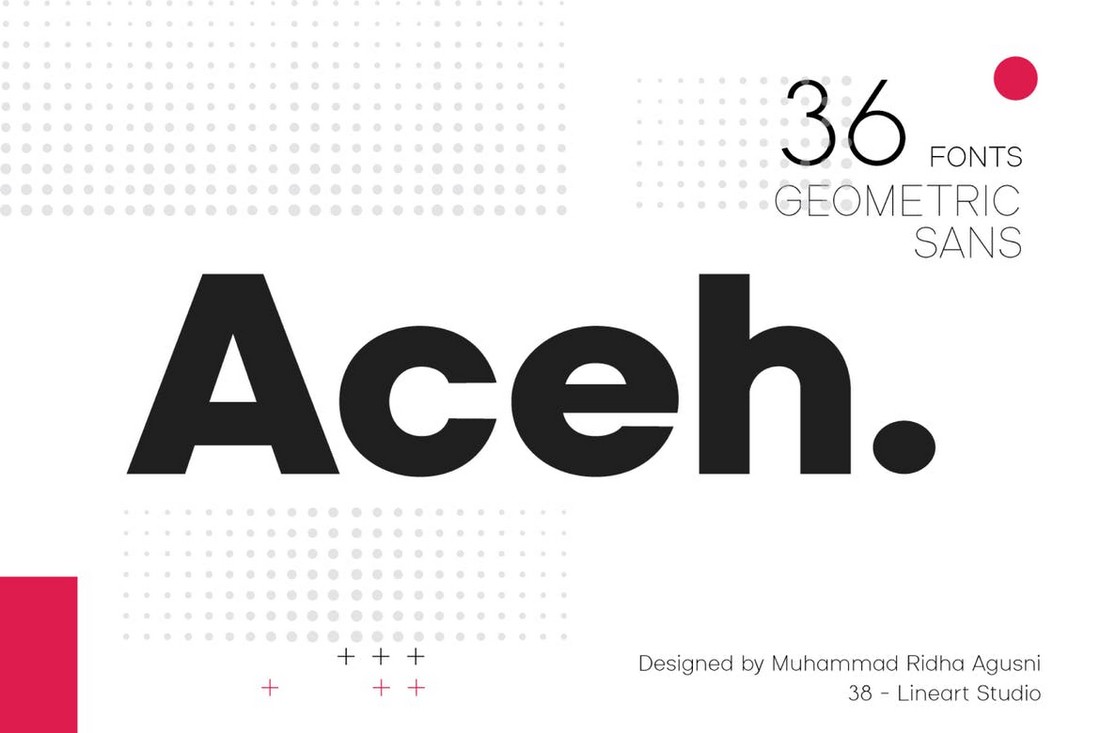 Aceh is a creative geometric font with a modern design. The clean letters of this font make it a perfect choice for everything from crafting titles for posters to website headers, social media posts, T-shirts, and everything in between. It includes a total of 36 fonts, featuring 9 different weights.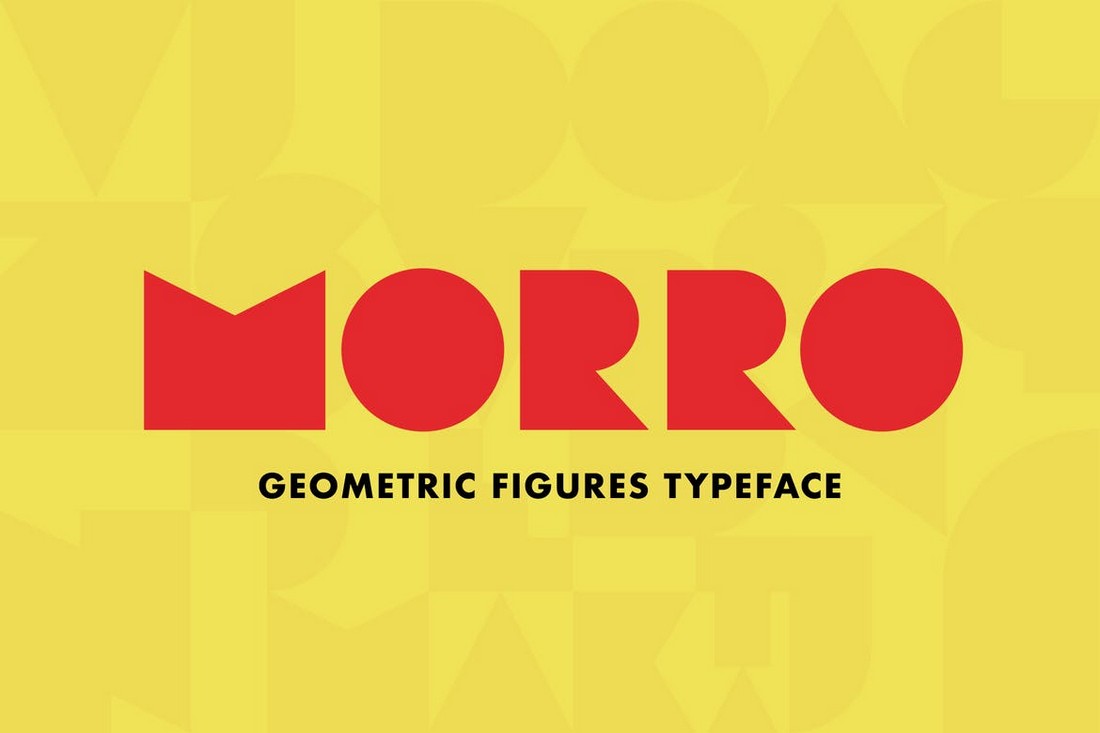 This is one of the most unique fonts on our list. Morro features letters that are made of geometric figures. Each letter has sort of a geometric fill design that mimics the design of stencil fonts. The font comes in regular, shadow, and outline styles. It's a great choice for crafting bold titles.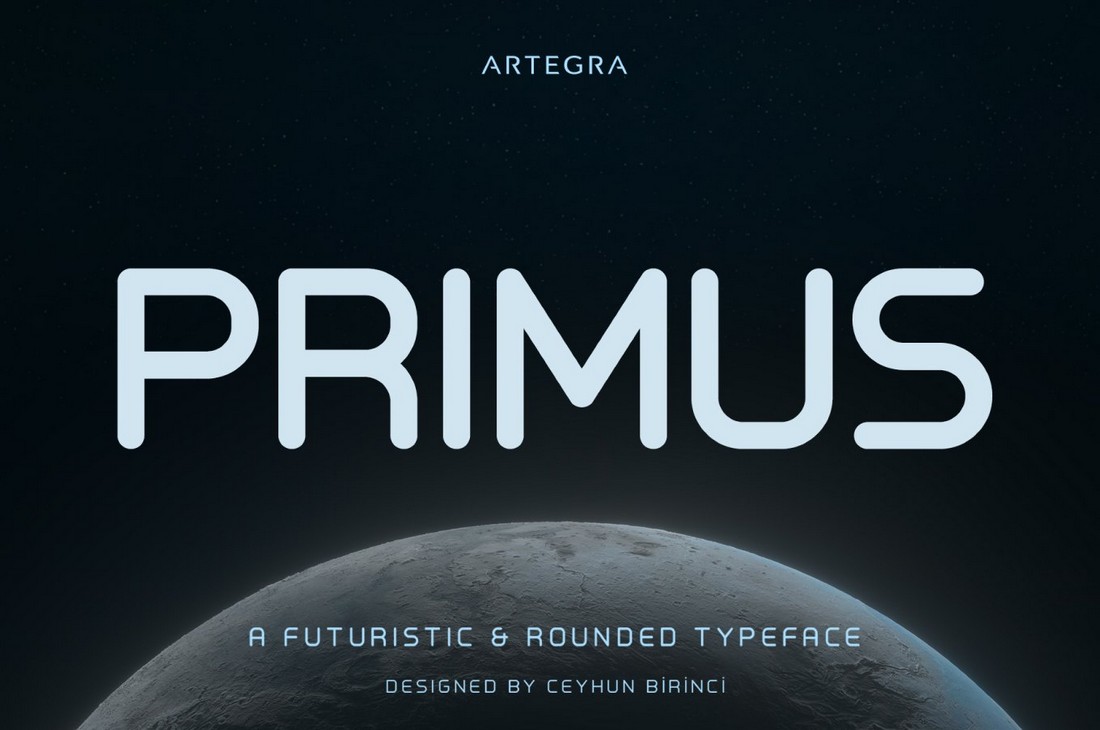 Primus is a big bold font you can use to design modern titles and headings for creative projects. This font is completely free to use with your personal and commercial designs.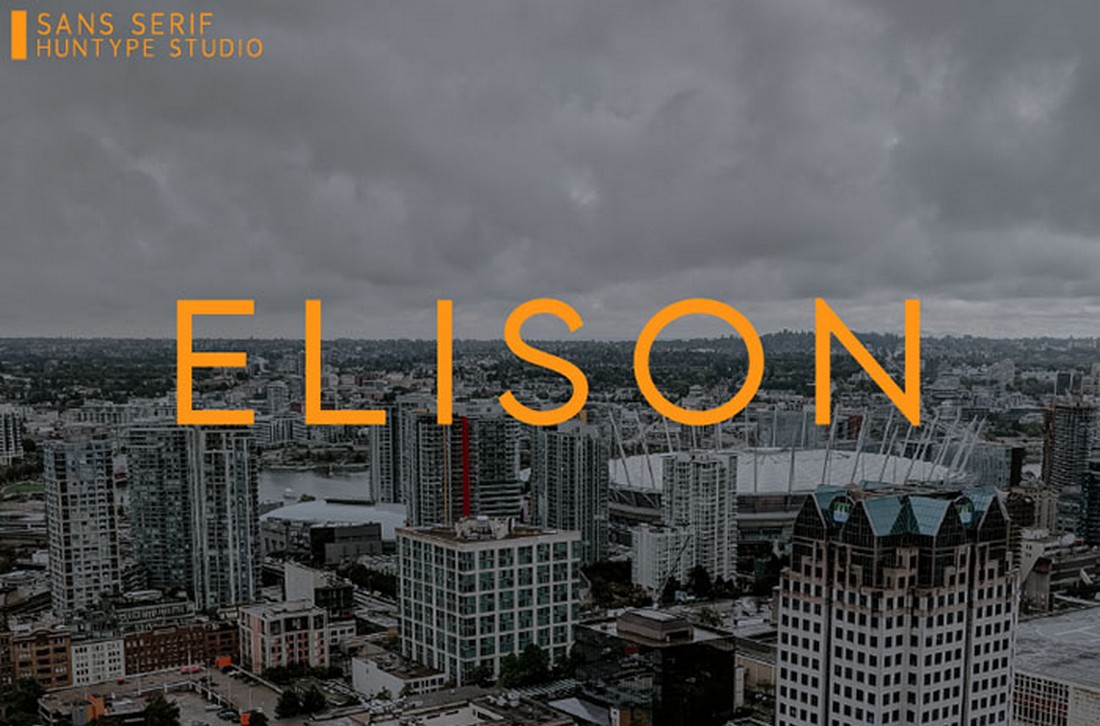 This sans serif font features a stylish letter design with clean geometric forms. You can use this font for free with your personal projects without having to add attribution.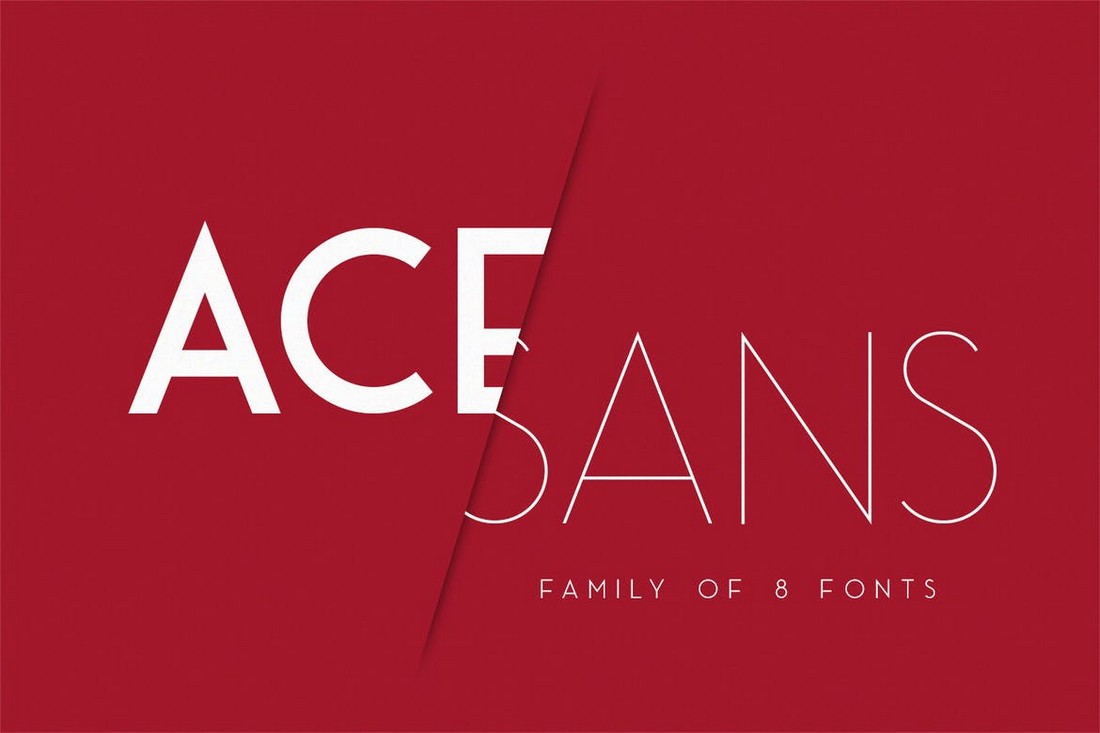 A clean, professional, and modern font family for all elegant design projects. Ace Sans is a family of geometric fonts featuring 8 different weights. It's an all-caps font. You can use it to craft big bold titles for posters, banners, and magazines.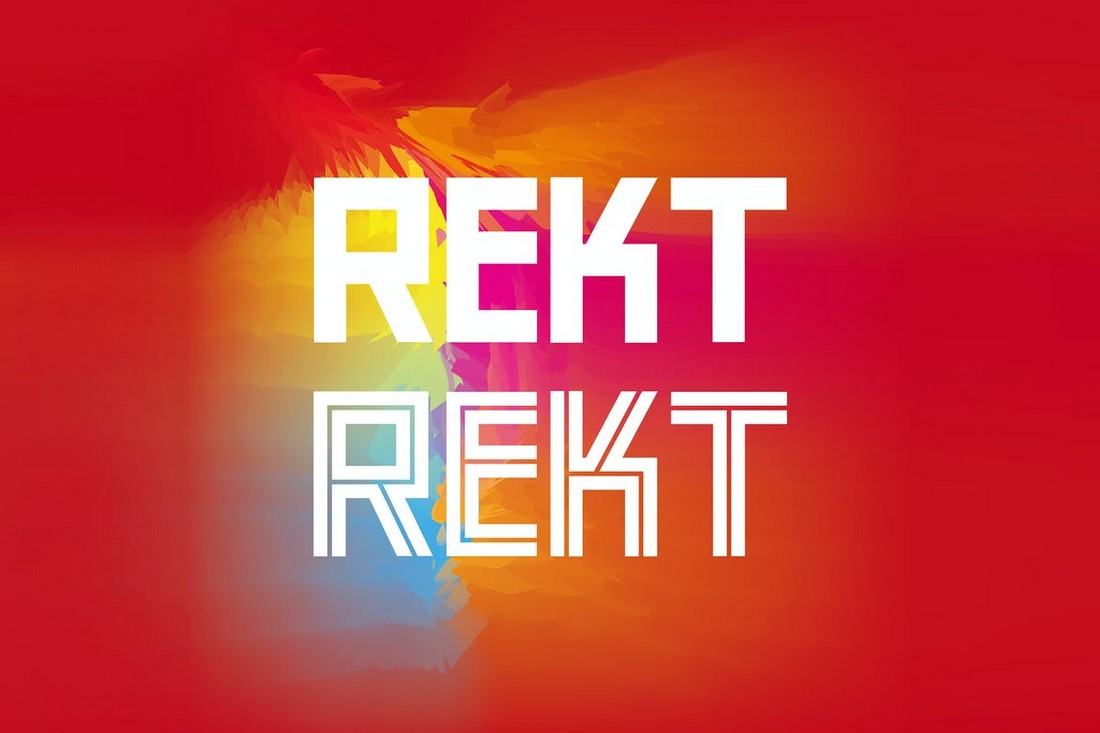 A creative take on geometric typography. Rekt is a stylish and trendy geometric font with a unique design. It comes in two different font styles that are perfect for your creative projects.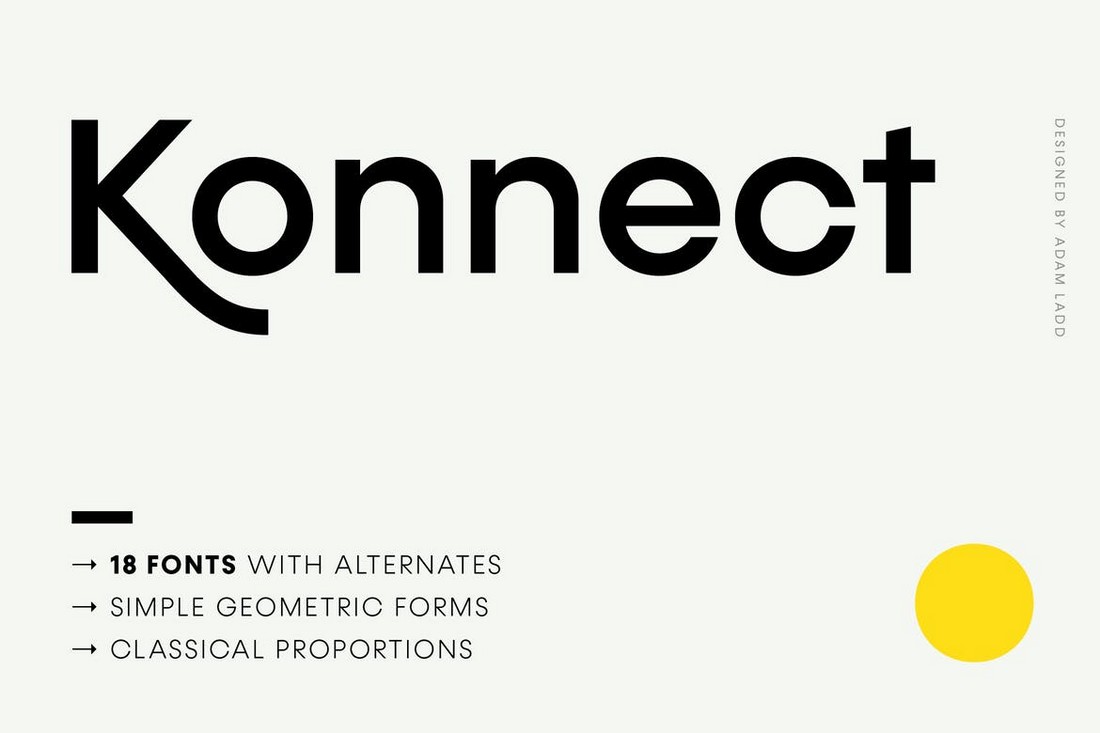 Konnect is a modern geometric font that includes beautiful alternate characters and clean geometric forms. The font is best for designing typography for fashion, beauty, and lifestyle brands while adding a bit of elegance to your designs.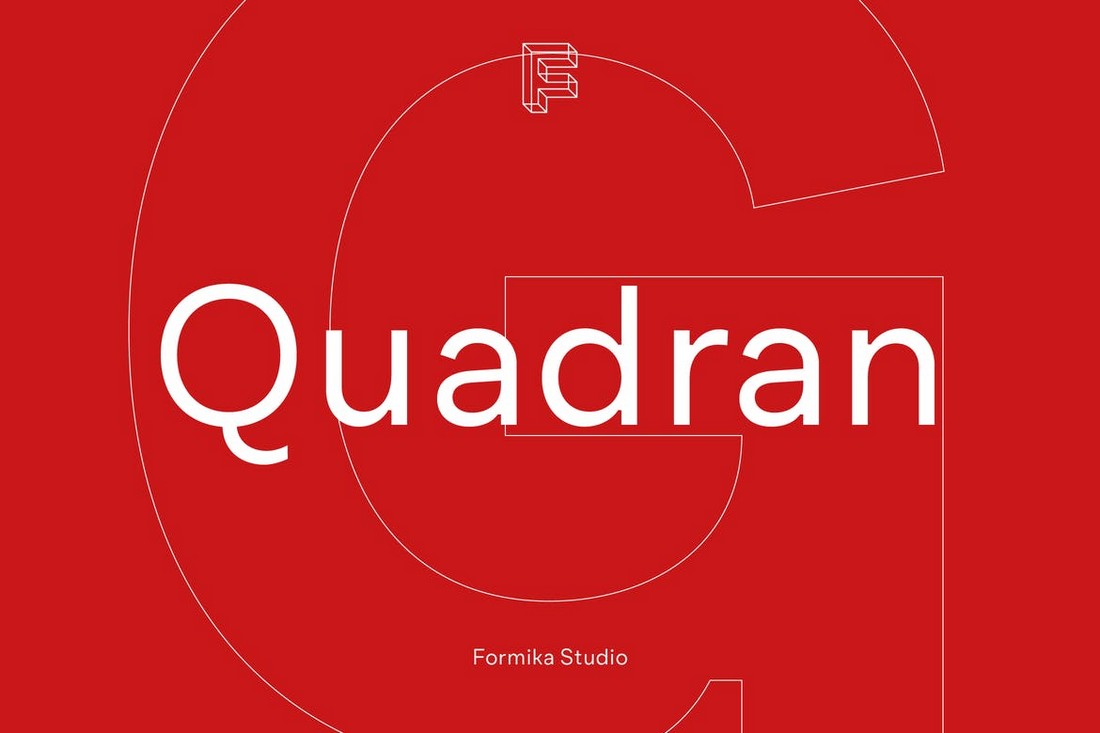 Quadran is a geometric font designed in grotesque style. It features clean-cut letters with many alternates. The font also comes in multiple weights and with multilingual support.
For more great fonts, be sure to check out our best serif fonts collection.