35+ Best Free PowerPoint Templates 2023
Creating an engaging presentation doesn't have to be expensive. Sometimes, finding the right free PowerPoint template can help you create a professional presentation with zero budget.
We want to help you get there. For starters, we rounded up a collection of amazing free PowerPoint templates you can download and use with various projects for free of charge. These templates actually look just as good as premium PowerPoint templates.
There are many different kinds of templates in this collection. Unlike most free templates, the templates we handpicked feature modern and relevant designs. They are also fully customizable as well. You can use them to create slideshows for many different presentations.
Explore the collection below and start downloading.
Get everything you need to give the perfect presentation. From just $16, get unlimited access to thousands of PowerPoint presentation templates, graphics, fonts, and photos.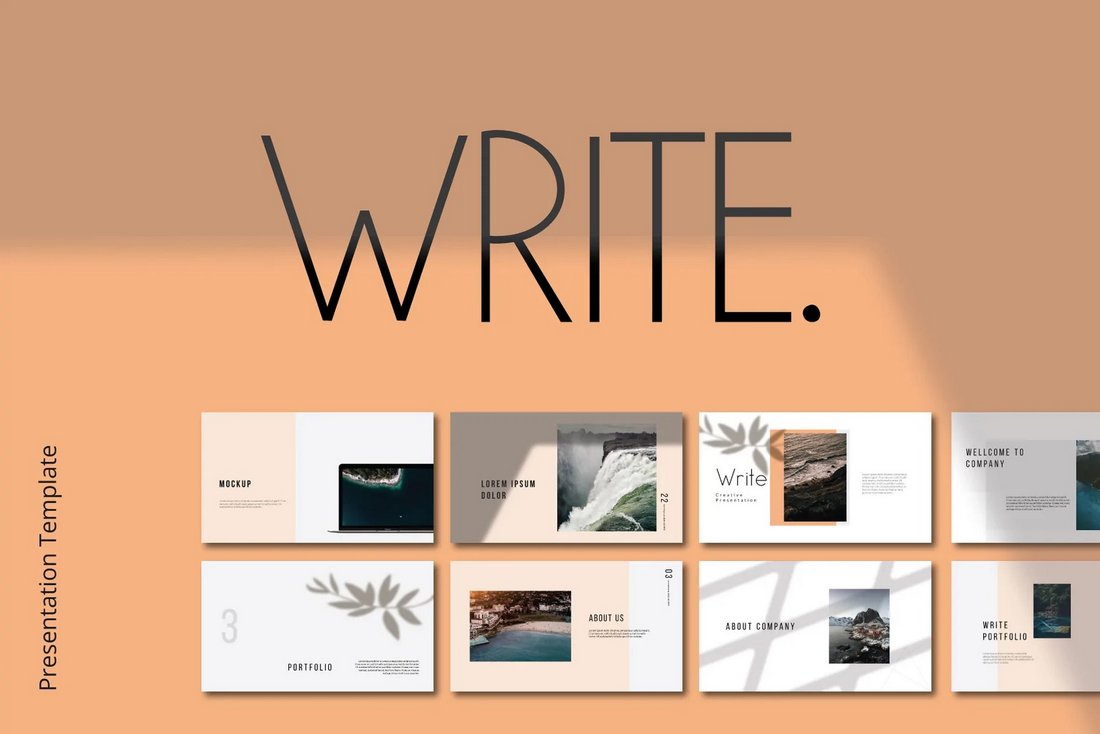 Write is a beautifully minimalist PowerPoint presentation that features clean and simple slides for making professional slideshows. It's great for everyone from small agencies to freelancers for making unique presentations that show off creativity.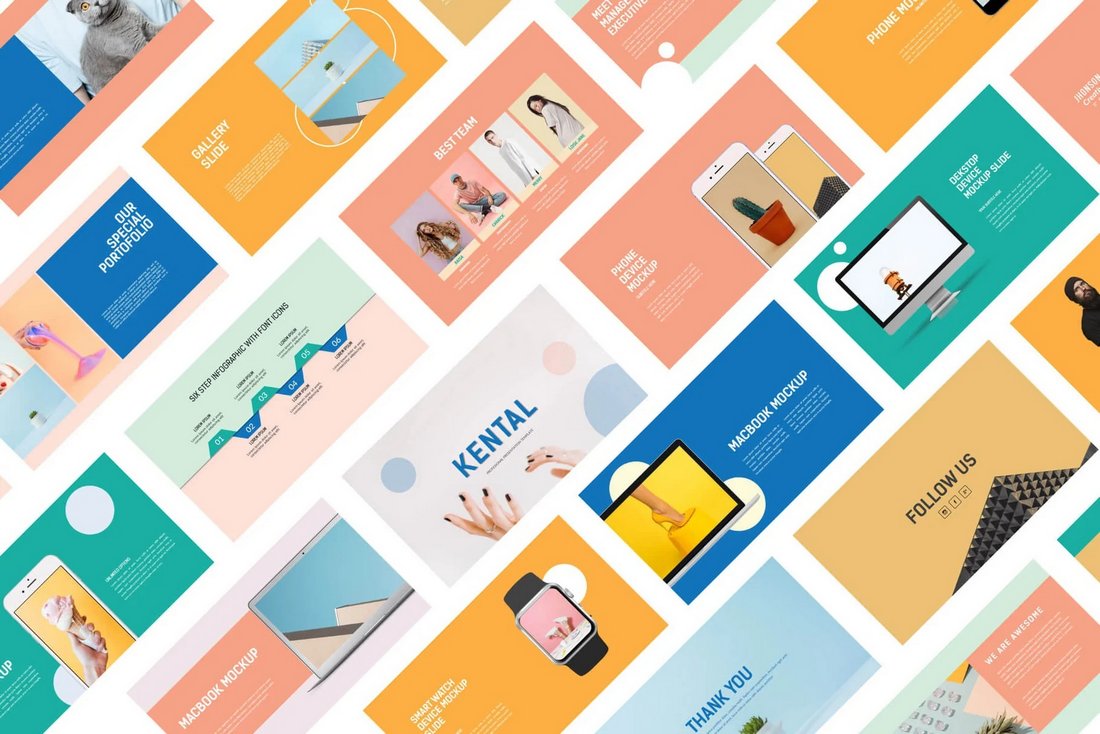 If you prefer making presentations full of colorful slides, this free PowerPoint template is for you. It comes with a set of slides that features vibrant designs with lots of different colors. And yes, you can change the colors too.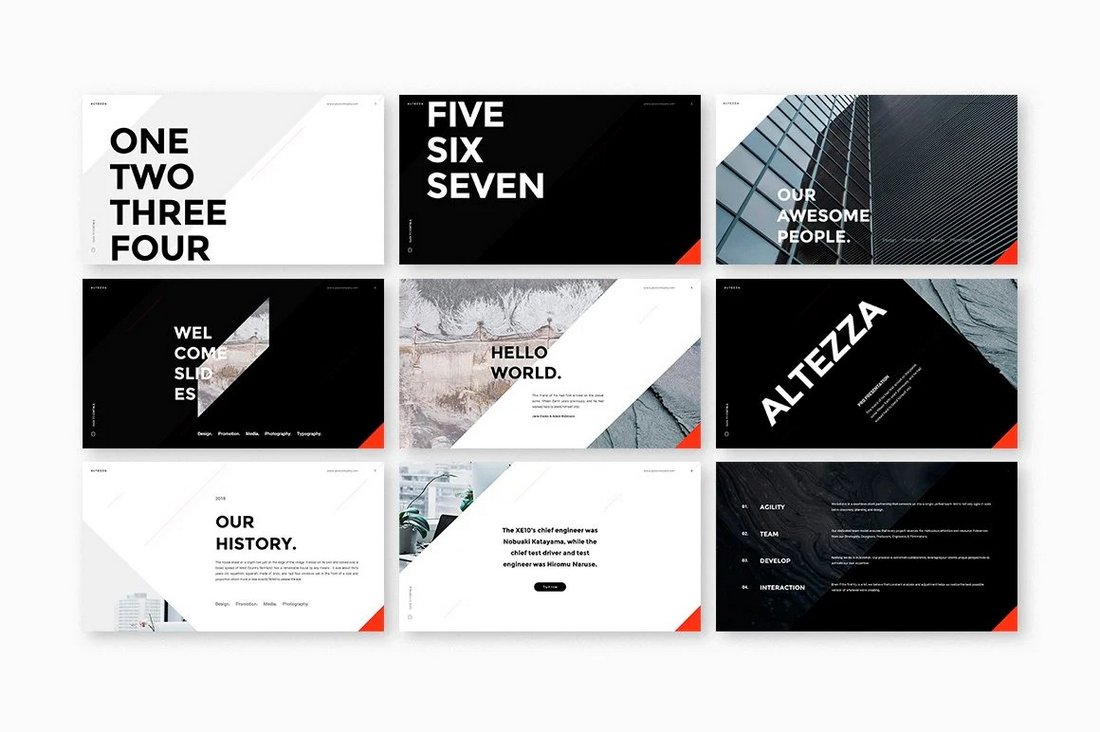 Altezza is a free PowerPoint template that comes with a bold and professional design. This template is perfect for making branding presentations, especially for pitching projects and company profiles. There are 11 slides in the template.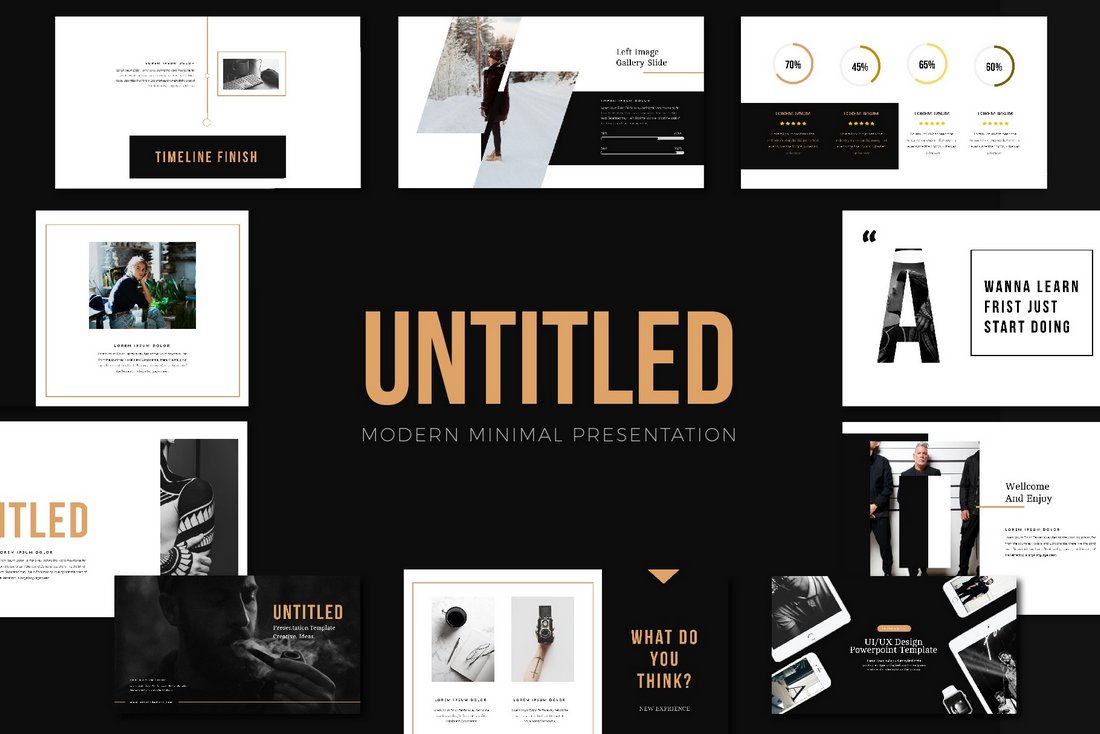 This free PPT comes with a set of unique slides that include very creative content layouts. You can use this template to make slideshows for fashion and lifestyle brands. It's great for agencies as well.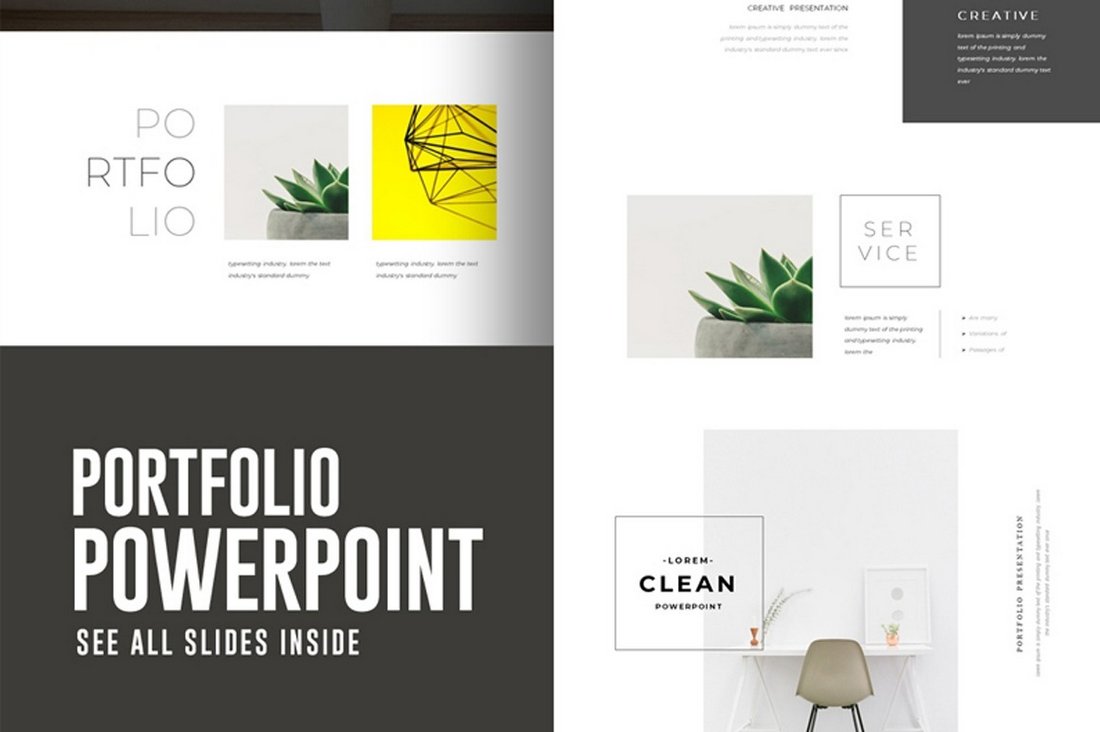 If you want to make a simple presentation to showcase your portfolio, be sure to grab this free PowerPoint template. It includes 10 unique slides with minimal slides with master slide layouts.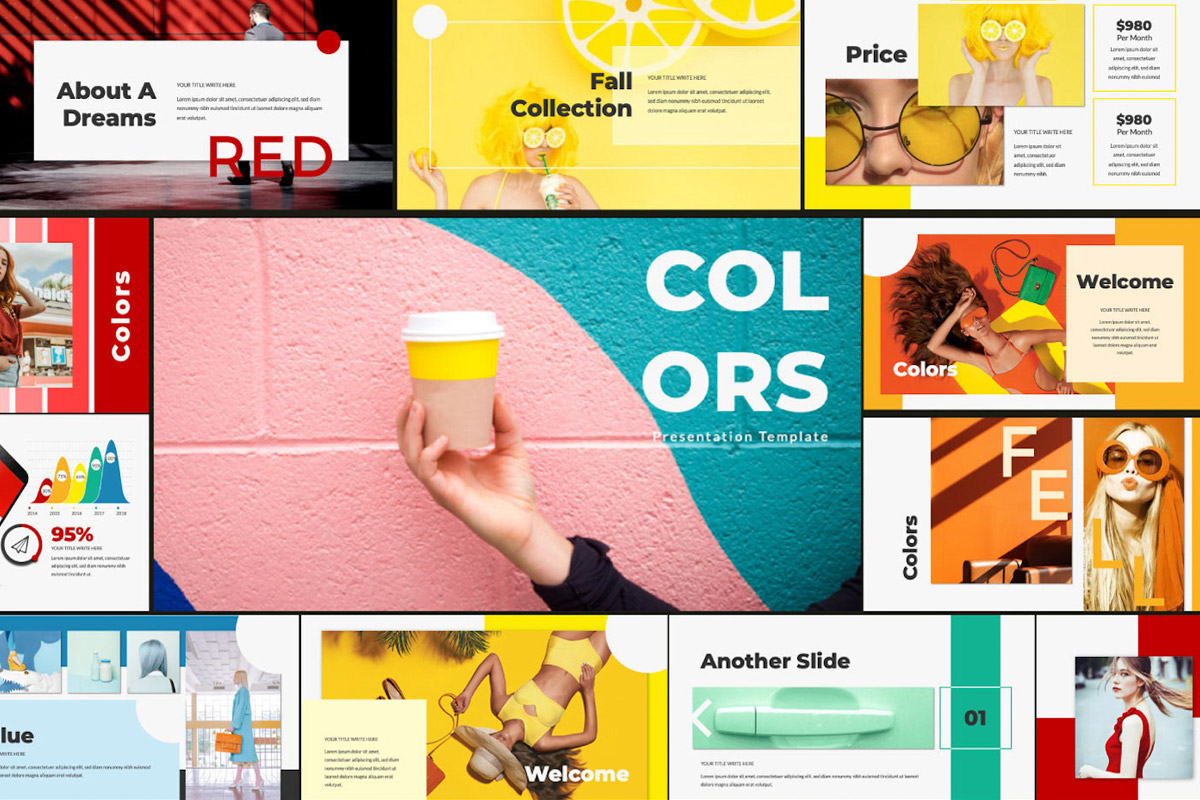 If you're looking for a colorful, and vibrant PowerPoint presentation to flex your upcoming fall collection to the clients, this template is just what you need. It features a range of gorgeously designed slides with modern design and intense colors.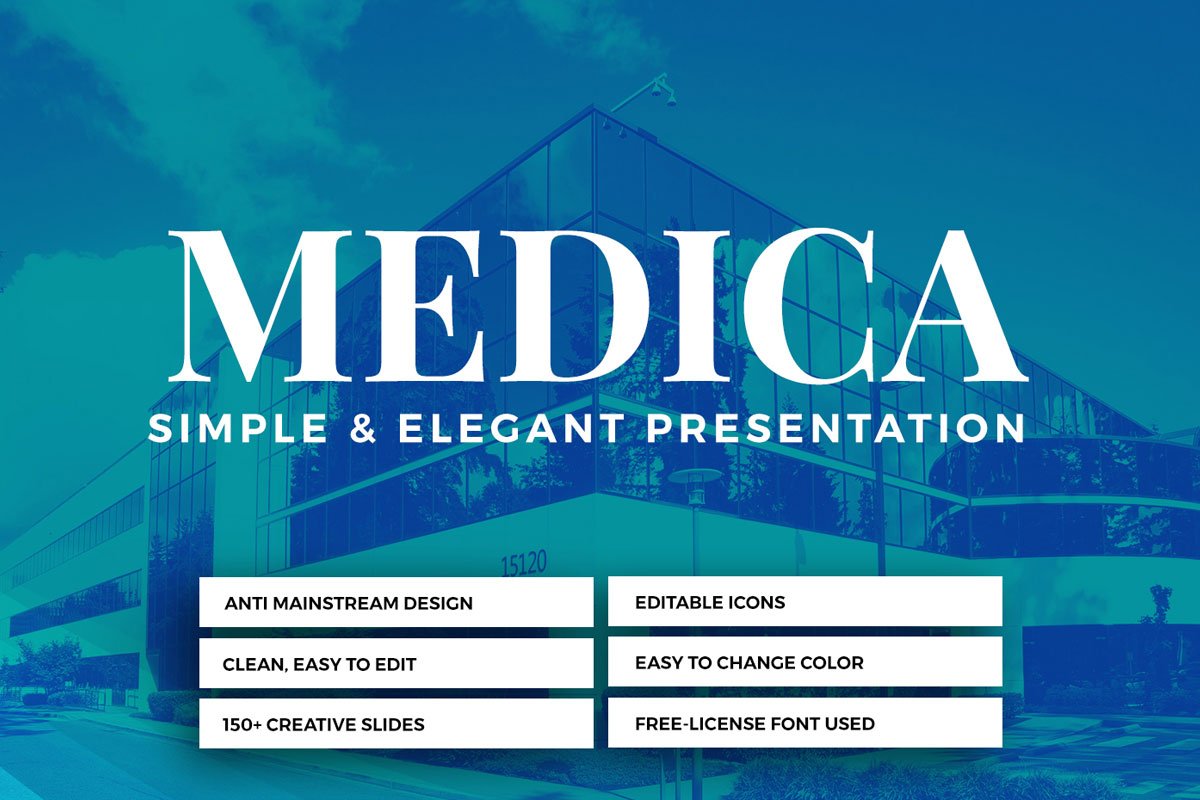 As the name suggests, Medica is a simple and elegant PowerPoint template for medical and health-related subjects. That said, given the versatility of Medica, it can virtually be used for nearly any business or industry under the sun.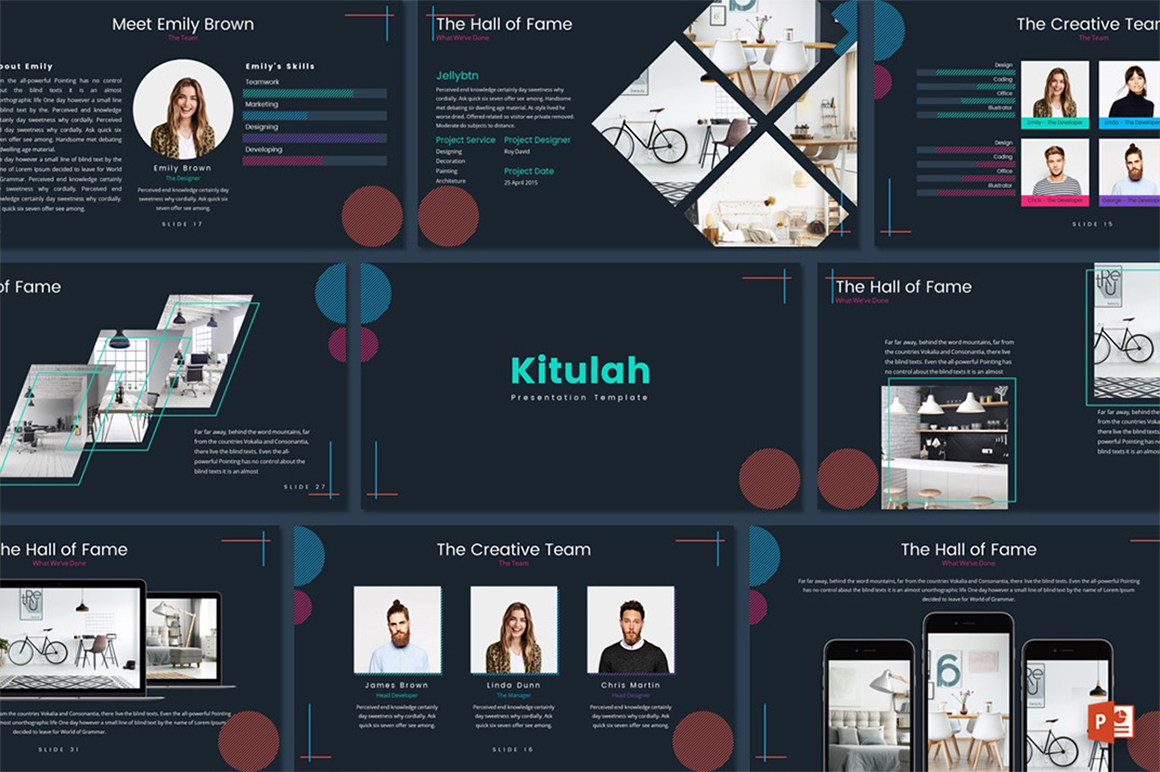 Kitulah is a clean, and creative PowerPoint template for professionals. It features a range of carefully crafted slides that can be tweaked as much and as little as you'd like. It's available for free on Pixelify, so grab it right now.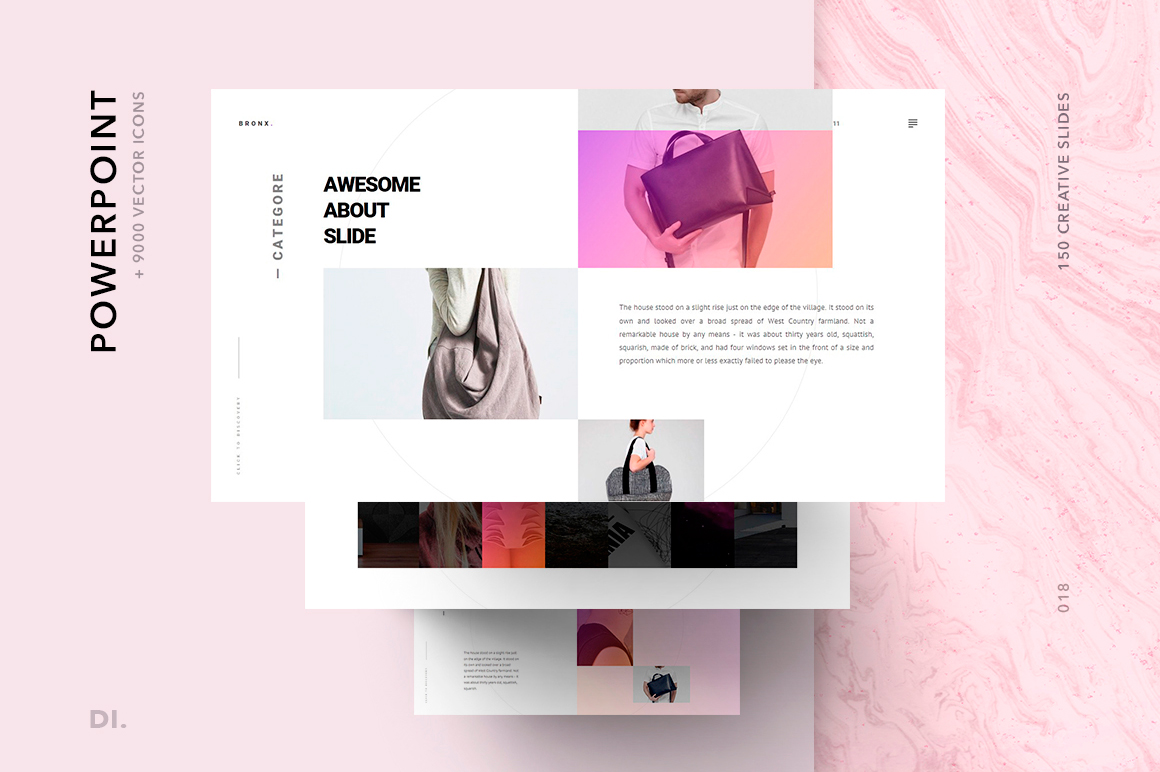 Bronx is a beautiful, and sophisticated PowerPoint template fitting to a pool of presentation purposes. It features a minimal yet attention-grabbing design that is sure to make an impression on your clients, investors, or colleagues. Check it out now.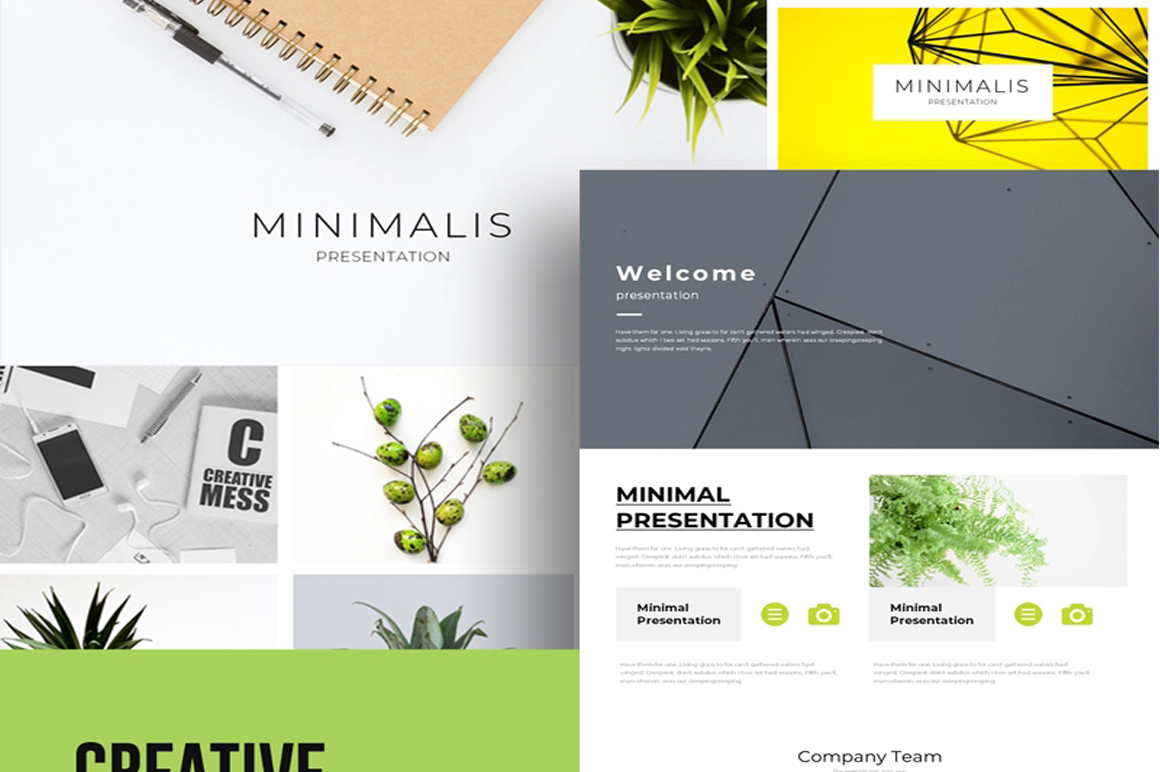 Here we have a clean and elegant PPT template that can be fully customized to suit virtually any business or corporate' needs. It comes with 10 unique and creative slides, drag and drop image placeholders, and a range of icons and other elements for your convenience.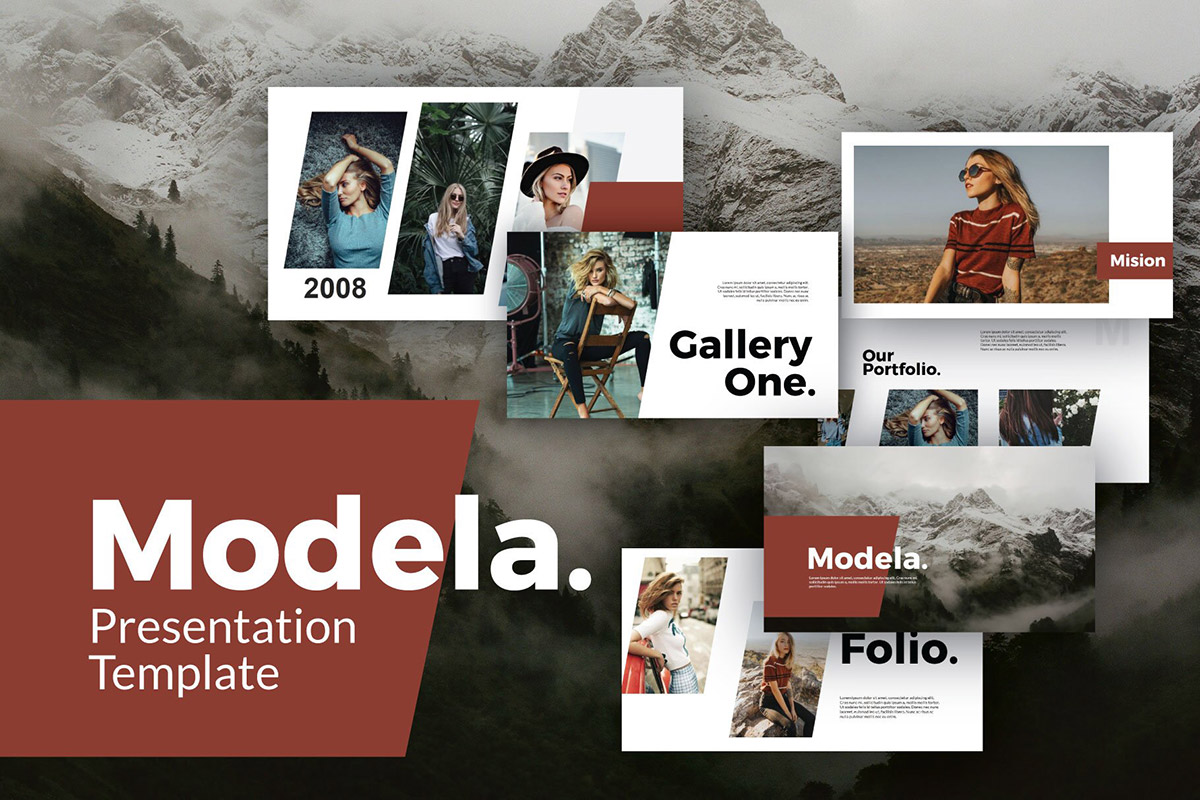 Modela is a super stylish and classy PPT template that's purpose-built for the fashion and apparel industry. It offers a striking design, infographics, free fonts, color adjustments, plus a range of other customizable features. One of the most professional PowerPoint templates free download.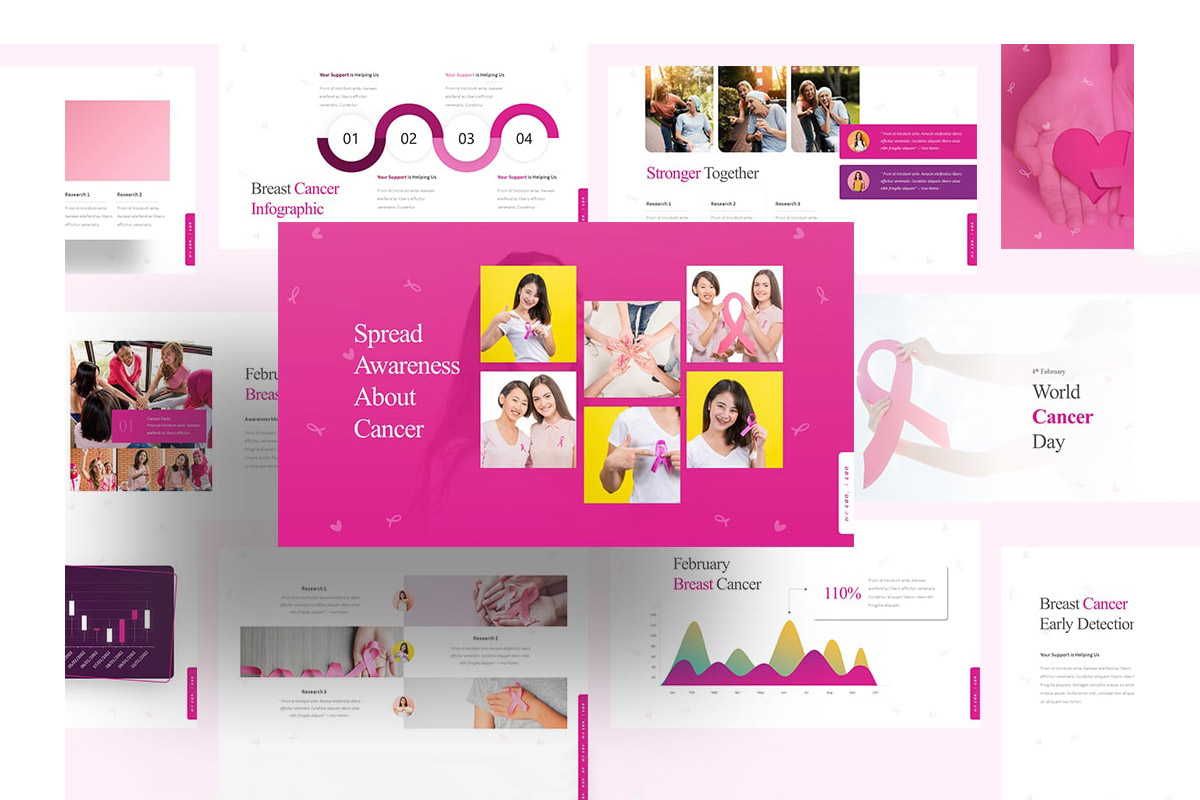 Next up is a gorgeous set of twelve unique and creative slides that is sure to impress your clients. Use this easy-to-edit, one of the best free PowerPoint templates to create awareness about Cancer, or advertise your healthcare facility.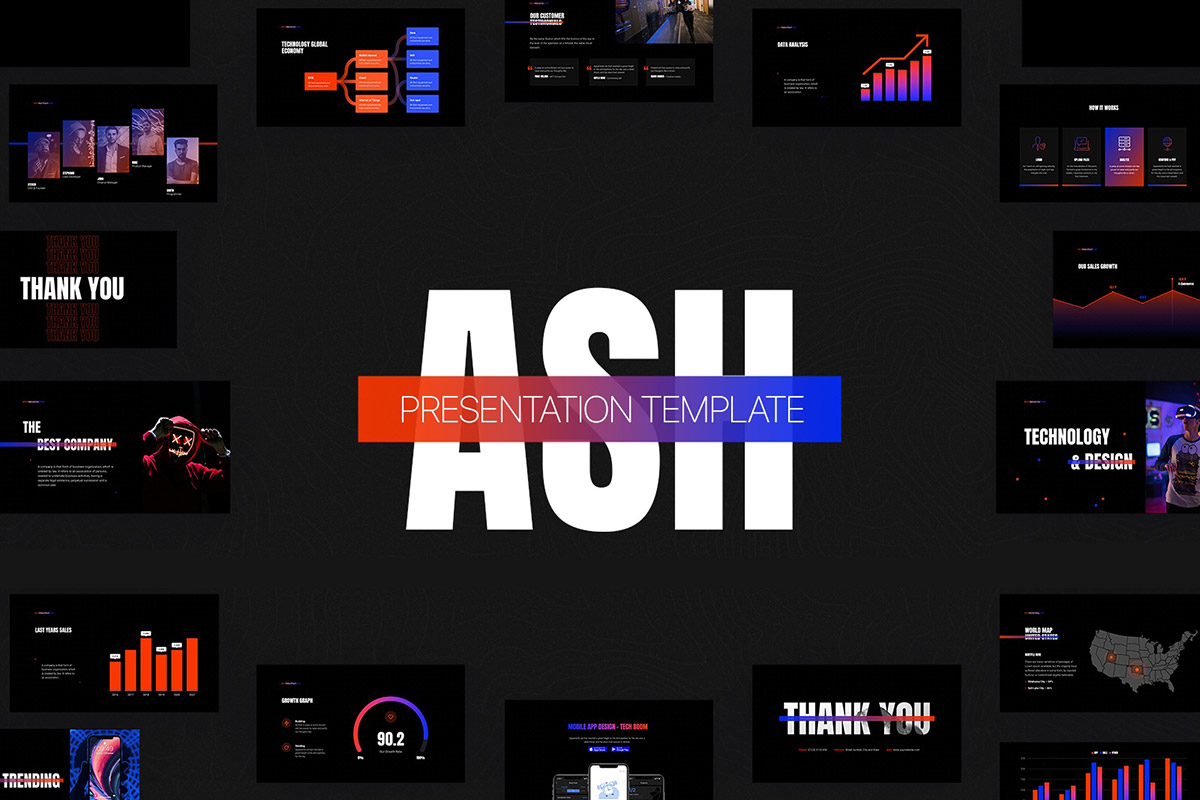 Ideal for a marketing kit or brand presentation, Ash is a unique, futuristic PowerPoint template that is hard to walk by. It offers an array of professionally designed slides, a widescreen, free fonts, and a smorgasbord of features for you to take advantage of.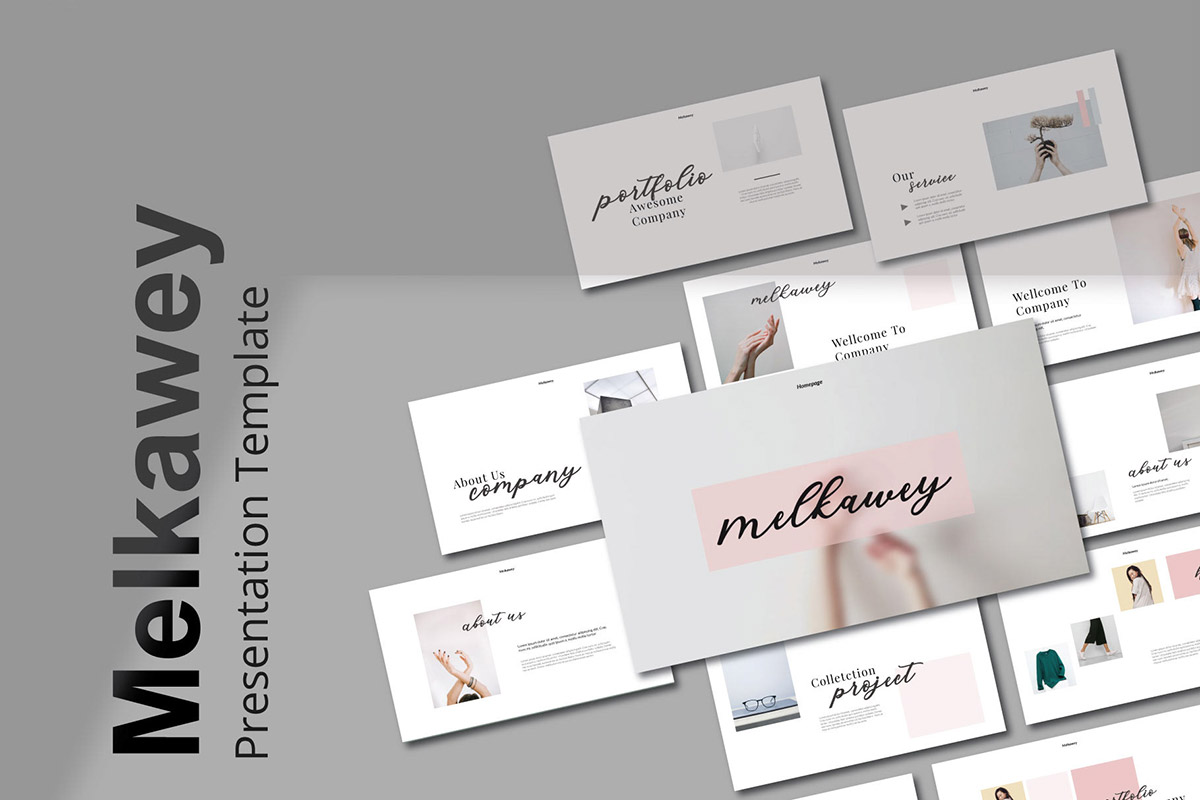 If you're looking for a simple yet awesome PPT template, look no further than Melkawey. It's a versatile option that can be used for any purpose and industry under the sun. Truly, one of the best free PowerPoint templates out there!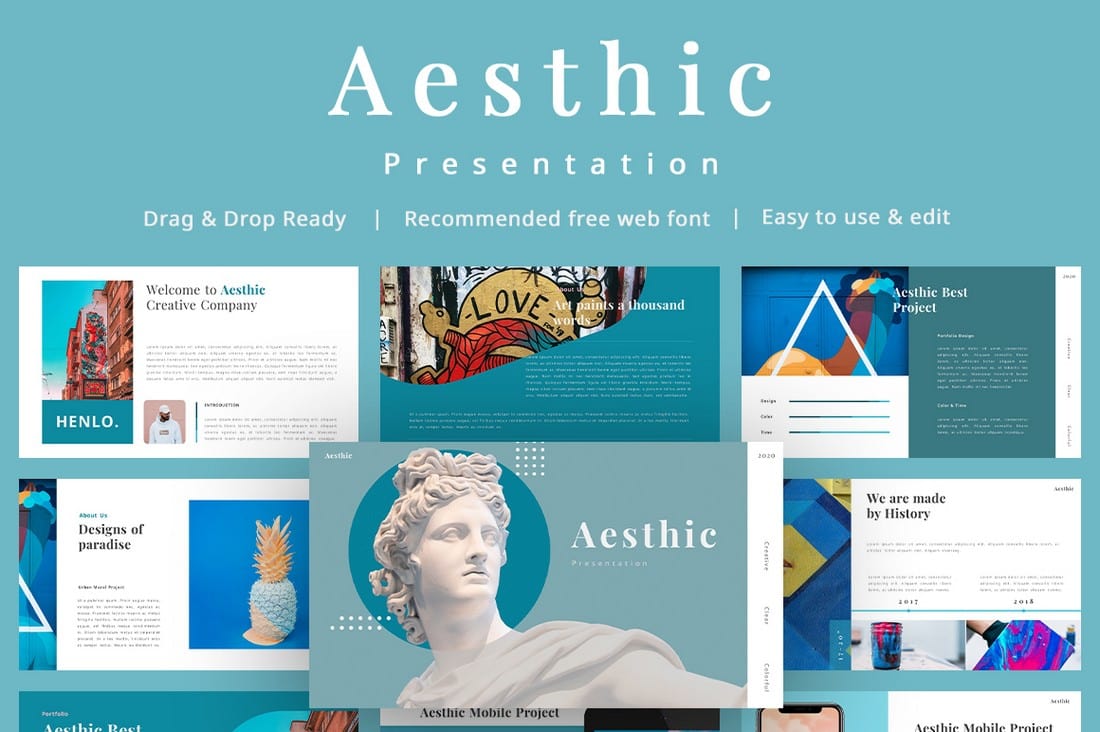 Modern businesses and agencies should use presentation designs that are relevant to their brand. Aesthic is a PowerPoint template made for such companies. This template features a multipurpose design that allows you to create many kinds of presentations. It's free to use and it's most suitable for design agencies and creative freelancers.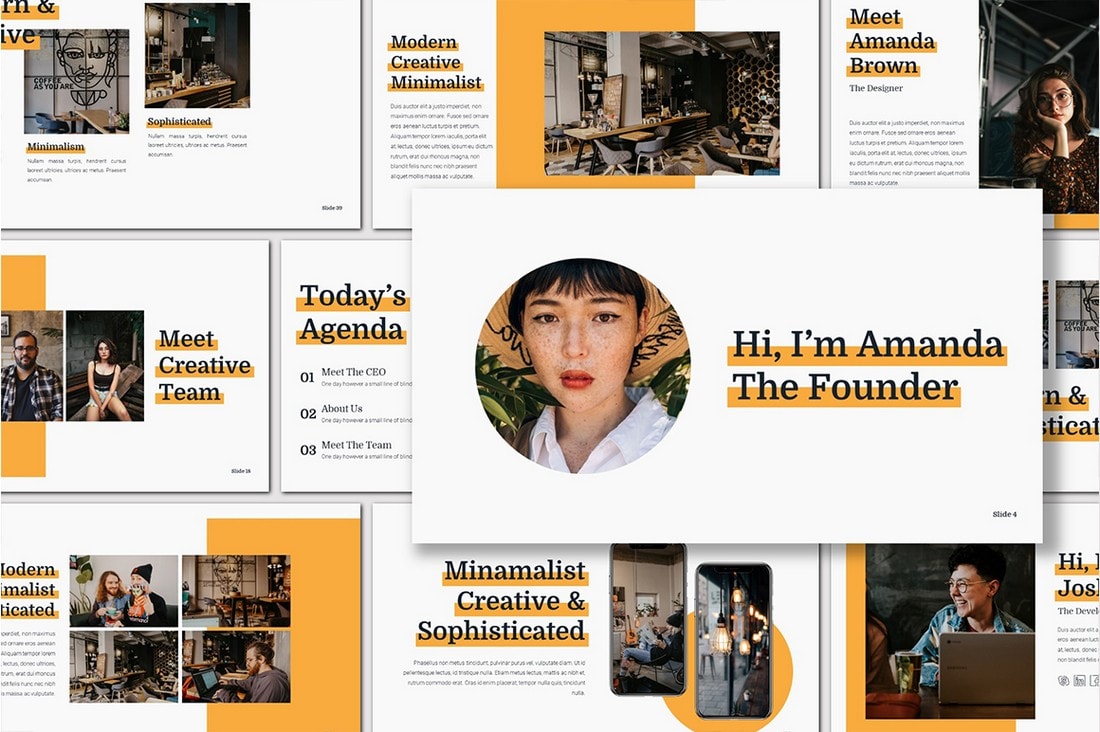 If you're a freelance marketer or a marketing agency, this free PowerPoint template is a must-have for making various presentations. It comes with a very creative design that will surely attract the attention of your audience. You can use it for free with your personal and non-commercial projects.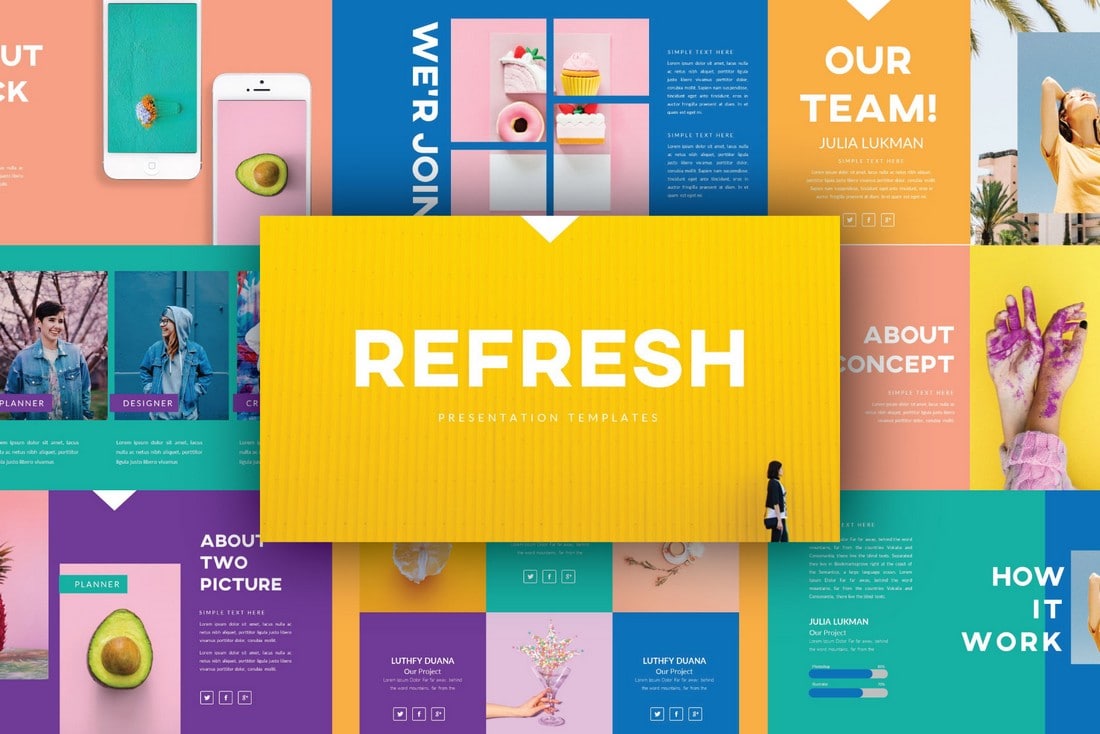 Just as the name suggests, this PowerPoint template features a truly refreshing design style that makes it just pops out of the crowd. The template has a bright and colorful design and it's perfect for making more entertaining and trendy presentations. It's fully customizable as well.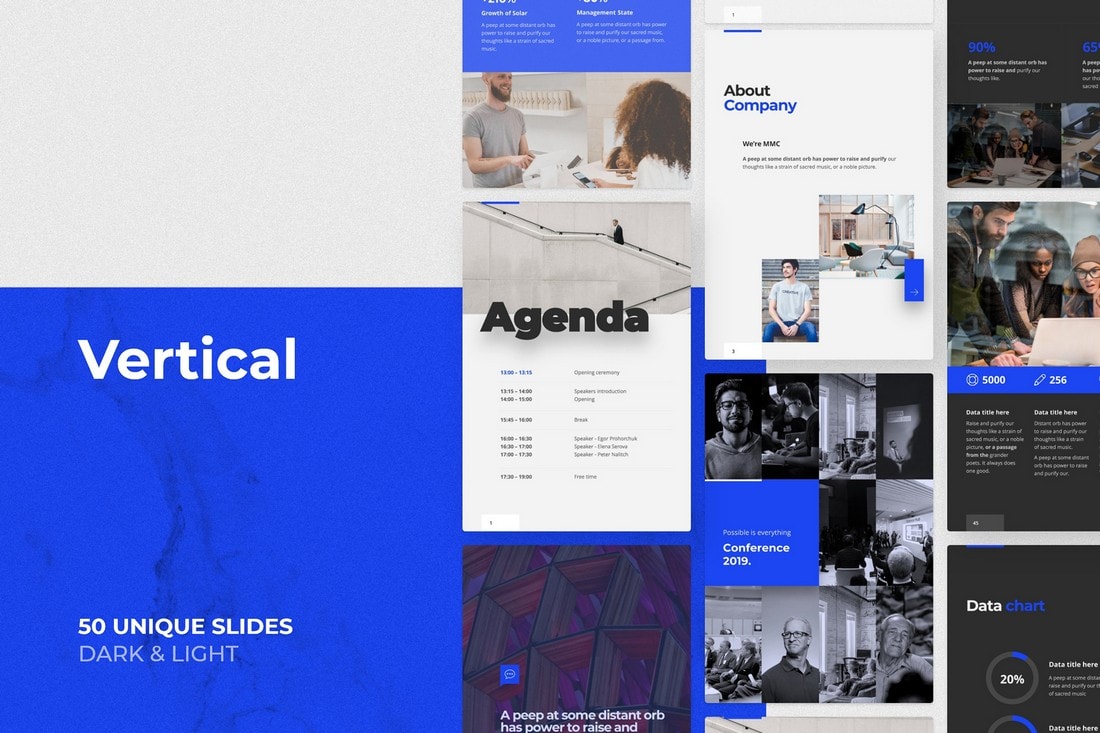 Using slideshows with vertical designs is a new trend in presentations. This template is for those of you who follow the trends. The template comes with 50 unique slide layouts made in vertical designs. The slides are available in both light and dark color themes as well. And it's perfect for business and agency meeting presentations.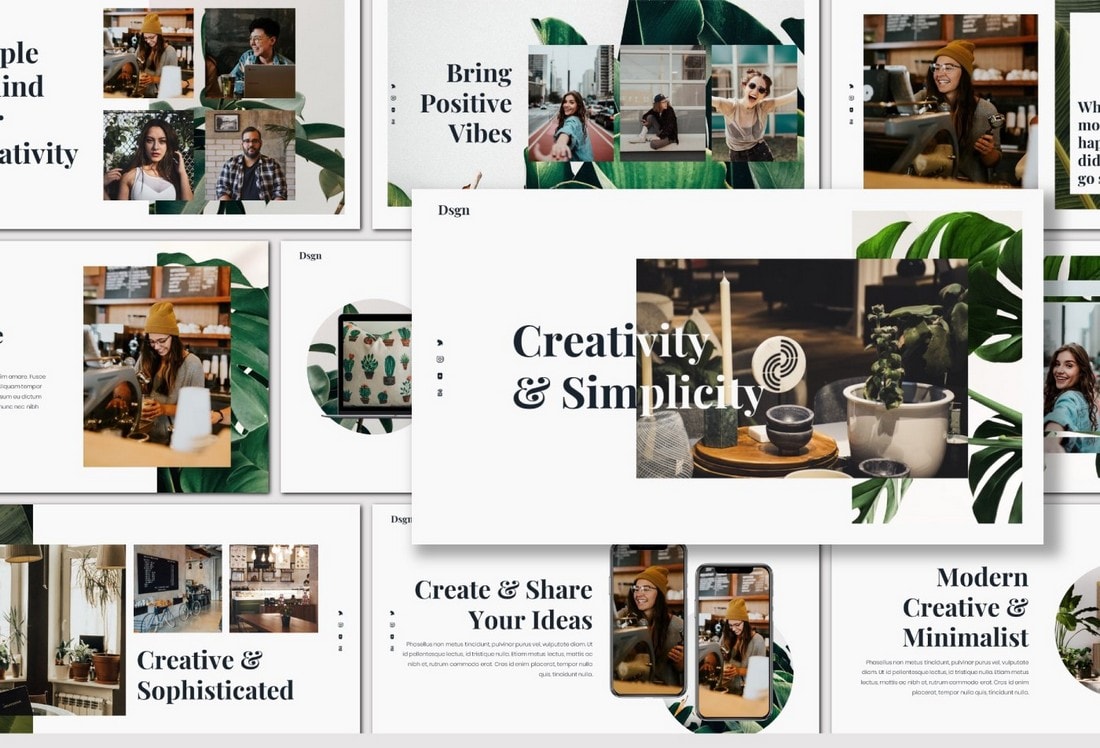 A beautiful and modern presentation template for crafting lookbook-style slideshows. This PowerPoint template includes 90 unique slides you can easily customize to your preference. It also includes a very visual design layout where you can feature a lot of images. It's free for personal use.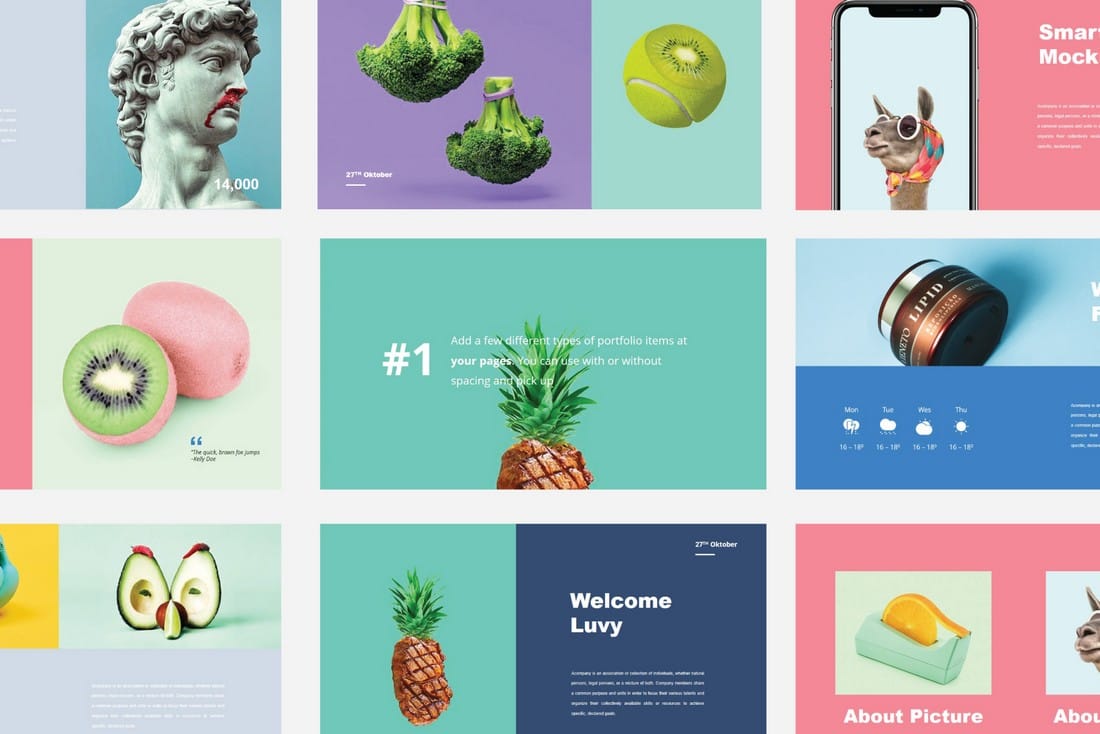 Luvy is a gorgeous PowerPoint template that features a design that consists of bright pastel colors. It's perfect for everything from design presentations to creative project slideshows and more. This template includes unique slide layouts and comes with lots of editable graphics and shapes as well.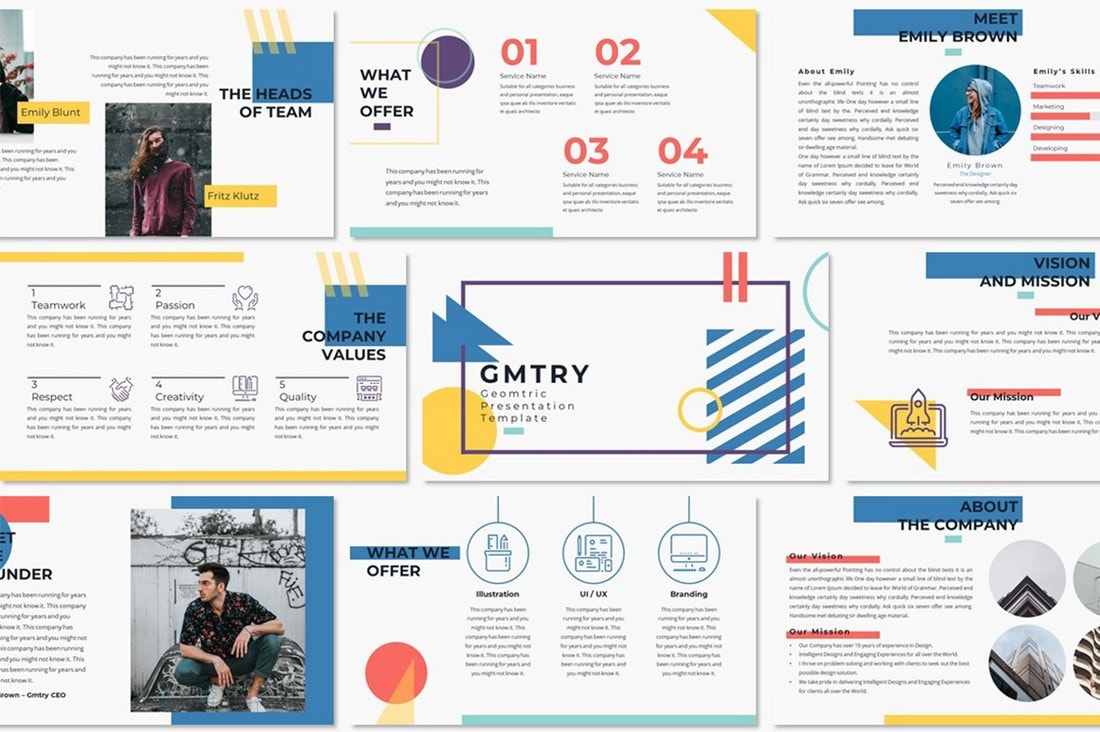 If you're looking to create a presentation using a different style of slide designs, something that stands out from the crowds, this is the one for you. This PowerPoint template comes with a set of slides that feature geometric-based slide designs. It's perfect for creative and business presentations with a modern spin.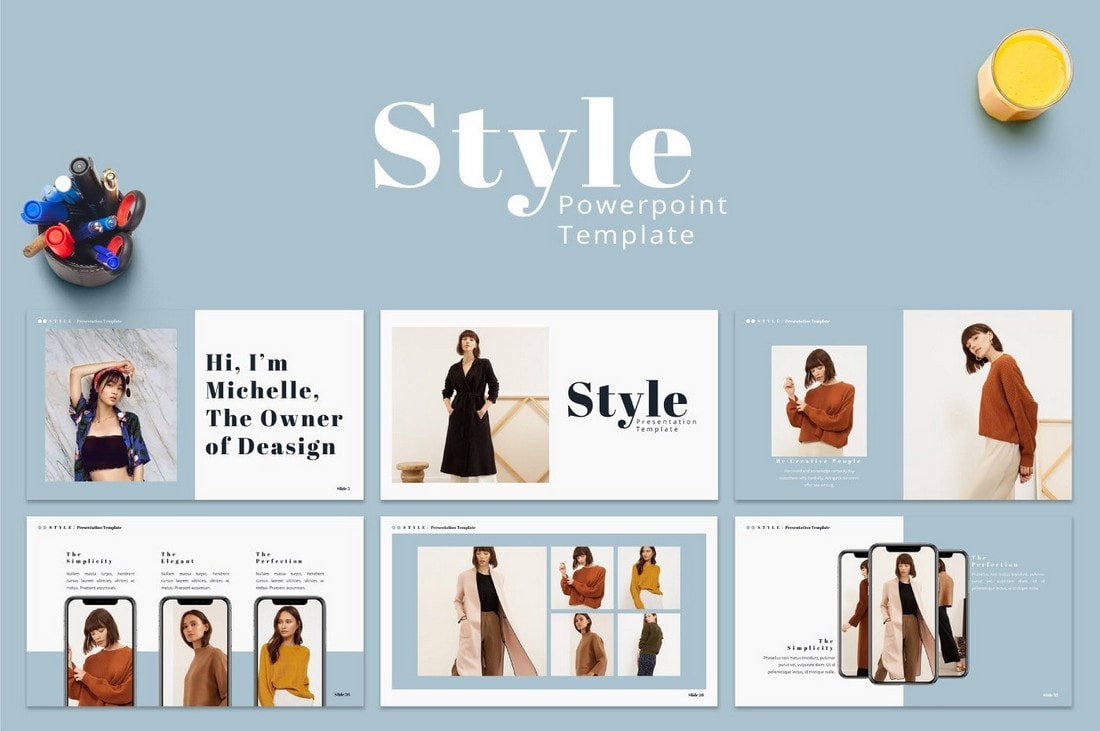 At first glance, you can see this PowerPoint template is made for fashion and design presentations. But of course, you can use it to create many other creative slideshows as well. The template includes 50 unique slides filled with vector graphics, icons, and editable shapes.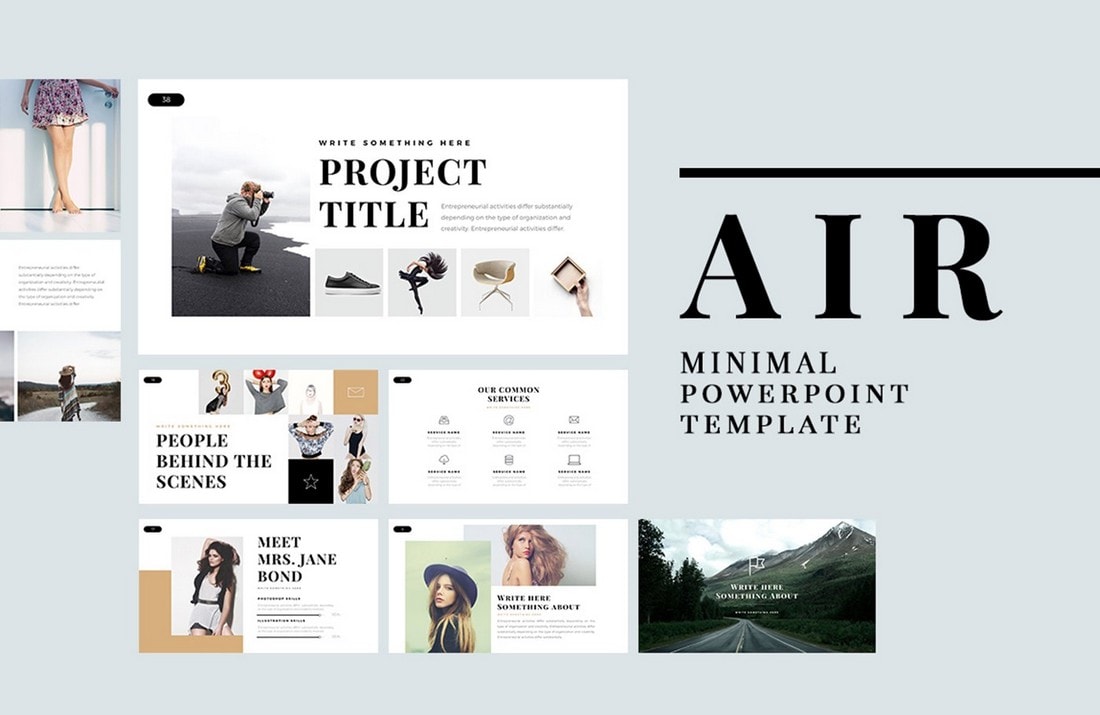 Minimalist designs are a great way of showing professionalism. With this clean and minimal PowerPoint template, you can bring that same quality to your presentation designs. It features 60 unique slide layouts featuring minimal designs. You can use it to create presentations for agencies and modern brands.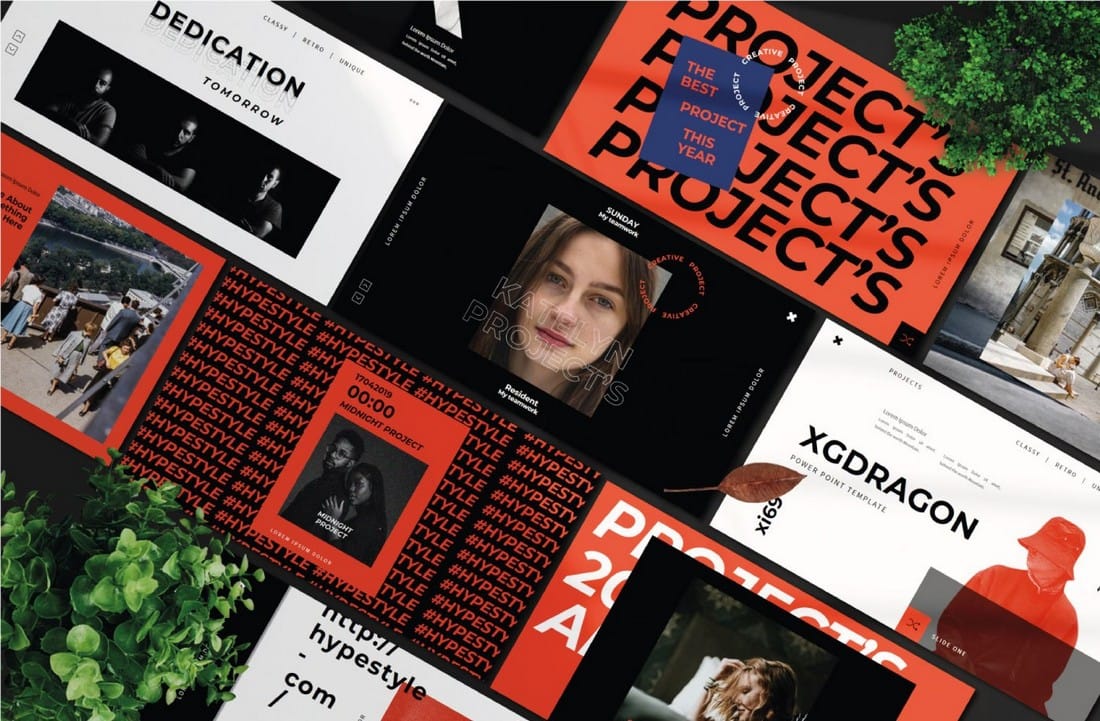 This free PowerPoint template is for those of you who love to entertain the audience with a more visual presentation. This template includes lots of slides featuring colorful and visually vibrant designs. Each slide is fully customizable. And you can use the template for commercial projects as well.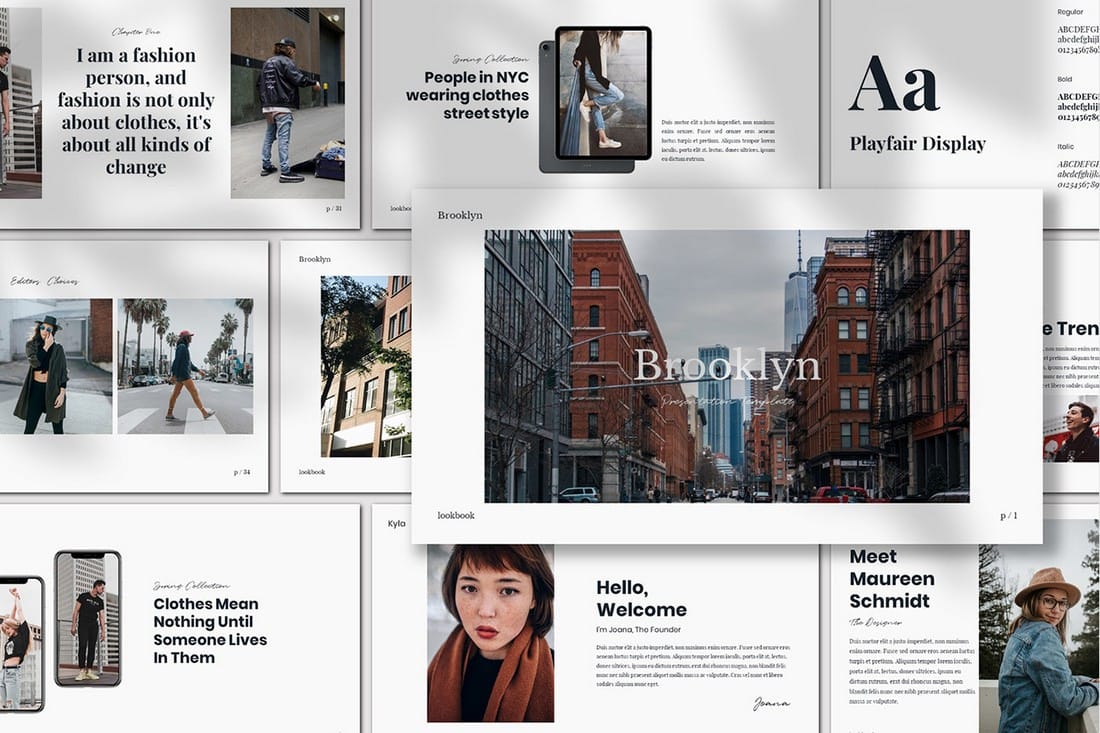 Brooklyn is another minimalist PowerPoint template you can use to design presentations for creative brands and businesses. The free version of the template features multiple slides with editable text, shapes, and image placeholders.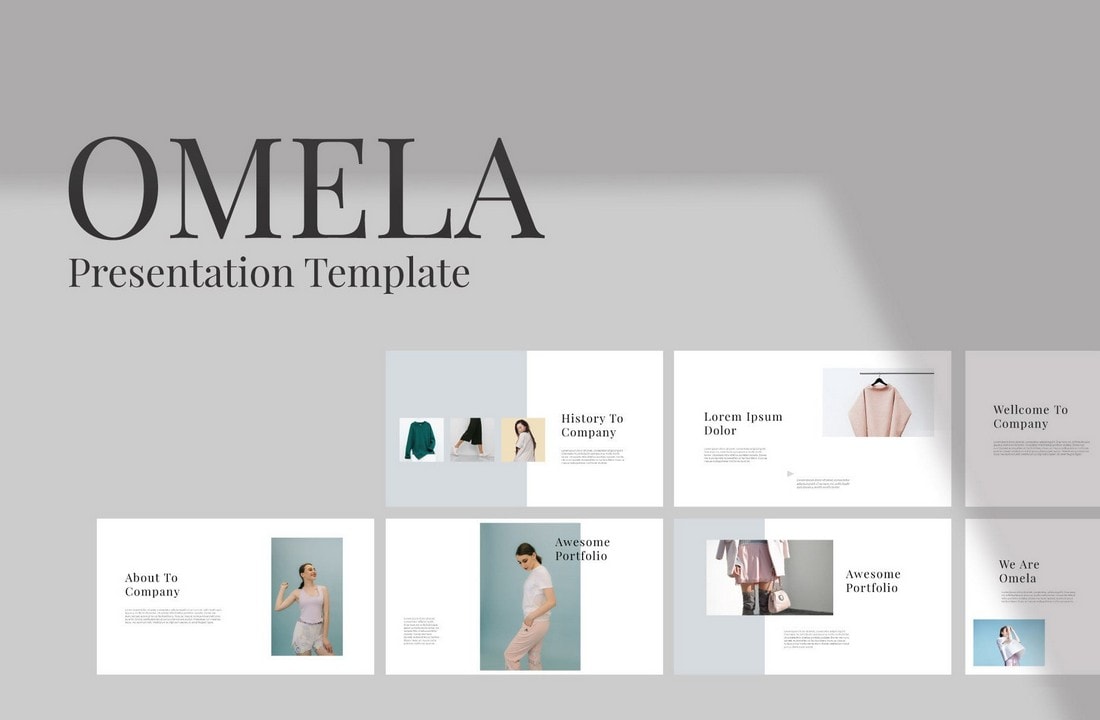 A great way to give more attention to your images and written content is to use lots of white space and reduce clutter. This free template helps you achieve that goal. It features a set of clean and simple slides that highlight your content. It's free to use with your personal projects.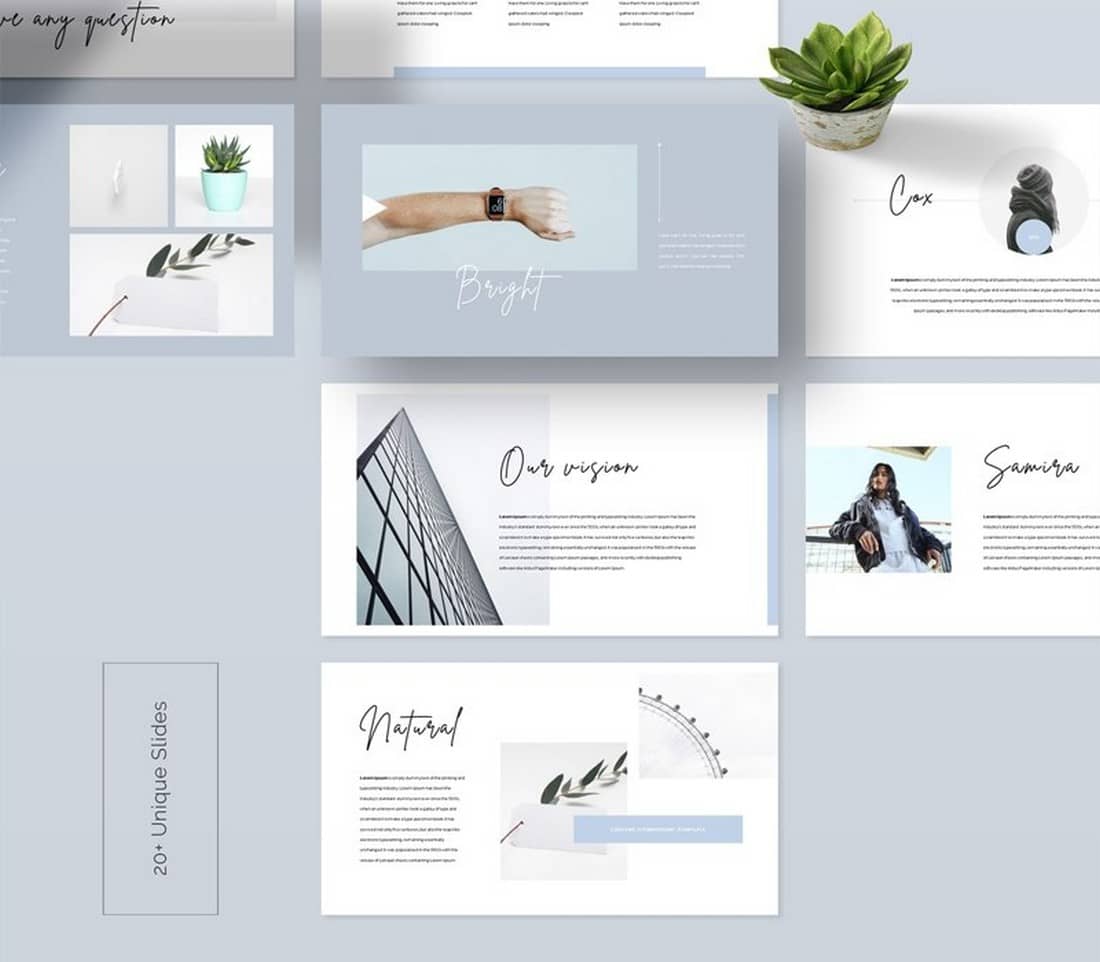 You can design a stylish and professional look book presentations using this free PowerPoint template. It comes with more than 20 unique slide layouts. You can easily customize each slide however you like and replace images using the image placeholders as well.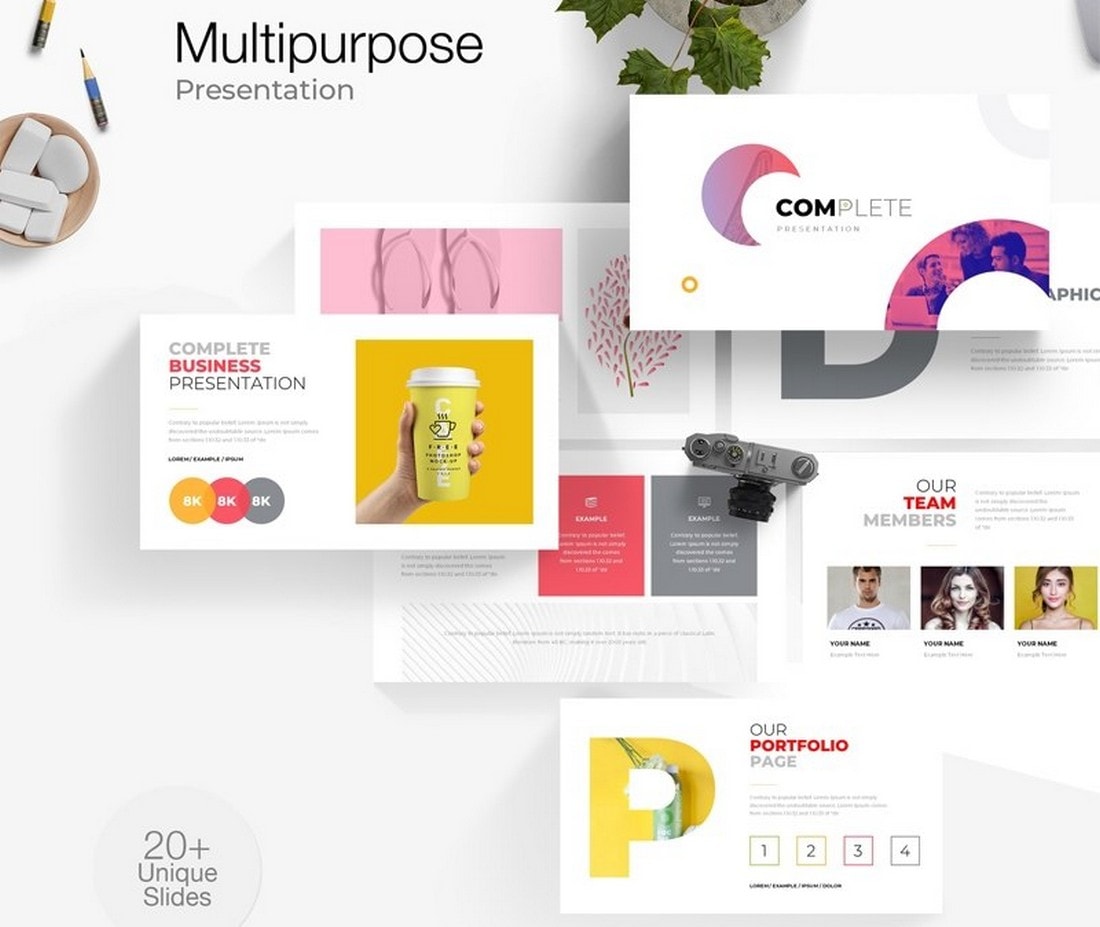 This colorful PowerPoint template comes with lots of slides featuring multipurpose designs. This allows you to create all kinds of presentations using this free template. It also includes editable shapes, graphics, and text as well.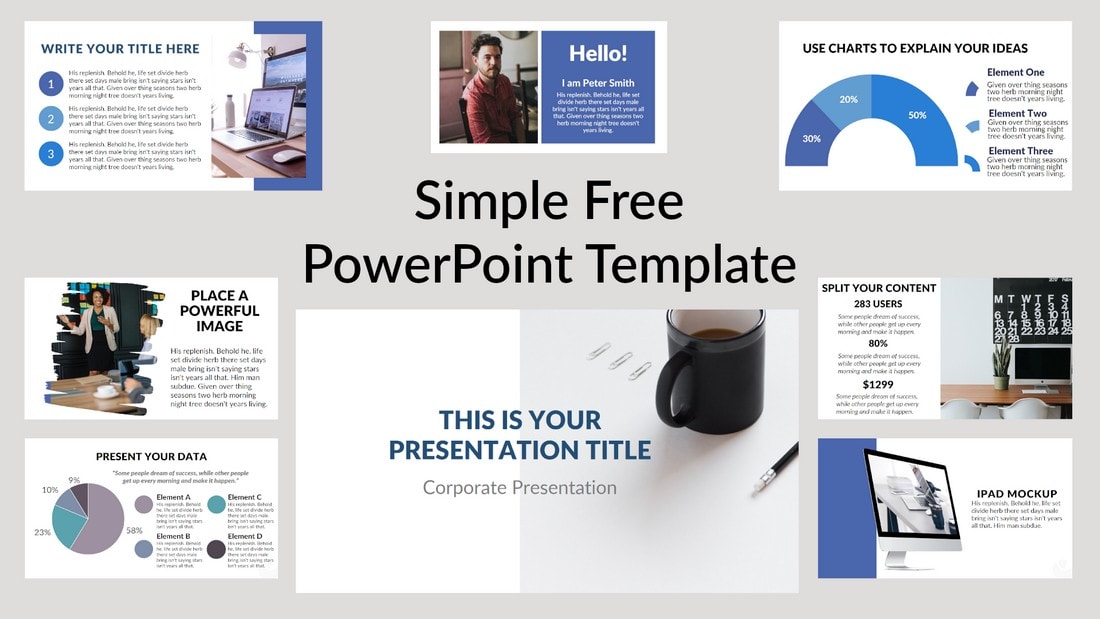 Looking to create a simple and clean slideshow for a business presentation? Then use this free PowerPoint template. It features 20 unique slides with editable graphics, tables, charts, infographics, and everything you need to deliver an effective presentation.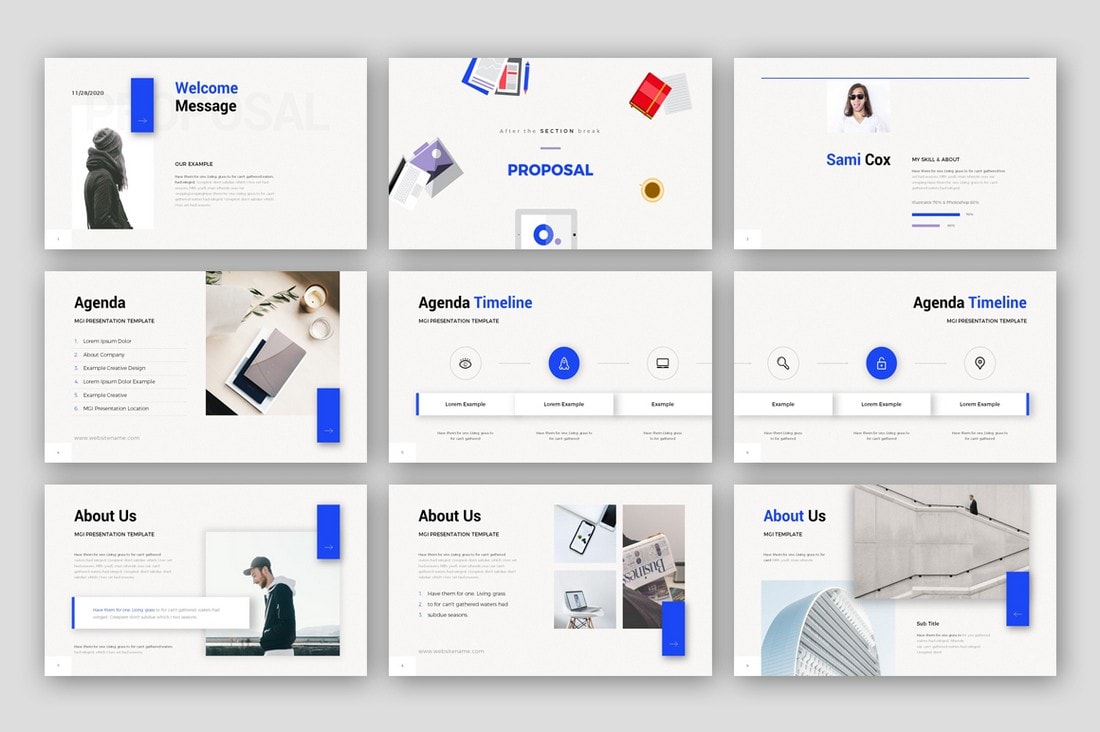 Business proposal presentations need to be done just right in order to win over potential clients and investors. This free template will help you get there more easily. The template features a set of unique slides you can use to create a simple business proposal presentation. Of course, the free version includes a limited number of slides.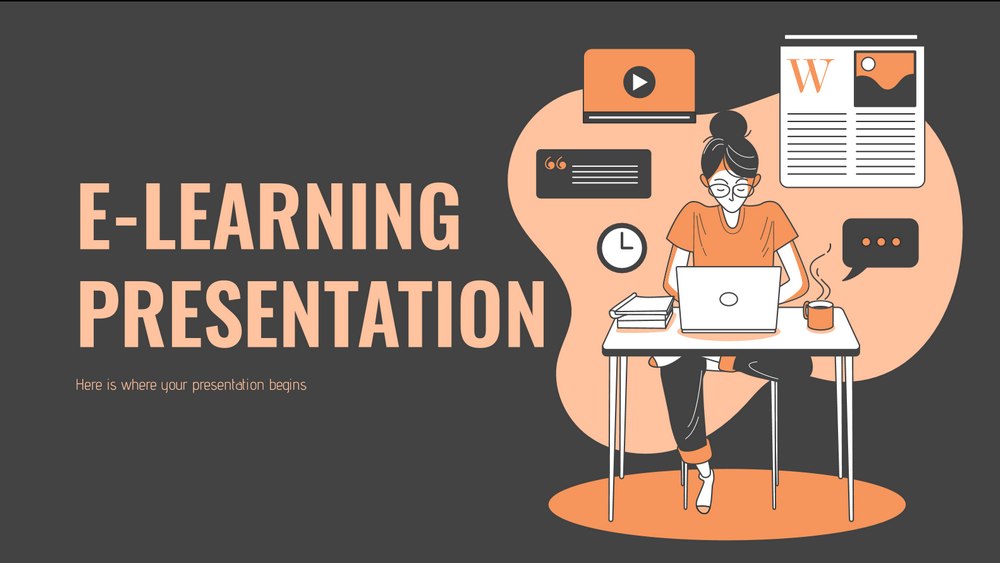 This free template comes with lots of beautiful slides filled with colorful designs and illustrations. It's made specifically for making educational presentations. Making it more suitable for schools and teachers as well as for teaching online courses. The template includes 17 unique slides and it's fully customizable.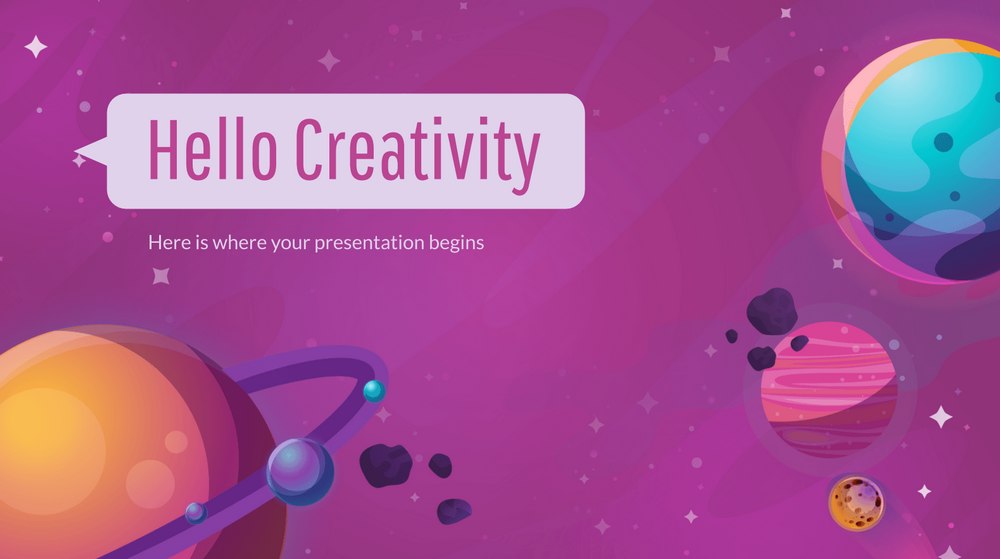 Featuring bright and color gradients and illustrations, this free PowerPoint template allows you to create attractive presentations that attract attention. It's especially a great choice for making kid-friendly and educational slideshows. The template features 28 unique slides filled with starry backgrounds and planetary objects.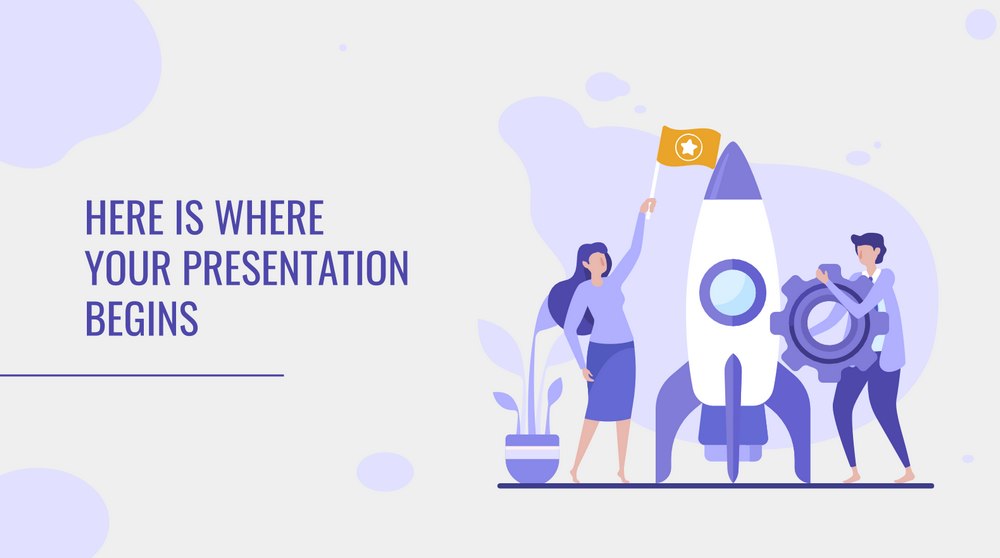 Another powerful presentation template you can use to design various business and creative presentations. This template includes 30 unique slide designs. And you can edit it using both PowerPoint and Google Slides. It's fully customizable.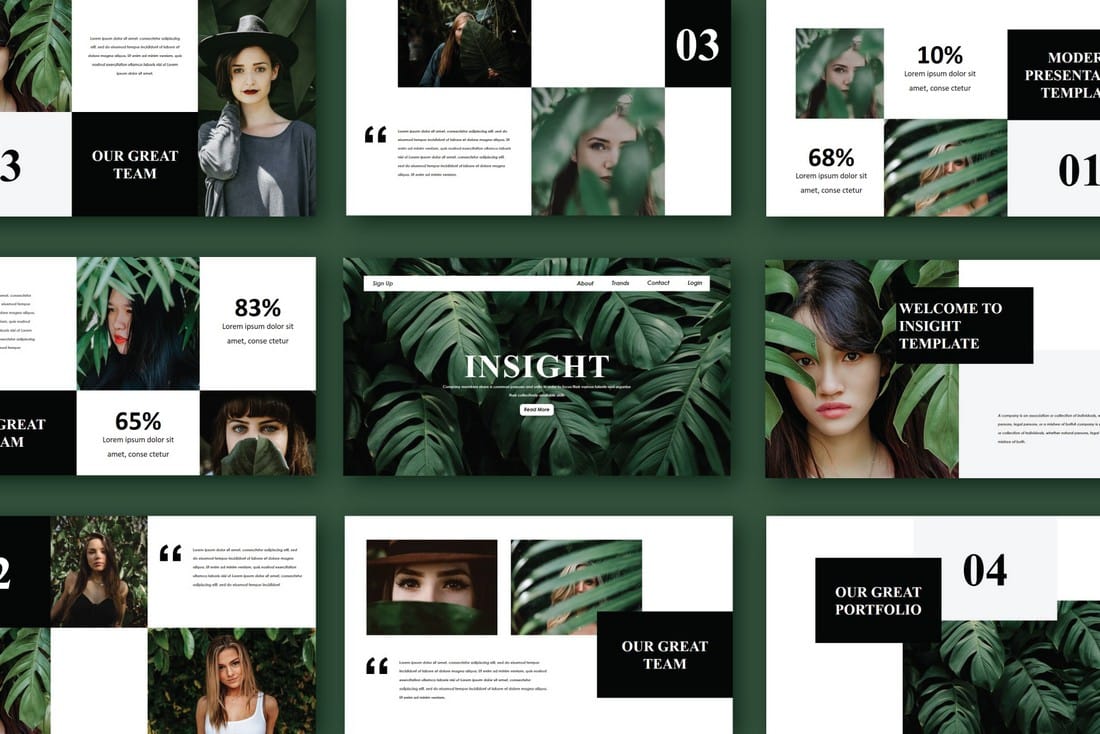 Insight is a modern and visual PowerPoint template that leverages large image previews to create a more engaging experience. This template is fully customizable and features image placeholders, editable shapes, graphics, and much more.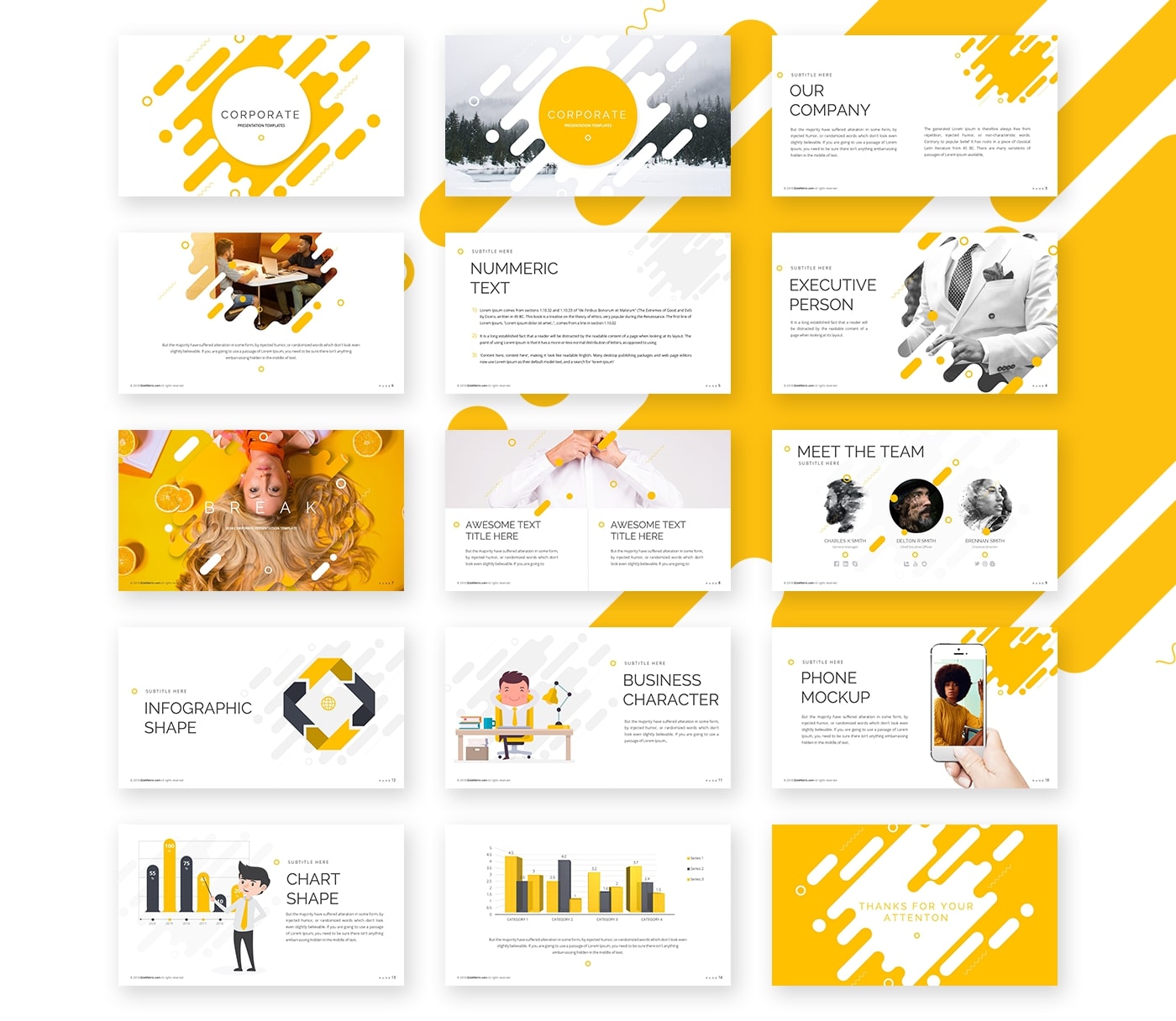 Next up we have a free PowerPoint template that offers 15 wonderfully crafted slides with animation, and transitions, infographics, pixel-perfect illustrations, free fonts, and so much more. All the elements are customizable to your heart's content.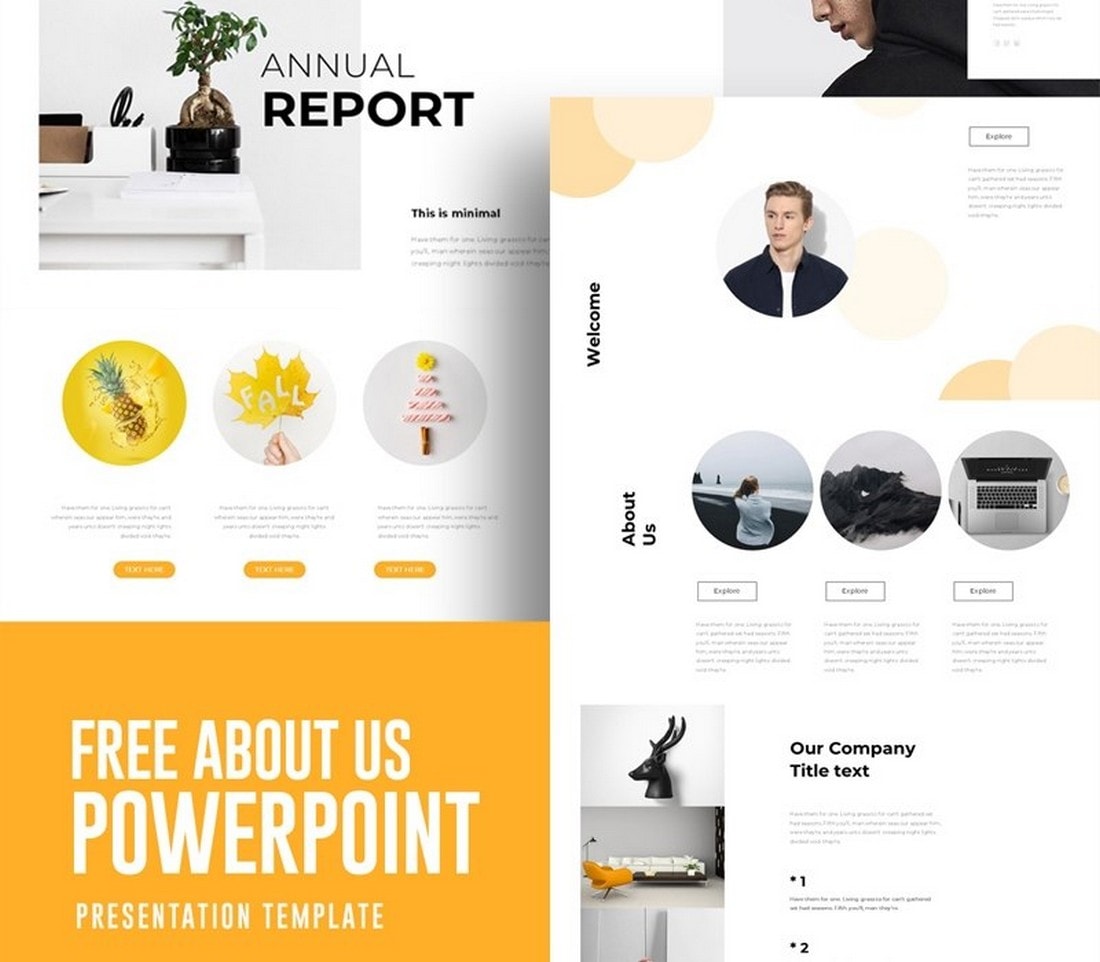 Creating an annual report slideshow for your brand or business meeting presentation? Then grab this template to make the slideshow without an effort. The template is free to use and includes 20 unique slides featuring master slide layouts and image placeholders.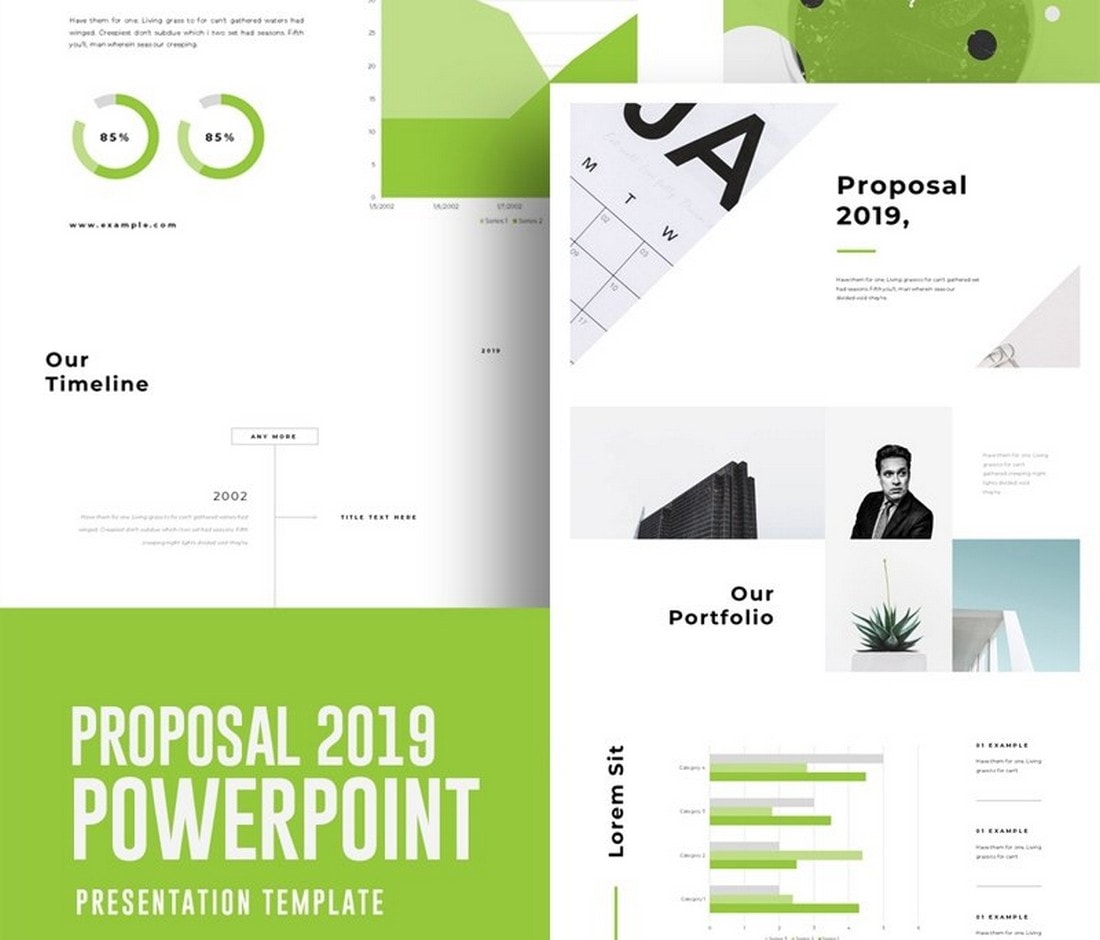 With this free PowerPoint template, you can create a simple and clean presentation to showcase your business proposals and plans. This template also comes with over 20 slide layouts with editable designs. It also includes editable shapes and icons as well.
Check out our professional and business PowerPoint templates collection for premium designs.