Divi Builder Vs Elementor: Which Page Builder Plugin is Best?
Elementor and Divi Builder are two of the top page builders available on WordPress. Even though they offer similar functionality, they are also quite different from each other.
If you're in the market for a new page builder, it's worth considering both these options. Of course, you can only use one. So which one is best?
To find the answer, we took a deep dive into both page builders and carefully examined their best features, functionality, pricing, as well as pros and cons.
Are you ready for the Divi Builder vs Elementor battle? Alright, let's get started.
What Is Divi Builder?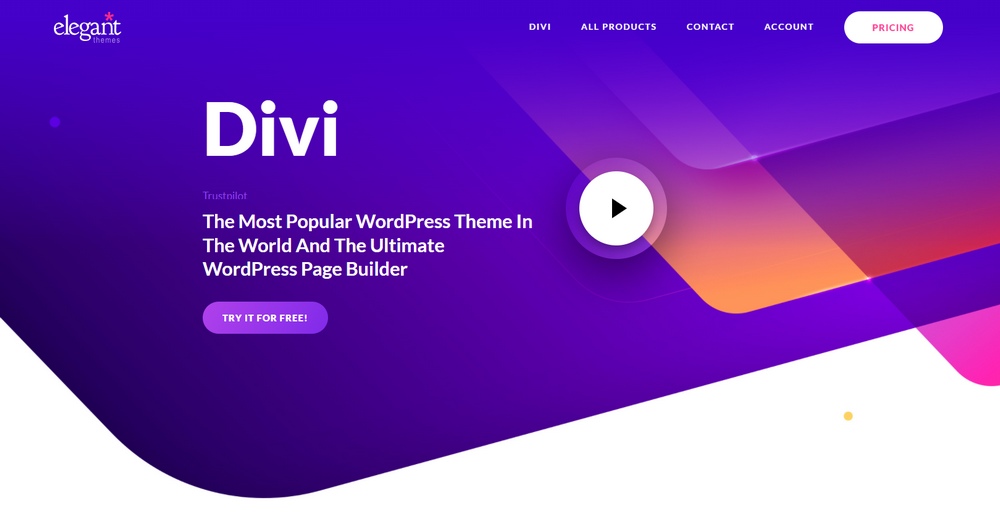 Divi is one of the most popular WordPress themes among bloggers, web designers, and complete beginners alike. Developed by Elegant Themes, Divi is known for its flexible and lightweight design.
Divi Builder is part of what makes the Divi theme so amazing. Divi Builder is the page builder built into the Divi theme that allows you to customize the theme design using a fully visual drag and drop editor.
Divi Builder works just like any other page builder plugin, but it's this integration with the Divi theme that makes it special.
In fact, Divi Builder allows you to craft custom WordPress themes of your own, without any coding. A time-saving system for web designers and freelance website builders.
You already know what a page builder plugin can do, the interface, WYSIWYG editor, and all the basic parts of it. So instead of repeating the same information, we decided to explore the unique features that Divi Builder offers.
Works In Perfect Harmony With Divi Theme
As we mentioned earlier, Divi Builder is part of the Divi theme. While you can use the page builder plugin itself with other themes, the Divi theme is what makes Divi Builder so powerful and convenient.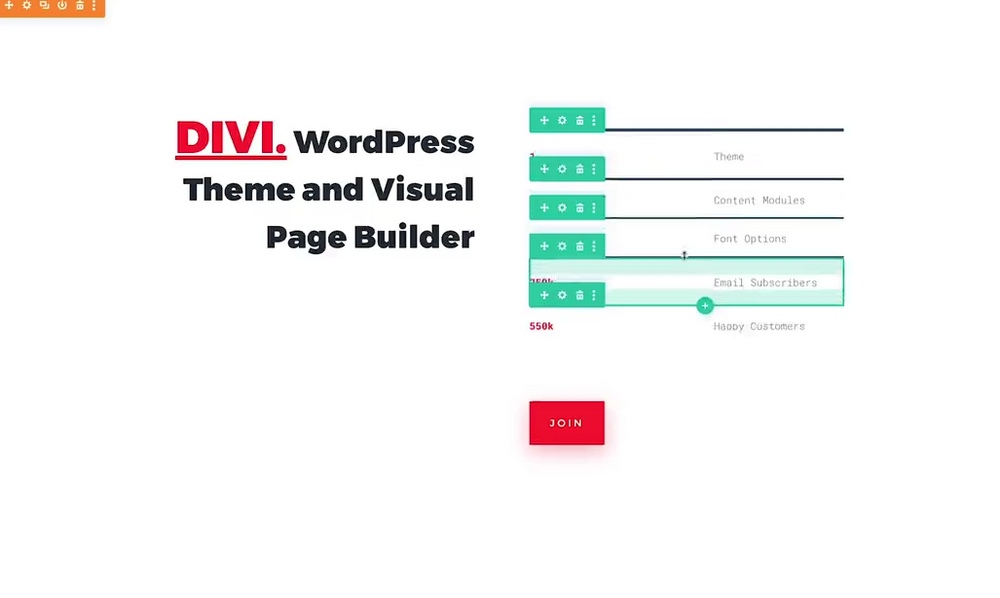 Divi is a well-polished theme that offers endless possibilities for building different types of websites. It's also one of the best-optimized themes for SEO. When you combine such a flexible theme with a fluid page builder, you can do truly professional work.
Design & Customize Complete Themes
Divi Theme Builder is a system built into the Divi Builder. It allows you to design complete WordPress themes using the page builder, with zero coding.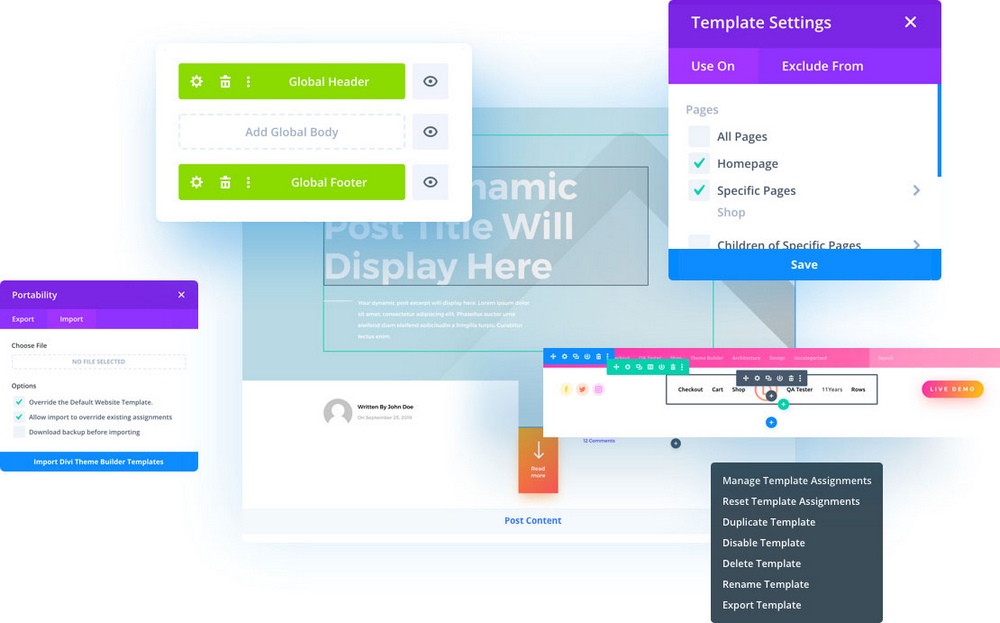 For example, using the Divi Builder you can design a custom header and footer, blog post layouts, homepage, 404 pages, and then assign them all to your theme. With it, you can design fully custom WordPress themes of your own.
More Than 40 Modules
The modules, or the elements, it offers is what makes a page builder different from the others. Divi Builders comes with a little over 40 modules divided into multiple categories such as sliders, galleries, call to actions (CTA), forms, and more.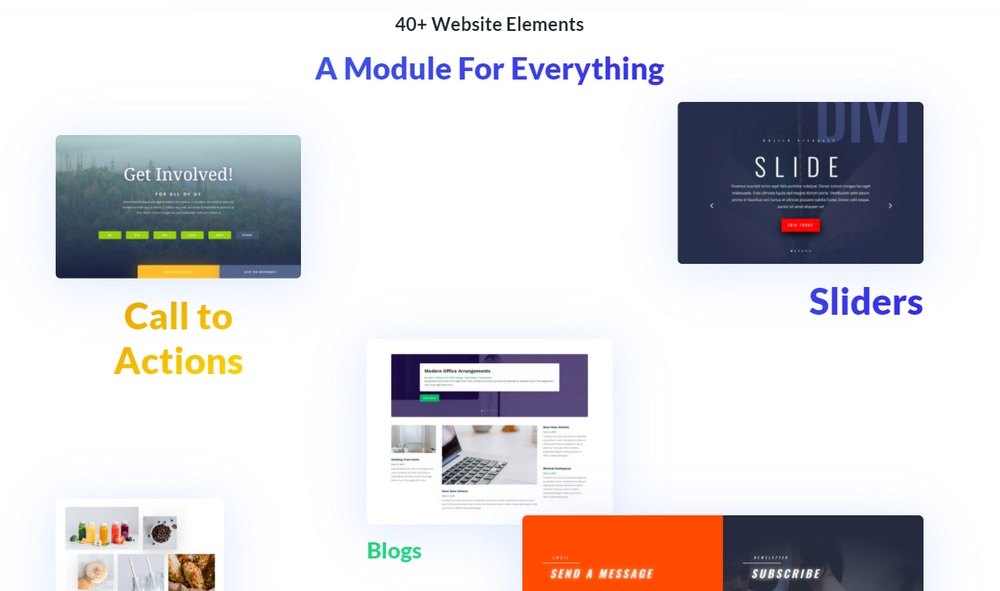 These components are designed with the Divi theme in mind so they blend in best with Divi. But you can always customize each component to fit in with other themes as well.
Choose From Over 800 Templates
A great thing about using a page builder is that you don't really have to build stuff with it. Because usually, you get a ton of pre-built templates that you can customize to make your own.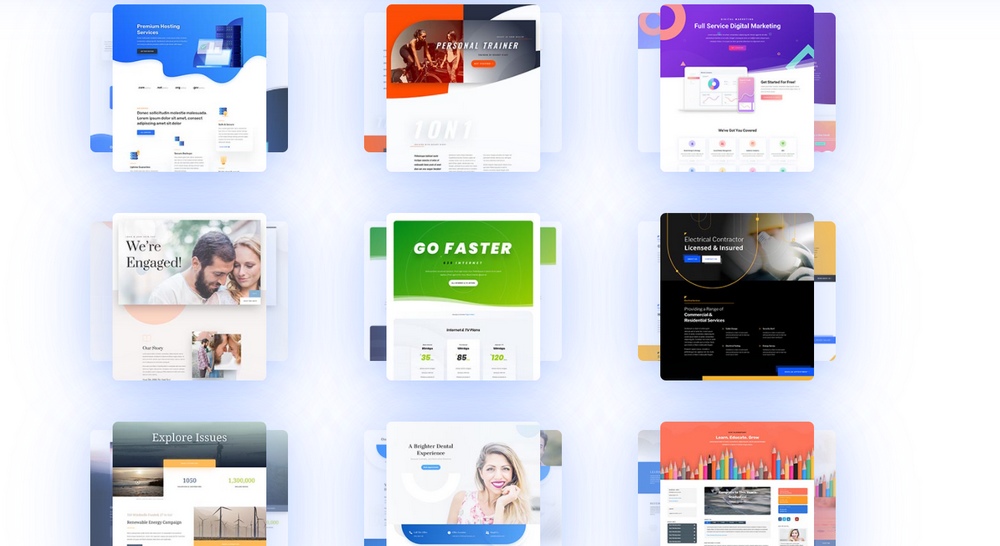 Divi Builder has a library of over 800 pre-built templates for homepages, landing pages, sales pages, pricing pages, and much more.
It also features 100 complete website packs that include templates for building entire website designs.
Built-In Split Testing & Marketing Tools
Another unique feature of Divi Builder is its built-in marketing tools section. In addition to email marketing tool integrations, forms, and social media integration, Divi Builder also has a split-testing tool.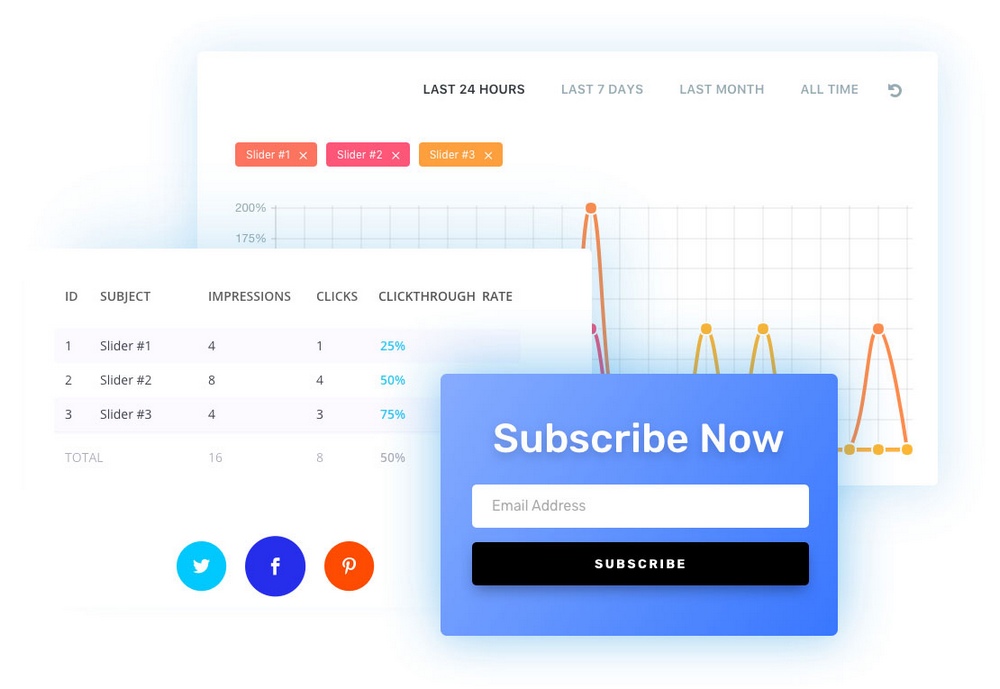 If you're a marketer, you can build landing pages and sales pages with Divi Builder and test their performance with an A/B test, directly from within the plugin.
Pros of Using Divi Builder
The flexible WYSIWYG editor is very easy to use, even for beginners
Offers more pre-built templates than any other page builder
When combined with the Divi theme, the designs you create can't be compared to others
WooBuilder lets you fully customize your WooCommerce store
Built-in split testing makes marketing a breeze
You can build entire WordPress themes with the Divi Theme Builder
Supports RTL and translations in 32 languages
Cons of Using Divi Builder
Expensive pricing plans
Does not offer a free version
Only works best when used with the Divi theme
Fewer website modules available than its competitors
Lacks support for third-party resources like add-ons and themes
How Much Does Divi Builder Cost?
Divi Builder is part of the Elegant Themes subscription.
For $89 per year, you get full access to the Divi theme, Divi Builder, website packs, Bloom, and all of the tools made by Elegant Themes. Or you can get lifetime access by paying a one-time fee of $249.
What Is Elementor?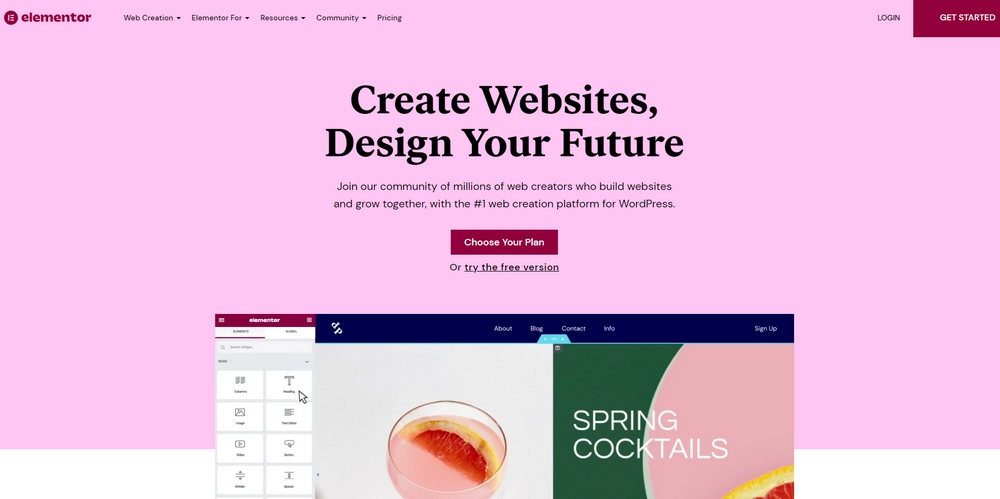 Elementor is arguably the most popular page builder plugin available on WordPress. The free version of the plugin alone is being used by over 5 million websites.
Elementor is like the page builder for everyone. It's beginner-friendly, has tools for developers, and it lets you build entire websites without coding. Whether you're a freelancer, blogger, marketer, or web designer, it's suitable for everyone.
Compared to Divi Builder, Elementor has a huge community. It's also used by theme developers to build WordPress themes. It has third-party add-on plugins that extend the features. And there's no shortage of learning material.
There are a few features that make Elementor different from Divi Builder as well.
Over 90 Modules & 300 Templates
As we mentioned earlier, the number of modules you have with the page builder is a key factor that defines the experience it offers. And the variety it brings. Elementor excels at that.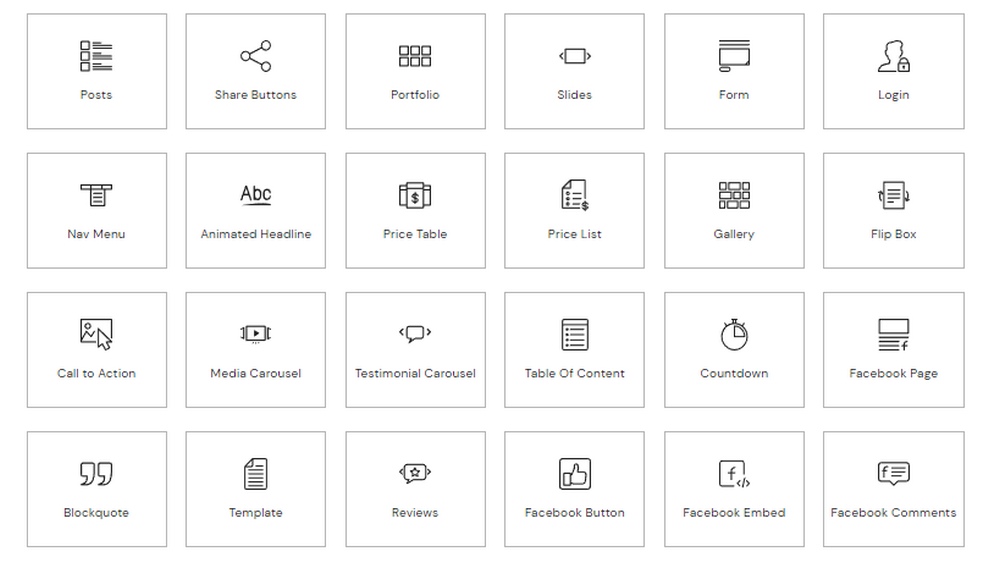 With Elementor, you get access to more than 90 different modules, or widgets, you can use to add different elements to your website designs. Such as portfolio galleries, pricing sections, countdown timers, reviews sections, and more.
When it comes to pre-built templates, Elementor has over 300 designs. Much lower than the 800 templates offered by Divi Builder.
Build Unique Websites with Site Kits + Theme Builder
Similar to Divi Builder, Elementor also has a theme builder that lets you build entire WordPress themes from scratch. This process is entirely visual and no coding is necessary.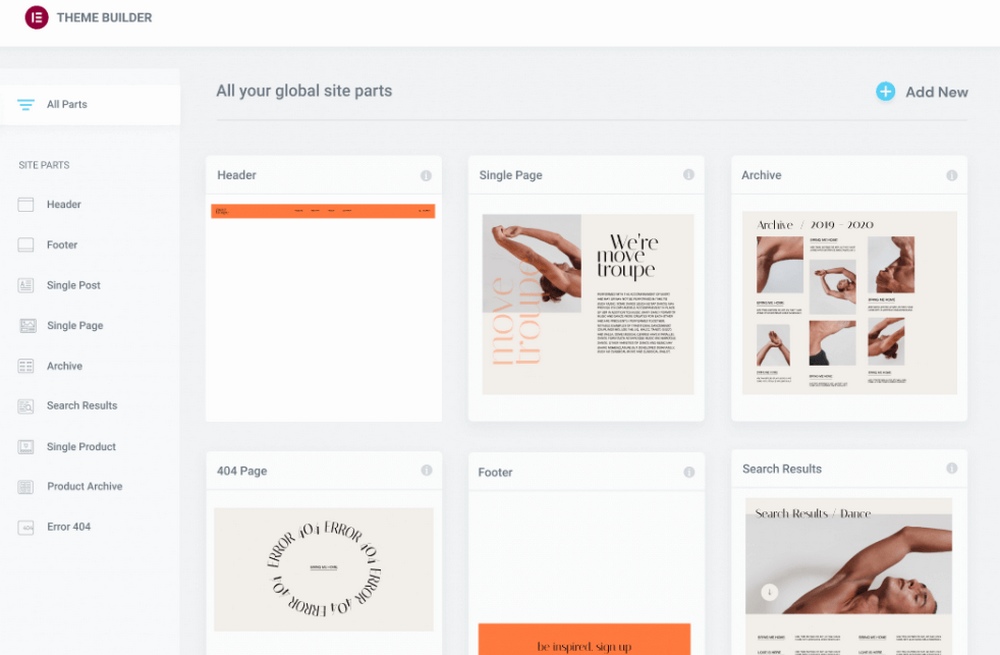 Elementor also supports third-party page templates, this is called Site Kits. It lets you download a set of templates made by someone else and use it to build your own theme with Elementor.
Built-in Pop-up Builder
There are lots of tools available in Elementor for marketers as well. One of the best features is its built-in pop-up builder.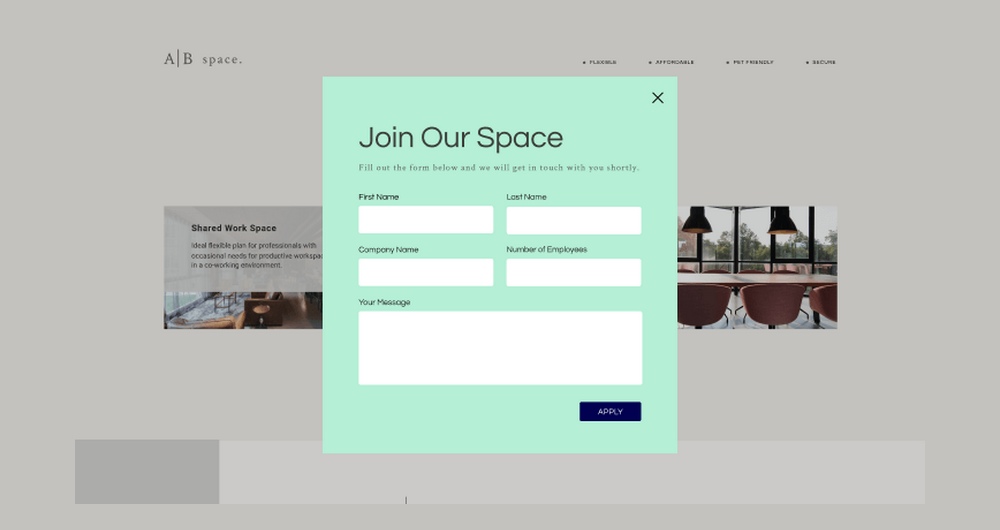 With this tool, you can create popups for your website. For example, you can create email optin forms and popups to grow your email list.
This will help you save money otherwise spent on additional popup plugins.
Developer-Friendly Features
Elementor is very developer-friendly as well. It has plenty of tools, features, and functions to make a developer's job much easier.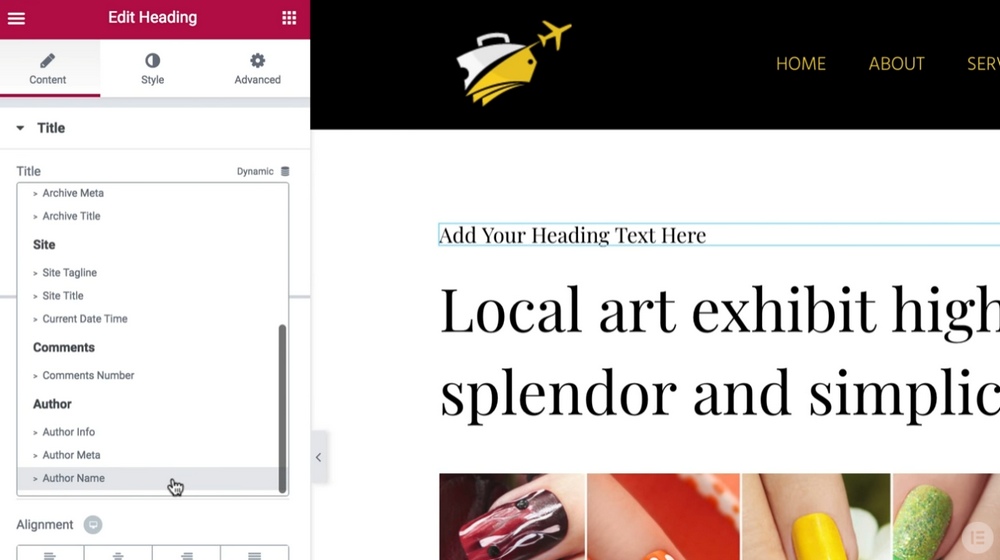 For example, a cool feature in Elementor is the Dynamic Layouts. This feature allows you to create dynamic page templates to use across a website design. So that when you make a change in one layout, all the other pages get updated automatically.
Thousands of Themes Built With Elementor
Web designers and developers use Elementor to build and publish their own WordPress themes.
This gives you more options when it comes to using Elementor. You don't have to depend on a single base theme framework to build a website.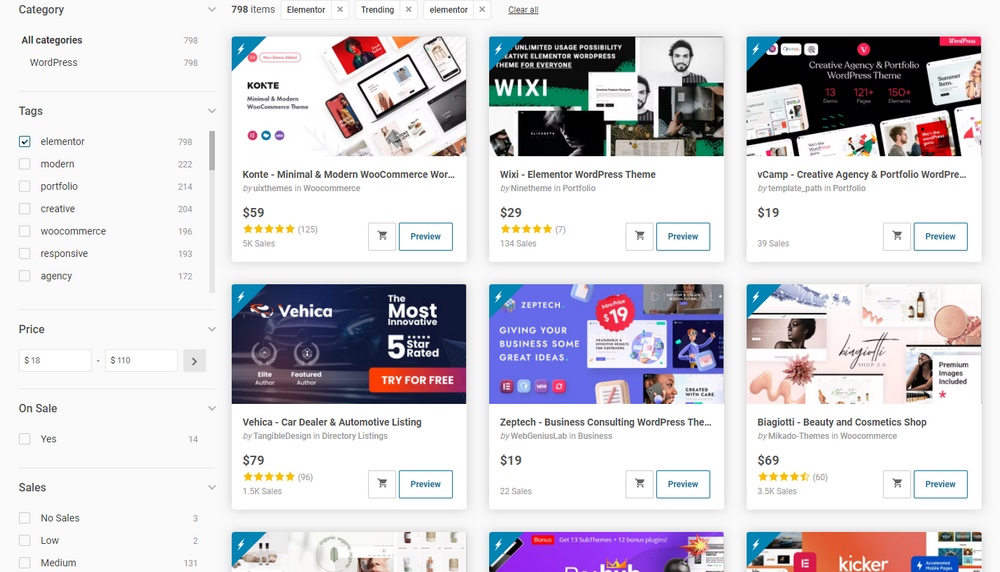 There are thousands of Elementor themes available on third-party marketplaces like ThemeForest. Whereas Divi Builder theme is only available with the Elegant Themes subscription.
Pros of Using Elementor
The WYSIWYG visual editor is fluid and very easy to learn
Lots of widgets and pre-built templates to craft pages instantly
No need to depend on one theme, choose from thousands from marketplaces
Save money with the built-in email popup builder
Use the theme builder to craft your own custom WordPress themes
Dynamic Content feature makes designing complex websites much easier
Extensive support for WooCommerce websites
Cons of Using Elementor
Does not have built-in split testing tools
Requires third-party plugins for multilingual support and translations
How Much Does Elementor Cost?
Elementor plugin is available in both free and pro versions. The free version offers limited features and it's free to use forever.
The Pro version costs $49 per year to gain full access to all premium features and templates to use the plugin with 1 website. The $199 per year plan is available to use the plugin with up to 25 websites.
You can also get the $89 per year plan to get hosting from Elementor to build and publish a website.
Which Page Builder Should You Use?
Page builders are a good example of how flexible WordPress can really be. It shows how easy it is for anyone to design a website, without coding, and with minimum experience.
So it really depends on the user and the amount of experience you have to choose the right page builder to suit your needs.
Having said that, we believe Elementor offers the best features and experience for both beginners and advanced users.
With Elementor, you can get started right away with its free version. You can build landing pages in a theme you already have. Or build complete and feature-packed websites on your own.
Elementor also has a wide selection of supported themes. You can explore our best Elementor themes to see all the possibilities you can expect from using the plugin.
Looking for WordPress hosting? We use Kinsta. They offer world-class WordPress hosting, built to keep your website fast, secure, and always online.