How to Disable Tumblr's Default Mobile Theme
Since November 2016, mobile and tablet use exceeded desktop for the first time in the world. Some months before, Google announced that it would favor sites that were mobile-friendly in terms of ranking. So being mobile-friendly in 2017 is fundamental.
Let's take a look at how you can optimise your Tumblr theme for mobile, making the most of the functionality of your theme by disabling the default mobile look-and-feel!
Why Should You Disable Tumblr's Mobile Theme?
The main reason is that Tumblr uses the same mobile theme for every site, even though your site is using a specific theme. This is set by default.
There's nothing wrong about using the default mobile theme, but you might lose some specific functionality that made you choose your theme in the first place. Not to mention that you will compromise your branding!
How to Disable Tumblr's Default Mobile Theme
It's very easy. Just log in to Tumblr, click Edit Theme. Then scroll down in the Customizer panel until you see Advanced options.
Click it and uncheck the box labeled Use Default Mobile ThemeUse Default Mobile Theme. Hit save and that's it. Changes might take some minutes to appear on your phone.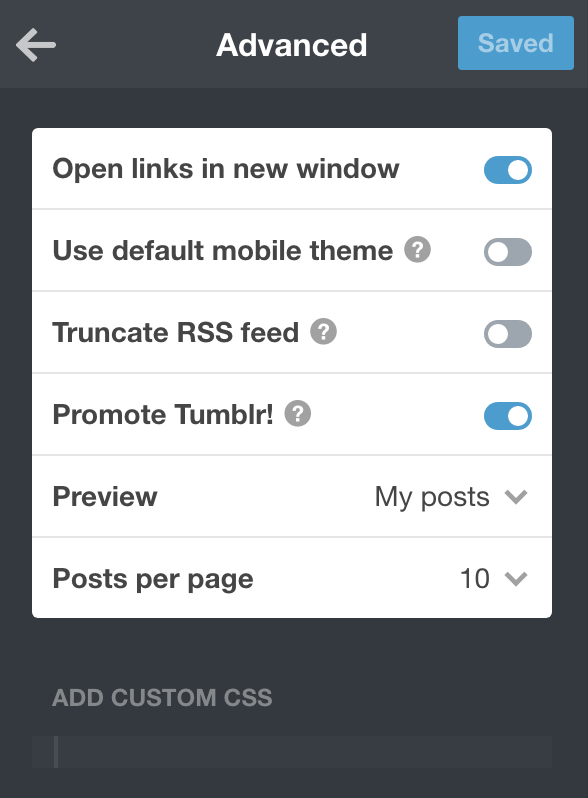 When Should You Not Disable This Option?
If your theme isn't very up to date and looks bad on a mobile phone, perhaps you should consider using Tumblr's default mobile theme.
This is why it's very important to use a theme that is responsive. Check the features of your theme to see if responsive web design is included — all our themes at Themelantic look great on mobile devices!