10 Brochure Design Ideas, Examples & Inspiration (+ Tri-Fold Ideas)
When it comes to promoting a business or service, nothing beats a good old-fashioned brochure. It's one of the most effective forms of marketing in print media.
However, brochures need to be designed in a way to stay consistent with modern trends and attract new audiences. Using the same formatting and design styles from a decade ago won't work today. So what are the trends you should use in brochure design?
In this post, we explore some of the most creative and inspirational brochure design ideas with examples. These are some of the trendiest and modern brochure design styles you can find today.
Along with these examples we also handpicked brochure templates you can use to quickly make brochures while adopting each design trend. You can download and customize them to design your own brochures. Have a look.
1. Memphis Tri-Fold Brochure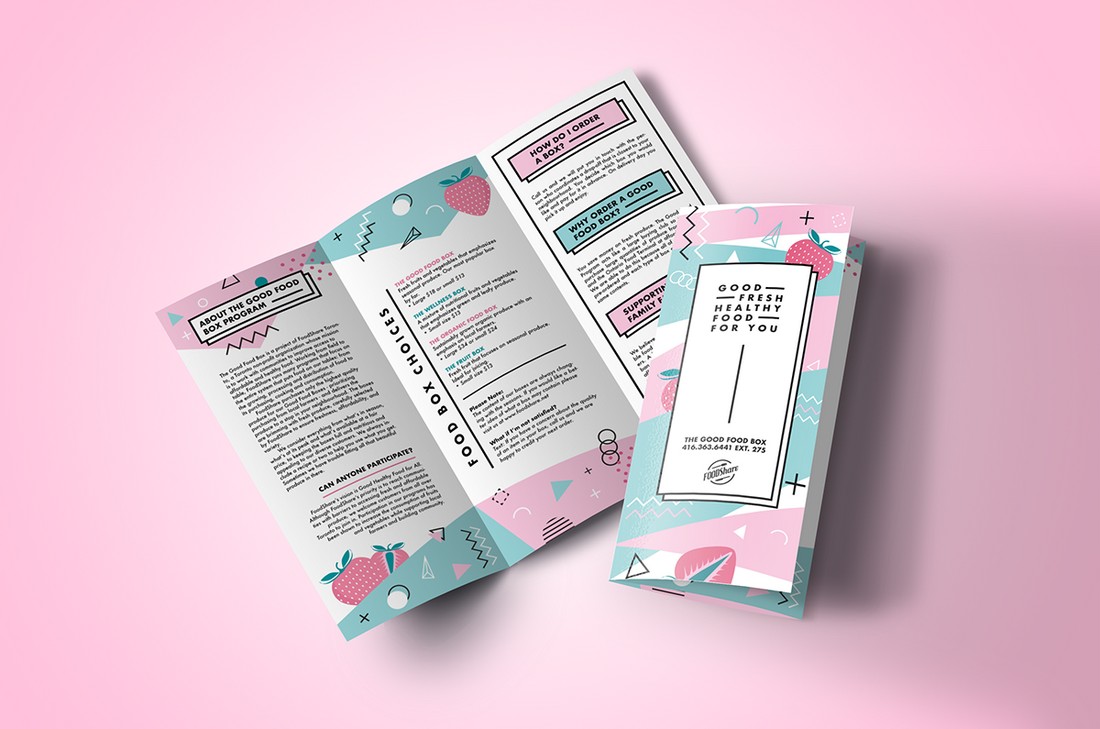 (Credit: Riry Nguyen)
Inspired by the designs used by the Italian architecture firm from 1980s, Memphis design is a popular trend that features a mix of colorful abstract shapes, patterns, and other elements.
It creates a soothing and creative environment for showcasing information in a more entertaining way. The example brochure you see above promotes a food-related service. And it uses the Memphis design trend with food-themed shapes and colors to make it blend well with the business and brand it promotes.
Recommended Brochure Template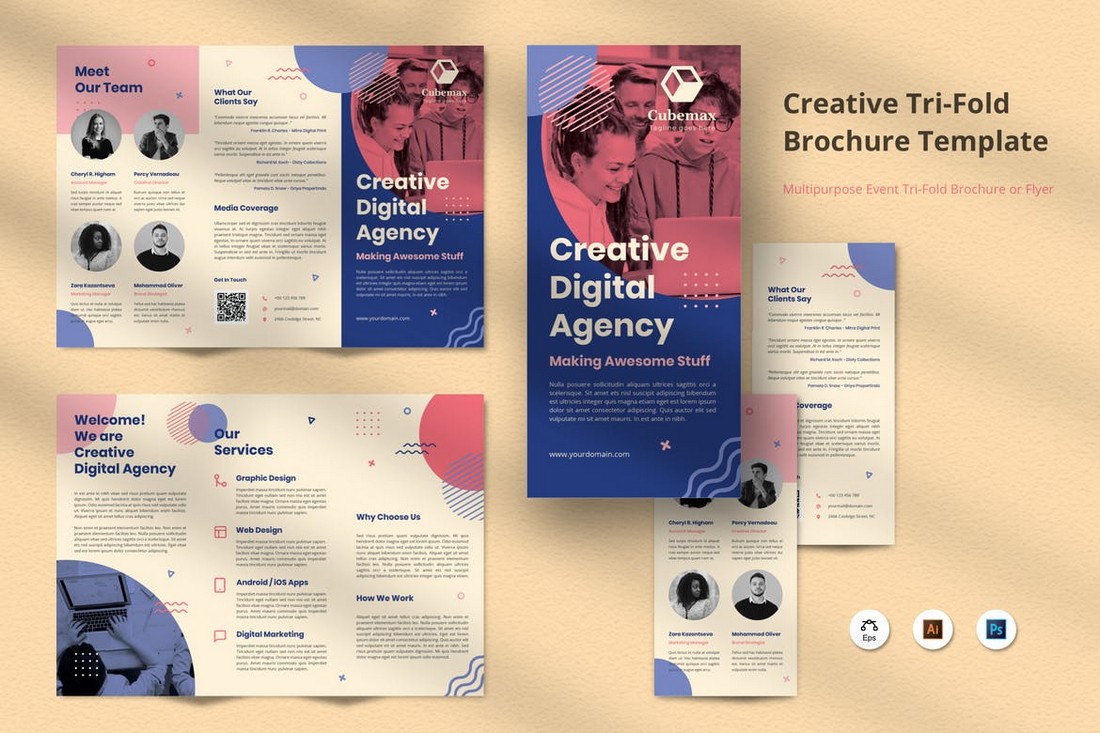 Memphis design trend is quite popular so it won't be difficult to find a brochure template that uses the same design trend.
This one is one of the many templates we've come across while browsing Envato Elements. It has a balanced design with the right combination of colors and abstract elements with plenty of space to add information.
2. Typographic Brochure Design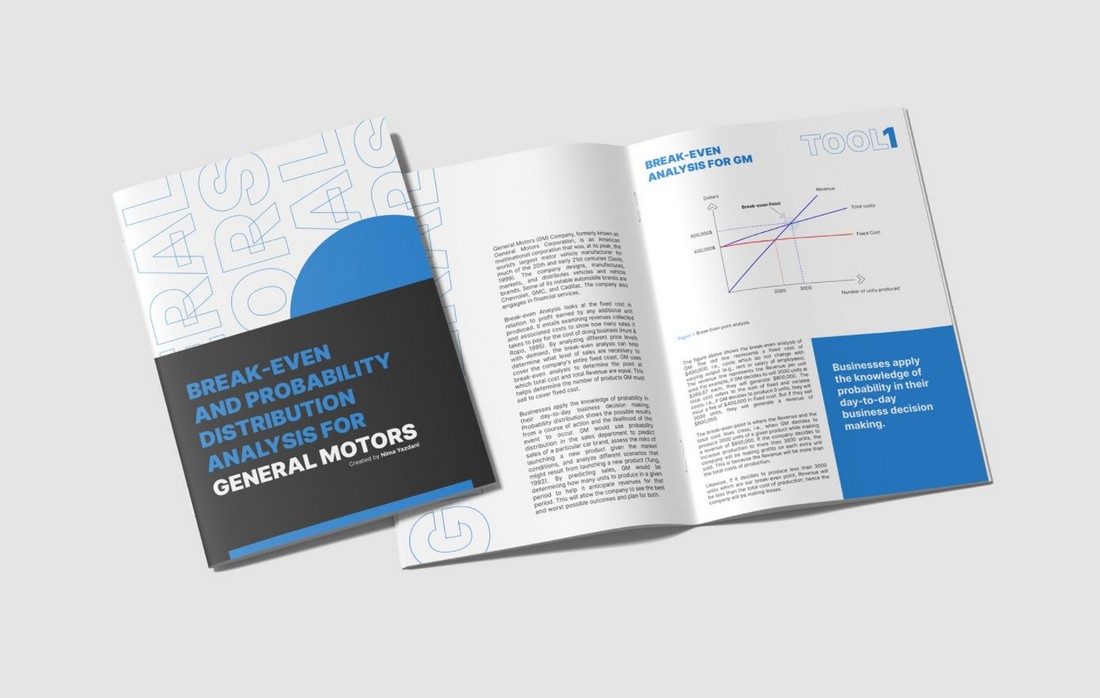 (Credit: Maga Urdaneta)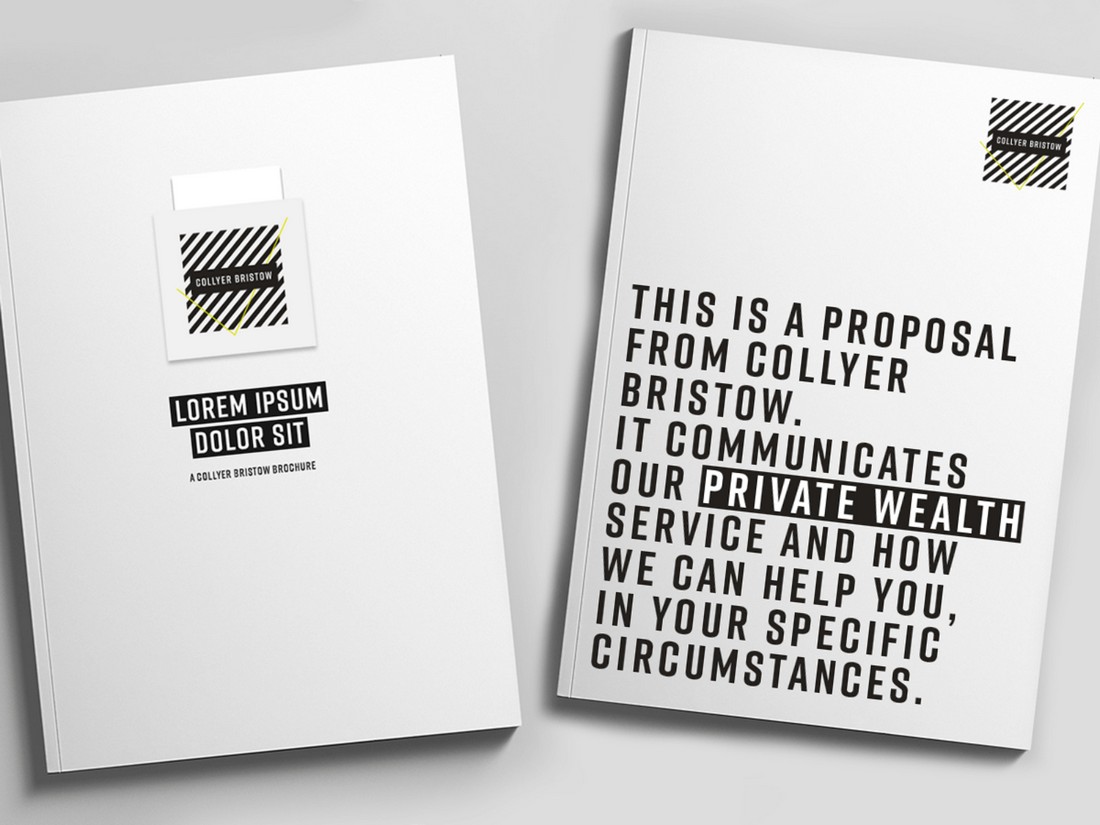 (Credit: Zoe Dyer)
Typographic designs use text to create unique visuals. As a result, the font you choose for the brochure plays a key role in the overall design.
The examples above show two different styles of typography-based brochure designs. This is one design trend you can often experiment with to come up with unique looks.
Recommended Brochure Template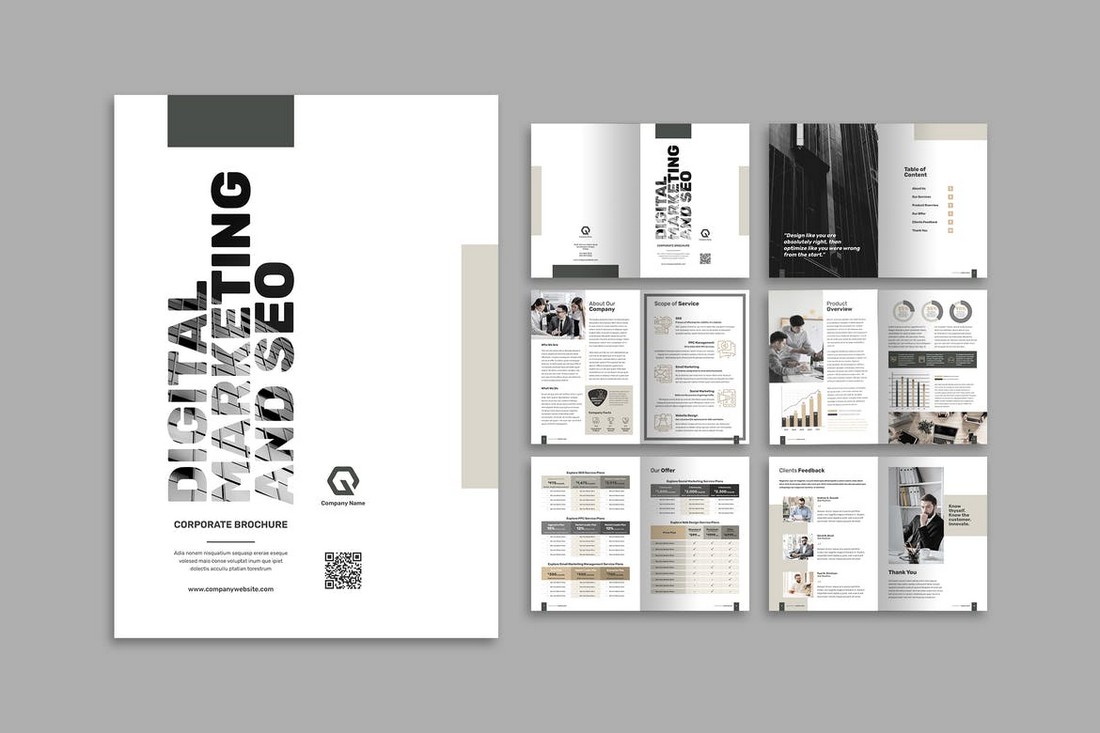 This brochure template features an attractive cover that uses the typographic design trend quite well. It also appears to be using a clipping mask with the text to make it more visual. A good example of how to experiment with the trend.
3. DuoTone Brochure Design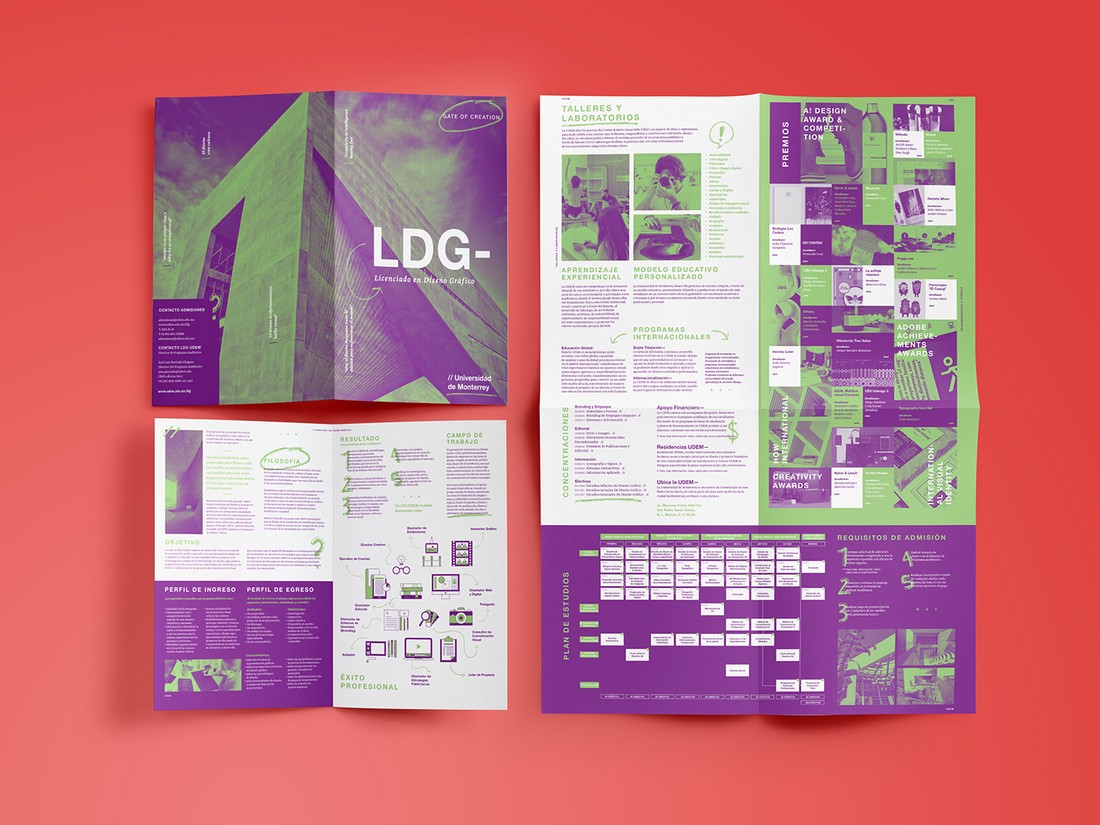 (Credit: Pamela Sada, Isabel Beltran)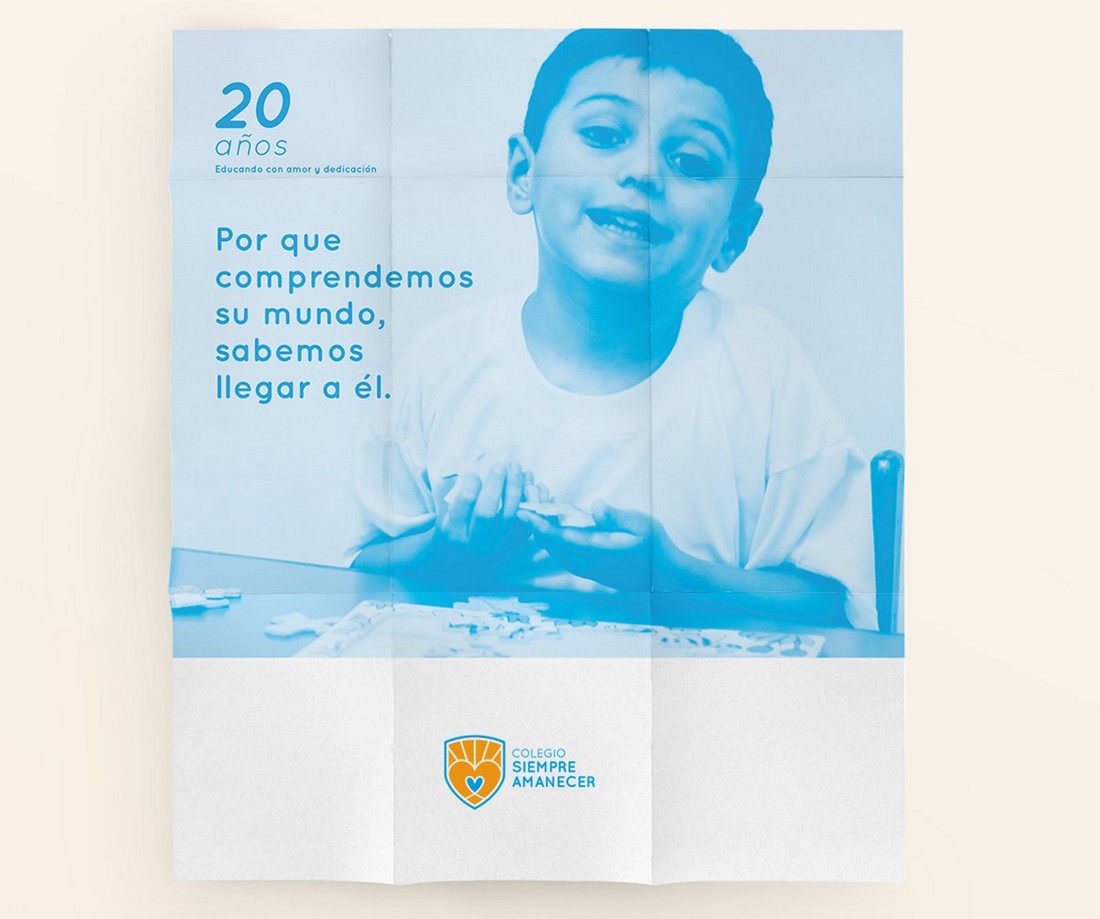 (Credit: Walter Ramirez)
Just as the name suggests, duotone designs consist of two contrasting colors that you use to highlight content above the other. It's used in photography, web design, as well as brochure and flyer design as well.
The first example is a booklet for a university. It uses a duotone color scheme to represent the left and right hemispheres of the brain, known as the creative and rational sides.
The second example shows a brochure designed for an autism awareness project.
Recommended Brochure Template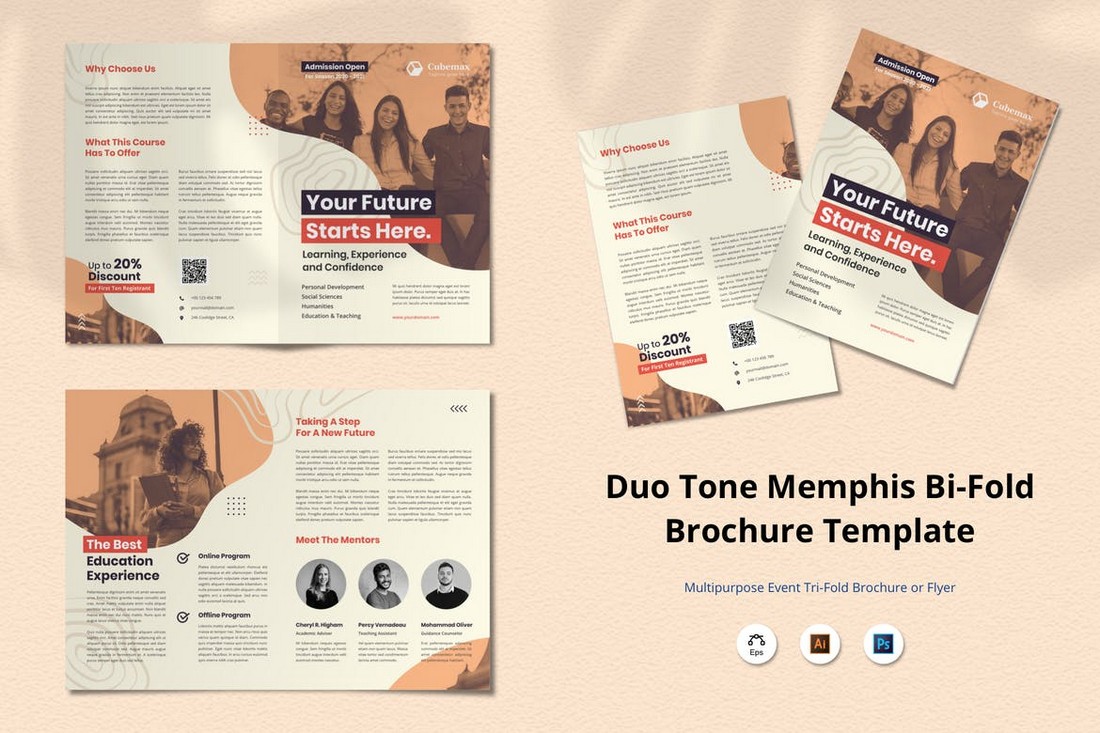 You can also mix a duotone color scheme with another trend to create a unique brochure design. Like this brochure template that mixes the Memphis design trend with a duotone color theme.
4. Bauhaus Brochure Design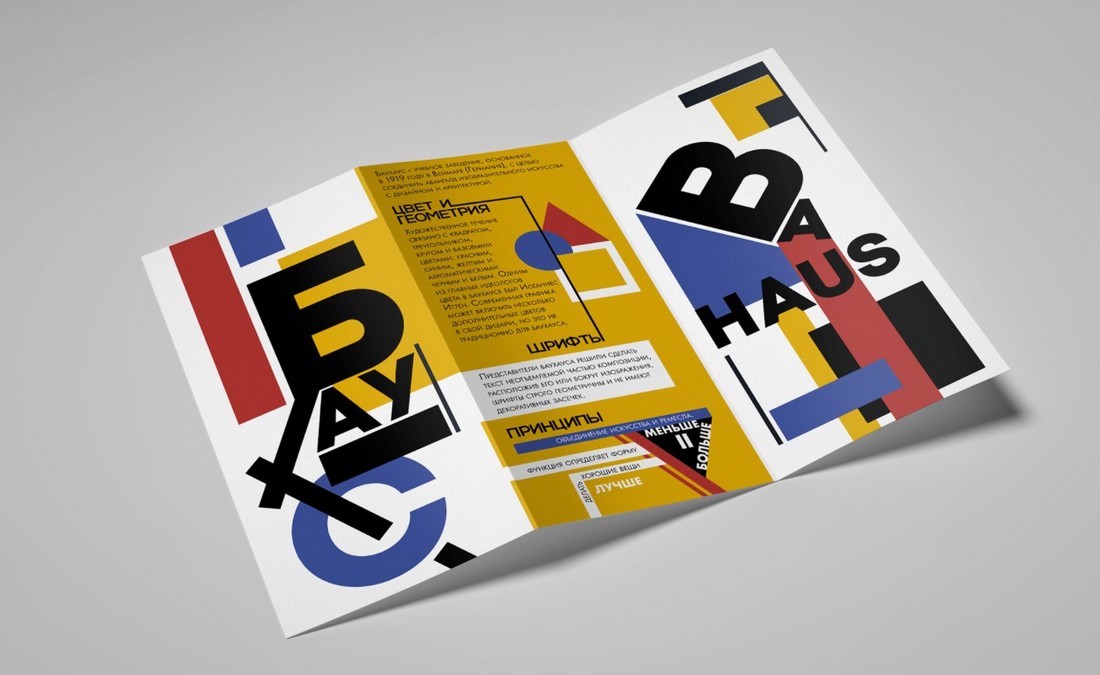 (Credit: Olga Yarosh)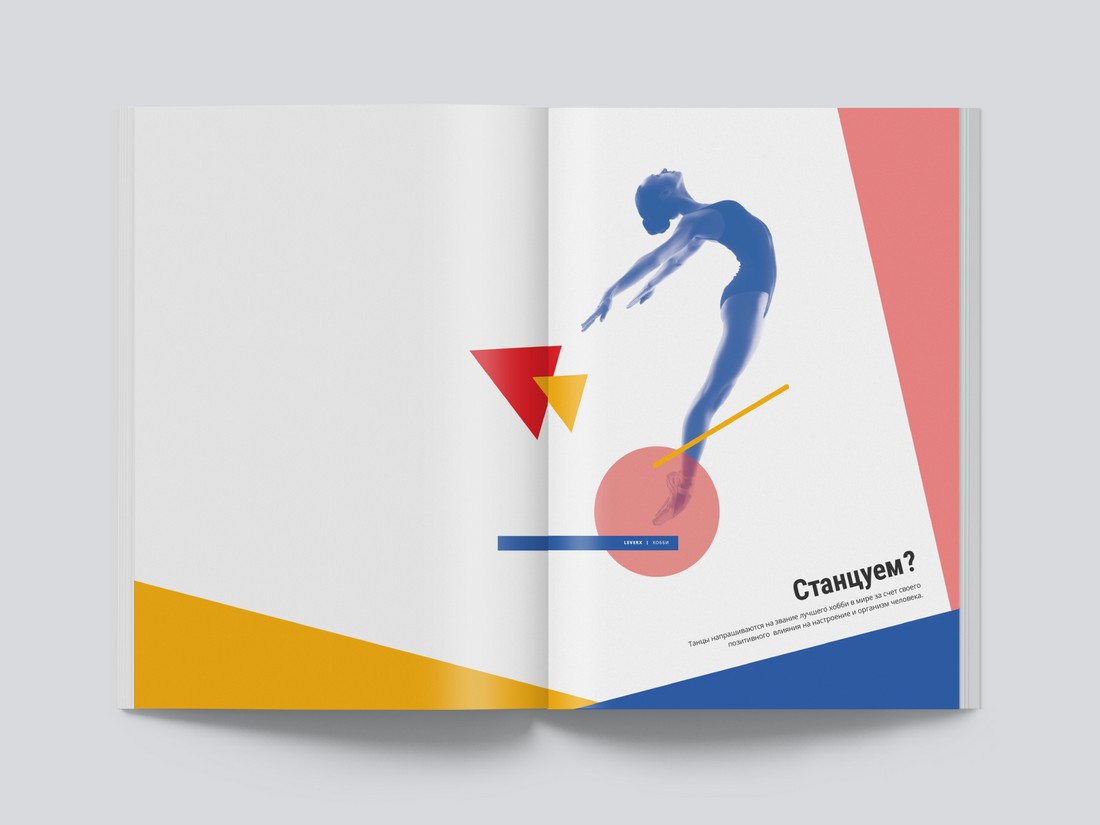 (Credit: Sergei Shilo)
Bauhaus design style originated from a German art school and today it's popular in various print mediums. This trend uses washed-out retro colors with large geometric shapes to create backgrounds and visual elements.
As you can see from the examples above, this trend works for all kinds of brochures, including for both covers and inner pages.
Recommended Brochure Template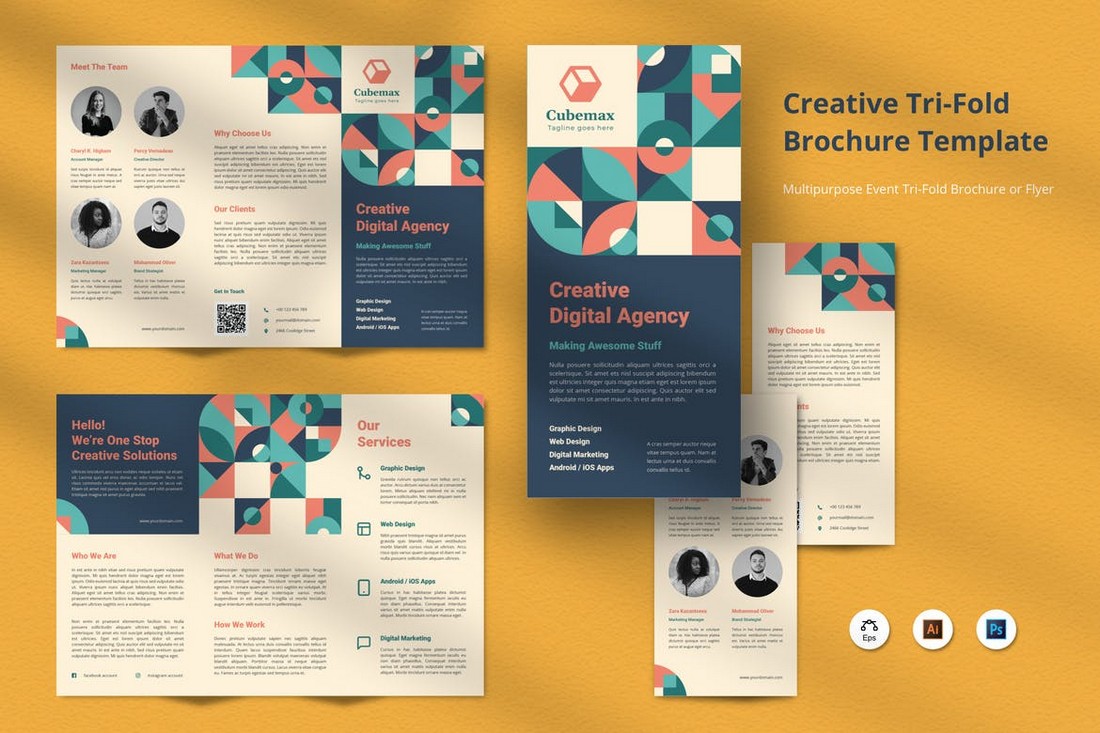 This tri-fold brochure template uses a design inspired by the Bauhaus trend. It perfectly spreads across the entire brochure design as well.
5. Image-Centric Brochure Design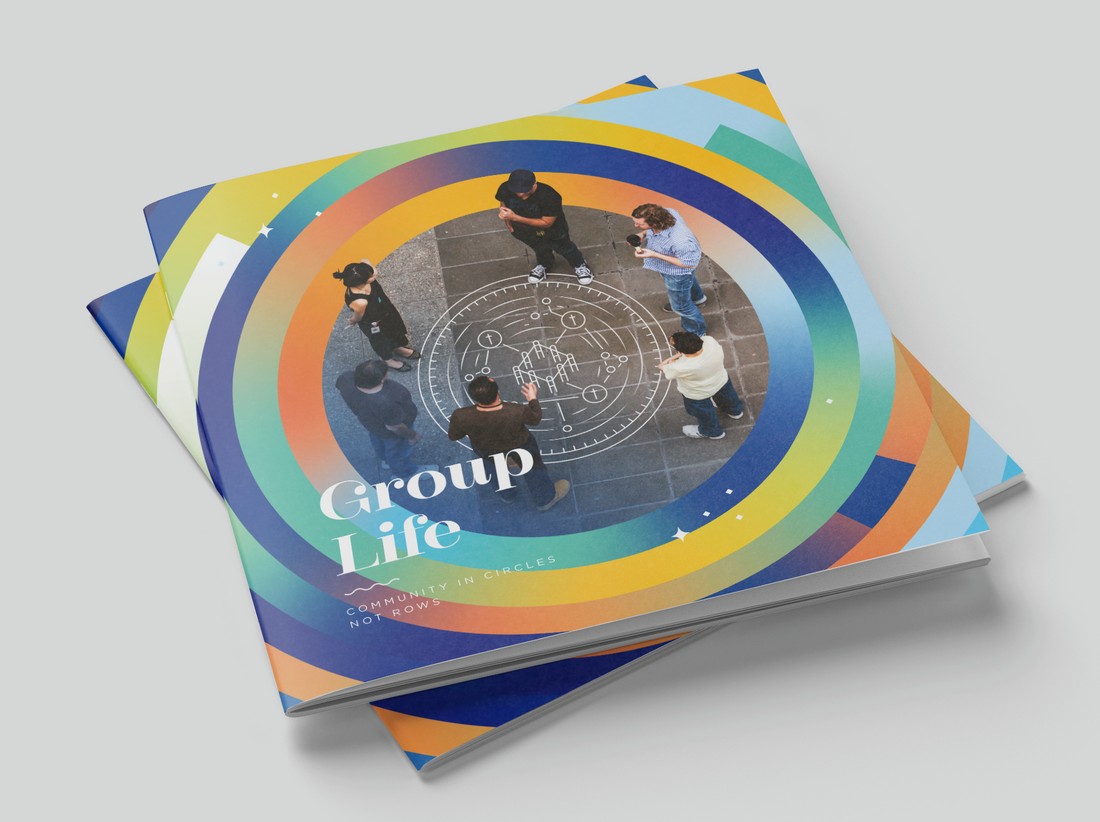 (Credit: Visual Jams)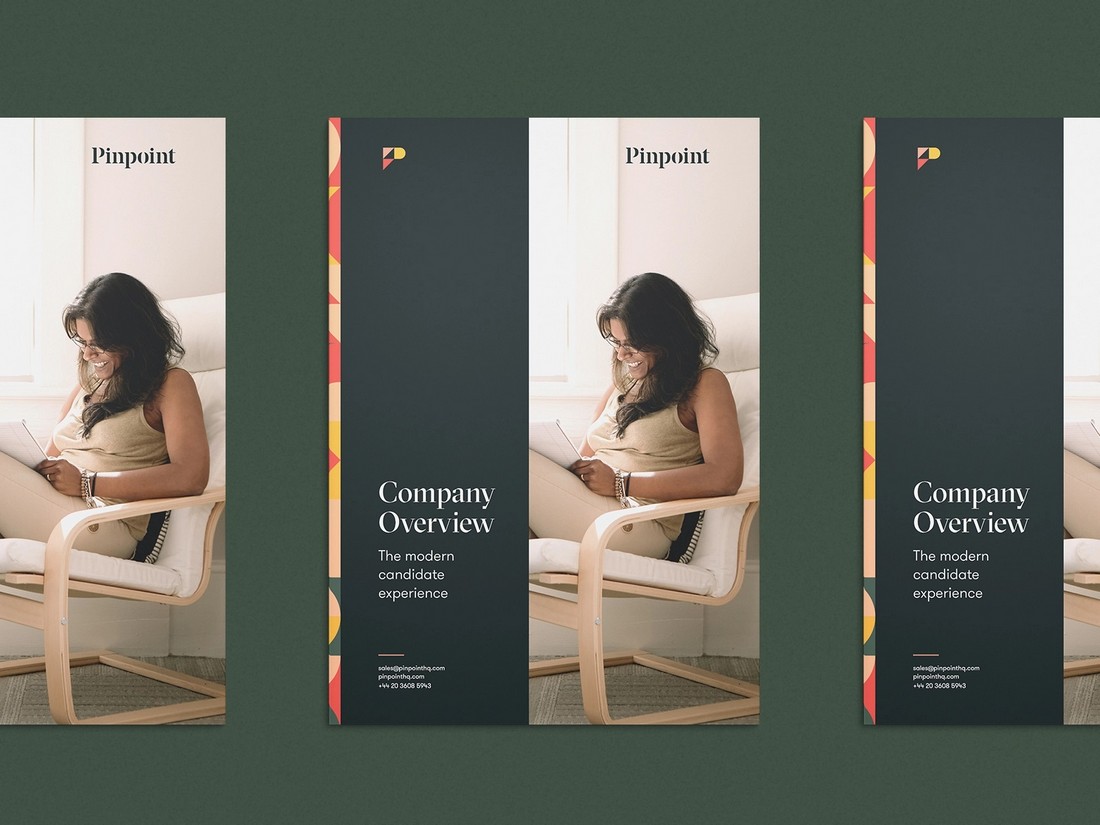 (Credit: Joshua Krohn)
This is one of the most common trends in brochure design. Using images to create a highly visual brochure design is quite effective for many different types of brochures. And it's especially a great choice for making brochures for businesses related to design, fashion, and photography.
Recommended Brochure Template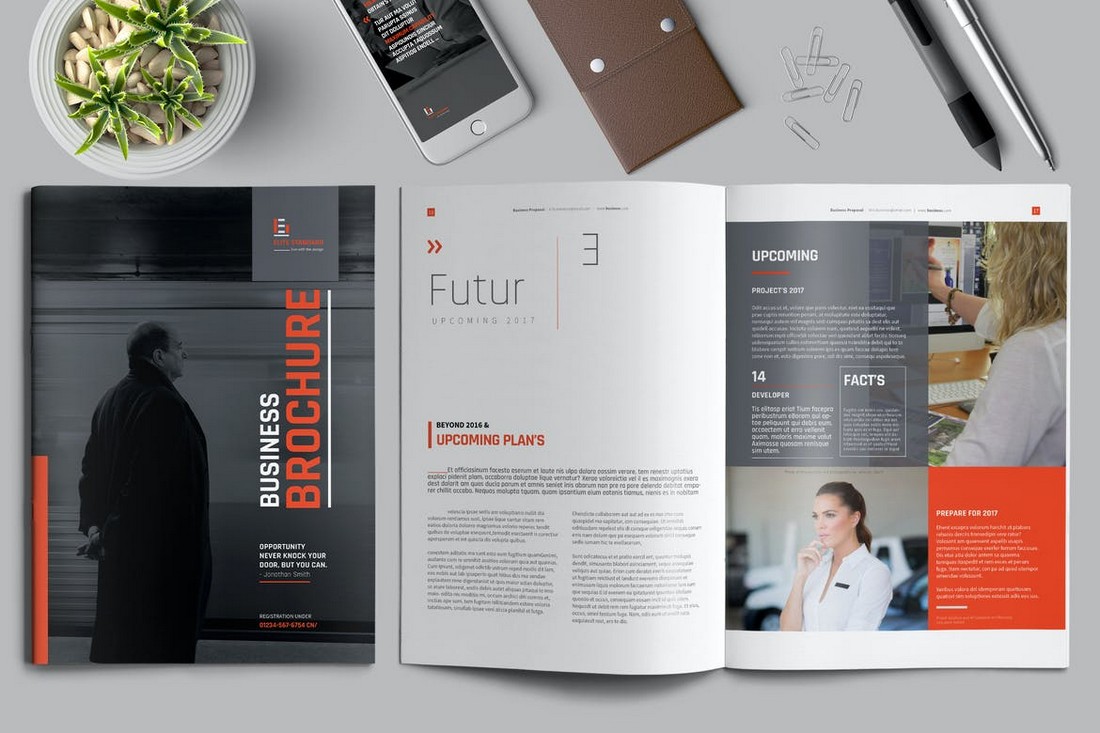 Using large images in a brochure design only works if you have the formatting right. Use this template as a starting point to experiment with this trend.
6. Pastel Color Tri-Fold Brochure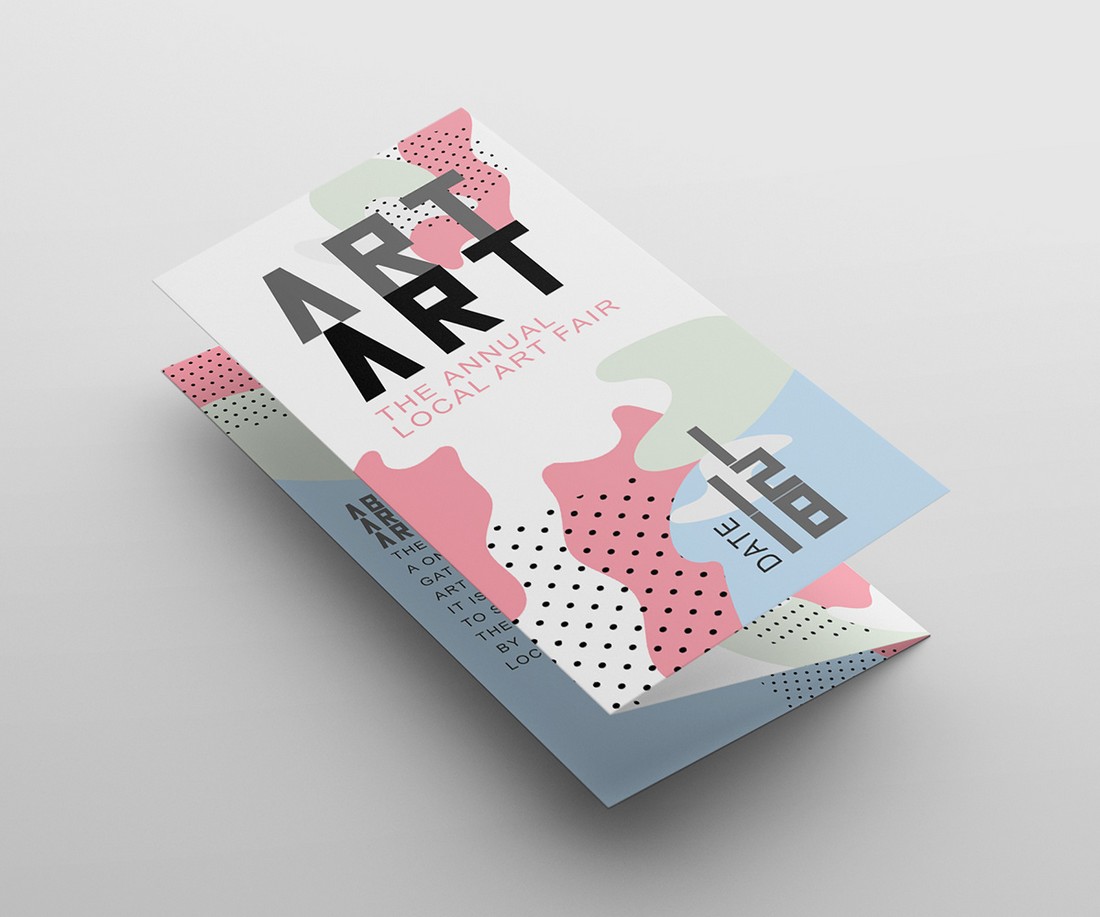 (Credit: Diana Krumina Vaitilavica)
There's something about pastel colors that creates a calming and soothing feeling in our hearts. This is probably why it's commonly used in brochures when promoting casual and creative brands.
This trend especially works well for feminine businesses as well as many others. Including promoting an art fair, as seen in the example.
Recommended Brochure Template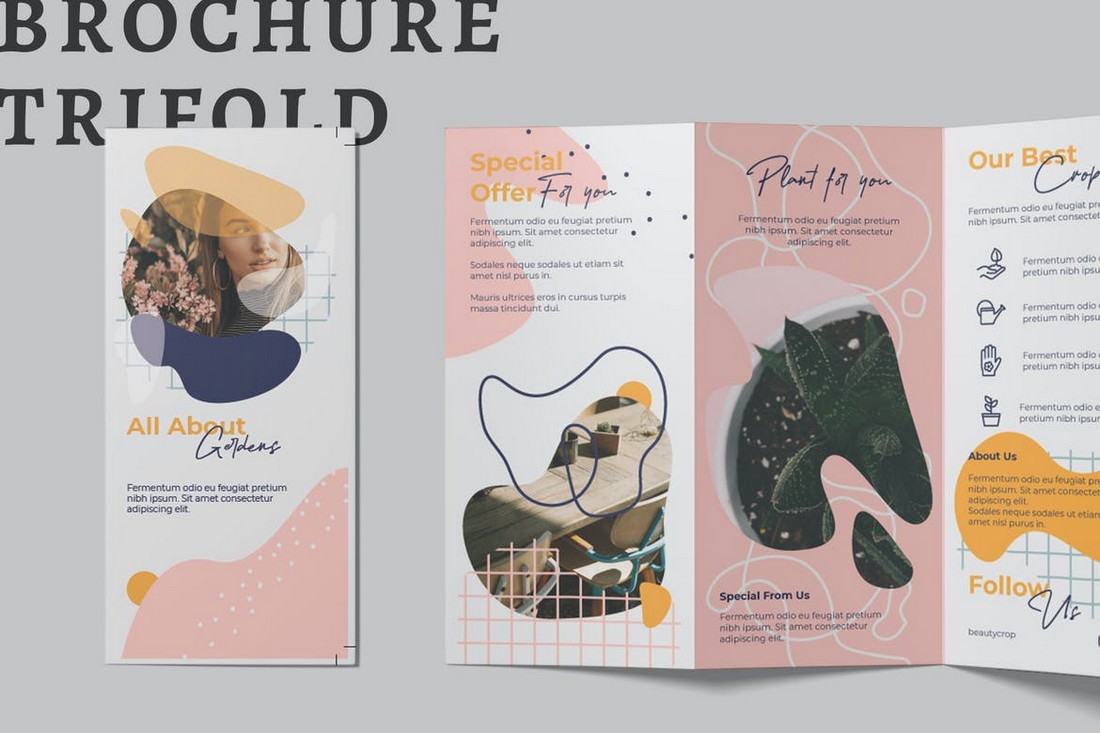 You can use any brochure template and convert it into pastel colors. Simply find a pastel color palette and edit the brochure template to change the colors. Or use a template like this one.
7. Patterned Background Brochures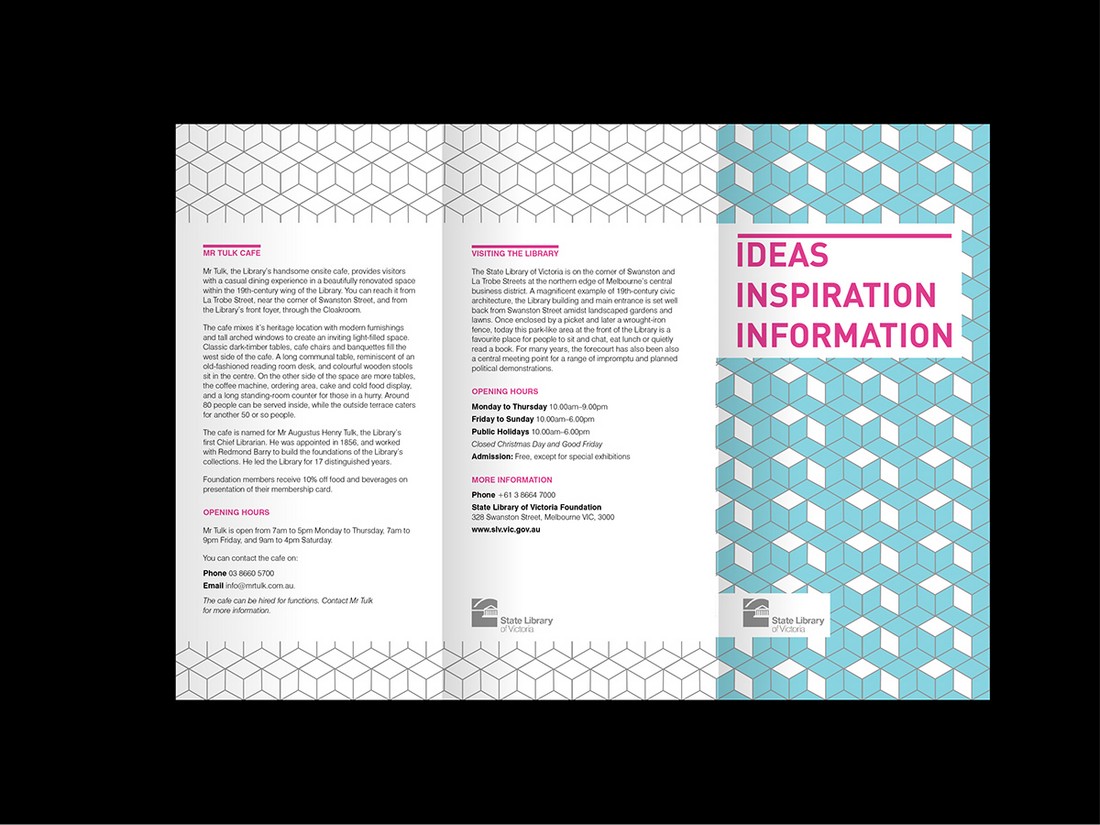 (Credit: Abigail Brander-Hill)
Using a patterned background works perfectly for brochures, especially for highlighting the content better. It also adds a certain creative look and feel to the overall design as well. The above example shows how you can use this trend more effectively to bring more attention to the content.
Recommended Brochure Template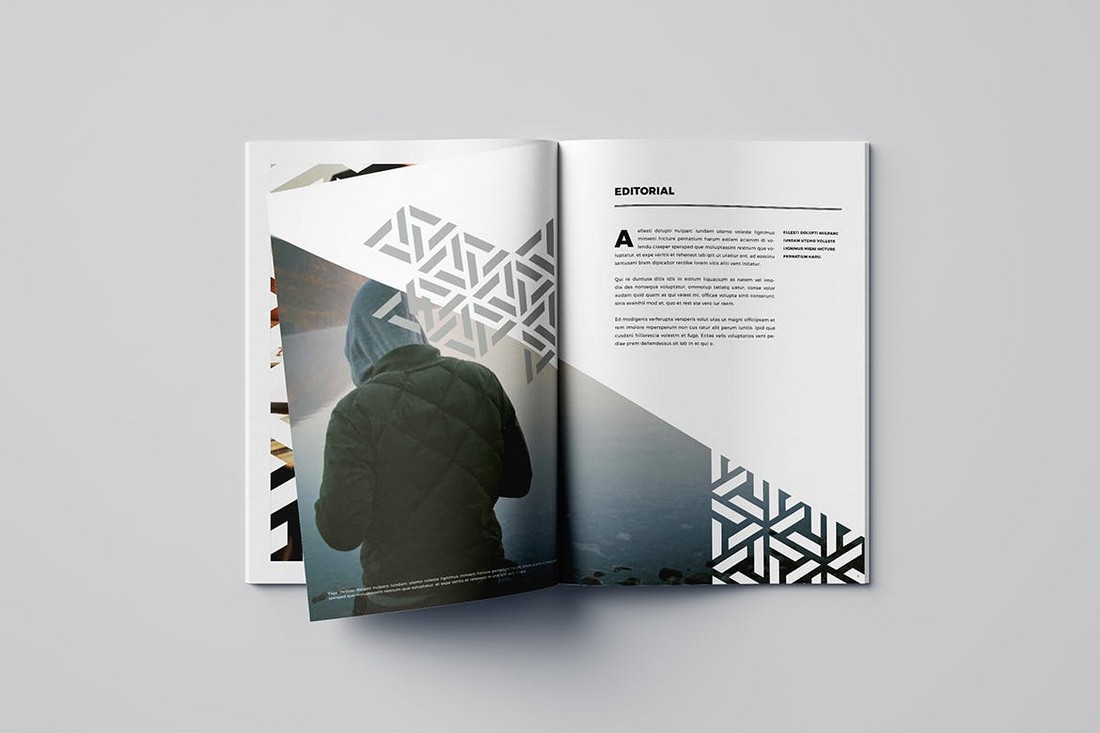 The patterned design trend works for both covers and inner pages as well. This brochure template shows how amazing it can look when used to highlight visuals in inner pages.
8. Illustrated Tri-Fold Brochure Design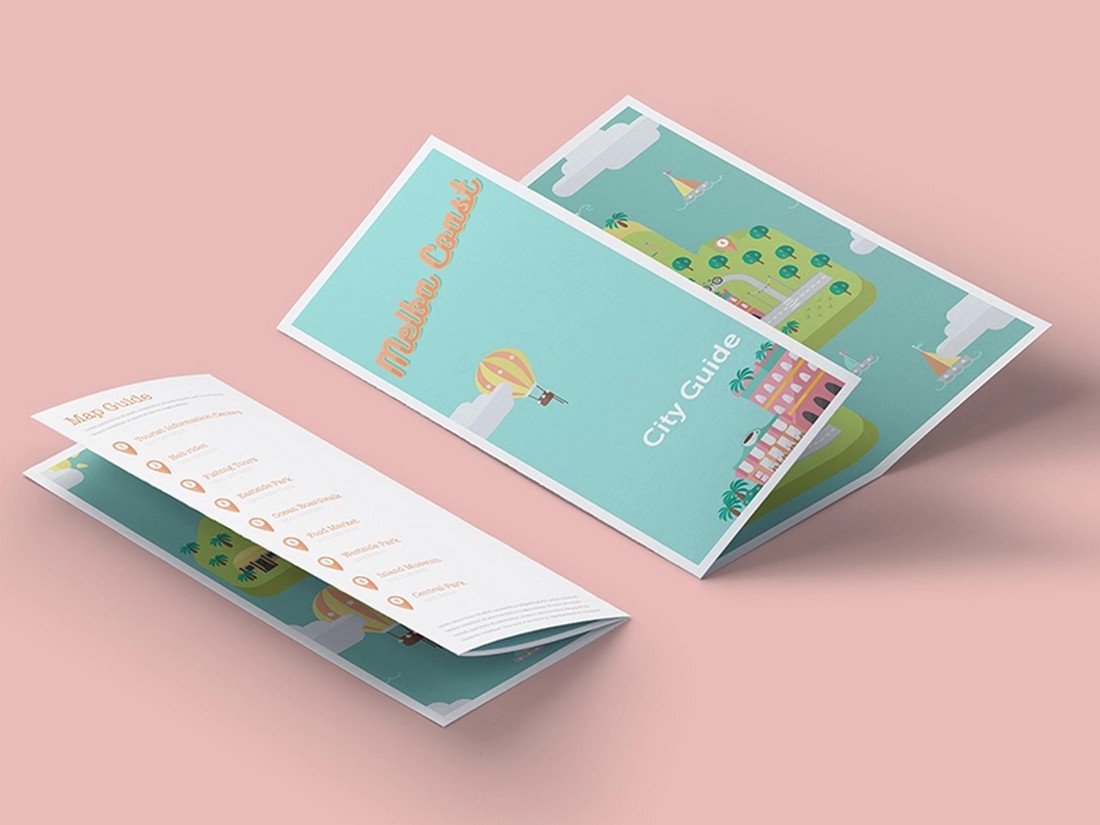 (Credit: Rowena Leanne)
Adding illustrations to brochure designs is another popular trend that's commonly seen in tri-fold brochures. With illustrations, it's much easier to promote products and services. As well as to highlight specific features and benefits.
For example, if you're promoting an educational program or a product, you can use illustrations in a tri-fold brochure to promote each stage of the program in a creative way.
Recommended Brochure Template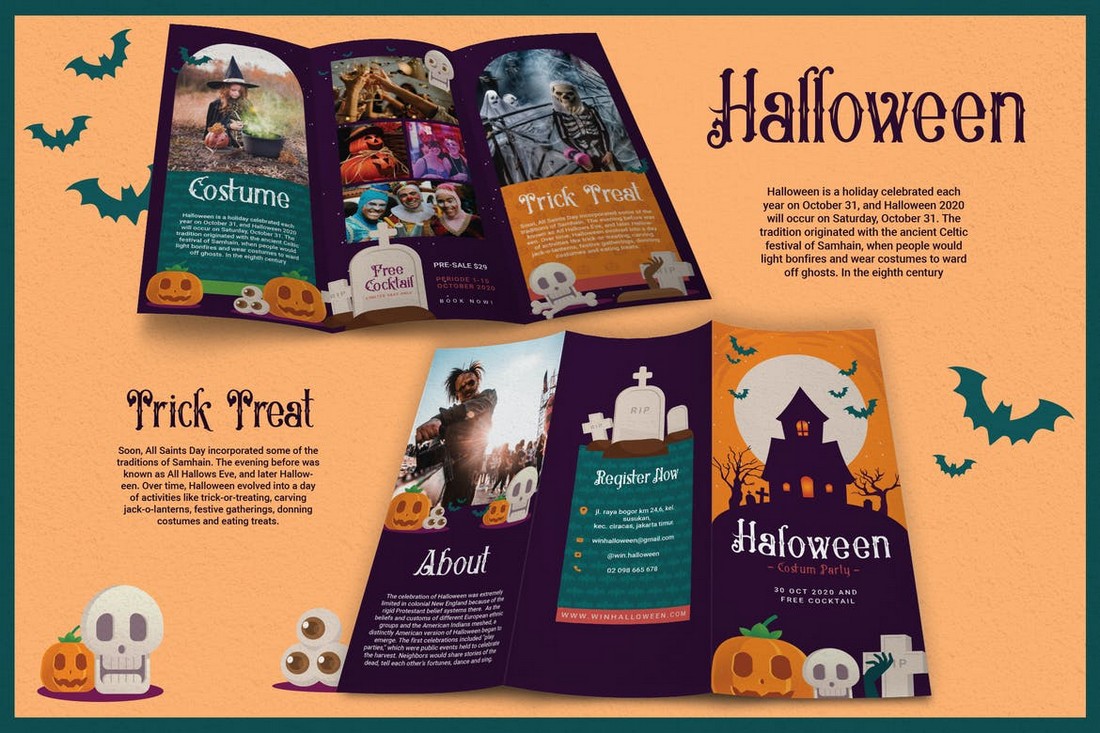 The best way to approach this trend is to grab any brochure template and replace the images with illustrations. You can find creative illustrations on Envato Elements.
9. Geometric Brochure Design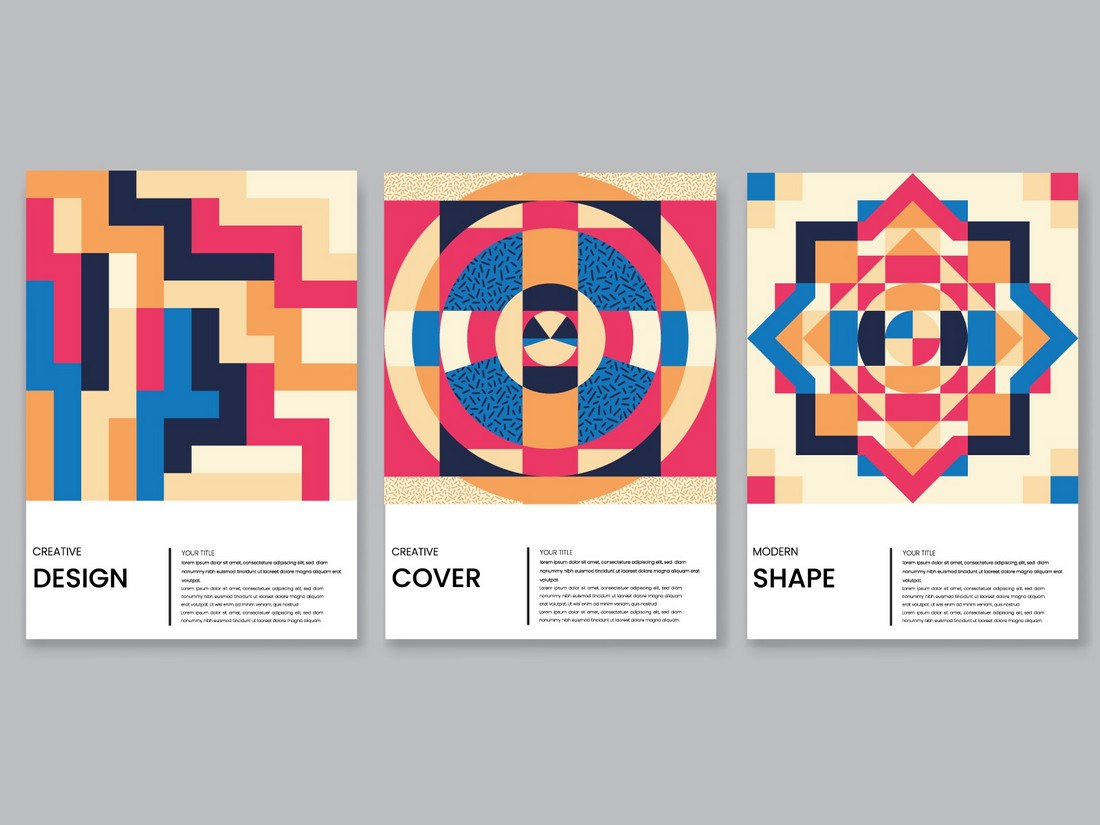 (Credit: Yeamin Fatha)
Geometric designs are great for showing both creativity and rationality. The shapes represent order and precision. While the colors and the overall visual represent originality and imagination.
Which is why geometric designs work perfectly for various brochure designs for modern brands and businesses.
Recommended Brochure Template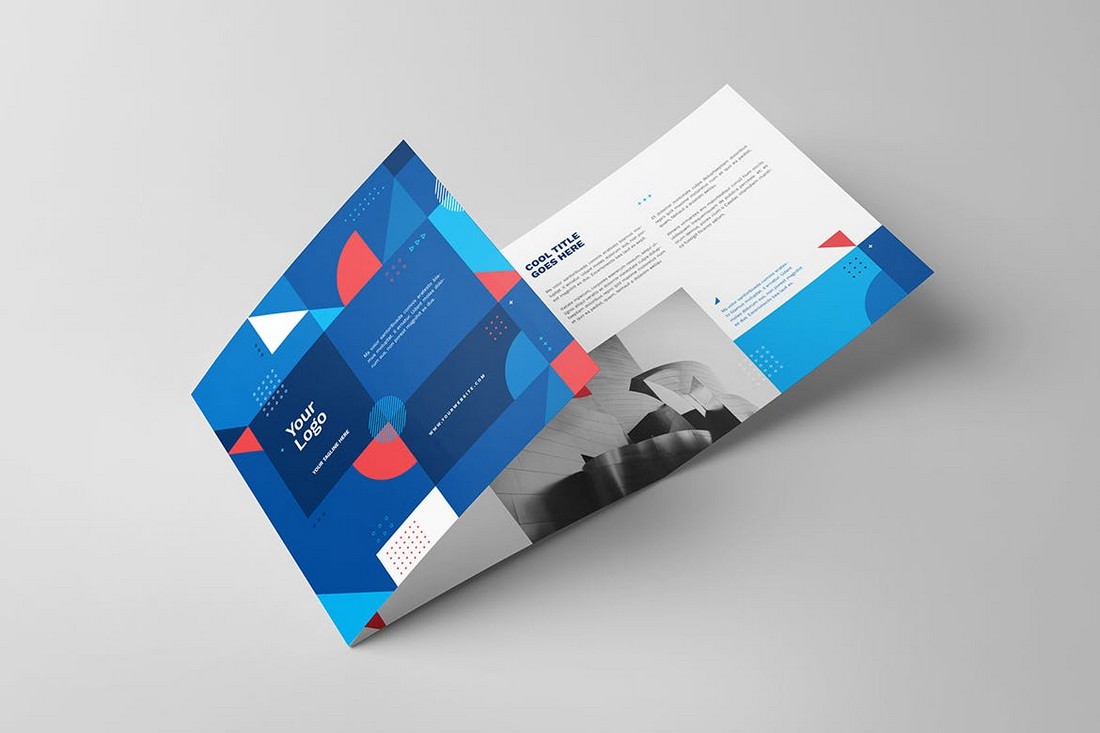 This template also uses the geometric design trend brilliantly to add a creative and original look to the brochure. You can also customize it to change the colors to match your branding as well.
10. High Contrast Brochure Design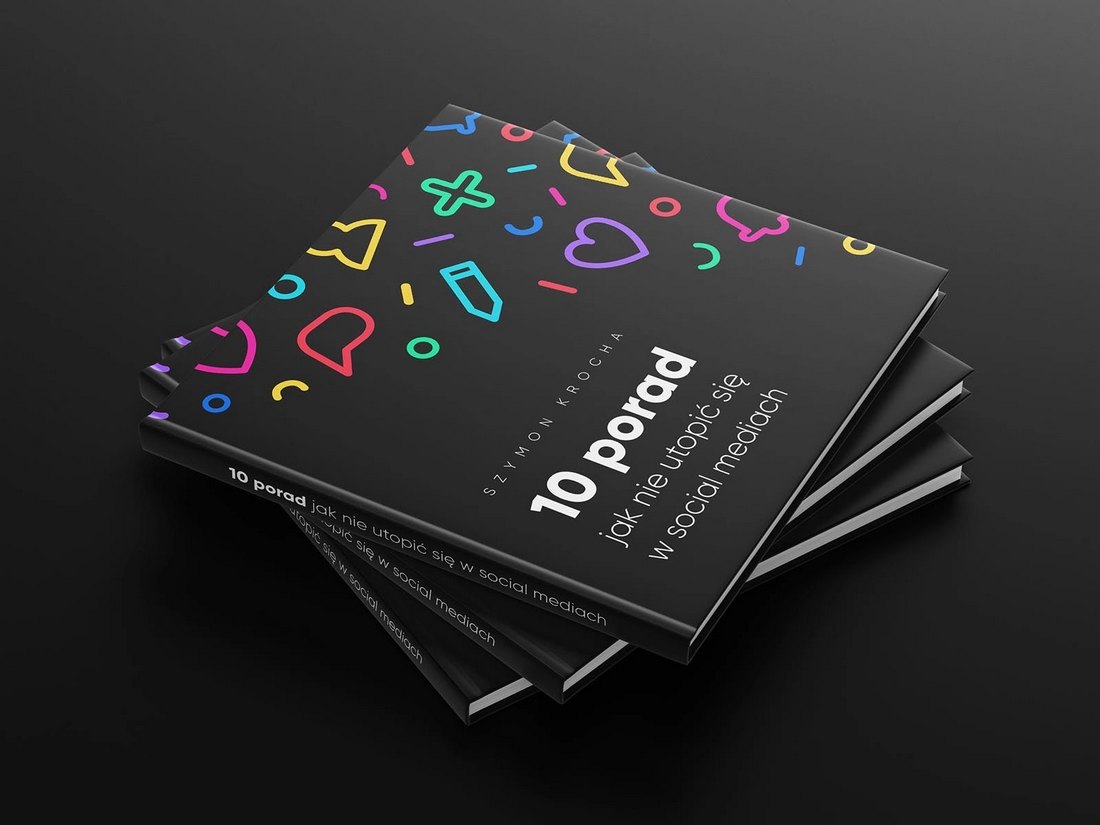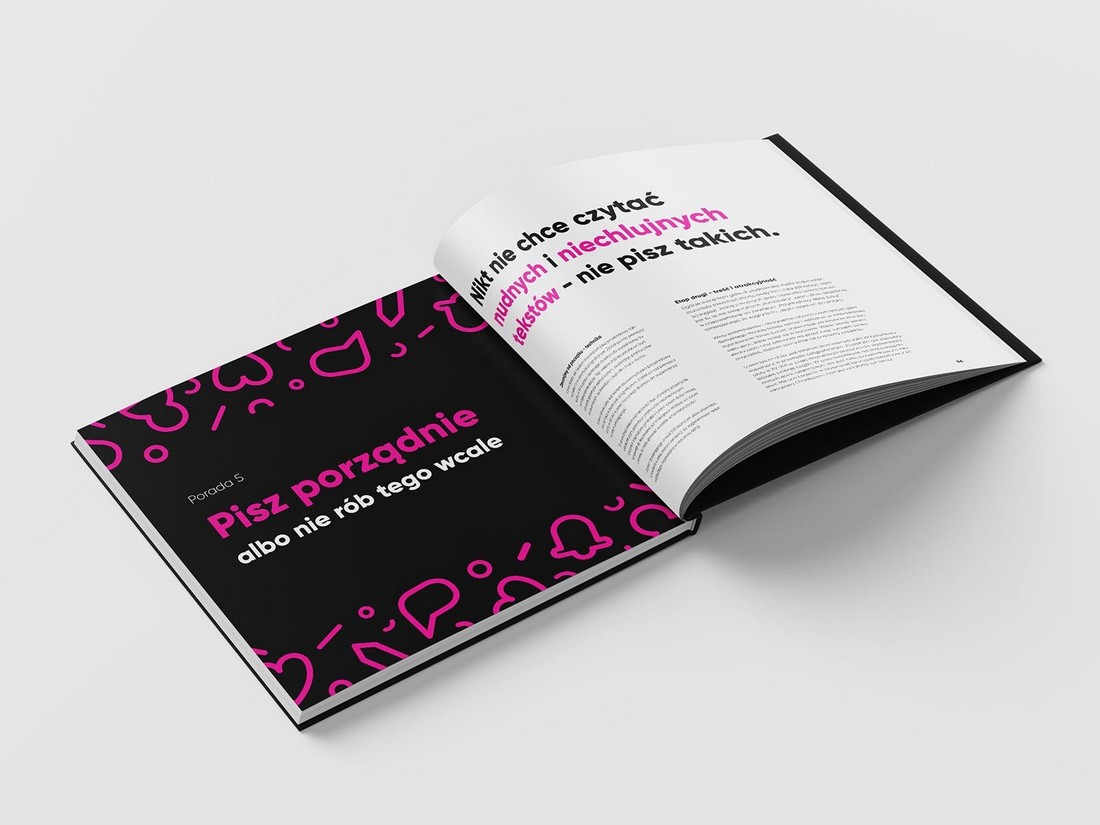 (Credit: Daniel Wodziczka)
If you want to create a brochure design that easily highlights its content above the rest, using high contrast colors is a great approach you can use.
With high contrast design, you can use the colors to bring more attention to key elements and sections of the brochure.
This trend is quite similar to the duotone design and it works well for both print and digital designs.
Recommended Brochure Template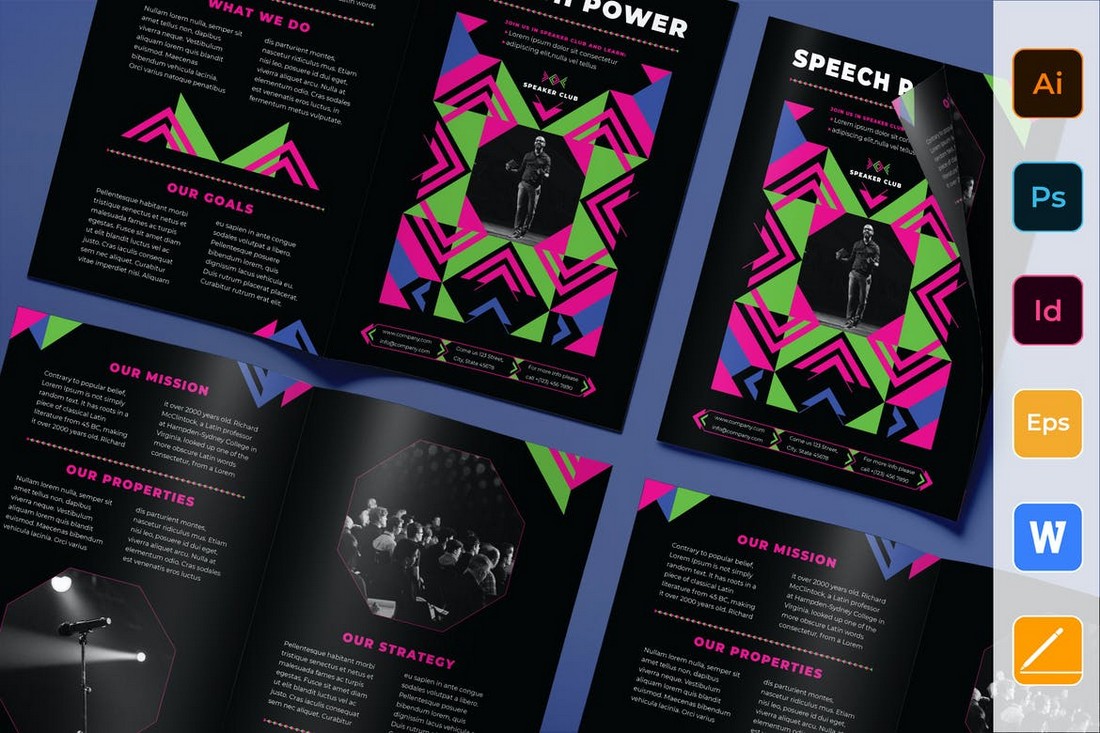 Using a dark background will provide you a great canvas for creating high contrast designs. There are many colors that can be easily highlighted with a dark background.
In Conclusion
As you can see there are many different and creative ways you can design brochures that stand out from the crowd. Take inspiration from these trendy designs, mix and experiment with them to make your own amazing brochures.
You can also check out our best tri-fold brochure templates collection for more design ideas.