35+ Best Photoshop Brushes 2023
Creating a realistic and detailed image can be incredibly challenging and time-consuming, even for the most experienced designer! Whether you're looking to add authentic real-life effects to a photo, such as snow, rain, or lightning, or create interesting and unique effects for a graphic or illustration, such as water ripples or distressed textures, it can be a difficult job trying to get them perfect.
That's where this pick of the best Photoshop brushes come in – each one offers instant and authentic results, and is available for download and use straight away! No matter what kind of design project you're working on, there's bound to be a range of effects in this list that will transform your design into a masterpiece.
Keep reading for a list of the best Photoshop brushes available.
Get everything you need to supercharge your Photoshop workflow. From just $16, get unlimited access to thousands of Photoshop actions, Photoshop brushes, add-ons, templates, graphics, fonts and photos.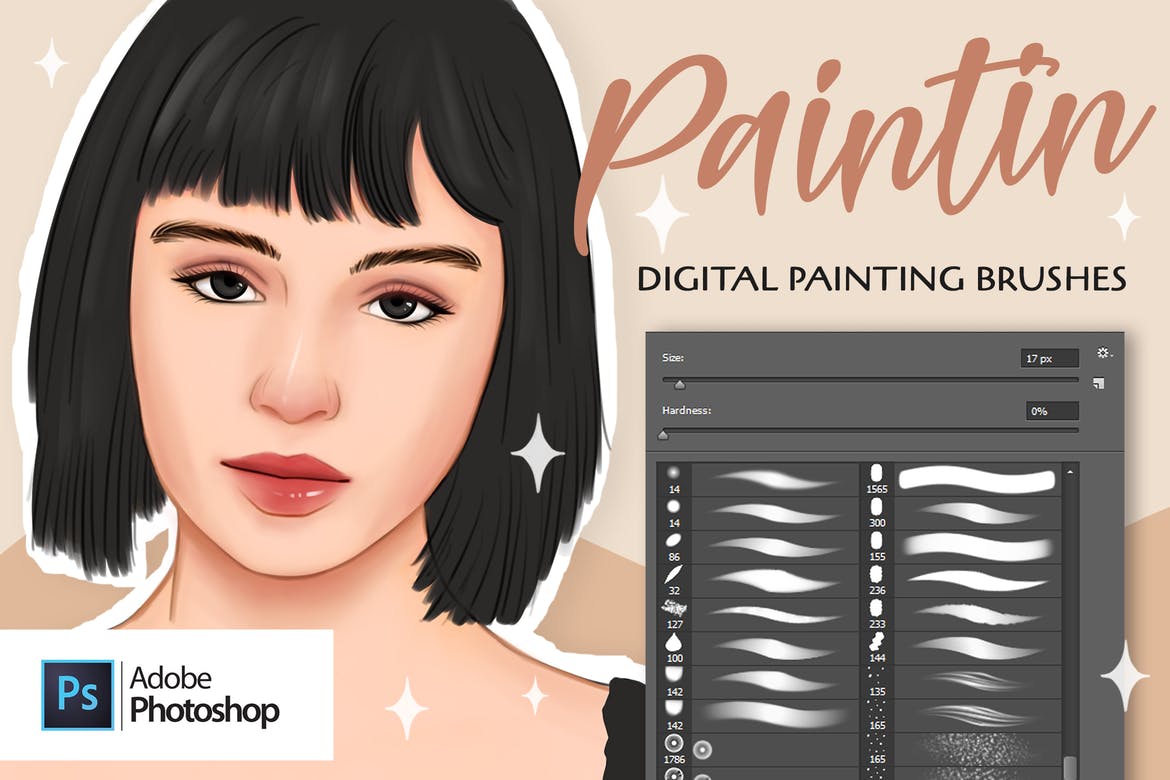 The first in our lineup of the best Photoshop brushes for 2020 is the Paintin bundle of artistic effects, perfect for creating digital art that looks like a real-life masterpiece. It comes with 20 unique painting brushes for Photoshop and is super easy to install.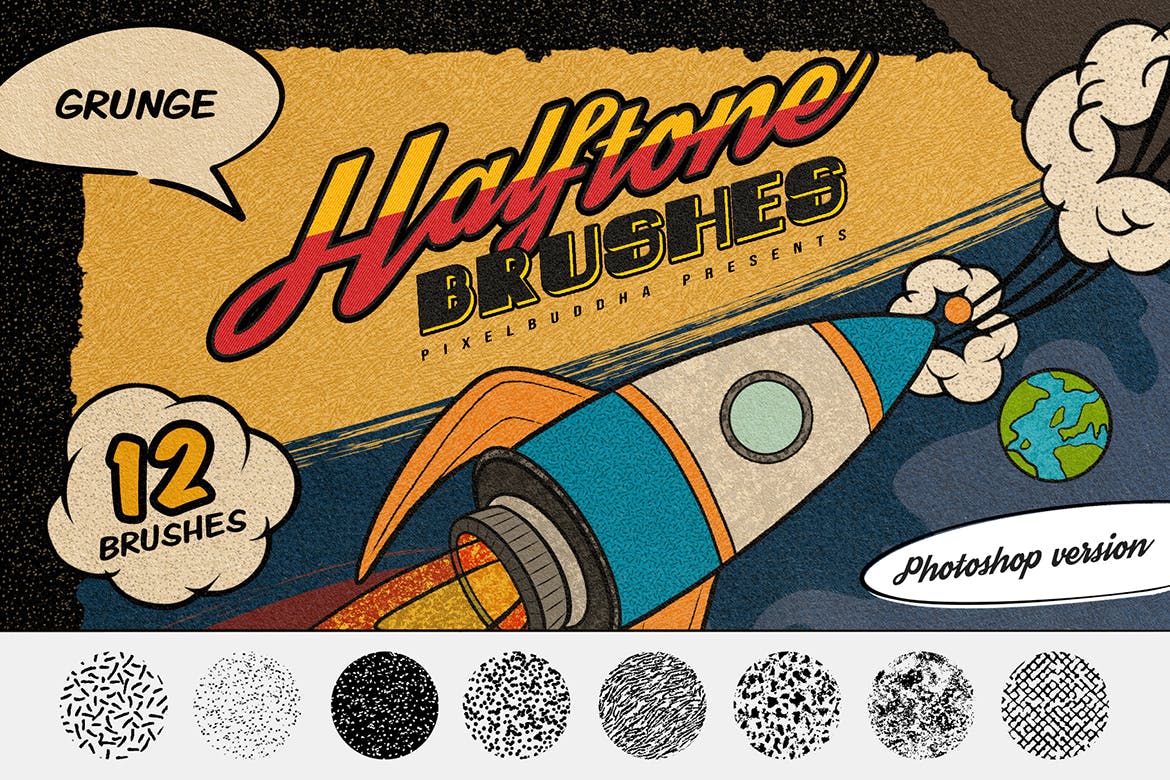 Comic lovers, you all are in for a treat. Get your hands on these vintage halftone brushes for Photoshop, and create comic drawings and illustrations in a matter of minutes. It comes packed with a help file, ensuring you make the most out of this product.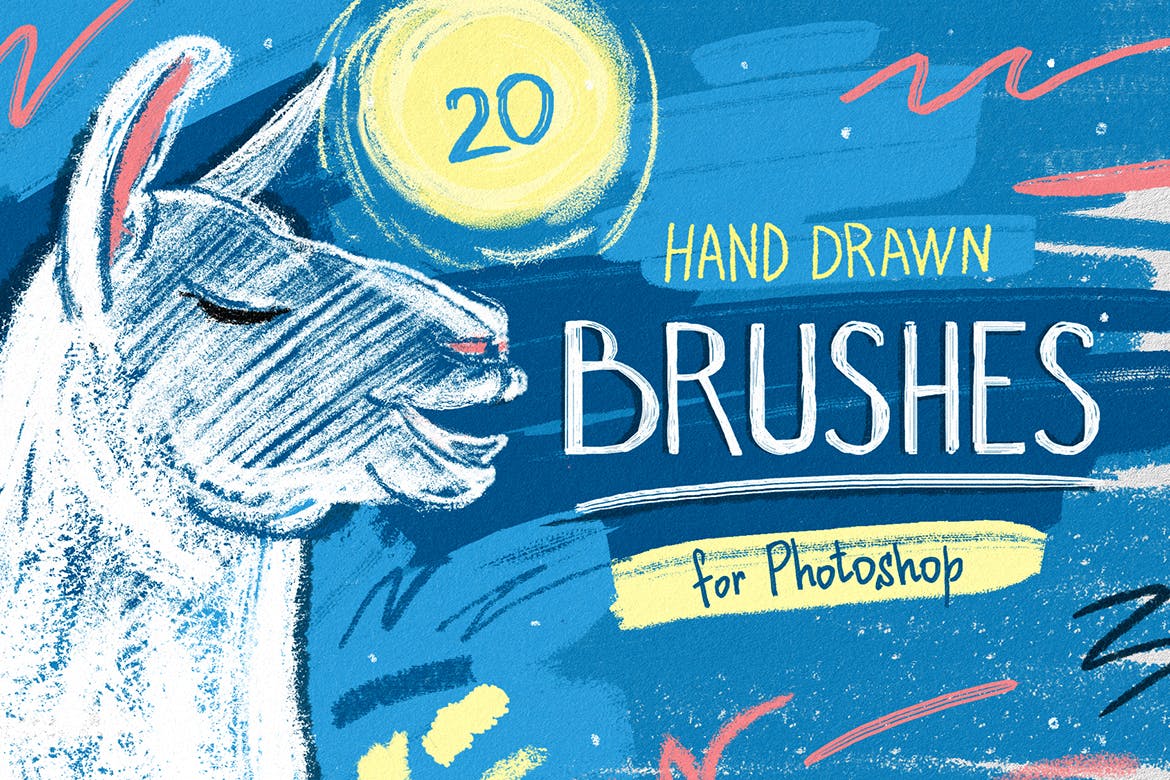 Next up, we have a set of 20 hand-drawn Photoshop brushes guaranteed to become an indispensable part of your toolkit in no time. If you truly want to create artwork that stands out from the pack, this is an excellent contender for your cash.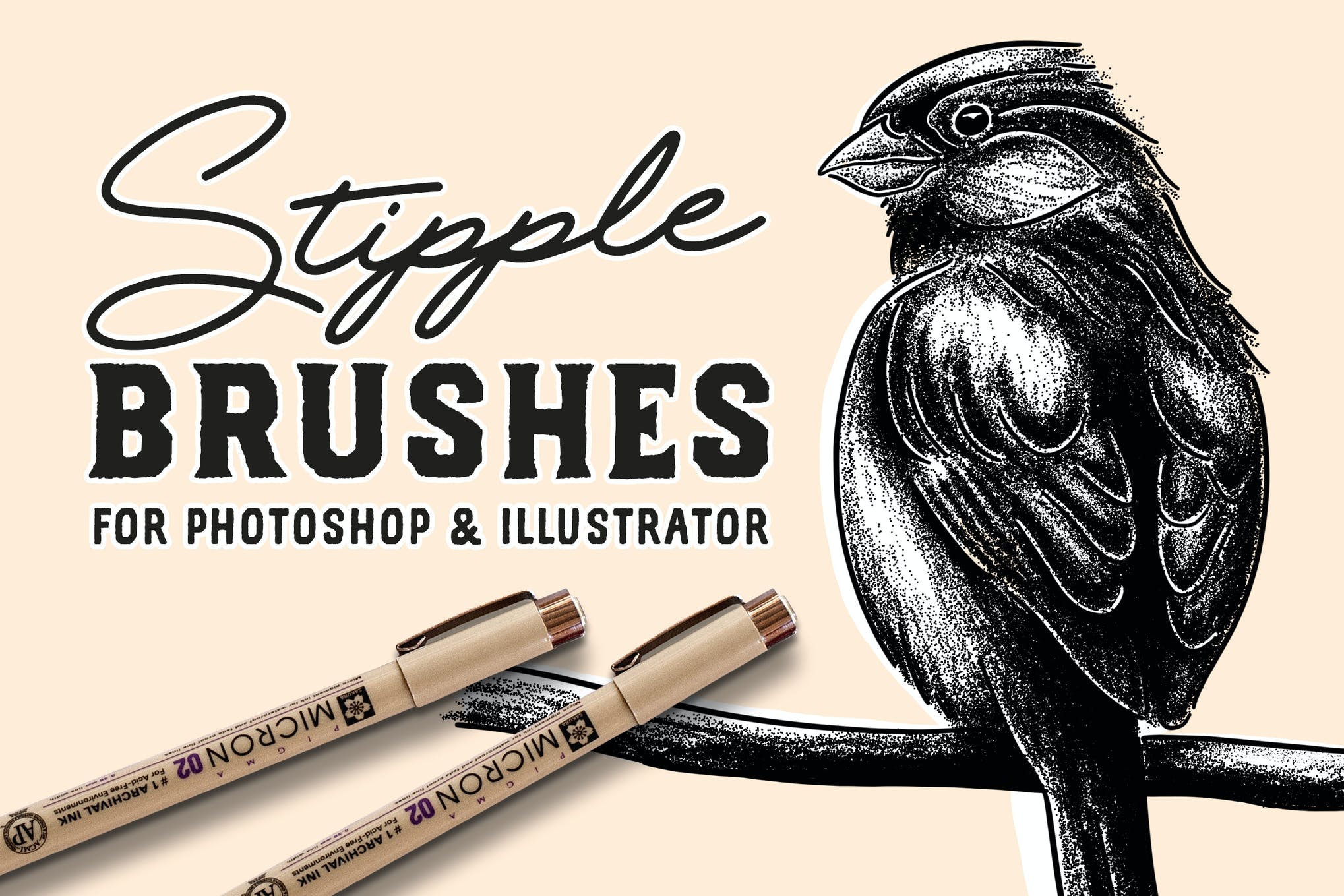 Stipple shading is a laborious, and tedious task that can take a considerable number of hours. saving you a lot of time and effort, this Photoshop product arms you with 32 brushes that will help you create hundreds and thousands of tiny dots in just a few clicks.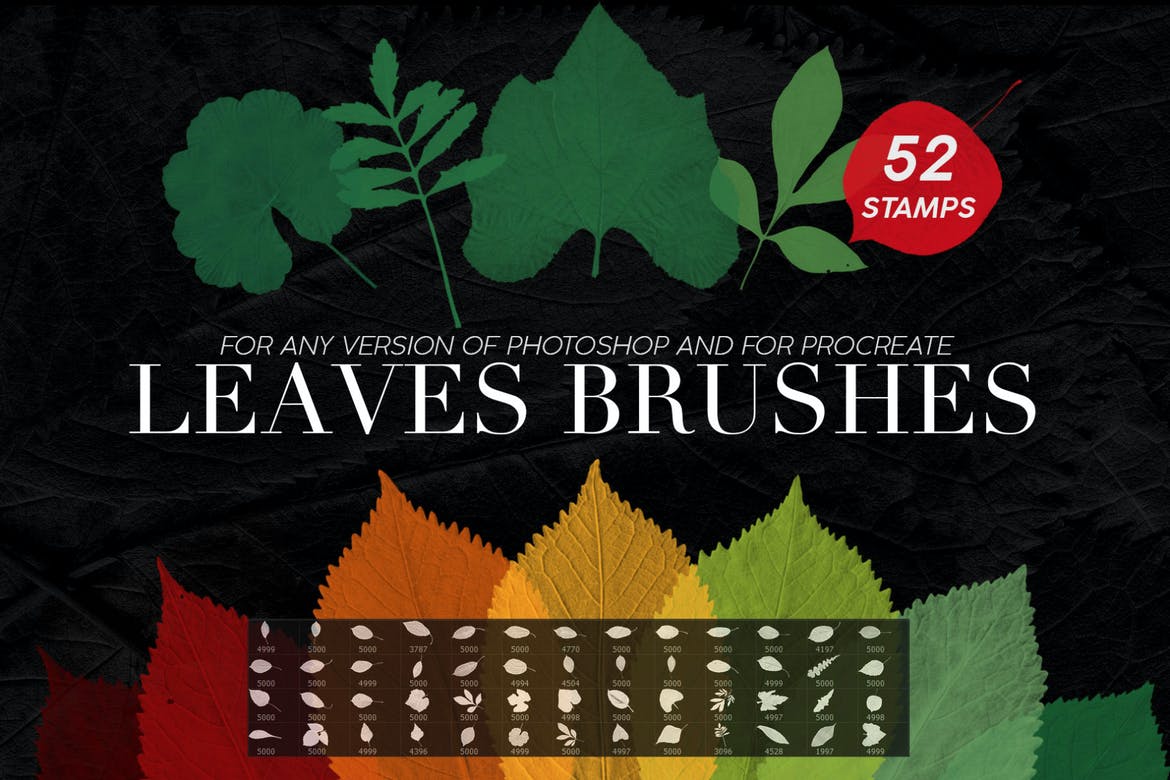 If you're hunting down the best Photoshop brushes for a nature-themed project, this set of 52 leaf brushes is a great option. Made from real dried and fresh leaves, these brushes are compatible with all versions of Photoshop, as well as Procreate 5.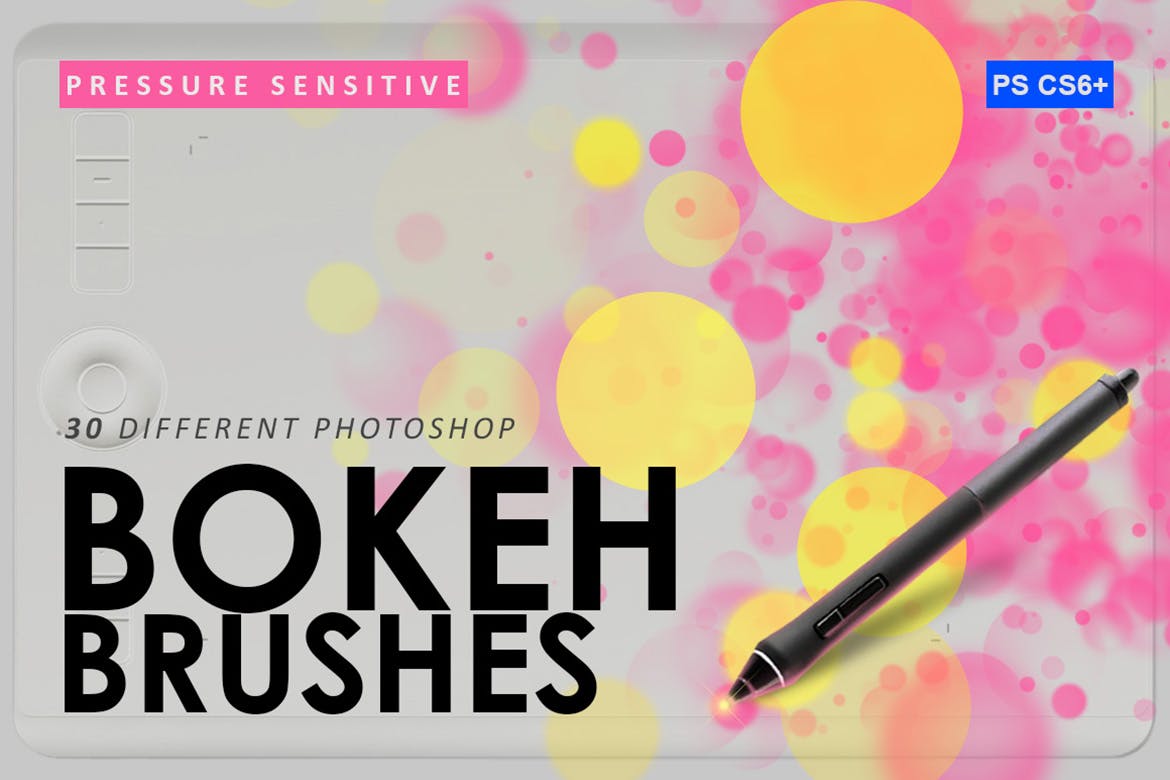 The bokeh trend is only becoming more and more popular, so why not use this collection of 30 stunning, pressure-sensitive bokeh Photoshop brushes to add a touch of glamour and elegance to your images? It includes a range of unique, high-quality effects with easy-to-use settings and adjustable colors.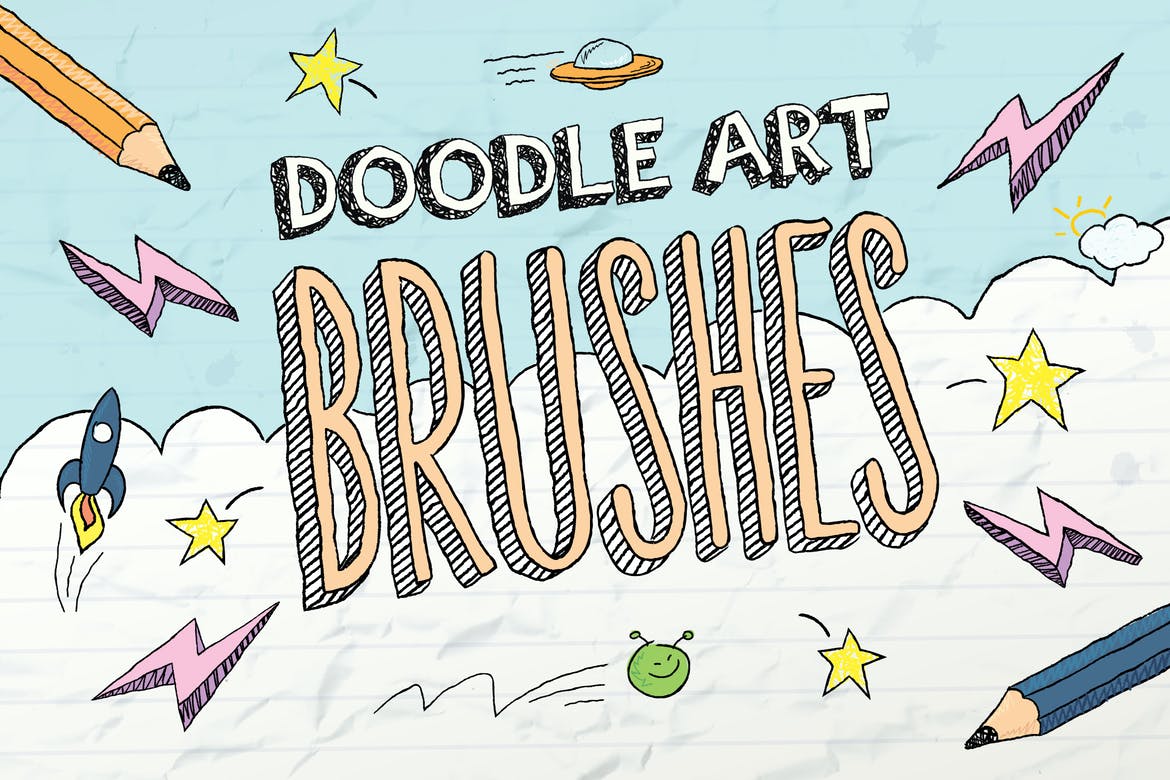 Designed to allow you to bring the naive charm of a doodled school exercise book into your illustrations, this collection of more than 70 pressure-sensitive brushes includes a range of zigzag, scribble, straight, wiggly, simple, and 'e' shaped effects. It's perfect for a school or craft-themed project.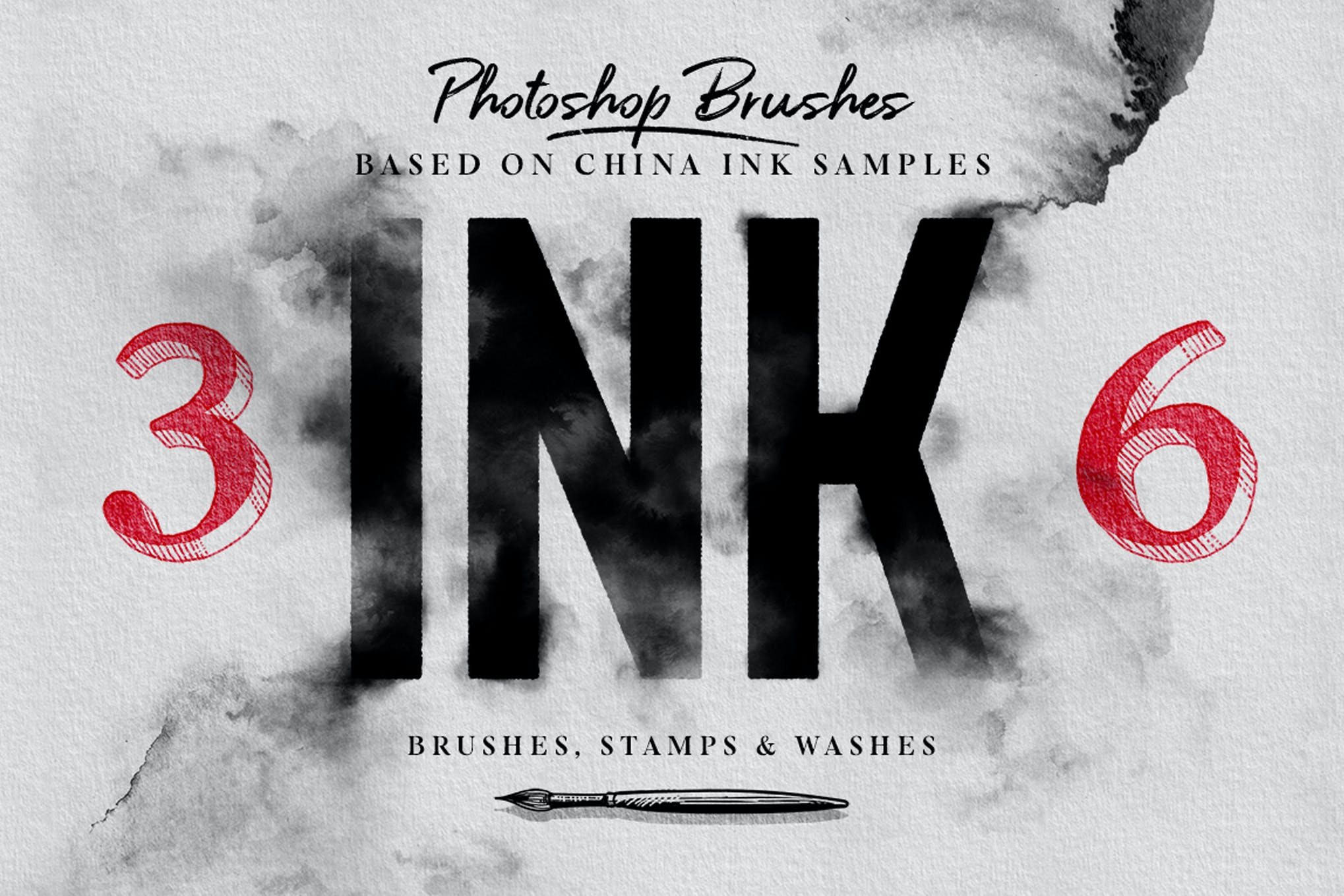 Here we have an excellent collection of Photoshop brushes, featuring an impressive assortment of 36 individual effects created by authentic China ink samples that will give any project a fun, hand-drawn look. The brushes work perfectly with Photoshop CS5 and CS6.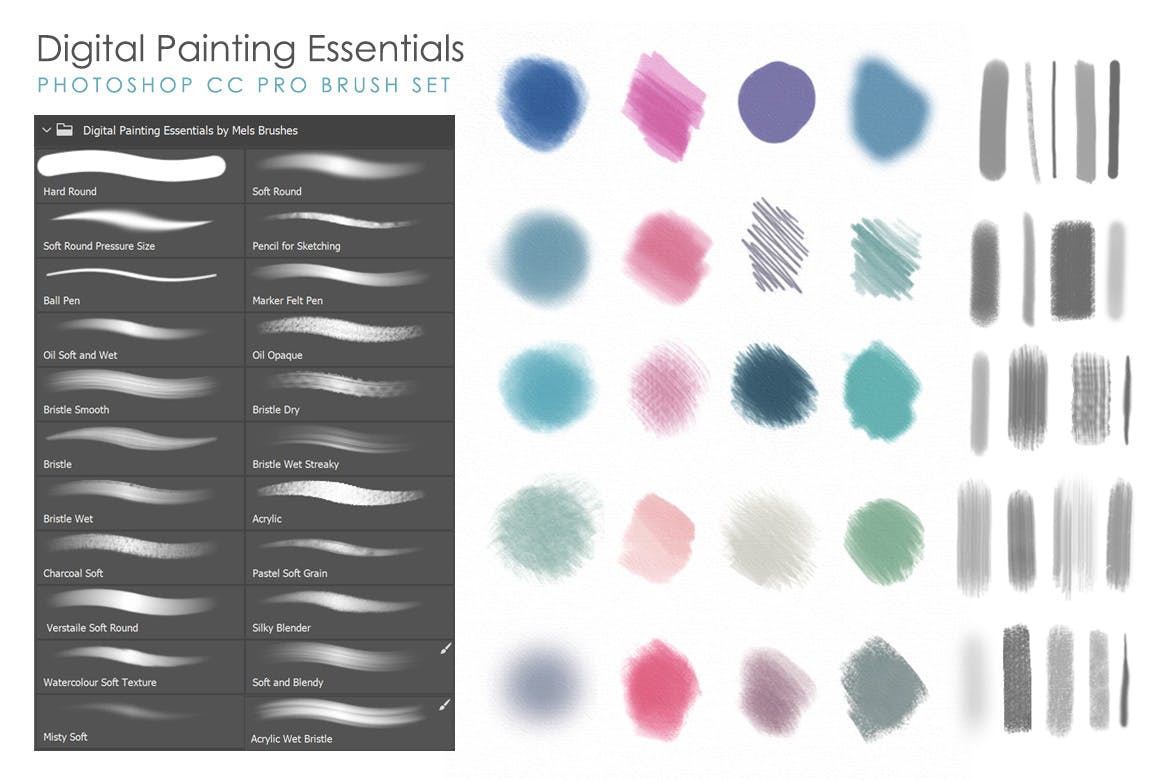 If you are into matte paintings or digital fantasy artwork, this collection of artistic brushes for Photoshop can be of great use. There are 22 brushes inside the pack, painstakingly crafted to let you create magic on the digital canvas.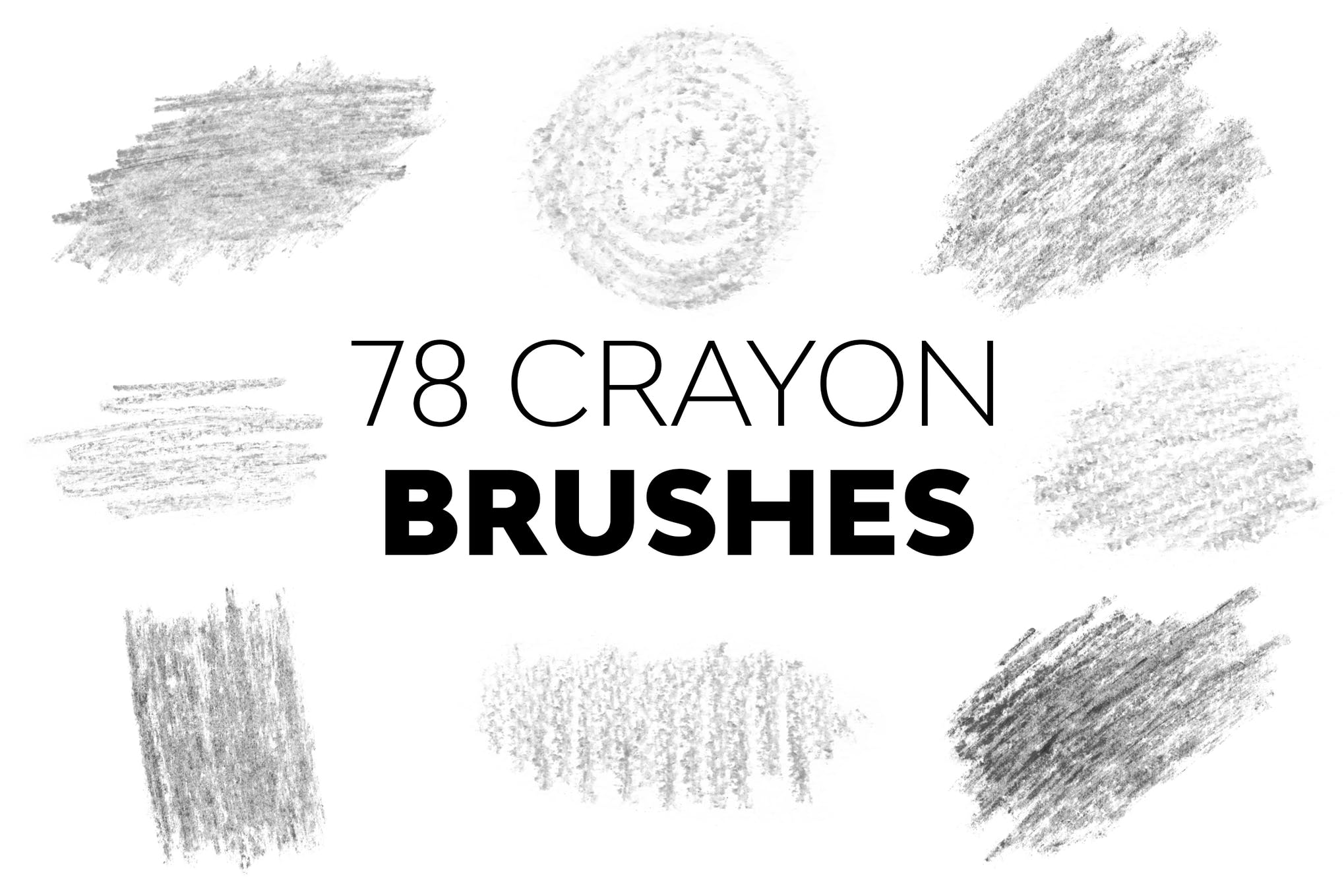 Here we have an extensive collection of 78 Photoshop brushes, meticulously created to help you with your crayon sketching projects. The brushes are very simple to use, and compatible with many versions of Photoshop. Grab it now!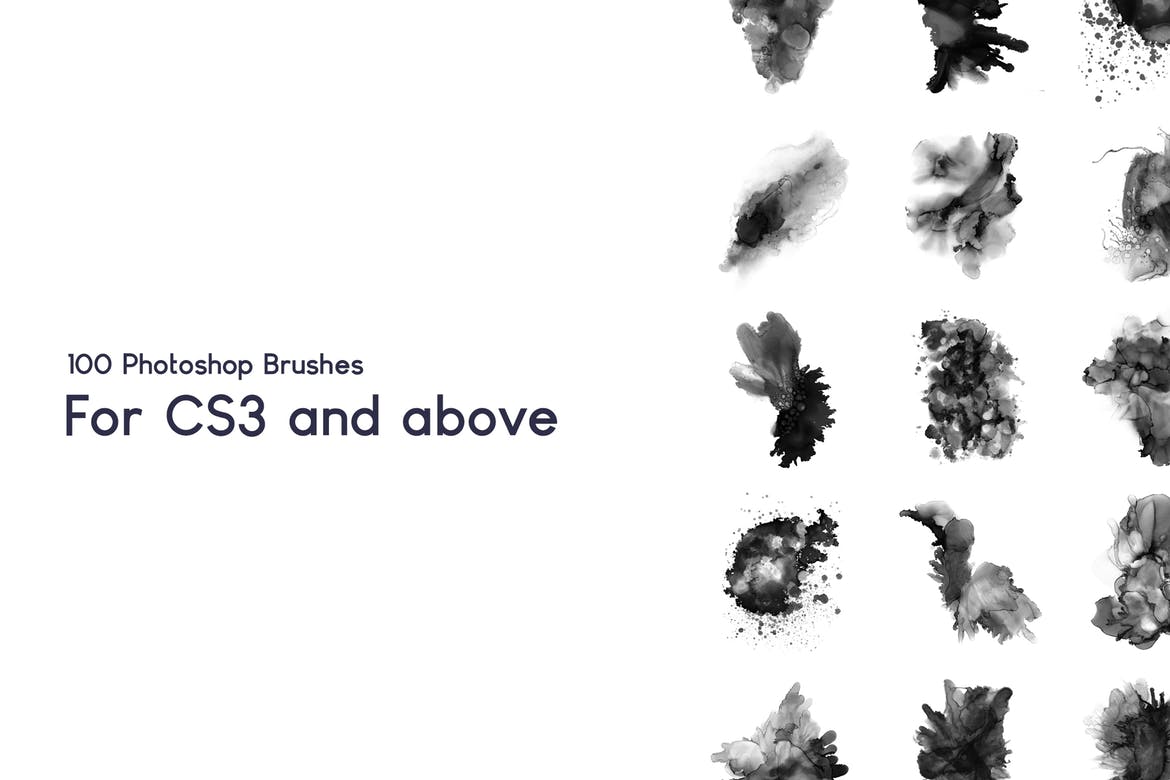 The Watercolour Ink collection of Photoshop brushes features 100 unique, high-resolution effects that are compatible with Photoshop versions CS3 and above. These ink texture brushes make a brilliant addition to any modern artistic project and can be customized in countless ways.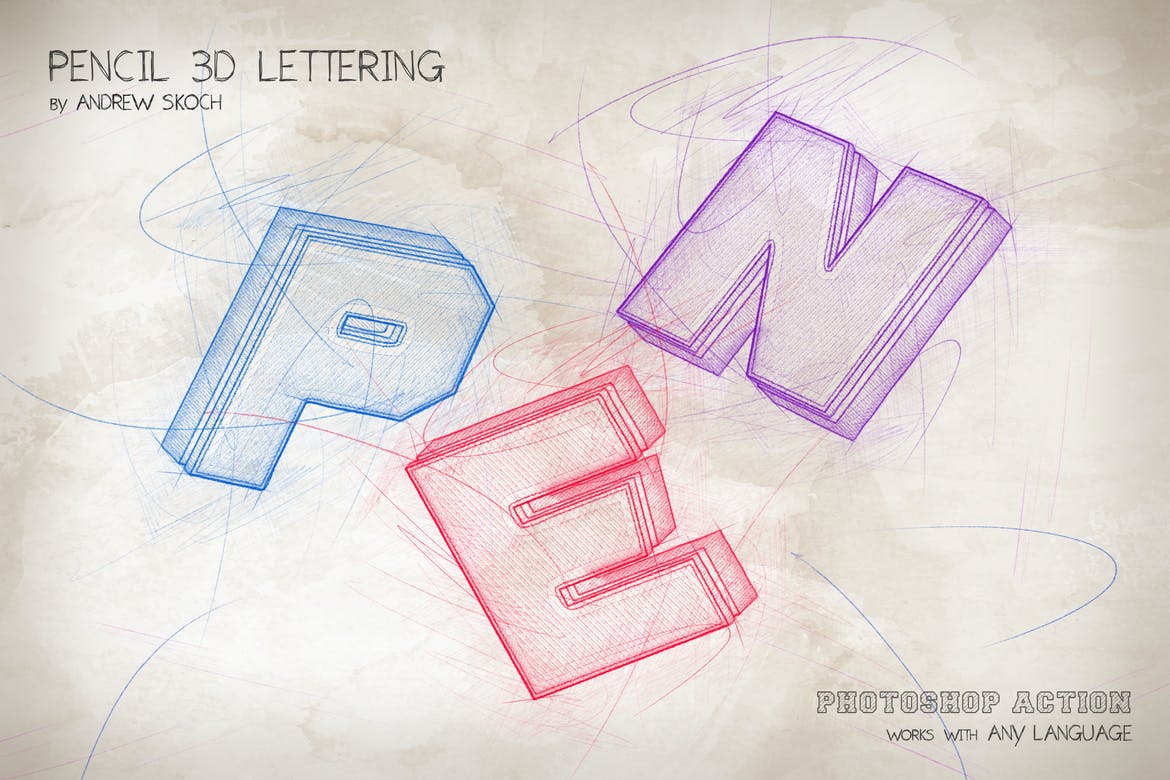 Here we have a fun and whimsical 3D lettering brush with an authentic pencil effect, perfect for a kids' project or school-themed design! It comes with a range of customization options, from endless colors to different 3D depths, and is compatible with Photoshop versions CS6 and newer.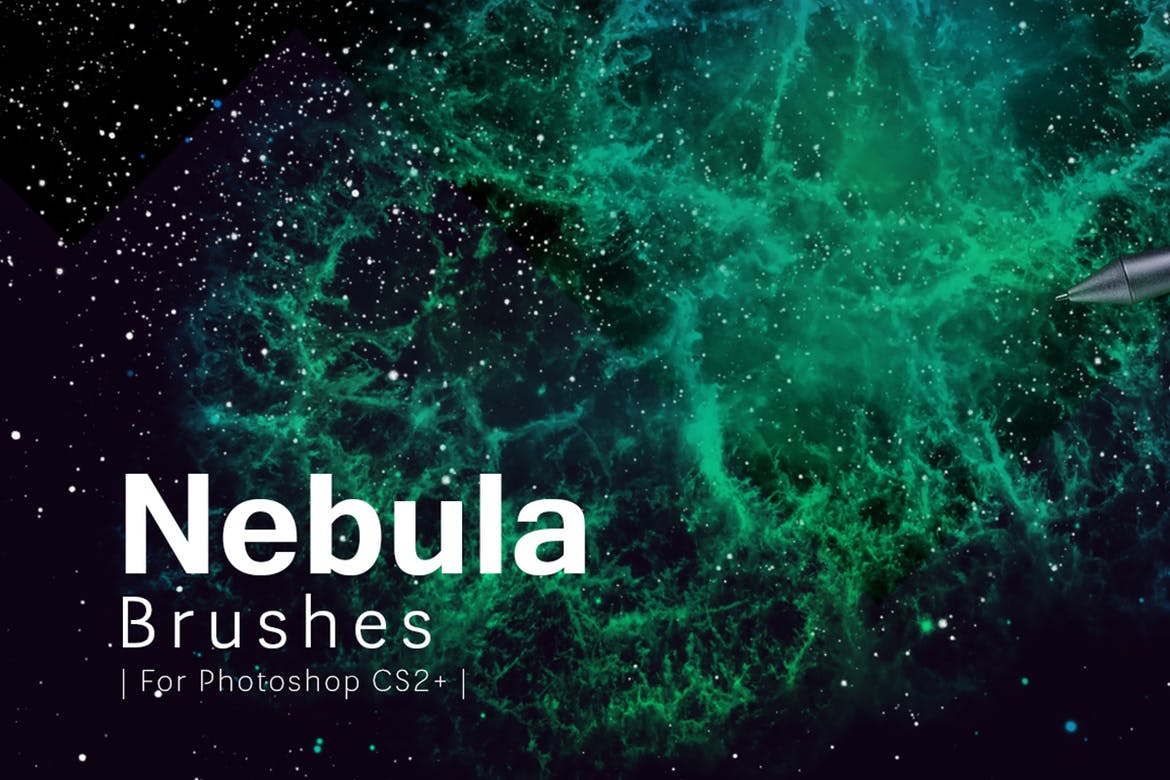 Next in our list of the best Photoshop brushes is Nebula, a collection of 16 galactical inspired effects that are perfect for creating wallpapers, print templates, flyers, device covers, social media graphics, and photo overlays. Each brush is fully customizable, and they're all designed based on real images taken by the NASA space telescope!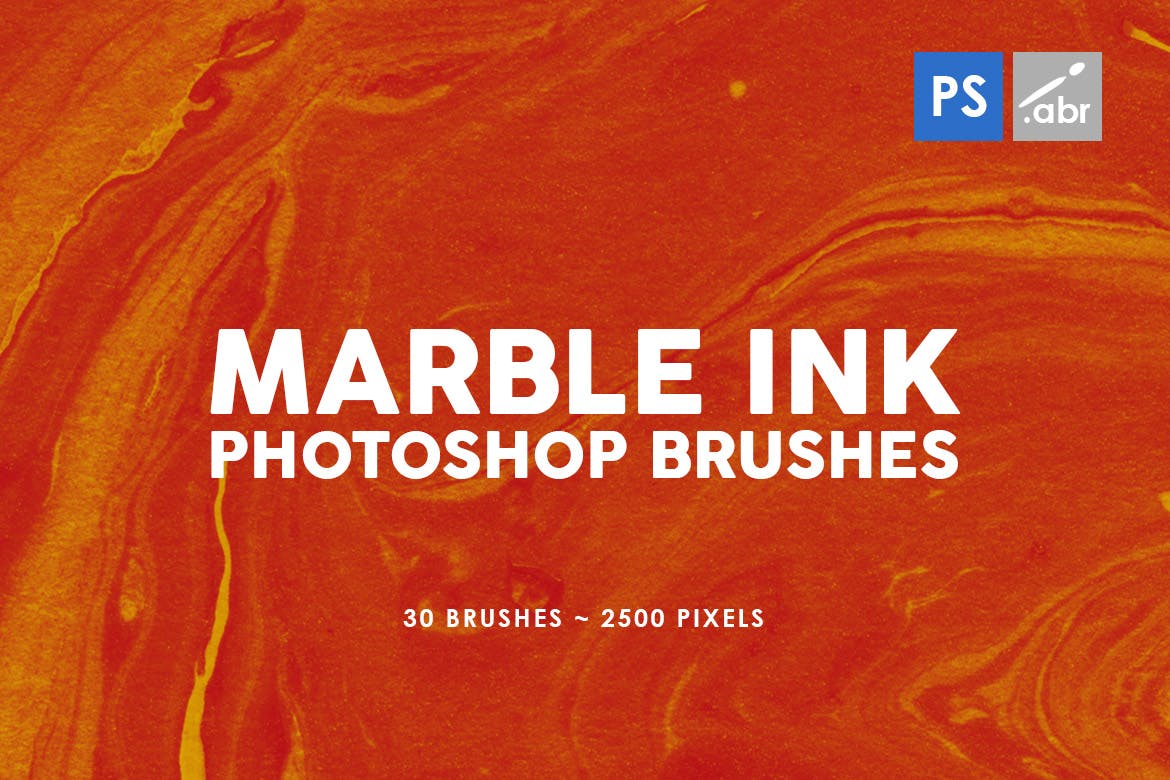 Our next option is a set of 30 high-resolution, 2500 pixel marble effect brushes that work with any version of Photoshop, and make a great addition to any creative project, especially those in the fashion, beauty and home decor space. They can be added as a decorative element to your designs, or as an effective background.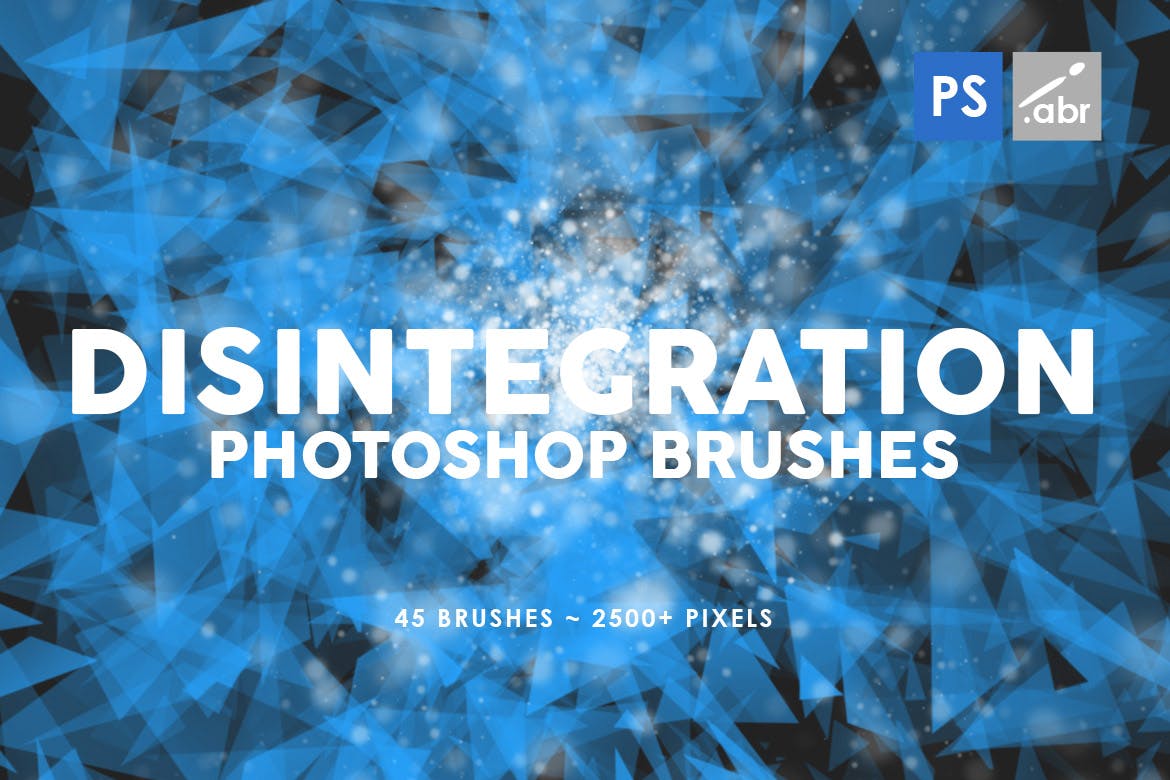 Featuring a suite of 45 high-resolution brushes that are compatible with all versions of Adobe Photoshop, this collection of stamp texture brushes will add a unique decorative element to any project, and can be used as a photo overlay or manipulation, as well as a visual effect for games and artwork.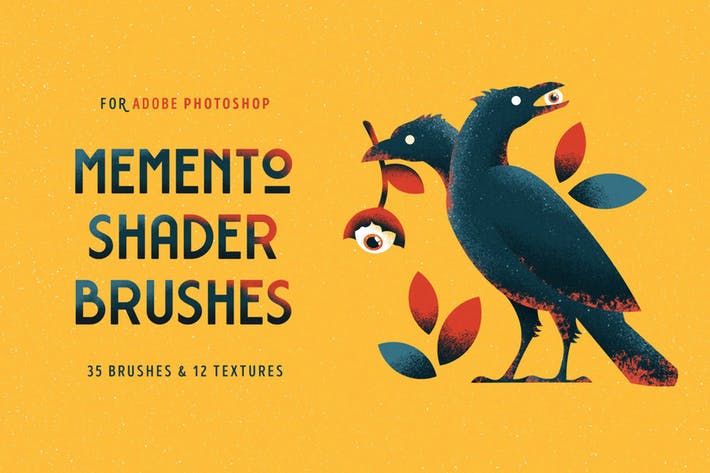 This collection of textured, creative brushes is a super fun and easy way to add a bit of interesting shading to an illustration or graphic – from hatching to smoke to sharp edges, there are many different shading methods that all promise a unique and eye-catching result.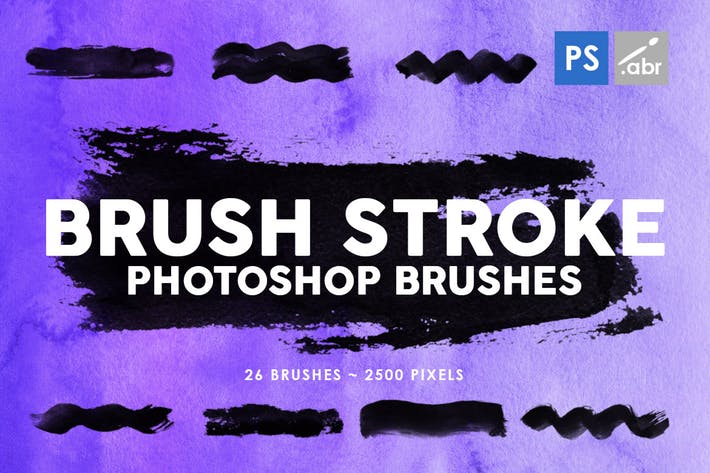 The Brush Stroke Photoshop Brush package is a set of 26 hand painted ink brush strokes with authentic textures and shapes that can be used with any Photoshop version and make great decorative additions to an illustration or photograph.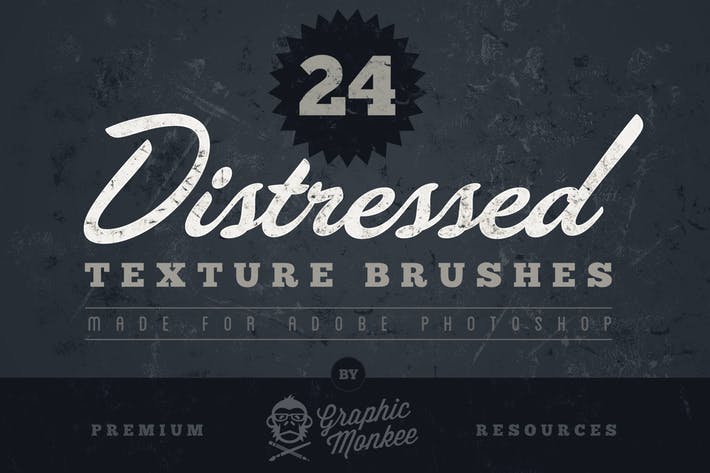 To add a rough, distressed texture to your designs, choose this stunning collection of premium, high resolution Photoshop brushes, carefully crafted by hand and designed to give your graphics and illustrations a worn, vintage feel. Included are 24 individual brushes on transparent layers.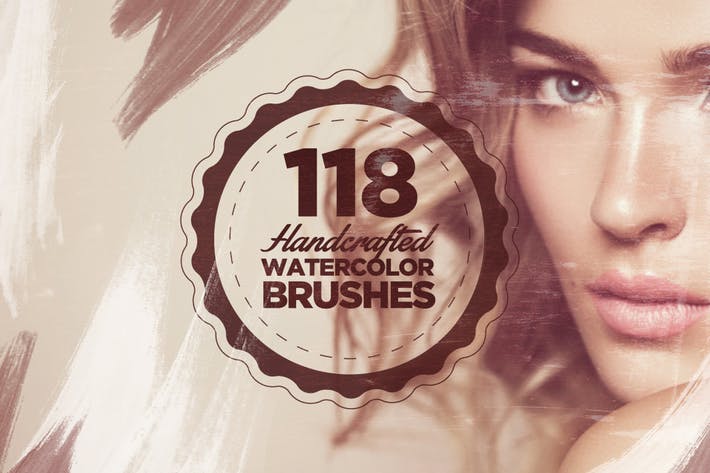 The watercolor trend can be seen everywhere, from fashion design to company logos and branding, and this set of 118 high quality brushes will allow you to achieve that coveted effect on your images and designs, for an authentic and artistic result.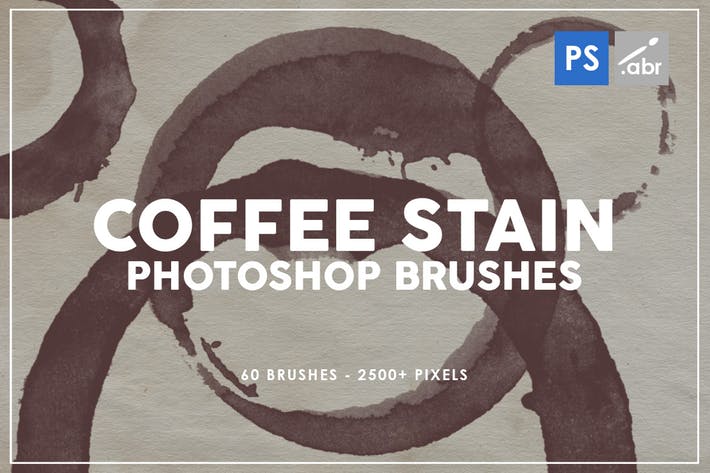 This quirky effect is a brilliant addition to a coffee shop's branding tools but can be used anywhere a coffee stain might be required! The package includes 60 individual coffee stain effect brushes, each with a 300 DPI resolution and the ability to achieve great results in a single click.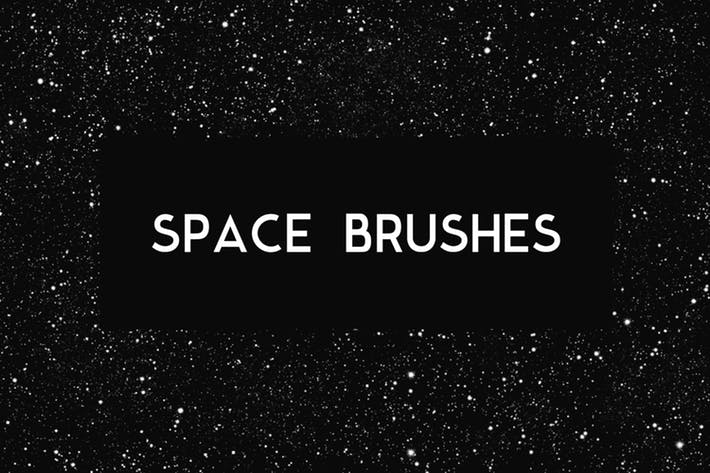 Here is a collection of 10 photorealistic starscape brushes, brilliant for creating wallpapers, print templates, flyers, device covers, Facebook images, YouTube backgrounds, and adding a fun galactical effect to photos. Each brush is fully customizable for your needs.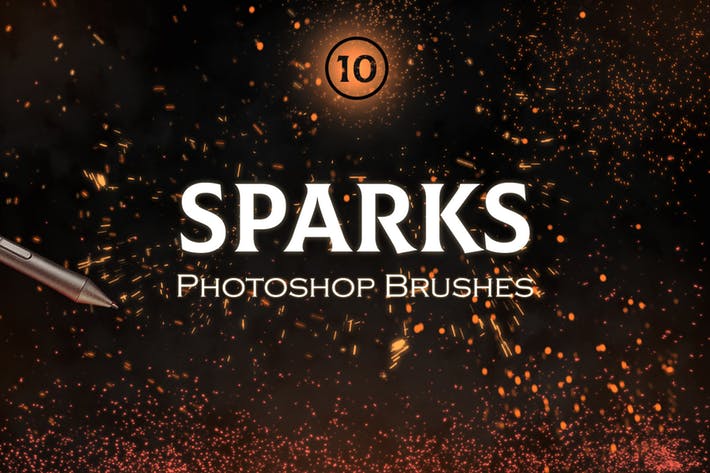 Create magical and realistic looking spark effects, drawing inspiration from fireworks and stardust to add an ethereal, out of this world quality to your images! These brushes are great for digital art, photo effects, and overlays, and each brush is fully customizable.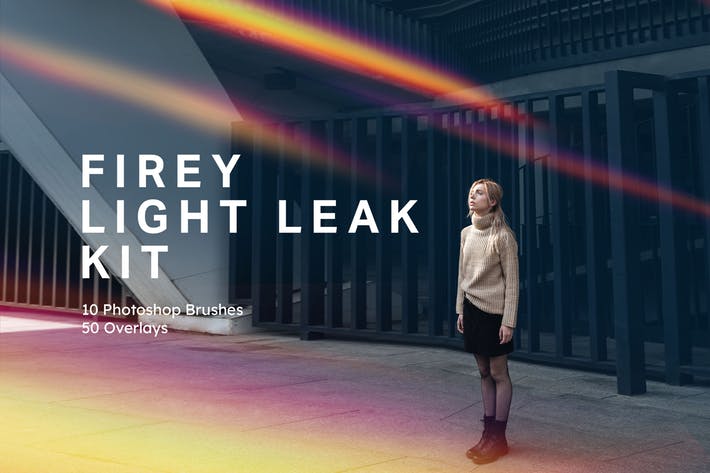 Add a range of fiery light leaks to your photos and images using this collection of 10 authentic and high-quality brushes, plus 50 additional overlays. They've been created using real photographs, and offer a high-resolution finish with Photoshop version CC 2018 or newer.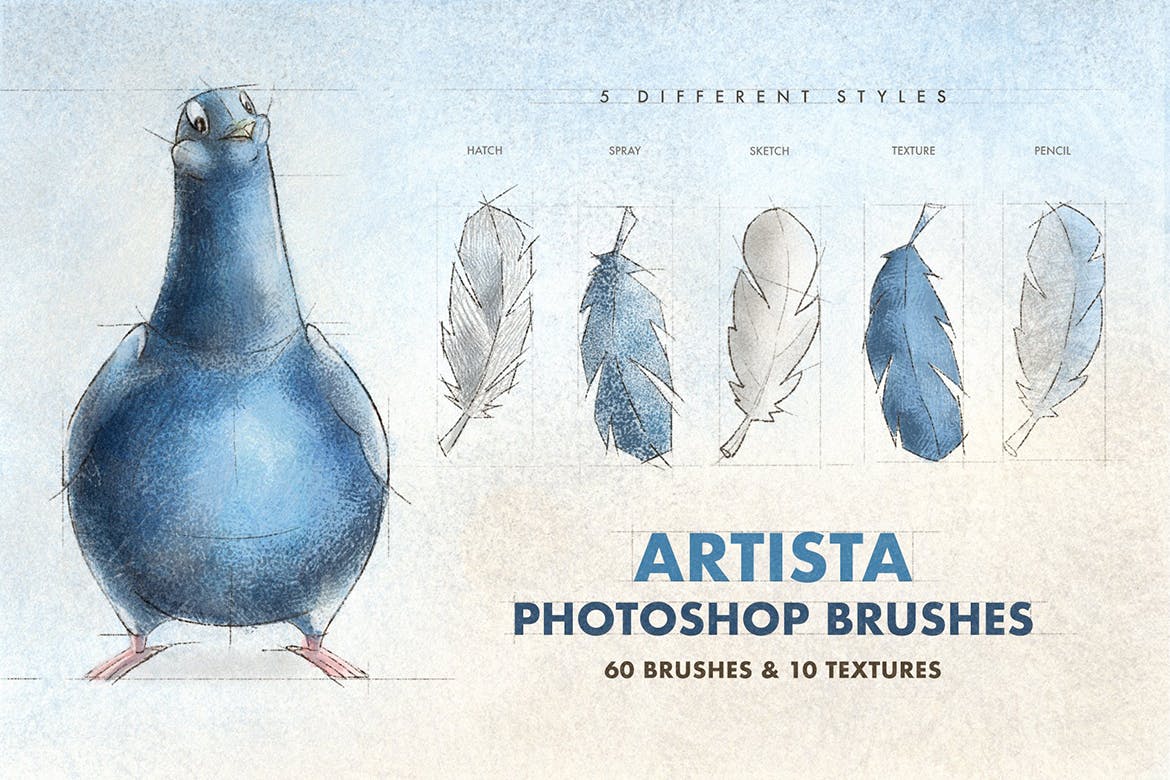 If you specialize in digital illustrations with an authentic, handcrafted feel, the Artista Photoshop brush collection will be your new favorite tool. It includes 61 different brushes, each with realistic art effects such as spray, stroke, pencil, sketch, and hatch, as well as ten additional grunge textures.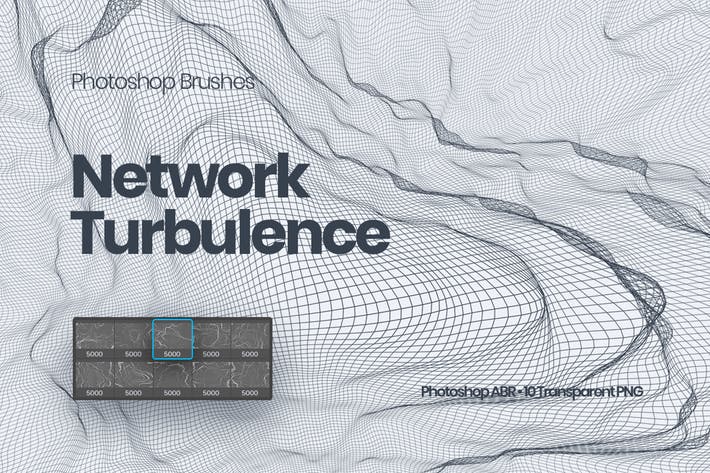 If you need to add a futuristic or techno-inspired element to your design, the Network Turbulence Photoshop brush is a great choice. It adds wavy grid lines and creative textures to give your illustration a dynamic, interesting element. The brush offers a brilliant 5000-pixel resolution and includes a transparent PNG graphic file.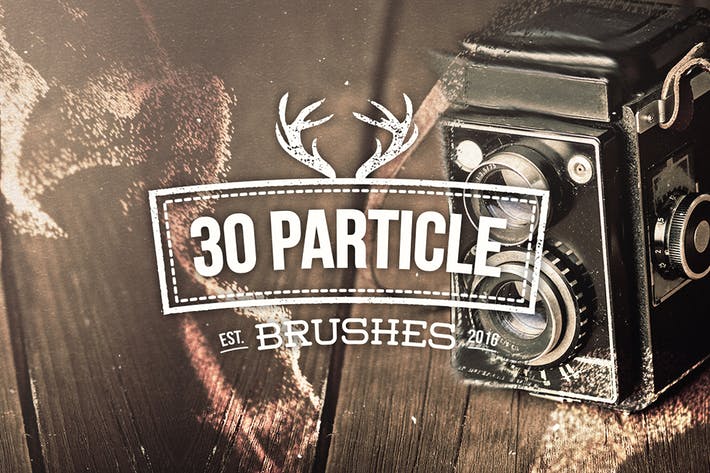 The Layerform Particle Brush effect includes 30 individual brushes that have been painstakingly crafted by hand to create interesting displacement effects and make a great addition to any graphic designer's toolset. It's particularly effective for adding an old, vintage feel to your design.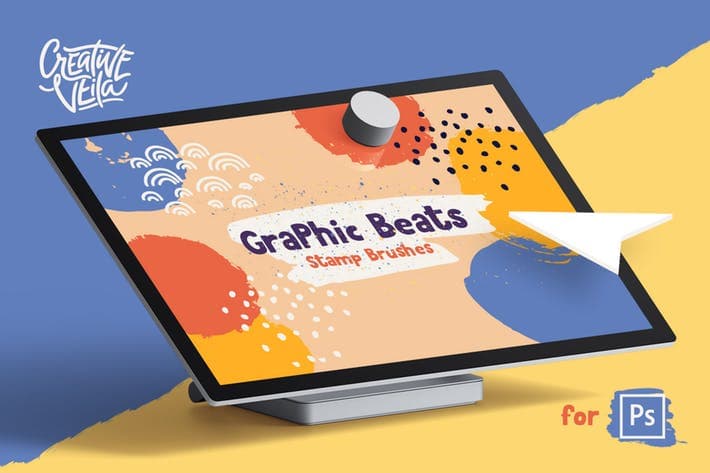 One of the best Photoshop brushes if you're looking for a wide range of different effects is the Graphic Beats Photoshop brush pack, which provides a vast collection of 330 strokes, speech bubbles, swooshes, splashes and more, all designed to add a funky, creative element to your illustrations with a single click of the mouse.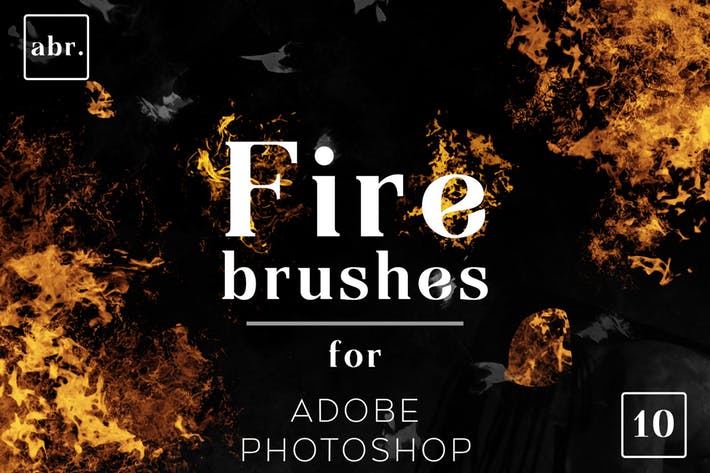 Fire is extremely difficult to capture well in photography, or to create from scratch, so why not use this amazing fire effect brush to add some red hot flames to your design? It features 10 incredibly realistic effects that can be fully customized and applied to any photo or image.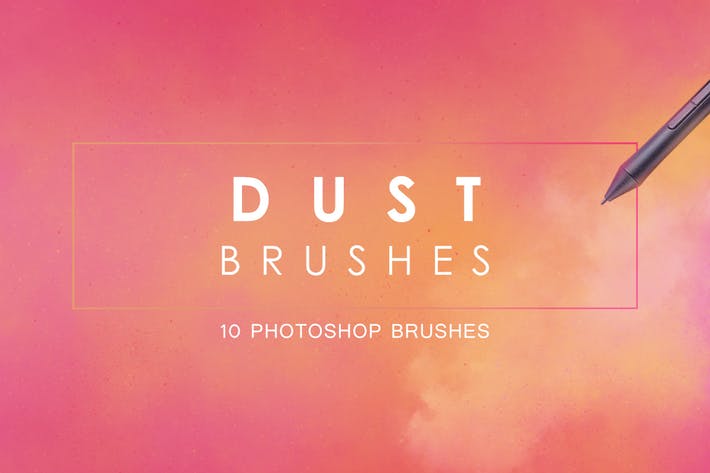 Another effect that's difficult to create from scratch is dust, and this set of 10 dust effect Photoshop brushes makes it super easy to achieve in a matter of seconds. Again, these brushes can be fully customized and look especially great when added to photos as a decorative element.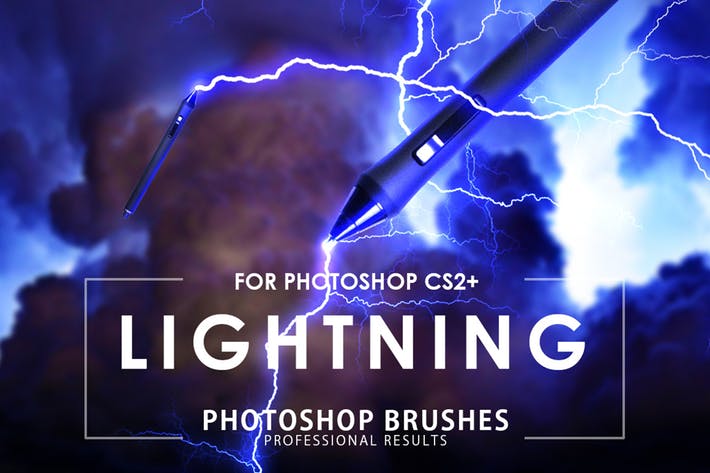 For a dramatic yet realistic lightning effect, choose this set of 50 brushes to add a high quality lightning strike to your image. It includes a range of different strikes, bolts, and thunderstorm effects, each with an impressive 4000-5000 pixel resolution.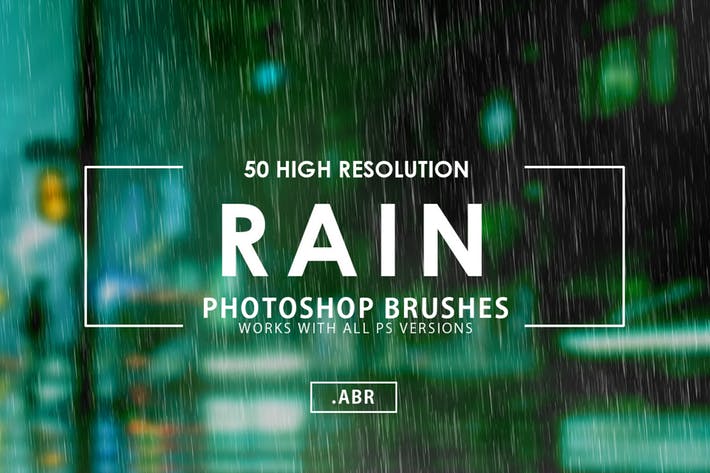 Adding rain to a photo or image can be challenging, and that's where this high quality and realistic set of rain effects comes in. Each of the 50 beautiful brushes will add a slightly different effect to your artwork and can be layered for a more dramatic result, as well as sharpened or blurred according to your preference.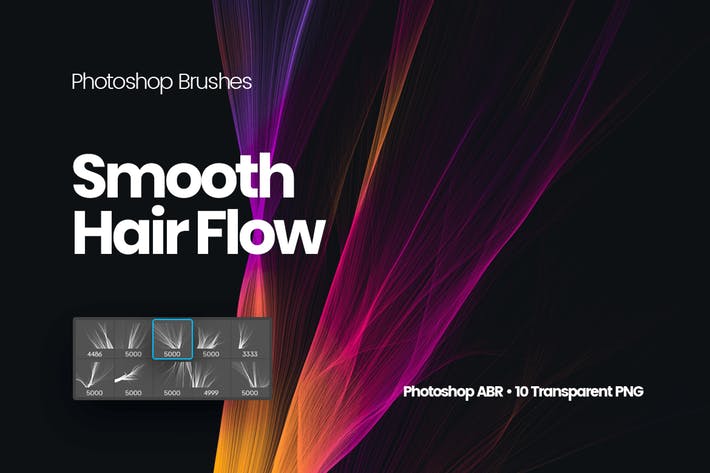 Ever had an image ruined by frizzy flyaways? This excellent collection of hair smoothing Photoshop brushes allows you to retouch and perfect the hair in your photos, as well as to add stunning hair textures to other images and graphics.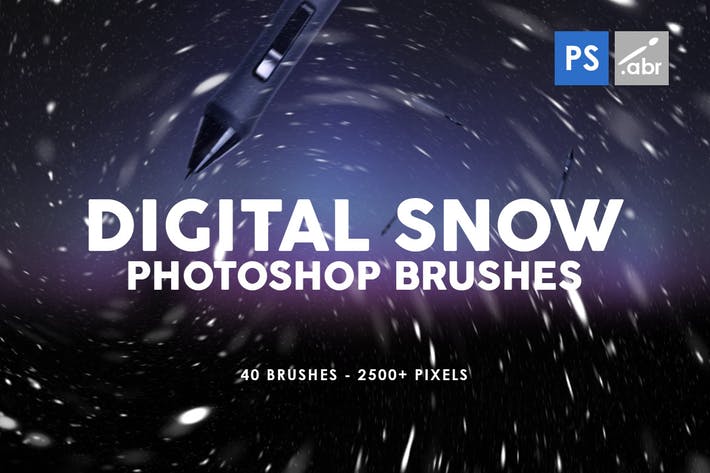 Another one in our lineup of the best Photoshop brushes is a classic – a digital snow effect! Add a romantic, wintery element with these 40 realistic snow designs, all of which can be duplicated, combined, layered, sharpened, and blurred for maximum customization.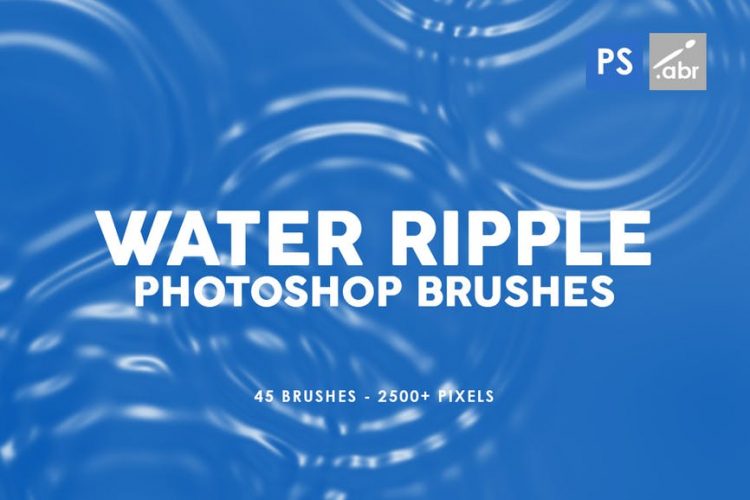 The next option in our series of the best Photoshop brushes is this stunning water ripple effect, which includes a set of 45 high-resolution brushes that can be applied to any creative design and are compatible with all Photoshop versions.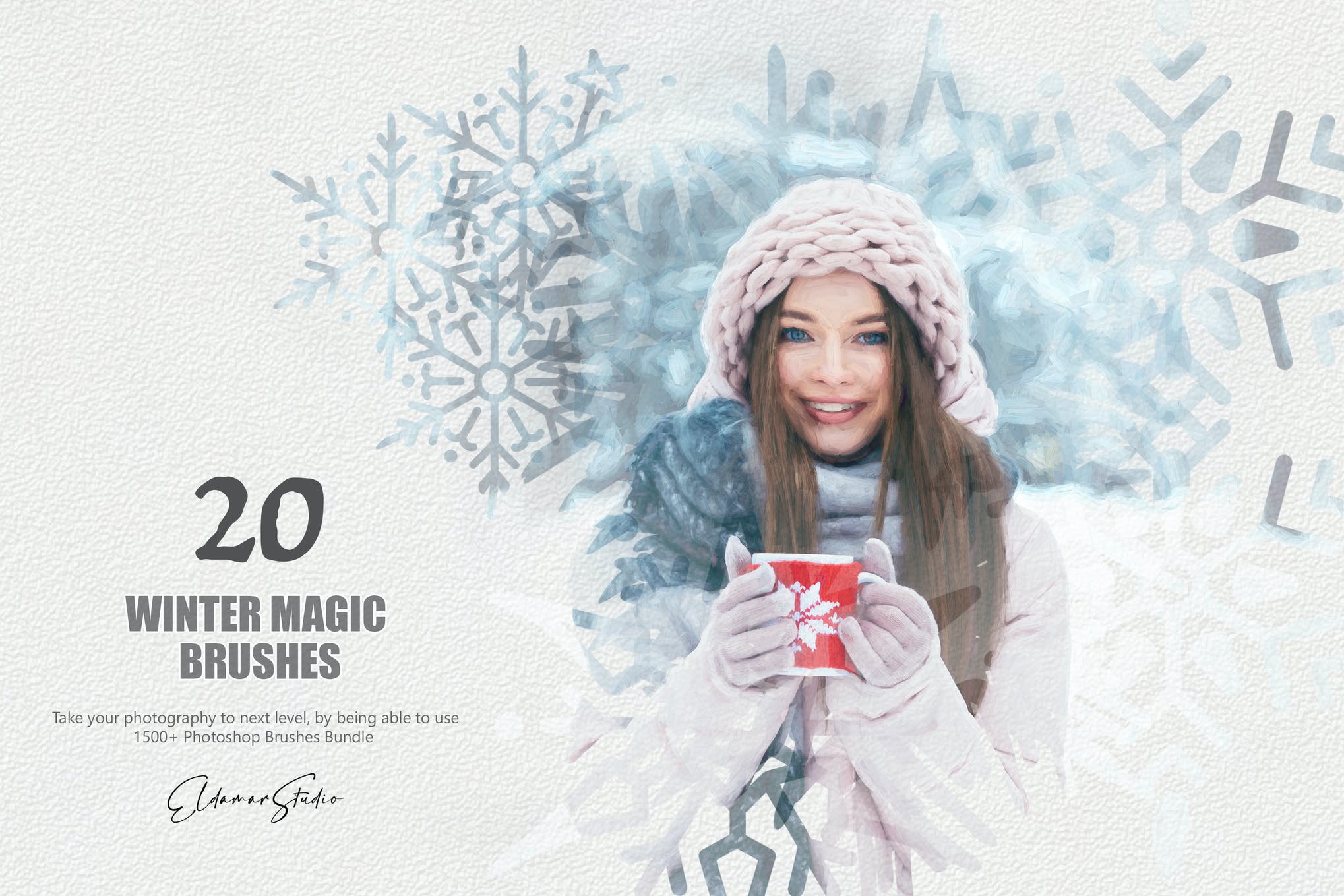 Create a unique design and get fun when you painting. You can use these brushes to realize your wildest ideas in design. Brushes are perfect for creating posters, branding and packaging, business cards, logo design, invitations, social media design, greetings cards, pattern design and more.
This product comes with a total of 25 unique high-resolution abstract circles Photoshop brushes. You can use these versatile brushes to decorate the design of your website or Youtube header, Facebook and Instagram ad and stories, or decorate PowerPoint presentation backgrounds.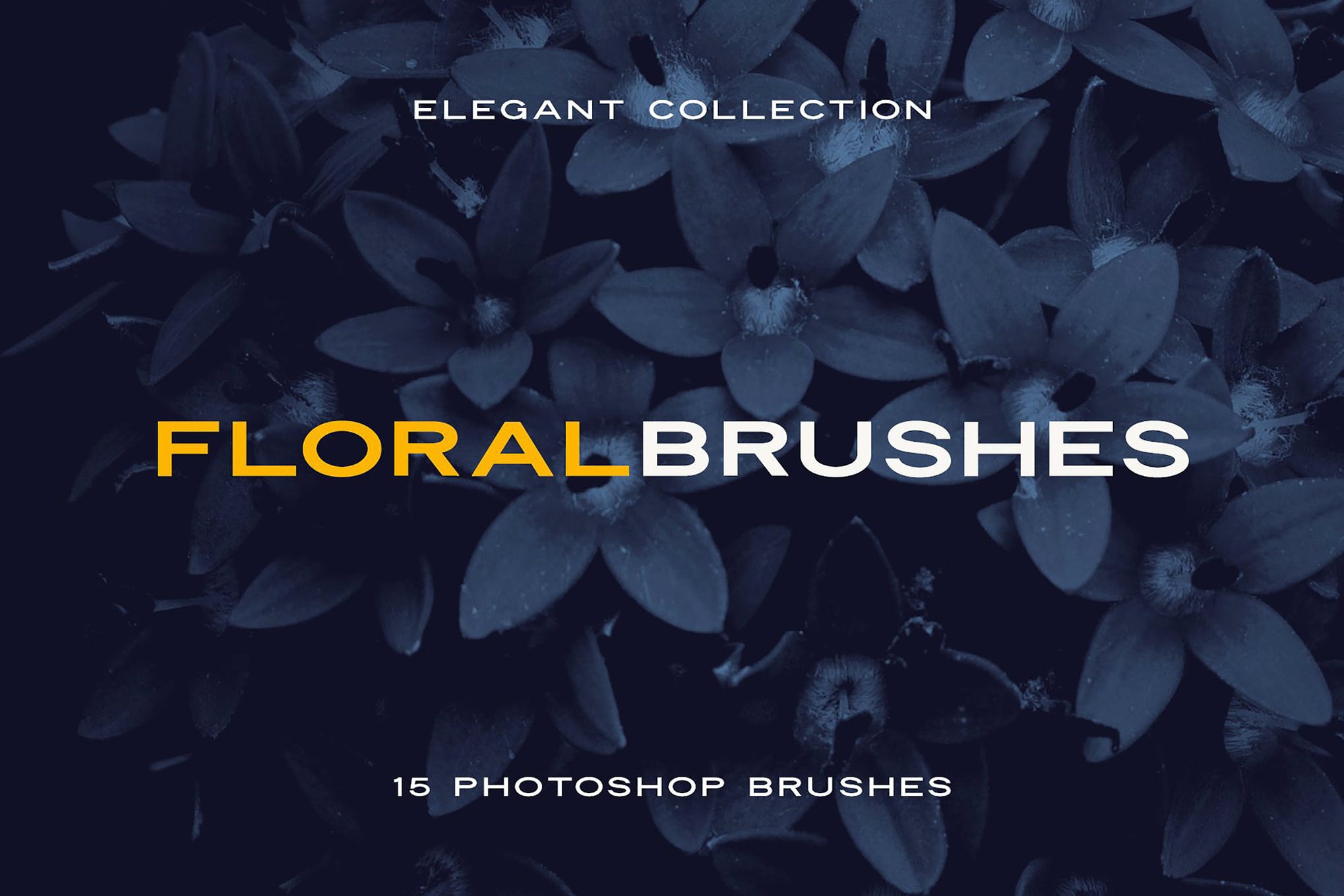 Whether you use these floral brushes to ornament fabrics, stationery, craft stickers or use for branding and packaging — it's all up to you! Finally, you now have everything to have it sleek.
And now, you have a collection of the best Photoshop brushes for all kinds of purposes and themes at your fingertips for your next design project! Whether you're retouching an image, designing a graphic, or creating an illustration, these stunning brushes will truly take your creation to the next level.