Halena - Minimal & Modern eCommerce WordPress Theme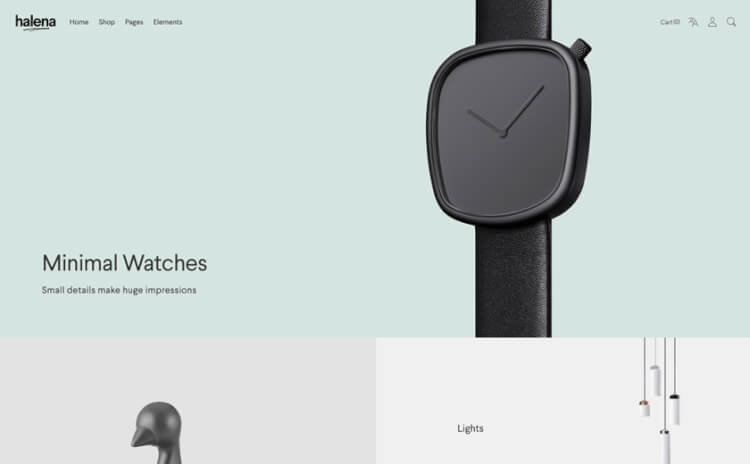 Halena is minimal, modern, feature-rich responsive WordPress theme. It includes four unique homepage layouts for various users, Visual Composer, for building any kind of website with drag-and-drop functionality. It has beautiful attention to detail and provides a seamless shopping experience from start to finish.
Arne - Minimal Creative Portfolio WordPress Theme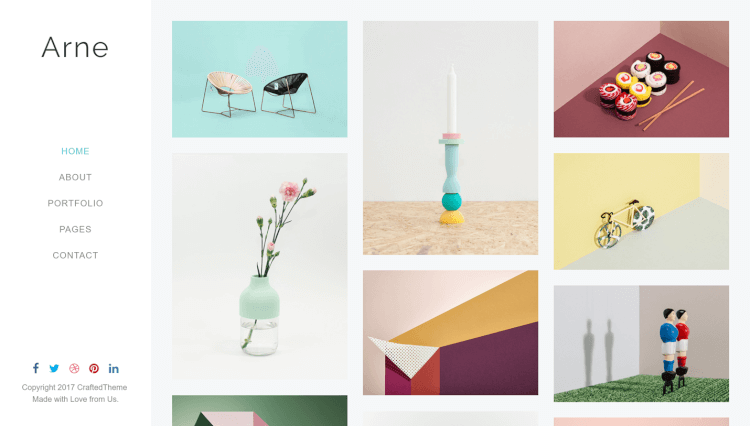 Arne makes it very easy to launch your blog or online portfolio. Simply upload the themes files, then use the demo importer tool, and your new website will be ready for your content. Each time you create a new portfolio collection or publish a new item, you can choose from a number of different templates and layouts. Promoting your social media accounts is easy too, thanks to the set of responsive icons.
Crown - Modern Minimal Blogging WordPress Theme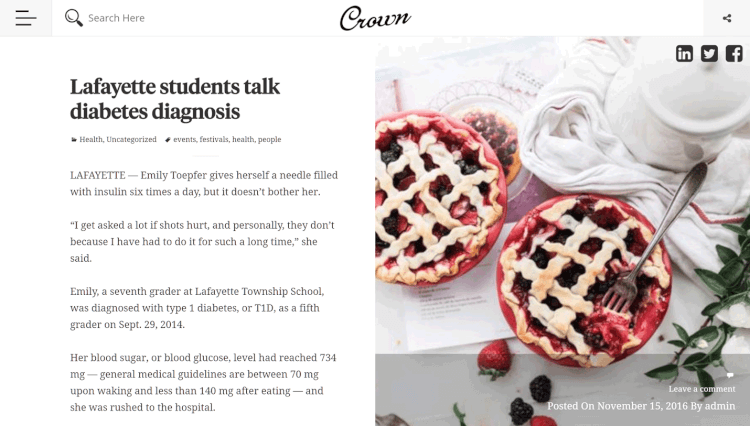 Crown is a blogging theme that has a modern and minimal design. If you want to create a personal blog or start leveraging the power of content marketing to promote your online business or services, Crown is well worth a look. As well as the selection of blog post templates, this minimal WordPress theme also includes a good number of page templates for your content.
Valon - Creative Minimal Portfolio WordPress Theme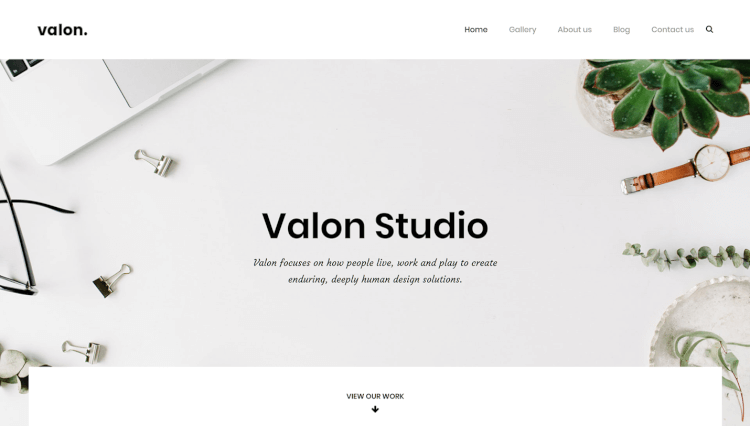 Valon is a minimal portfolio WordPress theme. Whether you're creating a website for a creative digital agency or to promote your services as a freelancer, the minimal design of Valon could be a good choice for your project. If the minimalist design of Valon isn't a perfect match for your vision, the powerful Visual Composer page builder plugin is included to help you carry out any customization work.
Time - Minimalist WooCommerce WordPress Theme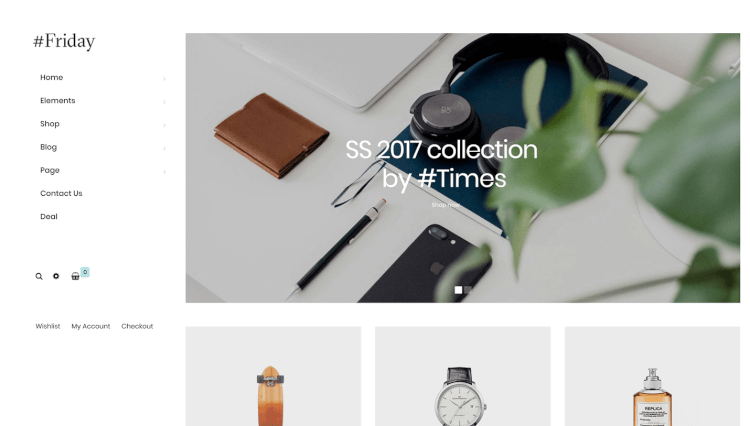 Time has been created to help you build a minimalist ecommerce store using WordPress and WooCommerce. If you don't want the design of your online shop to draw attention away from your products, Time certainly has a stylish yet minimal appearance. With eight different homepage layouts to choose from, you still get plenty of choice with Time.
Berk - Online Portfolio Minimal WordPress Theme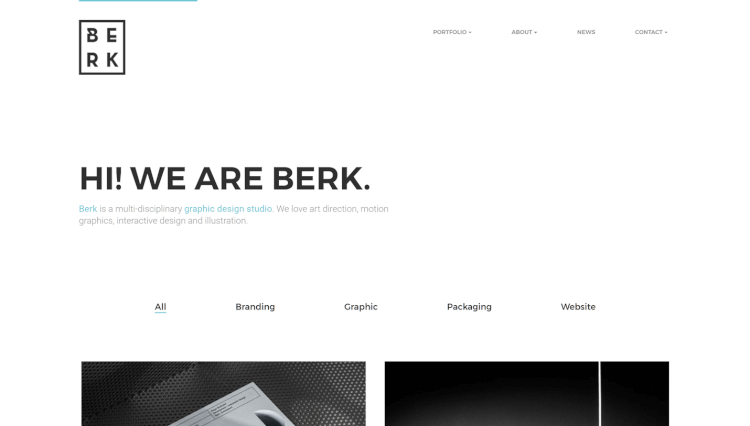 Berk will help you create a minimal portfolio with WordPress. If you're looking for a theme with a design that's of a high enough standard to present your work online, Berk could be the one. The multiple portfolio templates give you plenty of options when it comes to publishing your content. With the premium Slider Revolution plugin included in the package, you can easily add animated slideshows to your portfolio too.
Carbon - Minimal Multi-Purpose WordPress Theme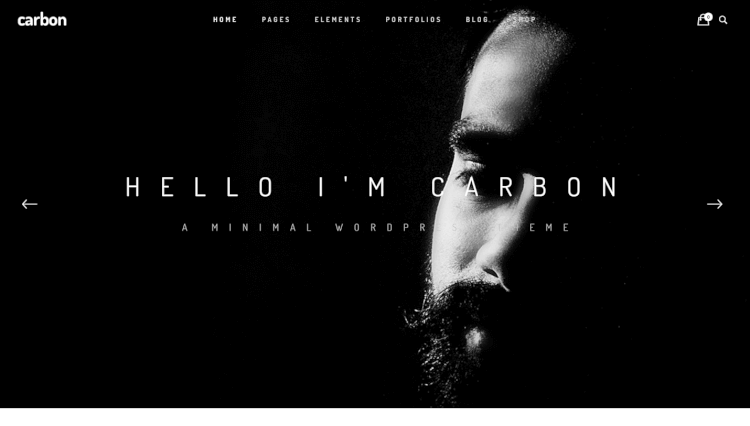 Carbon is a minimal multi-purpose WordPress theme with a great selection of website demos for you to choose from. Each demo can be imported into your site in just a few clicks, making it quick and easy to launch a range of different WordPress websites. If you'd like your agency, portfolio, blog, or ecommerce website to feature a sleek and modern design, this is one option from our collection of the best minimal WordPress themes you should check out.
Blog Way Plus - Minimal Blogging WordPress Theme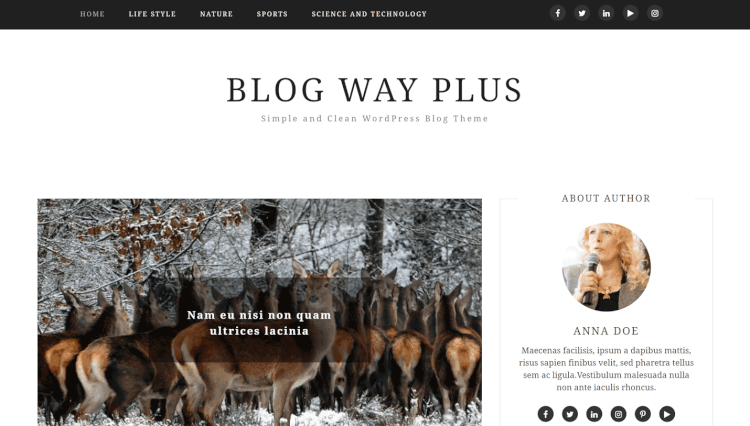 Blog Way Plus will help you give your WordPress website a minimal makeover. Although the default design of the Blog Way Plus theme is very minimal, thanks to the good selection of customization options you should have no trouble adding some extra flair to your website if needed.
Vienna - Minimal Photography WordPress Theme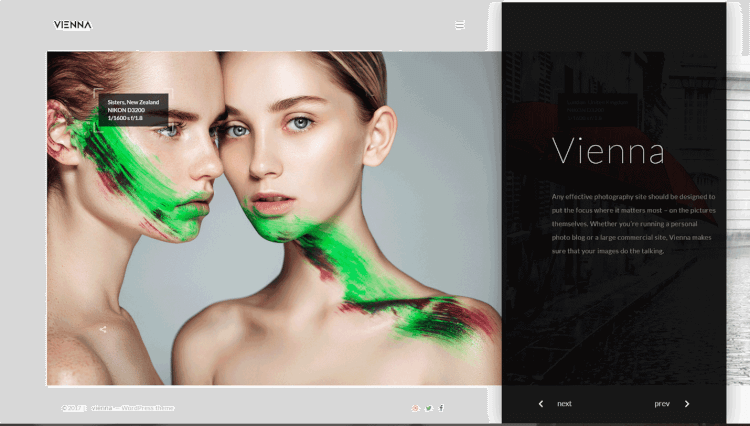 Vienna is a minimal portfolio WordPress theme for photographers and creatives with lots of visual content they'd like to share online. There are multiple homepage variations to work with, as well as a range of different gallery and portfolio templates. Due to all this pre-built content and layouts, you should be able to assemble a custom minimal design for your website without much effort.
Rebel - Minimal Portfolio WordPress Theme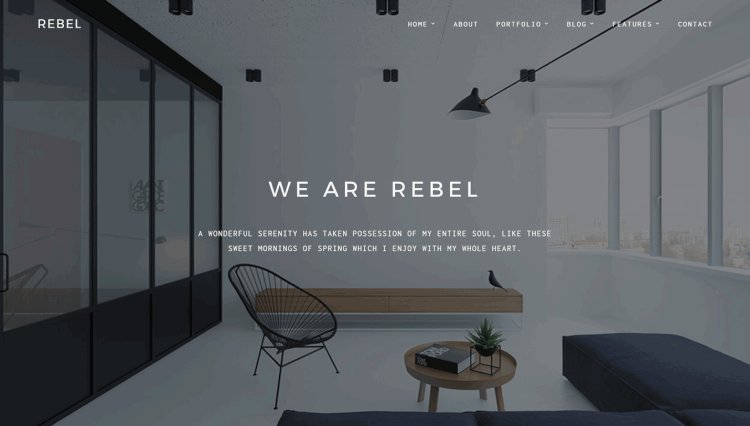 Rebel is another portfolio option in this collection of the best minimal WordPress themes. While the design might be minimal, the feature list certainly isn't. In the Rebel theme package, you'll find the premium Visual Composer page builder and the Slider Revolution slideshow builder tools. The library of templates and customization options all combine to help you get the look right for your website.
Jams - Drag-and-Drop Minimal WordPress Theme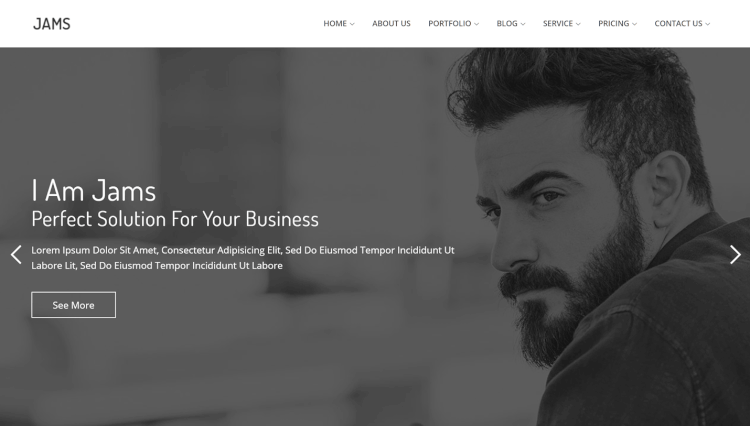 Jams gives you three homepage layouts to choose from for your minimal portfolio website. This theme also includes templates for some of the other popular pages your site is likely to need, including the contact, about, and services pages. As well as all the theme customization options, Jams also includes the Layers page builder tool to help you personalize your website.
Minimus - Minimal Portfolio WordPress Theme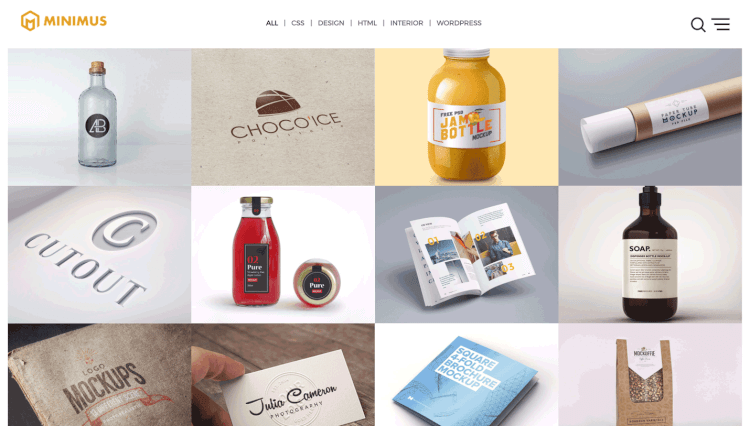 Minimus has a varied selection of portfolio templates to help you publish your creative output online and share it with the world. Whether your website is just for fun or a way to find new clients, collaborators, and opportunities, Minimus could be a good option. With portfolio and agency demos among the pre-built content, Minimus is a versatile minimal WordPress theme.
Collective - Multi-Purpose Minimal WordPress Theme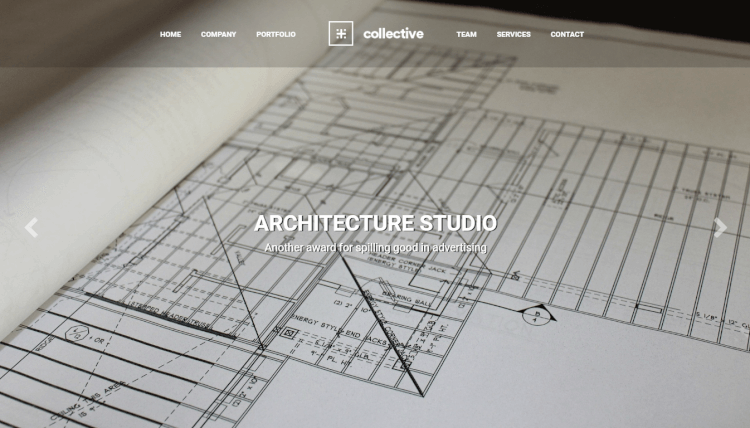 Collective is a multi-purpose WordPress theme that can be used for any project where a minimal design is needed. After importing one of the 12 homepage demos, you can simply add your own content or use the page builder tool and theme customization options to fully personalize your website. Agency, business, and portfolio websites, as well as ecommerce stores and blogs are all good uses for this theme.
Breal - Portfolio Minimal WordPress Theme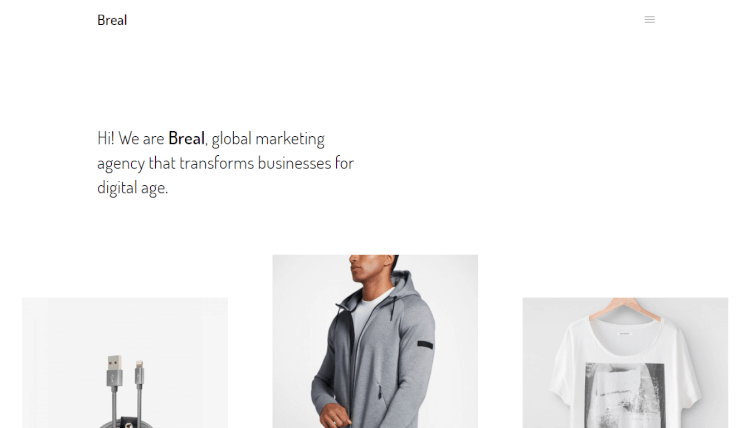 Breal is a minimal WordPress theme that's suitable for portfolio and agency websites as well as blogs and any other type of project where a clean and modern design is called for. Thanks to the included drag-and-drop page builder tool and theme customization options, you can easily use Breal as a blank canvas for your web design project.
Mnml - Minimal WooCommerce WordPress Theme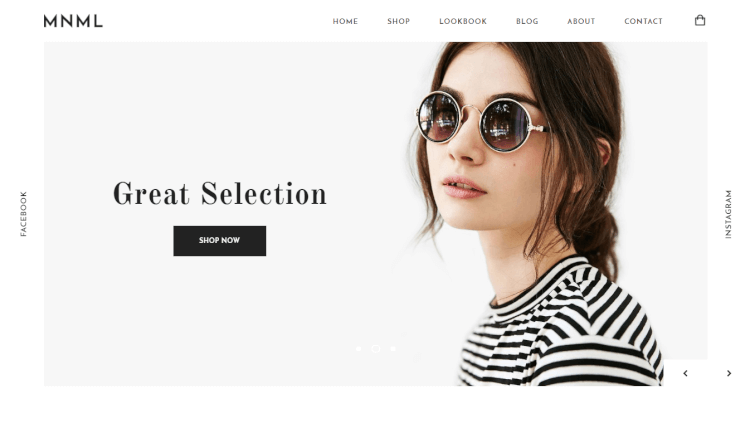 Mnml has everything needed to help you build a stylish and modern ecommerce store with WordPress. This minimal WooCommerce theme is perfect for stores that sell just one product, as well as more traditional multi-product online shops. There are three homepage layouts to choose from, countless inner page templates, and a drag-and-drop page builder is included too.
Industry - Modern Minimal Portfolio WordPress Theme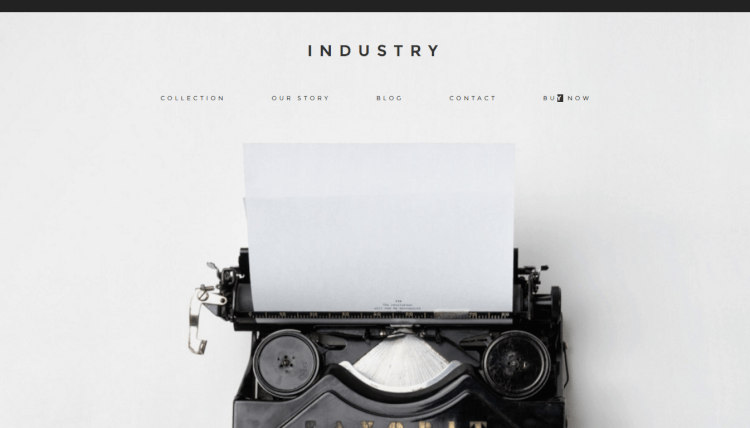 Industry is a modern portfolio theme with a minimal design. When setting up your new website, Industry gives you plenty of layout options and customization settings to work with. Laying the foundation for your website is easy too, thanks to the one-click demo importer tool and selection of sample images.
Kindred - Food and Lifestyle Minimal WordPress Theme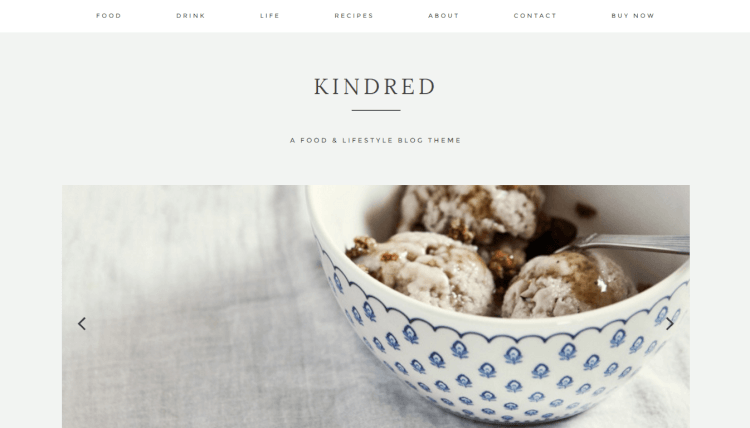 Kindred is a minimal lifestyle blog WordPress theme that would be ideal for food bloggers among others. You'll have plenty of white space on your website to help your photos stand out on the page with the Kindred WordPress theme. While the appearance of Kindred is minimal, the feature list certainly isn't making this a powerful blogging theme.
Amberr - Minimal Portfolio WordPress Theme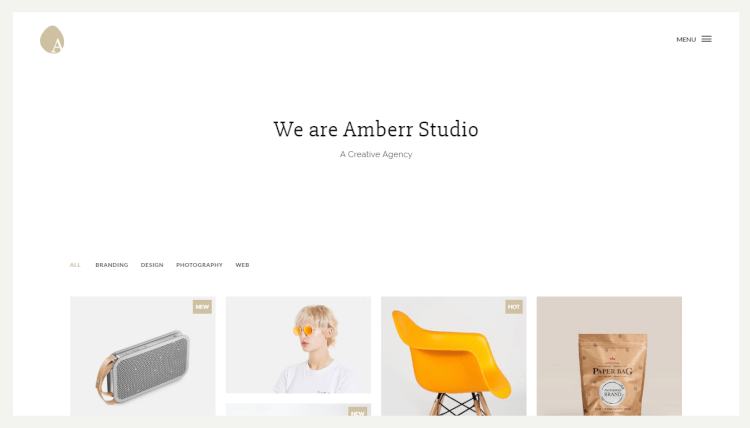 Amberr is a classy minimal WordPress theme that's perfect for portfolio and agency websites. If you want to display your work and promote your services without the design of your website overwhelming your target audience, Amberr can really help. Although the default configuration is minimal, you can add your own personal touch to your website though the theme customizer tool.
Throne - Minimal WordPress Theme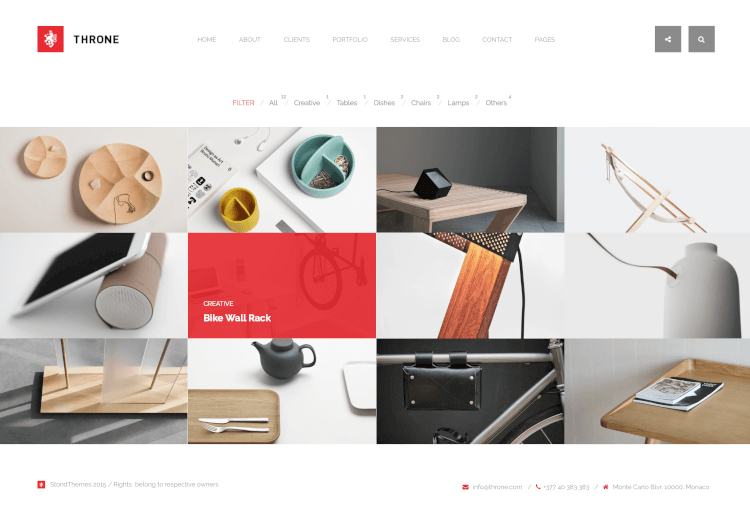 Featuring a clean and minimal design, Throne offers both one page and multiple page layouts. It has four different default templates, with various style and setting options. These include four portfolio good layouts, four menu styles, and two blog layouts.
Inverto - Minimal WordPress Theme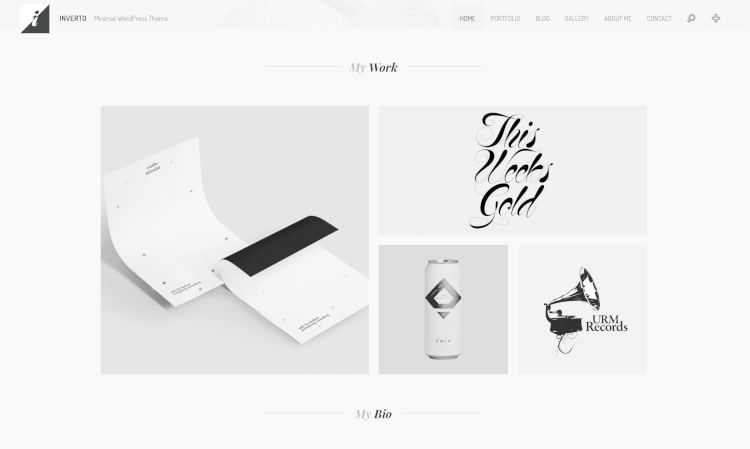 Inverto is a black and white WordPress theme, featuring a minimal and clean design. It's perfectly suitable for designers, architects, freelancers, agencies and photographers who want to focus their presentation on the content and make it stand out. It's fully responsive, and has a drag-and-drop page builder.
Arosha - Creative Minimal WordPress Theme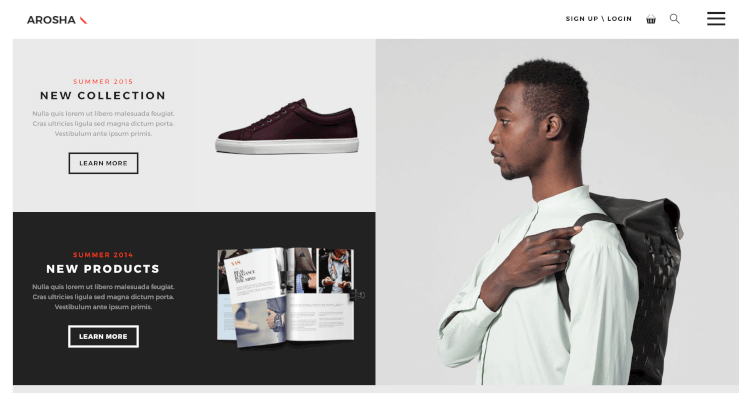 Arusha is a great minimal theme for all kinds of creatives and agencies. It's a great way to showcase products or services in particular, with big, bold images, simple colours, and stylish animation. If you're wanting to set up a minimal product showcase, this is for you!
Monsterrat - WordPress Portfolio Theme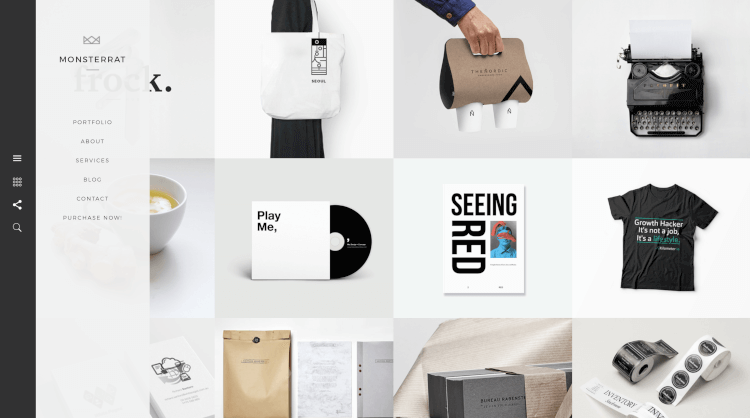 A minimal WordPress theme for anyone who needs to make a beautiful website for their portfolio quickly and easily. Monsterrat is a perfect choice for photographers, designers, artists, models and freelancers. A minimal design for your website means that your awesome portfolio will shine through, with everything else disappearing away. Perfect.
Creek - WordPress Portfolio Theme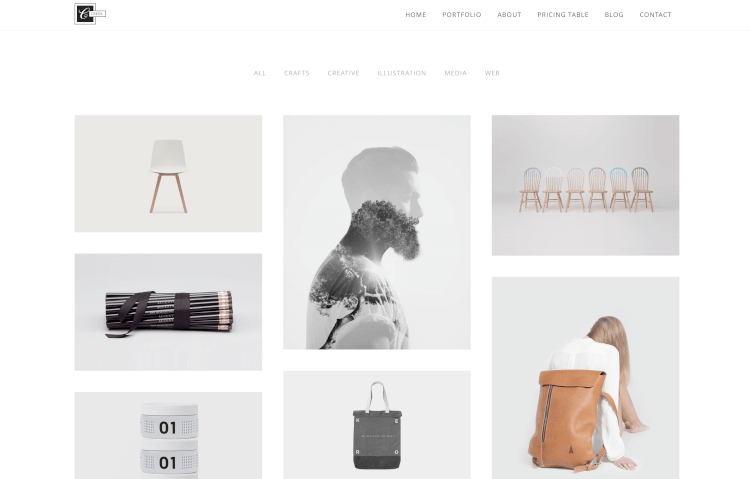 Creek is a hyper minimal portfolio template, a with modern look-and-feel. It\'s built with one purpose in mind — to showcase your work in a sleek and elegant way that you will be amazed. It\'s well documented, very extendable, and comes with a well designed admin panel.
Minimo - Minimal WooCommerce Theme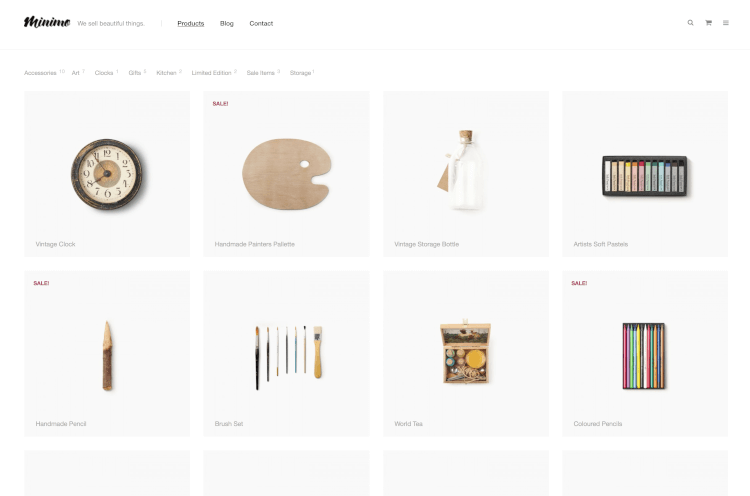 Minimo is a beautiful, minimal, responsive, e-commerce experience for WordPress and WooCommerce. It puts your beautiful content first-and-foremost in the design, with clean lines, plenty of whitespace, and gorgeous details. Pair this with some great photography, and you'll have a minimal WordPress store to be proud of!
Concept - Minimal WordPress Portfolio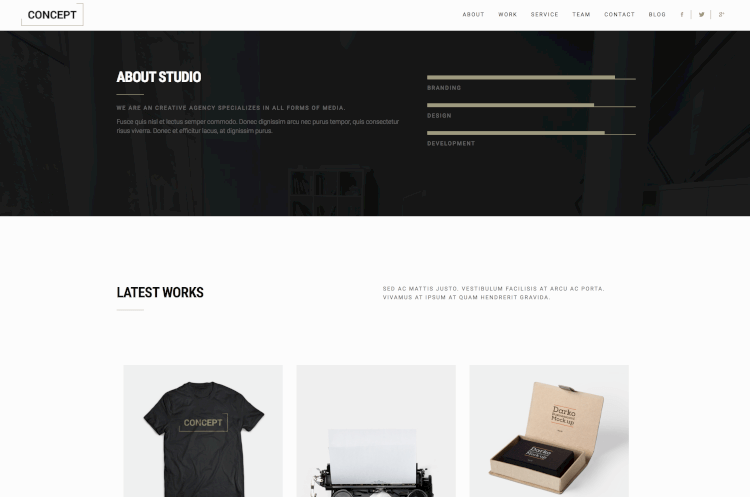 Concept is a clean, modern and minimal portfolio WordPress theme for freelancers, photographers, models, agency and modern business websites. It's perfect for anyone looking to create a beautiful portfolio, with a drag-and-drop page builder, wonderful jQuery effects, and stylish animation.
Raiden - Stylish Minimal Theme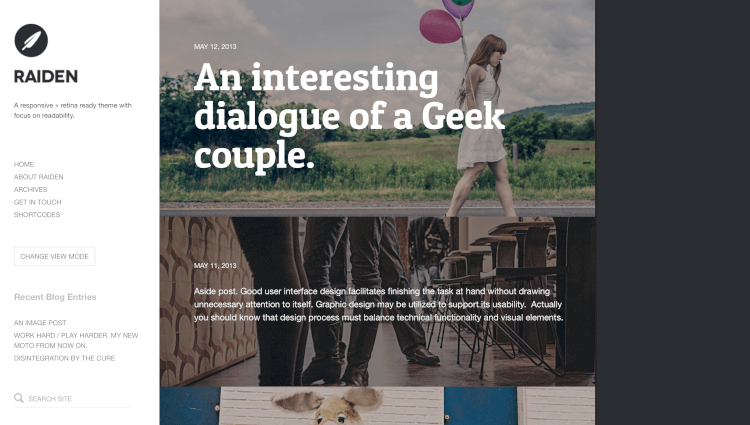 Raiden is an elegant personal blogging WordPress theme with refined typography and aesthetics. Offering support for all 10 WordPress post formats, this theme is ideal for your personal blog. Raiden also has an optional "view mode switcher" that optimizes the reading experience according to the lighting conditions.
Raven - Minimal WordPress Theme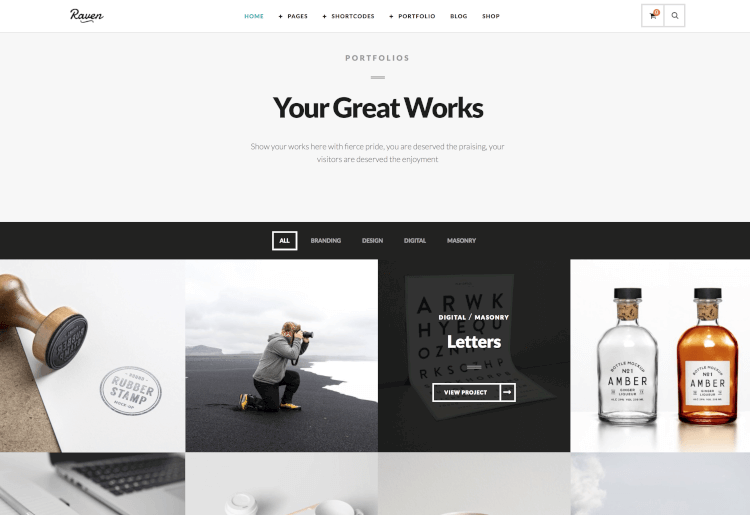 Raven is bold and creative minimal WordPress theme, designed for anyone wanting a simple and elegant website. The colour scheme is easy on the eyes, and it has a minimal, user-friendly experience, exquisite design, and a drag-and-drop page builder for you to get started quickly!
Higgs - Portfolio & Blog WordPress Theme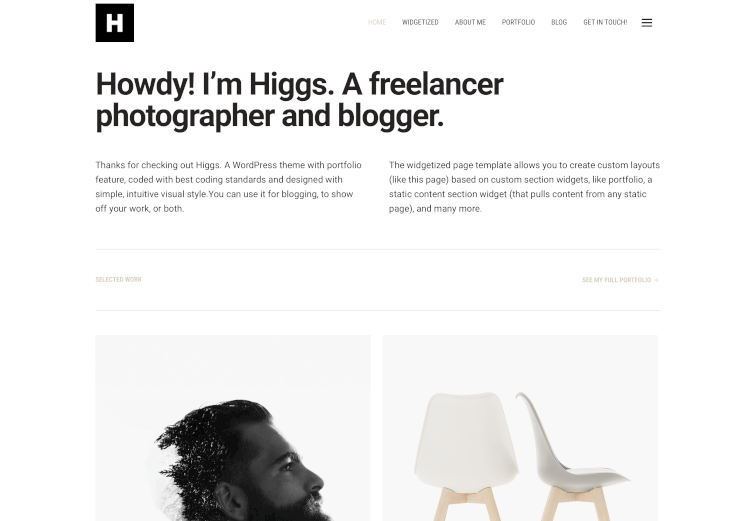 Higgs is a minimal WordPress blog theme with a built-in gallery slider, testimonials, and portfolio support. It has been designed with flexibility in mind, using a "widgetized page" technique, which means that you can create pages with widget-powered layouts, thanks to the built-in custom section widgets. You can also customize Higgs with a variety of options — colours, typography, you name it!
Casia - Minimal Clean Theme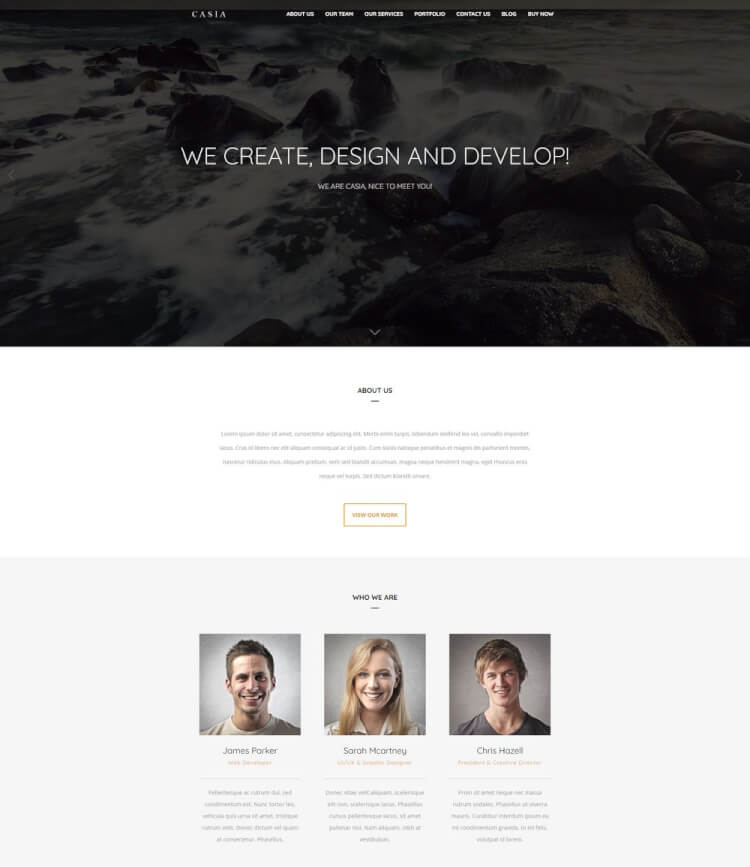 Casia is a clean and responsive one-page creative portfolio that is perfect to promote your work in a professional and pleasant way. Casia was built in HTML5 and CSS3, with parallax image effects to make it even more appealing and dynamic. It is fully responsive; it looks stunning on all types of screens and devices (desktop, notebook, tablet and mobile). It has an impressive set of credentials!
Zito - Minimal Responsive Theme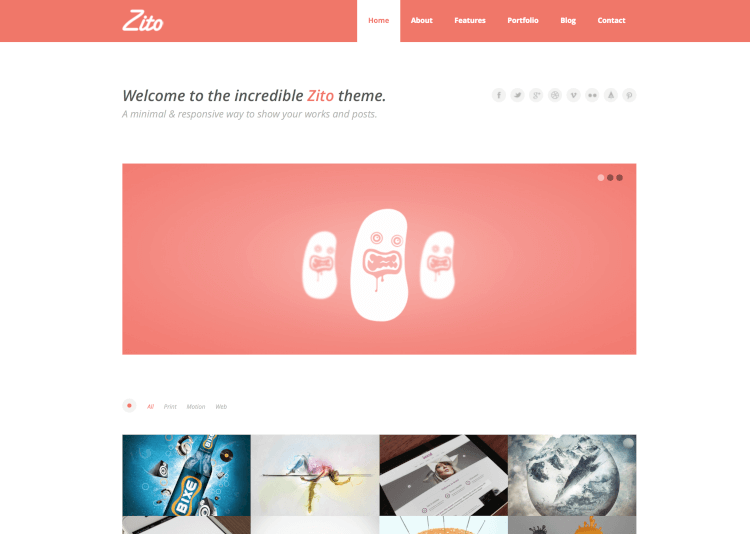 Zito is a minimal, clean and responsive portfolio and blogging theme, suited for creative artists or agencies. It has a minimal, timeless design, with several options for customising colors, layout, styling, and much more. There are also plenty of shortcodes to set up the different pages, to help you built a website that's just right for you!
Mokka - Elegant WordPress Theme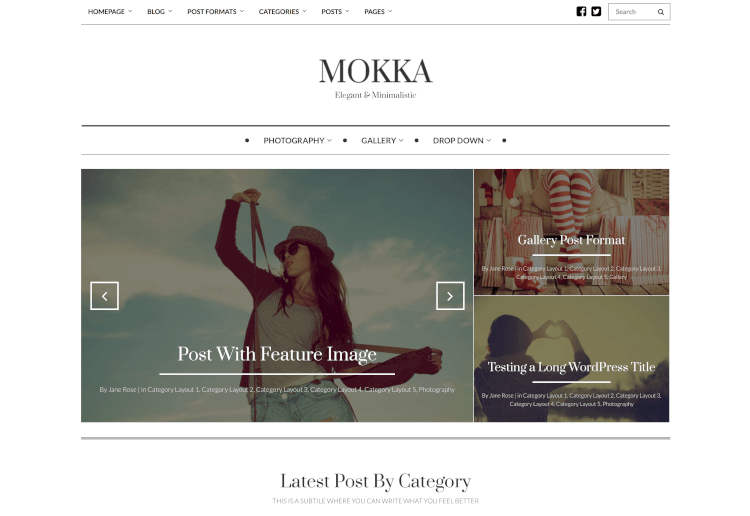 Mokka is a responsive, minimalist, flexible and modern WordPress theme. Starting with a clean white color scheme (with your accent color of choice), multiple page layouts all remain sophisticated and simple. Everything brings a certain elegance as you build your own website using this minimalistic theme.
Avoc - Minimal Masonry Theme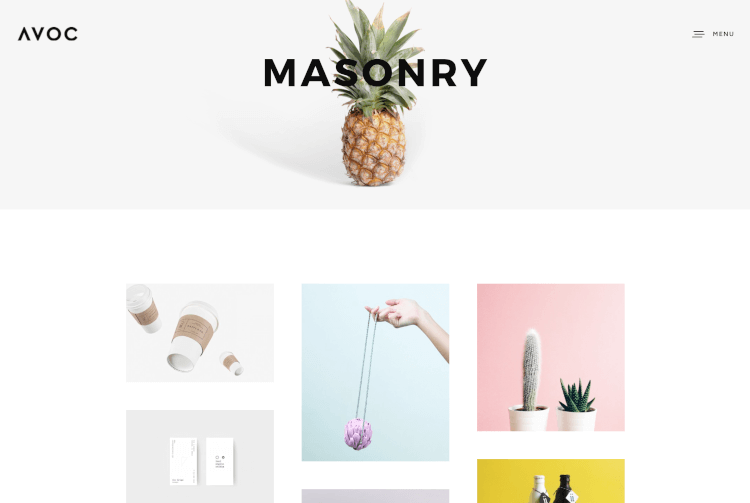 Avoc is a very minimalistic, yet creative, Wordpress theme for freelancers, photographers, agencies and other creative fields. It helps your WordPress theme stand out from the crowd, and has been optimised to save you time set you set up your site. Great documentation is coupled with unique parallax features, beautiful typography, and powerful page builders.
Camera 7 - Minimal Photography WordPress Theme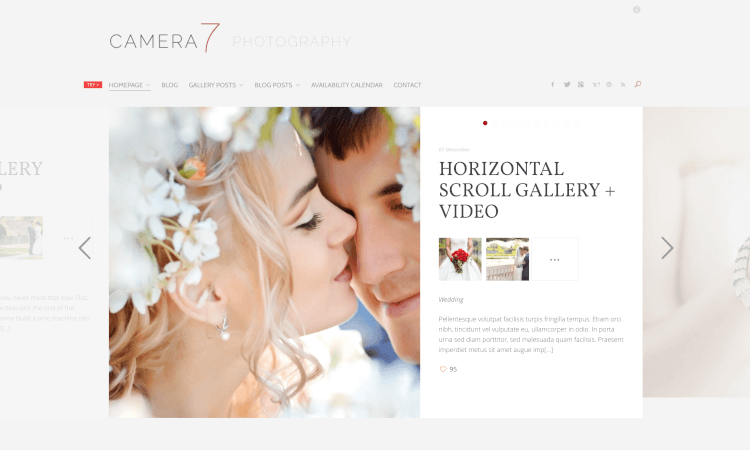 Camera 7 is a minimalist WordPress theme for photographers, crafted with care and attention to detail. It includes a minimalist design, coupled with beautiful visual effects. It's really simple to use and manage, and comes with 5 completely different gallery showcase templates, and unlimited color options. As you'd expect, it's fully responsive, and optimized to get you up and running quickly!
Elegant - Minimal WordPress Theme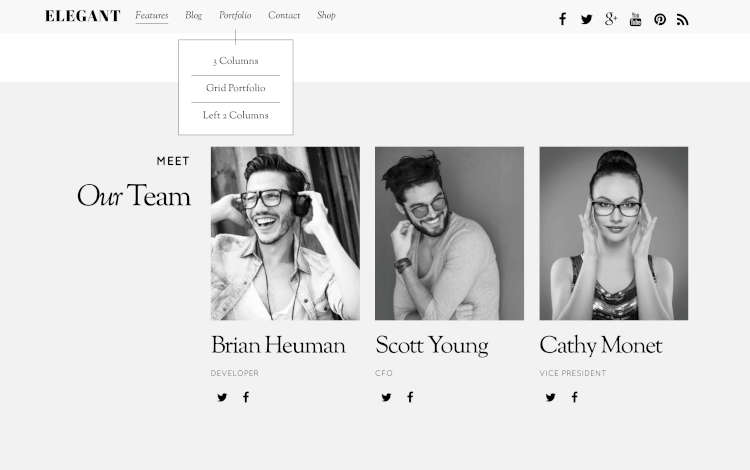 The Elegant theme is a simple yet elegant, multipurpose theme that removes all the the fancy animations and graphic effects, and instead focuses more on your content. Crafted with minimal design and great attention to typography, Elegant provides a stunning visual that displays and functions beautifully across all devices. Elegant is the perfect theme for writers, artists, designers, agencies, edtiorial sites, and individual portfolios.
Seven - Minimal Agency WordPress Theme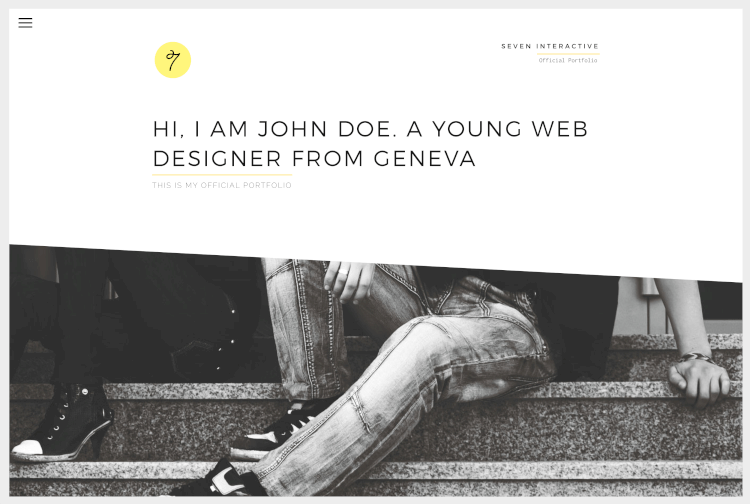 Seven is a new portfolio concept for creative agencies and freelancers — graphic designers, illustrators, photographers or any kind of creative. Seven comes with a drag-and-drop page builder (Visual Composer Premium), making it easy to create a quick and easy portfolio that showcases your work with a distinctive and creative touch. The demo sites really show the flexibility on offer with the theme, and its gorgeous minimal design.
Neton - Minimal Multipurpose Theme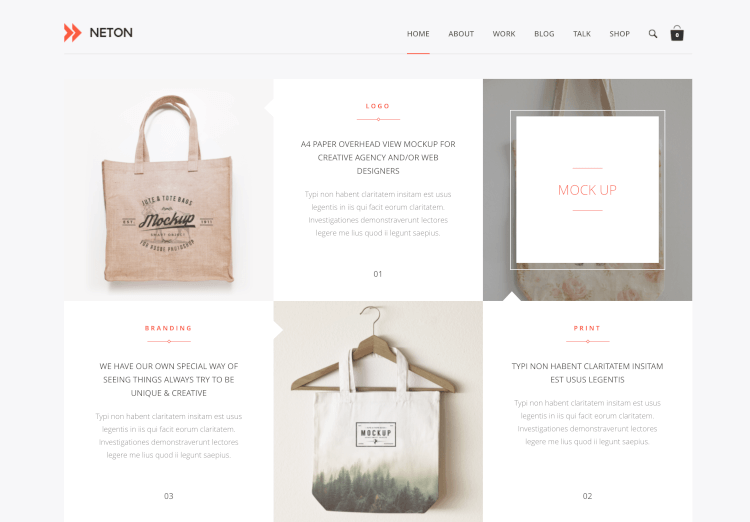 The Neton WordPress theme is a minimal, multipurpose masterpiece. It comes with five different homepage layouts, advanced options and settings, various sidebar options, a shortcode generator, Visual Composer integration, and much more. Stylish typography, minimal lines, and clean design really help this one to stand out.
Fixy WordPress Theme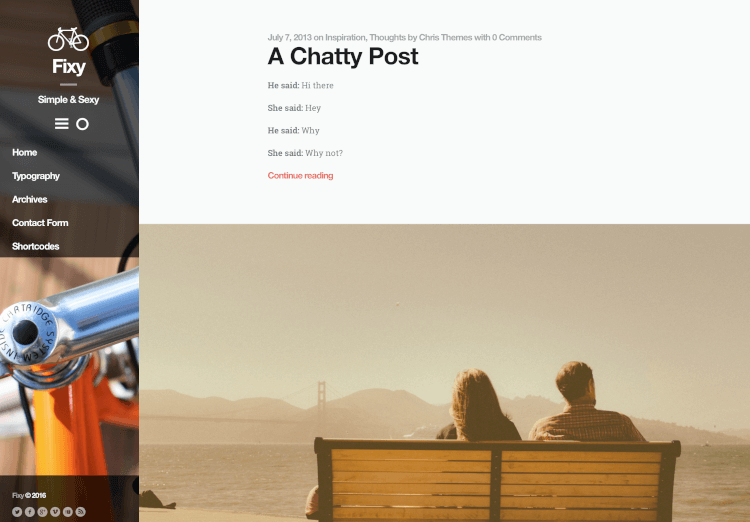 Fixy is lightweight and simple, focused on the experience of Fixy for Ghost, which is the platform on which the theme originated. It goes back to the core values of blogging, with various post types and styles to craft a really creative look-and-feel. It's simple and sexy… what more could you want!
Simple Article WordPress Theme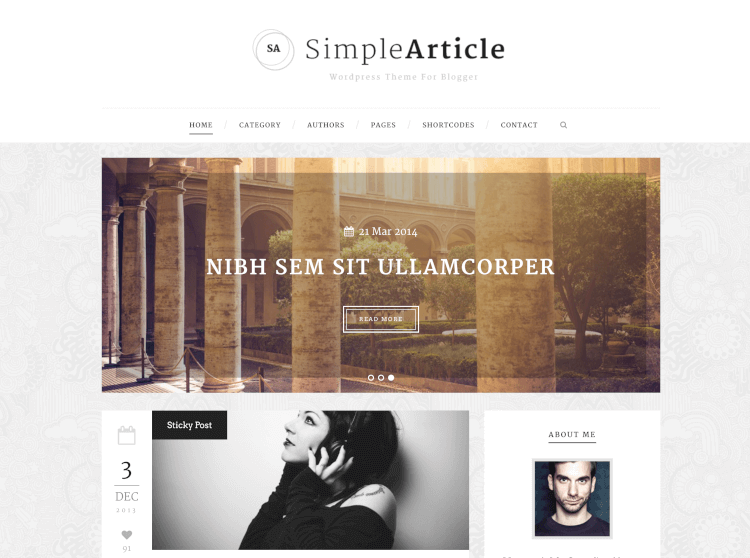 Simple Article is a minimal Wordpress theme, created with bloggers in mind — casual, professional, whoever you are! It provides support for sticky posts, social sharing, various post formats, grid or column layouts, sliders, and four different basic layouts to begin with. It has gorgeous drop-down navigation, and some really thoughtful design work in how posts are presented.
Voku - Minimal WordPress Portfolio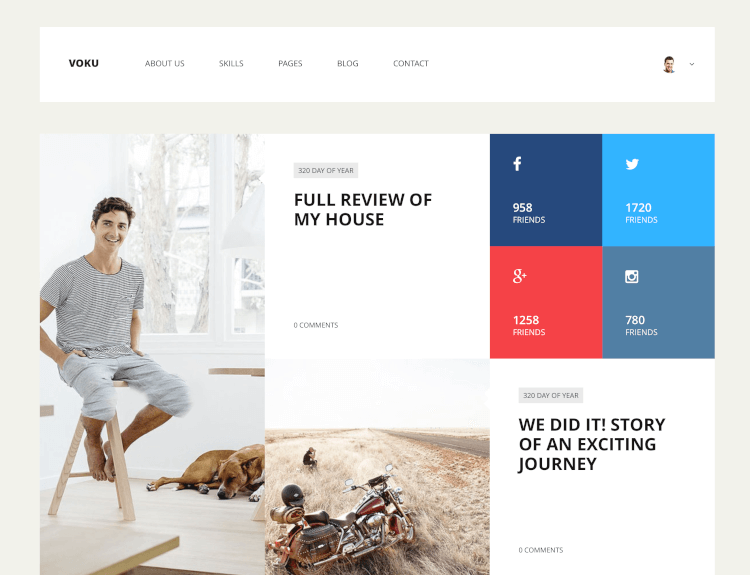 Voku is a block-style theme, with a really unique and interesting layout. Big social follower squares, and a blog layout that can draw the reader in. It's designed to be either a personal blog or portfolio, and really embraces the "flat design" trend. A great way to layout our projects or post in an engaging way.
Blossom - Minimal WordPress Portfolio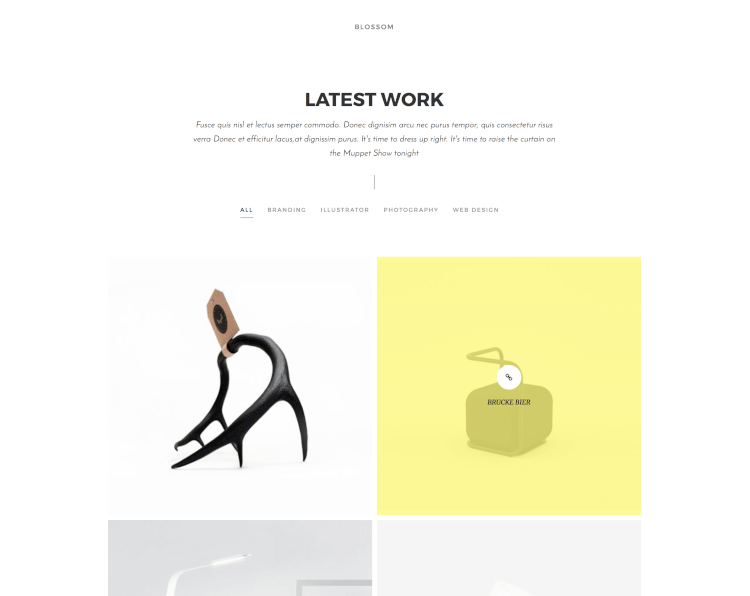 Blossom comes with all the features you'd expect from a premium WordPress theme. E-commerce support, powerful sliders, and page builders. You name it! The demo projects you'll find really show the versatility, whether you're looking for a simple black-and-white feel, or something more colourful, all the options are present for you to really make the design your own.
Bloc - Minimal Portfolio Theme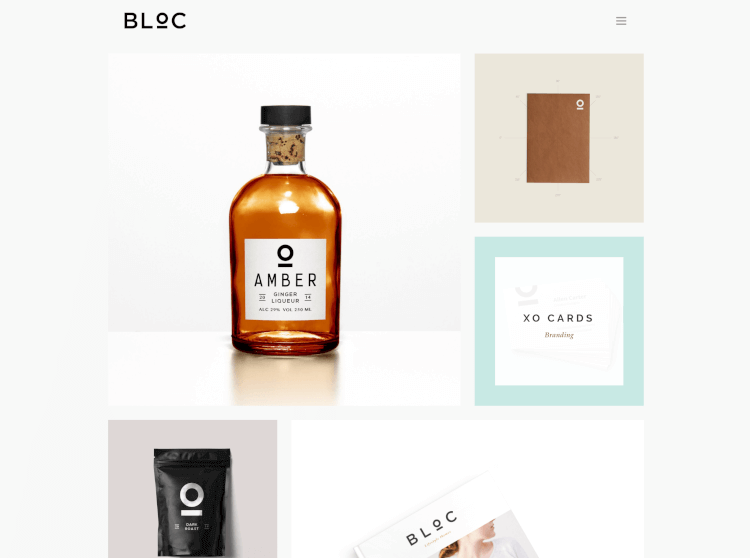 Blog is a minimal theme, inspired by swiss design, bringing you a collection of simple, clean templates. It's fully compatible with WooCommerce to sell products, comes with Visual Composer for creating flexible layouts, and can be quickly set up with demo data for a fast starting point!
Bayse - Clean & Minimal Blogging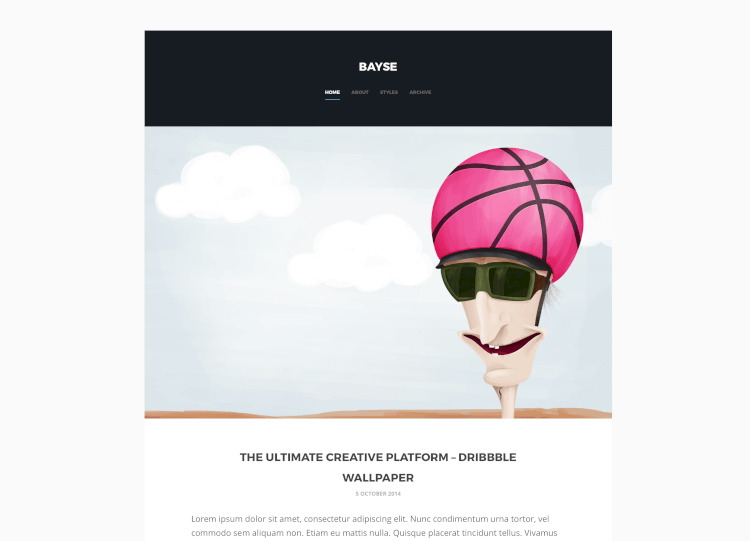 Bayse is a simple, personal blog, perfect for your stories to shine. It features eight custom post formats and beautiful attention to detail. It's fully responsive for mobile devices. If you're wanting to build a fully fledged website with all the "bells and whistles", this one isn't for you. If you're wanting a beautiful, simple, minimal blog, this should be perfect!
Lamark - Minimal Agency Portfolio Theme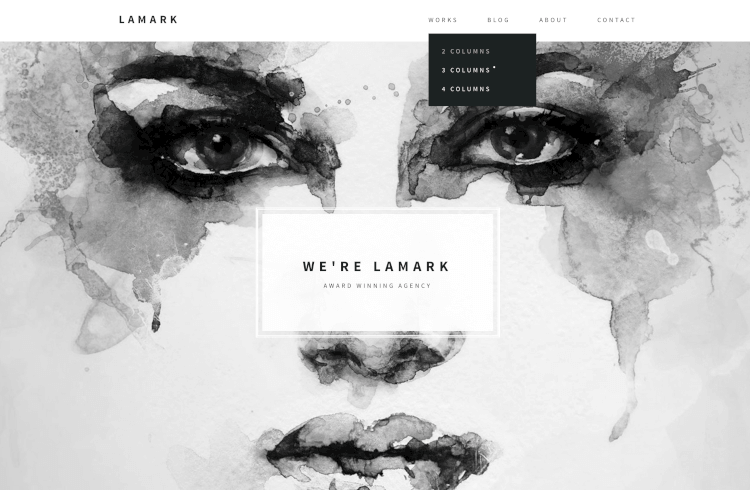 Lamark is a minimal and creative way to get started with your next project. It's simple, minimalist and looks great on any mobile device. Made for a freelancer, designer or smaller agencies who are looking for elegant, professional and minimal look. Comes with various blog layouts, and product display template pages.