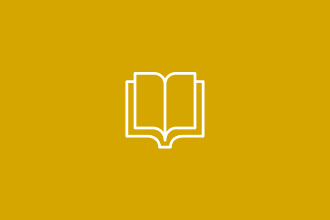 WordPress is perfect for creating an online magazine website. Not only does it have all the tools you need to publish content online, this collection of the best magazine WordPress themes will ensure your website has the right look too.
The themes in this collection have been designed specifically for creating an online magazine website with WordPress. They each not only have a design and appearance that is well suited for launching a magazine website but they also have lots of useful features to help make your project a success.
When checking out the best magazine WordPress themes, you'll see that each product often has multiple website demos for you to choose from. Thanks to this, no matter what the topic of your magazine is, you should be able to find a design to match. Furthermore, many of the best WordPress magazine themes also have a great selection of pre-built templates and layouts for the individual articles on your site. This means that you can easily choose the best layout for a piece of content, irrespective of its subject matter.
The best magazine WordPress themes also have plenty of customization options. Depending on the theme, this might mean you can easily change the fonts and colors of your website. Other themes may include even more settings and options that let you define how your site looks. Some even include fully featured drag-and-drop page builder tools that give you the ability to customize the demo content or create your own custom content designs from scratch.
Regardless of what type of news or magazine website you want to create, you should find plenty of options in this collection of the best magazine WordPress themes.
GetNews - Blog and Magazine WordPress Theme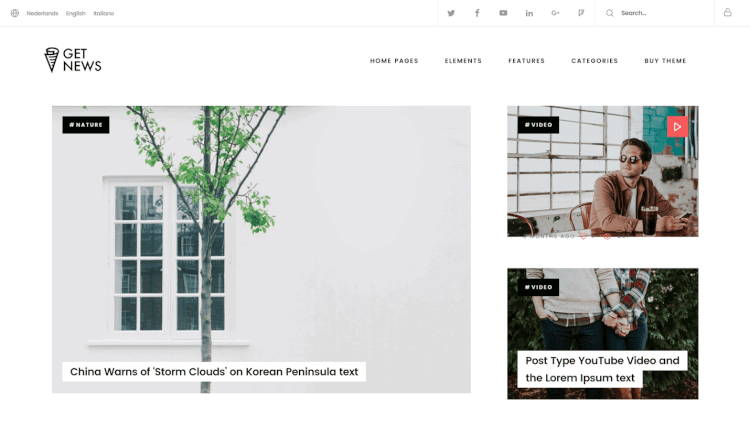 GetNews is a blog and magazine WordPress theme that's ideal for publishing personal updates or global news stories. Optimized for speed and fast loading times, GetNews gives you over 30 homepage designs to choose from and multiple layouts each time you publish a new article. Thanks to the full support for the leading WPML multilingual plugin, you can easily manage and publish your stores in more than one language.
News - Online Newspaper and Magazine WordPress Theme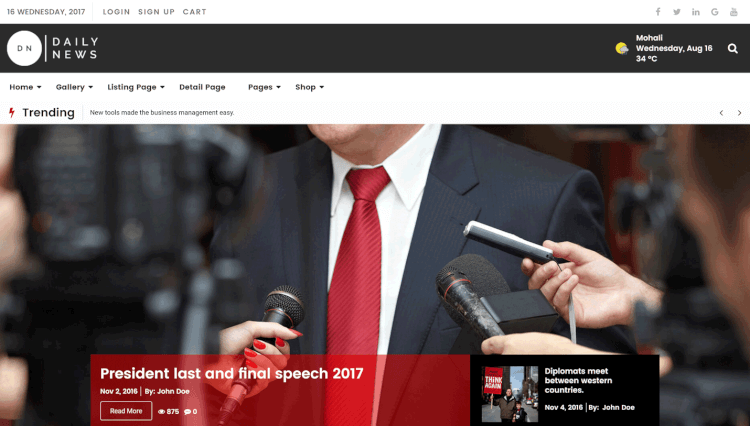 News is a traditional news and magazine WordPress theme that's just been released. Therefore, if you're looking for one of the newest magazine WordPress themes available today, you should definitely check out News and its nine homepage demos. There are also 14 inner page templates to work with as well as a full suite of customization tools and settings to help you personalize your news and magazine website.
Garage - Creative News and Magazine WordPress Theme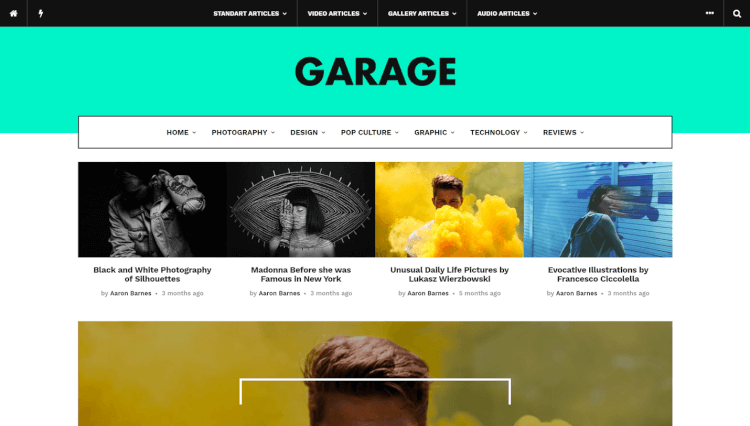 Garage has been built to help you design creative news and magazine websites. Personal bloggers can also make good use of Garage, thanks to the 14 page layouts and powerful theme options control panel. If you're looking for something different for your website, the Garage magazine WordPress theme could be it.
Zox News - Professional News and Magazine WordPress Theme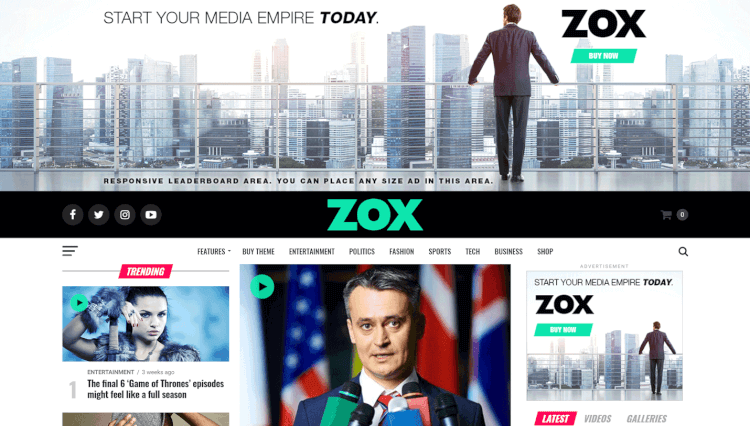 Zox News is an all-in-one package that's been designed to provide you with everything you might need to launch a professional news or magazine website with WordPress. As well as a selection of useful premium plugins, Zox News includes a library of templates to ensure your articles have the right layout and appearance. There's also plenty of scope of carrying out website customizations with this theme.
Juno - Photography and Magazine WordPress Theme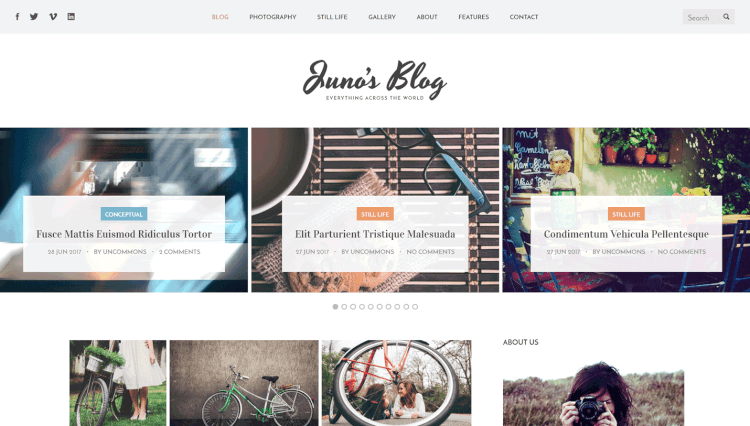 Juno is a magazine WordPress theme with a strong focus on photography. If your news stories will be accompanied by photos and other images, then this theme could be a good choice. With 12 homepage demos to choose from and a drag-and-drop page builder plugin, you should have no trouble launching your online magazine with Juno and WordPress.
SmartMag - Responsive Magazine WordPress Theme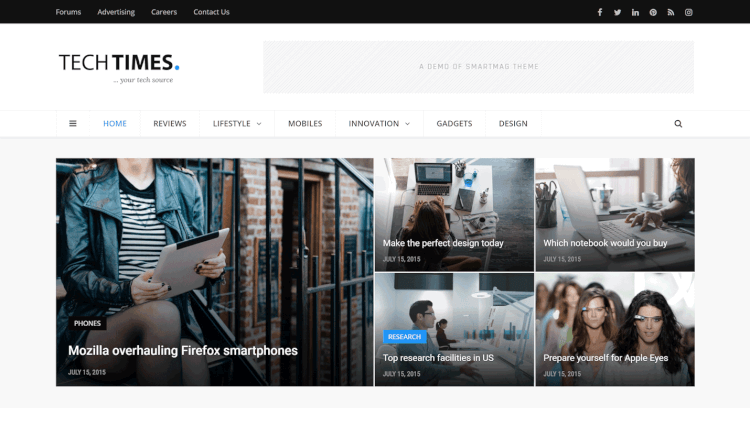 SmartMag has a number of different website demos for creating magazine websites, including an interesting dark website demo. Whichever demo you do choose, you'll get a stylish design for your news and magazine website that's packed with features to keep your audience engaged and entertained.
SimpleMag - Creative Magazine WordPress Theme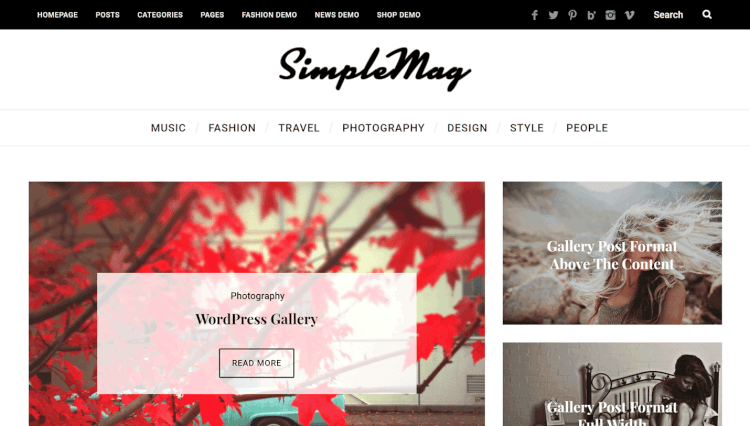 SimpleMag is marketed as a magazine WordPress theme for creative content and as such has lots of interesting page layouts and templates for you to work with. This theme also includes a page builder tool to help you stamp your personality on its design and create your own custom layouts.
Magazee - Viral Content Magazine WordPress Theme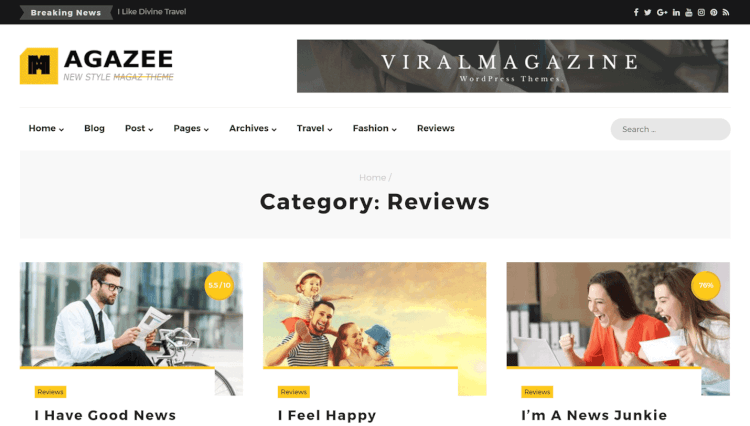 Magazee is a magazine theme with a focus on helping you create a viral content style site. Some of the features of this theme that can encourage social sharing and better engagement include trending icons that are displayed over article images, social share buttons, and custom widgets. Magazee also has the necessary functionality to let you publish professional looking reviews and display adverts on your site.
Recent - Readable Magazine WordPress Theme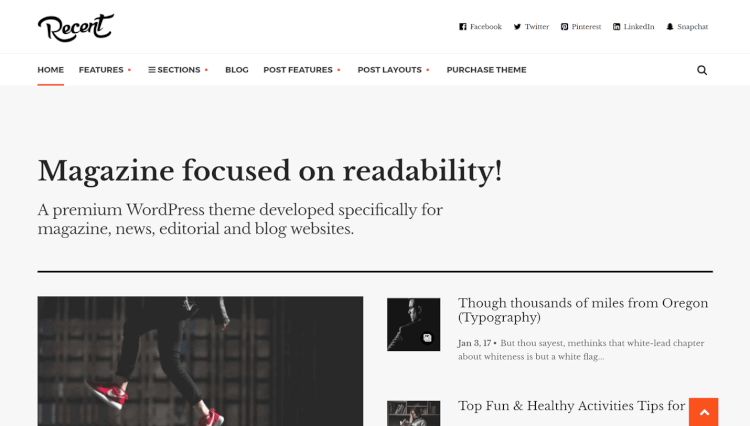 Recent has been designed for those looking for a magazine WordPress theme with a focus on readability. The overall appearance of this theme is definitely subtle with a lack of distracting visual elements. Despite the lack of color and superfluous items, the content layouts and templates of Recent will ensure your articles are still nicely presented.
Avantura - Magazine and Blogging WordPress Theme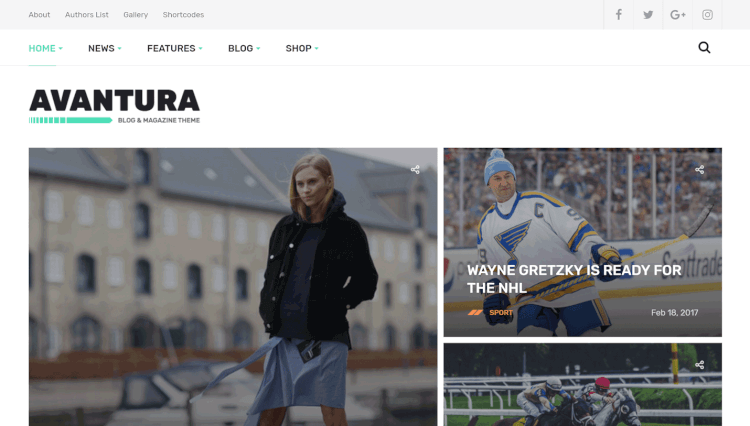 Avantura has an impressive selection of website demos that would be ideal for a range of different magazine and news websites. All of the demos have modern layouts that will help present your content in the right way. Like the best magazine WordPress themes, Avantura gives you plenty of opportunities to customize your website.
Newslog - Clean Magazine WordPress Theme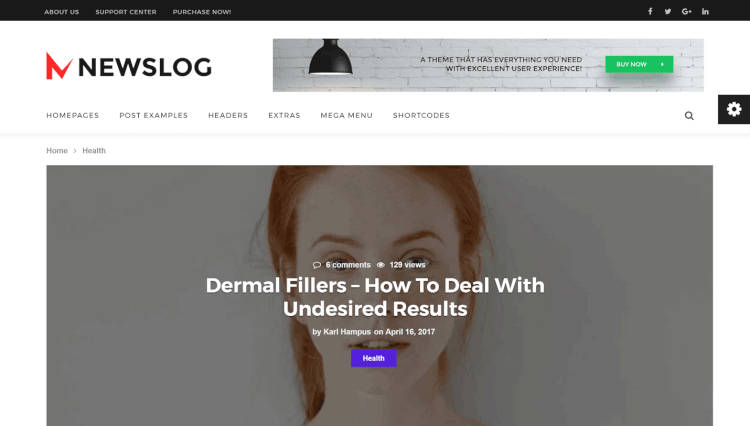 Newslog could be a great choice if you're publishing articles with eye-catching featured images. Thanks to the homepage and category page designs, the featured image for each article will really stand out on the page. Then, once a visitor clicks through to an individual article, you can impress them with your words and visual content.
Temag - Stylish Magazine WordPress Theme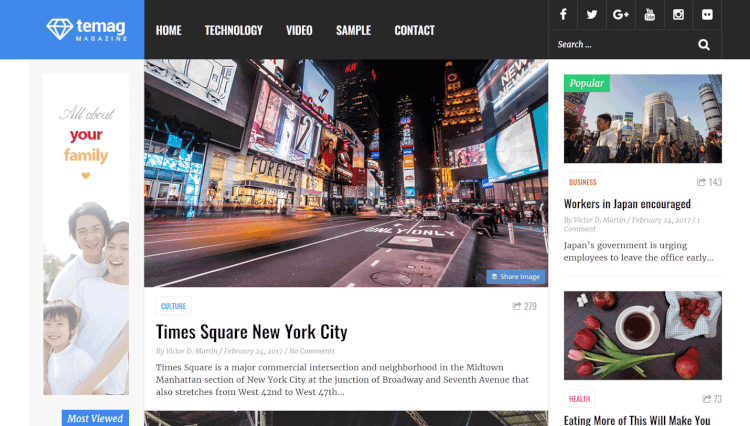 Temag has a neutral design that should appeal to creators of news or current affairs websites. Also, if you're publishing content on a wide range of topics, the neutral appearance of the Temag magazine theme should work well with your project. This theme also makes it easy to monetize your magazine website. Thanks to the multiple ad locations, you can display adverts from a range of sources.
Bonjour - Multi-Purpose Magazine WordPress Theme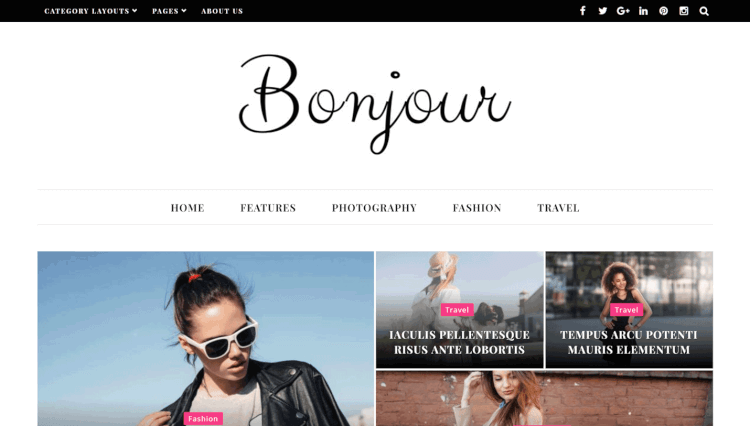 Bonjour is a brand new multi-demo magazine WordPress theme. The homepage demos and inner page templates can all be imported into your website in just a few clicks. Then, each time you publish a new article, you can choose from the varied selection of content layouts. You can also adjust the appearance of the theme to match your branding and preferences.
Trend - Flexible Magazine WordPress Theme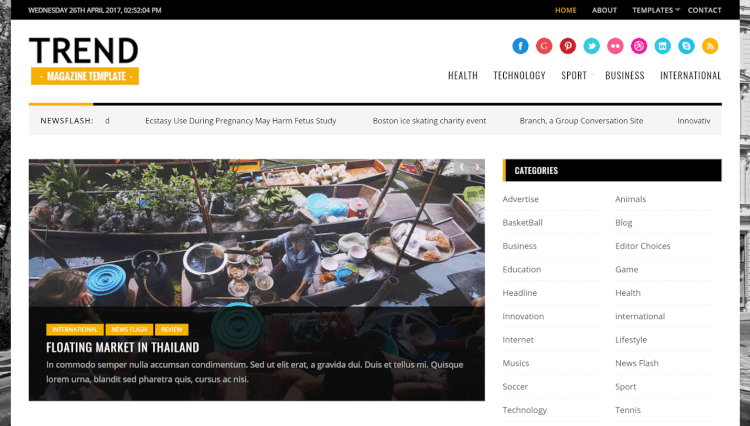 Trend adopts a traditional magazine design to help you create a professional news site with WordPress. The homepage layout makes it easy to display previews of a large number of articles, giving your readers plenty of content to choose from. The homepage slider also does a great job of highlighting your latest articles while the other page templates help you present your content in different ways.
Flash News - Editorial Magazine WordPress Theme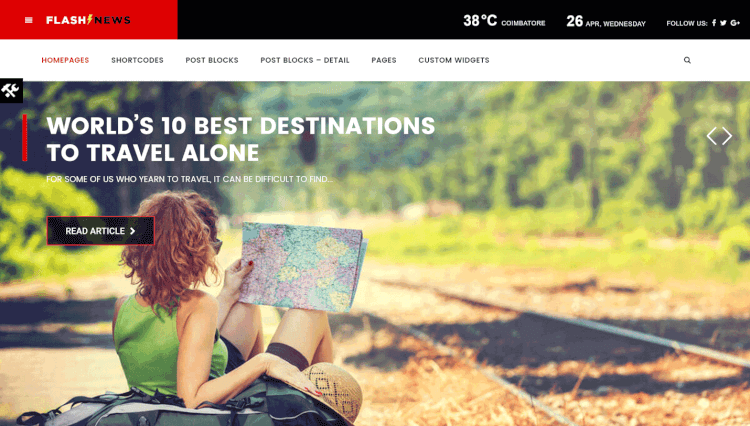 Flash News is an editorial WordPress theme that's perfect for news and magazine websites. When setting up your website, Flash News gives you five distinct homepage designs to choose from making this a flexible option in this collection of the best magazine WordPress themes. As well as the different homepage designs you'll also find a good selection of templates for the inner pages of your site.
Grania - Multi-Layout Magazine WordPress Theme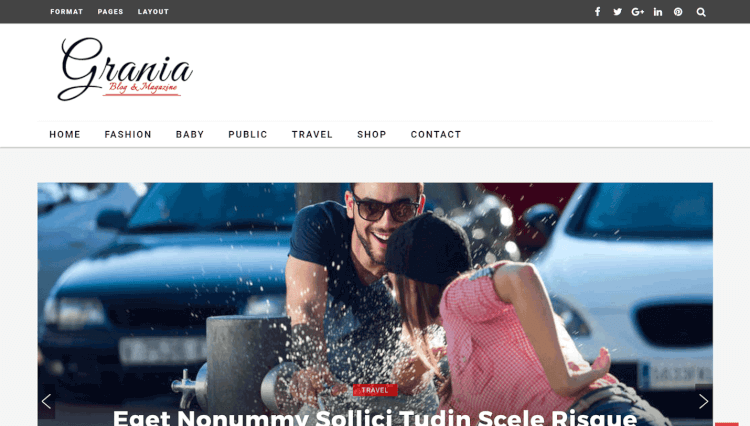 Grania is a magazine WordPress theme with multiple layouts. The different designs will all present your content in an attractive way so you shouldn't have any trouble choosing the right layout for your WordPress magazine website. Once you've picked a design and layout for your site, you can customize the colors and fonts through the theme options and settings.
Spedix - Drag-and-Drop Magazine WordPress Theme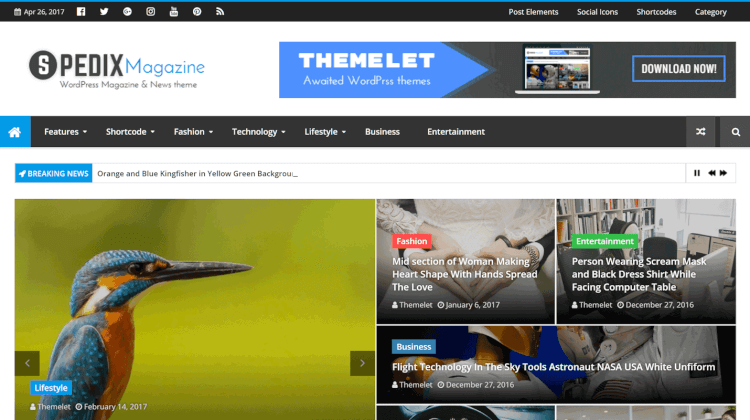 Spedix is a responsive magazine WordPress theme that's packed with features. To help you launch your magazine website as quickly as possible, the demo content can be imported in just a few clicks. After that, you can either start publishing your articles or use the integrated drag-and-drop page builder tool and theme options to customize the look and feel of your website.
TechPro - Technology Magazine WordPress Theme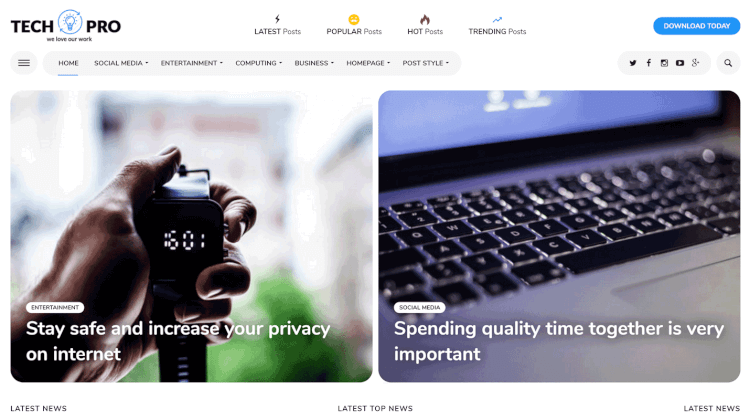 TechPro is one of the best magazine WordPress themes for creating technology news sites. Thanks to the large full-screen layout of TechPro, your readers will be able to easily scan the articles on your site before deciding which ones to read in full. This theme includes a drag-and-drop page builder tool to enable you to quickly customize any of the demo content.
Mimi - Viral News Magazine WordPpess Theme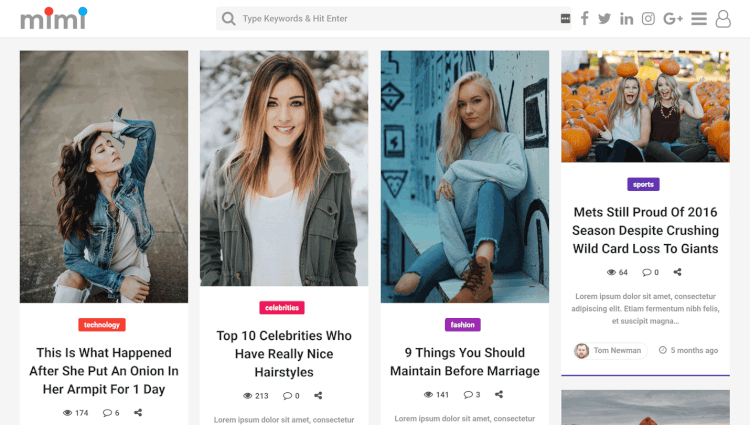 Mimi has been created to help you build a professional news, magazine, or other types of content-rich websites with WordPress. One interesting feature of this theme is that it includes frontend submission capabilities. Thanks to this, your visitors can submit their own content, making Mimi a great choice for building viral type news sites and magazines.
Writeup - Modern Magazine WordPress Theme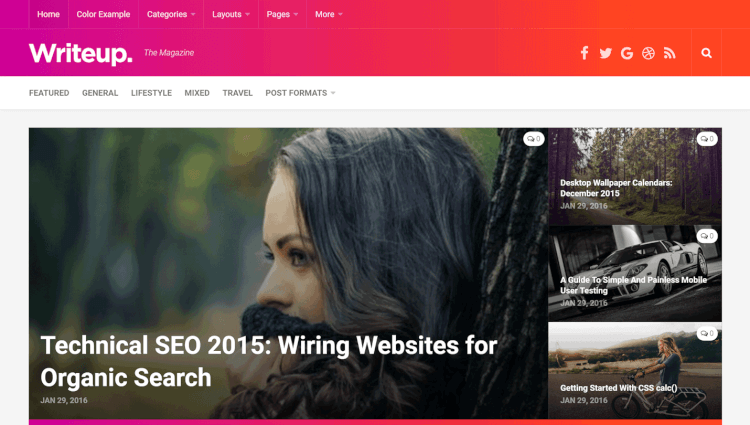 Writeup has a modern and colorful design that will help capture the attention of your visitors. Although you can customize many aspects of your magazine website with the Writeup theme, the default mode looks great and includes a large content display on the homepage above the fold. If you want to ensure your news and magazine website has a dynamic look, be sure to check out Writeup.
Houston - Elegant Magazine WordPress Theme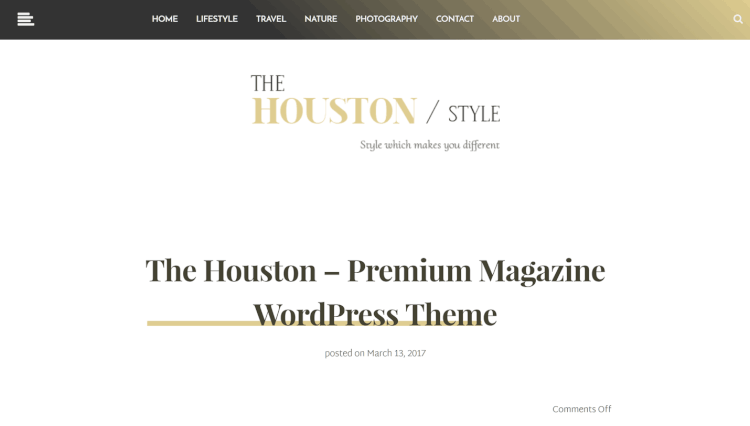 Houston is described as an elegant magazine theme and thanks to its stylish design, it's hard to disagree. As well as the 10 homepage layouts you can choose from, there are also 7 featured content slider layouts, and 6 header layout designs to work with. Throw in all the customization settings and it's easy to create a bespoke magazine website with this theme.