Best CMS for eCommerce Websites: 5 Options Compared
Managing an online store can be a complicated process. You have to take care of your inventory, process payments, handle shipping, taxes, and much more.
Having a content management system (CMS) where you can manage all these tasks from a simple dashboard makes things much easier. With the rapid development of the eCommerce industry, there are now dozens of CMS platforms dedicated to building eCommerce websites.
Of course, not all of them are great but there are a few that stand above the rest. In this guide, we take a look at some of the best CMS for building online stores to help you pick the right platform for your shop.
Download hundreds of stunning Shopify themes and templates with an Envato Elements membership. For $16 per month, you have unlimited access to a growing library to thousands of themes, fonts, web templates, graphics, and more.
What Is a CMS?
A Content Management System (CMS) is a type of software that you can use to create websites and manage all the content of the website in one place.
For example, when you make a website using HTML, you have to manually edit the code to make any changes to the website. With a CMS, you can make changes using a simple user interface and even connect third-party services like payment gateways without having any coding knowledge.
When it comes to making eCommerce websites, there are two types of CMS software. Ones that you can download and use on your own terms. And the ones that are offered as a service by a company. We'll talk about both in the list.
Benefits of Using a CMS
There are many benefits to using a CMS. These are just a few worth mentioning.
With a CMS, you can:
Setup and customize your shop with a few clicks
Add, edit, and manage your inventory in one place
Easily integrate payment processing systems
Handle shipping and taxes
Customize the shop design without coding
Explore the selection of CMS platforms below to learn more.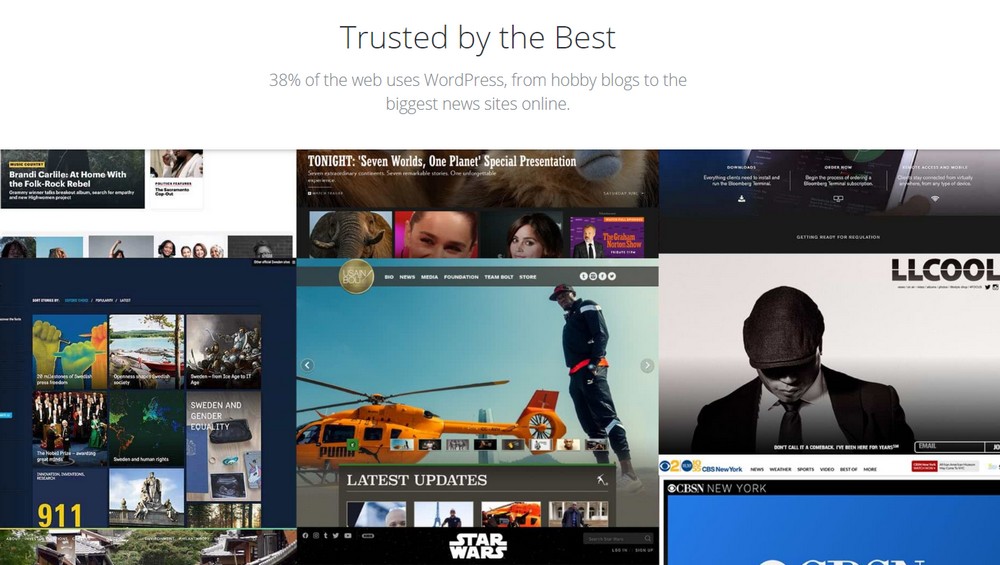 WordPress is the most popular CMS in the world. More than 38% of the websites on the Internet use it. WordPress can be used to make all kinds of websites, including eCommerce sites.
After setting up a WordPress website, you can install the WooCommerce plugin to add the eCommerce elements to the CMS. With WordPress and WooCommerce, you can create any size of a store with as many products as you like and customize the shop however you want.
Best Features of WordPress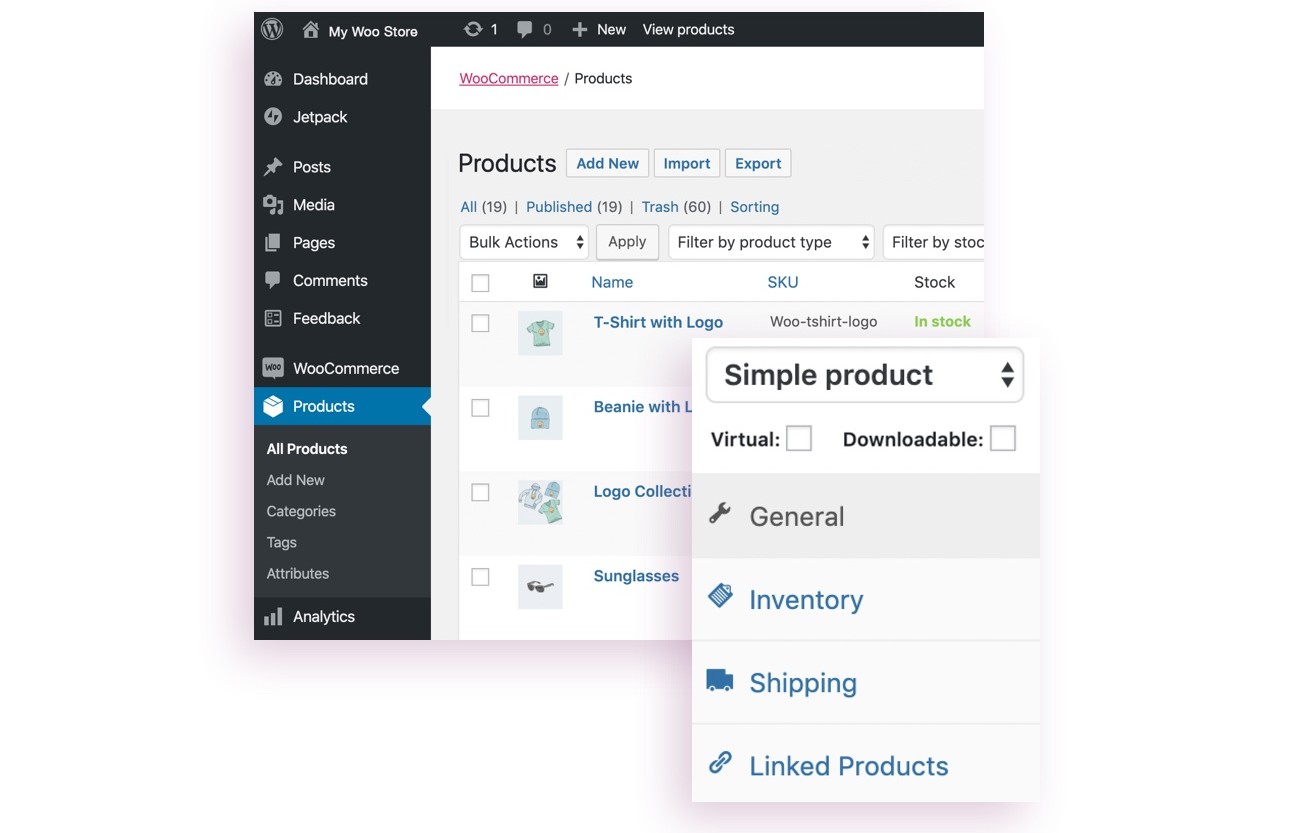 The beginner-friendly dashboard interface makes the CMS easy to use
You get complete control over your shop and its content
Choose from thousands of unique theme designs for your shop
Use plugins to add advanced functions and features
Add unlimited pages and process unlimited customers
How Much Does It Cost?
WordPress software and the WooCommerce plugin are both completely free to use. However, you'll need a web hosting platform to install the software and setup your shop. Depending on the hosting platform you choose, it would cost around $120 per year to host your shop.
Other than the fees charged by your payment process, you don't have to pay any transaction fees when using WordPress.
Why Use WordPress?
Having full control over your shop is the main reason why many people use WordPress. You don't have to follow any guidelines set by a company. Or risk losing your shop for violating a rule.
And, of course, the low cost of management is another good reason to choose WordPress.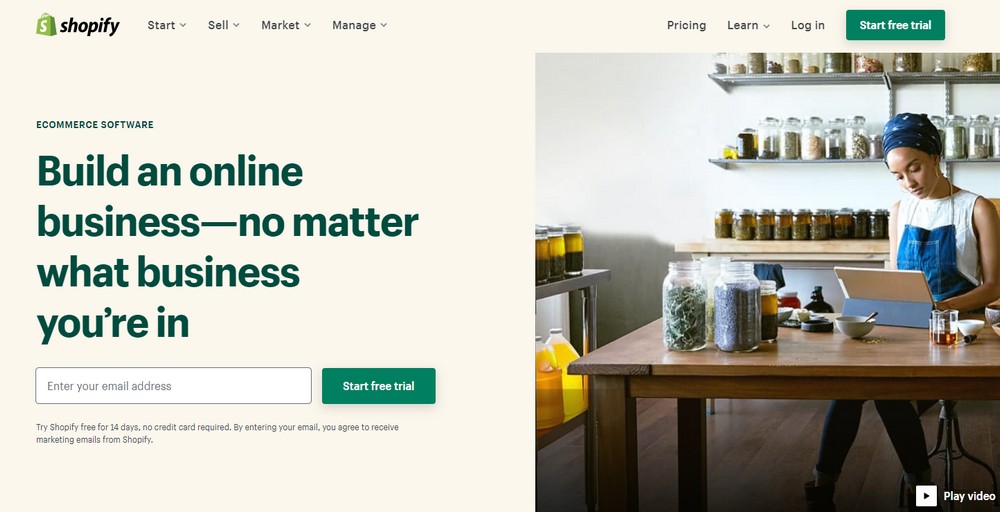 Shopify is now the go-to platform for building online stores. With more than 800,000 merchants using Shopify to power up their stores, the platform is now the biggest eCommerce CMS solution available today.
Shopify is well-known for its ease of use. The software provides users with a simple setup process to get their shop up and running in a few steps. And it includes all the main features like payment processing as well as shipping and tax management built into the platform.
Best Features of Shopify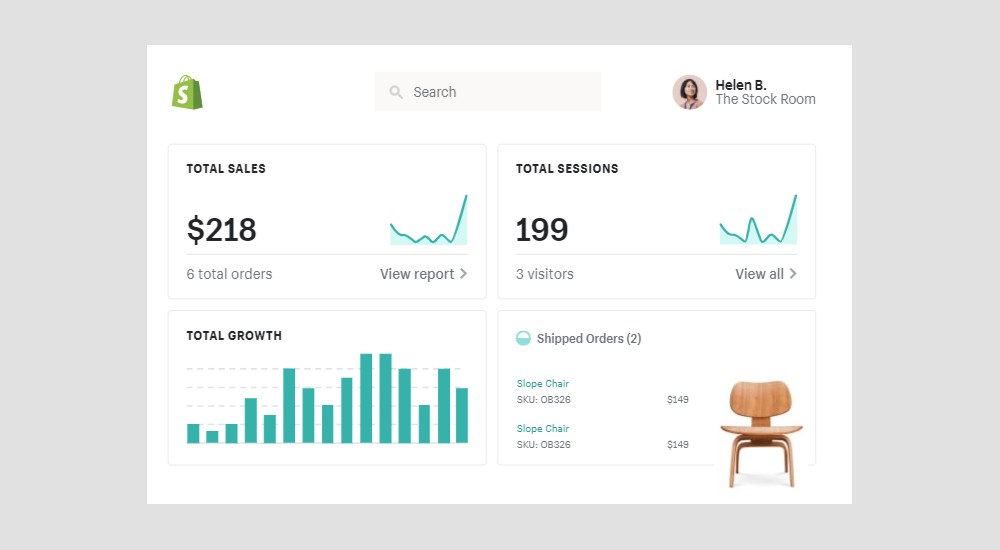 The smooth user interface allows you to manage your shop without coding
Ability to use custom theme designs from third-party marketplaces
Access to over 100 different payment gateways
Sell on social media platforms with Facebook and Instagram integrations
Has a Point of Sale system to sell your products in person
How Much Does It Cost?
Shopify pricing plans start at $29 per month and other plans cost $79 per month and $299 per month. The real cost, however, is in its payment processing system. Which charges you a 2% fee when using a payment gateway other than the built-in Shopify Payments system.
Why Use Shopify?
Shopify is the most convenient platform you can use to setup an online store without having to worry about web hosting, payment processors, plugins, and all the other headaches that come with managing a website on your own.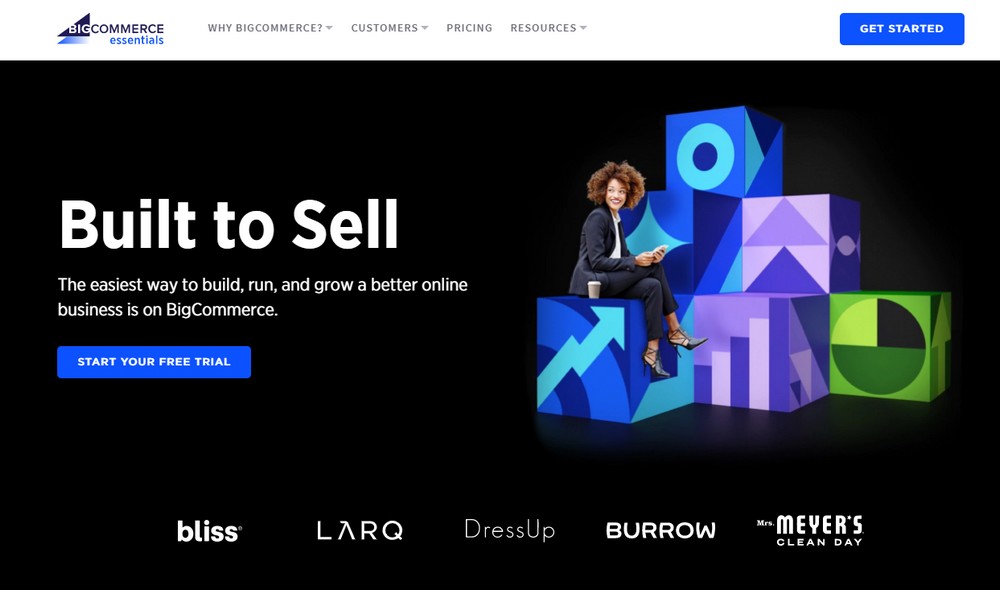 BigCommerce is an eCommerce platform widely used to build enterprise-level shops and stores. The platform recently introduced a plan called BigCommerce Essentials with features that are more suitable for smaller merchants.
BigCommerce Essentials is quite similar to Shopify. It offers the same benefits of easily building an online store and managing everything from one place. In fact, BigCommerce Essentials even costs the same as Shopify.
Best Features of BigCommerce

Easily setup a store and manage your shop using a simple dashboard
Sell products on Amazon and eBay with channel integrations
Built-in page builder lets you create a personalized store for your brand
Supports POS integrations with Square and Clover
How Much Does It Cost?
BigCommerce uses the same exact pricing as Shopify. Pricing plans start at $29, $79, and $299. A benefit to using BigCommerce is that it doesn't charge a transaction fee. However, it limits the amount of revenue you can generate per year at $50K, $180K, and $400K for each plan.
Why Use BigCommerce?
Being able to avoid paying a transaction fee makes BigCommerce a solid choice for a small online shop. Although, the best reason to use the platform is to connect your shop with Amazon and eBay to drive more sales.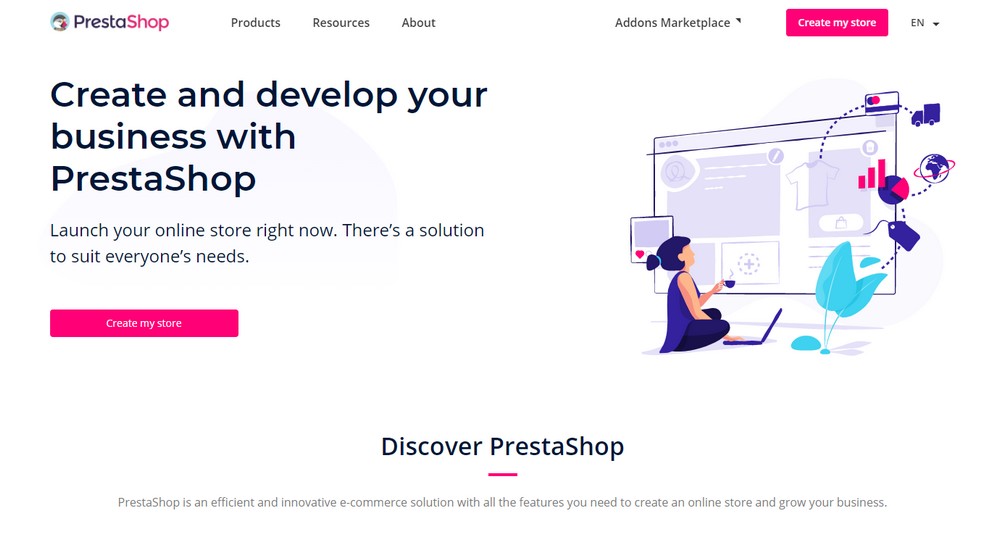 PrestaShop is another CMS software dedicated to building online stores. The specialty of this software is that it's completely free to use with no platform or transaction fees.
PrestaShop makes money from its premium add-ons marketplace, which gives you access to additional features like integration with Amazon and page builders.
Best Features of PrestaShop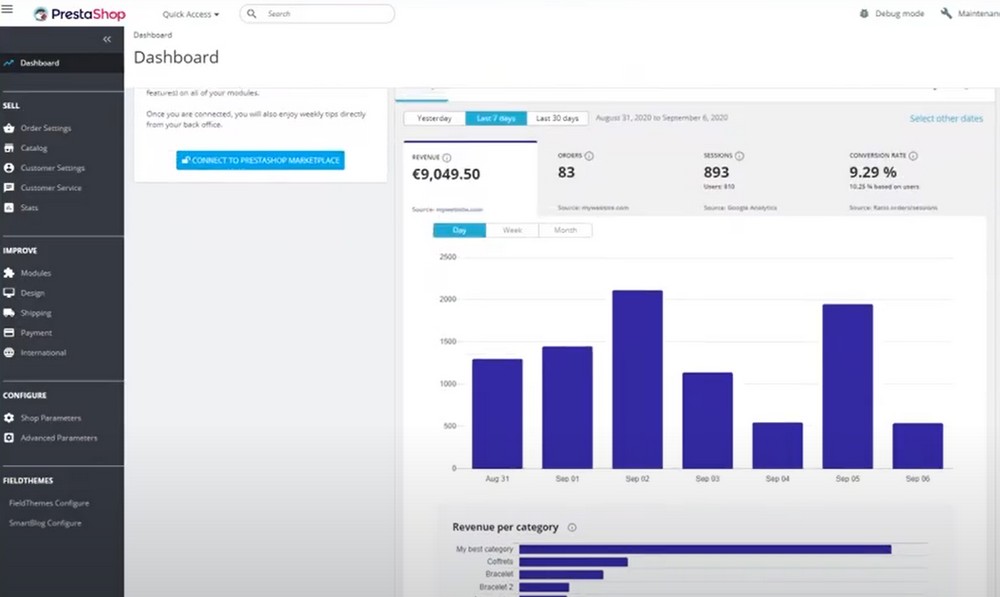 PrestaShop is completely free and features a simple setup process
You can use PayPal to process payments or add other gateways using premium add-ons
Choose from hundreds of unique themes from third-party marketplaces
Integration with PrestaShop Checkout, Metrics, and ERP makes the process of managing a shop much easier
How Much Does It Cost?
Similar to WordPress, PrestaShop is a free software that you can download and use on your own terms. And, of course, you'll need a find a web hosting platform that supports PrestaShop and buy a hosting plan to install the software.
Why Use PrestaShop?
Much like using WordPress, PrestaShop also gives you full freedom and control over your store. Also, the supporting software such as the PrestaShop Checkout and Metrics makes the platform even better.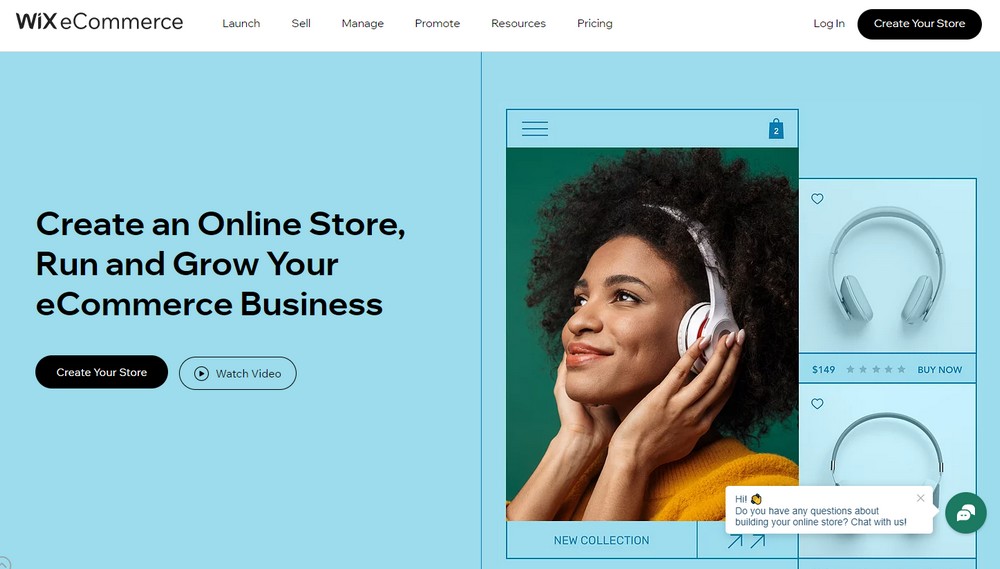 Wix is an online website builder that allows you to create many different types of websites with ease. It gives you access to hundreds of website templates and a built-in editor for building a website without any complications.
Wix also supports eCommerce shops and stores. Using the platform, you can easily create a store to sell your products without having to worry about web hosting, themes, or plugins.
Best Features of Wix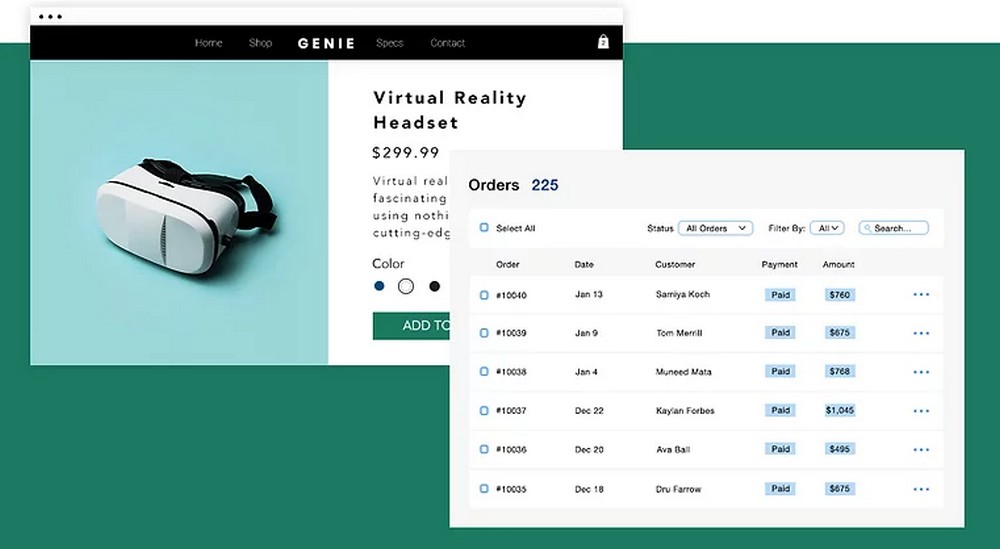 The simple all-in-one solution lets you create an online store without web design knowledge
Process payments using Wix Payments with lower processing rates
Automate your sales tax using easy sales tax calculations
Choose from more than 500 template designs
Manage your store on the go using the mobile app
How Much Does It Cost?
Wix Business and eCommerce plans start at $17 per month and at $25 per month and $35 per month. When using Wix Payments, you can also get a fixed payment processing rate based on the revenue you generate from sales. Or you can also integrate third-party payment gateways as well.
Why Use Wix?
Wix is very easy to use for setting up a shop. It's especially more convenient for brands and individuals selling a single product or branded product line. Even someone without any web design knowledge can use the platform to setup a store in a few minutes.
Which CMS Is Best For You?
In conclusion, Shopify takes the win. It's extremely easy to use, offers support for a wide-range of third-party services, and it simply creates a worry-free environment for creating an online shop even for a complete beginner.
Although, it's worth noting that Shopify is a SaaS company. In a way, the company has control of your shop. They can ban your shop at any time if they want to and you'll lose your entire customer base.
If you prefer the freedom and to have complete control of your website, nothing beats WordPress. WordPress is just as easy to use as Shopify. And it gives you more freedom to grow and develop your shop.
If you decide to go with WordPress for making your online store, check out our best WooCommerce themes collection to grab a great-looking theme.