How to Install WordPress: A Beginner's 101 Guide
So you've heard about WordPress and how easy it is to use the software to build websites. But, how exactly do you install WordPress and get your website up and running?
WordPress is a very beginner-friendly software. It has a simple user interface where you can easily manage your website or blog without much experience in web design. However, installing WordPress to setup your website is not as easy as signing up with an email and password. It requires a little bit of work.
There are a few different ways you can install WordPress to make a website. You can even install and test WordPress for free on your computer. In this guide, we cover all the methods of installing WordPress.
Get everything you need to build your next website with one simple subscription. From $16 per month, get unlimited access to nearly 2 million WordPress themes, web templates, fonts, graphics, and photos.
Where to Download WordPress?
When you type the word WordPress into Google the first website that comes up is WordPress.com. This often confuses most users because it's actually the SaaS (software as a service) platform where you have to pay to create a WordPress website.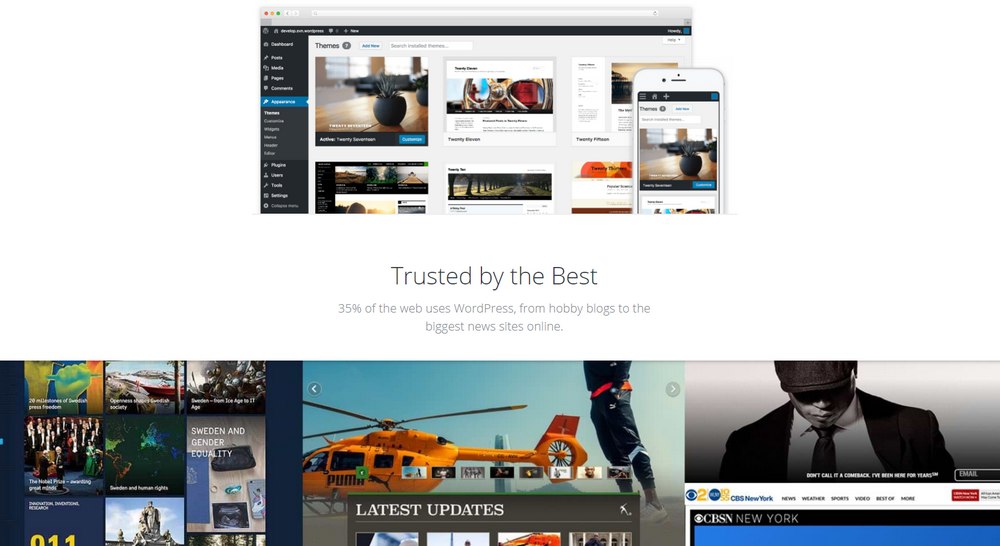 WordPress is free and open-source software. You can download and use it for free forever. You need to visit WordPress.org website to download it for free. Just click on the Get WordPress button on the website and start the download.
Once you download WordPress, the next step is to install it. For this step, you need to have your own space on the Internet. Or in other words, you need web hosting.
What is Web Hosting?
Websites are like the real-estate property of the internet. And web hosting is the land that you rent to build your property.
Web hosting allows you to rent your own space on a server so that you can install WordPress, build a website, and make it accessible to everyone around the world. There are many web hosting providers out there that offer different types of web hosting packages with different features.
Unlike WordPress itself, web hosting is not free. You can only rent your land on the Internet. And that comes at a price. Thankfully, there are plenty of affordable web hosting services you can choose from.
Different Types of Web Hosting
When looking up web hosting, you'll come across several different types of web hosting services.
Managed WordPress Hosting
Managed WordPress hosting is the ideal choice for making a WordPress website. They allow you to setup your website on servers especially optimized for WordPress. Featuring unique caching technology for better website performance. Managed hosting plans also include automatic updates for WordPress software. Meaning whenever a new update is available for WordPress, it will automatically update to the latest version. In addition, you get daily backups of your website, protection from hackers, and much more.
Shared Web Hosting
Shared hosting plans are much cheaper but it's not the best choice for hosting a high-quality website. When using shared hosting, you're sharing a single server with hundreds of other websites. This often results in slower website performance and the risk of more security threats.
VPS Hosting
VPS hosting is slightly more expensive than managed and shared hosting. Mainly because it gives you dedicated system resources for hosting your website. You'll get more CPU and RAM power. This means your site will be faster than most ordinary websites. However, you'll be all on your own to manage your server. In short, not a good choice for beginners.
Cloud Hosting
Cloud hosting is just like VPS hosting but with your website being hosted on a virtual server running in a cloud infrastructure. Websites hosted on the cloud are much faster and easy to maintain. They are also scalable. This means if your website receives a large amount of traffic, the server can adjust as necessary to handle the load.
Dedicated Hosting
Dedicated hosting is the highest tier in hosting plans. It provides you with more system resources than any other type of hosting. Dedicated hosting plans also give you more control over your server and it's most suitable for advanced users.
Each of these web hosting types provides you with specific amounts of resources. Some platforms provide unlimited amounts of resources like hosting space and bandwidth. While others offer limited amounts with a better quality of service.
Which Web Hosting Plan Should You Choose?
We recommend choosing a managed WordPress hosting plan. They offer the best performance and features for making WordPress websites.
Plus, managed WordPress hosting plans come with WordPress pre-installed. You won't have to do any of the work of installing WordPress. You can jump straight into making your website and uploading your content.
There's not a big price gap between managed hosting and shared hosting. Platforms like Siteground now offers managed WordPress hosting at just $3.95 per month. That's the same price of shared hosting plans offered by most other platforms.
It's only a matter of choosing the right web hosting provider for your website.
How to Install WordPress
There are a few different ways you can install WordPress. We'll start with the easiest method. First, make sure to buy web hosting and connect your domain name to your host. Then proceed with the steps below.
1. Install WordPress Automatically (One-Click Install)
Since WordPress is so popular, most web hosting providers now include an option called "One-click WordPress install" with their hosting plans. This option allows you to install WordPress on your hosting server by just clicking a button on your hosting account dashboard. That's it!

Additionally, you can also install WordPress from your CPanel. You can access CPanel from your hosting account dashboard. On CPanel, you'll find an option to install WordPress with just a few clicks.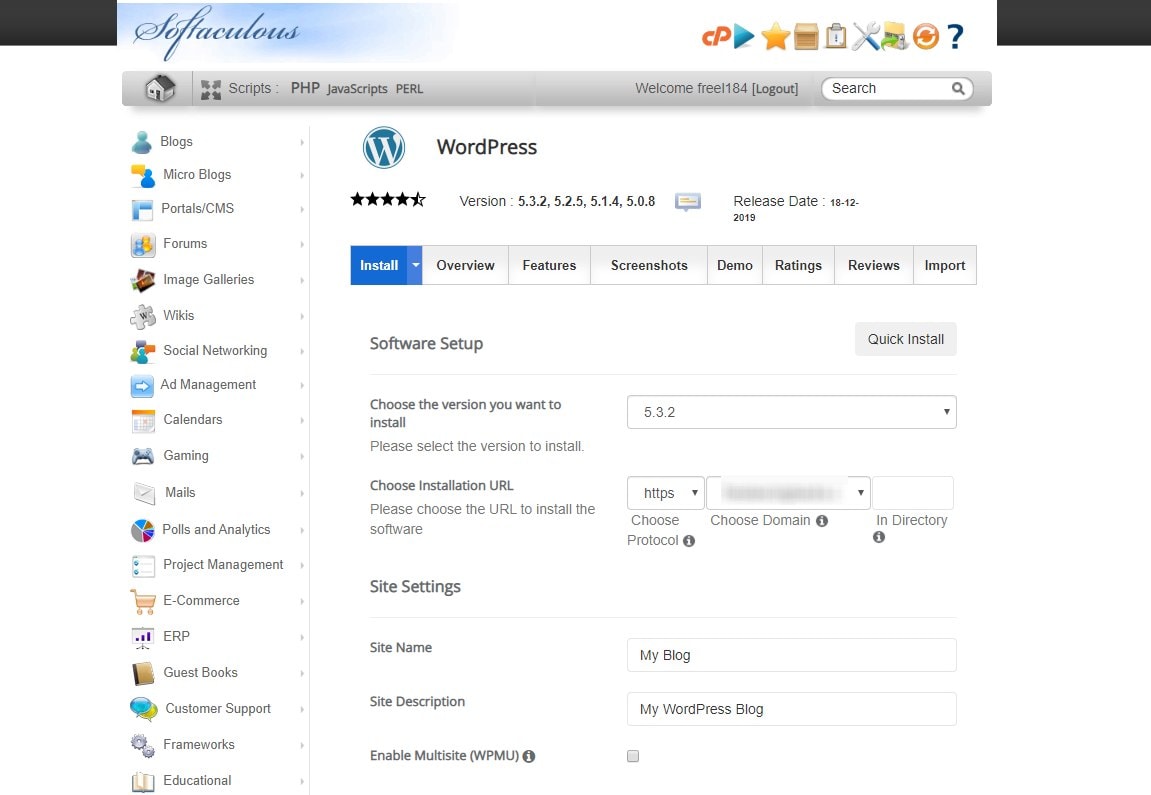 After choosing WordPress, you can customize the information and start the installation.
2. Install WordPress Manually
With much easier options available today, there's really no need to manually install WordPress. Unless you want to install an older version of WordPress or setup WordPress on a VPS.
Just in case, here's how you can install WordPress manually on your web hosting server.
Step 1: Download the WordPress software and extract its files on your computer
Step 2: Login to your web hosting server via an FTP client (eg: FileZilla)
Step 3: Locate the Public_html folder
Step 4: Upload all the extracted files and folders of WordPress into the Public.html folder

Step 5: Login to your CPanel and go to MySQL Databases

Step 6: First create a new MySQL database

Then create a new MySQL user.

Now add that user to your newly created database.
All these settings can be found on the same page. Simply scroll down to find them.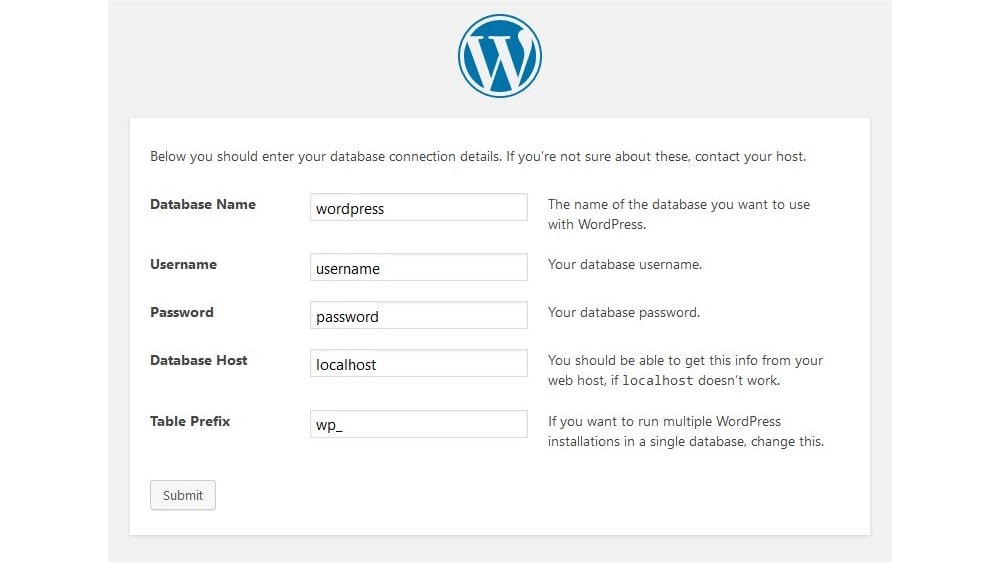 Step 7: Visit your website URL (eg: yourdomain.com) and it will now show you a setup wizard for installing WordPress.
Simply proceed through the setup process. And when it asks for your database information, enter the MySQL database name and MySQL user information.
Then run the installation process.
3. Install WordPress Locally
You can also install WordPress on your computer to test the software. This method is completely free and it doesn't require buying web hosting. However, others won't be able to access your website.
An awesome option is to use DevKinsta, which is a free solution for getting a local WordPress development environment set up. It works for Mac, Windows, or Linux, and comes packed with a range of features to offer a really powerful local setup.
Simply proceed through the setup wizard. This software automatically installs and setup WordPress on your computer. And it's perfect for beginners.
Here's a helpful intro video to get you started!
In Conclusion
If you're completely new to making websites, it's best to install WordPress locally on your computer. It will allow you to familiarize yourself with the dashboard and user interface. As well as to learn how to manage a website.
Once you learn the basics, you can get web hosting and install WordPress to make a real website. Of course, if you get a managed WordPress hosting plan, you can avoid all this work altogether.
Either way, we wish you good luck with your website building journey. Be sure to bookmark our blog for more tips and guides.
Looking for WordPress hosting? We use Kinsta. They offer world-class WordPress hosting, built to keep your website fast, secure, and always online.