40+ Best Animated PowerPoint Templates 2024
Animated presentations are a super fun way to keep an audience interested and engaged during a slideshow – but with all the effort that goes into designing, editing, and animating an entire set of slides, is it really worth it?
The answer is yes, but don't despair – we've come up with a list of the brilliant animated PowerPoint templates that are available for download. They're all professionally designed, animated, customizable, and suitable for a wide range of purposes, including personal and business presentations, portfolios and marketing tools! And the best news of all is that they're ready to go, no PowerPoint expertise required.
Read on for our curated collection of the best-animated PowerPoint templates to choose from for your next presentation.
Get everything you need to give the perfect presentation. From just $16, get unlimited access to thousands of PowerPoint presentation templates, graphics, fonts, and photos.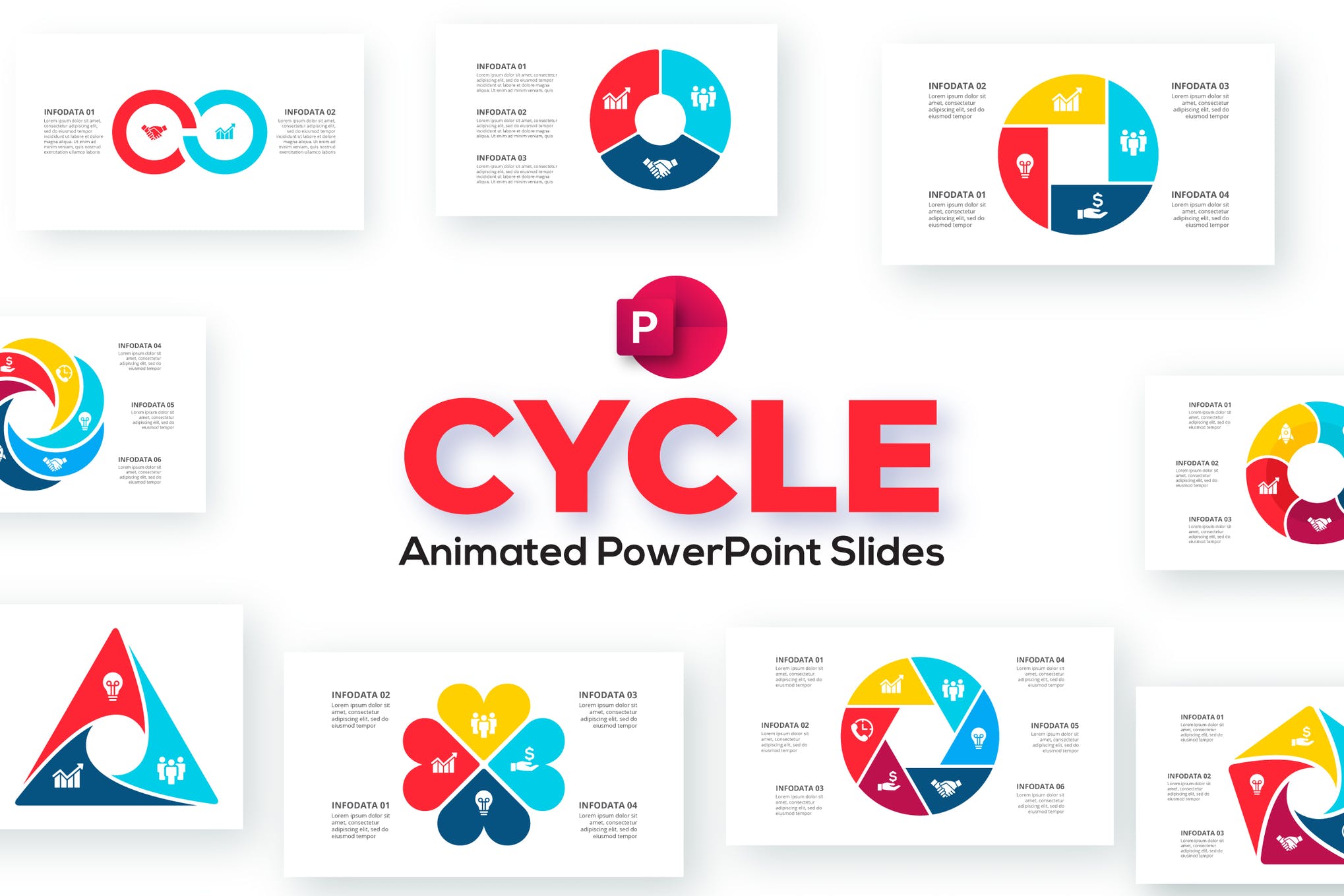 If you're looking for an infographics Powerpoint template for your next data visualization presentation, this product is an excellent contender for your cash. It offers 42 fully animated slides, fully customizable in Microsoft PowerPoint.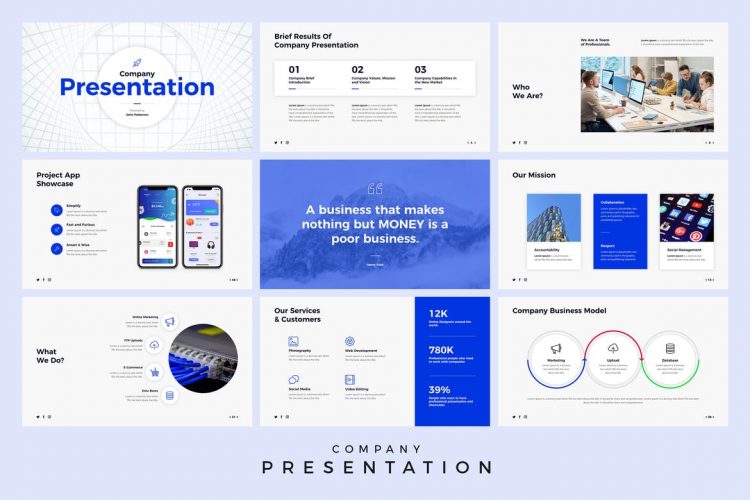 The most corporate in our list of animated PowerPoint templates, the Company Presentation template is uncluttered, business-like, and suitable for any kind of meeting or briefing slides. It includes a wide range of premade, business-themed slides, and has been designed on the back of actual market research into the needs of successful business presentations.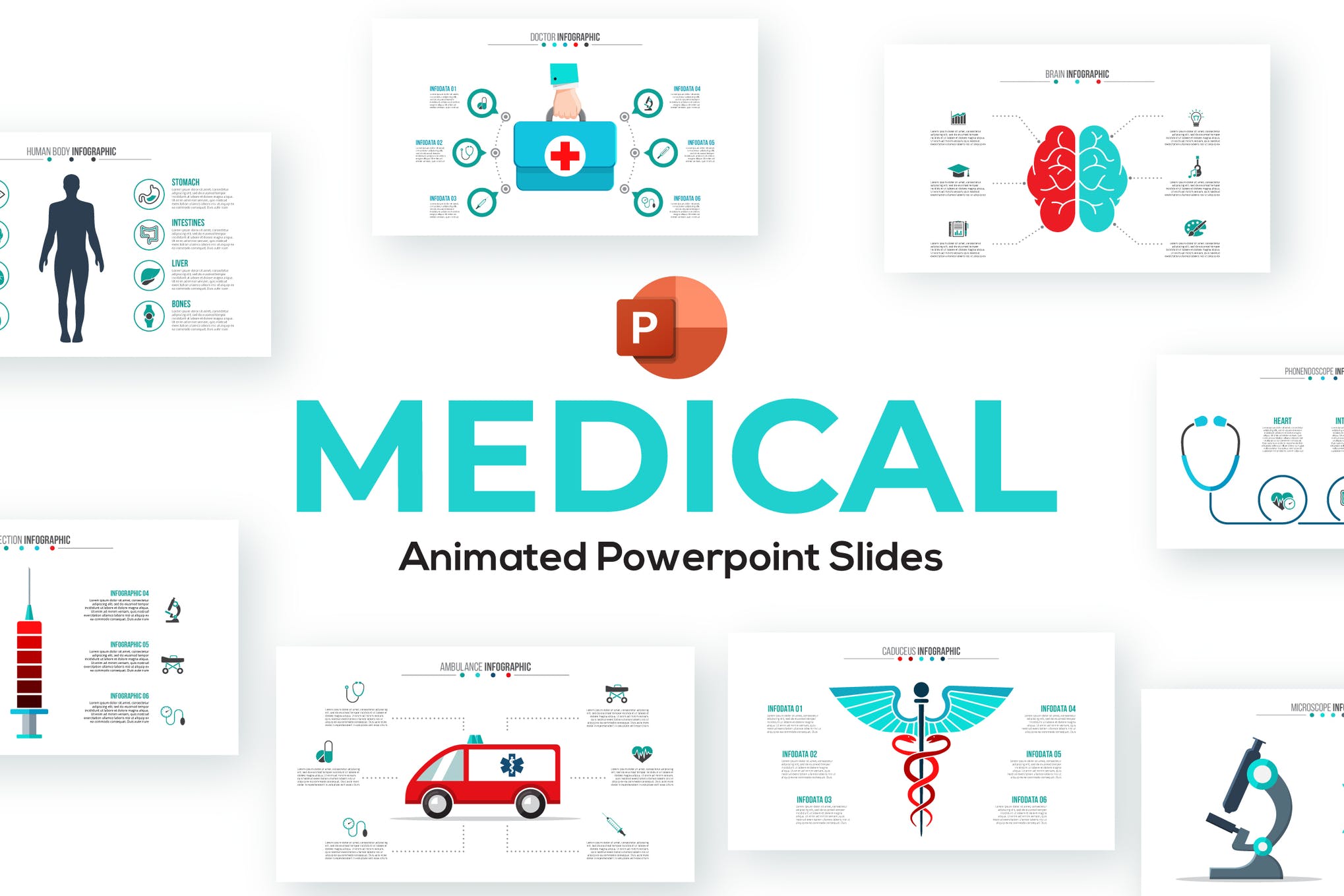 Consider this PowerPoint template for your next medical, or health services-related presentation. It consists of 12 fully animated slides, a range of color themes to choose from, vector shapes, free fonts, and so much more. Grab it today!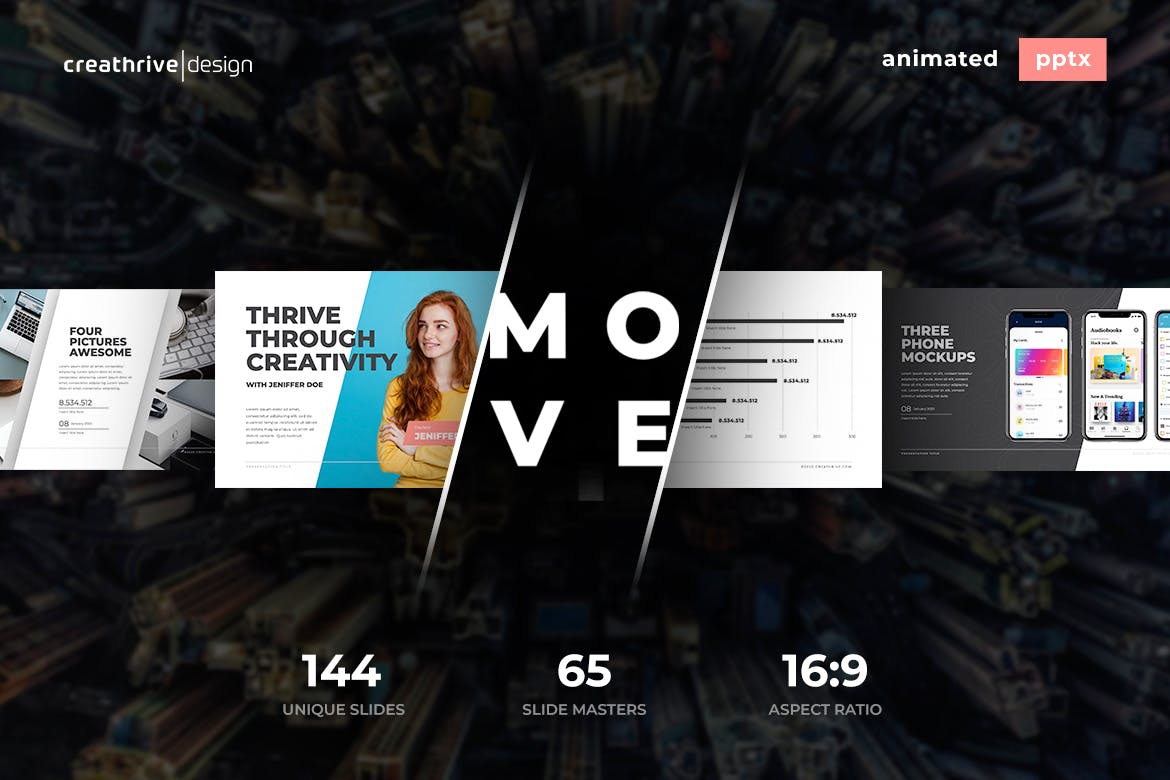 Move is a versatile, and creative PowerPoint template with 144 custom slides, 16:9 full HD widescreen, pixel-perfect illustrations, free fonts, and more. Whether you need to create a personal portfolio presentation or business pitch deck, Move is a template worth considering.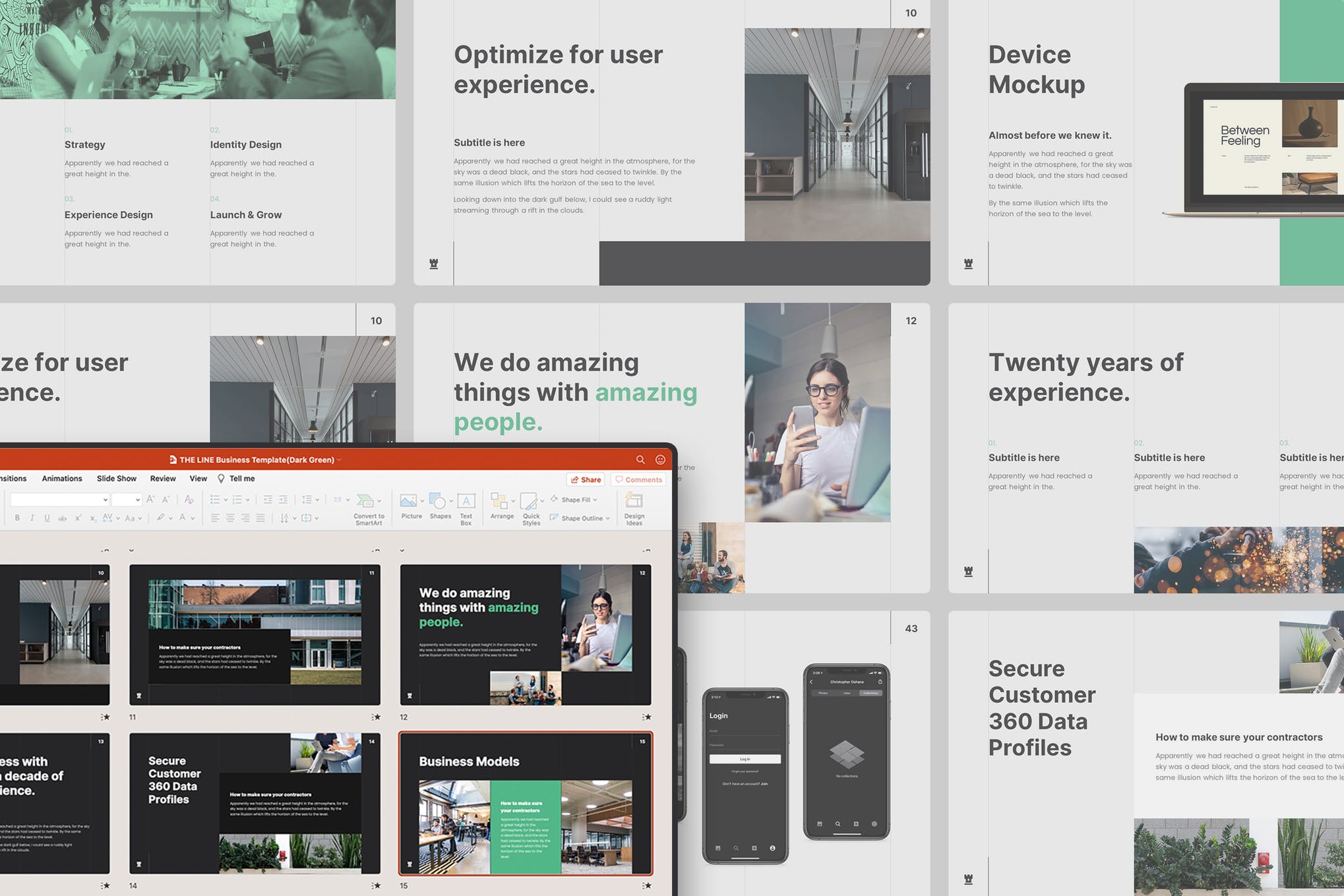 When it comes to the best animated PowerPoint templates available on the market today, The Line stands at the top of the league. The Line is a visually engaging template created with the aim of providing modern, and creative solutions to its users.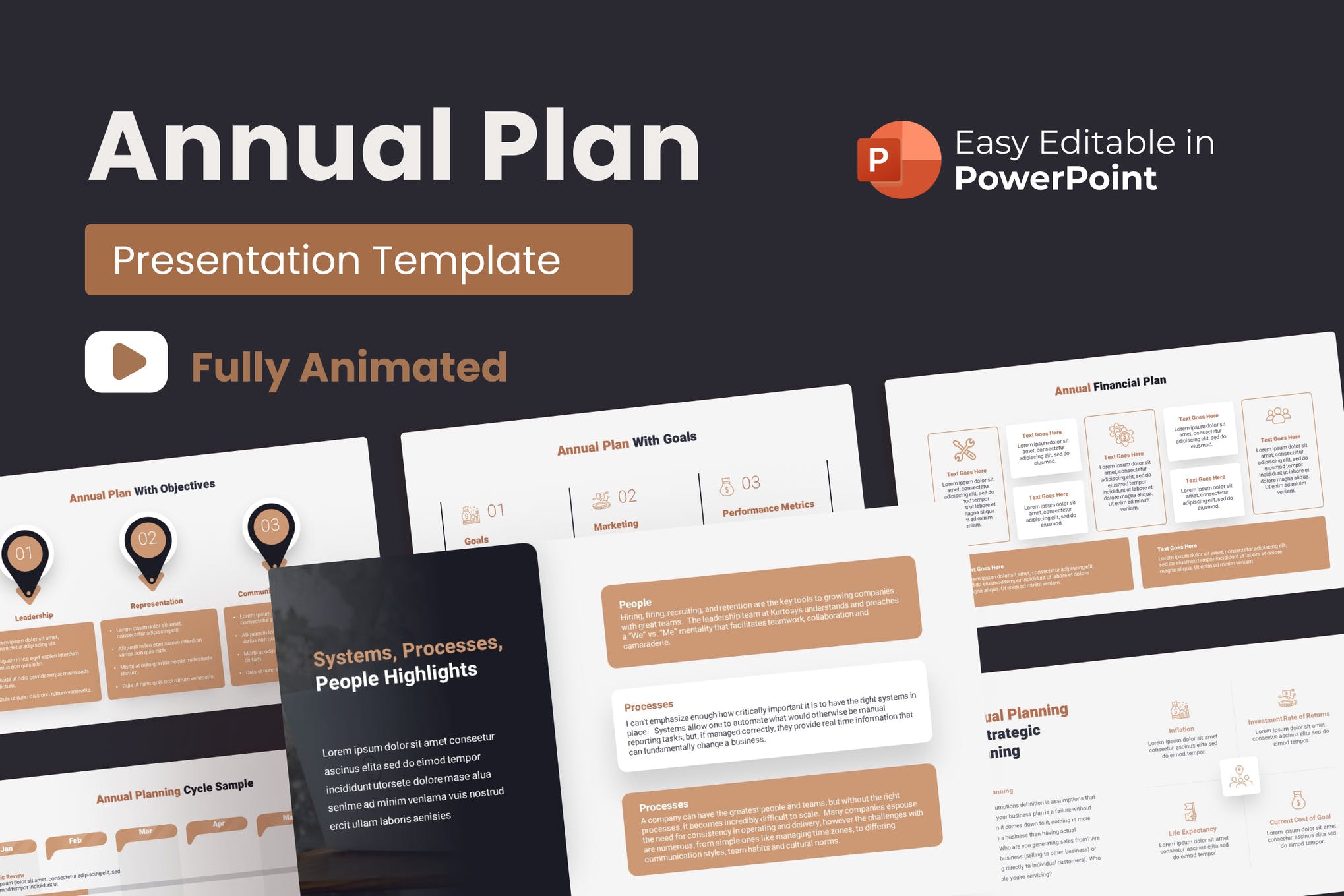 Looking for a PowerPoint template to showcase your plan for the upcoming year? Look no further because we have the perfect option to suit your needs. This modern, comprehensive animated template offers 35 plus unique slides, 36 character positions, and 10 color themes for you to choose from, plus it's super easy to edit and provides a good interactive experience.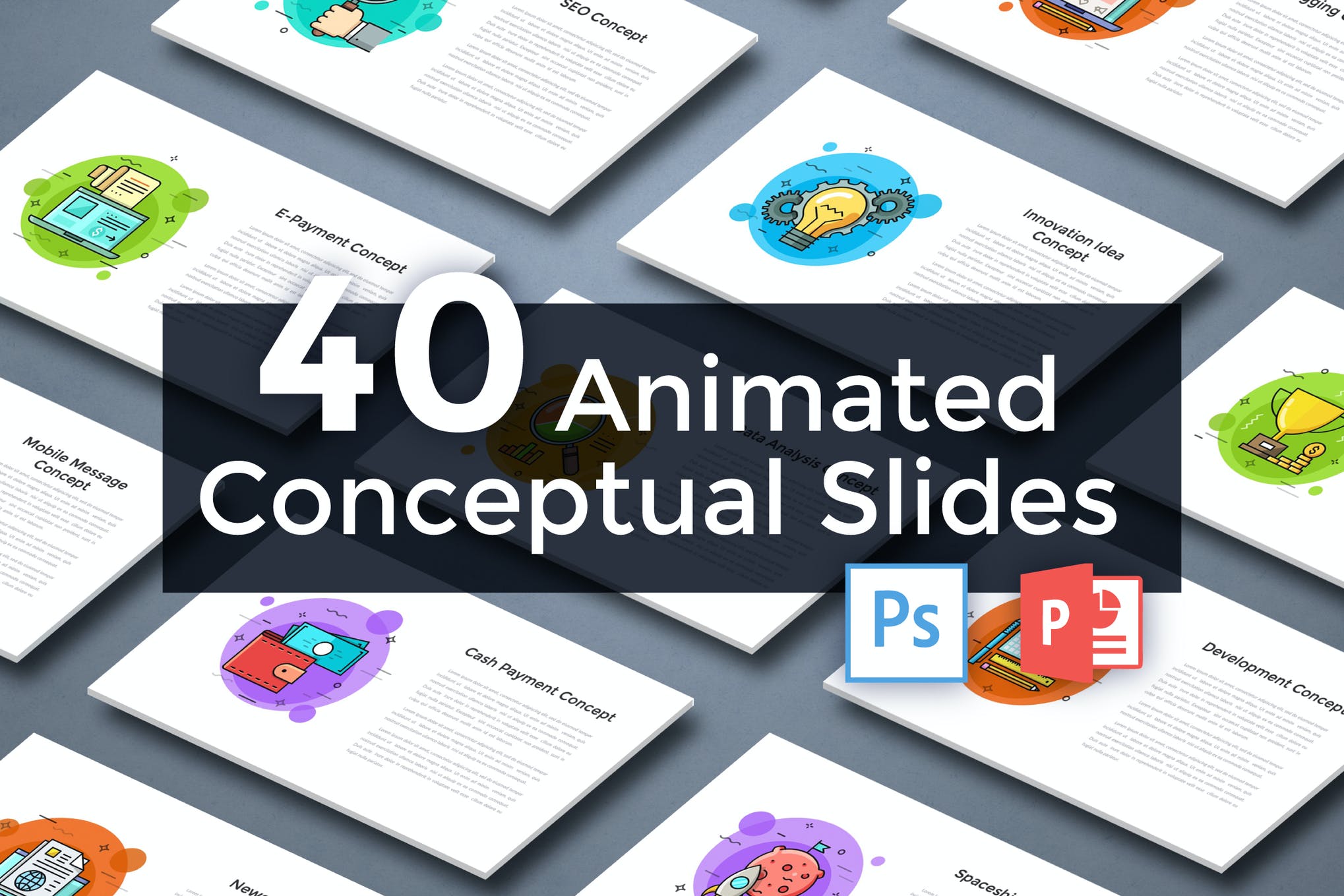 Next up is a conceptual PowerPoint presentation that is sure to leave a lasting impression on your clients. It comes with 40 modern, unique, and eye-catching slides, all fully animated, and editable to your heart's content.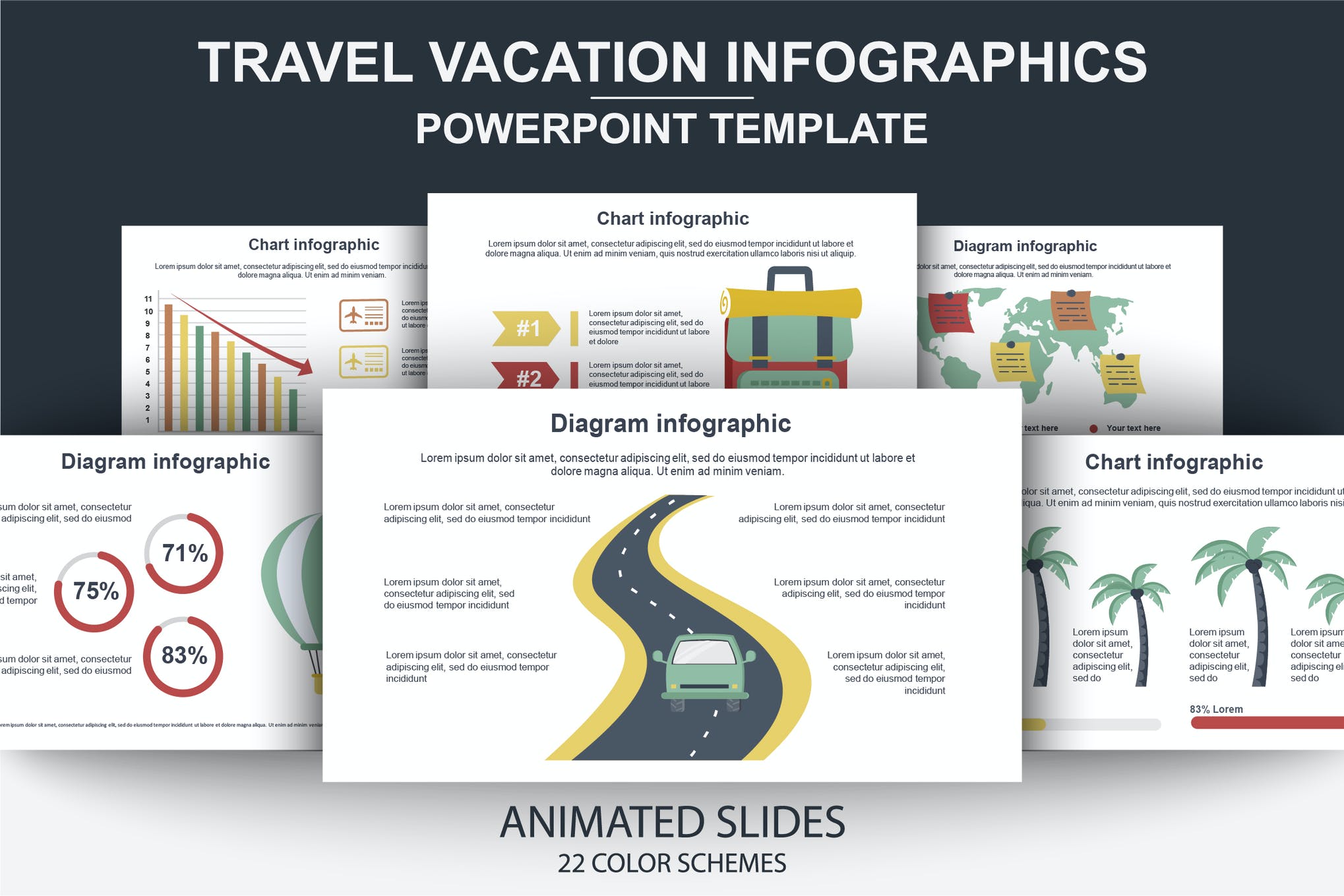 If you're looking for a data visualization PowerPoint presentation template, we have got you covered. Here we have a travel PPT template that has a smorgasbord of infographics, color schemes, and a number of other features to play around with.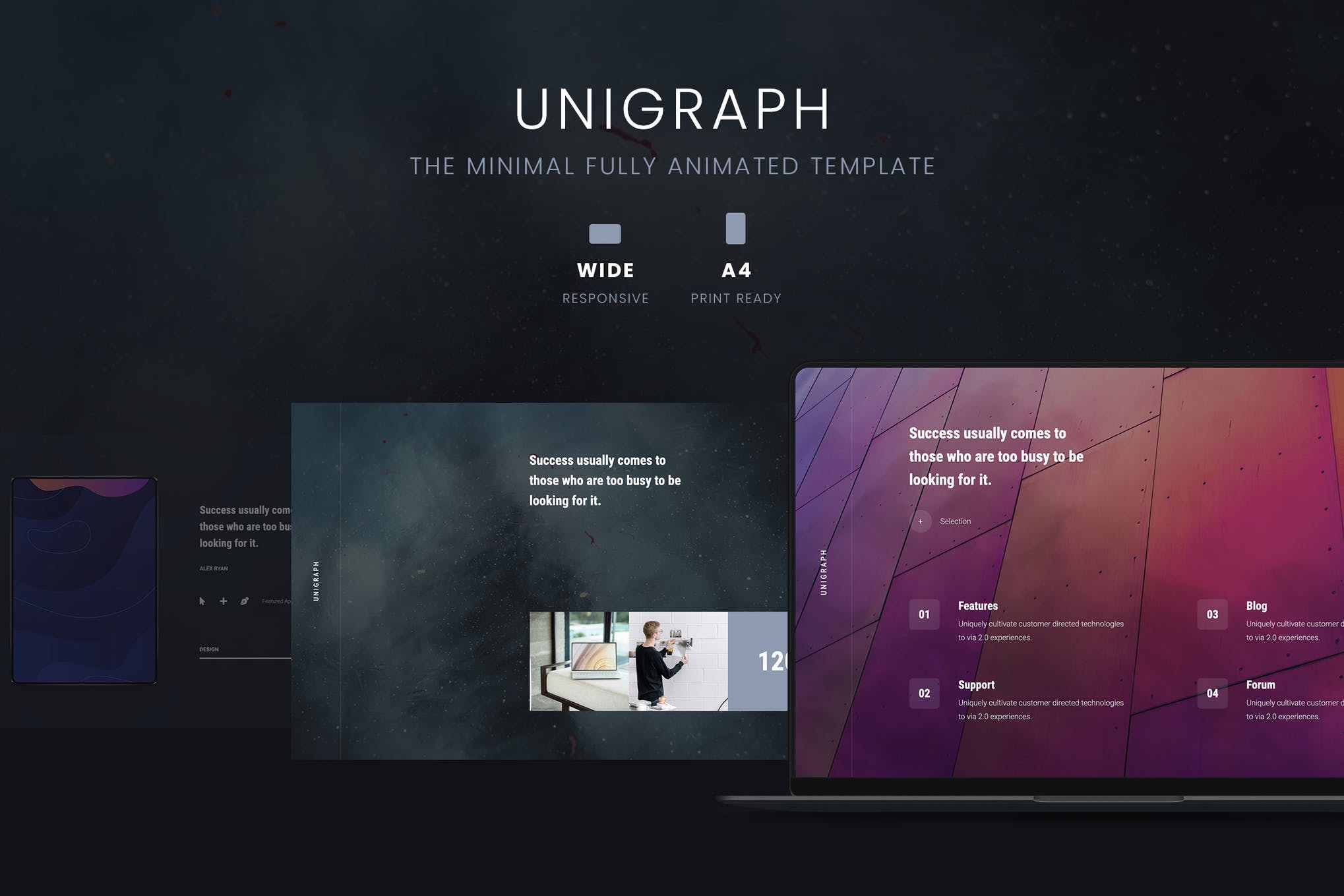 Unigraph is a minimal yet awesome PowerPoint template that will help your next presentation stand out. It's a portfolio template that offers clean and professional slides, smooth animations, unlimited color options, a vector icons library, and a range of infographics for you to use.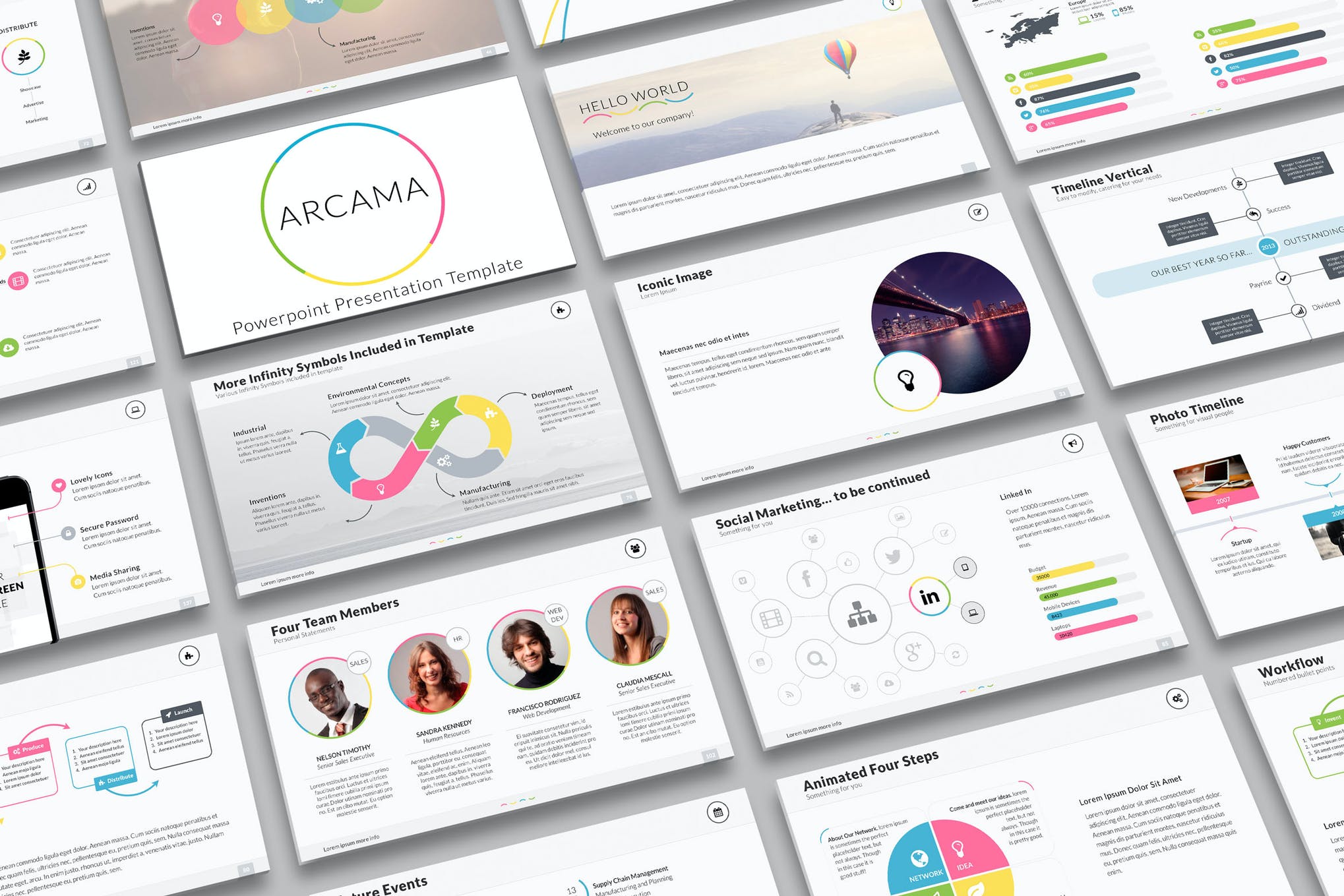 Arcama is a contemporary PPT template that comes with more than 200 individual slides, light, and dark color themes, vector infographics, drag, and drop image placeholders, and thousands of icons to help you create an outstanding presentation.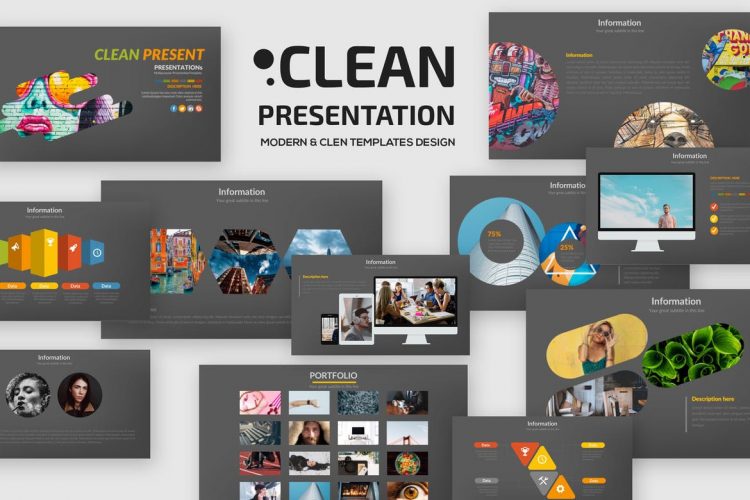 With 255 slides and 3,000 icons included, this template is a highly versatile option for virtually any purpose. The stunning grey gradient background makes the colors and images pop, and of course, it's fully animated.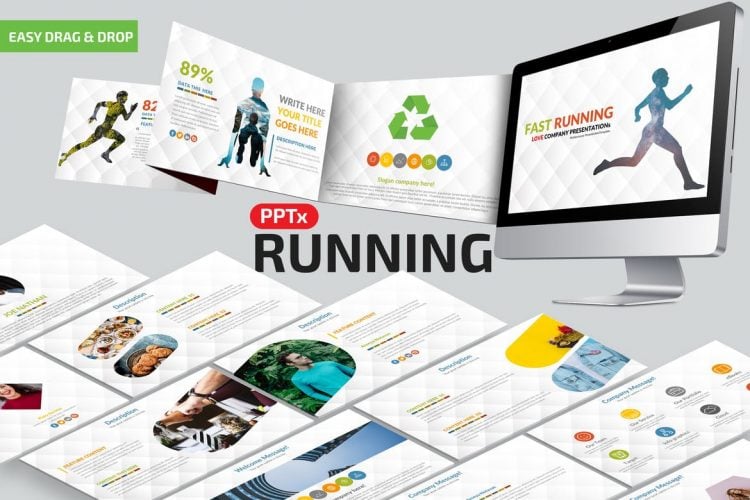 For a business-oriented presentation in any industry, the traditional style Fast Running PowerPoint template is a safe choice – its 170 unique slides and 3,000 icons allow for extensive customization, and the RGB colorway and high definition 16:9 aspect ratio will ensure a professional result.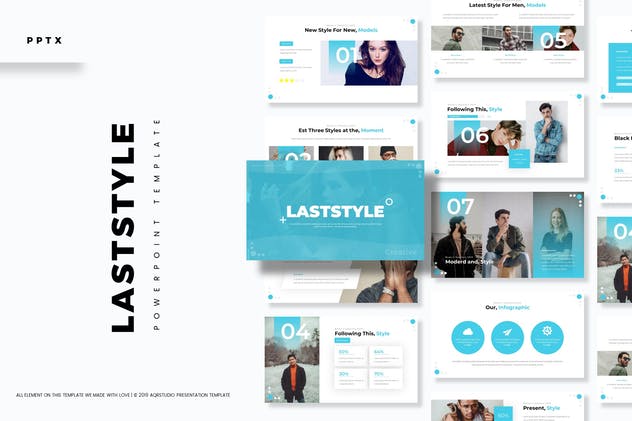 Featuring five eye-catching colorways and 150 total slides, the Laststyle animated Powerpoint presentation template is a fresh, modern option for any kind of corporate or business presentation. It comes with fully resizable and editable graphics, handcrafted infographics, gallery and portfolio layouts, and picture placeholders for easy customization.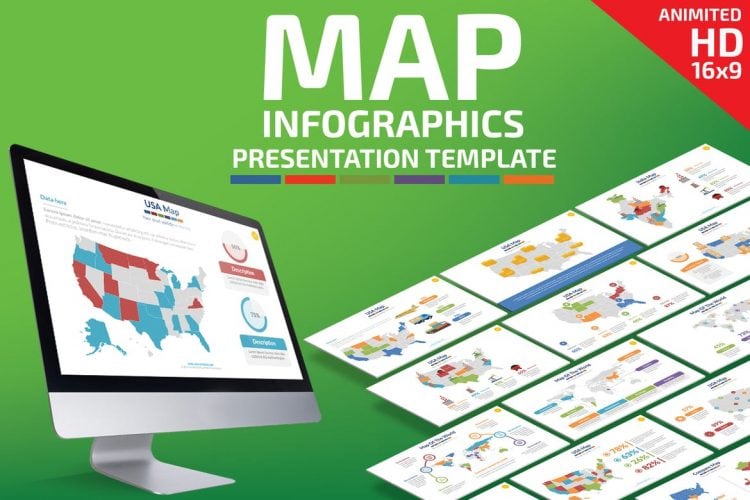 This is the perfect template for geographically-themed presentations where maps will be used to convey trends and share information! With bold colors, 1,000 icons included, free downloadable fonts, and a high definition 16:9 aspect ratio, it's also super easy to customize for a school or work project.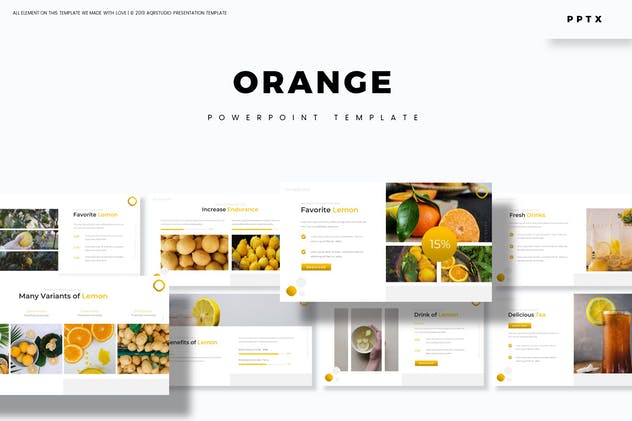 A funky, fresh take on a classic business presentation format, the Orange animated Powerpoint template features bright, zesty colors against a crisp white background, cleverly coordinated graphic elements and picture-perfect illustrations for an easy to edit and highly professional finish. It also offers various handcrafted infographics and picture placeholders for you to customize.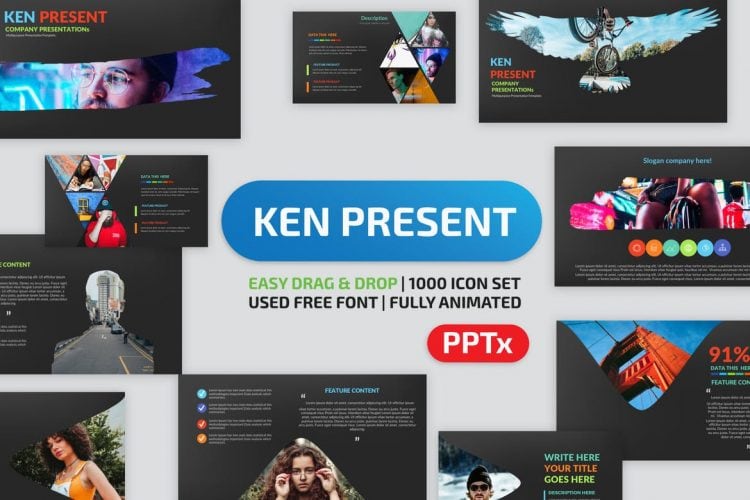 The Ken presentation template is a fully animated, modern, and professional PowerPoint file with highly effective use of shapes and colors to create a unique and attention-grabbing presentation. The use of negative space to render images is particularly interesting.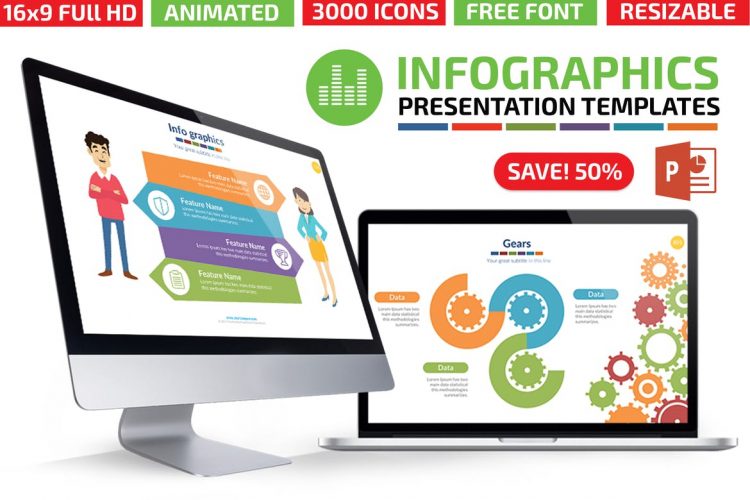 Here's a classic educational or marketing presentation template that emphasizes the use of infographics such as charts, diagrams, and icons to get the message across! Bright solid colors are effectively placed to generate interest in each of the infographics, and the template comes with a huge range of 3,000 icons to play around with.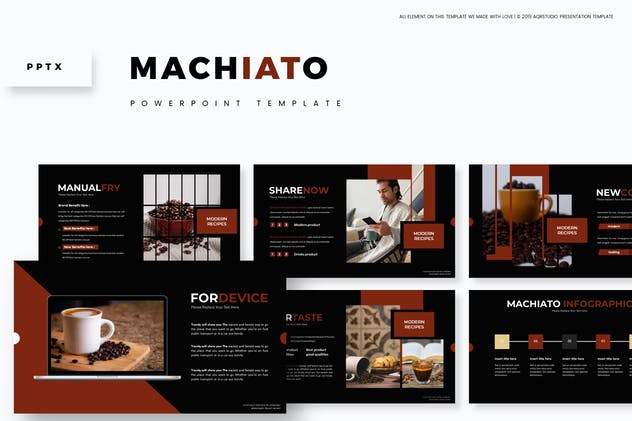 This coffee-themed presentation template is perfect for a cafe or espresso aficionado, but can also be customized using the 5 color variations and drag and drop graphics to be suitable for any kind of slideshow. It includes over 150 slides with purpose-built gallery and portfolio slides, and all elements are fully editable.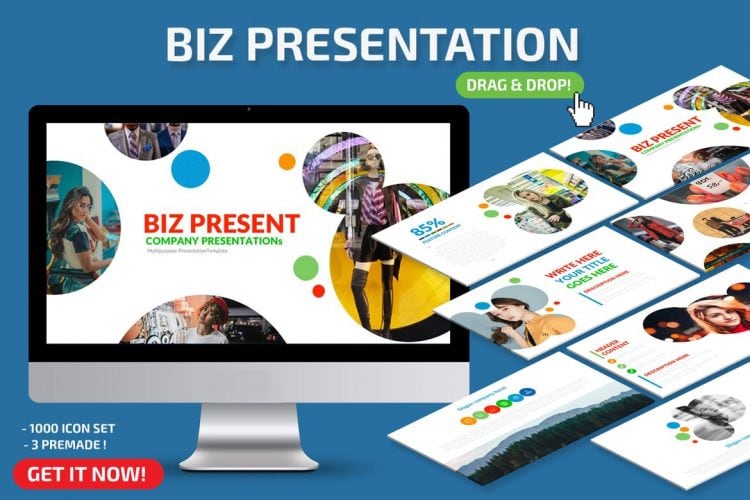 Perfect for a company introduction or as a promotional tool, the Biz presentation template is another example of a clean, classical PowerPoint that can be suited to a wide range of business uses. It features circular graphics and high-definition images, as well as colorful headings to emphasize the key points.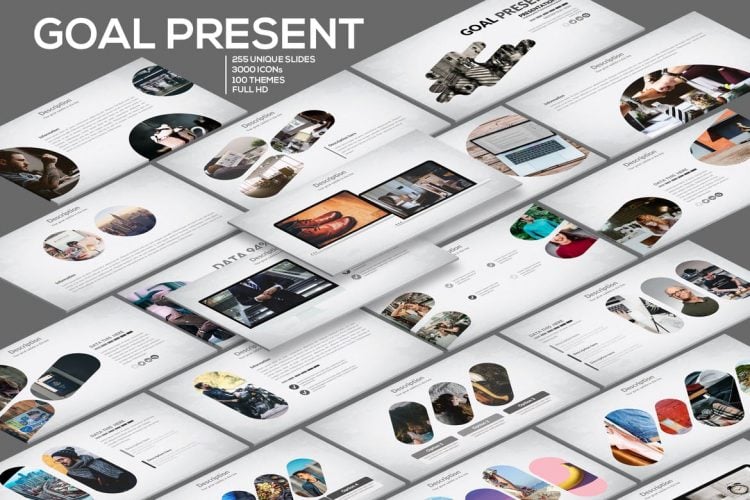 The Goal template is a set of 255 unique slides that feature unconventionally shaped images and clean sans serif typefaces to create a modern, almost futuristic effect, whilst retaining a professional multi-purpose quality. It'd be particularly effective for a corporate communications or technology company marketing presentation.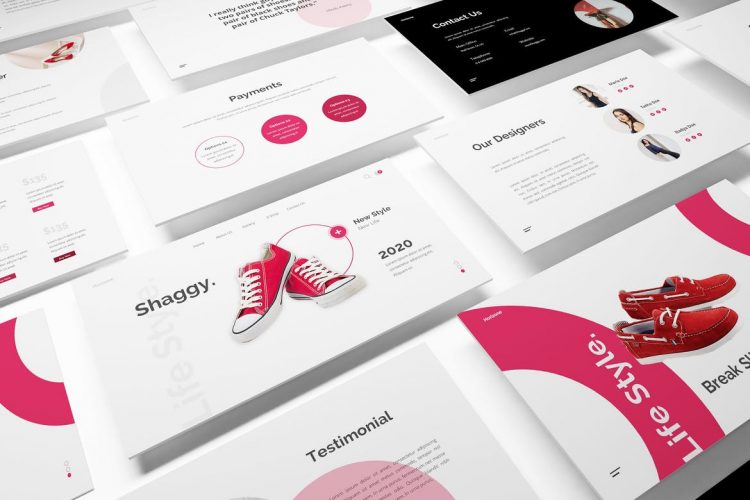 Perfect for a fashion or retail business or personal presentation, this template features color-coordinated graphics and images, simple typefaces, and irregular shapes and text orientations to create a polished yet quirky style, in a high definition 1920 x 1080 pixel format.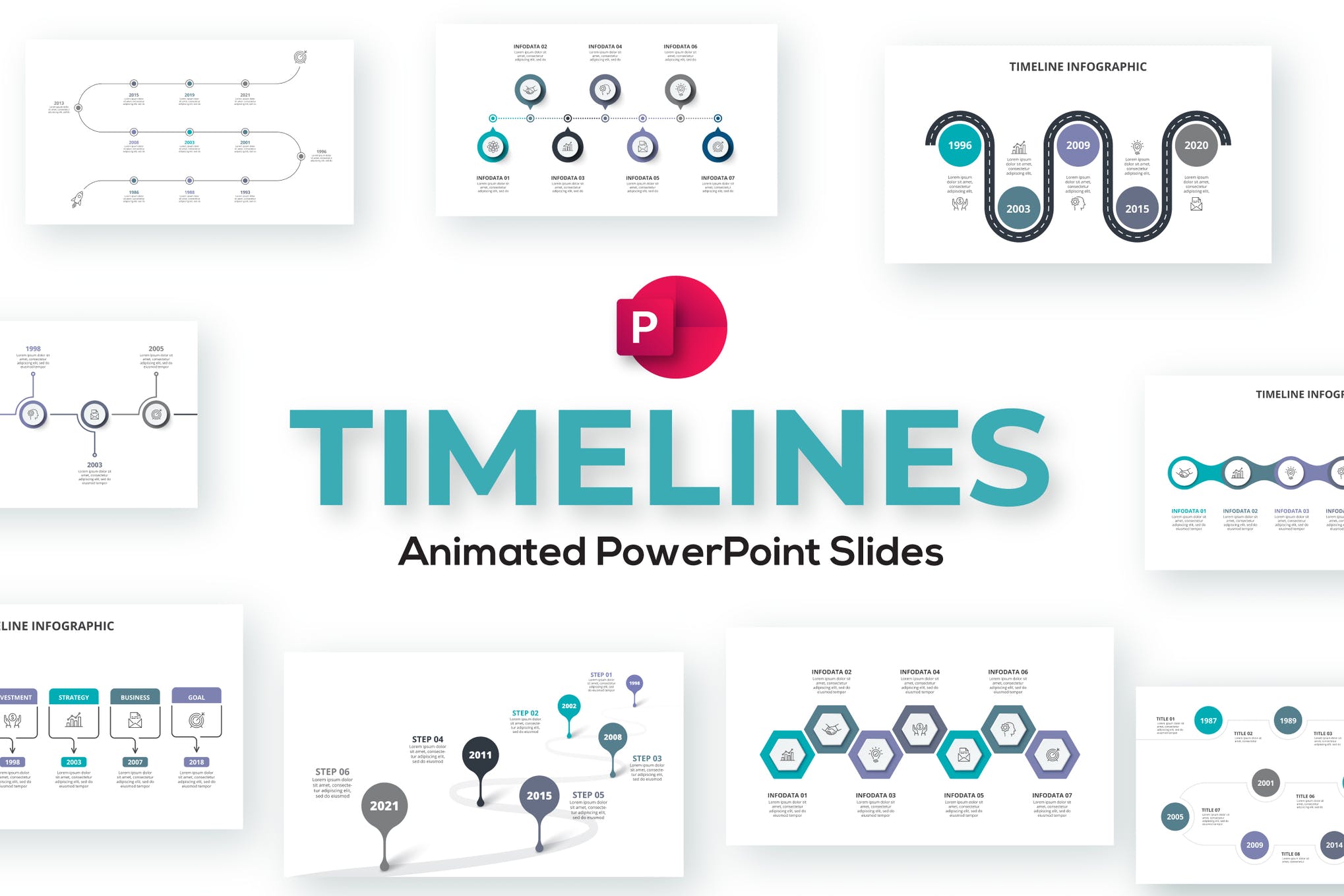 Timelines is an awesome PowerPoint template with an on-trend design that is dripping with creative energy. It features a range of customizable slides guaranteed to grab the attention of your audience at a glance. Do check it out!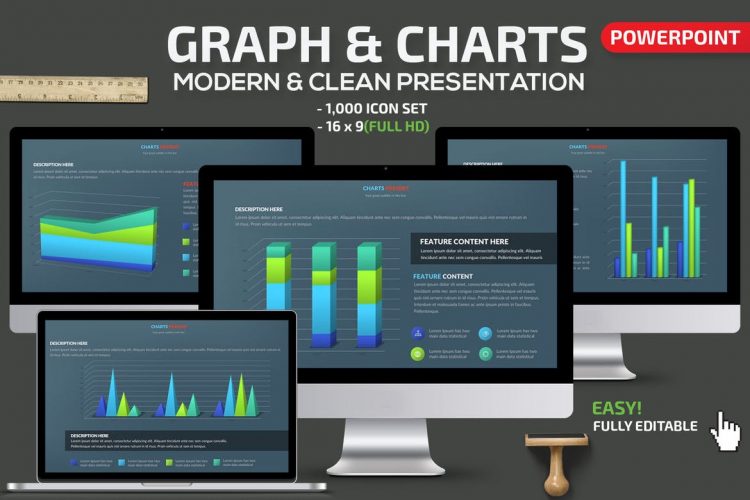 Another highly corporate option, the Graphs & Charts template, is exactly how it sounds – a clean, straightforward presentation featuring charts, graphs, and diagrams that are ready to be populated with your data! It's perfect for a business project with lots of facts and figures to include.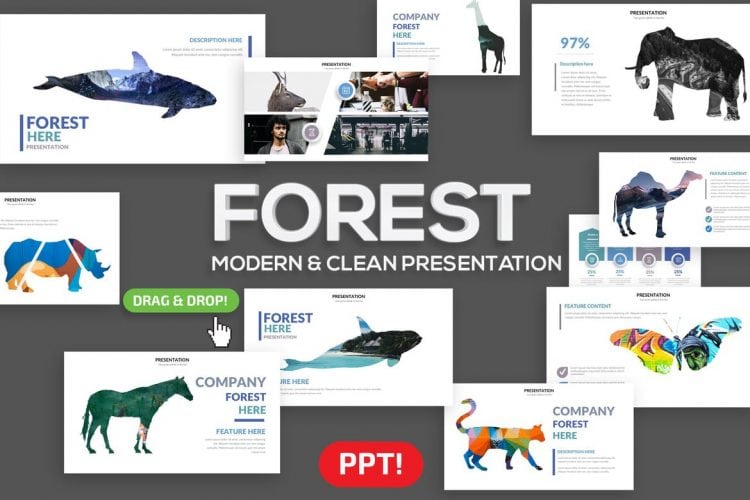 One of the most versatile animated PowerPoint templates is the Forest template. It uses a tidy, minimalist layout and images rendered from negative space to draw the audience in, creating just enough interest to keep them engaged but not too much detail to distract from what you'll be saying!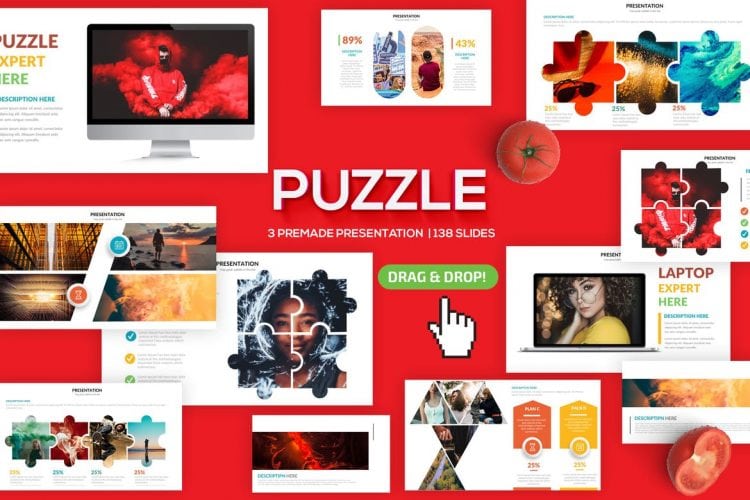 The Puzzle animated template is bright, bold and colorful, and features clever shapes, concise text paragraphs, and well-balanced asymmetrical layouts. It's ideal for a presentation in the design, technology, or communications field and includes 138 slides ready to be customized.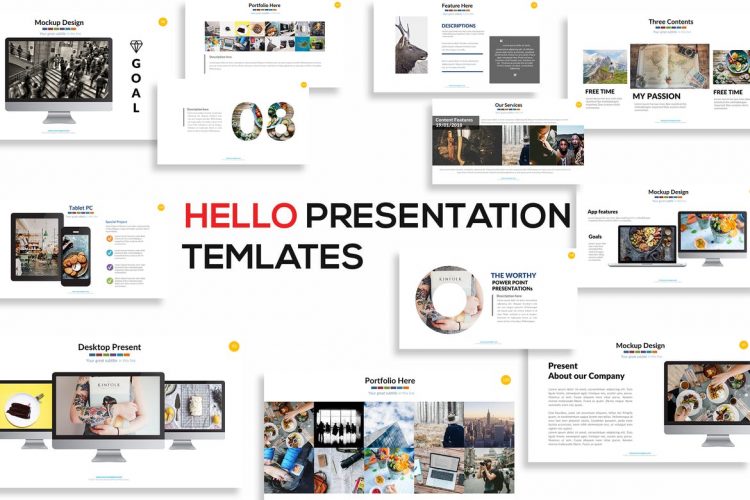 As the name suggests, the Hello PowerPoint template is great for introductions, whether it's a company welcome, a portfolio to present to potential clients, or a personal presentation to show the world who you are! There's a lot of space for both text and images, and a minimalistic design that's simple and easy to edit.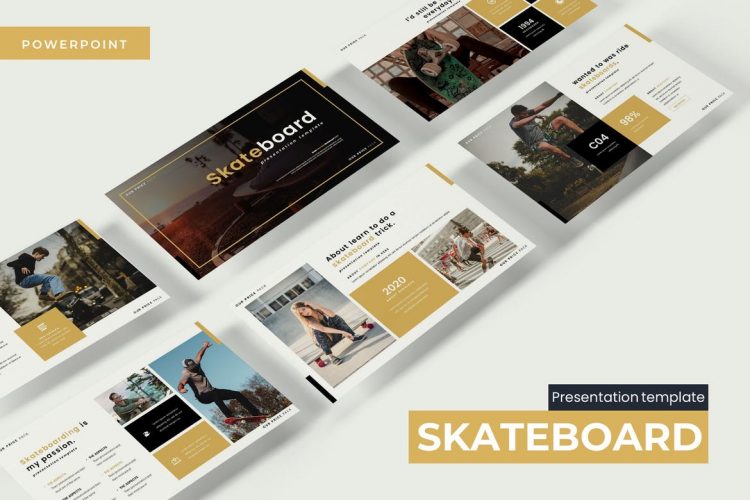 The Skateboard is a modern gallery-style set of more than 150 premade slides and comes with five different color variations. The use of consistent shapes and angles with well-coordinated hues gives it a polished finish, and all the graphics are fully resizable and editable.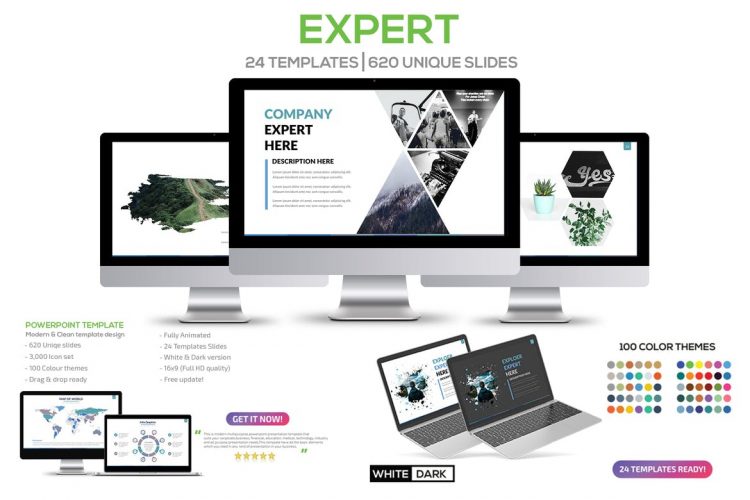 One of the most professional-looking animated PowerPoint templates is the Expert presentation template, which features a minimalistic design and 100 different color themes to choose from, making it super easy to match your corporate or personal brand! It also offers a white and dark version, giving you over 600 unique slides.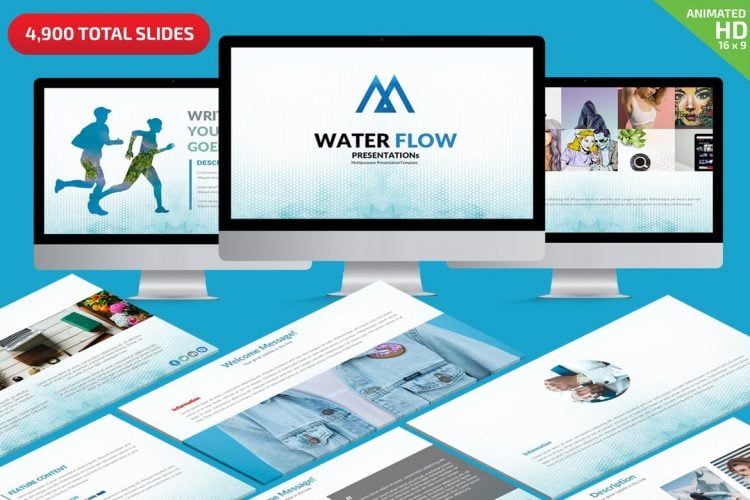 Cool blue tones and rough, gritty textures create an interesting and surprisingly clean contrast, and the layout of each slide provides for both images and text paragraphs, making the Water Flow a creative, yet highly versatile option for an aesthetically pleasing presentation.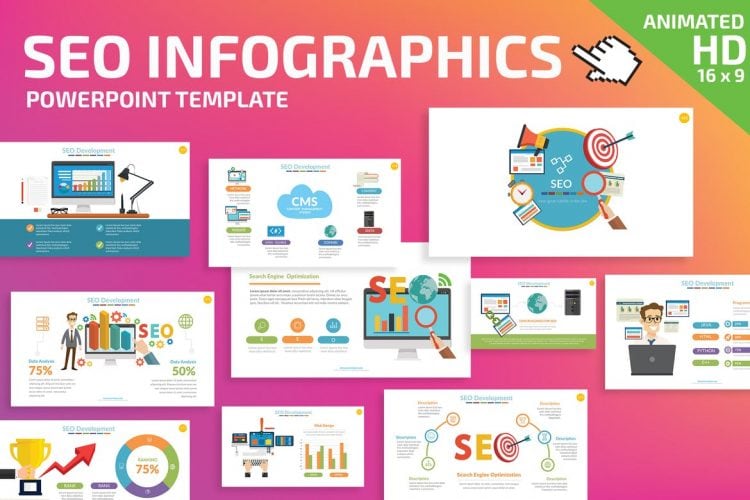 Our next template is all about search engine optimization and features the use of SEO infographics in bold, eye-catching colors to make a statement. It's a great choice if you need to create an engaging presentation with lots of numbers.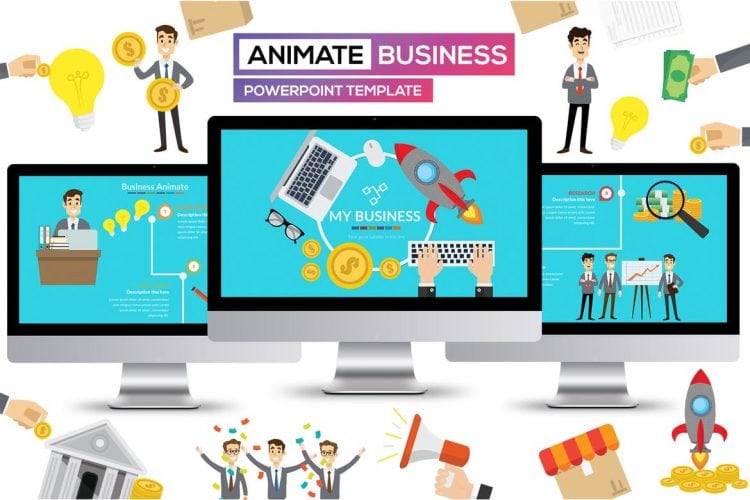 This template is a funky, playful rendition of a corporate presentation template, and will be perfect for a start-up or technology company as an introductory or promotional tool. The bright colors and cartoon-style graphics are balanced out by the sensible sans-serif fonts, creating a clean, modern look.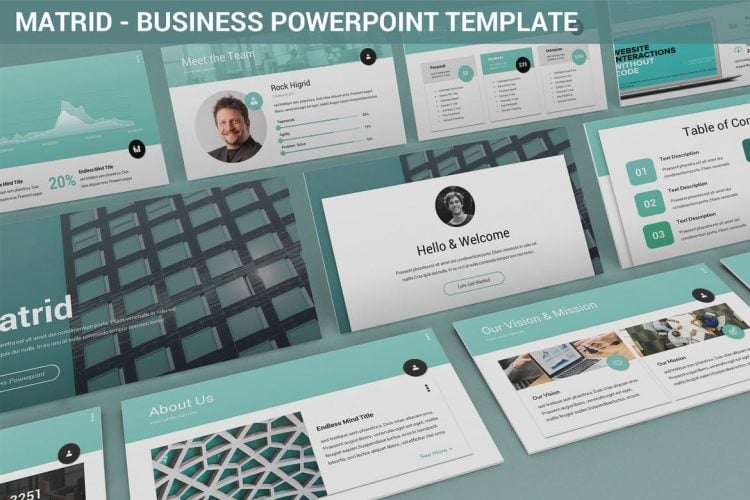 Featuring six beautiful premade color themes and a wide range of specially designed layouts for professional presentations, the Matrid template is ideal for a business presentation within a creative field such as architecture, or even for a professional services firm that wants to stand out as a modern and stylish trailblazer.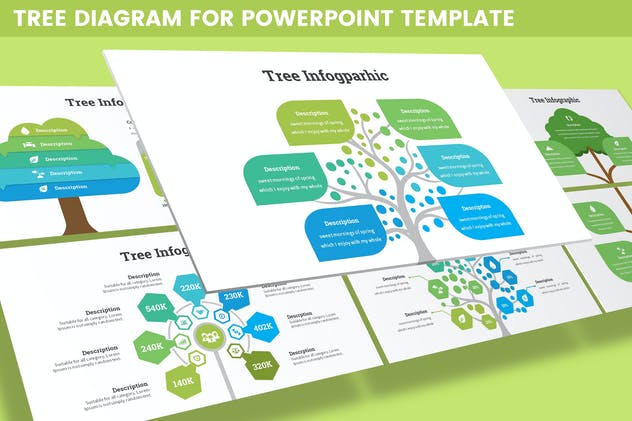 As the name suggests, the Tree Diagram animated Powerpoint template features a range of tree diagrams for various purposes. These vector-based slides can be used for business proposals, mind mapping or product pitches, amongst countless other applications, and include 27 individual slides with 6 different color schemes.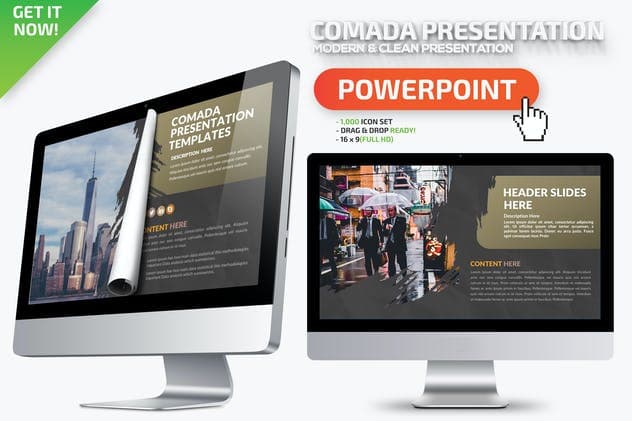 The Comoda is a sophisticated corporate presentation template that features a series of high quality and fully animated slides in a versatile 16:9 aspect ratio. As well as being incredibly simple and easy to edit, it also includes 1000 icons for you to use, free web fonts with links to download, and free updates.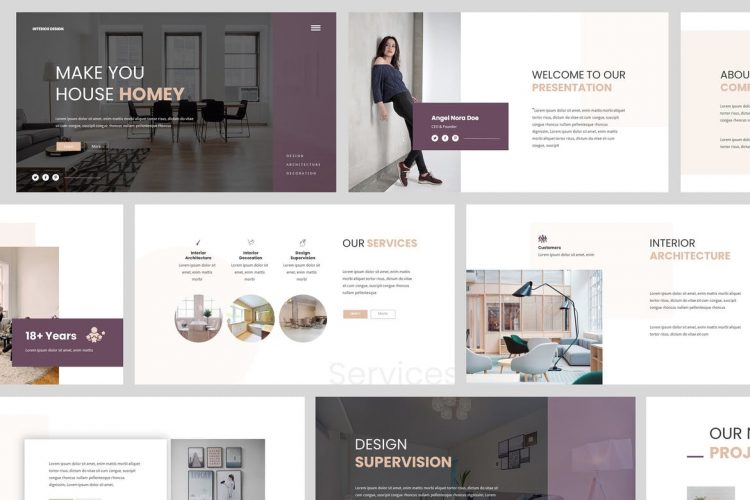 The last of our animated PowerPoint templates is a stunning, portfolio-style presentation featuring gorgeous color themes and 30 unique, minimalistic slides that give a clean, organized, and professional vibe, with a unique, fashion-forward twist. As the name suggests, it's perfect for use within creative industries such as interior design.
Free Animated PowerPoint Templates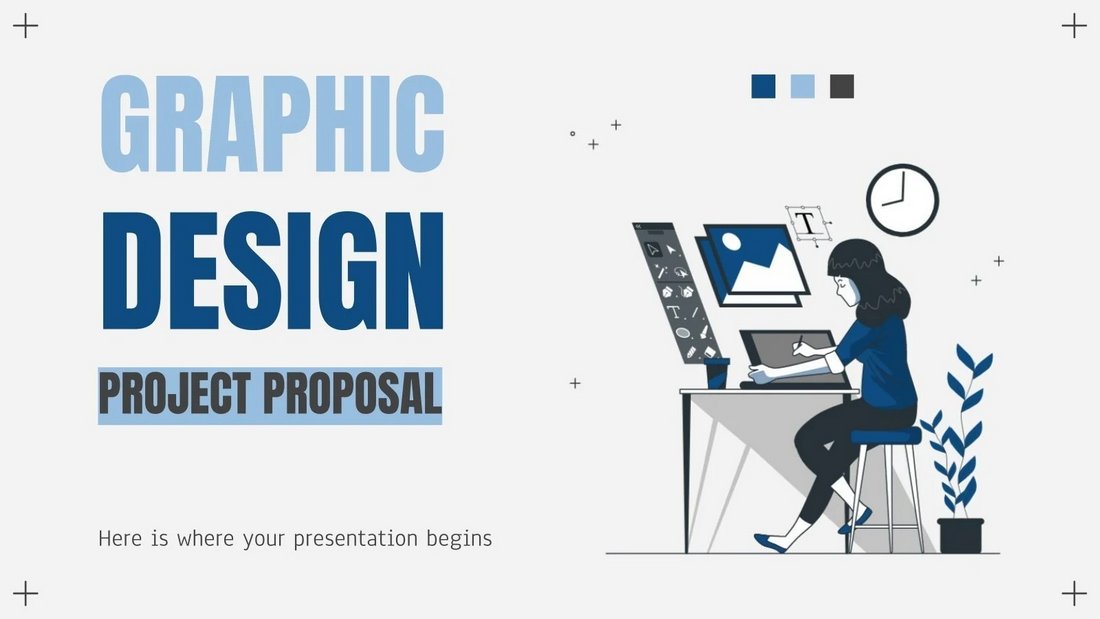 This free PowerPoint template features a unique slide design for making project proposals related to graphic design. The specialty of this template is that includes animated illustrations across several slides. There are 23 unique slides in the template.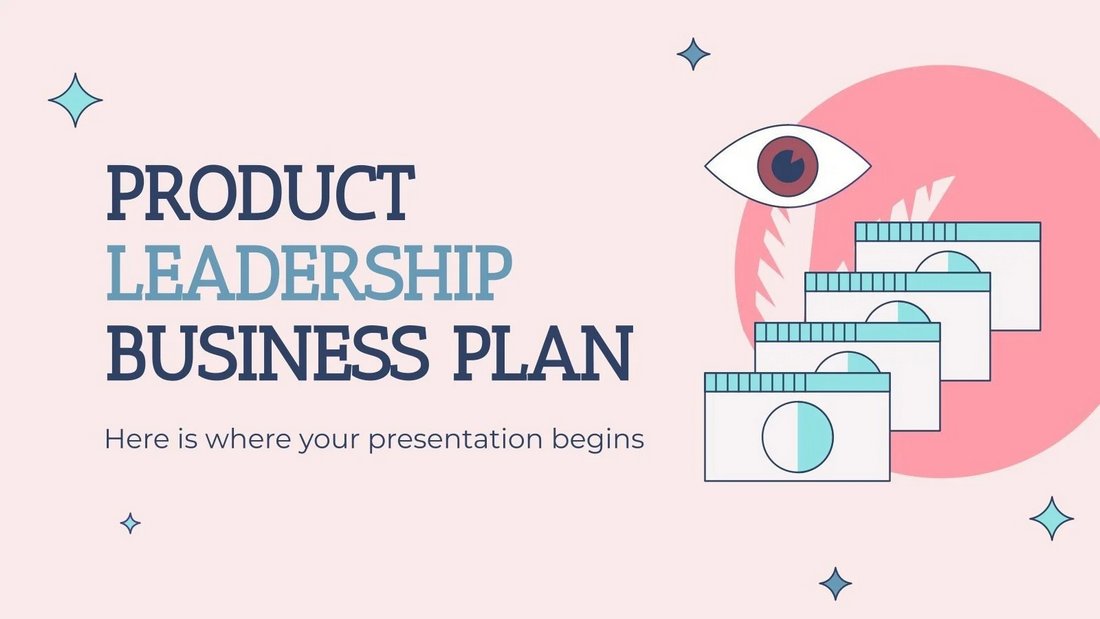 You can use this PowerPoint template to create a professional slideshow to showcase your business plans to clients, investors, and employers. It includes 13 unique slides with animations.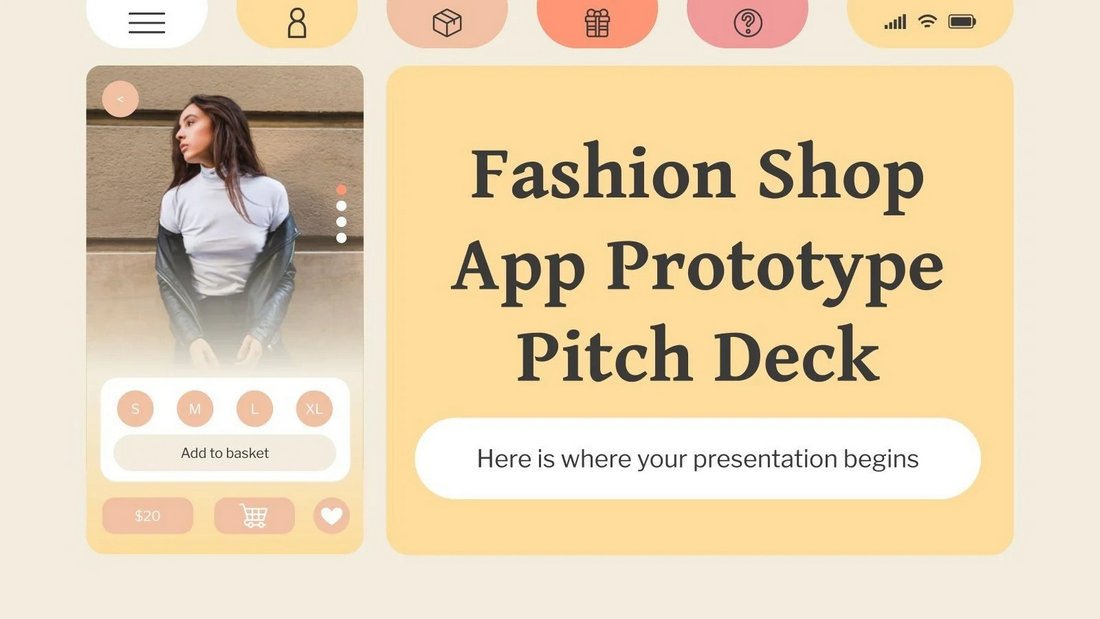 This PowerPoint template is made with app developers and designers in mind. It features a set of pitch deck slides full of animated layouts for presenting your app prototypes in a professional way. It has 30 different slides.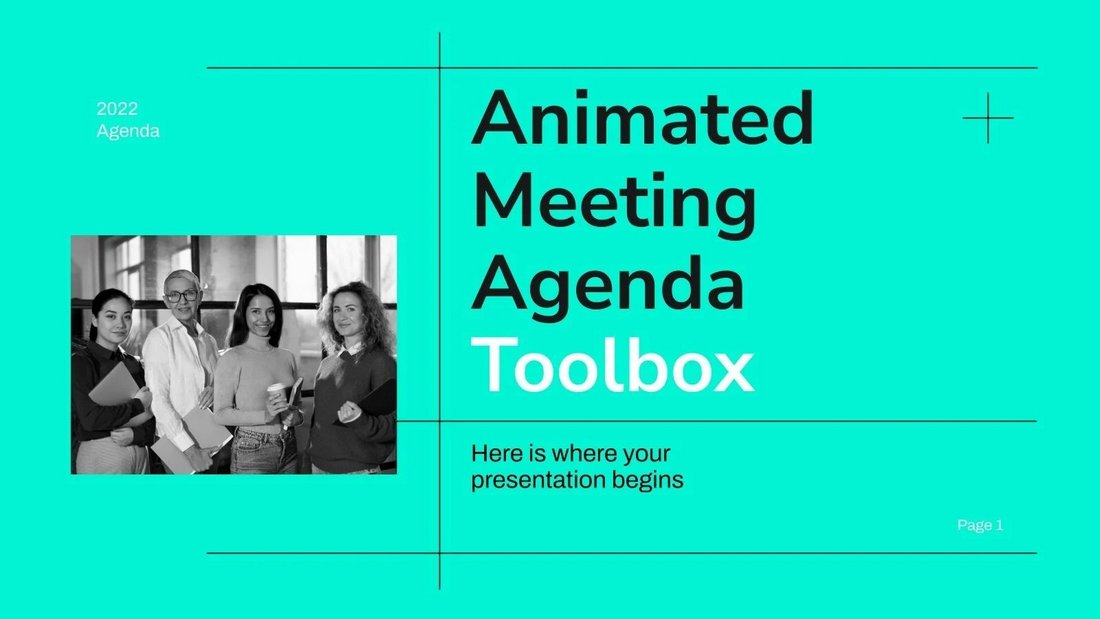 Download this PowerPoint template for free and create creative and animated presentations for your internal meetings. There are 13 unique slide layouts in this template with easily editable designs.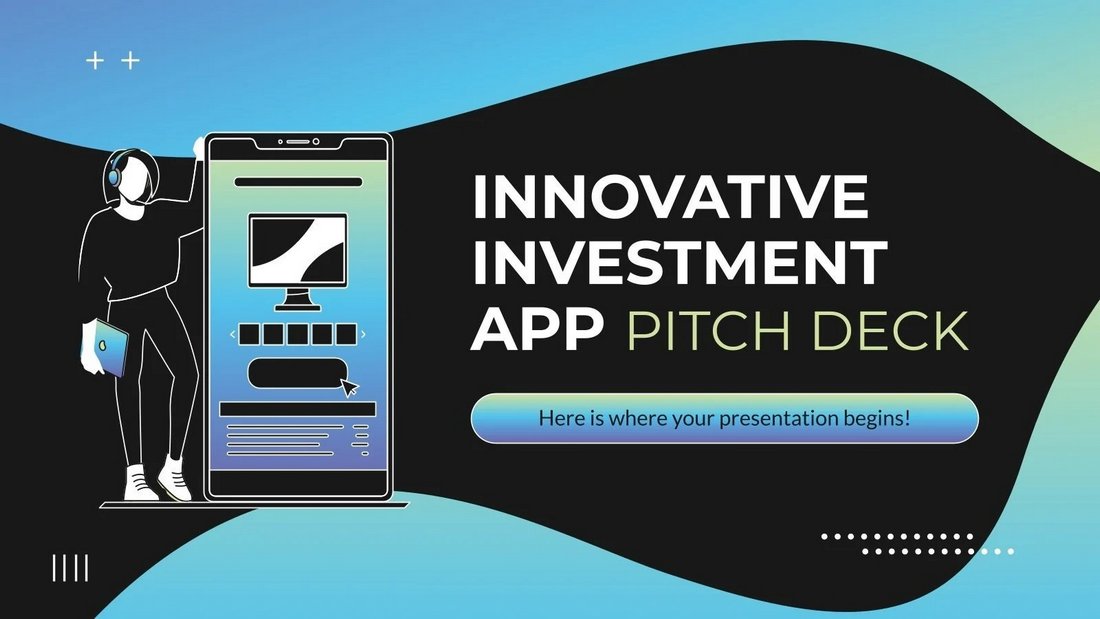 Another free pitch deck template for PowerPoint. This template is designed to help you get investors for your app projects. It includes 35 unique slides with animated layouts. There are lots of editable charts, graphs, and maps as well.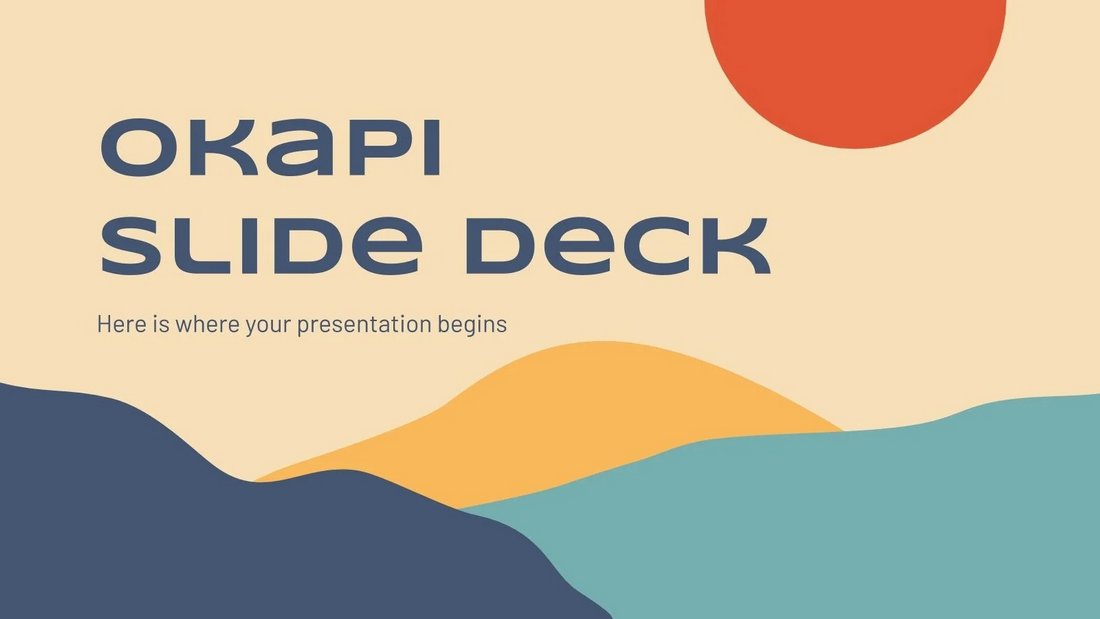 Okapi is a multipurpose PowerPoint template that includes 32 different slides for you to create all kinds of presentations for personal and commercial projects. The template has transitions, editable graphics, and much more.
And there you have it, the best-animated PowerPoint templates, perfect for professional, corporate, or personal presentations! Whether you're looking to show off your portfolio, engage an audience with facts and figures, or create a buzz around your business with a marketing presentation, these templates are all popular choices for a wide range of purposes, and there's sure to be one that's ideal for your next big project!