5 Reasons to Choose a Fullscreen WordPress Theme
If you're planning on building a portfolio, agency, or a startup website, then you should consider using a fullscreen WordPress theme for your website. Here's why.
WordPress is a CMS that you can use to create many different types of websites from small business websites to blogs and massive online stores. And you need to find the right theme that offers the ideal design, features, and customization options that's most suitable for your website type.
When it comes to agency and portfolio websites, there are several types of theme designs you can use, including one-page designs, grid-layouts, and more. Lately, many businesses have been switching to the new fullscreen website design strategy to build different types of websites with WordPress.
In this post, we explore the new trend of fullscreen WordPress themes and how you can use a fullscreen theme to attract more visitors and sales for your business.
Get everything you need to build your next website with one simple subscription. From $16 per month, get unlimited access to nearly 2 million WordPress themes, web templates, fonts, graphics, and photos.
What Is a Fullscreen Website Design?
Simply put, a fullscreen design is a fluid website layout that uses the entire width and space of the screen when showcasing the content of the website.
A website with a fullscreen design usually avoids the conventional ways such as using grid layouts and standard content placements and instead embraces the freedom to use unique content designs.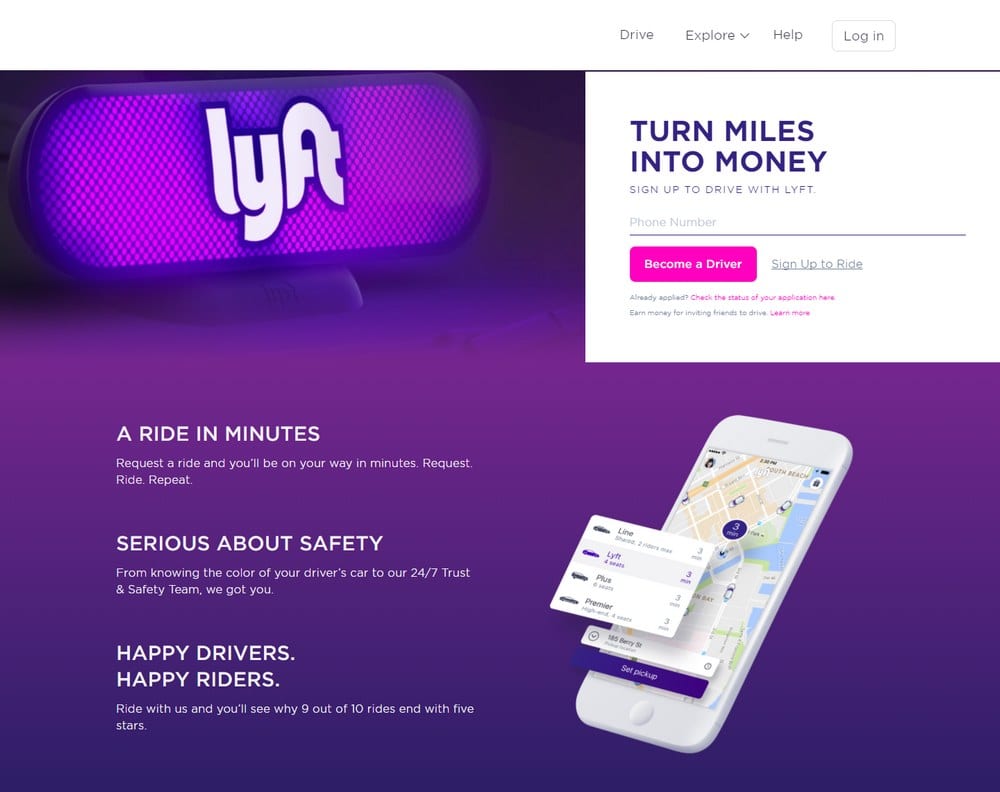 The Lyft website uses a similar design on its website to beautifully showcase its services and features while taking advantage of the fullscreen design.
Main Features Of A Fullscreen WordPress Theme
It's not too difficult to spot a fullscreen WordPress theme. You'll be able to instantly recognize when you see one. Although, there are certain features that you should keep in mind when searching for a theme with a truly fullscreen design.
Hamburger Menu
Fullscreen websites often use large images as the background that spans across the screen. To make more space for showcasing these images, most fullscreen websites use Hamburger menus instead of the traditional menu. This adds a modern touch to the design.
Scroll Down
When using a fullscreen website design, you will need to place guiding instructions for your visitors. Especially if you use a video background, you will have to instruct users to keep scrolling down for more. This is accomplished by placing a small arrow icon above the fold.
Large Images
You can easily showcase your products with high-resolution images when using a fullscreen website design. Apple's iPhone website uses this strategy quite brilliantly.
Typography
Fullscreen websites use large headers and text sizes. This means users will pay close attention to your typography. You'll have to make sure that the theme you're about to buy offers plenty of options for choosing the right font for your website.
There are many upsides to using a fullscreen WordPress theme. Here are just a few reasons to use one.
More Space To Showcase Your Products
A great thing about using a fullscreen design is that you get to play with different ways to showcase your products on the homepage or portfolio. There's no need to play by the rules and stick to a grid layout.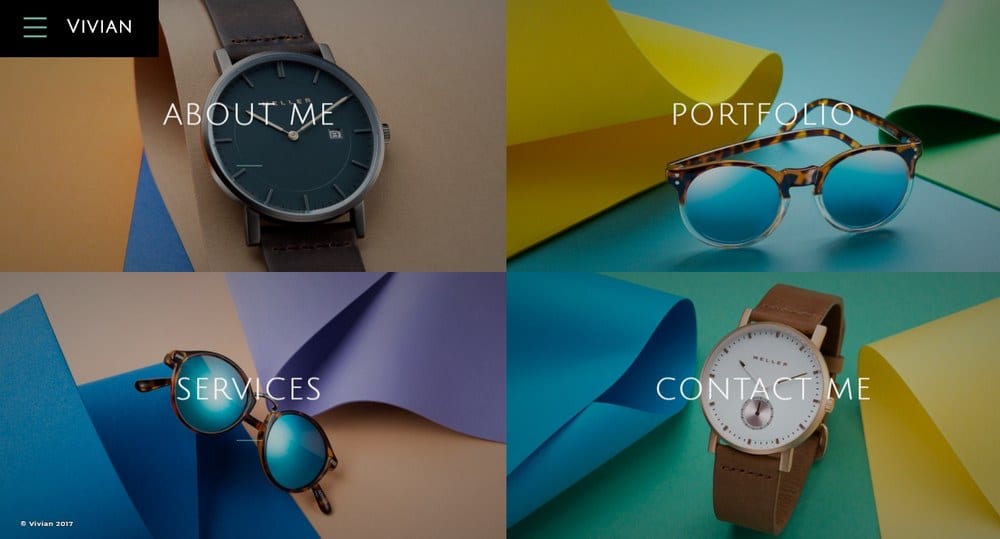 (Example: Vivian WordPress theme)
You also get to showcase large images instead of tiny thumbnails and let users get a better view of your images without having to enlarge. Or watch videos without having to go full-screen. Which makes fullscreen themes a great choice for single product websites as well.
Build Beautiful Portfolio Websites
Whether you're planning to build a business portfolio website or an agency portfolio, using a fullscreen design can help make a huge difference in attracting more visitors to your website and offer a memorable experience at the same time.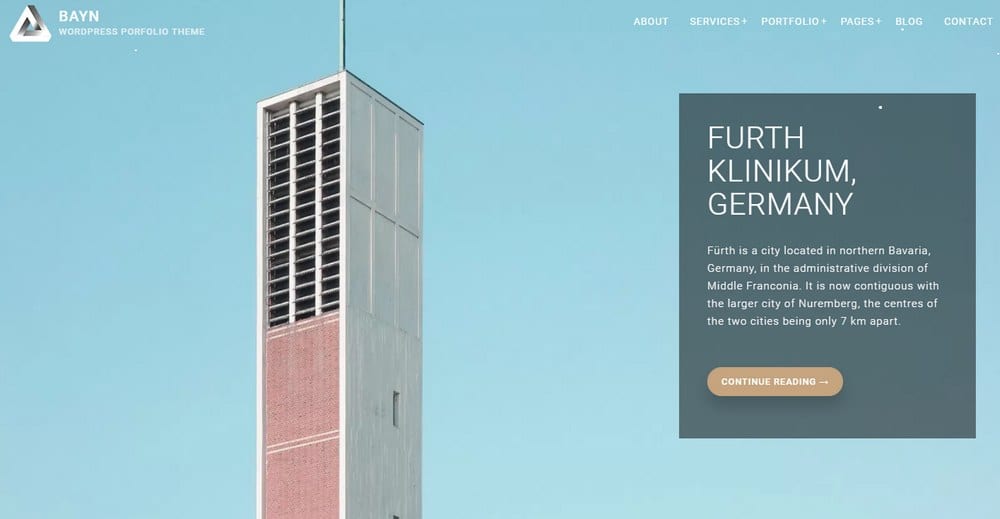 (Example: Bayn WordPress theme)
The spacious design of the fullscreen theme will give you an opportunity to showcase your services and talk about the history and the future goals of your business without cluttering the website.
The minimalist design approach will not only give your website a cleaner look but it will also better highlight the CTAs (call to action).
Personal Branding For Bloggers
Using the homepage as a hub is a popular strategy most bloggers are now using to promote their products. Instead of using the blog as the homepage, bloggers now use a landing page as the homepage to highlight their different products and drive visitors to other product pages and also generate email subscribers.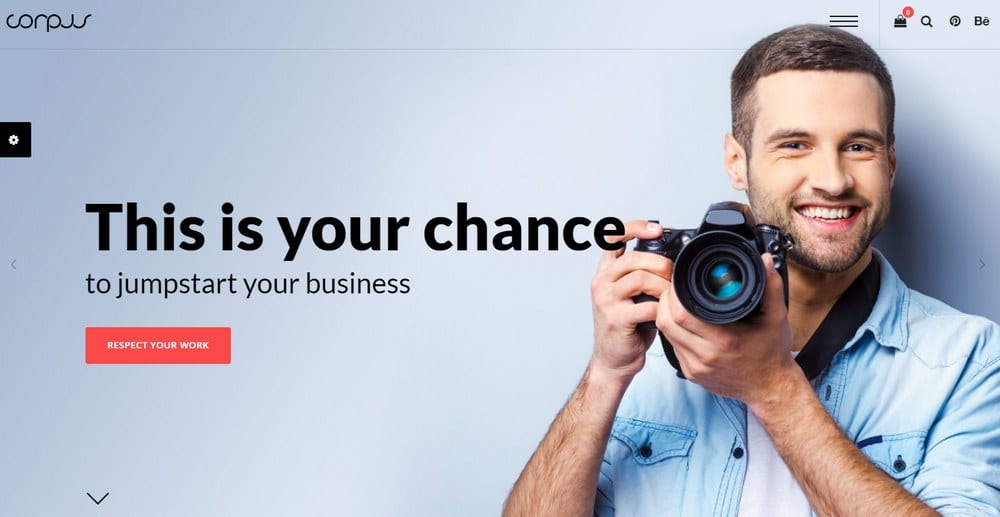 (Example: Corpus WordPress theme)
A fullscreen theme is the most commonly used design for these blogs. They give the bloggers an opportunity to optimize their blogs for personal branding and get a headstart in the buyer's journey to turn regular website visitors into leads and then to customers.
Freedom To Use Innovative Design Techniques
Using a fullscreen website design will also give you the freedom to test and try different types of design techniques, effects, and animations. Such as parallax scrolling and scrolling animations. These effects allow you to offer a better user experience to your visitors.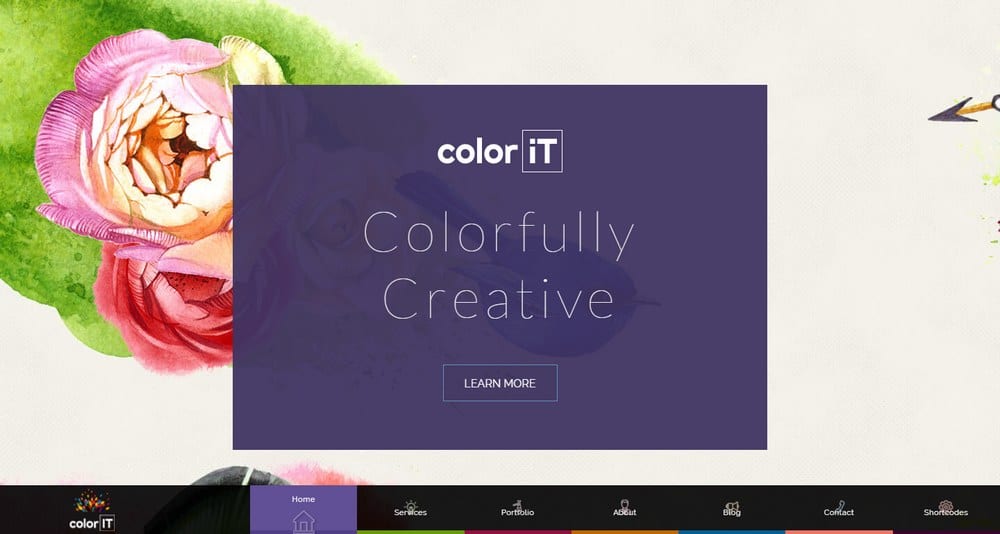 (Example: Color Folio WordPress theme)
You can also approach your website in an entirely different way by using a horizontal scrolling design. These websites allow users to browse the website as if it's a slideshow presentation by scrolling sideways instead of scrolling down. It's a great way to stand out from the crowd.
Attract Attention With Video Backgrounds
Video backgrounds trend was a big hit in 2017. More WordPress themes and websites now use video backgrounds to effectively showcase their products and get visitors to pay attention to the website content.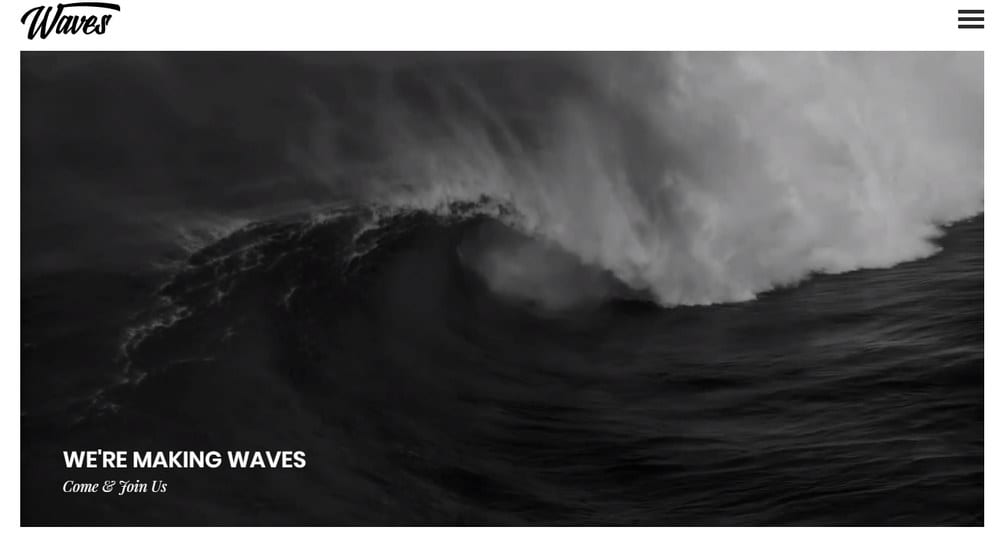 (Example: Waves WordPress theme)
A fullscreen website design will give you the freedom to use a video background on your website header or anywhere else without having to set margins or affecting the overall user experience.
Some fullscreen WordPress themes come with pre-built video backgrounds as well.
In Conclusion
If you look at some of the most popular brands and business portfolio websites, like Apple and Google, you'll notice how they use fullscreen designs to better showcase their products and services. However, it's not a design you can use for all kinds of websites. Certain websites, such as online stores, need to follow a consistent design structure to offer a better user experience.
Check out our handpicked collection of best fullscreen WordPress themes to find inspiration for your own website.