10+ Best WordPress Media Library Plugins of 2022 (+ File Management Tips)
The default media library in WordPress does its job really well. But, it lacks a proper system for organizing the files you upload to your website. WordPress media library plugins help solve this problem.
With a media library plugin, you can keep all your media files properly organized using categories and folders. And, in this post, we take a look at some of the best WordPress media library plugins you can use to accomplish that goal.
If you've just made your first website, now is the perfect time to install a media library folders plugin. Or if you already have thousands of images in your library, well it's never too late to start organizing.
First, let's figure out what a media library plugin is and if you should be using one.
What is a Media Library Plugin?
A media library plugin is a third-party software you can install on your WordPress website to add additional functions to the default WordPress media library.
When installed, media library plugins add useful functions like the ability to create folders, categories, and tags to keep your files organized.
Managing your media files using the default library is also frustrating. The interface is not very user-friendly. And it's difficult to even find the files you want.
A simple media library plugin can fix all these problems with a simple drag and drop user interface.
Why Use Them?
There are many benefits to using a media library plugin. And you don't need to have a library full of thousands of images and videos to use one either.
For example, if you have a blog where you review products, you may want to categorize the images you upload so that it's easier to find these images for later use.
Of course, big corporate websites, photographers, agencies, and magazine blogs will find the best use for a media library plugin. Especially sites like eCommerce stores could use a media library plugin to organize the product images and reuse them across multiple product pages.
Top WordPress Media Library Plugins
There are many great WordPress media library plugins out there. We handpicked the top choices with the best functionality.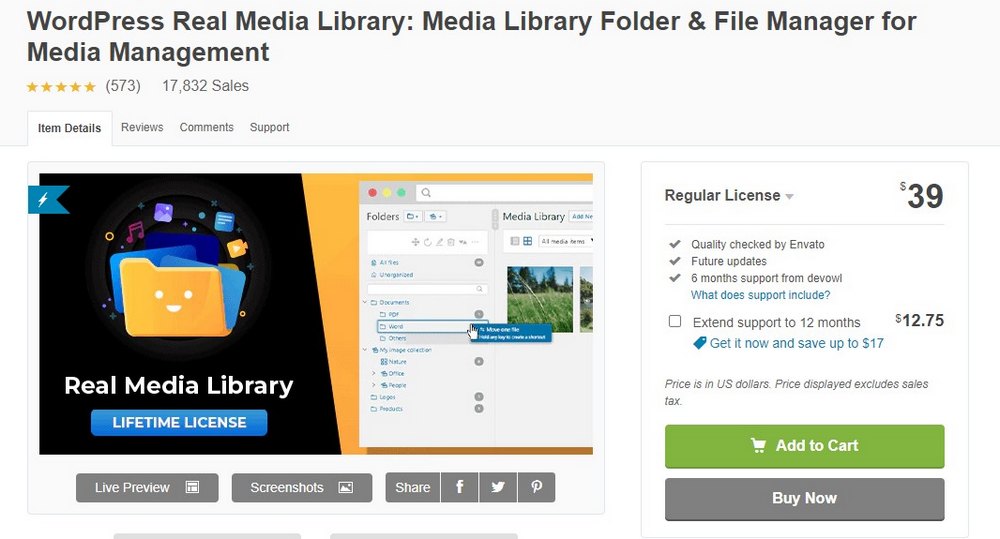 Real Media Library is a well-polished media library plugin that gives a fresh new look to your default library interface with plenty of organization options. It also adds many useful functions like the ability to create galleries from folders containing images.
The plugin features a clean and beginner-friendly interface where you can create folders to organize files using drag and drop. As well as an effective filtering system.
You can read our review to learn more about this plugin.
Best Features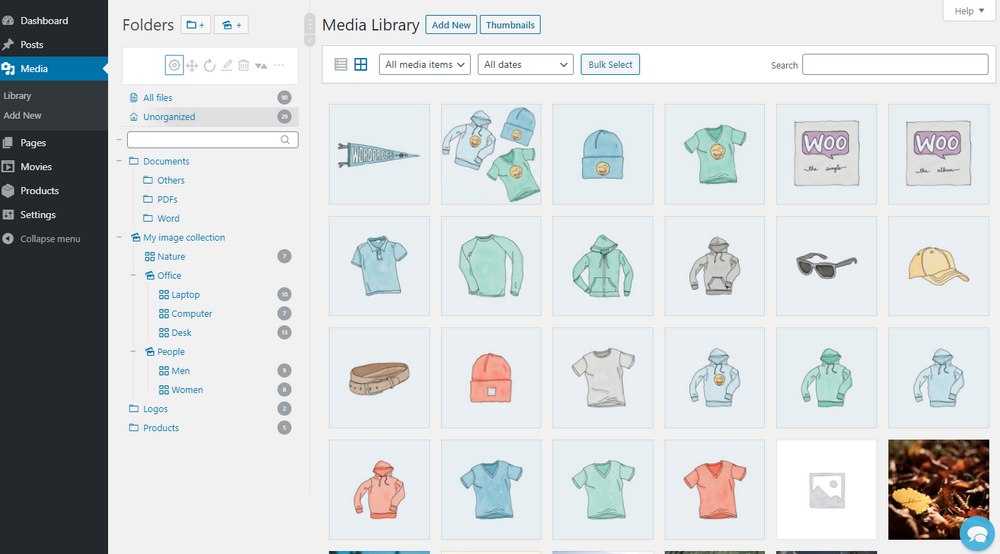 Adds an easy-to-use filed manager system to the default media library
Easily organize files using the drag and drop interface
Use folders and shortcuts to categorize your media files
Upload files directly to folders and create galleries from folders
Features multilingual support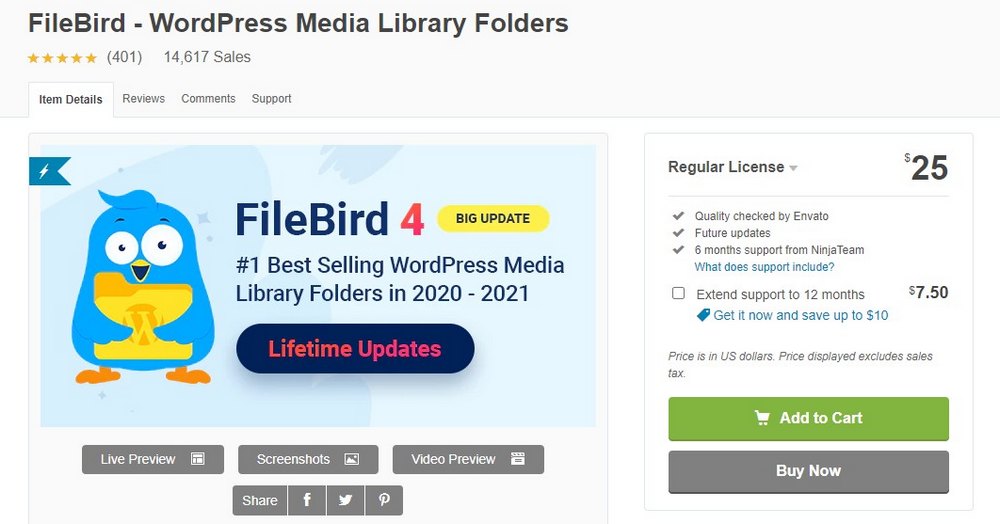 FileBird is another high-quality media library plugin that comes with a smooth user interface and lots of advanced file management tools.
The user interface in FileBird is very beginner-friendly. In fact, it even has a resizable sidebar area, which will come in handy for those of you who like to organize folders with long descriptive names.
Similar to Real Media Library, FileBird also supports drag and drop file management and compatibility with popular third-party plugins like WooCommerce, Elementor, and BeaverBuilder.
Best Features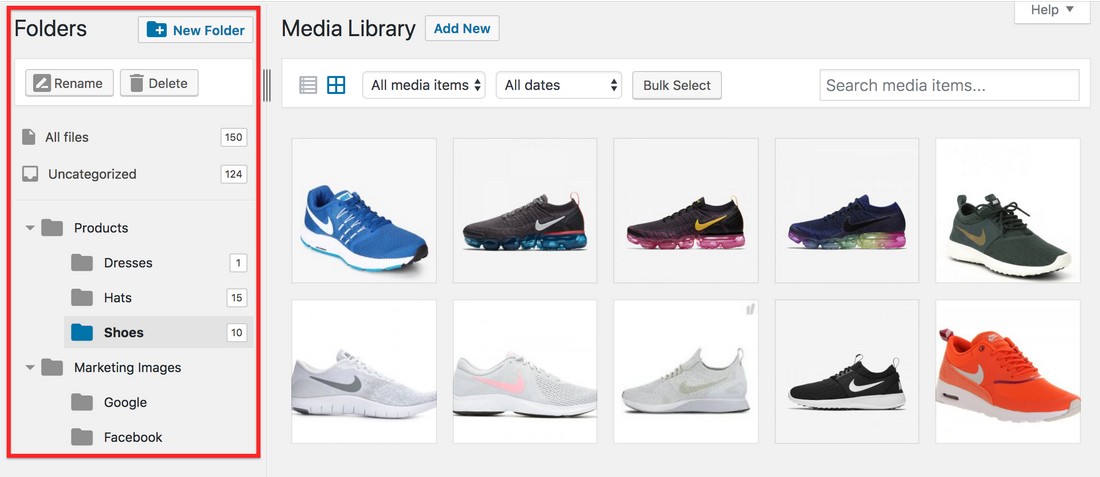 Organize media files using a clean and modern user interface
Select and manage media files in bulk
Create and manage folders with the smart context menu
Resizable sidebar for a better view of folders
Supports third-party plugins and multiple languages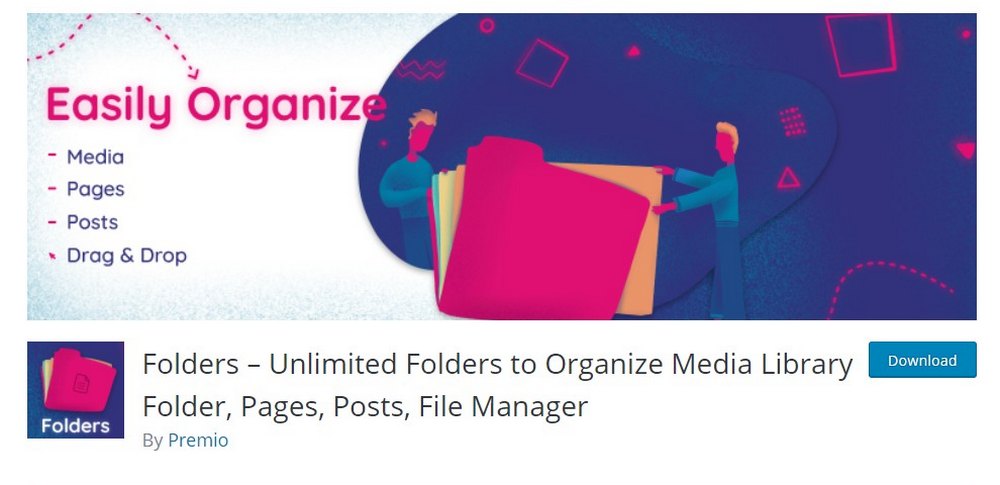 Price: Free / $39 per year
Folders is arguably the best free media library plugin you can use. It features a very generous free plan that allows you to create unlimited folders to organize media files in WordPress.
The plugin comes with a simple drag and drop user interface and it's beginner-friendly. However, it's most suitable for advanced users as it includes unique functions like replacing media files, the ability to undo actions, create sub-folders, and bulk editing.
Best Features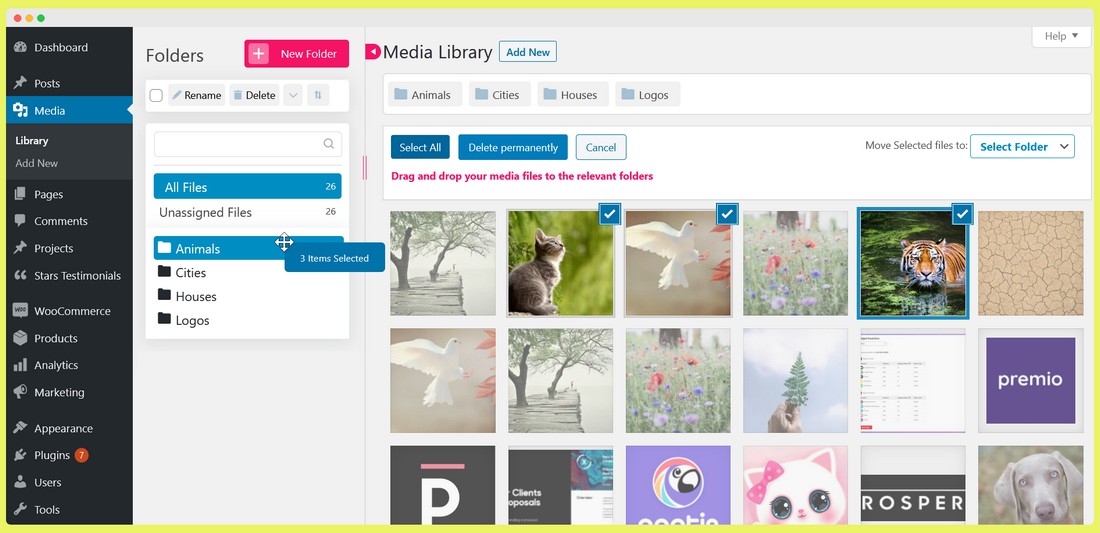 Create unlimited folders (free) and subfolders (pro) to organize files
Bulk edit and manage files with a simple drag and drop user interface
Undo actions in folders to recover from mistakes
Replace media files with other uploaded files
Dynamic folders and ability to download entire media folders (pro)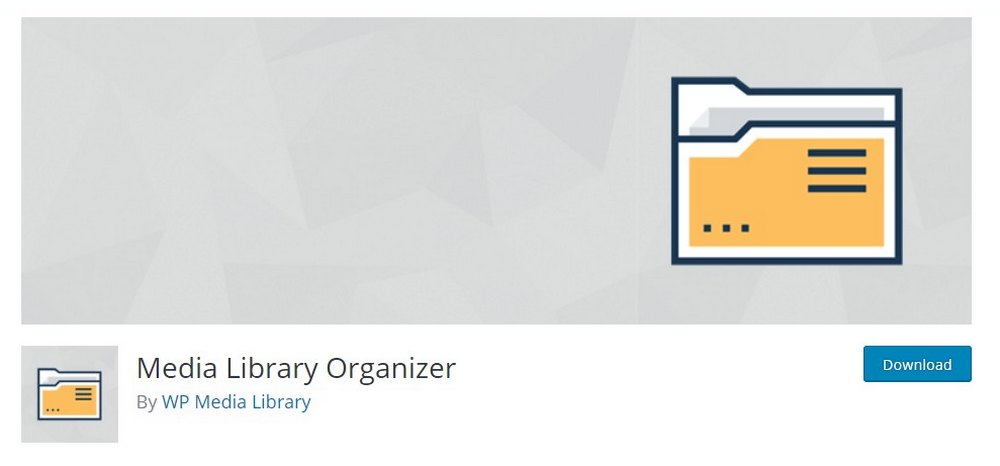 Price: Free / $39 per year
Just as the name suggests, Media Library Organizer is another great free plugin you can use to tidy up the media files on your website.
Even though the free version of the plugin is not as advanced as the other plugins on our list, it offers basic features that are more than enough for a small website or personal blog.
Media Library Organizer has a simple user interface where you can create folders to categorize files and easily locate media files. It also supports all popular page builder plugins.
Best Features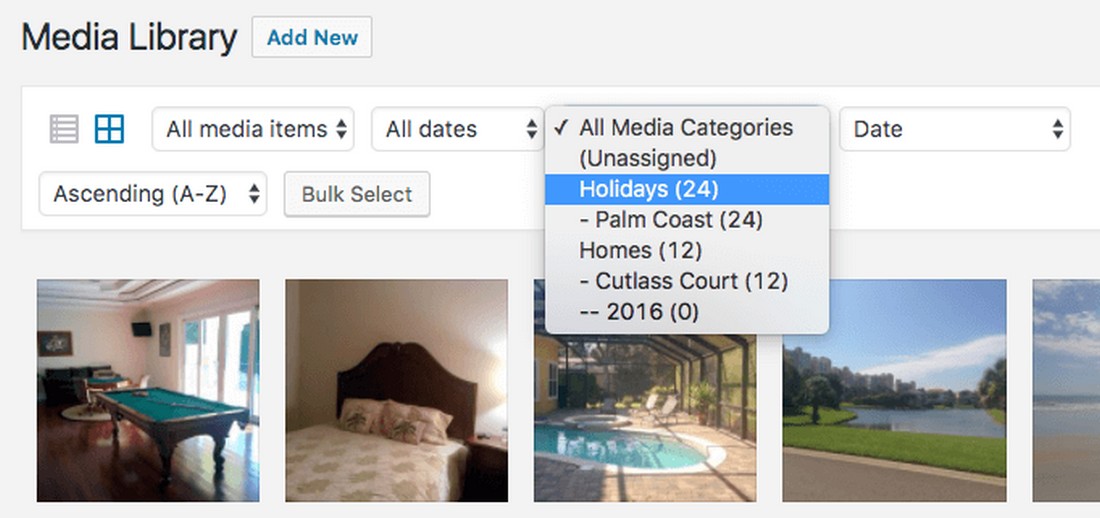 Organize and categorize media files using a simple user interface
Ability to sort by category, date, and name
Fully compatible with popular page builder plugins
Easily migrate from other media library plugins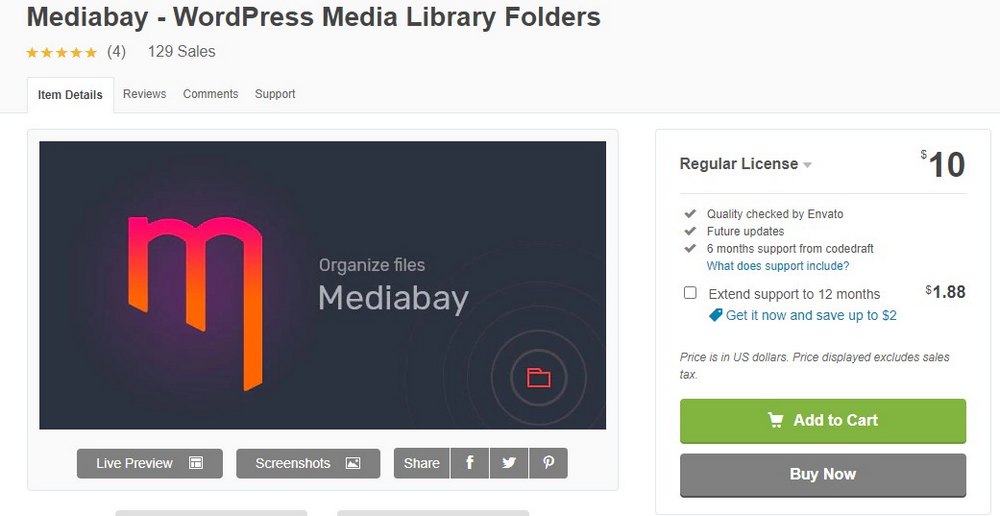 Mediabay is a simple yet effective media library plugin that allows you to manage your media files effortlessly in multiple layers with folders and sub-folders.
The plugin also features useful features for bloggers and magazine websites where you can organize media files in topics or even dates.
In addition, it also has a beginner-friendly user interface with drag and drop functions with the ability to bulk-edit files.
Best Features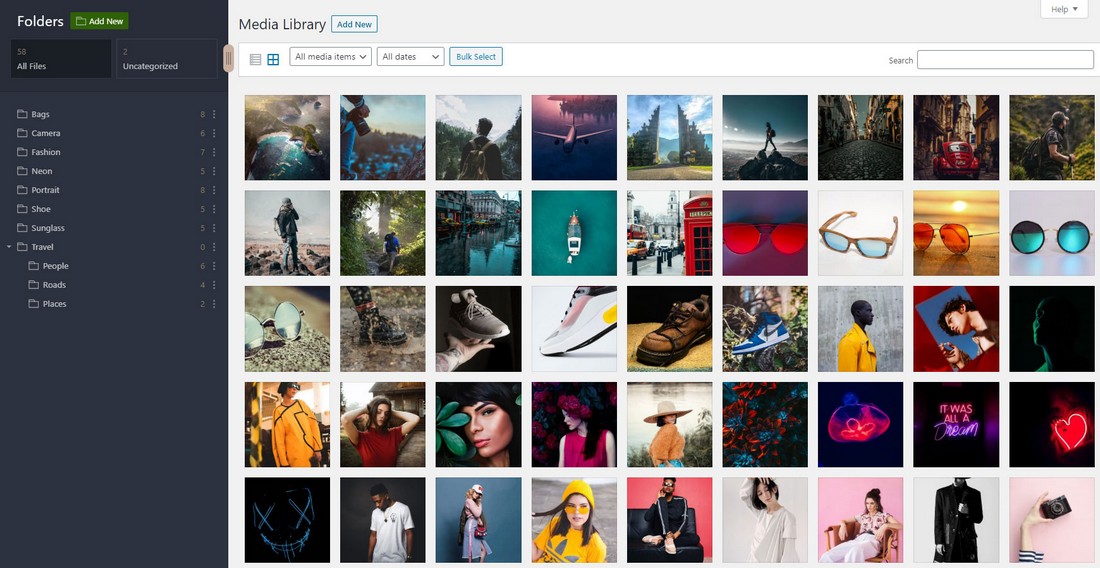 Create folders and organize all your files with sub-folders
Manage media files better with topics, categories, and dates
Arrange files and bulk-edit using drag and drop interface
Easily create, rename, delete, and clear folders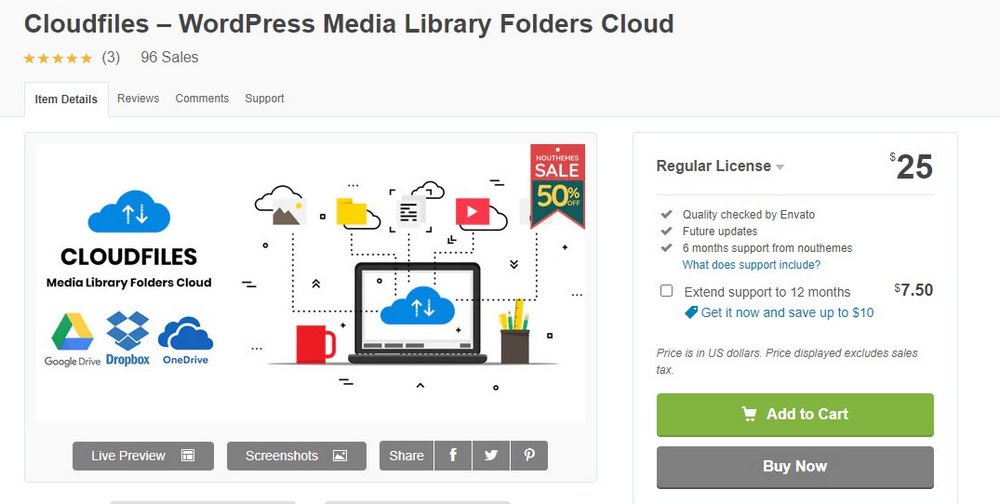 Cloudfiles is a unique media library manager that not only allows you to organize your media files but also supports file syncing with cloud storage services.
By integrating your Google Drive, Dropbox, AWS S3, or One Drive with Cloudfiles, you can sync your photos and videos with the cloud storage to create backups and save space.
This is an incredible feature for websites that regularly uploads media content as well as for creating backups of your valuable files without effort.
Best Features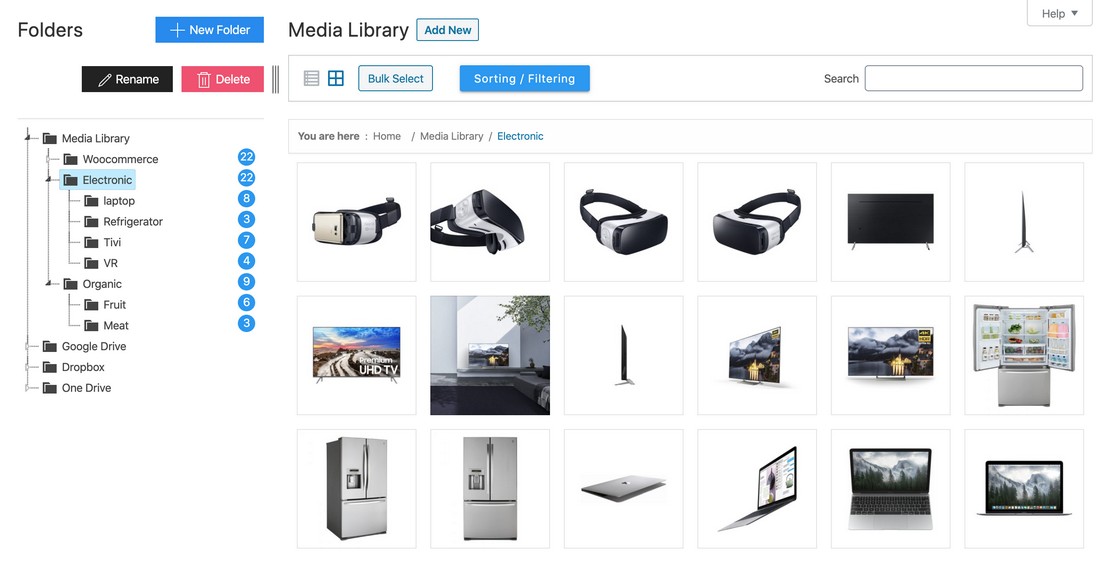 Connect and sync media files with cloud storage services
Manage and organize your media files using drag and drop functions
Easily create, move, and delete folders, sub-folders
Upload media files directly to folders
Fully compatible with WooCommerce and other third-party plugins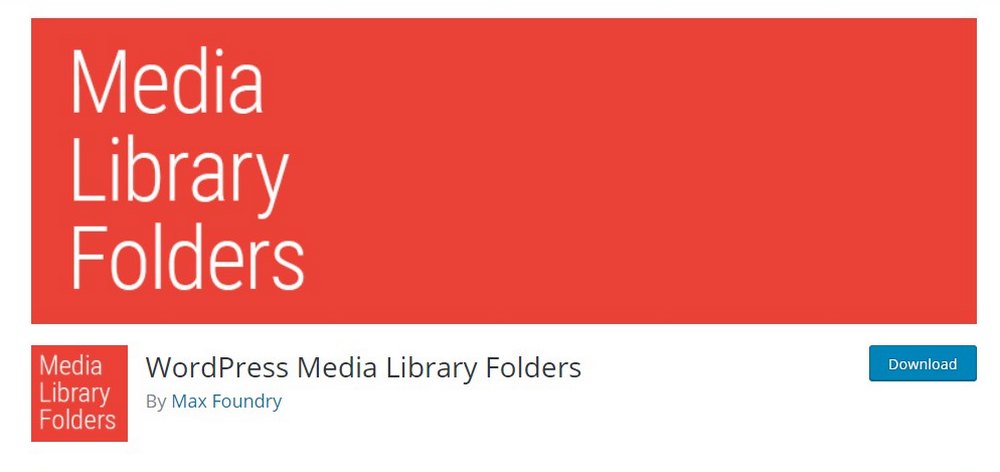 Price: Free / $39 per year
Another simple and free media library plugin for managing the media files in your blog or personal website. This plugin comes with all the basic functions of a media library plugin for free and offers other useful features in the premium version.
The free version is ideal for smaller blogs, portfolio websites, and personal websites. It offers a clean interface for moving, renaming, copying, and organizing your media files with ease.
Best Features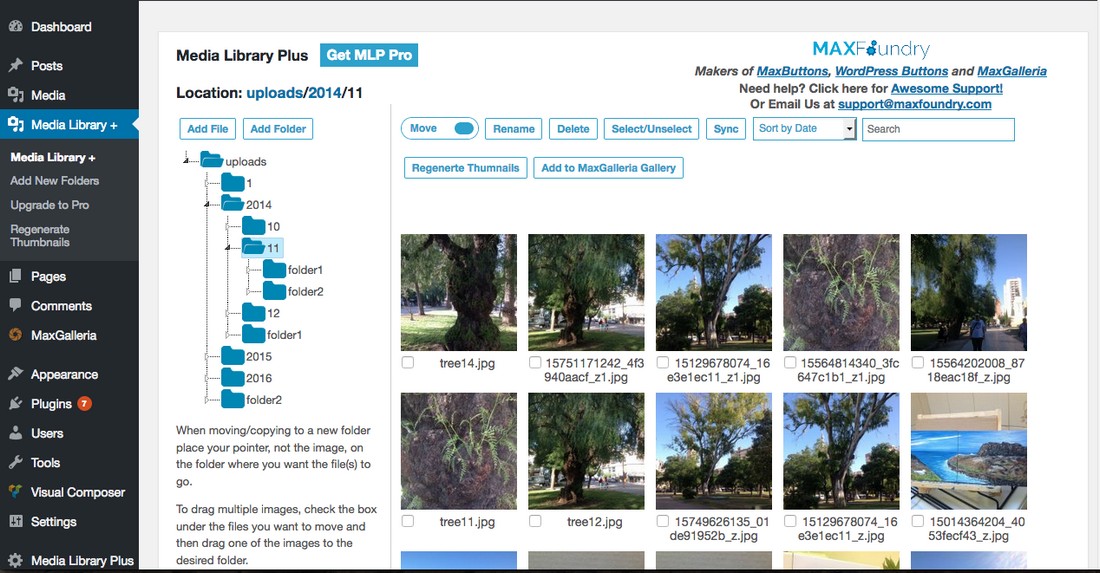 Easily organize and manage media files using folders and labels
Use the drag and drop interface to move, copy, and delete files in bulk
Ability regenerate thumbnails for uploaded images
Create images galleries from images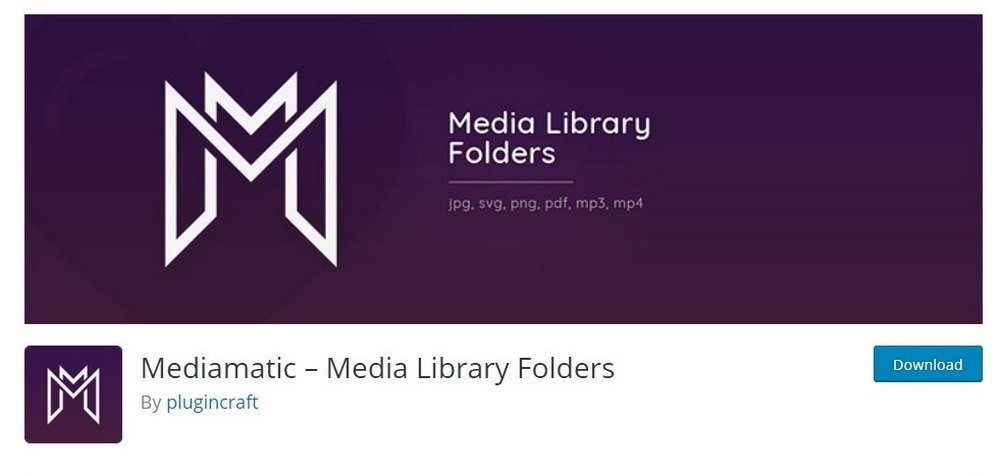 Mediamatic has all the tools you need to turn your default WordPress media library into an organized space. Even the free version has useful functions like the ability to create sub-folders.
The premium version of the plugin is also quite affordable as it only costs a one-time price for lifetime use.
Best Features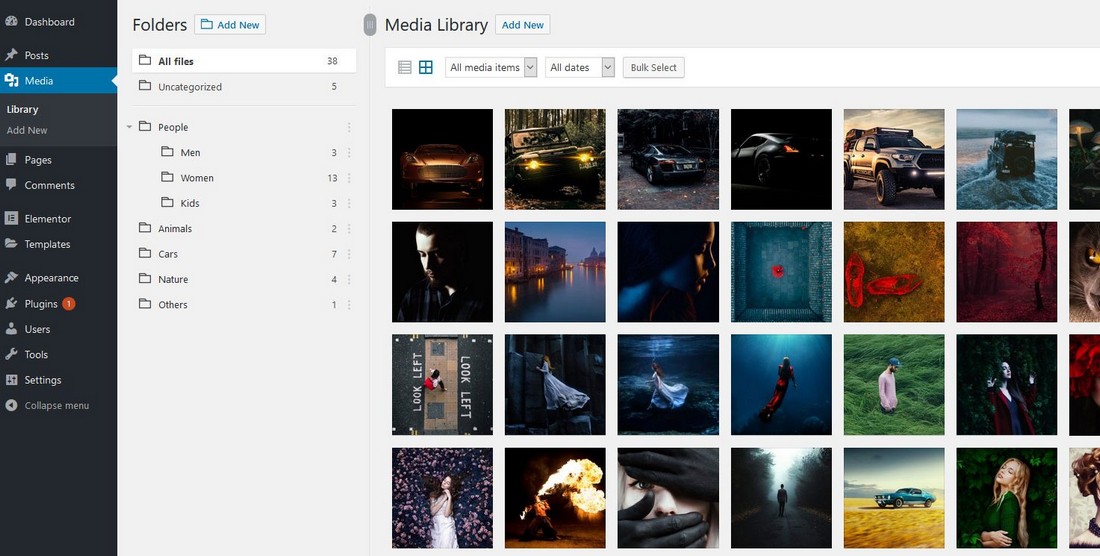 Create folders and sub-folders to organize your media files
Features a drag and drop interface for easy file management
Bulk-select and edit files
Affordable premium version with advanced features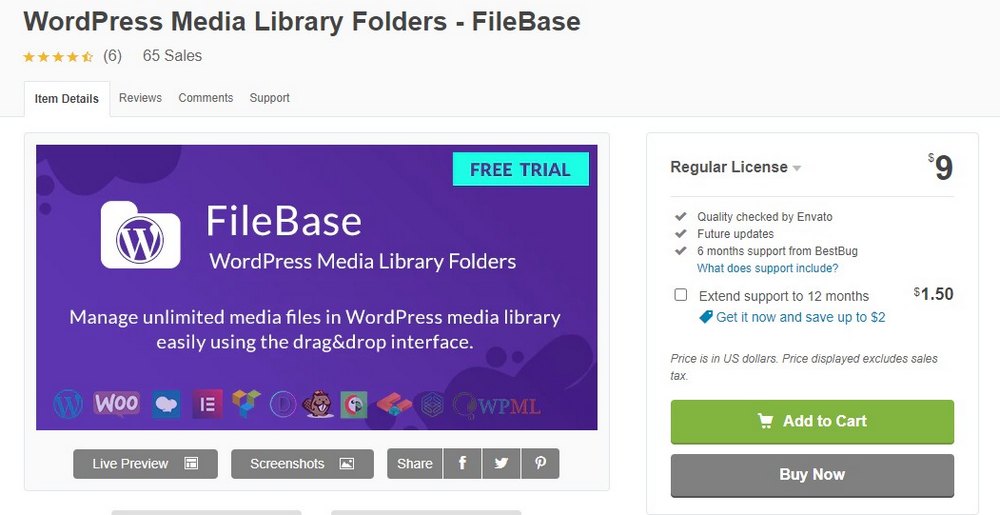 If you have a very large media library with thousands of files, FileBase is a great plugin to properly organize your files without making an impact on server resources.
The plugin gives you tools for fast and easy file management like breadcrumbs for navigation, drag and drop interface, and the ability to create folders and sub-folders.
A special feature of the plugin is that it uses the same default WordPress media management system to organize the files.
Best Features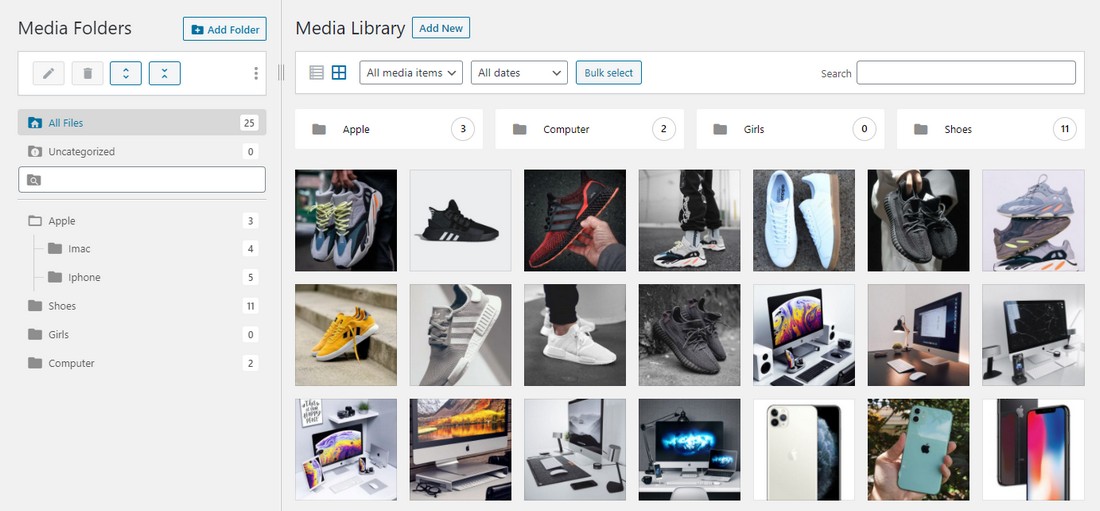 Use a modern and simpler user interface to manage media files
Easily create and rearrange folders and sub-folders
Folder breadcrumbs for better navigation
Compatible with WooCommerce, Elmentor, and other popular plugins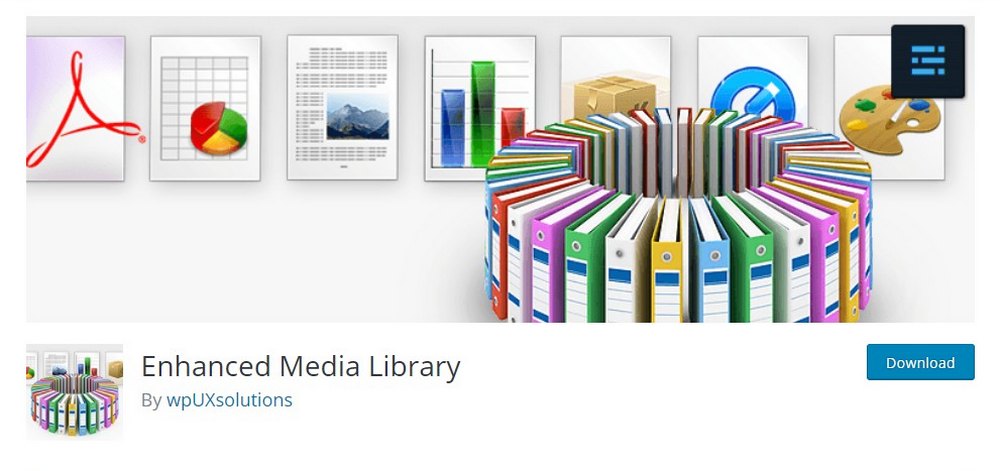 Enhanced Media Library is a free plugin that's most suitable for advanced WordPress users. It comes with a more complex setup process with settings for assigning taxonomies and many other options.
The plugin also uses the native WordPress media library interface for file management. This will make the user interface feels slightly outdated.
Other than that, the plugin works smoothly and offers all the necessary tools to organize and manage your media files.
Best Features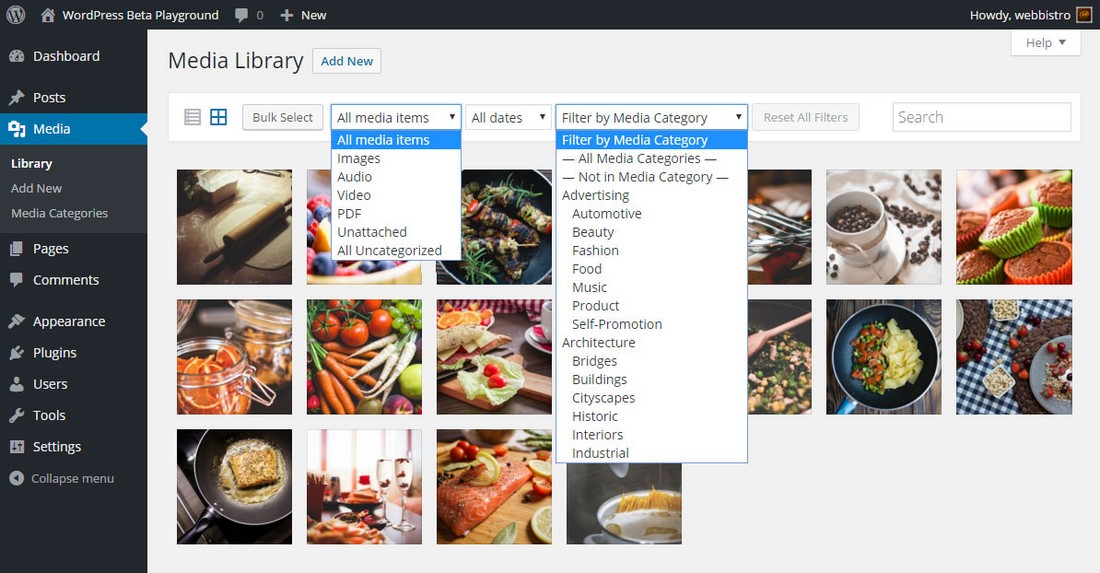 Create and use unlimited categories and tags to manage files
Create and assign unlimited taxonomies
Select and re-order files in bulk using the drag and drop function
Offers advanced tools for developers
Which WordPress Media Library Plugin is Best?
Real Media Library is the best WordPress media library plugin we can recommend to everyone. It's suitable for all kinds of websites. And even comes with a free version for smaller blogs.
But you should go all-in with the premium version since it only costs a one-time price.
FileBird is the next best choice for transforming your media library. It's ideal for bigger and more advanced websites. FileBird also has a free version that you can use for basic websites.
Looking for WordPress hosting? We use Kinsta. They offer world-class WordPress hosting, built to keep your website fast, secure, and always online.