How to Add & Embed Instagram Feed to WordPress: Tips & Plugins
Instagram is not just a platform for sharing selfies and photos of food, it can also be a great channel for driving more sales, getting more clients, and building your brand.
You can start by embedding your Instagram feed on your website. This will allow you to showcase your Instagram content directly to your website visitors to get them interested in your services and products.
With WordPress plugins, you can easily embed an entire Instagram feed on your website without any coding. In this post, we'll show you how it works, step by step.
Why Embed Instagram Feeds?
There are many benefits to embedding an Instagram feed on your website. Here are a few great ideas.
Impress Your Clients
If you're a creative professional, like an artist or photographer, who regularly posts content to Instagram, you can showcase your work on your portfolio website by embedding your feed.
It'll be much easier than manually uploading the images to your website. And it will show your clients that your work is admired by other people on social media.
Showcase Customer Testimonials
Businesses can also leverage Instagram feeds to their advantage by showing reviews and testimonials posted by customers. It's an effective way to add social proof for your brand.
Most Instagram feed plugins allow you to show posts related to specific hashtags. It will allow you to only show posts with tags related to your products and services.
Curate an Instagram Gallery
Bloggers and photographers can also use Instagram feeds to show off their best photos on websites as a gallery. Using WordPress plugins, you can create custom Instagram feeds with handpicked posts to show only your best posts on your Instagram galleries.
Get More Instagram Followers
Embedding an Instagram feed on your website can also help you get more followers for your Instagram account. It'll offer a simple way to convert your website visitors into Instagram followers.
5 Best Instagram Feed WordPress Plugins
While you can easily embed individual Instagram posts by copy-pasting an embed code, Instagram doesn't provide you with a tool for embedding an entire feed on your website. You'll need a WordPress plugin for that.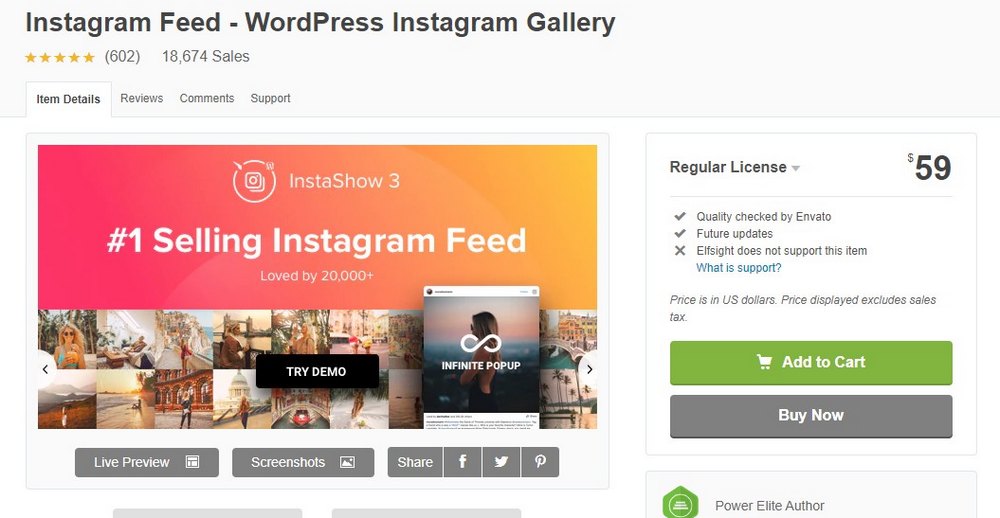 This is a multipurpose Instagram feed plugin you can use to create all kinds of Instagram feeds and easily embed them on your WordPress website. It comes with multiple styles of feed layouts, post templates, and many other useful features.
More importantly, this plugin integrates well with WooCommerce for selling products through the embedded Instagram feed. It allows you to add CTA (Call to Action) buttons to your posts.
Main Features
Create and embed custom Instagram feeds with 60 parameters and 10 color schemes
Add call to action buttons to your posts to drive sales and leads
Choose from multiple feed layouts and post templates
Easily add Instagram feeds to posts and pages with the Gutenberg block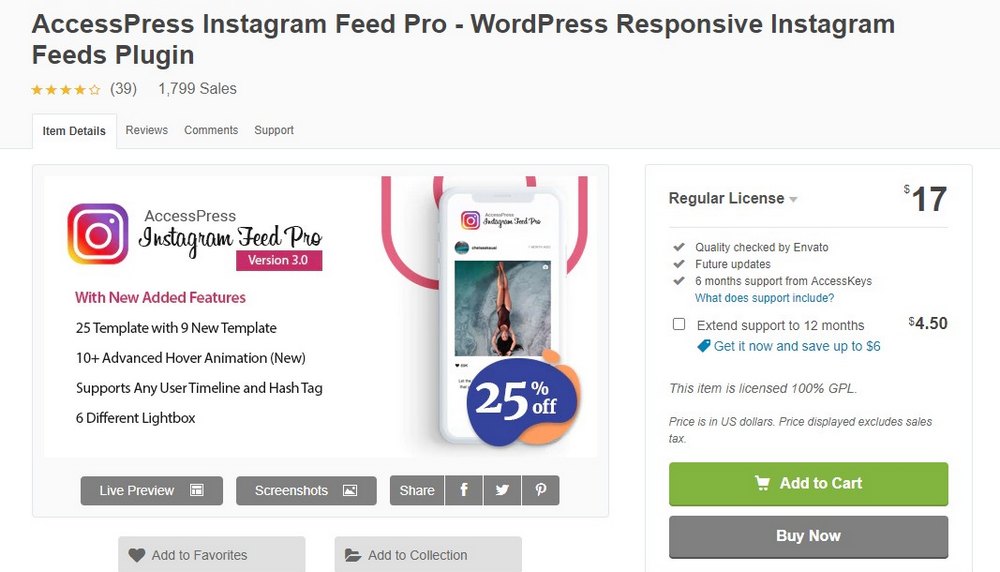 AccessPress is another great plugin you can use to embed an Instagram feed in WordPress. This plugin lets you create fully custom Instagram feeds directly on your website with hover animations and lightboxes.
You can use its pre-built templates to create stylish feeds and galleries from your Instagram posts. It even allows you to add filters and show hashtags in the embedded feeds.
Main Features
Choose from more than 25 templates to create custom Instagram feeds
Create feeds from any user account
Add filters, hashtags, and hover animations to feeds
Includes Instagram follow sidebar widgets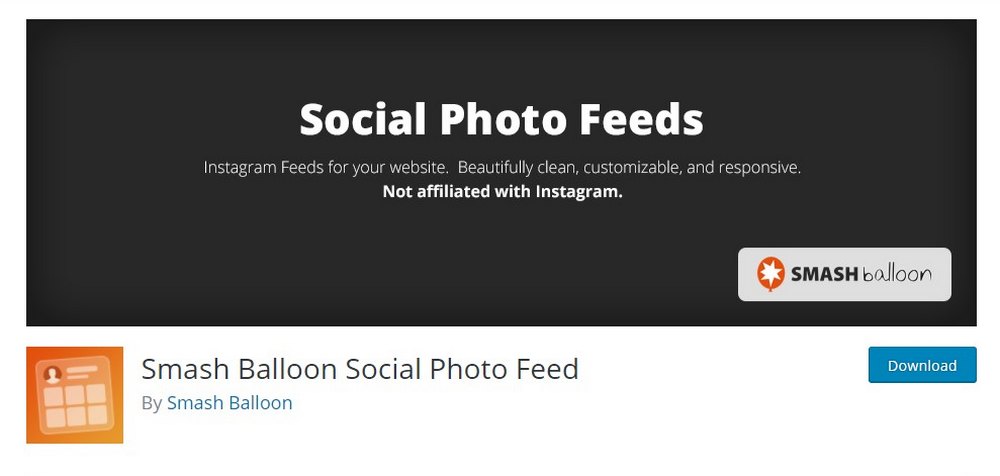 Smash Balloon is one of the best free Instagram feed plugins available on WordPress. Using this plugin, you can create a custom feed with posts from even multiple user accounts.
You can fully customize the feed with different sizes and embed them anywhere on your website using shortcodes. Adding a follow button to the feed will also help get more followers to your account.
Main Features
Create a custom Instagram feed with posts from multiple accounts
Display multiple feeds on the same page
Lets you add follow buttons and load more buttons to feeds
Customize with your own CSS and JavaScript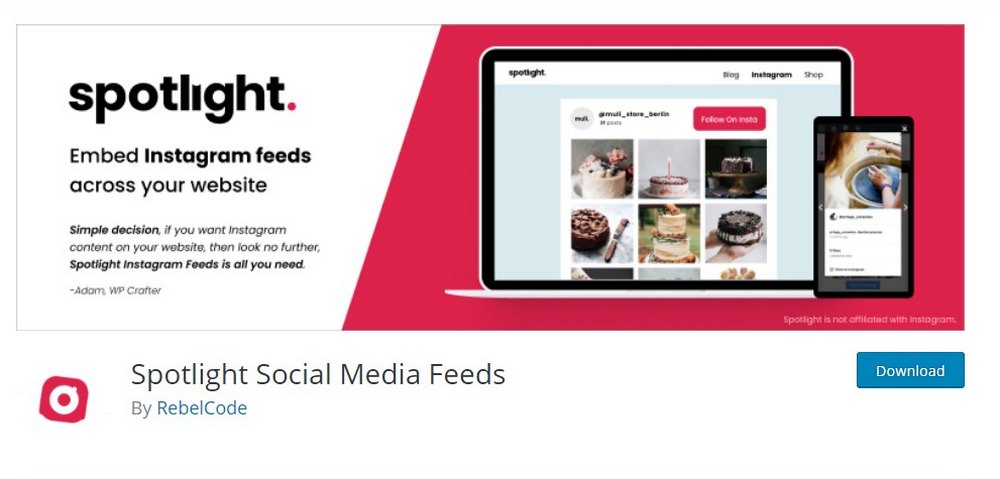 Spotlight is another great free WordPress plugin you can use to add Instagram feeds to your website. This plugin comes with a very beginner-friendly user interface and a setup process.
Using Spotlight, you can also create custom Instagram feeds with multiple accounts as well as add an unlimited number of feeds to your website.
Main Features
Create Instagram feeds with multiple accounts
Customize the feed design and order posts by date, popularity, or random
Add custom headers, bio, and profile photos to feeds
Easily embed anywhere using Gutenberg block, shortcode, or widget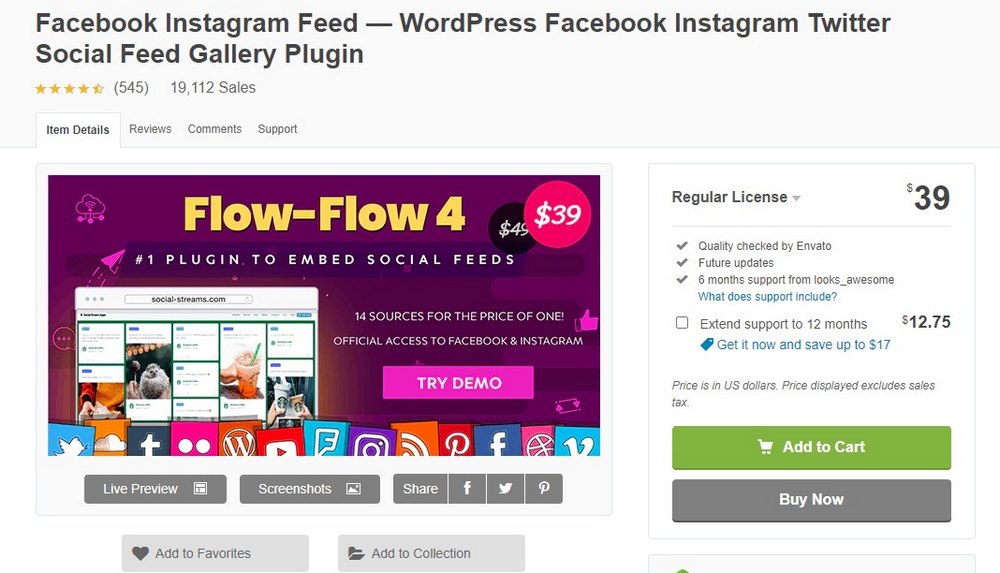 This WordPress plugin is perfect for creating and embedding feeds from multiple social networks as it supports many platforms, including Instagram, Facebook, and Twitter.
With this plugin, you can create feeds from your Facebook posts, Instagram posts, Twitter posts, or create one feed with mixed content from all platforms. It supports many other social networks as well.
Main Features
Create custom feeds from Instagram, Facebook, YouTube, Pinterest, and more
Supports 12 social network platforms and 40 different feed types
Features social share buttons and CSS3 animations
Integrates with page builder plugins and WooCommerce
How To Embed Instagram Feed in WordPress
Now, let's see how to embed an Instagram feed using a plugin.
For the purposes of this demonstration, we're using a free plugin but feel free to use any plugin you like. The process will be fairly similar.
Step 1: Install Instagram Feed Plugin
We're using Spotlight Social Media Feeds for the demonstration. It's beginner-friendly so it'll be easier to setup.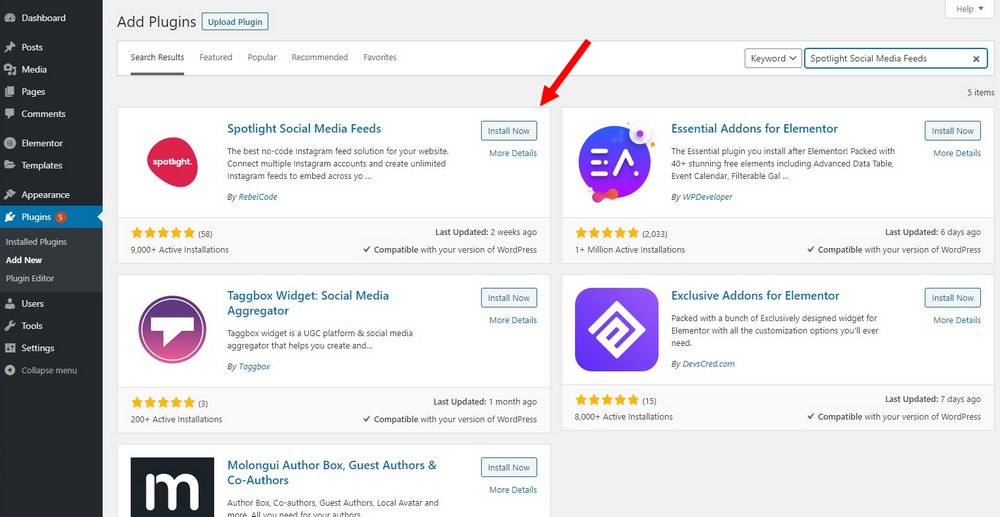 First, login to your WordPress dashboard and go to Plugins >> Add New.
Search for the Spotlight Social Media Feeds plugin. Click Install and then Activate.
Step 2: Connect Your Instagram Account
Now you need to connect your Instagram account with your WordPress website.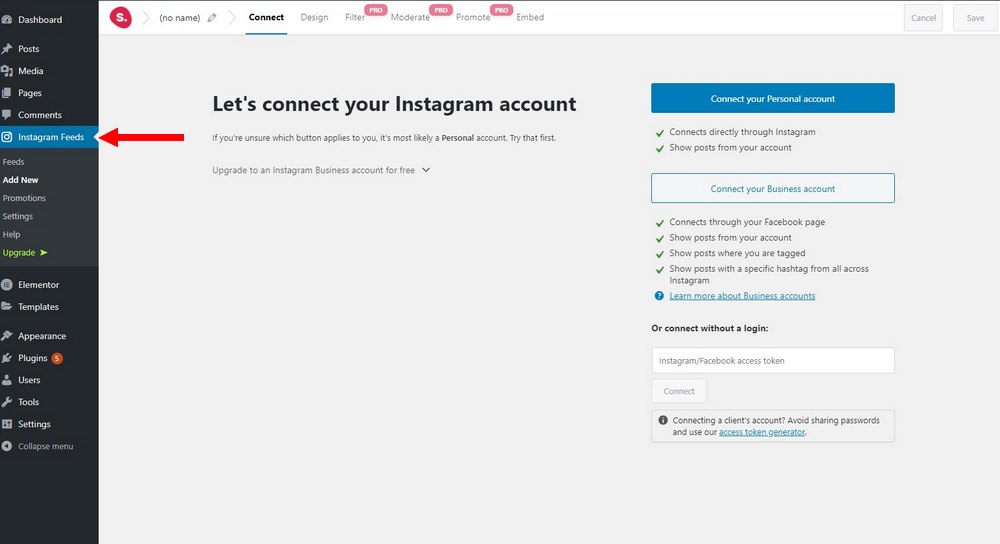 Go to the Instagram Feeds panel and click the Connect Instagram Account button. You can connect either your personal account or business account.
Once you click on the button, a window will popup with the plugin requesting permission to access your Instagram account. Allow access to complete the integration process.
Step 3: Create A Custom Instagram Feed
Start designing your first Instagram feed.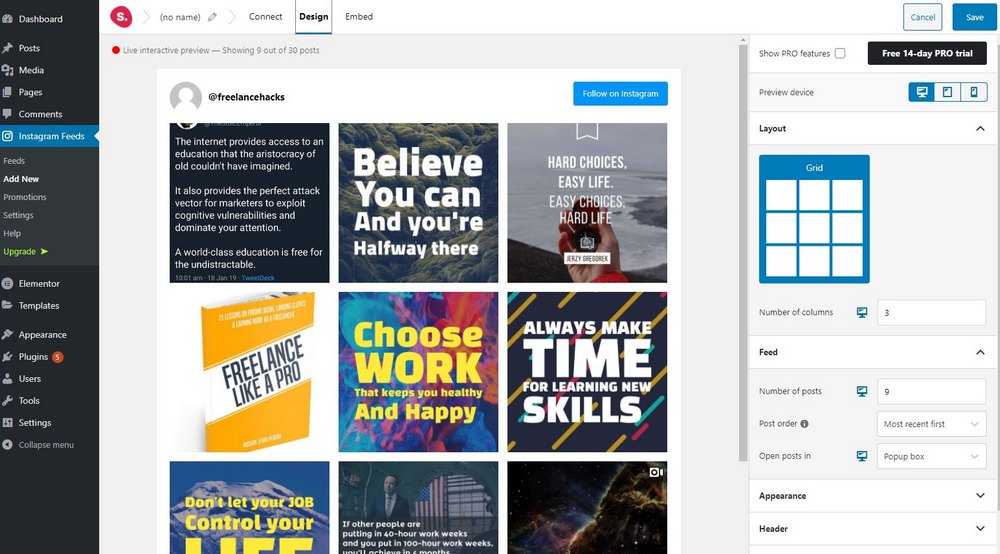 The free version of the Spotlight plugin has limited features so you can only change the number of columns, posts, and the size of the feed. You can also add a header and follow button as well.
After finishing the design, click Save to give the feed a name and save changes.
Step 4: Embed Instagram Feed On Your Website
There are several ways to embed feeds using the Spotlight plugin.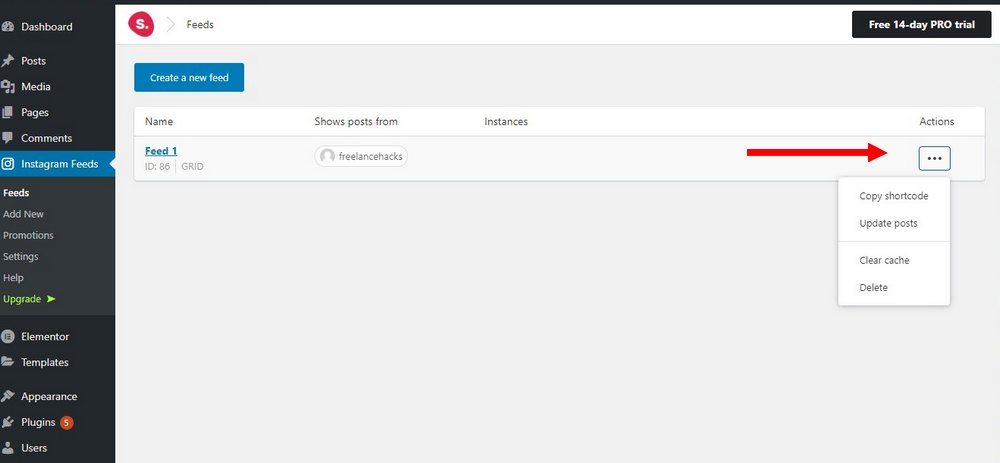 To embed using the shortcode, go to the Feeds page, click on the Actions menu and then copy Shortcode. Then paste the shortcode into a page or post to embed the feed.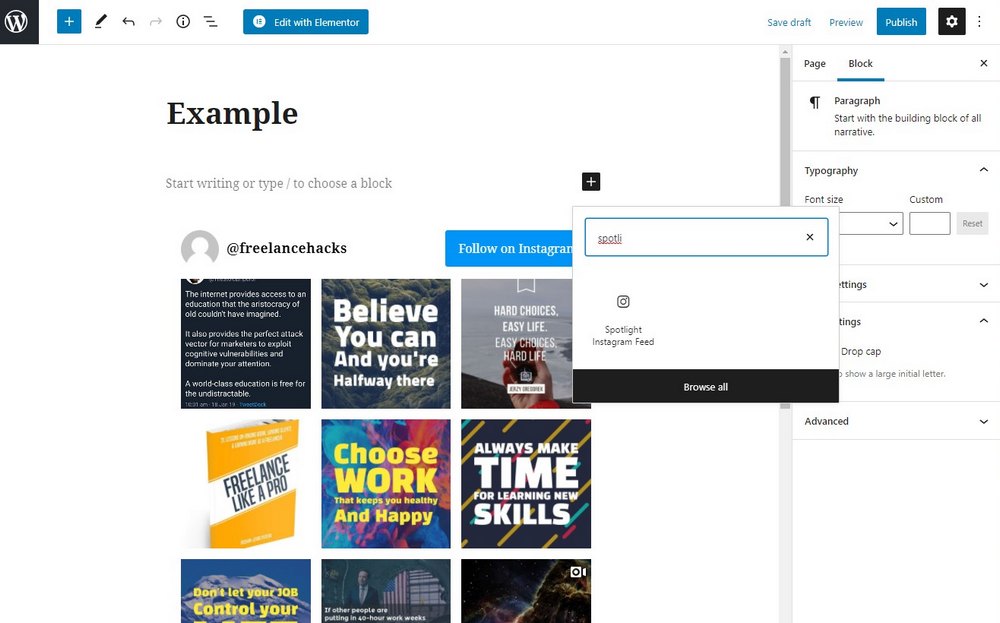 If you're using the new WordPress Gutenberg block editor, search for the Spotlight block and you'll be able to find all your created feeds from that block.
How To Add Instagram Feed Widget in WordPress
You can also add an Instagram feed as a sidebar widget to show your feed across your website.
This method also requires an Instagram feed plugin that includes a widget. The plugins we mentioned earlier have them.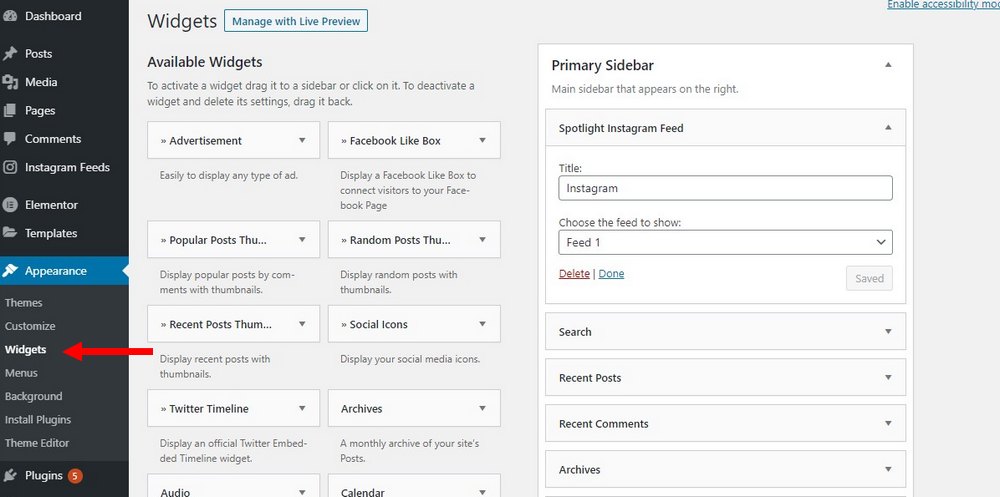 After installing the plugin, go to Appearance >> Widgets. Then drag and drop the Instagram feed widget into the sidebar area. Choose the feed you want to show on the sidebar and click Save.
How To Embed Instagram Posts in WordPress
If you simply want to embed a single Instagram post in a page or a post, you can so without using any plugins. Here's how.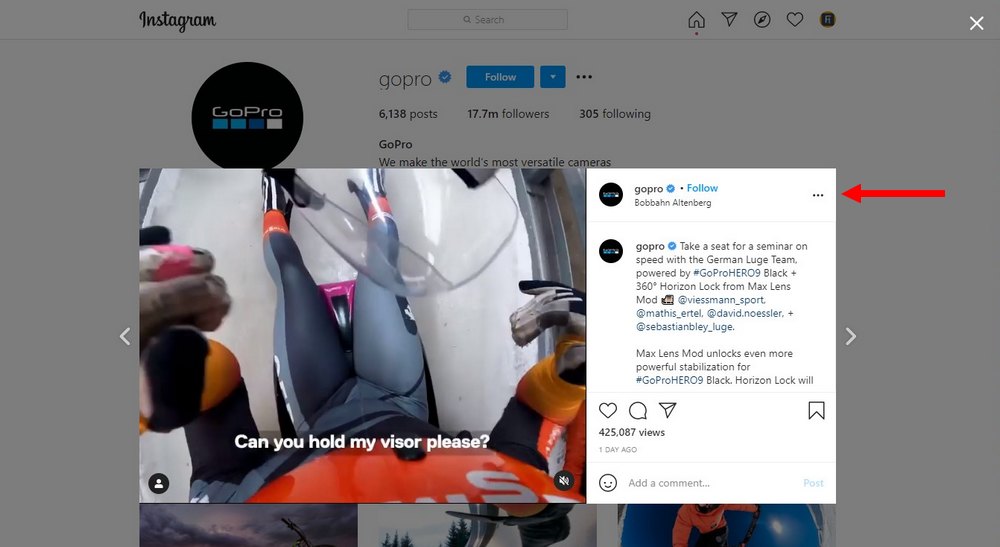 Step 1: Login to your Instagram account and open any Instagram post you want to embed.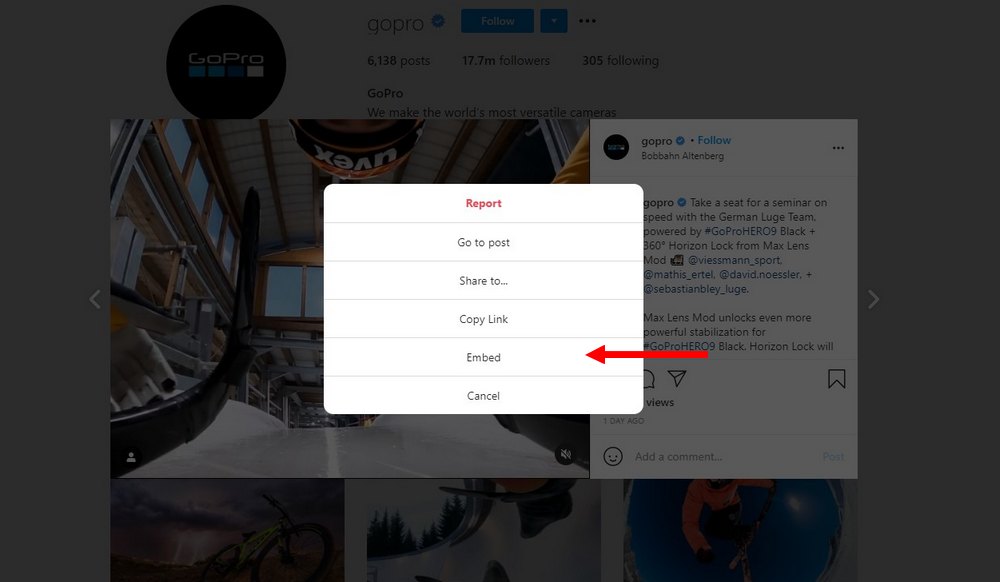 Step 2: Click the three dots on the top-right corner and choose Embed from the menu. And then copy the Embed code.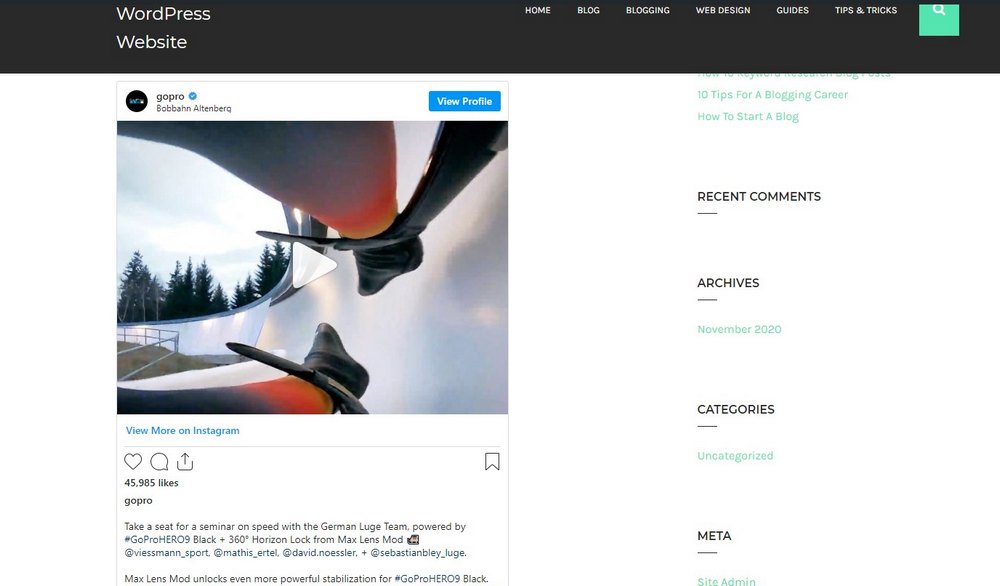 Step 3: Go to the page or post you want to embed the post and switch to Code Editor and paste the copied Embed code.
After publishing the post you'll be able to see the embedded Instagram post.
Conclusion
Adding an Instagram feed is a great way to integrate your social channels with your website. This is only one of the many ways you can take advantage of Instagram.
You can check our best Instagram themes and plugins list as well as our guide on boosting your Instagram account to learn more.
Looking for WordPress hosting? We use Kinsta. They offer world-class WordPress hosting, built to keep your website fast, secure, and always online.