8 Best WordPress Appointment & Hotel Booking Plugins in 2020
An appointment booking system is a must-have feature for every website that promotes a service. Not just to offer a convenient way to schedule a meeting or make a reservation, but also to make a good first impression to your customers.
Whether it's a website for a hotel, spa, salon, medical clinic, or even a consulting business, having an appointment booking system will help attract more customers and clients to your business.
Setting up a booking system in WordPress is very easy. It only takes a simple plugin and you can easily manage your schedule all by yourself. In this post, we take a look at some of the best WordPress hotel booking and appointment booking plugins you can use to get that job done.
Why Use a WordPress Booking Plugin?
If you've ever tried to book an appointment with your doctor or reserve a table at a restaurant over the phone, you know how frustrating it can really be.
First, you have to dial multiple times to get through the busy connection and then wait on hold for minutes before finally learning that the dates available aren't compatible with your schedule.
With an online booking system, you can automate this whole process for your business. So that whenever a potential client discovers your website, they can conveniently make an appointment or reserve a room at your hotel directly from the website.
You too can add a booking system using a plugin. Explore the selection of WordPress appointment booking plugins below to add a booking system to your own website.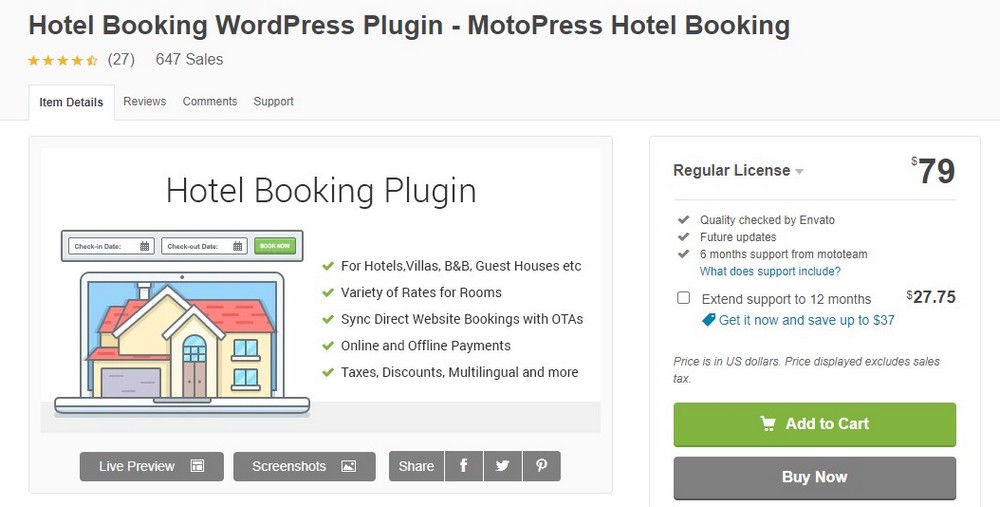 When talking about hotel booking, you immediately think of luxury five-star hotels. But you also need to consider the small bread and breakfast hotels, villas, and even Airbnb-style rentals. This booking plugin covers them all.
MotoPress Hotel booking WordPress plugin has all the features you need to setup a powerful booking system for your hotel website. It features a very simple interface where people can book a room or reserve with just a few clicks. And has an advanced backend to let you manage your bookings without any frustrations.
Main Features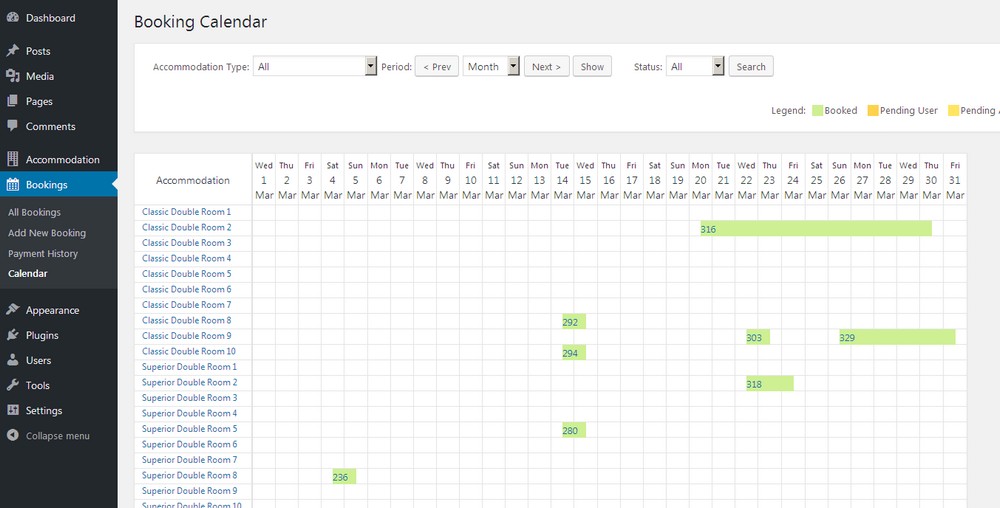 The powerful backend helps you manage complex booking schedules with ease
Sync bookings directly from Airbnb, Tripadvisor, Hotels.com, and more
Lets you set custom rates with seasonal pricing systems and unlimited accommodations
Customers can book a room and make payments online or offline
Create advanced booking systems with booking rules, additional fees, sorting options, and discount coupons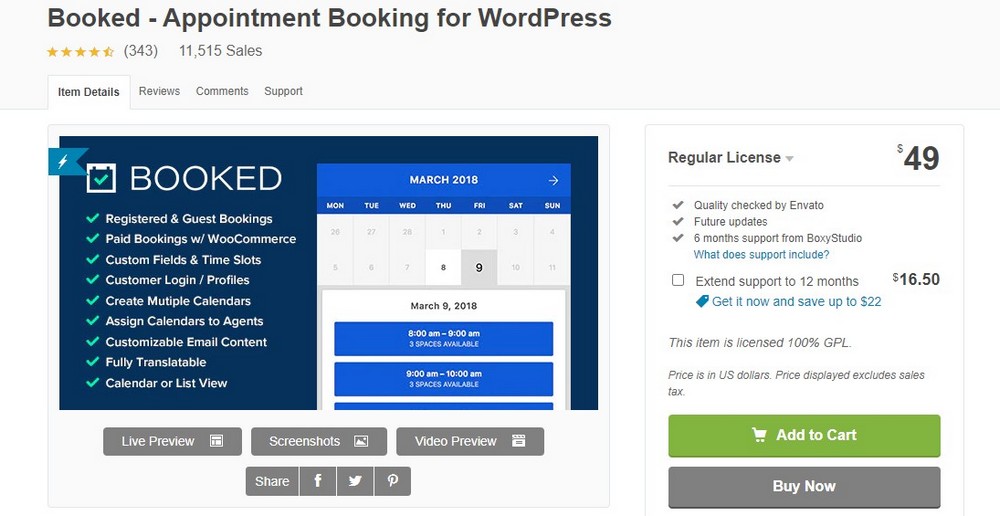 Most service-based online businesses don't have a booking system on their websites. Mainly to avoid having to manage bookings by accessing the WordPress dashboard every day. Well, with this plugin you don't have to because it syncs bookings with your Apple Calendar.
Booked takes a modern approach to online booking with its smooth front-end interface and its easy-to-use backend system. The plugin uses a simple calendar UI to let users make appointments and it's ideal for small businesses such as gyms, spas, doctors, and more.
Main Features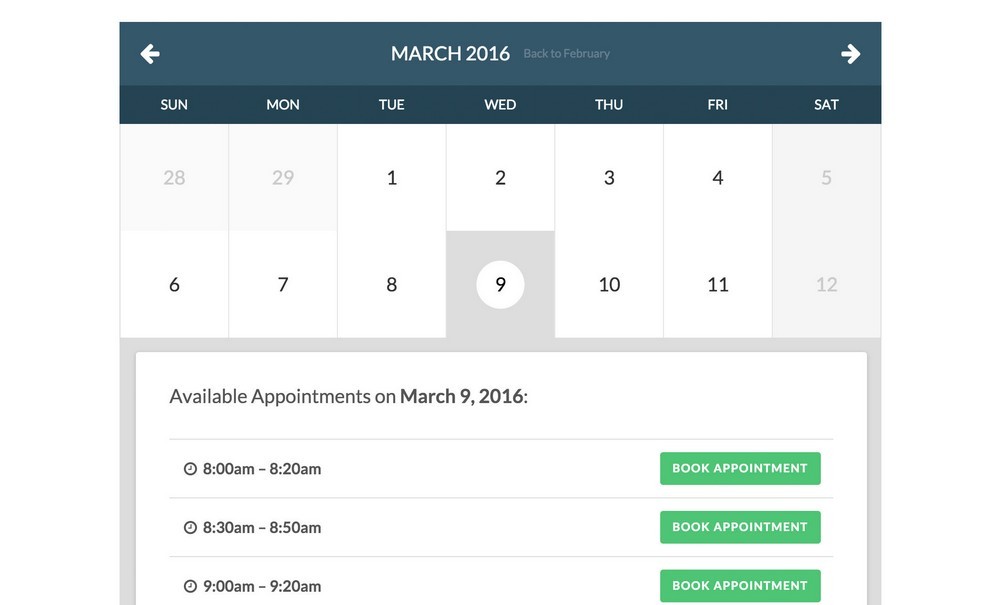 The beautiful front-end interface makes it easier to make appointments
Using an iCal feed you can sync your website bookings with Apple Calendar and Outlook
You can customize the design of the booking user interface with multiple color themes
With the WooCommerce integration, you can accept payments for reservations
Add as many custom fields as you want to create advanced booking forms
Customers can also register with the website and gets their own profile as well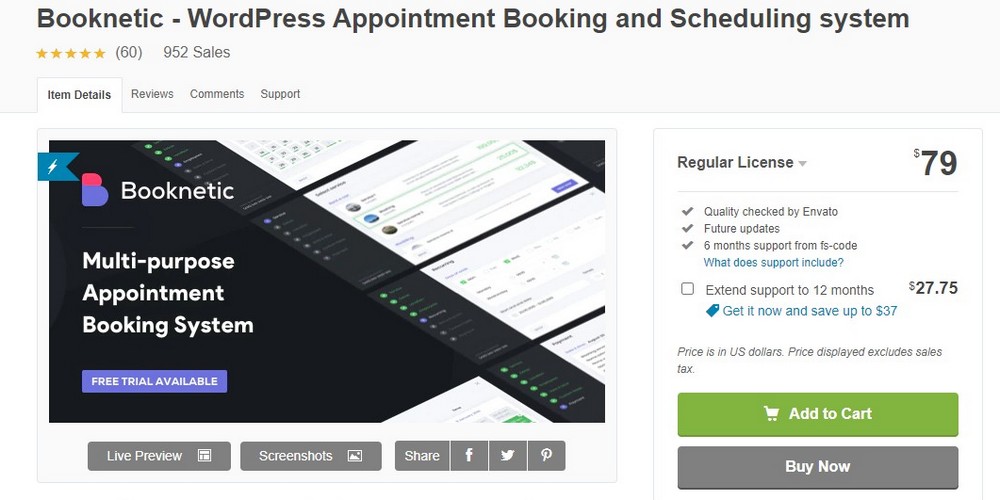 A small downside that comes most booking plugins is having to deal with outdated backend designs. It usually makes things difficult to manage your schedule. But, with this plugin, you don't have to worry about that.
Booknetic comes with a beginner-friendly and modern backend interface where you can manage your appointments and schedule without frustrations. It also has a beautiful front-end interface for users to make appointments in just a few steps. This plugin is perfect for consulting websites and agencies as well as other small businesses.
Main Features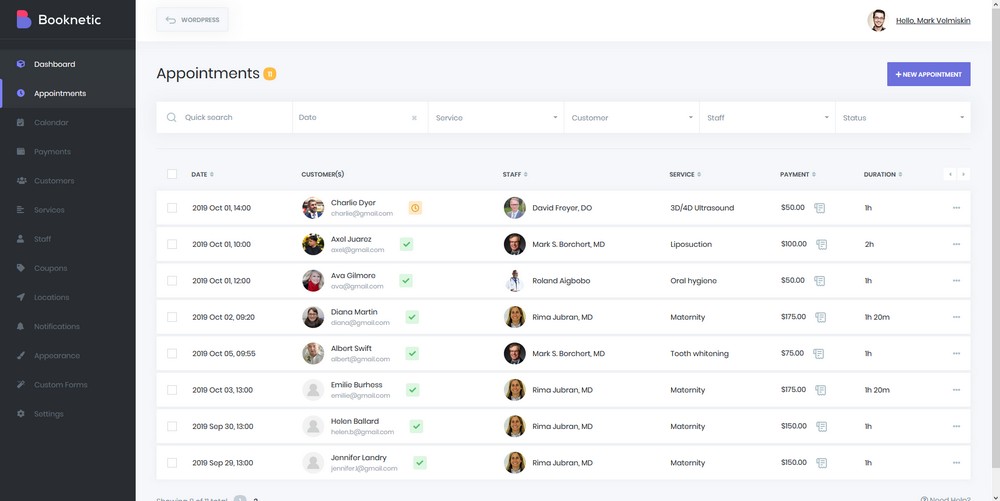 The modern and gorgeous backend and front end user interfaces are the main attraction of this plugin
It even supports recurring online payments for setting up daily, weekly, or monthly appointments
You can process payments with WooCommerce, Stripe, PayPal, and more
Never forget an appointment by syncing your schedule with Google Calendar
Make and schedule online meetings with Zoom integration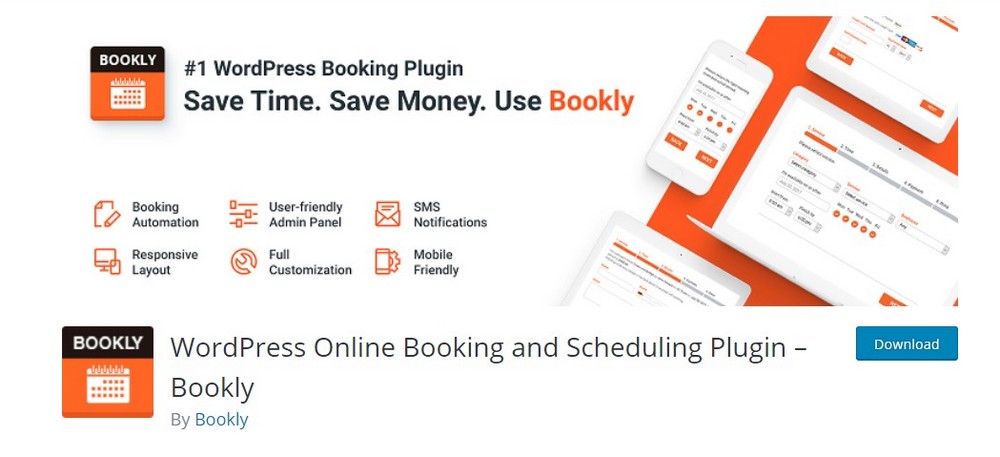 If you're looking for a basic online booking plugin to add a booking system to your brand new business website, then it's more than fine to go with a free plugin. And Bookly is a good option you can try out.
With Bookly, you can setup a basic online booking system with a modern front-end interface. And a beginner-friendly backend for managing your schedule. As with most free plugin, this one also comes with some limitations. You won't be able to process payments online or install additional add-ons to add more features.
Main Features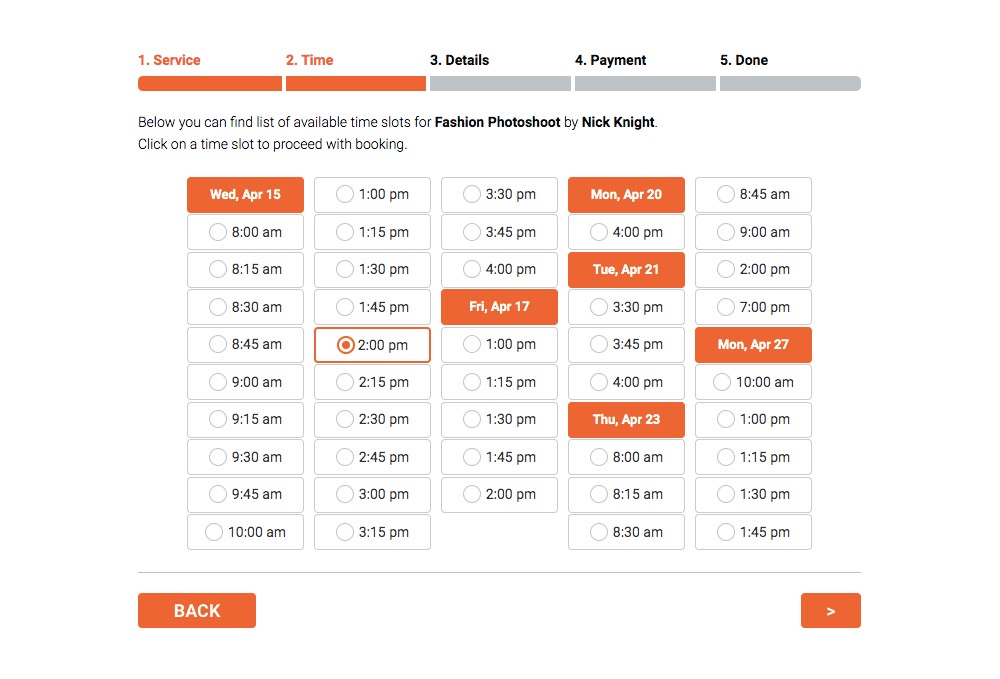 Modern and easy to use interface allows customers to make appointments more easily
The plugin features a simple setup process and it's easier to install
Comes with a booking calendar for easier schedule management
Add up to five services for the booking system for free
You can manage an unlimited number of clients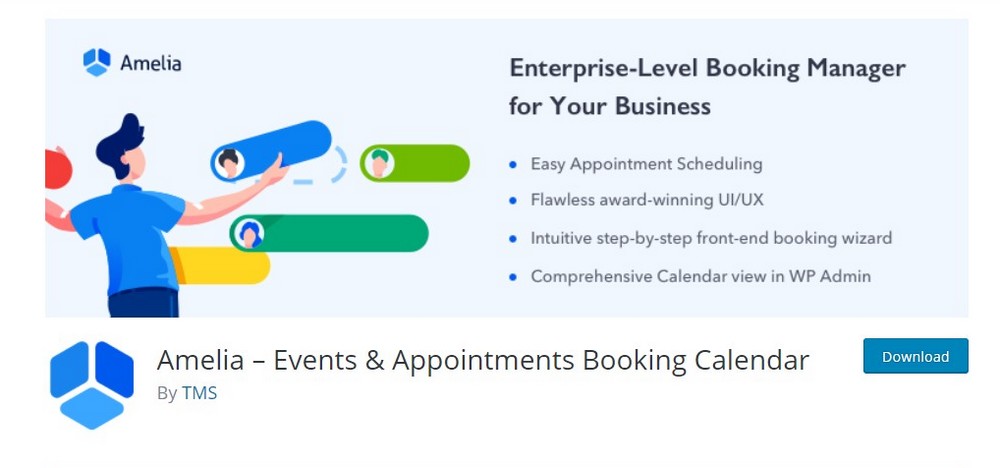 Finding a booking plugin with a modern interface, a calendar booking system, and customizable forms can be tough. However, Amelia is a plugin that comes with all those features and more.
Amelia is an appointment booking plugin that comes in both free and premium versions. The free version allows you to easily setup a booking system on your website to manage your schedule with limited features and options.
The premium version is a bit expensive but it offers a more convenient solution for professional websites, business sites, and corporations.
Main Features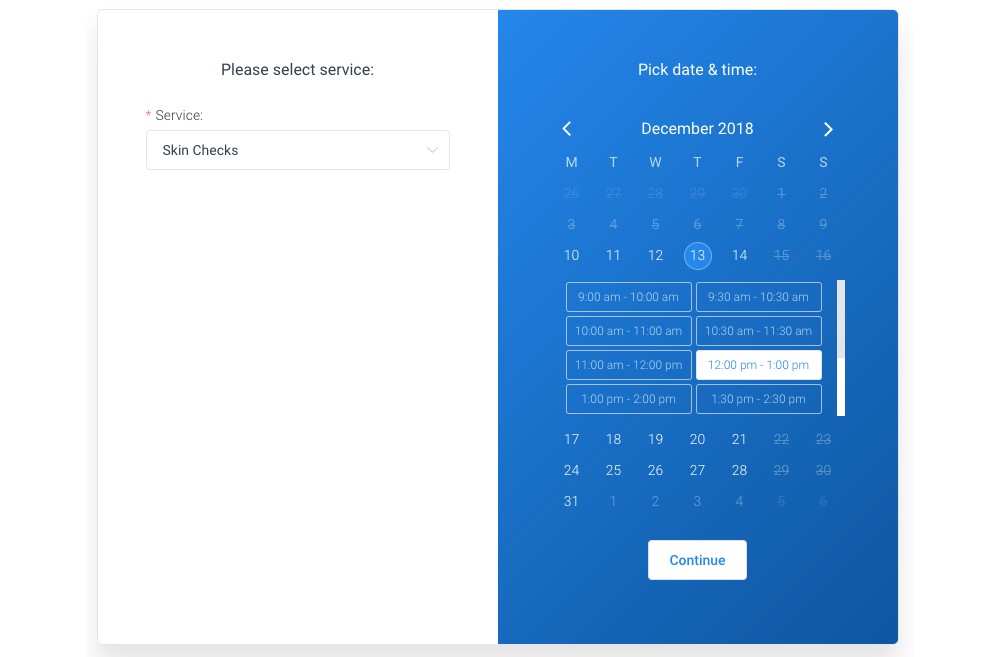 Comes with a beautiful front-end user interface where customers can make bookings with ease
The modern backend allows you to manage your schedule without a hassle
Allows you to create a step-by-step process for making appointments
A calendar view is also available on the backend for easier booking management
The system sends email notifications to both you and your customers of upcoming appointments
Payment processing with PayPal and Stripe is available in the Premium version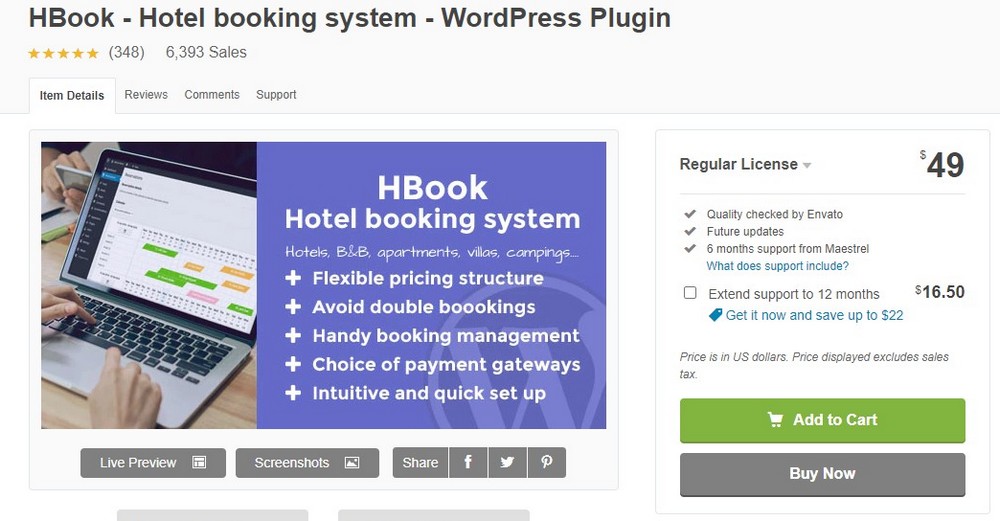 Big establishments like large hotels, spas, and restaurants have complex booking systems that involve multiple accommodations, different styles of rooms, various services, classes, and more. HBook is an advanced booking plugin you can use to make a booking system for such business websites.
HBook comes with a complex booking system packed into a flexible and lightweight WordPress plugin. It also features a beginner-friendly backend to help you manage all the complicated bookings with ease.
Main Features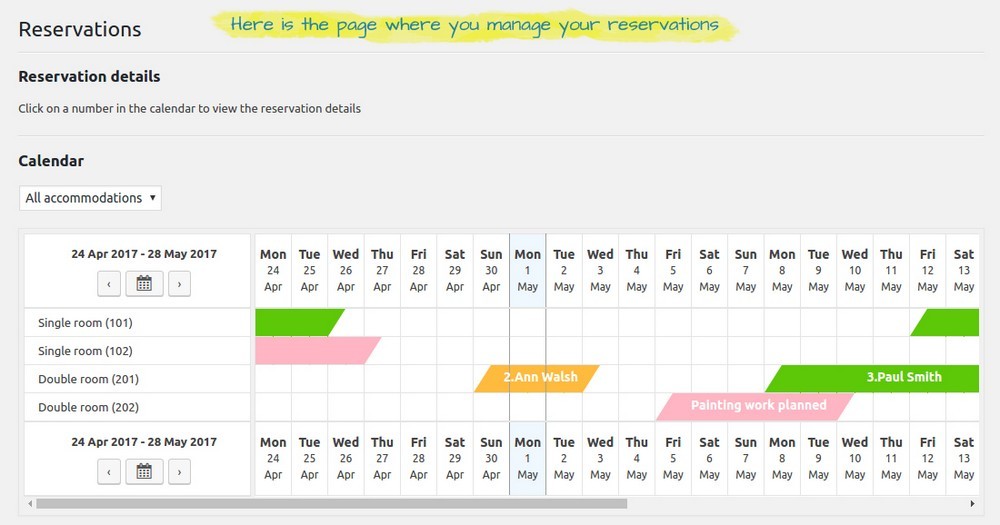 Manage complex bookings for large establishments without complications
Includes a calendar on the backend with a visualized schedule
Offer as many services as you like with a flexible pricing structure
Process online payments with Stripe and PayPal
Customers can make bookings conveniently using the simple front-end interface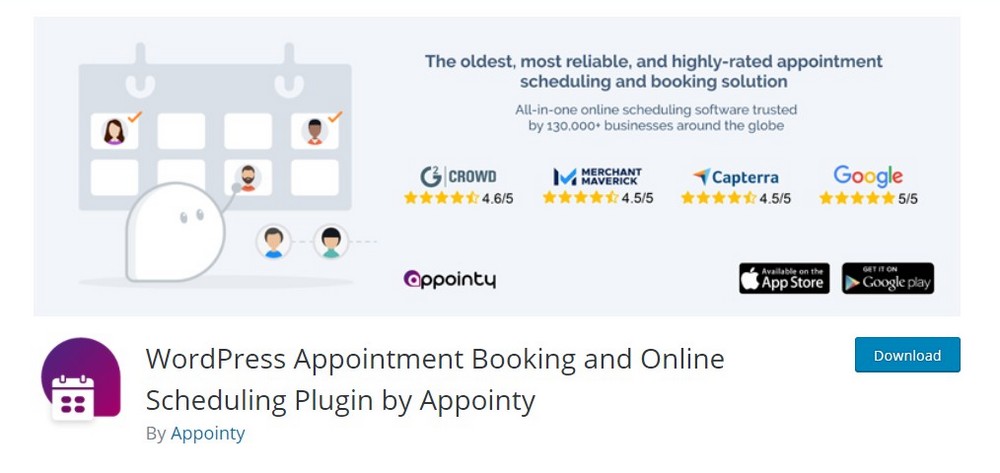 If you have a small business that's just starting out, Appointy is a great free booking plugin you can use to handle your online appointments.
This plugin comes with a generous free plan that allows you to process up to 100 bookings per month. And setup 5 different services. Another special feature of this plugin is that it supports Zapier integration. This will allow you to easily connect third-party apps to add more features and even sync booking with Google Calendar.
Main Features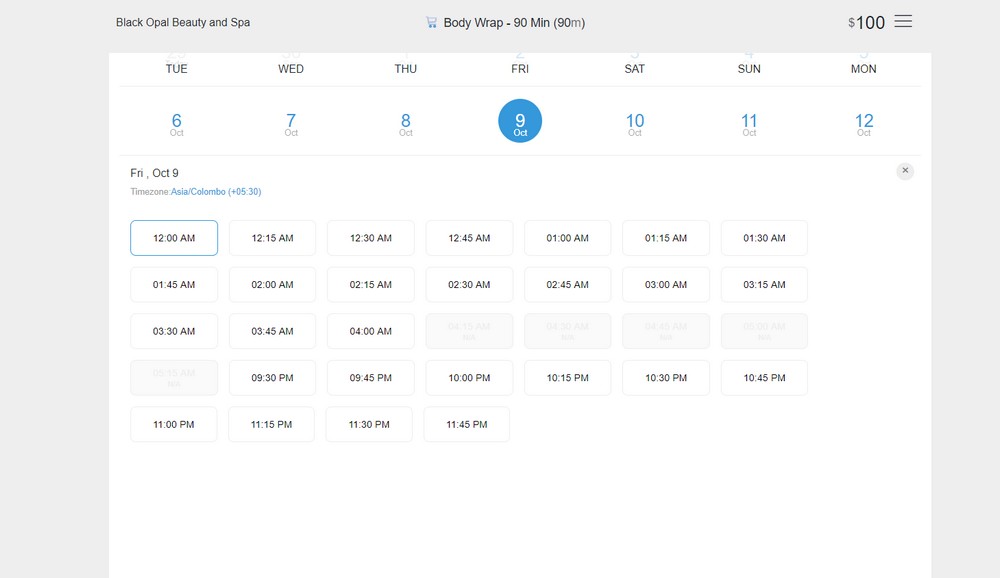 The free plan lets you create 5 services and handle 100 bookings per month
It includes features for scheduling different types of services like events, classes, and more
With Zapier integration, you can connect other apps like Google Calendar, Slack, Facebook, and more
Automatic reminders will make sure you don't miss your appointments
Integrates with WordPress websites and Facebook pages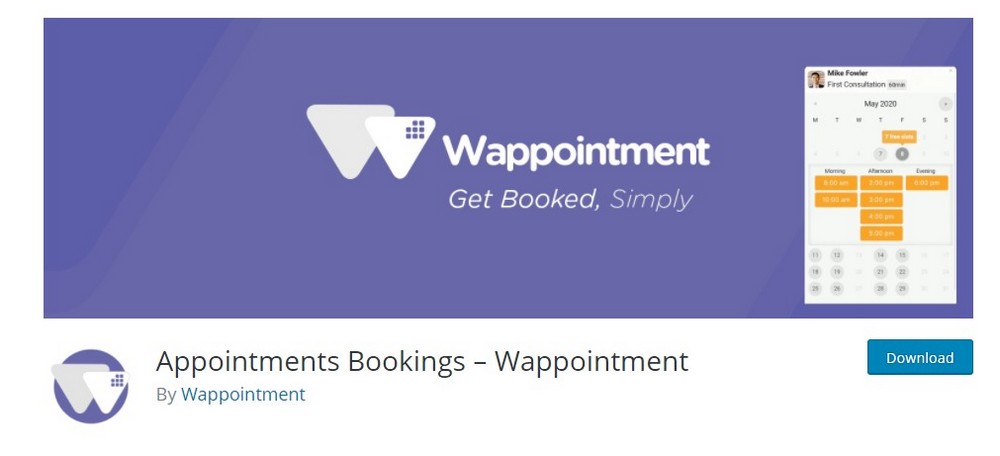 Wappointment is a new and completely free appointment booking plugin that gives you unlimited access to the booking system at no cost.
Using this plugin, you can handle unlimited bookings, customers, and services. The plugin also uses a centralized system to help avoid double bookings. The only feature missing from the plugin is payment processing, which you can add using its premium WooCommerce integration add-on.
Main Features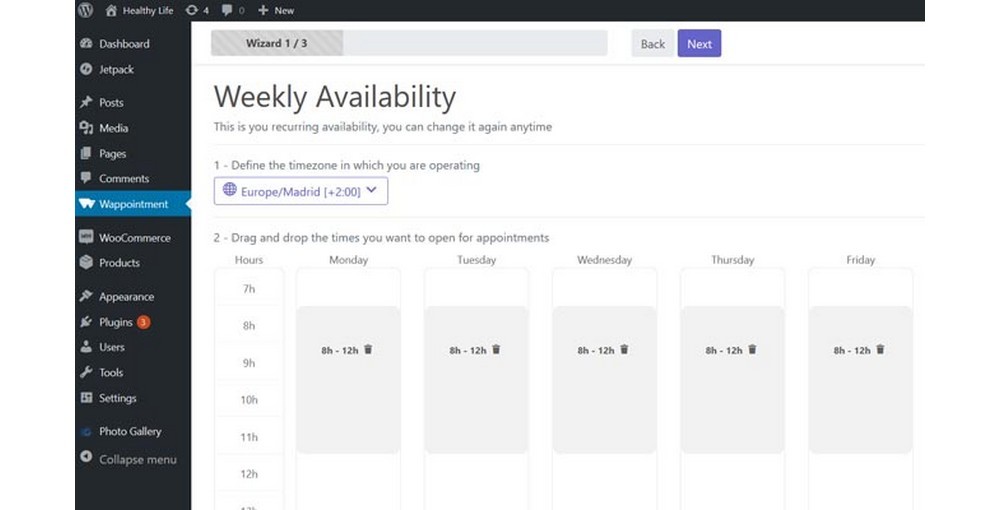 Beginner-friendly backend interface lets you manage appointments with ease
Manage unlimited appointments, clients, and services
Get email notifications for bookings and appointment notifications
You can create a customized booking form describing your services
Conclusion
Once you pick a suitable plugin for your site, you'll be able to setup an appointment or hotel booking system for your website with a few clicks. These plugins are easy to setup and manage.
Also, be sure to check out our best WooCommerce plugins collection if you want to get more out of your eCommerce website.
Looking for WordPress hosting? We use Kinsta. They offer world-class WordPress hosting, built to keep your website fast, secure, and always online.