Shopify vs. WooCommerce: Which Is Best For eCommerce In 2022?
Woocommers and Shopify are both great options for creating different types of eCommerce websites. These platforms provide simple solutions for starting a new business or even bringing your existing inventory online. But, which platform offers the best benefits for your money? Let's find out.
In this post, we compare the features of Shopify and WooCommerce to see what type of shops and eCommerce websites you can build using each platform. We also look at the benefits and downsides as well as the true costs behind them.
Let's dive in and find out which platform is best for you.
Download hundreds of stunning Shopify themes and templates with an Envato Elements membership. For $16 per month, you have unlimited access to a growing library to thousands of themes, fonts, web templates, graphics, and more.
Why Use WooCommerce?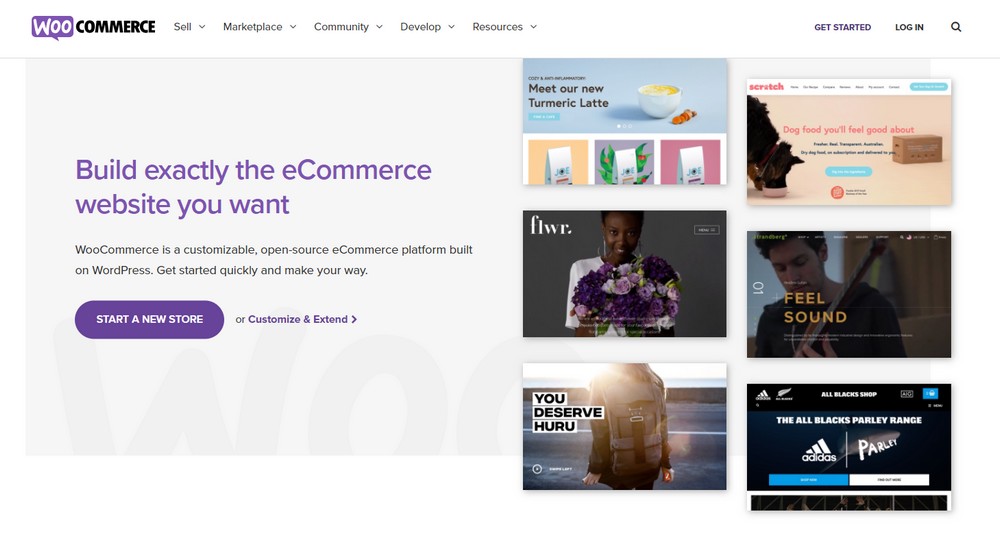 WooCommerce is the most popular eCommerce plugin for WordPress that allows you to transform your regular WordPress websites into online shops and businesses. WooCommerce is an open-source software currently used by more than 5 million websites.
WooCommerce is built with extendability in mind. It offers plenty of room for the users to add additional features and customize the store to their preference. You can build online stores, membership platforms, multi-vendor marketplaces, and almost any type of eCommerce website you want with the plugin.
Total Control Over Your Store
One of the biggest benefits of using WooCommerce is that it gives you total control over your website. Since you use a self-hosted WordPress website to build your store, you own and control everything.
This means you don't have to abide by the rules set by a corporation. Or follow a company's terms of service. Or have restrictions on what you can and can not sell.
With WooCommerce, you can sell any type of product you want without having to worry about getting banned or losing your business.
Thousands of Themes and Designs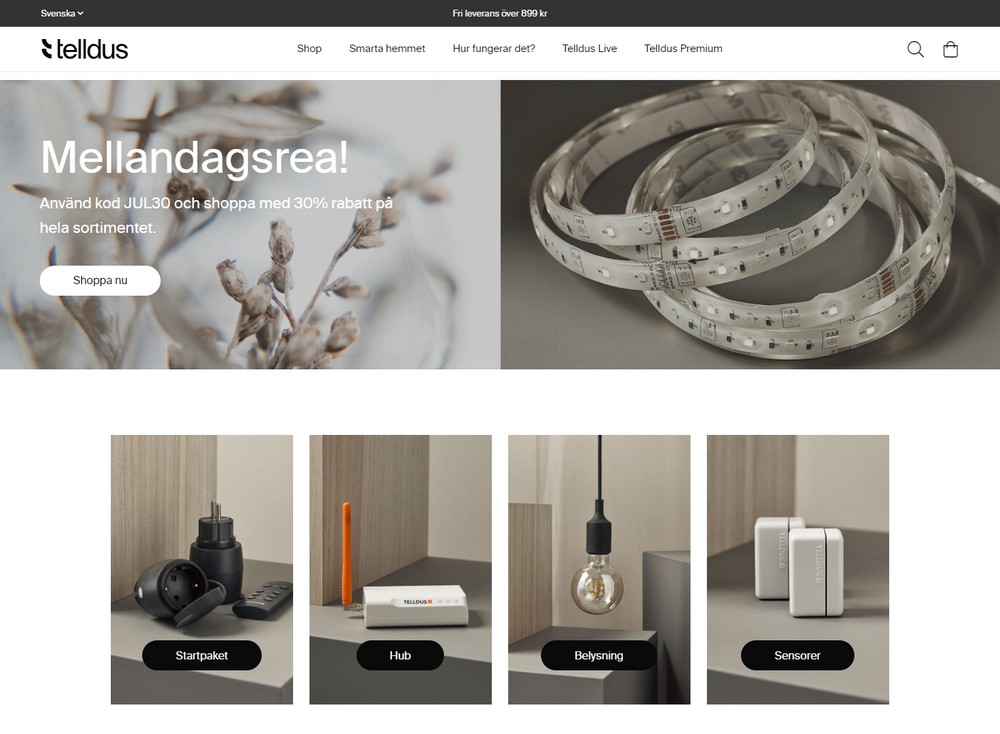 (Example: telldus, a shop built with WooCommerce)
WooCommerce has a very large community of users and developers who regularly create content for the platform. As a result, there's no shortage of themes or add-ons for the platform.
You can find thousands of beautiful and professional WooCommerce themes from marketplaces like ThemeForest and Envato Elements. As well as plenty of free themes from the official WordPress themes directory.
Useful Apps and Third-Party Integrations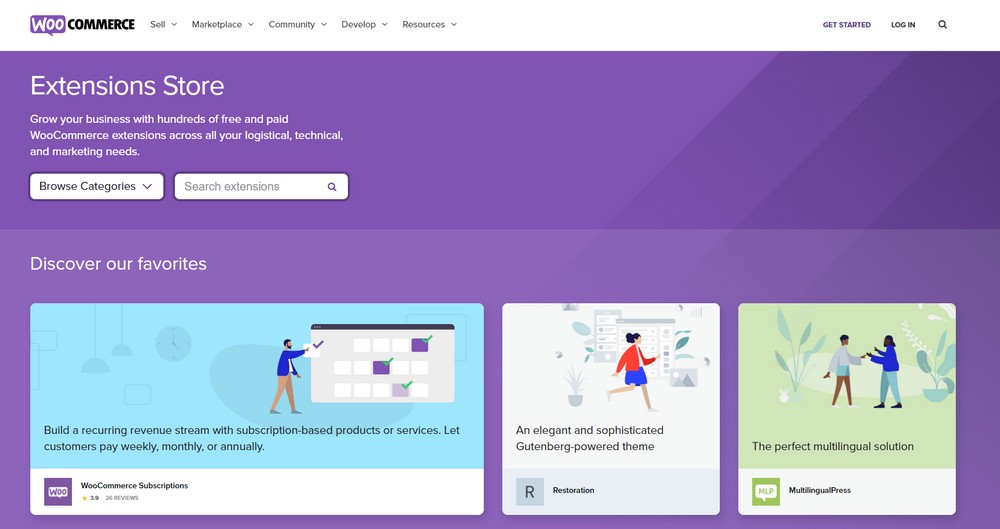 WooCommerce allows you to extend its features using third-party extensions, add-on plugins, and apps. For example, the WooCommerce Zapier add-on lets you connect your store with more than 2000 third-party apps.
There are also free and premium WooCommerce plugins you can use to connect with services like MailChimp, upsell products, generate invoices, and much more.
Support for All Payment Gateways
WooCommerce now has its own payment system called WooCommerce Payments for processing credit cards. Although, it's only available in the US for the moment.
However, the platform allows you to connect with any other third-party payment provider you prefer using extensions. There are extensions for Stripe, Authorize.net, 2Checkout, and more.
Benefits of Using WooCommerce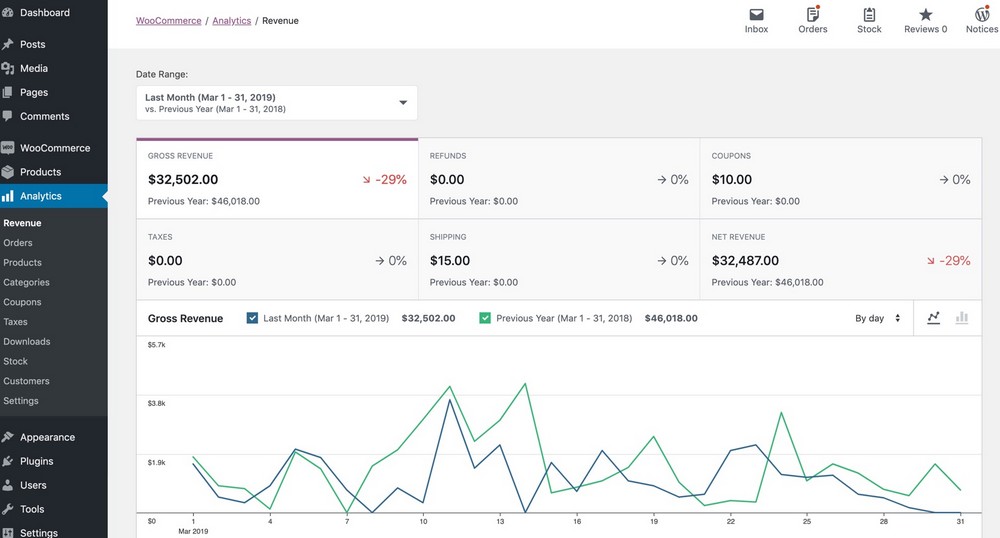 Take control of your store and sell any product you want
Lots of themes and plugins to add more features to your shop
No platform fees or transaction fees
Build any kind of shop from small boutique shops to large-scale marketplaces
Freedom to customize your shop however you like
Downsides to Using WooCommerce
The initial setup process requires knowledge of WordPress
Managing a store can be a little bit difficult for beginners
How Much Does WooCommerce Cost?
WooCommerce plugin itself is completely free to use. However, to build a store using WooCommerce, you need a WordPress website. This comes at a cost.
You'll need to buy a domain name, web hosting, and a WooCommerce theme to setup a WordPress website. Depending on the web hosting platform you choose, this could cost you around $10-$30 per month.
Keep in mind that the payment gateway you use to process credit cards will also charge a small fee. On the plus side, you won't have to pay any transaction fees when using WooCommerce.
Why Use Shopify?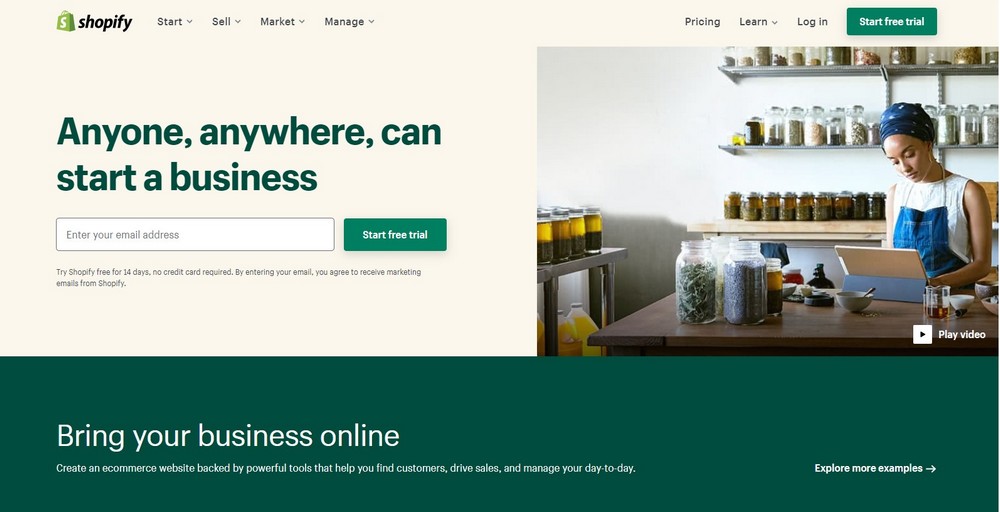 Shopify is a SaaS (Software as a Service) platform where you can comfortably build an eCommerce website without having any technical knowledge. Shopify boasts serving more than 1 million businesses from all over the world.
Shopify is most suitable for building small to medium online stores. You can use it to setup websites for your restaurant, shops to sell merchandise, online stores for branded products, and much more.
Completely Beginner-Friendly
Shopify is an all-in-one platform. Unlike WooCommerce, Shopify doesn't require you to buy web hosting or install any software. You can setup a shop using Shopify and start selling in just a few minutes.
The platform is also very beginner-friendly as it's designed with complete beginners in mind. Shopify also features a simple dashboard where you can manage your store quite easily.
Lots of Themes and Designs to Choose From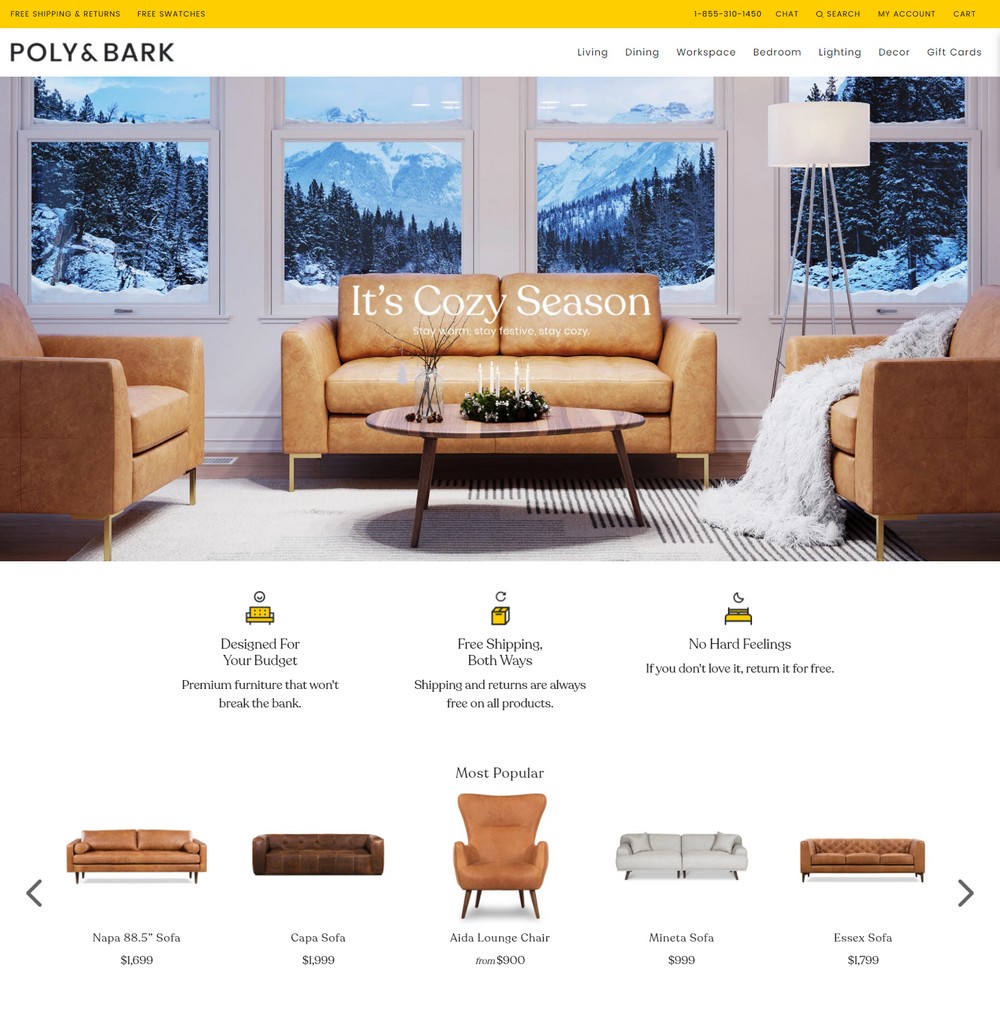 (Example: Poly & Bark, a shop built with Shopify)
Shopify has its own themes directory featuring designs for all kinds of online stores. There are both free and premium themes to choose from.
You can also find more unique theme designs from third-party marketplaces like ThemeForest. Although, there aren't as many choices as for WooCommerce.
Sell On Multiple Platforms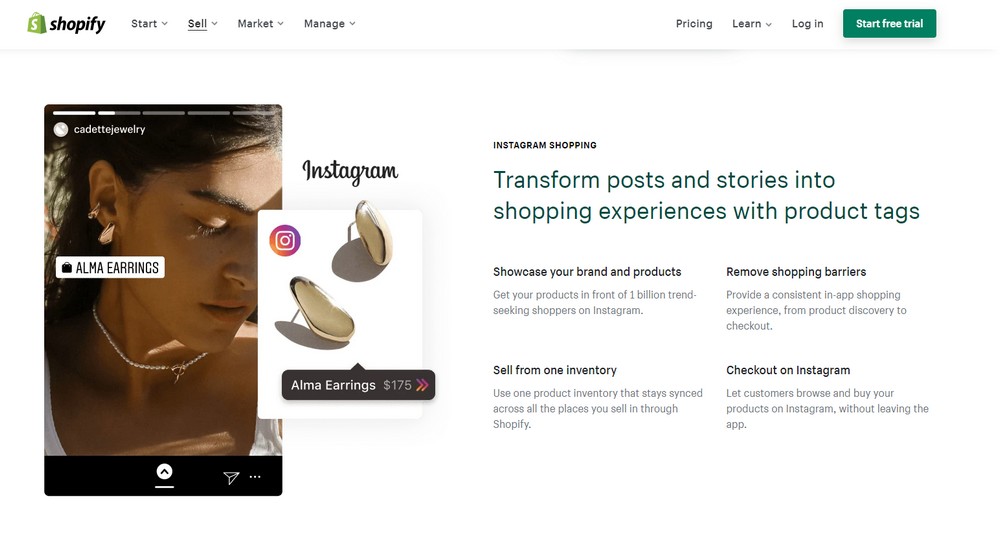 Another great feature of Shopify is the ability to integrate your shop with third-party platforms. You can easily connect with Facebook and Instagram to sell your products through social channels. Or even integrate with eBay and Amazon to sell products to a wider audience.
Free and Paid Third-Party Apps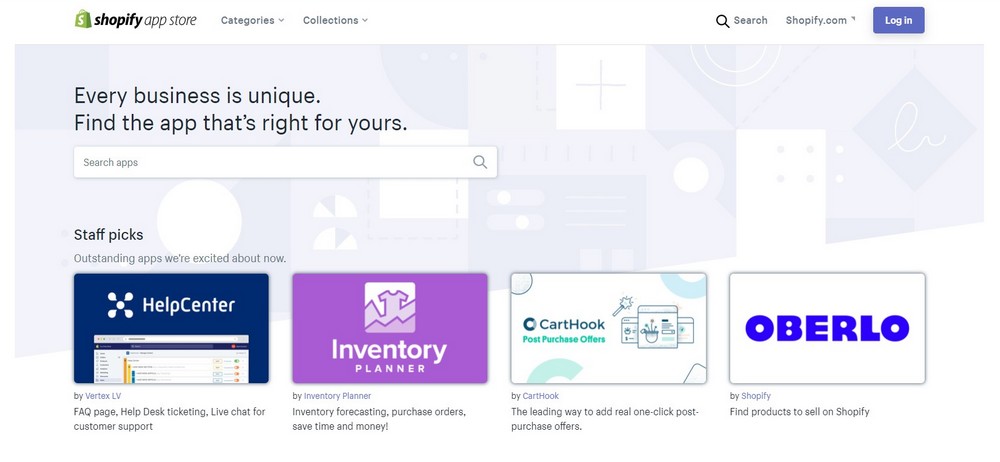 There are hundreds of different apps available on the Shopify apps marketplace for adding more features to your online store. Most of these plugins are free to use. And you can install them with just one-click.
Shopify Payments
Shopify also has its own payment system for processing credit cards at lower rates. However, it's only supported in a few regions.
Of course, you can use third-party payment providers like PayPal and Stripe. But, when using a third-party payment provider, Shopify will charge an additional 2% fee from each transaction.
Benefits of Using Shopify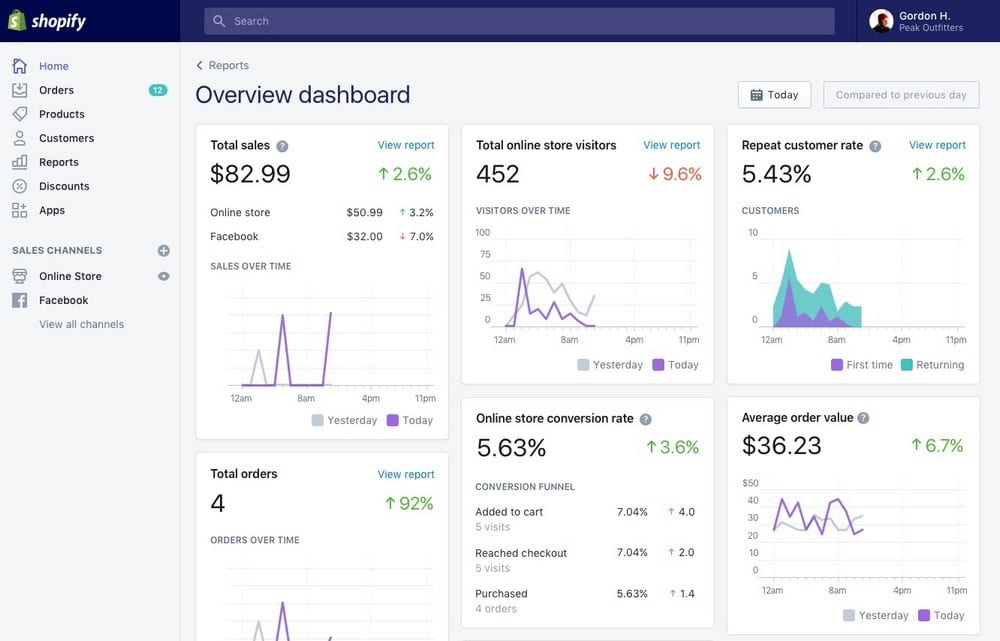 The platform is very beginner-friendly and easy to use
You can integrate your shop with Facebook, Instagram, Amazon, and eBay to sell products across different platforms
PoS (Point of Sale) system allows you to sell products in-person
Choose from lots of theme designs and customize them using the live editor
Downsides to Using Shopify
The platform fee for using third-party payment providers is expensive
Limited features for customizing your store
You need to follow Shopify's terms and conditions
How Much Does Shopify Cost?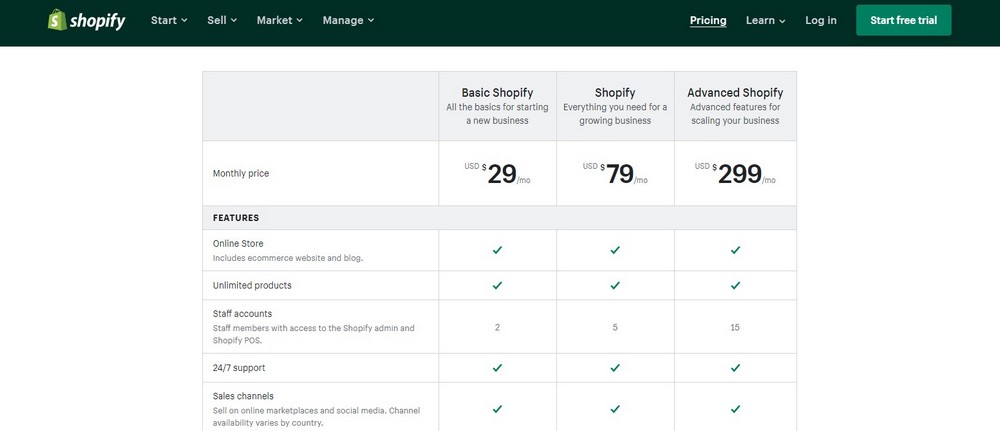 Shopify's pricing plans start at $29 per month for the basic plan. When using Shopify Payments, the platform will let you process credit cards at 2.9% + 30¢ USD rate.
If you're using a third-party payment provider, Shopify will charge an additional 2.0% as a transaction fee on top of the fees charged by your payment provider.
WooCommerce vs Shopify: Which Platform is Best?
Shopify is arguably the best platform for starting a new eCommerce business. Since it provides all the tools in one place for you to build and manage your store, it's much more convenient for people who are new to online business.
Especially if you're a social media influencer or a small business owner, you can easily setup a shop using Shopify to sell your merchandise and products at an affordable cost.
However, Shopify has its limits. The platform is not suitable for building large retail-size stores and marketplaces. For such businesses, WooCommerce is the ideal solution.
WooCommerce is more advanced than Shopify and gives you the freedom to customize and extend the store however you like.
In conclusion, both platforms are great. But, depending on the type of business you're starting and your future plans, you should choose wisely.
Shopify has a 14-day free trial and you can test drive WooCommerce using a local WordPress installation. Try them out before making a decision.