20+ Romantic Wedding Slideshow Ideas (+ PowerPoint PPT Templates)
Whether you're planning your own dream wedding or organizing the wedding of another couple, or putting together a presentation to share your romantic story with family and friends and reminisce for years to come, a slideshow can be a brilliant tool to help you bring your ideas together.
But of course, for such an important day, your template needs to be perfect – and that's why we've hunted down the very best romantic wedding slideshow ideas and wedding PowerPoint templates for brides, couples and professional wedding planners to use!
From delicate florals and pastel tones to earthy color schemes and minimalistic layouts, there's a style to suit every kind of wedding, and we've included options from both free and premium sources. Without further ado, let's take a look at our selection of wedding PowerPoint templates!
Get everything you need to give the perfect presentation. From just $16, get unlimited access to thousands of PowerPoint presentation templates, graphics, fonts, and photos.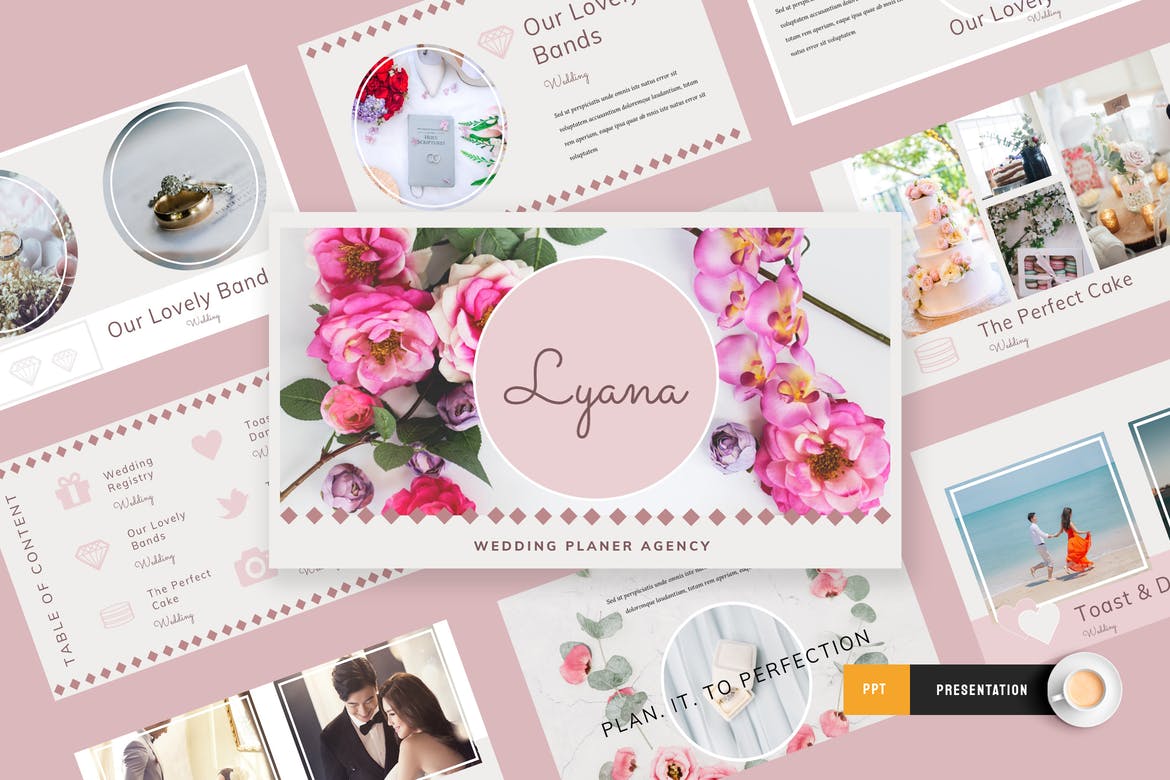 Our first bridal slideshow template is Lyana, a modern and simple set of 50 slides featuring delicate floral accents, drag and drop mockups, and a professional portfolio-style layout that's perfect for planning your dream wedding. It also comes with free fonts and vector icons.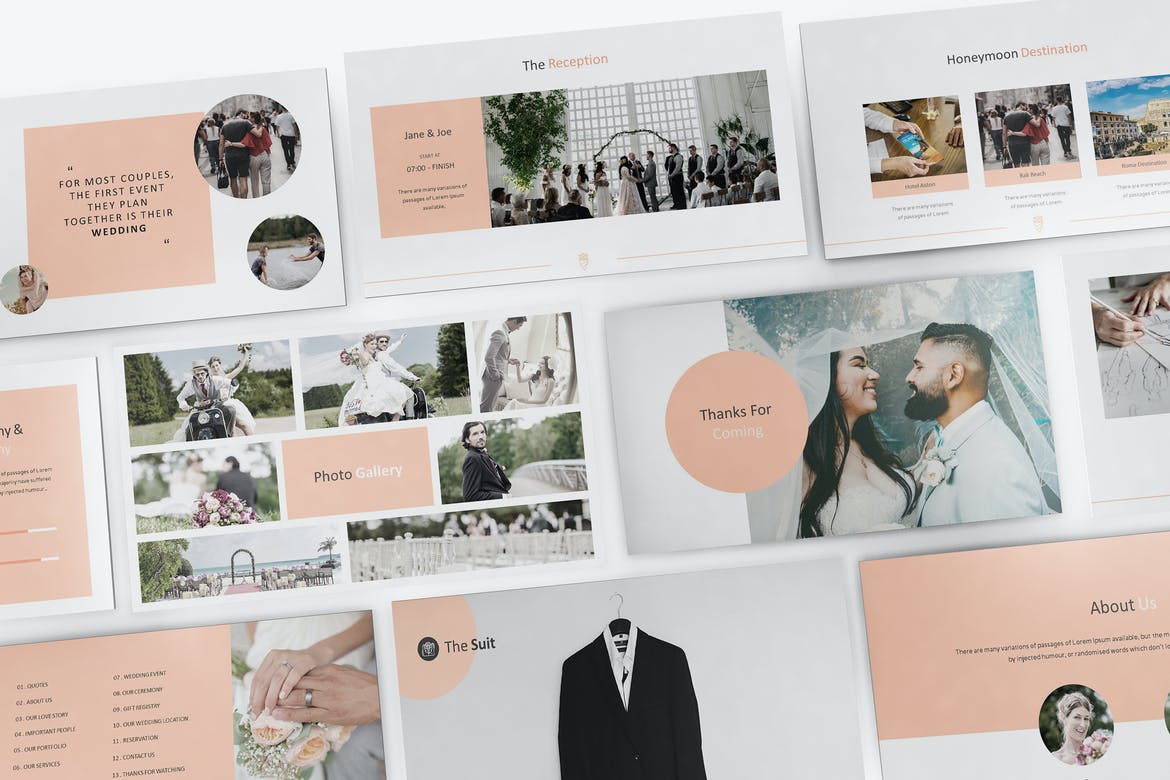 Next up, we have a gorgeous blush themed collection of 30 unique slides, perfect for capturing the magic of your big day to help you reminisce for years to come. It offers a series of prebuilt layouts for each aspect of the event and includes a range of animations, transitions, and free fonts for you to use.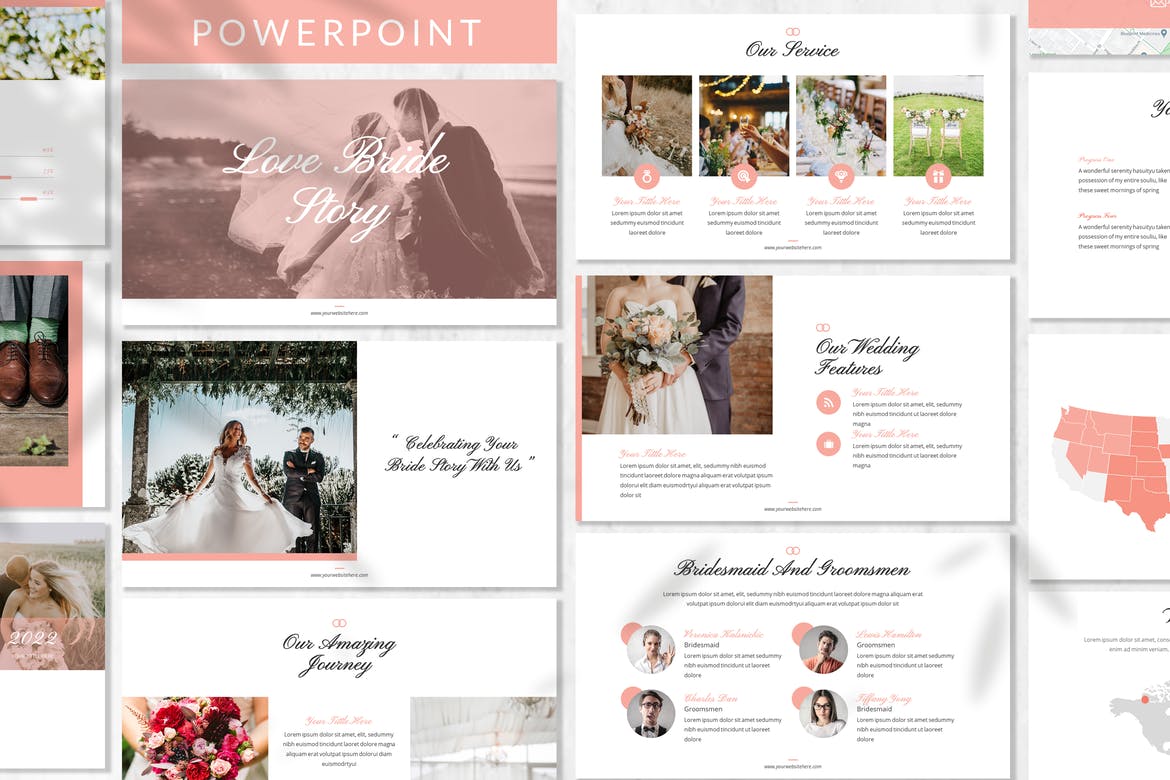 Here we have a classic and elegant version of a wedding slideshow that's perfect for displaying in the run up to your big day, or to treasure and share with family and friends afterward. It includes five premade color themes with light and dark options, plus drag and drop picture functionality.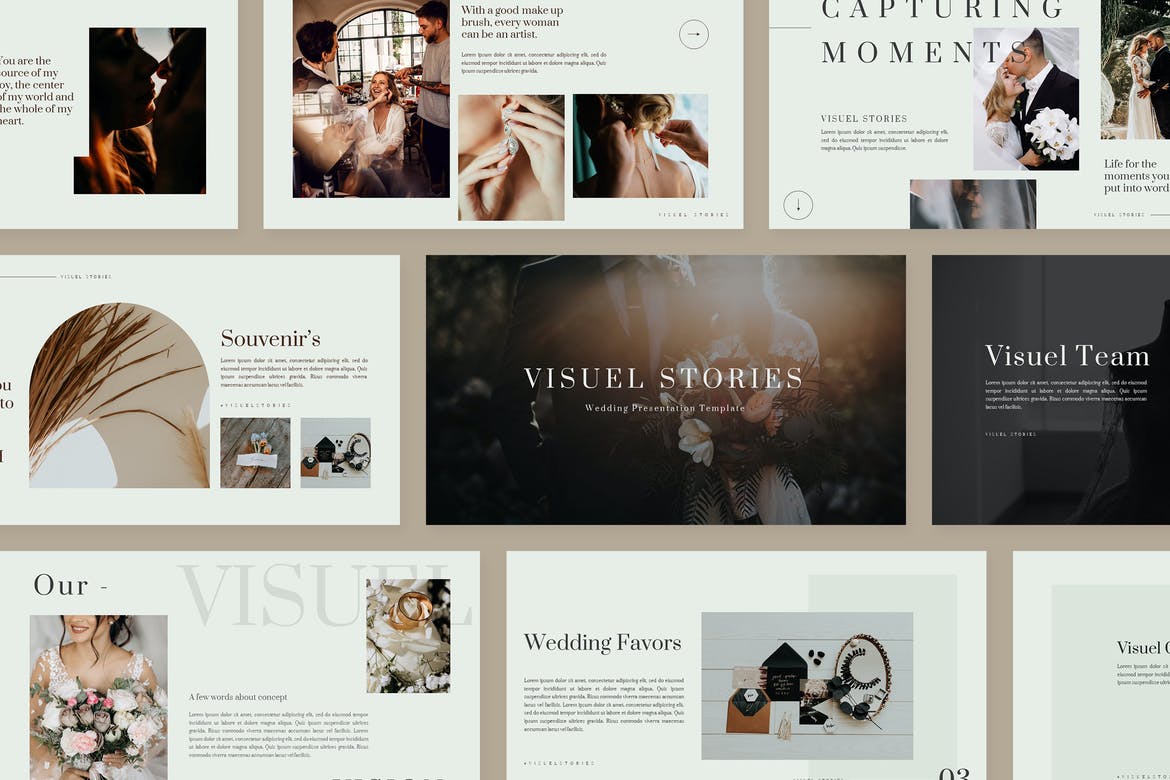 For a dark romantic vibe with a hint of mystery, use the Visuel Wedding slideshow template to tell your story. It features 44 unique slides with a stunning neutral color scheme, free fonts, and a range of animations and transitions, plus each aspect is fully editable.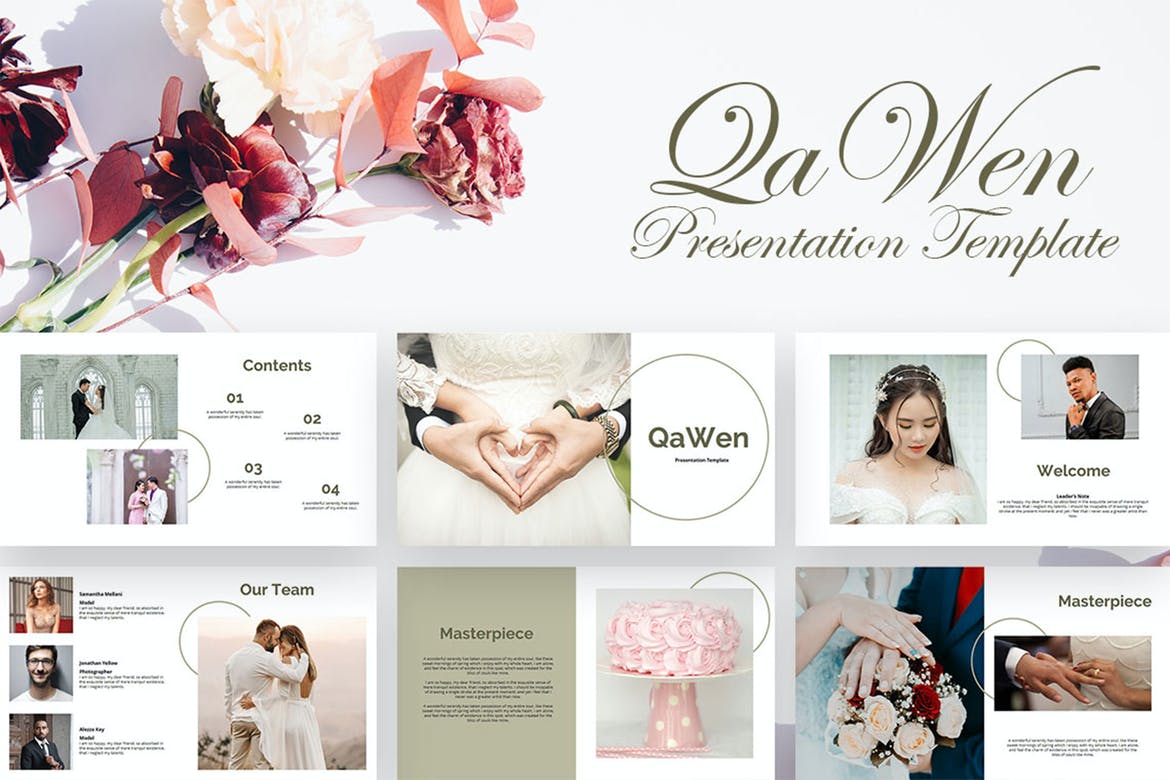 Next in our selection of the most romantic wedding slideshow ideas is Qawen, a beautiful and sophisticated set of 30 slides each offering two color schemes, a high resolution 16:9 aspect ratio, and a range of variations in text and layout styles. You can customize this stylish template to perfectly suit your wedding theme.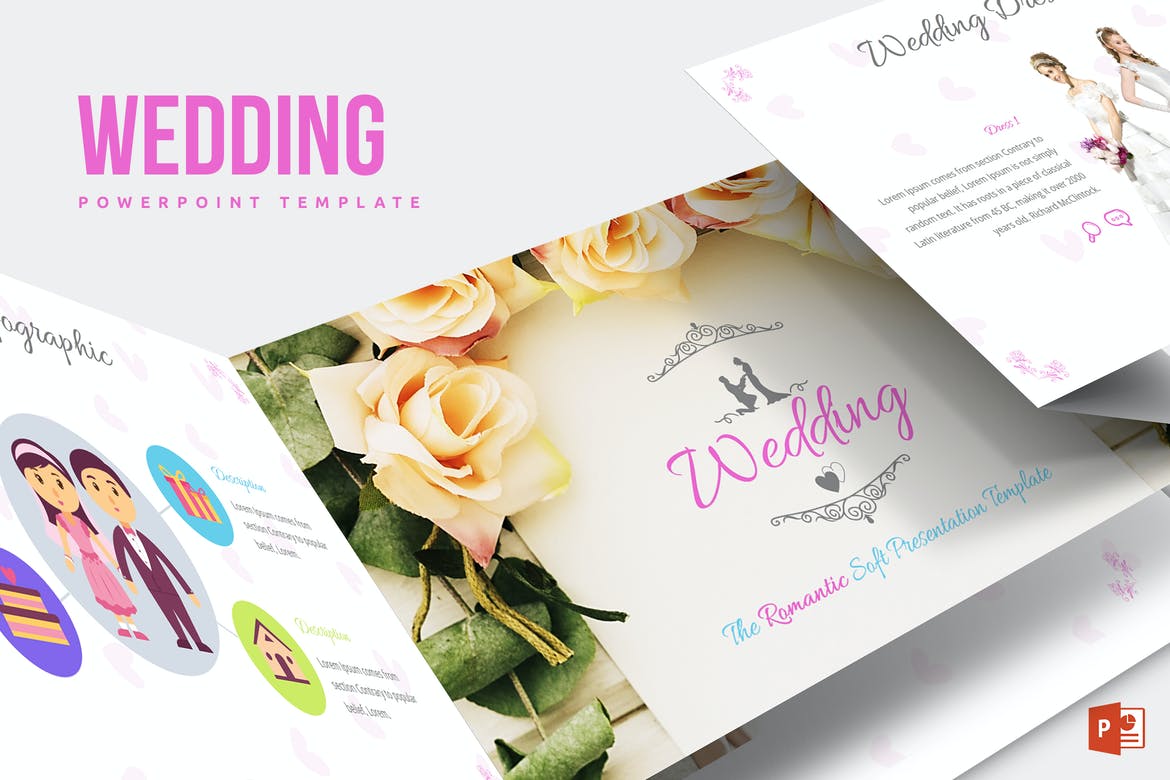 Here we have a super versatile collection of 30 clean, modern slides that's been purpose built as a professional wedding planner tool. It features cute infographics and an edgy combination of traditional photographs and modern cartoon images to help you create the perfect unique presentation.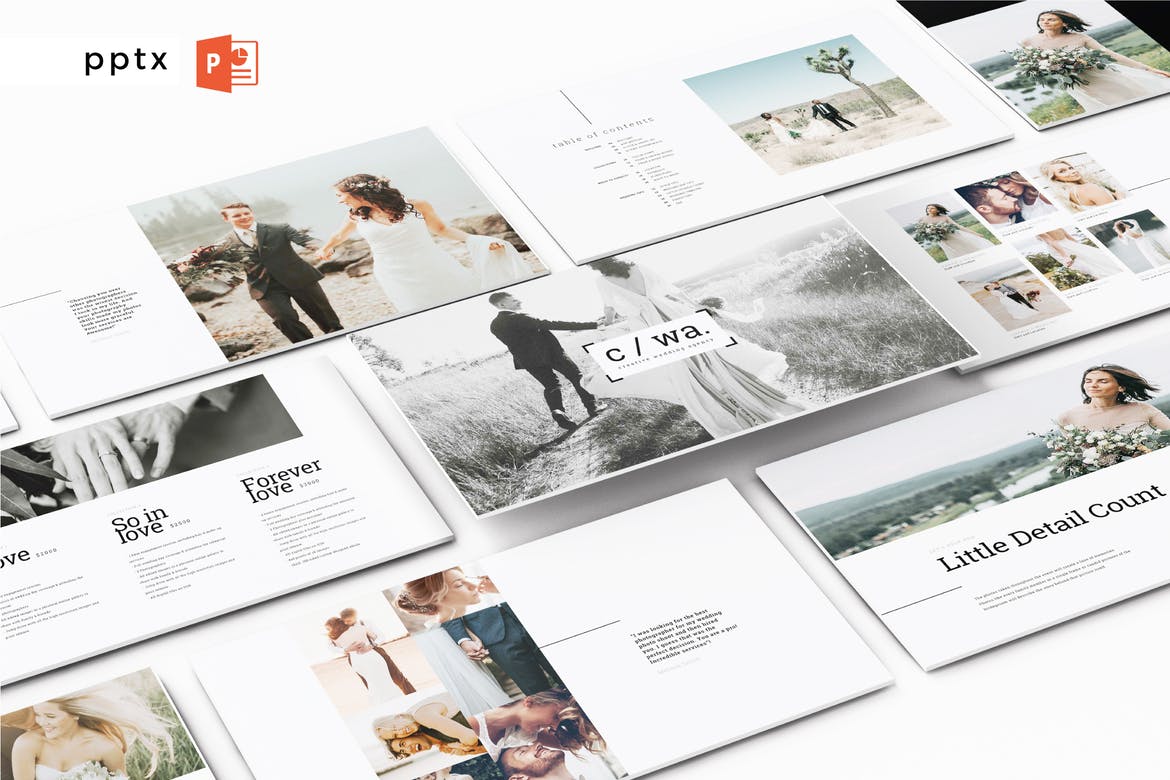 Are you a photographer looking for the perfect wedding PPT template to display your work or win some new clients? This template will help you do just that – it features 150 unique slides with five color schemes, plus resizable vector icons and image placeholders to help you customize.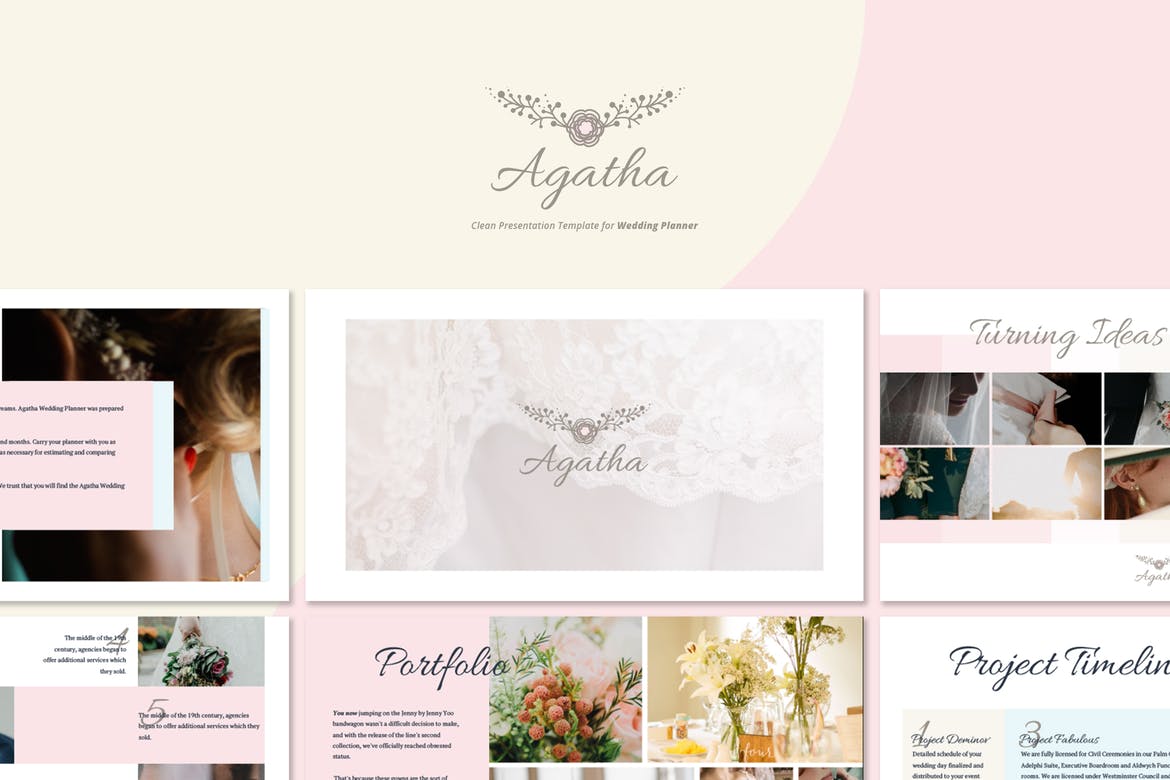 Next up we have a stunningly elegant wedding PPT template that's perfect to help you plan an incredible marriage ceremony, featuring gorgeous calligraphy fonts, a lovely pastel color palette, and delicate illustrations for a creative touch. Each and every aspect can be fully edited, including the animations and transitions.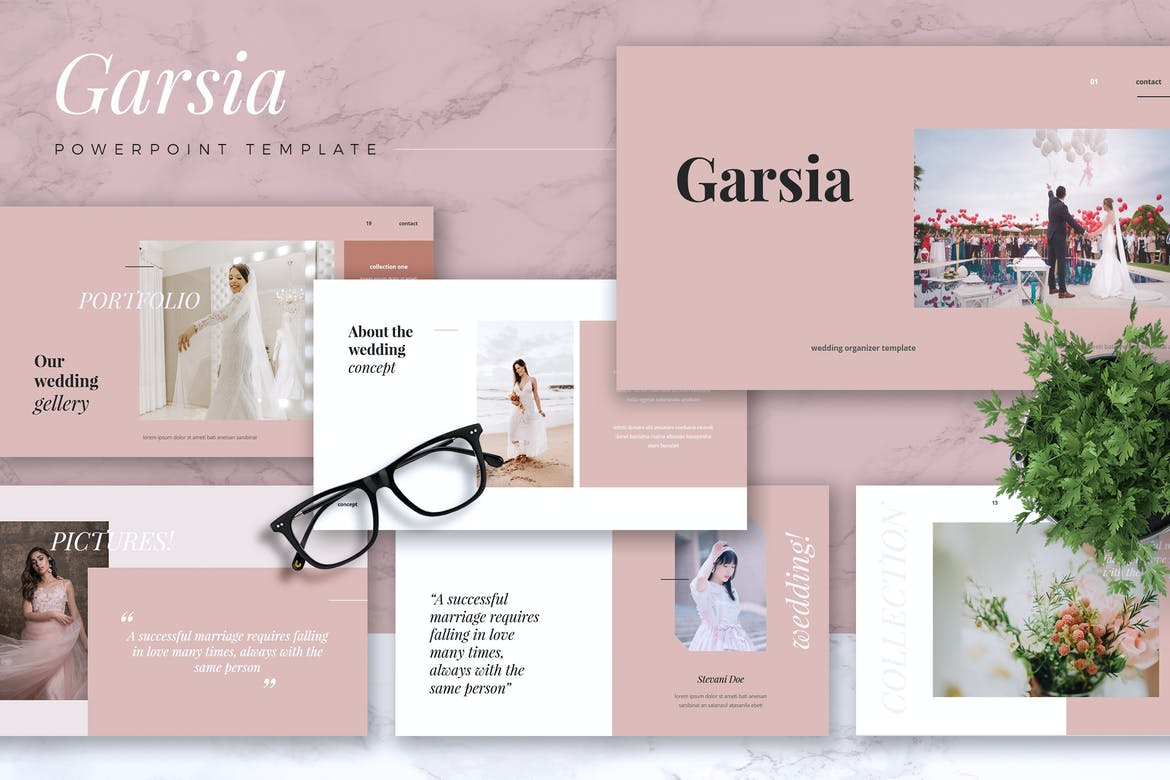 Another option that's ideal for a wedding planner to use when organizing a magical ceremony and reception, the Garcia template features a stylish marble texture and green leafy decorations for a fresh, artistic vibe, and five color schemes for you to apply to the 30 unique slide layouts.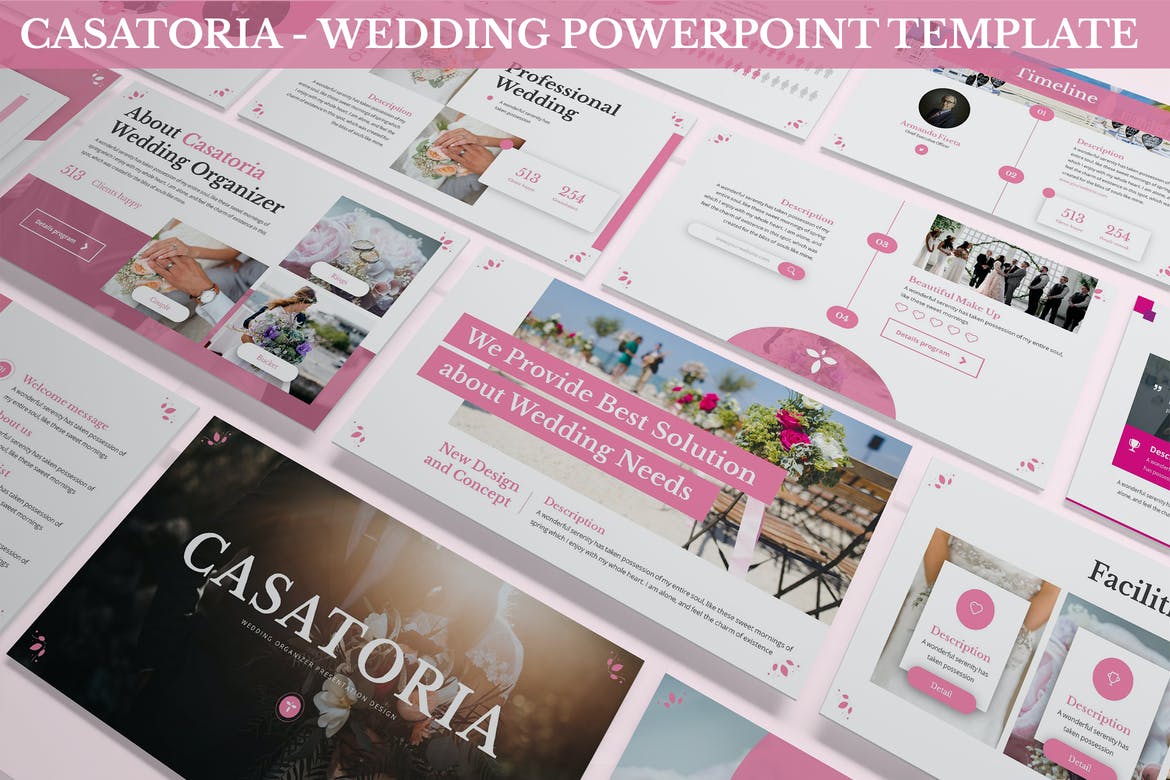 Bright and bold, the Casatoria wedding slideshow template for PowerPoint is a fresh, modern take on the more traditional wedding planning slideshows. It offers a range of purpose built slides to help you structure your presentations, plus picture placeholders and three premade color themes for easy customizing.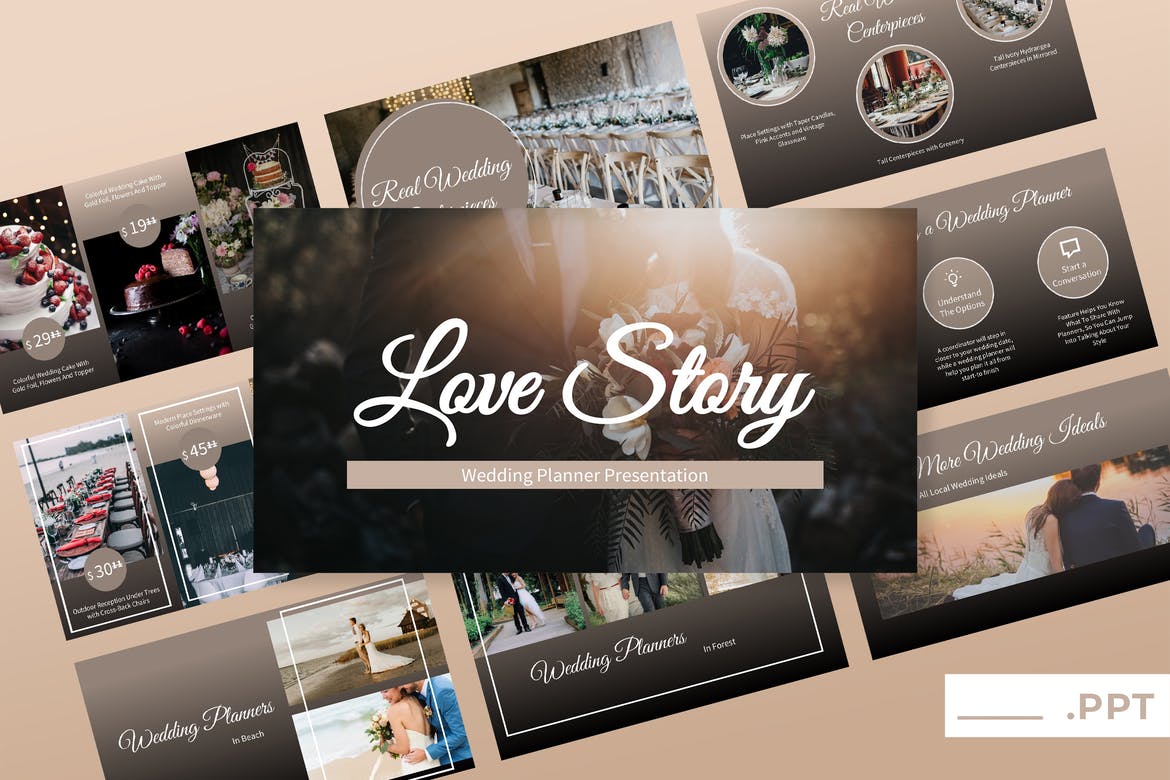 If pastel tones and floral decorations aren't quite your style, the Love Story template might be the perfect fit. It features a dark yet romantic vibe that emphasizes artistic photography and clean, purposeful text to tell the story of your wedding, and is super easy to edit to suit your exact needs.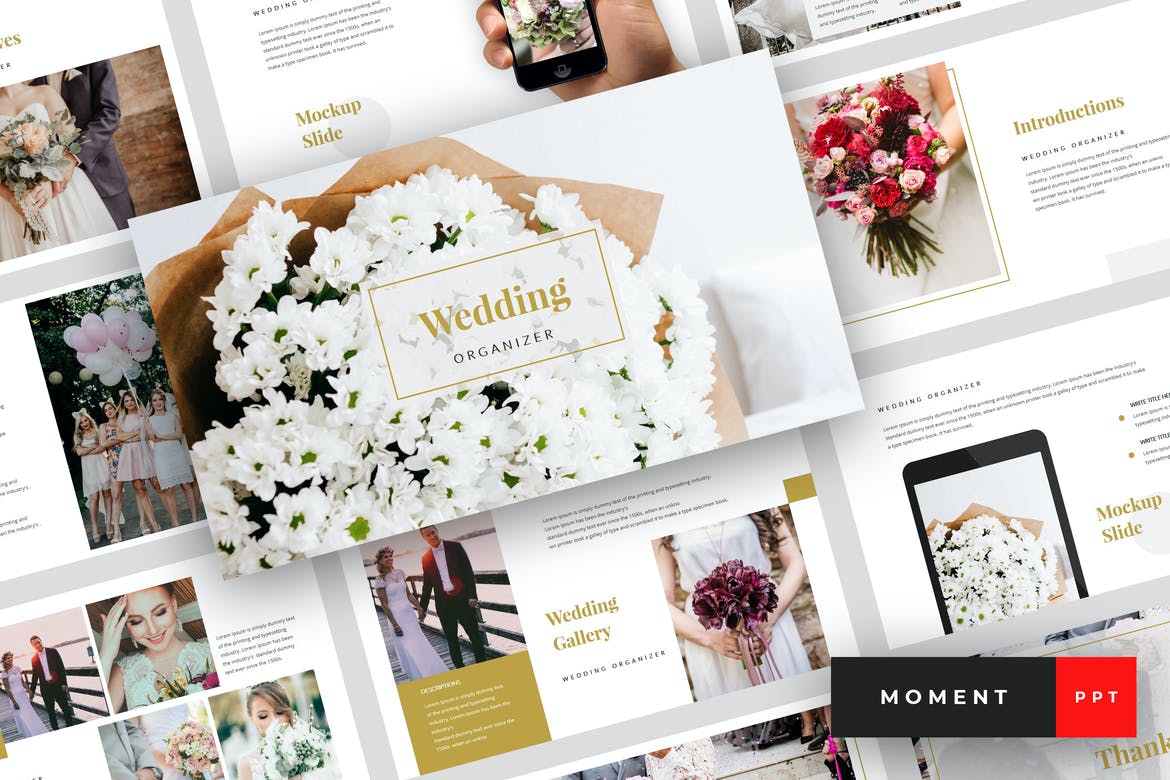 Another clean and modern option without any pinks or pastels, the Moment template offers 36 fully editable slides with free web fonts, drag, and drop picture placeholders, and a classic, sophisticated layout that's suitable for any kind of wedding themed presentation.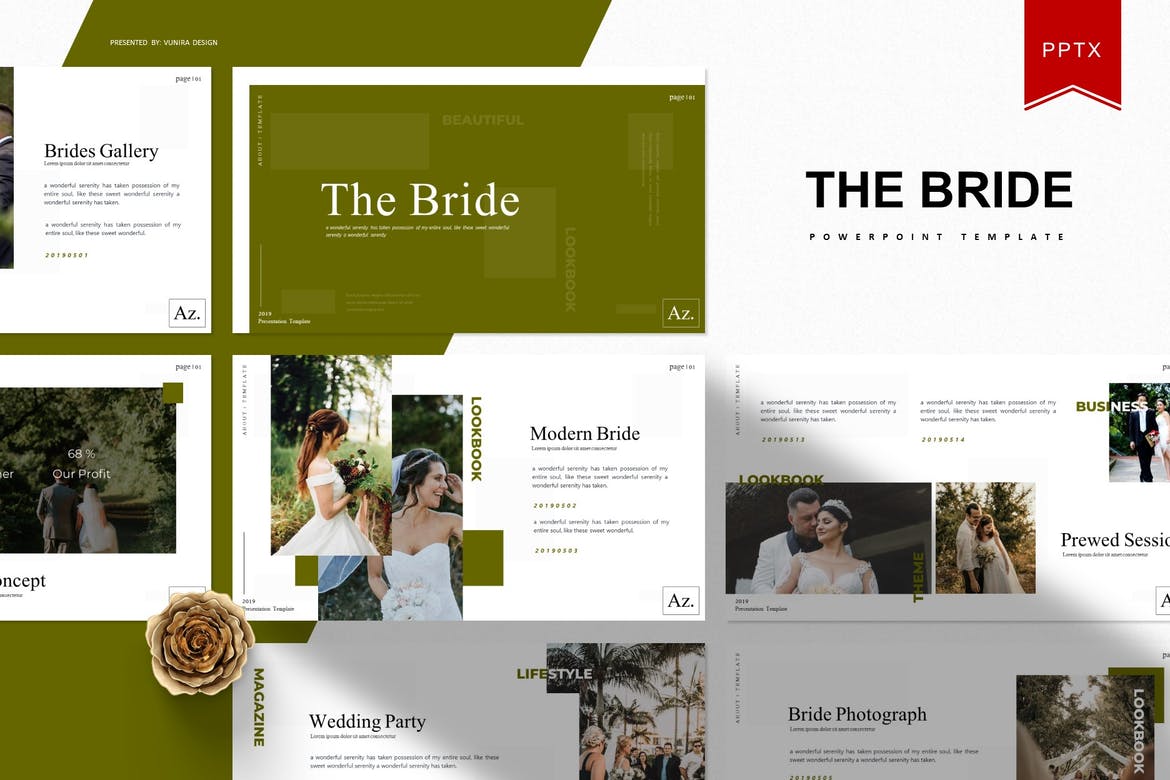 A brilliant choice for the bride who's not like other brides, here we have a practical, earthy toned template featuring 30 different slide layouts with five color options, handcrafted infographics, and pixel perfect illustrations for a wedding presentation that will make an impact.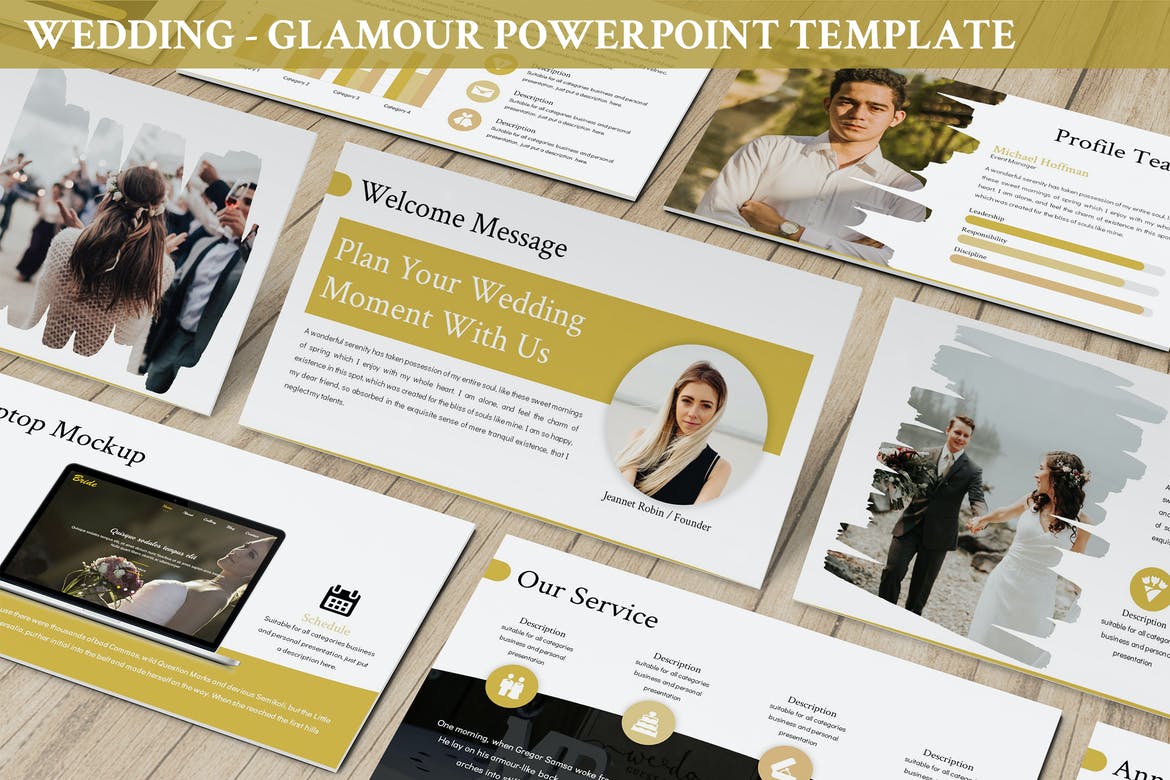 Next up we have a sophisticated collection of wedding themed slides that offers a modern and glamorous design with three premade color variations, drag and drop picture placeholders, dark and light backgrounds, and both widescreen and standard aspect ratios, plus full supporting documentation.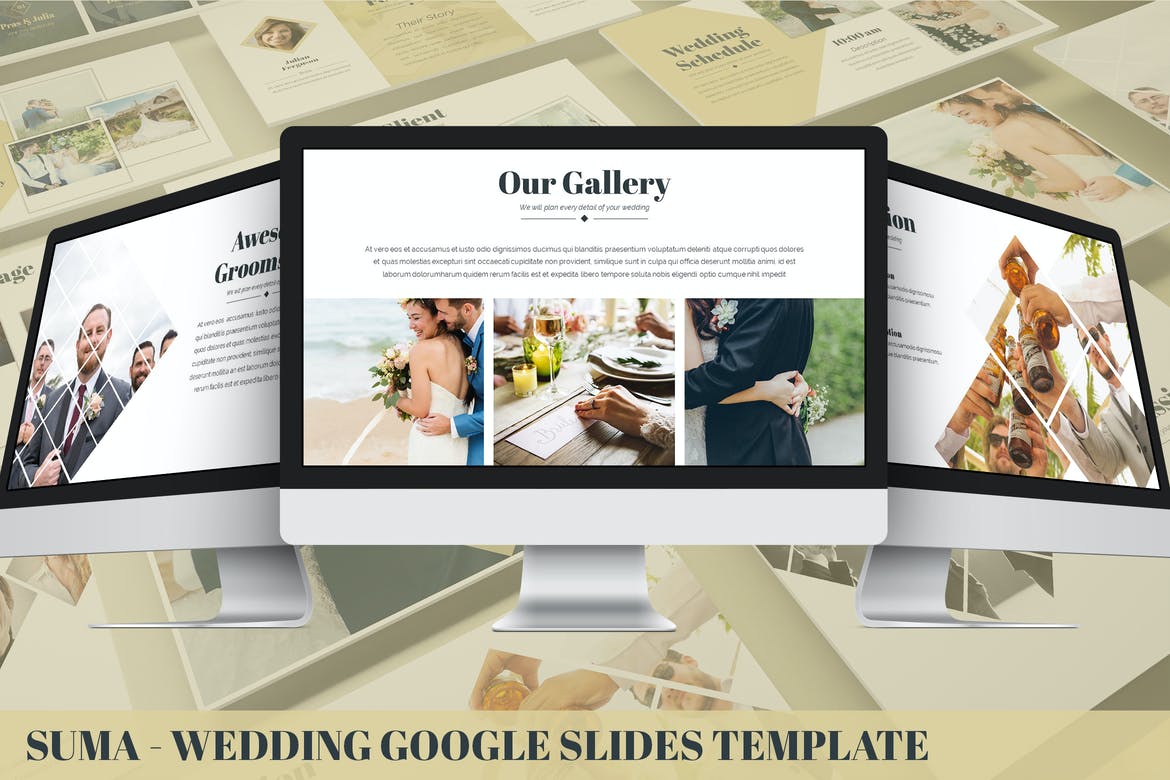 Our next wedding PPT template features a beautiful clean layout and six color schemes to apply across each of the 30 unique slides and is incredibly easy to edit thanks to the picture placeholders and highly intuitive and functional design.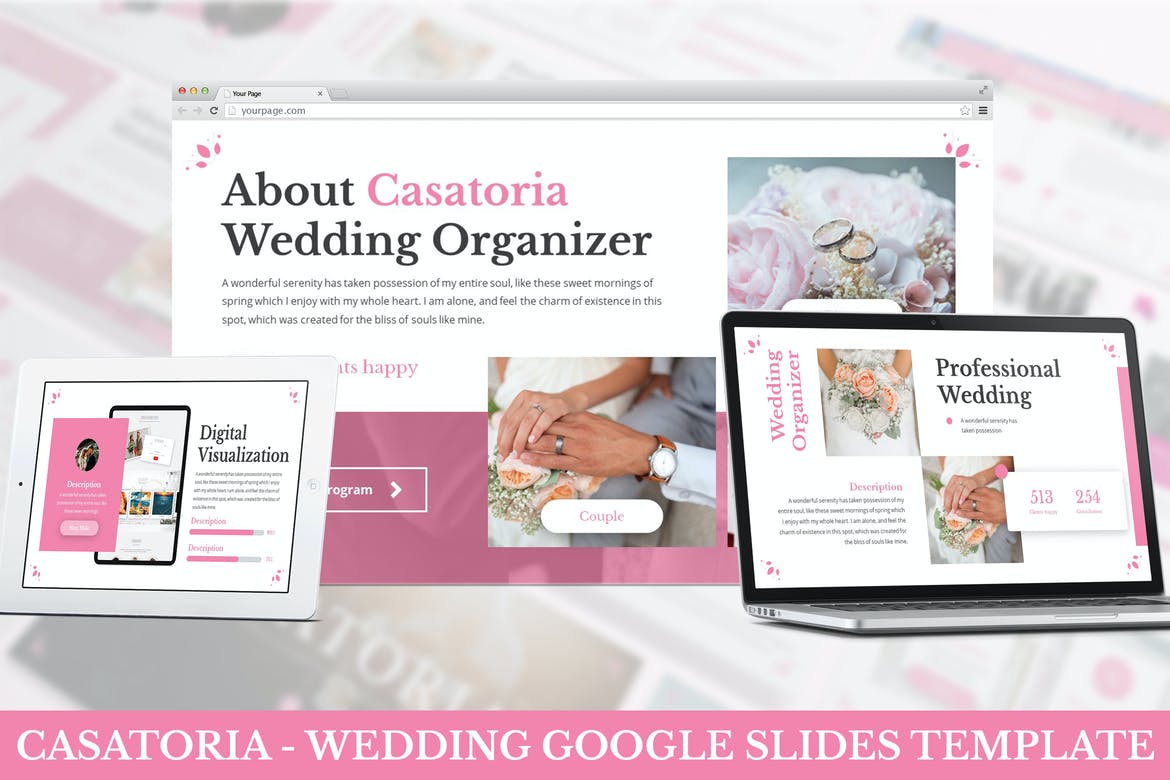 Next in our list of romantic wedding slideshow ideas is this beautifully feminine set of slides that are suitable for use as a wedding planning tool, or for gathering inspiration! It offers three romantic color themes to choose from, plus two screen aspect ratios and a range of handy prebuilt slide layouts and infographics.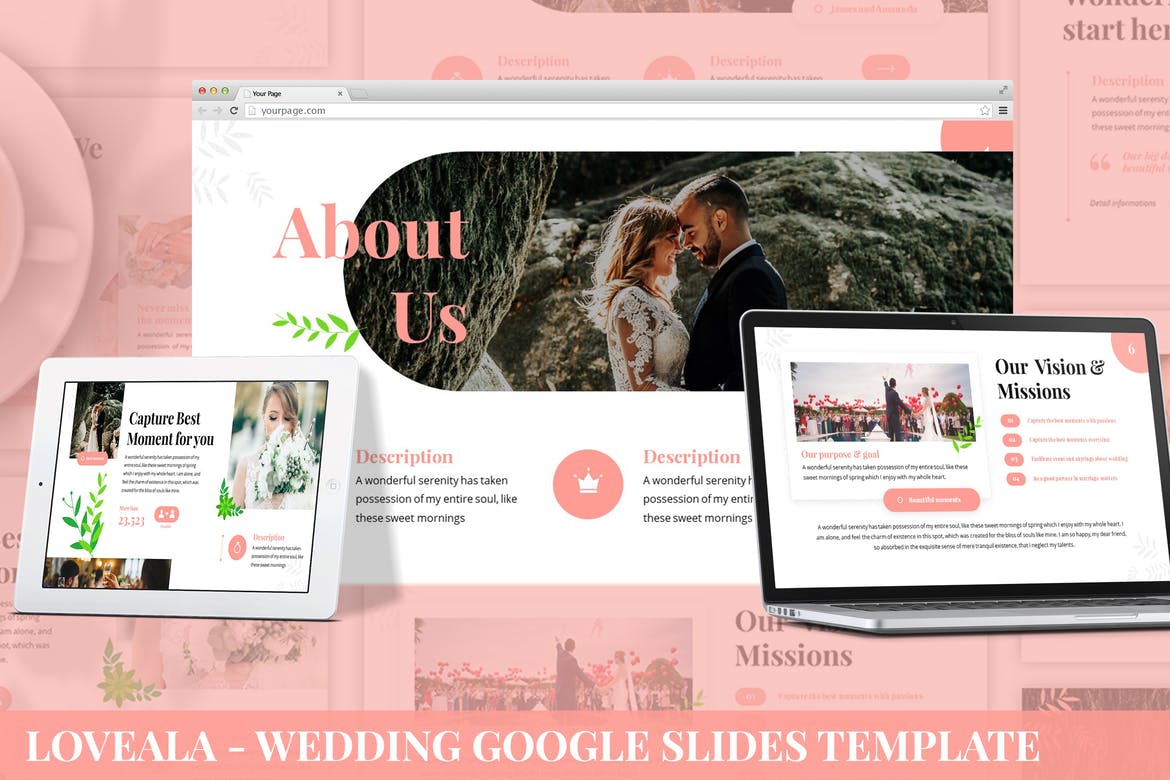 Before we take a look at some free wedding slideshow ideas, the Loveala template is definitely worth considering. It comes with a range of super handy slide layouts to help you structure your content, plus endless ways for you to customize and add your own creative flair.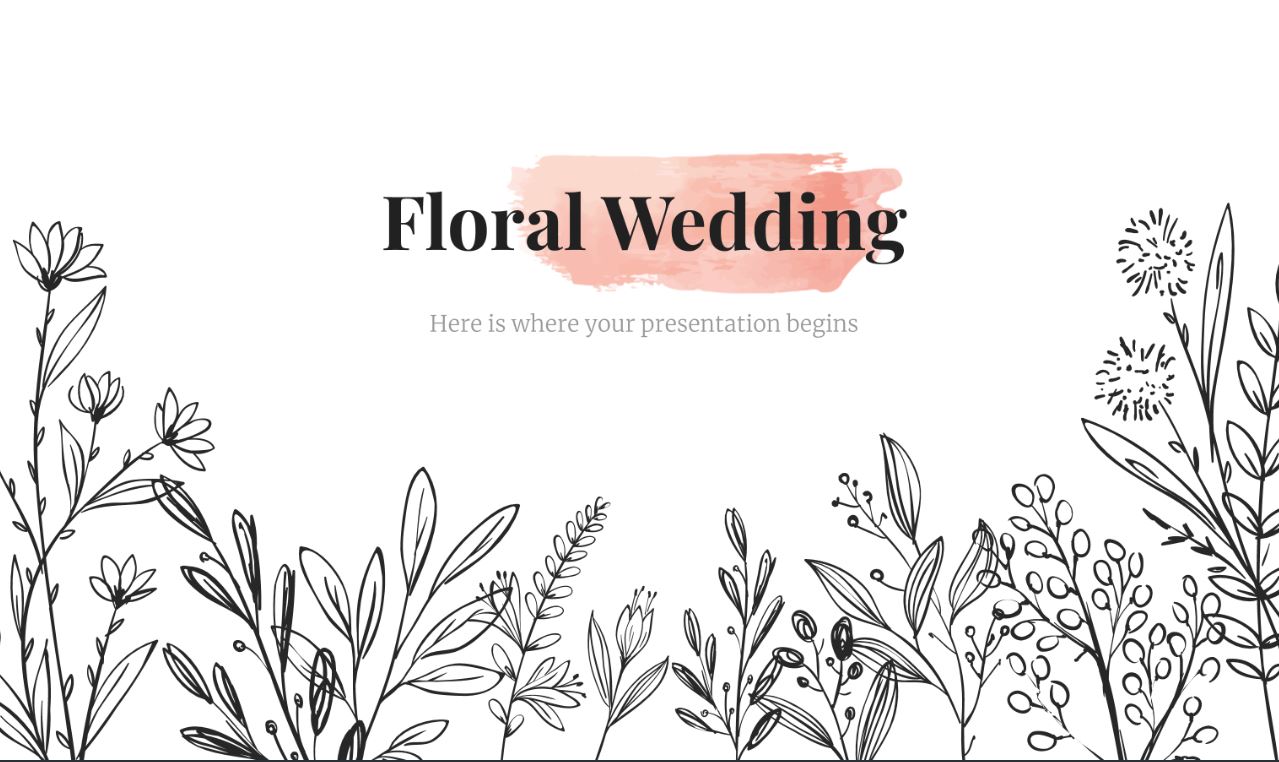 Our first free wedding slideshow template for PowerPoint and Google Slides is this floral themed design from SlidesGo that's perfect for a spring wedding! It can be used as a planning tool or to share your big day with others, and comes with 32 unique slides that feature delicate flower decorations and splashes of watercolor for a creative romantic vibe.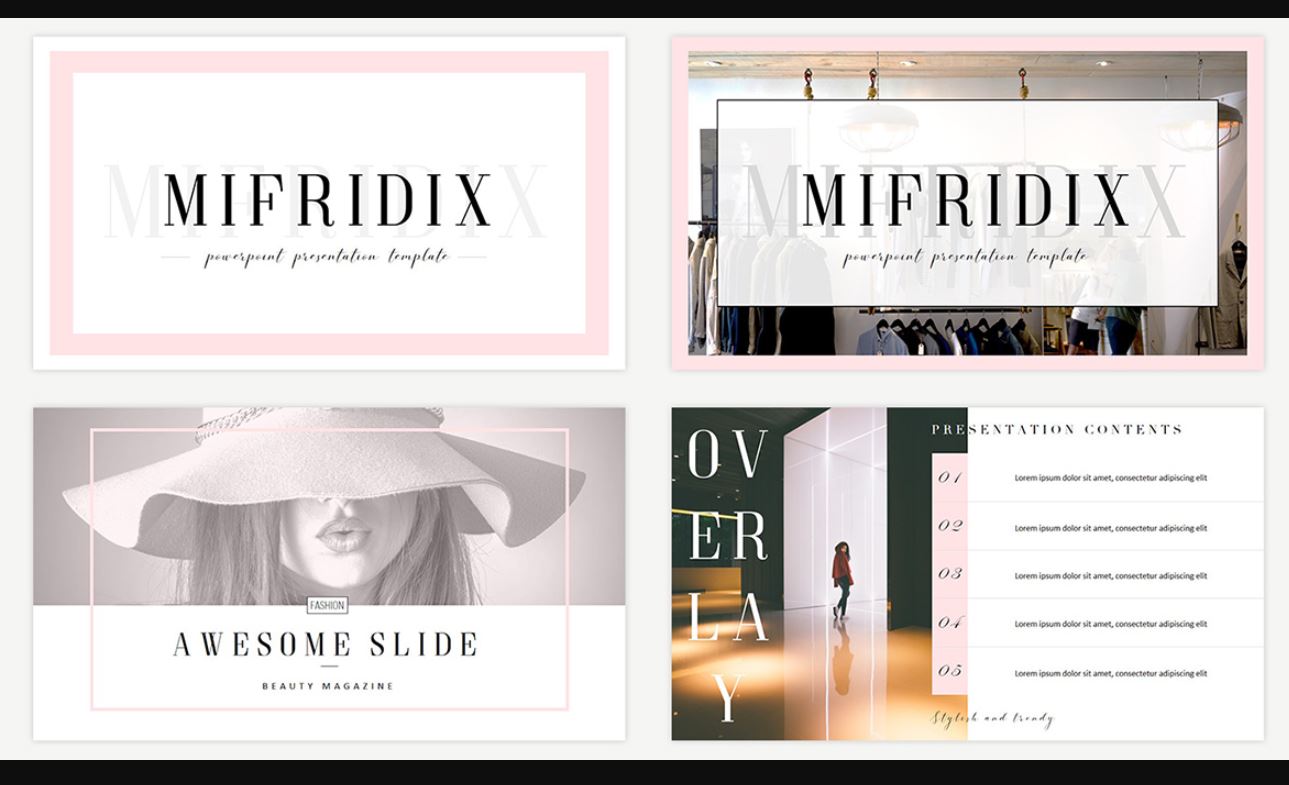 Here we have Mifridix, a super stylish and modern set of 21 elegant slides that are ideal for planning a wedding. Designed to look like a photobook presentation, it can be fully edited and comes with a range of high quality vector graphics as well as a range of different layouts. Download it for free from Powerpointify.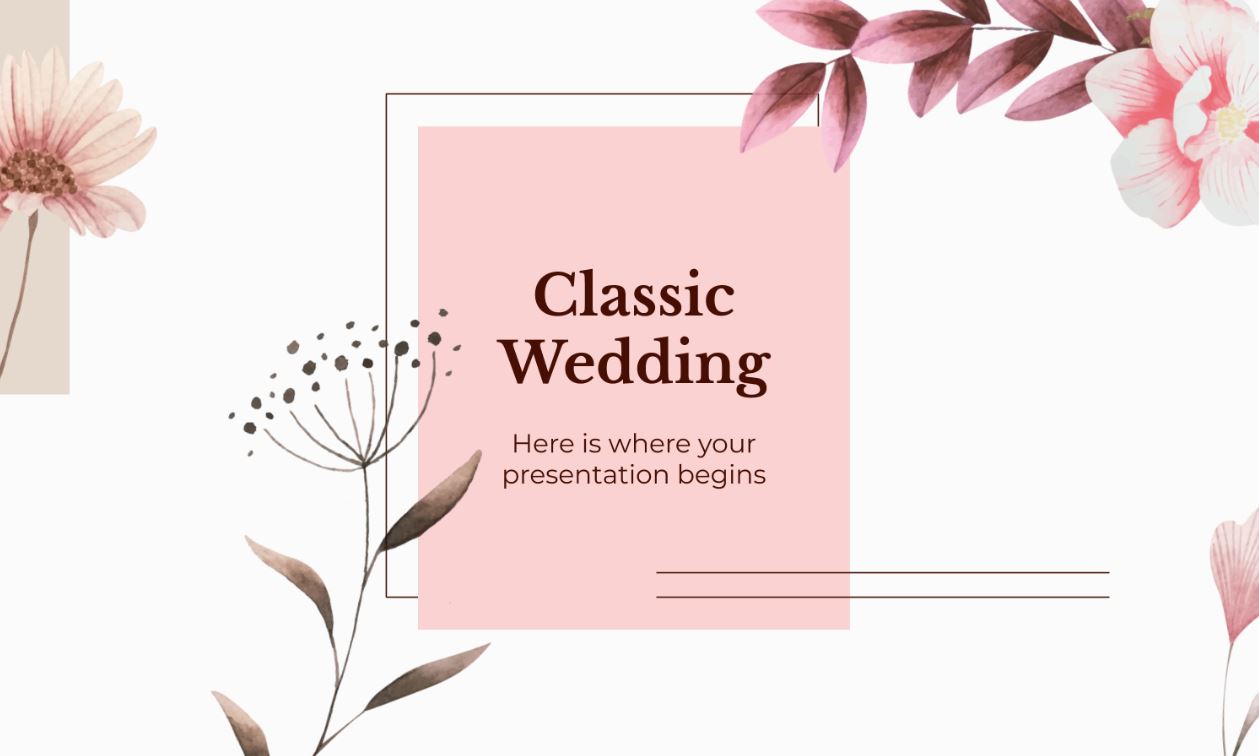 Ideal for planning or promoting ceremonies with a classic or traditional style, our final wedding PowerPoint template is a free download from SlidesGo and features a delicate, cream-colored layout with gorgeous pink and beige graphics. The watercolor illustrations and classic serif typography strikes the perfect balance between modern and romantic.
And that brings us to the end of our collection of romantic wedding slideshow ideas and PowerPoint templates, to help you bring the magic of your (or your client's!) wedding day to life.
Looking for WordPress hosting? We use Kinsta. They offer world-class WordPress hosting, built to keep your website fast, secure, and always online.