27+ Best Vintage PowerPoint (PPT) Templates 2023
Creating a memorable and captivating presentation can be a struggle, but that doesn't mean it's impossible. One of the best ways to captivate your audience, and demand attention, is through using proven artistic trends that exude style.
There is no style more memorable and captivating than the vintage style. In the modern era, the vintage aesthetic is a great way to easily craft a professional, yet classy, presentation format.
It's for this reason that we decided to compile a list of the best vintage ppt templates out there right now. Sourced from both premium and free options, these vintage ppt templates provide a wide range of retro and vintage styles that are sure to impress.
If you find yourself needing to create a presentation, and want to bring a more unique style to the table, look no further than our list of vintage PowerPoint templates.
Read on!
Get everything you need to give the perfect presentation. From just $16, get unlimited access to thousands of PowerPoint presentation templates, graphics, fonts, and photos.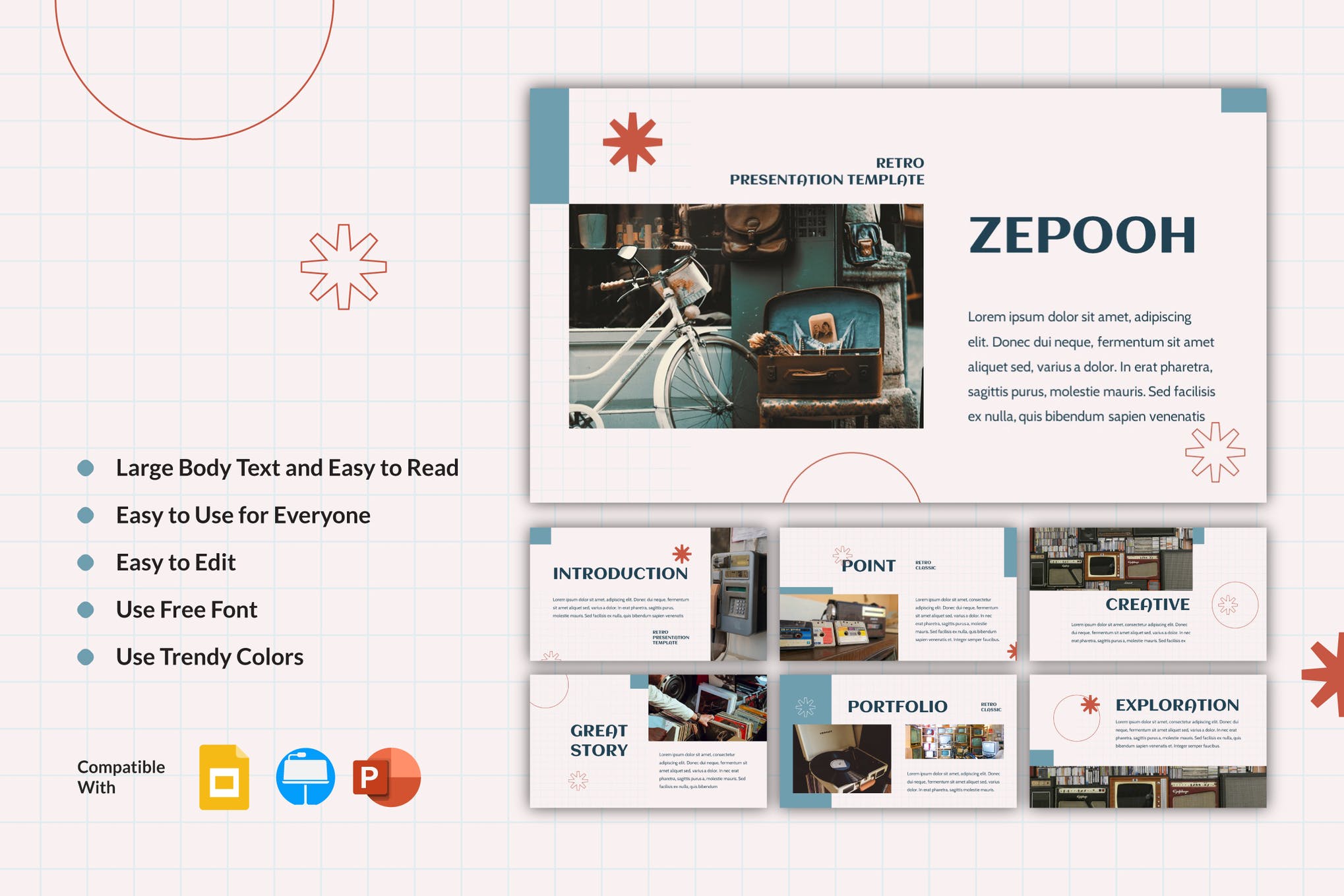 If you're looking to hunt down the best vintage PowerPoint templates, Zeepooh is well worth checking out. It contains 30 beautifully designed slides that can be fully molded to your specific requirements in Microsoft PowerPoint, Keynote, and Google Slides.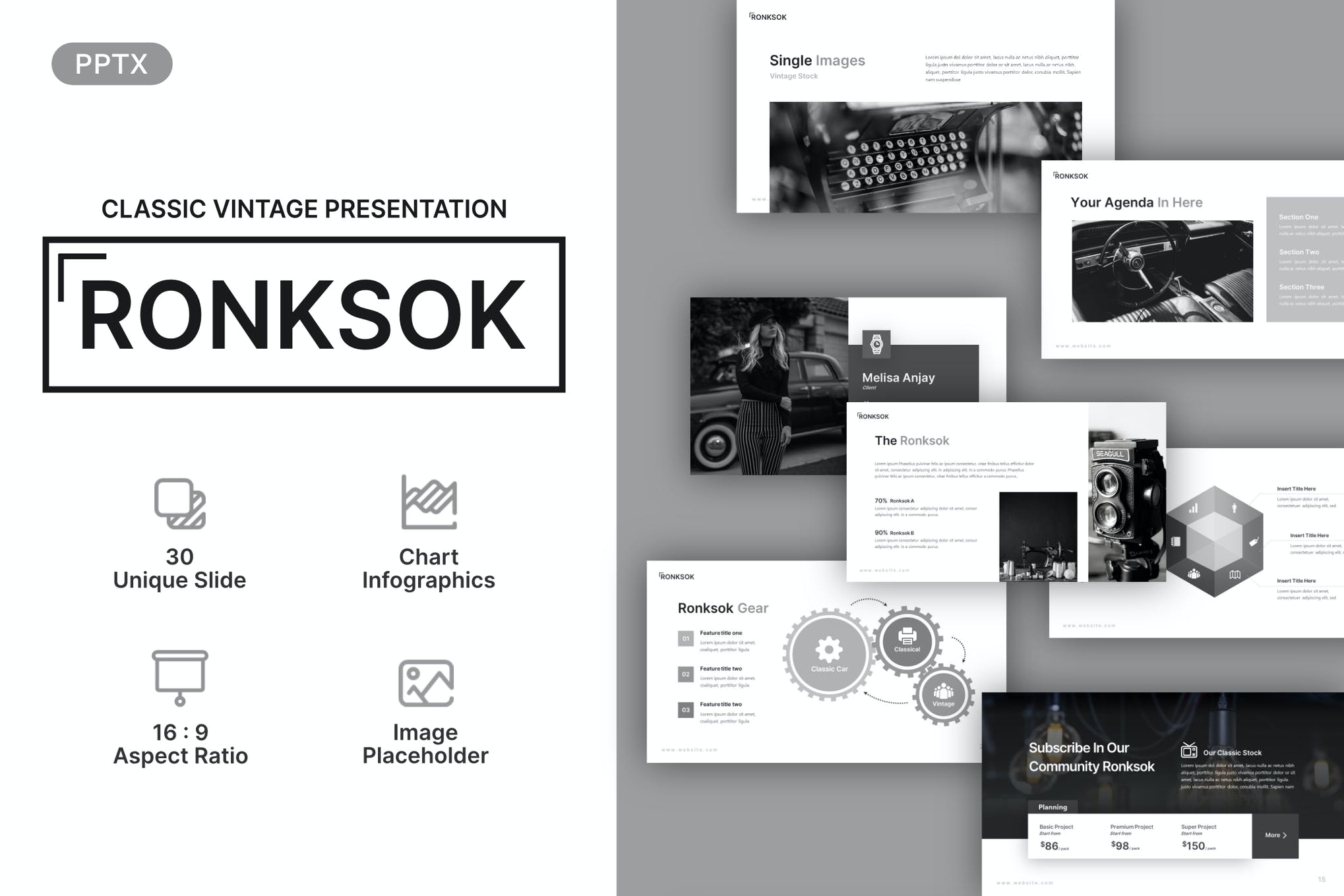 The best vintage ppt templates are known for their simplicity. Ronksok is one such template that offers a minimal yet eye-catching design perfectly suited to anyone wanting to bring retro vibes to their next presentation. It contains 30 multipurpose slides.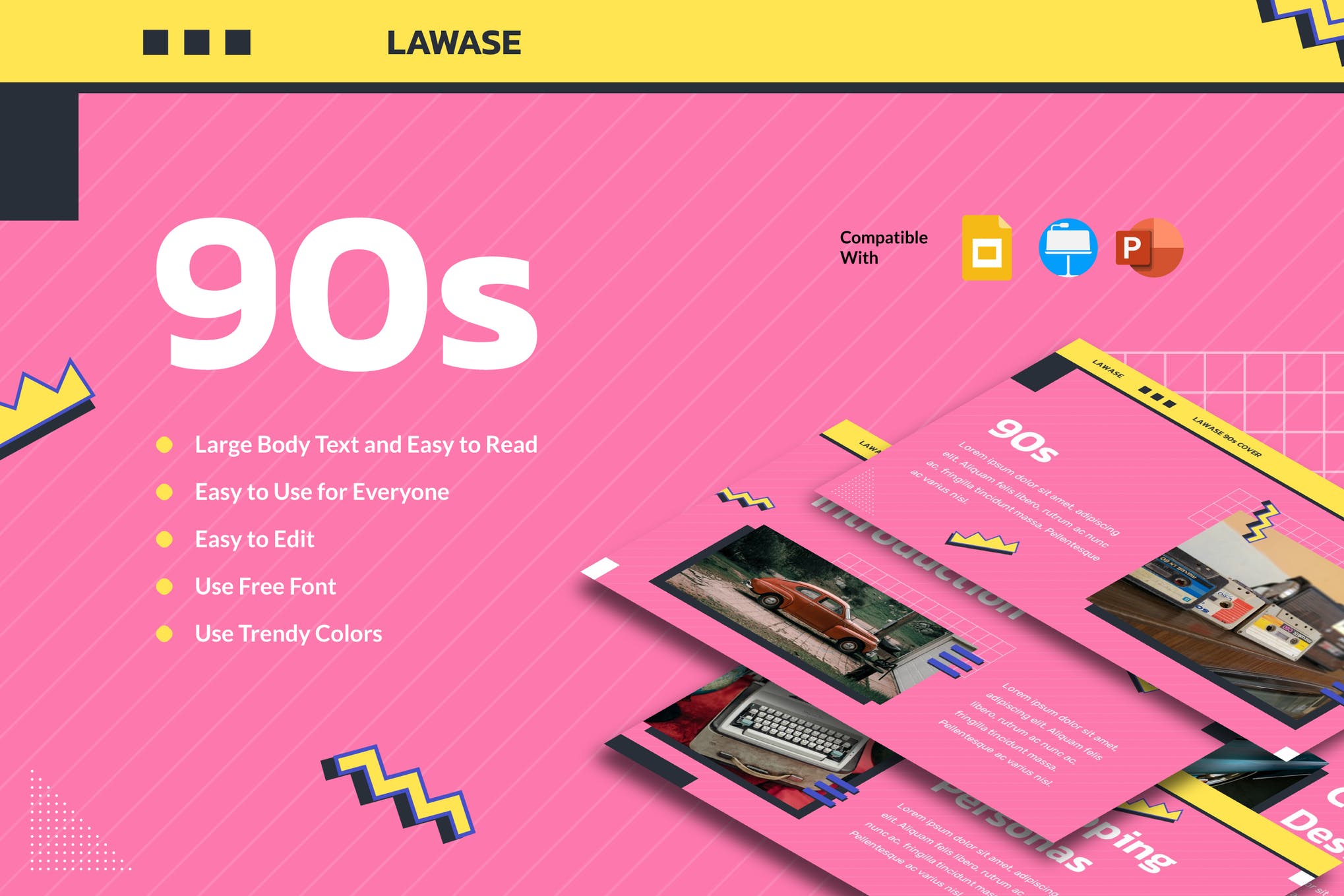 Lawase is a stunning 90s themed presentation template that easily accommodates large body text, provides you with 30 creatively crafted slides, trendy colors, free fonts, and more. It's an excellent contender for your cash if you truly value standing out from the pack.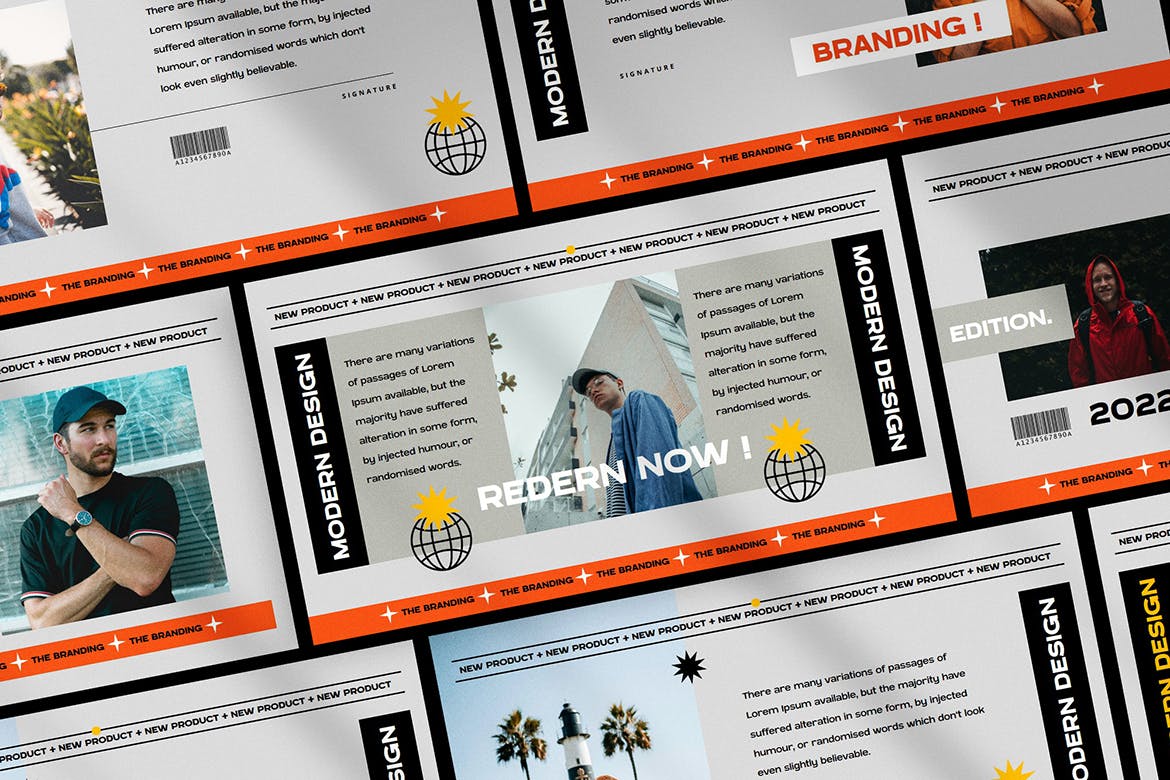 Whenever there's a list of the best vintage PowerPoint templates, Redern can often be found within, regardless of what the purpose is. It's a versatile template that can virtually be used for nearly any business, and industry under the sun.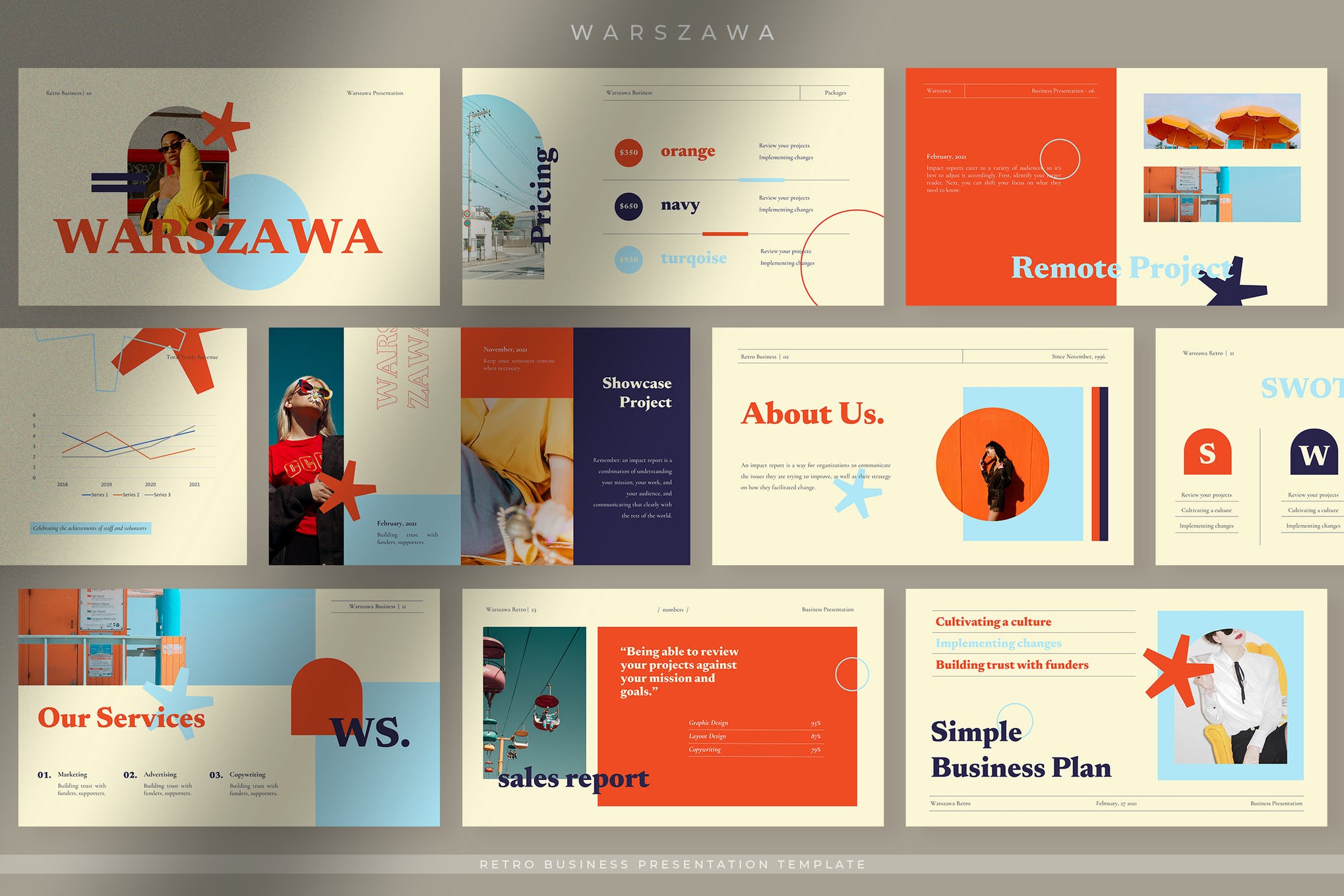 Warszawa is an incredibly unique PowerPoint template that will make your presentation look more aesthetic and attention-grabbing. It features colorful, and vibrant slides that will instantly draw your audience's attention, and keep it there.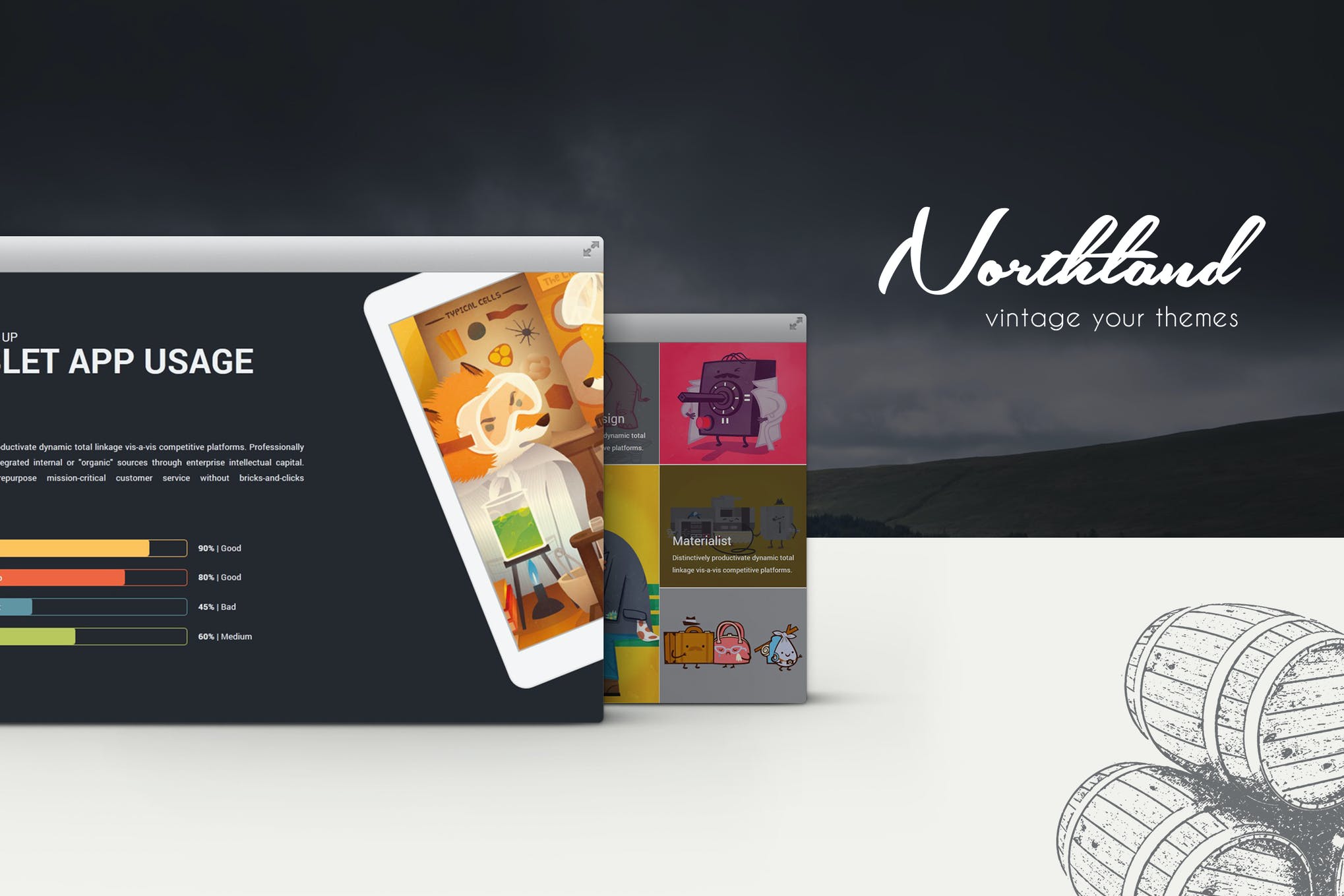 The Northland Vintage Template is a beautifully crafted vintage presentation format. With each slide hitting a balance between a modern design, with a touch of vintage aesthetics. The template provides over one hundred and twenty different custom slides, a range of image placeholders, font options, and much more!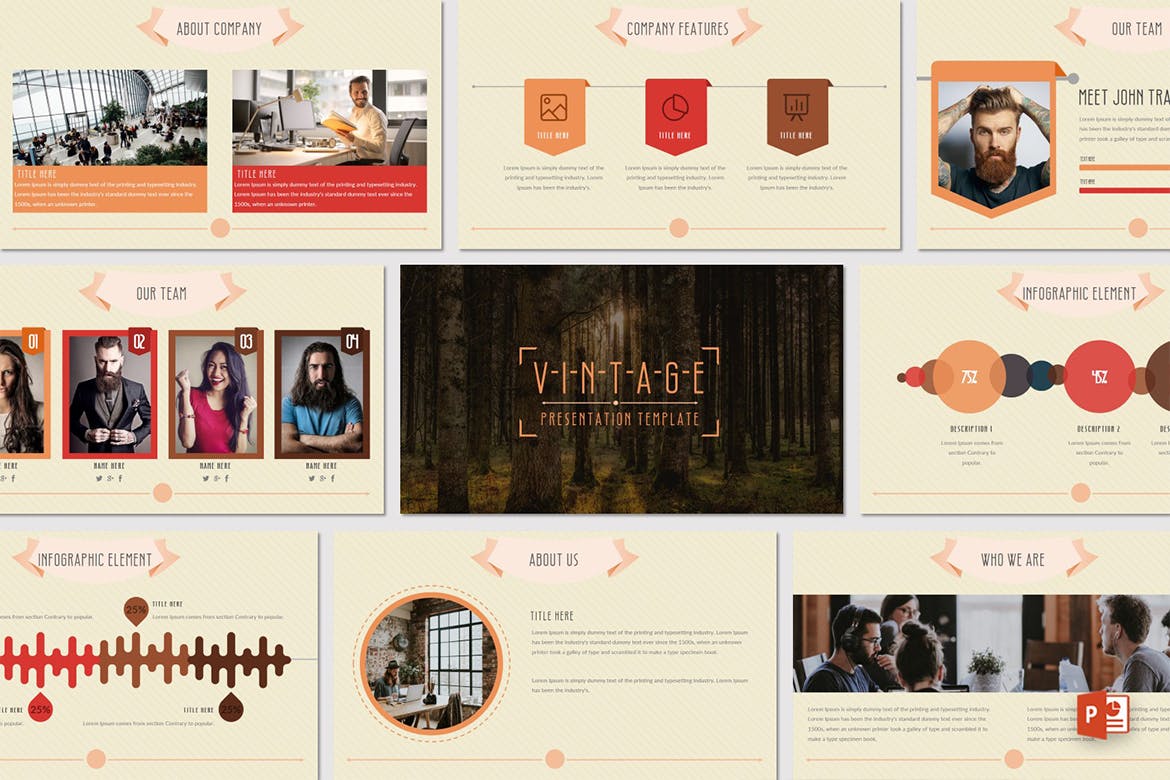 The Vintage PowerPoint template is a more traditional approach to bringing the vintage aesthetic to your presentation design. However, despite this, it is incredibly successful at utilizing a vintage color palate to create professional-looking slides. The template consists of thirty-two custom slides, as well as many more customization options for you to enjoy.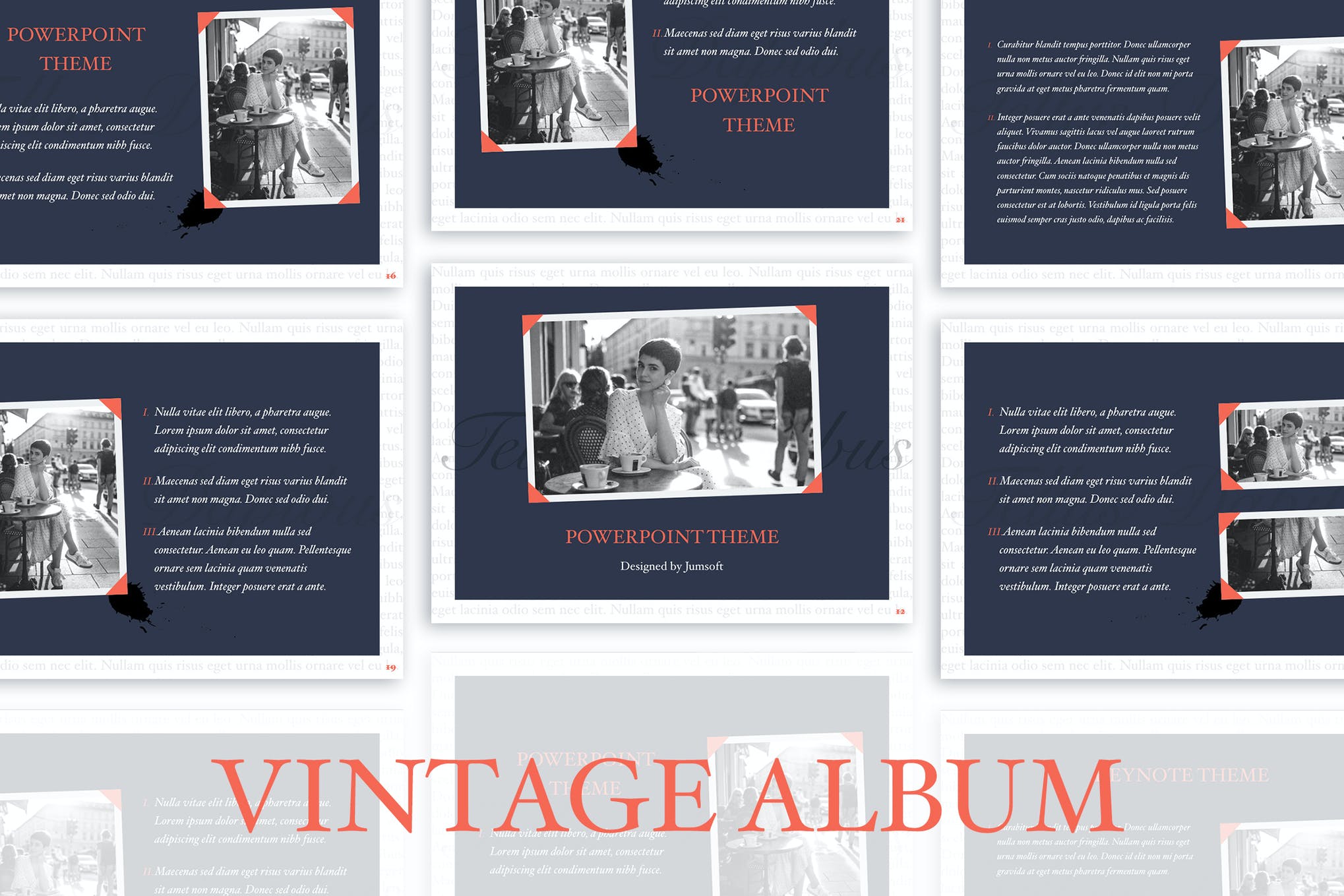 Bring the picture-book aesthetic to the table with the Vintage Album PowerPoint template. A beautifully crafted presentation design that uses a mixture of minimalistic slides, with a picture book style. The template provides you with thirty-two master slides for you to enjoy.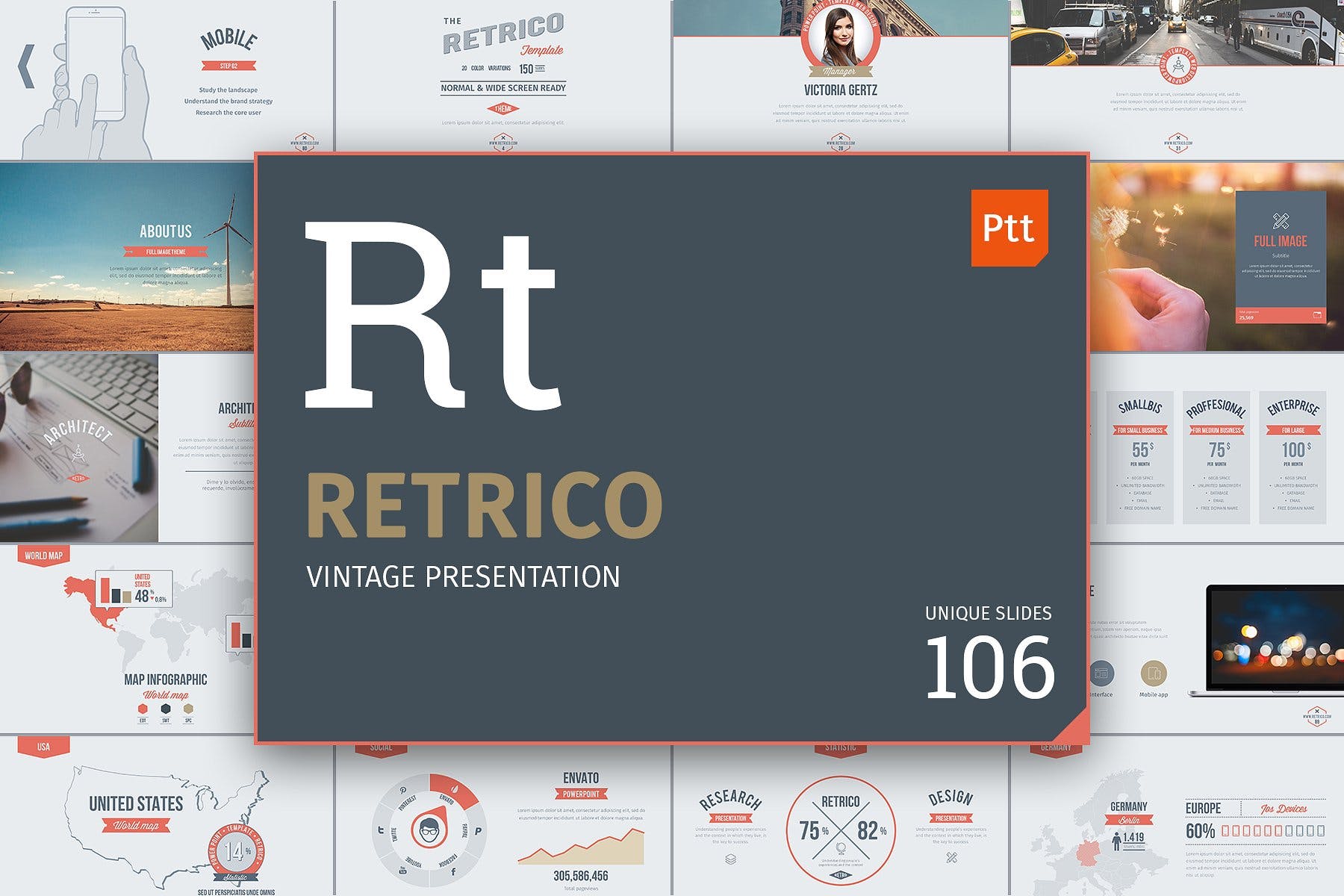 Need some more versatility in how you create your presentation? Then look no further than the Retrico Vintage Slides collection. A range of slide designs that can seamlessly fit into other presentation templates, or create an entire presentation themselves. There are one hundred and six options to choose from, with a range of animated slides as well.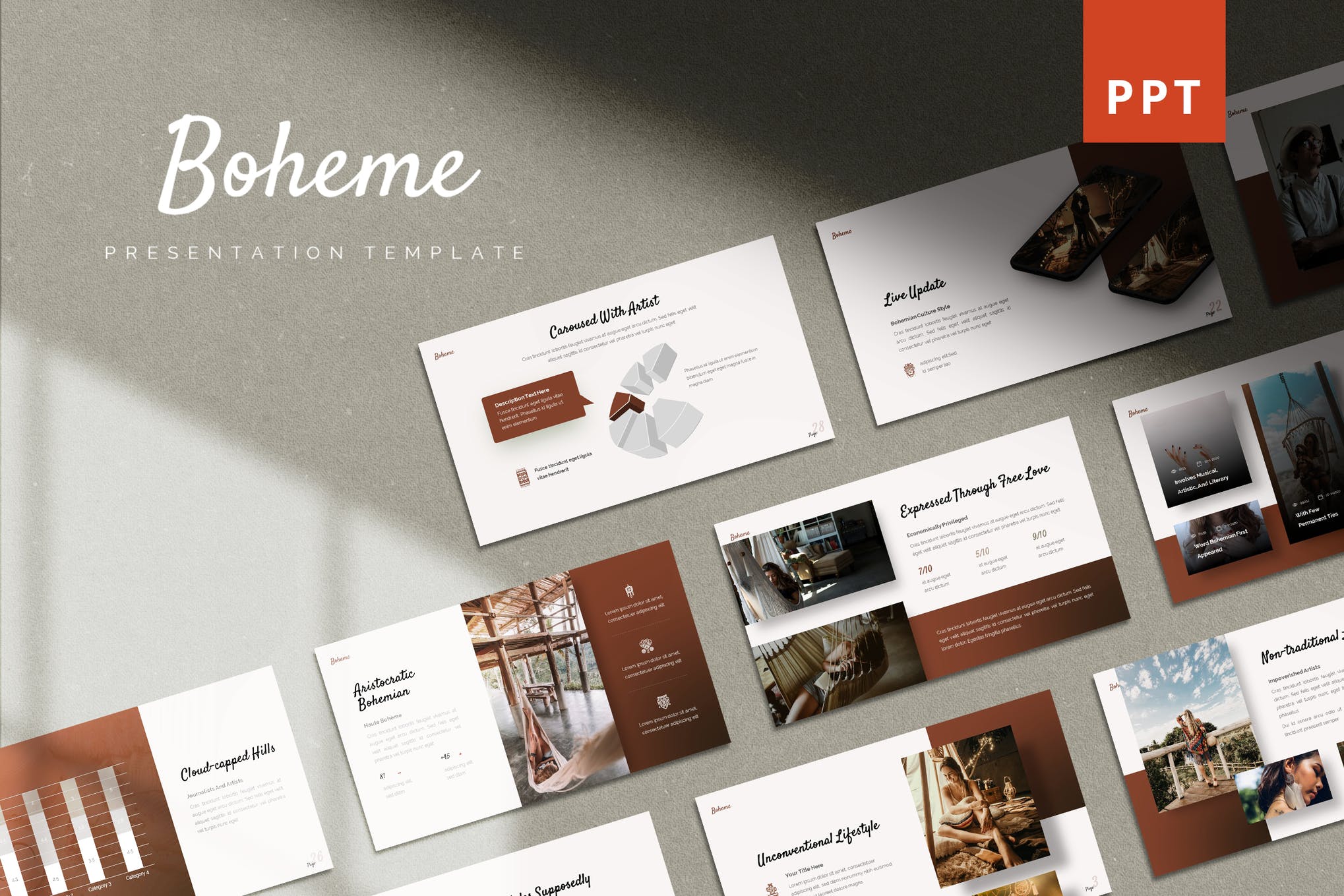 Boheme is a stylish vintage PowerPoint template that uses a mixture of a professional business aesthetic, as well as a minimalistic vintage style. A great template choice for those looking to tailor a professional presentation, and only want to add a dash of character to the mix. The template consists of thirty unique custom slides, as well as much more.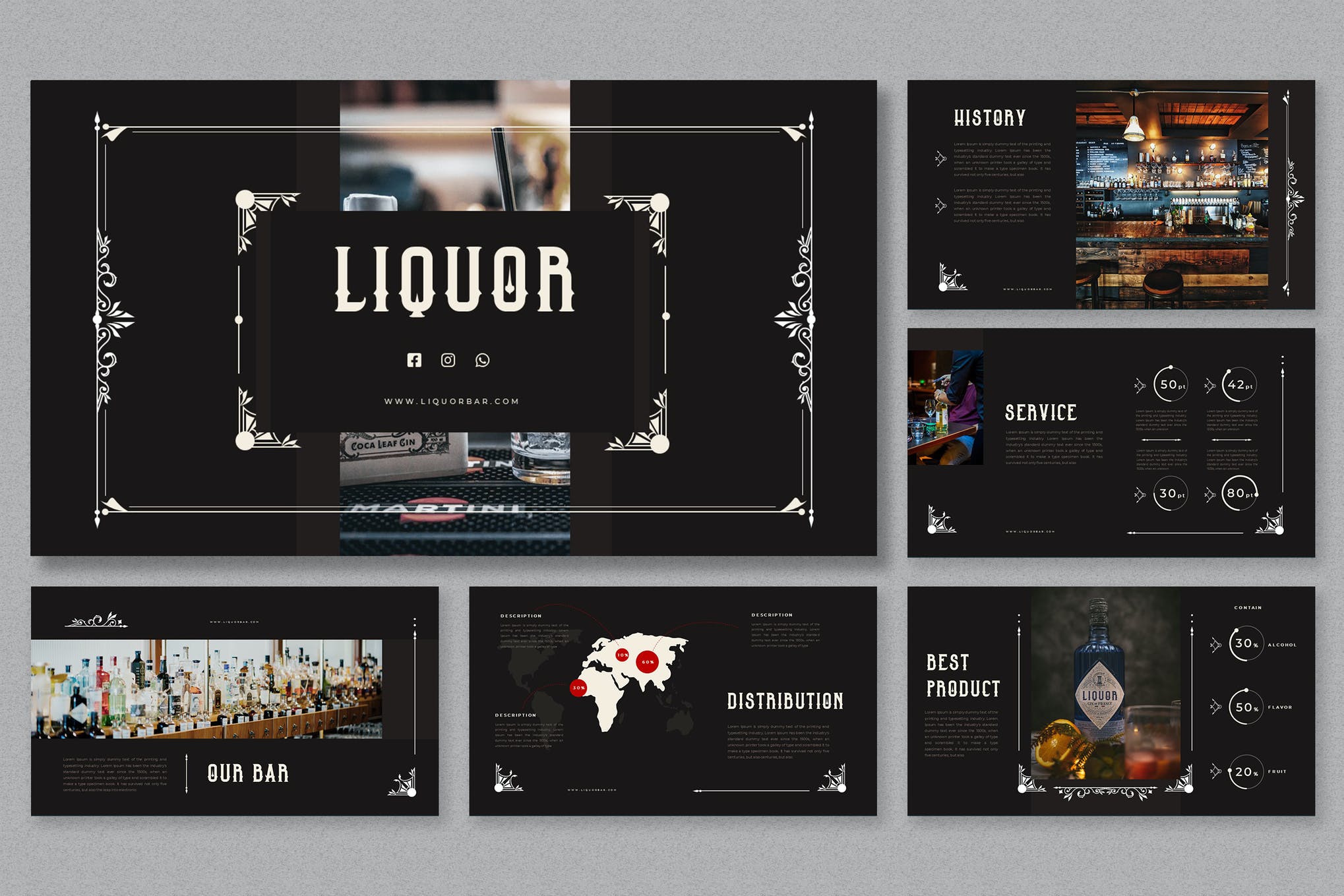 You'll be hard pressed to find a presentation template with as much style as Dark Vintage. A beautifully crafted vintage template that provides a dark and moody slide design. Each slide comes with gorgeous border designs, and a multipurpose platform to create a great presentation of any style.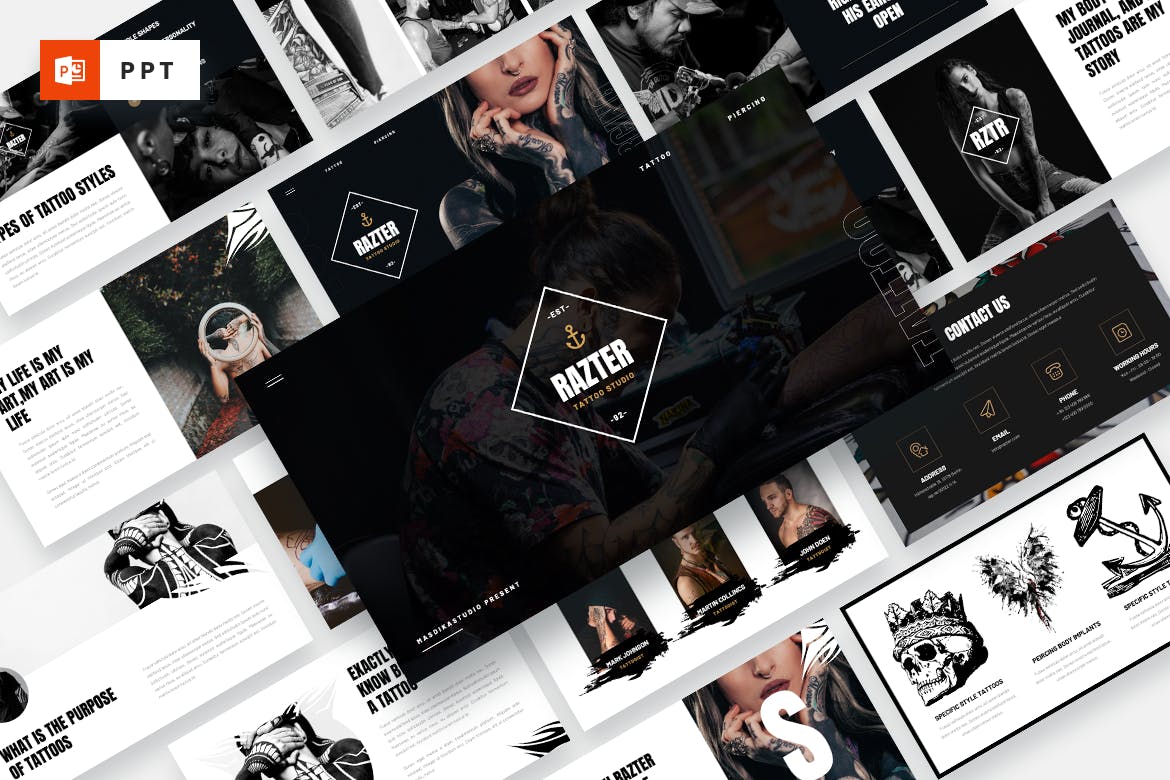 Show off your creative portfolio with the RAZTER Tattoo Studio PowerPoint template. A captivating template design that excels at highlighting image-centric presentation styles. The template consists of forty unique custom slides, a range of master slides, image placeholders, vector icons, and more!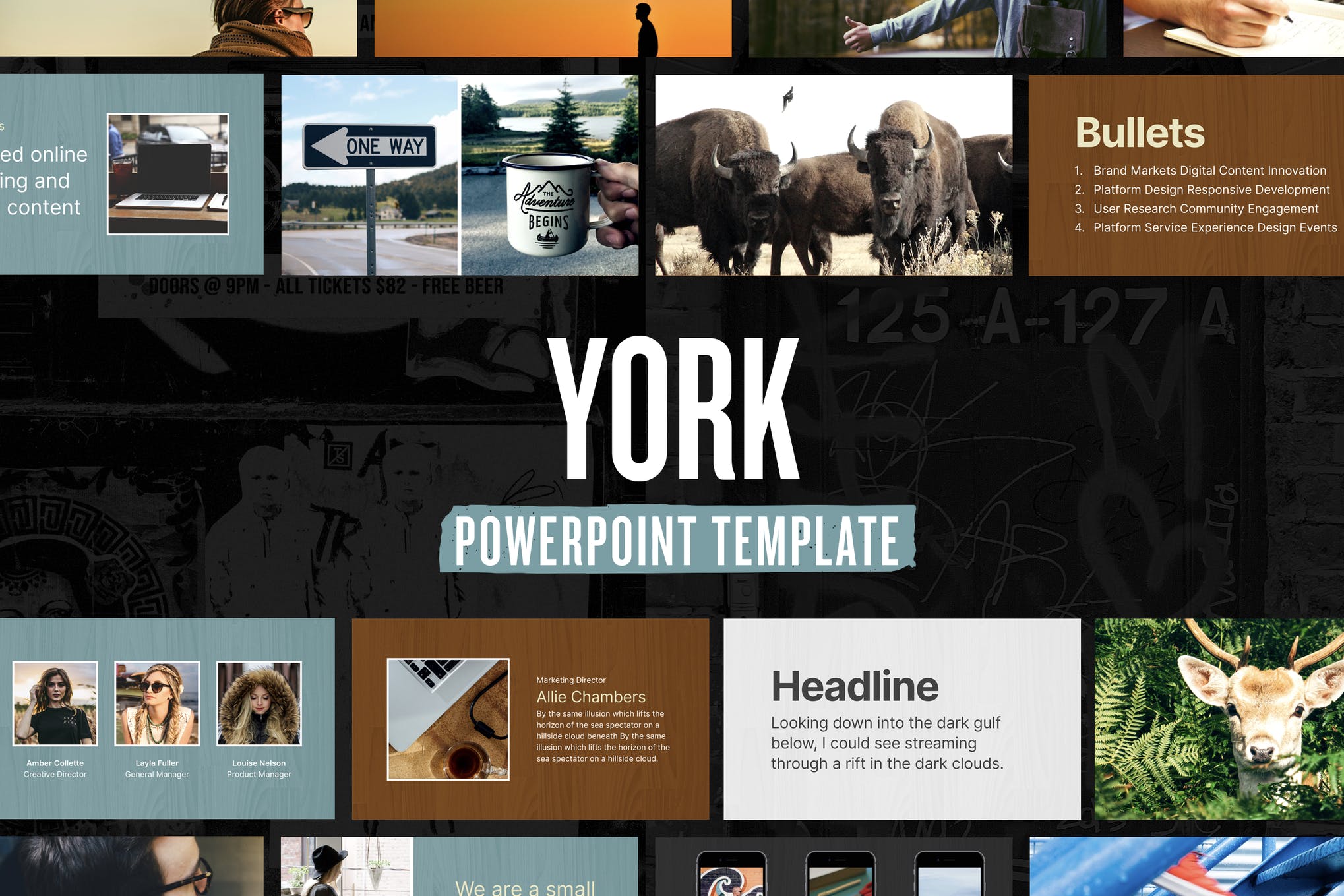 York is a simpler, and more traditional vintage presentation template. Using a mix between an outback style, and a rustic aesthetic, to create a truly gorgeous vintage aesthetic. The template comes with a massive range of two hundred slide designs, multiple themes, master slides, and customization options to keep you busy.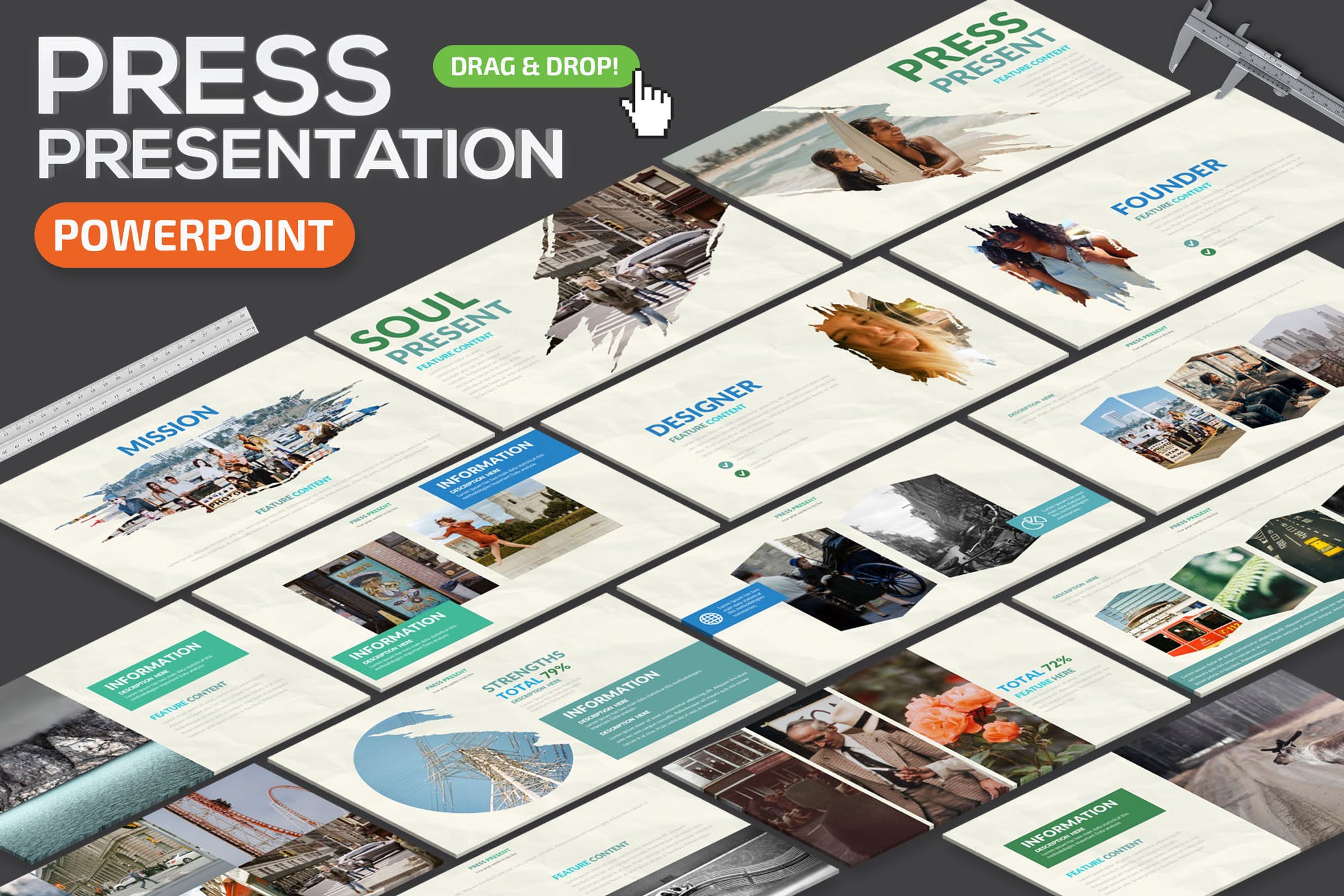 Emulate the old print press aesthetic with this Press PowerPoint Presentation template. Each slide is tailored to bring us back to the day of the printing press and comes with a sleek, clean, and modern design. The template provides you with a range of custom slides, over one thousand icons, and even a range of animated slides for you to enjoy.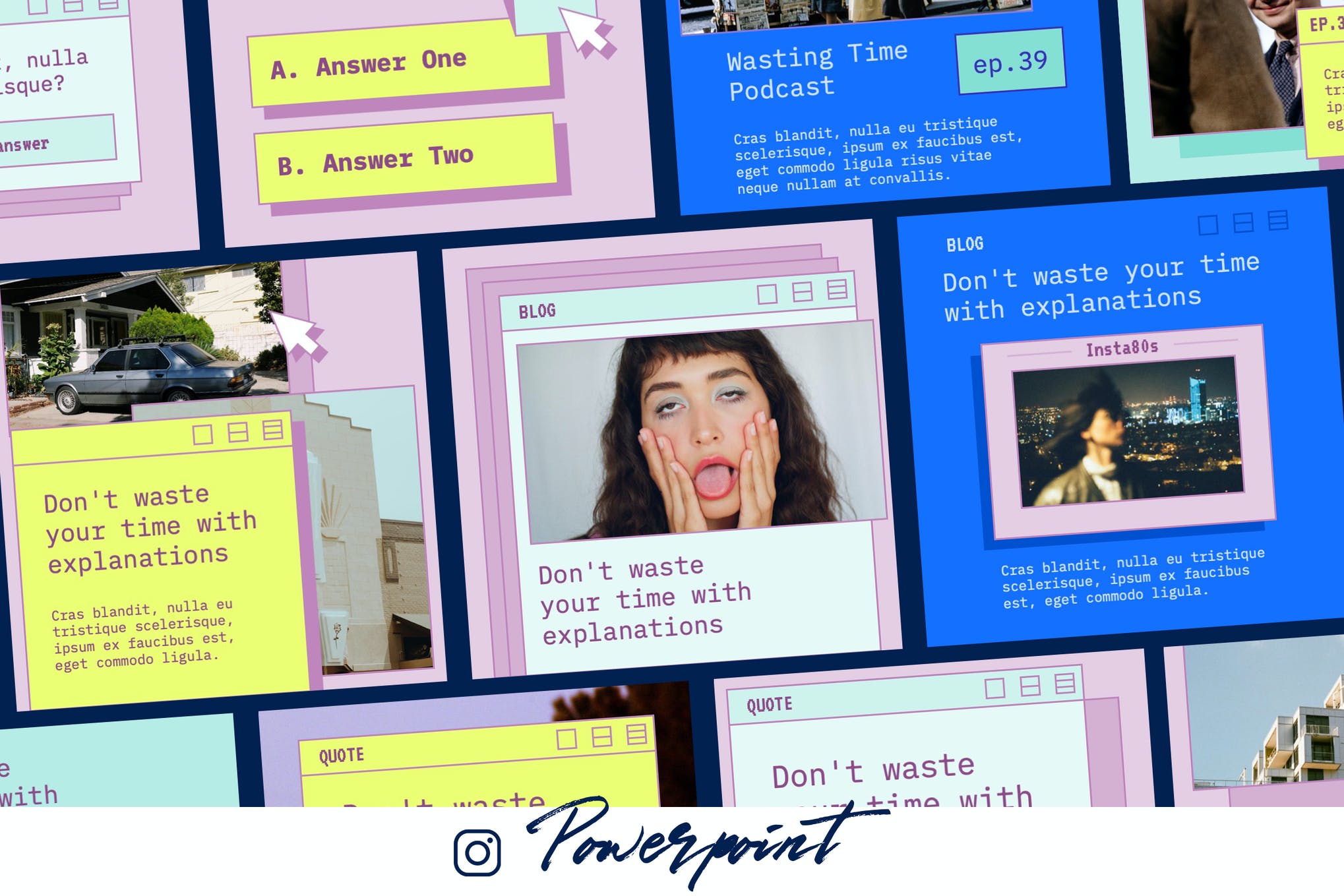 Bring back the 80s with the Insta 80s PowerPoint Instagram template. Great for those looking to emulate a vintage 80s style on their Instagram feeds. Each slide is designed in the old-internet aesthetic, and comes with a range of unique nostalgic designs that are sure to make you feel just a little bit old.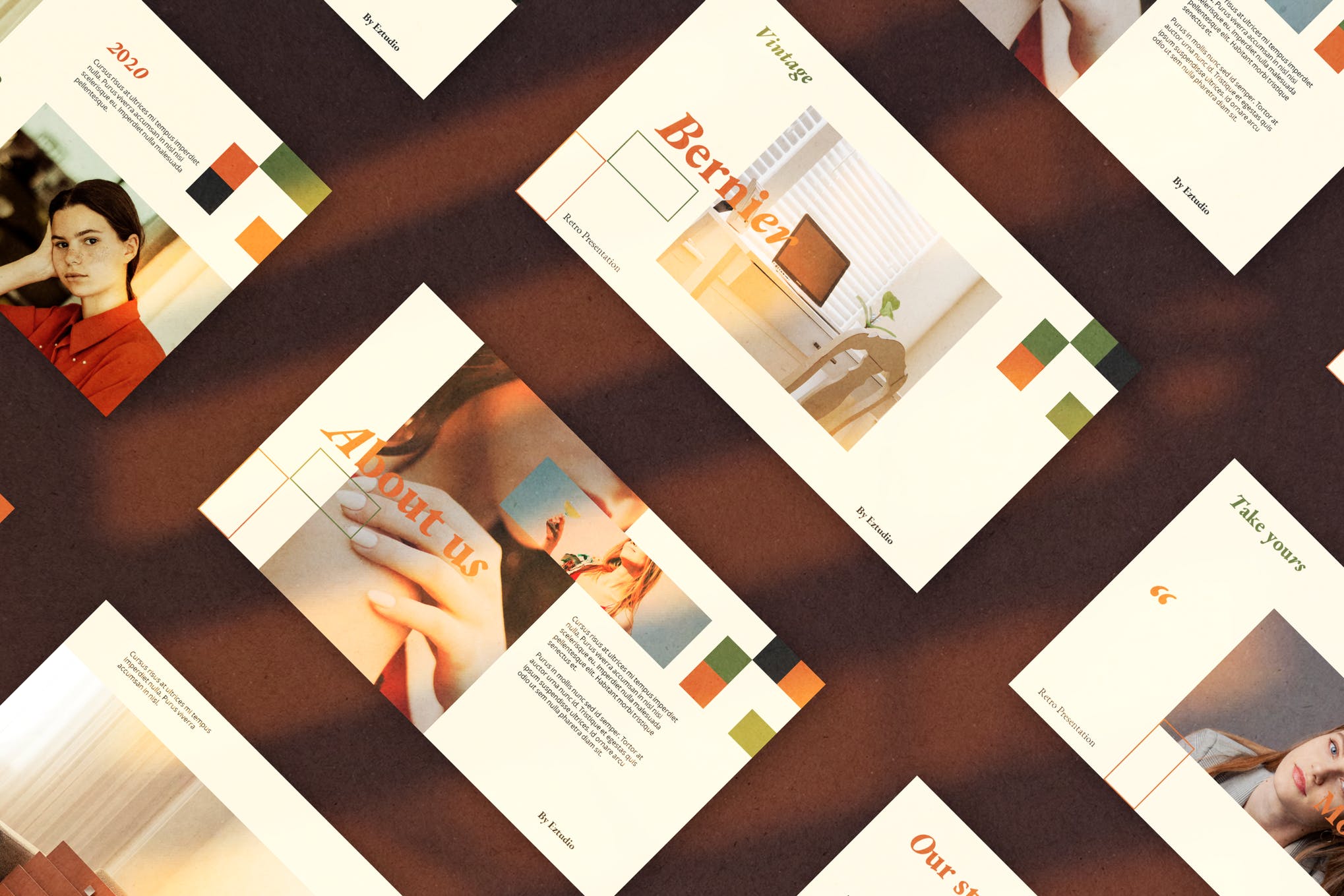 The Bernier PowerPoint template is a modern, yet vintage template aesthetic that uses a combination of light cream colors, with gorgeous dull color graphical elements. The template provides twenty unique slides, a range of image placeholders, and customization options for you to enjoy.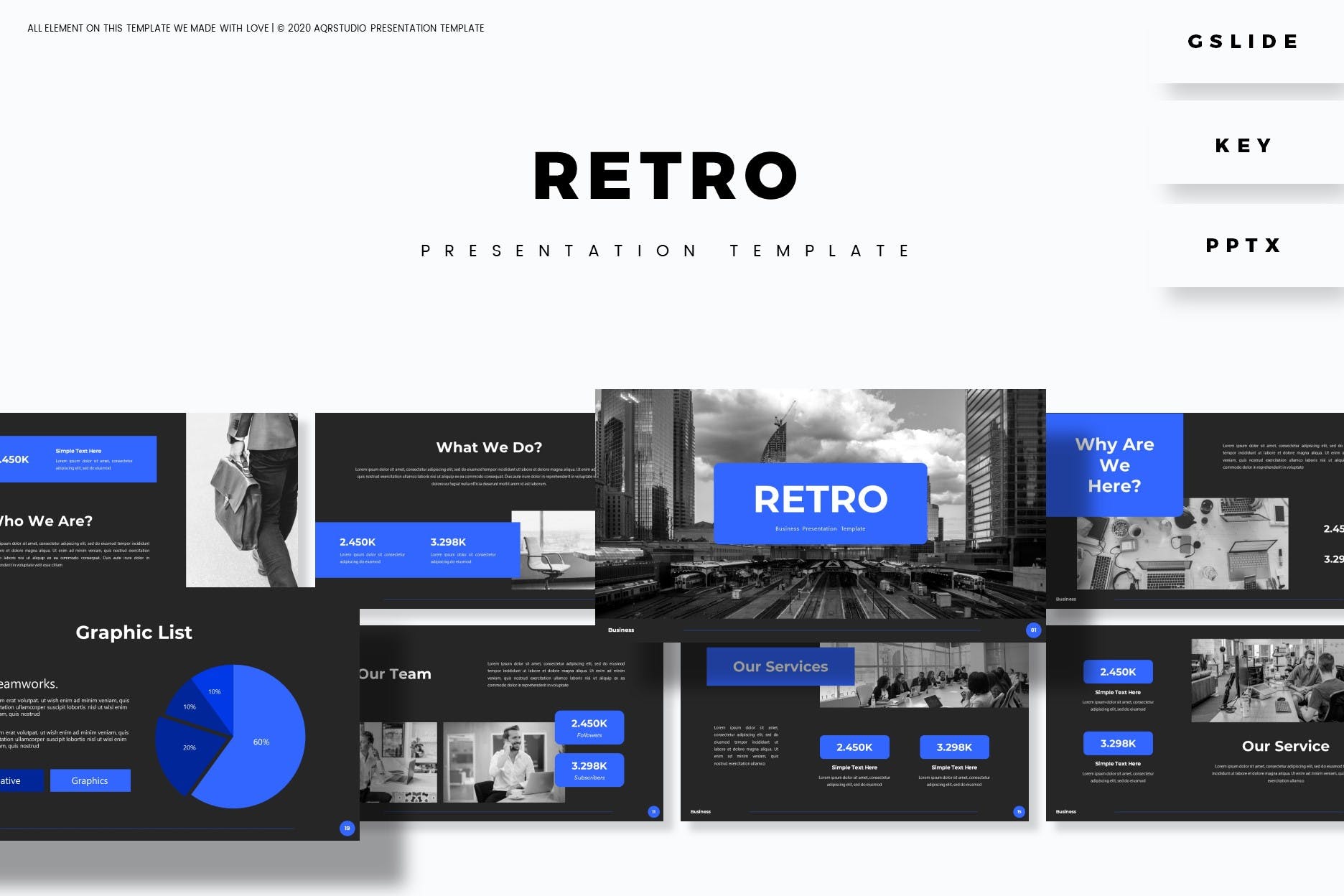 Bring the retro style with this Retro Presentation Template. A beautiful dark-mode style custom slide design, paired with a range of multipurpose slides spread across PowerPoint, Keynote, and Google Slides. A great option for those looking for a versatile presentation vintage template.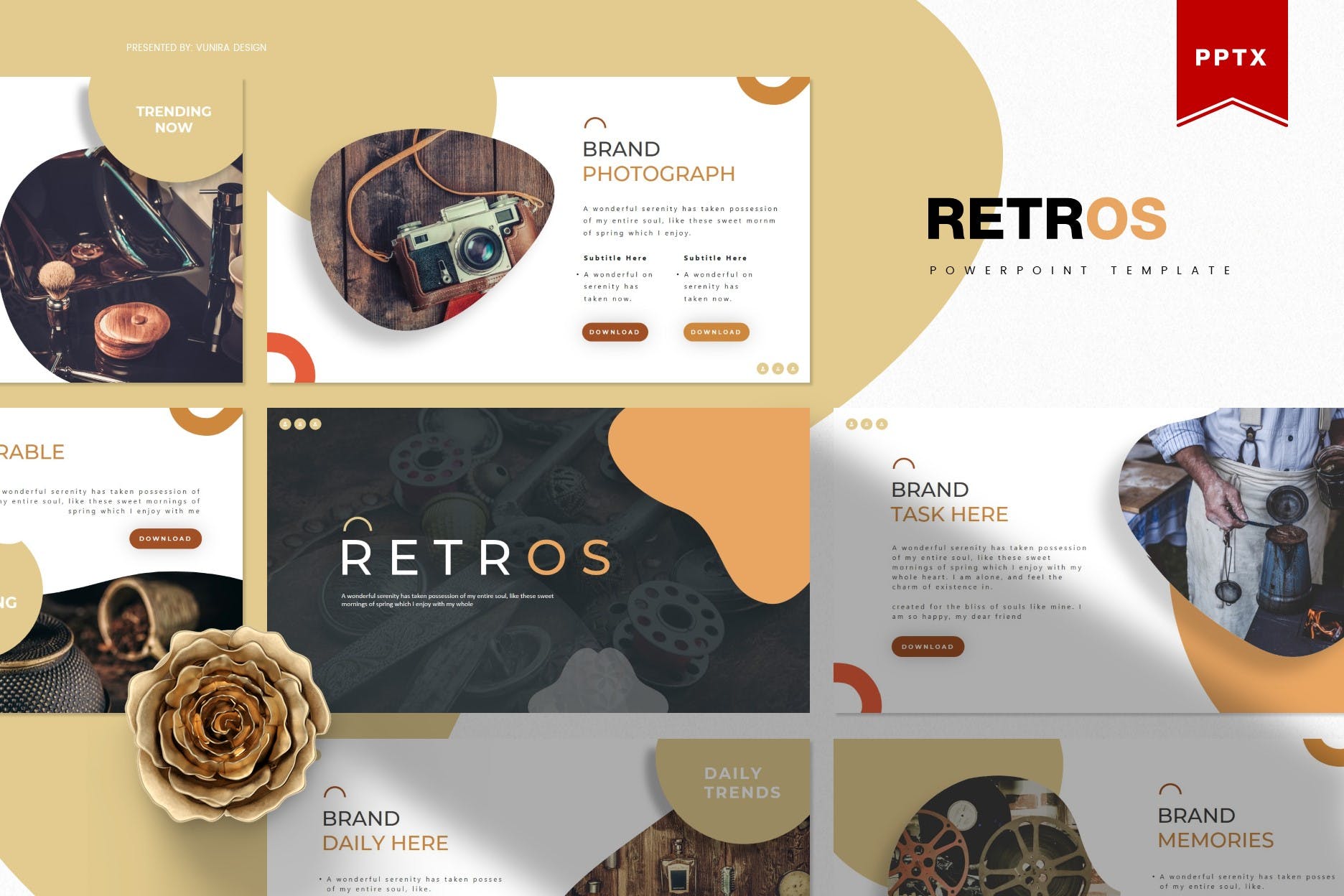 The Retros presentation template for PowerPoint is a fantastic combination of both the retro style, and a vintage aesthetic. Each slide uses a modern, and captivating style, mixed with a range of 50:50 text to image slide designs.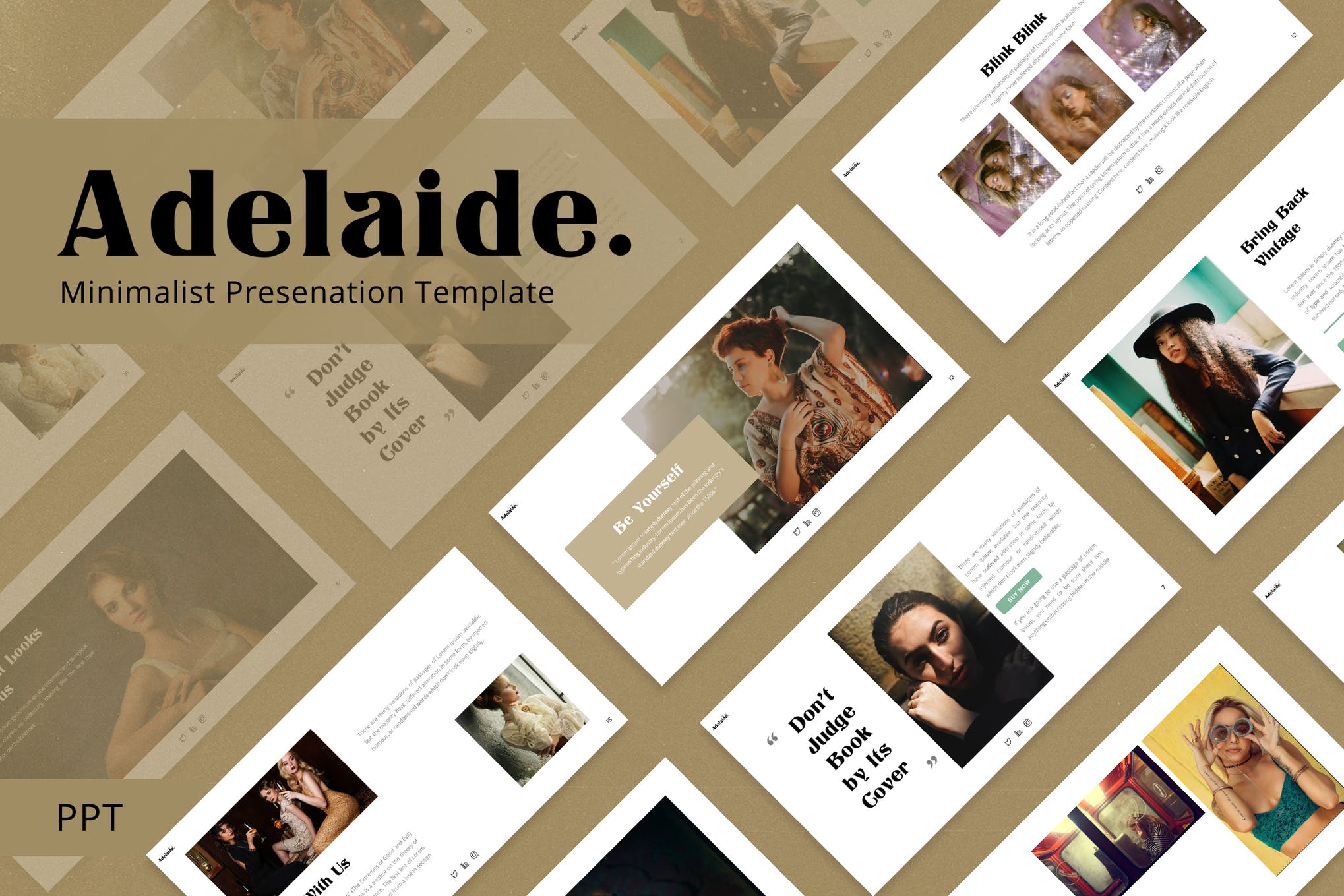 Adelaide is a minimalist retro and vintage PowerPoint presentation template. A great option for those looking for a simple, yet effective, template design. It provides you with thirty custom slides for you to enjoy.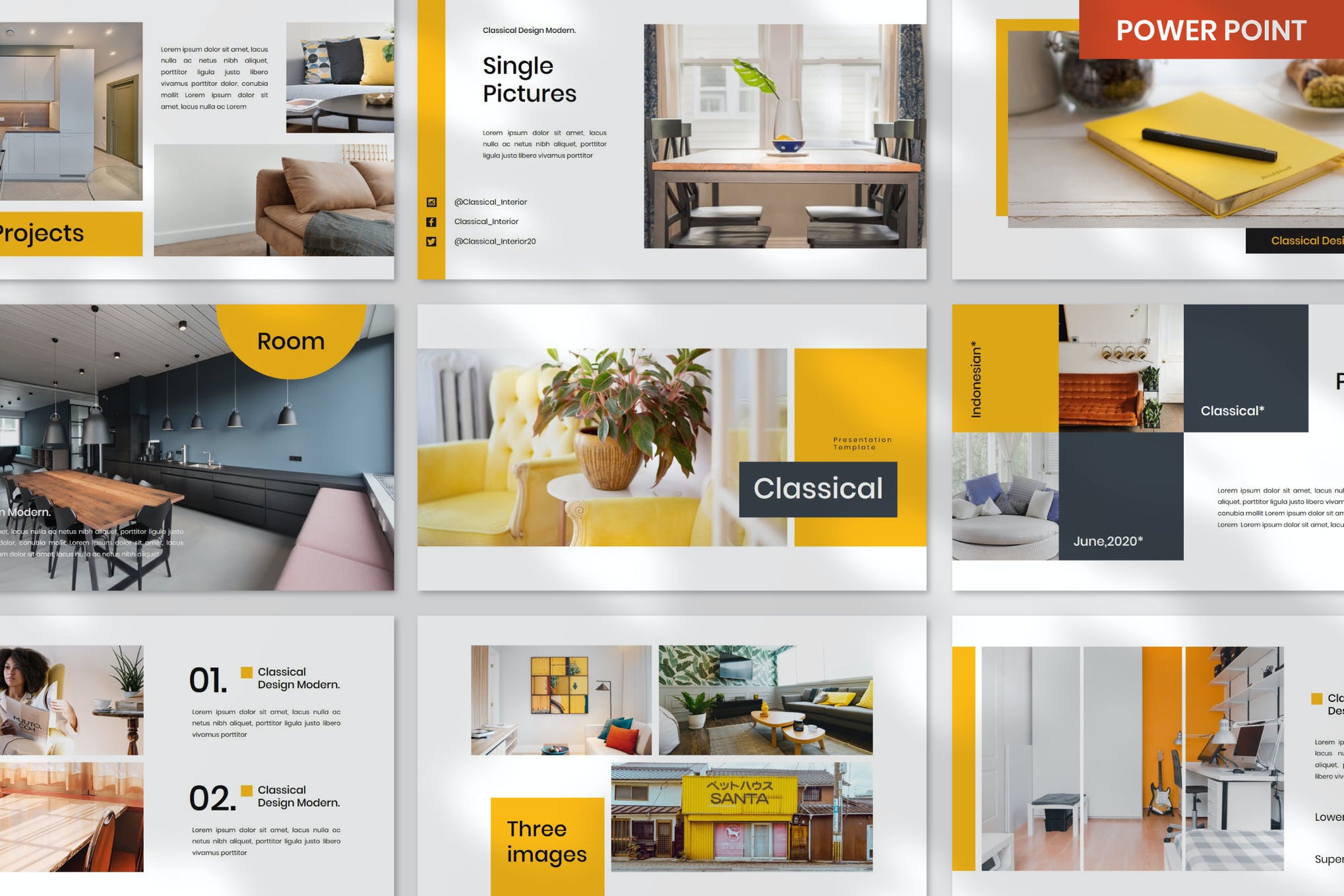 Create an amazing interior portfolio with the Classical Interior presentation template. A beautifully tailored vintage template, mixed with a simple and professional aesthetic look. A great choice for any portfolio presentation application.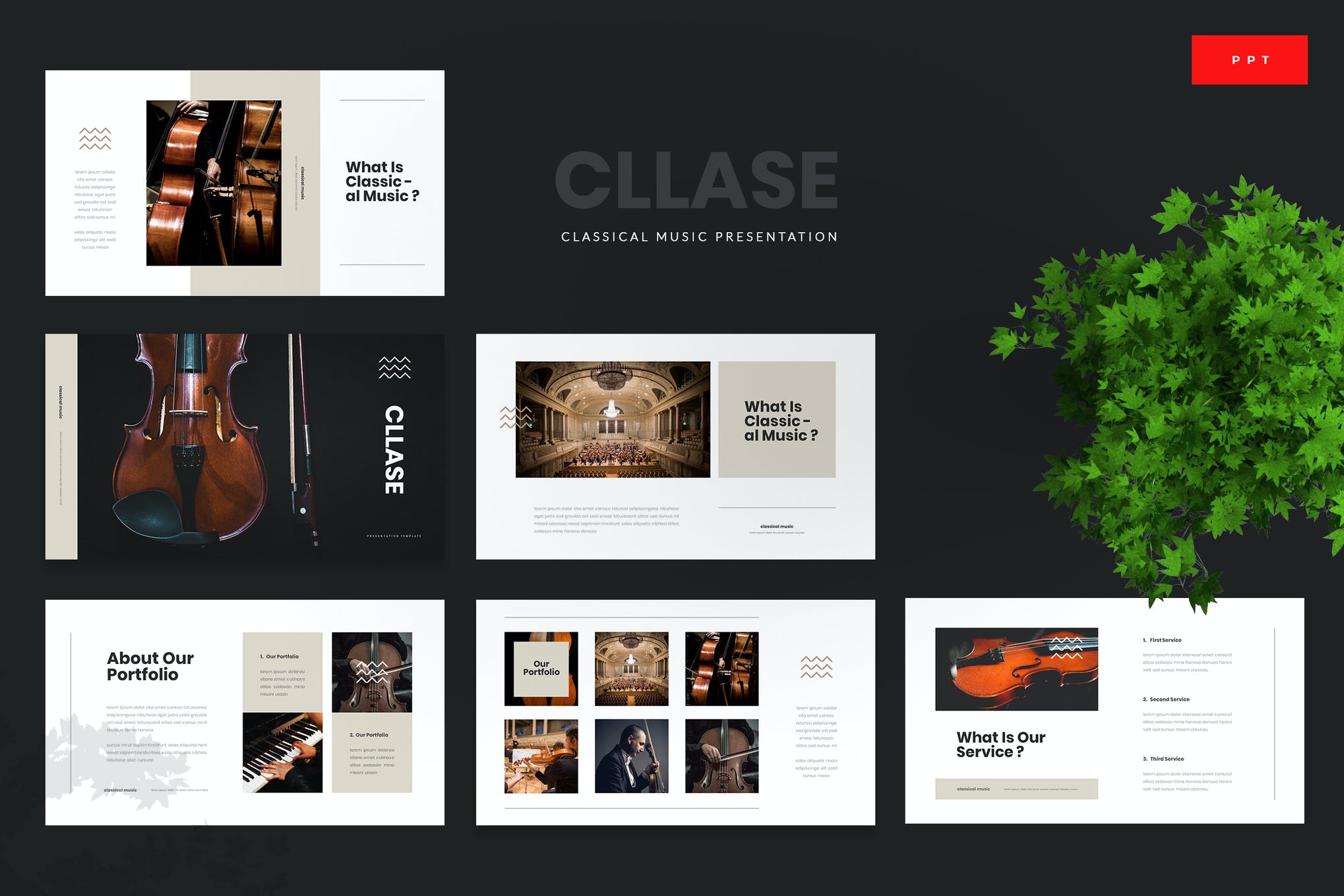 Create a captivating music portfolio presentation with the Cllase template. A vintage design that uses both a dark-mode and cream-colored light mode together to amazing effect. The template provides thirty slides, a range of master slides, and even a free font pack.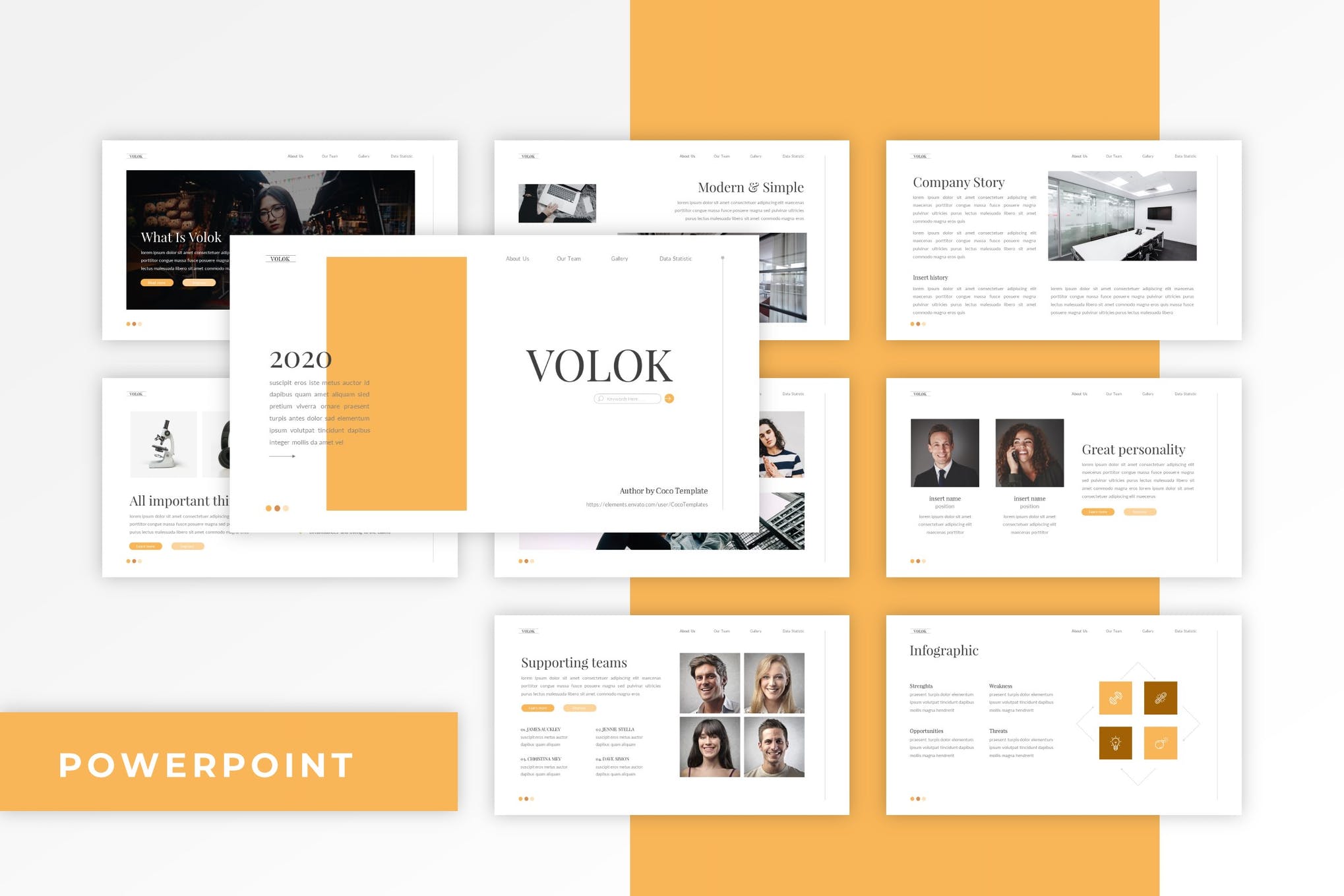 Volok is a simple, yet effective vintage presentation template. Equipped with a wide range of custom slides, and an iconic vintage style aesthetic design. A great choice for those looking to keep the style muted, and professional.
Free Vintage PowerPoint Templates
You don't have to spend a pretty penny to get your hands on some great vintage PowerPoint templates. Let's take a look at some free options that manage to stand out amongst the crowd.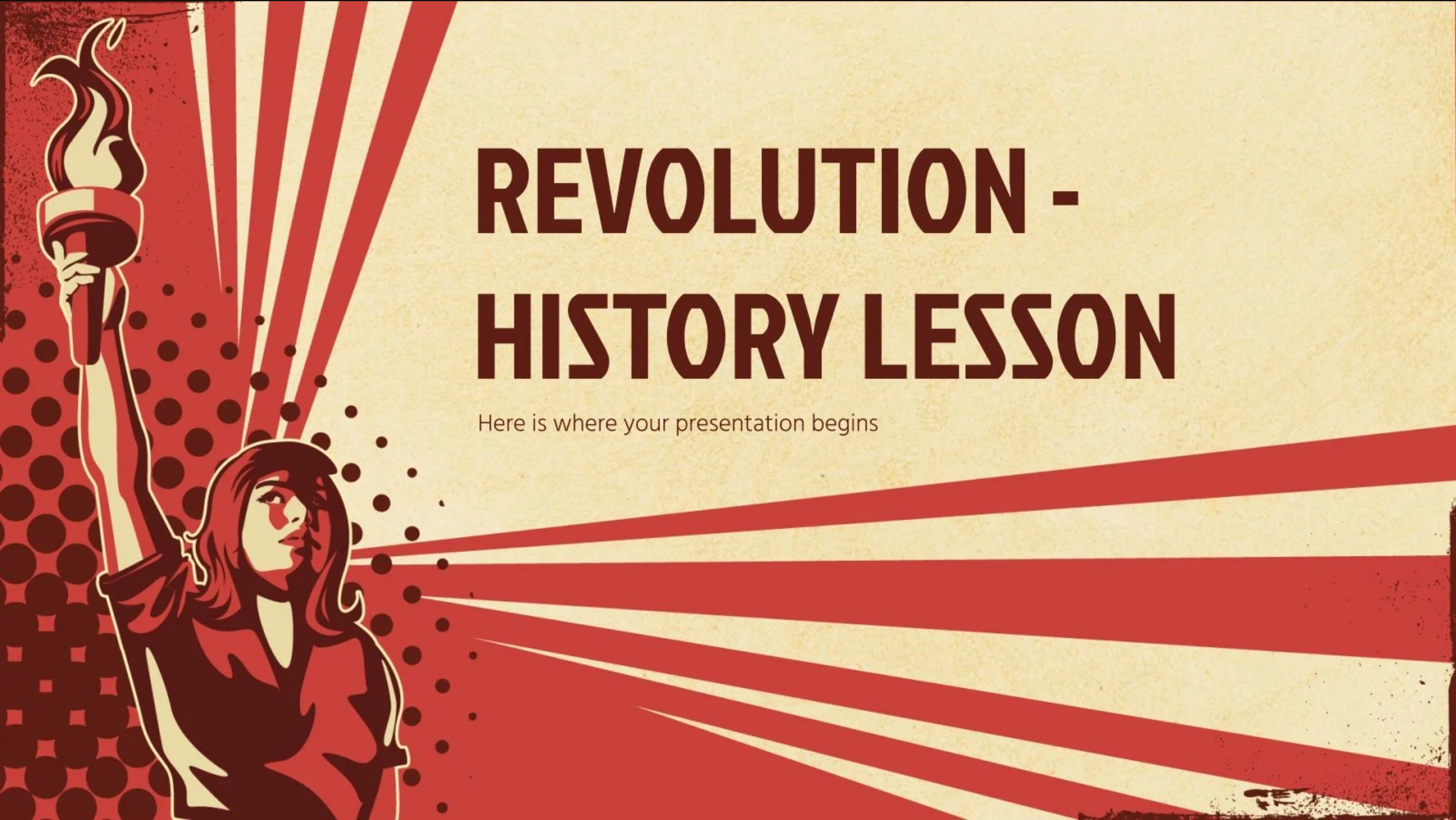 Looking to create a history educational presentation? Then look no further than this vintage-styled Revolution PowerPoint template. Using a red on cream slide design, this template manages to nail the vintage style perfectly.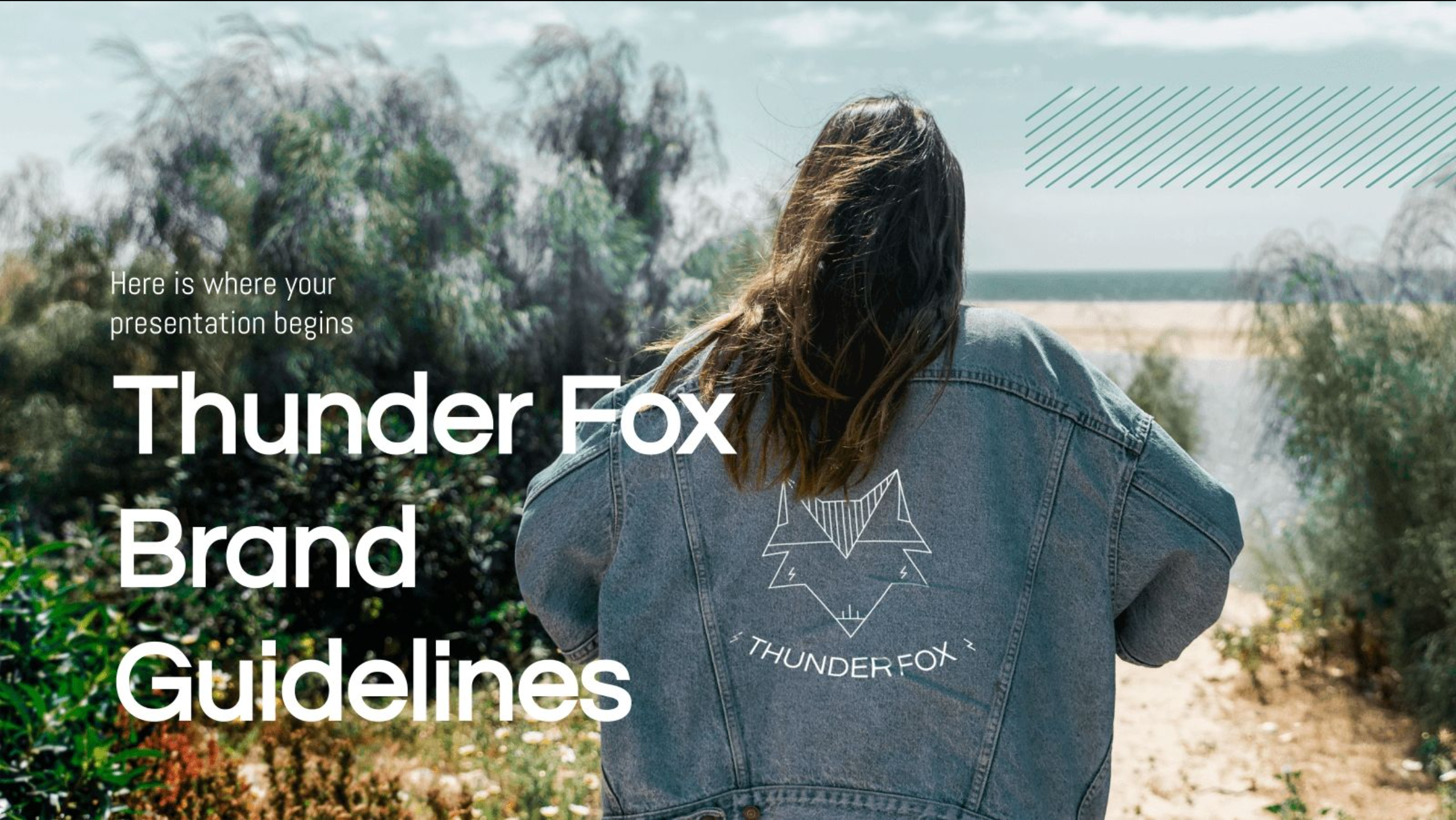 Create an amazing brand pitch with this Vintage Fashion Brand PowerPoint template. Each slide in this twenty custom slide collection comes in a range of styles and provides a multipurpose platform to execute a wide range of presentation applications.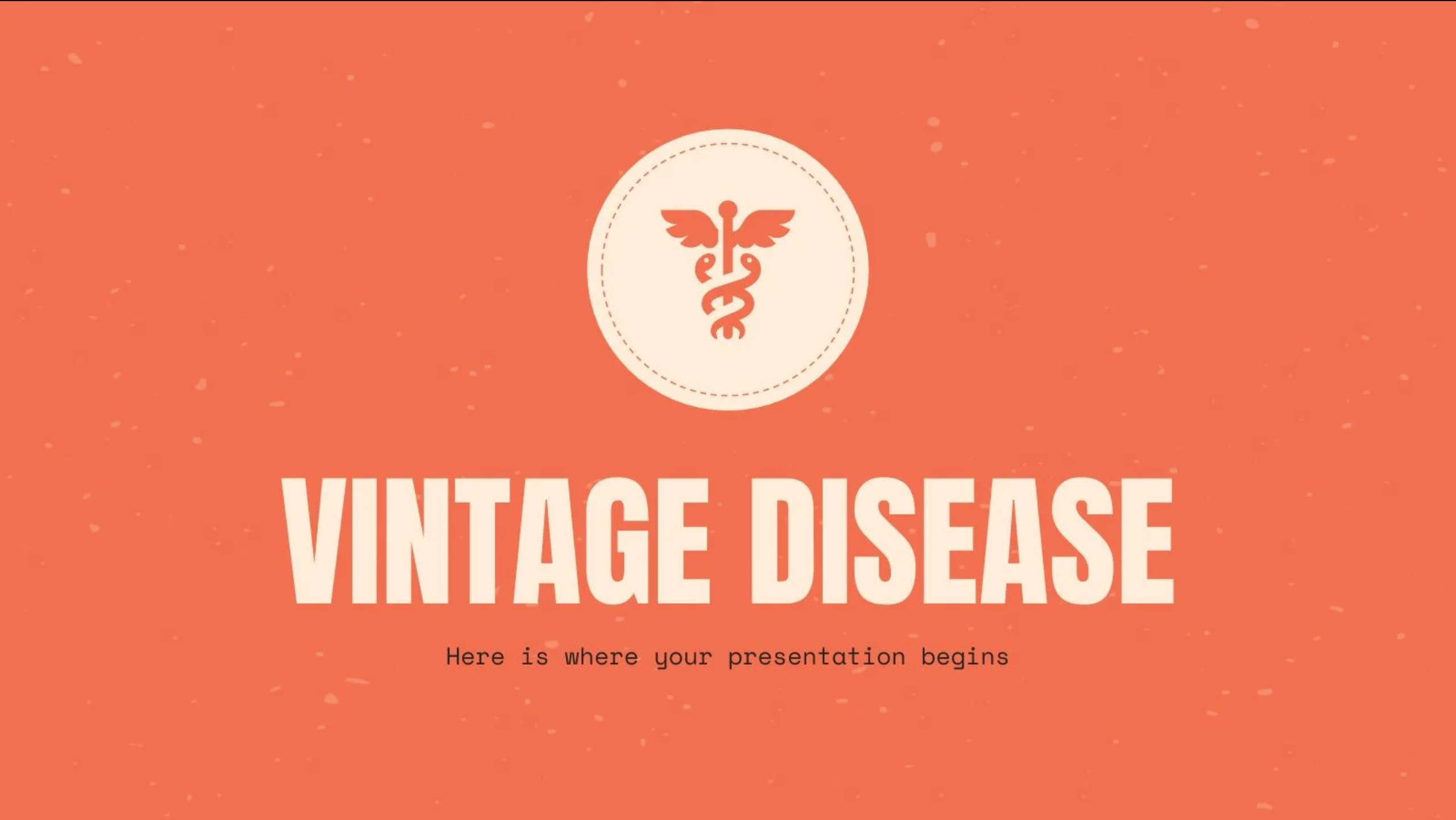 Looking to tailor a medical research or educational presentation, and want to add a touch of the vintage style? Then the Vintage Disease is a fantastically designed template, providing you with a range of minimalistic vintage slide designs that is sure to impress.
Create an Amazing Vintage Presentation with These Templates Today!
With such a wide range of vintage styles out there to choose from, never again will you be stuck looking for an iconic vintage template to use. Choose a vintage or retro style that works for you, and enjoy the timeless artistic aesthetic with a few easy clicks.