25+ VHS Effect Filters for Photoshop (Glitch & VHS Actions)
For those that grew up in the 80s, there are few things that can stir up the feeling of nostalgia quicker than the glitchy distortion of an old school VHS tape! Whether it's for a school project, creative design, or work task, recreating the effect of a classic VCR film is a highly sought after skill in any graphic designer's toolkit.
But what if we told you that there's a whole collection of Photoshop actions, brushes, templates and filters available that can achieve authentic and unique results in a fraction of the time, and with no experience required?
We present to you a collection of the best VHS and glitch effect filters for Photoshop, from actions and text effects to brushes and textures, including both free and premium options, all of which will help you achieve a realistic effect that will take you straight back to the 80s!
Get everything you need to supercharge your Photoshop workflow. From just $16, get unlimited access to thousands of Photoshop actions, Lightroom presets, templates, graphics, fonts and photos.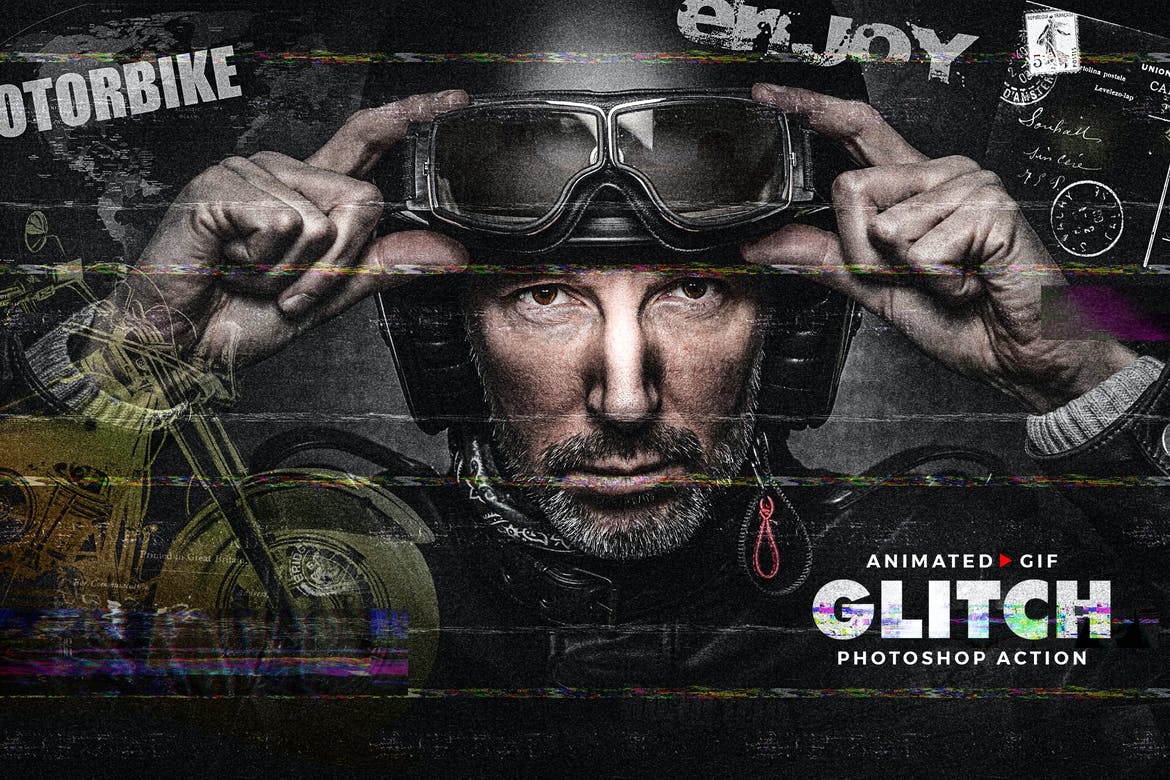 The Animated Glitch effect plugin for Photoshop is a fast and easy way to add a VHS inspired filter to any photo and is compatible with Photoshop versions CS4 and newer. It features a fully non-destructive workflow and comes with optional animations and a detailed help file.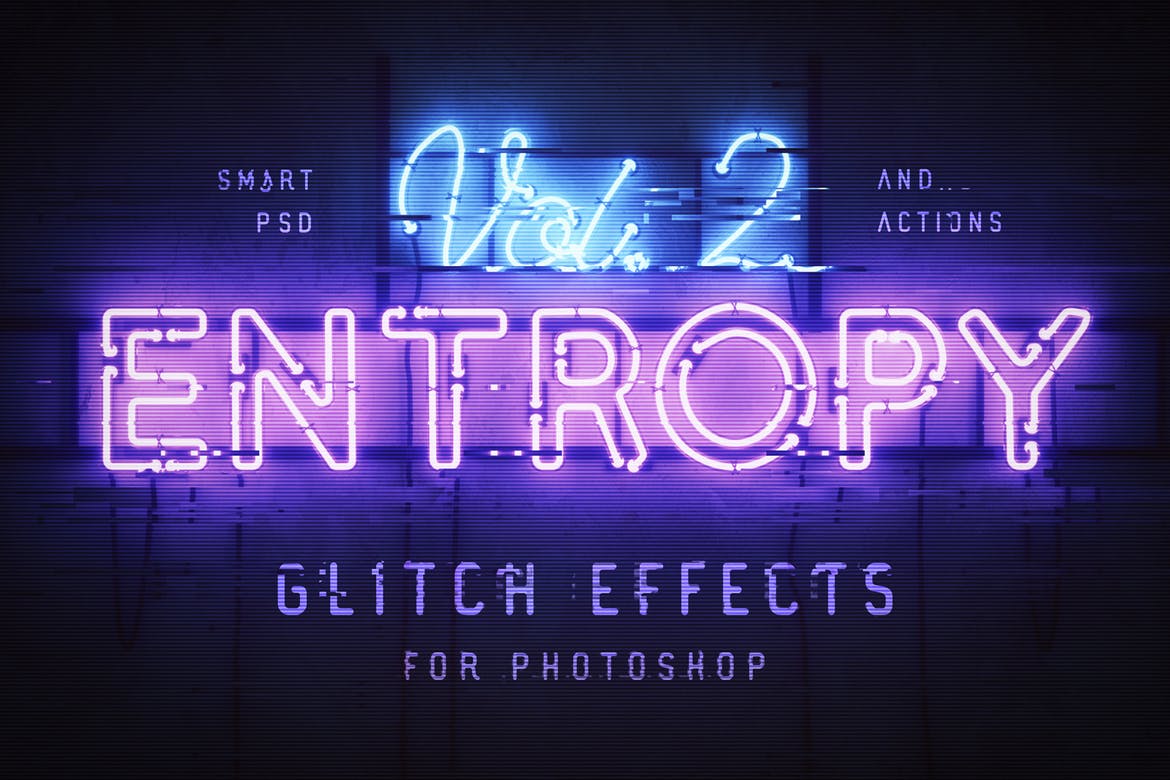 The Entrophy VHS overlay for Photoshop features a range of dramatic glitch effects that emulate the retro style of a classic VHS film and features four unique actions with a range of textures and chromatic aberration effects that you can customize and layer for an interesting result.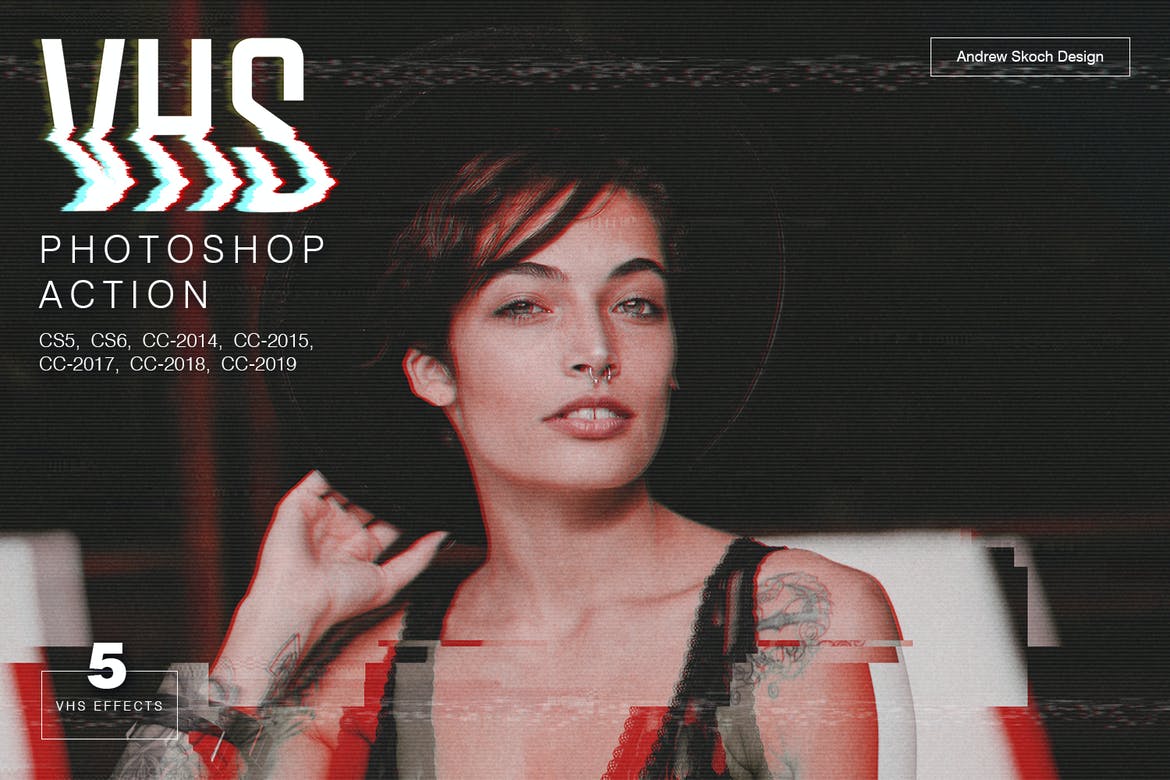 The next VHS photo effect in our list is this VHS inspired Photoshop action that will add an authentic video tape effect to any image and comes with a matching pattern and brush to help you create the perfect result. It comes with full supporting documentation.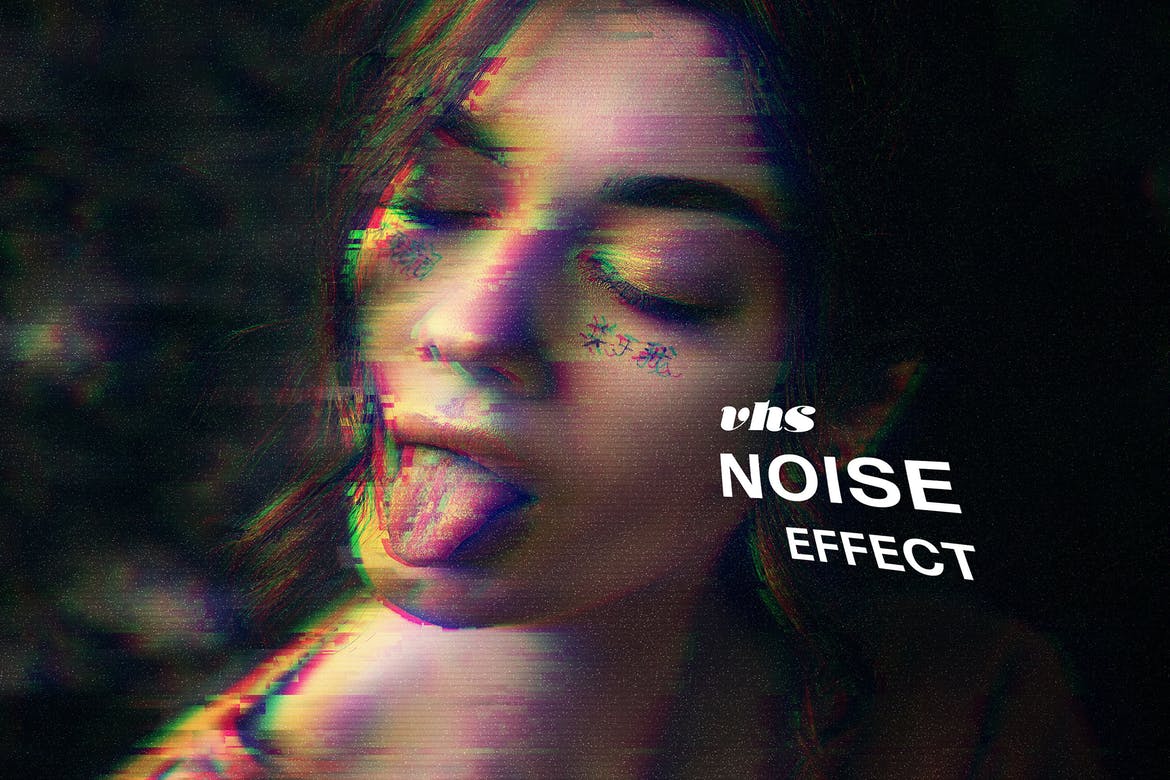 This awesome VHS filter for Photoshop will help you recreate the classic distorted hissing lines and visual noise of an old VHS, and includes glitchy outlines and nostalgic tones for a truly authentic finish. It comes with a 300 DPI resolution and a comprehensive help file.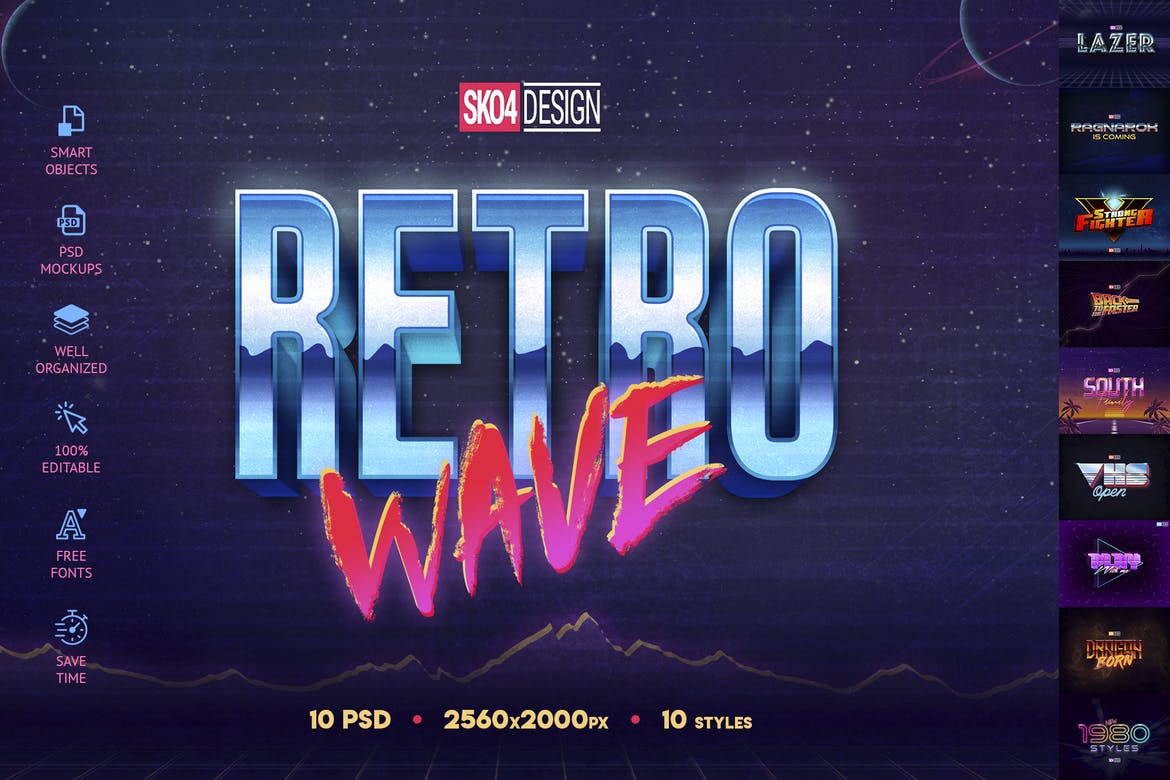 Inspired by the VHS age of the 80s and ideal for adding an authentic retro style with bright colors and glitch effects to any kind of design project, this set of retro text effects for Photoshop offers 10 unique styles for you to mix and match, and smart object replacement for ease of use.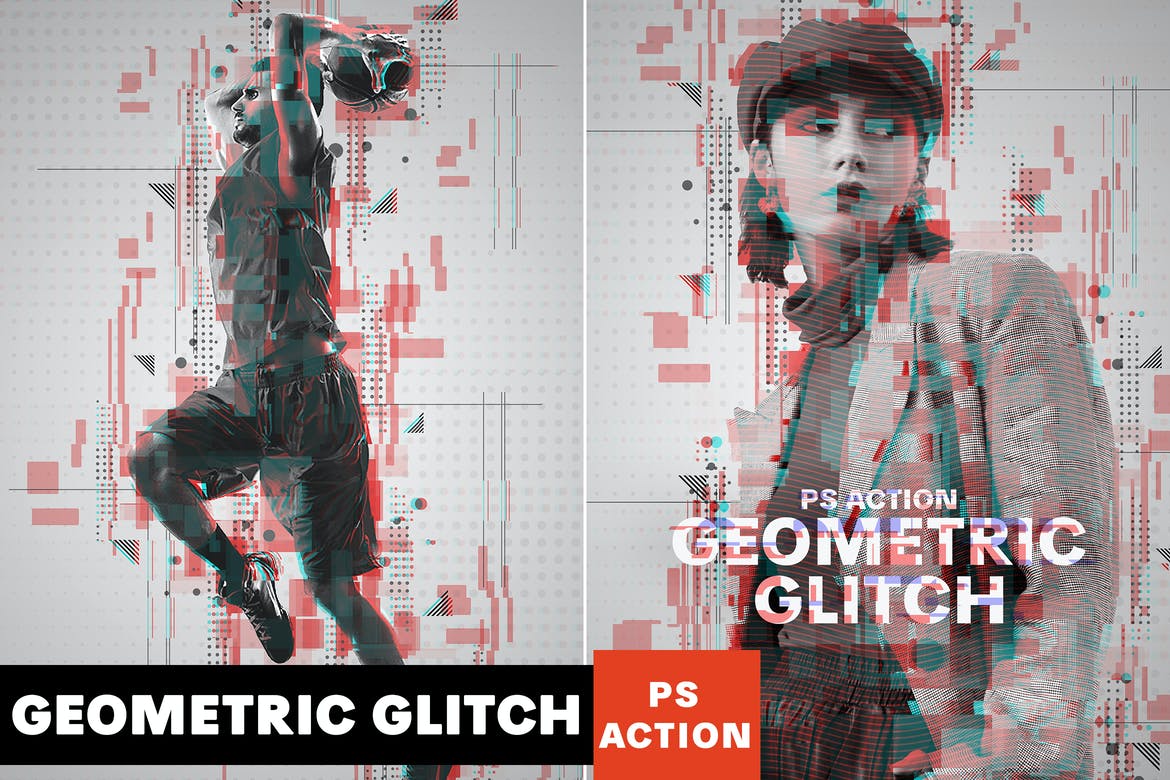 Here we have an eye-catching geometric glitch effect action that can be applied and customized in any version of Photoshop, and comes accompanied with a corresponding brushes and patterns for the ultimate VHS inspired look, perfect for any 80s themed image.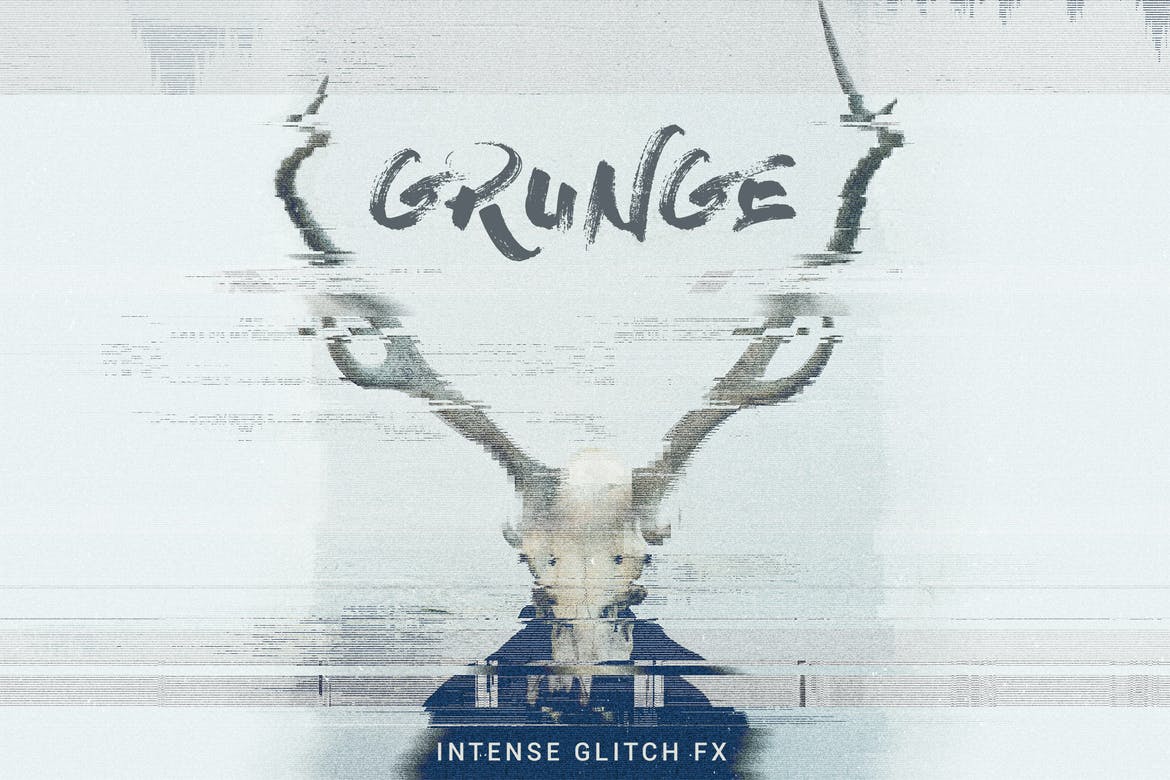 Next up is this bundle of 21 glitch effects, with 10 matching textures and seven RGB color effects for you to layer and customize, helping you to create the perfect grungy glitch effect on any photo. Each aspect is fully editable and comes with both an online video tutorial and written step by step instructions.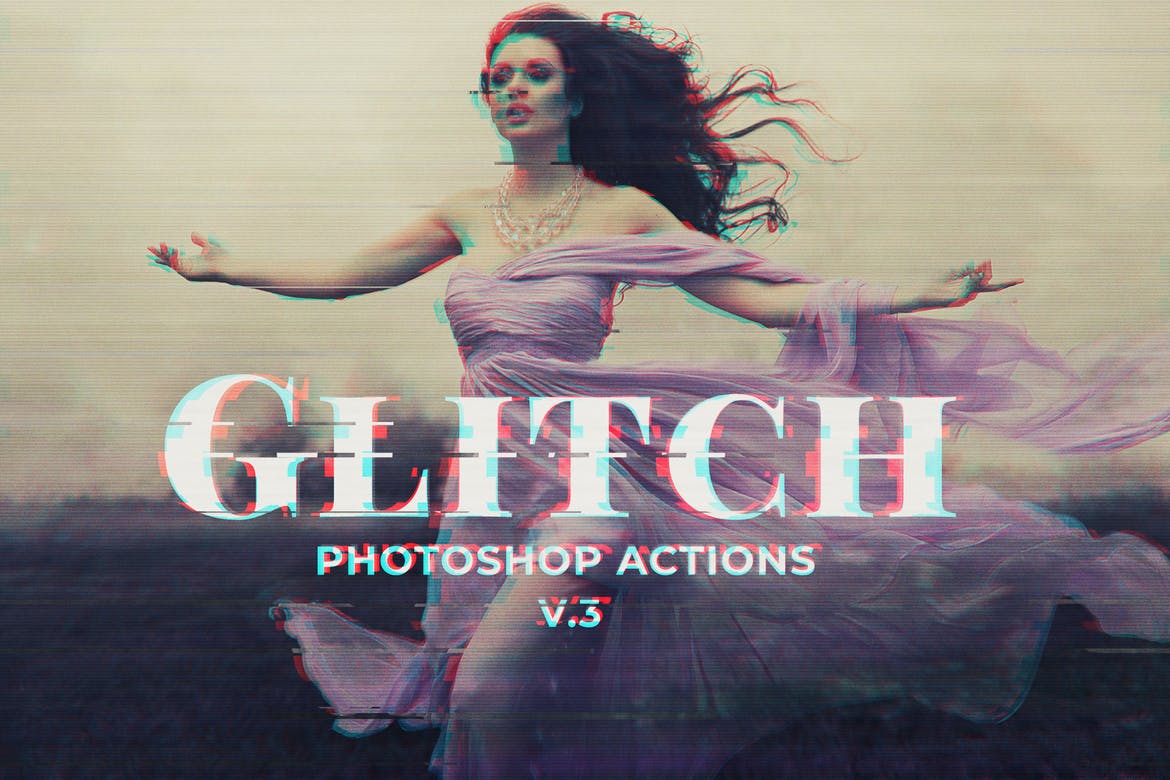 Create professional digital glitches in seconds to perfectly mimic the effect of an old school VHS, using this bundle of Photoshop templates and actions that have been professionally designed to enhance your images in a unique and authentic way with retro and vintage elements.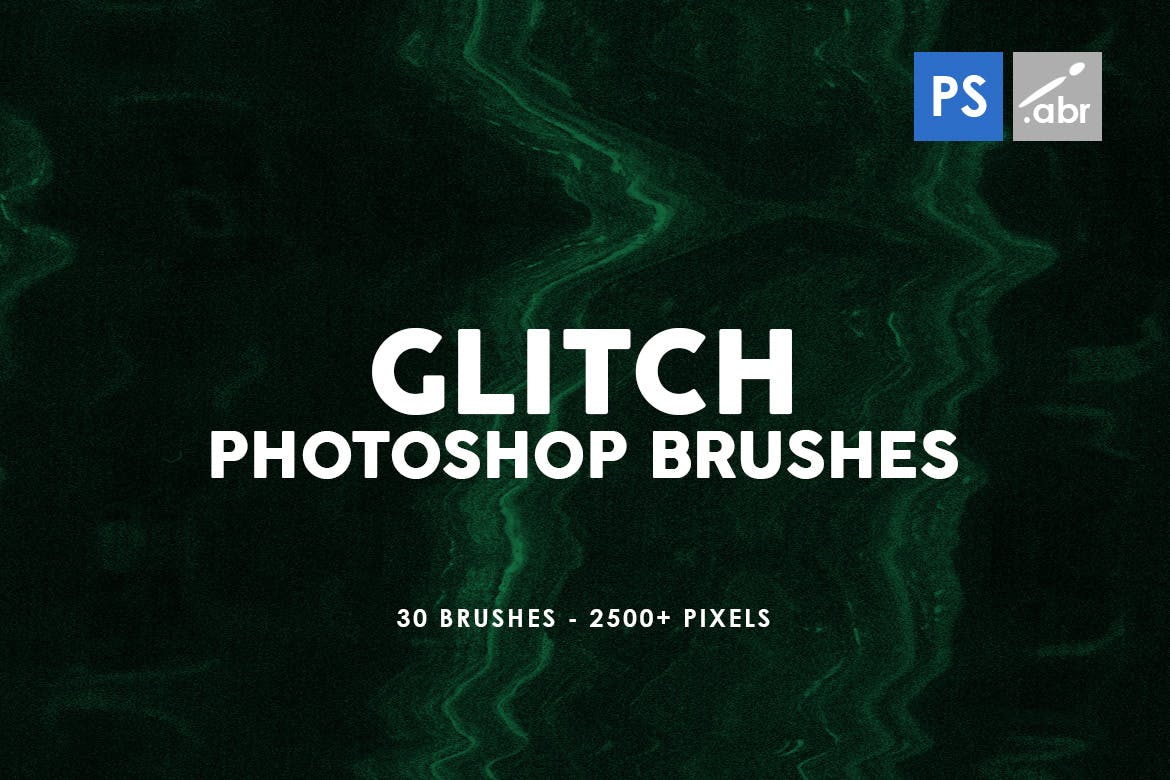 Next in our lineup of the best glitch and VHS effect Photoshop filters is this set of 30 glitch effect brushes, offering a high resolution 2500 by 2500 pixel size and compatible with any version of Photoshop. Use these brushes for any 80s inspired project to impress your audience.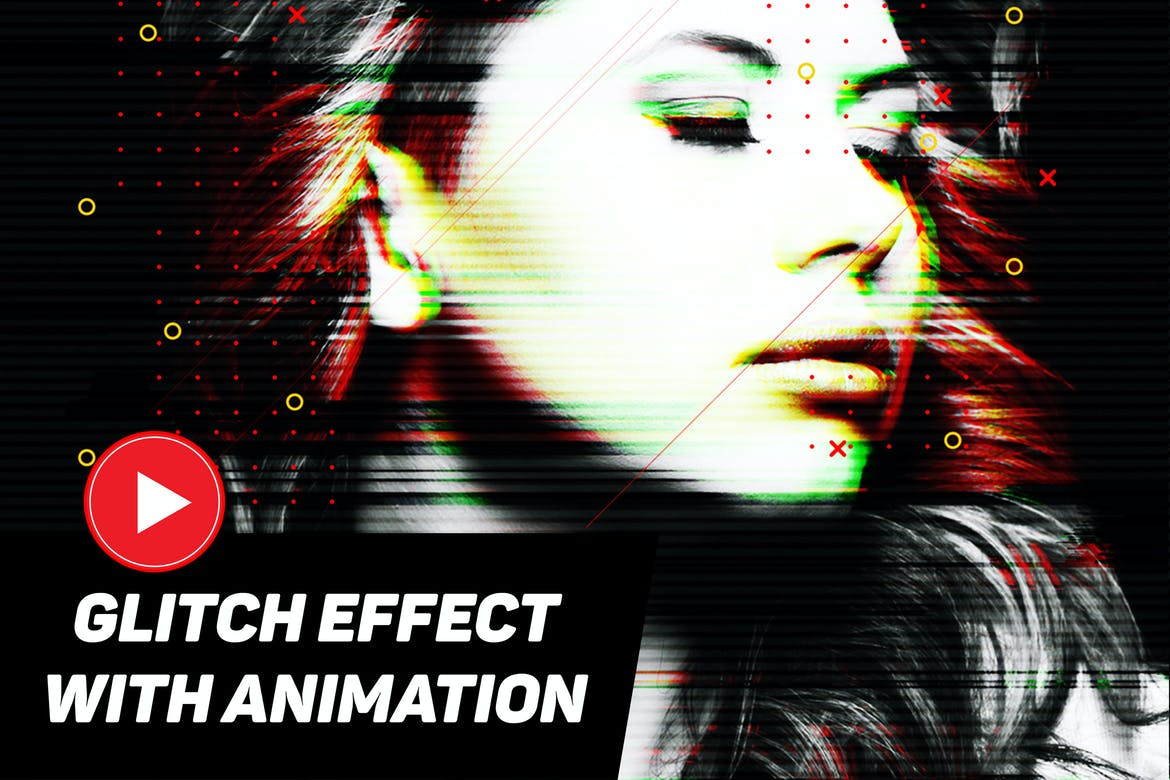 Here we have a set of three unique PSD files that will allow you to combine a realistic-looking modern glitch effect with a GIF animation for a truly unique result. It includes three different glitch filters, and offers drag and drop smart objects for super easy editing.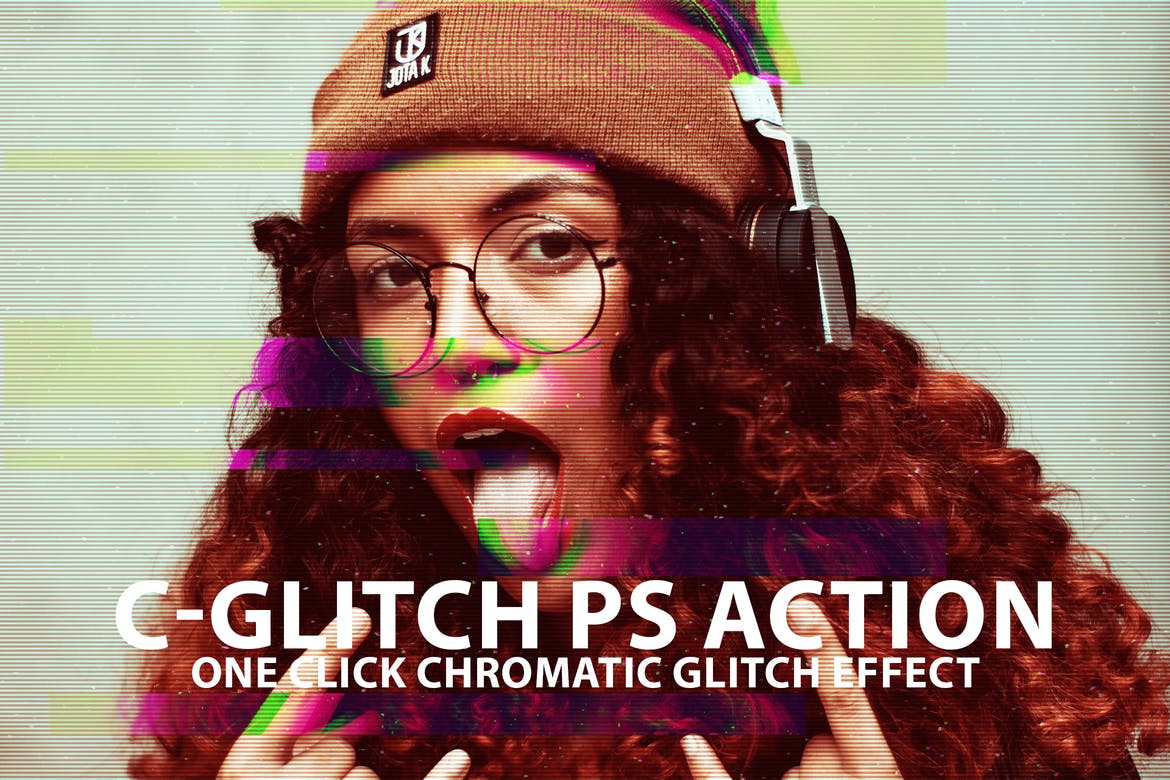 Featuring six different glitch effects, each one giving you the option to transform your image in a new way with editable layers and no size limit, this set of Photoshop actions offers a one click instant effect. It comes with supporting documentation to have you creating authentic VHS style images in no time at all.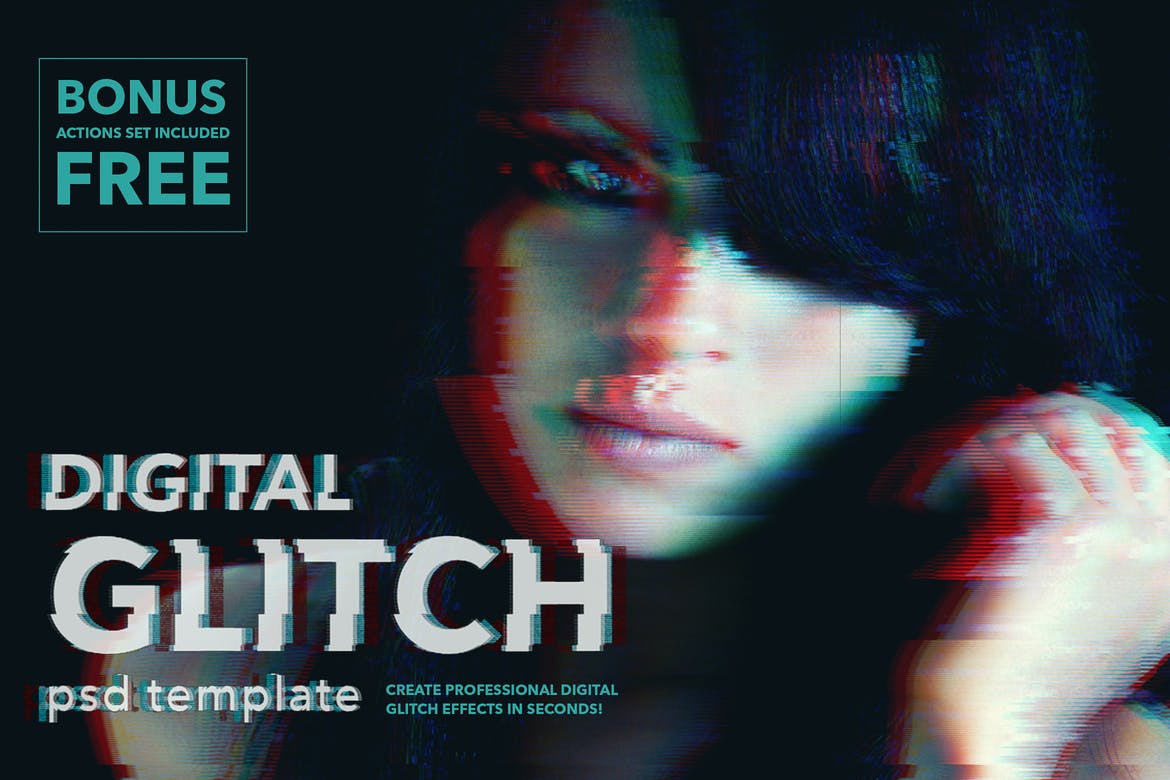 Offering three high resolution, easy to use Photoshop templates and eleven unique actions designed to enhance your glitch inspired images, our next collection of authentic VHS photo effects will help you create professional digital glitch filters in seconds, with a wide range of customization options included.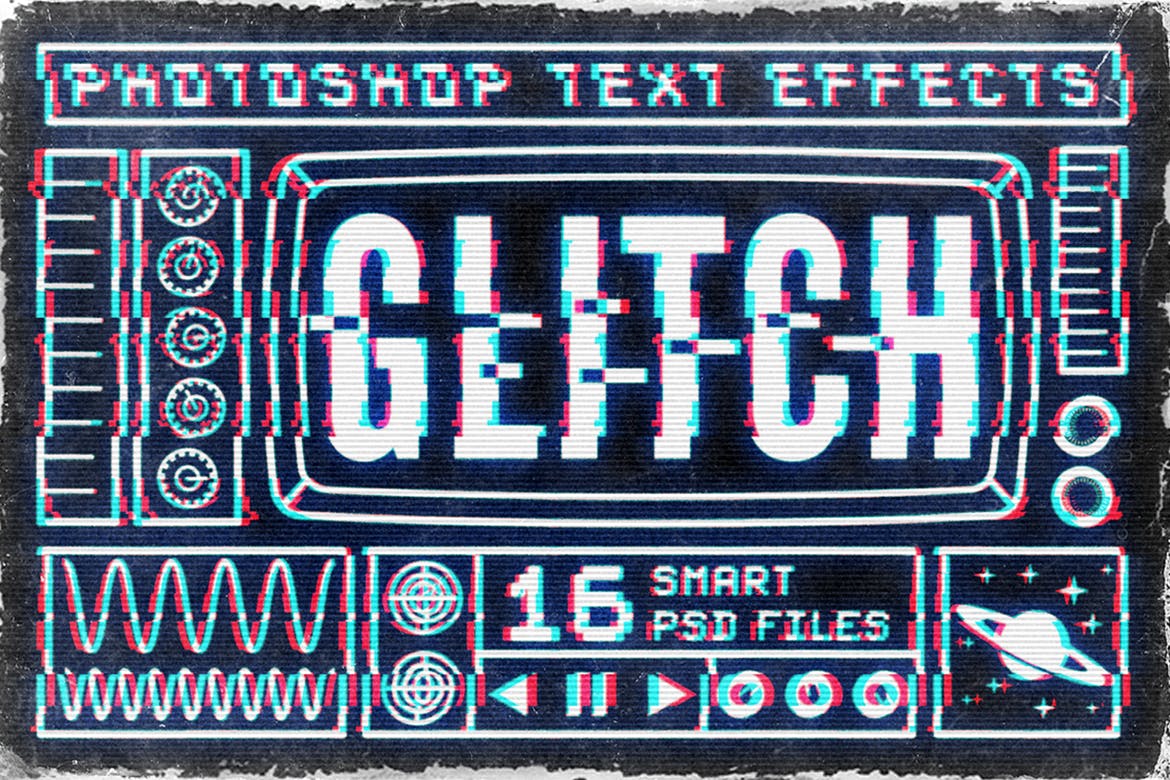 Turn your plain text into a VHS glitch inspired masterpiece with this collection of 16 smart PSD text effect files, each of which uses smart object based templates to help you customize quickly and easily, and includes extensive editing options to give you full creative control.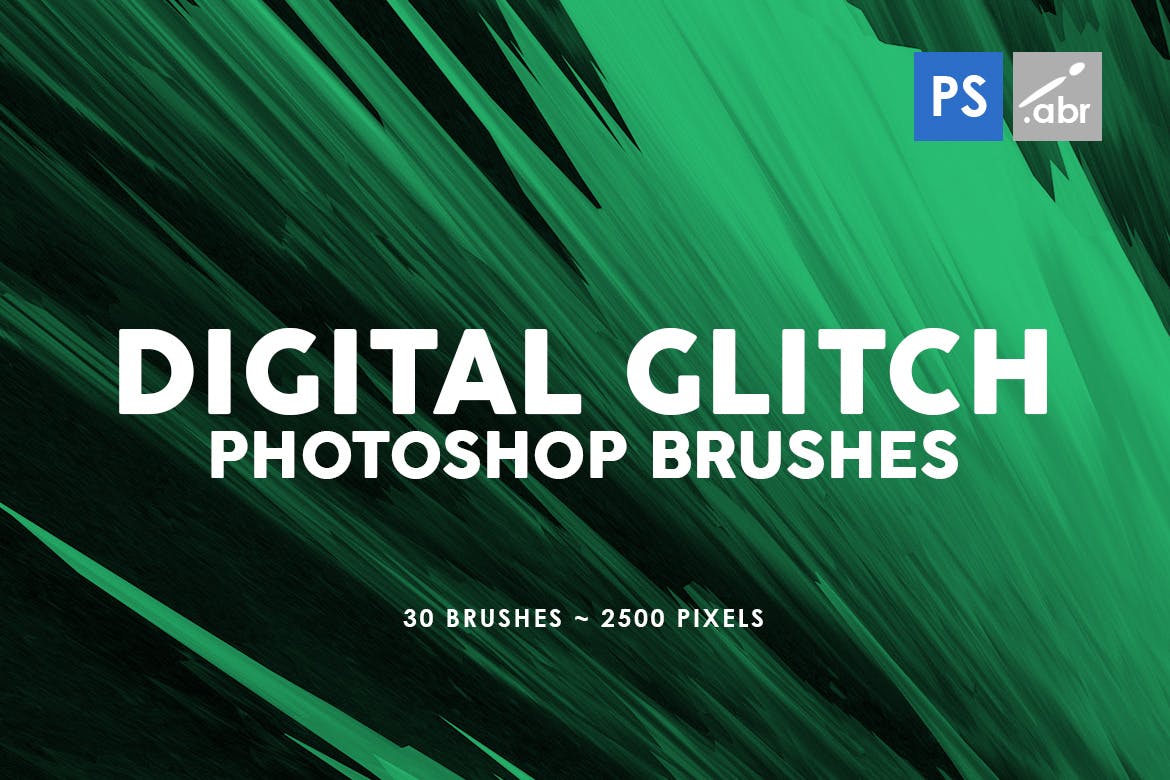 Offering a set of 30 digital glitch style brushes, this bundle is compatible with Photoshop versions CS2, CS3, CS4, CS5, CS6 and CC, and makes a great addition to any 80s or retro themed design project.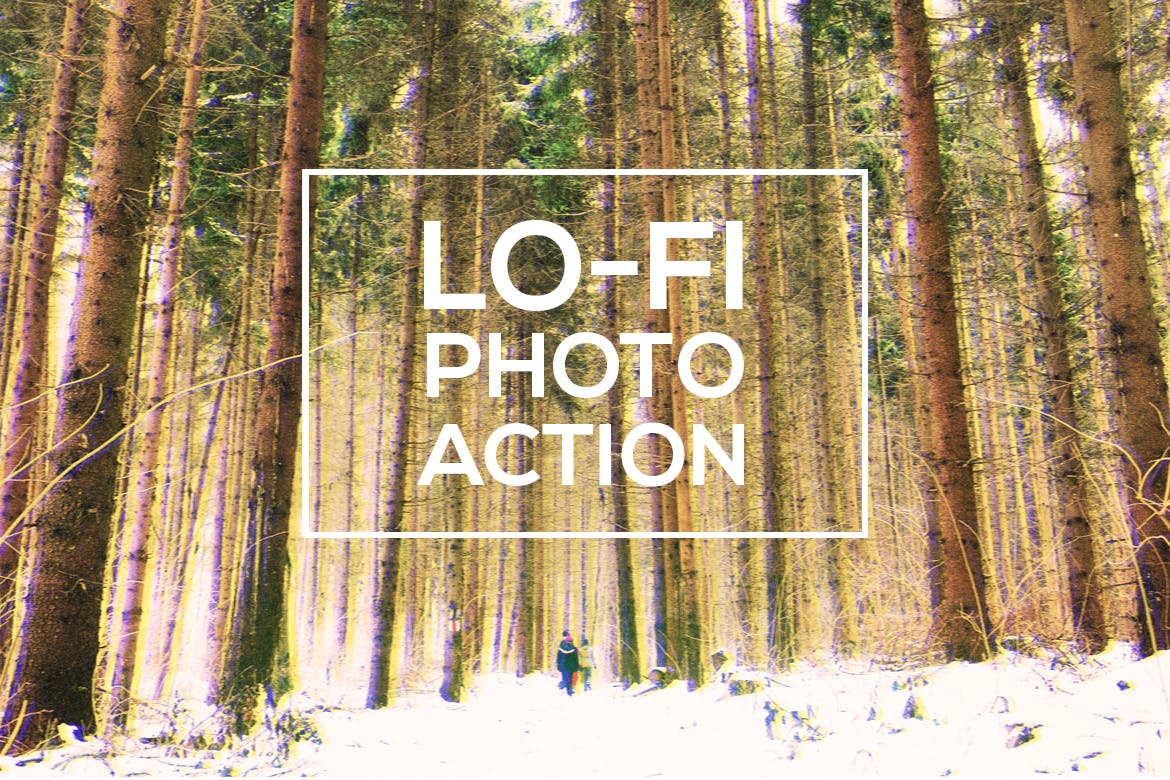 Perfect for adding a subtle but artistic VHS photo effect to your images, the Lo-Fi Photoshop action includes three color glitch effects, plus a range of grain effects, image blur, distortion and color options, and a bonus set of ten transparent PNG light leak effects.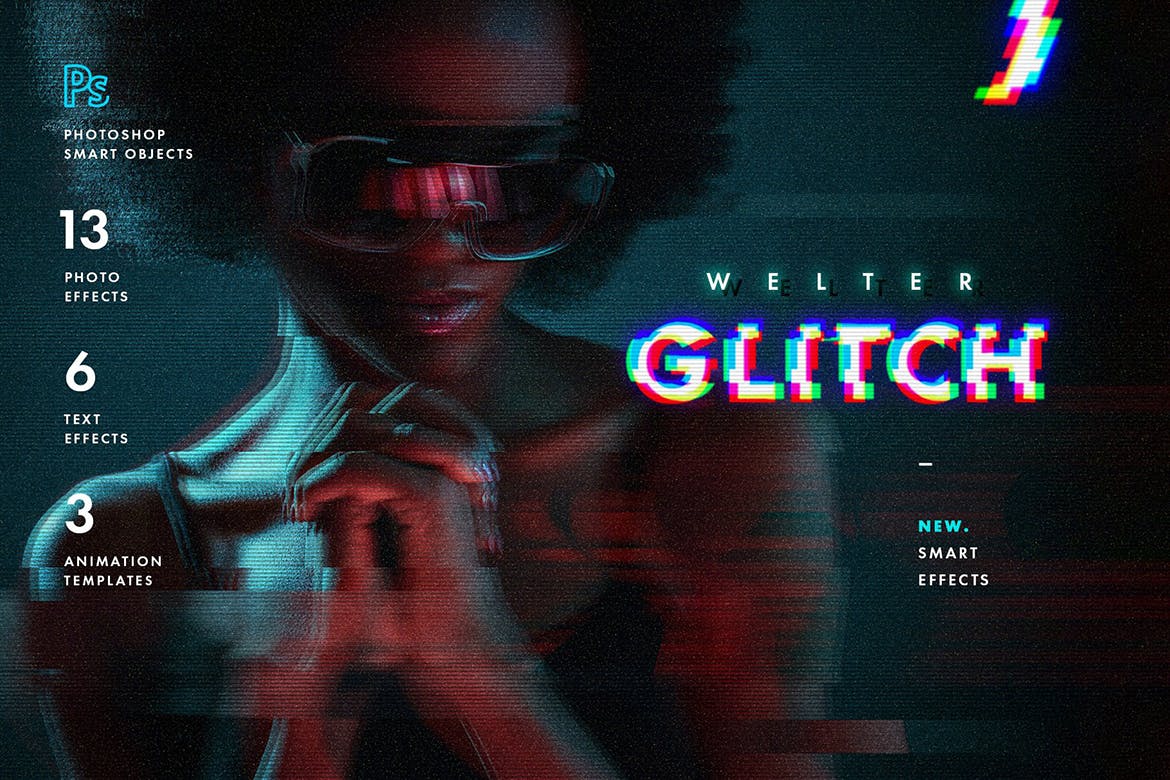 The Welter bundle includes a range of different Photoshop tools that will help you turn your images into a VHS inspired piece of art, including 13 photo effects, six text effects, and three animation templates. It utilizes smart object functionality to make customizing a breeze.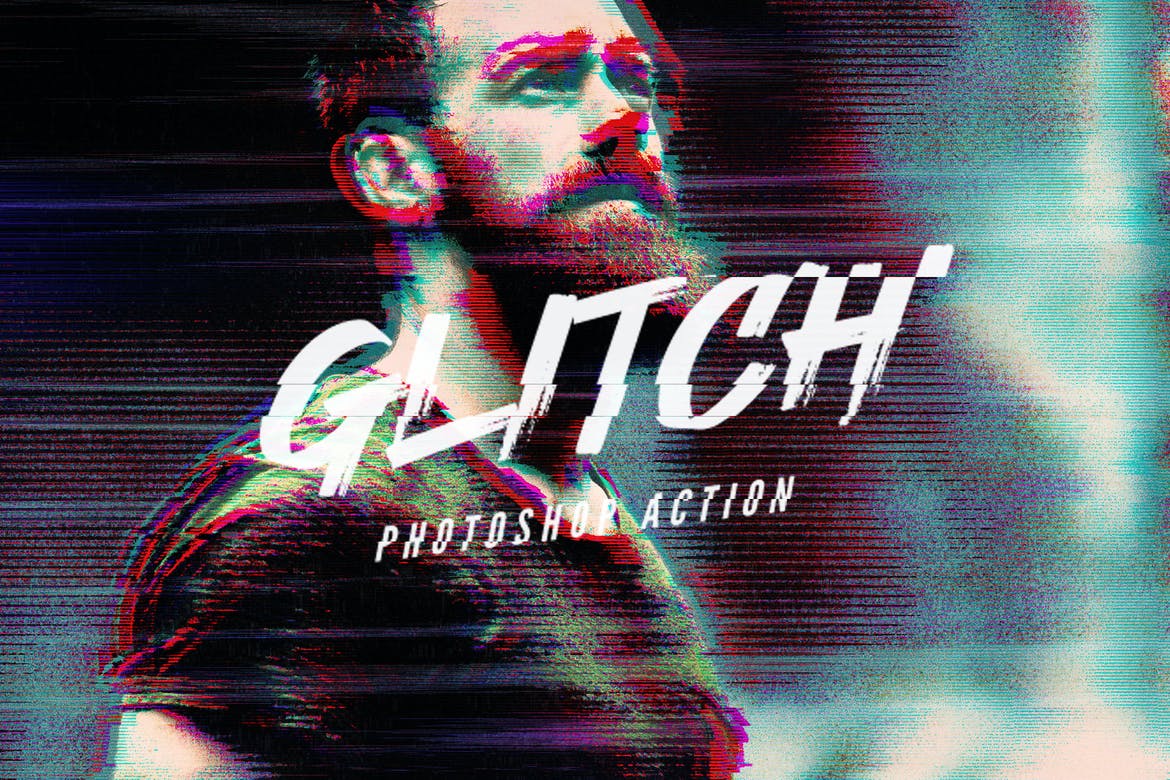 Turn your images into a dark, corrupted scene with this moody distorted glitch effect reminiscent of a spooky VHS tape that you found in your attic! It includes organized layers, adjustment settings, and separate elements for you to customize, helping you to create the perfect effect.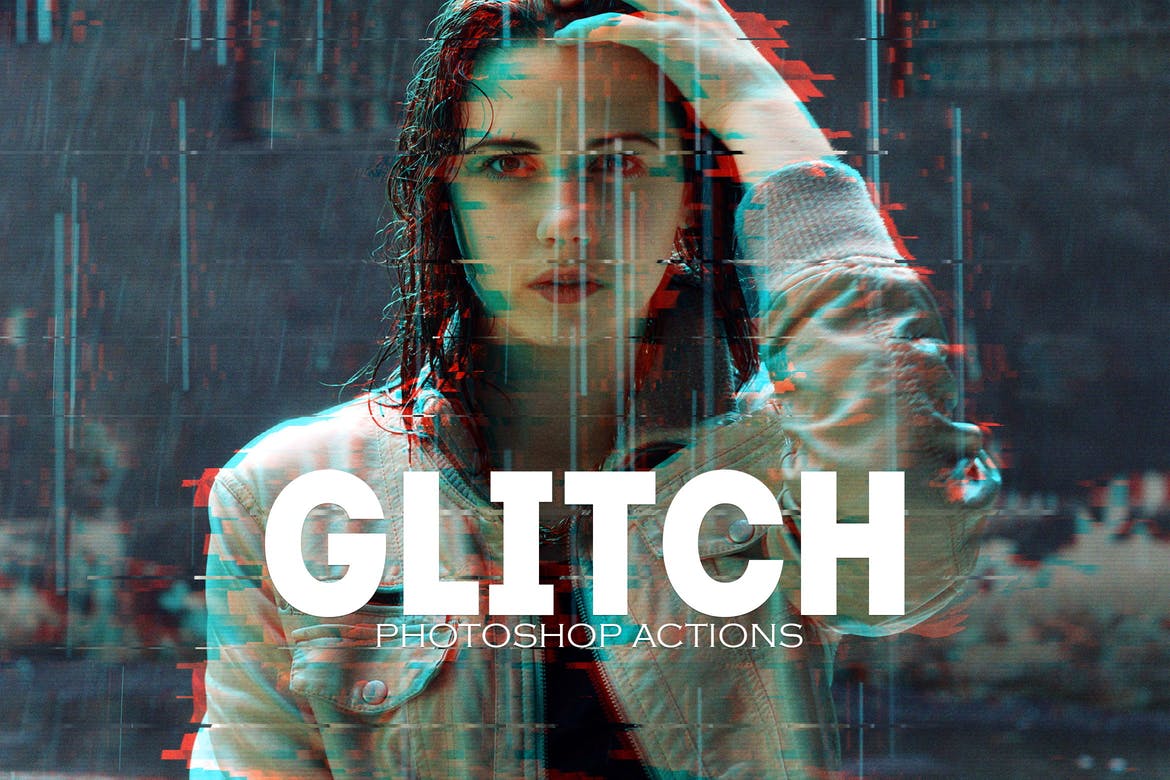 Create a scene that imitates a corrupted VHS of a drama film using this collection of glitch Photoshop actions, featuring 10 different effects in a single PSD file that will allow you to add an authentic retro twist to your images, perfect if you're after a dark or grungy style.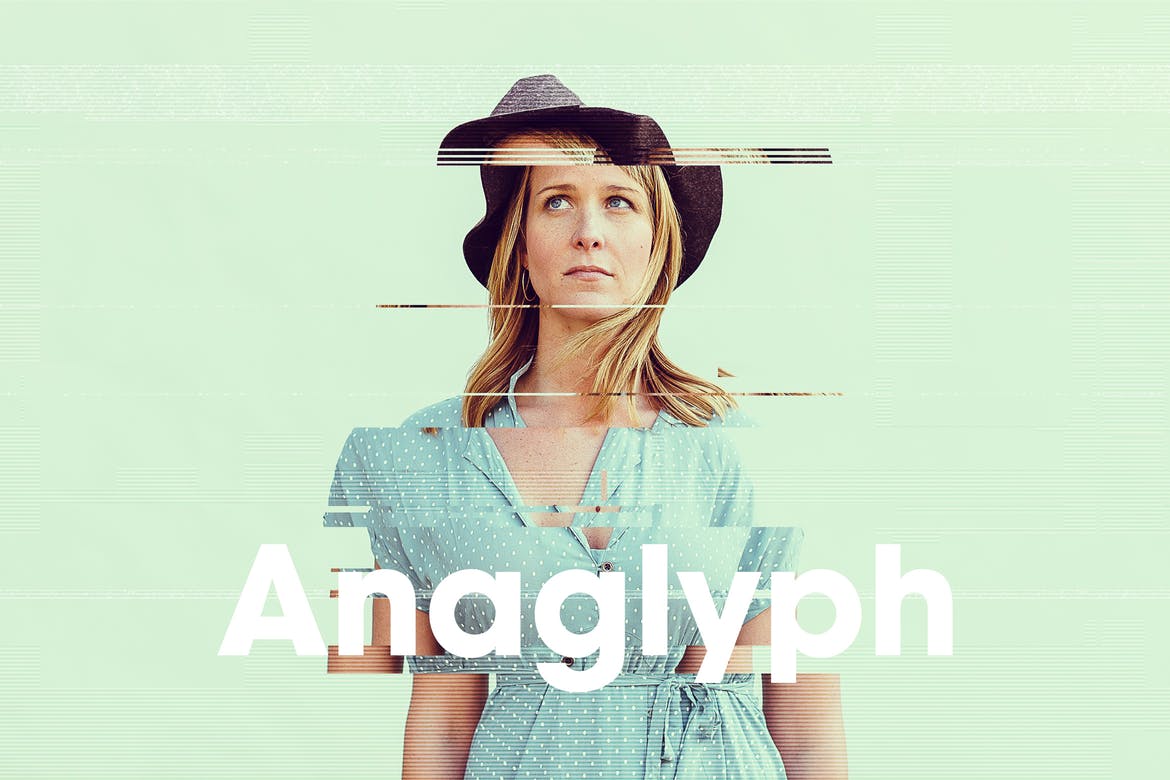 The Anaglyph Photoshop template allows you to create amazing non-destructive glitch and anaglyph effects, with the guidance of an online video tutorial to help you out if you get stuck. It offers a high quality RGB color mode and a default template size of 3000 by 2000 pixels, which can be adjusted if needed.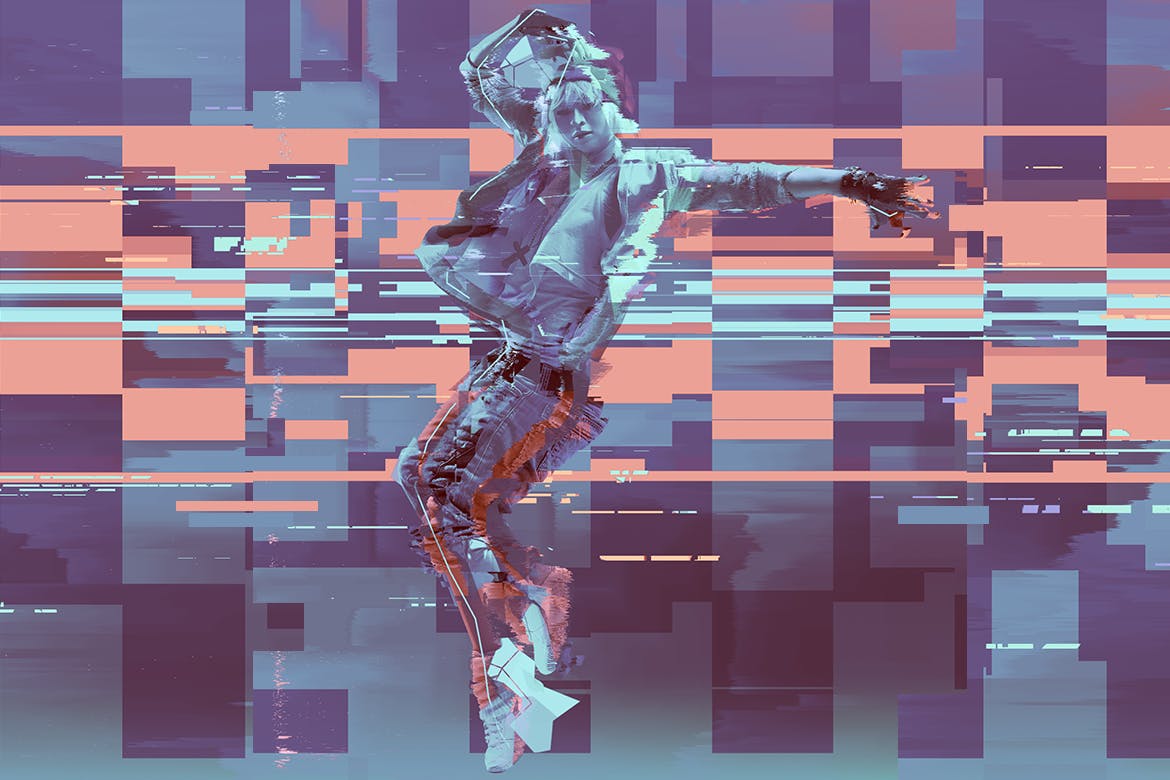 The Twitch Glitch Photoshop action is a truly unique retro effect that consists of 20 different color presets and gives you access to unlimited results! And with that, let's now take a look at a few free Photoshop glitch and VHS photo effects from around the web.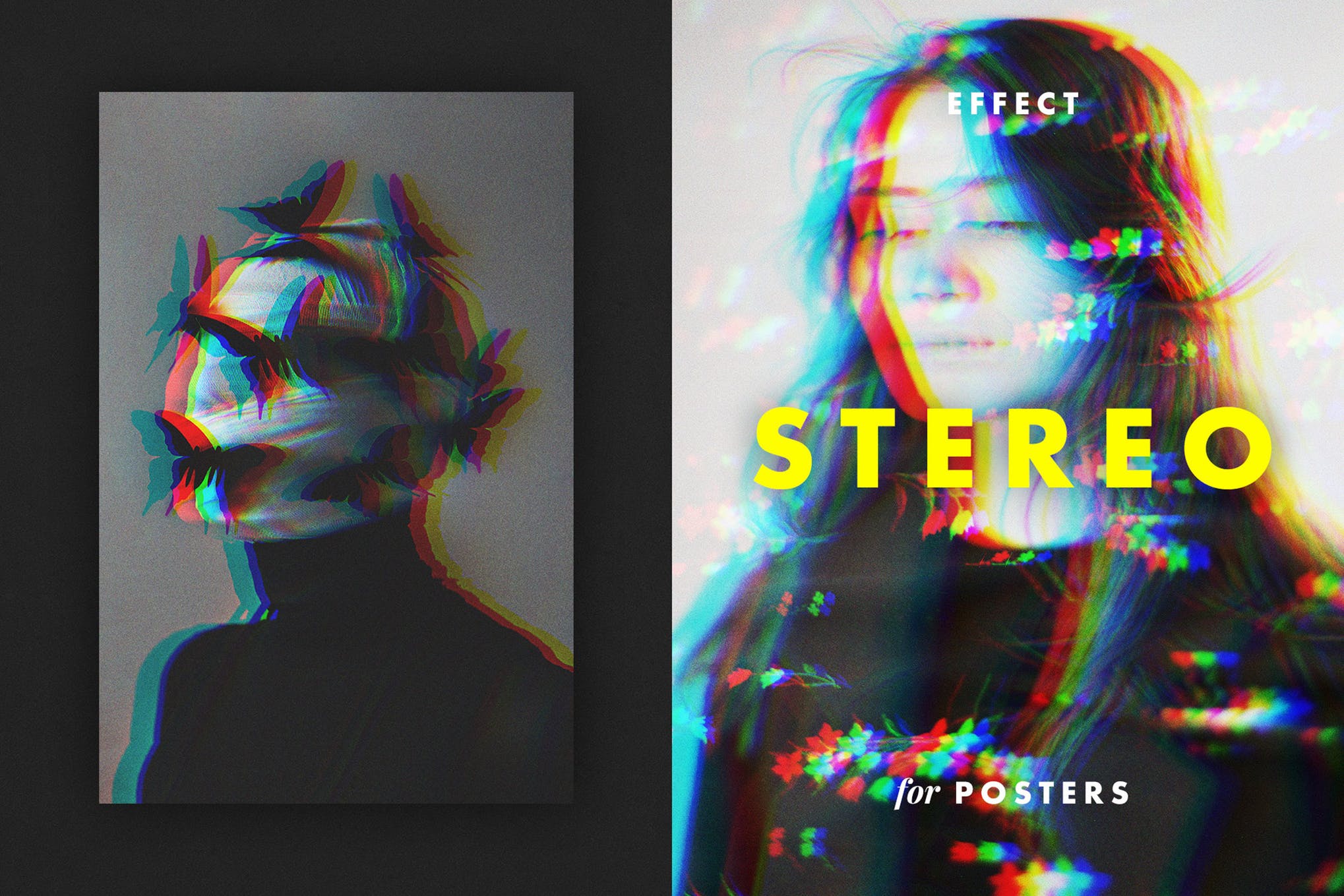 This Photoshop product allows you to emulate the colors of television static, and create incredibly unique digital designs that can be printed on posters. It includes a range of glitch, noise, and pixelation effects that can help you create a dream-like distressed look in Photoshop.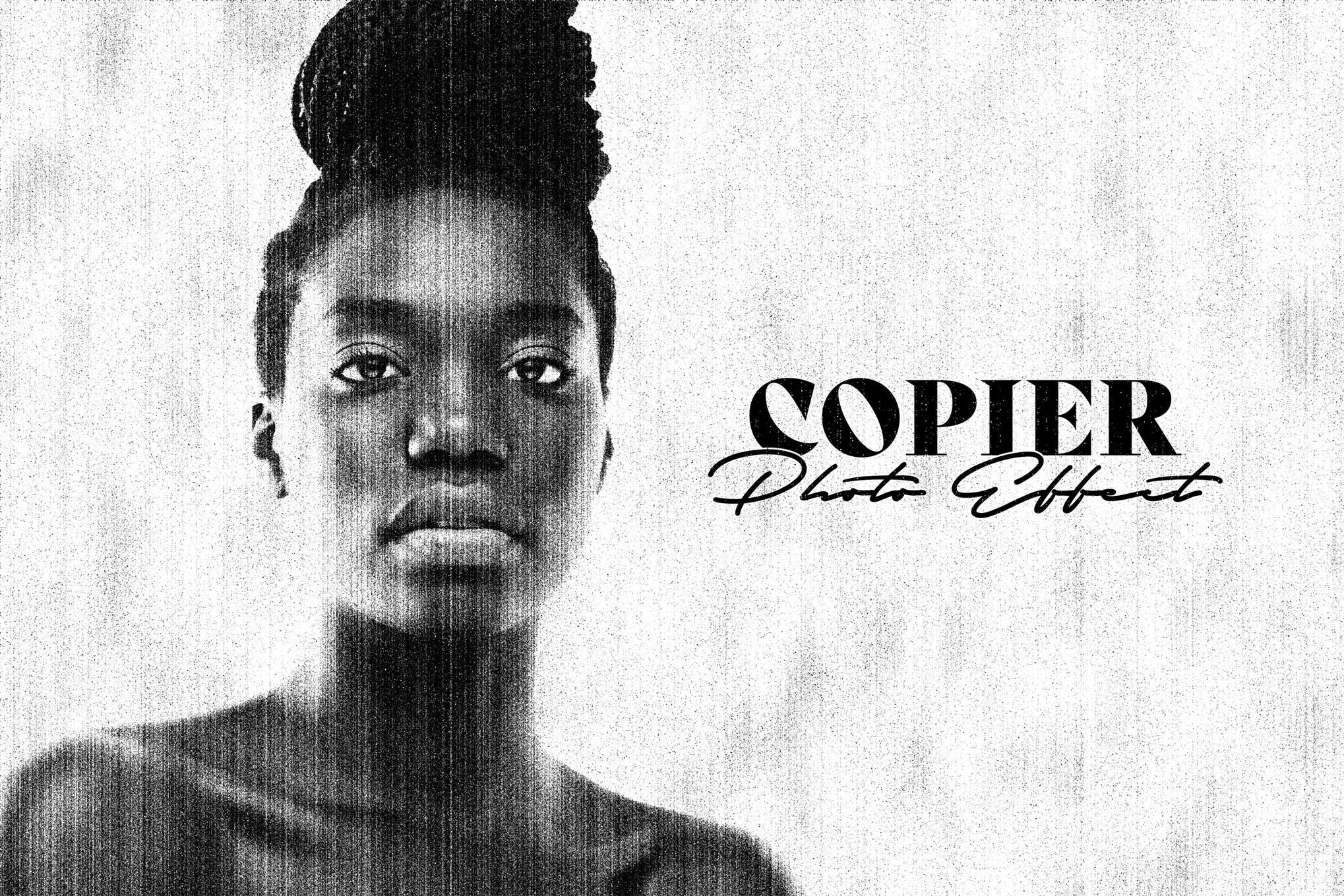 We don't often realize how distressed a photocopier makes pictures appear, especially ones with terrible rollers. Yet now, with this Photoshop plugin, you can emulate the photocopier effect effortlessly. Whilst a more unique distressed style, it will excel in a wide range of visual design projects.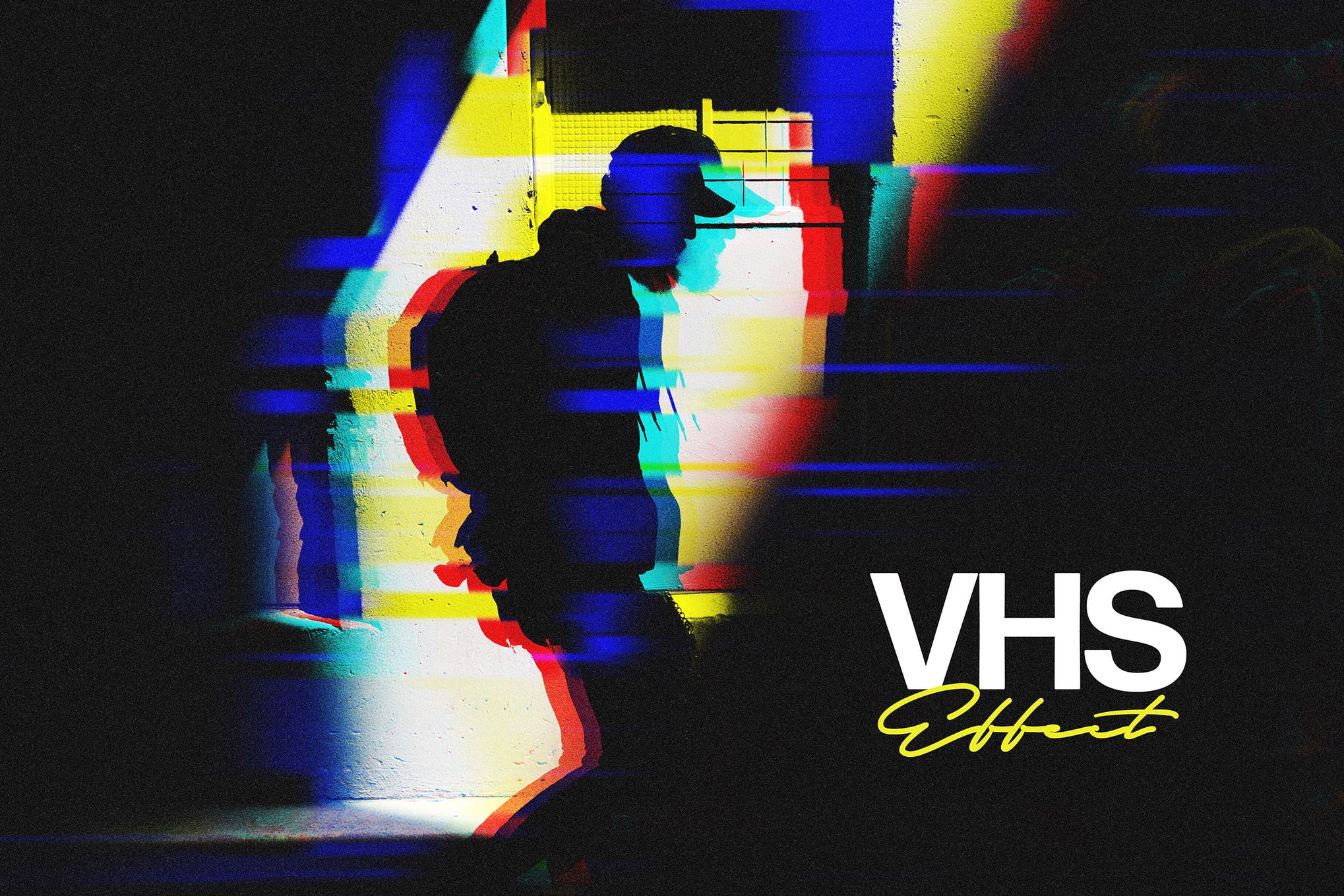 Here we have a solid option for the cyberpunk and gaming design fans. This plugin can be used to apply retro broadcasting effects with noisy, and scratchy overlays to your artwork, and put all your worries about how to distress an image in Photoshop to rest.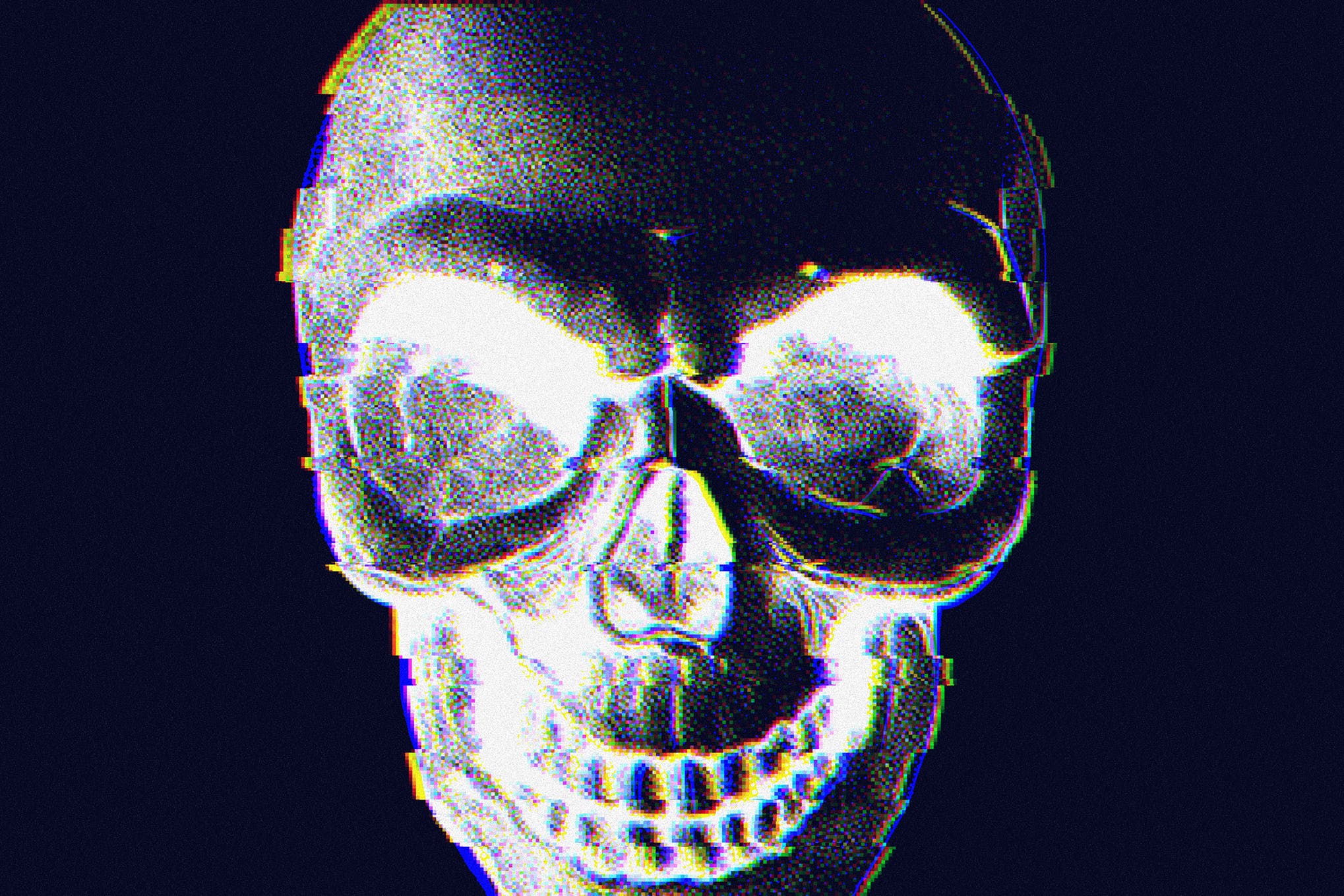 Fancy texts and logos with crashed pixels effect? Look no further than this asset that will help you create a distressed edges Photoshop look in no time at all. It's a great distressed texture Photoshop plugin for your texts, and logotypes, and deserves to make it to your shortlist.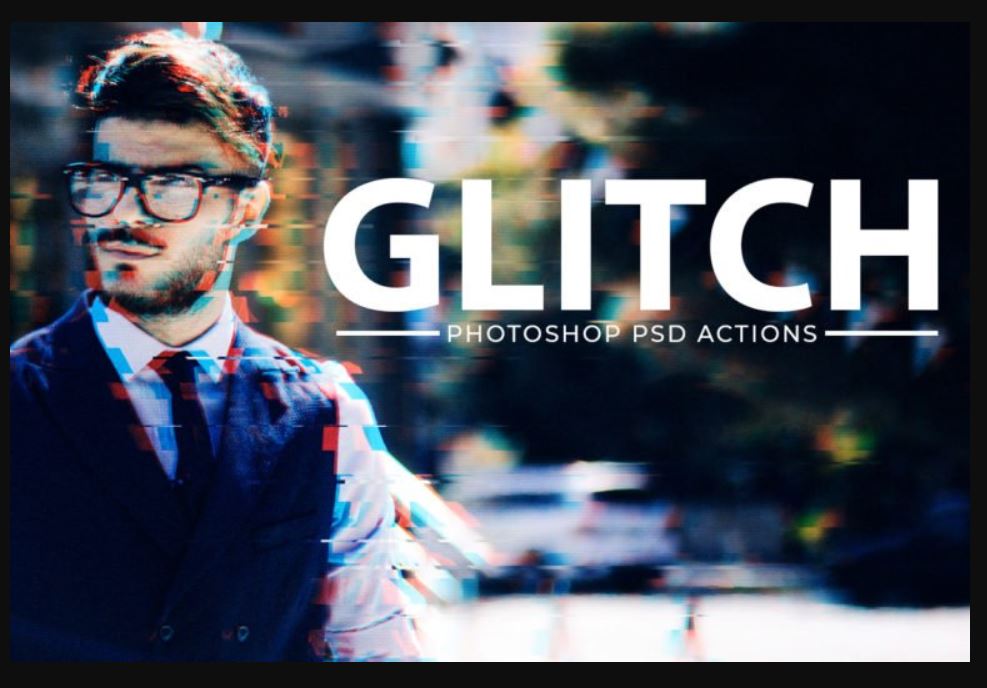 Available from Creative Tacos, our first free glitch effect plugin for Photoshop is this retro VHS inspired action that will save you plenty of time in recreating an authentic looking corrupted image effect! It's a great choice for any creative retro themed project.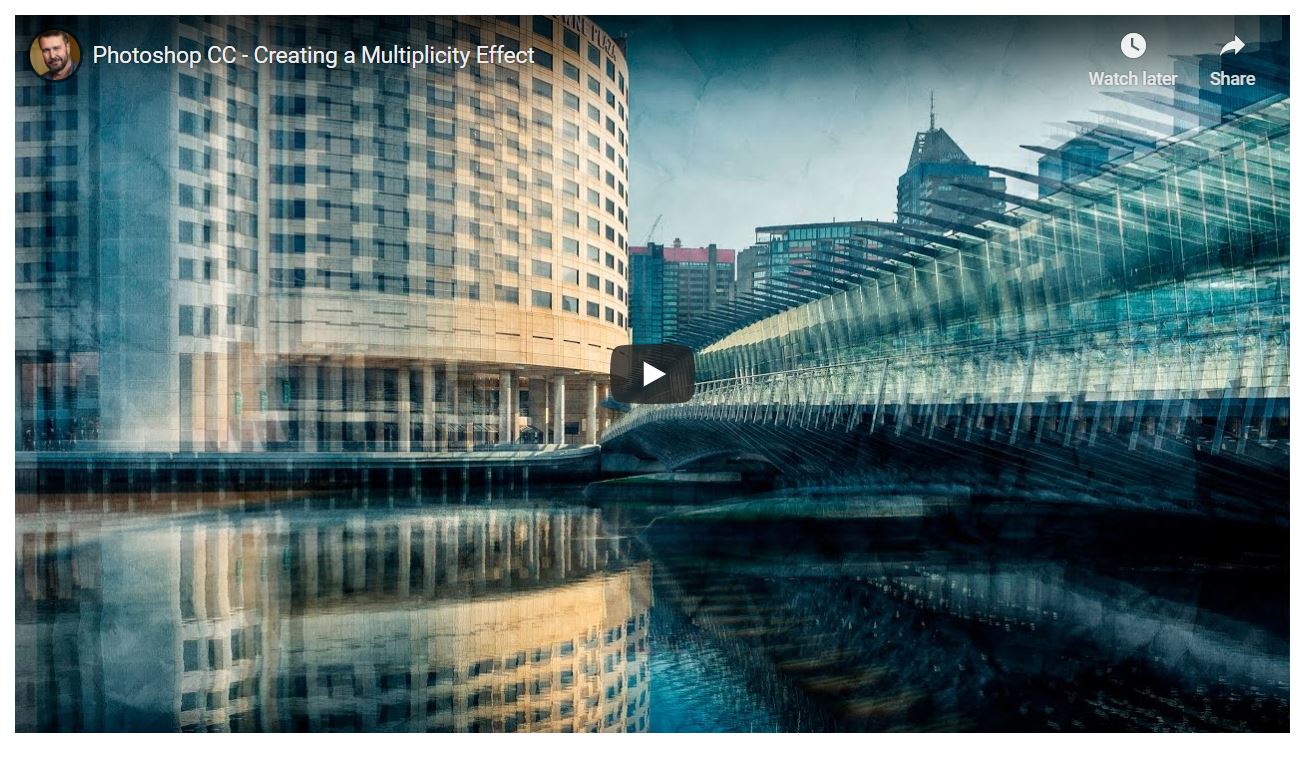 The Multiplicity VHS effect for Photoshop CC is a stunning option that creates a triple vision effect and works particularly well when you apply it to urban structures and geometric designs such as cityscapes and architectural imagery. It's available as a free download from photographer Mark Galer's website.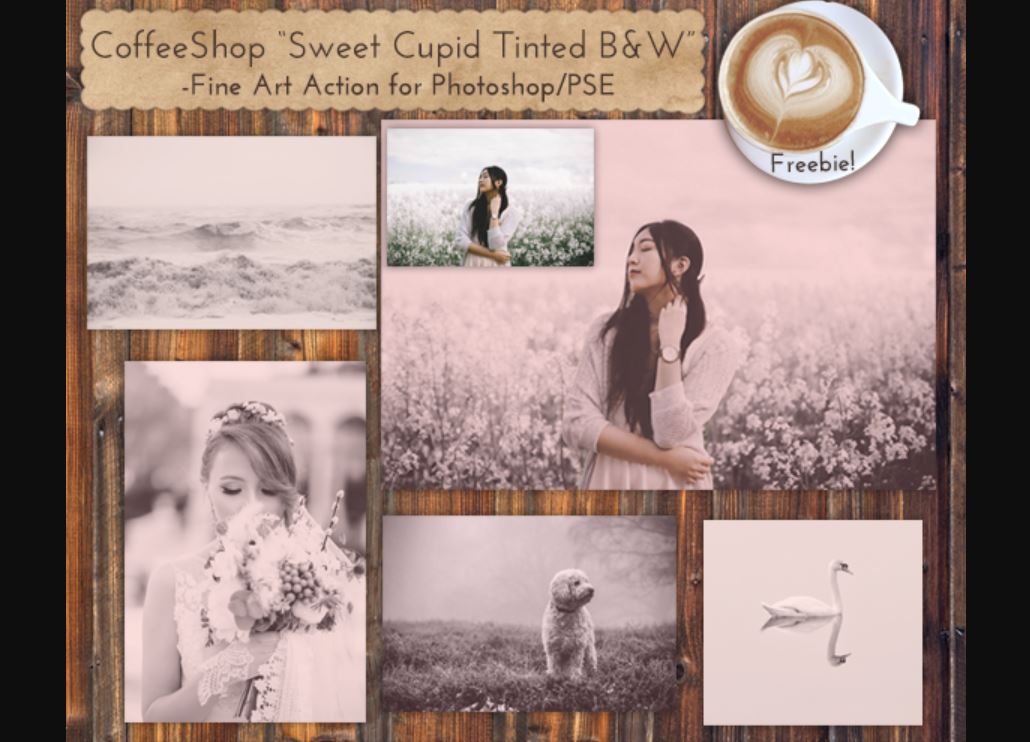 The Coffeeshop VHS photo effect for Photoshop features a sweet black and white with rose tint effect that imitates the look of an old school romance film, with vintage fine art qualities for an elegant finish! It's available as a freebie from The Coffee Shop Blog.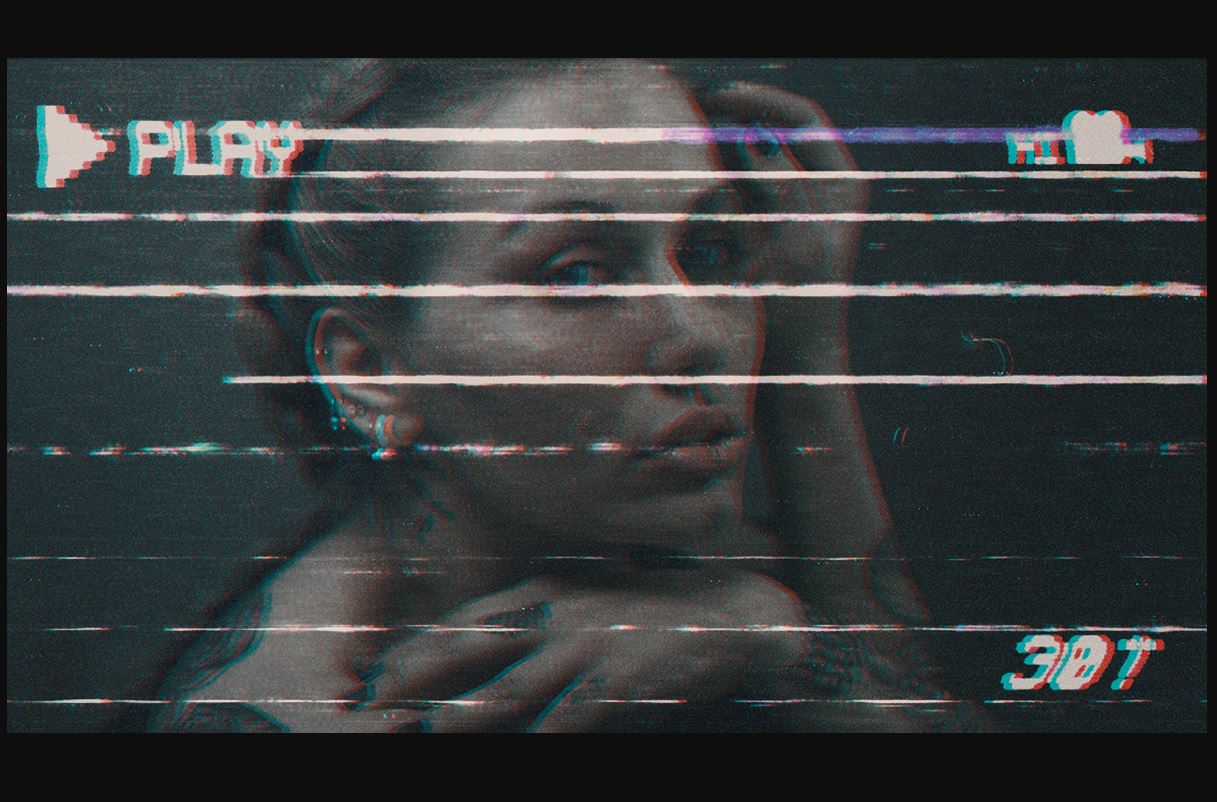 Next up is this incredible VHS effect Photoshop template that will allow you to perfectly replicate a classic VCR look on any image, adding an authentic retro touch to your design. It's available for you to download for free from Behance.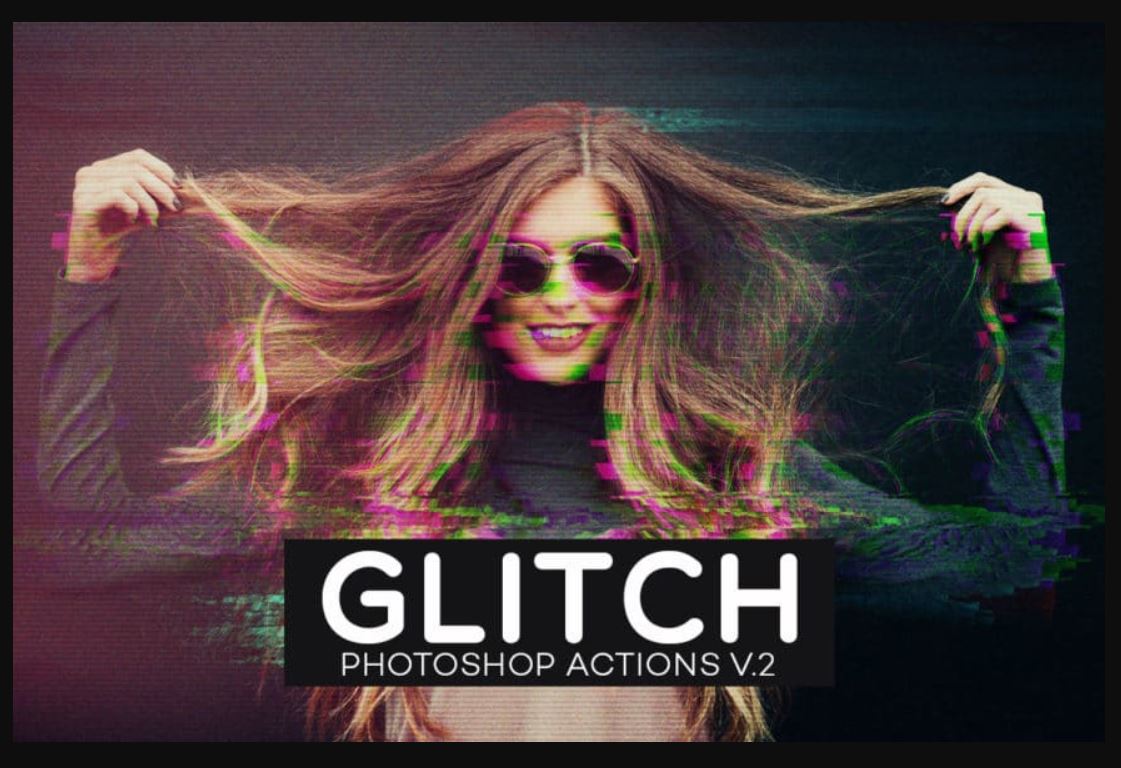 Last but certainly not least is this freebie from Creative Tacos that features a Photoshop glitch action with a range of different glitch and VHS photo effects for you to mix and match. This action is compatible with Photoshop versions CS3, CS4, CS5, and CS6, as well as CC 2017.
And with that, you have a selection of both free and premium Photoshop effects, actions, and filters to help you achieve the perfect glitch effect or VHS inspired look on your next retro themed project!