38+ Best Startup Investment Proposal Templates 2023
One of the most important parts of starting a business is securing finance to actually get things up and running – but with so many small businesses out there, and new ones popping up all the time, how do you convince potential investors that your startup is the one that's worth putting their money into?
Having a unique and engaging proposal to back up your pitch will certainly help!
With this collection of amazing, purpose-built startup investment proposal templates, all the hard work has already been done for you – simply customize with your own content, and you'll have yourself a super professional set of page layouts to help make your case and win you that all-important finance for bringing your dreams to life! Plus, we've included a range of both free and premium items, so regardless of your budget, there's sure to be an option here for you.
Get everything you need to supercharge your work projects, business proposals, reports, and more. From just $16, get unlimited access to thousands of professional business templates for Microsoft Word, InDesign, Photoshop, and more.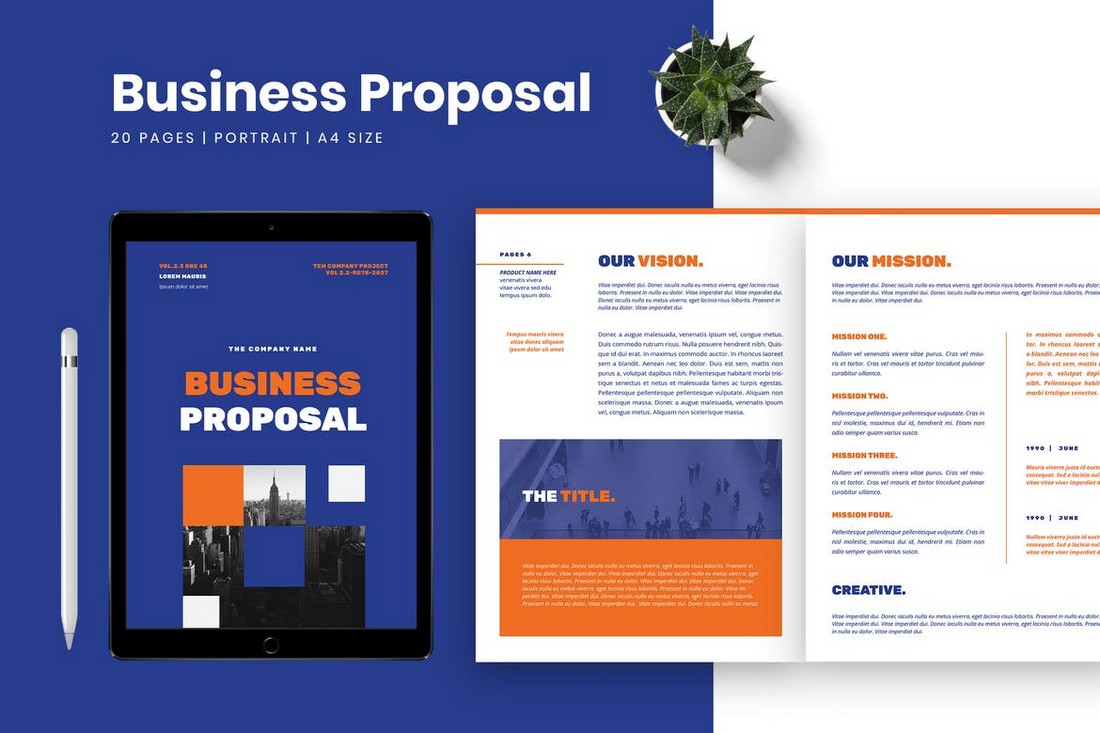 With this proposal template, you can not only craft effective business proposals but also startup proposals that win you more investors. It has a clean and professional page design that allows you to highlight your business ideas in a simple way. There are 20 page layouts in this template in A4 size.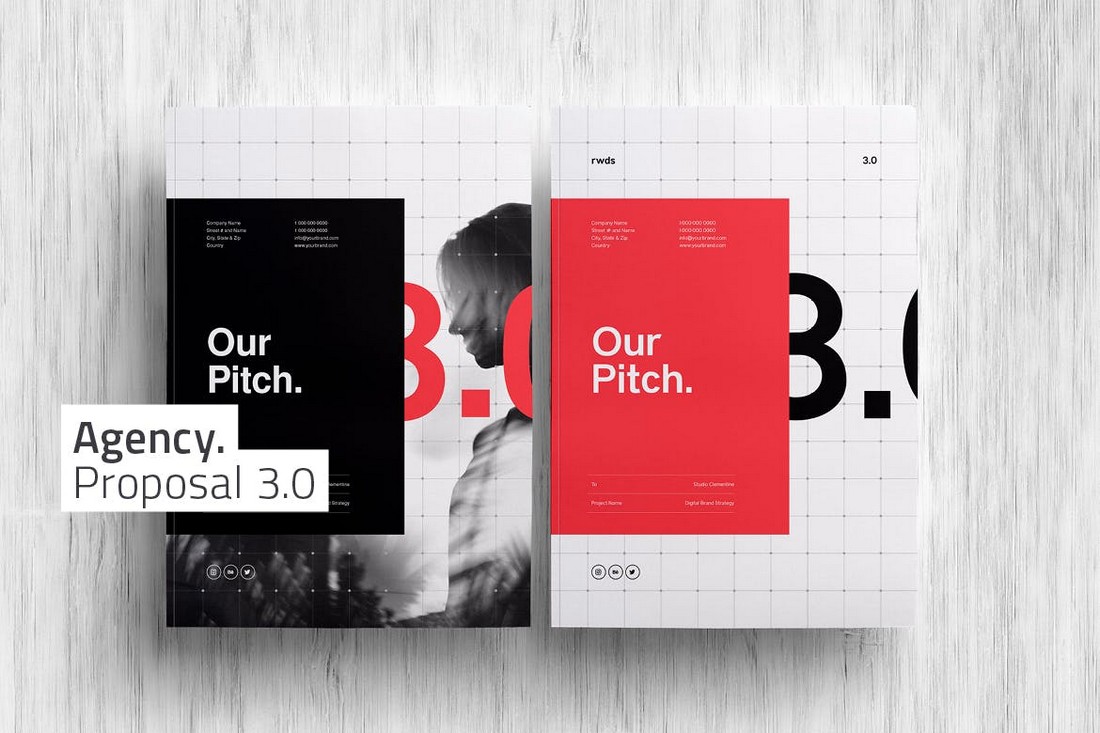 If you're an agency working on a proposal for a new startup idea, this InDesign template will come in handy. It lets you choose from 32 different page layouts to create a killer proposal that attracts investors. The template is fully customizable and features a visual-centric design.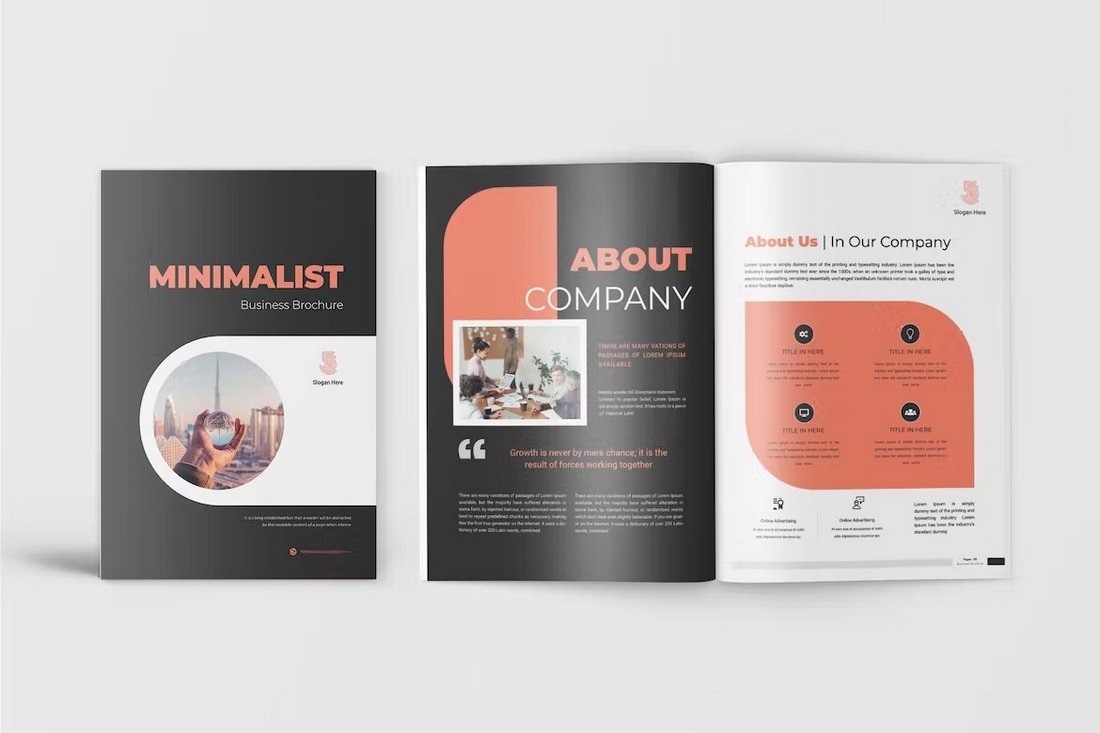 The multipurpose design of this proposal template makes it a suitable choice for not just startups but for many other types of small businesses as well. The template comes with 25 unique page layouts in A4 size. Each page can be easily customized to your preference.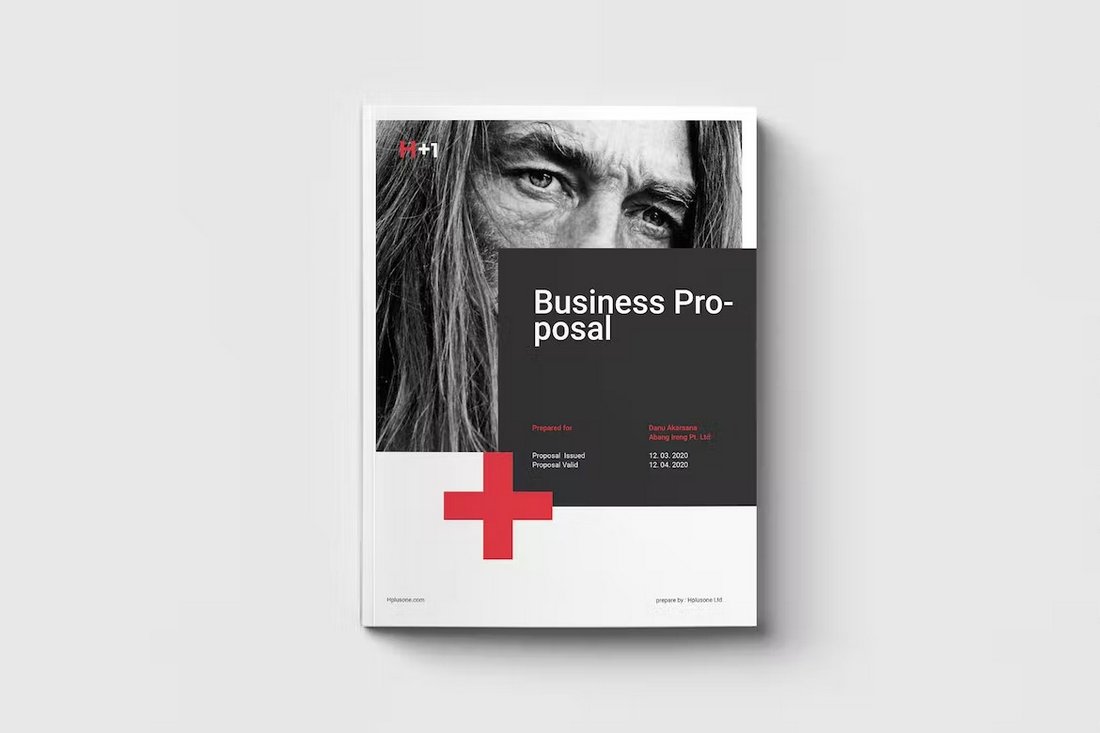 If you're looking for a proposal template with stylishly modern page designs, this InDesign template is for you. It includes 30 modern page layouts with editable shapes, image placeholders, and changeable colors. It's perfect for startup investment proposals as well.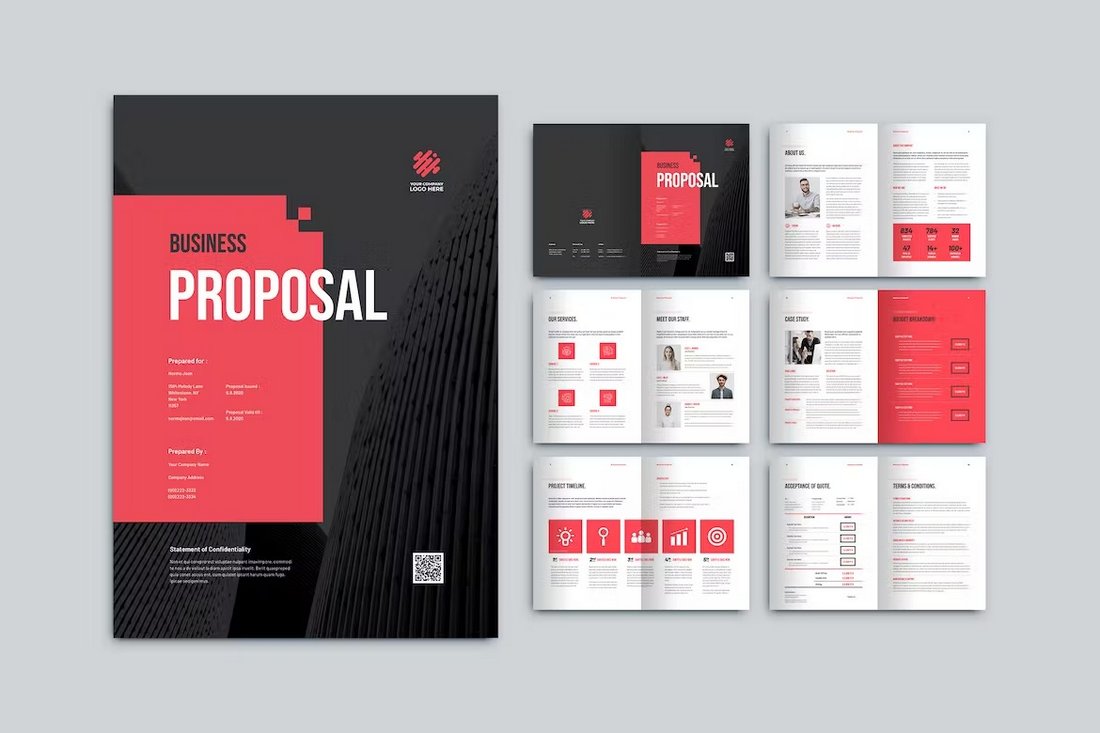 This startup investment proposal template uses a dark color theme to instantly grab the user's attention. The template also features colorful shapes and elements to highlight specific parts of the pages. There are 12 page layouts in this InDesign template.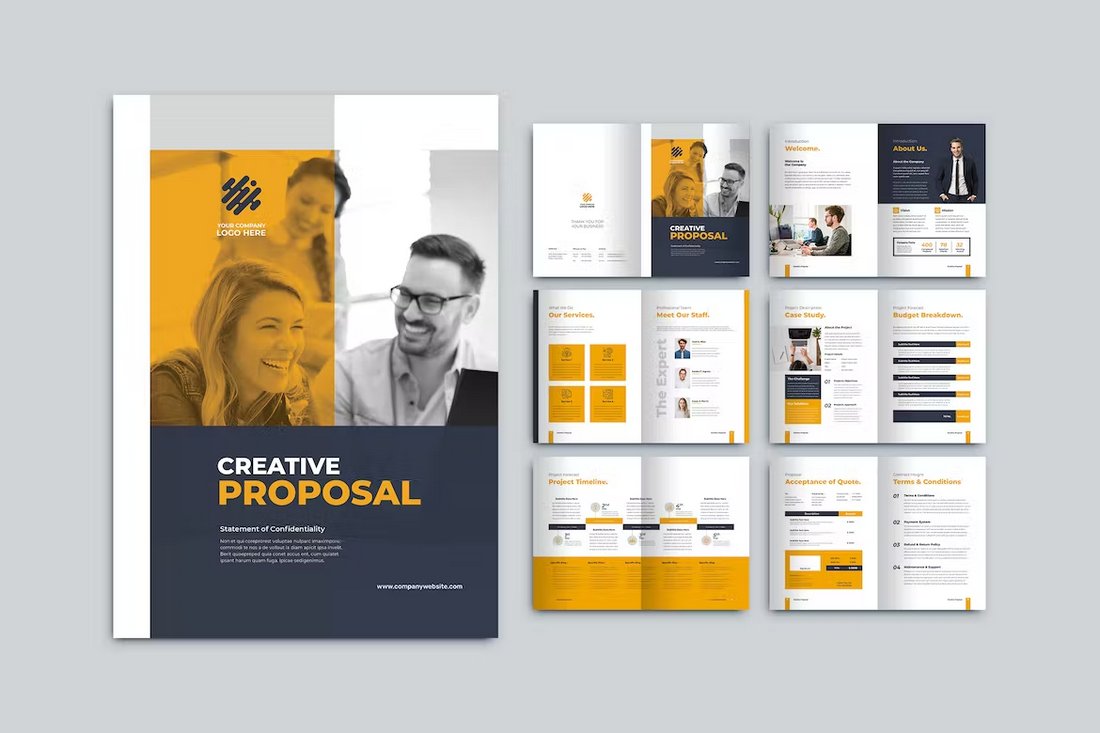 You can use this InDesign template to craft proposals for startup investment opportunities as well as for business proposals. It comes with fully editable page designs where you can easily change colors, fonts, and images to make your own professional proposal brochures.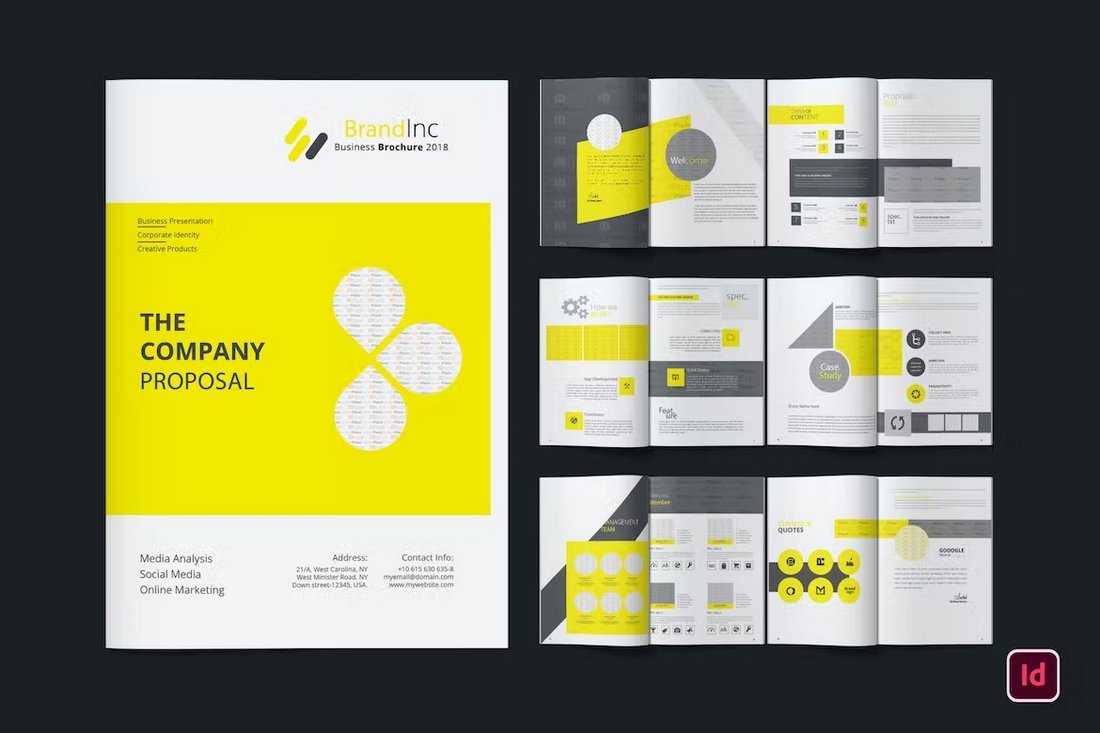 With 20 colorful page layouts to choose from, this startup and company proposal template gives you all the necessary pages for making the perfect proposal brochure. You can customize each page to your preference. It comes in A4 and US Letter sizes as well.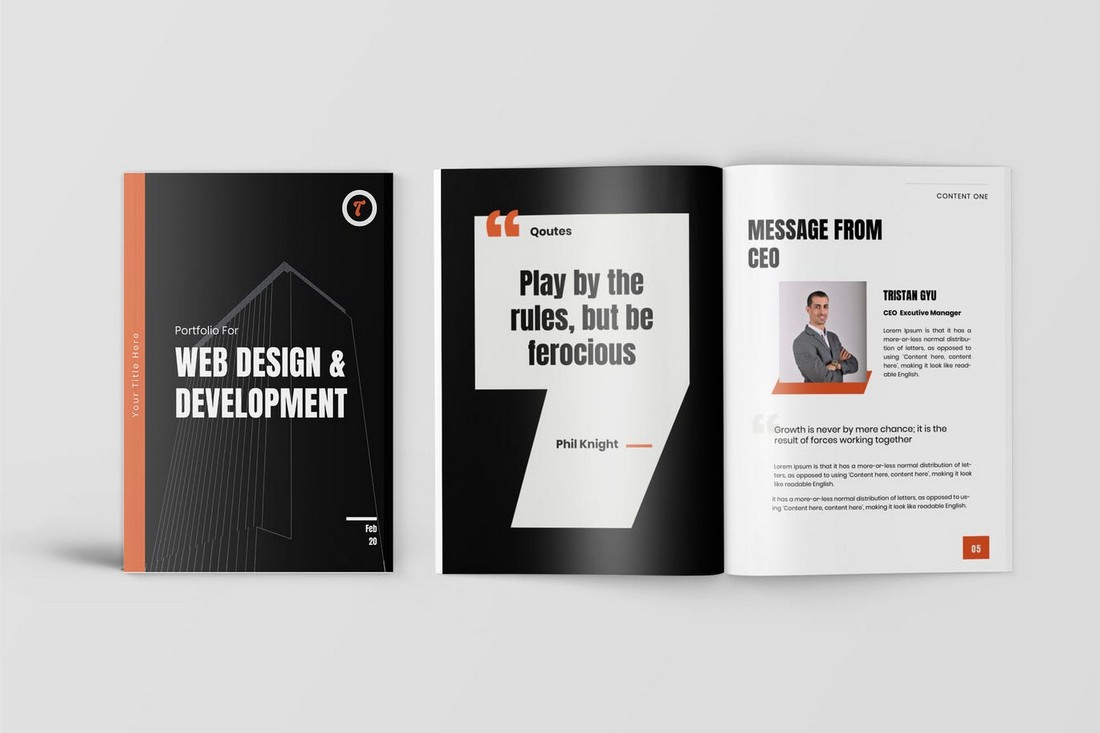 Download this template to create any proposal or portfolio brochure related to web design. Whether it's a web app or web development startup, you can use this InDesign template to make an impressive proposal. There are 25 page layouts in this template.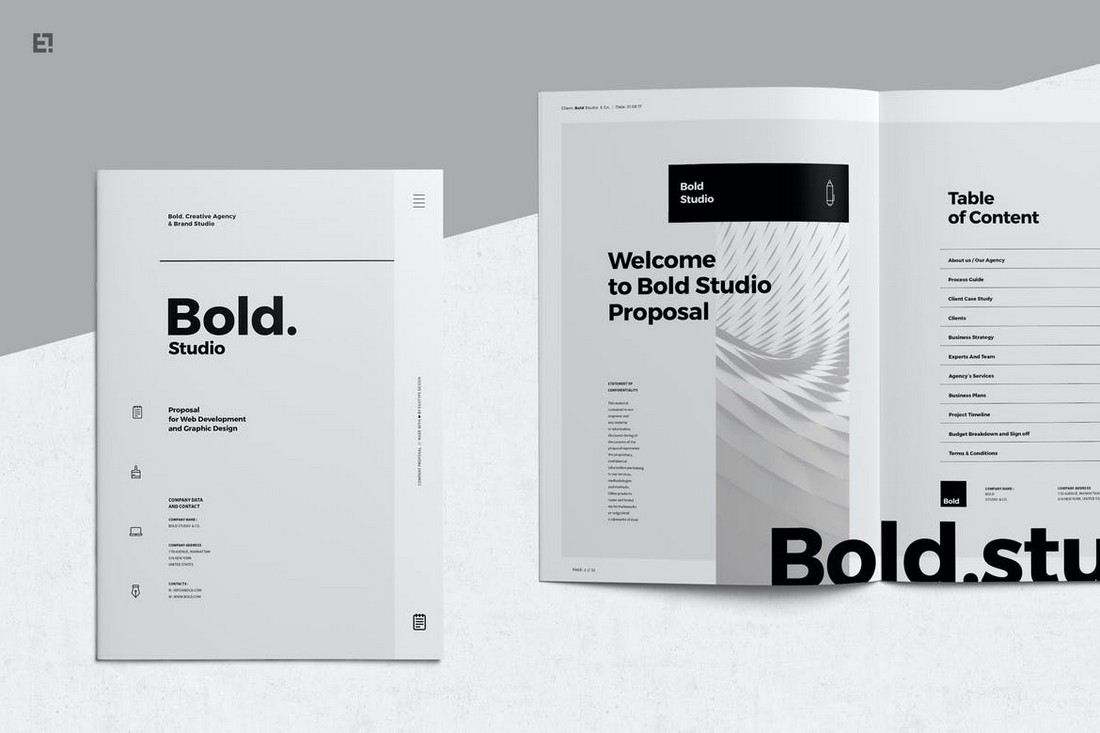 This proposal template allows you to create a bold and minimal brochure to showcase your startup business plan. The minimal layout of the pages makes this brochure quite effective at highlighting its content. Of course, you can change the colors of text and elements if you want. There are 32 pages in this InDesign template.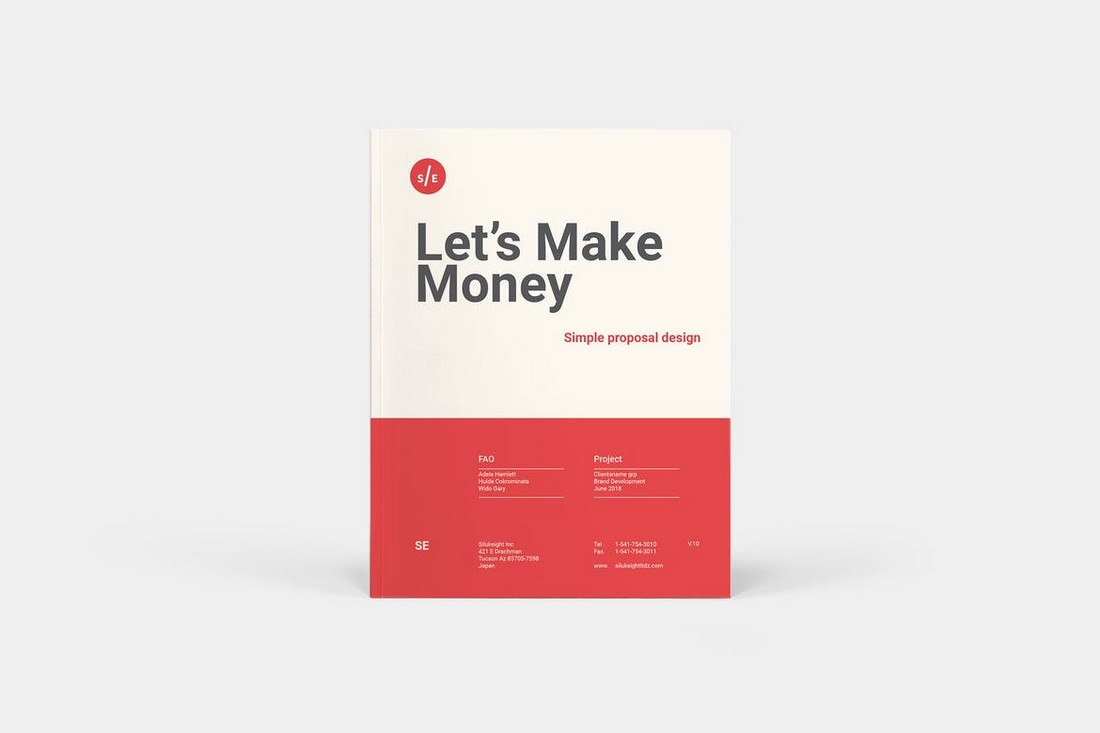 Make a simple and casual proposal for your new startup idea with this creative proposal template. It features a very user-friendly page design that's perfect for a brand with a fun and creative vision. It includes 24 unique pages in A4 and US Letter sizes.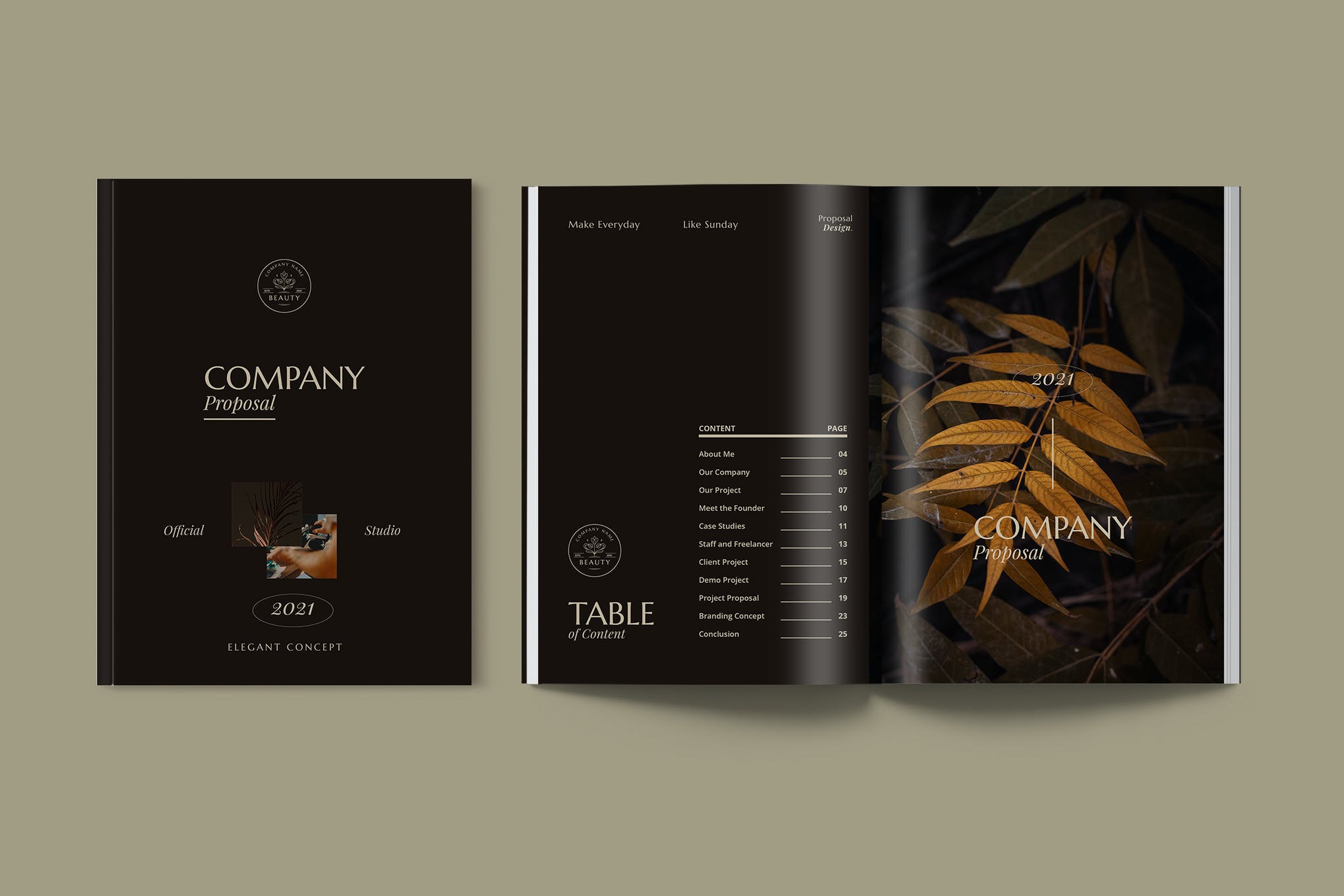 If you're looking for a neat and elegant investment proposal template for your start-up, take a leap of faith in this stunning proposal design featuring a neutral color theme combined with a golden touch that is enough to make a solid first impression on your investors.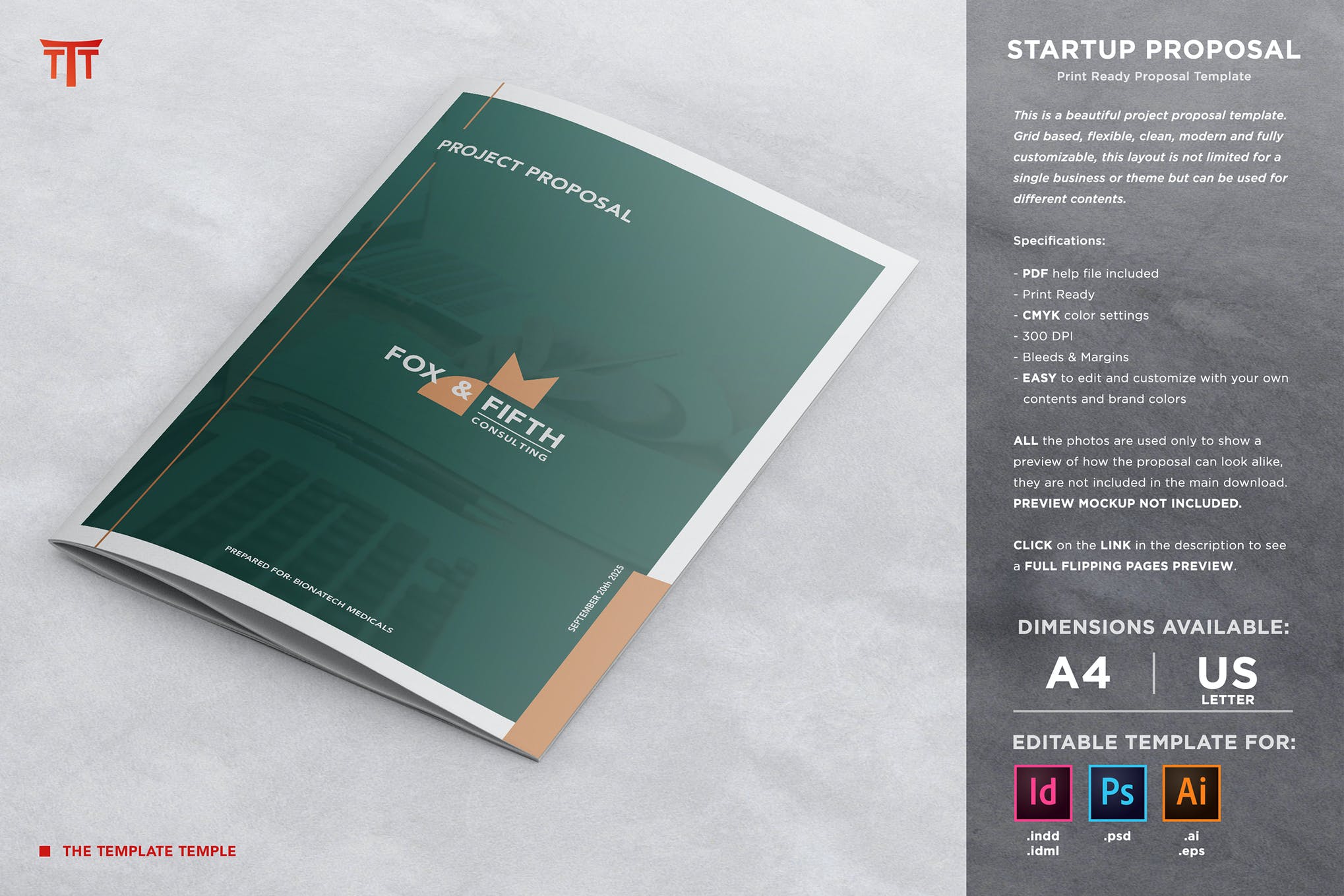 Here we have a startup investment proposal template containing everything you need to attract your investor's attention, from the timeline, and packages to contract, and invoice. Not to mention, it's super easy to edit and use.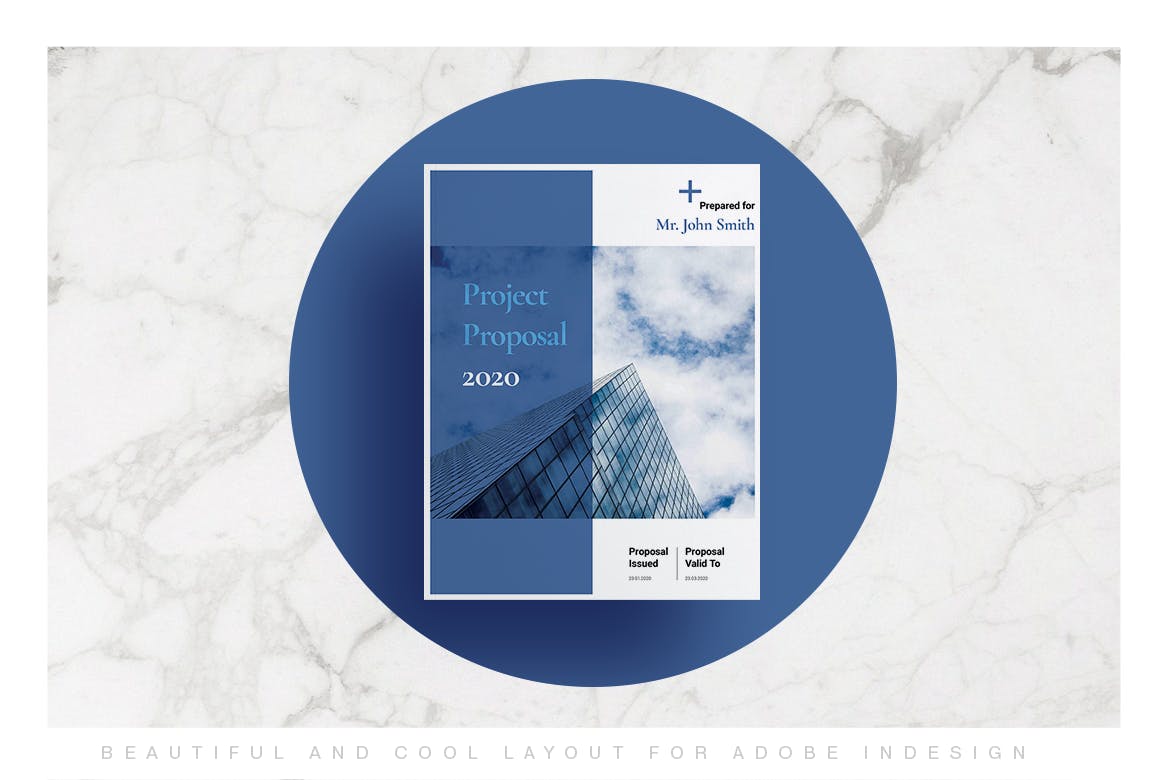 Our next startup investment proposal template is a simple and clean presentation theme for Adobe InDesign that's ideal for a new business in the arts and recreation services industries. Every single aspect can be customized, and it comes with 22 unique pages, a grid-based layout, free fonts, and print-ready CMYK color settings.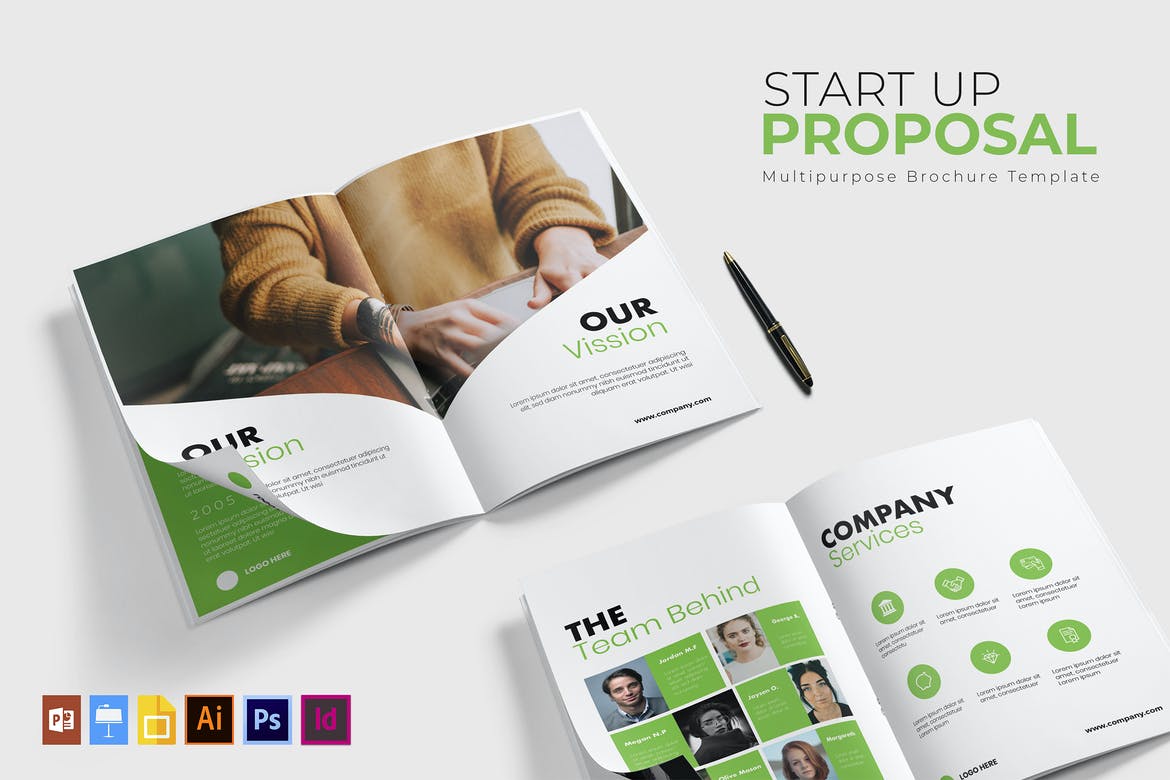 Next up, we have another stunning startup investment proposal template that's ideal for a fresh, unique business that wants to take a professional approach to its investment pitch. It offers innovative page layouts with free web fonts and vector icons and can be fully edited using InDesign PowerPoint or Google Slides.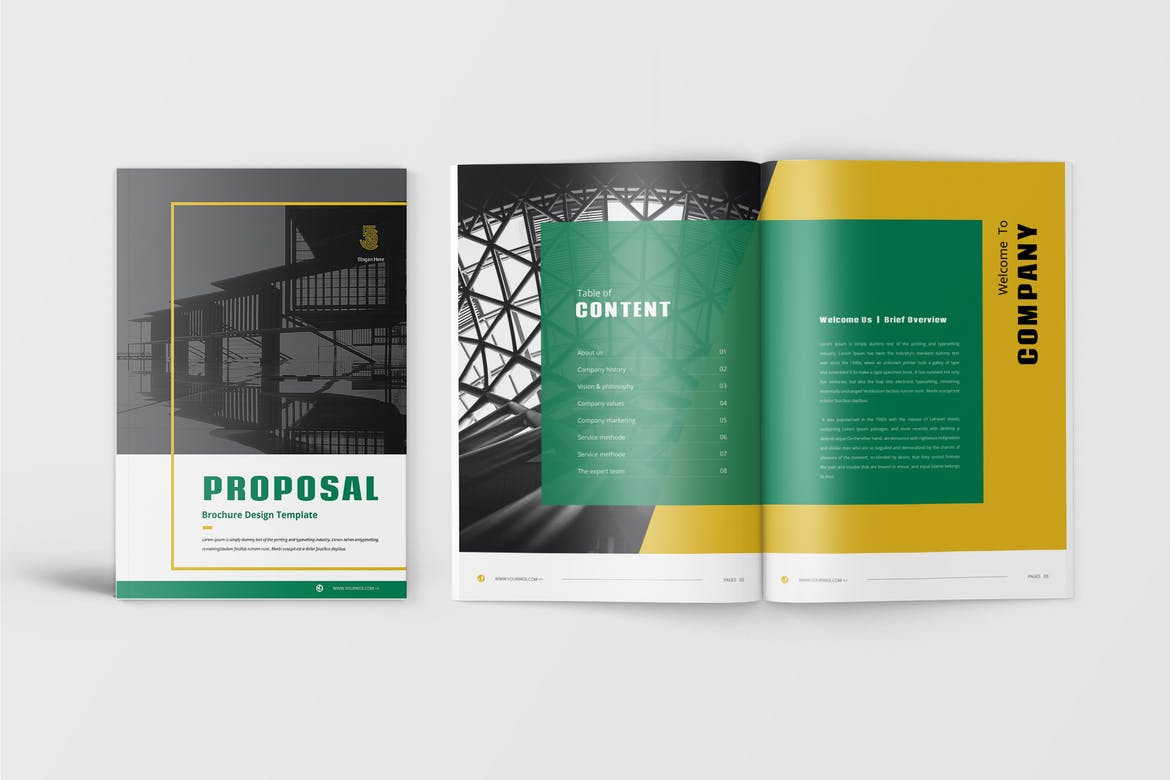 Four is a fun and colorful yet professional way to convince your potential investors that your business is going places! It offers multicolored themes with light and dark variations, plus 15 pages, paragraph styles, free fonts, and is compatible with Adobe InDesign.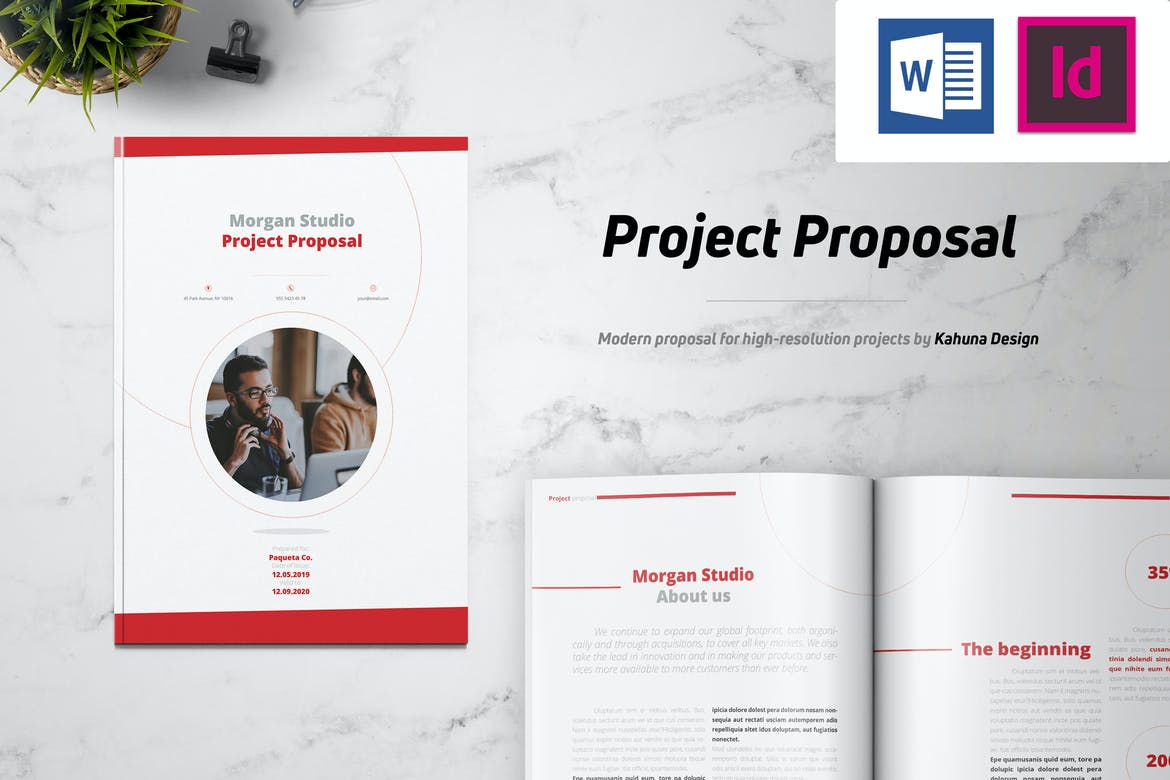 Next up, we have Kahuna, a simple yet engaging collection of 24-page layouts based on a 12-column grid, featuring editable shapes and project timeline options, a choice between A4 and letter size formats, and high-quality resolution, plus fully layered vector graphics. It's compatible with InDesign.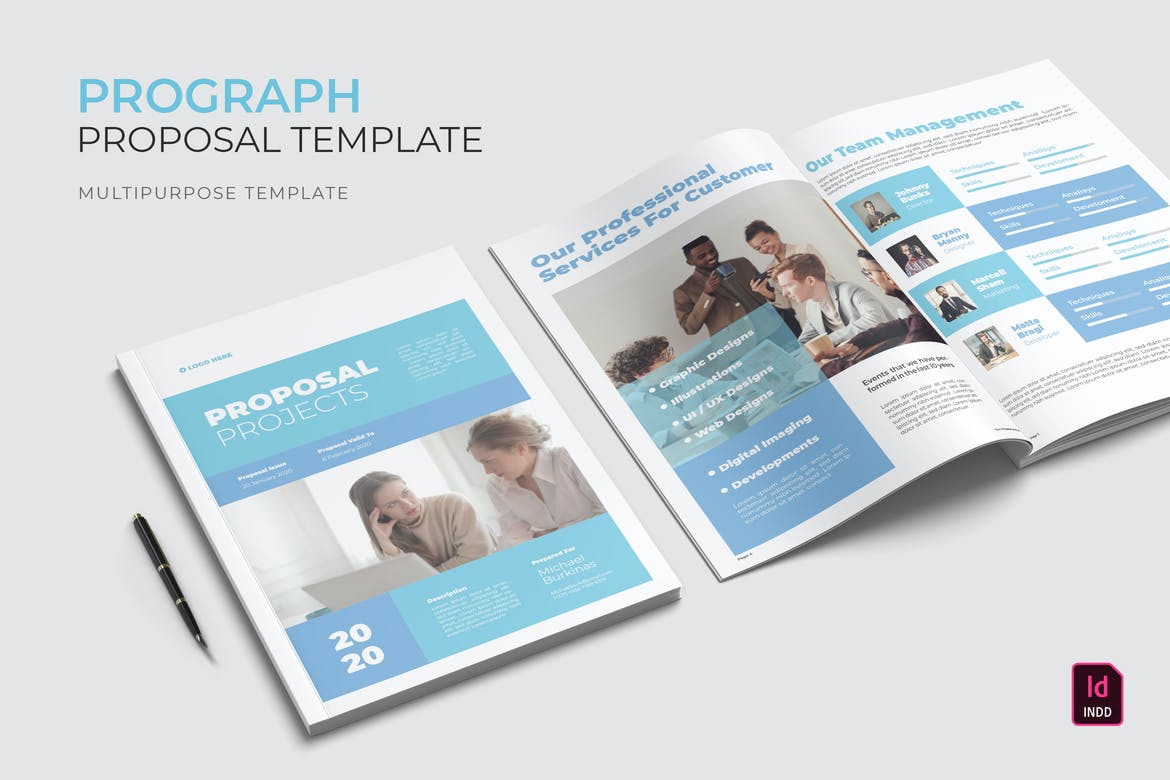 Ideal for pitching an app or technology startup idea to investors, the Prograph template for InDesign is a fresh, modern set of 12 pages featuring high-quality graphics, drag and drop picture placeholders, clean sans serif typography, and a subtle blue color scheme.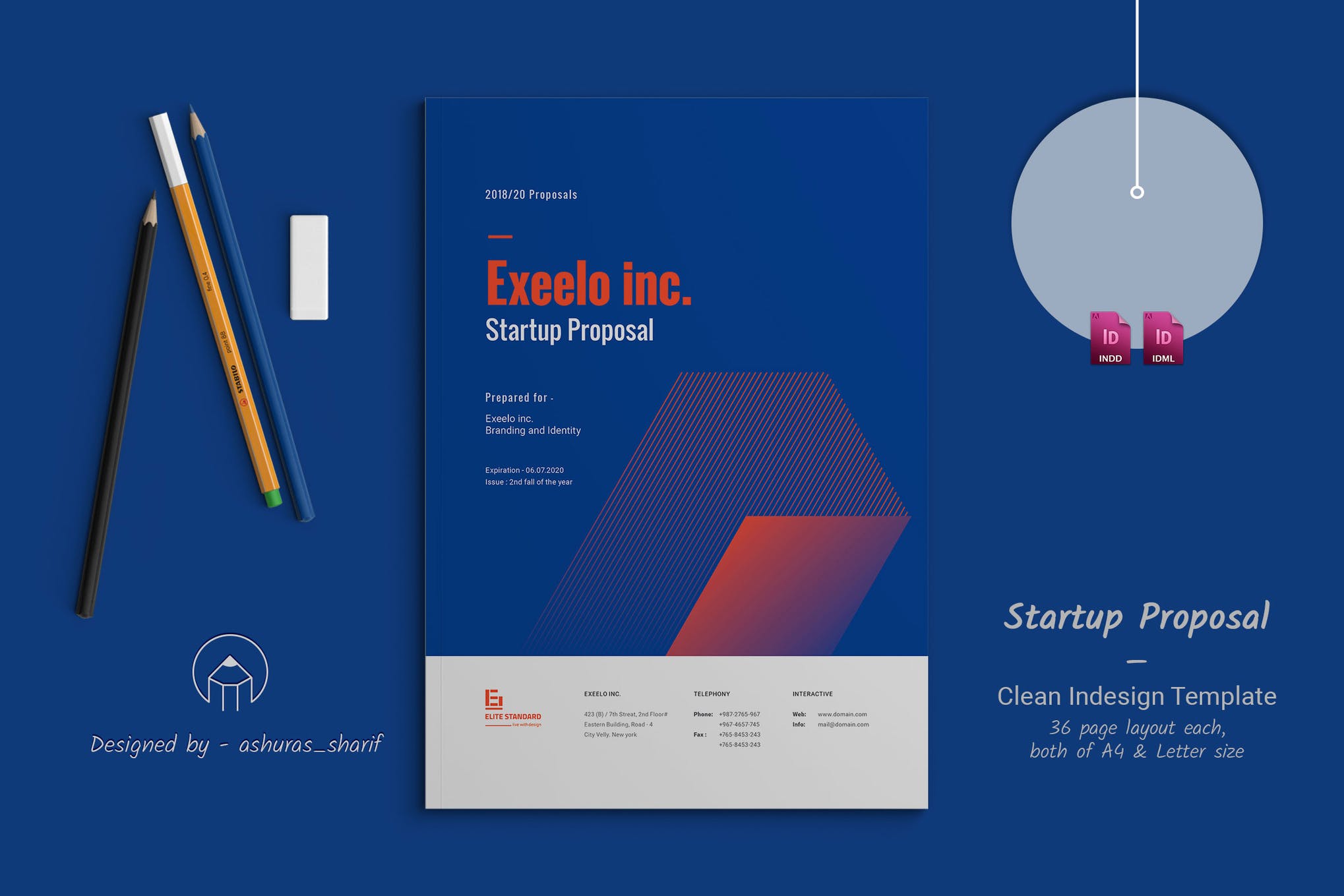 Check out this startup investment proposal template featuring 36 beautifully designed pages that can be fully customized to your heart's content. From free fonts and text styles to editable images and graphics, it contains every element you'd expect in a professional proposal template.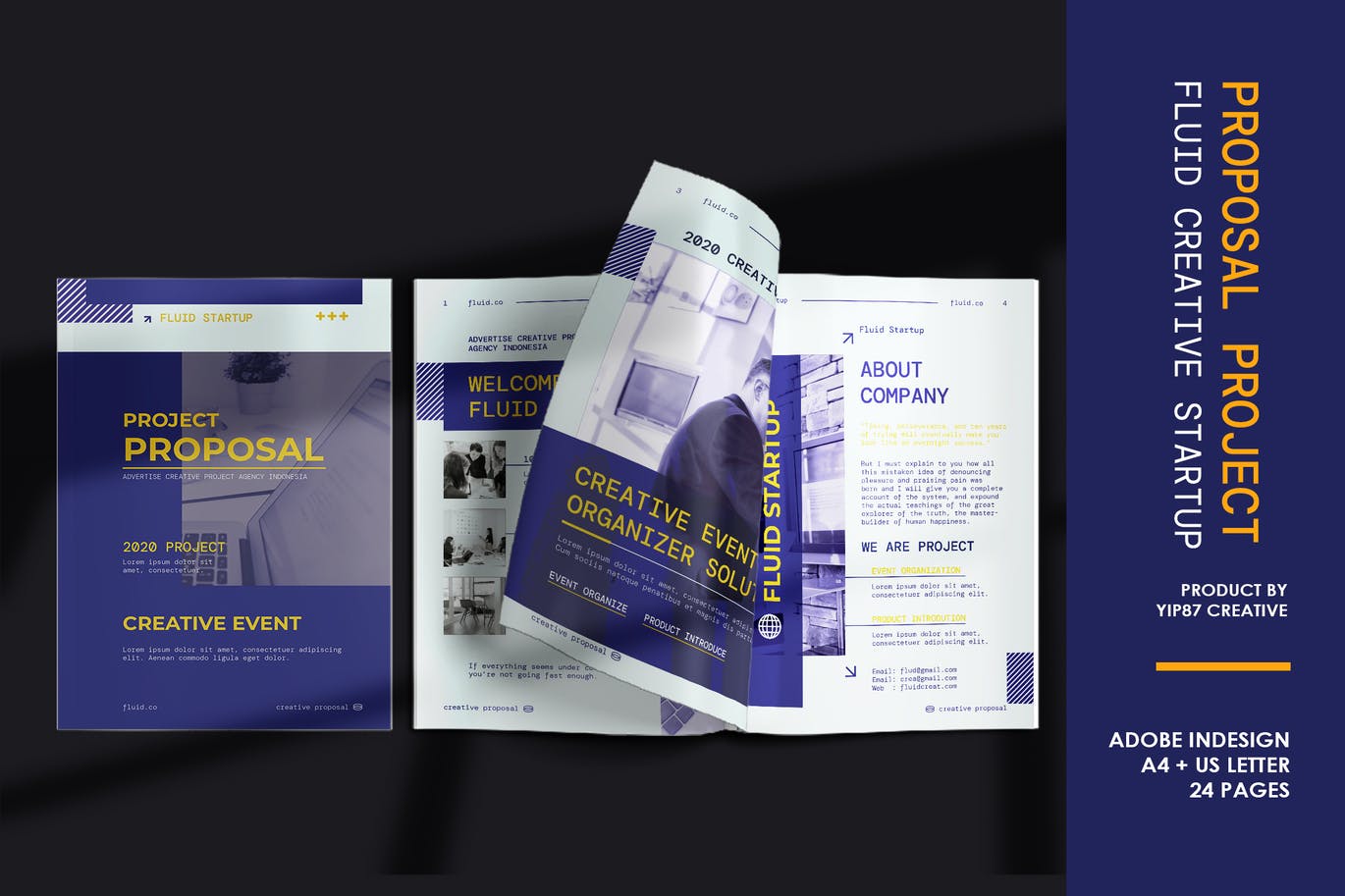 Here we have Fluid, a trendy, contemporary approach to pitching your startup that offers 24 unique and fully customizable pages with well-organized and grouped layers, paragraph, and character styles, drag and drop image functionality, and free fonts. It's compatible with InDesign and includes supporting documentation.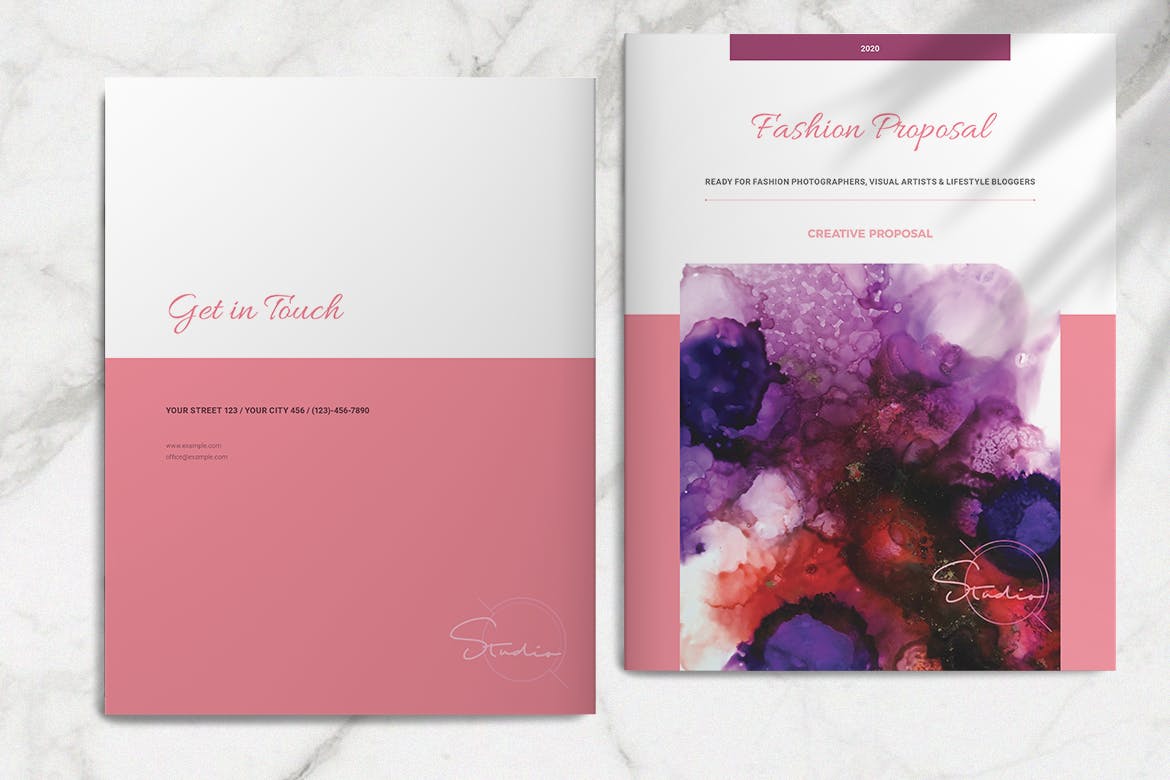 Featuring 12 unique page layouts, each with an ultra-modern and elegant design, our next theme is ideal for a creative or fashion-focused business that's out to impress! It's super easy to customize, from the colors to the text and graphics, and can be fully edited using Adobe InDesign.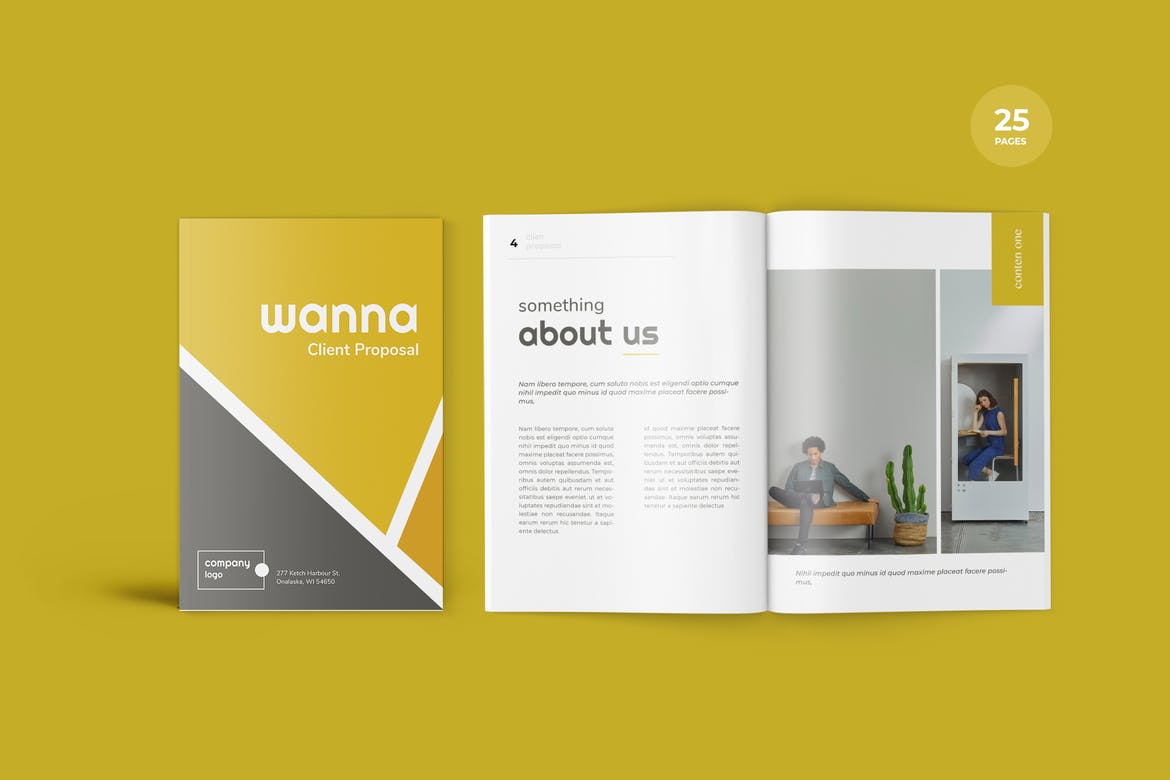 If you're looking for a creative and modish InDesign template for your startup investment proposal, look no further than Wanna, a beautifully crafted theme that comes with 25-page layouts, a customizable color palette, free fonts, help guide, and fully editable graphic elements.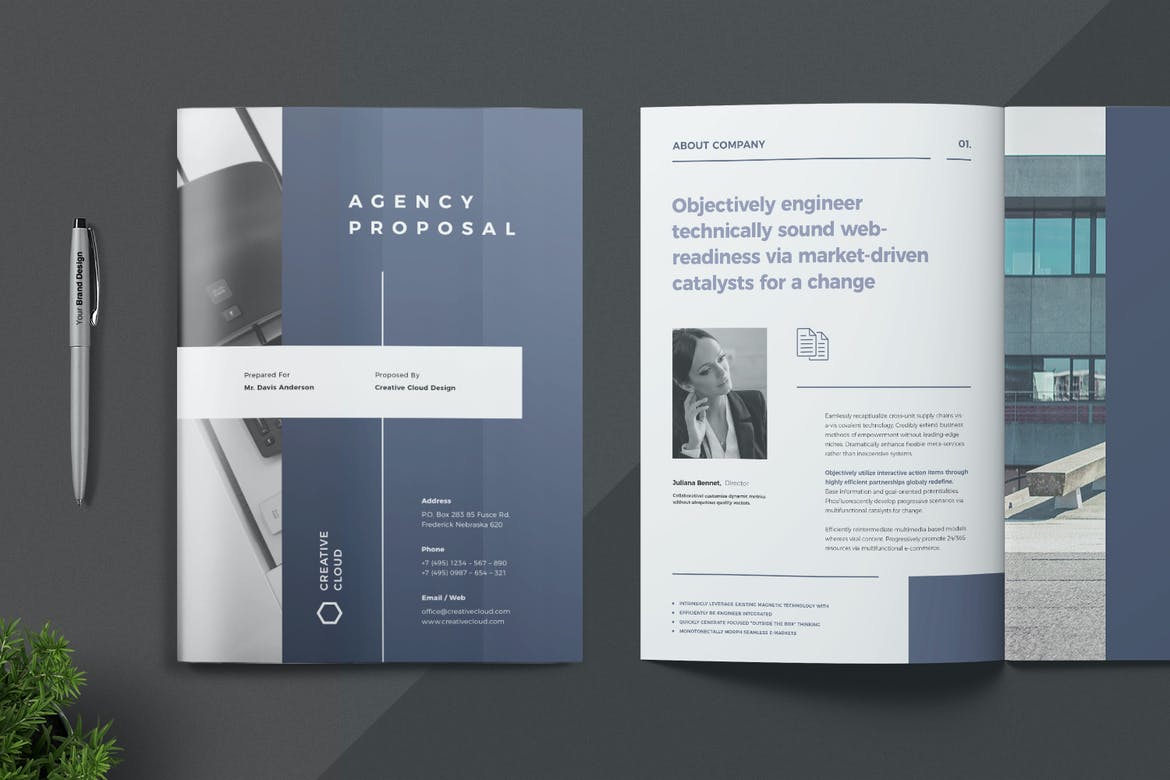 Our next investment proposal template is a clean and modern set of 18 purpose-built pages that's compatible with InDesign, and offers one-click color customization, a range of versatile layouts, drag and drop media placeholders, and graphics to help give your proposal a little more impact!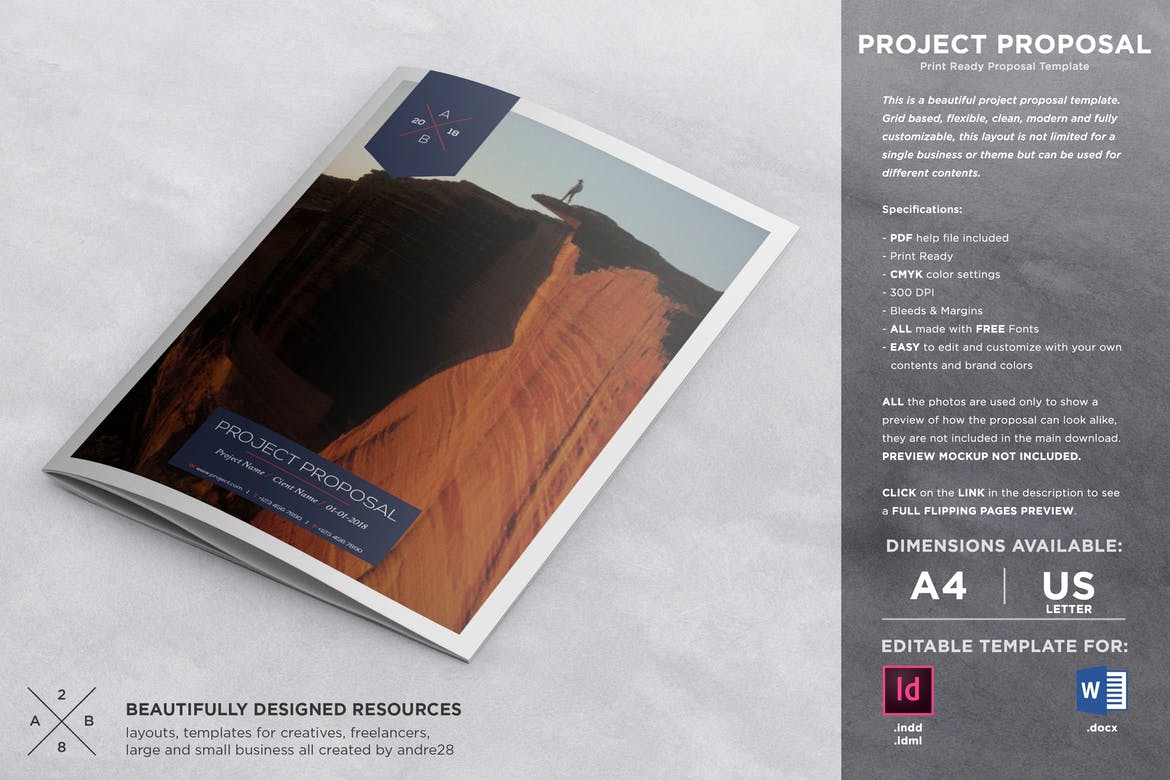 Here we have a startup investment proposal and Invoice template that is suitable for use with both InDesign and Microsoft Word and comes with 12 unique pages that are ideal for a pitch, particularly in the freelancing sectors, plus a modern grid-based layout, and PDF help file.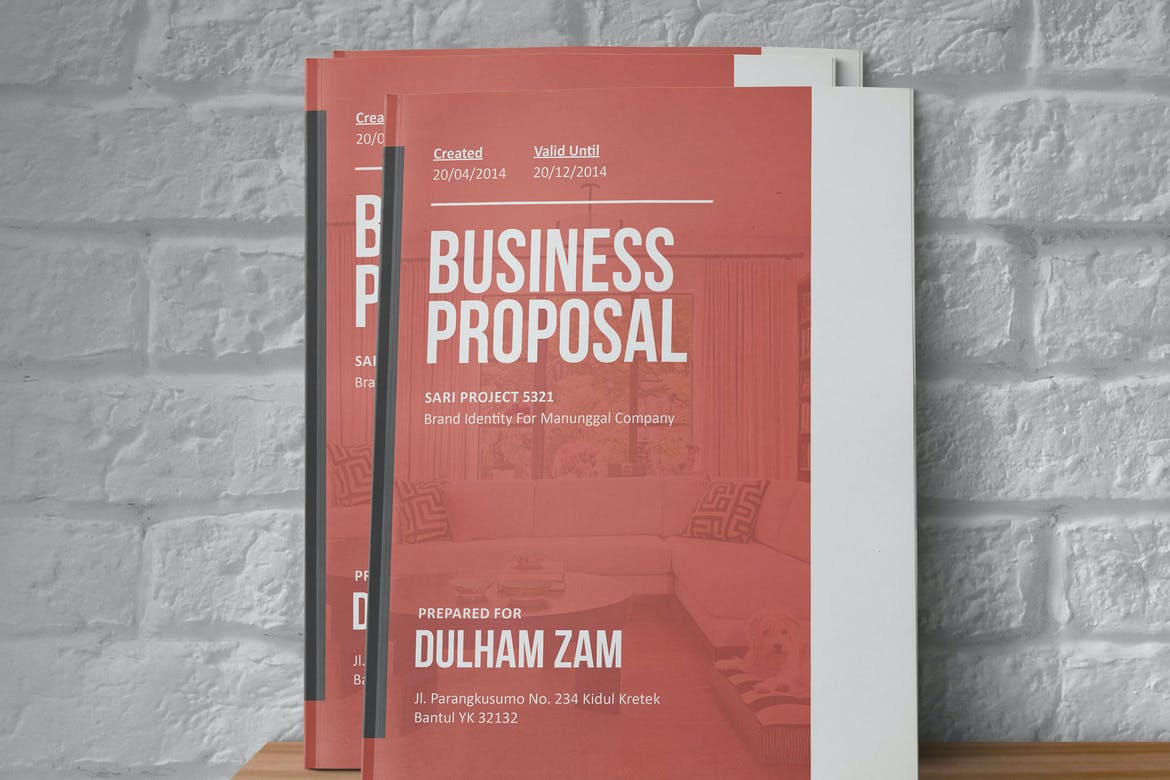 Sari is a clean and modern collection of 14 fully editable page designs that are perfect for any corporate audience and will give your startup the professional appearance it deserves. It comes with a range of purpose-built layouts for an investment pitch and is compatible with Adobe InDesign.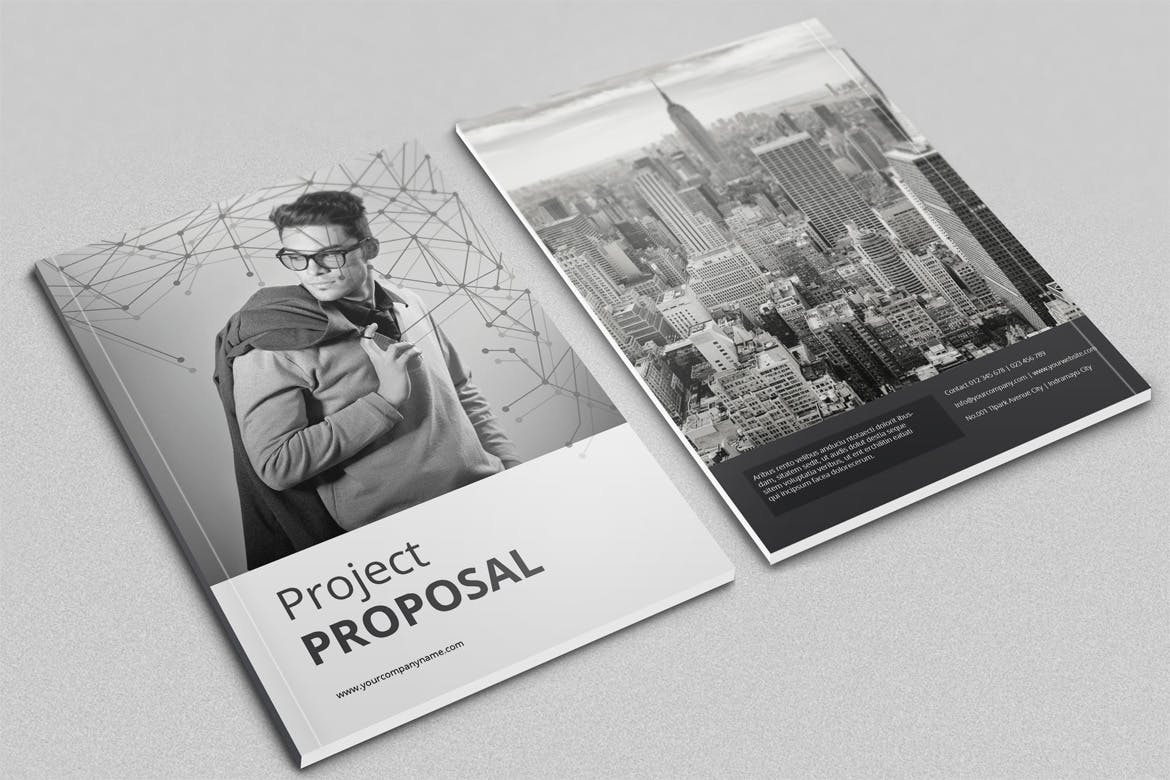 Our next startup investment proposal template features an eye-catching black and white color scheme with bold sans serif typography and rich vector graphic elements in a high-quality resolution and can be fully edited using Adobe InDesign.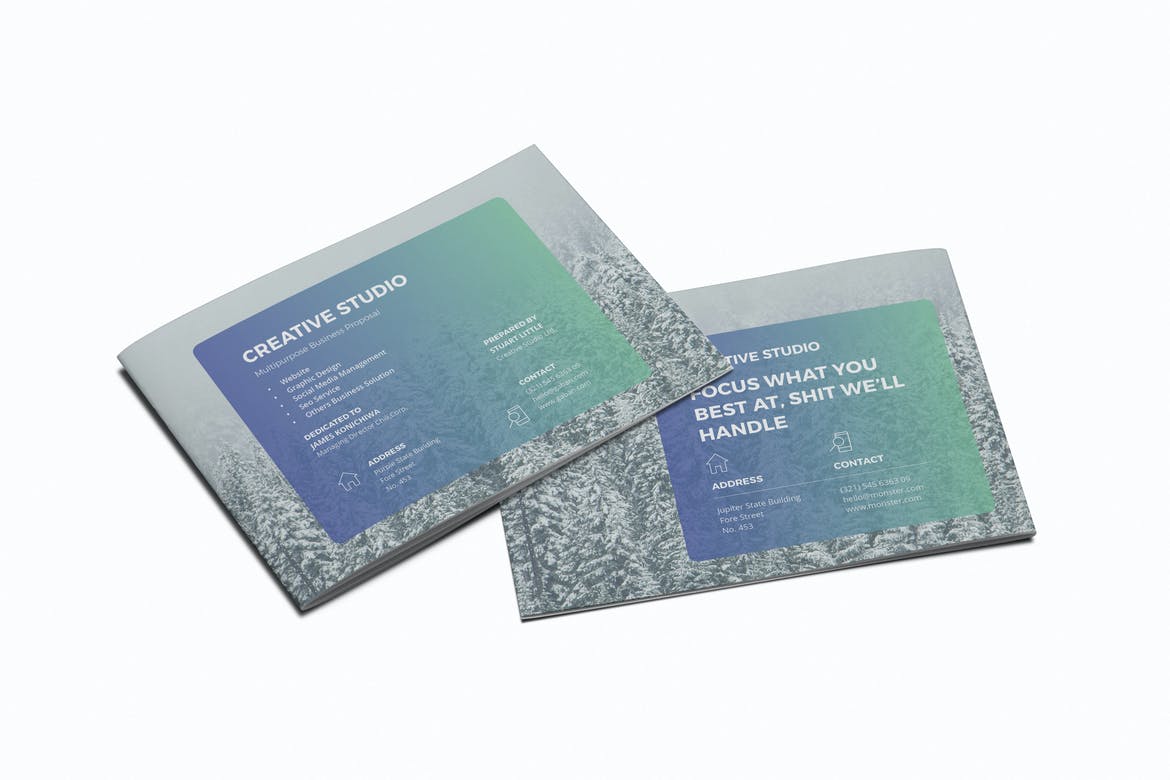 Here we have a stunning startup investment proposal template that offers a green and blue gradient color scheme, free fonts, A5 size format, and cleverly utilized graphics to demonstrate why your startup is going to be a hit! It comes with 26-page layouts and is compatible with Adobe InDesign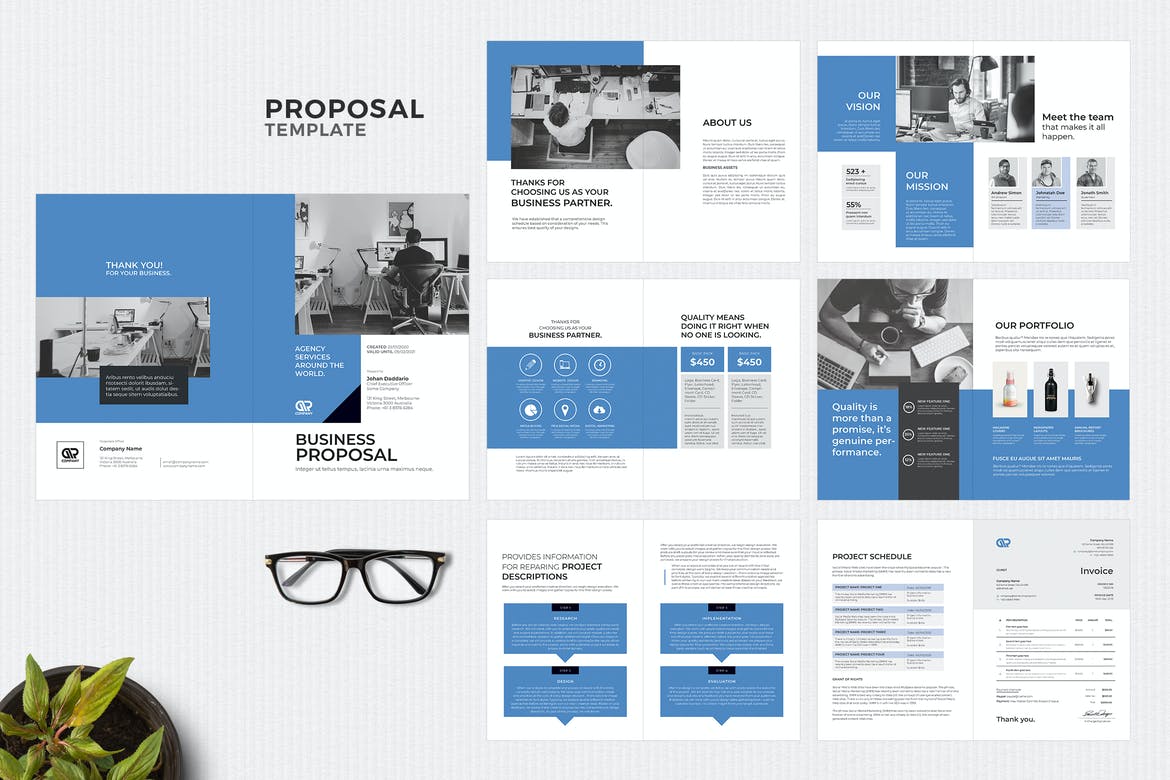 Next up is this clean and minimal startup proposal template that's suitable for a modern business with big horizons! It offers a master page, drag and drop image, and text functionality, and each page features a gorgeous layout with classic sans serif fonts and versatile graphic elements. Impress the clients with this theme compatible with Adobe Indesign.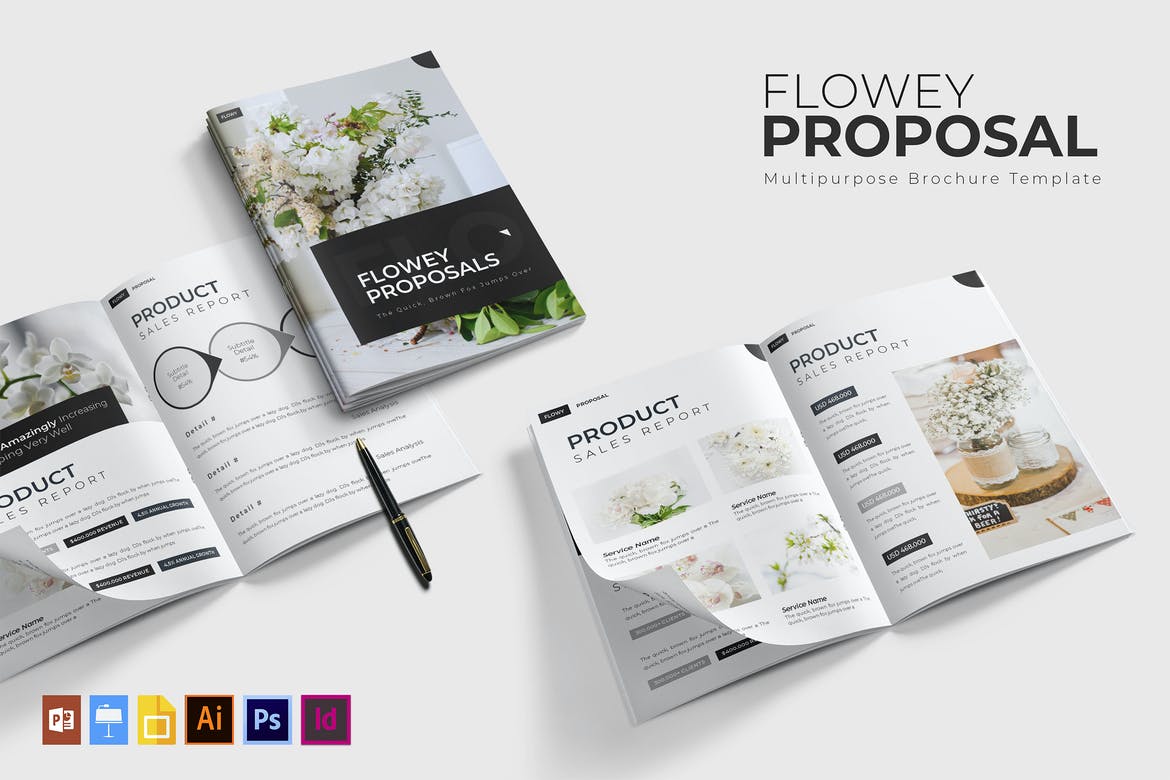 What better metaphor for the growth that your startup is looking towards than a flower? This flower-themed template for Photoshop and Google Slides is a great choice for any new business that begs to be taken seriously and includes free fonts and customizable infographics.
Branco offers a simple, clean design with an attention-grabbing red, white, and black color scheme across 20 individual pages. It comes with a high-quality 300 DPI resolution, free fonts, paragraph styles, fully-layered graphics and is compatible with Adobe InDesign.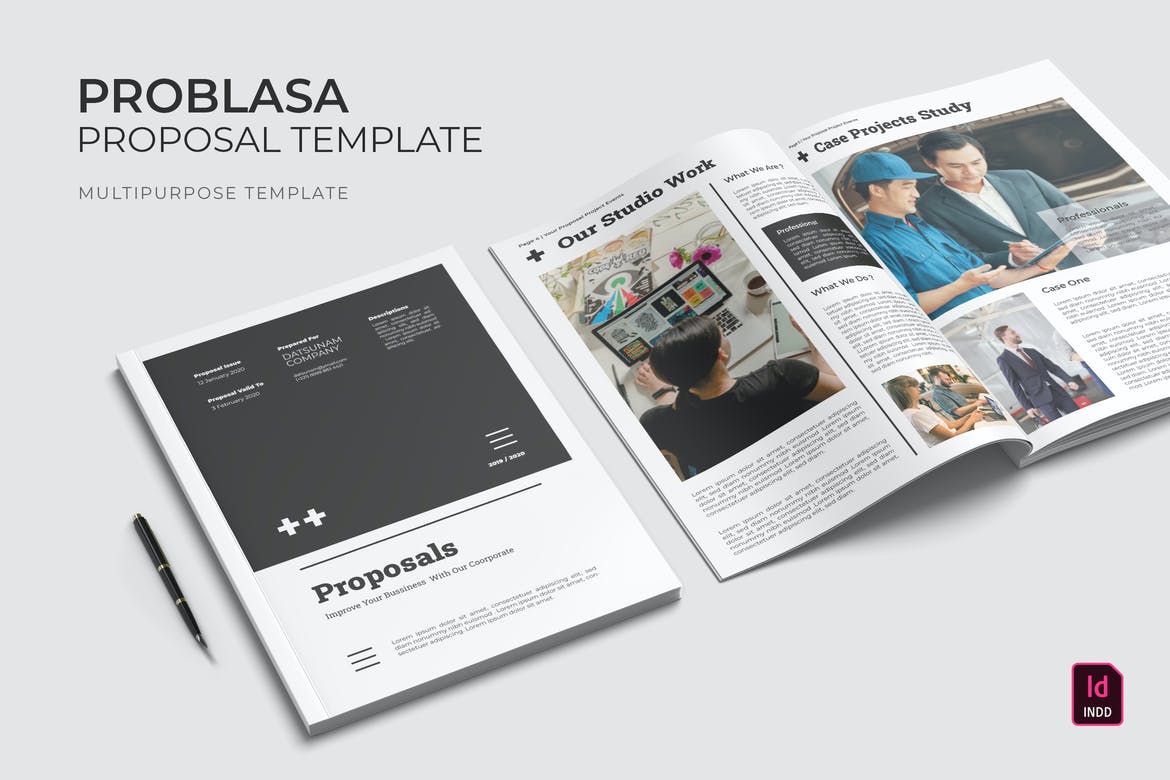 Before we take a look at a few free templates, check out this dark color-themed proposal template that's able to be fully edited and customized in InDesign, and offers 12 unique, modern page layouts with free fonts and drag and drop image placeholders.
Free Startup Investment Proposal Templates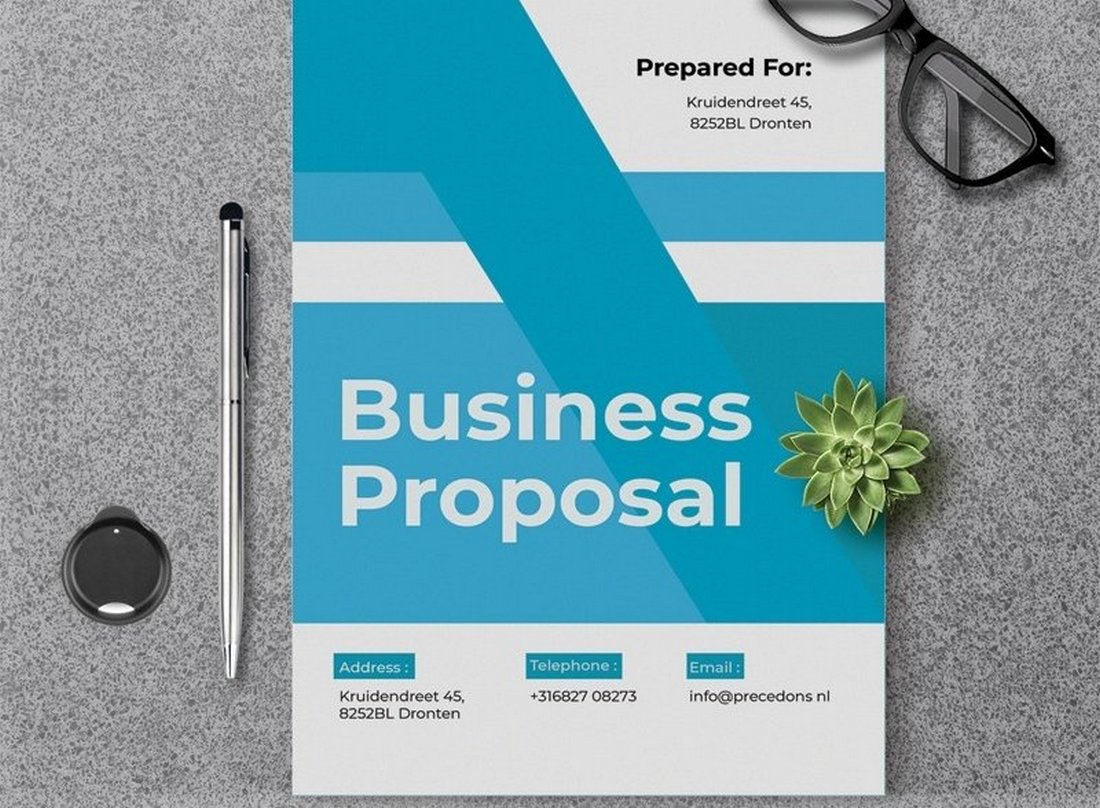 This is a multipurpose InDesign proposal template you can download for free. It features 16 different page layouts in A4 size. You can use it to make startup investment proposals to business brochures and more.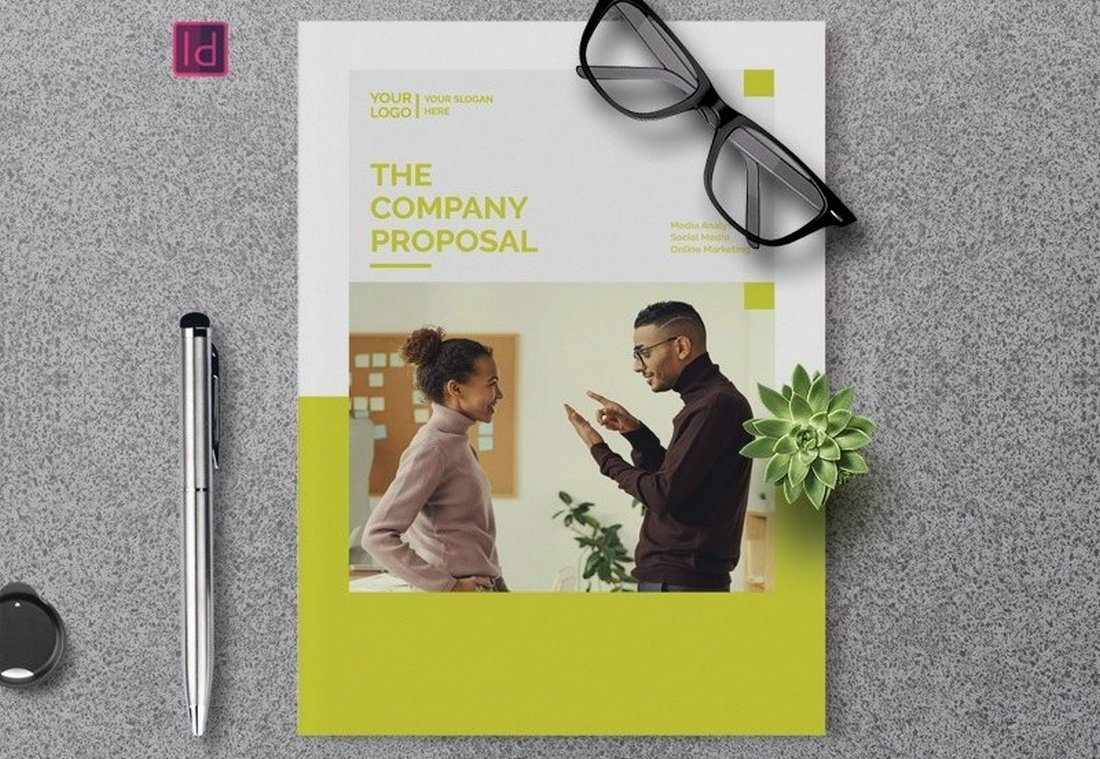 The colorful design of this proposal template makes it a great choice for designing brochures for creative startups and businesses. The template comes with editable vector graphics, changeable colors, paragraph styles, and much more.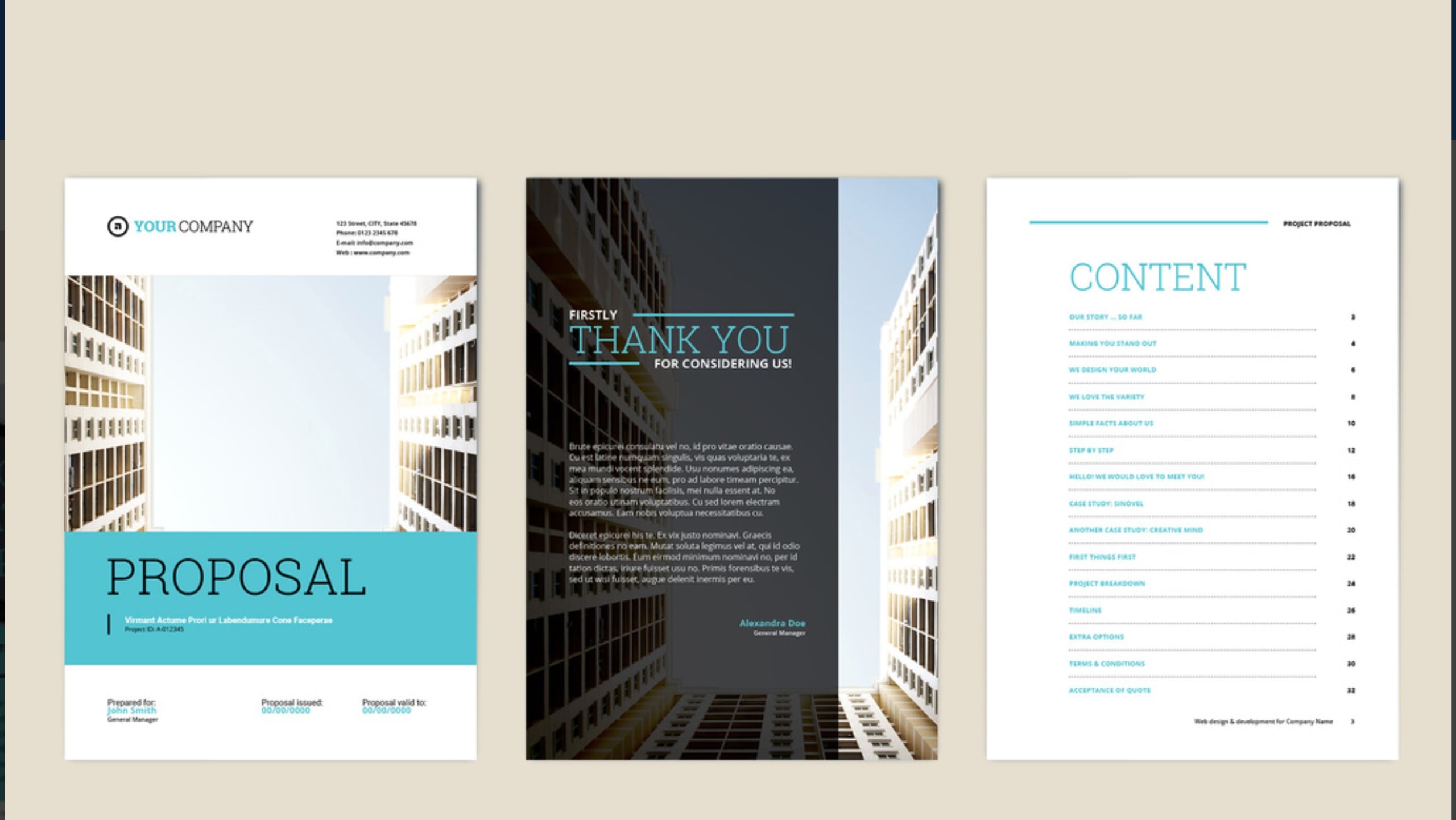 You are going to love this freebie featuring a versatile template that will help your proposal get the attention it deserves. It offers 13 pages, A4 and US Letter layouts, paragraph, character and object styles, and so much more.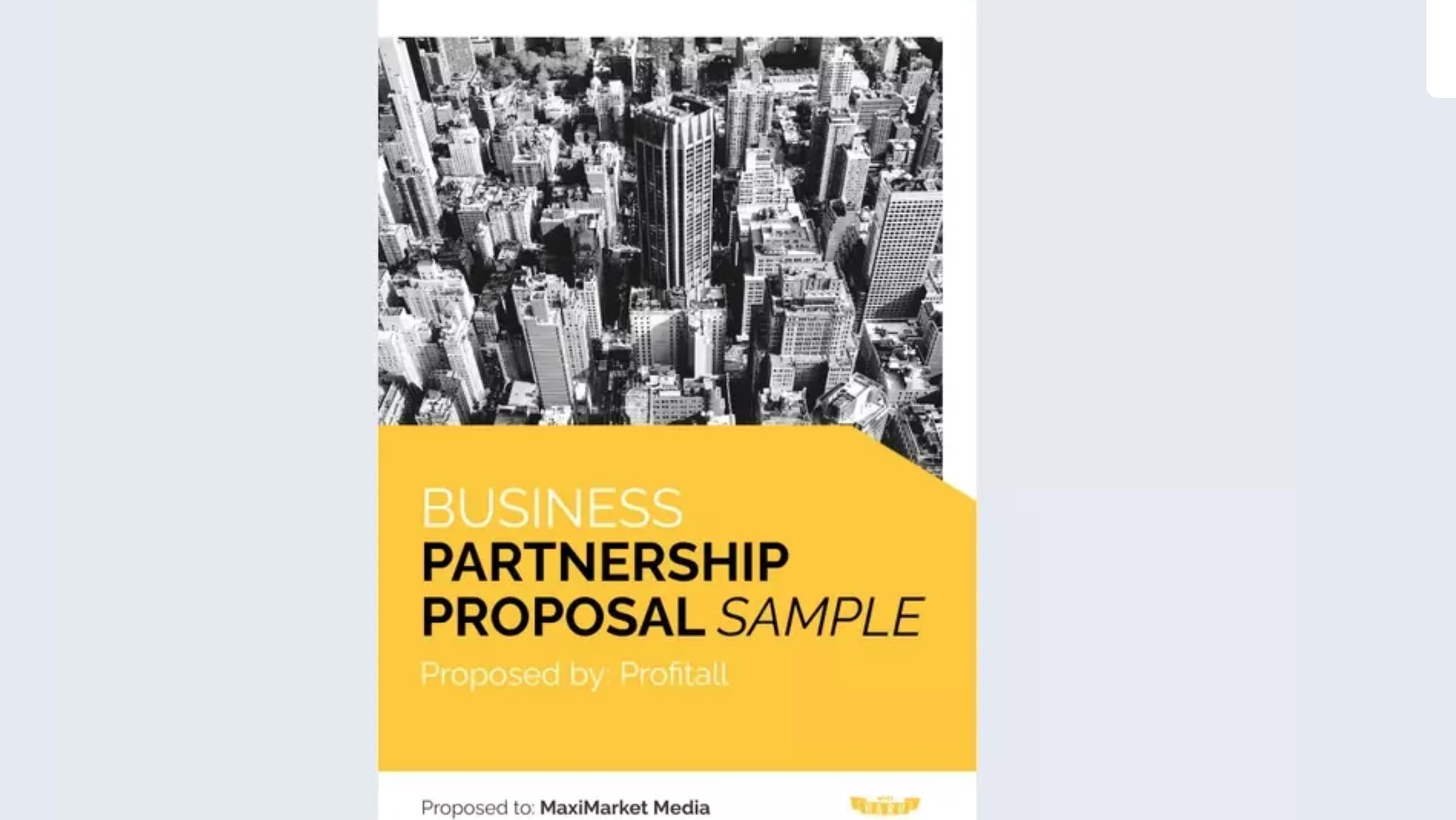 Wanting a startup investment proposal template that your potential investors or business partners find hard to say no to? Look no further than this simple yet eye-catching design waiting for you to drop in your details and show off your proposal in style.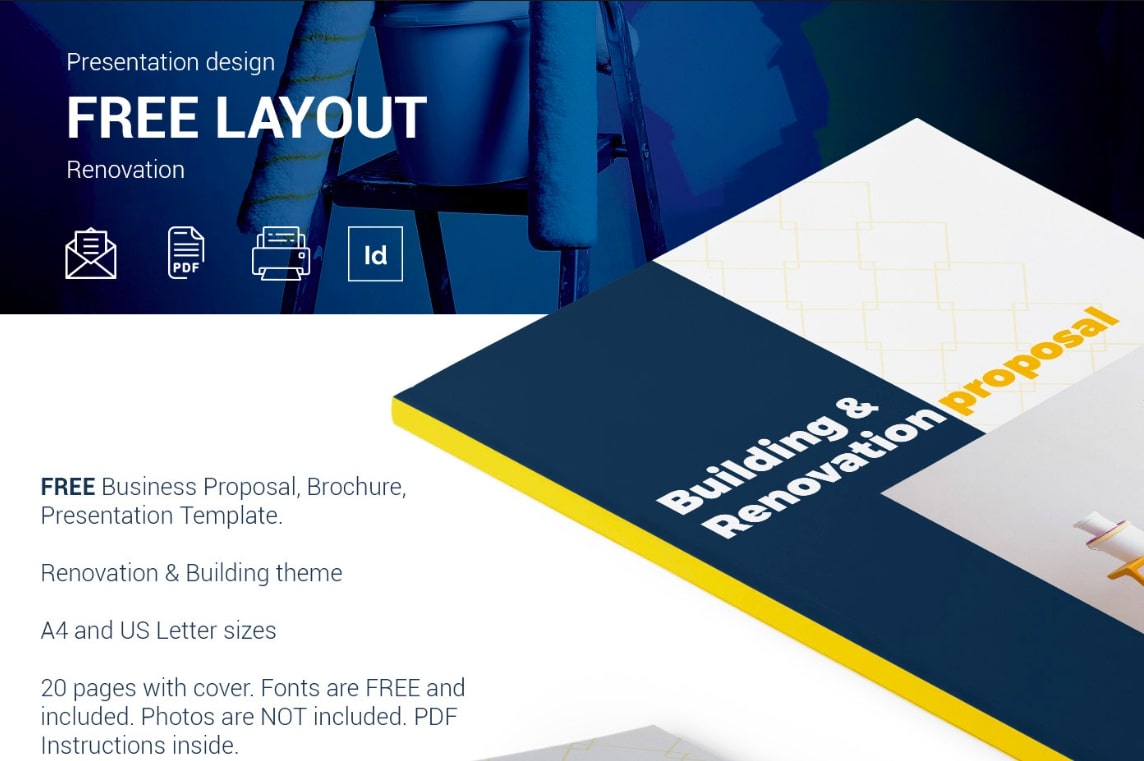 Our next free startup investment proposal template is this super professional option specifically meant for Building and Renovation businesses that consist of 20 prebuilt page layouts with customizable infographics, clean sans serif typography, and a versatile design. It's compatible with InDesign and Photoshop and can be downloaded from Behance.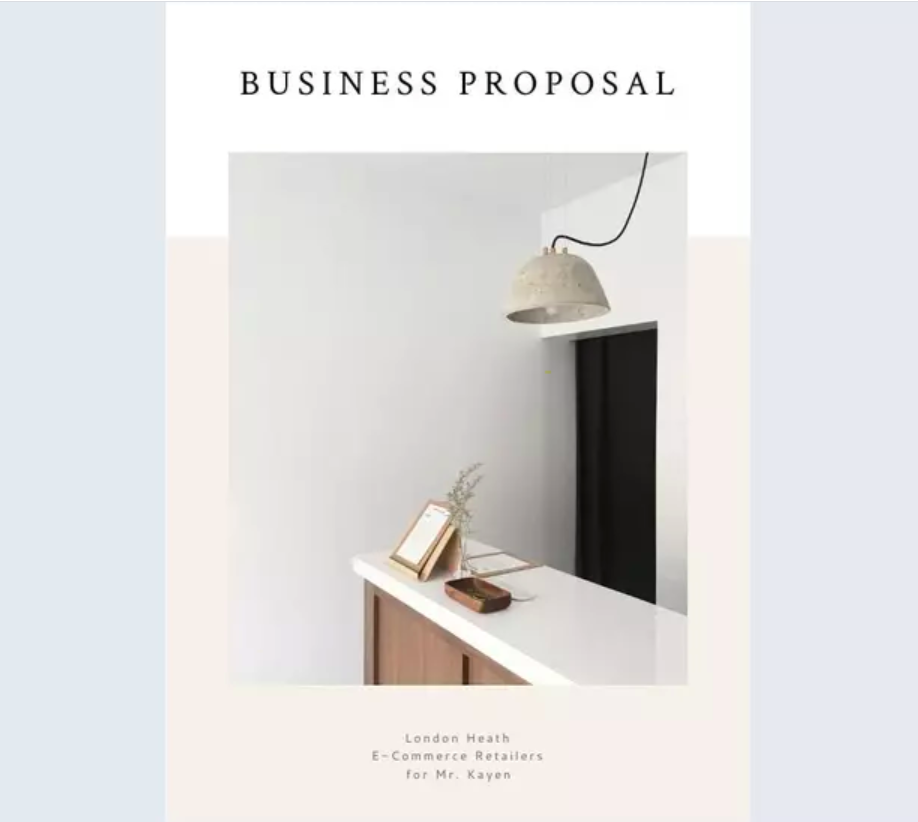 Next up, we have a simple yet stunning collection unique page layouts featuring a fresh, neutral color palette and rich graphic elements, combined with elegant serif fonts for a stylish look. Its super simple to edit shapes, text, colors and images to suit your own brand, and this template is available as a free download from Flipsnack.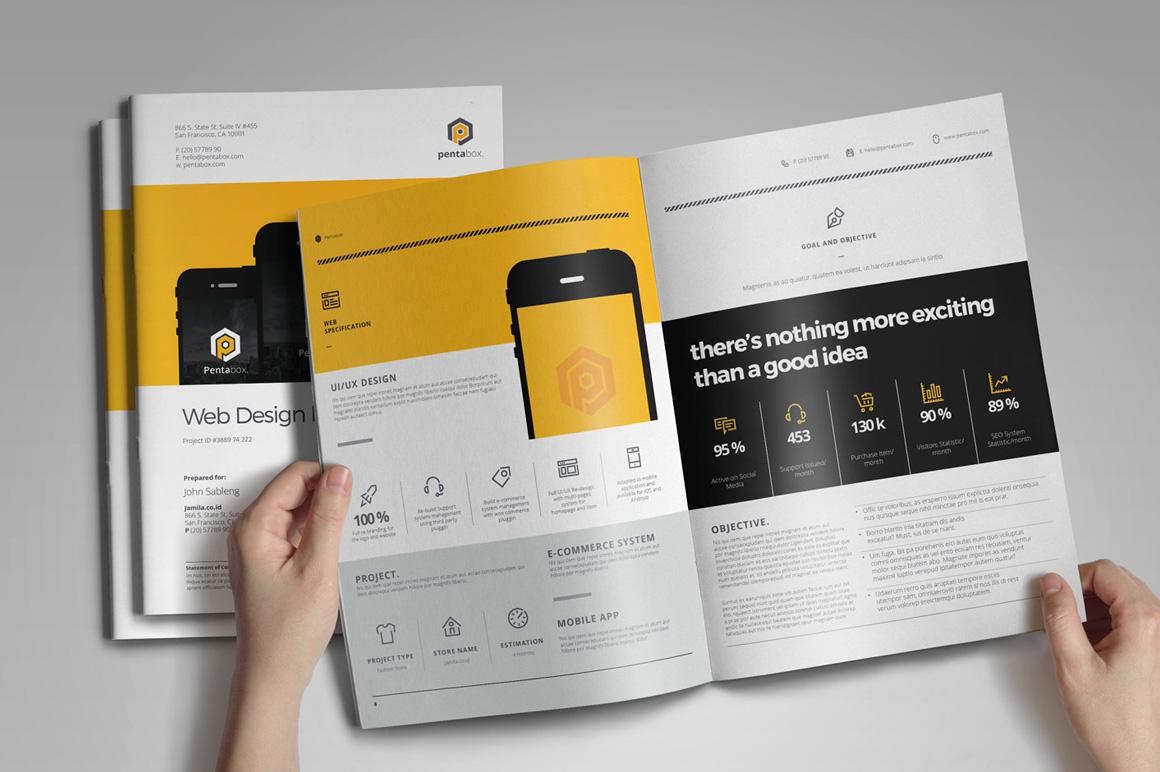 Looking for a modern and fully customizable template with an emphasis on text, to help you land investment for your web design startup? This is a brilliant option, and also includes a wide range of infographics for you to customize. You can download it for free from Craftiva and edit using InDesign and Word.
Thanks to this incredible collection of free and premium startup investment proposal templates that are ready and waiting for you to download, you're well on your way to nailing that all-important investor pitch and getting started with your new venture!