30+ Best Real Estate Listing, Marketing & Investment PowerPoint (PPT) Templates
Looking for the perfect way to present your latest property listing to potential buyers? Perhaps you're working on a new investor pitch to help you raise funds for a new development. Or maybe you're just putting together a presentation to show the world what a day in the life of a real estate agent is like!
Whatever your reason, a PowerPoint template can be a super handy tool for anyone in the real estate industry to use for a range of different purposes, from investor and client pitches to listing promotions and general presentations. But of course, why spend all that time putting together a fancy slideshow when you've got properties to sell and commissions to earn?
That's where we come in – we've rounded up the best real estate listing, marketing, and investment PowerPoint templates from free and premium sources across the web, ready for you to download and customize straight away. Let's take a look!
Get everything you need to give the perfect presentation. From just $16, get unlimited access to thousands of PowerPoint presentation templates, graphics, fonts, and photos.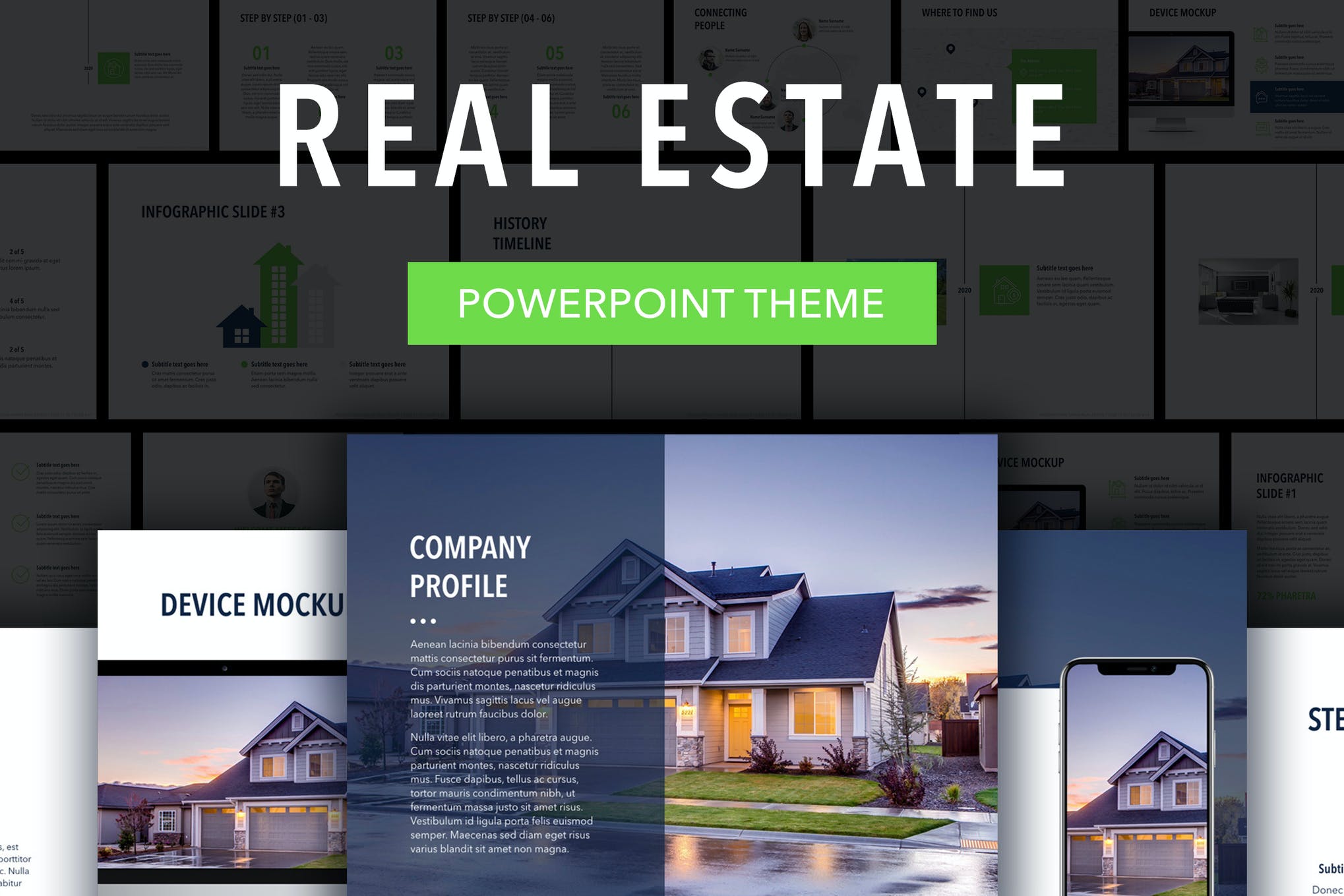 Here we have a real estate pitch deck template that is sure to make a statement. It comes with a professional and polished layout, carefully crafted slides, and a range of features that can be easily customized to your heart's content.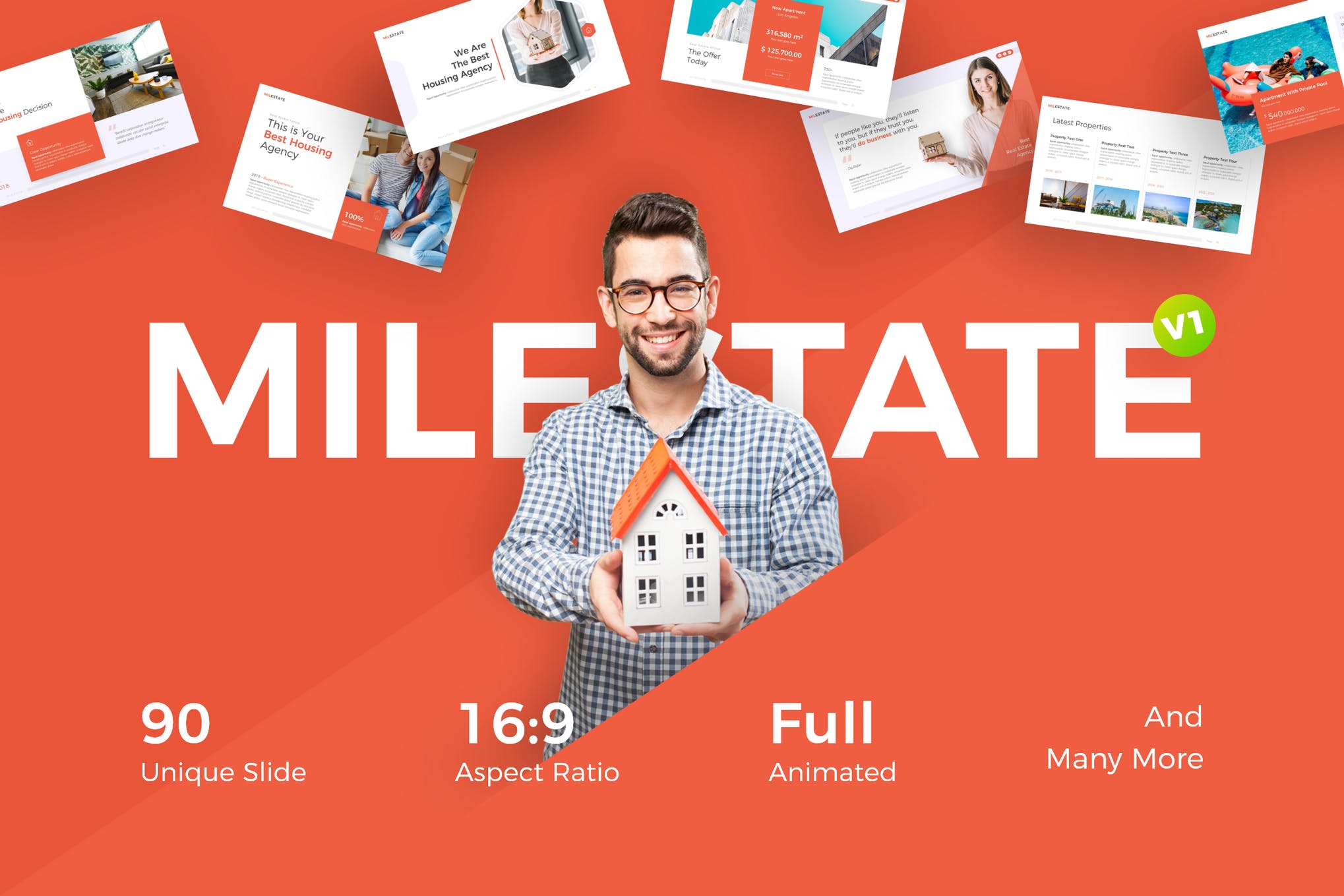 Milestate is a purpose-built template to suit all sorts of real-estate, housing, and construction businesses. It offers 90 fully-animated, multipurpose slides, handmade infographics, and a smorgasbord of icons, and color schemes to choose from.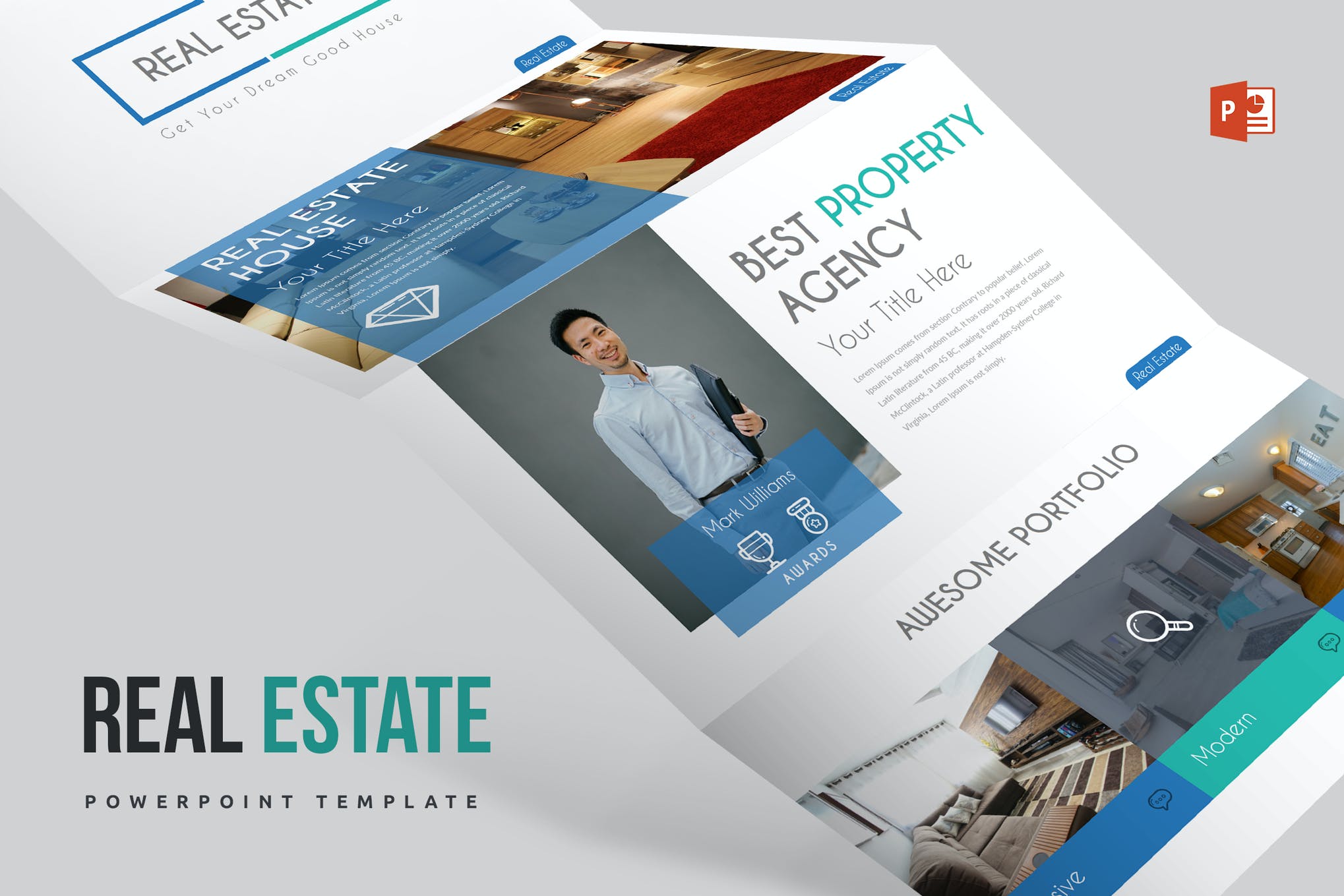 Next up is a set of 30 clean, uncluttered and modern slides that will help you nail your next presentation. As one of the best real estate PowerPoint templates, the package offers pixel-perfect illustrations, 5 premade color variations, one-click color change, and a variety of resizable and editable graphics.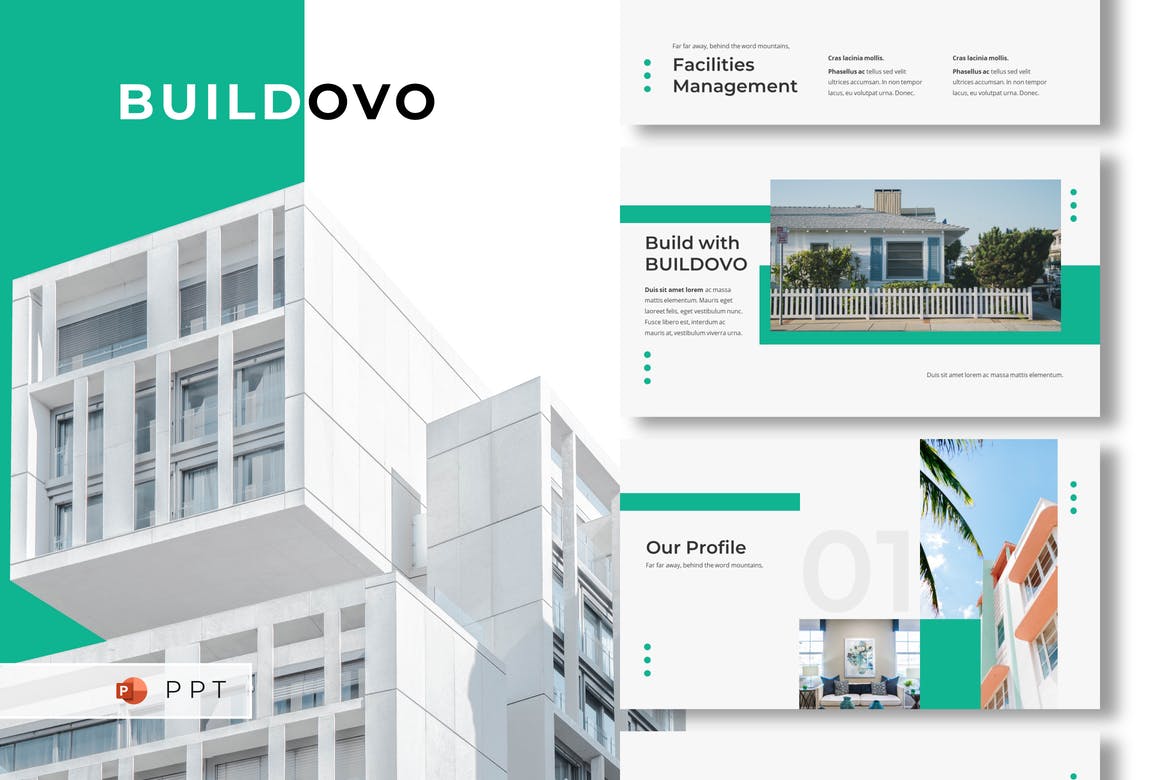 The next PowerPoint in our selection of the best real estate presentation templates is this highly professional set of 30 clean, modern slides that's perfect for a pitch to potential clients or investors. It's super easy to customize, with plenty of space for you to reflect your own brand and messaging.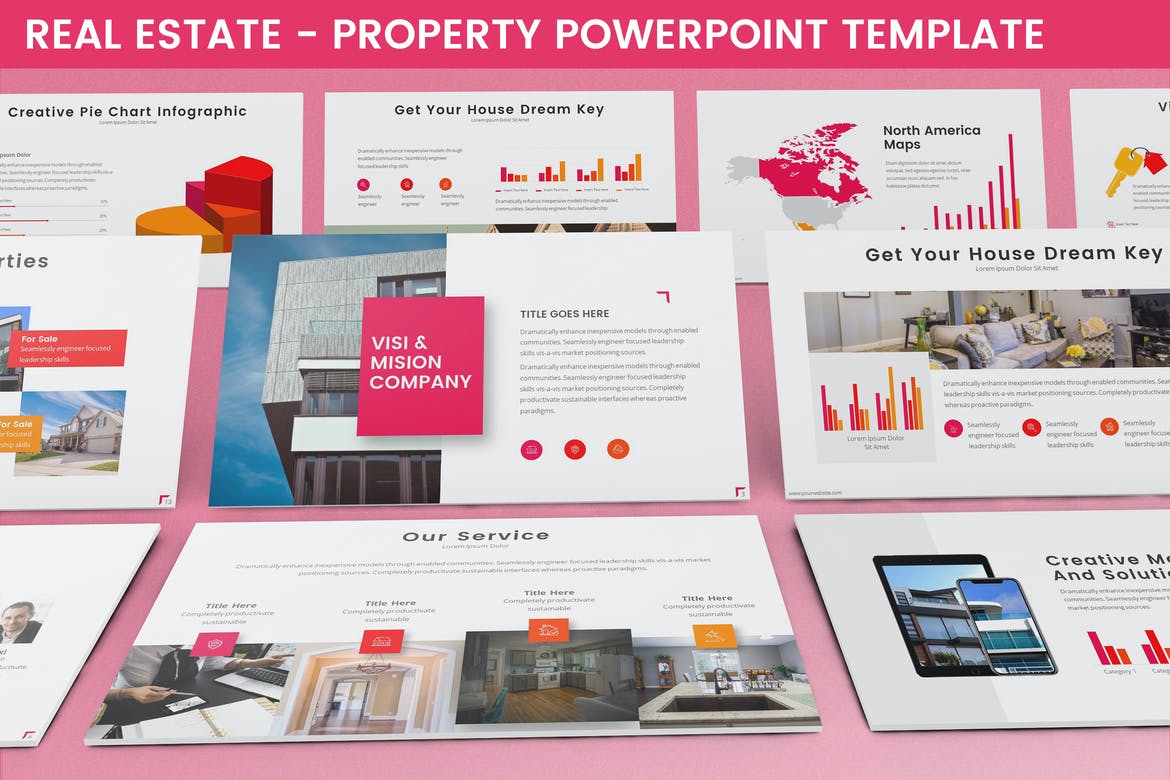 Next up we have a fully editable set of versatile property themed slides that can be used for a range of purposes, including a range of purpose-built layouts and customizable infographics, as well as dark and light backgrounds, three premade color themes, and both widescreen and standard size aspects.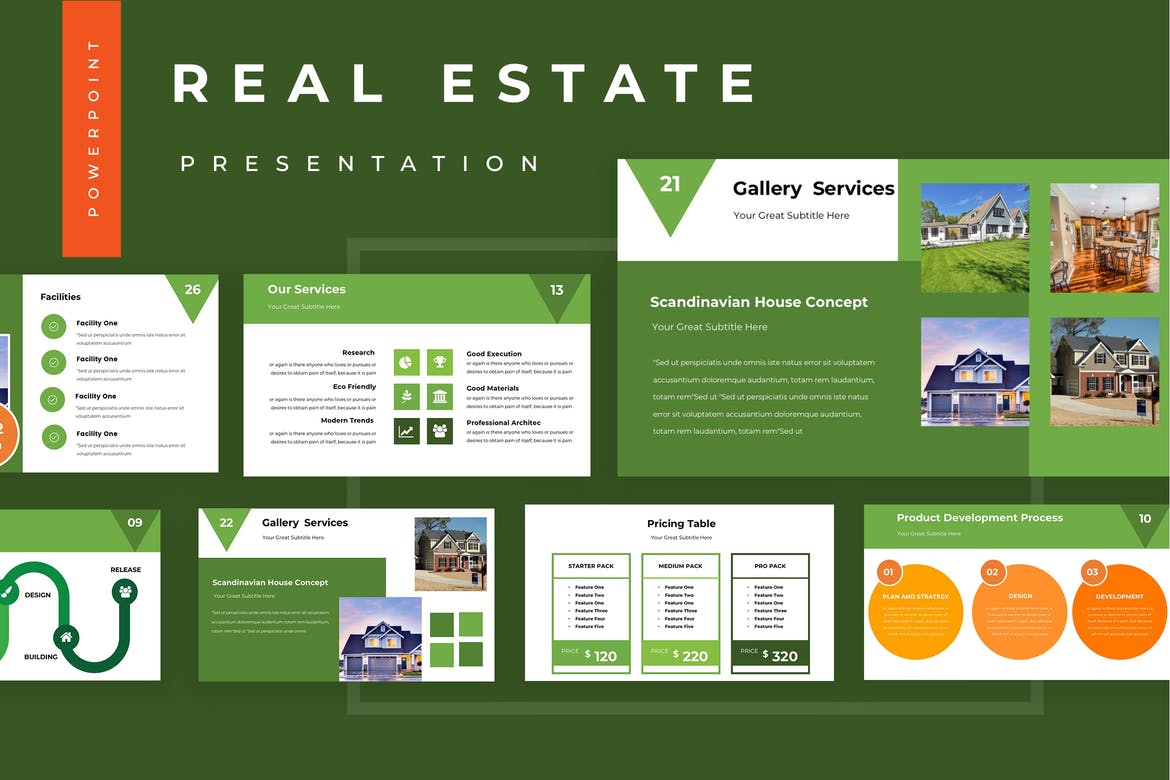 Our next real estate marketing ppt template features a forest green color scheme that's ideal if your business has a competitive advantage that's centered around eco-friendliness or the environment! It comes with 40 unique slide layouts, with fully editable graphics and a range of smooth animations included.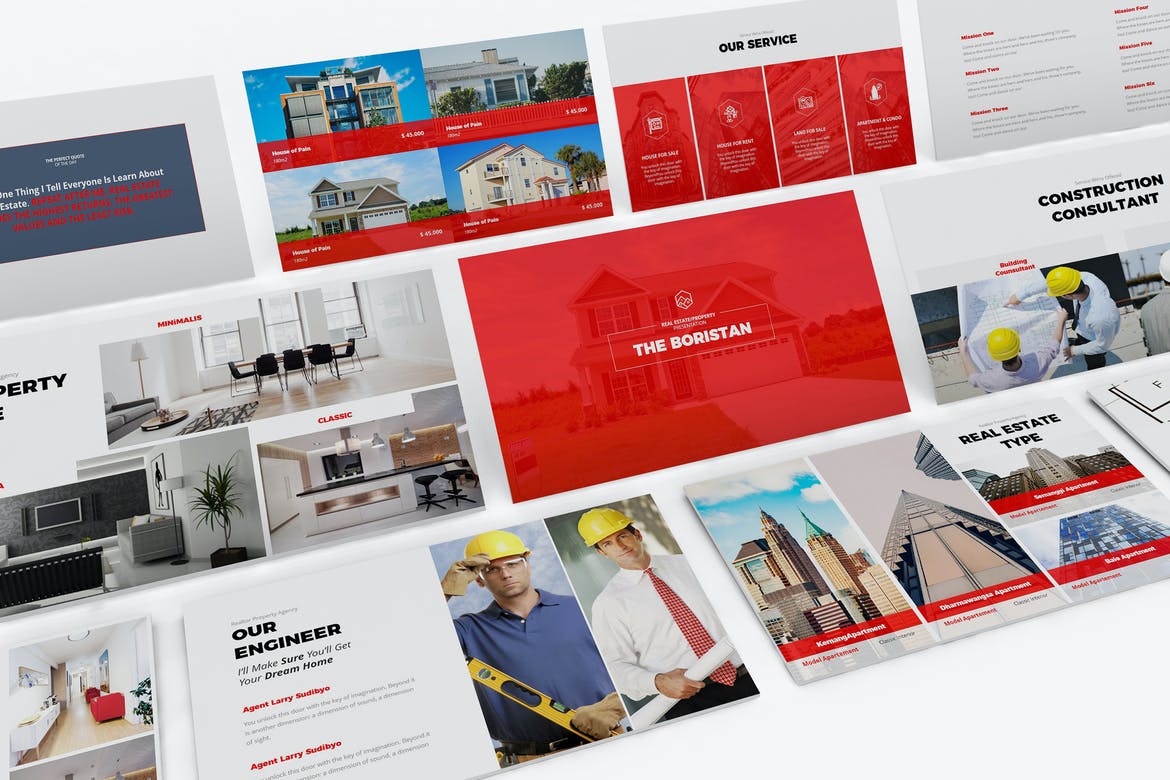 Here we have a template featuring 100 professionally designed and fully animated slides that's ideal for use as an investment pitch for new developments and housing complexes. It includes a range of customizable infographics, free fonts, mockup devices, and object placeholders for easy editing.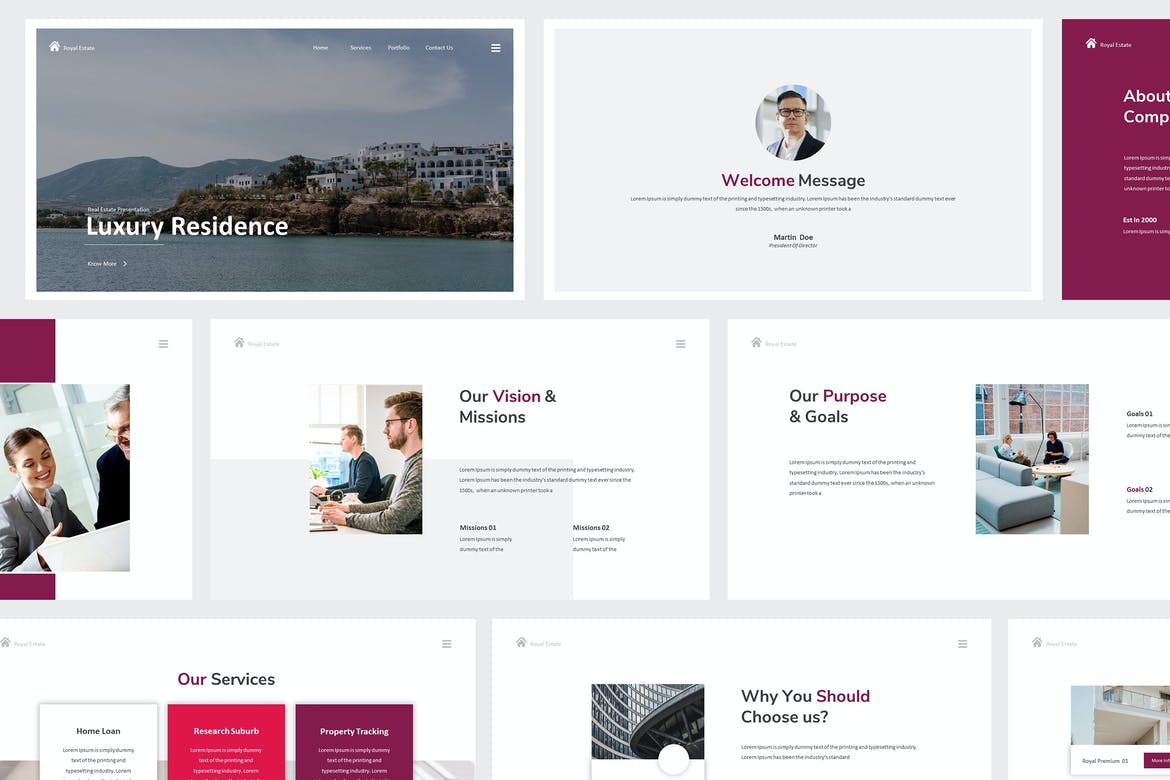 Next in our lineup of the best real estate PowerPoint templates is this minimal yet engaging design that's perfect for promoting a luxury residence listing. Each of the 30 unique slide layouts can be fully edited, and a range of animations and vector elements are included to really help your listing stand out.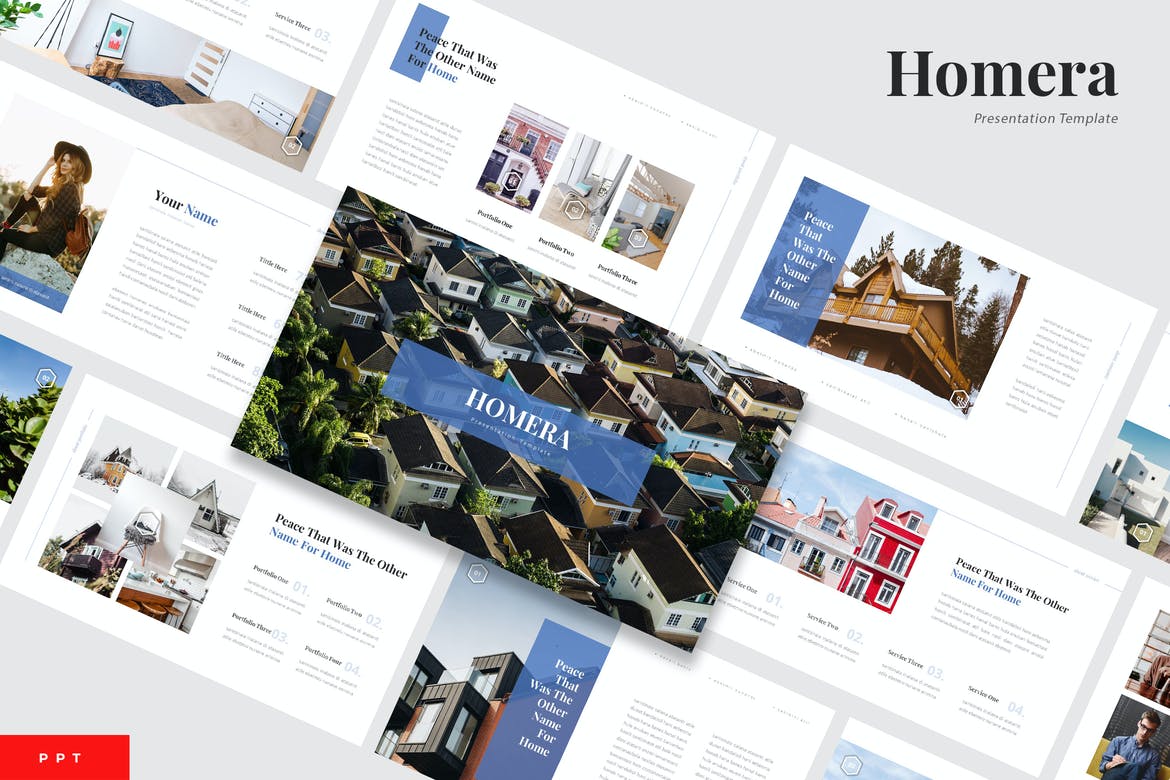 Engage new clients, buyers, or investors with this stunning set of 30 modern slides that utilize free web fonts, resizable vector icons, and a creative yet minimal layout to help you present your pitch. Full supporting documentation is included, and the presentation template is super easy to edit.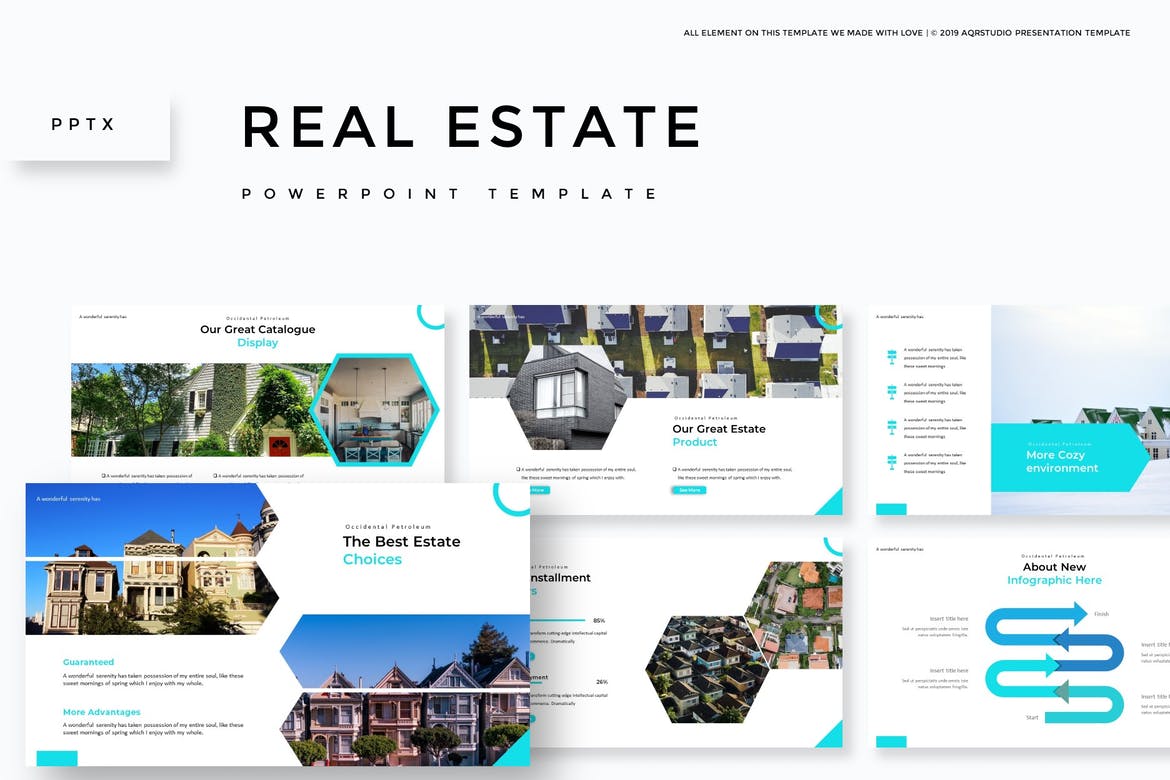 Featuring coordinated pops of color, uniquely shaped graphics, and a clever use of photos and infographics to showcase your real estate projects, our next PowerPoint template consists of 150 unique slides with five different color variations, pixel-perfect illustrations, and drag and drop placeholders for seamless customization.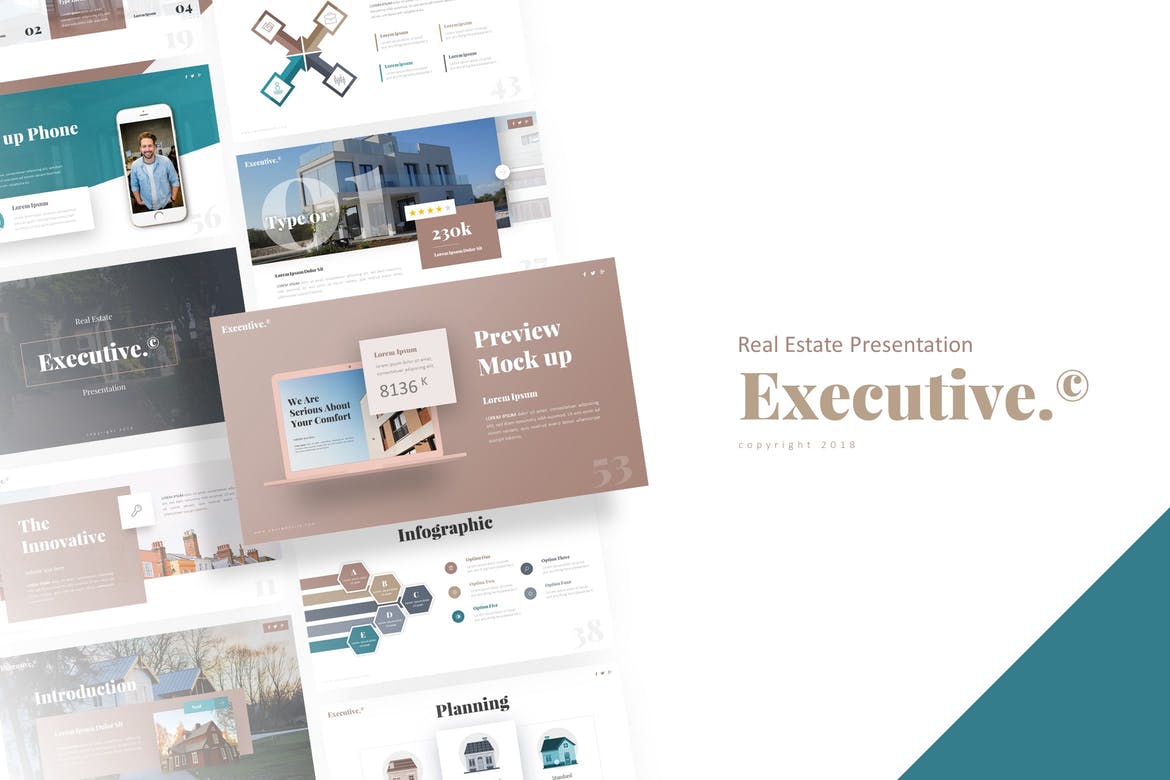 Looking for a high class, high-quality presentation template for your next investment pitch? This executive PowerPoint template contains 50 unique and versatile slides that will add a touch of luxury to your presentation and includes a range of infographic elements and vector graphics for a polished and professional result.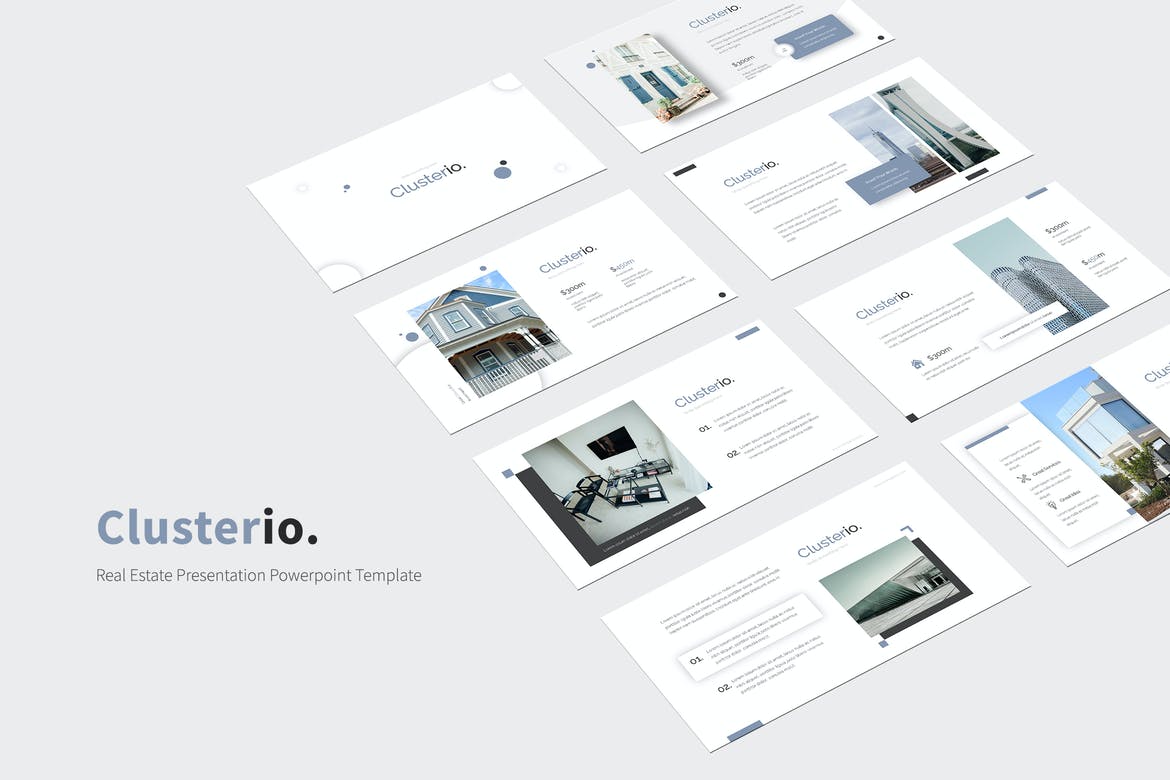 The Clusterio template is a creative minimalist set of 50 multipurpose slides that can be presented to clients, investors, colleagues, or potential customers. Featuring drag and drop images, slide transitions, free fonts, and master slides, it's easy to customize and will help you make the best possible impact on your audience.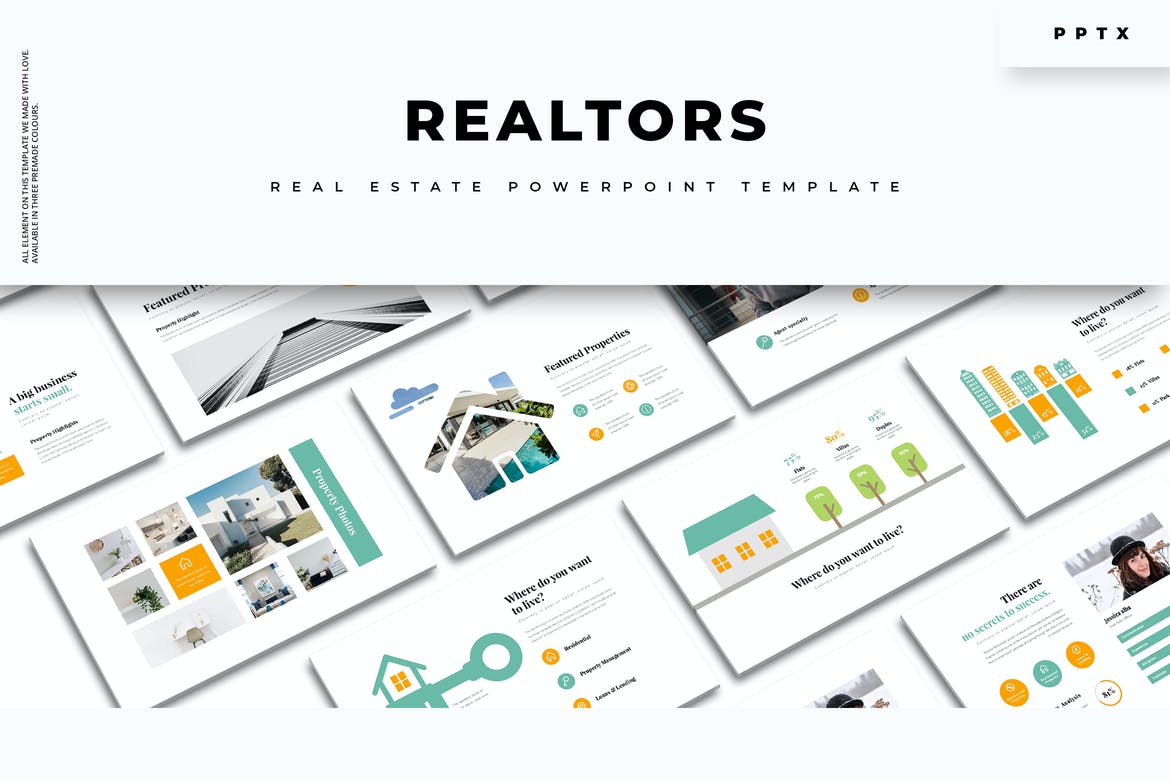 Planning to deliver a presentation to your colleagues in the real estate industry, or perhaps to educate people about a career as a realtor? Ideal for any kind of educational or informative purpose, our next template offers 40 unique slides with three color schemes to choose from, and a huge range of infographics to help you impart tons of knowledge!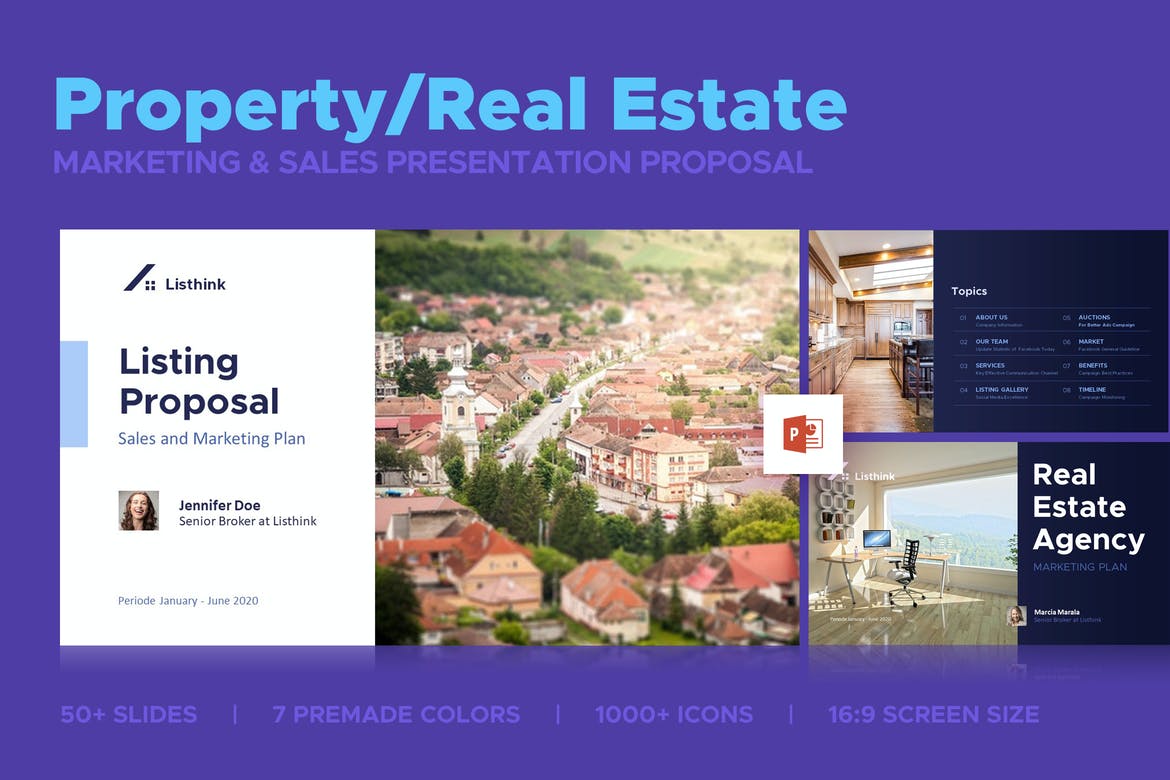 Next up is this bright and bold marketing presentation template for a real estate agency that offers seven color themes, plus a range of animated transitions, editable icons, and free fonts that will help you put together a super impressive slideshow.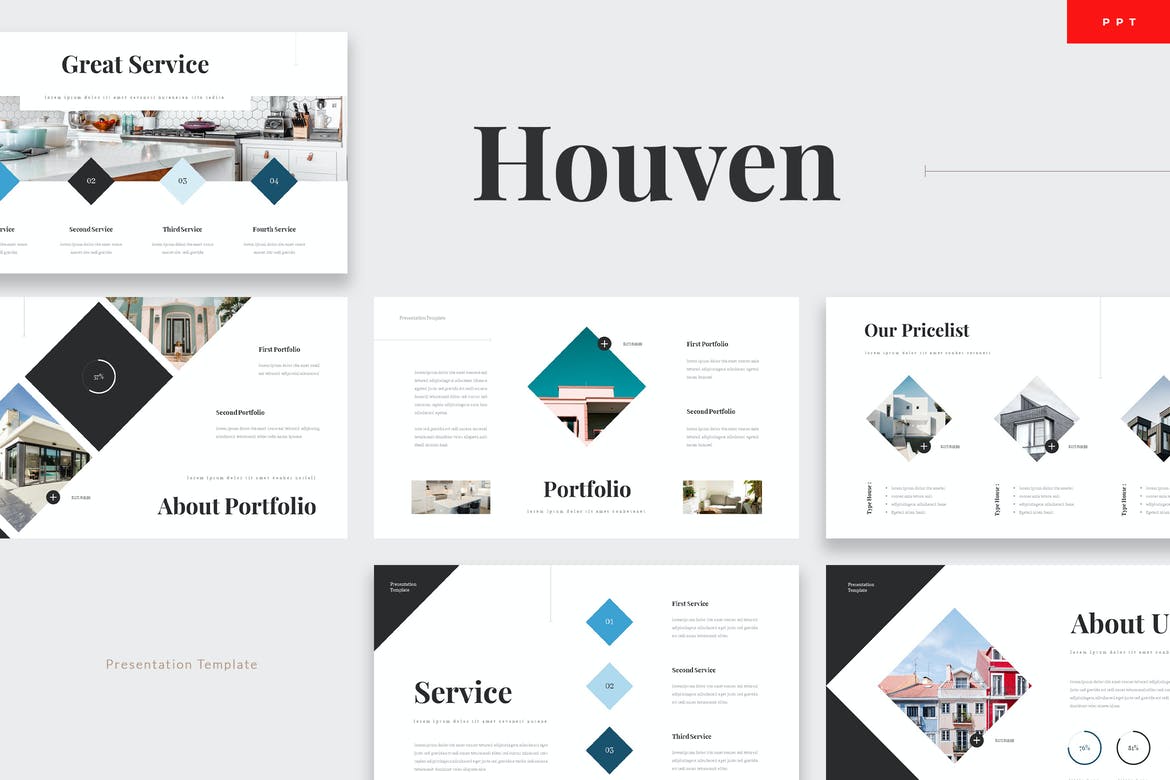 Classy, elegant, and modern, all in one – the Houven real estate presentation template is a truly versatile and stylish option for any kind of slideshow within the property industry. It offers geometrically inspired layouts, clever use of white space, and beautiful serif typography for a touch of sophistication.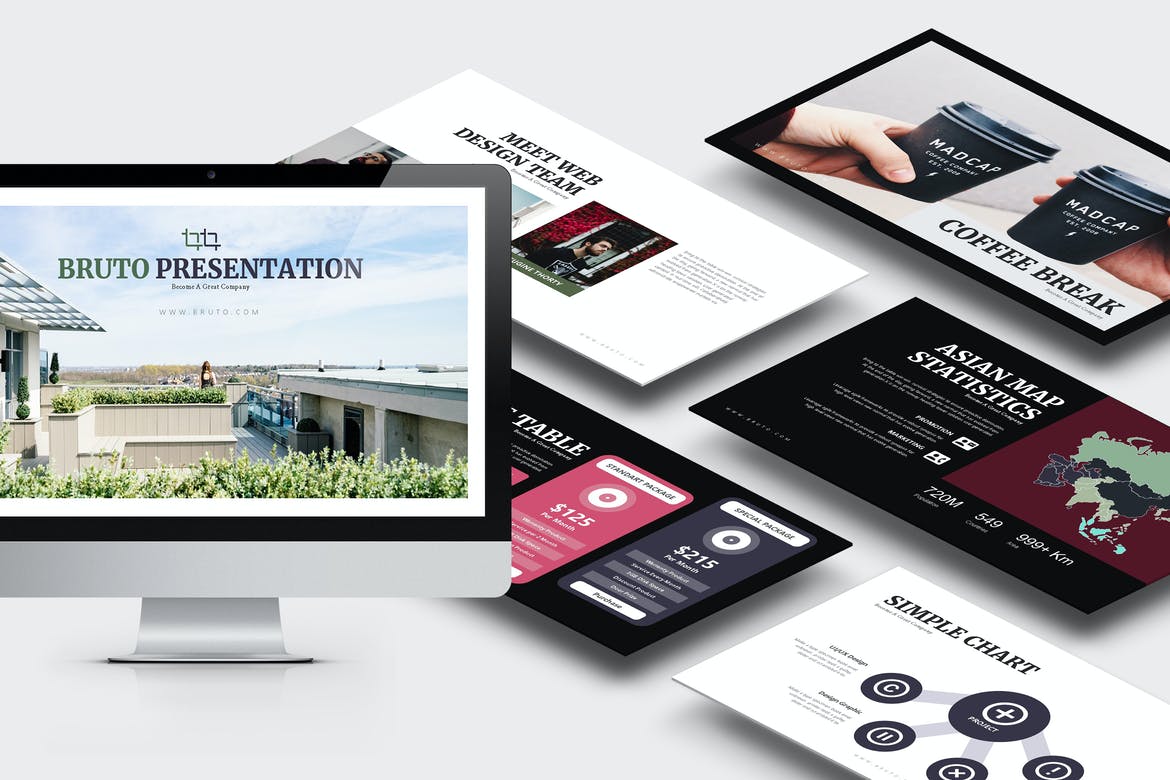 Another multipurpose option, the Brutto PowerPoint template is a set of 50 unique real estate themed slides with two color schemes to choose from, plus drag and drop image placeholders, mockups, vector shape illustrations, a versatile 16:9 widescreen aspect ratio, and a high-quality RBG color mode.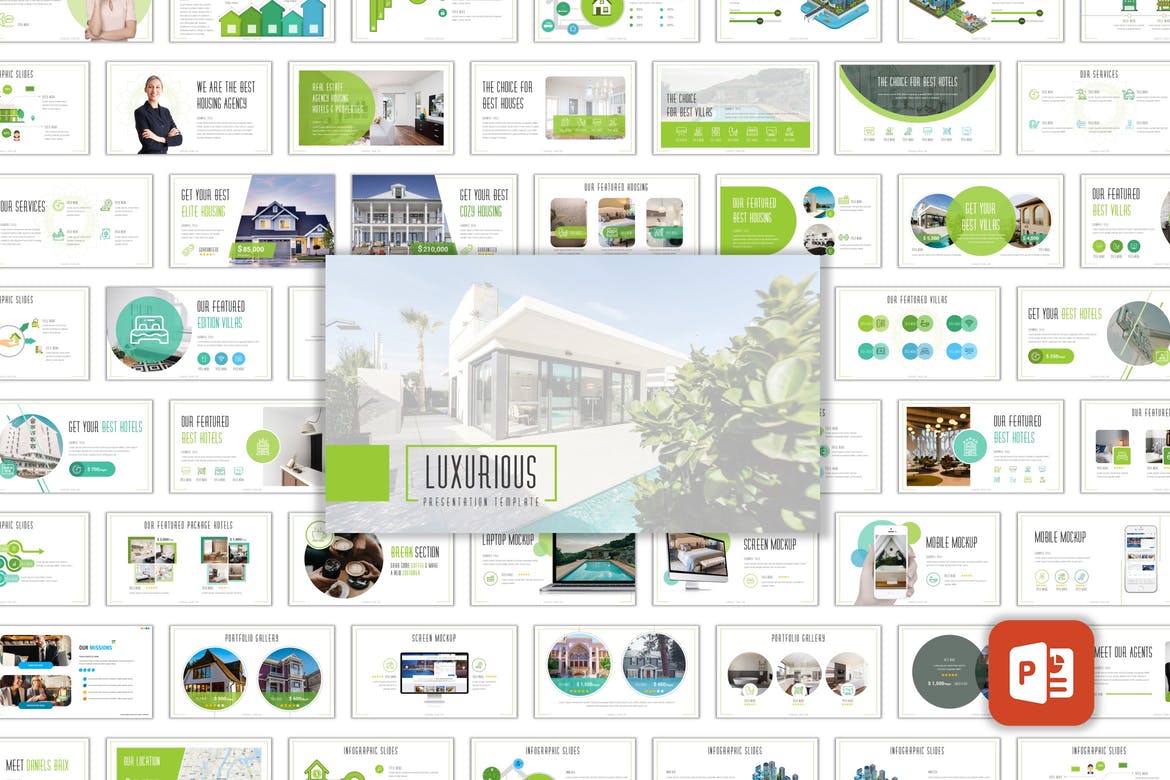 It's all in the name – our next real estate PowerPoint pitch deck template offers a luxurious set of 250 unique slides that are sure to impress clients, investors, and buyers alike. Use the drag and drop placeholders, one-click color changes, purpose-built infographic slides, and fully editable vector graphics to customize each and every aspect.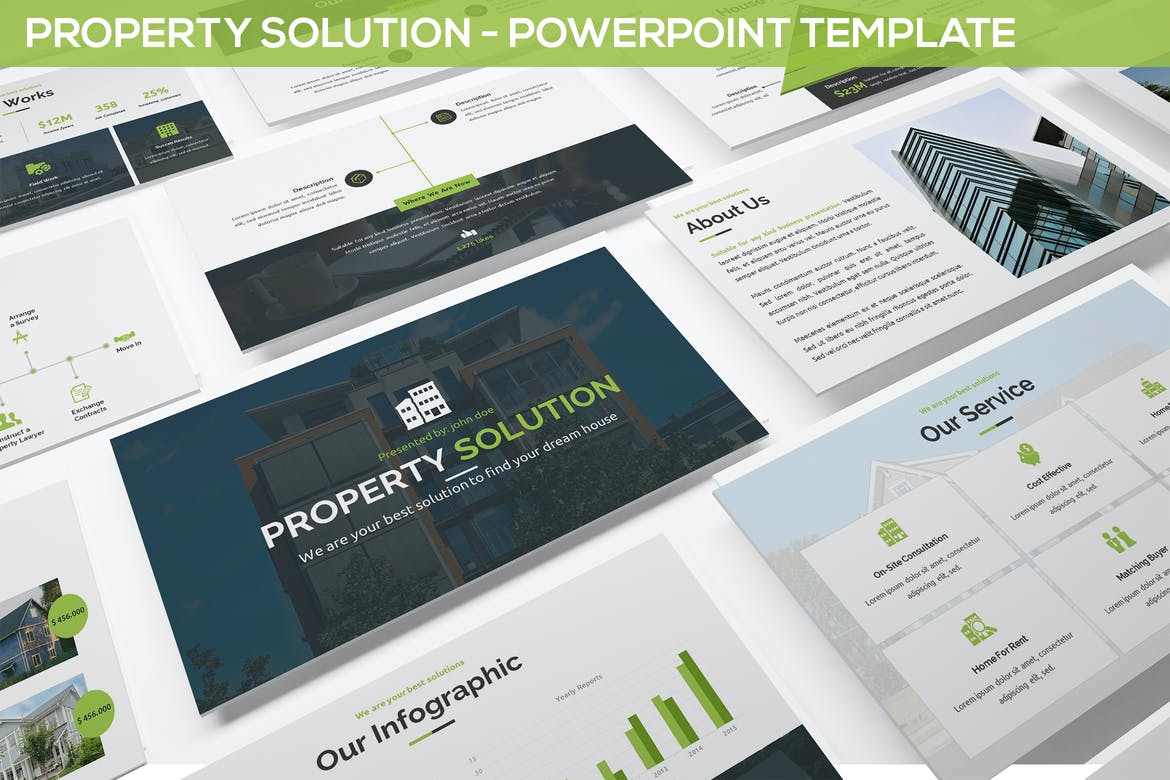 Here we have another strong real estate marketing ppt option that can easily be adapted to suit any kind of client, from commercial and industrial to private and residential. It offers widescreen and standard size formats, three color schemes, and drag and drop picture placeholders for instant editing.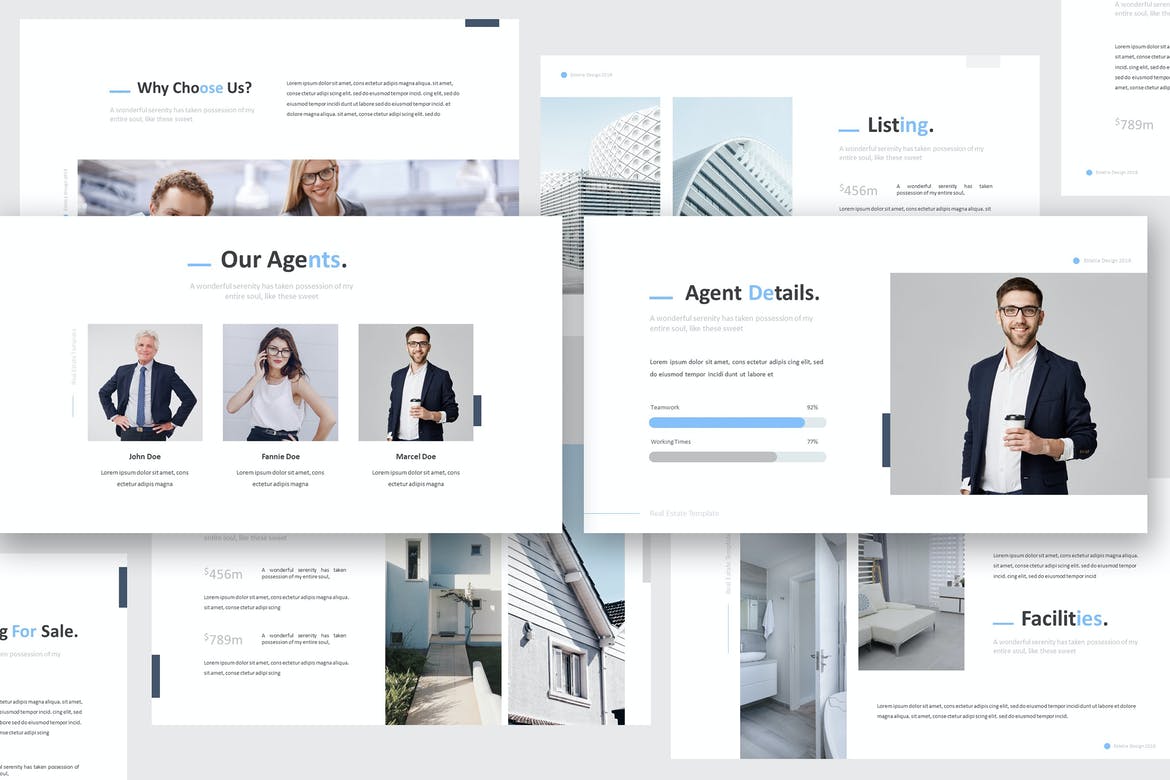 Looking to attract some new investors? Use this modern and eye-catching real estate PowerPoint template to capture their attention and win their investment for your new developments! Each of the 30 slide layouts offers a professional color scheme, clean design, and minimalistic layout that will keep them engaged but not distracted from your amazing pitch!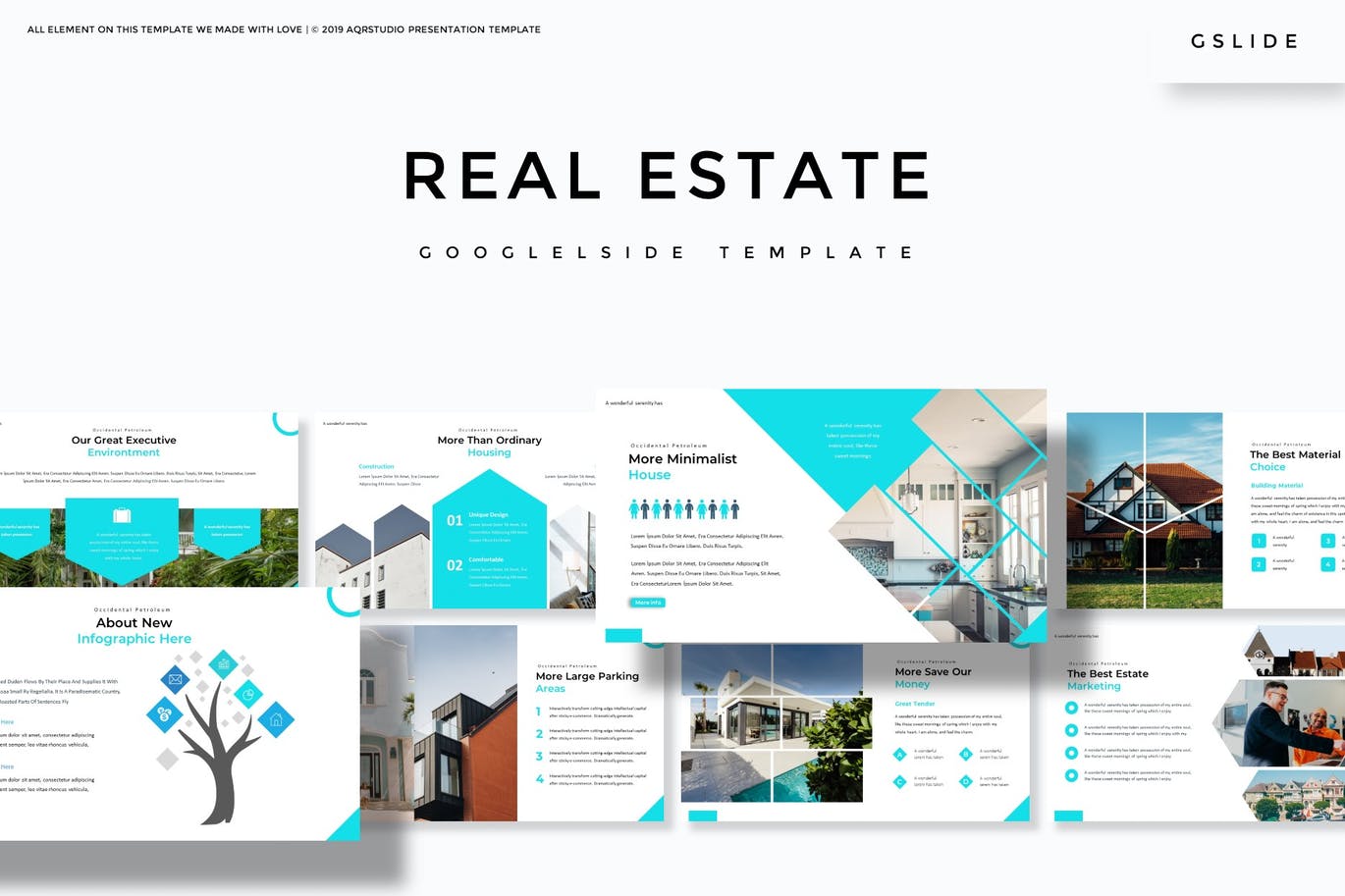 Next up is a series of 150 clean, uncluttered slides featuring handcrafted infographics to help you share your facts and figures, drag and drop functionality for quickly replacing the image placeholders, and pixel-perfect illustrations to ensure that your presentation meets the same standard as your listings themselves!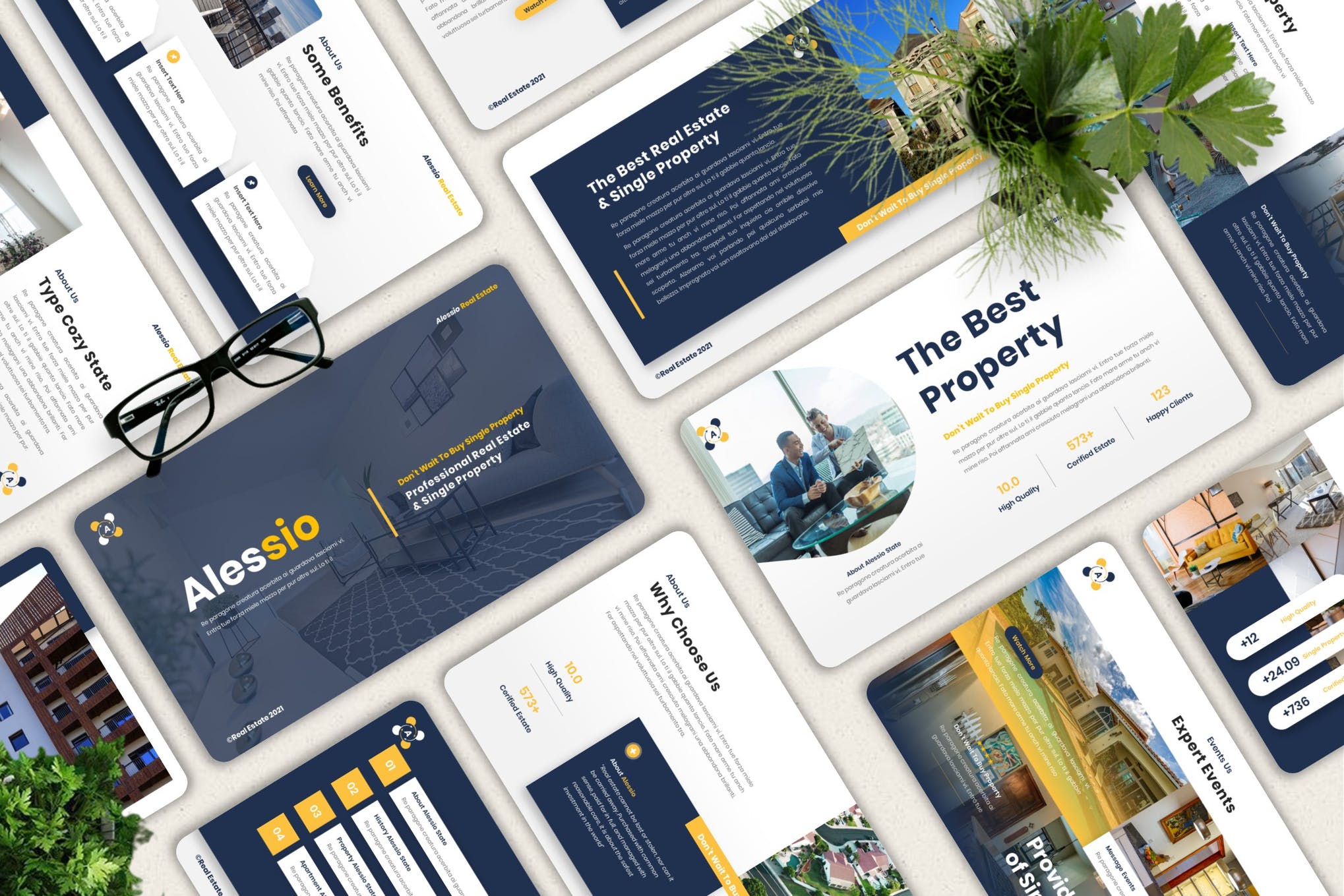 This Presentation Template can be used for any variety of purposes, such as creative studio, agency, company, corporate, portfolio, photography, and also can be used for personal portfolio.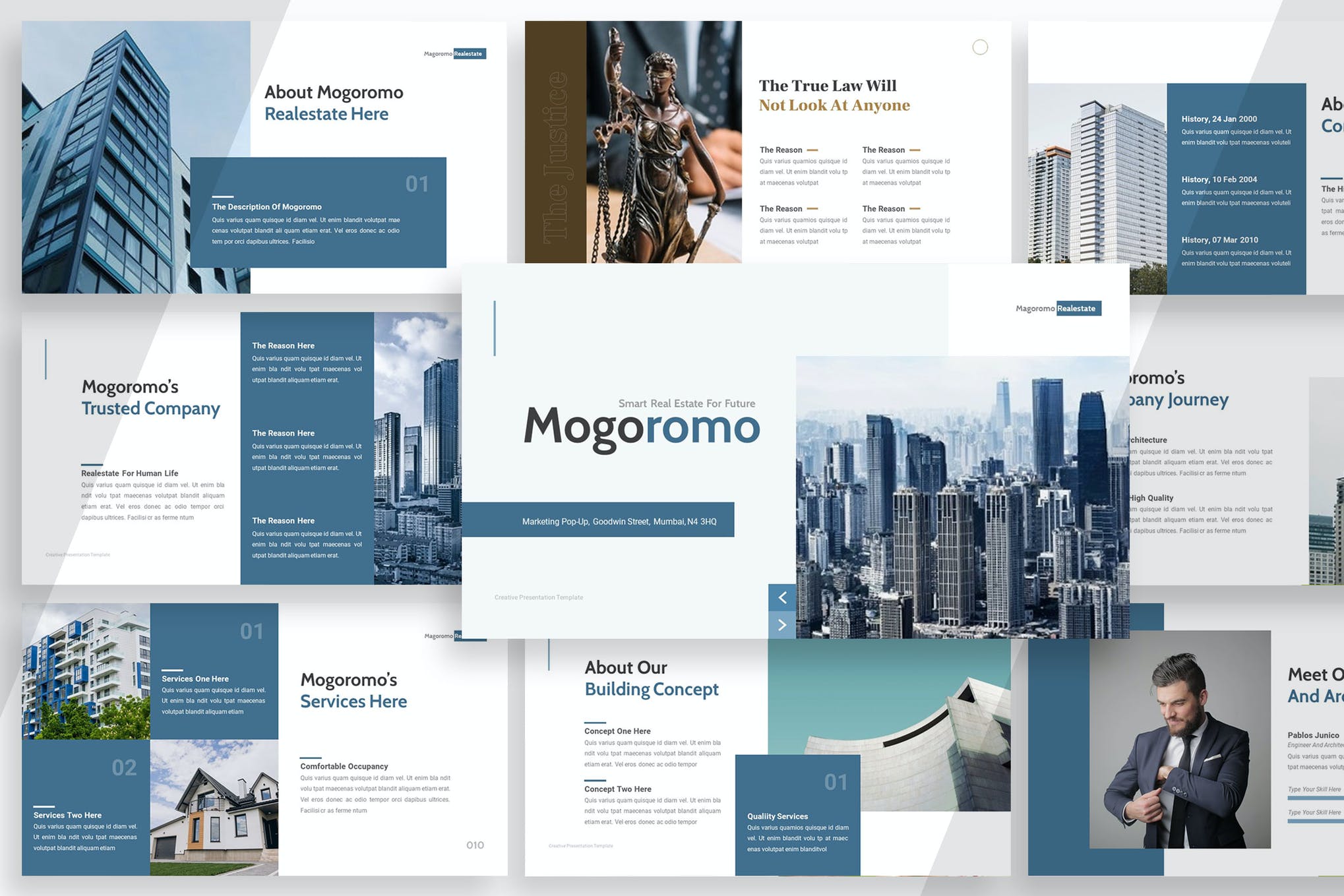 Mogoromo Real estate – Powerpoint is designed for creative, agency, startup, and business. This template is very easy to use, elegant, uses flat colors, and there are also infographics ranging from, bar charts, circles, lines and more.
Free Real Estate Presentation Templates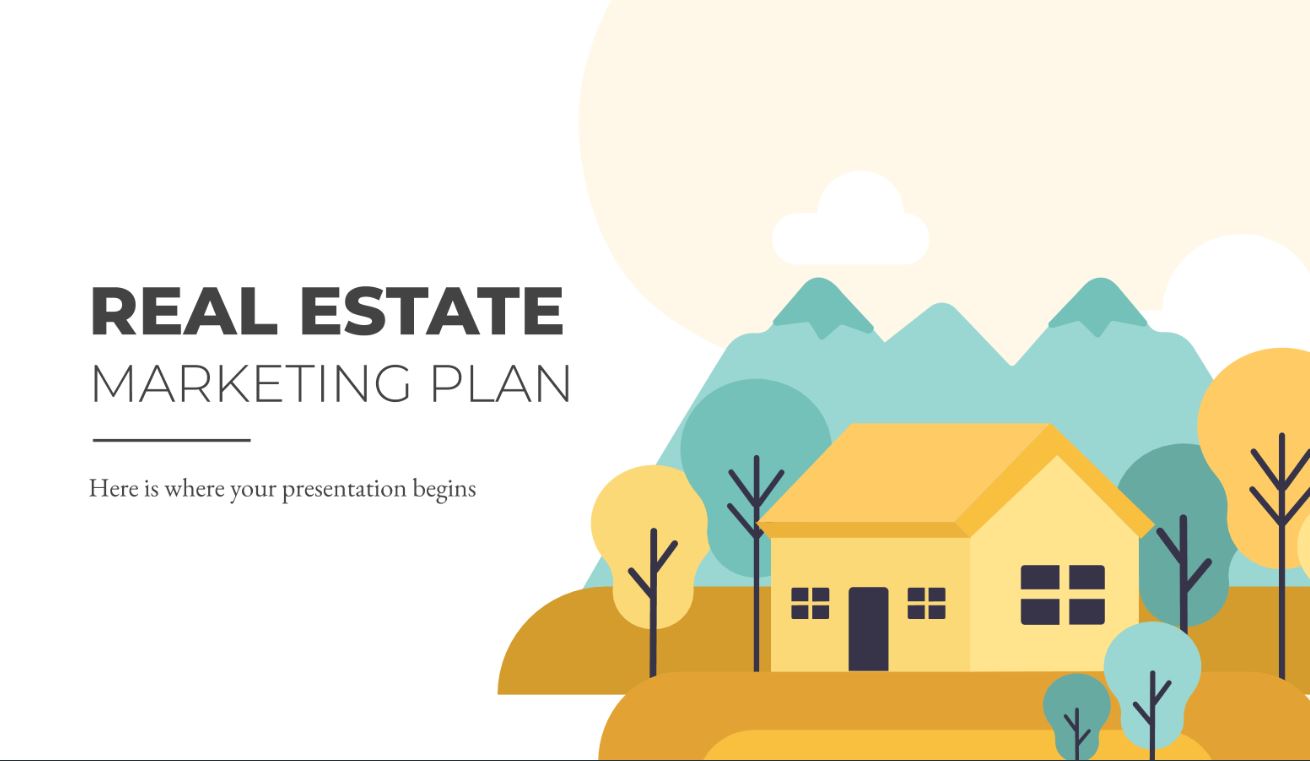 Now we'll take a look at some free real estate presentation templates, starting with this clean and modern design from SlidesGo featuring 23 unique slides with easy to edit graphics and maps, a range of free vector icons, and a 16:9 widescreen format suitable for any screen.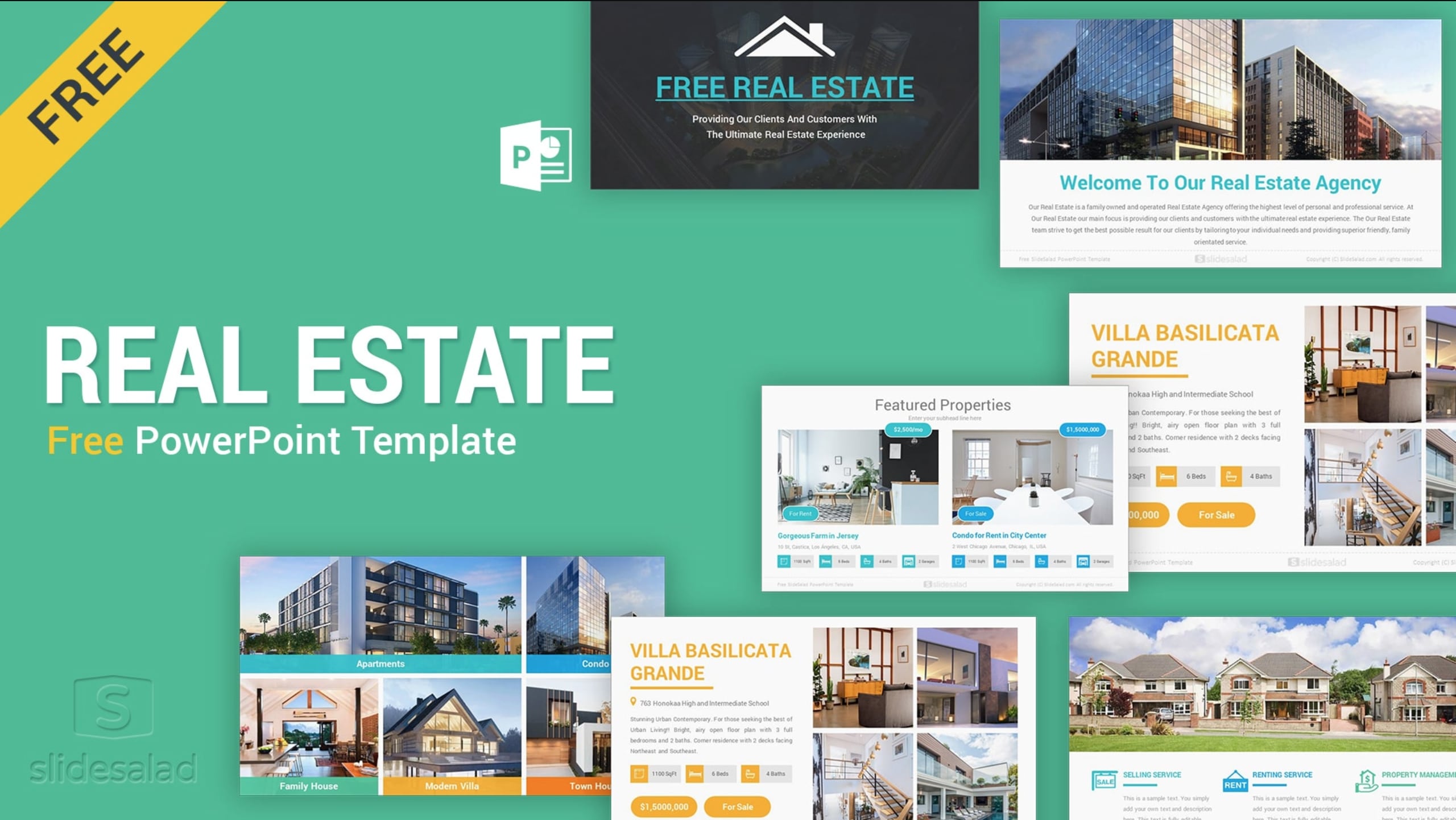 Here we have a fully-animated, crisp, and clean real estate listing presentation template that comes with creative slides, a 16:9 widescreen layout, vector objects & icons, free fonts, and much more. Best of all, the template is absolutely free for download.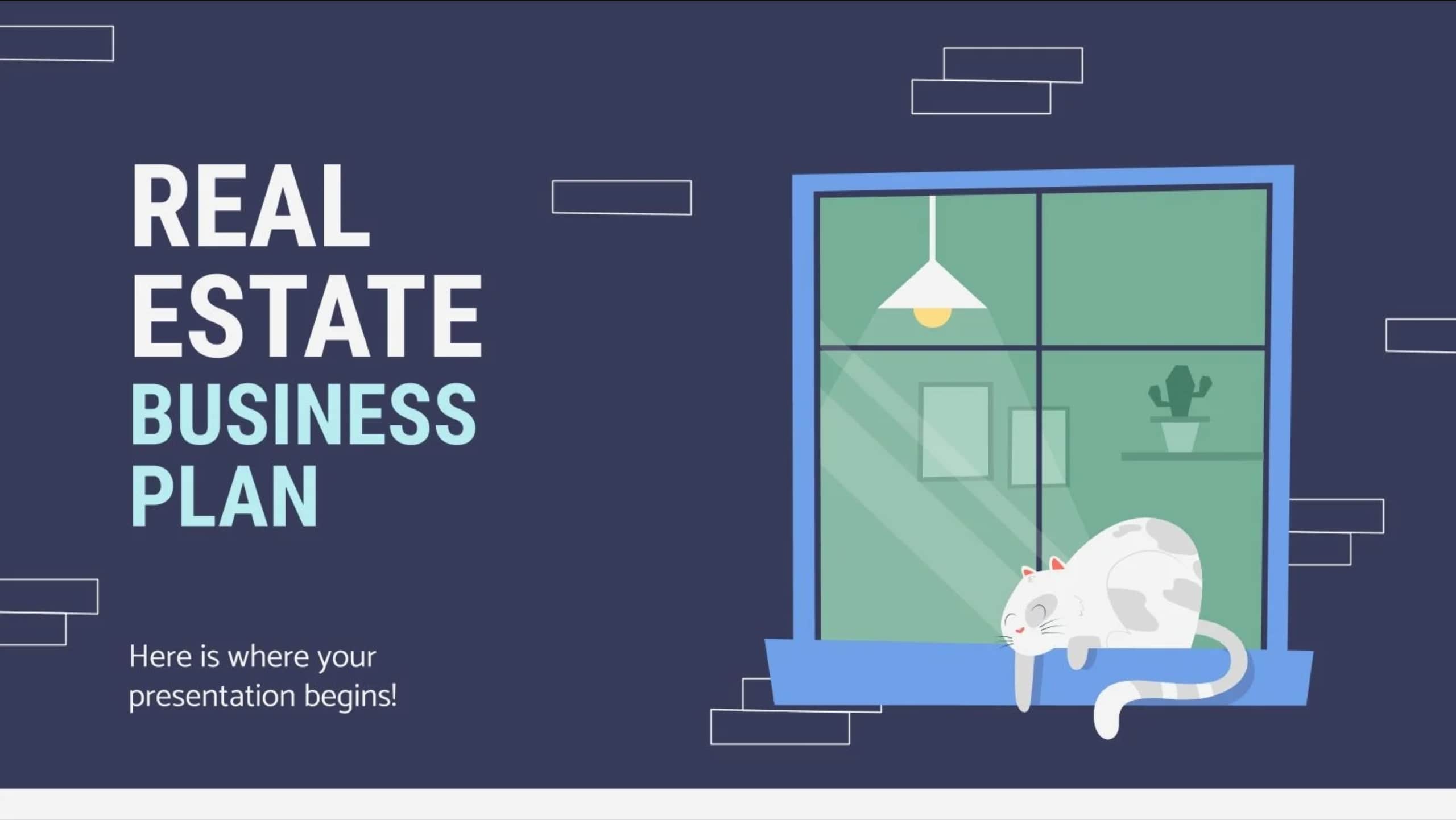 Looking for a real estate business plan presentation to market your brand? Look no further as we have the best real estate pitch deck template for you. The template has 29 slides on offer, easy-to-edit graphs, maps, and more than 500 icons, and Flaticon's extension to help you edit the slides as you please.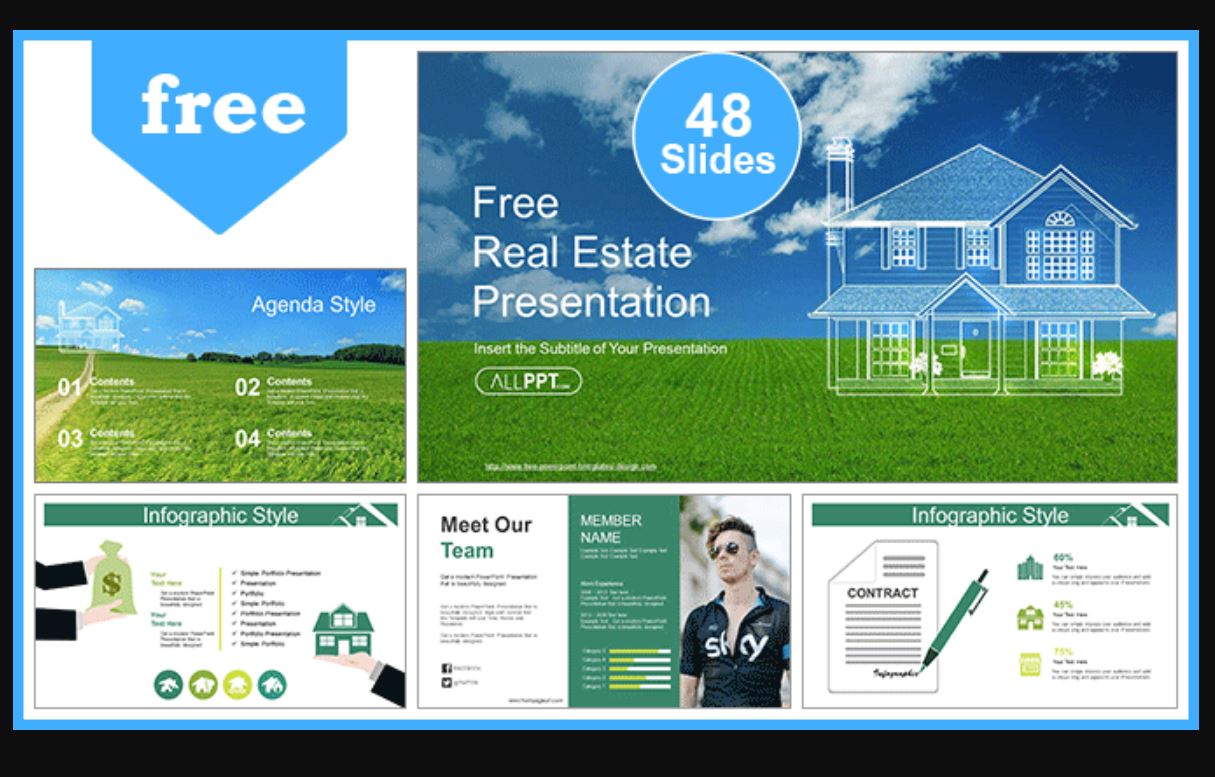 Next up is a series of 48 fully editable slides that feature an architectural line house design and a range of customizable infographics and unique layouts, perfect for use as a real estate pitch deck template. It offers interchangeable color themes and drag and drop image placeholders, and is available for free download at Free PowerPoint Templates Design.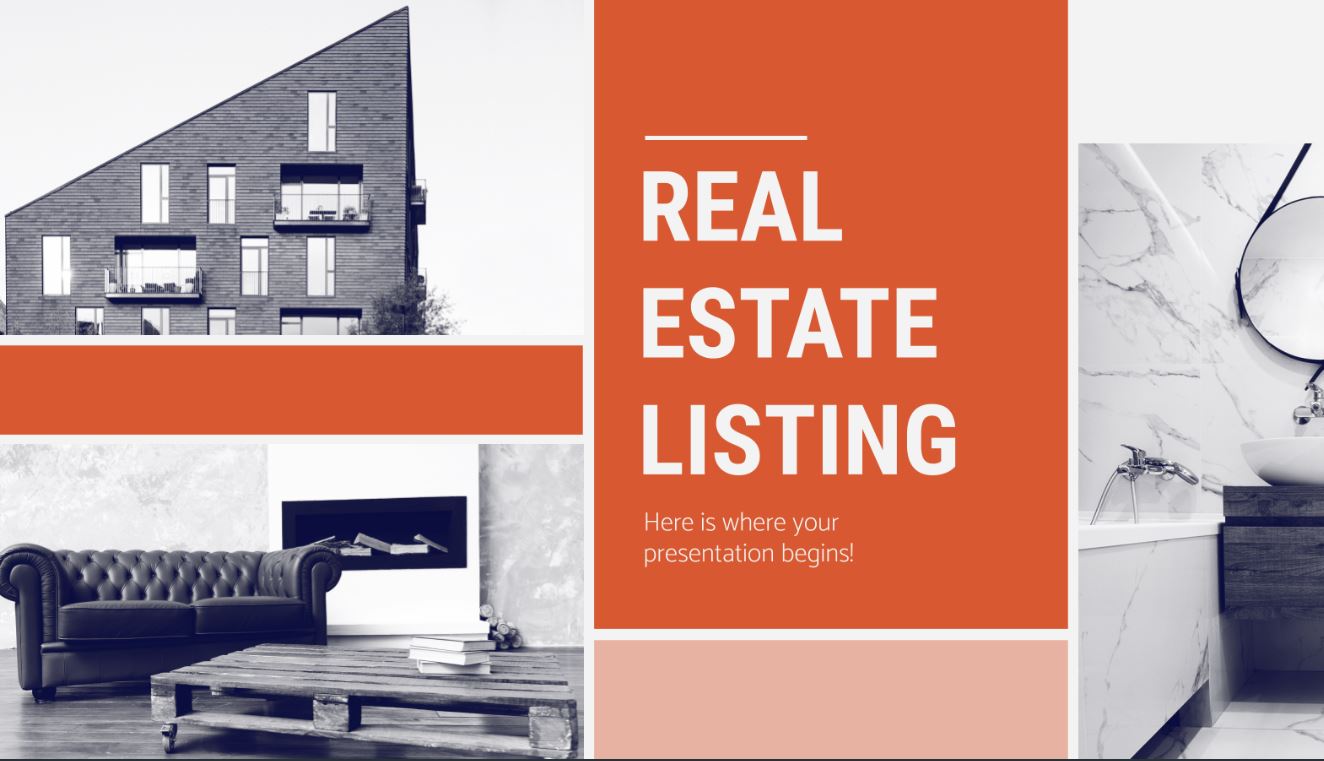 Last in our selection of the best real estate PowerPoint templates is this free design from SlidesGo that's been created to help you showcase a new listing and make a sale! It includes 23 different slide layouts with fully editable graphic elements, a geometrically inspired design, and an orange-based color palette.
Now that we've reached the end of our selection of the best real estate listing, marketing, and investment PowerPoint templates, there's nothing left for you to do but choose your favorite, click download and start customizing straight away. You're welcome!