20+ Best Procreate Hair Brushes (Free & Pro) 2022
Procreate is an incredibly extensive artistic tool, providing its users with everything they need to create stunning works with ease. It's no surprise that Procreate has quickly become one of the most used canvas tools for pros and hobbyists alike.
However, there is often a double-edged sword to Procreate. One of its best qualities is its third-party tools, yet due to the extensive nature of the third-party market, it can be quite troublesome to find the tools you're looking for. This is especially true for finding good quality Procreate hair brushes.
It's for that reason that we've decided to compile a list of the best premium and free Procreate hair brushes out there right now.
We've made sure to cover a wide range of styles, with each one helping you to craft beautiful hair designs.
Read on!
Download thousands of versatile Procreate add-ons, brushes, presets, palettes and more. From $16 per month, get unlimited access to thousands of resources to help you draw, illustrate, design, edit and create with Procreate.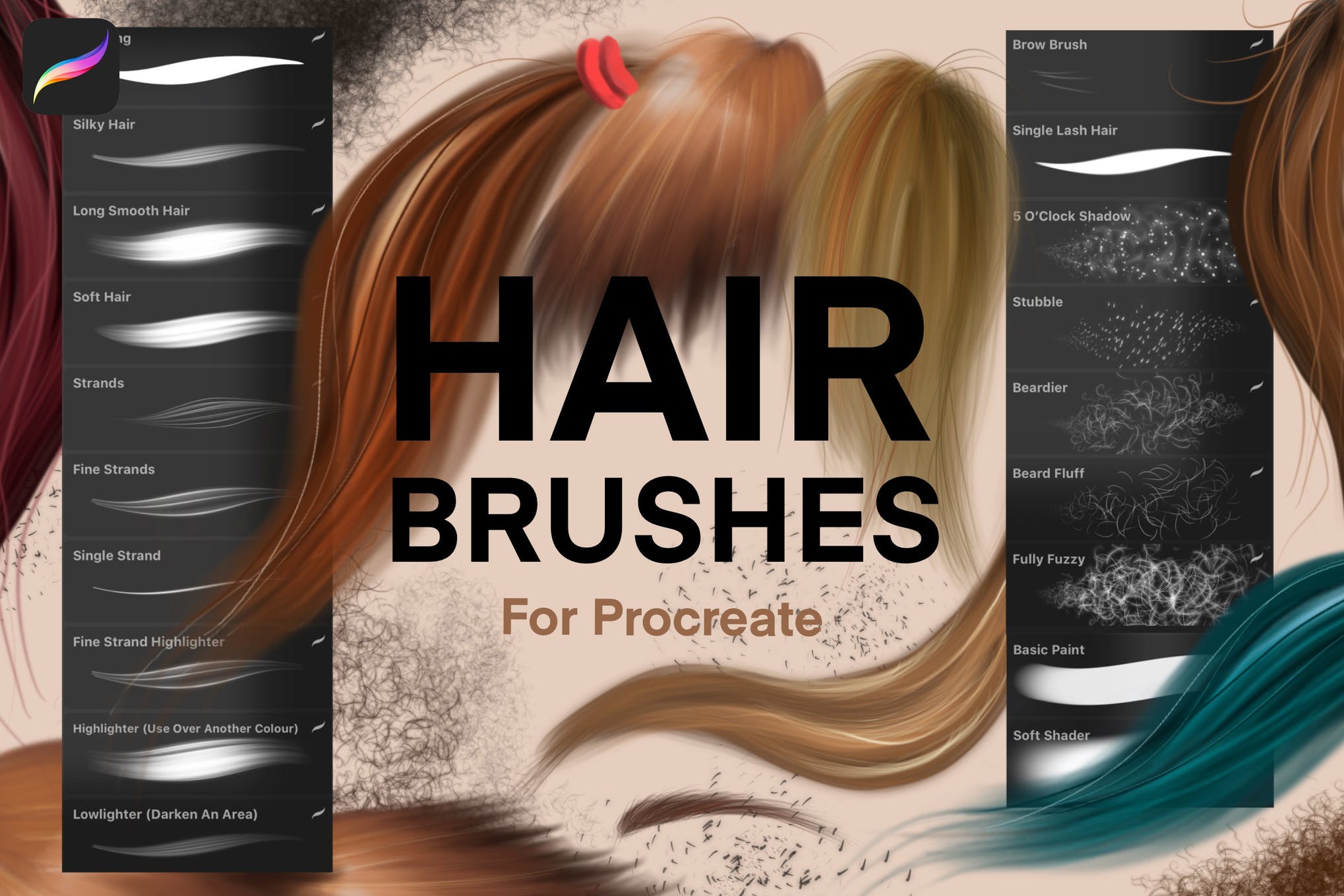 When it comes to finding hair brushes for Procreate, you can't go wrong with this foundation package of realistic hair brushes. There are several brushes to choose from, each providing a range of styles that you can easily adapt to your work.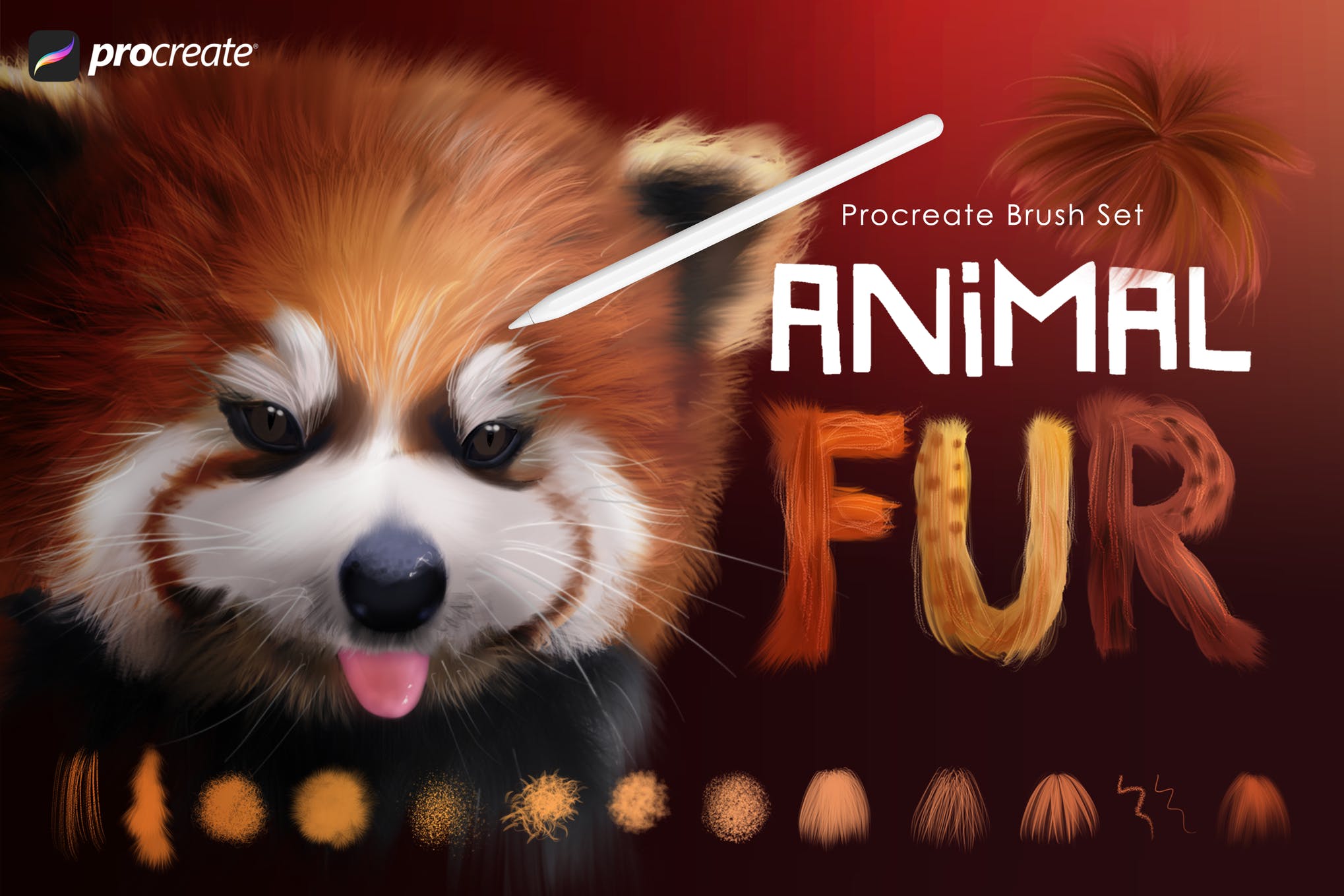 Want to create a different kind of hair? This collection of Animal Fur Brushes for Procreate has all of your furry friends' needs covered. The package is equipped with brushes that can easily emulate the fur styles of every fluffy animal out there.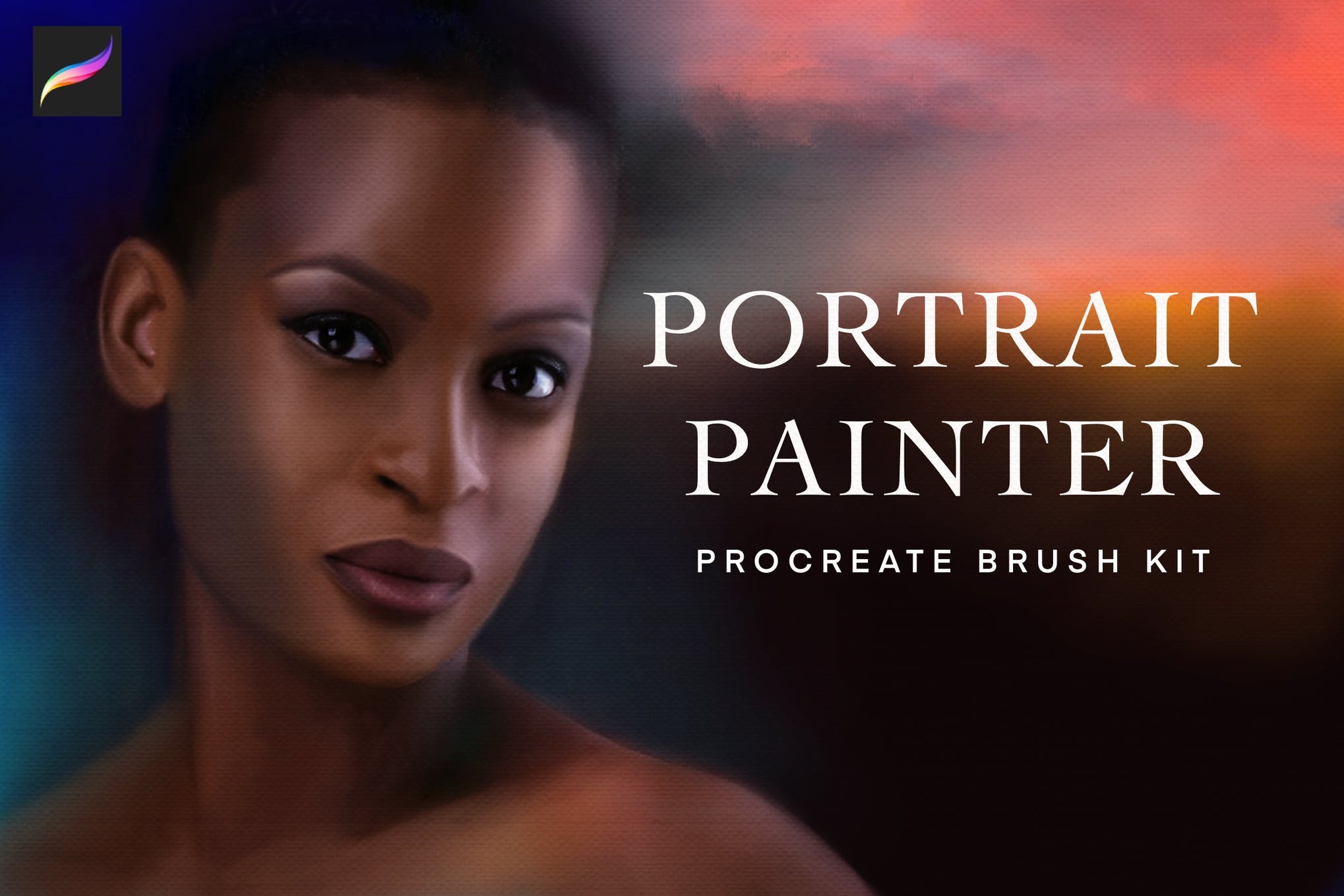 If you're a digital artist looking to get your hands on an all in one brush collection for painting portraits, the above featured product is well worth checking out. It contains brushes for sketching, contouring, shading, and detailing, as well as a few brushes to draw the hair, eyelashes, and brows.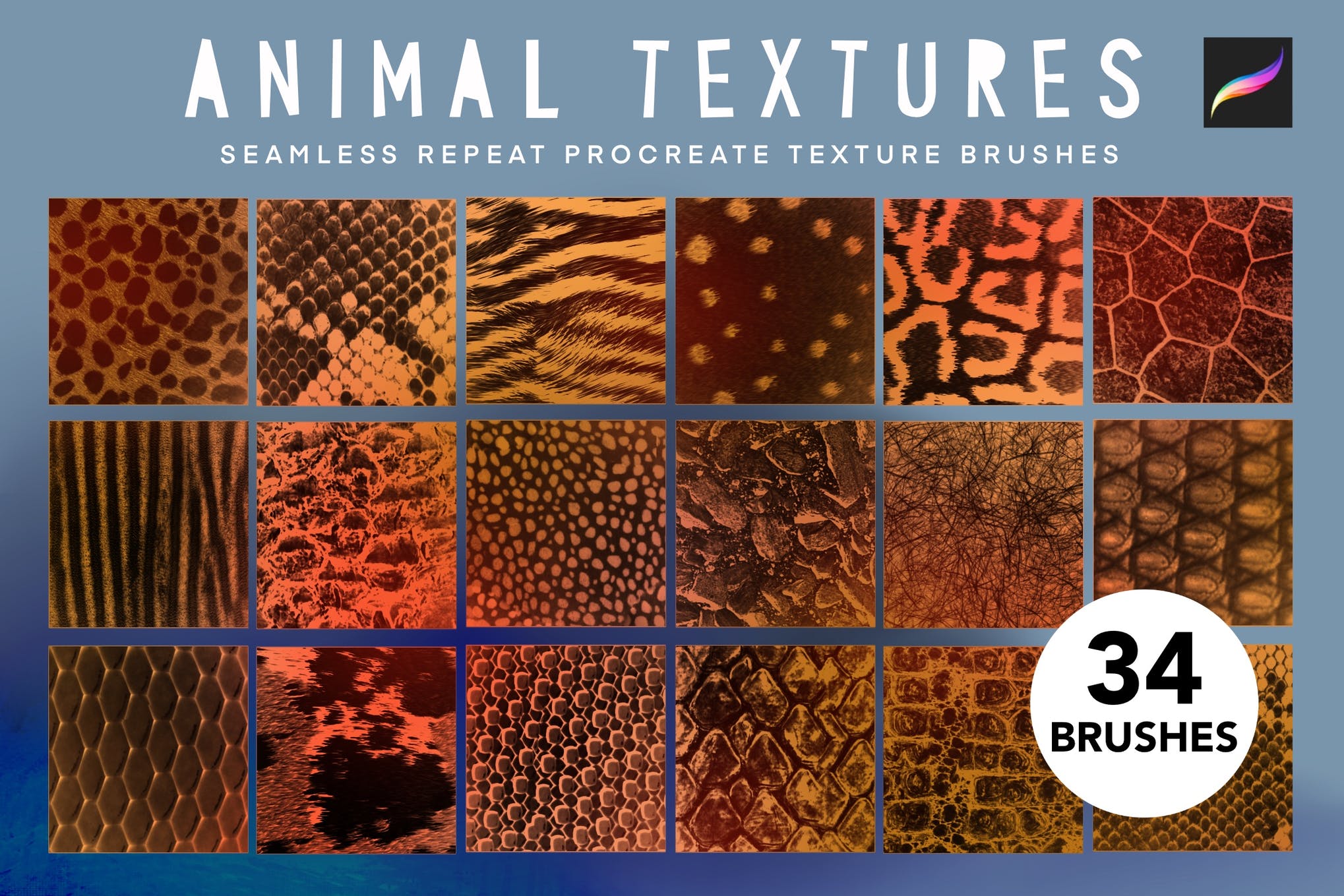 Here we have an incredibly unique brush set containing realistic fur, reptile skin, big cat spots, and a range of other animal textures to add to your designs. This set arms you with the best Procreate hair brushes available on the market today.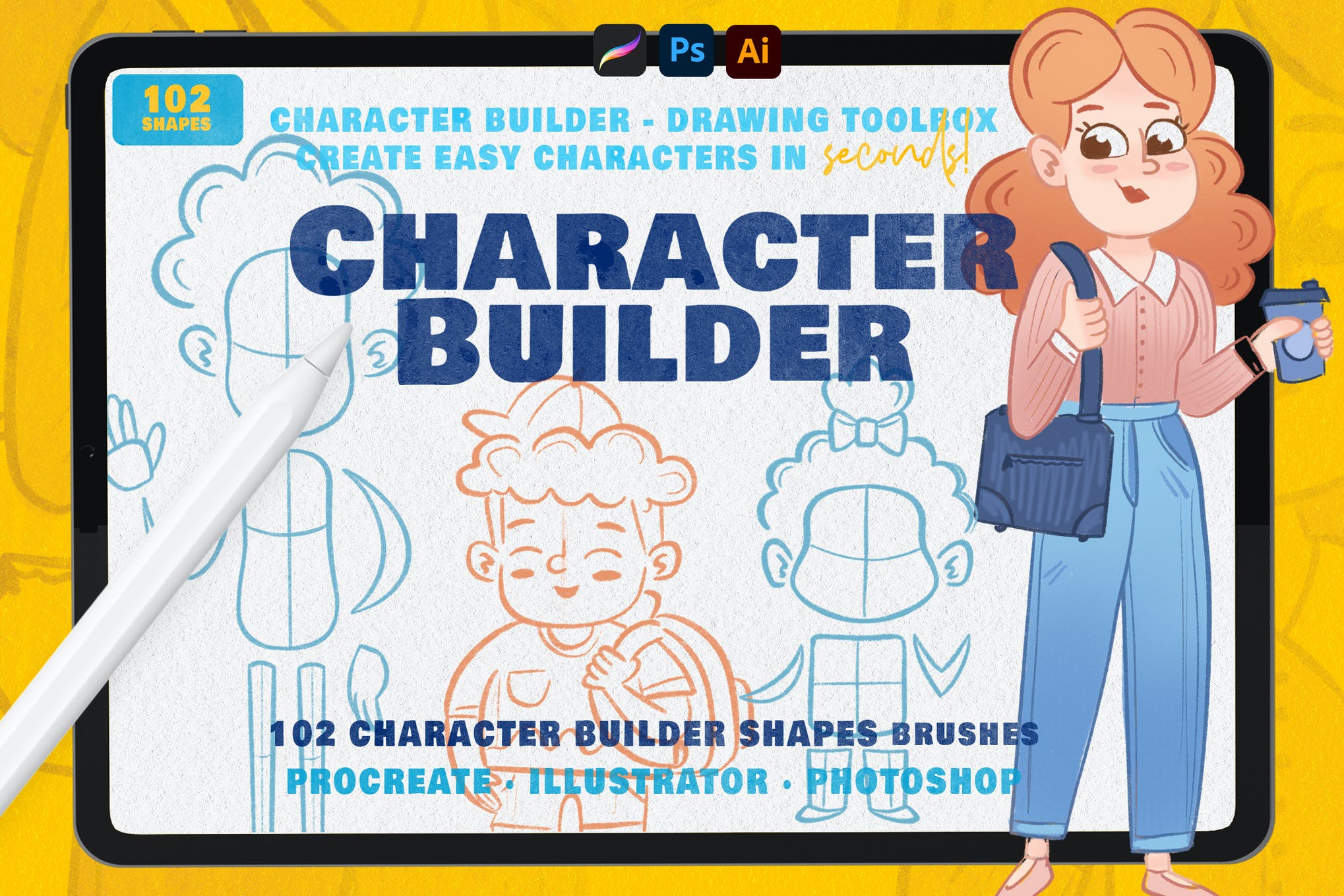 If you want to improve your character drawing skills, this Procreate brush collection is a must-have in your artist's toolkit. Use the brushes to draw hair, body shapes, and facial features in no time, and share your creations with your Instagram followers.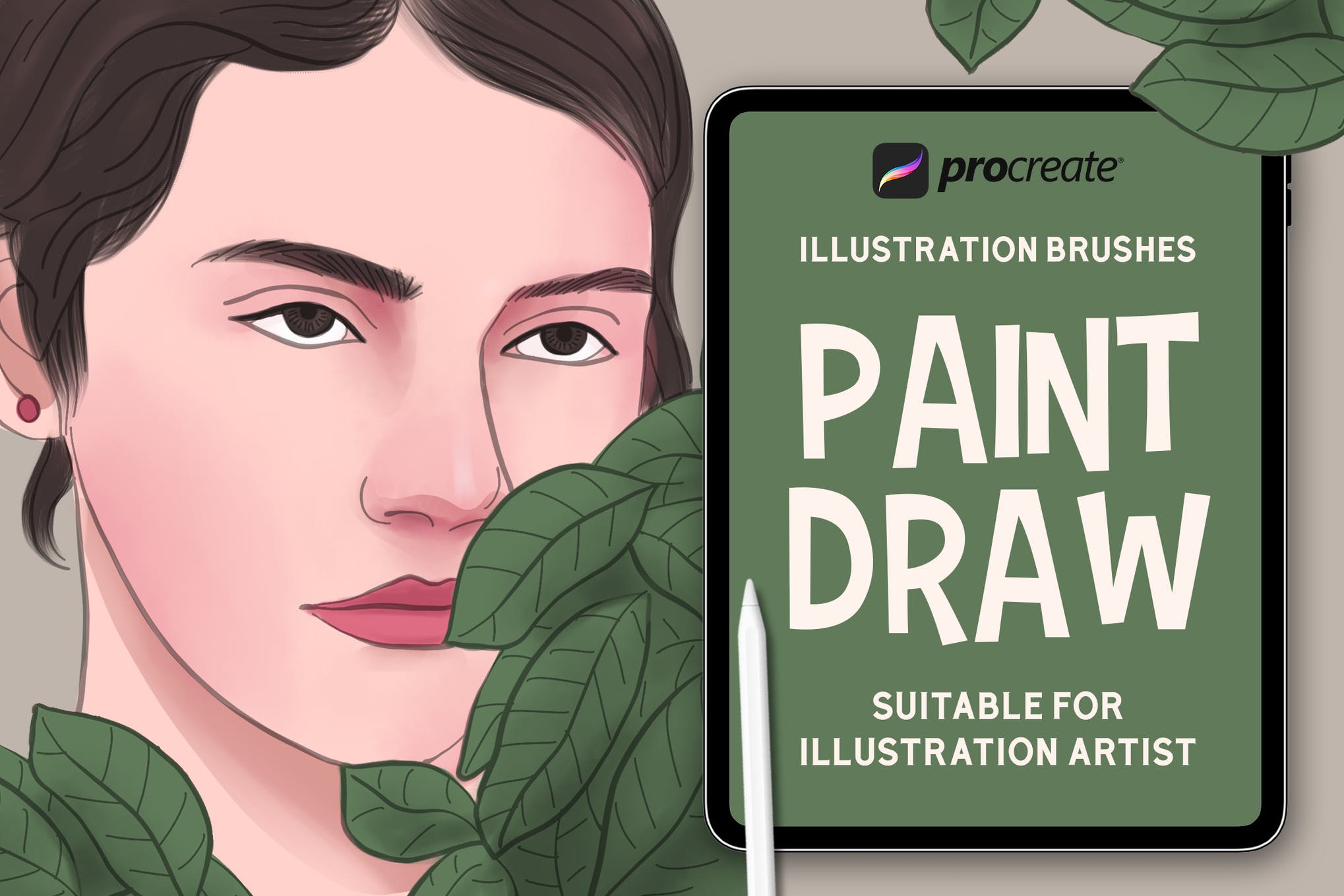 If you often use a painted style on your canvas, then you'll need to get your hands on the Paint Draw collection of brushes for Procreate. This package provides you with every brush style you will need to paint a beautiful head of hair and is also equipped with other brush styles for a general paint aesthetic.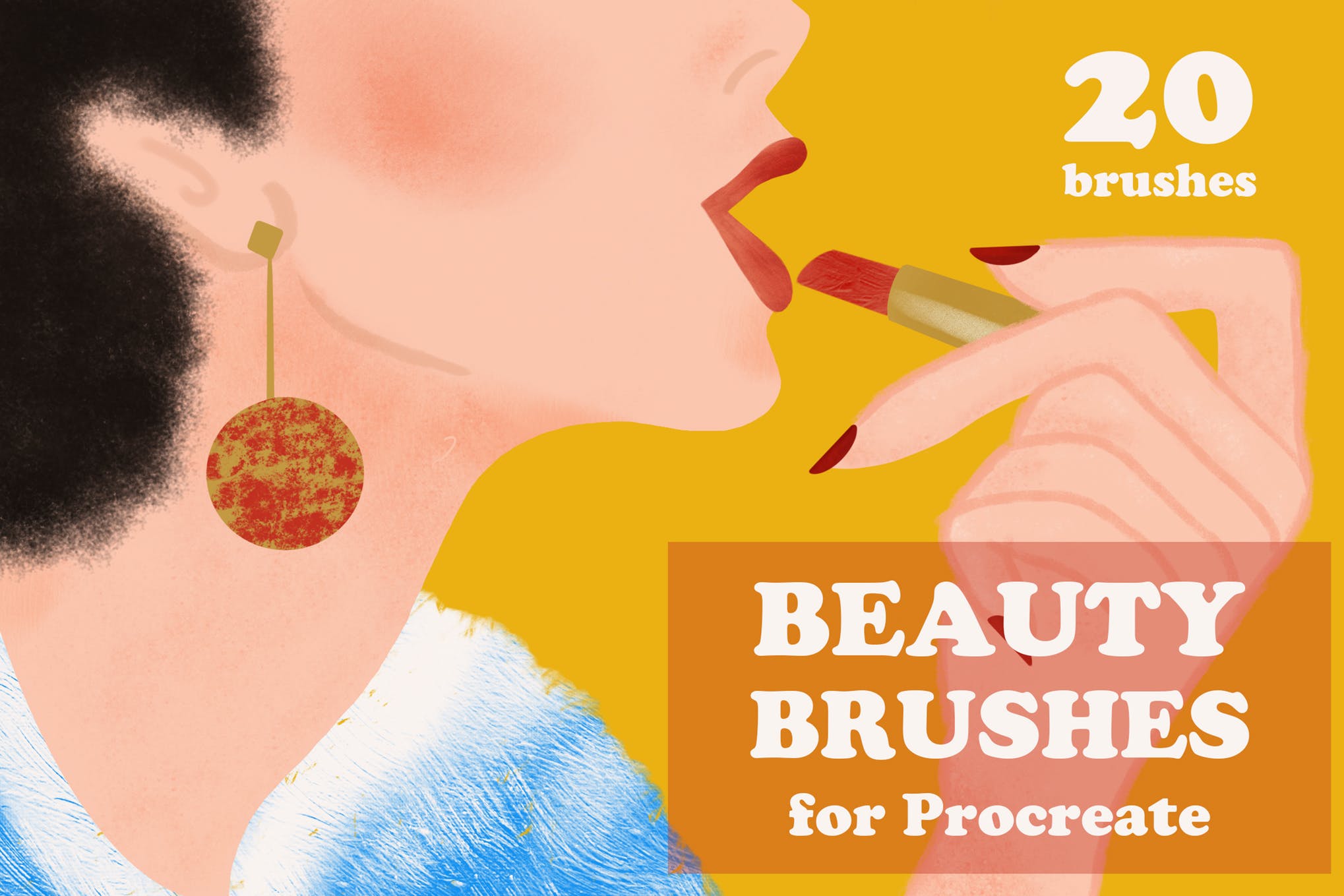 This collection of Beauty and Hair Brushes is a great foundational resource for any artist using Procreate. Inside you will find brushes to create a gorgeous head of hair, as well as other brush styles for skin, lipstick, and much more!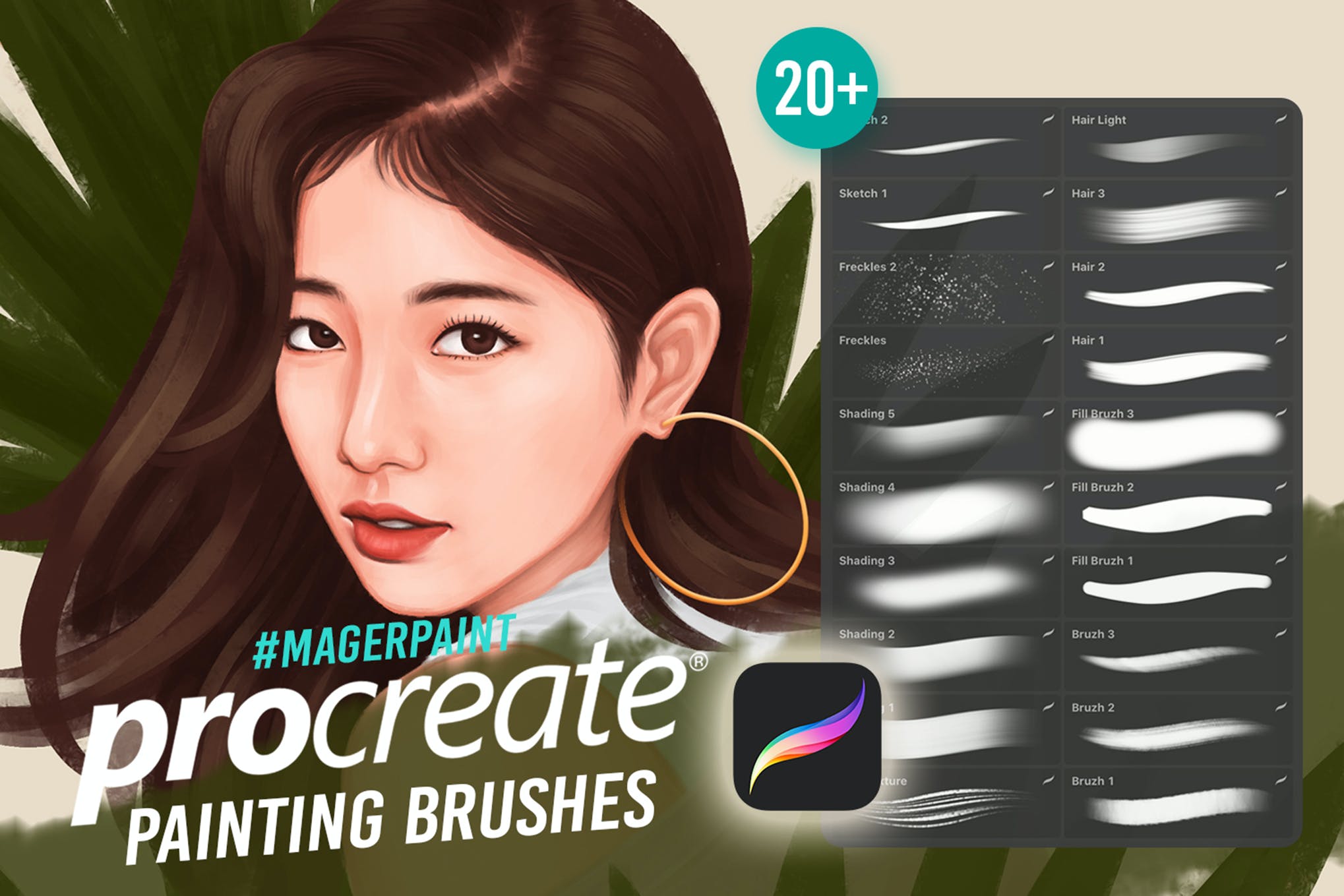 Magerpaint is a painting brush collection, designed to provide you with a more unique selection of painting brushes. The brushes in this twenty-brush collection include hair, freckles, sketching, shading brushes, and much more.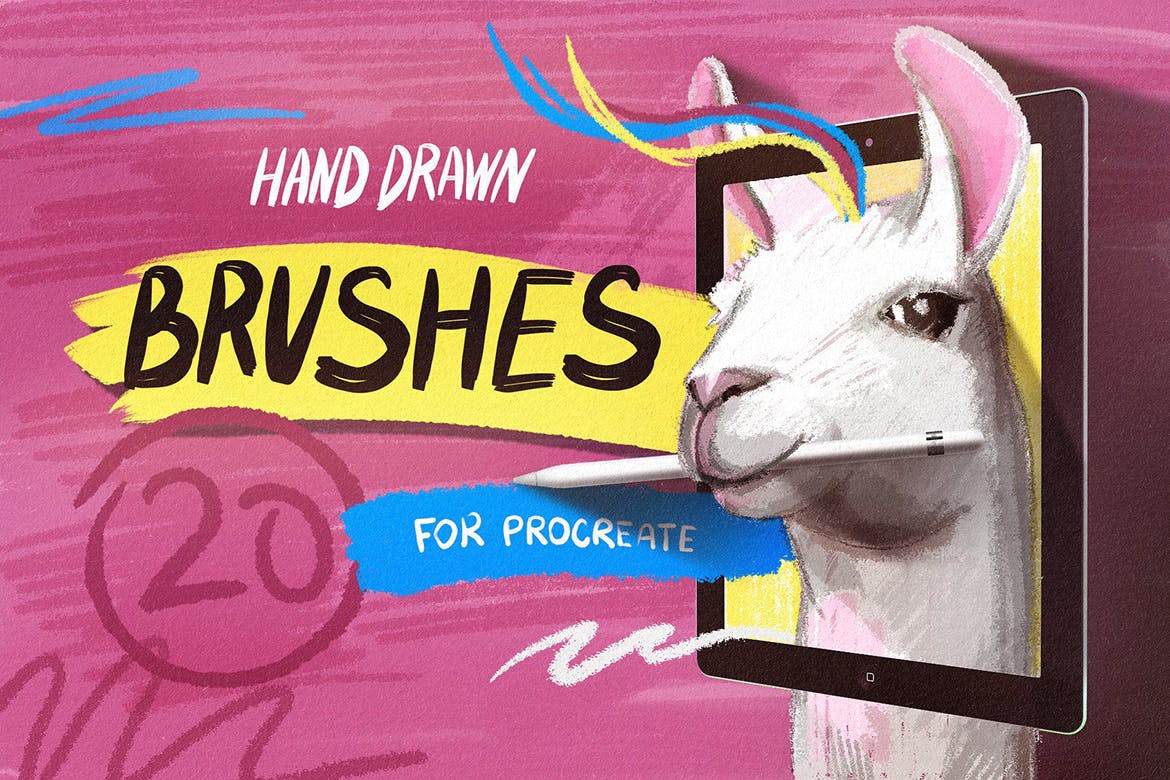 If you're more inclined to use a hand-drawn style for your work, then take advantage of this collection of Hand Drawn Brushes for Procreate. Each brush in this twenty-brush collection is designed to emulate an authentic and memorable hand-drawn style and will work wonders for drawing a pencil-styled head of hair.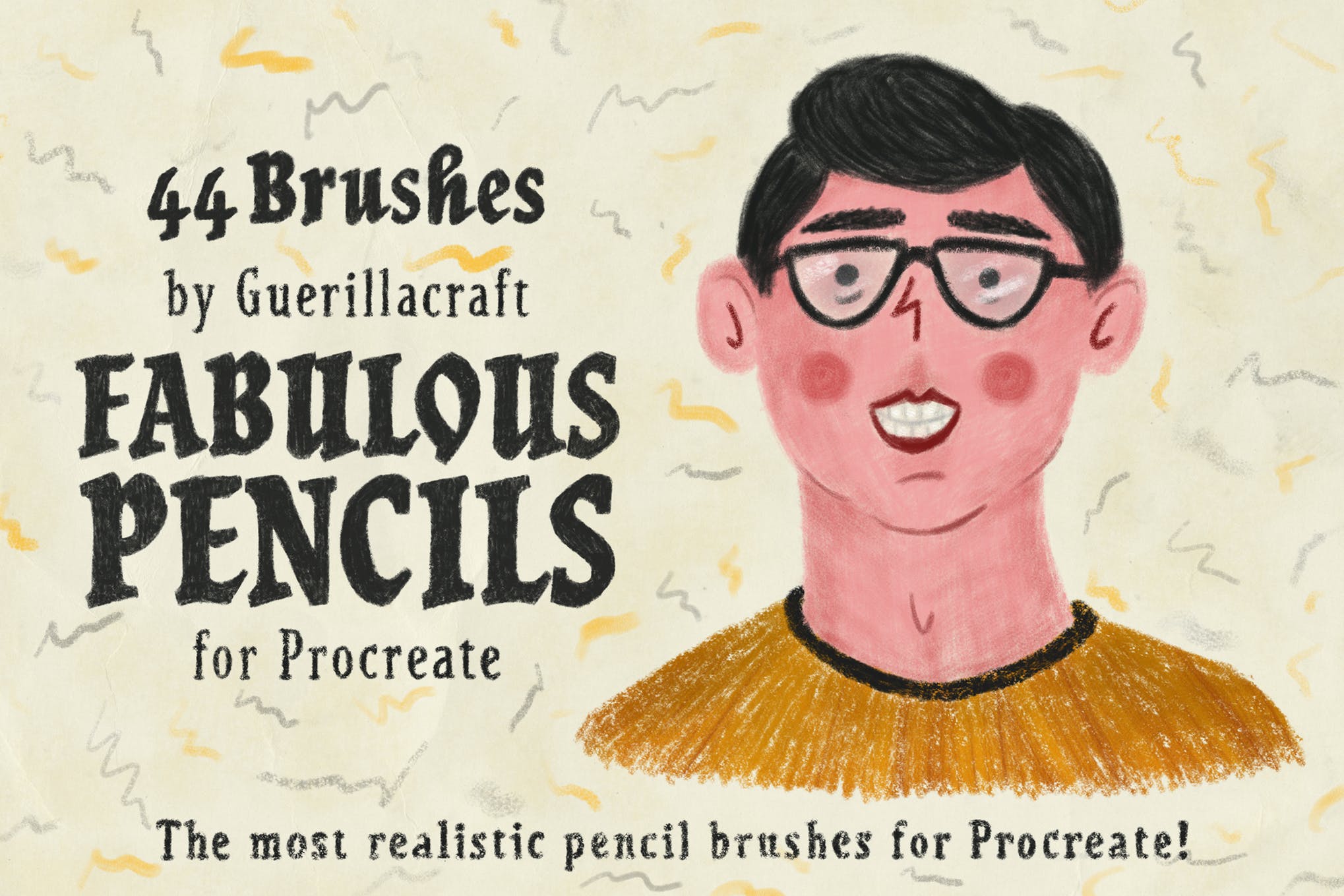 Take advantage of some of the best pencil brushes out there for hair, with this collection of Fabulous Pencils for Procreate. Each brush in this forty-four-brush collection manages to emulate an incredible pencil style and comes with a wide range of brush styles making sure to always have an option to tailor a great head of hair with ease.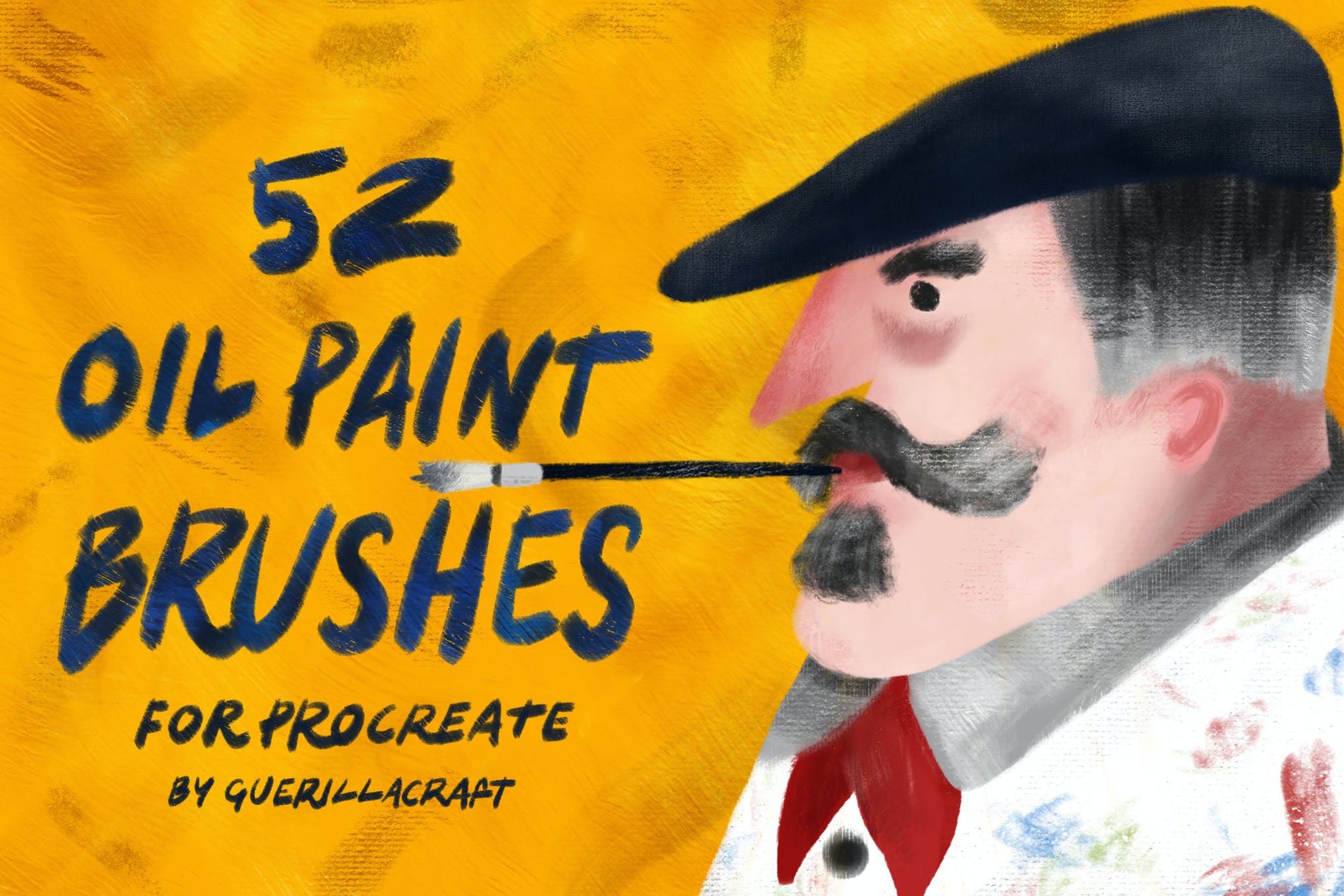 If you love creating oil paintings, then you'll need some great oil brushes to tailor your hair designs. With this Oil Paintbrush collection for Procreate, you'll have over fifty different brush styles at your fingertips. A great choice for pros and beginners alike!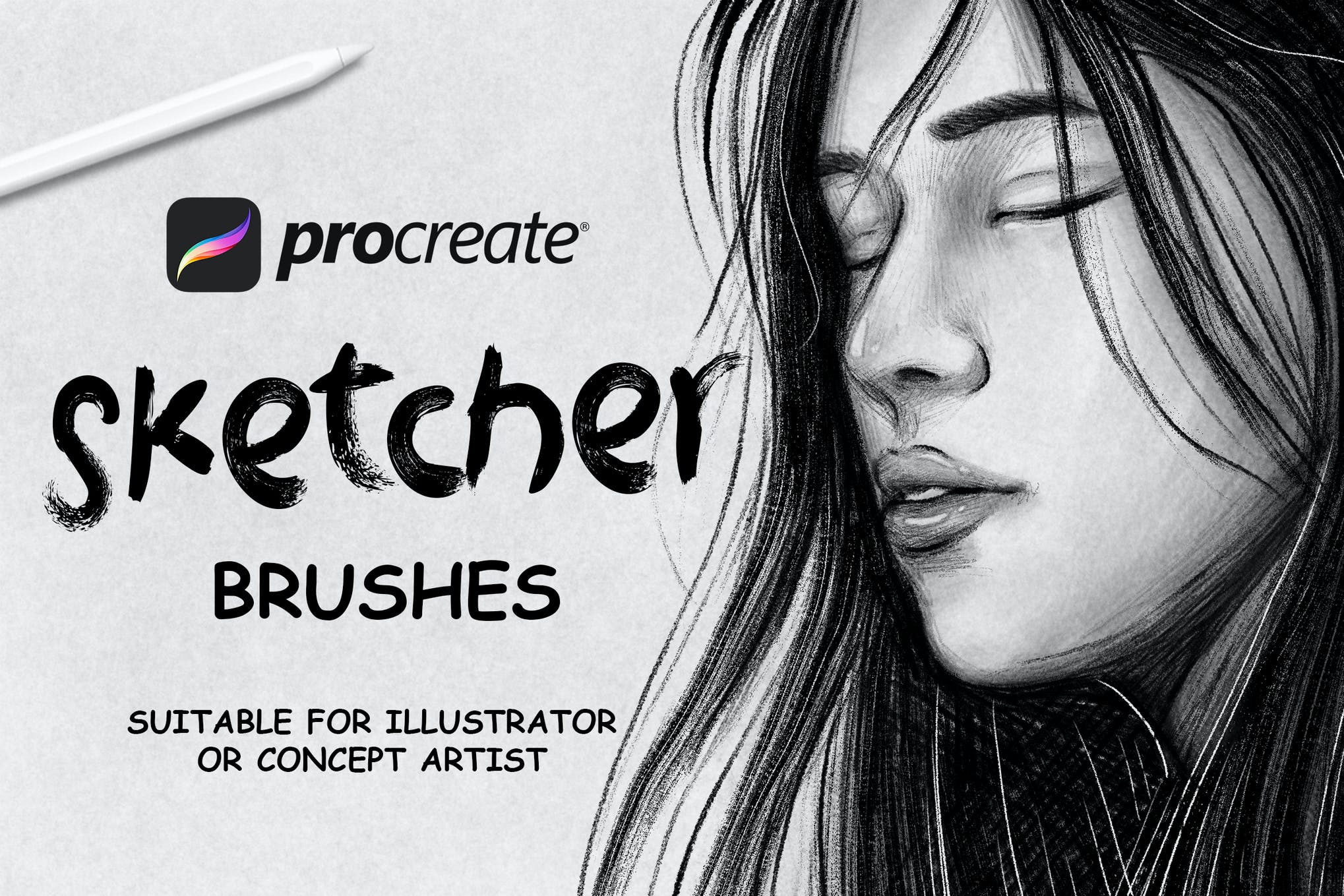 If you want to emulate a sketch style on the screen, especially when it comes to designing hair, then this Sketcher Brushes collection is what you're looking for. It comes with a professionally designed range of sketch-style brushes, each with their own gradient, intensity, and design.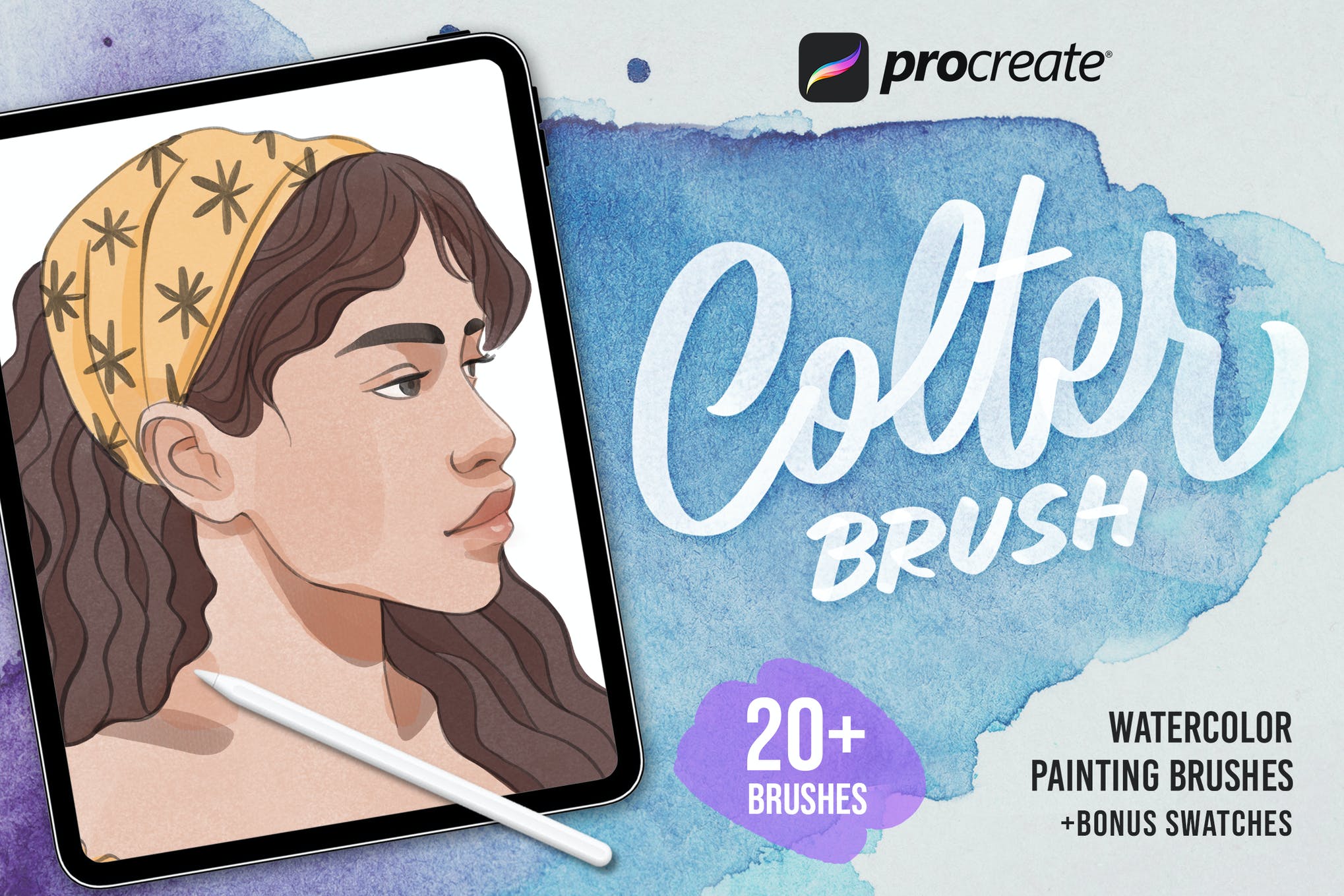 Create beautiful watercolor heads of hair with the Procreate Colter Brush collection. This is a unique watercolor collection, providing you with twenty different brush styles that will help you craft beautiful hair designs with ease.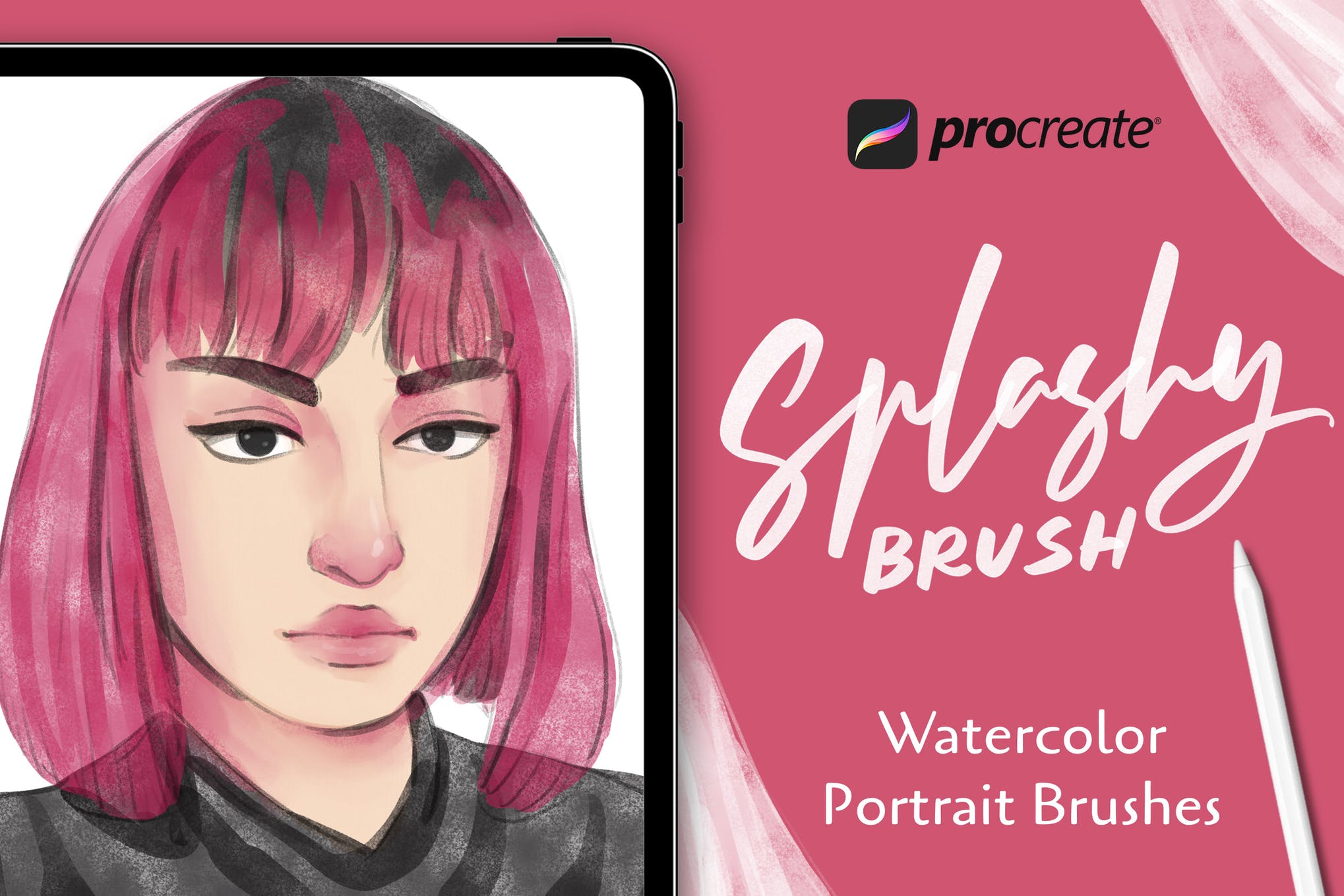 The Splashy Brush collection for Procreate is a more traditional watercolor brush package providing you with a wide range of watercolor brush styles that can craft beautiful hair designs with ease. A great choice for beginners just starting out with watercolor painting!
Free Procreate Hair Brushes
You don't have to spend a pretty penny to get your hands on some great Procreate hair brushes. Let's take a look at some free Procreate hair brushes that are a cut above the rest.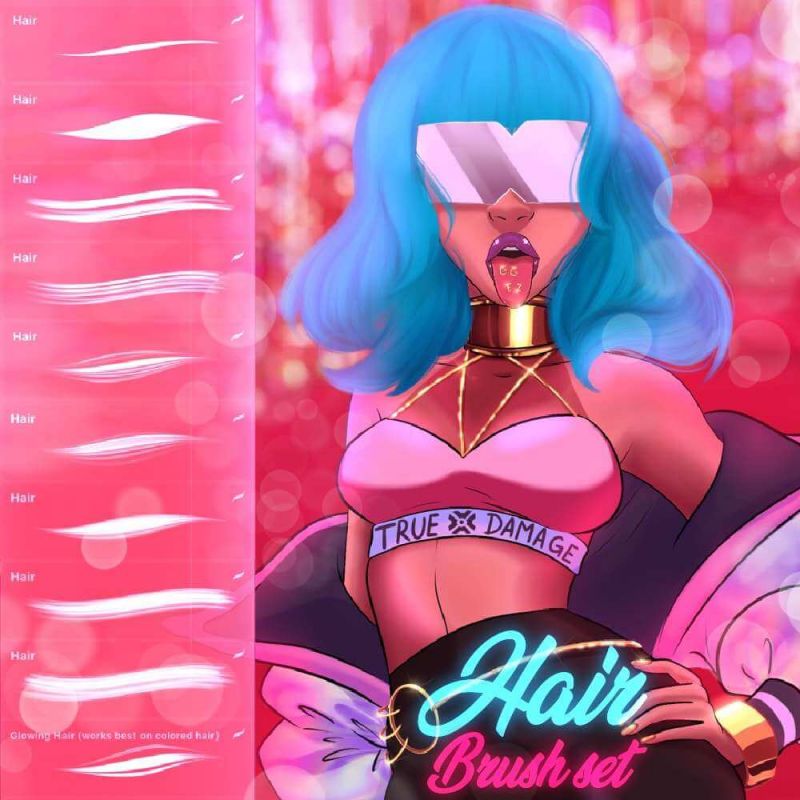 Do you create anime or manga art? Then this Anime Hair Brush Pack for Procreate is something you should definitely check out. The collection provides a professionally designed range of brush styles that excel at the Japanese anime and manga styles.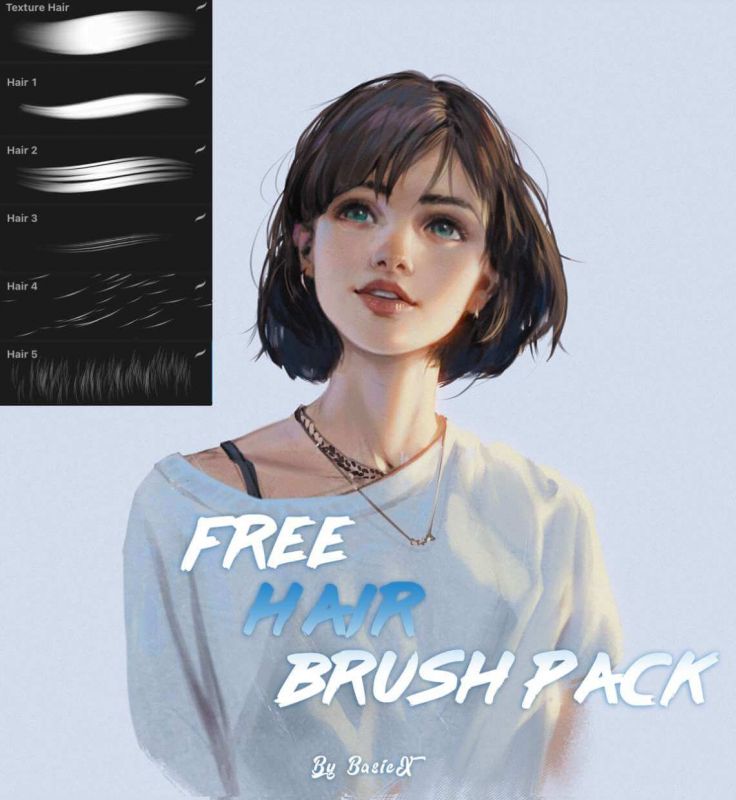 Sometimes simplicity is best, and that's where this simple hairbrush collection comes in. It provides you with a range of brush styles, allowing you to create gorgeous hair designs with ease. A gold standard in free Procreate brushes!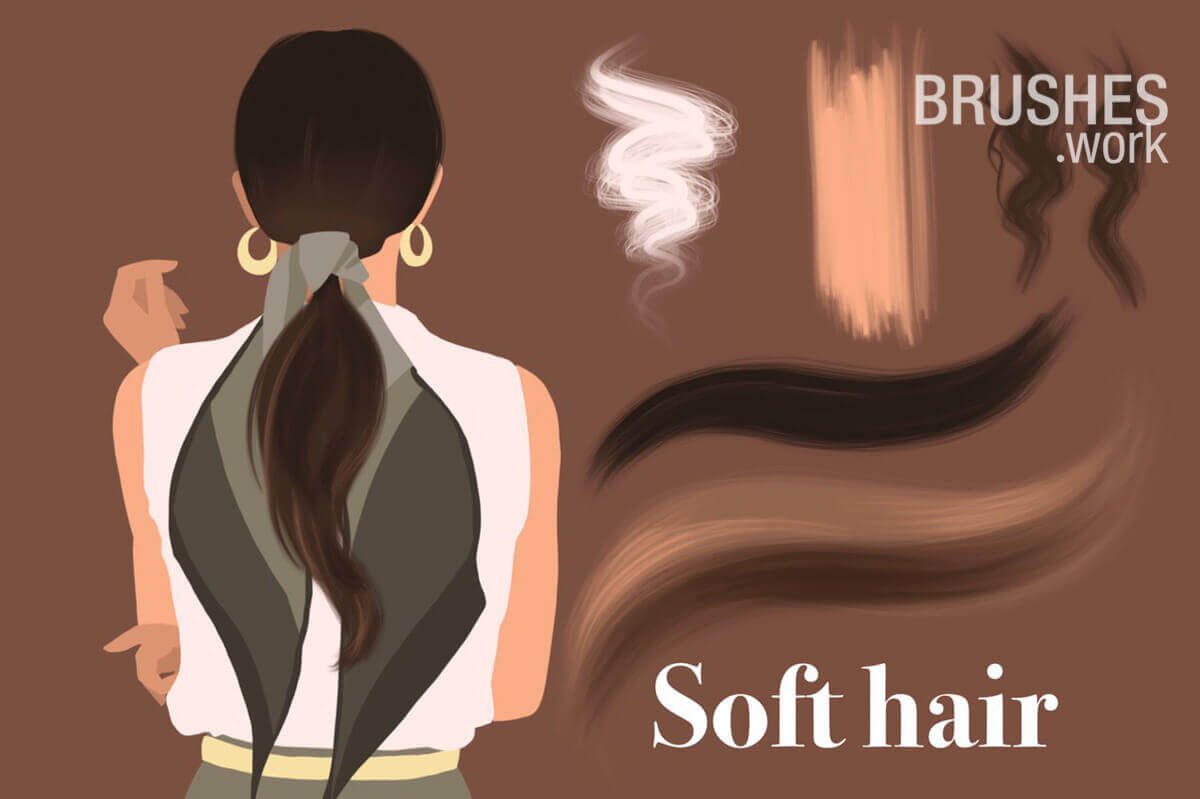 If you're looking to get started with hair designs, then this Hair Brush Pack for Procreate is a great place to start. It provides a range of traditional hair brush styles, each with its own personality, to help you along the way with learning how to create beautiful hair. One of the best free Procreate hair brushes set!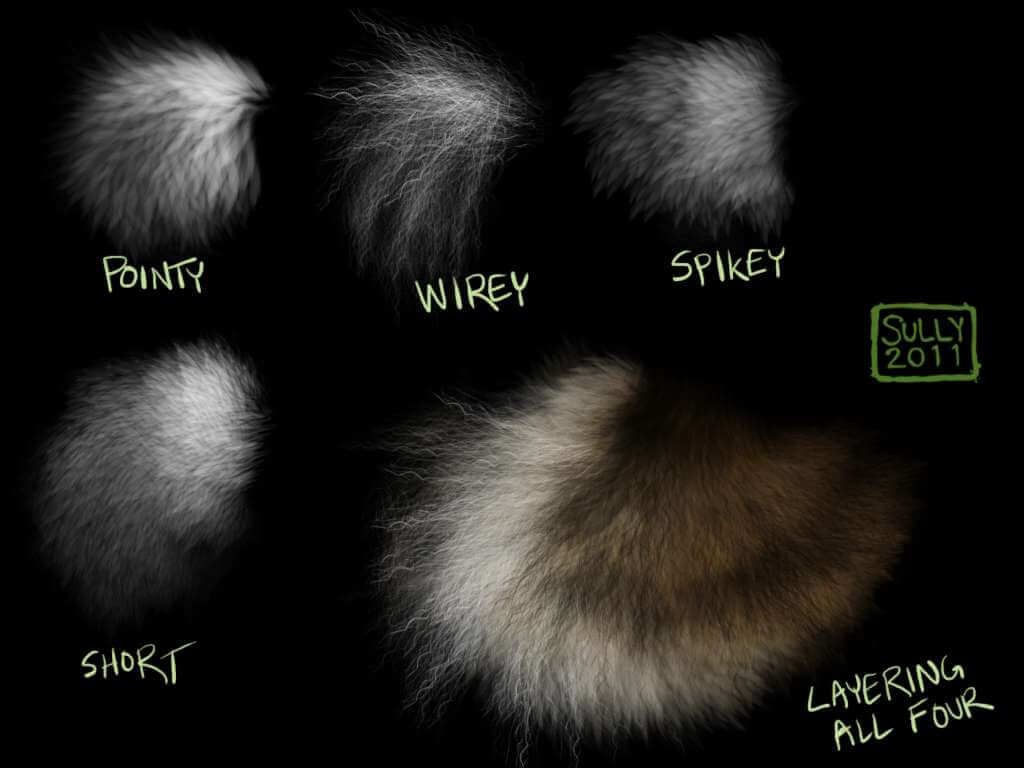 Here we have a versatile and beautifully designed brush pack for Procreate. Each brush style in this package provides you with a unique fur design and comes with a wide range of options that will fit all kinds of artistic expression.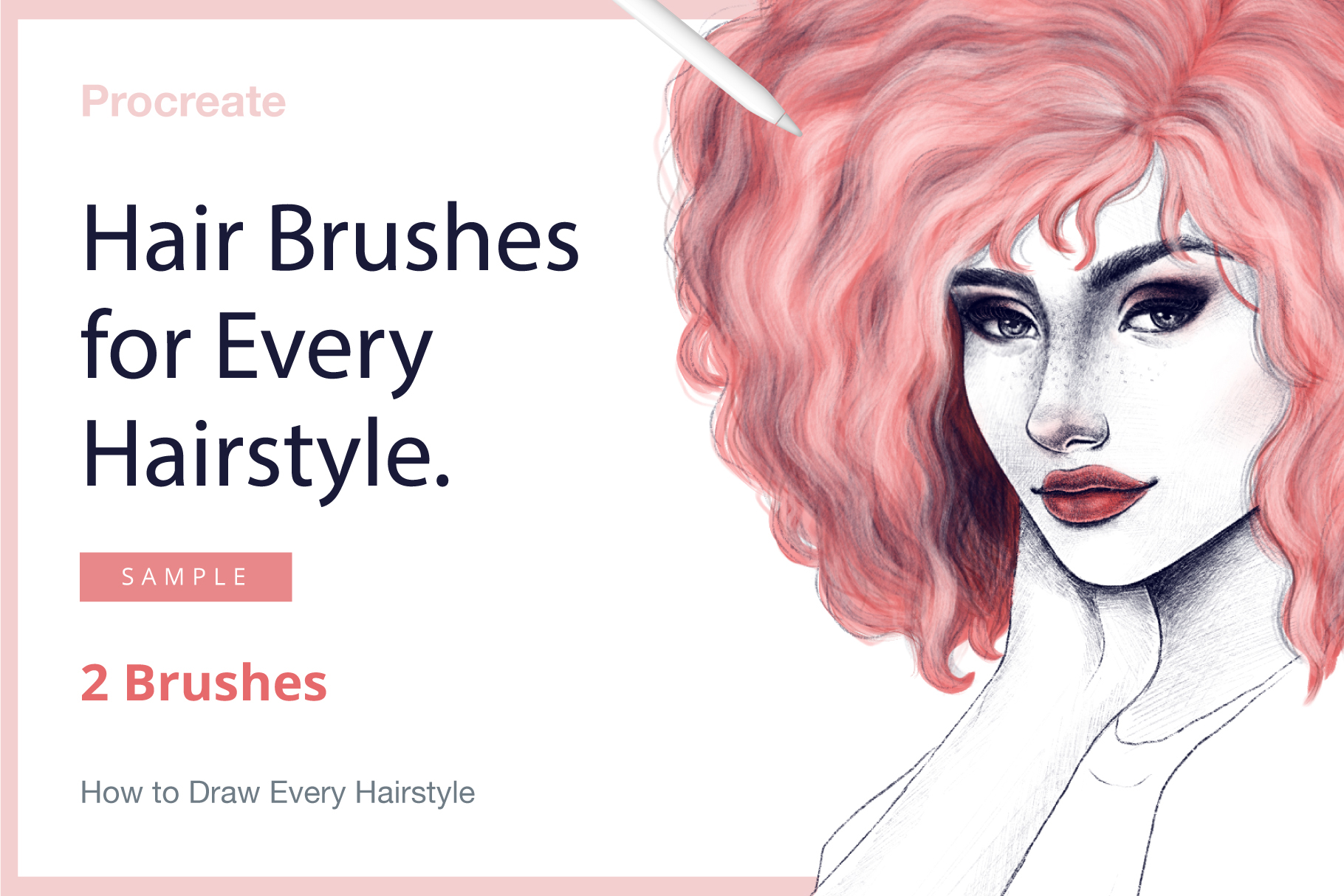 Check out this stunning set of Procreate hair brushes that will help you create the most authentic and natural hair designs with ease. The best part is that the package is free for you to download.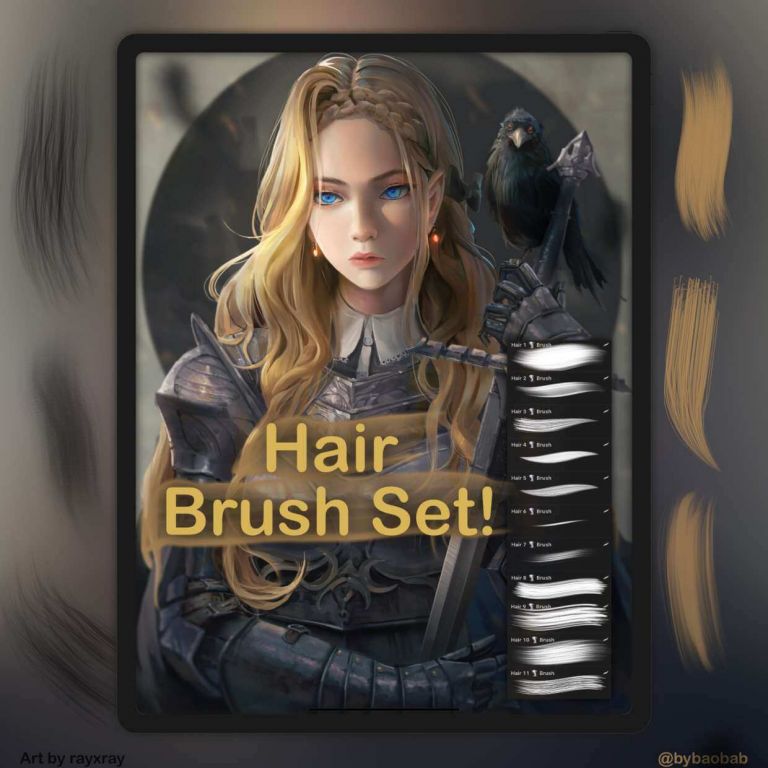 If you're looking to hunt down the best hair brushes for Procreate without having to splurge on premium products, this freebie is the right choice for you. It will help you create unique artworks in no time; get your hands on it right away.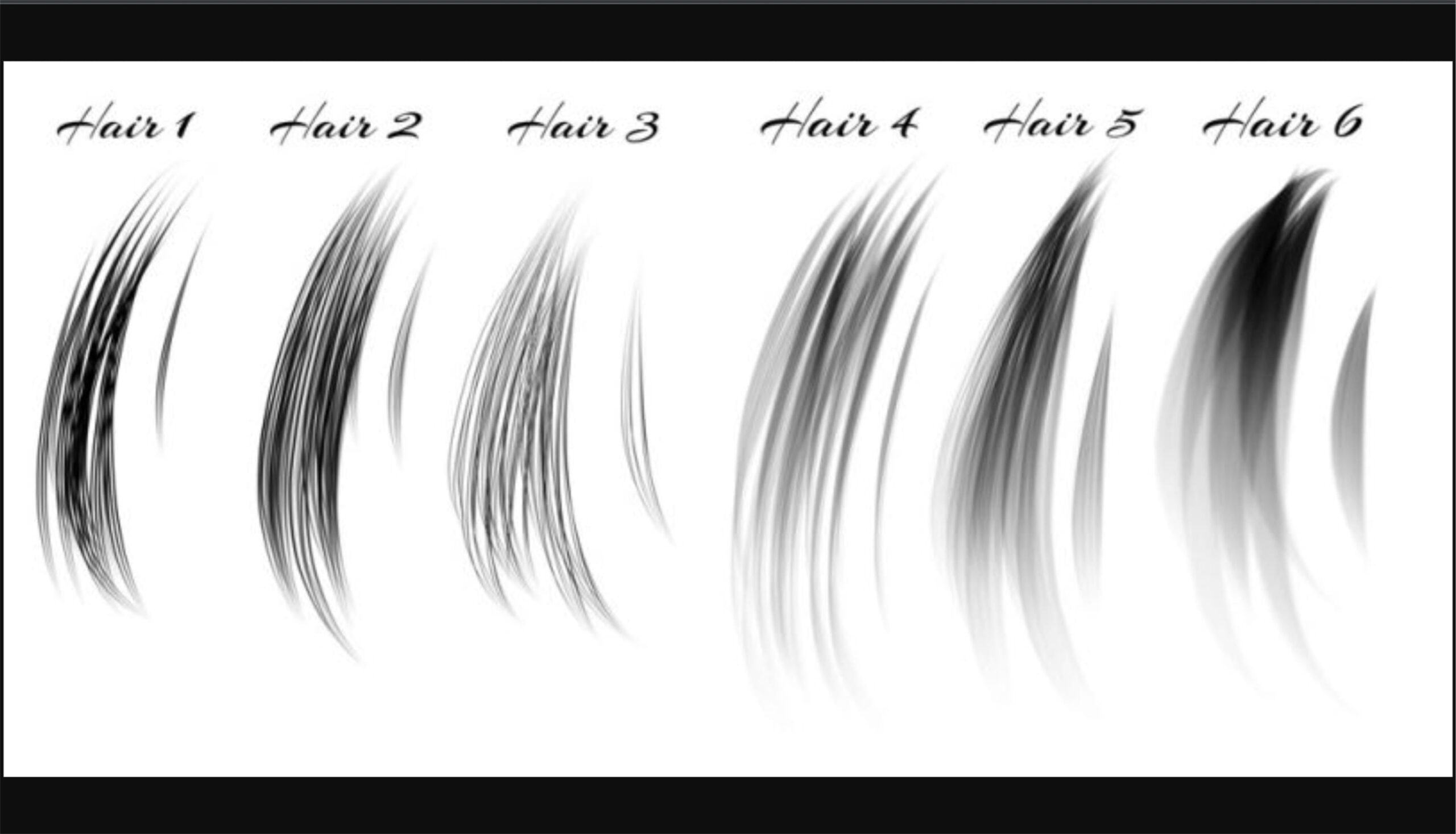 for anyone wanting to download the best free Procreate hair brushes that's very much capable of giving virtually any premium product a run for its money, the above featured item is just what you need. Don't hesitate to take this simple but impressive brush set for a spin.
Create A Beautiful Head of Hair with These Brushes!
There is nothing easy about creating amazing-looking hair on your canvas, but that doesn't mean finding the right brushes has to be a challenge. With this collection of Procreate hairbrushes at your fingertips, you have everything you need to create an amazing head of hair with ease!