25+ PowerPoint Presentation Ideas + Innovative PPT Templates
Designing an effective slide deck for a presentation can be a difficult task. Especially if you want it to be creative and stand out from the crowd.
Thankfully, there are many different ways you can make your presentations more unique. In this article, we are sharing some of those creative PowerPoint ideas you can use to design attractive slideshows for your presentations.
In addition, we'll also share example PowerPoint templates to accompany each presentation idea. So that you can easily get started on your own PowerPoint slide deck without an effort.
Let's get started.
Get everything you need to give the perfect presentation. From just $16, get unlimited access to thousands of PowerPoint presentation templates, graphics, fonts, and photos.
1. Use Minimalism to Your Advantage
The way we design presentations is changing. It used to be full of text and long paragraphs. Now, it's all about blank space and lots of visuals.
In fact, according to a recent survey, 54.9% of marketers admitted that less than 25% of their presentations contained text.
When you look at the most popular presentations given by speakers on TED talks, you can see why this approach is more effective. When you add lots of empty space around a small piece of content, like a title, image, or a summary, the attention goes straight to the content of the slide.
This is a great strategy you can use to grab the attention of your audience and engage with them throughout your presentation. You can easily design such a clean and minimal presentation by using a pre-made template, like the one below.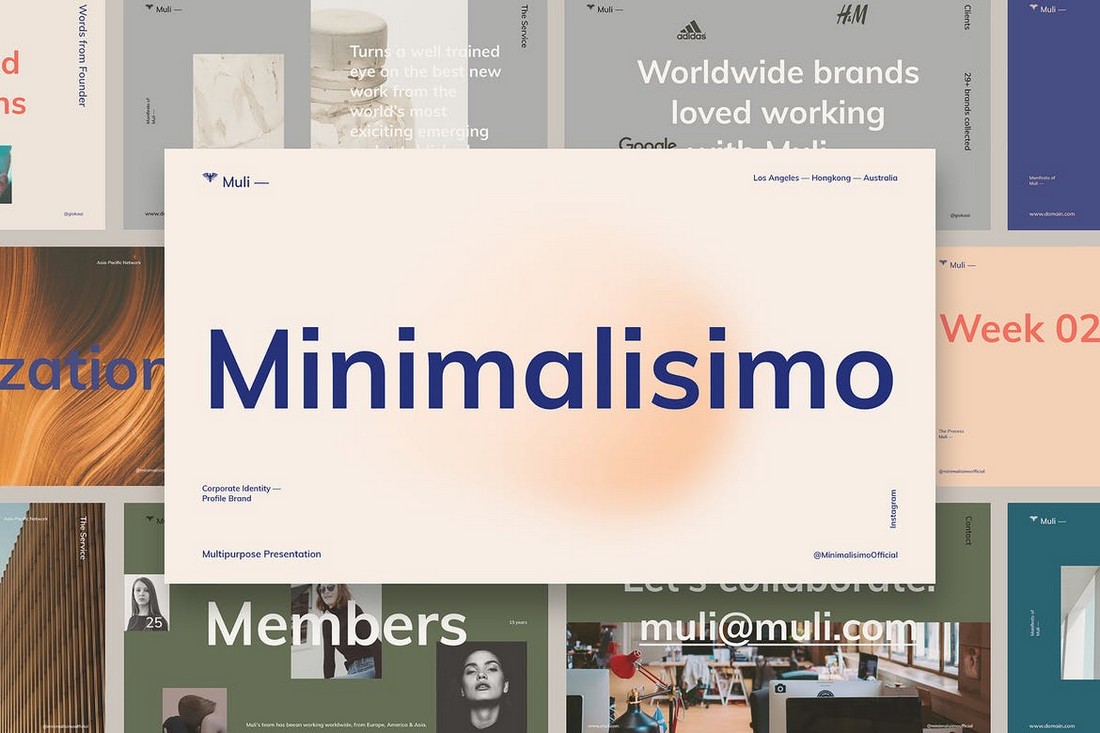 2. Don't Be Afraid to Use Trends & Themes
One of the best ways to design a more engaging presentation is to use a specific theme throughout all the slides.
For example, you can create a slide deck using a retro or vintage theme. Using fonts, colors, shapes, and images inspired by retro design trends. Or you can use themes specific to different topics. Like video game-inspired designs, nature-themed designs, technology-themed slide designs, and more.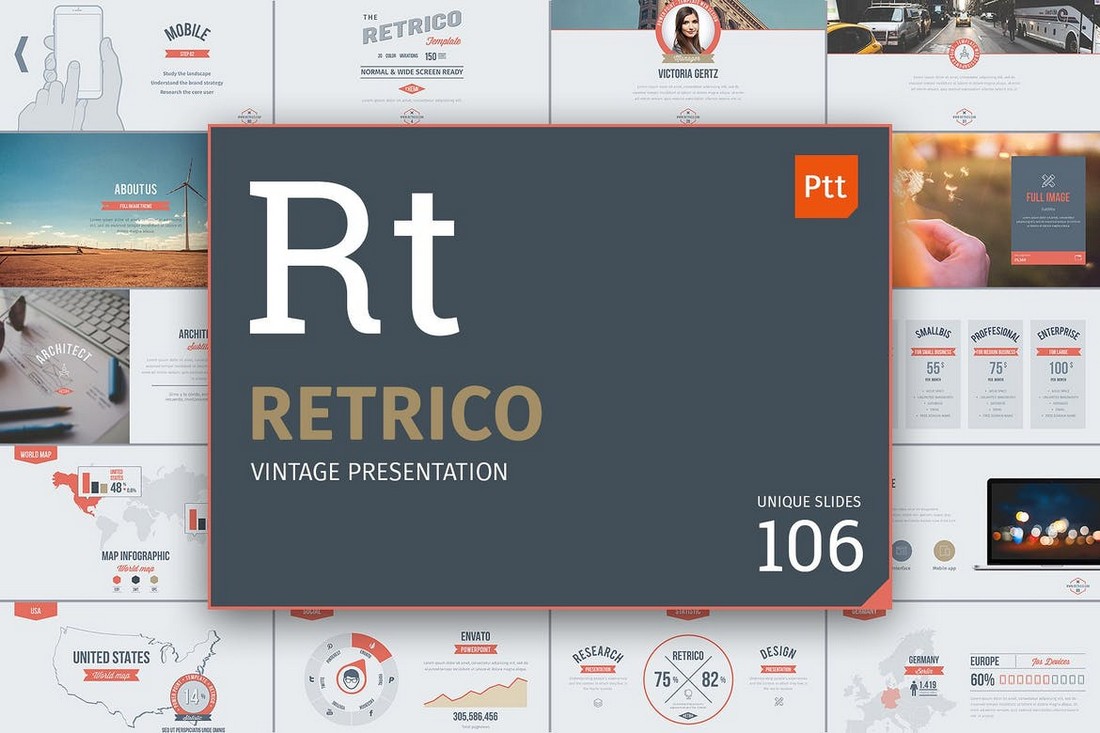 Using trends and themes is not just about making your presentation look great, it's also about crafting a slide deck with a consistent design. So that each slide in your presentation feels connected to each other.
3. Add Animations, but Not Too Much
Let's face it, static PowerPoint presentations are just plain and boring. You should always use animations in your presentations. But, to a certain extent.
Don't be that person who animates each and every object, text, and icon in each slide. That's just a great way to annoy your audience.
It's perfectly fine to use transition animations. Just the simple ones like fade-in and fade-out. Also, you can add animations to specific parts or objects if you plan on building up to a key point. Then you can reveal it in a big way.
If you're not too sure about adding animations, you can always pick an animated PowerPoint template and get started the easy way.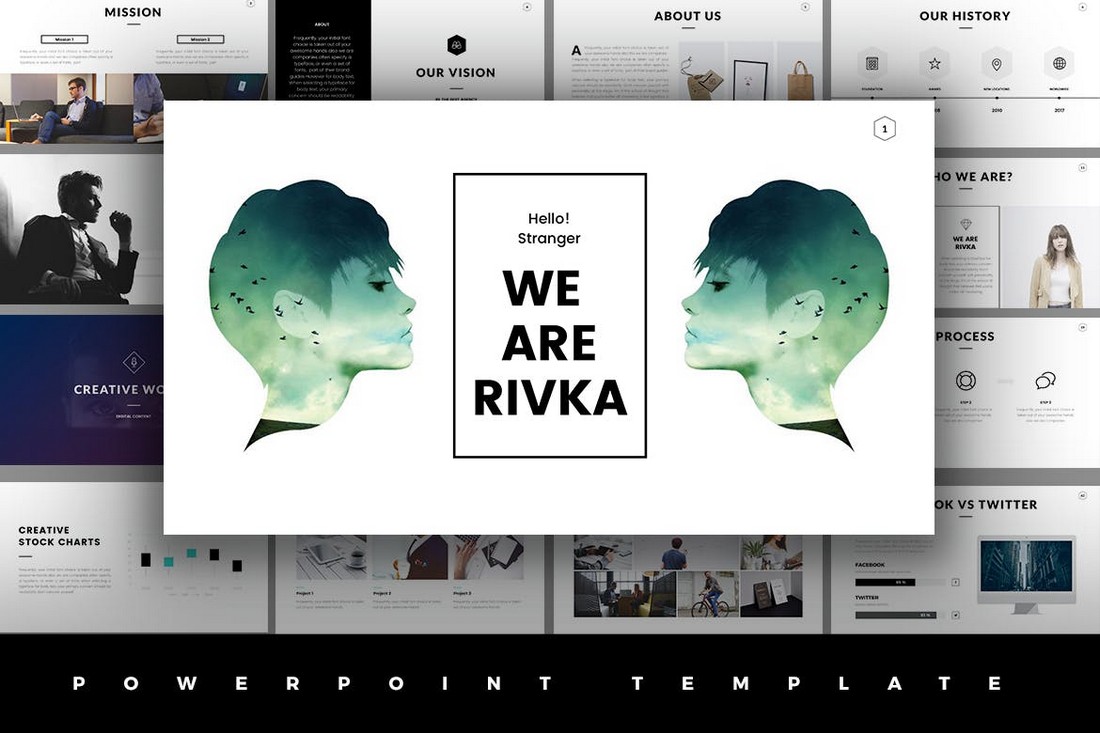 4. Go Bold With Big Titles
Have you ever picked up a magazine or a newspaper and just read the headlines and subheadings? We all do this when browsing social media newsfeeds too.
Of course, you can't always read all the 1000-word articles. Sometimes, reading the title is more than enough to understand the key idea behind the article.
This same rule can be used in your presentations. Instead filling the slides with long paragraphs of text. Try using big and bold titles and headings.
Or, better yet, use big titles to get the attention of your audience so that they'll be interested in learning/reading more.
This example PPT template below uses this technique quite well.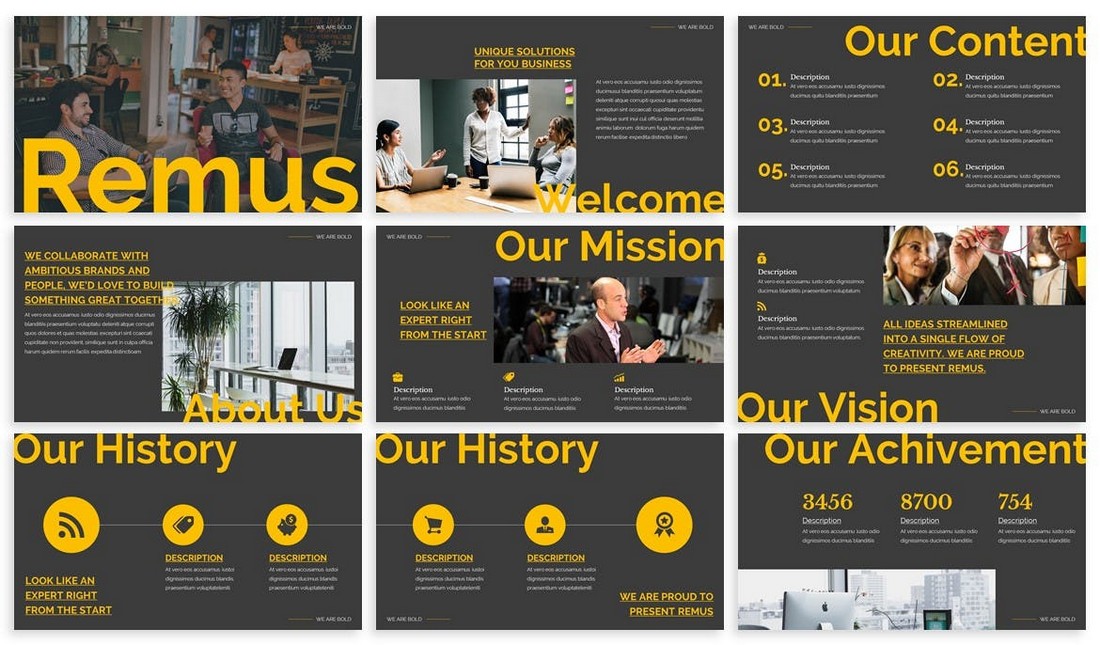 5. Start With the Right Color Palette
We talked about the importance of creating consistent design across your slide deck in a previous PowerPoint idea. It applies to this idea as well. Especially when creating presentations for brands, businesses, and corporations.
Implementing your brand colors in your slide designs is very important to make your presentation look professional and relevant. And the perfect way to make sure that you stick to a branded design is to start your presentation design with a color palette.
It'll help you stay grounded and stick with just a few colors across the entire design. Use this template as an example.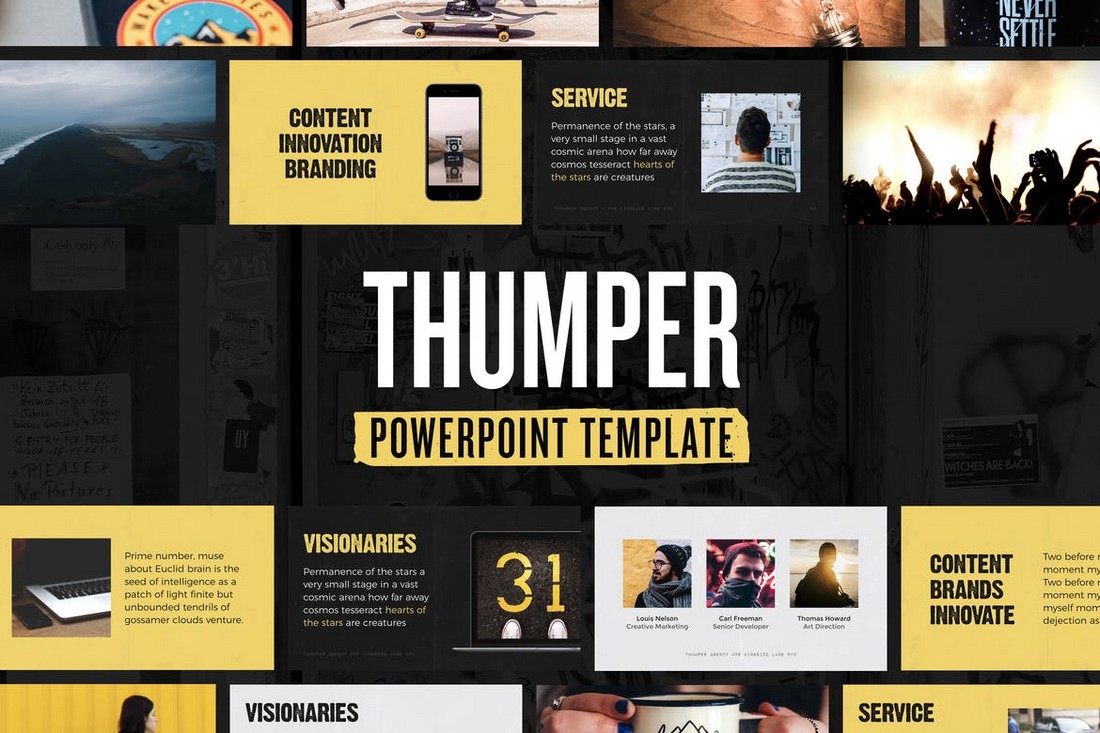 Although, there's nothing wrong with designing colorful slide decks for creative presentations either.
6. Pick Backgrounds That Are Fun & Relevant
With the right background, you can completely transform the look and feel of your presentation in an amazing way.
For example, using a blackboard background is great for adding an educational feel to your presentations. And to make your audience feel like they're back in school.
Or you can add a space-themed background to convey endless possibilities. Or use gradient color backgrounds to show off your creativity and open-mindedness.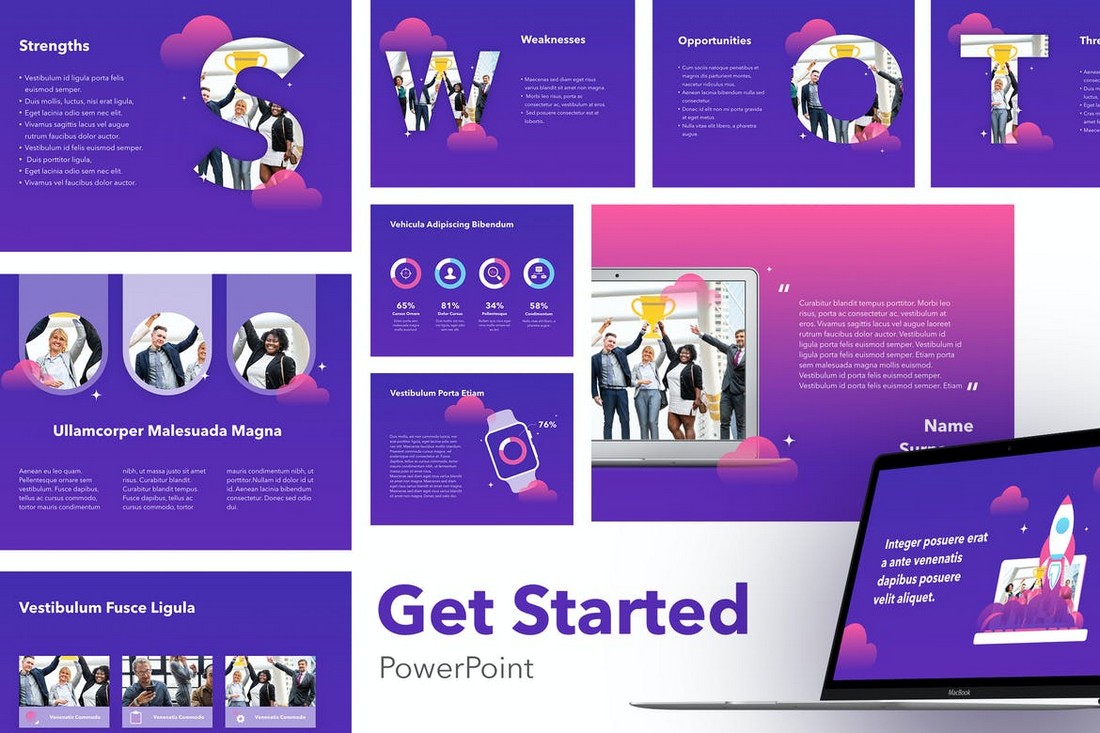 Think outside the box!
7. Follow the 10/20/30 Rule
The 10/20/30 rule of PowerPoint is a popular concept introduced by the marketer/entrepreneur Guy Kawasaki. This method forces you to limit your slide deck to just 10 slides that you can explain in 20 minutes, and use a 30 point font size.
It sounds simple, but it's quite challenging. In a way, it makes you design a more precise presentation with less clutter and filler content. It'll encourage you to edit ruthlessly to get rid of most of the content and use only the most important parts of your presentation.
It's an effective strategy. But of course, it's perfectly fine to optimize this according to your needs. Maybe adding 20 slides to your presentation won't be a bad thing at all.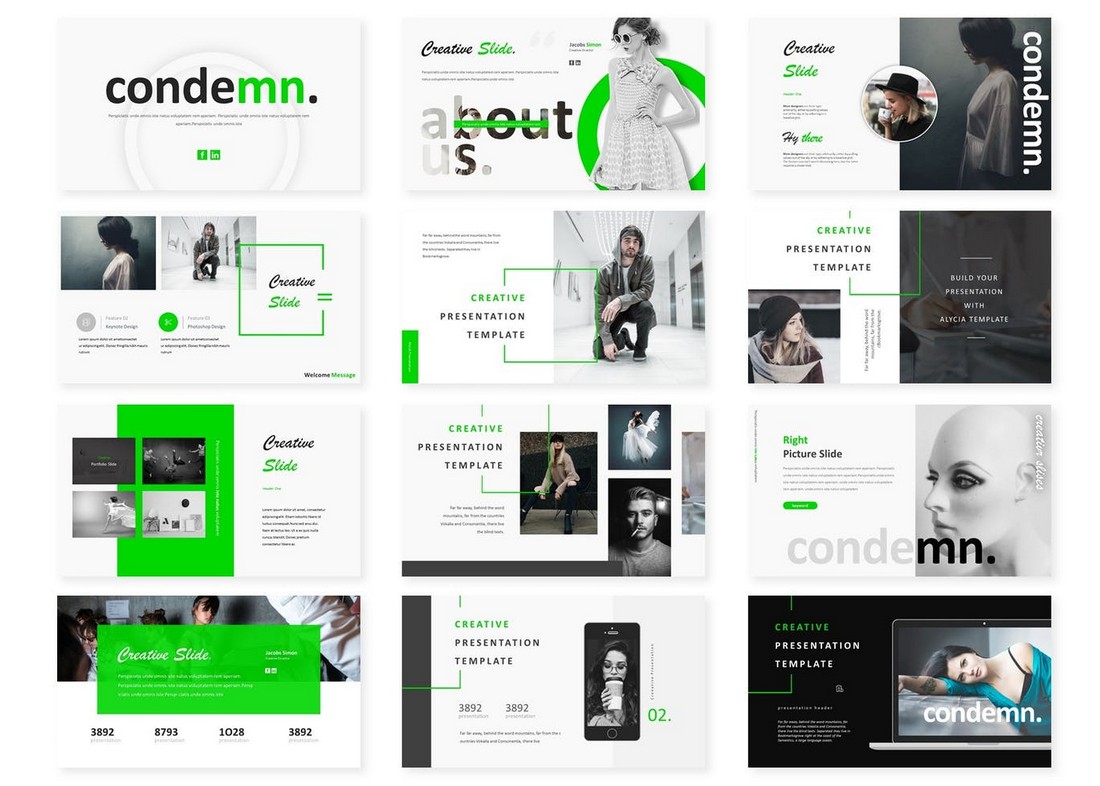 8. Use Portfolio Slides to Showcase Your Work
Avoid adding galleries of images to your slide deck just to showcase your work and previous projects. Use portfolio slides.
Portfolio slides help you show your projects and images alongside descriptions that explain each project. This is the professional way to show your work.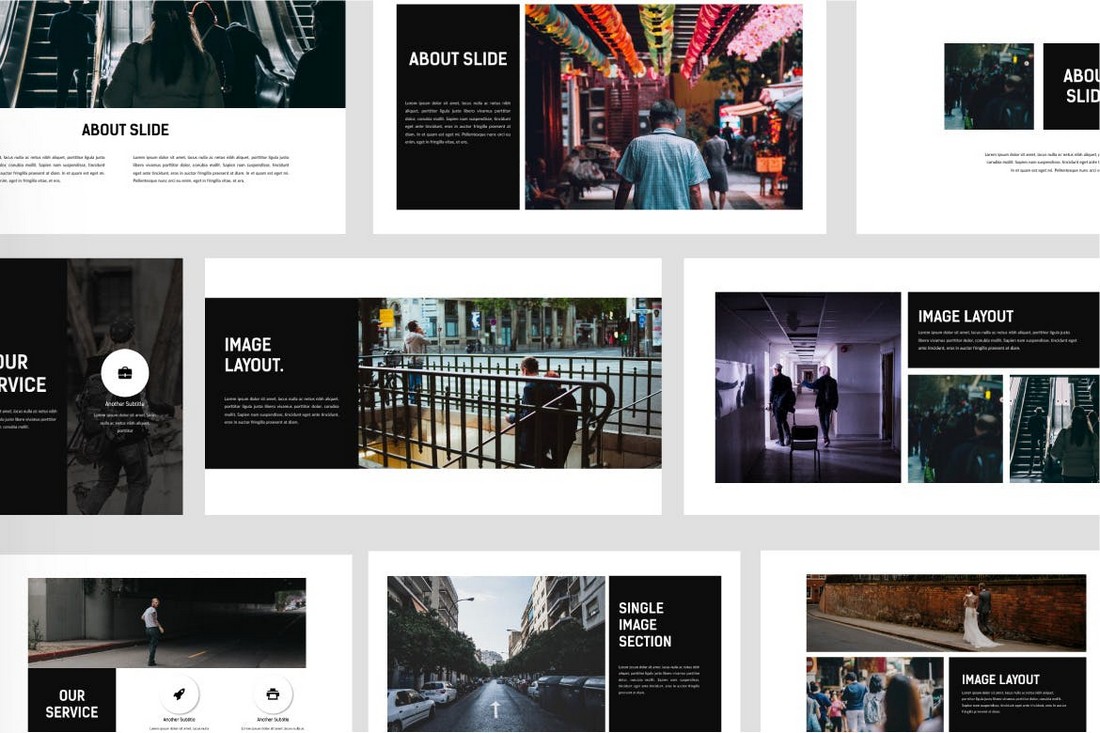 9. Make an Image-Only Presentation
84.3% of marketers design presentations that are highly visually focused. Clearly, visuals play an important role in a presentation.
Here's another cool PowerPoint idea—What if you make a slide deck using nothing but images or illustrations? Will you be able to convey your message using only visuals?
It's a challenge but it will definitely make your presentation look unique.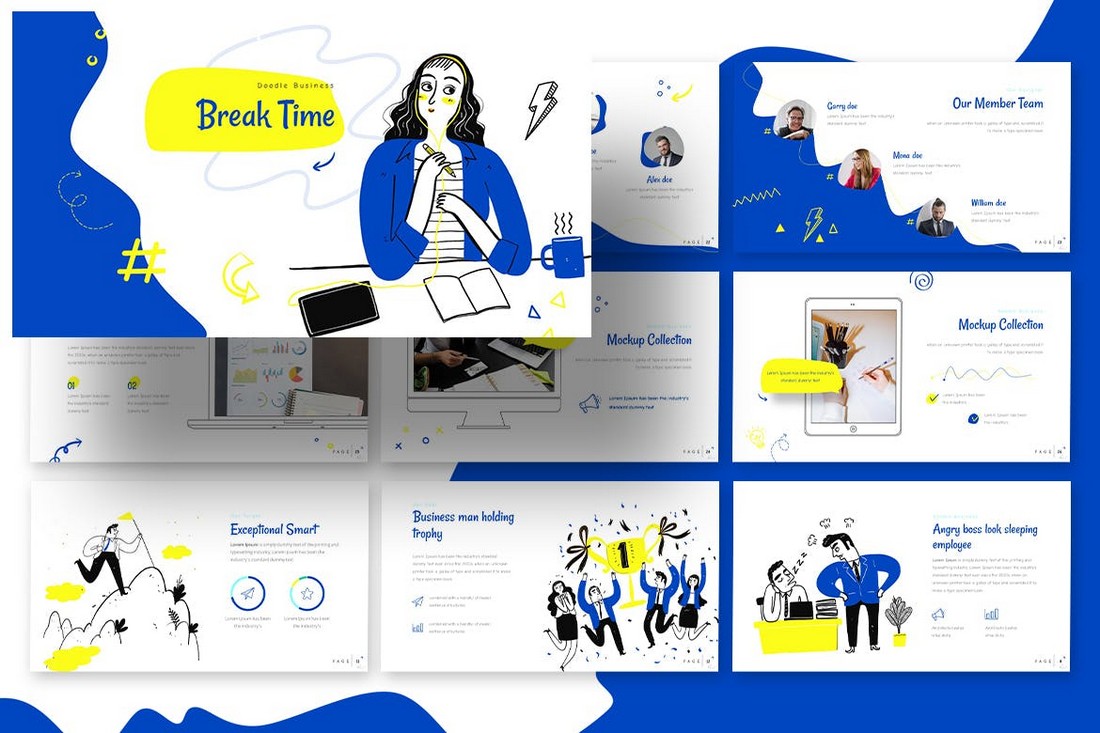 Visuals aren't just about images, you can also use videos, illustrations, GIFs, memes, icons, and much more to create a diverse presentation.
10. Create Summary Slides
When presenting different ideas, it's important to make sure that your audience fully understood them before moving on to the next slide. A great way to ensure this is to add summary slides.
Adding a slide with a short recap of your key concepts will help the audience grasp ideas better and more easily. This is especially important to remember when creating pitch decks.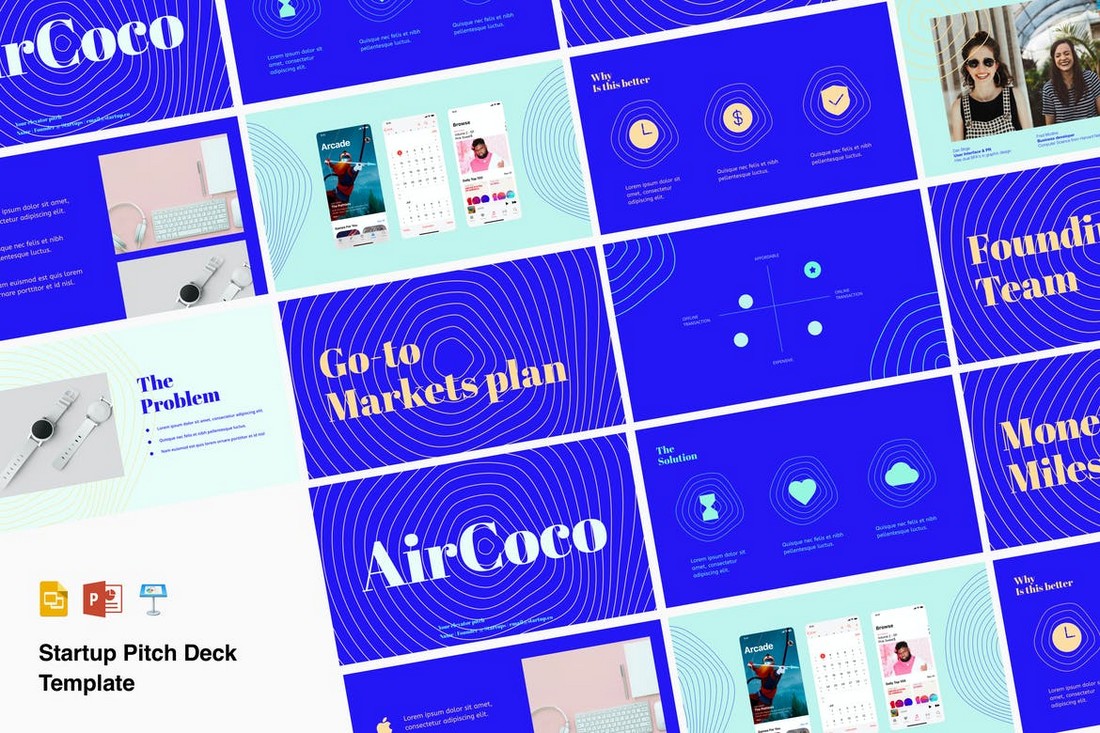 11. Add Infographics to Visualize Stats & Metrics
Adding data such as statistics, metrics, and reports is a great way to back your claims and add authority to your message. To make a bigger impact, you can visualize these numbers with infographics, charts, and graphs.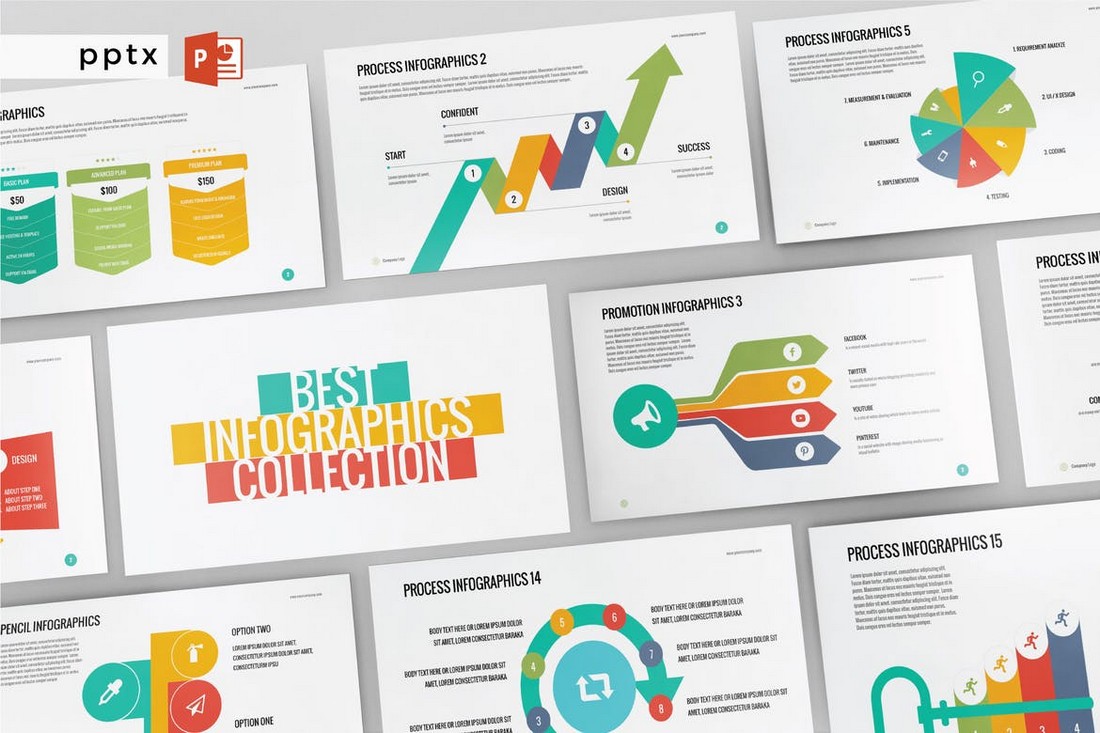 Infographics make it easier for people to understand metrics. As well as to make numbers and statistics more fun and enjoyable to talk about.
12. Timelines Help Show Growth & Confidence
A good timeline slide can go a long way to help explain your business reports and product presentations in a more precise way. Timelines also help you visualize the growth, projections, and confidence without having to explain your concepts with hundreds of words.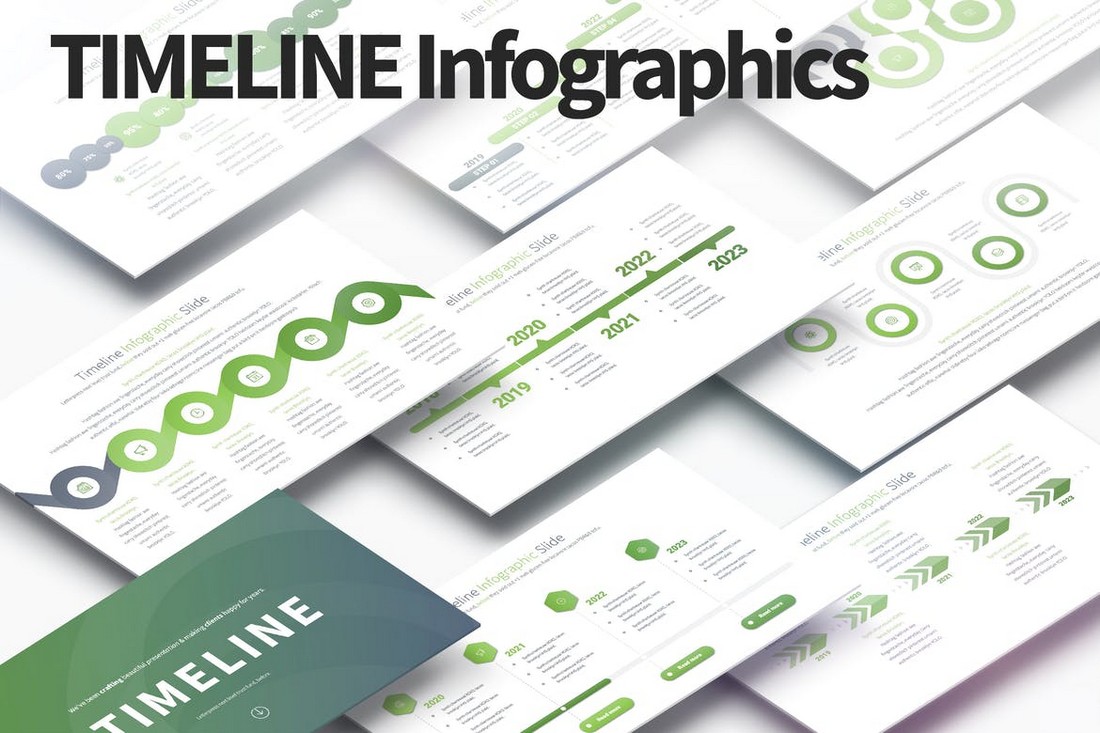 The key to making these ideas work is to incorporate them into presentations with a mix of your own ideas. Also, keep in mind that finding ideas for professional-looking PPT presentations is much easier when you're willing to take risks and get creative.
Innovative PowerPoint Ideas
On that note, let's take a look at some of the most creative and out of the box presentation templates. All the options given below are great ideas for a professional-looking (PPT) presentation. Let's dive in: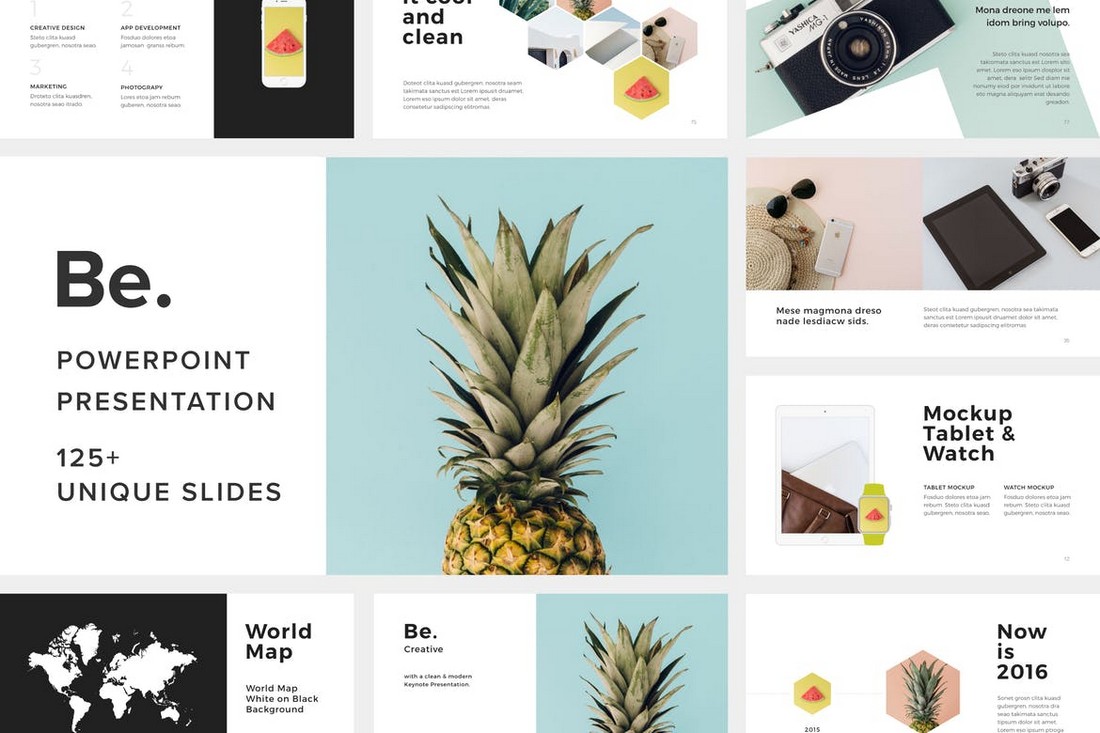 With this PowerPoint template, you can bring all kinds of presentation ideas to life. It includes more than 120 different slide designs to let you craft everything from business slideshows to product presentations and more. Each slide in this template can be easily customized to your preference as well.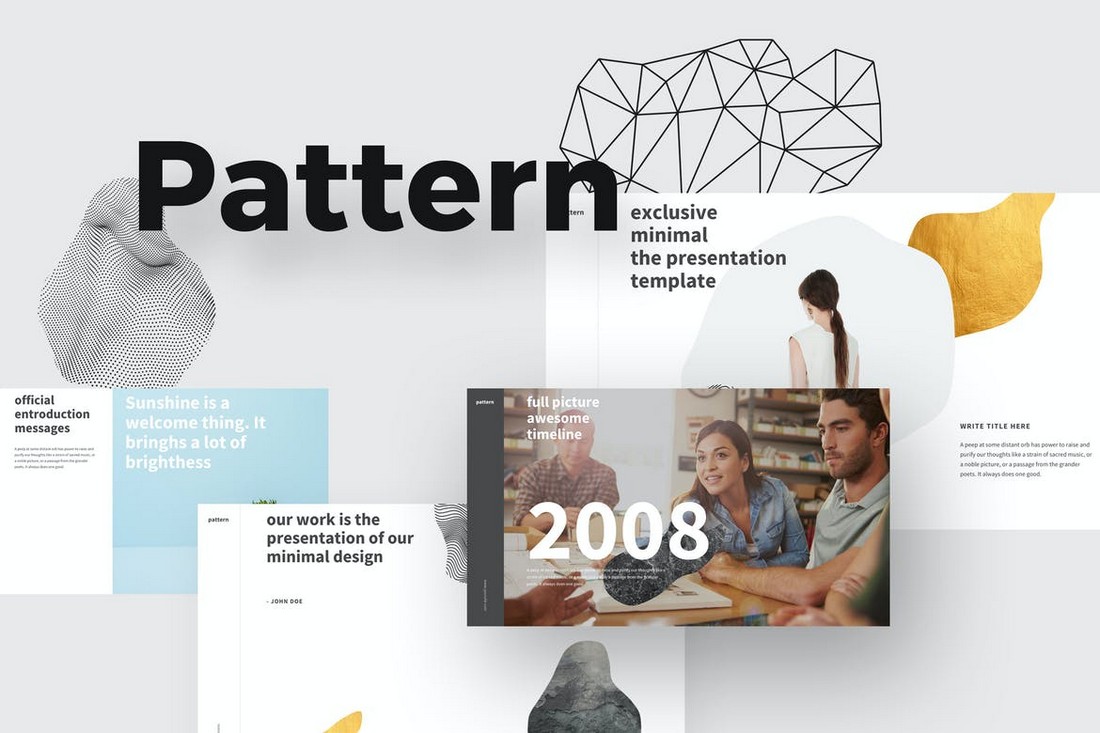 If you're looking for inspiration to design a presentation with a unique approach, this PowerPoint template will help you get a head start. It features modern and innovative designs that will make your slideshows stand out. There are over 80 unique slides in this template.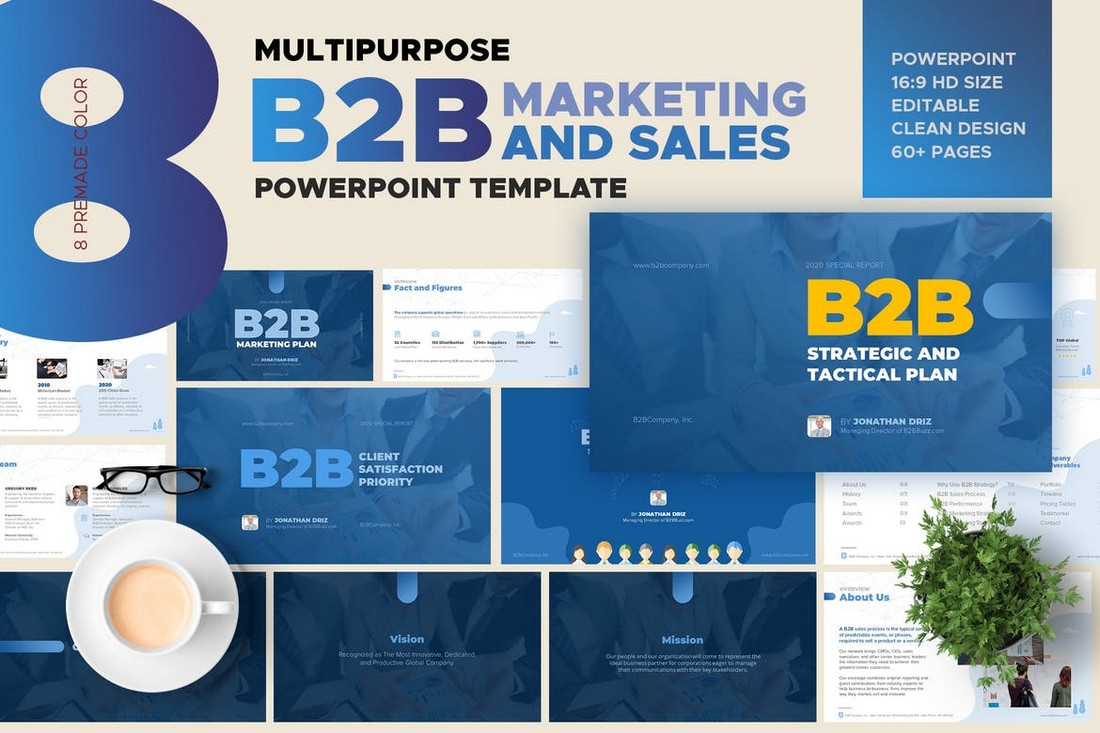 When it comes to business and marketing presentations, finding the right PowerPoint design is the key to winning clients. This template will help achieve that goal. It features 60 unique slides with B2B marketing-themed designs. They are all crafted with customizable elements.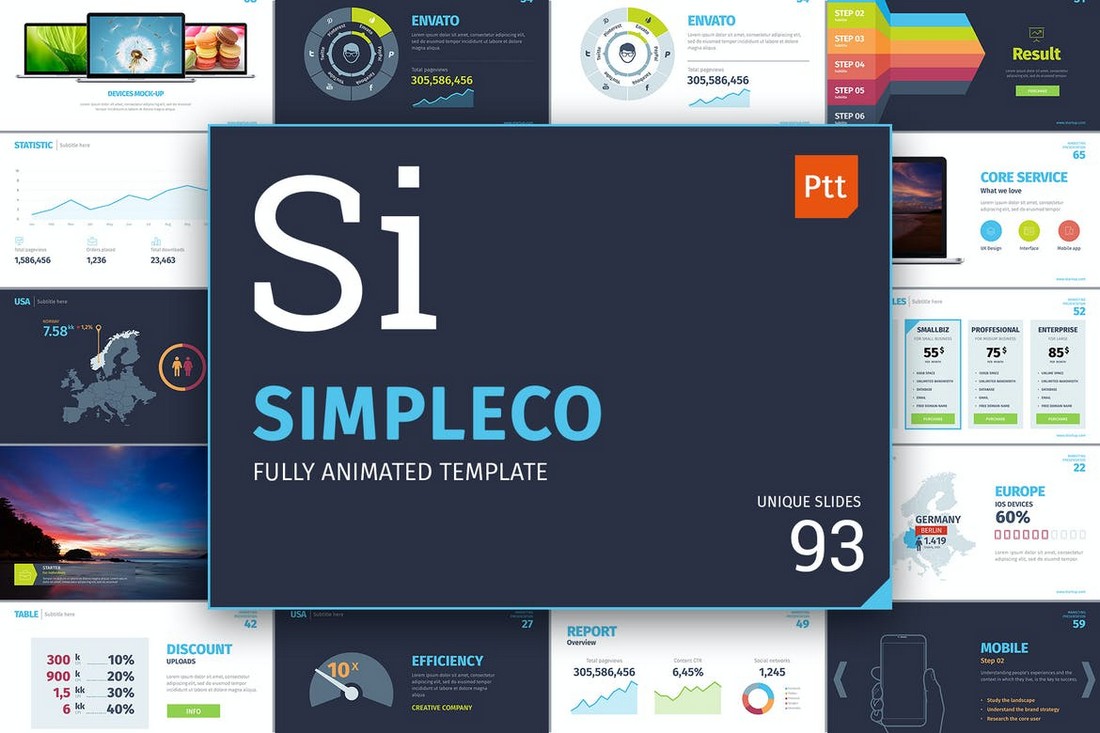 With this PowerPoint template, you can design more data-driven presentations by visualizing stats and numbers throughout your presentations. It includes slides with charts, graphs, and infographics that you can easily edit to add your own data. The template has over 90 animated slides.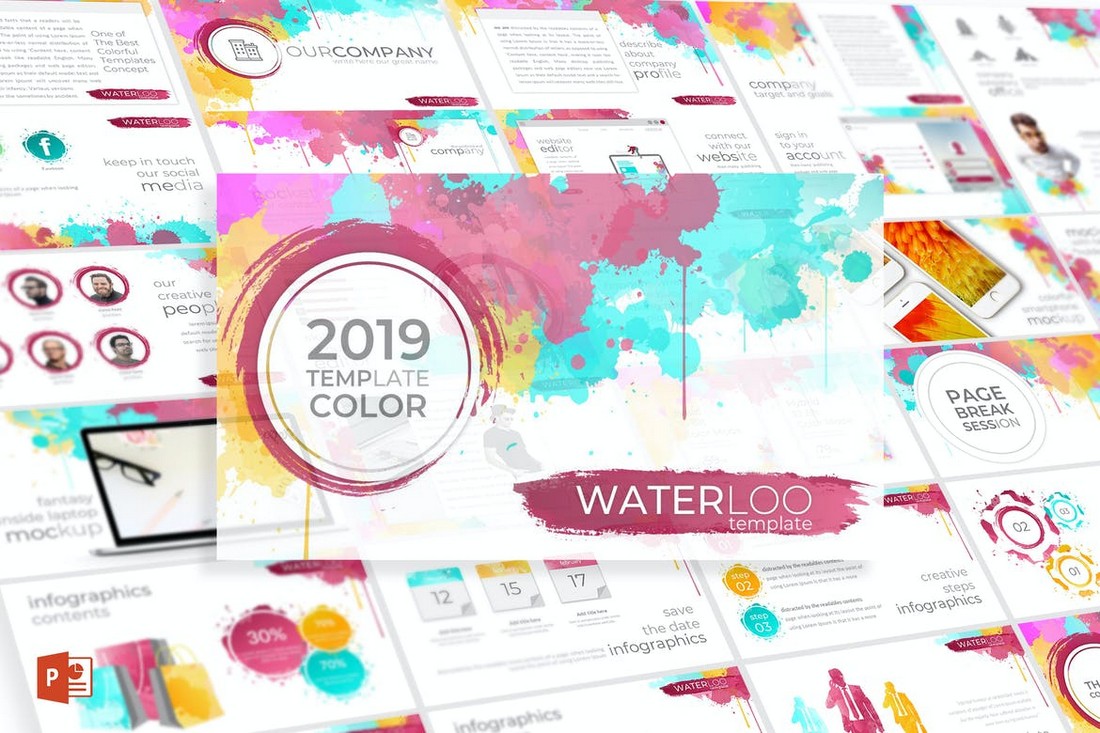 If you want to make a presentation with a more creative approach, this PowerPoint design idea is for you. It includes over 150 slides, featuring 30 unique slides in 5 color schemes. All slides feature watercolor-themed designs. This gives an amazing personalized look to this template.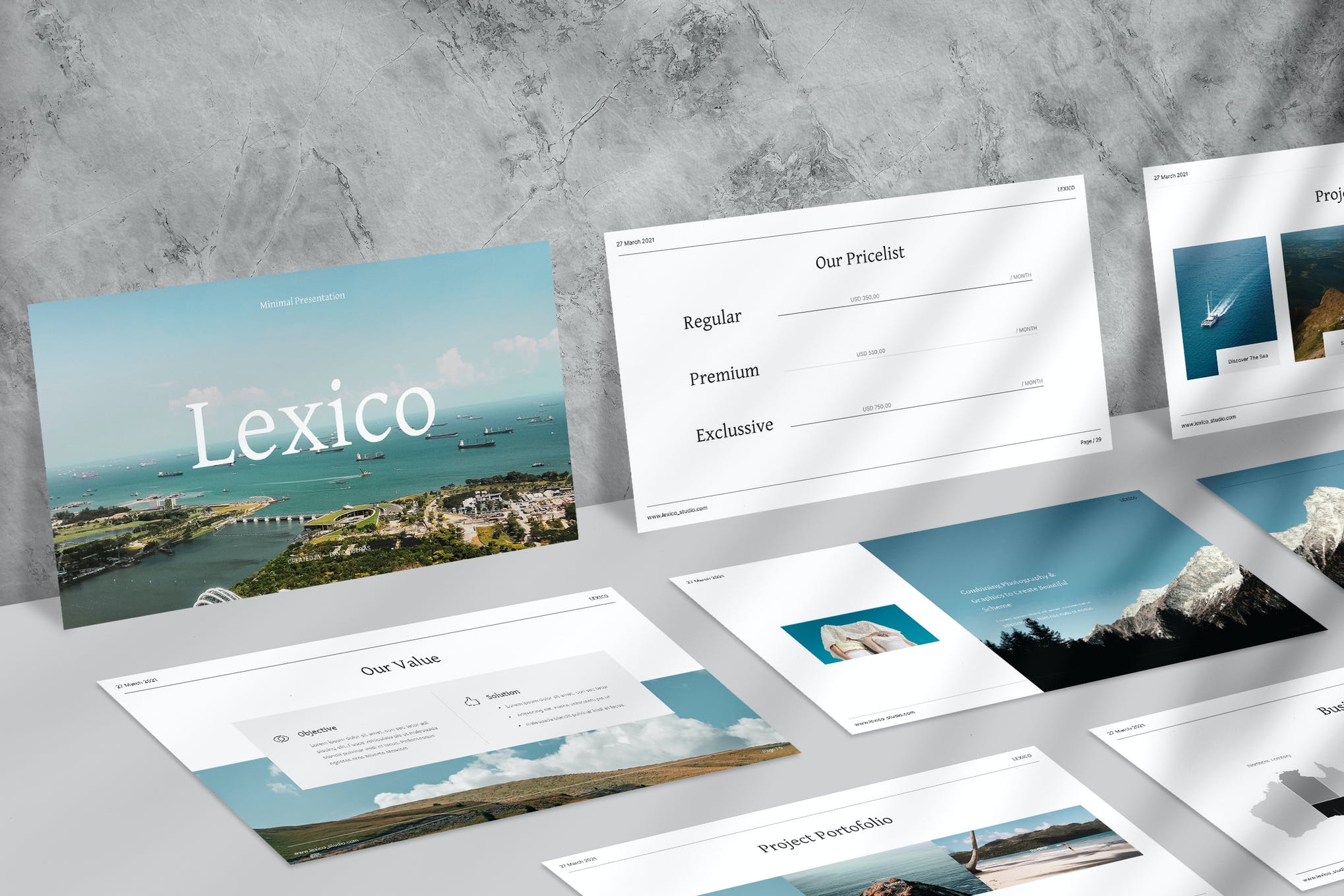 If you are looking for some really good powerpoint ideas, you might want to consider Lexico, a minimal yet eye-catchy template containing 35 creative and modern slides, that are perfect for a lookbook or pitch deck presentation.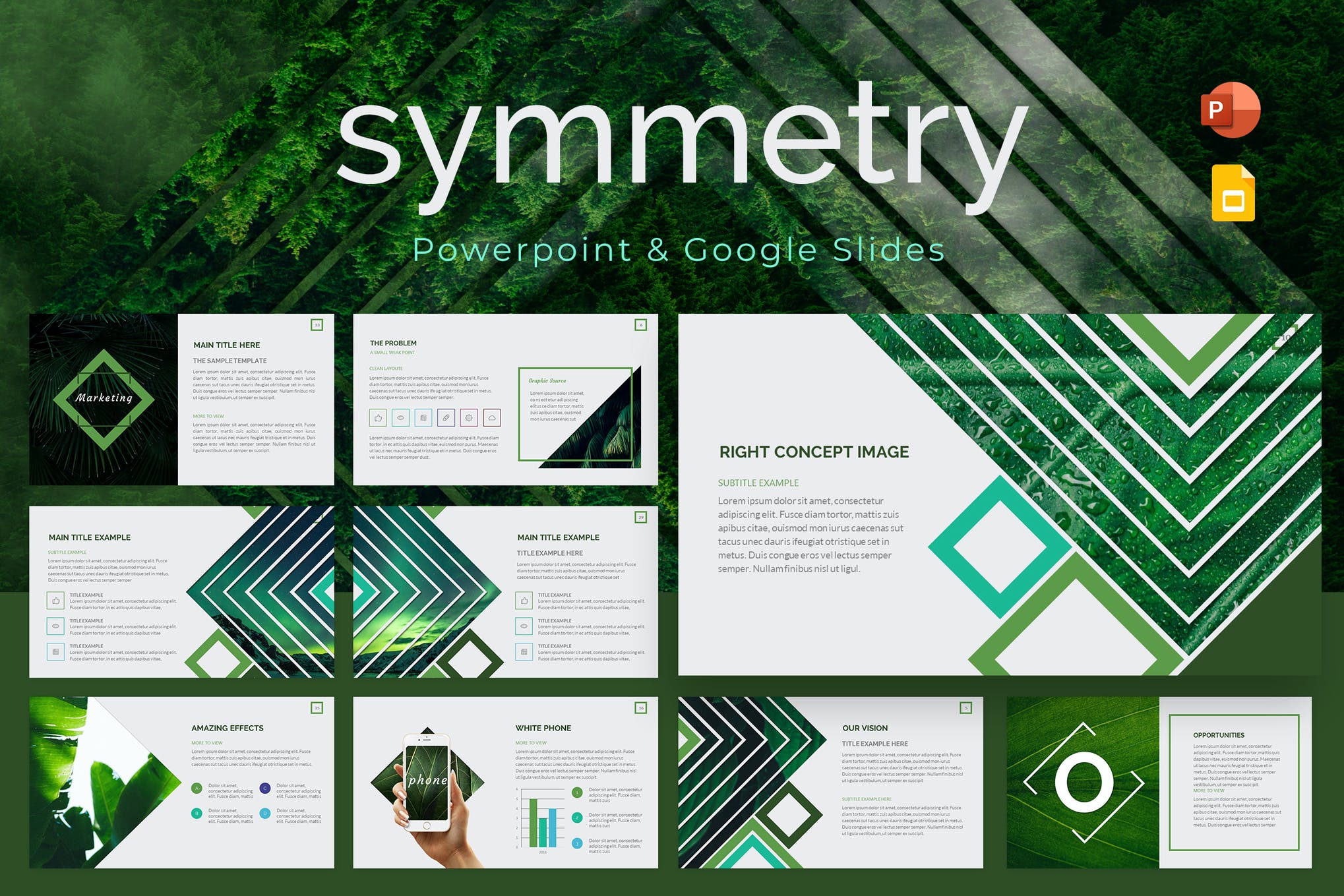 Whether you are looking for powerpoint presentation ideas for an architecture firm or creative studio, Symmetry is a versatile option that will fit right into your needs. It comes with 36 gorgeously designed slides, free fonts, and a range of customizable features that makes it a top choice when searching for ideas for a professional looking ppt presentation.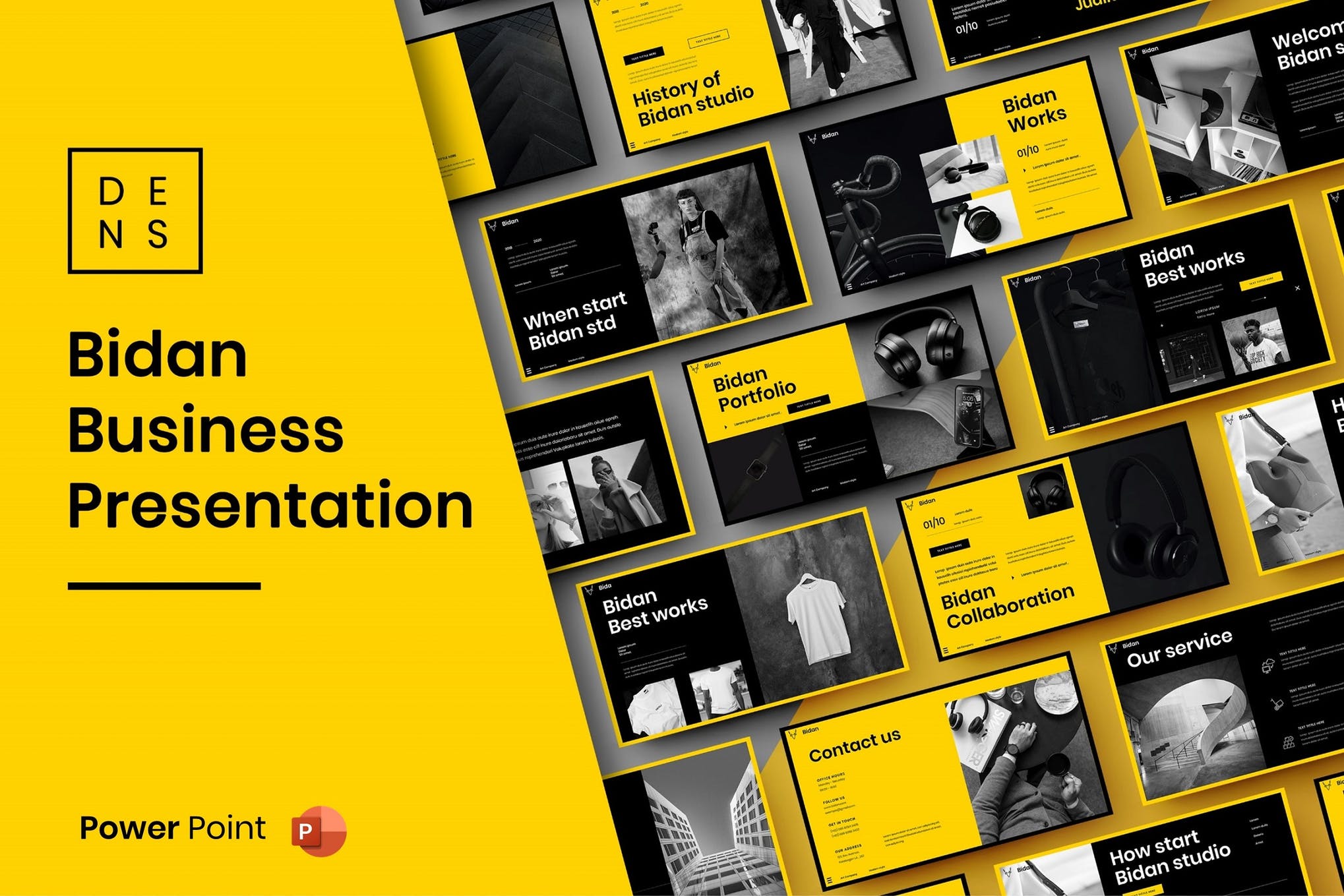 Talking about innovative ideas for ppt and not mentioning Bidan is out of the question. It's a stunning template that can be used for a wide range of professional and creative applications. If you truly are on a hunt for some cool powerpoint ideas, Biden won't disappoint.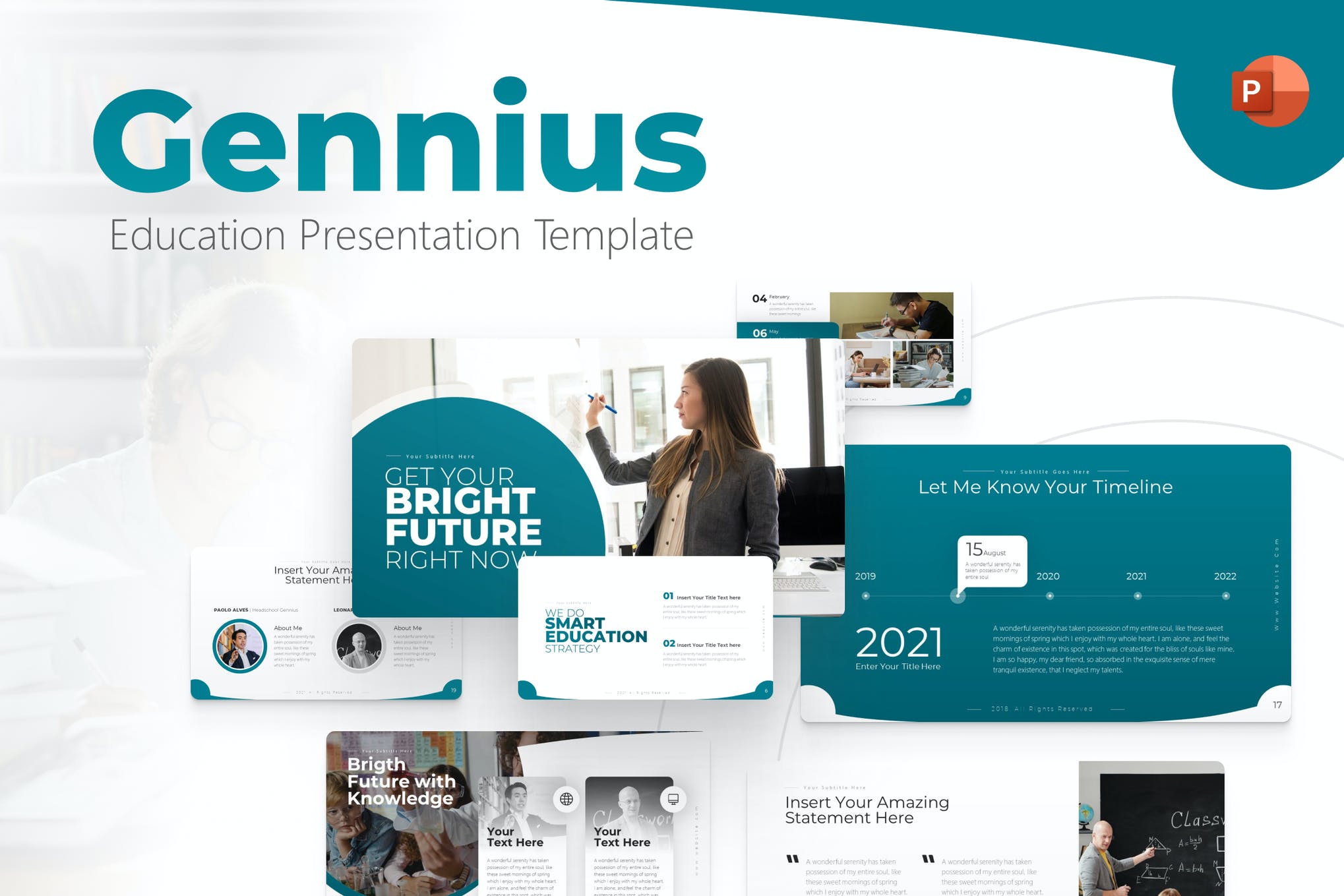 The best ideas for ppt consist of a clean design, infographics, unlimited color options, and modern and uncluttered slides that can be used for virtually any business and industry under the sun. Gennius has everything that you expect when looking for ideas for a professional looking ppt presentation.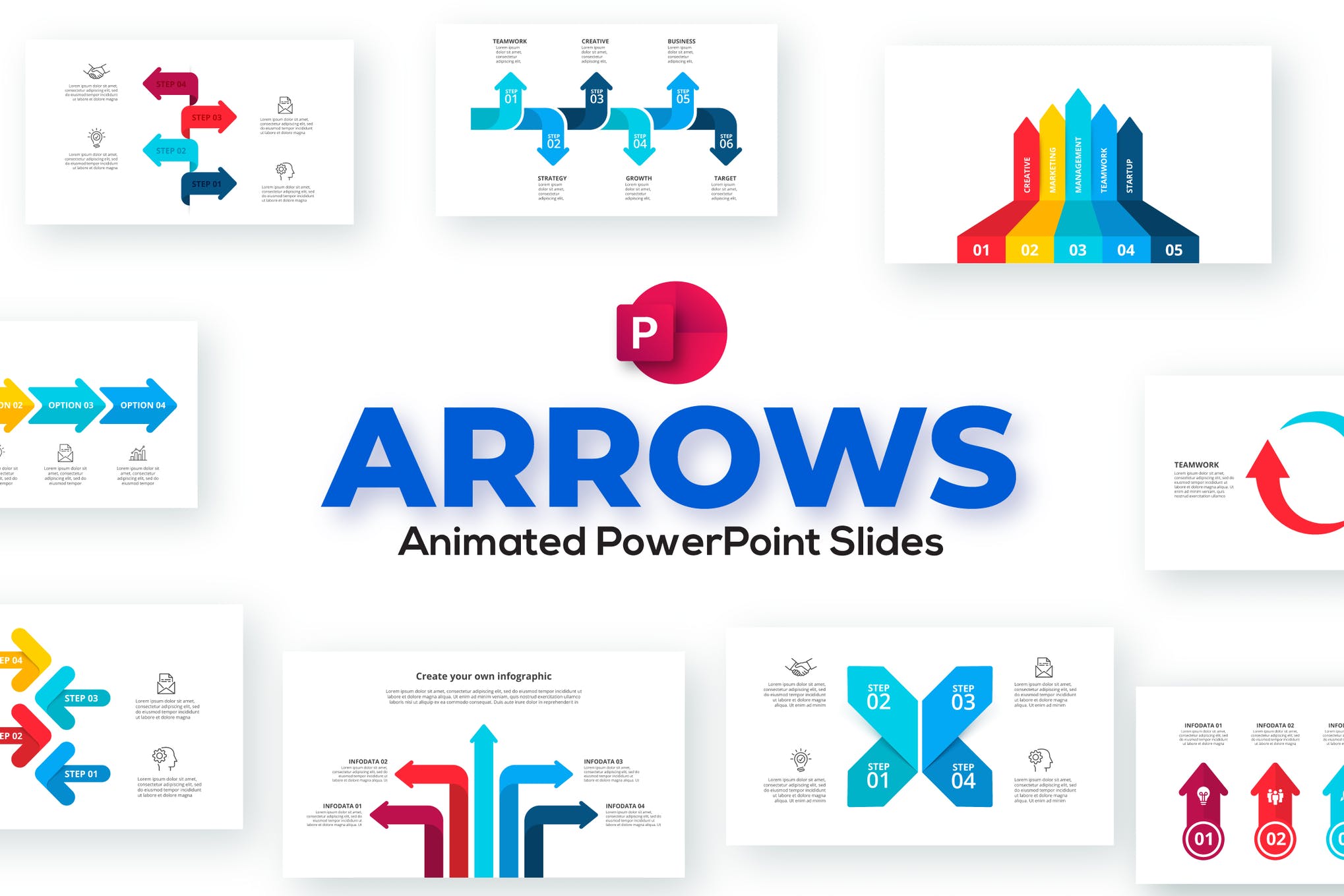 Good powerpoint ideas include infographic templates. Hence, check out this fully animated option that's perfect for data visualization purposes. It contains 24 professional slides and a wealth of features that should be really seen to be appreciated.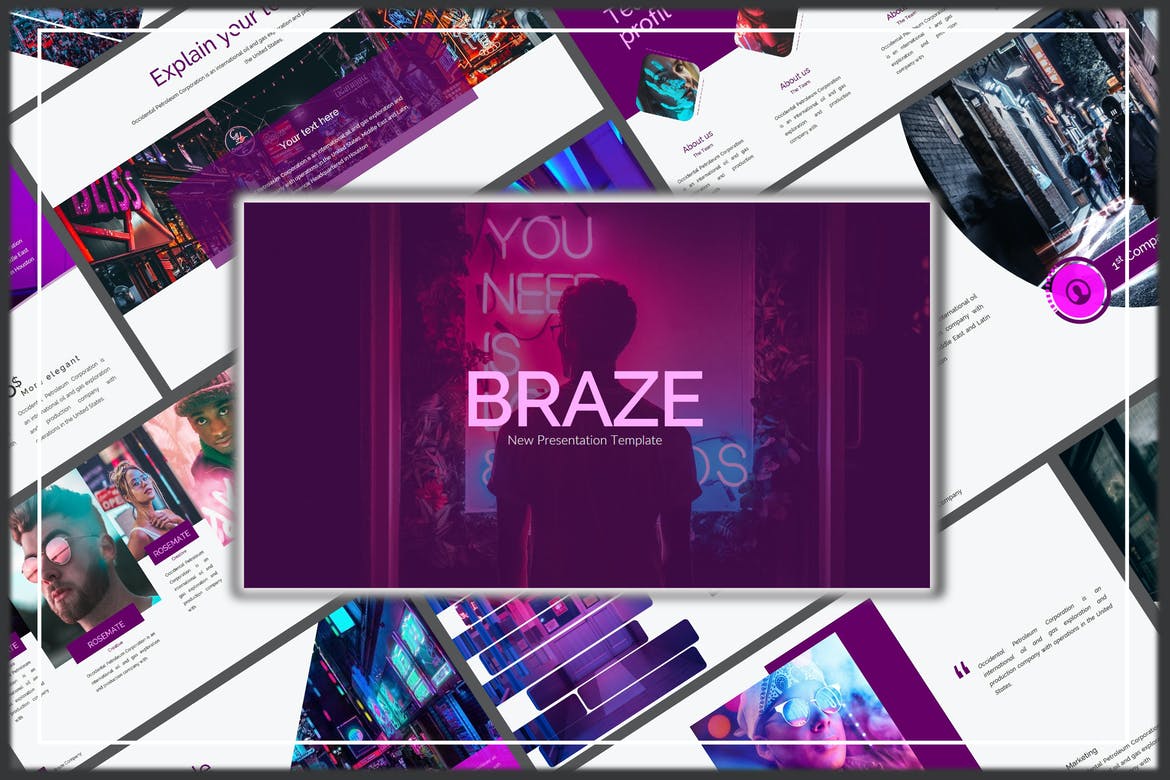 Here we have Braze, one of the best creative PowerPoint ideas for a professional-looking .ppt presentation template. It offers a stylish and modern design that's ideal for business and personal projects alike and includes 35 unique slides in a full HD widescreen format, with a huge assortment of vector icons included.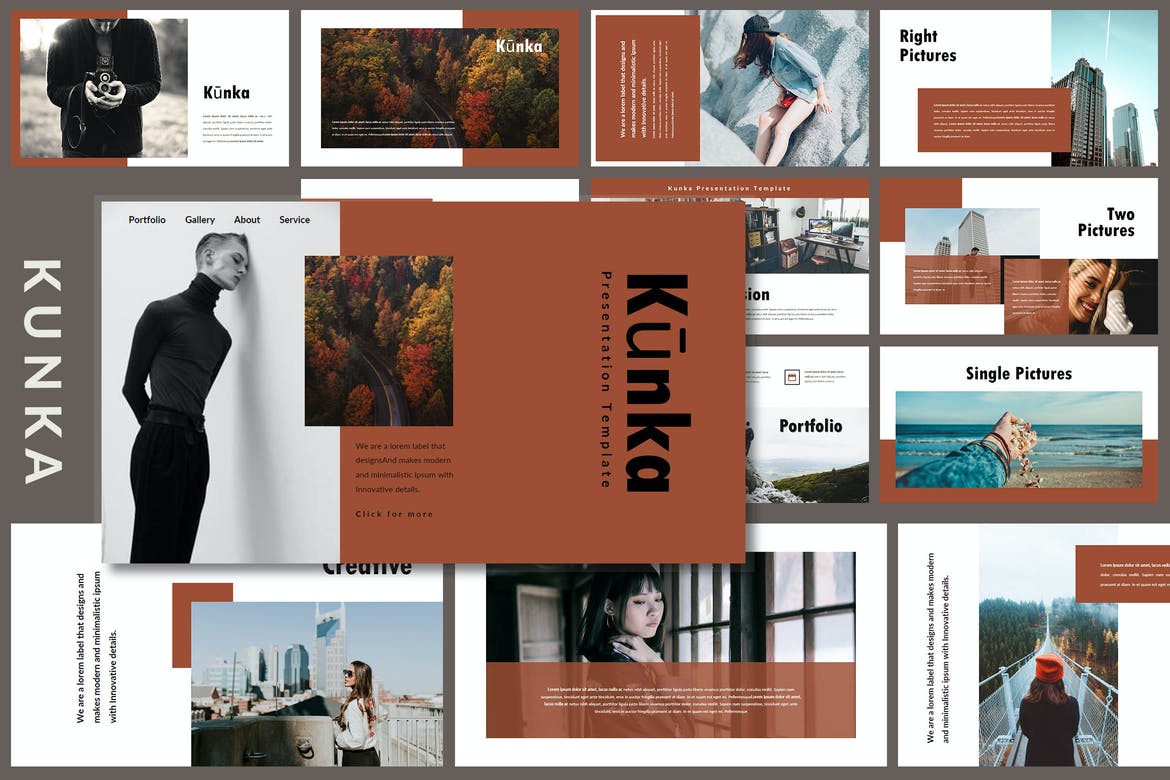 Next up is Kunka, a modern and moody PowerPoint template that's perfect for presenting a company profile or important business pitch. It features 50 unique slide layouts with fully customizable graphic elements, free fonts, and drag and drop picture placeholders for easy editing.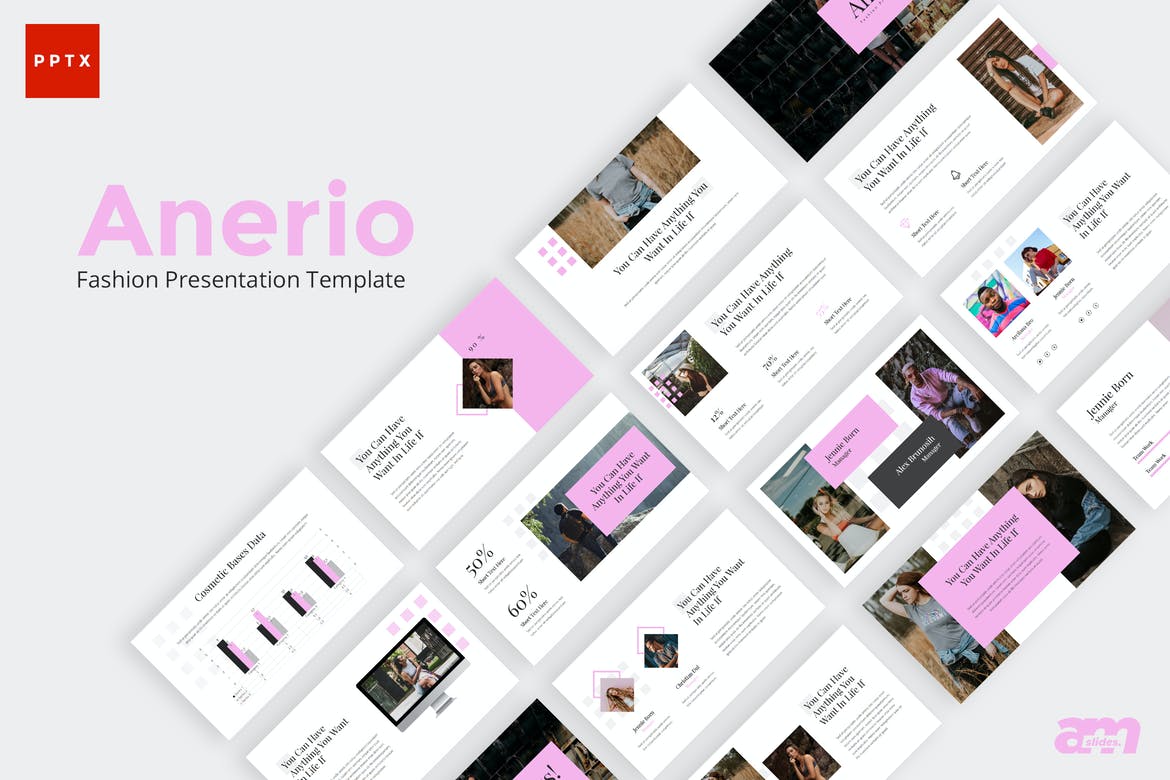 If you're searching for cool PowerPoint ideas for a professional-looking .ppt presentation in the fashion industry, look no further than Anerio. This beautiful set of 30 fully editable slides features a smart and innovative design with high-quality vector elements and a versatile widescreen format.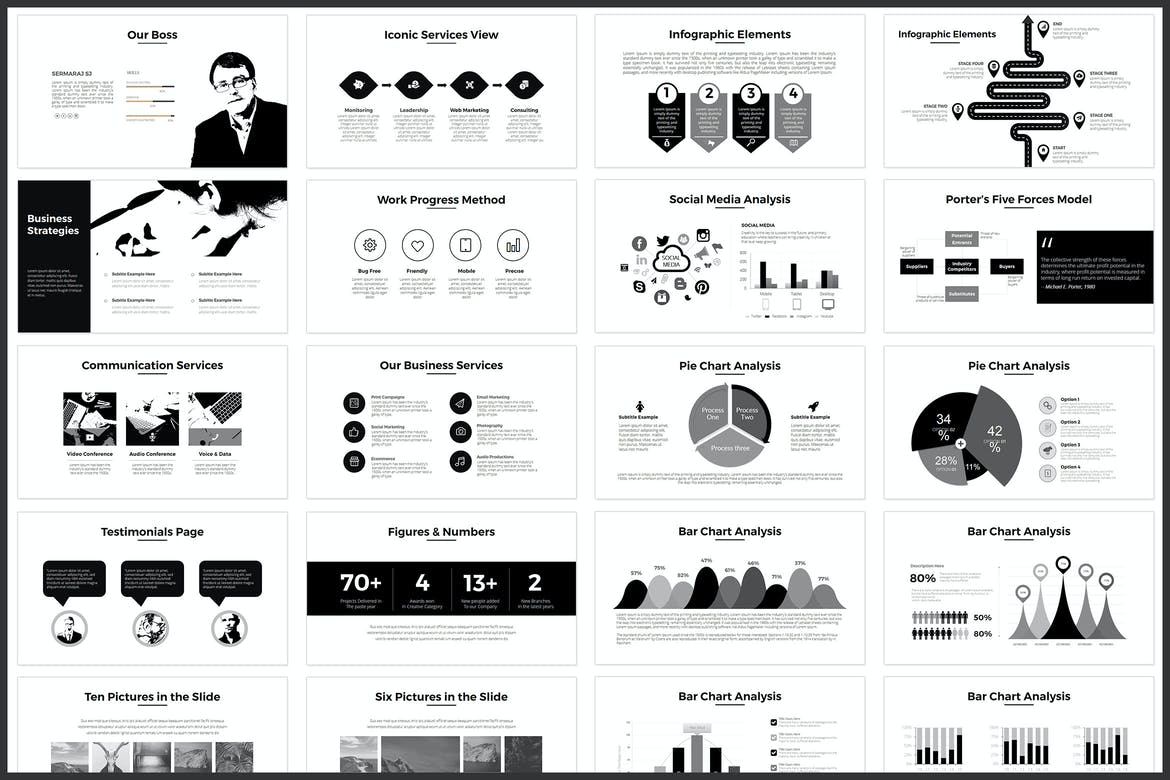 Some of the best PowerPoint ideas are also the simplest, and this minimal presentation template is a perfect example. It comes with more than 75 scalable, multipurpose slides with a range of infographics and layout options that can be customized to suit virtually any kind of professional project.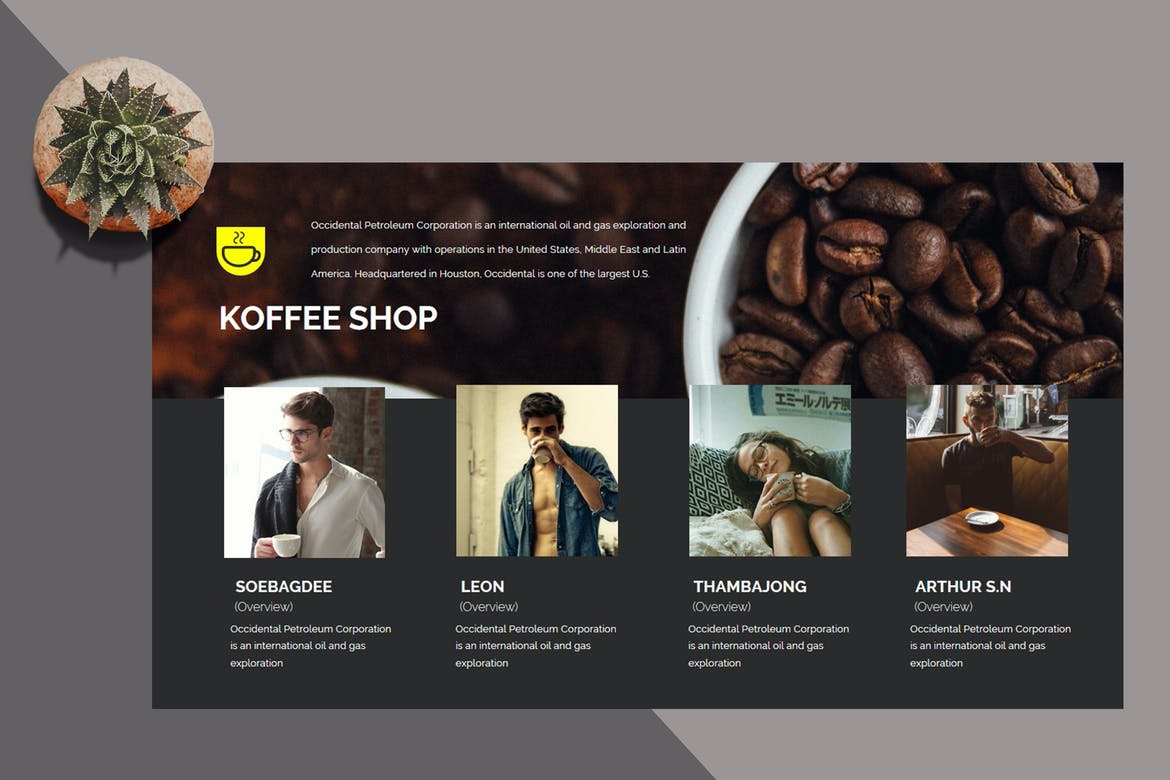 Clever use of images and graphic elements to convey a theme is a great way to engage your audience and get your point across, and this coffee-inspired presentation template will help you do just that. Each of the 35 slide layouts can be fully customized for your needs.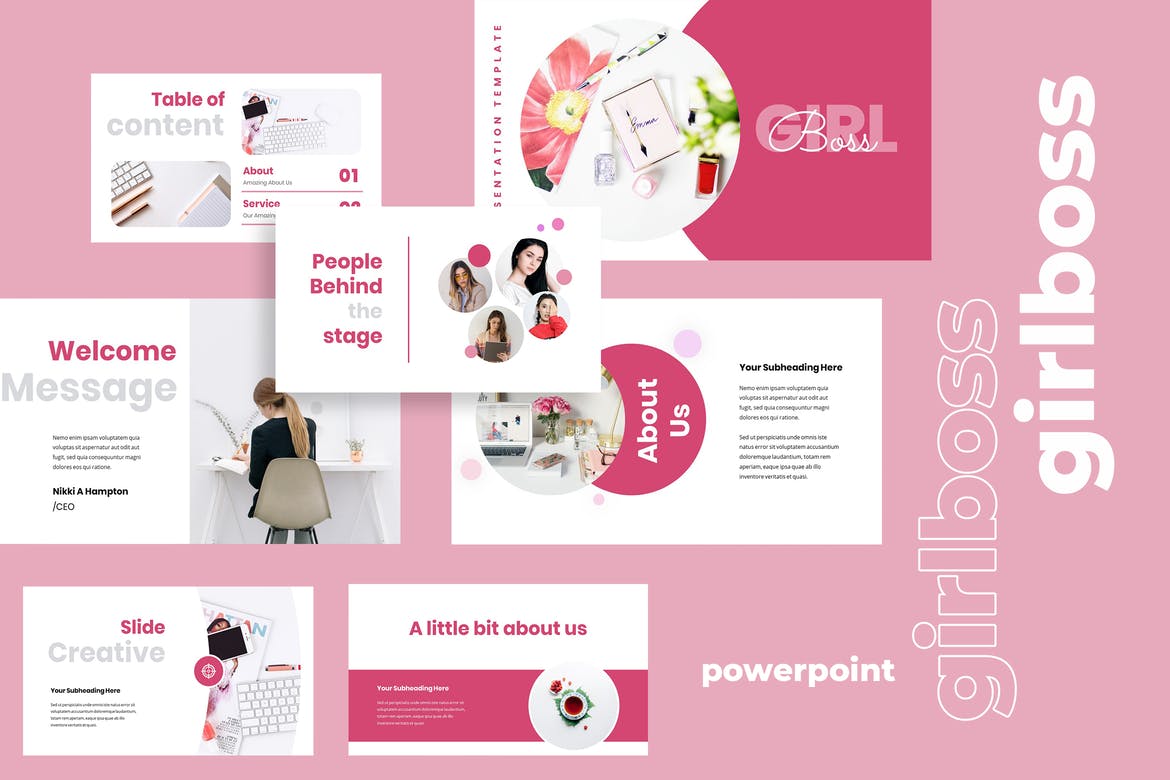 Here we have an awesome PowerPoint template that's perfect for a woman in charge to use for her business! Featuring a funky pink color scheme, fifty creative layouts, and fully customizable graphic elements, it also comes with a range of vector icons and free fonts, as well as drag and drop images.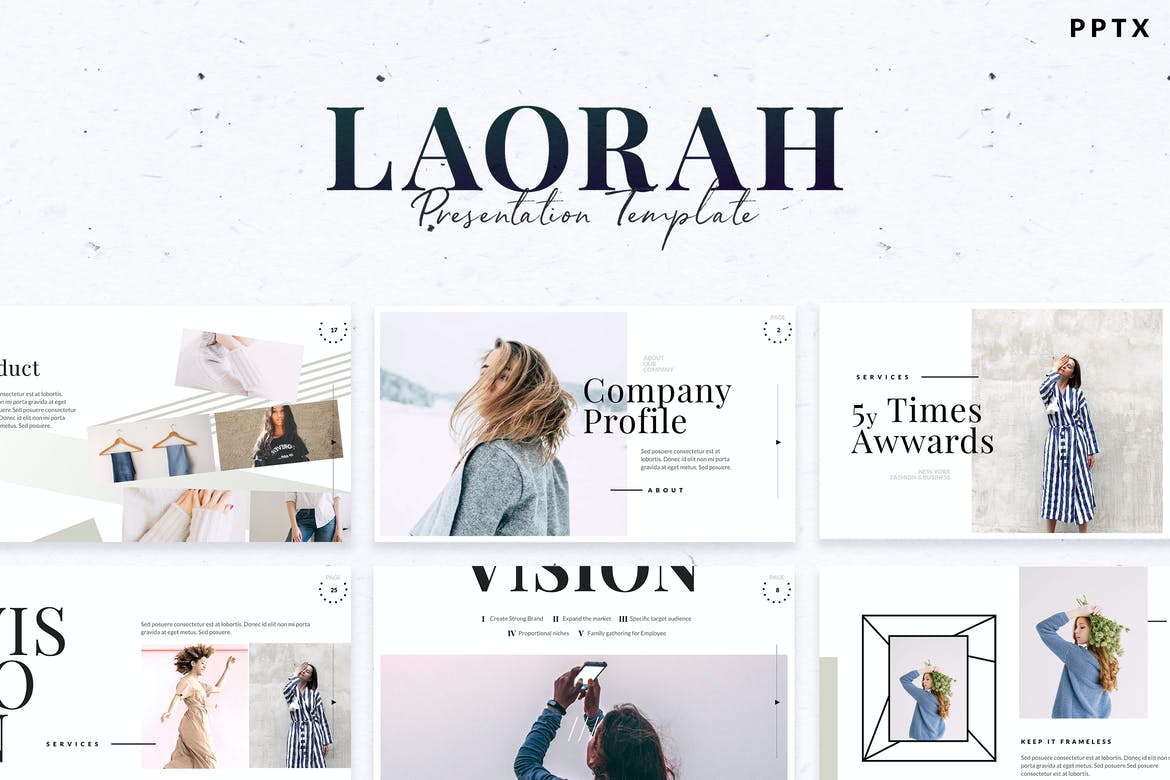 Laorah is one of the most amazing PowerPoint templates for a fashion or photography lookbook, and is suitable for use with any kind of design or art project. It comes with 40 unique slides, editable colors and shapes, customizable charts and a versatile 16:9 high definition format.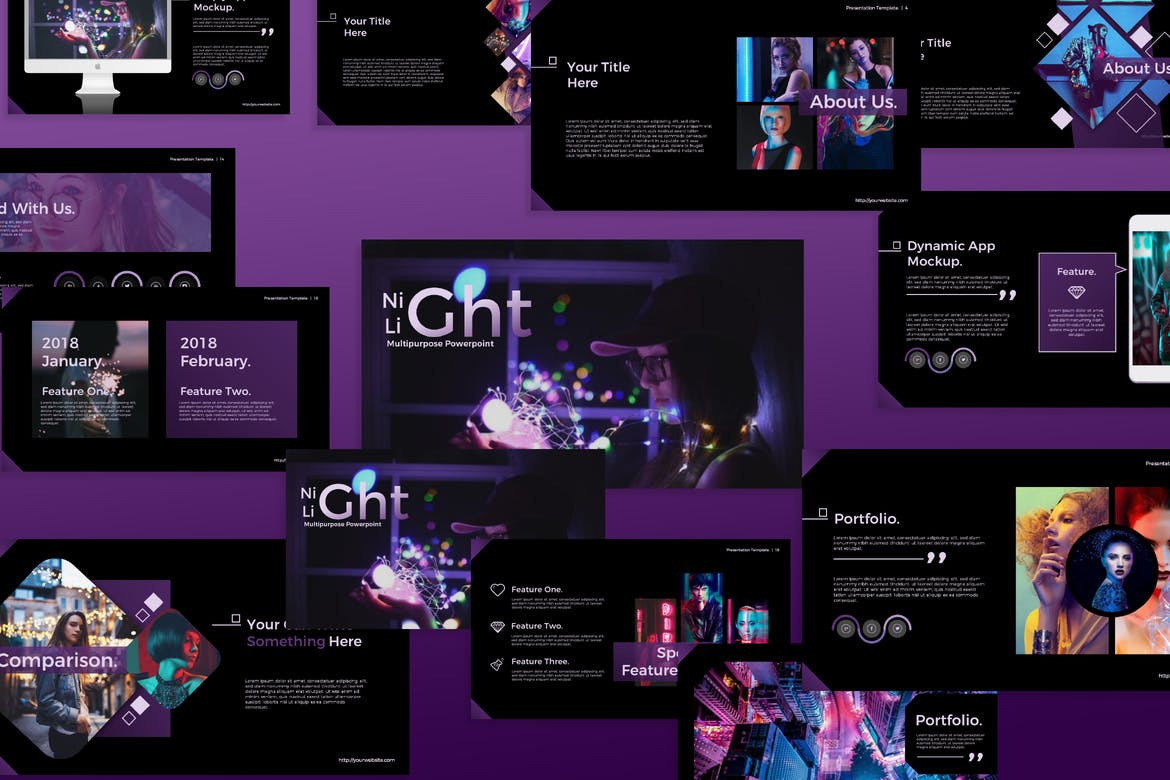 Next up is Night Light, an ultra-modern and unique PowerPoint template that offers a range of professionally designed layouts, drag and drop image placeholders, strong typography, predefined text styles and easy color changes for complete control over how the end result looks for your project!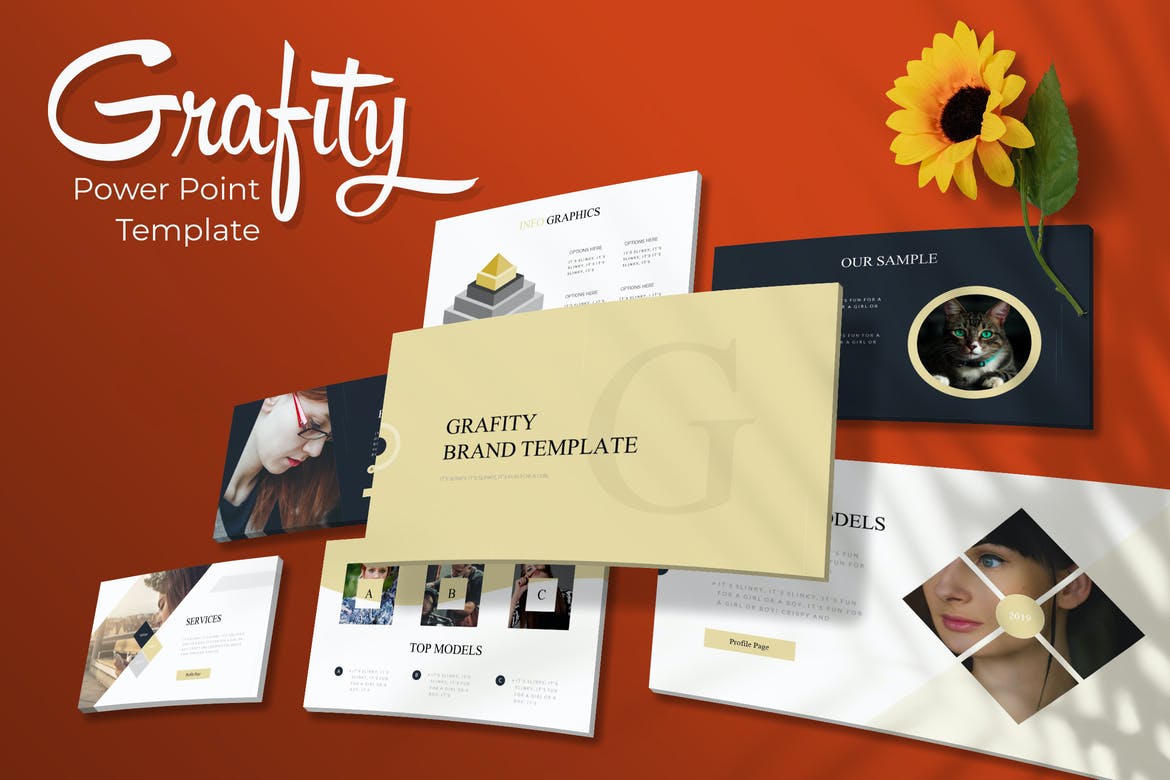 Here's an awesome PowerPoint template that includes a total of 150 slides, including 5 color variations, as well as handcrafted infographics, a range of prebuilt layouts, picture placeholders and pixel-perfect illustrations. It's super versatile and can be used for just about any purpose.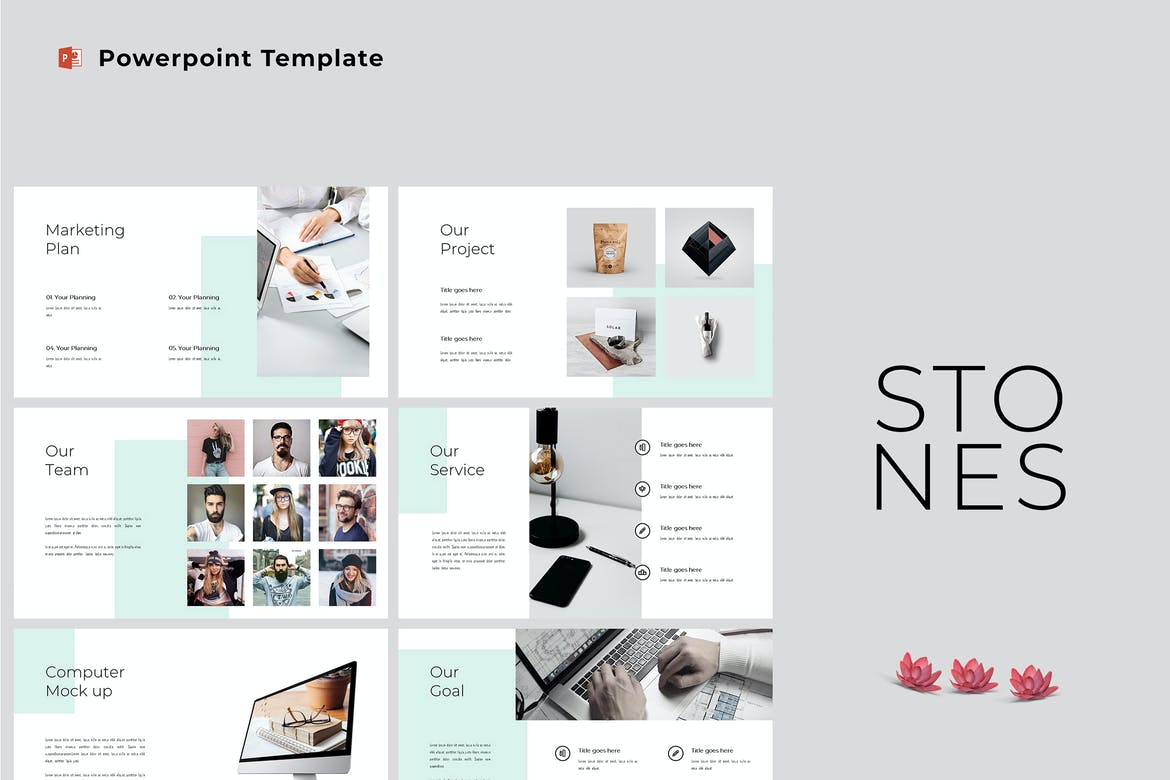 Stones is a modern and clean PowerPoint template with a flat, stylish design, a classic minimalist aesthetic and fully customizable graphics. It offers two different size ratios, and is a great choice for anyone in the web design industry to use as a portfolio or other presentation type.
When it doubt, the easiest way to get creative is to use a template. Feel free to browse our handpicked PowerPoint template collections for inspiration.