35+ Best Photoshop Glossy Effects, Gloss Overlays, Textures, Text + More
There is no shortage to the number of visual styles that you can bring to the table with Photoshop. In fact, this reality is often a double-edged sword, making it difficult to pick exactly what aesthetic direction you wish to take your projects.
Yet, one of the most traditional, and reliable ways to enhance the quality of your designs is through the use of a gloss effect. Gloss effects in Photoshop are a great way to bring that added touch of spice to your designs, without taking away from what's on the screen.
We've compiled a list of the best glossy effects for Photoshop including everything from glossy overlays, textures, and text designs. If you've ever found yourself wondering how to add gloss in Photoshop, then our list here will have everything you need. Our roundup includes both premium and free options, ensuring there is something for everything.
Read on to see our list of the best glossy texture Photoshop effects!
Get everything you need to supercharge your Photoshop workflow. From just $16, get unlimited access to thousands of Photoshop actions, Lightroom presets, templates, graphics, fonts and photos.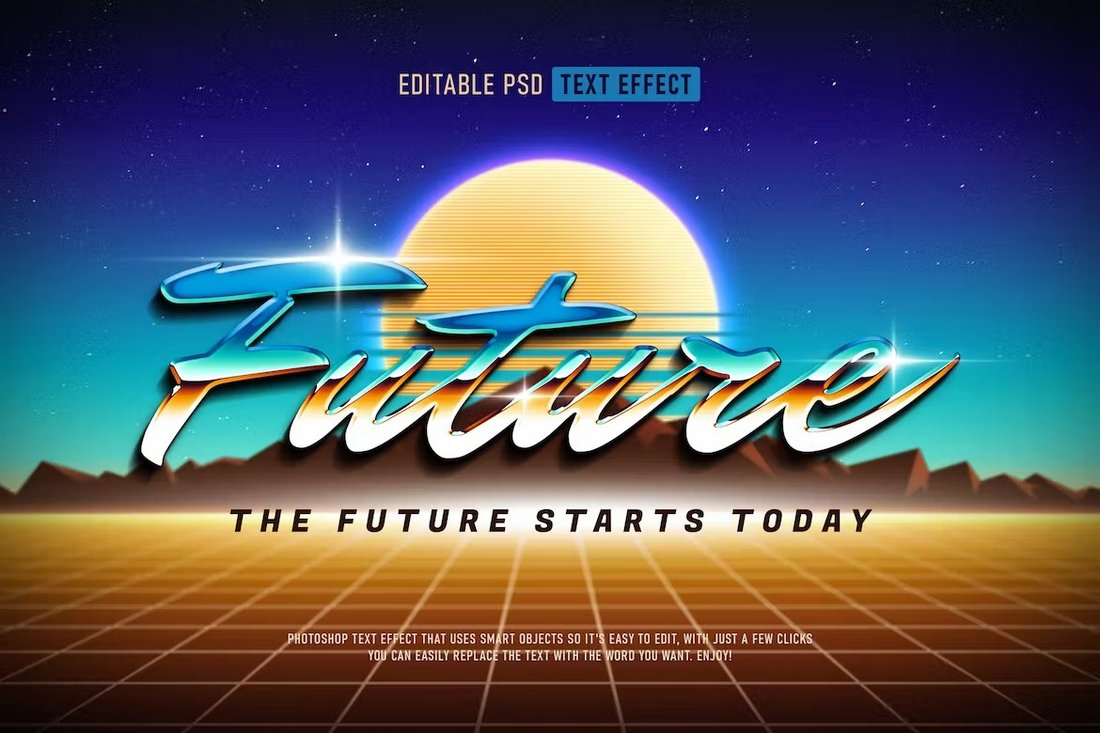 This beautiful text effect allows you to create retro-futuristic designs with your titles and headings. It also has a bright, shiny, and glossy look that will outshine all the other text on your designs. The effect is available in an editable PSD file featuring smart objects.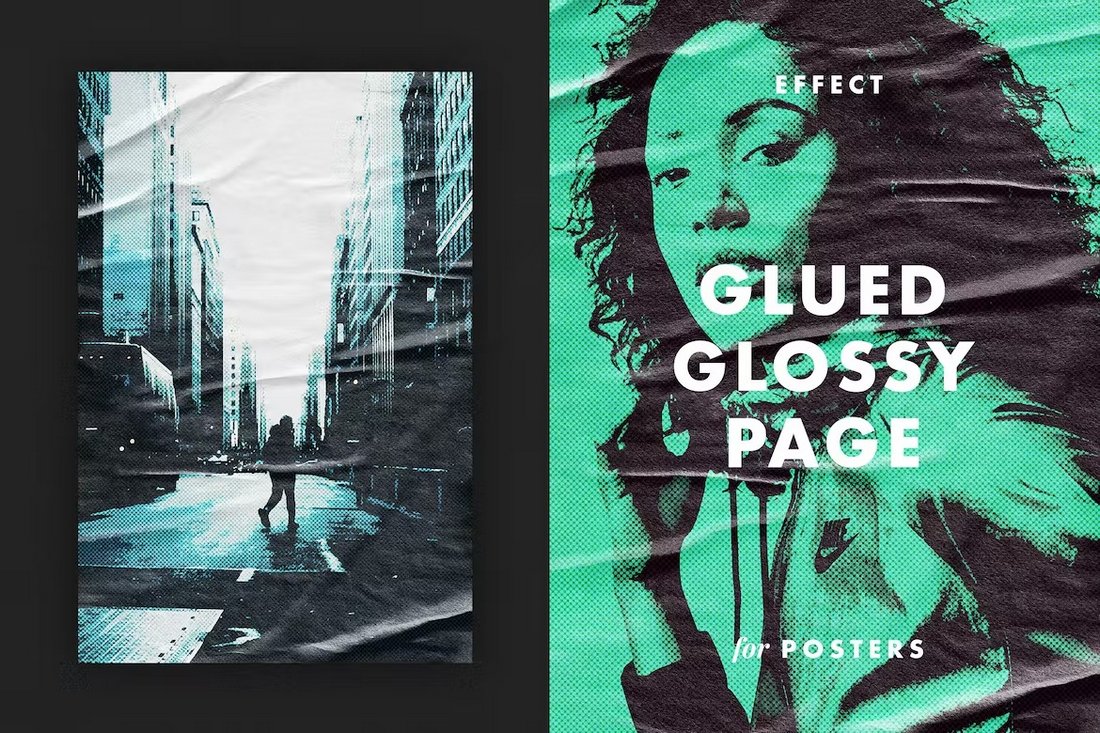 With this glossy effect, you can give a more realistic look to your poster designs and presentations. It adds a simple glossy effect to make your posters look like they are glued to a wall. This effect will definitely come in handy for showcasing designs on portfolios and to clients.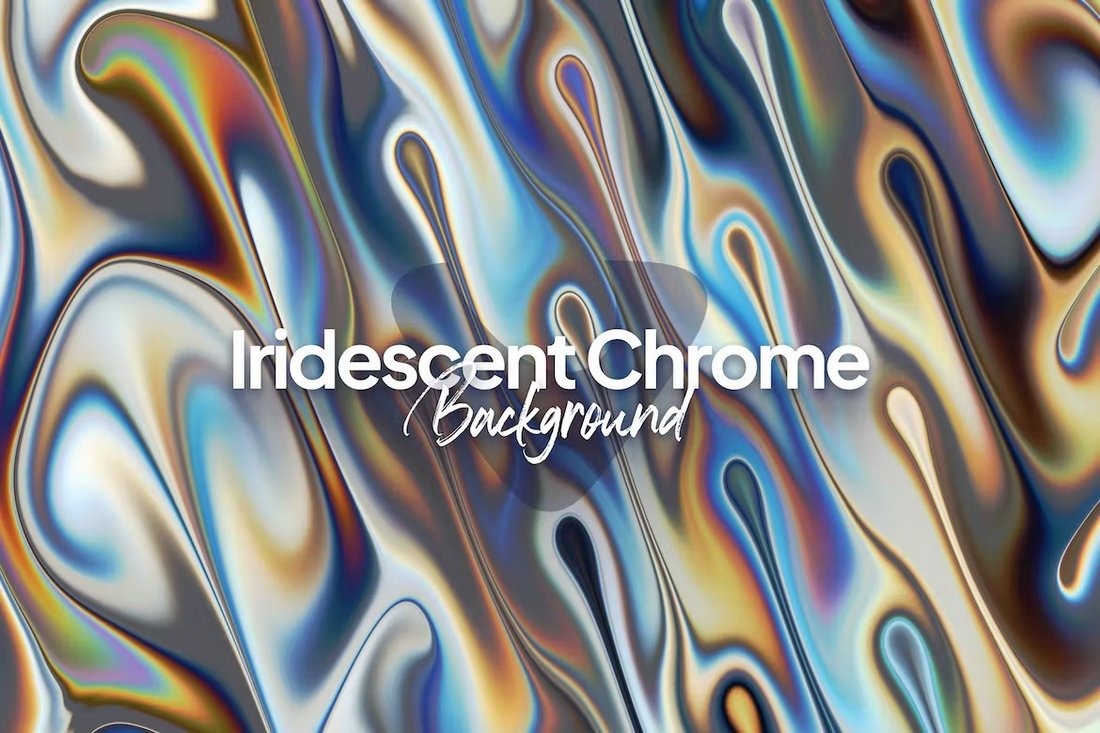 A collection of glossy backgrounds for your designs. There are 10 different backgrounds in this bundle in high-resolution. They all feature attractive iridescent chrome designs that will fit nicely with all kinds of print and digital designs.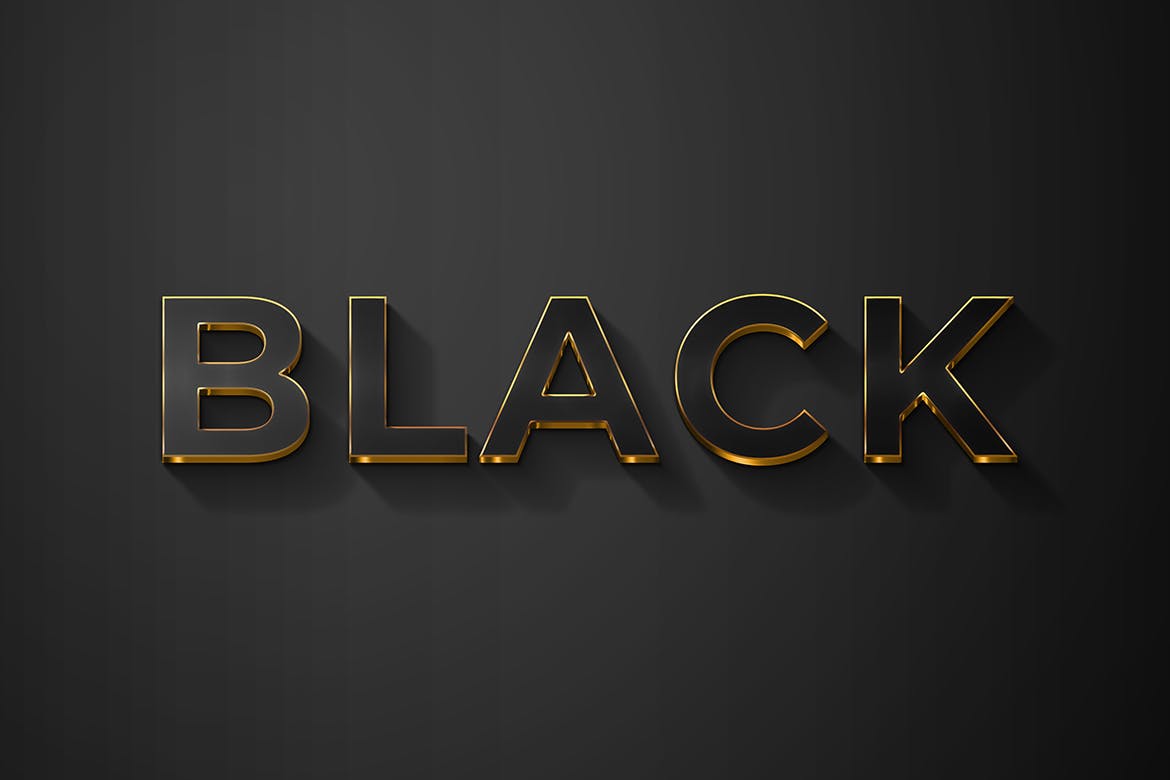 This text plugin excels at low-light glossy effects. If you're creating a visual design project with limited light sources, and want a gloss effect to stand out, then look no further than this bold, black glossy effect for Photoshop.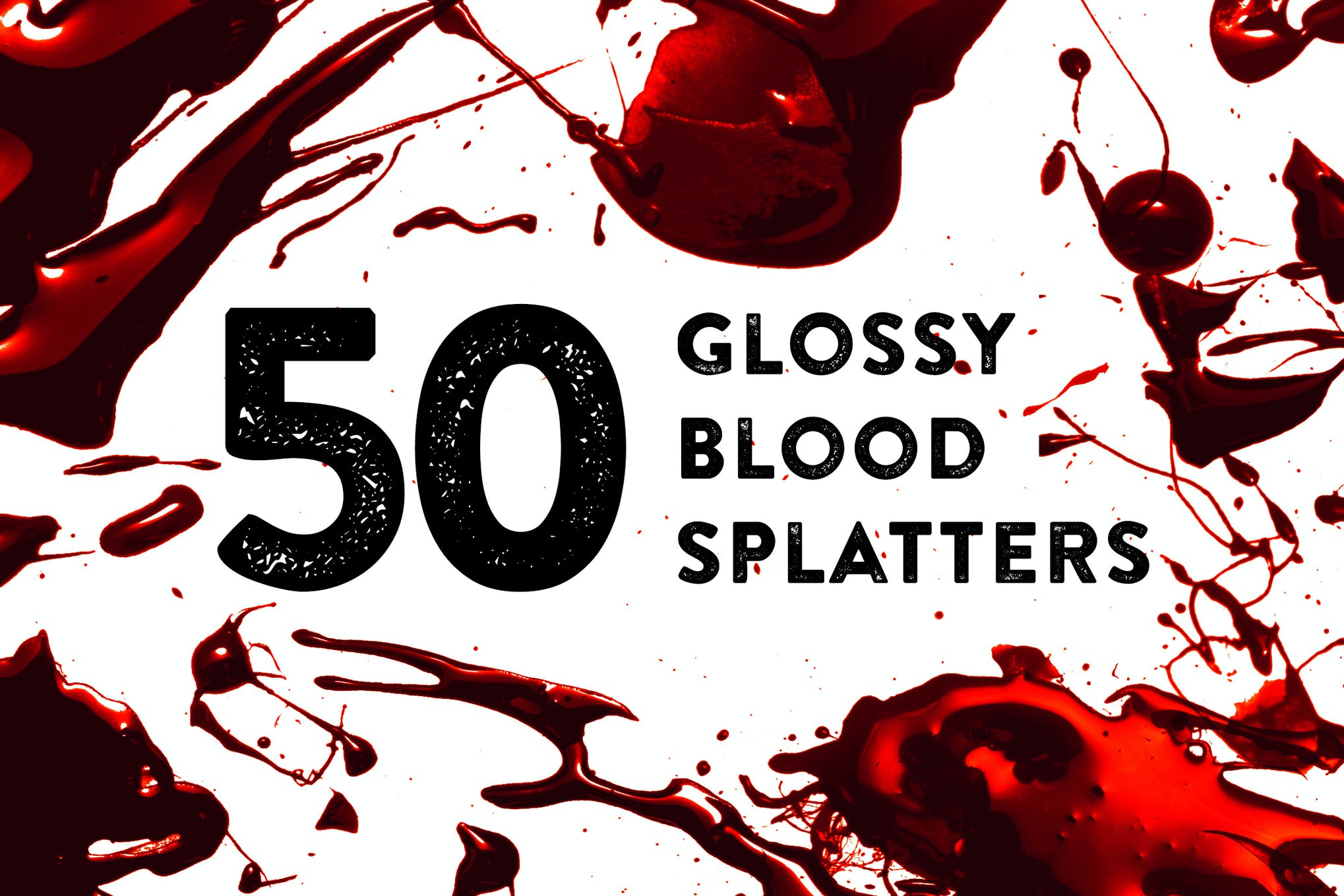 Ever wondered how to make something glossy in Photoshop, that isn't typically glossy? This add-on strives to answer exactly that, with over fifty different gloss enhanced blood splatter brushes for you to use in your projects. A great resource for beginners and professionals alike.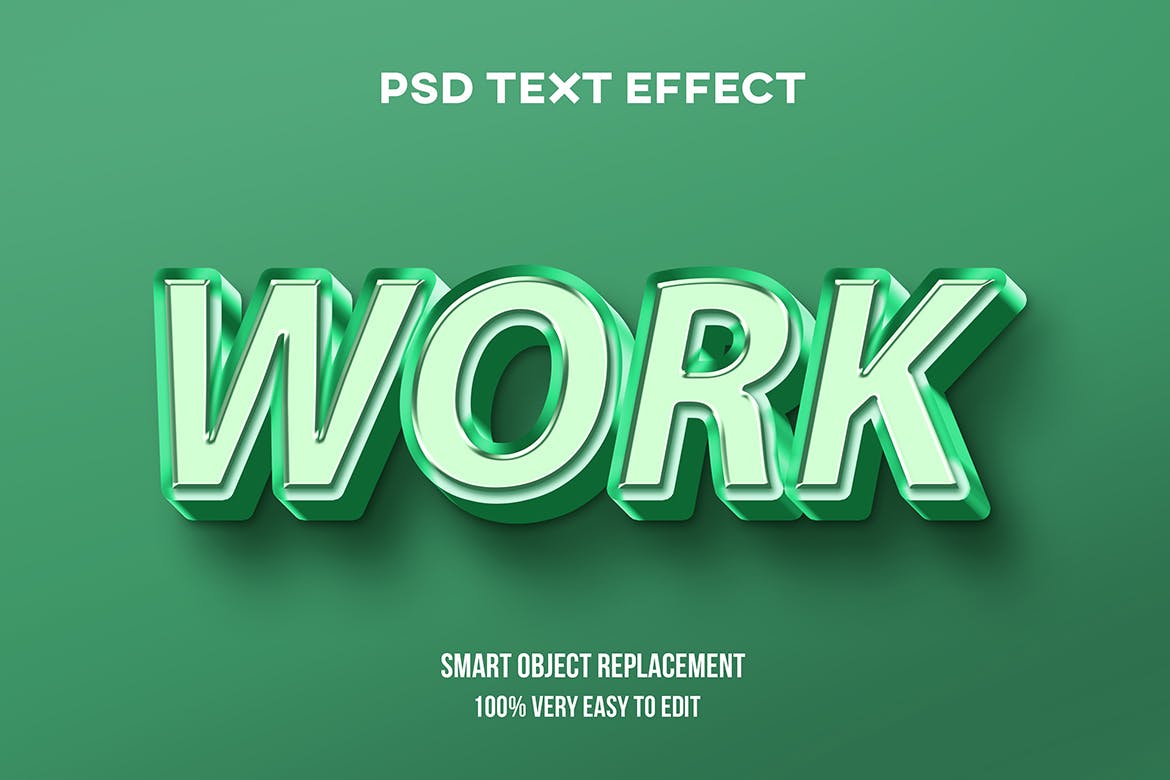 Bring out a glossy texture in Photoshop in style with this text effect. It provides you with a beautifully tailored green pastel display font and overlays it with a metal-styled gloss effect. If you ever get confused about how to add gloss in Photoshop, this text effect is a perfect solution.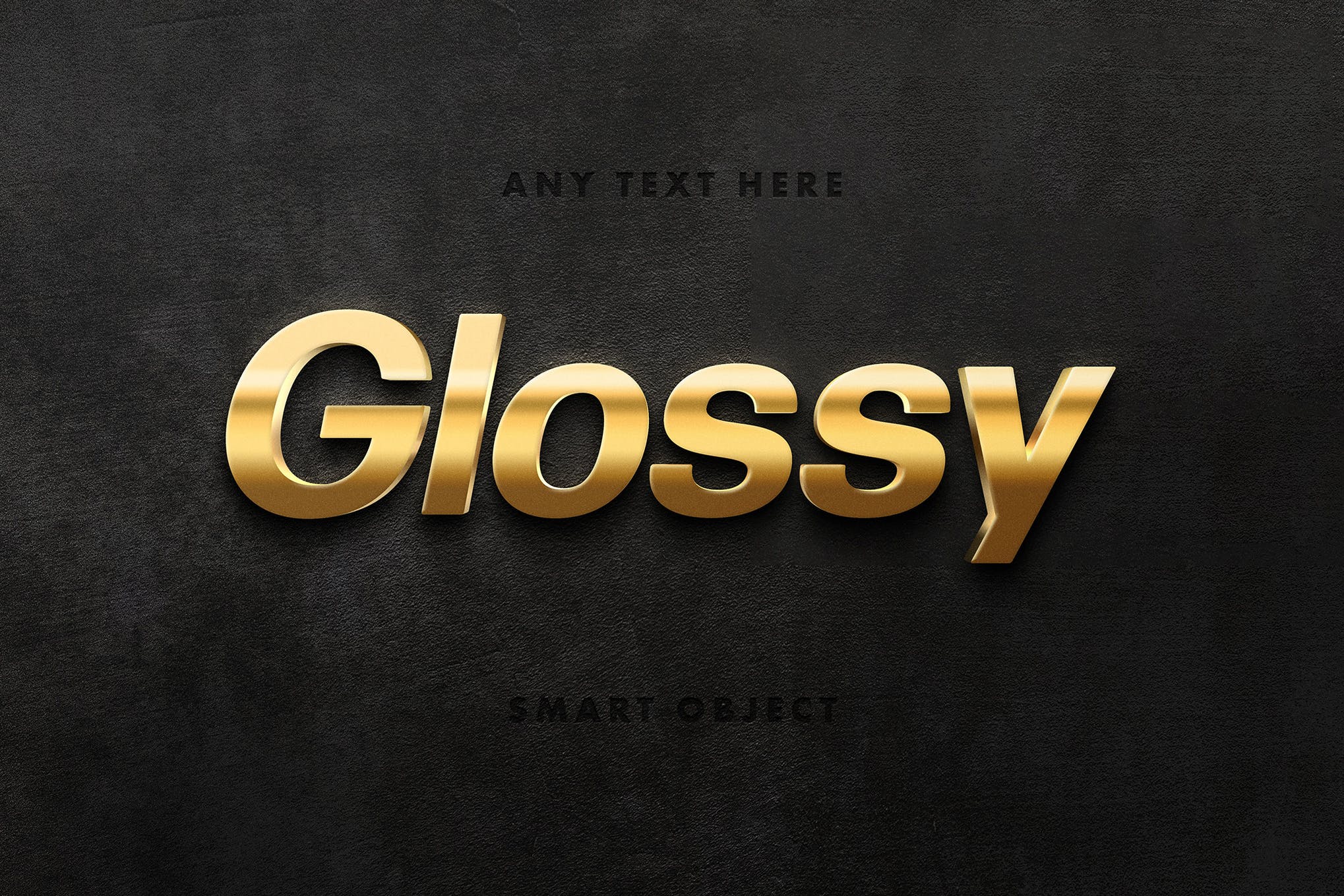 This text effect is a simple, but effective, three-tone gloss design. It excels at enhancing metal-styled typeface designs, and whilst it doesn't strive to execute a unique glossy texture, sometimes the more minimalist and traditional approach is what truly manages to stand out. Use this glossy text Photoshop effect and make your designs shine through.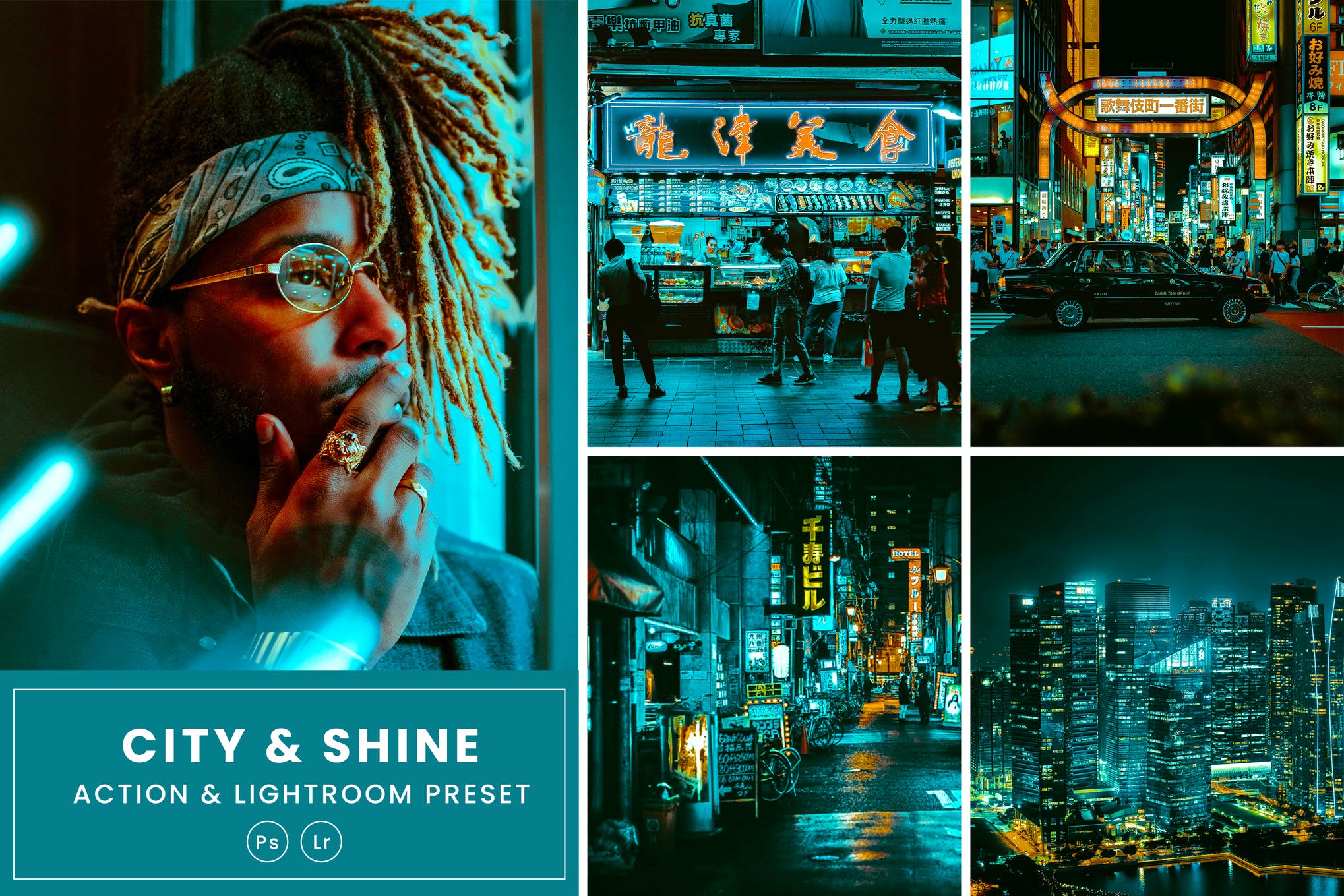 Bring an incredible glossy effect to your pictures with the City and Shine Photoshop action. It will give your visual designs that classic glistening aesthetic, and bring a touch of personality to every shadowed corner of your work. An awesome glossy overlay Photoshop action is well worth checking out!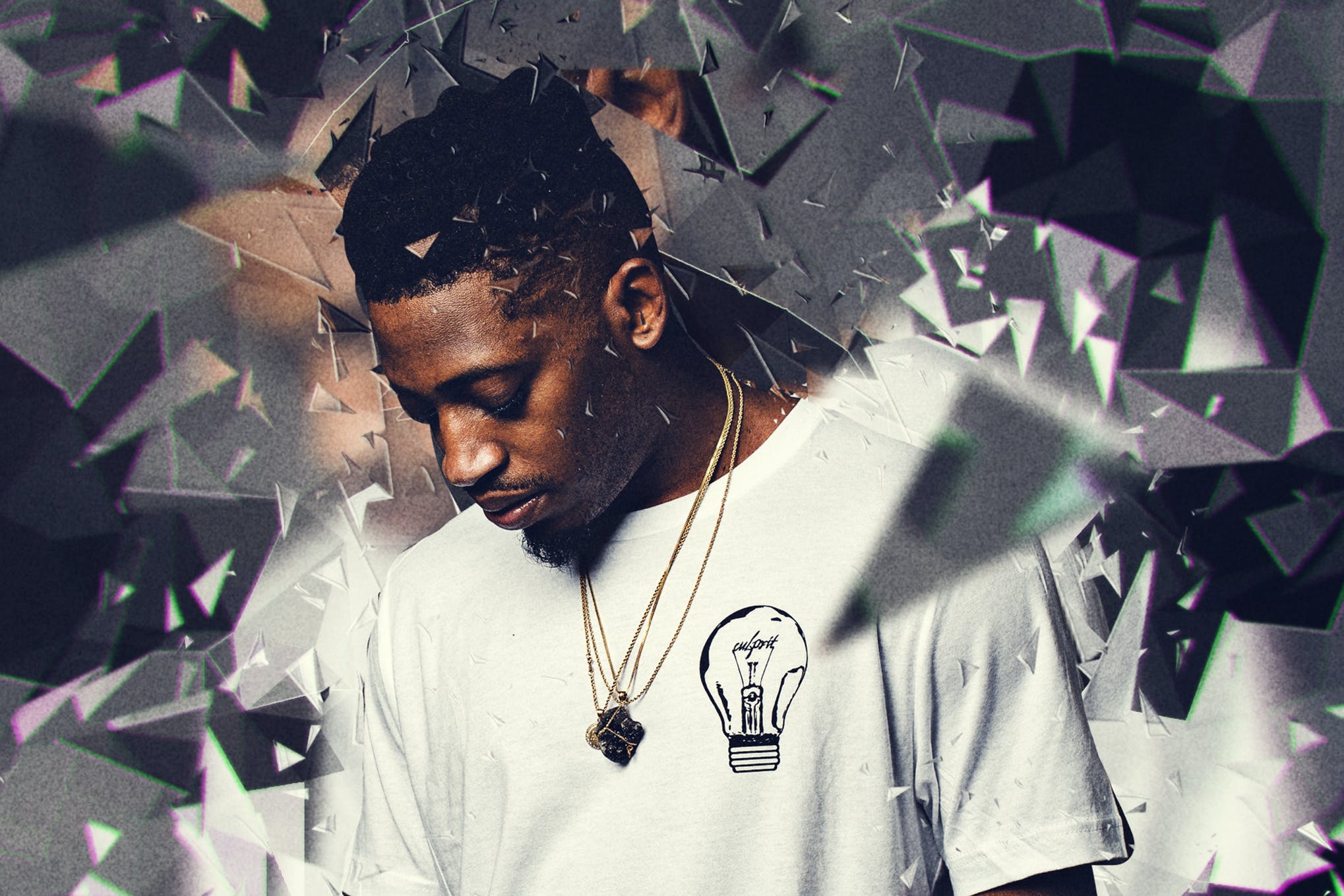 Create a truly impressive broken glass effect in Photoshop combined with a touch of gloss. This effect provides you with organized, and editable layers, unlimited color filters as well as a step-by-step video tutorial to help you truly make the most of the effect.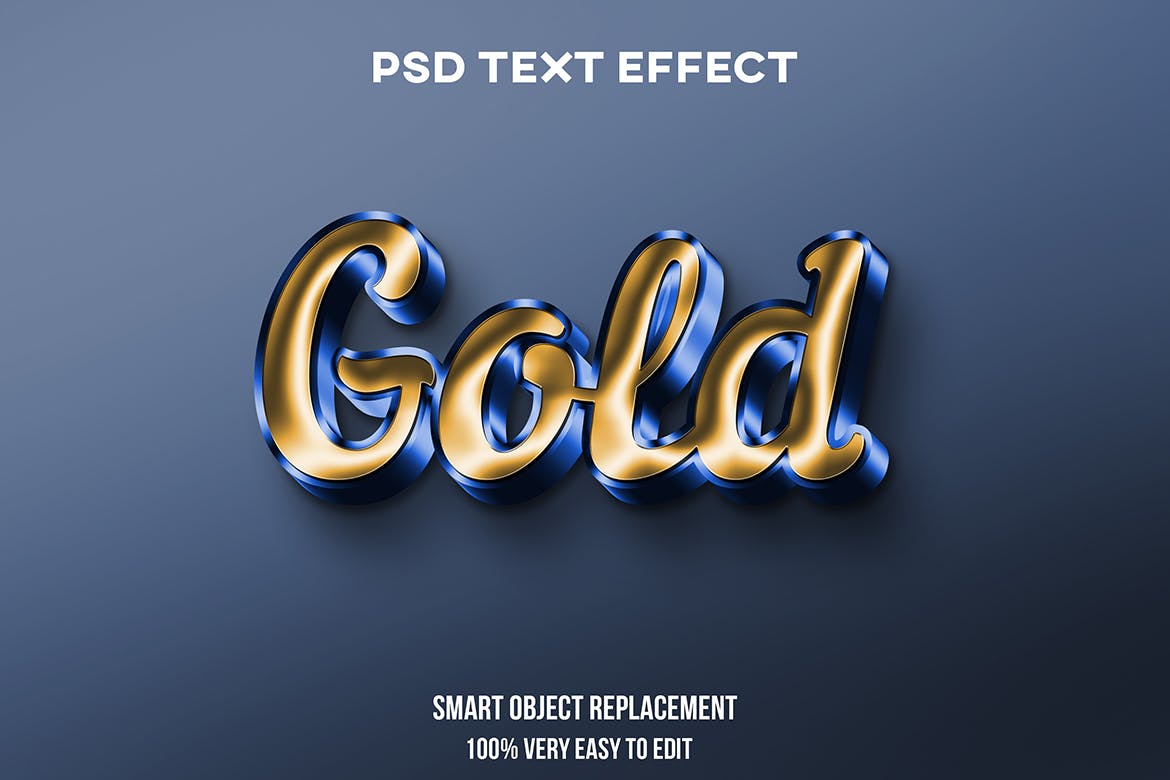 Never wonder again how to add a glossy effect in Photoshop with the easy-to-use Gold n' Blue text add-on. This effect combines a 3D display font style, with a beautiful blue-trimmed border, all overlayed with a classic three-tone gloss effect.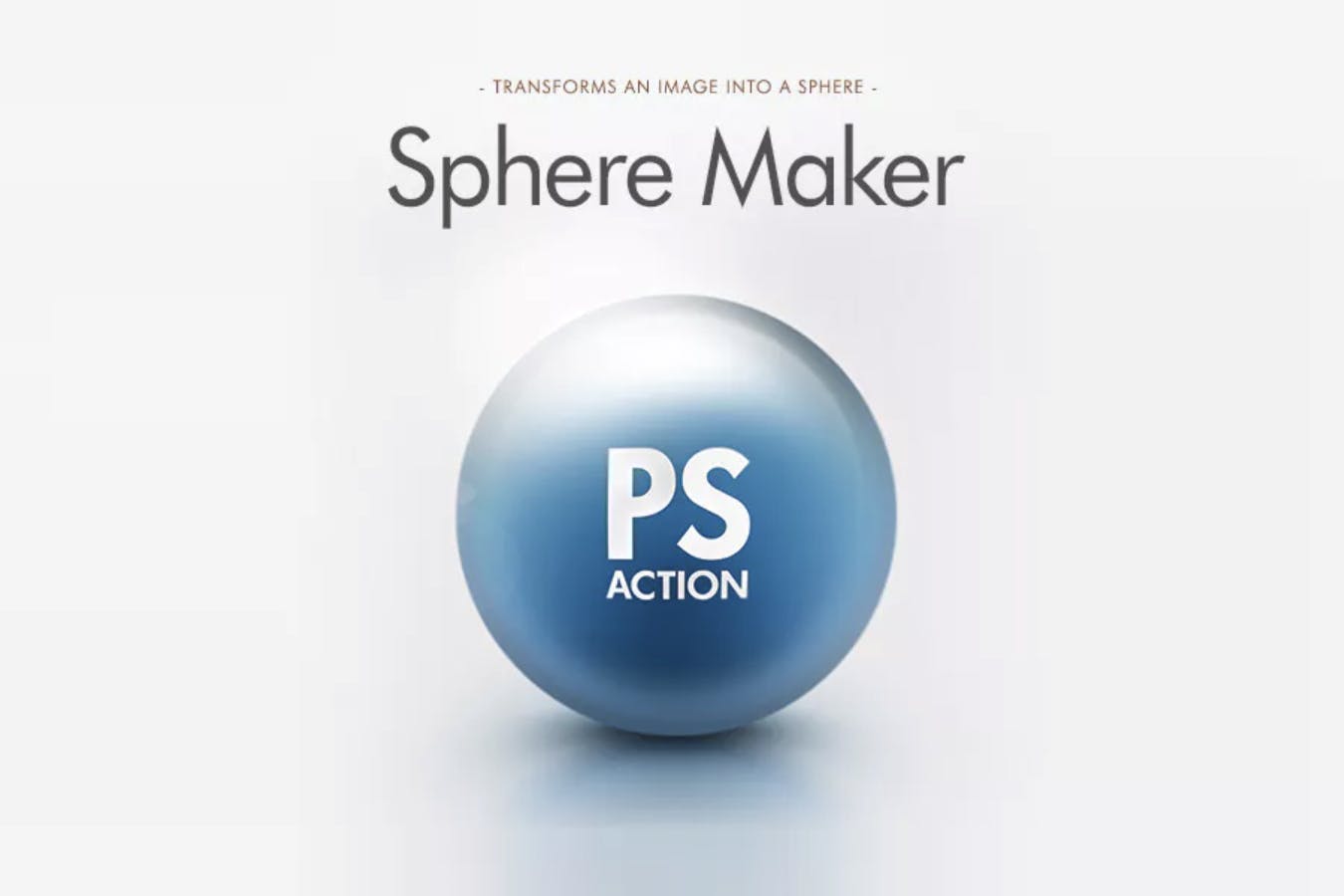 Transform your images into a sphere with this remarkably unique glossy effect Photoshop action. This action is designed to create a realistic gloss aesthetic, whilst steering clear of overwhelmingly glossy sheens.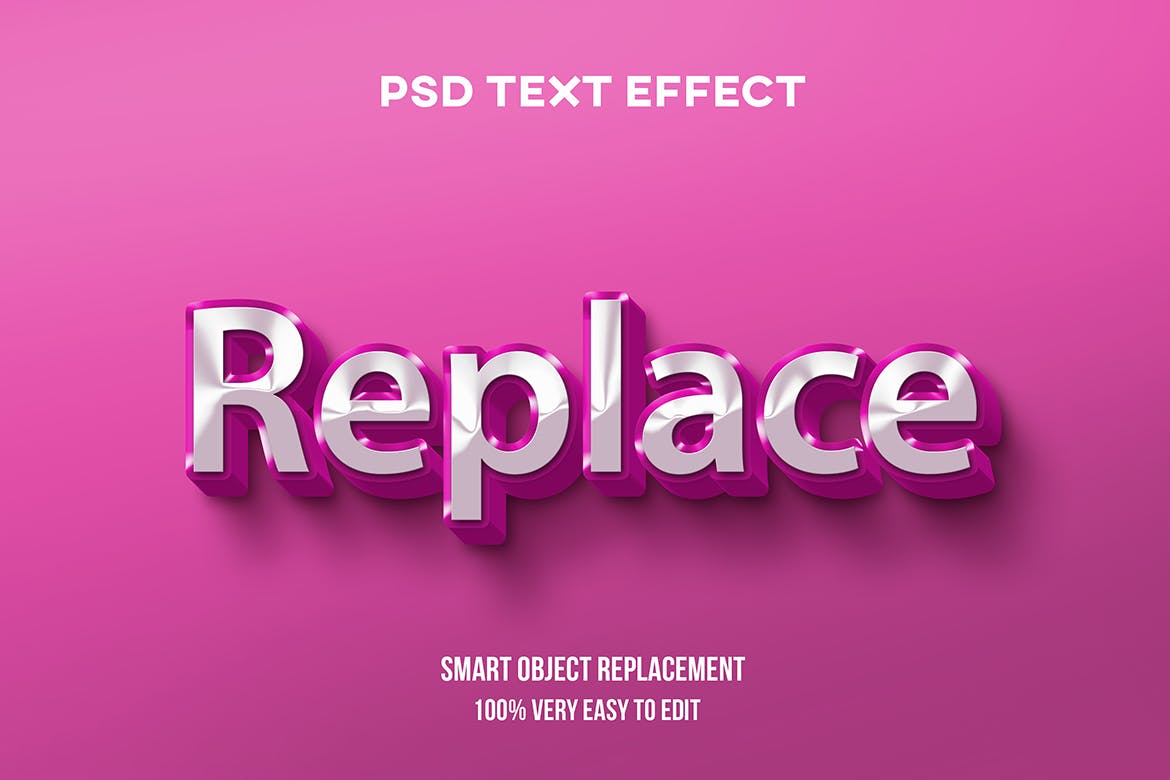 Bring a touch of bubbly fun to your designs with the Pink Silver Glossy Text effect. It allows you to transform your typeface designs into a bright and happy pink aesthetic, whilst bathing them in the soft touch of a two-tone glossy finish. A great choice for those looking to emulate that shining plastic style.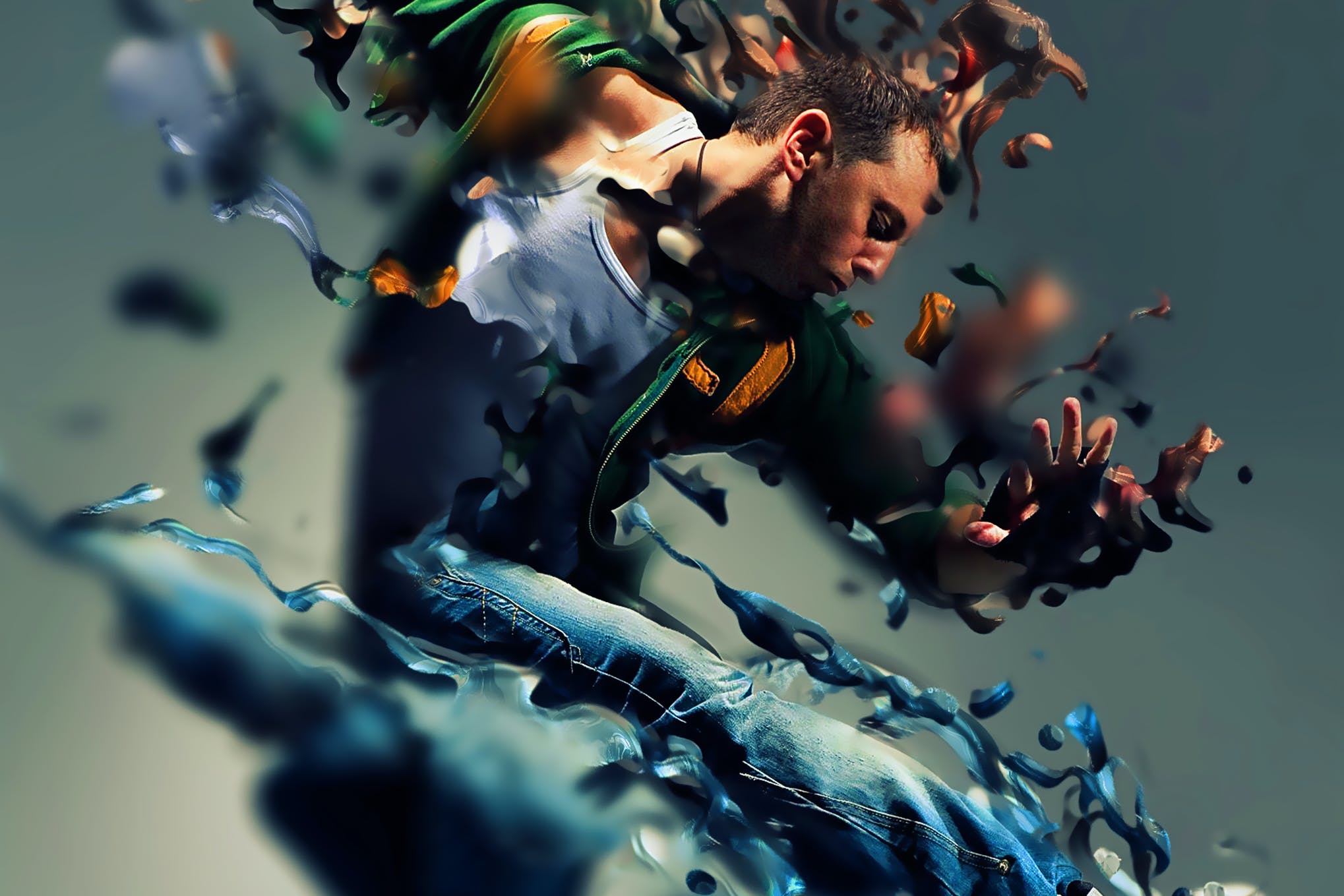 Liquify is an example of a more unique glossy filter for Photoshop. It transforms your entire visual design into a liquid, and then adds a slight hint of gloss effect over it. Whilst a more specific stylized design, this action will excel at executing a look many people will be looking for.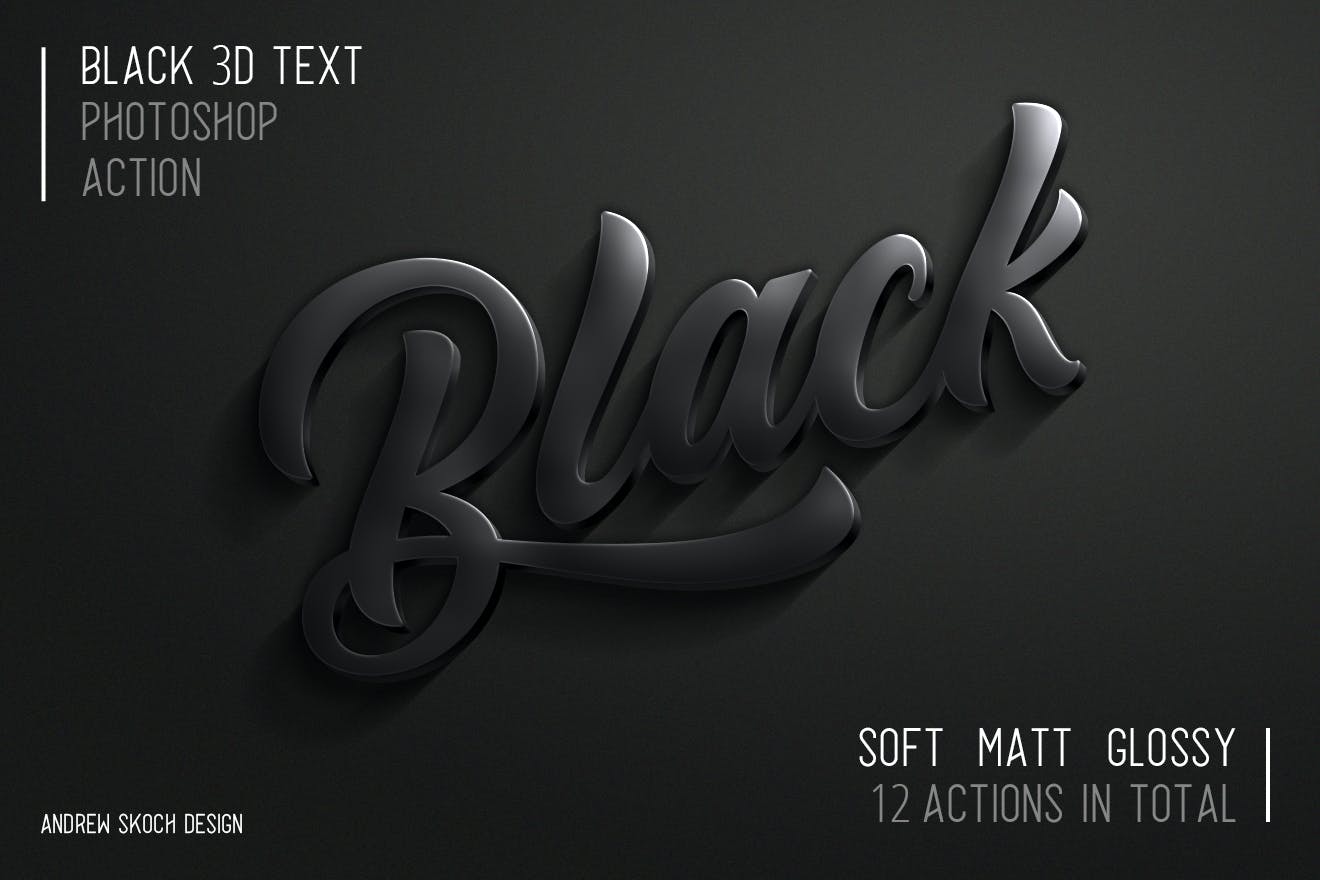 This Photoshop action manages to both emulate a 3D display font style, whilst delivering a gorgeously designed black aesthetic. Furthermore, this effect excels at providing a versatile glossy texture in Photoshop, without using too many reflective sources. It comes with three styles of gloss effect, allowing you to choose the one that best suits your style and mood.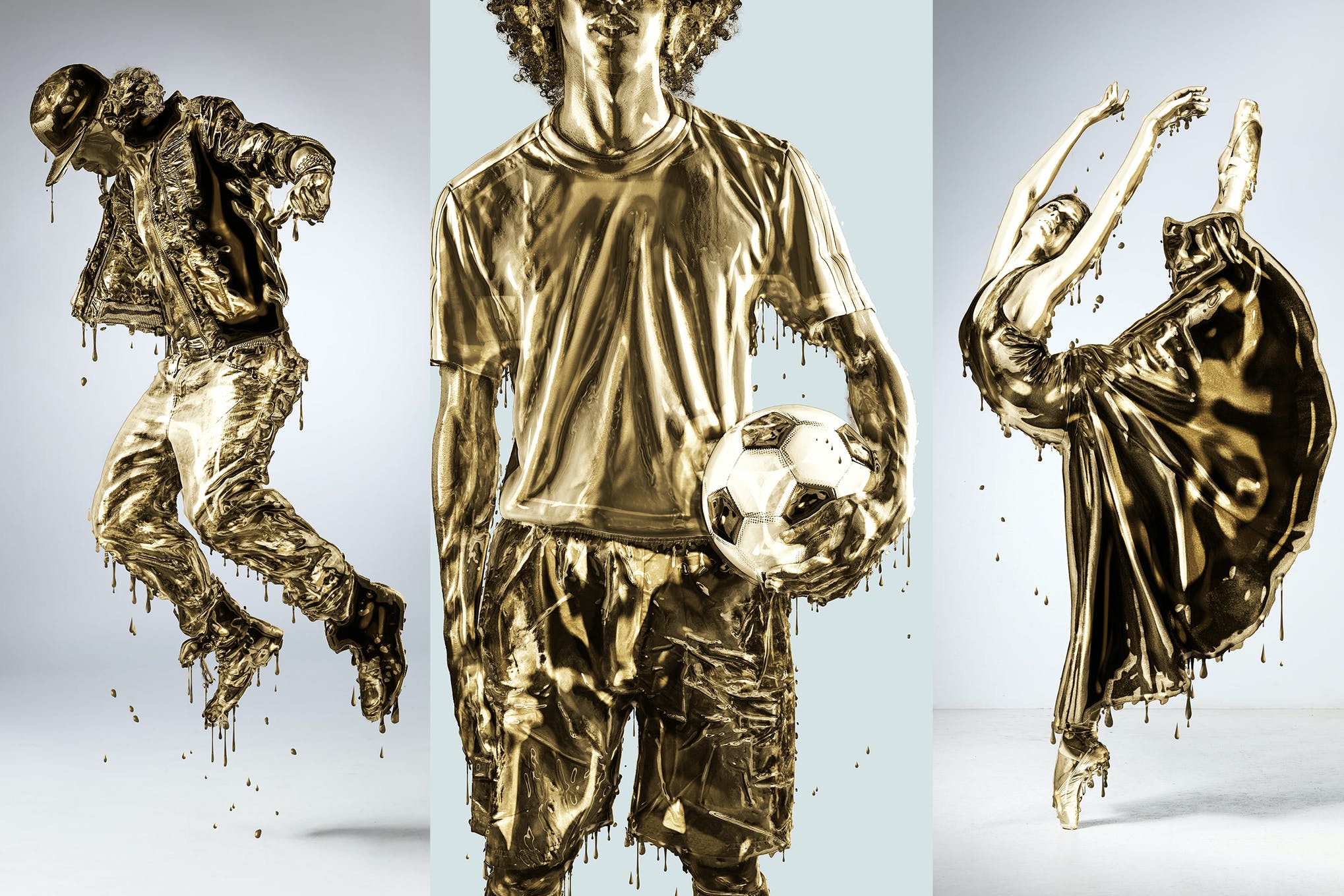 Cultivate a stylish design with the Dripping Gold Photoshop action. It's a more minimalist approach to the glossy filter in Photoshop, but one that provides a beautiful glossy gold effect that is sure to impress.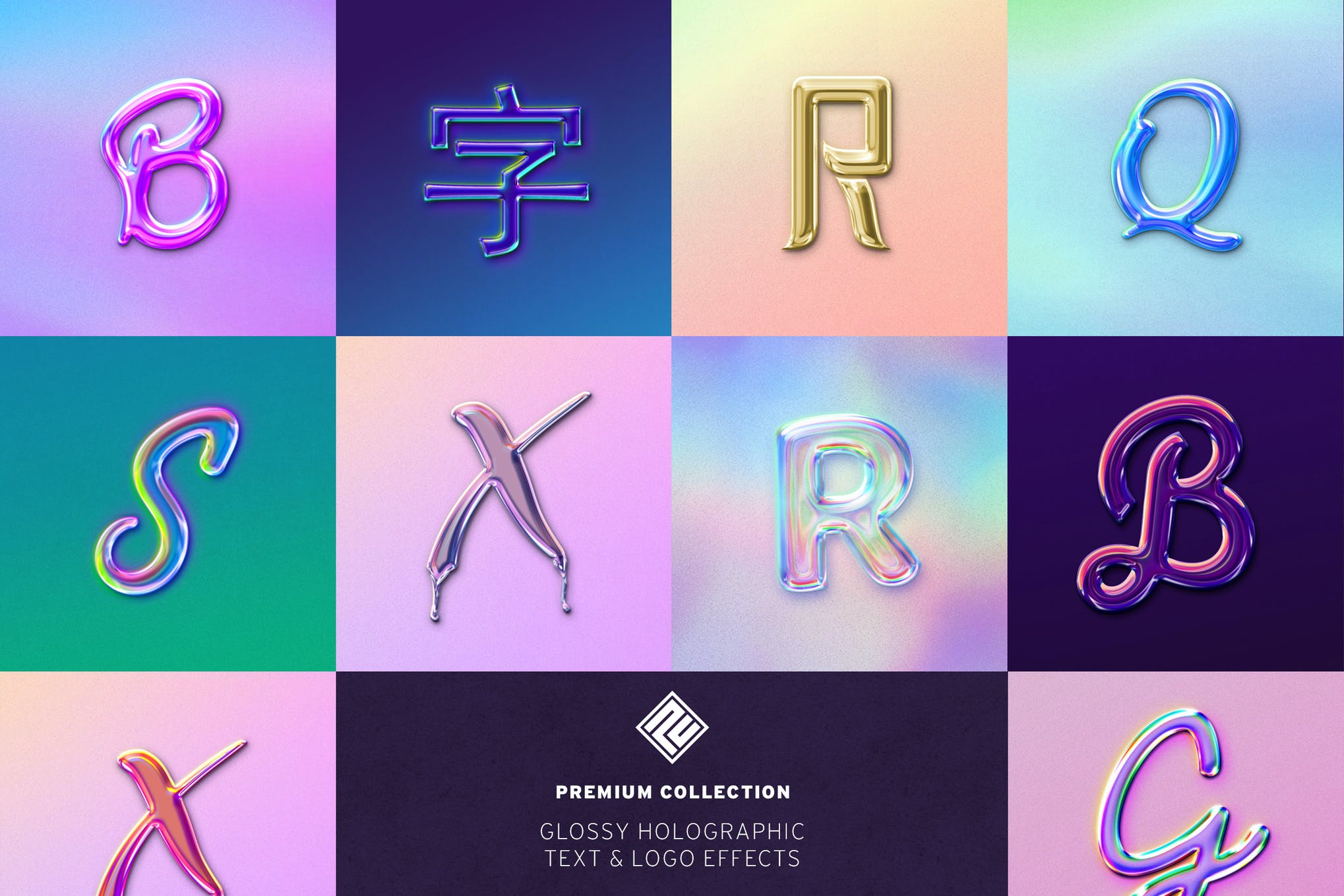 Bring out the 80s themed holographic style with this Photoshop plugin. This effect provides you with a range of gorgeously designed holographic display fonts and gloss overlay options to make your typeface designs truly stand out. When you have access to one of the best glossy overlay Photoshop add-on out there, no need to worry about how to add a glossy effect in Photoshop.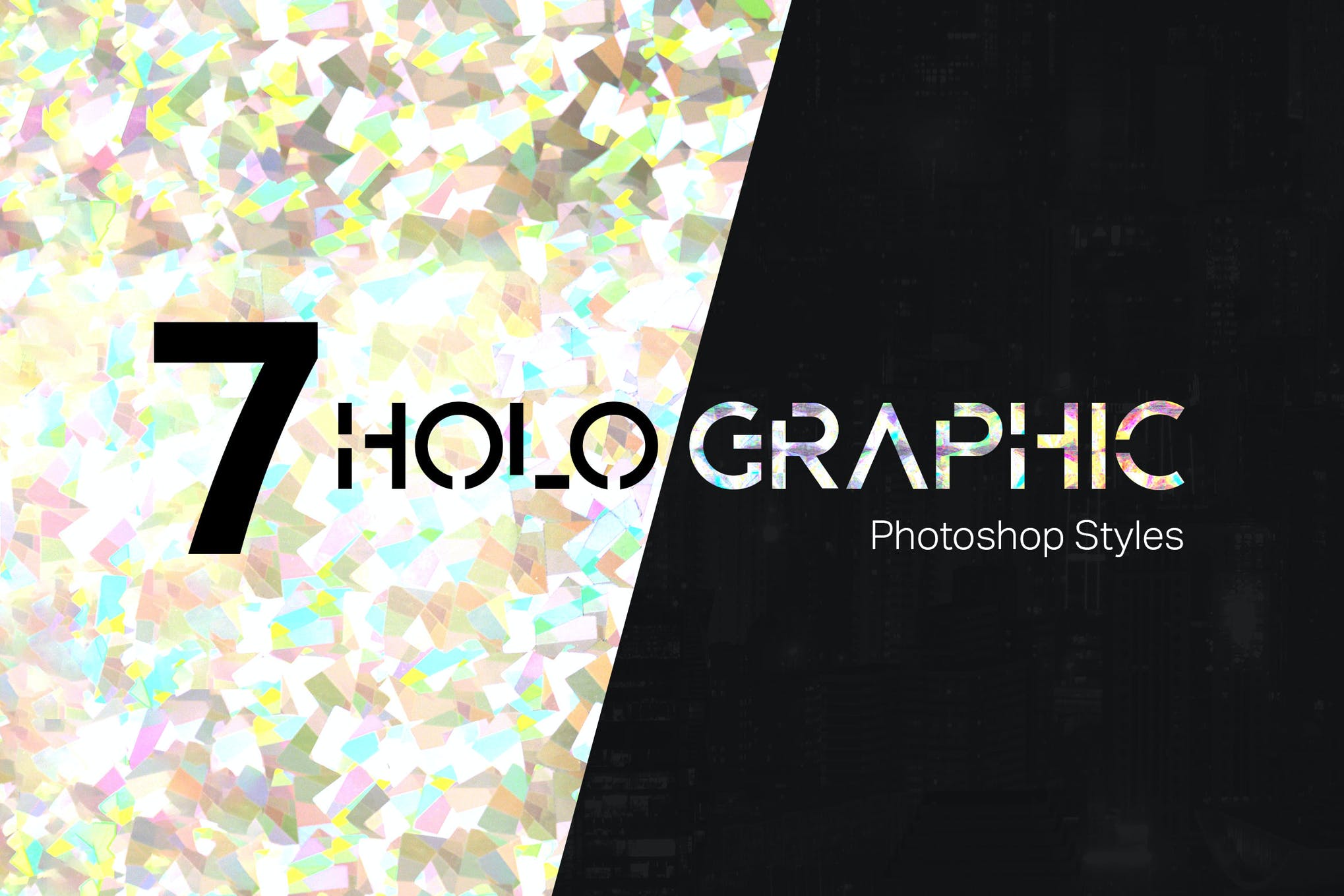 Ranging from crystal, pixel, magic, diamond, smooth, spiral, and streak holographic textures, this Photoshop collection has every style you might ever need to bring a glossy, magical effect to your text designs, logos, and shapes.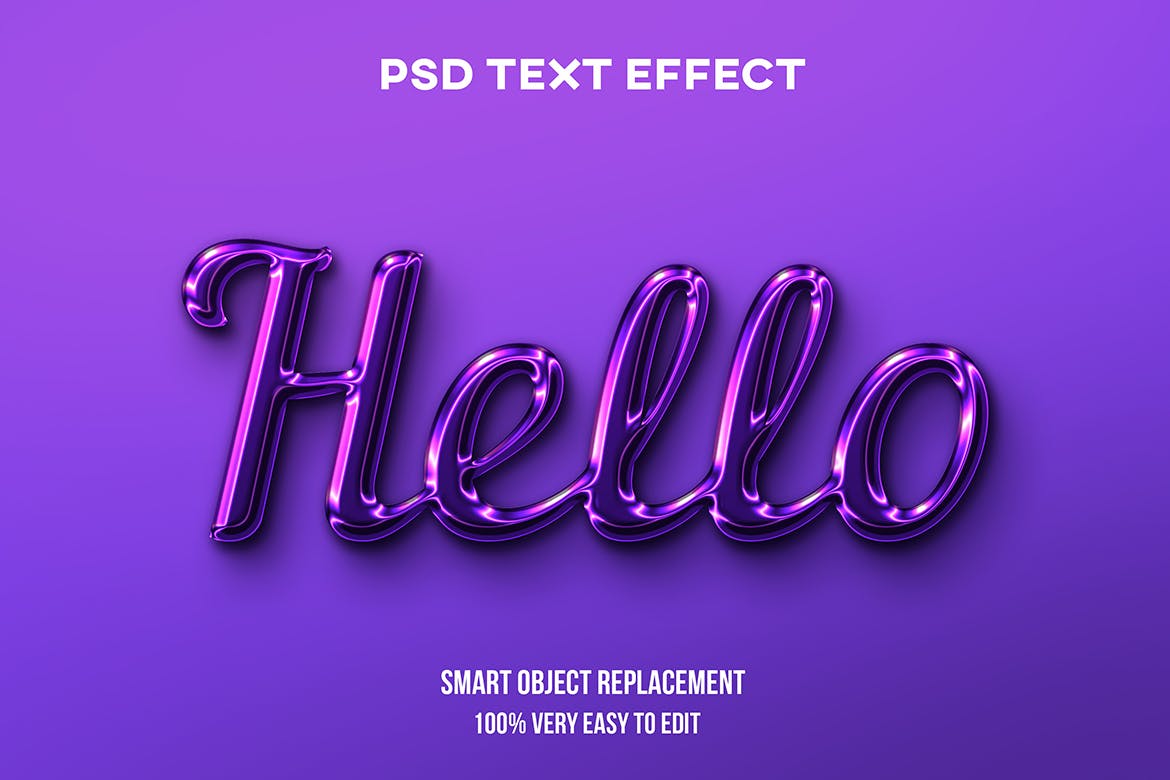 Tailor a unique aesthetic for your projects using the Purple Gloss text effect. This gloss-styled overlay provides you with a balance between a shining plastic, and a cold metal-styled effect. There are multiple customization options to choose from, and a beautiful cursive display font for you to enjoy.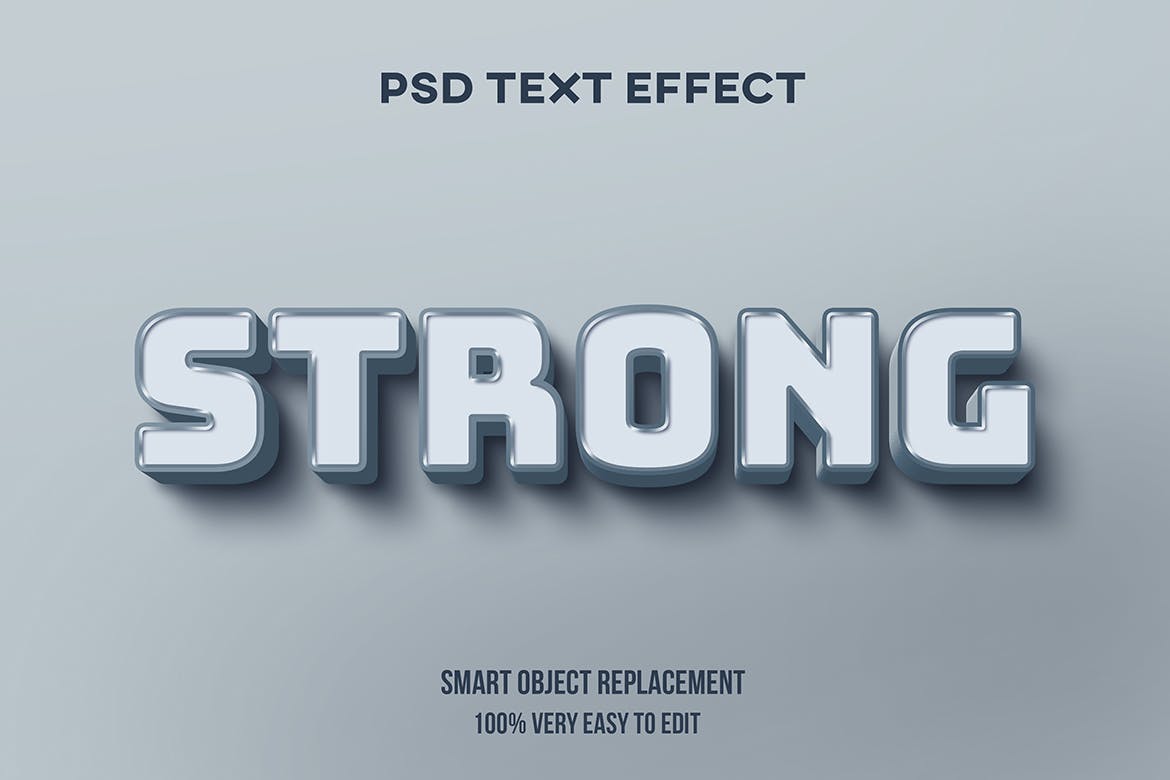 If you want to create a more realistic gloss effect, then you must check out this Photoshop add-on. This effect doesn't provide you with the over-the-top glossy styles as many other resources, but it does provide a more muted approach to a gloss overlay. Perfect for many project designs.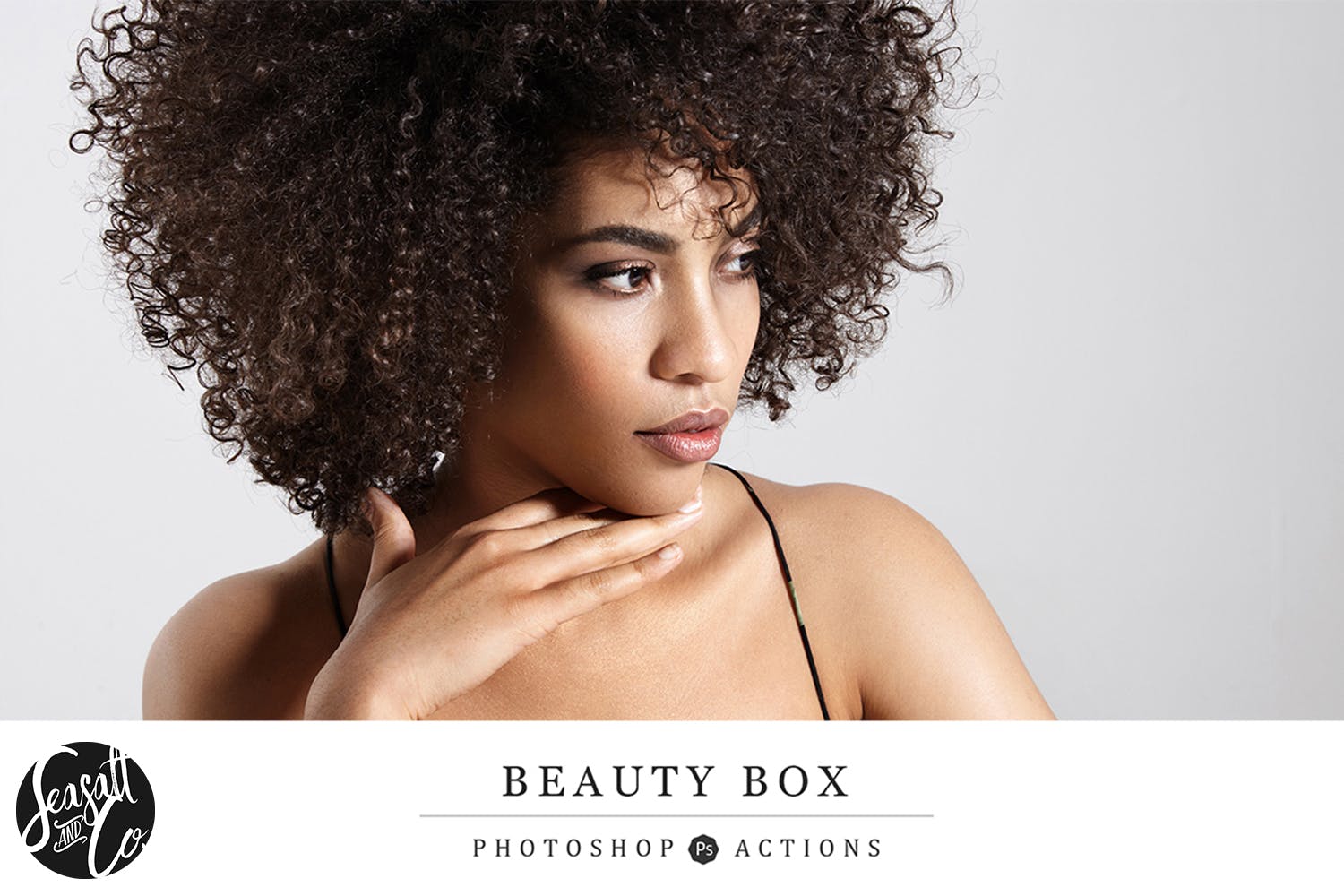 If you're stuck wondering how to add a glossy effect in Photoshop, without the effect taking too much attention away from your designs, then you need Beauty Box. This action is tailored to emulate the more muted, and professional, classic gold gloss style. Whether you need to add a little gloss to your lips or cheeks, this add-on comes in very handy.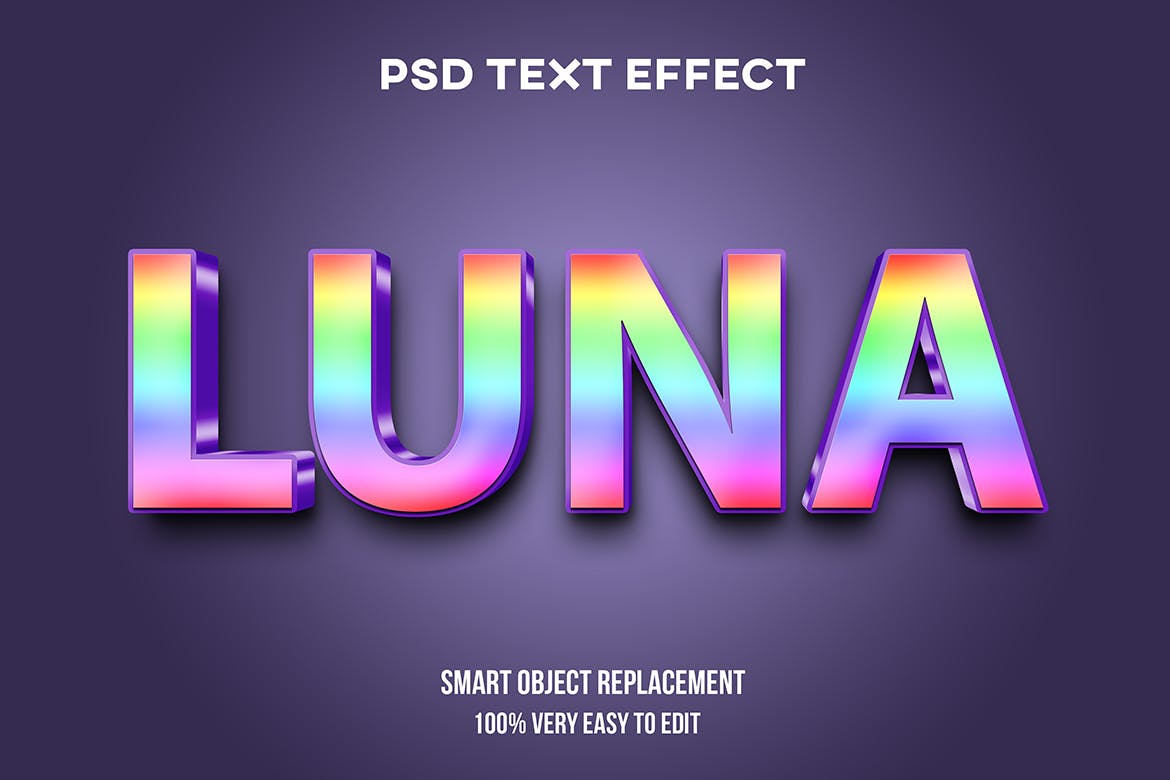 Wondering how to make something glossy in Photoshop, whilst keeping a level of artistic personality behind the design? The 3D Gradient Colourful Gloss effect is exactly what you're looking for. It's a fun and playful gloss style that is sure to make a statement.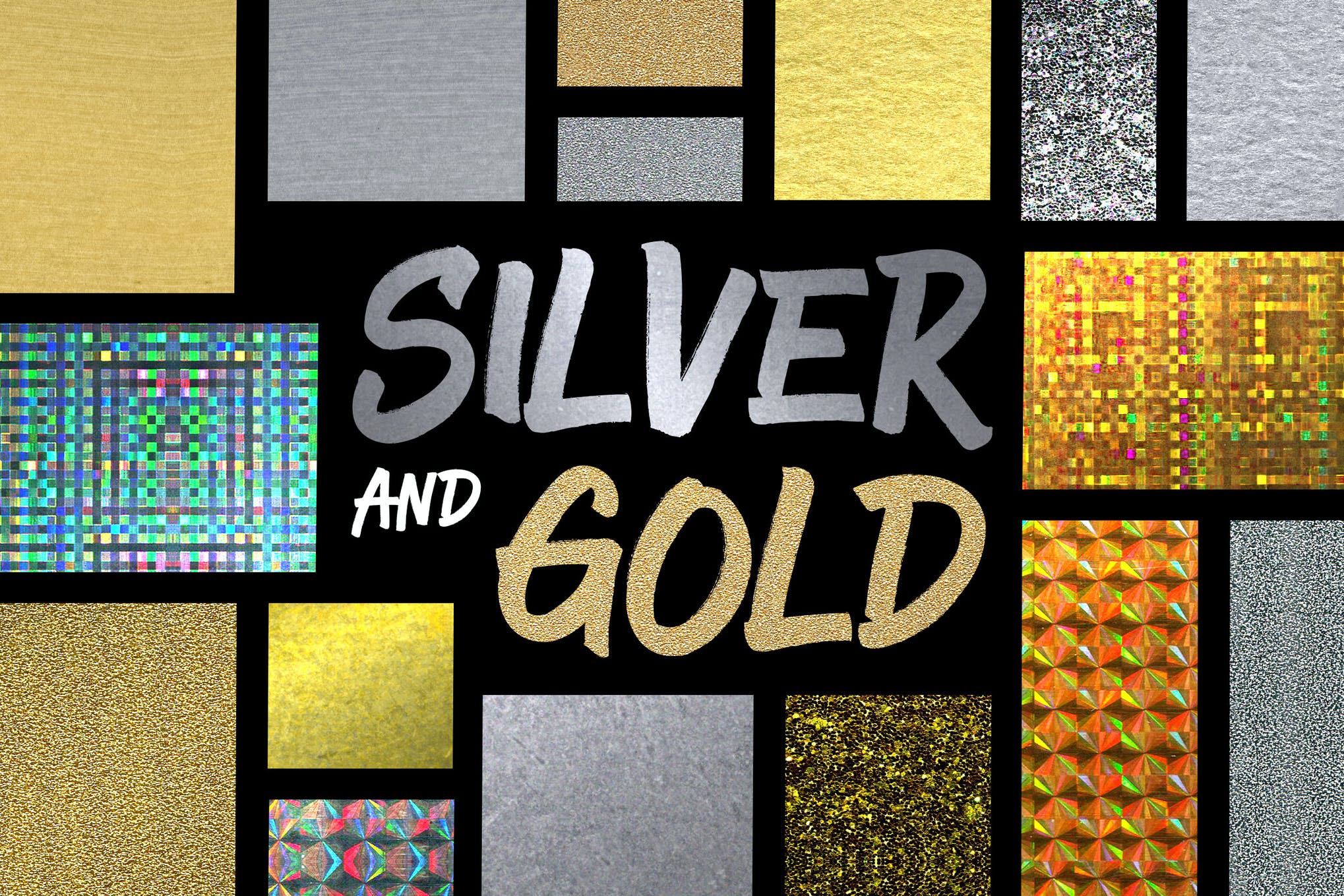 Featuring a range of glossy texture Photoshop effects, this collection of gold and silver styles allows you to create something truly magical. With so many glossy overlay Photoshop effects at your fingertips, you will never have to waste your time wondering how to make something glossy in Photoshop.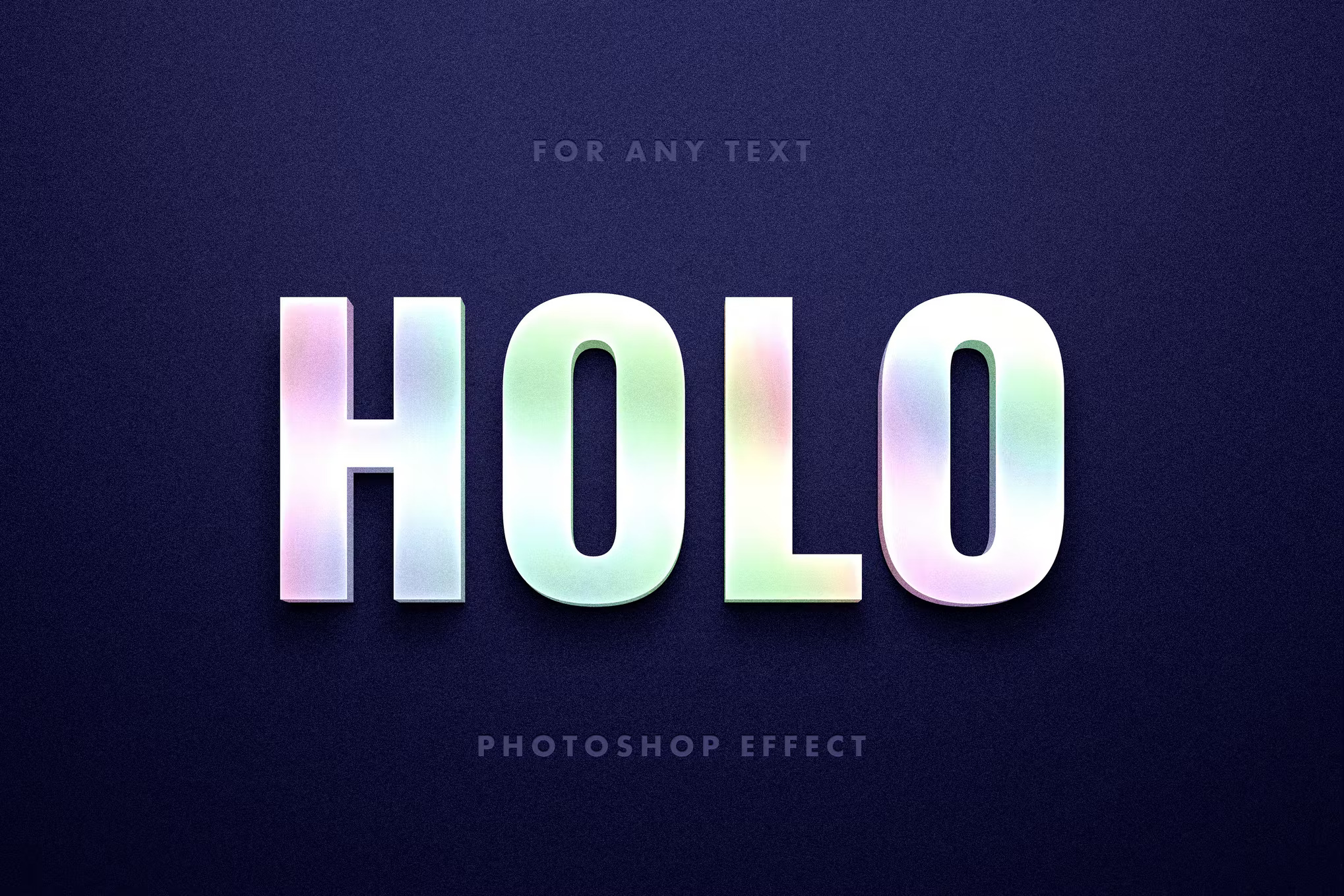 Create funky or, on the contrary, glossy holographic scenes with a single PSD text effect that's so easy to use! It's a great tool to create eye-popping logotypes, present your typographic works and signages — with a couple of clicks, simply place your graphics inside the Smart Object, save, and your project is now a bomb of endless fascination that's ready to explode!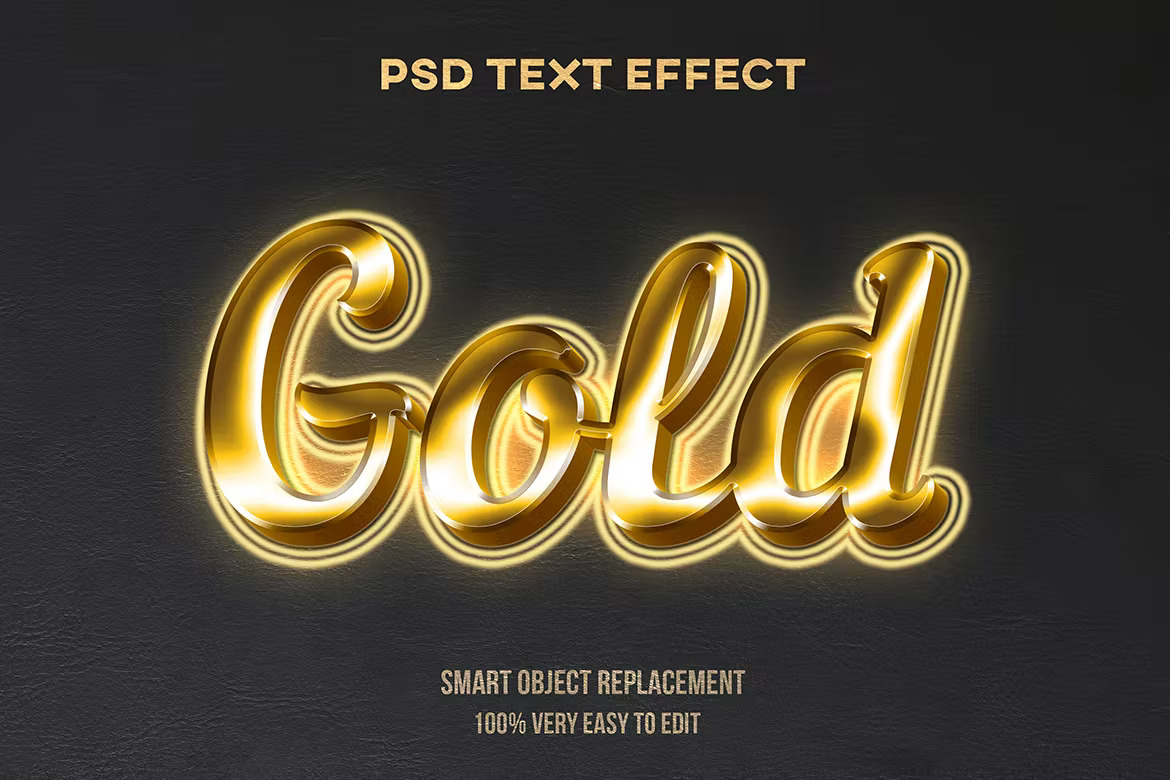 You are confused about how to make a cool text effect, we have a solution, with this text effect template for Adobe Photoshop you will easily create a text effect, with just a few clicks the text will change with a style like this. You can also easily change the font according to your wishes.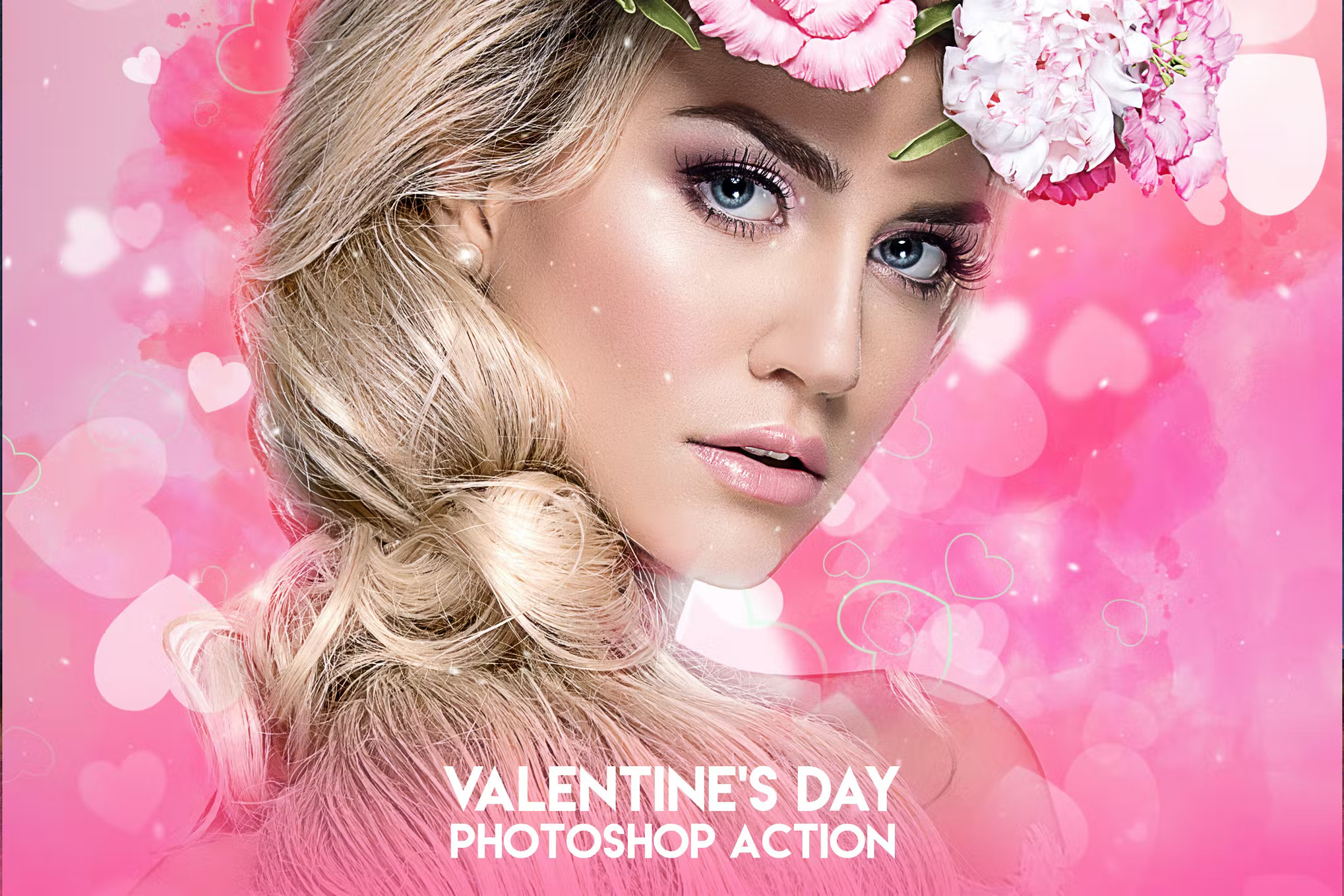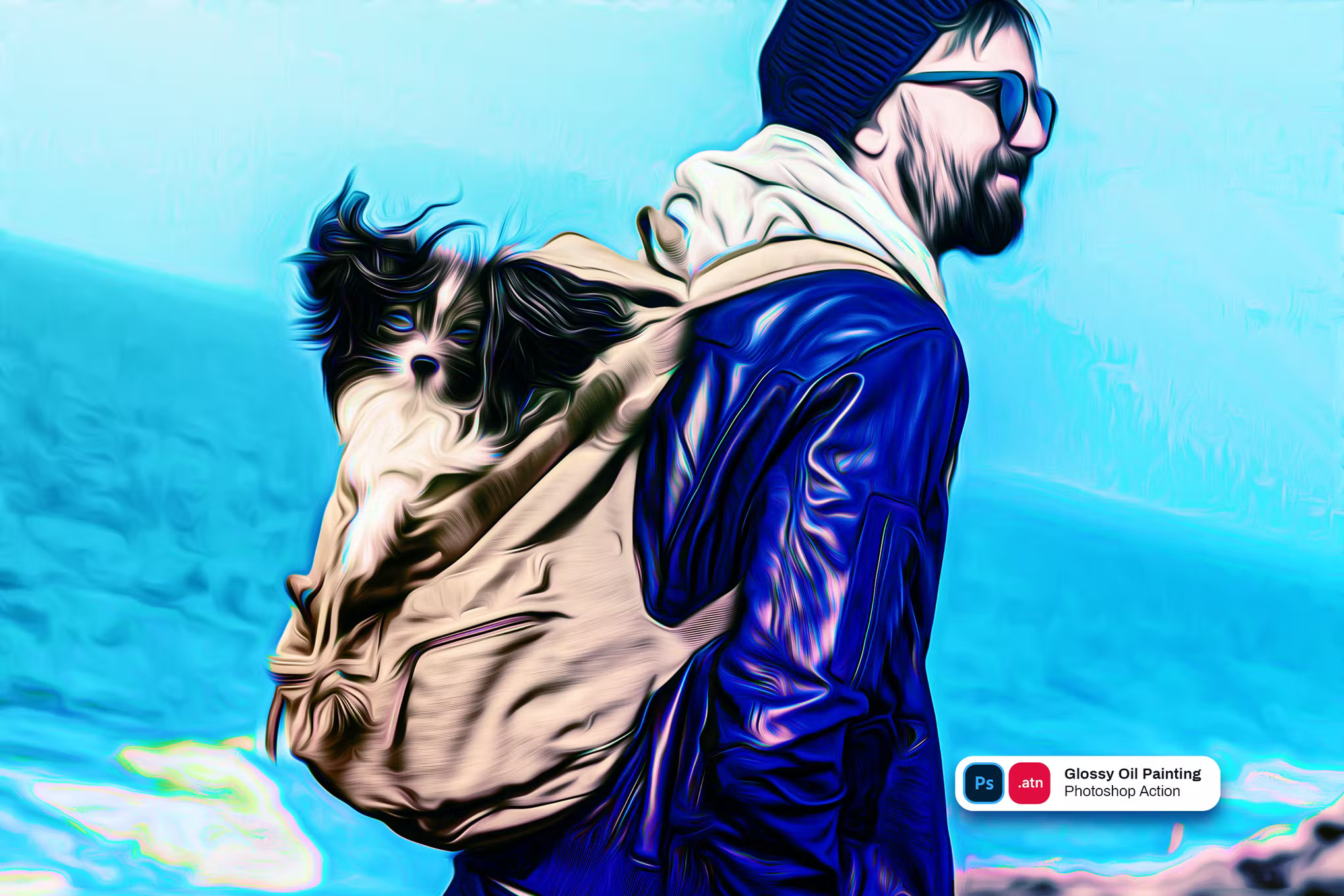 This is a professional multifunctional artistic action that will transform your photos into impressive artworks with a lot of elements and options to customize and improve. The highly detailed result, a lot of possibilities.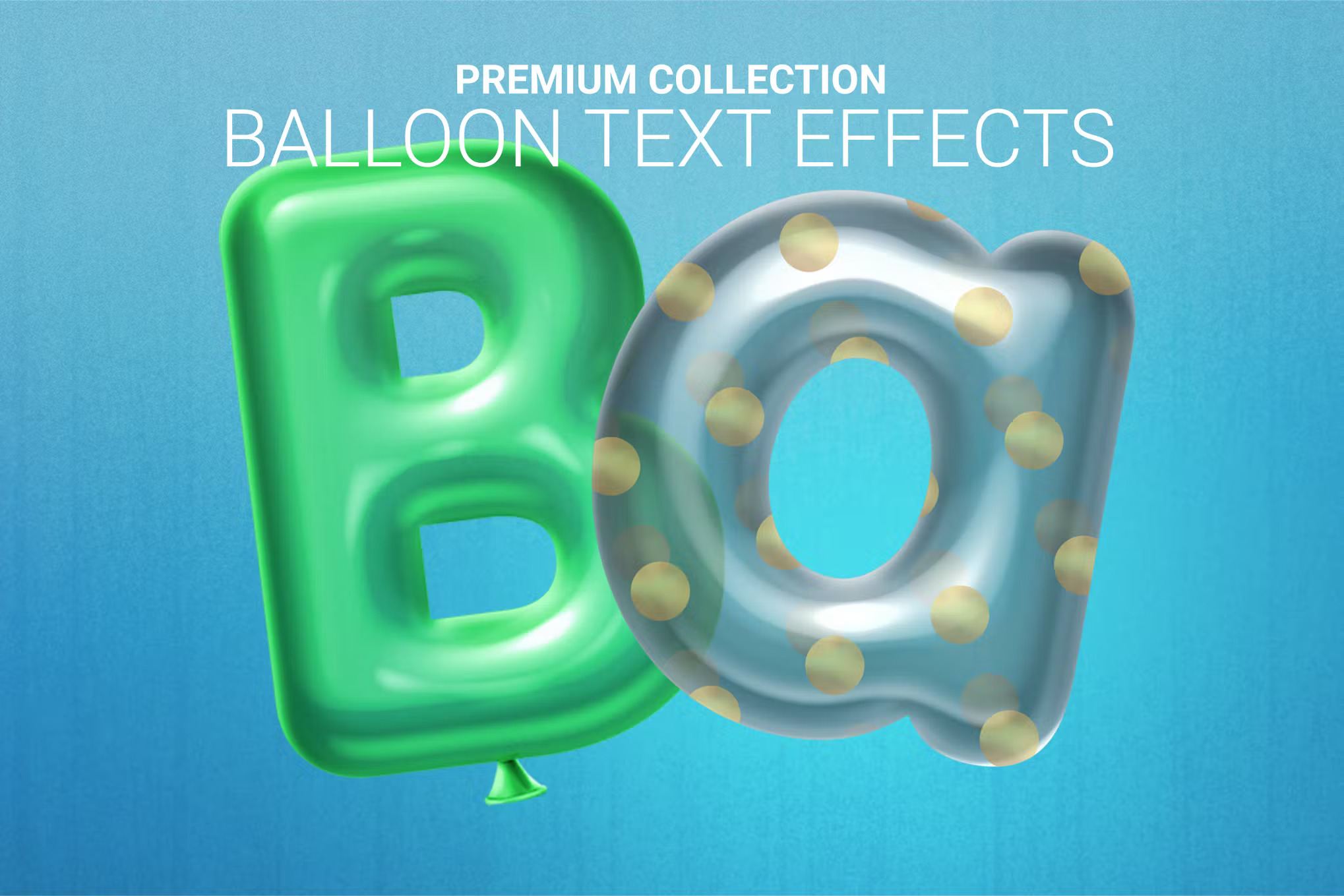 Make your balloon 3D effect in seconds with this glossy Photoshop action. It's very easy to change the colors and the backgrounds. Get it now and make your balloon text with a Smart Object Replacement.
Free Photoshop Gloss Effects
It can be easy to find yourself wondering how to add gloss in Photoshop for free. Yet, thankfully, there are many resources out there ready to help. Let's take a look at a glossy filter Photoshop plugins now.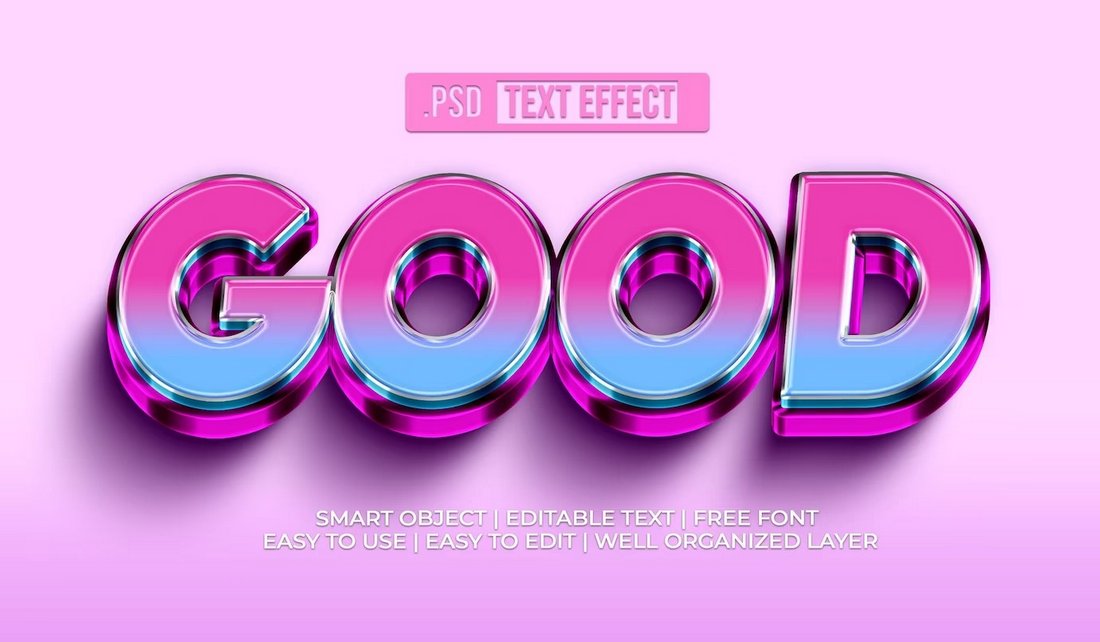 This free Photoshop text effect will allow you to easily add a glossy and shiny look to your typography. It comes as a PSD template with smart objects, which will allow you to apply the effect with just a few clicks.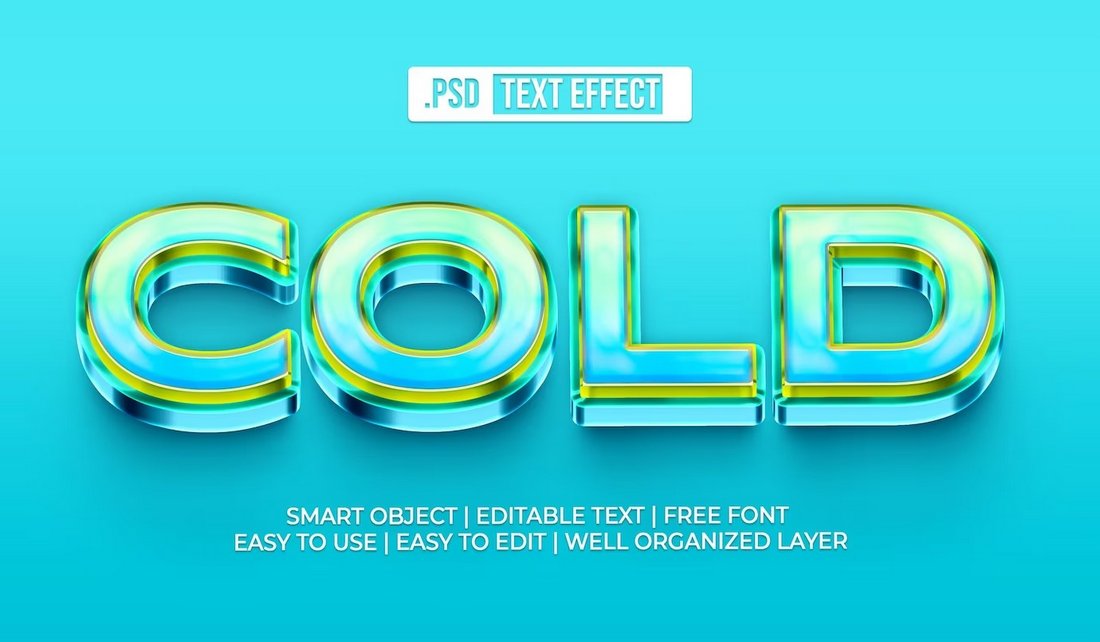 You can use this free PSD template to add a glossy glass-like effect to your typography. The template has an easily editable design, unlike any other text effect on our list.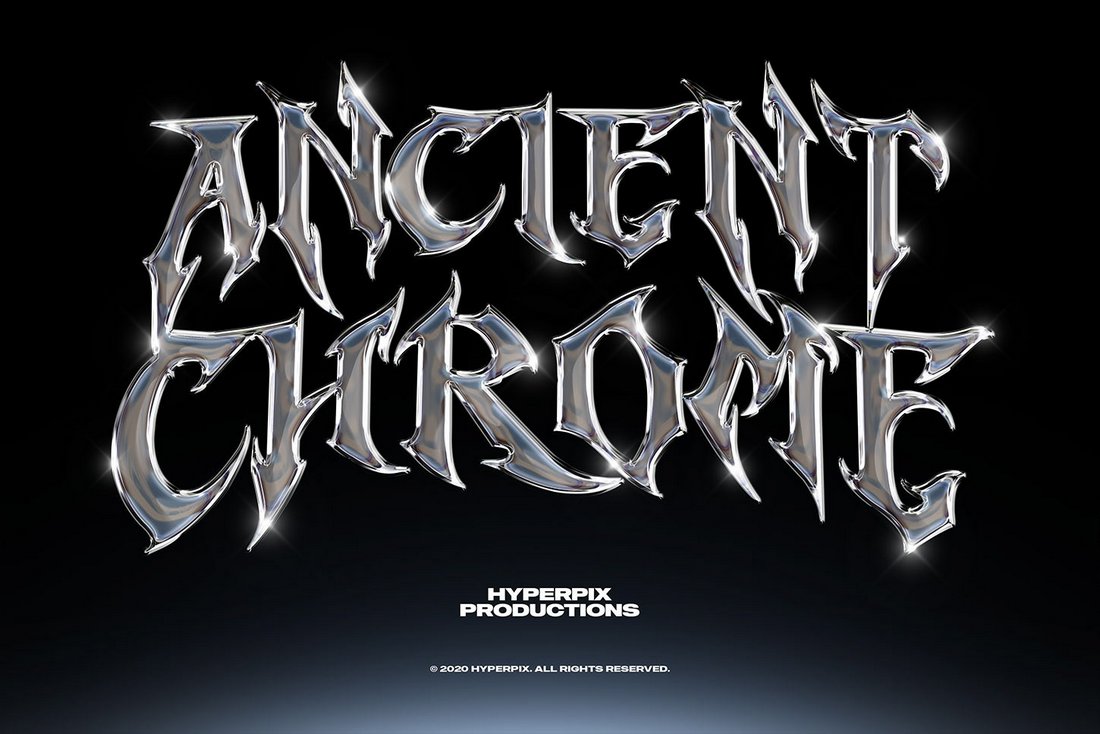 Another free Photoshop text effect for adding a shiny chrome look to titles and headings. This effect will create a unique glossy effect with a metallic feel. It's fully customizable and includes smart objects as well.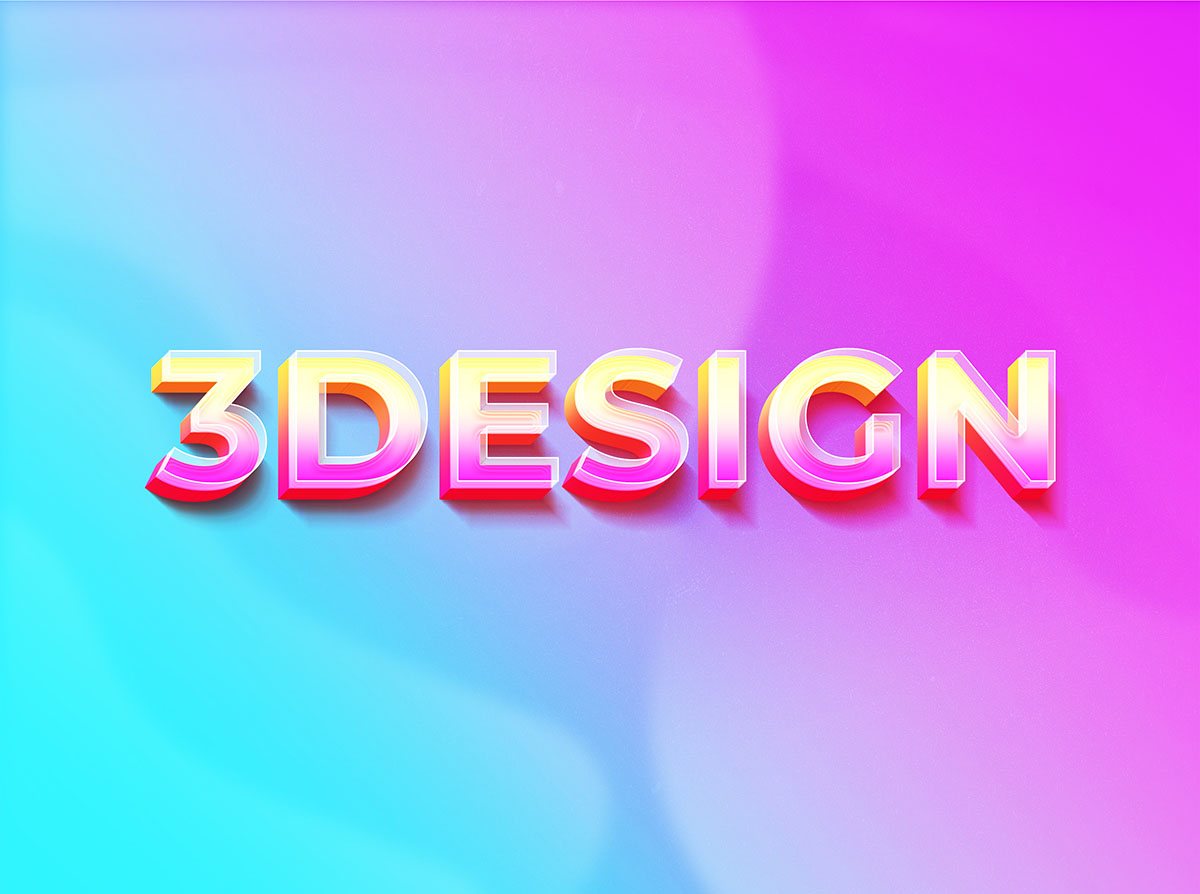 Create incredible glossy designs on any typeface surface you desire with the 3D gradient text effect. For a free resource, it provides an impressive range of flexibility in its application, whilst equipping you with a colorful glossy design.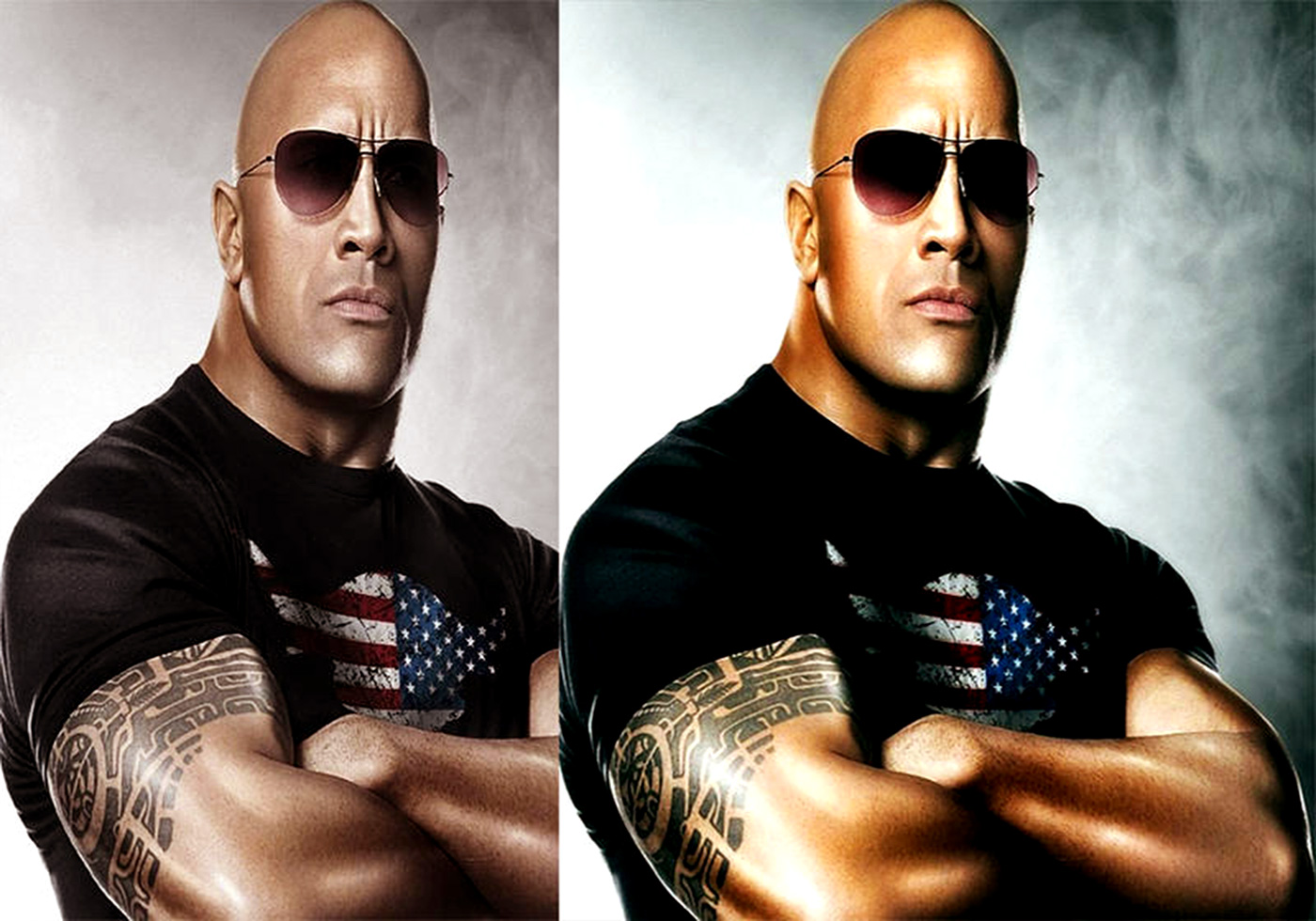 This Photoshop action is a more unique addition to this list. It provides you with the tools to enhance, and gloss over, your own personal pictures with a few simple clicks of a button. No wonder, it's one of the best glossy filter Photoshop actions on our list.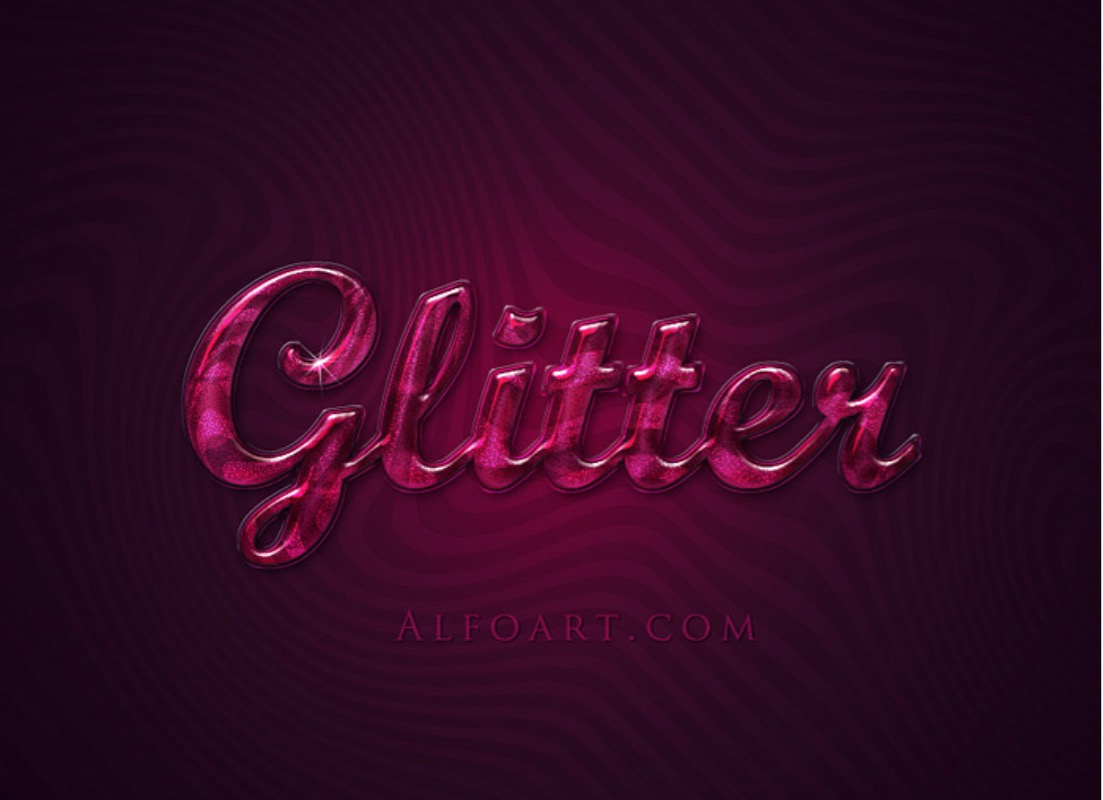 Mould captivating glossy designed lettering with this freebie. This plugin provides you with a cursive display font, and as well as a smooth and glitter-styled gloss effect that is sure to impress your audience.
Create Amazing Designs with These Photoshop Glossy Effects Today!
Creating amazing glossy designs has never been easier. With our selection of Photoshop glossy resources, you have everything you need to create amazing glossed-over visual design projects with ease.