50+ Best Outline Fonts 2023
Outline fonts are a fun and modern trend that's currently sweeping the world of design, and because of this, there are thousands of different options out there – so how can you possibly know which one to choose for your next project?
Lucky for you, we've done the research and curated an extensive list of the top outline fonts available for instant download, making your life easier and your design projects even more impressive!
From modern serifs to vintage scripts, there's a whole range of styles and aesthetics just waiting for you – so let's get started and take a look at the best outline fonts!
Get every varied font and typeface you could ever need with one simple subscription. From just $16, get unlimited access to thousands of fonts, typefaces, graphics, templates, photos and illustrations.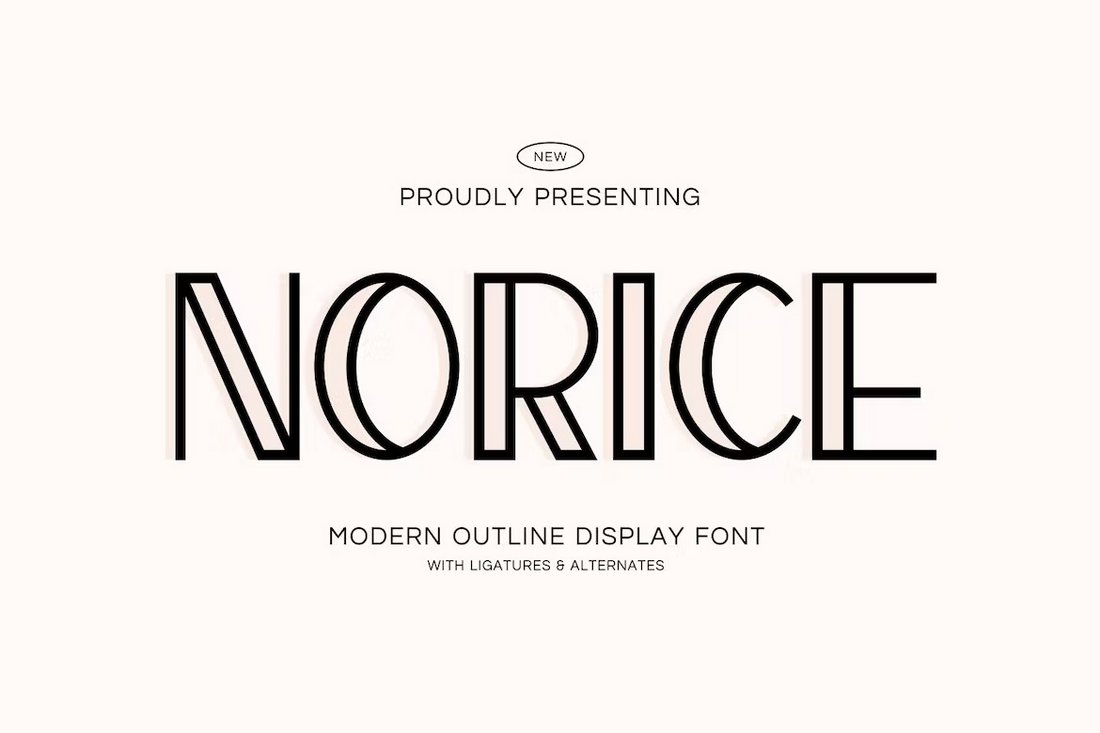 Norice is a modern font featuring a stylish character design with outline layouts. This font is perfect for crafting bold logos and branding designs for fashion, apparel, beauty, and lifestyle brands. It includes both uppercase and lowercase letters.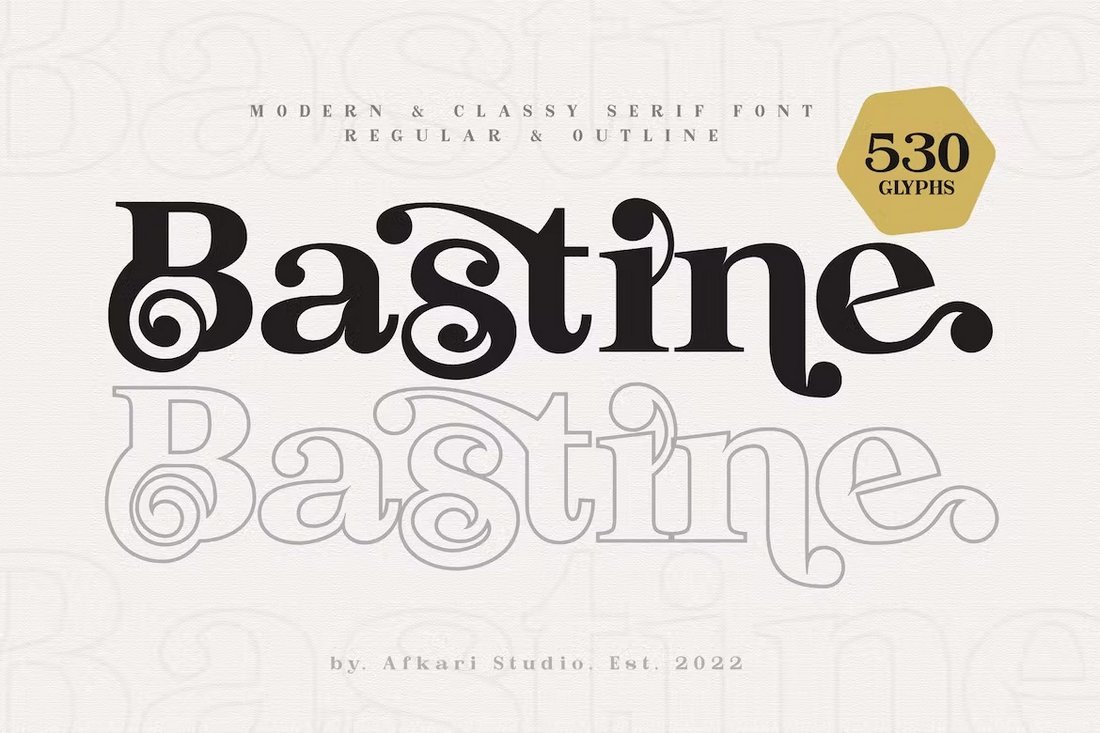 Bastine is an elegant outline font with a set of serif characters. This font will help you craft classy logos, product labels, and bold titles for various types of designs. It comes in regular and outline styles as well as more than 500 glyphs.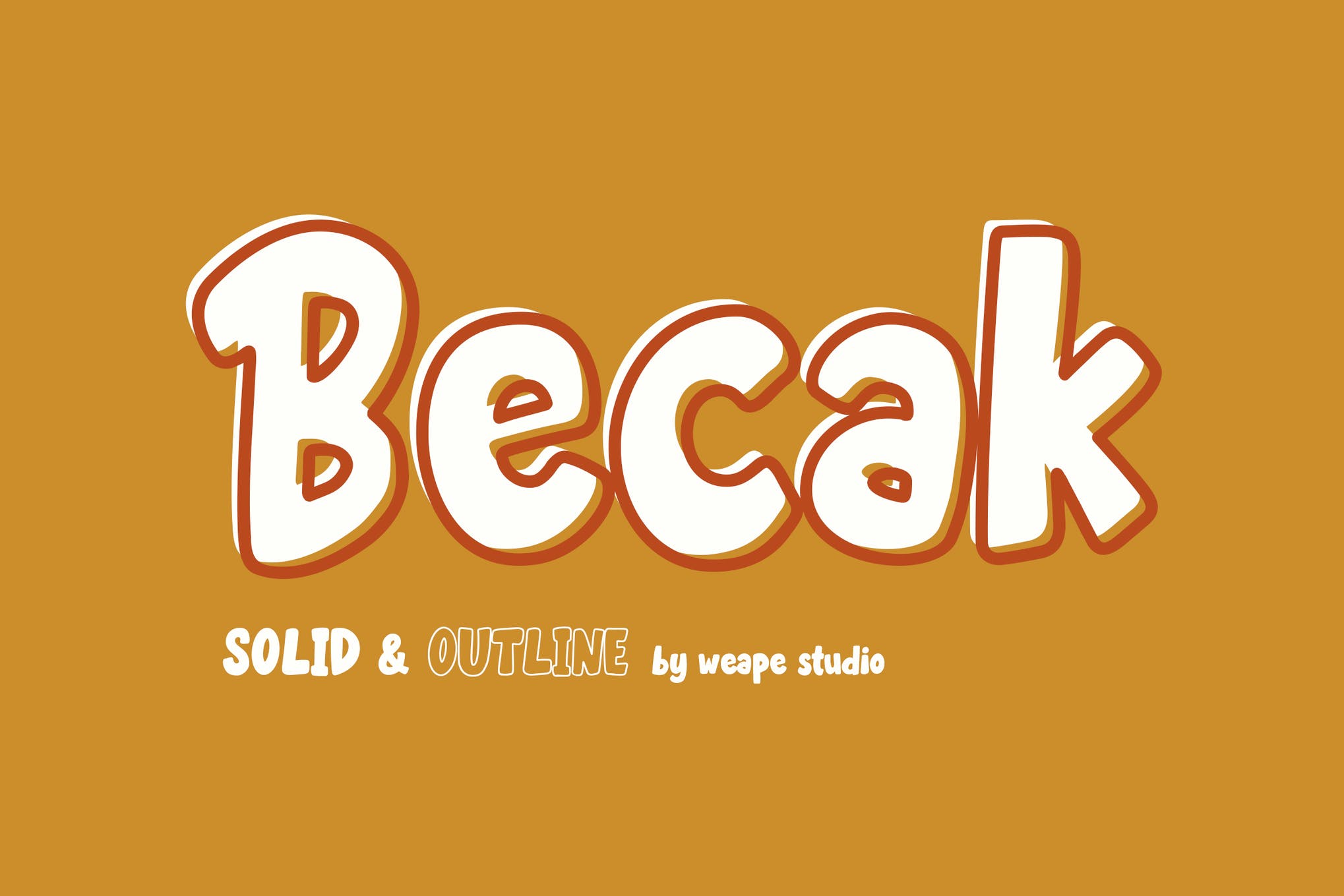 We'll kick off our list of the best outline fonts with Becak, a bold, and playful typeface fitting for a wide range of branding designs. Whether you need a fun, and chirpy logo, t-shirt, birthday card, or poster, Becak can be of great help.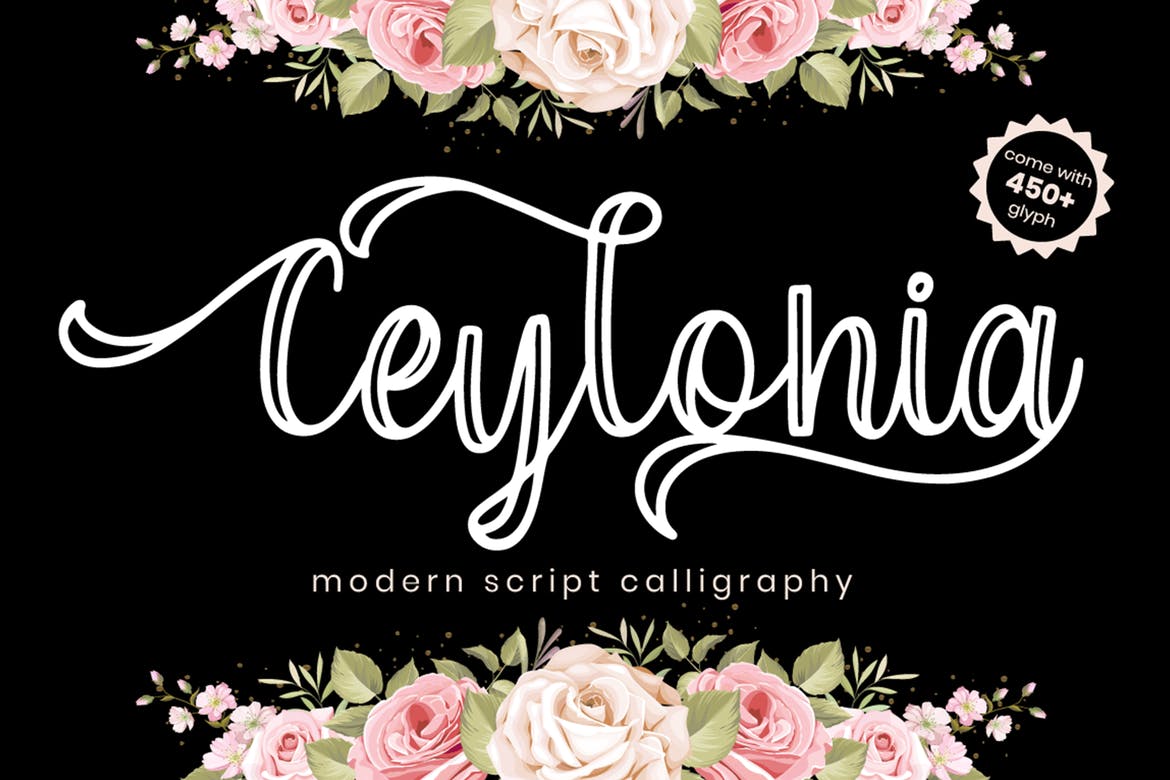 Ceylonia is a beautiful and elegant outline script font with a modern feel and a range of six stylistic sets for you to mix and match. It comes with more than 450 individual glyphs, as well as multilingual support and a corresponding web font.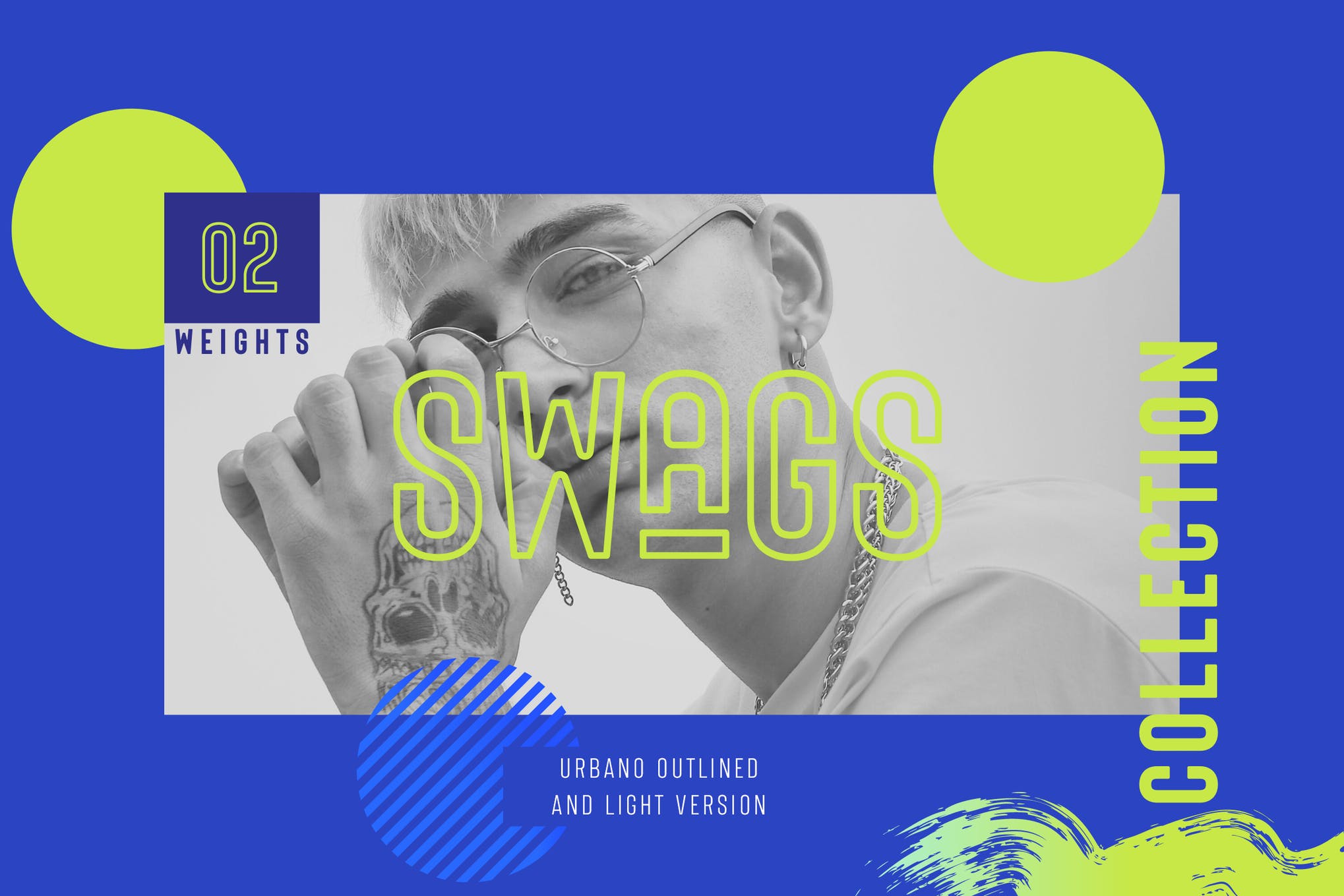 A great choice for a multitude of design projects, Urbano Swags is certainly one of the best outline fonts on our list. It belongs to the powerful sans-serif family and comes packed with stylistic alternates, and ligatures, numerals, and punctuation.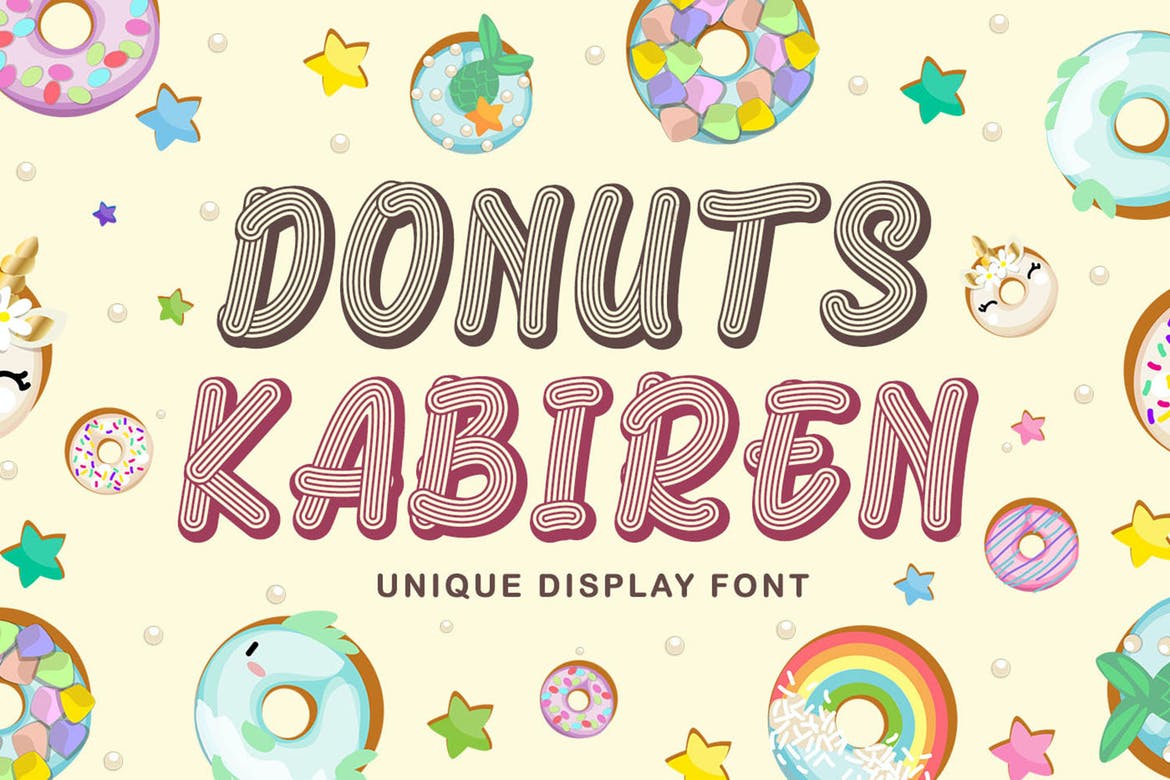 If you're looking for a unique and fun-filled outline display font, this donut themed typeface is a brilliant choice – featuring a playful and creative look that's ideal for a kids' project of anything to do with arts and crafts, it comes with a free web font and several customization options.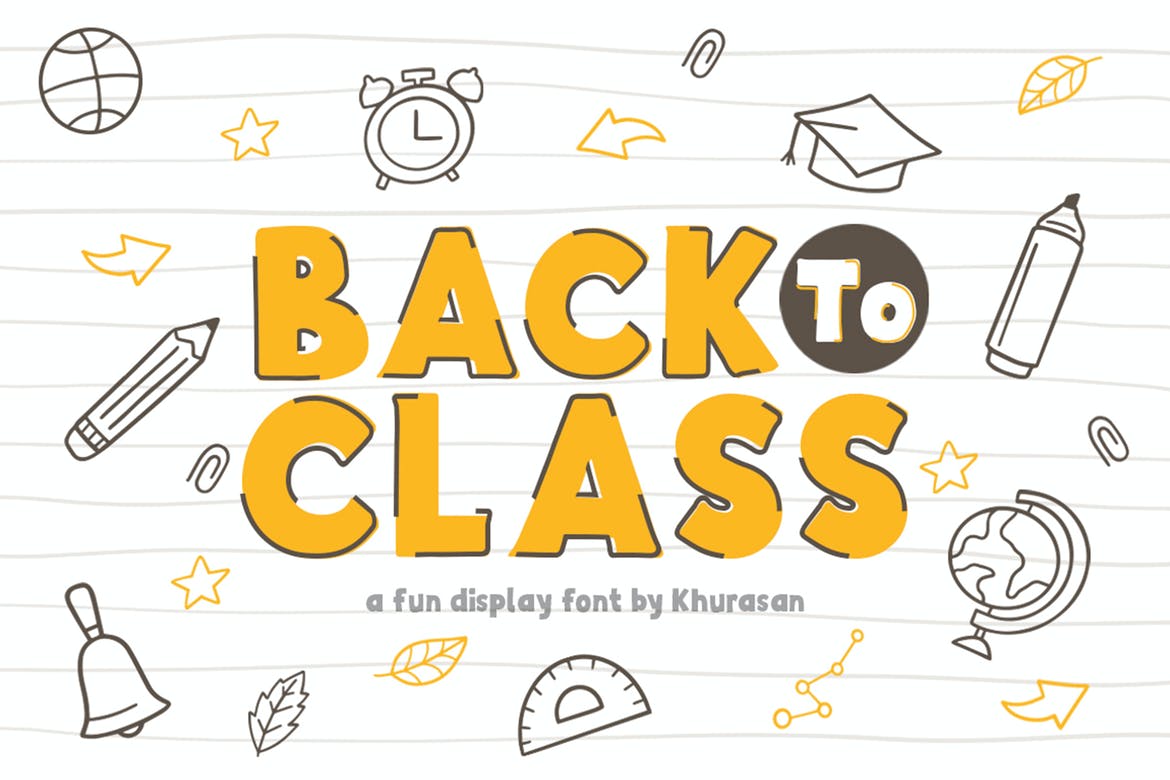 Here we have another child-friendly outline font, this time perfect for a school presentation! The Back to Class display font is a fun, light-hearted option that comes with an additional regular typeface to match the outline variation, as well as a range of hand-drawn vector elements for your use.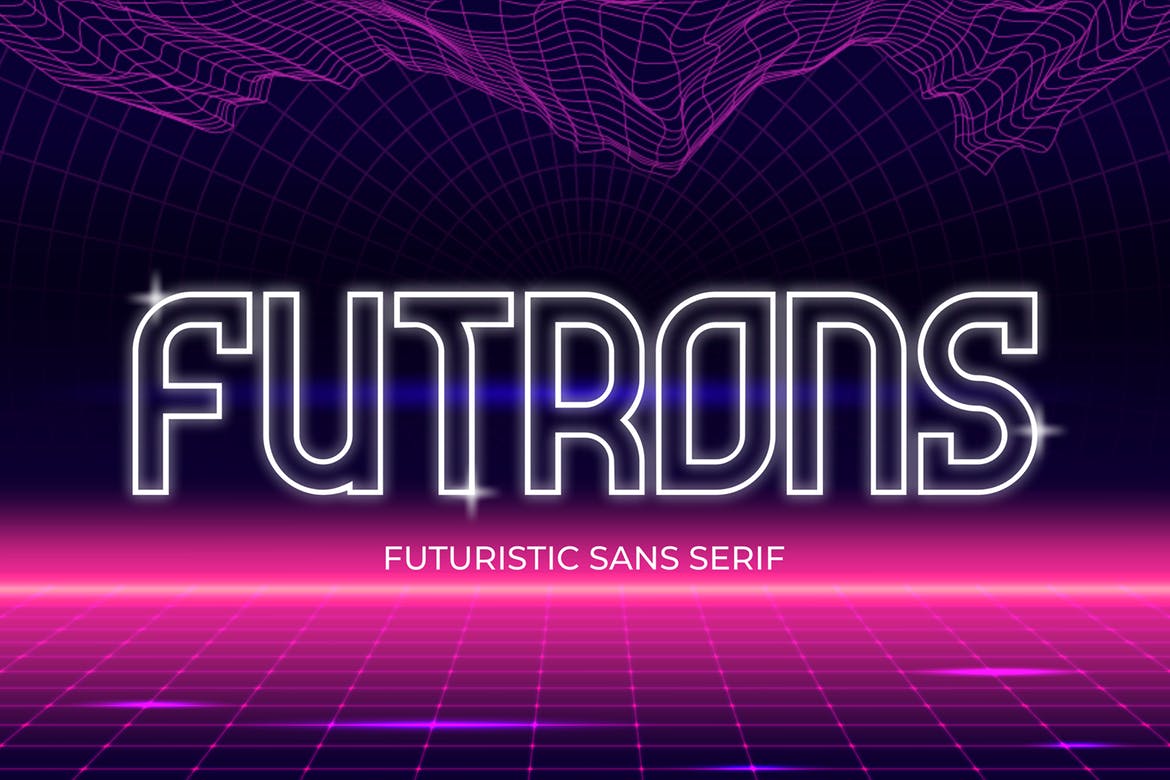 Searching for a unique and futuristic outline font for a science fiction or technology-themed project? Consider the Futrons typeface, a stunning sans serif font that comes with regular and italic variations as well as a full suite of characters, accents, numerals, and punctuation marks.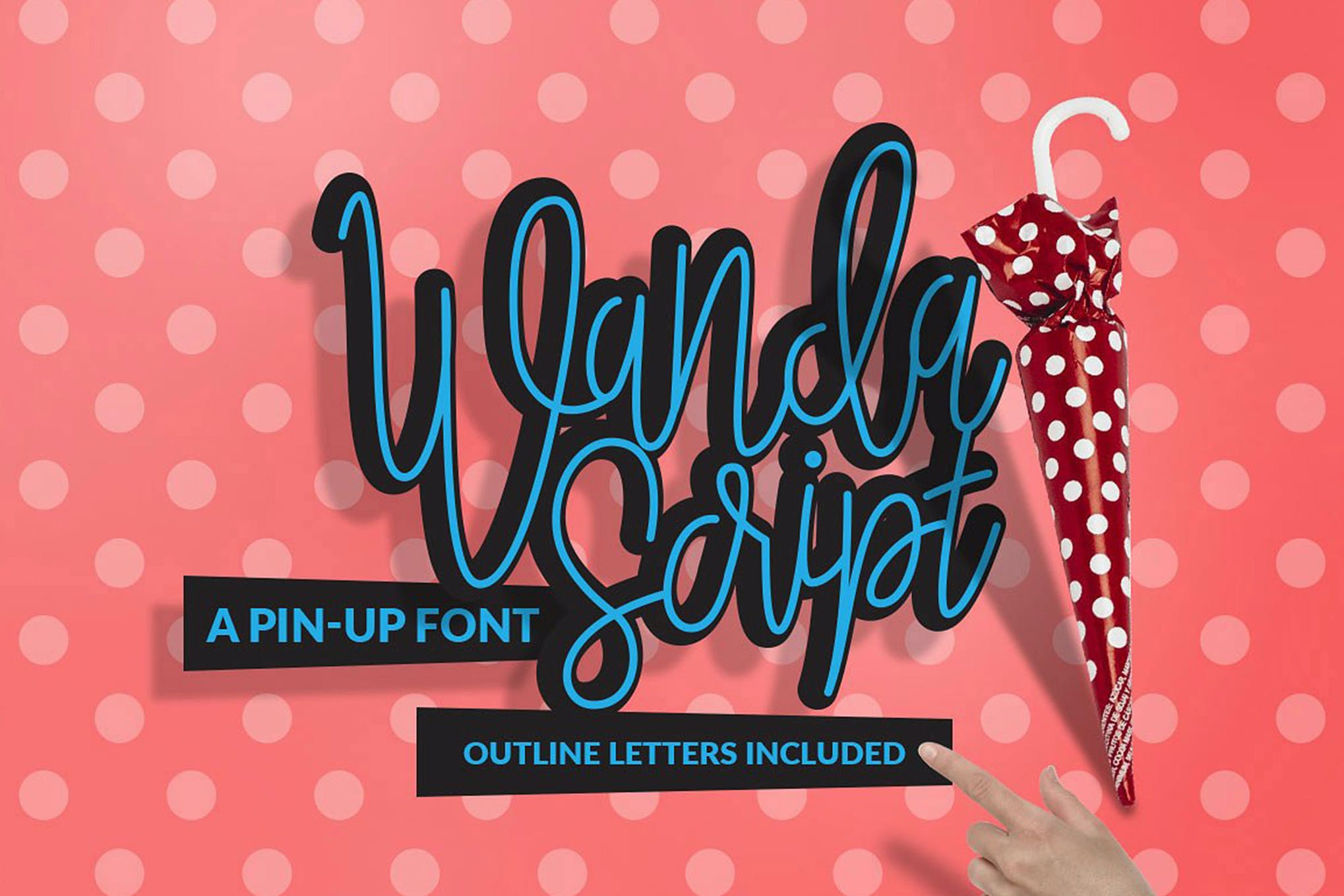 If you're a fan of the pin-up era, you sure will love Wanda. It's a script outline font that will help you bring back the pin-up style, with a slight hint of modern charm, and beauty. It's a beautiful option that will have you covered for a range of design projects.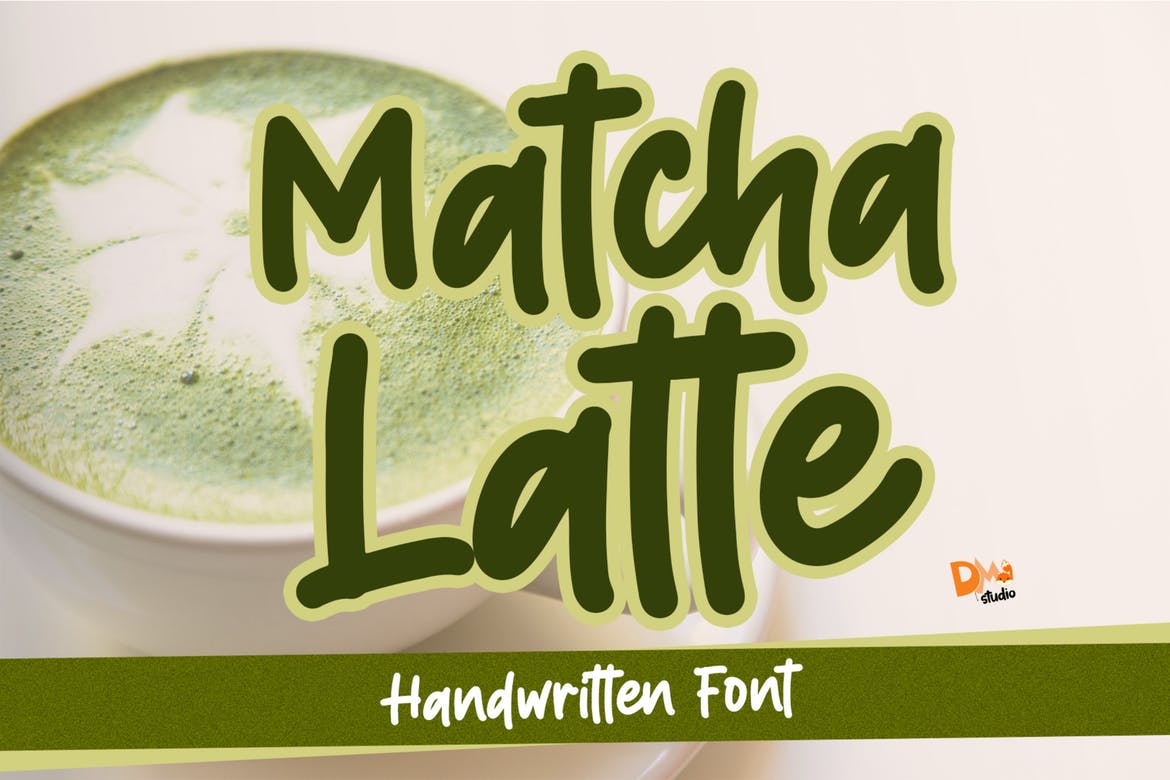 The Matcha Latte outline font is a bold, casual option for any creative project, and comes with a simple yet expressive handwritten style that's easy to adapt to a range of uses. It offers a full suite of upper and lowercase characters plus numbers, symbols, and multilingual options.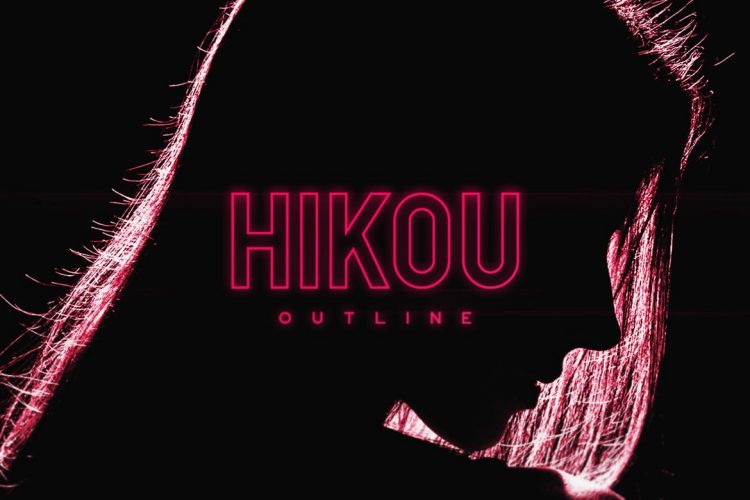 The next in our list of the best outline fonts is Hikou, an uppercase sans serif font with a balanced, elegant style. The font package comes with multilingual variations, numbers, and punctuation, and looks brilliant in neon colors and large sizes. It's perfect for posters, logos, and anything that needs to be seen on a big screen!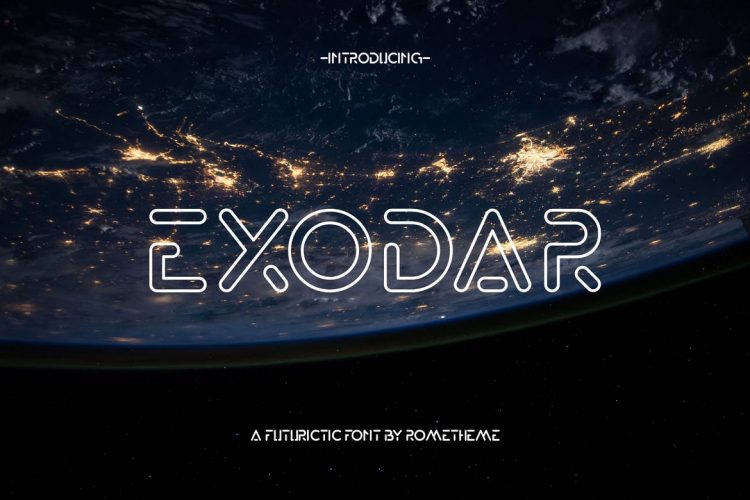 The Exodar typeface is a futuristic outline font that's perfect for space-themed and science fiction applications, such as movies and books. It includes a full suite of uppercase and lowercase letters, numbers, and punctuation, as well as multilingual support, and would make a great heading on a CD cover or t-shirt.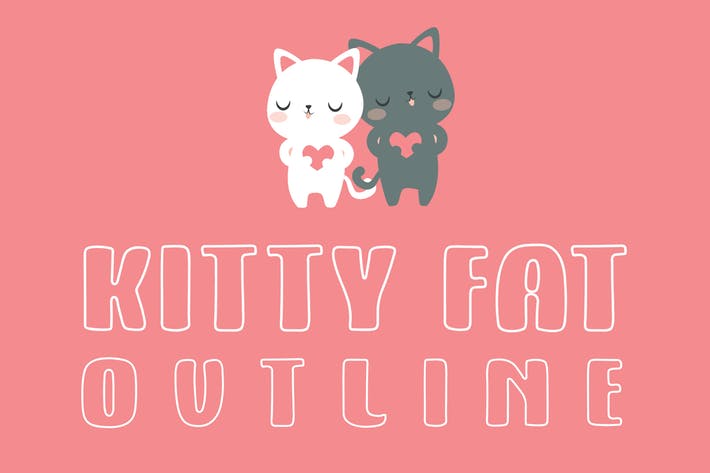 A chunky, playful option, the Kitty Fat outline font is a handwritten bold typeface created with a large brush pen, perfect for any kind of children's application such as a game or cartoon. An all caps typeface, it includes both upper and lowercase characters as well as numbers, punctuation, and multilingual letters.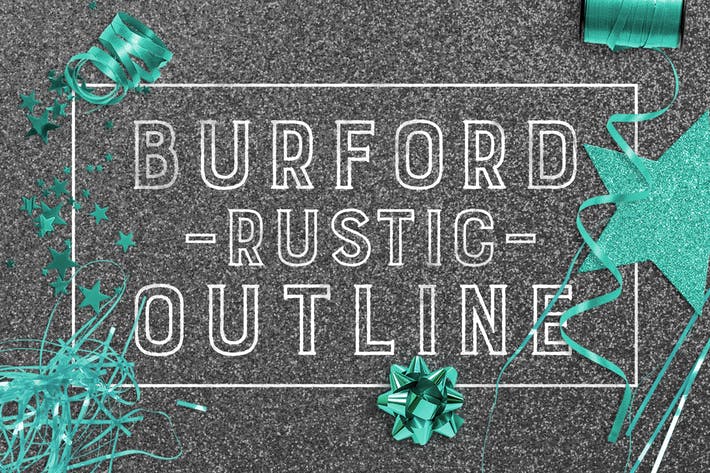 Burford Rustic is a textured, vintage serif typeface featuring weathered lines and a range of different weight, extrusion, and shadow options. It works best in large sizes, such as on a poster or display, and can be applied to almost any kind of product or business. Stylistic variations are available for a selection of letters.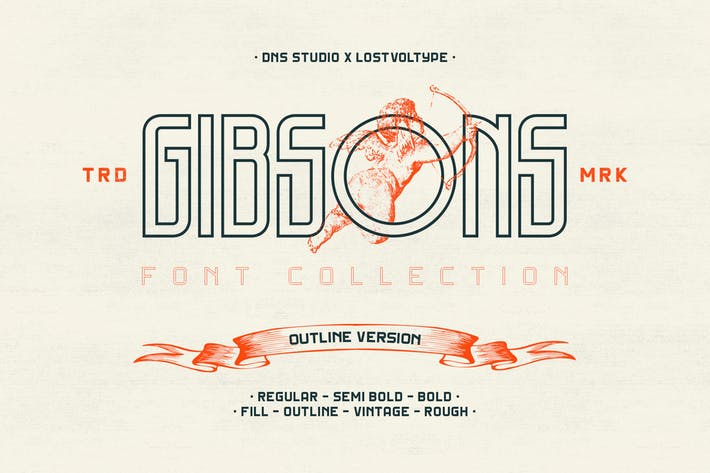 A unique sans serif option for any kind of creative project, the Gibsons typeface is a retro-inspired family of fonts with different weight, height, and texture options, as well as a filled alternative. The package also includes access to a web font for every variation and a range of alternate characters.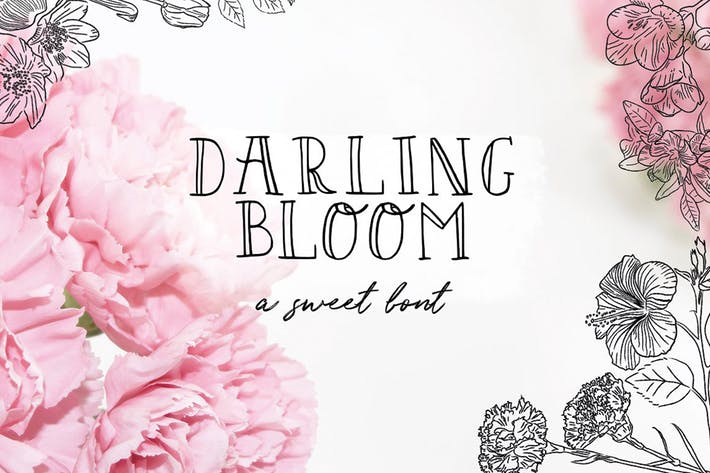 Described by the designer as "fabulously fragrant," the delicate and feminine Darling Bloom font is a beautiful hand-drawn serif typeface that's perfect for adding a rustic, handcrafted charm to the wedding invites, stationery, logos, or creative portfolios. It's also a lovely element for a florist or bakery to add to their brand!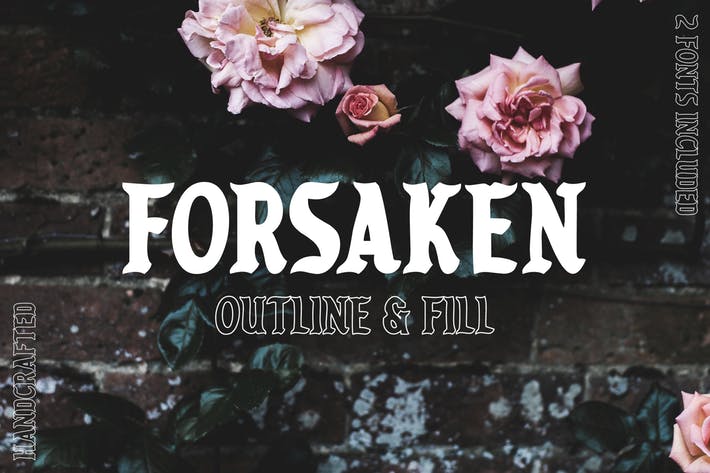 The next of our outline fonts is another handcrafted option, ideal for logos, prints, apparel, and a wide range of products such as drink labels or novelty homewares. It'll give your brand a vintage touch, and comes with over 50 bonus glyphs as well as international language support.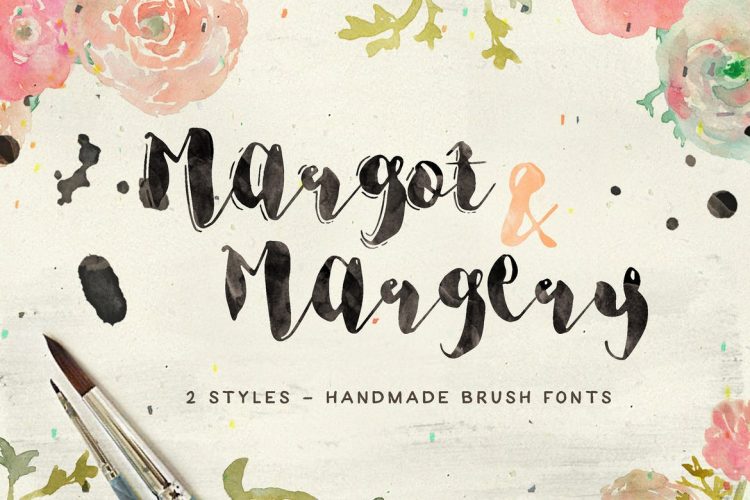 Feminine and playful, Margot & Margery is a style of brush typeface that mixes script with lines, giving you a sweet, watercolor-inspired hand brush font that's ideal for stationery such as wedding invites, posters, and birthday cards, as well as any kind of illustration project.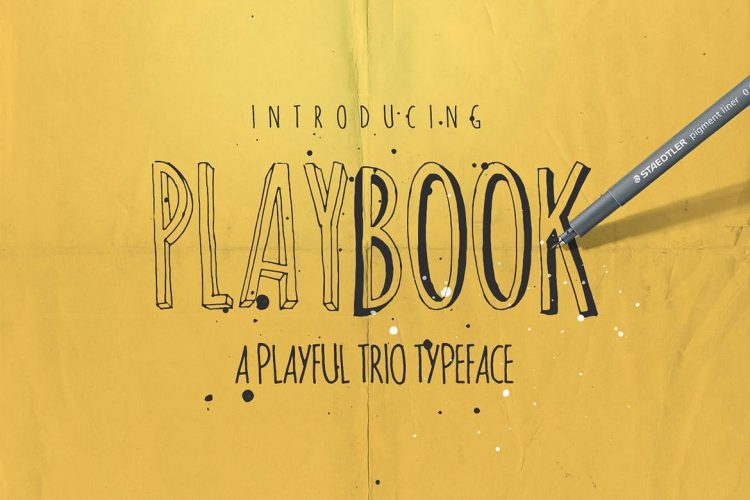 A fun and creative option, the Playbook font family includes a playful outline font that mimics the style of a tall sans serif typeface hand drawn in fine black ink. It's best used as a title or heading, and is especially fitting for use with artistic endeavors such as theatre productions or book covers.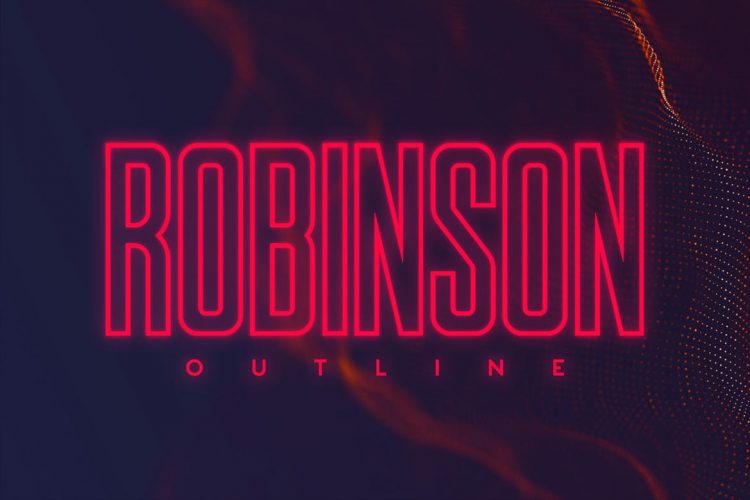 Inspired by vintage newspaper titles, the Robinson outline font brings a retro vibe to a modern set of sans serif characters that look amazing in neon colors against a black background. It was made specifically with posters and magazines in mind, and the package also includes an oblique variation.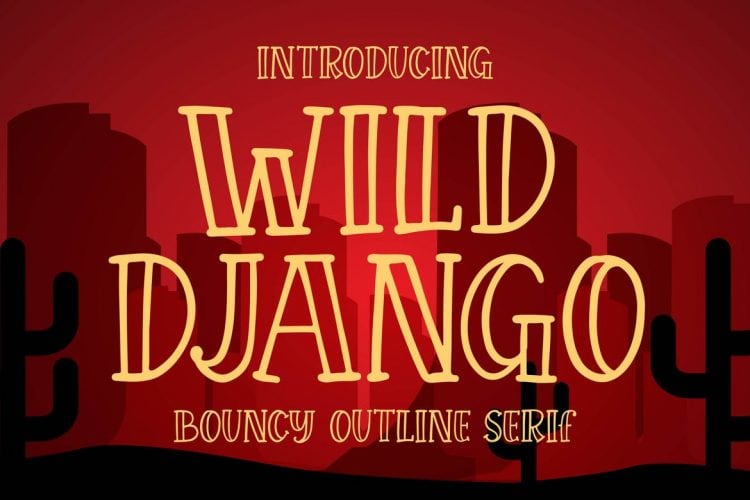 Wild Django is a bouncy outline serif font with a quirky hand-drawn quality and a classic wild west feel, perfect for any kind of cartoon use or even as an edgy tattoo font! It features a huge range of multilingual accents as well as a full suite of uppercase and lowercase characters, numbers, and punctuation.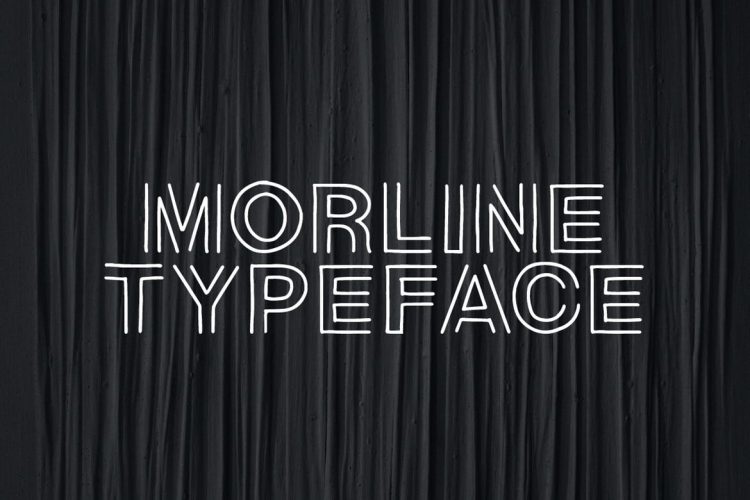 Next on our list of outline fonts is Morline, a classic line typeface inspired by hand lettering. It's perfect for retro-themed design projects in any size, including posters, book covers, flyers, and other promotional material, and also works well as an eye-catching logo. It comes with both a regular and slant version.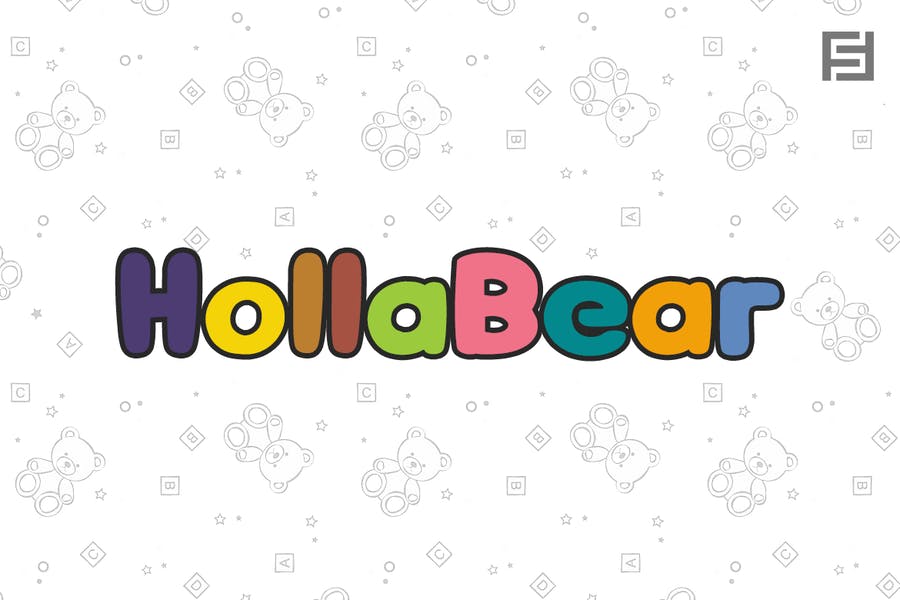 For a fun and child-friendly font, look no further than the funky HollaBear serif typeface, inspired by bear cubs and featuring bouncy bubble lettering and six unique variants, including italic and three-dimensional versions. It also comes with an extended Latin character set.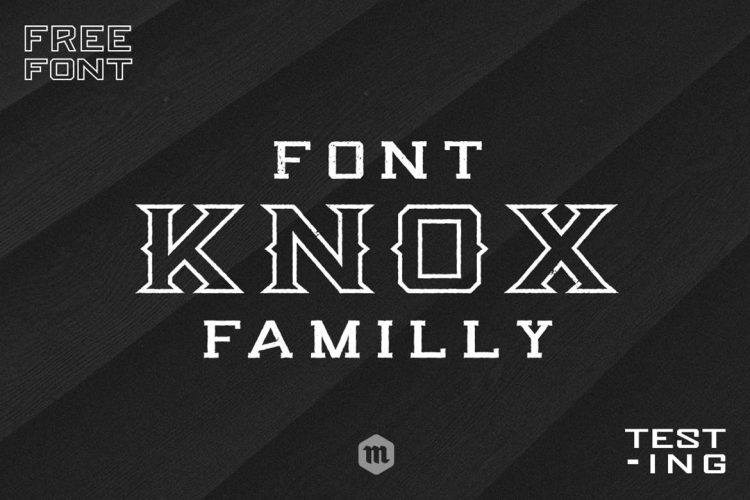 Inspired by American western culture, the Knox outline font is great for tattoos, logos, and large posters or display headings. An uppercase serif typeface, it gives a vintage element to any design project and includes several different variations for you to play around with.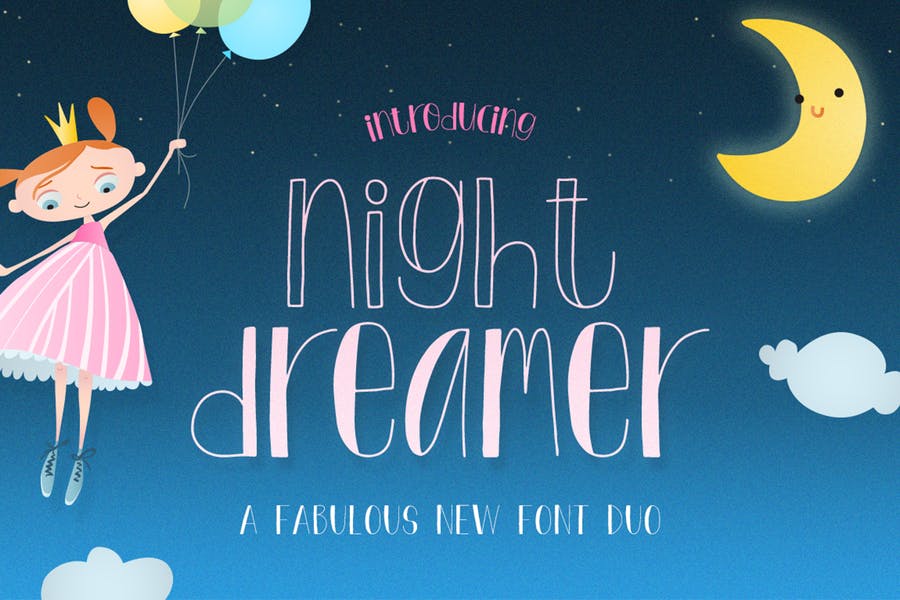 Perfect for a children's book or poster, the Night Dreamer is a cute sans serif outline font that is both childlike and playful, while being easily legible. It comes with a filled version, offers four different spacing options, and pairs well with script fonts for any elegant and whimsical typography project.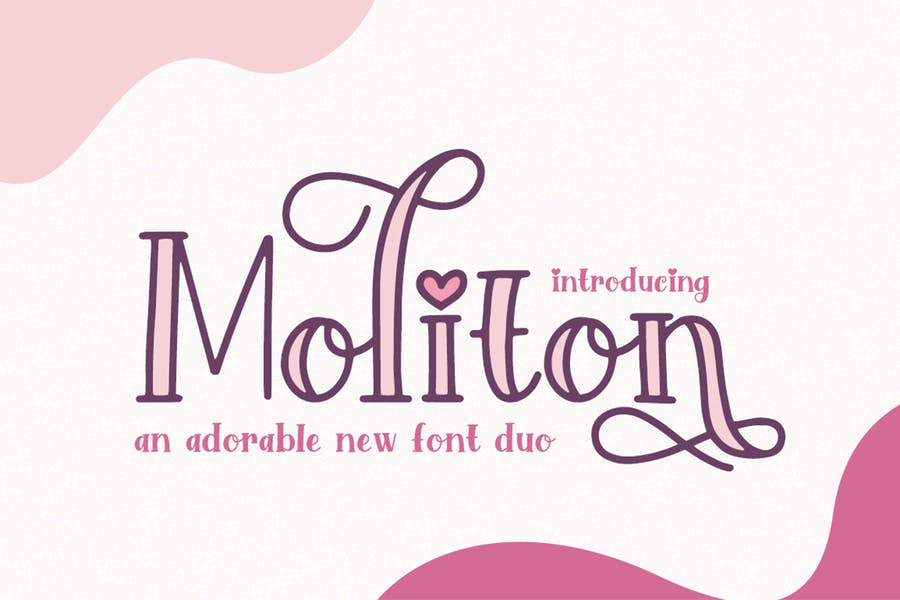 Moliton is an adorable serif typeface that looks great at any size, and comes in both a regular and swirly variant, as well as a filled version of each. It's also super versatile, and can be used for any kind of project where a cute hand-drawn aesthetic is needed.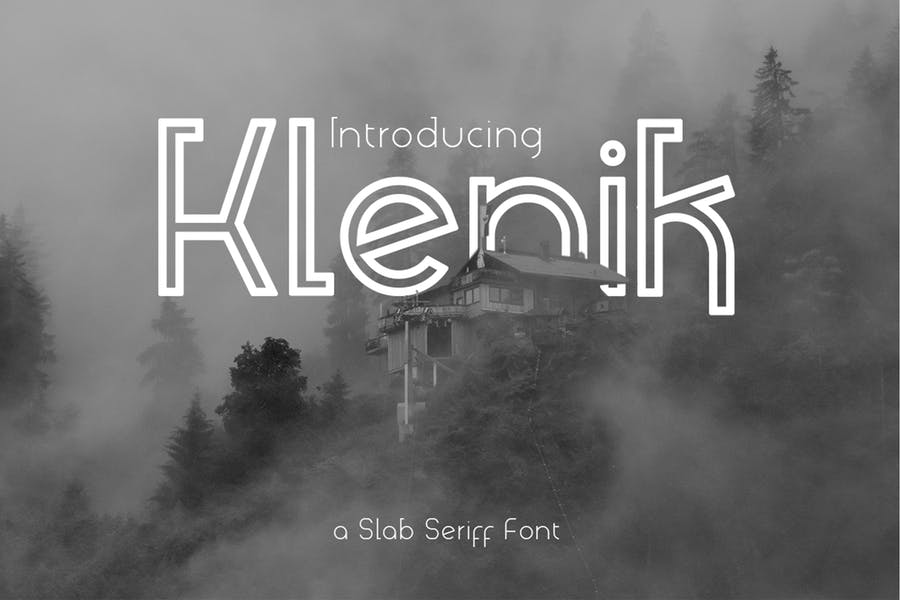 A moody and elegant serif typeface, the Klenik slab font is an elegant option featuring both an outline version and a delicate line variant, and comes with a full suite of upper and lower case letters, as well as numerals and punctuation marks. It's a particularly great outline font to use as part of an indie movie poster or creative advertising campaign.
The Dustin outline font is a beautiful and professional-looking sans serif typeface that features clean, crisp lines and an edgy oblique slant. It also comes with an italic variation, as well as a filled version to complement the outline characters, and corresponding web fonts.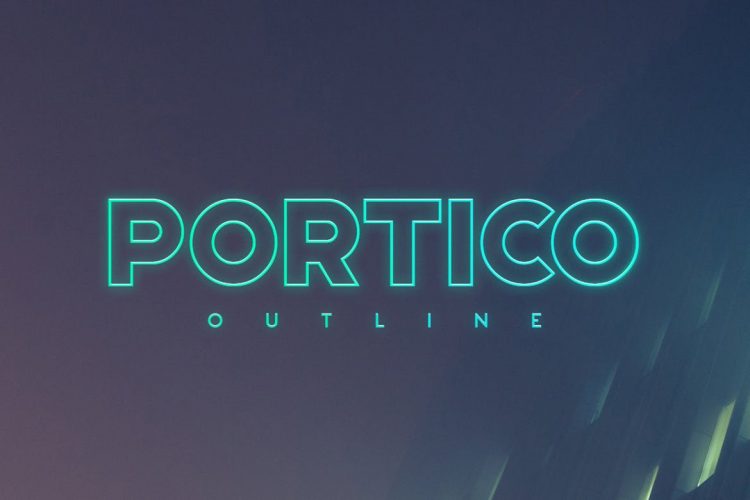 Portico is a bold sans serif typeface that's great for titles, headings, and prominent lines of text. Featuring a clean, balanced set of characters, it looks great in neon colors and can be applied to just about any kind of aesthetic or design style.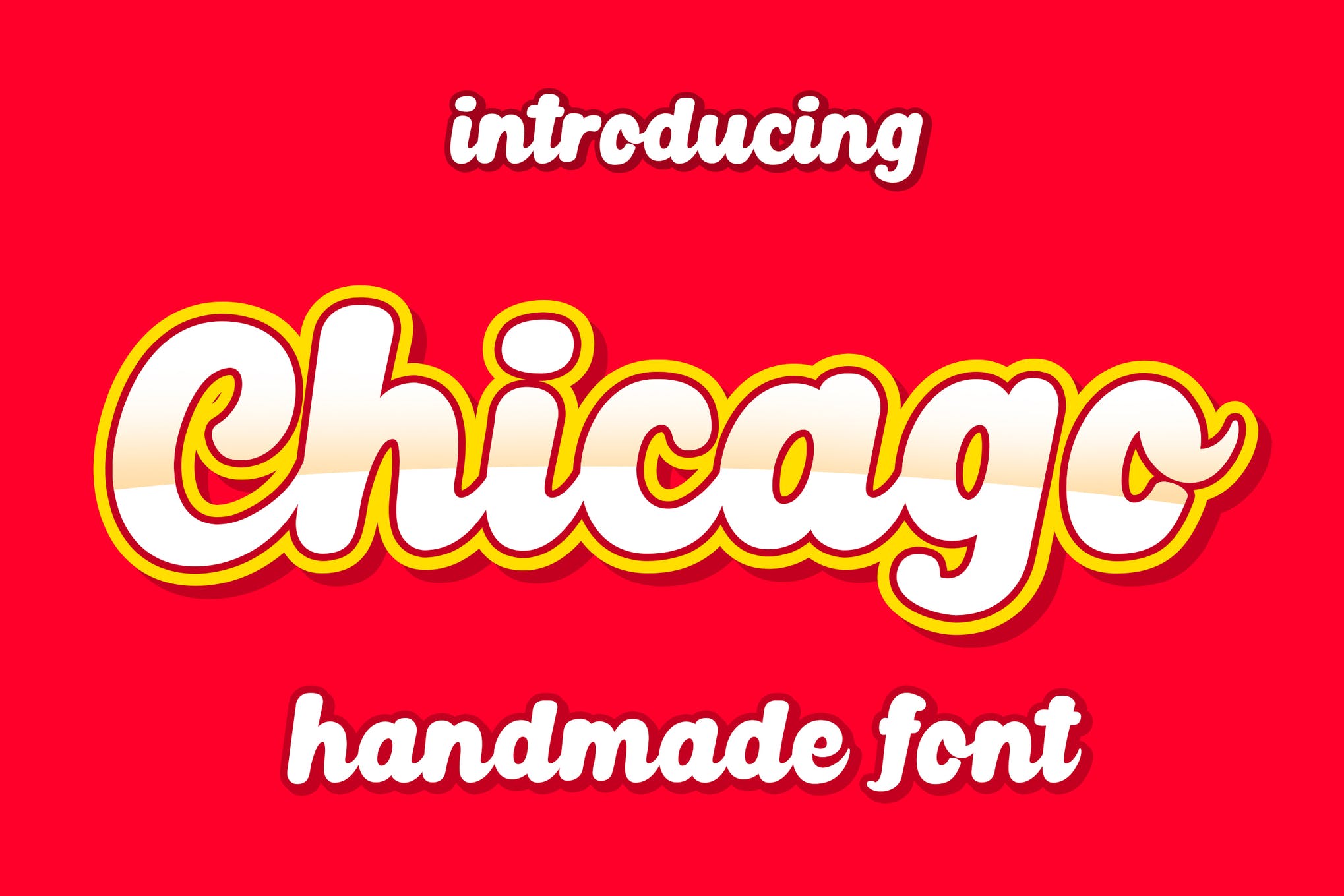 Chicago is a cool, fun typeface design that will bring an element of joy to your work. This wonderfully crafted outline font is a popular choice among designers and artists, and we are sure you'll enjoy it too. Drop everything, and grab it now!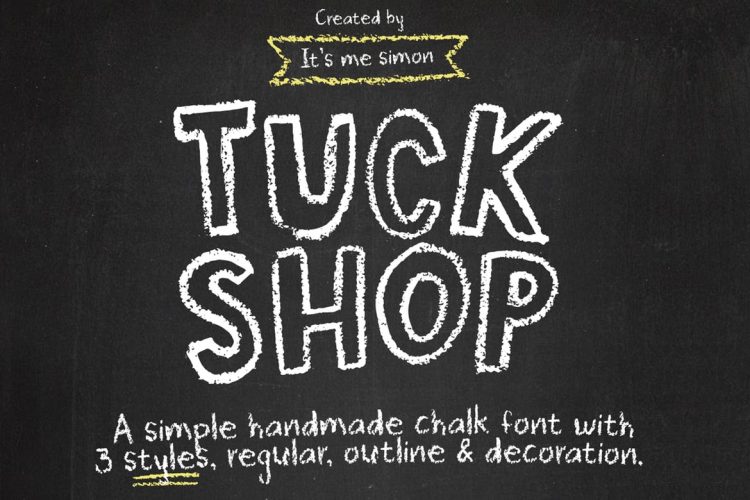 One of the most playful and unique outline fonts on our list, the Tuck Shop typeface, was handmade using real chalk and a natural slate chalkboard! The sans serif characters are perfect for any project that requires a chalk style, and the package also comes with 77 additional ornaments such as stars and speech bubbles.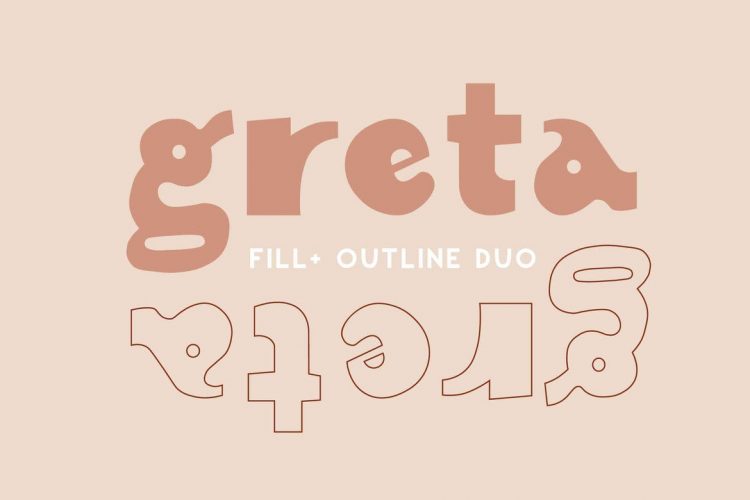 While many outline fonts feature uppercase characters rather than lowercase, the Greta typeface is a playful lowercase sans serif option with a subtle 70s vibe, perfect for iconic branding that looks great in social media graphics and quotes. It includes numbers, punctuation, and foreign language support.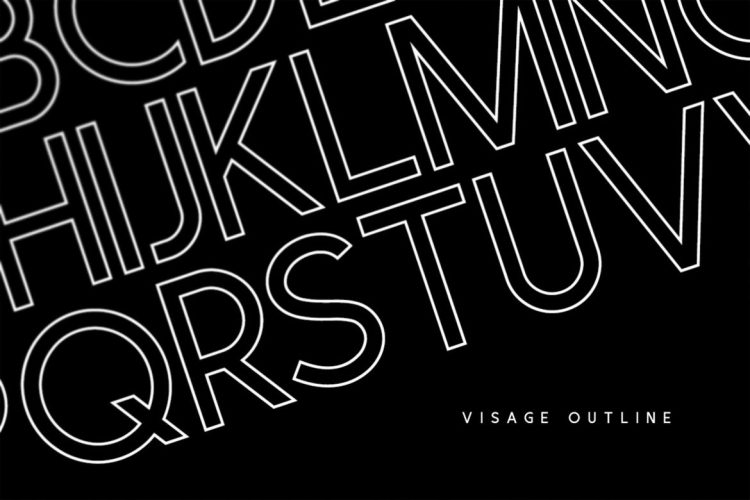 Another favorite among the sans serif outline fonts is Visage, a versatile uppercase typeface that includes multilingual letters, numbers, and punctuation symbols. It looks best in large sizes, and for maximum impact, use it in neon colors against a black background.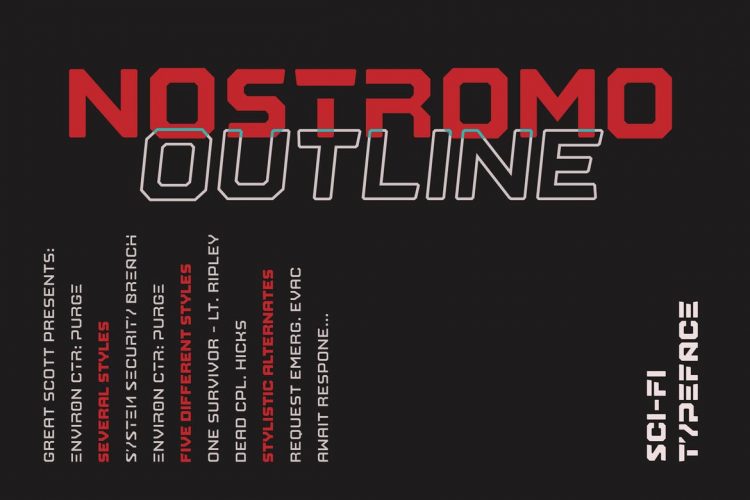 Nostromo is a futuristic sans serif typeface with expanded spacing and stylistic alternatives for several letters, as well as a wide range of foreign accents. It comes in several weight and style options and is ideal for science fiction themed designs.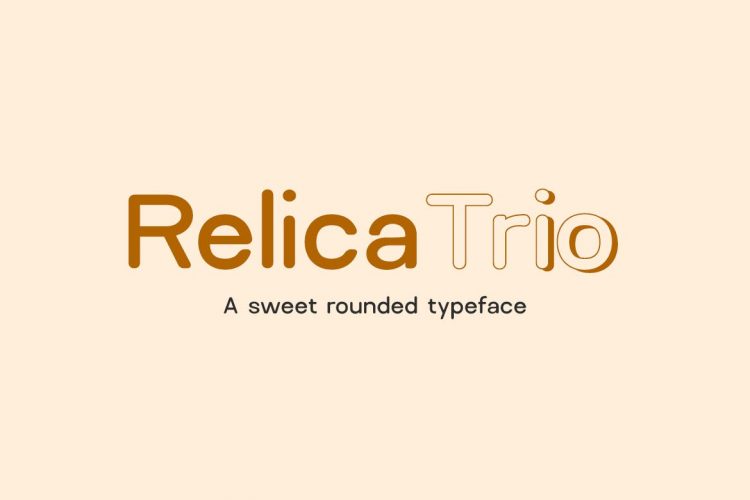 Inspired by food and bakery branding, Relica is a fun, rounded sans serif typeface that's great for logos, branding, headings, and promotional usage. It includes four different spacing options, as well as filled and retro stylistic alternatives.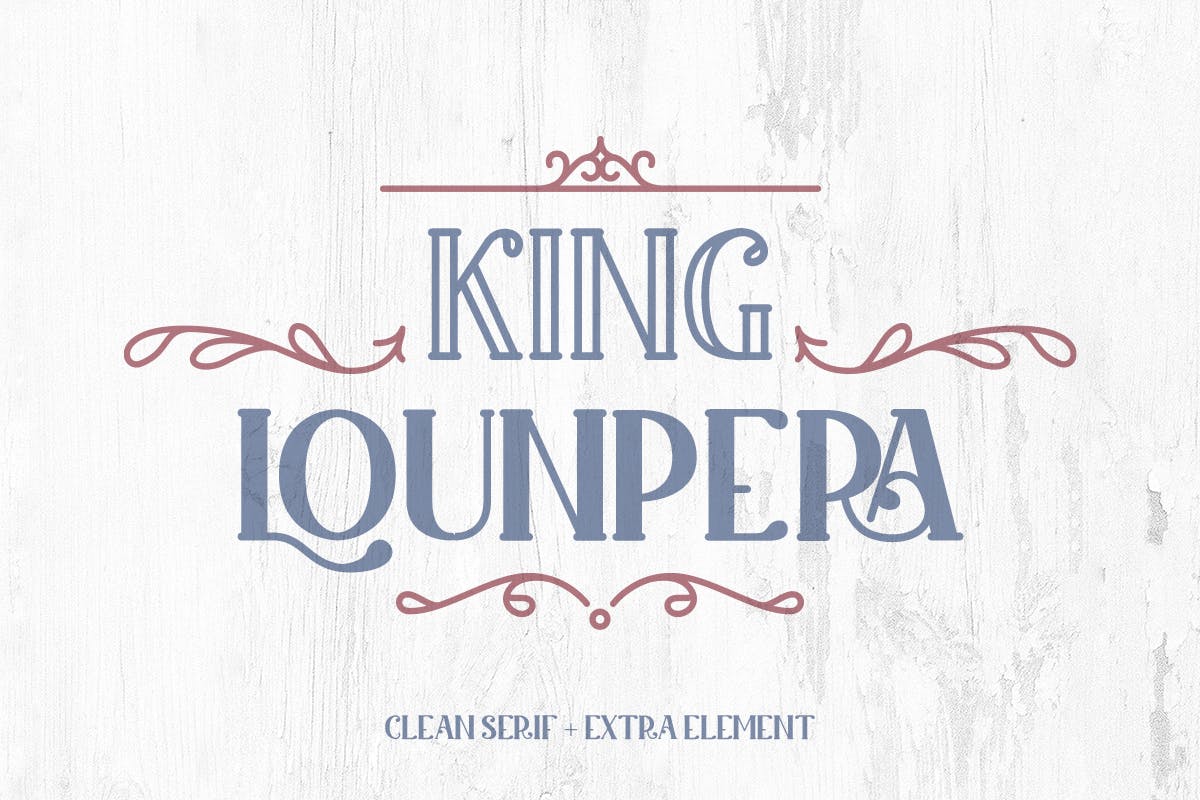 Here we have King Lounpera, a beautiful display outline font suitable for virtually any design project under the sun. It comes with multilingual characters, numerals, punctuations, ligatures, and uppercase alternates. It offers both solid and outline styles.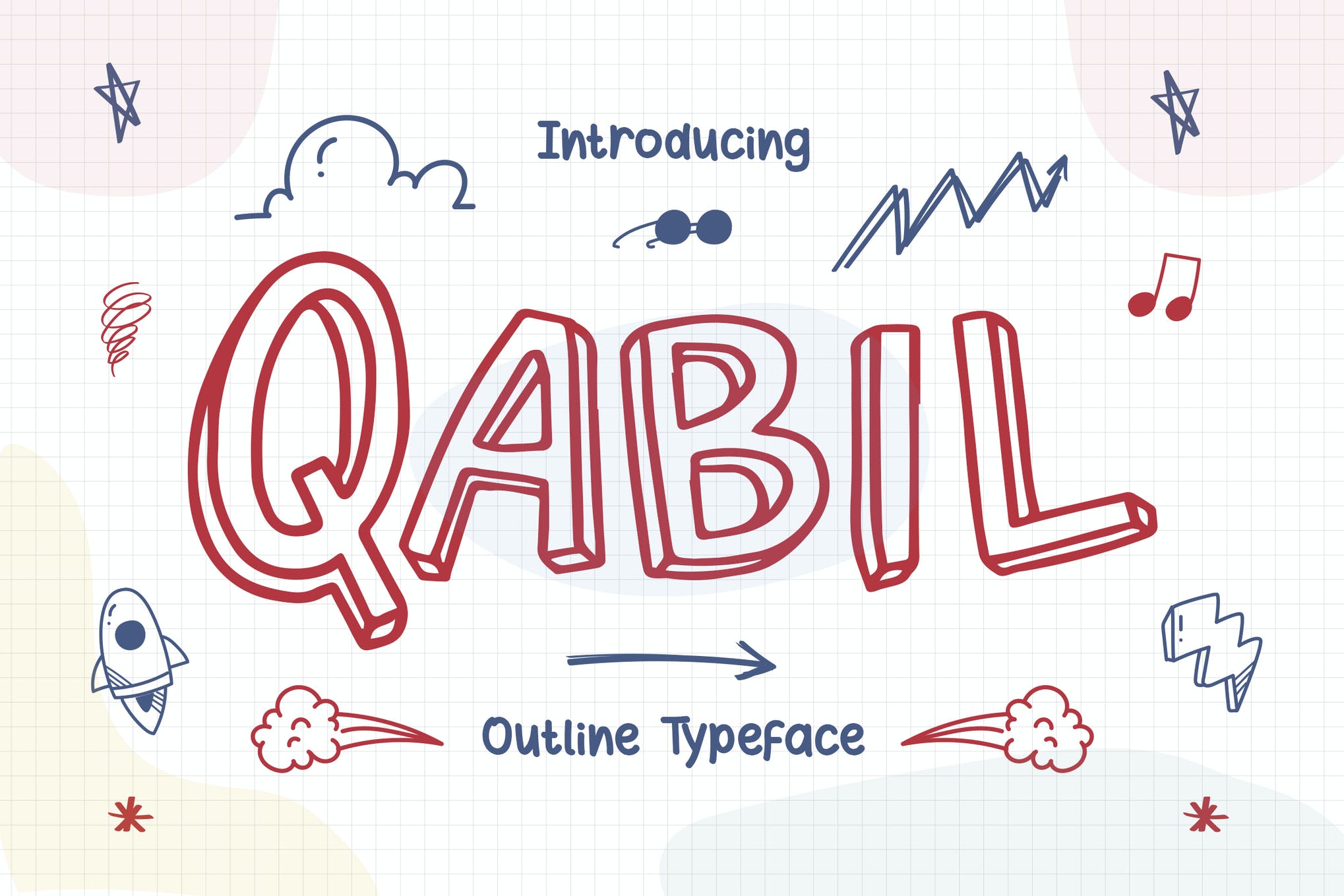 Qabil Outline typeface is inspired by comic books. For digital lettering, Qabil is a great option. This handy toolkit helps you easily letter your comic strips, but even if you have nothing to do with cartooning, this bundle can simply add some comic book feeling to your design.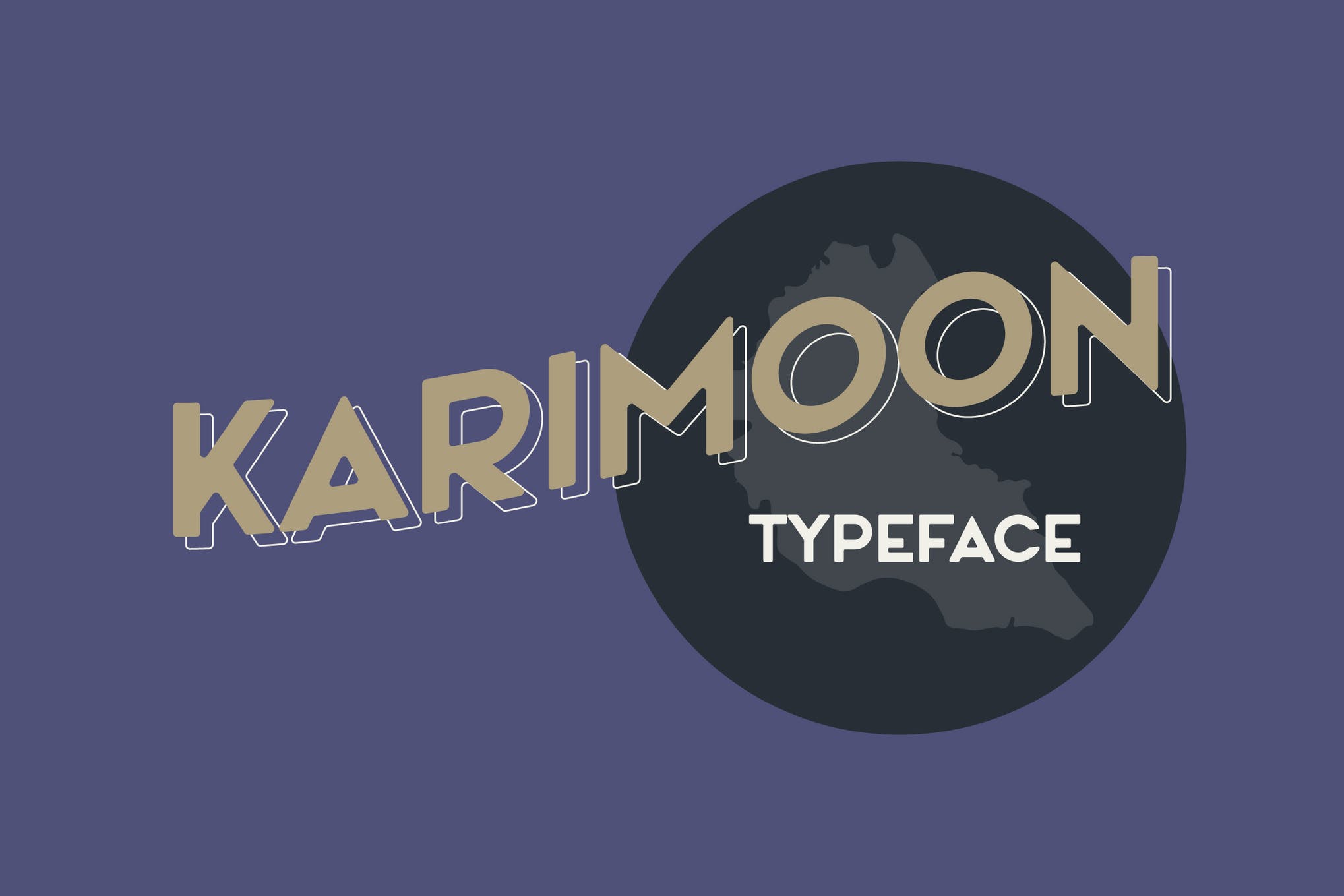 Karimoon is a modern sans serif font, perfect for all purposes like branding, labeling, designing, and more. There are two versions of the corners, sharp and round. Included Uppercase letters, numbers, and punctuation. Inspired by Karimun Island near Singapore.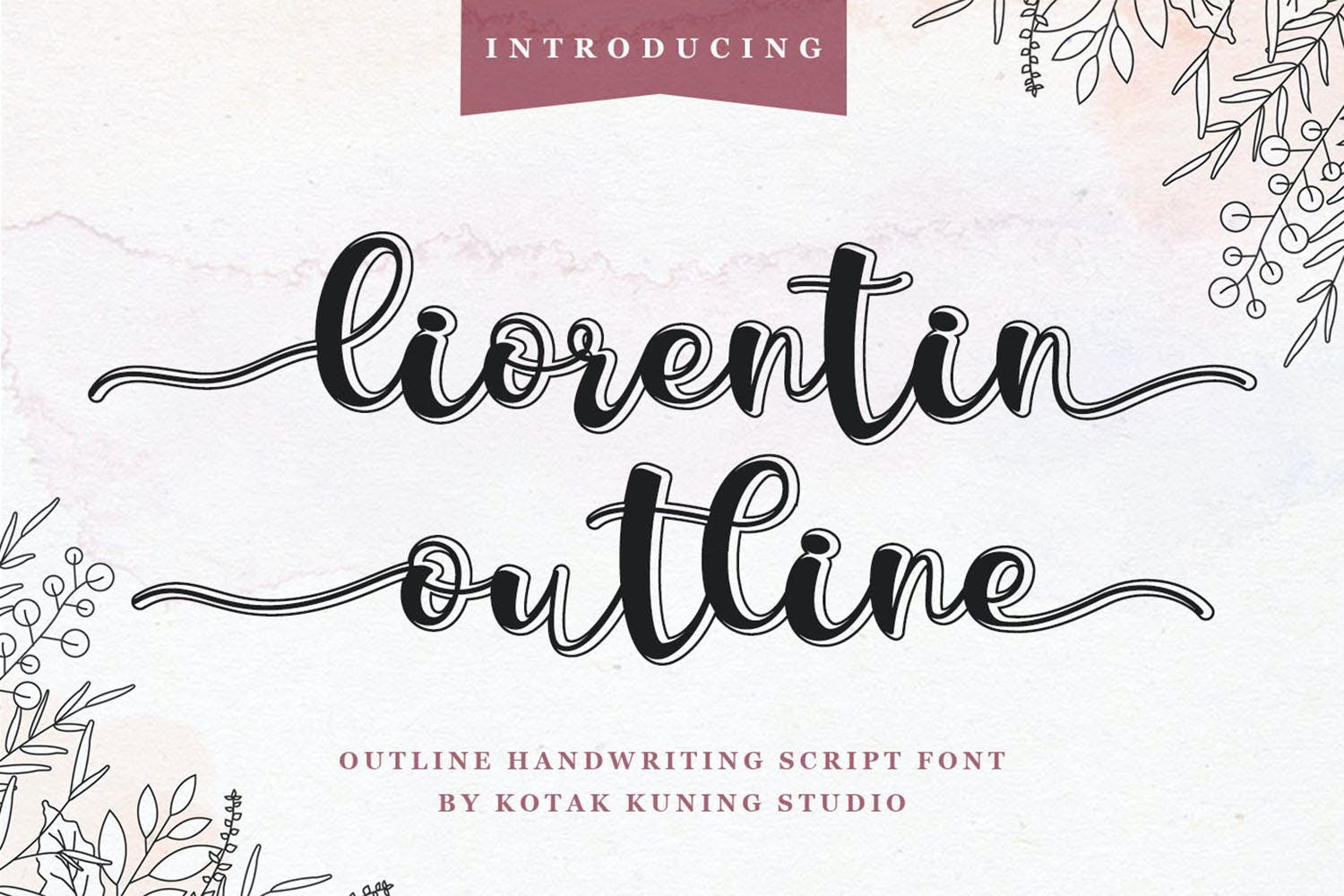 Liorentin Outline is a sweet and stunning script that will add a personal feel to your next design idea. Fall in love with its playful look & feel.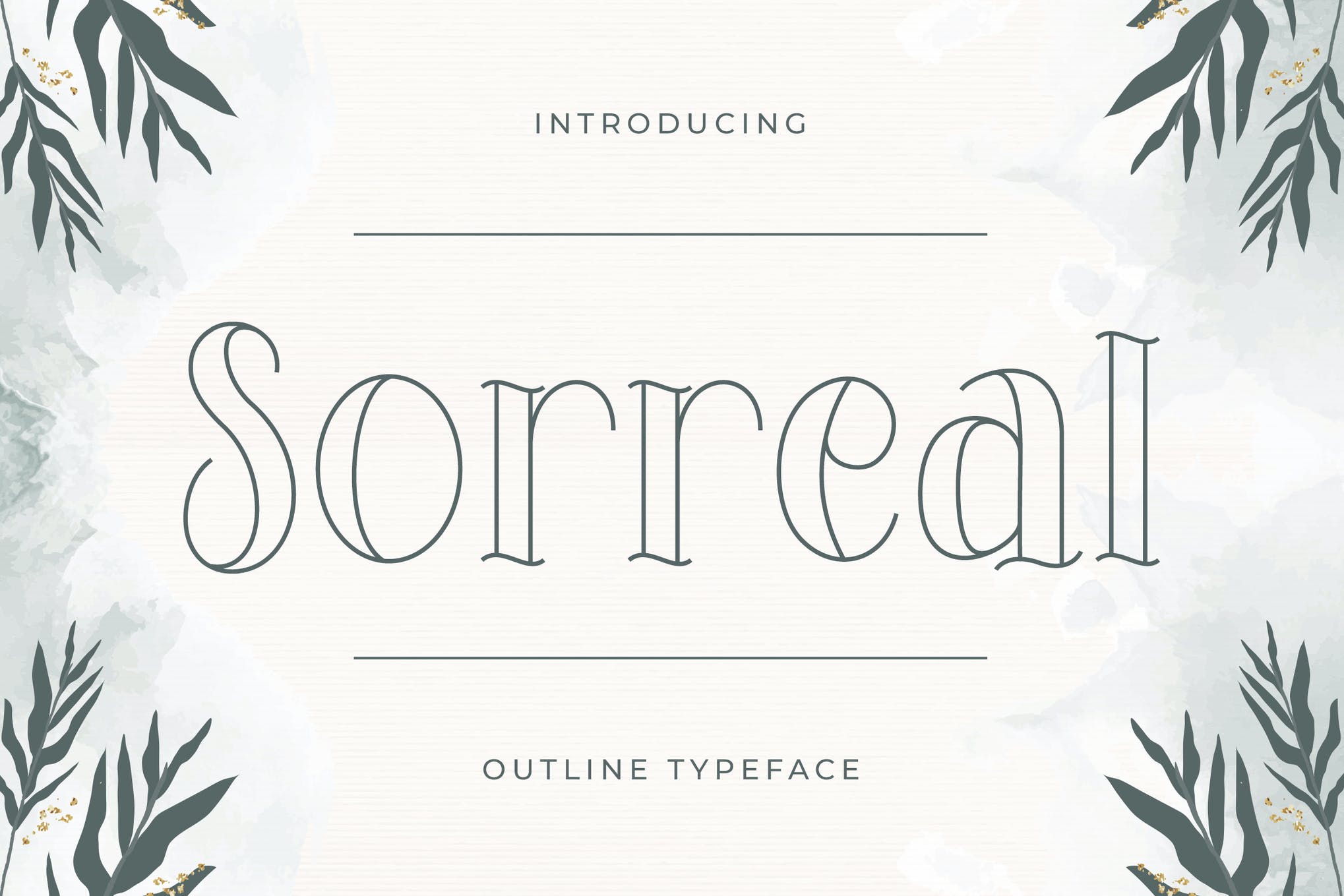 Sorreal is a cool, friendly, and neat outlined display font. It can be used for various purposes such as logos, wedding invitations, headings, letterhead, signage, labels, news, posters, badges and so much more.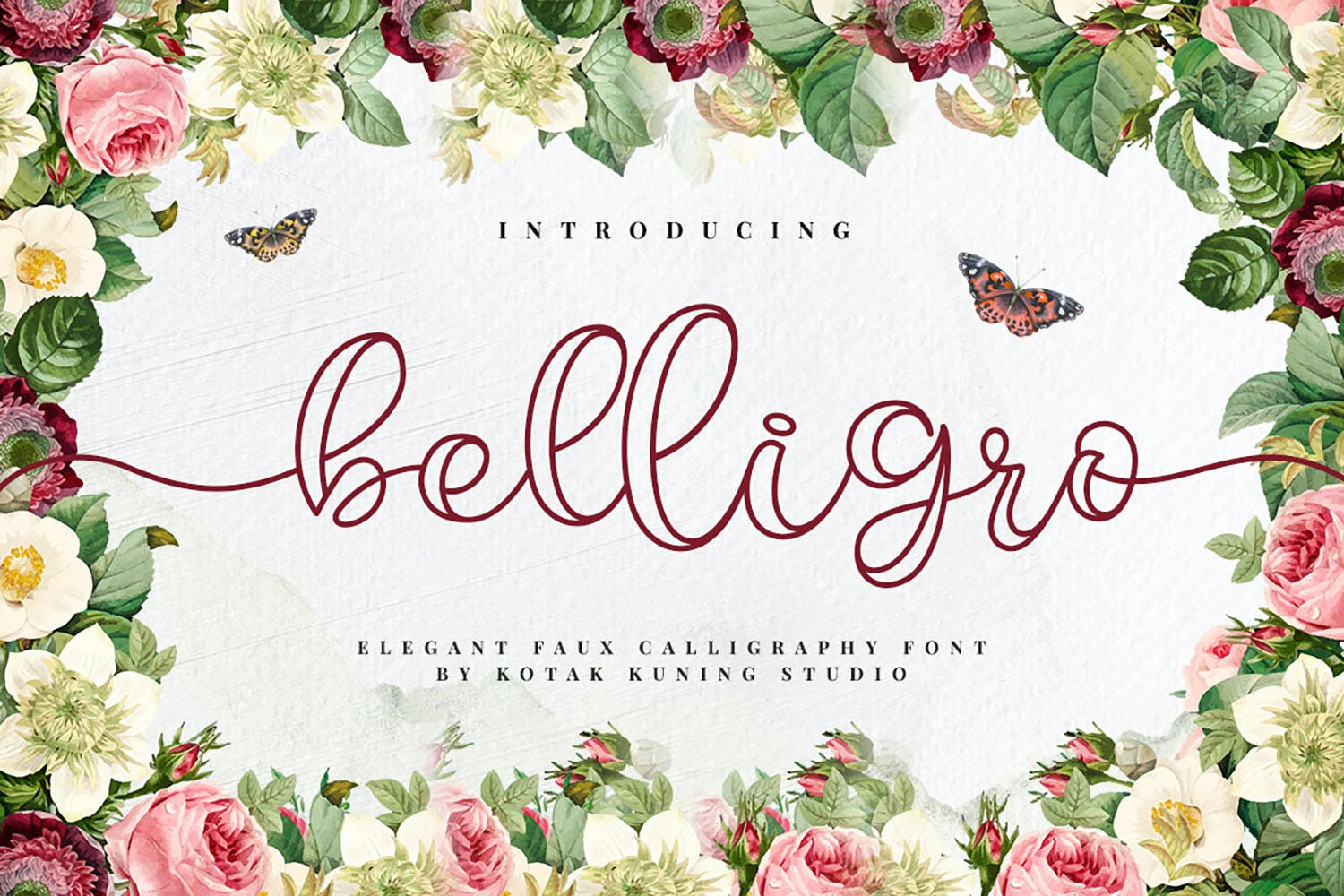 An excellent contender for your cash, Belligro is a sweet, and adorable outline font that will instantly boost the appeal of your design. Belligro can be used for a range of branding, and packaging projects, and we recommend you give it a try.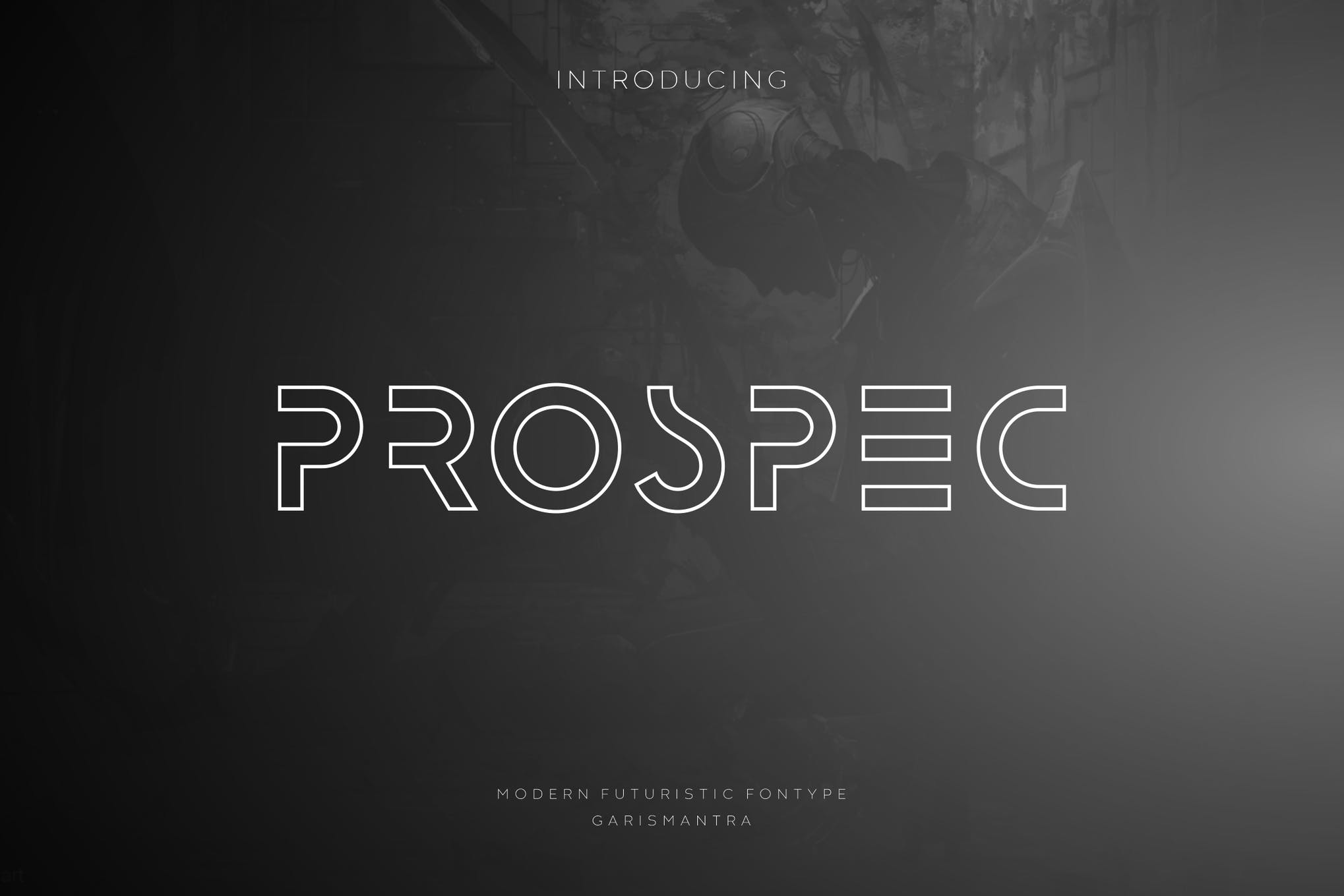 Prospec is an elegantly designed typeface with a futuristic look. Although versatile, Prospec will look specifically good on technology-oriented designs. We think Prospec is a solid choice if you truly value standing out from the pack.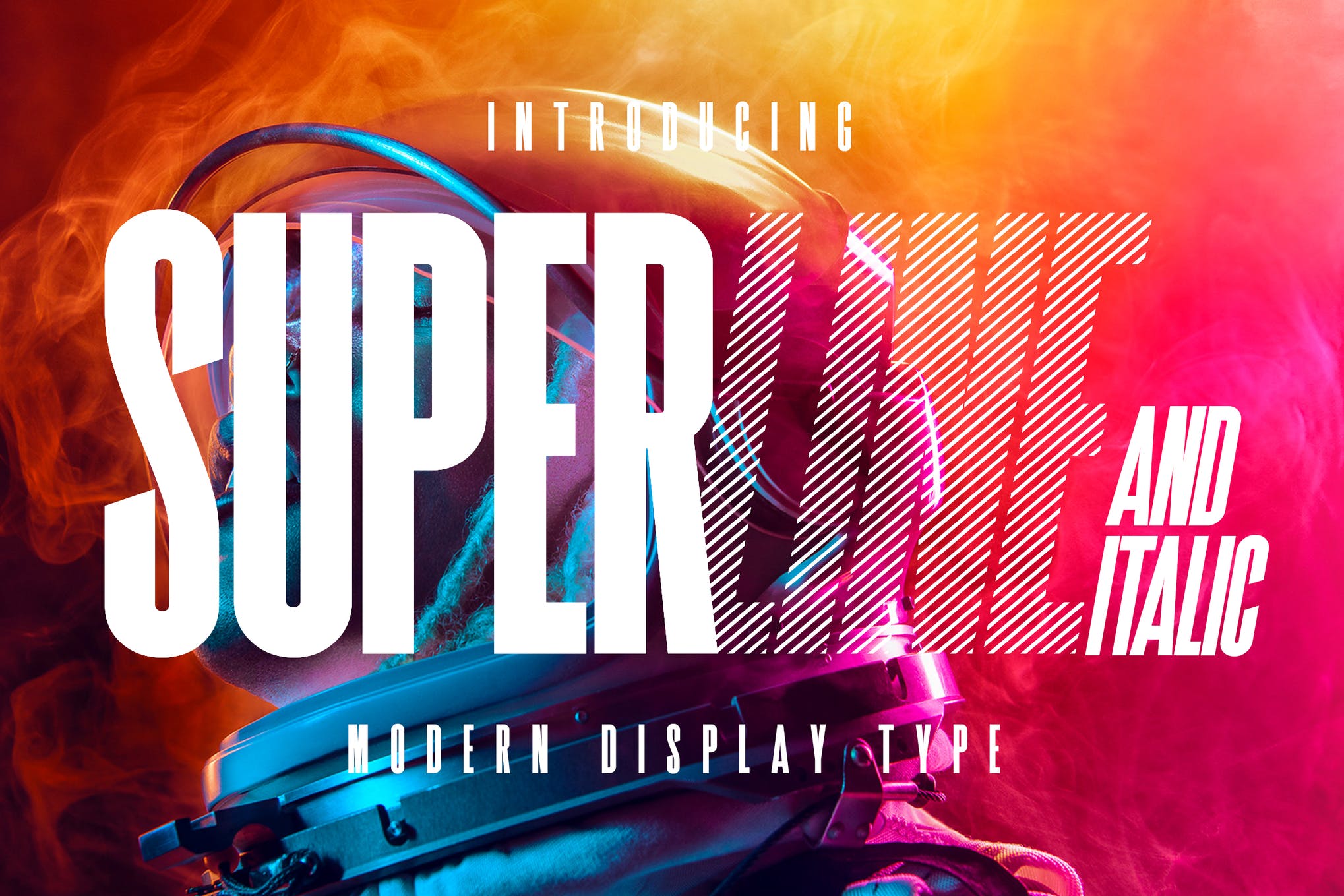 Superline is a meticulously created all-caps outline typeface fitting to a pool of contemporary design projects. Superline has been specifically crafted for large designs however given its versatility, it will look equally good on smaller design styles.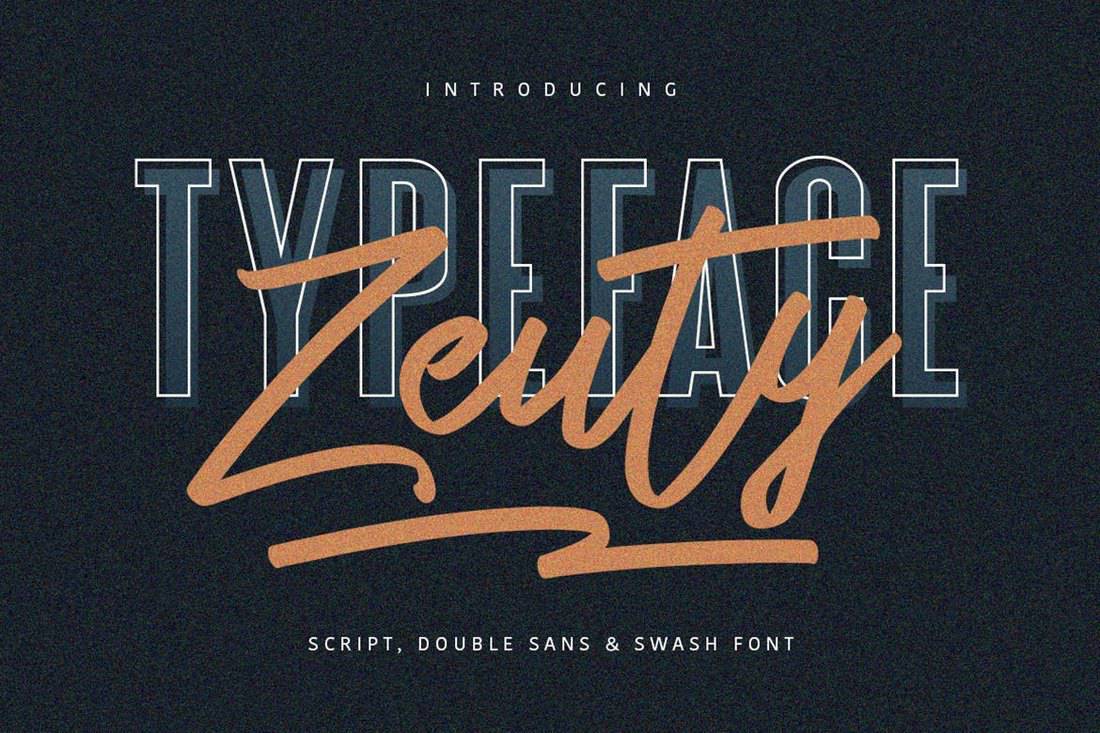 This collection of fonts comes with 4 different fonts featuring an outline font, script font, regular, and swash. All of the fonts feature modern designs inspired by vintage typography. Being able to choose from more than one design will allow you to use this fonts pack with your various design projects.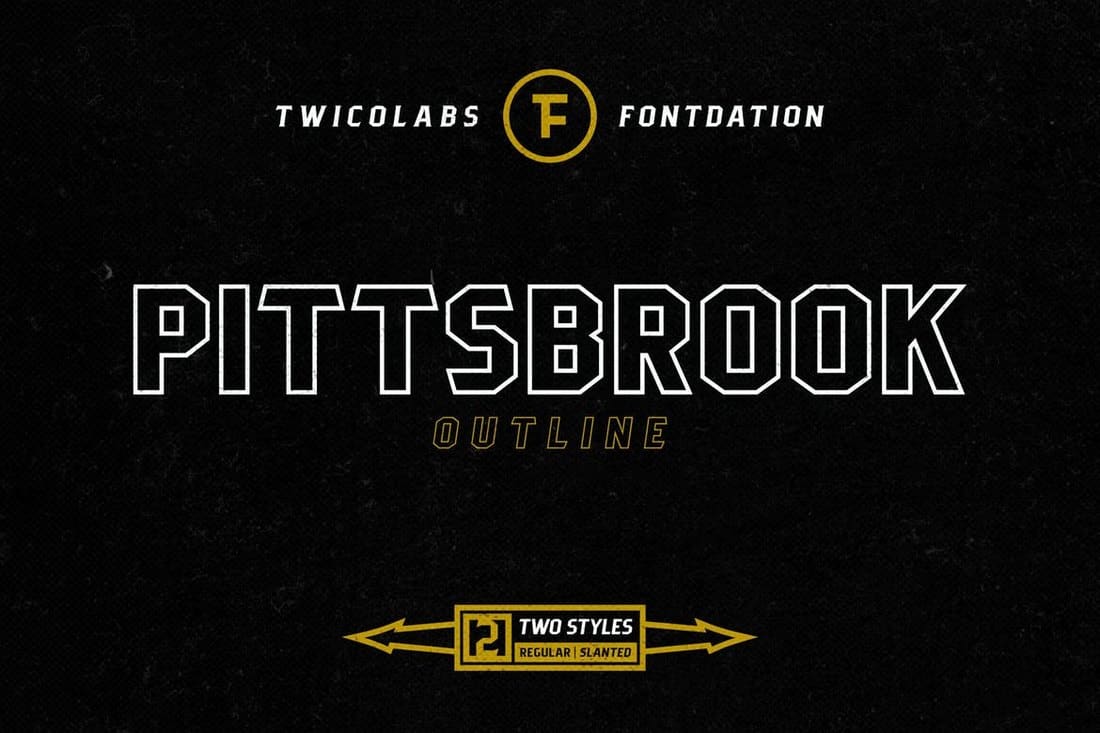 Featuring a design inspired by the classic font designs used in vintage packaging, this outline font is designed specifically for making labels and headlines. However, the font also looks like a great choice for designing sports-related logos as well.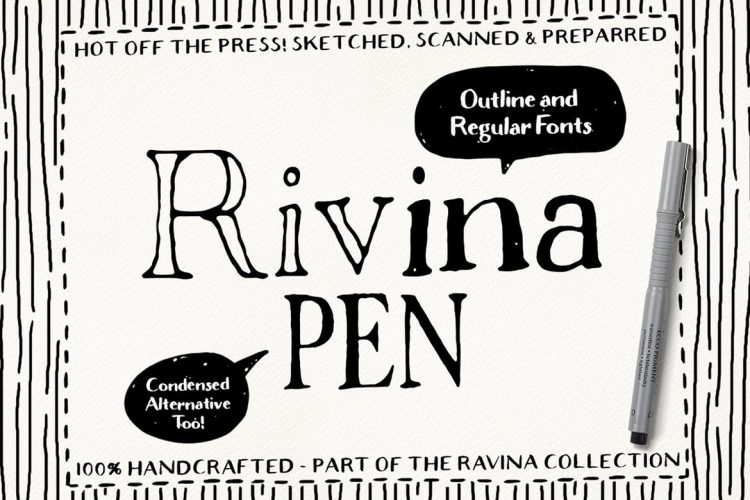 The final typeface on our list of outline fonts is a creative hand-drawn option, inspired by a do-it-yourself attitude, and includes both regular and condensed spacing alternatives. It's great for any crafty project or illustration, and renders particularly well on a large scale!
Each of these outline fonts is suitable for a wide range of purposes, and is waiting for you to download and use straight away, making your next task of finding the perfect outline font a huge deal easier – you can thank us later.
Best Free Outline Fonts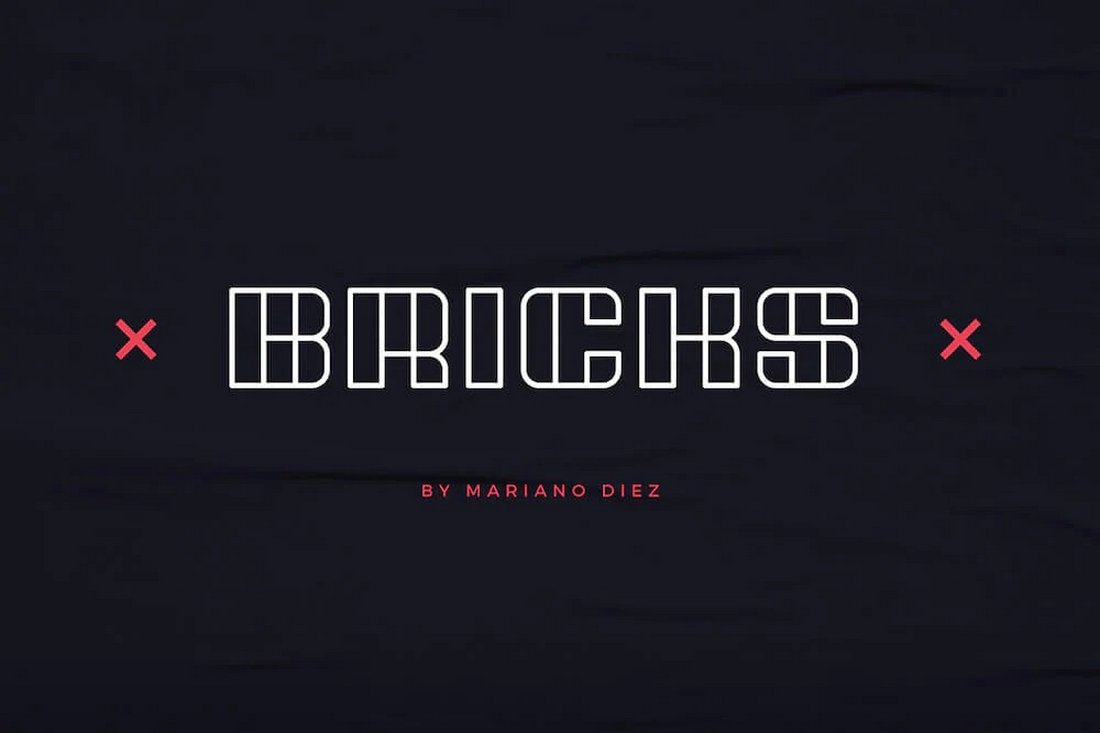 This free outline font comes with a very unique letter design that features a slightly boxed design. It will allow you to craft creative titles and headings for your posters, flyers, and banners. The font is free to use with commercial projects.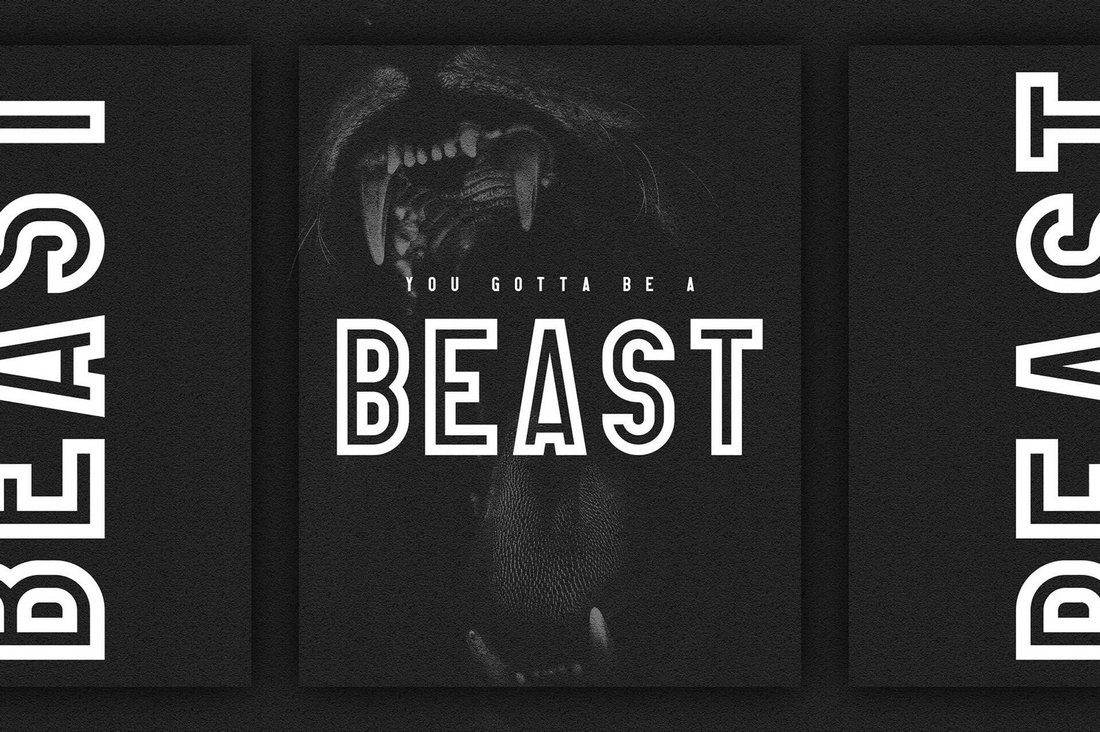 You can use this font to design big bold titles for posters as well as labels for product packaging. It has all-caps letters with a tall and narrow design. This font is free to use with your personal projects.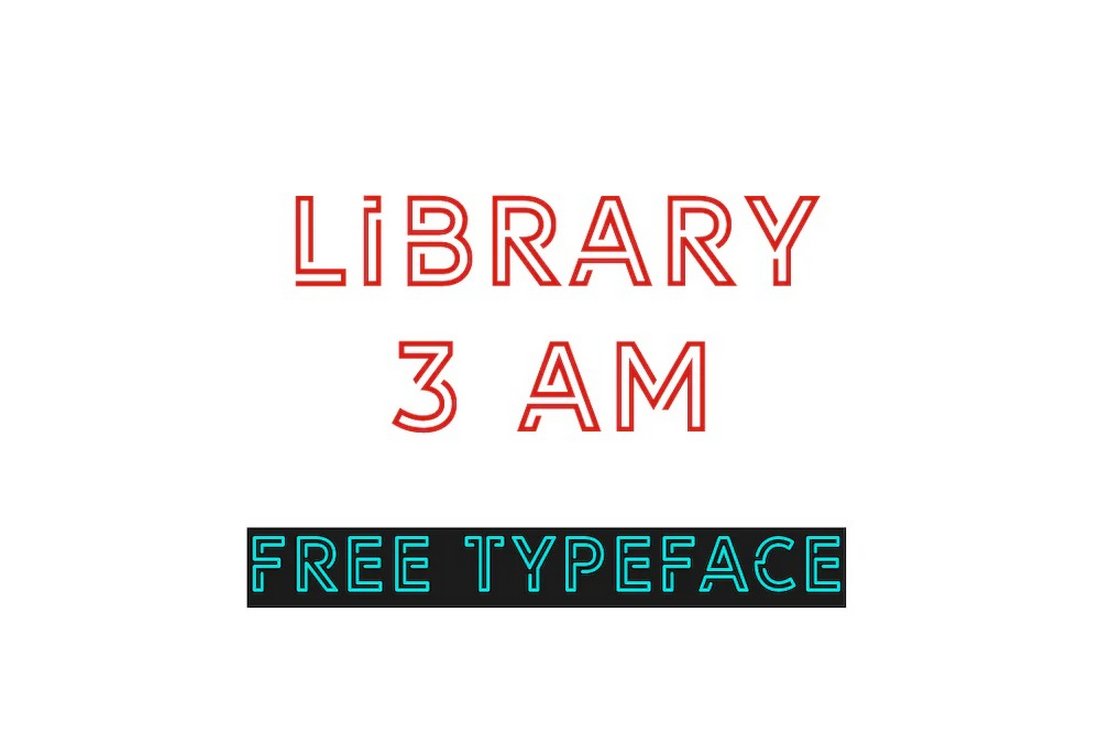 A stylish outline font for crafting logos and branding. This font features a modern letter design with decorative elements. It includes all-caps letters and it's free for commercial use.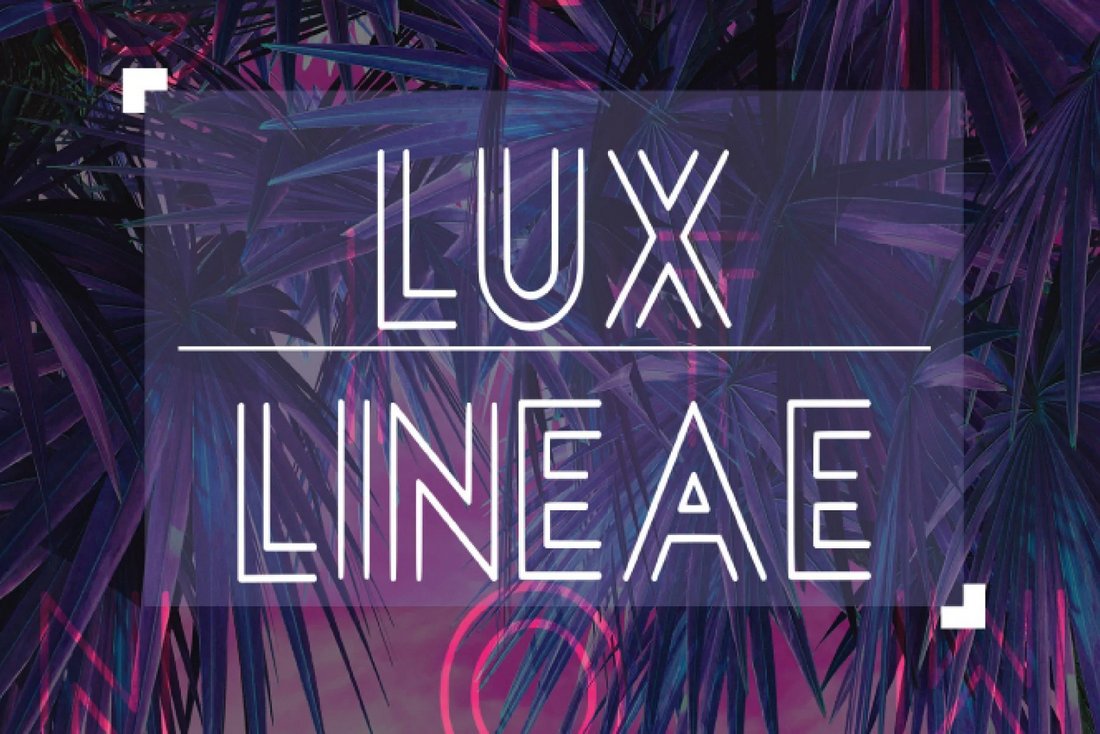 If you're looking for a different style of outline font to craft titles that stands out from the crowd, this font is for you. It features all-caps letters with stylish outline designs. You can use it for free with personal and commercial projects.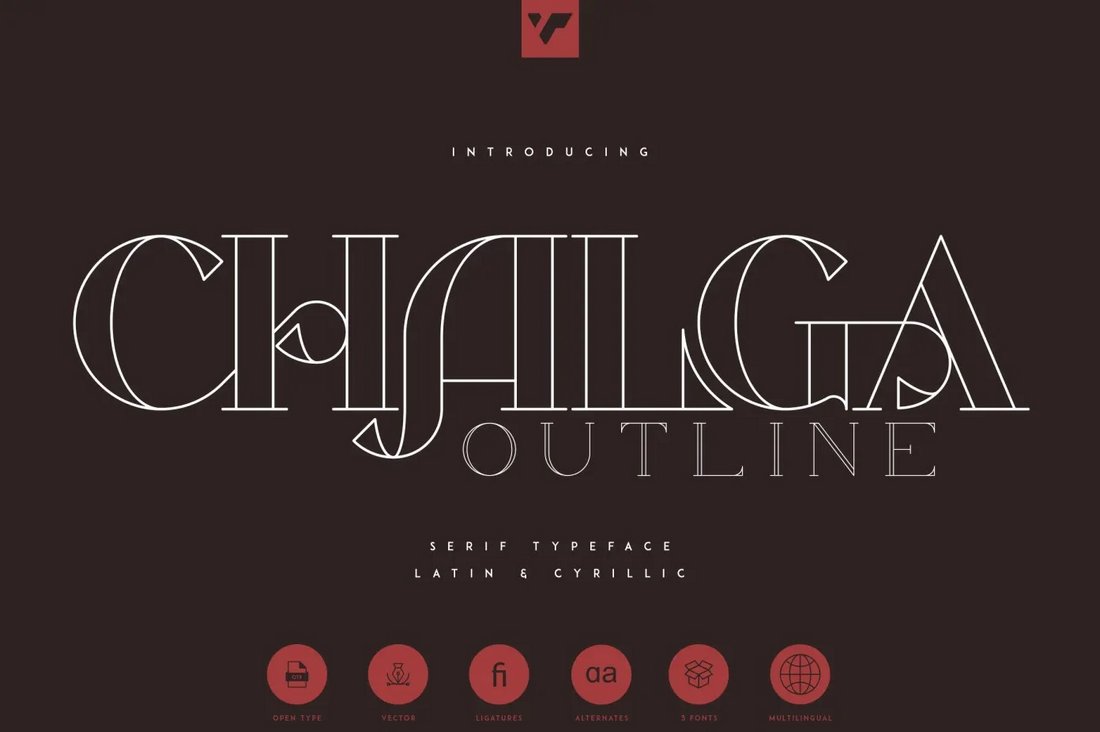 This outline font features serif characters with an elegant design. It's ideal for designing titles, headings, and text for branding designs, business cards, and even packaging designs. It's free for personal use.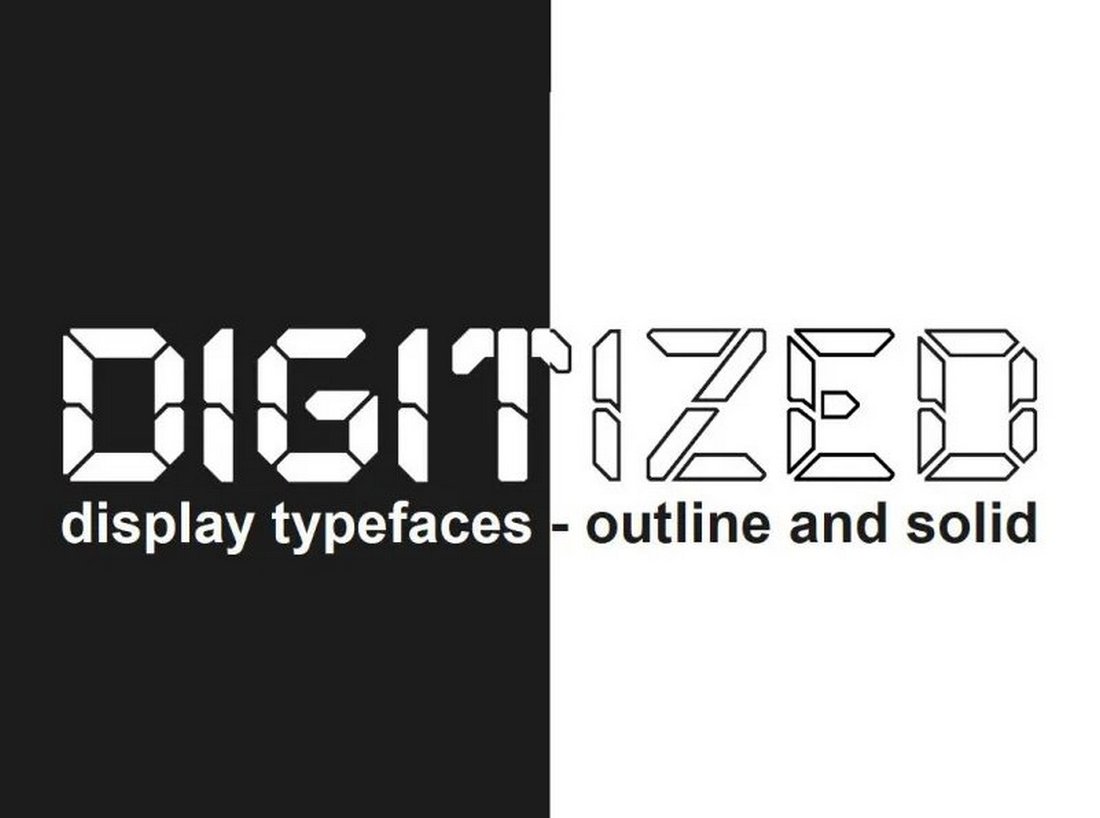 Digitized is a font inspired by digital shapes and typography designs, commonly seen on classic digital alarm clocks and electronic devices. This font is also free to use with personal projects.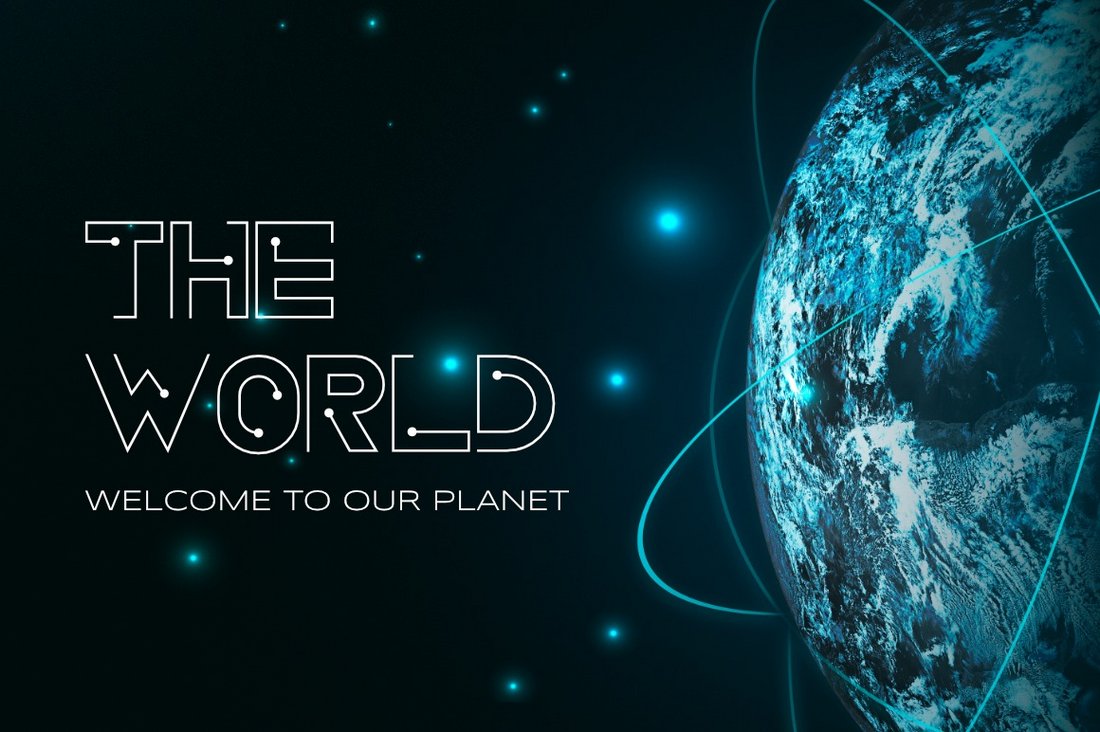 Technically, this is not entirely an outline font. But we wanted to include it on the list for its unique character design. It has futuristic-looking letters with a thin outline-style letter design. It's free for personal use.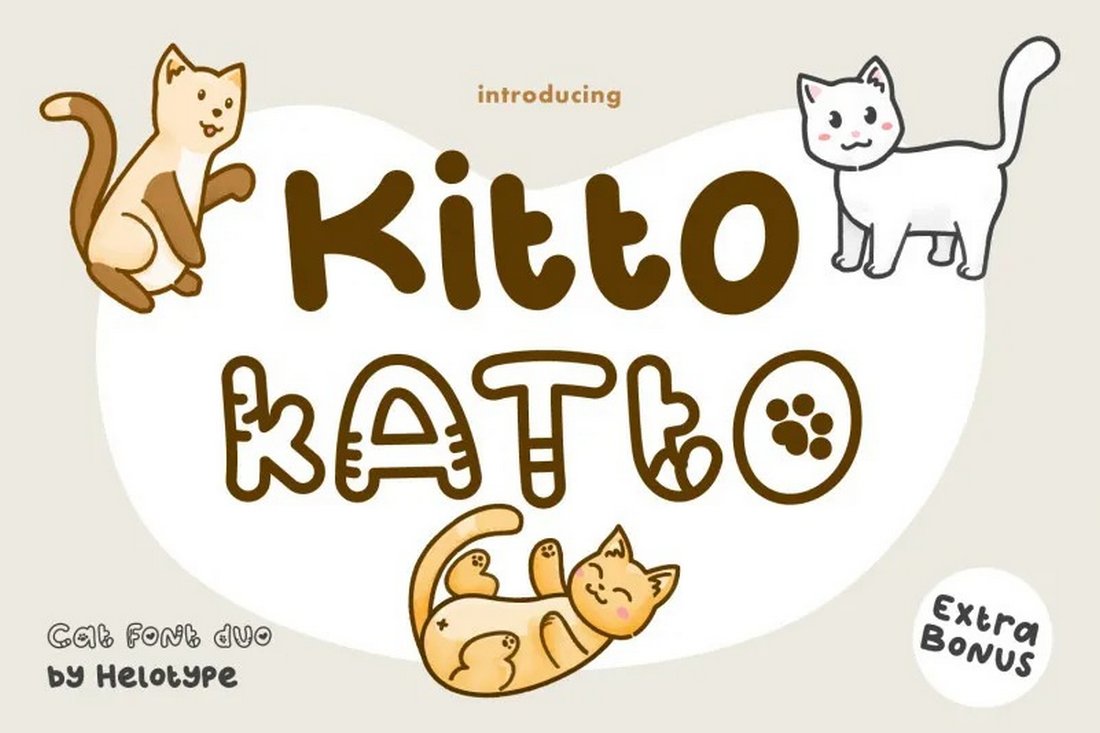 This font includes a set of cute and adorable outline letters. You can use it to craft fun and creative titles for kids posters, banners, book covers, greeting cards, and much more. It's free to use with personal projects.