25+ Best Black and White Lightroom Presets (+ Free One Color Presets) 2021
Touching up your photos is a crucial step in the editing process, and can provide a lasting aesthetic that will make your most special memories stand out for years to come. One of the best ways to do this is through Lightroom black and white presets.
The Lightroom black and white style is an age-old classic and has been used in photo editing for decades. It provides a simple, yet effective way to provide a desirable contrast to almost any photo.
So, with that in mind, we collected a range of Lightroom black and white presets, sourced from both premium and free options making sure to pick a wide range that you can enjoy.
Read on to see our list of the best premium and free black and white Lightroom presets!
Get everything you need to supercharge your Adobe Lightroom workflow. From just $16, get unlimited access to thousands of Lightroom presets, Photoshop actions, templates, graphics, fonts and photos.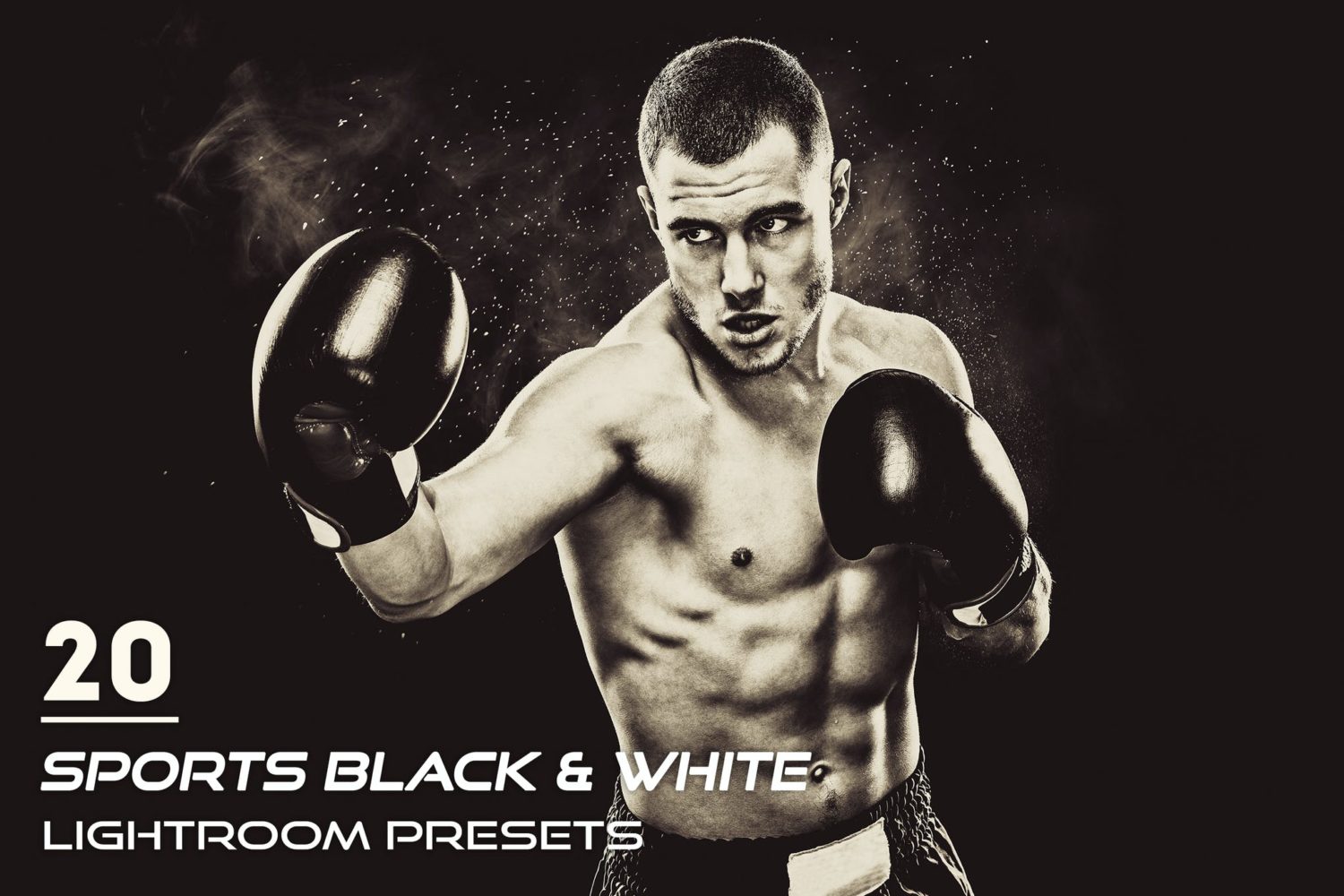 Monochrome in sports has a long history, dating back to the very first promo shots sent out for matches all around the world. Now, you too can produce that same traditional effect with these black and white Lightroom presets. With over 20 to choose from, you'll have no shortage of options!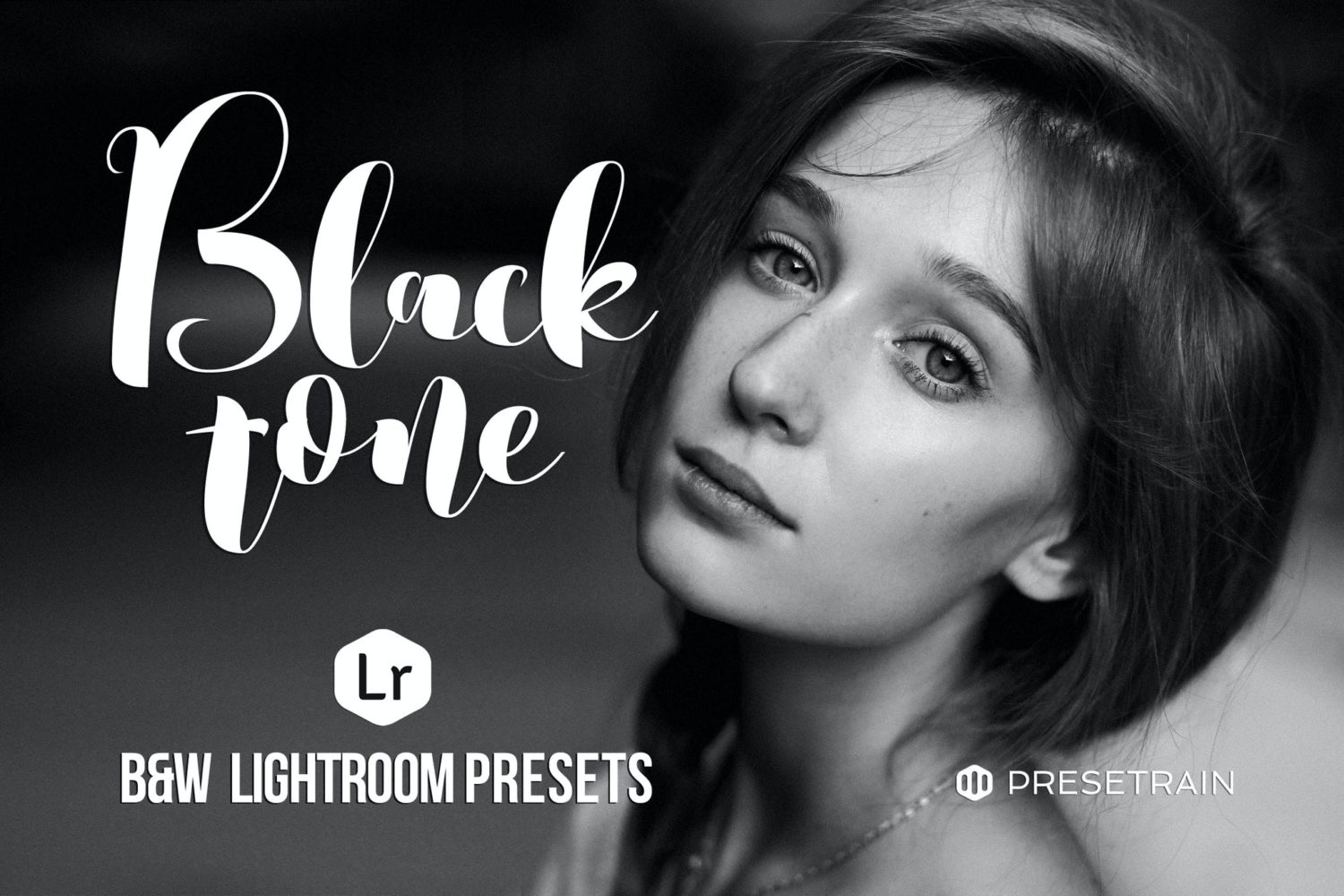 Looking for a comprehensive collection of black and white presets? The Blacktone package has you covered, equipped with ten different monochrome presets for everything you could ever need; from standard, contrast, flat, bright, film, and much more!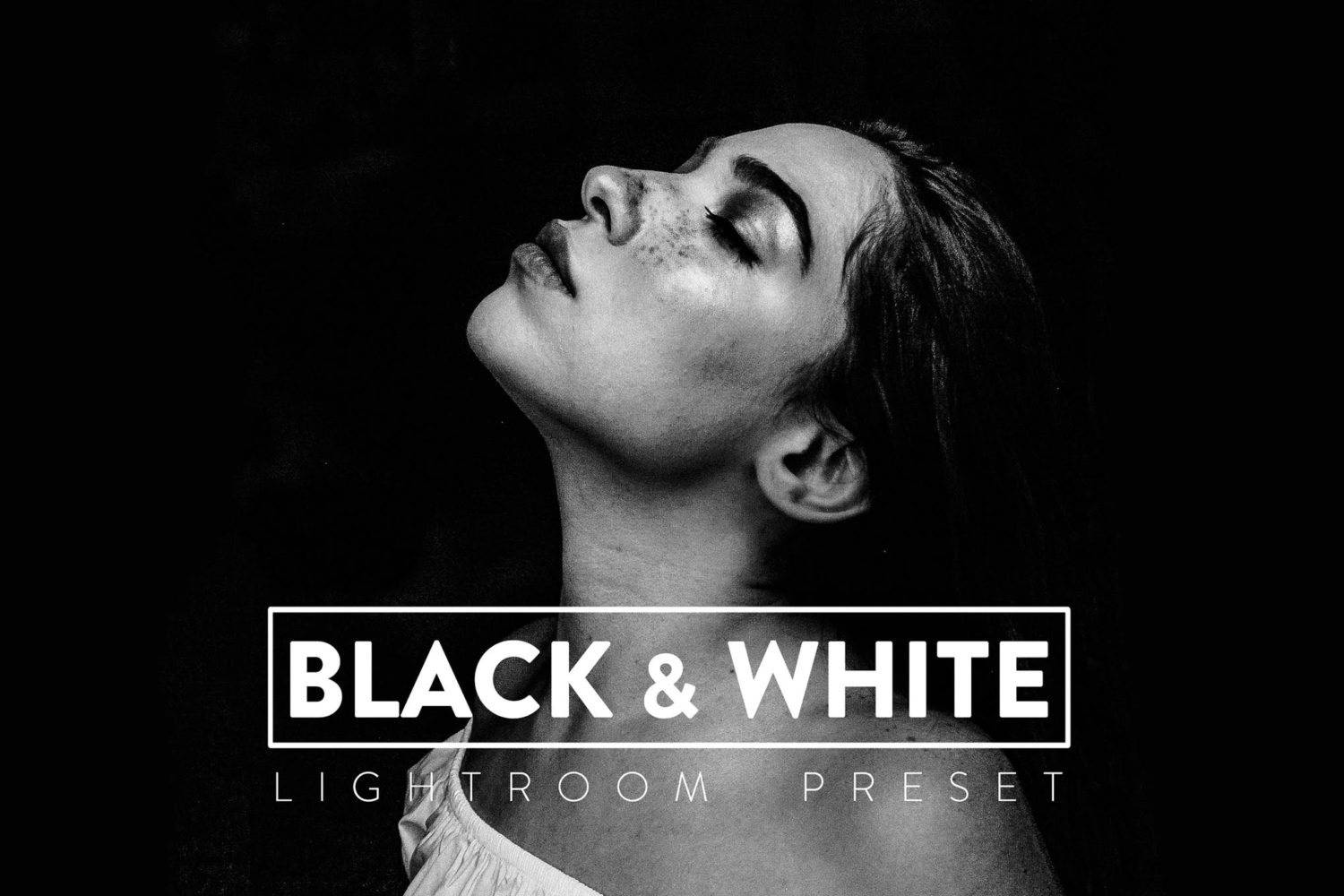 The most vital aspect of a black and white preset is its ability to properly balance contrast, and provide a beautiful finish on your pictures. With this Black and White Lightroom preset package, you'll have ten expertly crafted presets that are sure to impress.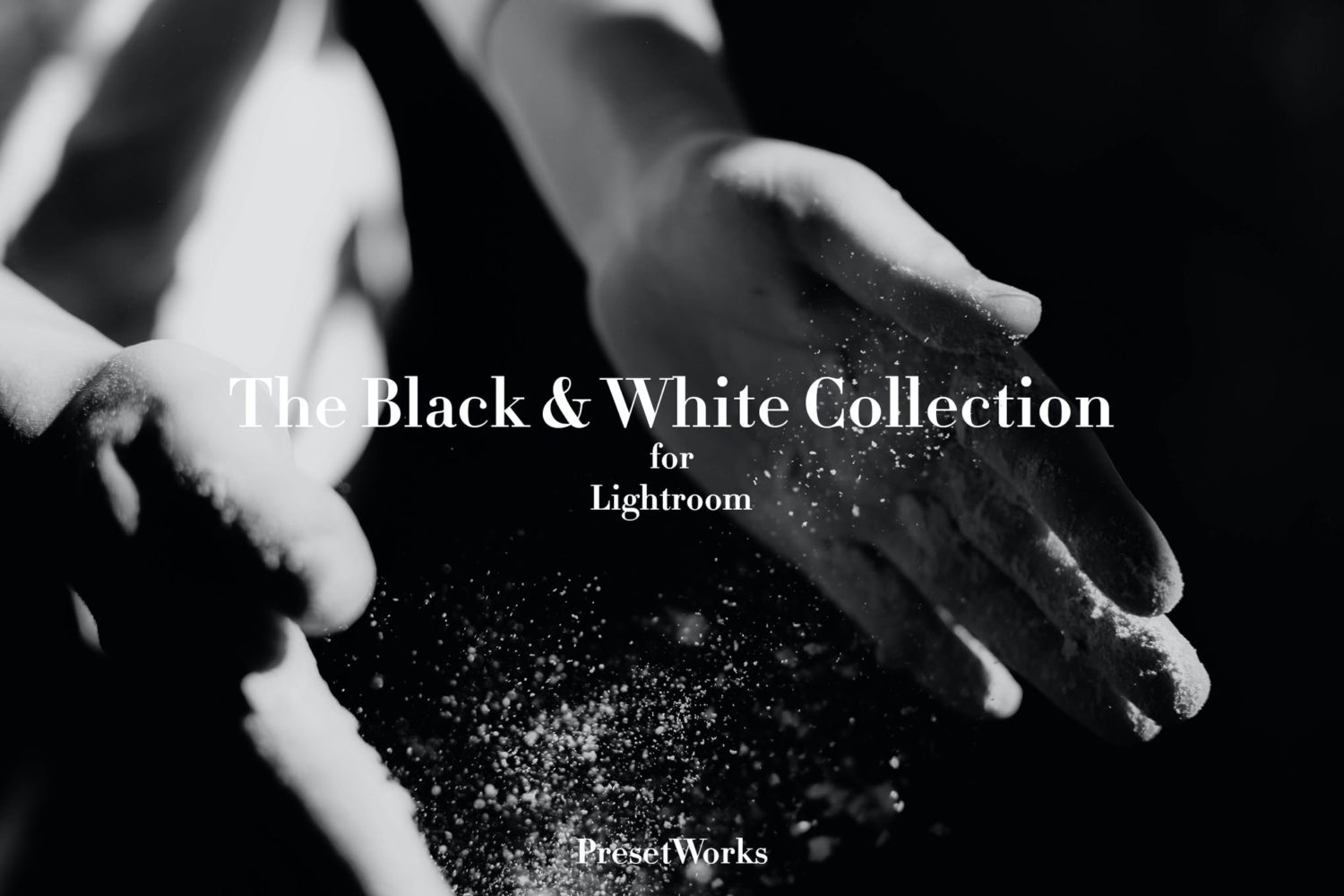 The Black and White Lightroom presets package is packed full of fantastically designed preset options for you to enjoy. With over 35 different presets available, all supported on both Mac and PC, you'll never have to go searching for the best black and white Lightroom presets again.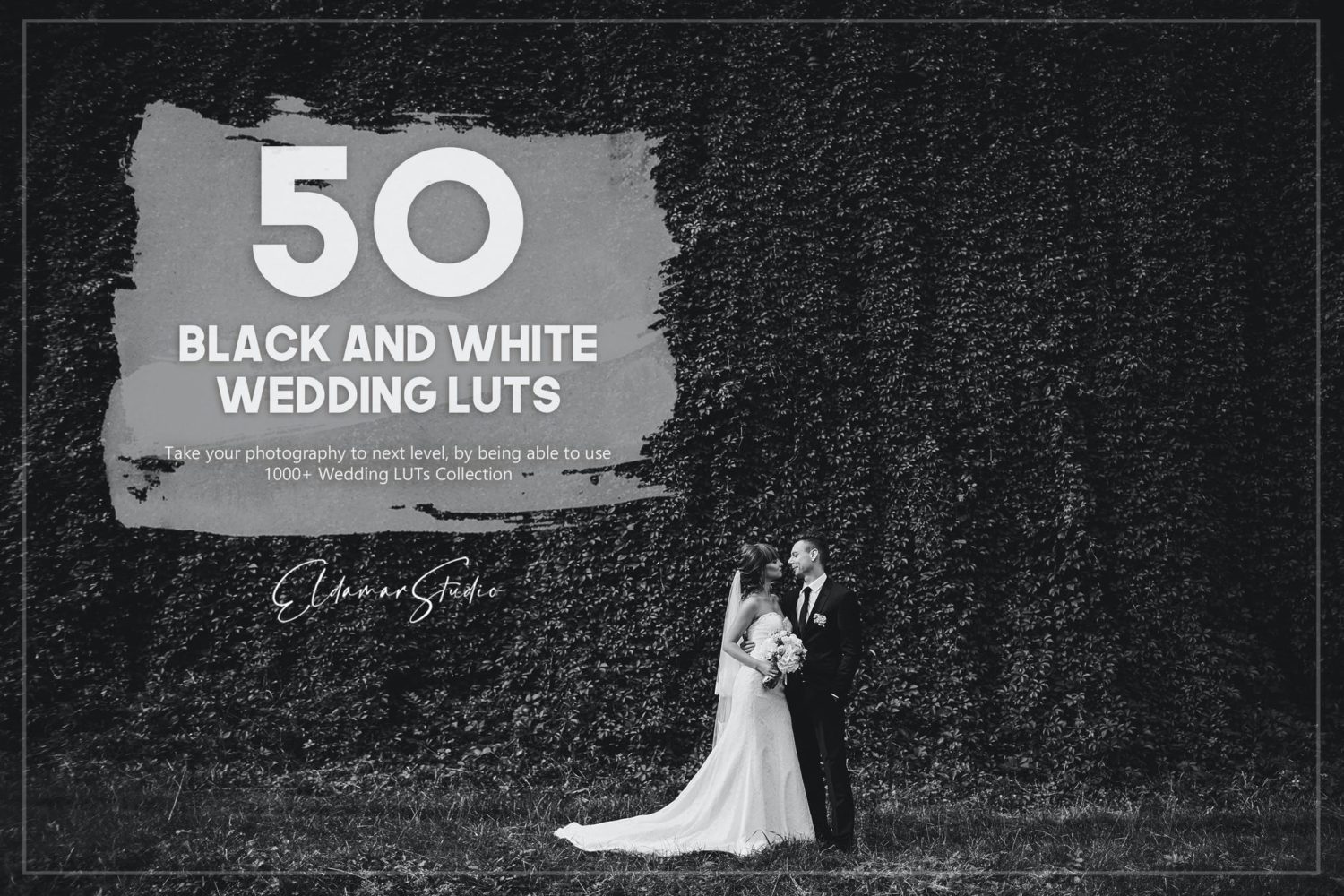 Your wedding will be one of the most special days of your life. For many of us, we want to bring a classic feel to our wedding shots. Now you can, with this collection of 50 black and white wedding Lightroom presets, each tailored to bring a unique monochrome style to your fondest memories.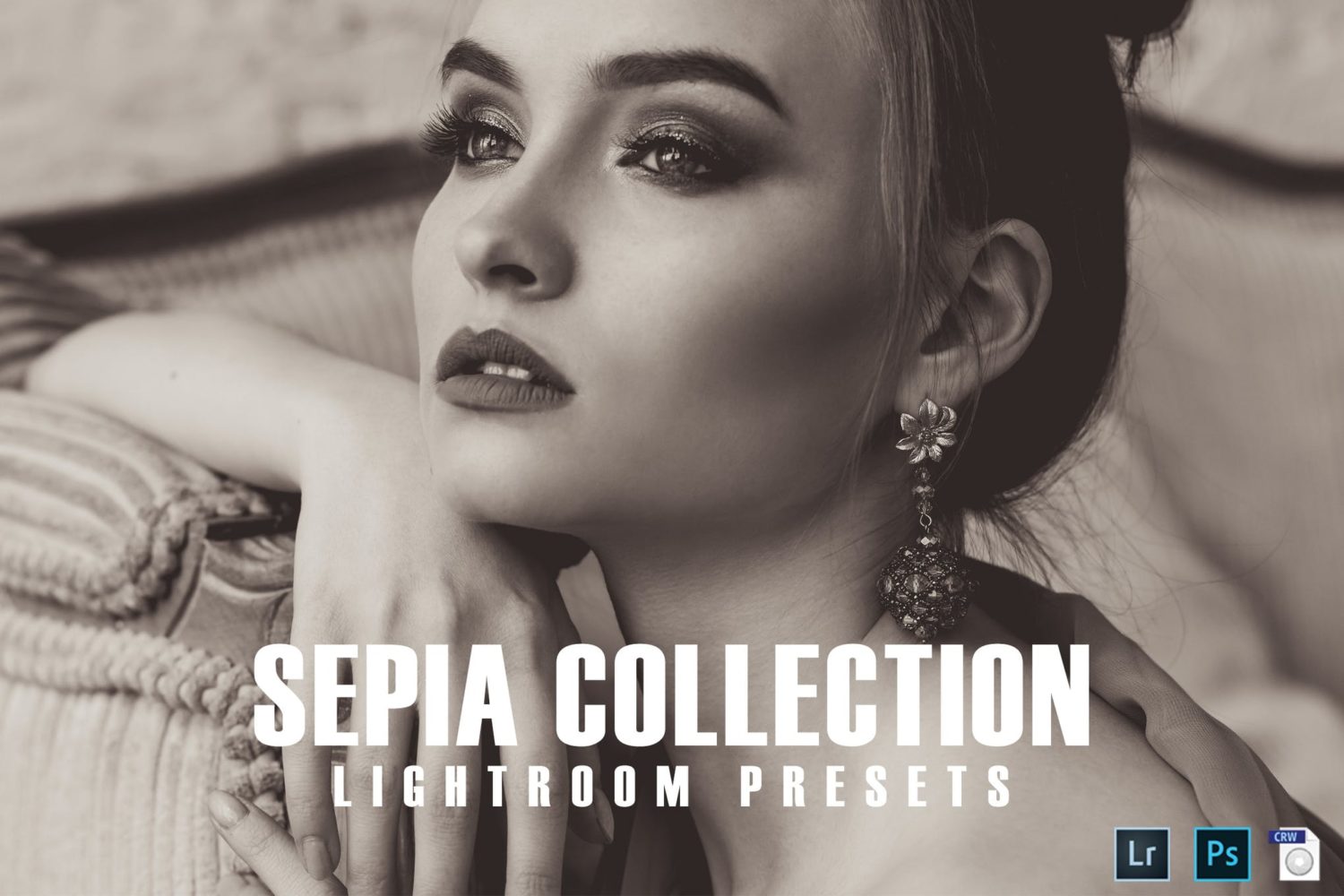 Generating the classic B&W look and tonality can be a difficult endeavor. Trying to find the right contrast balance, mixed with keeping the same color saturation, is a challenge. Thankfully, the Sepia Collection has everything you need to make those blacks and whites truly pop, and showcase your photography.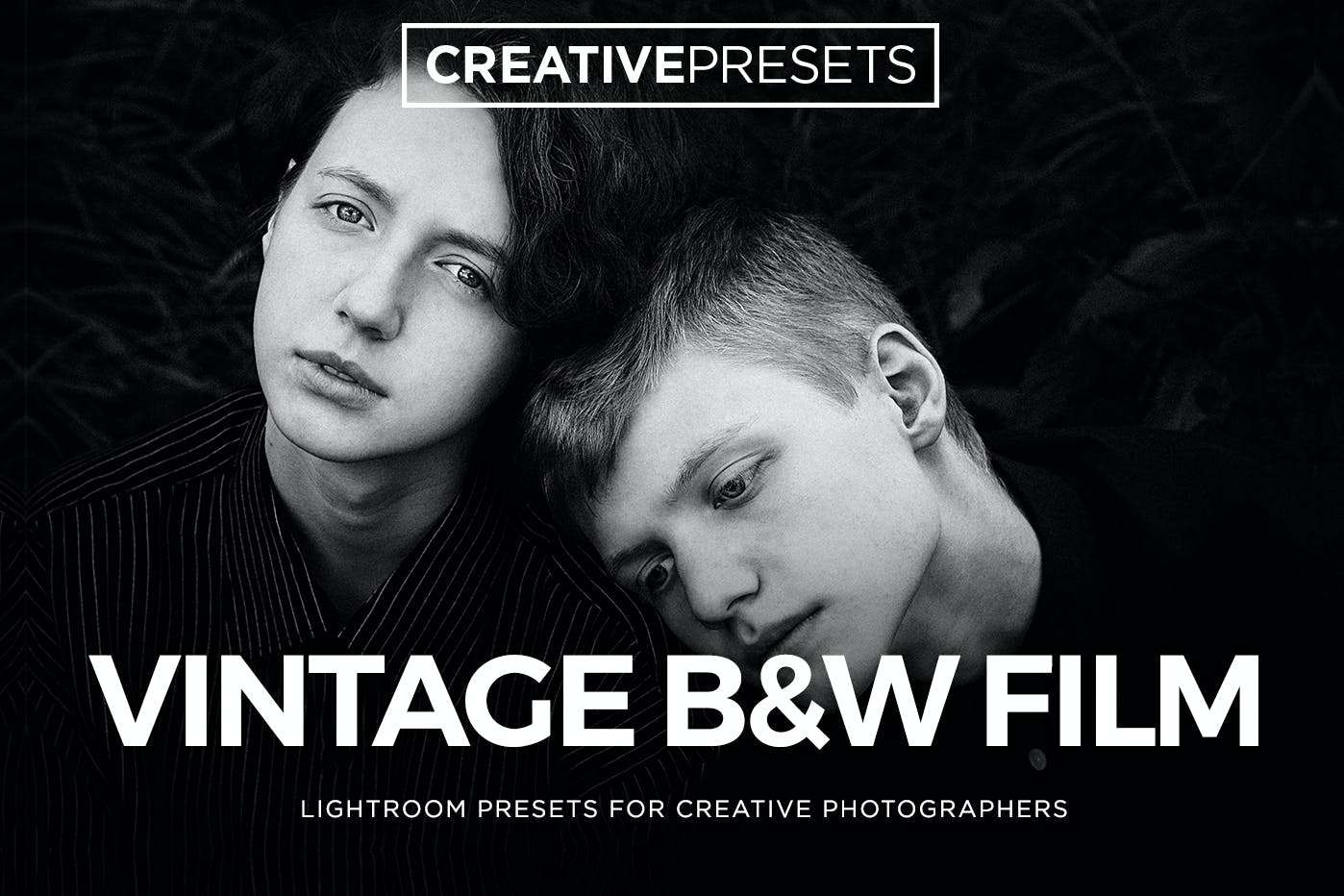 The vintage aesthetic is a tried-and-true artistic style that has been used for generations. Now with the Vintage Film Black and White Lightroom preset, you can bring that same vintage sheen to your photos with a few simple clicks.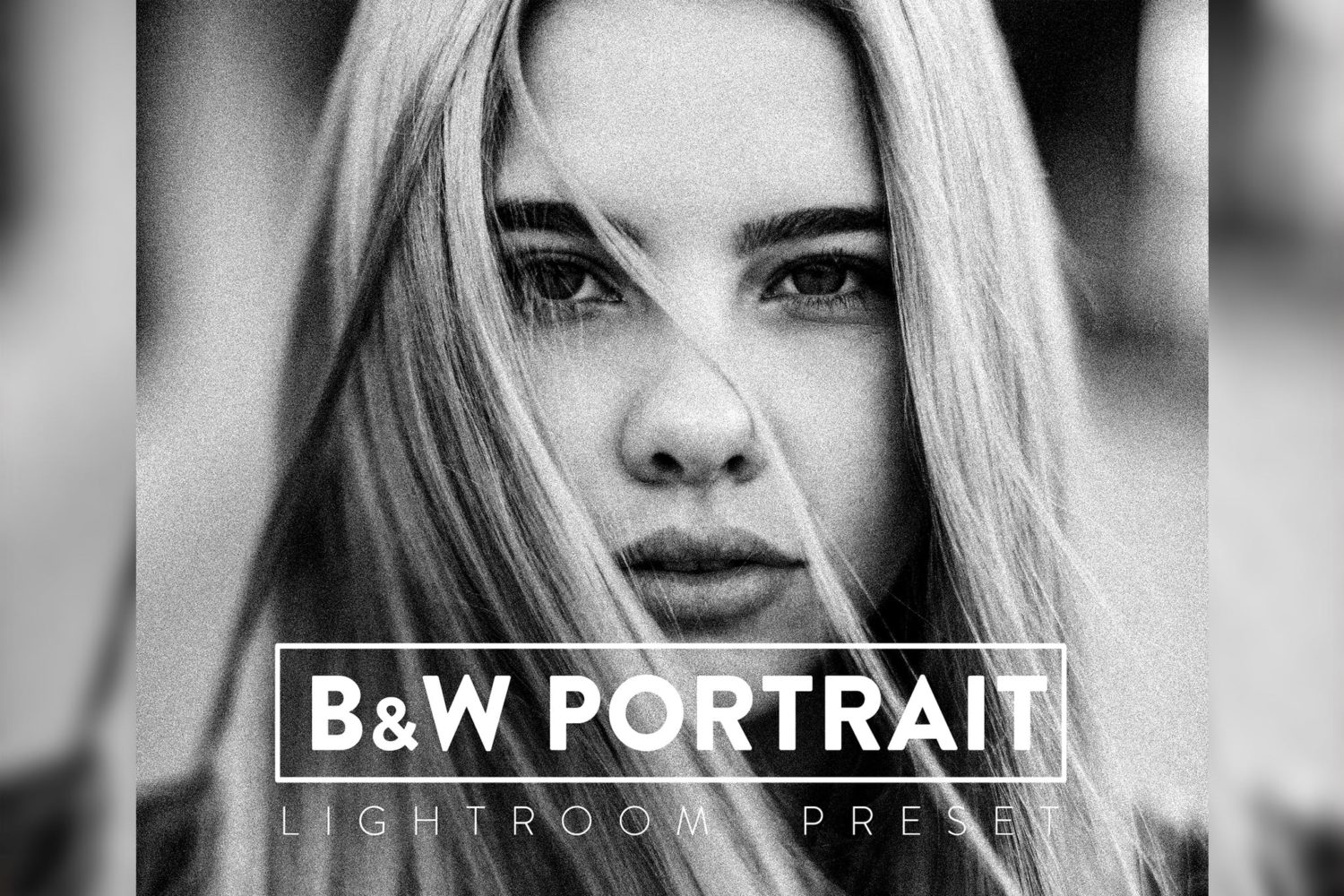 Next up is a collection of 10 unique Lightroom presets that will help you bring out the B&W tones in your pictures with ease; providing a dark, dramatic, gloomy clarity that is easy on the eyes, and truly captivating. It's not often we find a Lightroom black and white with one color presets kit as effective as this one!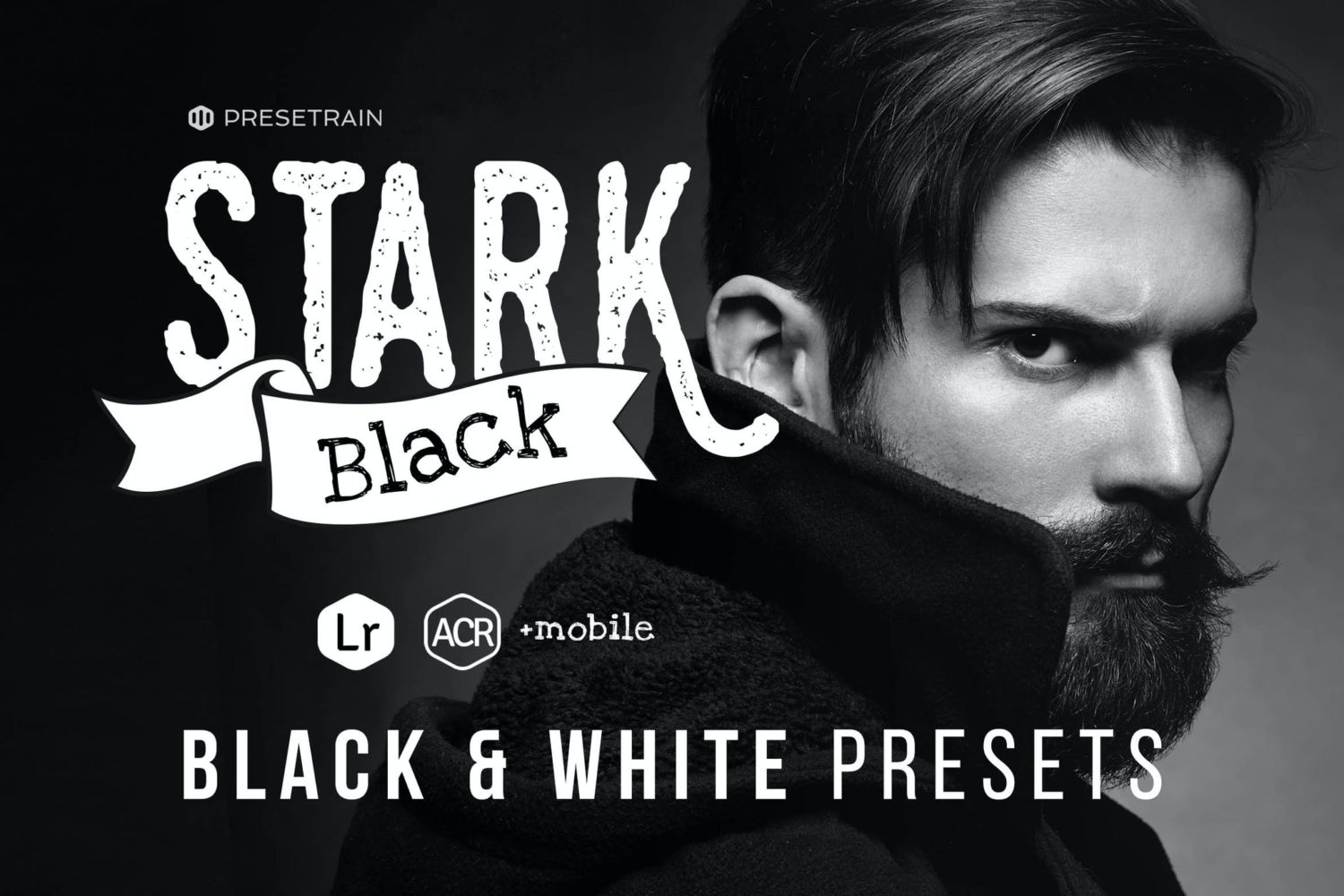 Enhancing the blacks of your images can truly bring out a unique style in an otherwise bland and uninspiring image. With Stark Black, you'll be able to apply simple and effective Lightroom presets that refines those blacks and make something truly remarkable.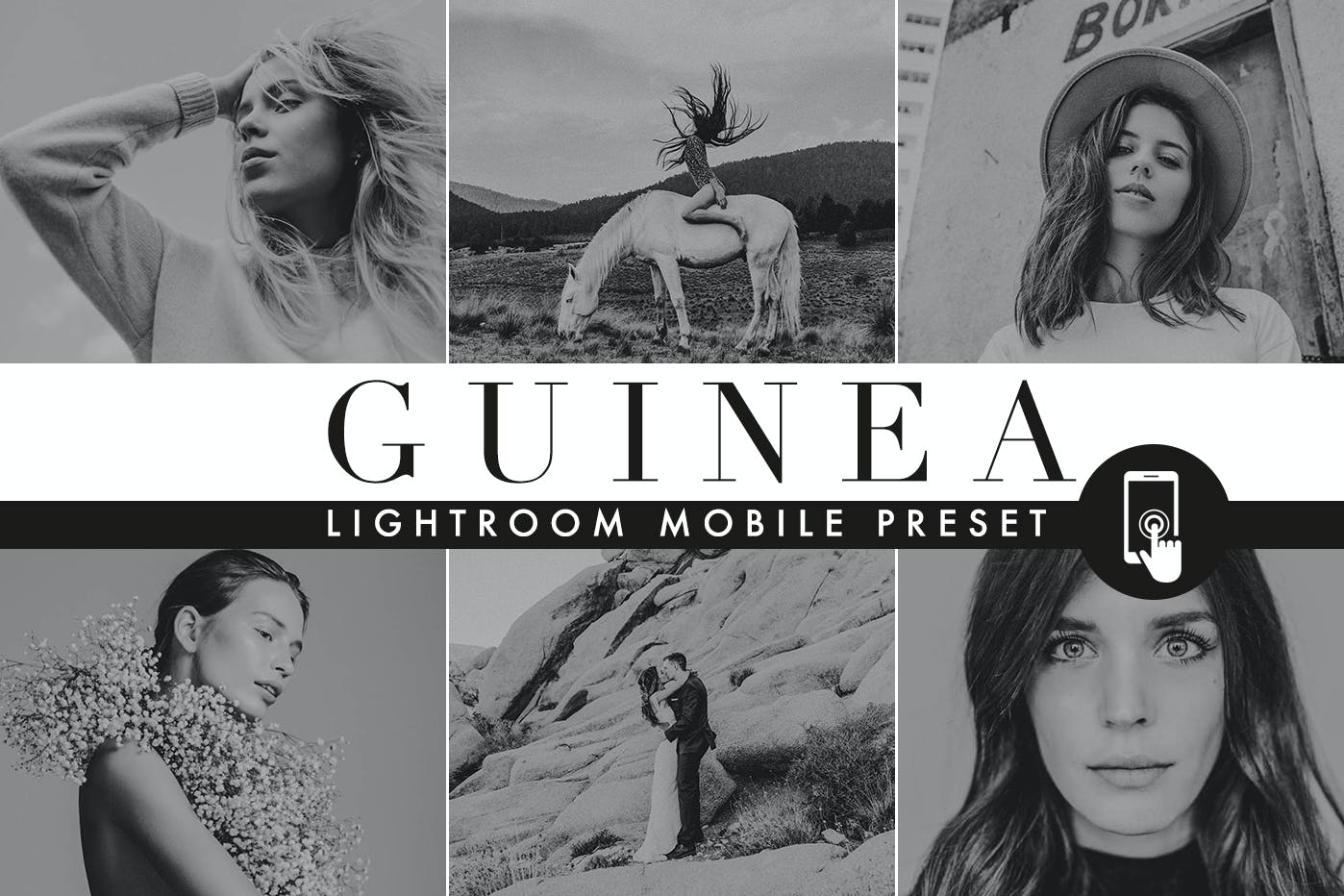 Guinea is a moody and highly stylized Lightroom preset for mobile that will transform your pictures into something more with just a few tabs on your screen. The preset is easy to use and can provide a startling monochrome feel in seconds.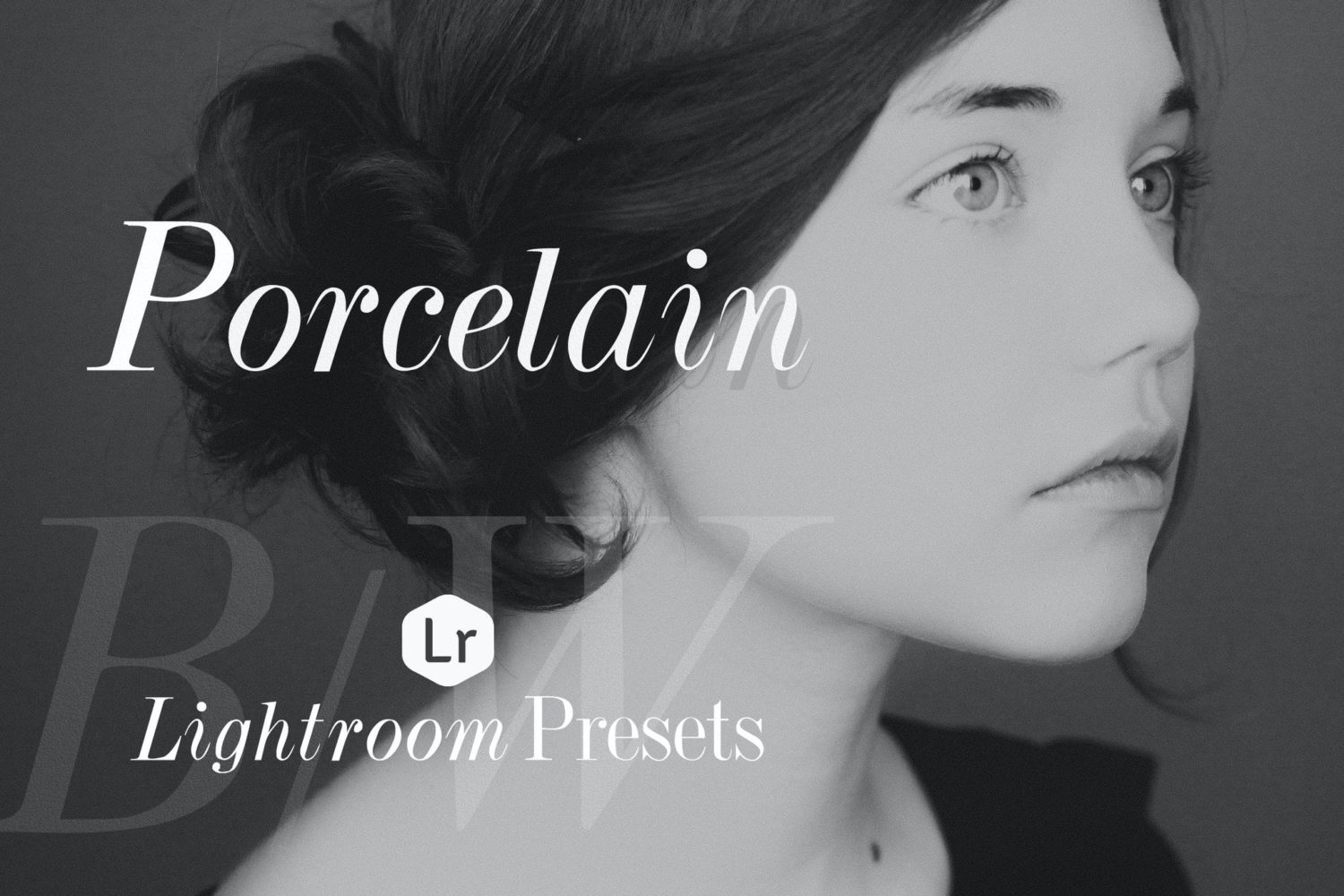 Are you looking to bring a refined porcelain style to your skin tone? This Porcelain black and white Lightroom preset is fashioned to specifically bring forth the porcelain refined look. Equipped with several styles inside the package, you'll have everything you need to make your skin look smooth and beautiful!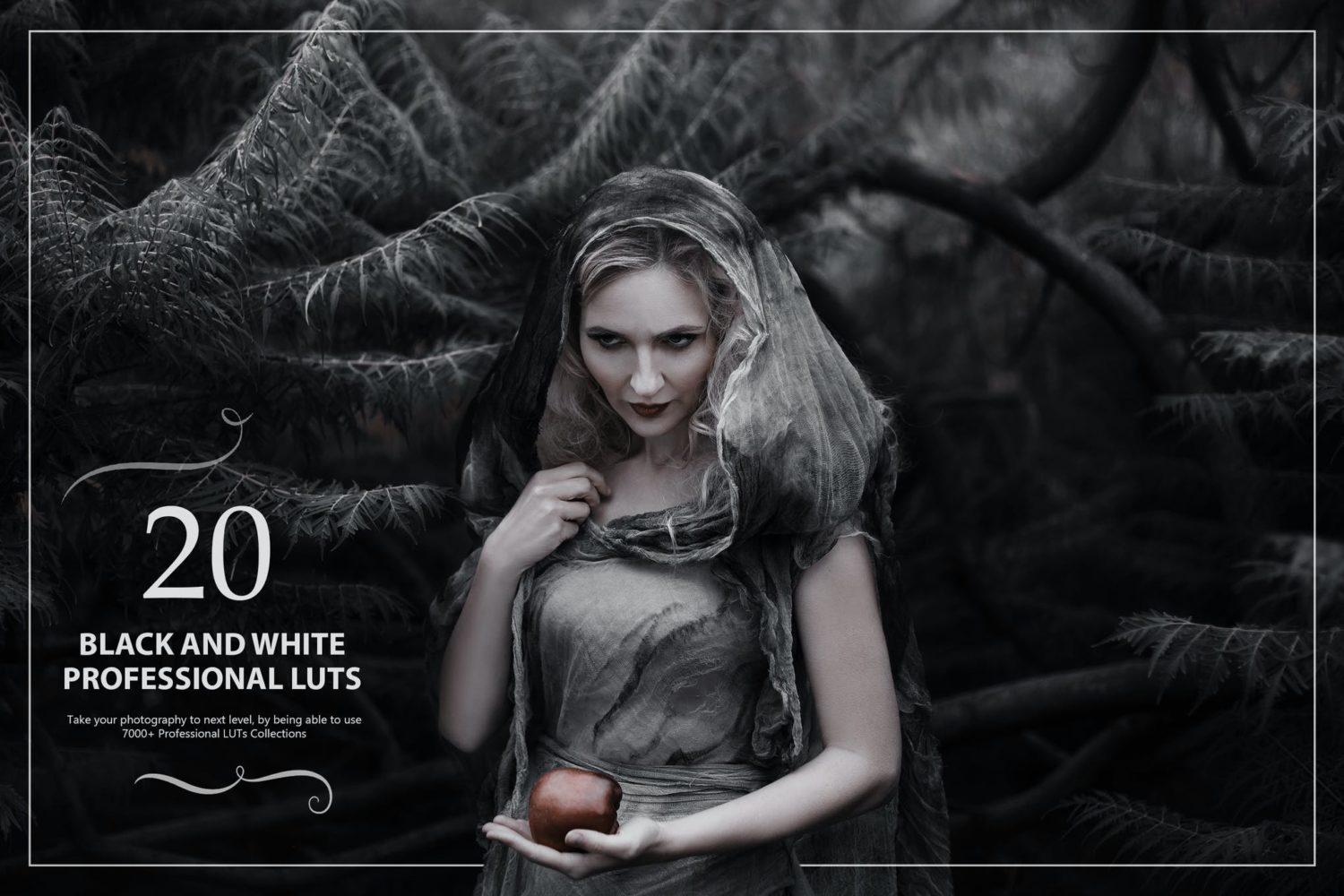 Unlock the ability to quickly create a cinematic film grade photo with this collection of 20 black and white Lightroom presets. Each Lightroom preset has been designed for ease of use, and for a professional finish, with each of them made for specific styles. You'll find everything you need in here, no matter the style of photo you're looking to improve.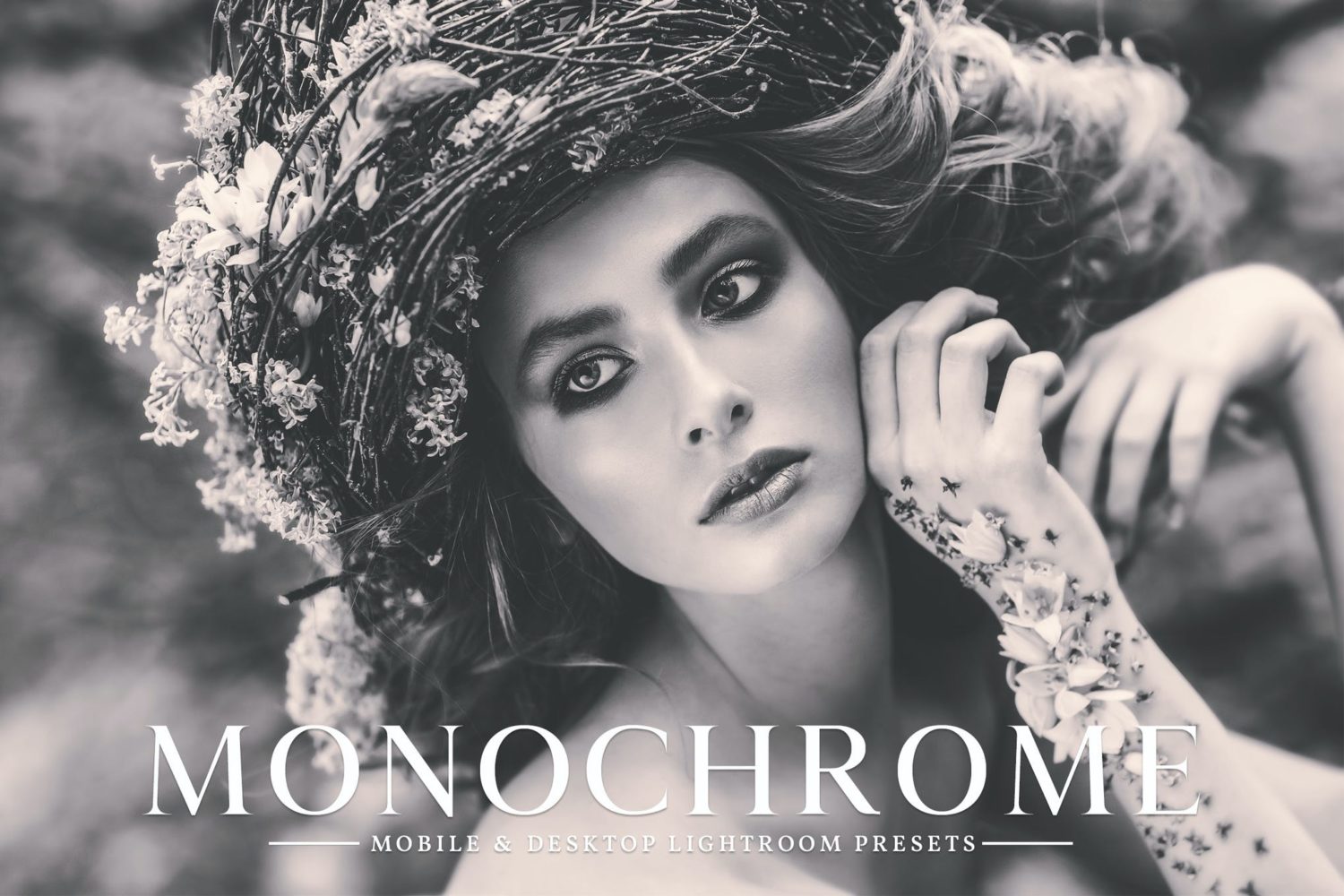 Bring forth the rich tone and cozy warm feel to your photos with a range of 11 different presets, all supported across different devices and software, that aim to provide a deeply contrasted monochrome feel whilst maintaining the color saturation present in the picture.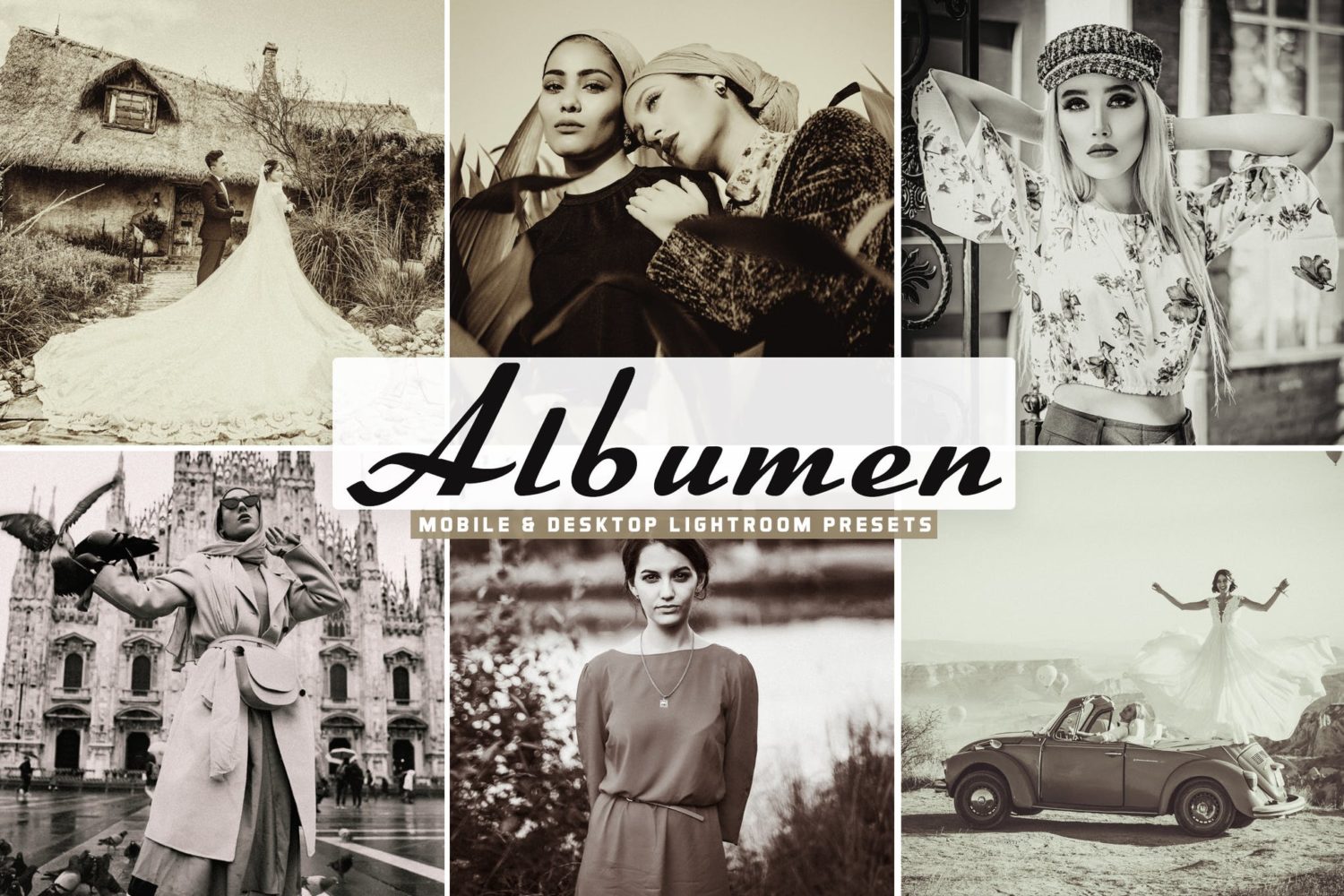 Bring the retro black and white finish to your photos with the Albumen Lightroom preset collection. AIt offers a range of presets with each preset designed for a professional-grade look and impressively simple application.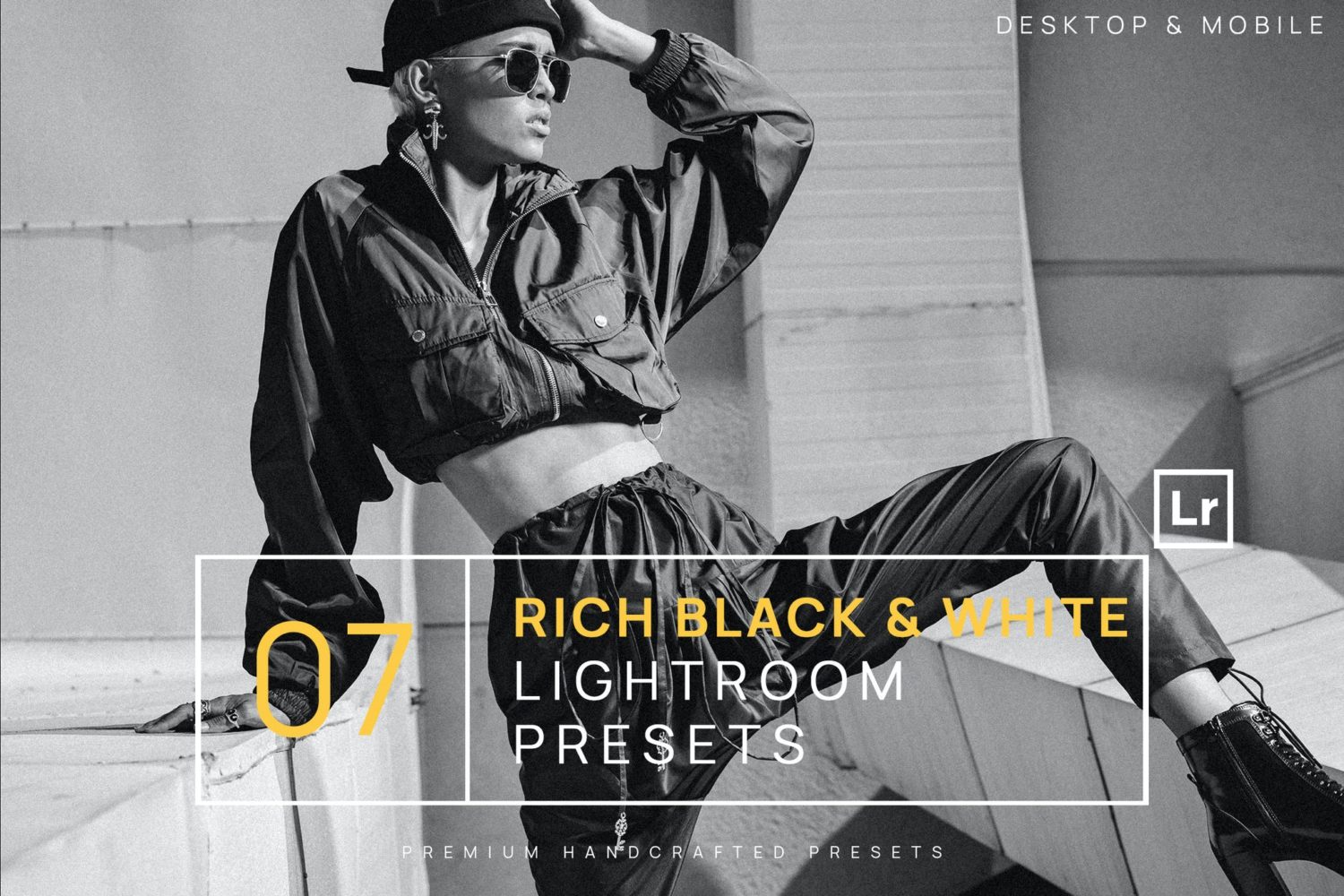 Looking for a deep, rich black and white effect with fantastic volume? Inspired by the original analog film, these 7 Lightroom presets provide a range of stunning B&W presets that will transform your favorite pictures into something magical.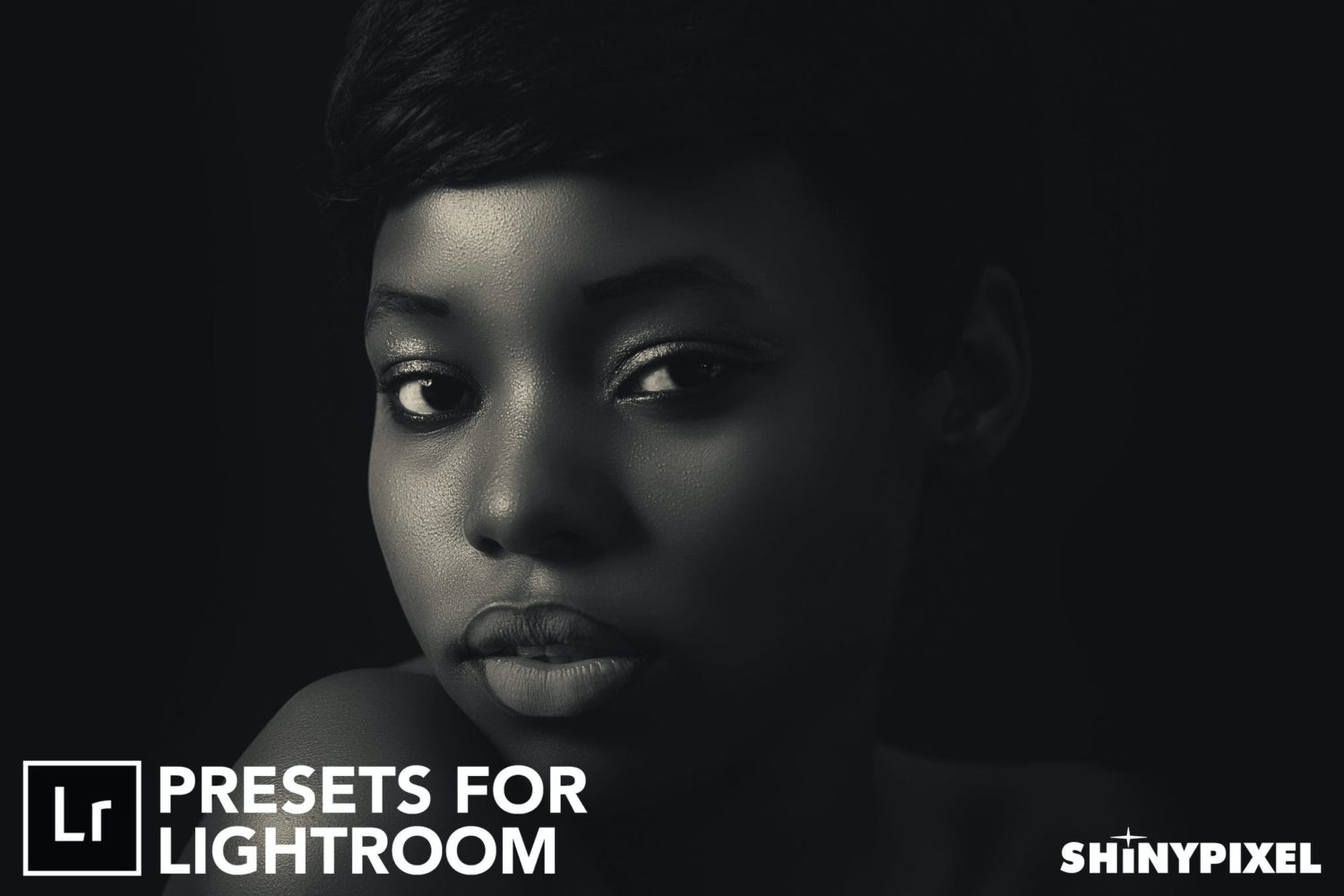 Monochrome is a tried-and-true favorite of photographers all over the world, and now with this Monochromatic Lightroom preset collection, you can take advantage of the same effect. Equipped with 20 different presets, you have everything you need to bring the monochrome aesthetic to the screen in a few simple clicks.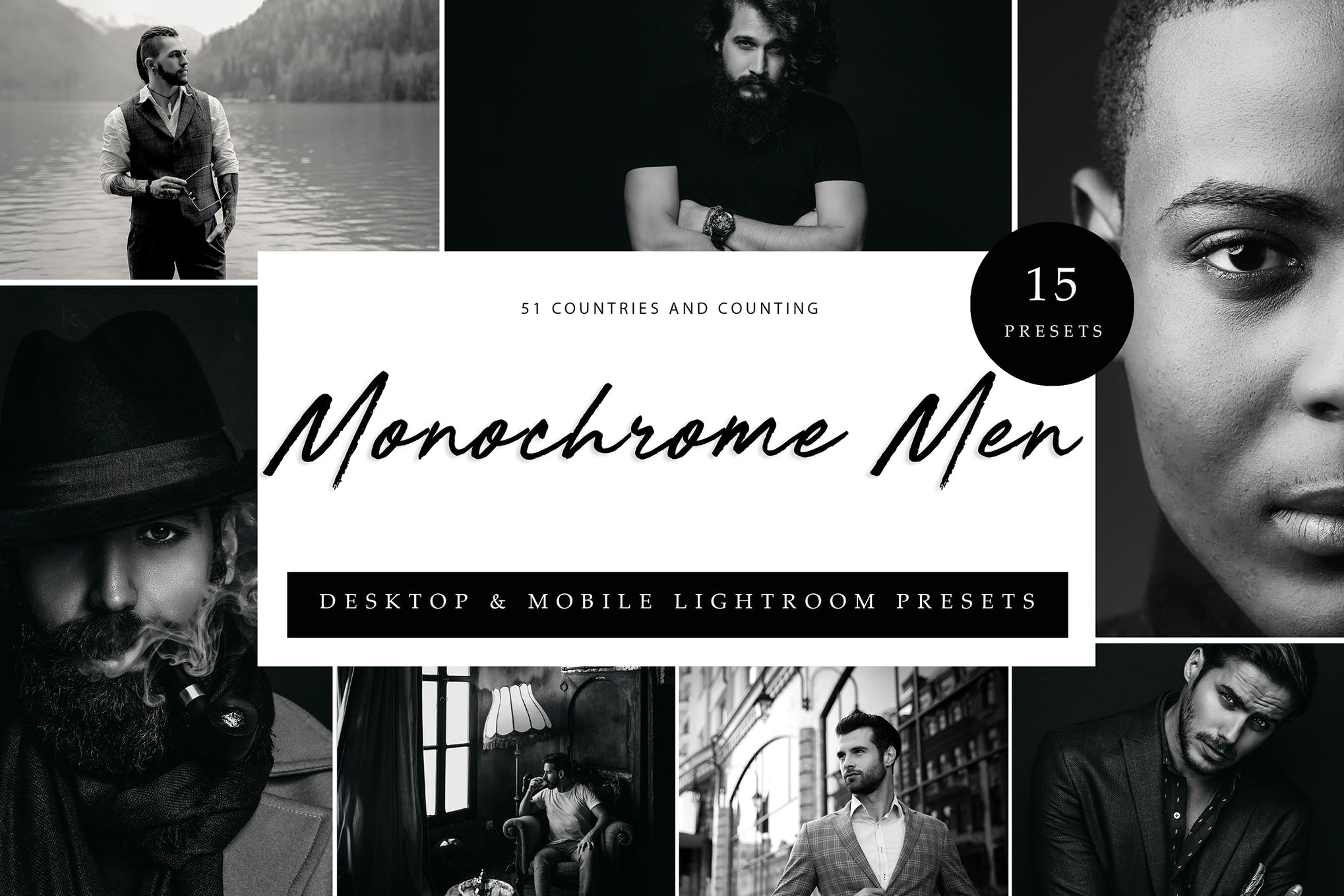 This Pack of 15 x Fashion men blogger presets will take your images to the next level. Go from amateur to pro at a click of a button. Rather than edit each photo from scratch, you can spend your time on the fine-tuning part of the editing process.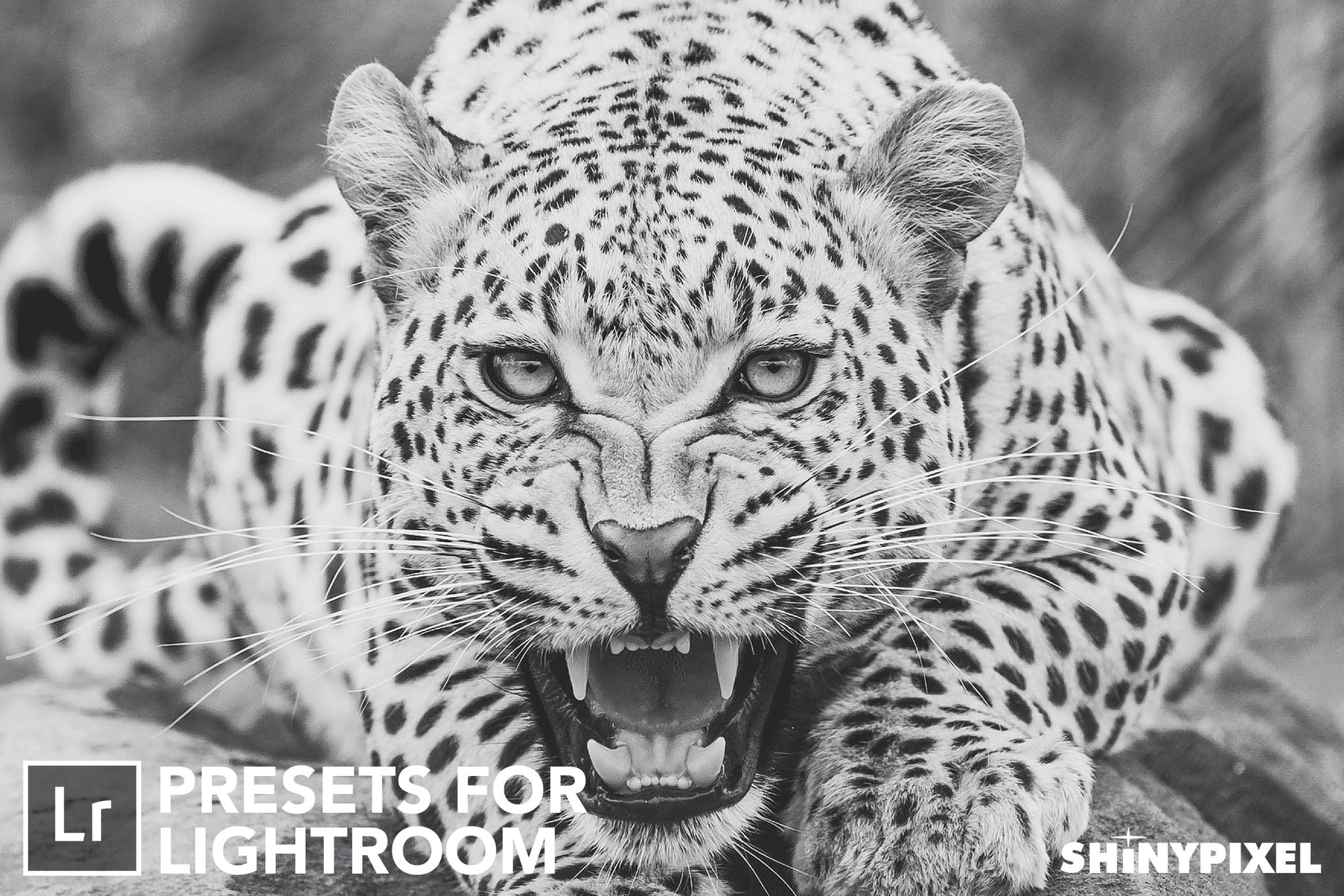 A photographer shooting in black and white has to learn how to use all these elements to create a memorable image. Now you can make it easy using our best 20 presets for Adobe Lightroom to turn your photos into dreaming and stunning black and white with just a click of the mouse.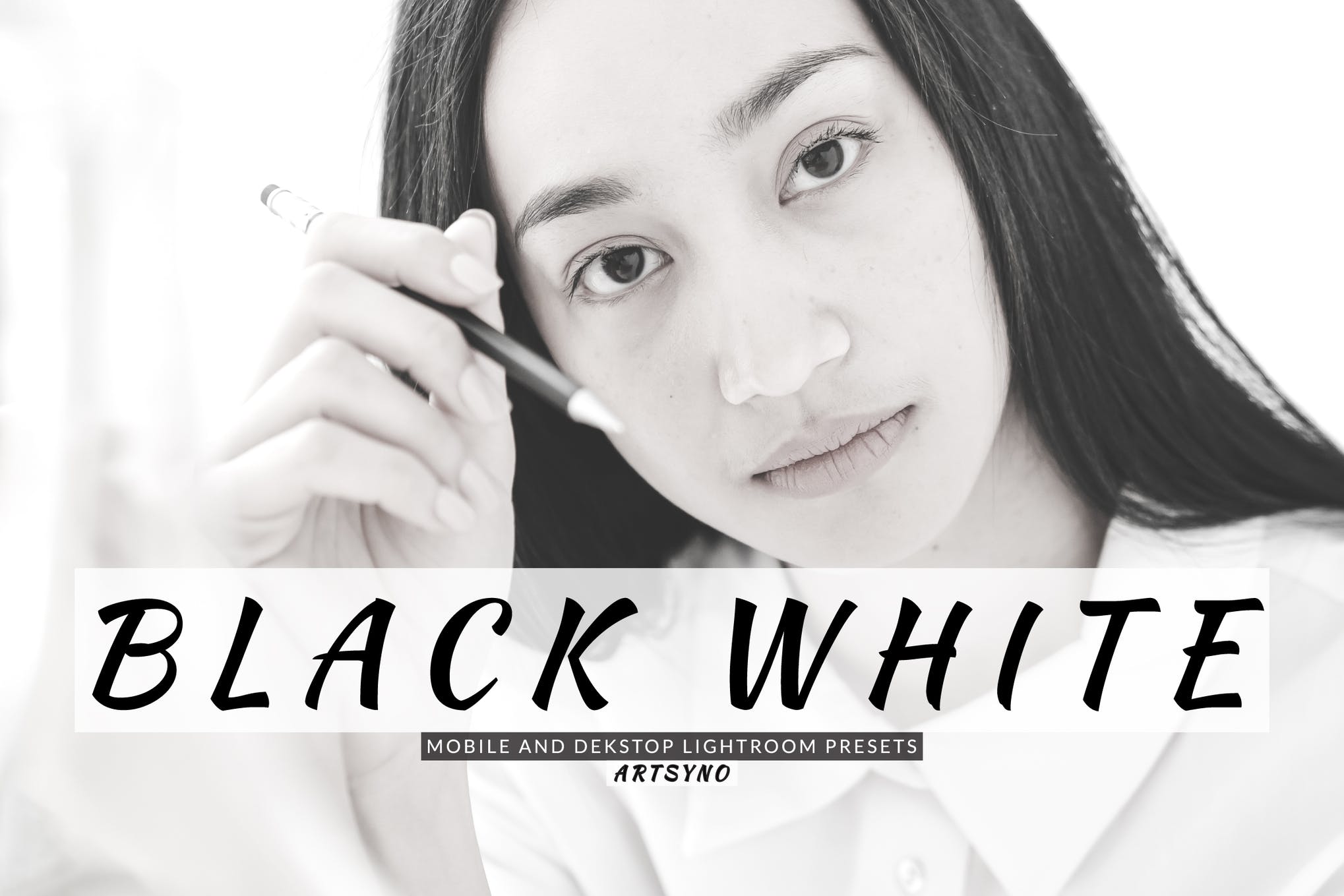 This option is a classic set of black and white presets that's suitable for portraits. Its tones are enhanced to make shots more expressive and to bring out as much definition as possible. It adds a bold look without overdoing it.
Free Black and White Lightroom Presets
Getting the right Lightroom preset doesn't have to cost you a pretty penny. Let's take a look at some free black and white Lightroom presets that we think are something special.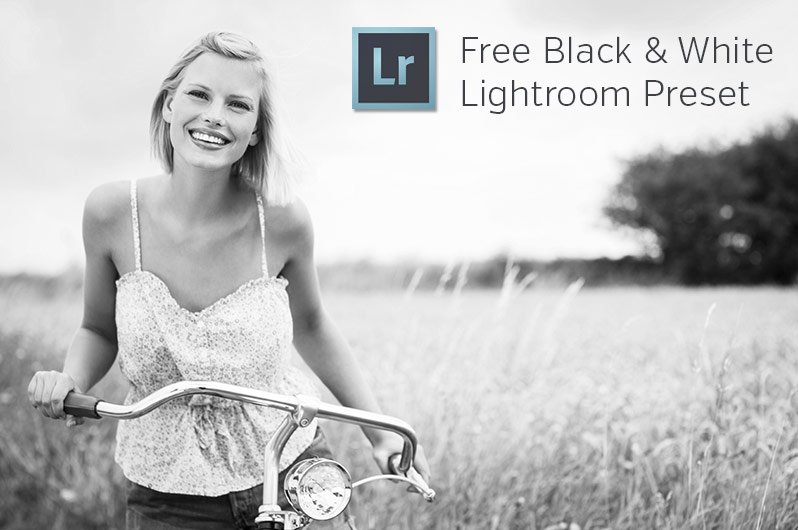 Bringing out a highly contrasted B&W aesthetic can be difficult for traditional cameras. That's why our next preset was created. Compatible with almost all versions of Lightroom, this preset will make those blacks and whites deep, and those contrast lines truly stand out.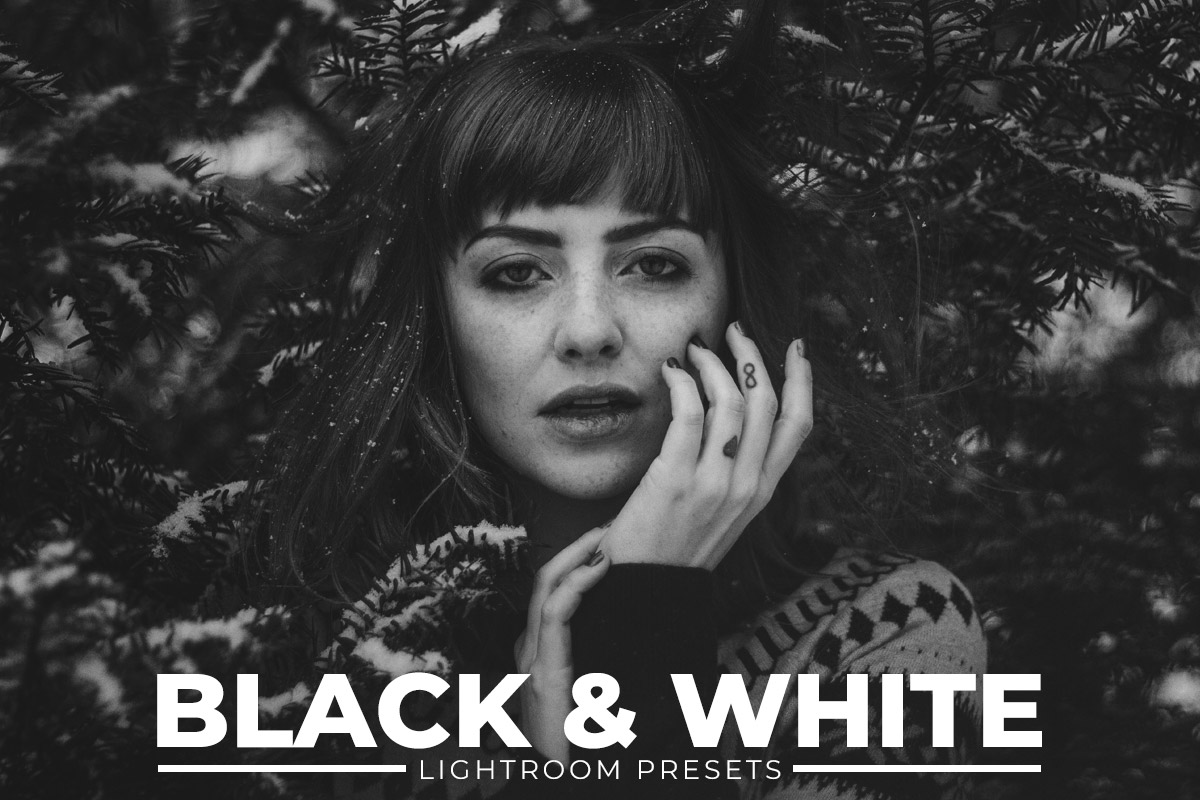 Bring the dark contrast vibe to your photos with this collection of 100 free Lightroom presets. Employing a simple, yet effective monochrome aesthetic, the presets keep the deep contrast lines, whilst enhancing saturated color in the shot to bring out startling definition.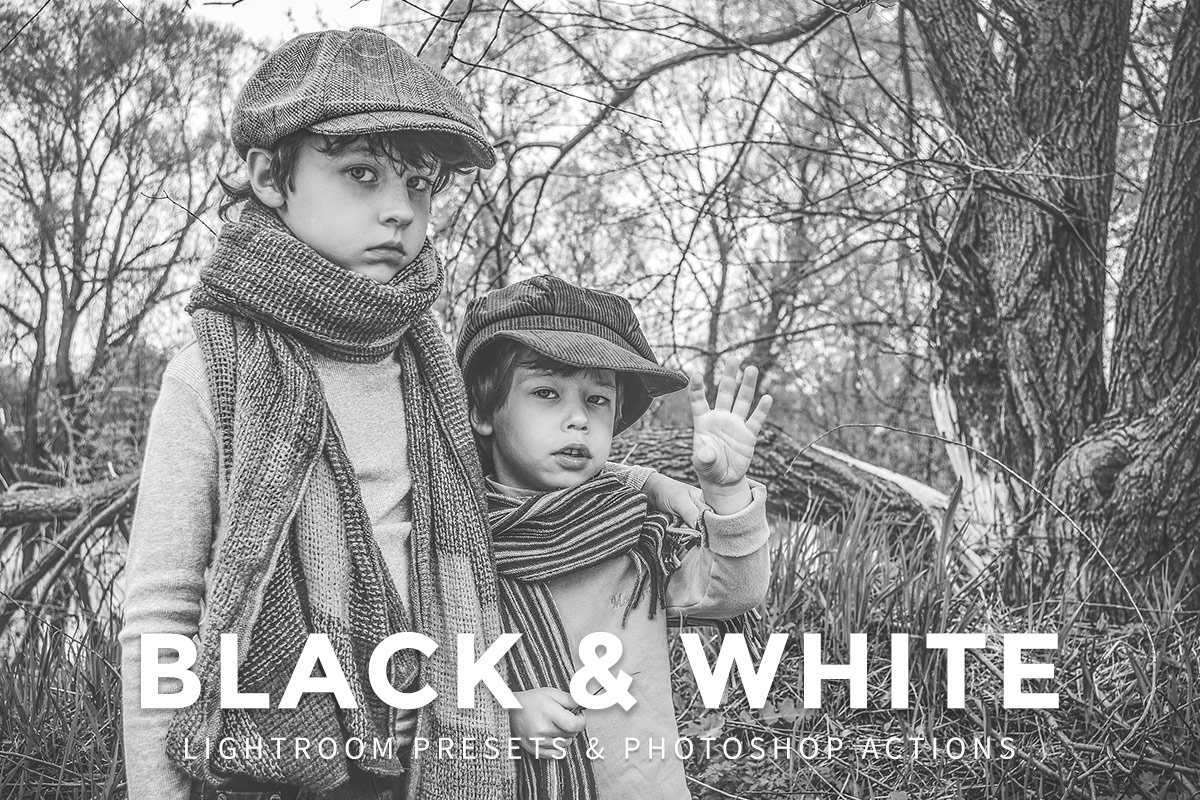 Sharpen up your shots with this set of 10 Black and White Lightroom preset. Providing a captivating style that is sure to improve any picture with ease, this preset is a great starting point for anyone looking to take on a black and white style.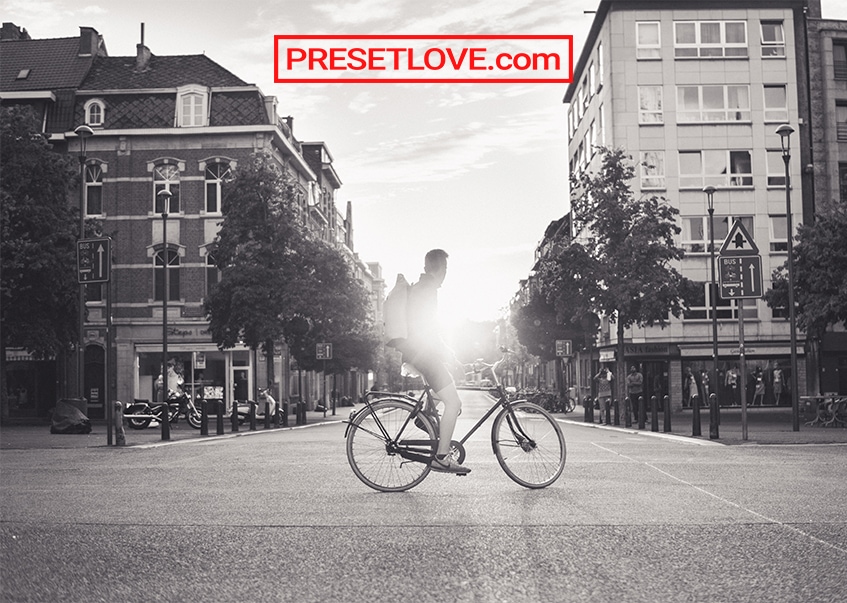 Bring the romantic vibes of the black and white contrast with this B&W Romance Lightroom preset. This preset is able to strip away the color, yet keep all of the definition in the shot providing a wonderful shot in the end!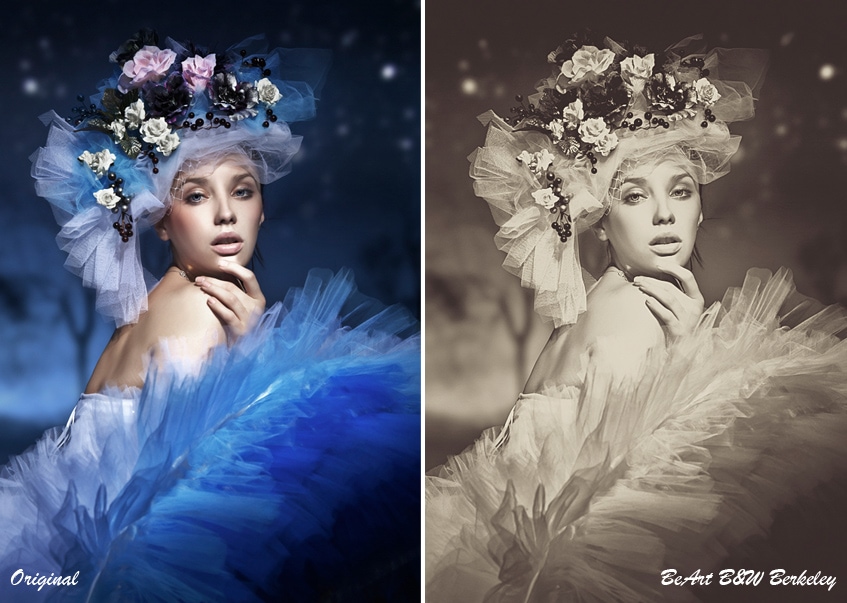 B&W Berkeley is a free black and white Lightroom preset that gives digital photographs a retro film effect. It replicates the unmistakable charm of the old film without the unnecessary grain. Its rich tones will make your photo look refined even in the absence of color.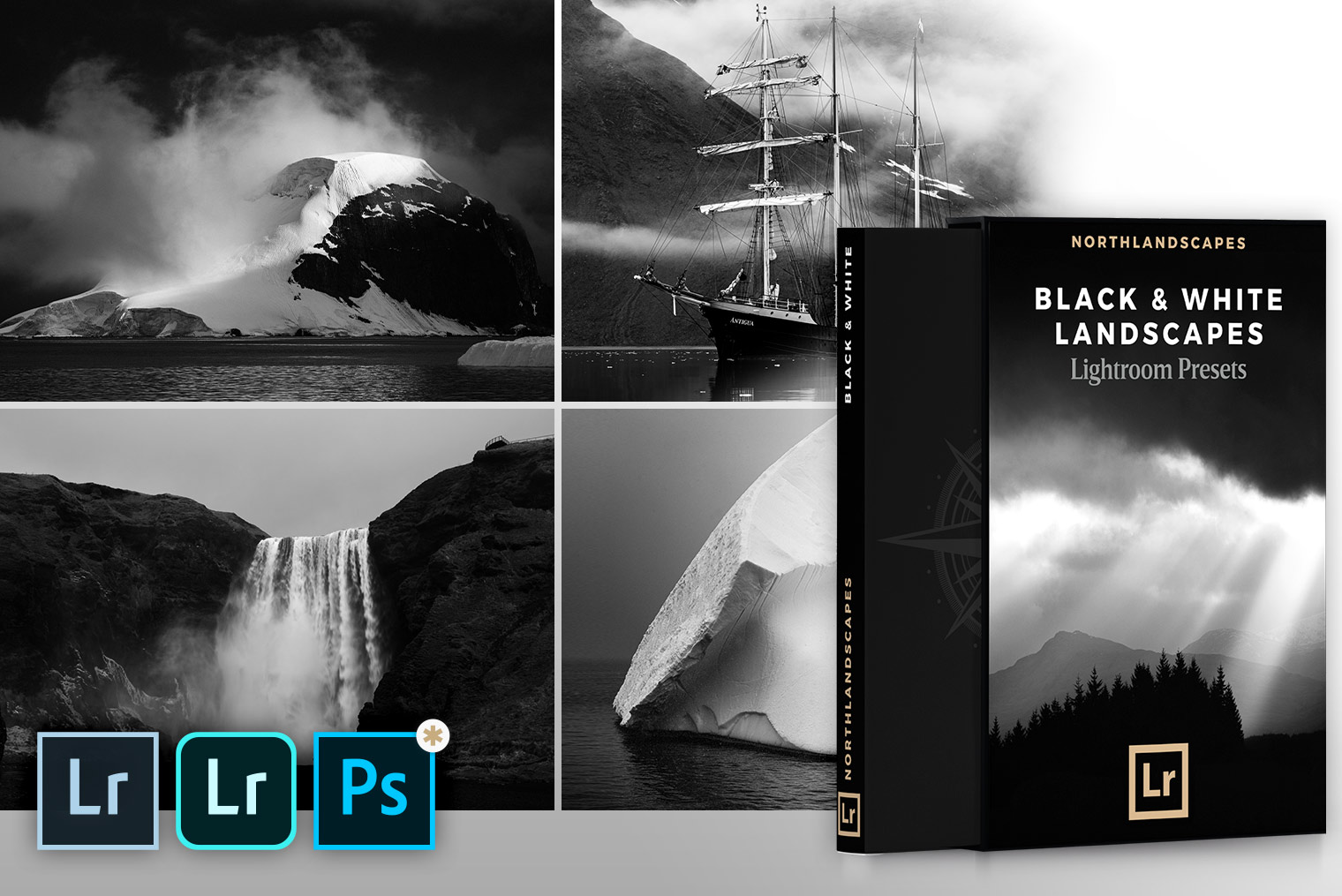 The presets work for a variety of different landscape types, but unfold their full power in coastal, forest and mountain landscapes with clouds, fog or overcast skies.
Enjoy the Simplicity of Black and White Lightroom Presets Today!
Finding the right lightroom preset for the job can be tough, yet now with these beautiful black and white lightroom presets, you have everything you need to create a monochrome beauty!