How & Why to Integrate Twitter & WordPress
Even with Instagram and SnapChat taking over the Internet, Twitter is still one of the top 3 social networks on the web. The micro-blogging social network offers a much higher engagement rate than most other platforms, especially for small businesses and brands.
In fact, over 67% of companies in the US use Twitter for marketing. In addition to promoting products, many brands and businesses use Twitter in fascinatingly creative ways to connect with people and even to provide customer service.
Another effective use of Twitter is that you can use it to increase website engagement and influence your visitors. All you have to do is integrate Twitter with your website.
We're not talking about embedding tweets on blog posts or installing share buttons. You already know how to do that. Instead, in this post, we'll show why you should integrate your Twitter feed on your website and how to do it in WordPress.
Let's begin, shall we?
Reach Over 328 Million Users
Twitter is not as big as Facebook. However, the platform still receives more than 328 million active users on the platform every month. Twitter is also the most popular platform people use to express their opinions. Which makes it the best social network for marketers.
By integrating Twitter on your website, you will be able to influence the many visitors who come to your website by showing that you are actively connected with users on their favorite social network.
This will help you establish trust and show that people can always reach you on Twitter for any questions they have regarding your products or service.
Show Off Social Authority
Building a quality social network profile is not a numbers game. But, it wouldn't hurt for you to have a few thousand followers on Twitter to show off your authority over your competition. Then you can show your followers count on your website as social proof of how others trust your brand.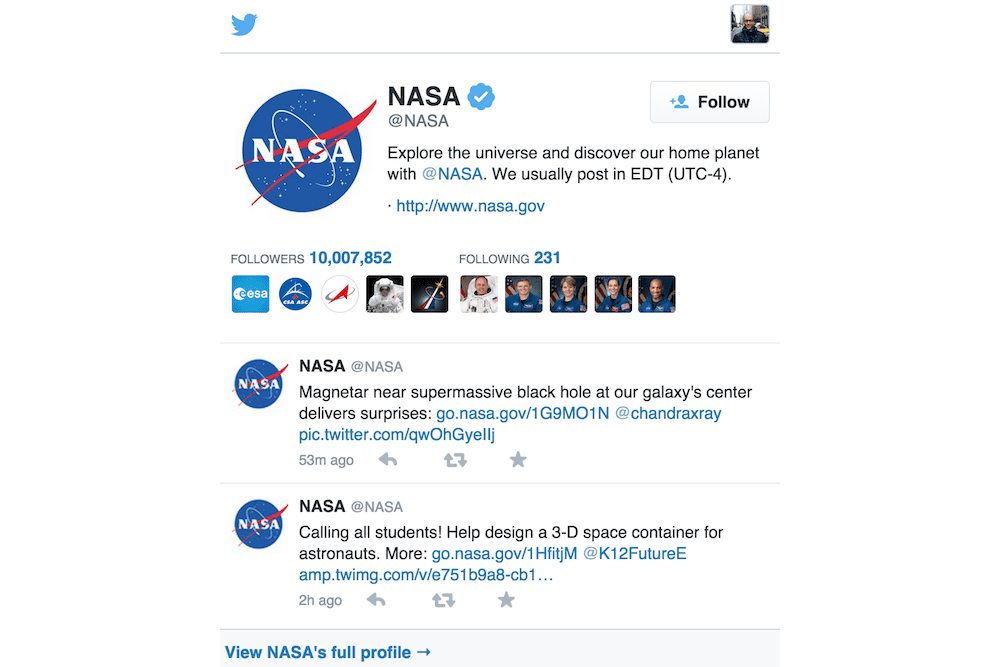 People are influenced by authority and trends. If you see more people buying something, you are more likely to judge the product as a safe-buy. You can use this to your advantage to influence your followers by showing off your big followers count on Twitter.
Use Twitter For Client/Customer Testimonials
Twitter is widely known as a very personal platform where users often share their opinion publicly. Whenever they feel frustrated over something or happy about a service, people are likely to tweet about it.
Many businesses now use these opinionated tweets as customer testimonials and reviews on the websites. Twitter forces users to keep their tweets short and precise, which makes them the perfect testimonials you can have for promoting a product or a service.

You can easily curate these tweets using hashtags. Most Twitter WordPress plugins let you filter tweets by hashtags or show handpicked tweets. You can also use a plugin like Tweetlab to create a Twitter testimonial widget on your website.
Make Sharing Easy
Adding a share button is not the only way you can let people share your blog posts on Twitter. You can also add Tweet This function to your website to allow users to share links while quoting phrases from your blog posts.

When enabled, this feature lets you create tweetable quotes in your blog posts, such as quotes by famous people, statistics, and tips. Your visitors will be able to instantly tweet the quoted text to their followers by clicking on a button.
There are plugins that also enable this same feature for creating tweetable images as well.
Automatically Share Your Blog Posts
If you regularly publish a lot of blog posts on your website, sharing the links on Twitter each time you hit publish can be a time-consuming task. You can automate this task to save time by connecting your Twitter with WordPress.

The JetPack's Publicize tool is the easiest way to get this done. Once connected, this tool will automatically share your blog posts on Twitter and Facebook whenever you publish a new post. This will save you a lot of time that goes into scheduling and copy-pasting links into Twitter.
How To Integrate Twitter Into Your Website
There are several ways you can integrate Twitter with WordPress websites. If you're good with code and APIs you can use Twitter's Publisher tools to create different types of widgets to embed on your website.
Or, there are two easier ways to connect Twitter with your website.
1. Use A Plugin
Using a plugin is the easiest way to integrate Twitter. Different types of plugins let you connect Twitter with your website in different ways.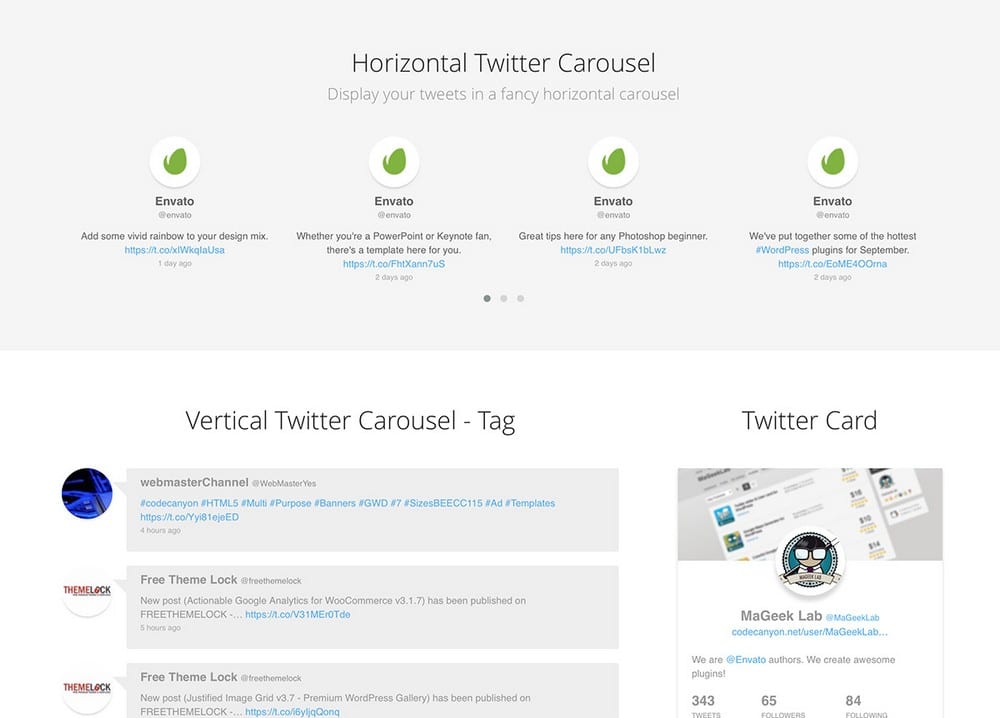 Here are a few examples:
2. Get A Twitter-Enabled WordPress Theme
Even though plugins are cheaper and easier to install, most of them won't fit in well with existing themes. Their designs may look different and often feature limited customization options. Switching to a better theme would be the ideal solution.
If you're in the market for a new theme, then be sure to look for a theme that comes with built-in support for Twitter. These themes include built-in Twitter feeds and widgets that blends in well with the design.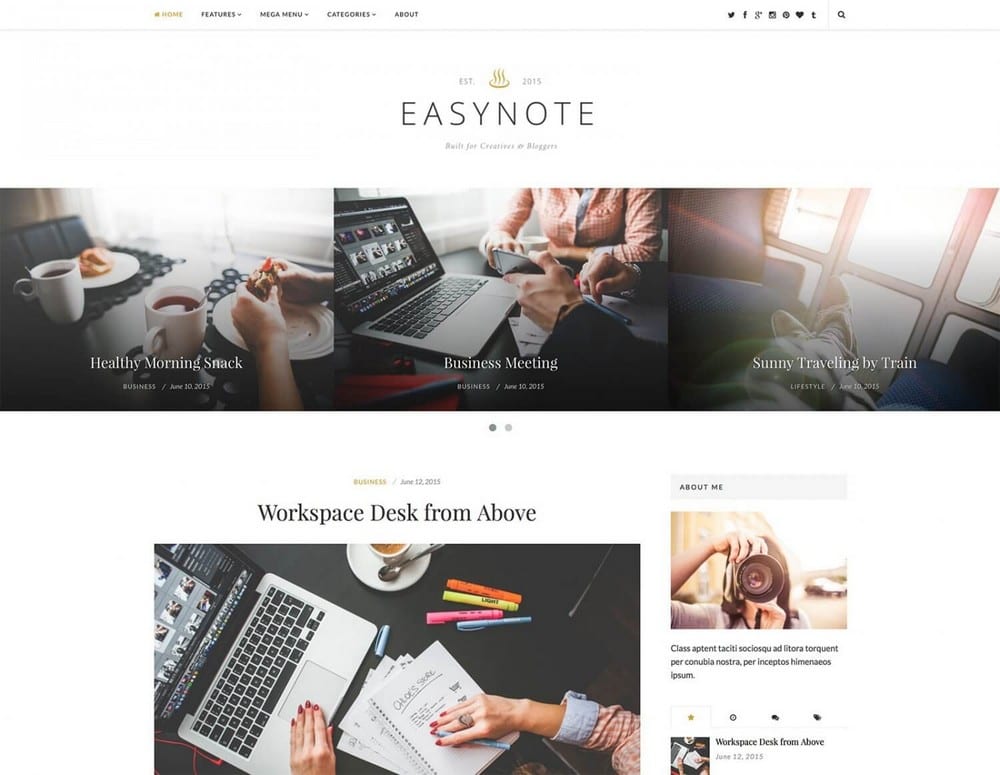 EasyNote is a great example for a WordPress theme that supports both Twitter and Instagram.
Tips For Making It Work
Even if you've found the perfect way to integrate Twitter with your website, you also need to follow a few steps to make sure your efforts don't go to waste.
Update Regularly: Keep your Twitter feed updated regularly with relevant content and links to ensure the feed on your website always show fresh tweets.
Curate Your Feed: Filter your website Twitter feed based on keywords or hashtags to show only the best and positive tweets on the website.
Use Hashtags: Encourage users to use unique hashtags when tweeting about your product so that they will automatically appear on your website's Twitter feed.
Personalize and Be Human: Last, but not least, don't automate your Twitter feed. Be human and connect with your followers.
Summary
Twitter can be a great marketing tool both on and outside the social network. Connecting your Twitter presence with your website can only bring you positive results.
If you're looking for a plugin or theme to integrate Twitter with your website, check out our handpicked collection of the best Twitter widget plugins and themes for WordPress.