15+ Best Twitter Widgets & Plugins for WordPress 2019
We've collected the latest and best Twitter widgets and plugins for WordPress, to add Twitter likes, follows and tweets to your website. Either choose from one of the top plugins to add Twitter functionality to any theme, or choose a WordPress theme that's already built with Twitter in mind!
It's a social network that has grown to be one of the largest platforms on the web, and a key way to connect with your customers and community. But why should all the action happen on Twitter? Pull your latest tweets into your website, and encourage your readers to connect with your Twitter account while they're on your site.
You can read more about how and why to integrate Twitter and WordPress, or read on to see our pick of the best ways to mix Twitter and WordPress!
Why Integrate Twitter & WordPress?
There are a few key types of integration you might want to consider, both for showing tweets on your site, or getting your blog content out into your Twitter stream:
Show Your Latest Tweets — Pull in your latest social media posts and show them in your sidebar, footer, or in another type of widget
Show a Profile Widget — Just show your Twitter avatar, handle, and a link to your profile on your site
Push Your Latest Posts to Twitter — Go the opposite way, and have Twitter automatically publish a link to any new post you publish on WordPress (pulling information from your RSS feed)
Whichever of these you choose to try, there are a few plugins that can help make the process simple:
Twitter WordPress Plugins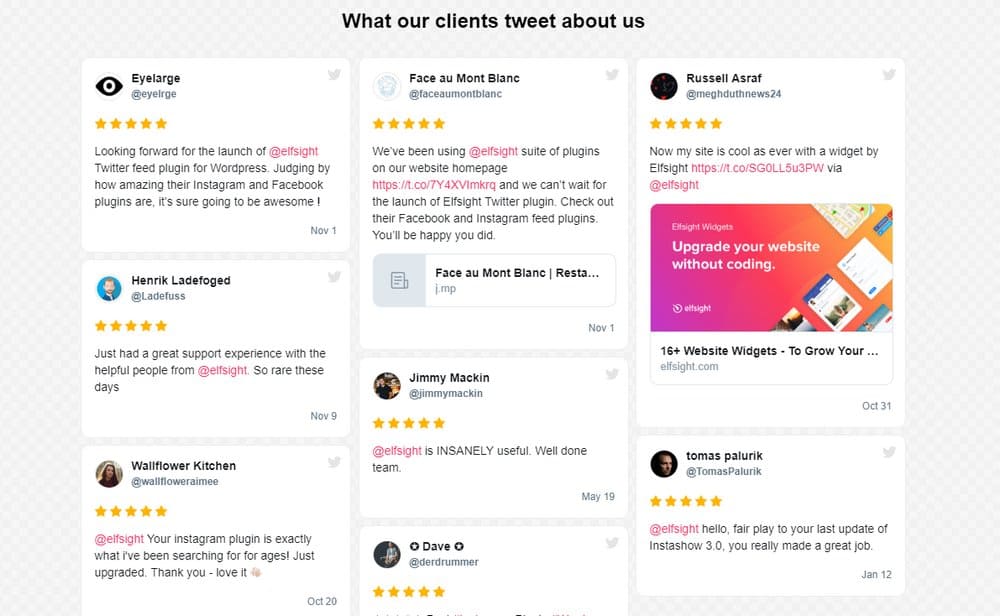 Twitter Feed is a sleek new plugin that allows you to integrate Twitter with your WordPress website to take advantage of the popular micro-blogging platform in many different ways, including Twitter testimonials and feeds.
The plugin lets you integrate Twitter with your website directly to embed Twitter profiles, hashtag feeds, Tweet grids, and more. It also includes a useful option for including Twitter testimonials anywhere on your website.
Twitter Feed plugin also comes with a WPBakery page builder widget, which you can use to embed Twitter feeds and posts when building new pages on your website.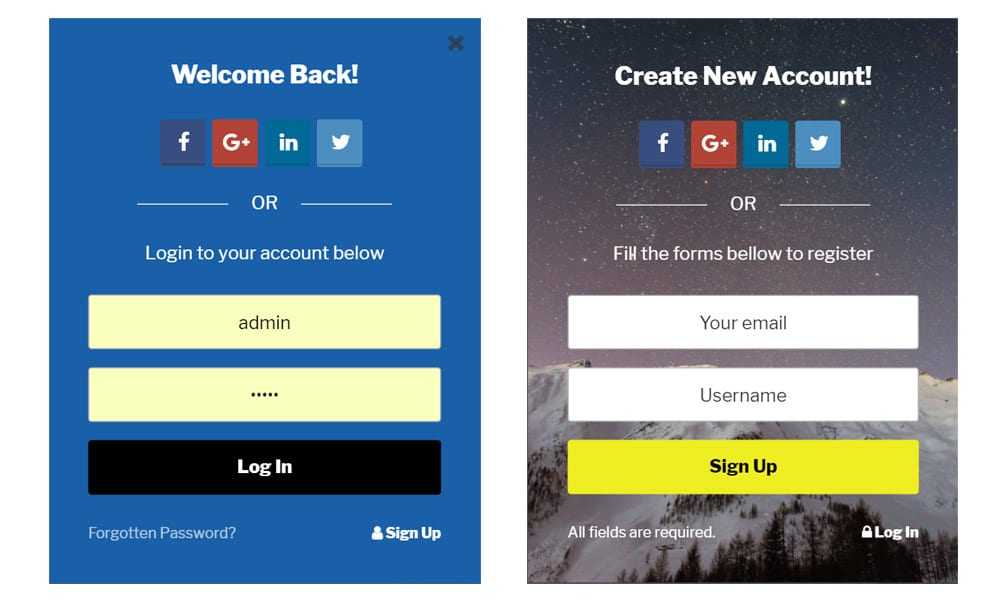 BS Input is a powerful WordPress plugin you can use to easily setup user registrations and a login system on your website. With this plugin, you'll be able to allow visitors to register an account on your website with either their email or using a social media account. The plugin supports Twitter, Facebook, LinkedIn, and Google Plus.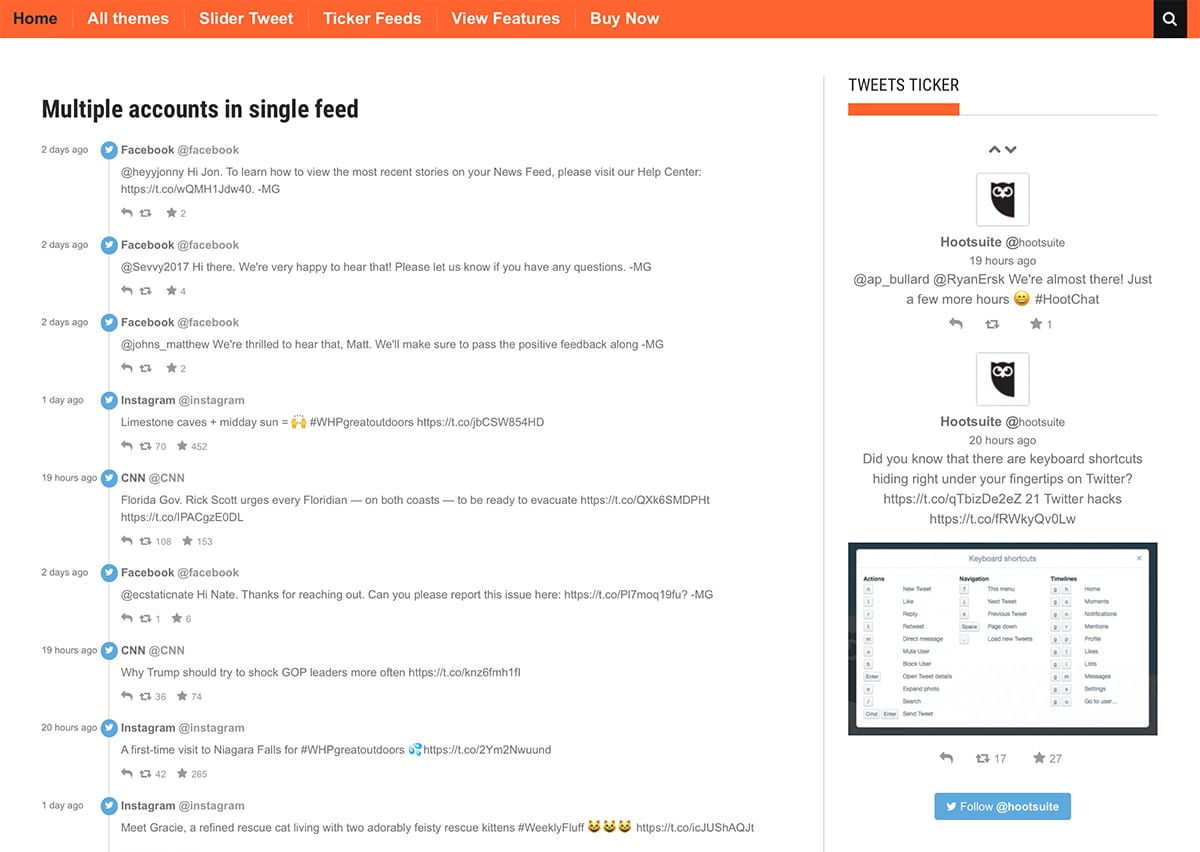 Choose from one of twelve different Twitter feed and post templates. Pull in the latest tweets from a single account, or multiple accounts, and choose how many tweets you want to display. Layouts include a classic Twitter timeline view, and various different design options.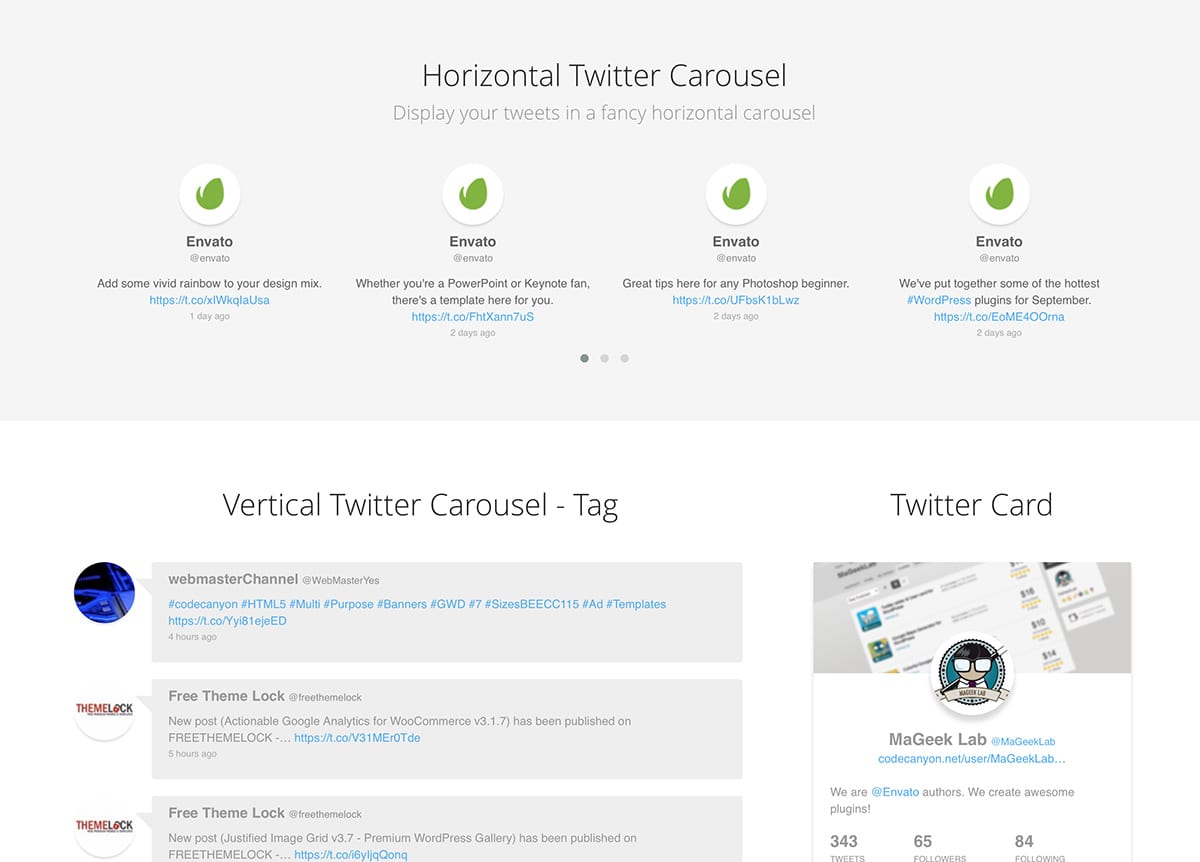 This is a full-featured plugin which can display your tweets in a stylish way with a Twitter slider — either showing a user, search, or a hashtag. As well as the slider option, you can also show tweets in a more traditional widget, or show a Twitter profile card.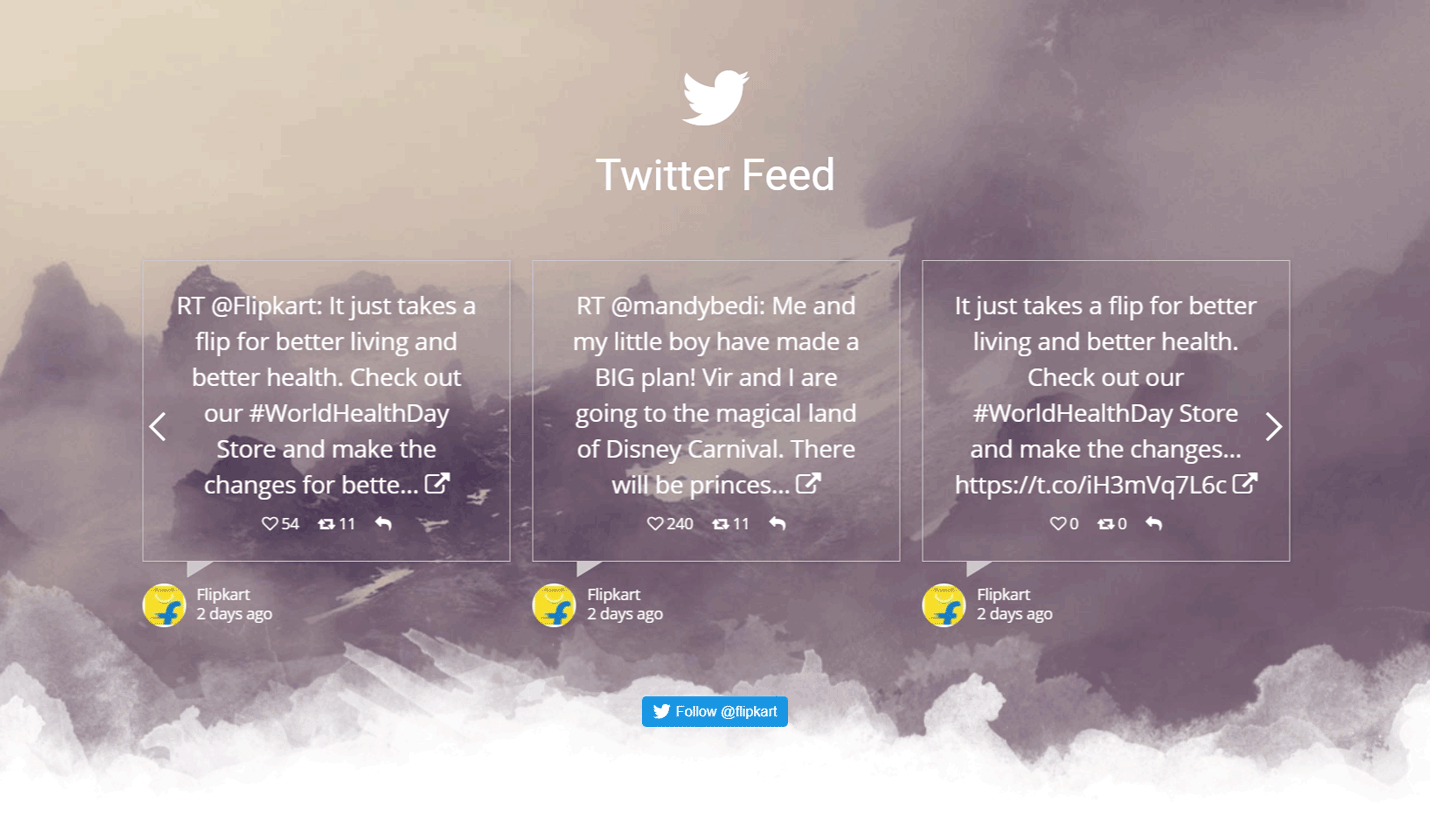 The Twitter Feed Grid With Carousel for WordPress plugin makes it very easy to integrate your website with this popular social network. After entering a few details about the content you'd like to display on your site, this plugin will let you choose from a selection of templates that define how the Twitter content is presented. In addition to the pre-defined templates, this Twitter plugin has good customization options for giving your feeds a bespoke look.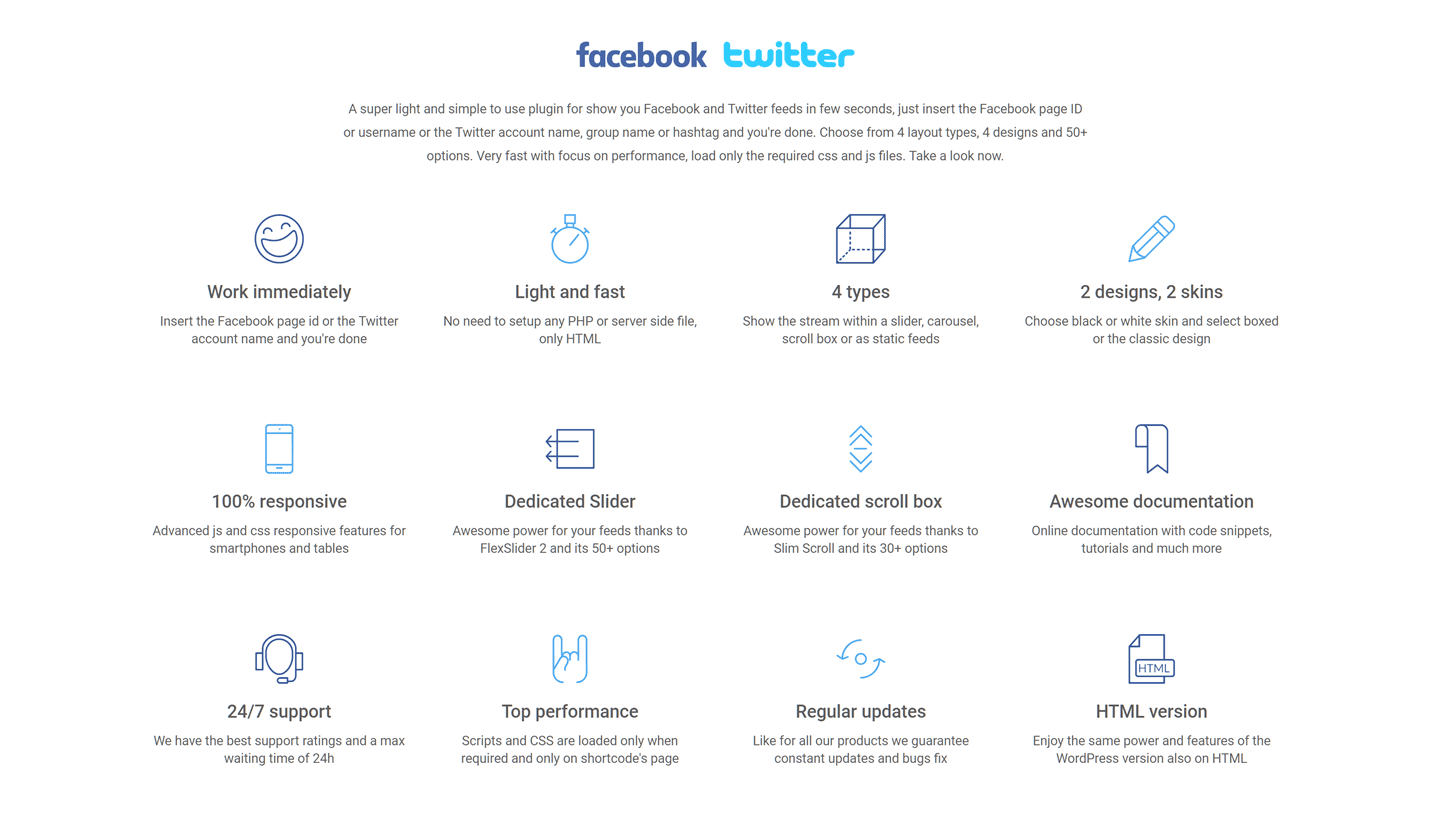 Social Rail is another of the best Twitter widget plugins for WordPress that also integrates with Facebook. Once you've installed this plugin, you can quickly start displaying the feeds and content from those social networks, with a range of presentation layouts to choose from. As this plugin is fully mobile responsive, the feeds will look great on smartphones, tablets, and all types of devices.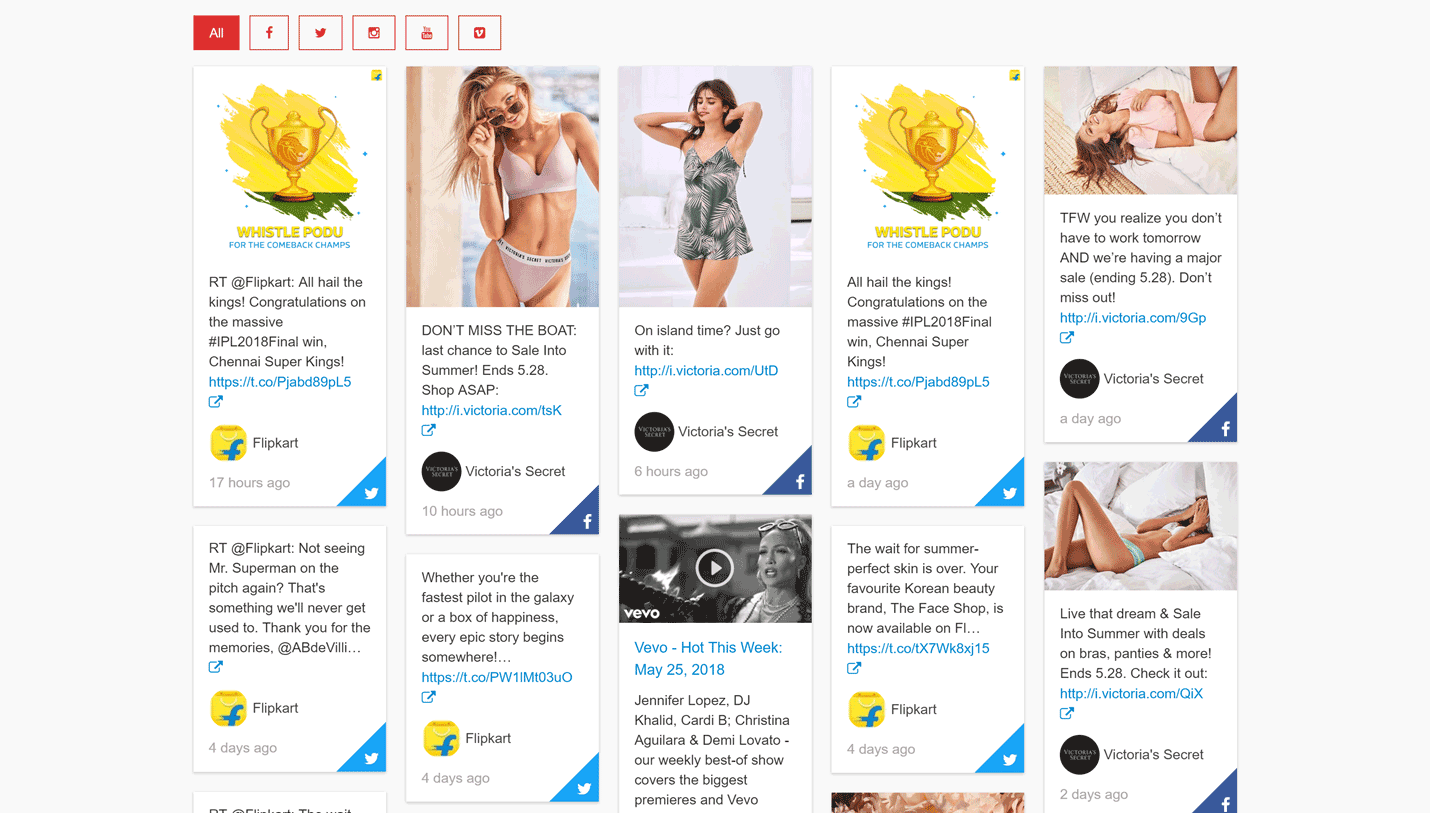 Social Stream for WordPress will display content from multiple social media platforms and accounts on your website in a stylish and mobile responsive layout. You can also add YouTube and Facebook pop-ups to your website, giving you another way to integrate content from these networks into your WordPress site.
Twitter-Enabled WordPress Themes
Here are four themes we've previously featured in Theme Junkie collections, all of which make it easy to add Twitter support without the need for any widget or plugin!