How to Simplify Website Design With Elementor's Full Site Kits
Building a website is a fun task. Whether you're an owner or a designer, the ability to play around with different elements and create an electronic version of your vision is fulfilling. However, the design process can turn into a nightmare if you're not careful.
Specifically, fixing errors and ensuring your website performs at a high level is a tough task. For instance, designing a good-looking website is easy. However, if you discover that the page load speeds are high, where do you begin?
Design tools like Elementor remove the stress from the site creation process. Now, thanks to the release of its Full Site Kits feature, Elementor has simplified website design even more. Here's how this feature helps website designers and owners alike.
Fast Starts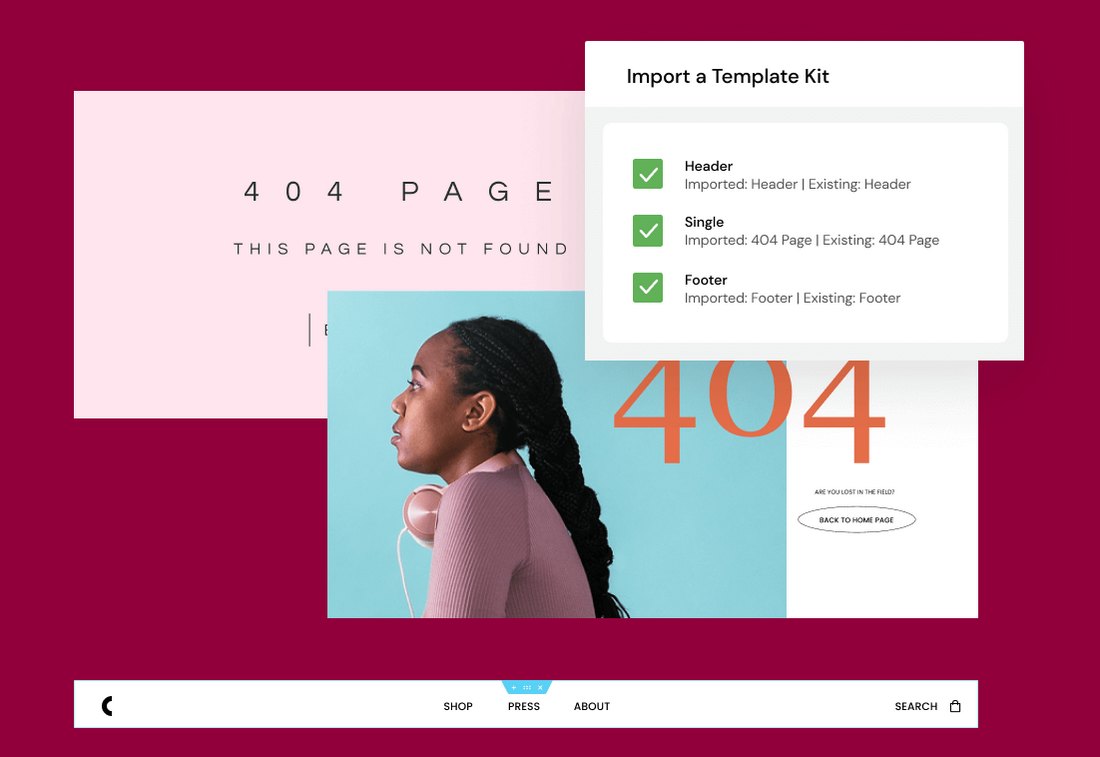 A common problem website designers run into is beginning from scratch every time they start a project. Let's say a fitness website designer has finished working on a client's site and begins another. Many elements carry over from one client to another. In this instance, the client will need a members-only area, a scheduling tool, and a courses page if applicable.
Instead of designing everything from scratch, the Site Kits feature allows designers to create a template that can be applied to multiple projects.
While the exterior design elements such as color schemes and asset organization will differ, many under-the-hood elements are the same. Instead of designing everything from scratch, the Site Kits feature allows designers to create a template that can be applied to multiple projects.
By creating a bare-bones design template that incorporates all of the common elements in a niche, designers can quickly deploy their client's websites and potentially onboard even more prospects. This feature will be of great help to designers who work across multiple niches and find themselves switching between them all the time.
In such cases, the time designers save impacts their ROI directly. Elementor makes it easy to refine these templates as a niche evolves. Thus, designers can quickly deploy new features and elements to client websites instantly, without having to worry about coding complex changes into every single project.
Endless Exportability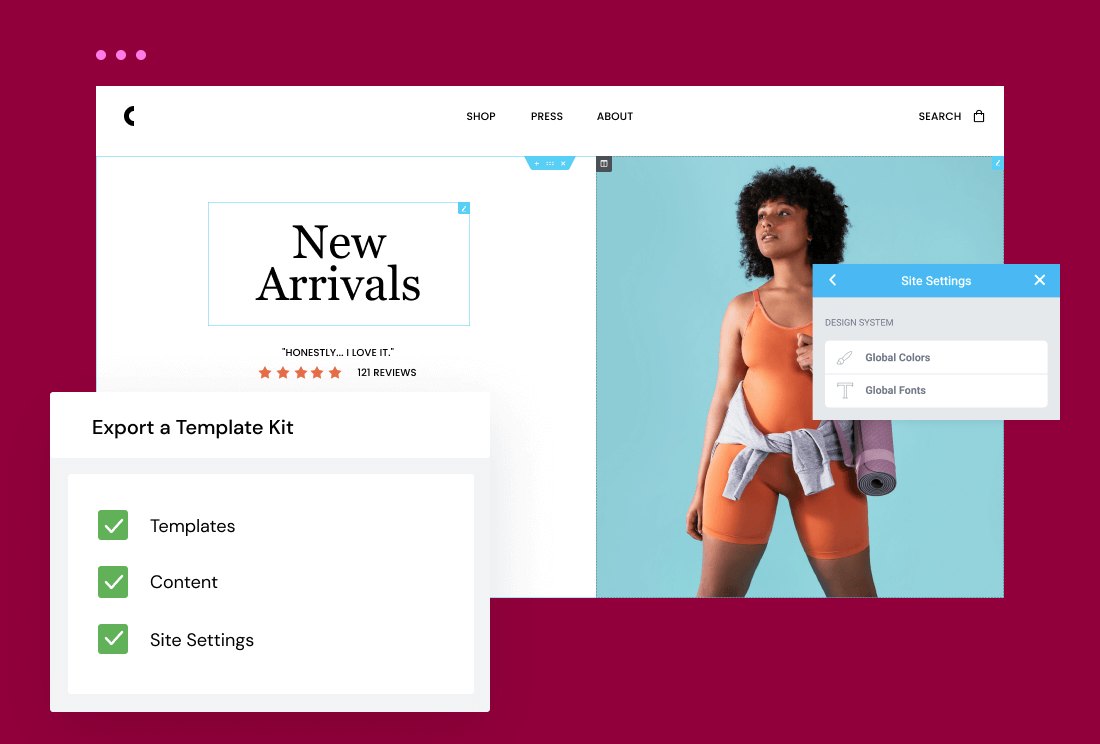 Many website owners have a vision for how their site or brand ought to look. For instance, a business owner might want to expand their principal business into another niche. In this instance, they will want to hang onto the original color schemes and branding, while configuring their new website for the new niche.
Traditionally, this is a tough task for a designer to take on. Not only do they have to design a new website from scratch, but they also need to replicate an older design. This can lead to performance issues since some elements might not mesh well with the current state of the web.
Site Kits solve this problem by allowing owners to redeploy older designs to new projects. Thus, the designer can instantly recreate the new website from the old one's parameters and look under the hood to spot where code changes might be needed. For instance, the older website might be referencing outdated JavaScript and CSS libraries instead of relying on native browser support.
By changing these back-end settings, designers can preserve the front-end UI and avoid disruption. The result is quicker go-to-market times that please owners and builds a designer's reputation positively. Stakeholders can even define global variables across their websites to ensure continuity is preserved, thereby eliminating costly and pointless copy and paste design jobs.
Variable definition extends to the back-end as well. Designers can endlessly customize their designs and define CSS templates that enhance performance. Thus, every design is optimized before the project even begins.
Endless Inspiration
One-off website design projects tend to be a hassle since a lot of the work that goes into them is never replicated. The best way to approach them is to use a template and customize it.
While WordPress has a huge template library, many of them lack performance-enhancing features. Furthermore, many templates are outdated and are overdesigned, leaving the user with a clunky website once finished.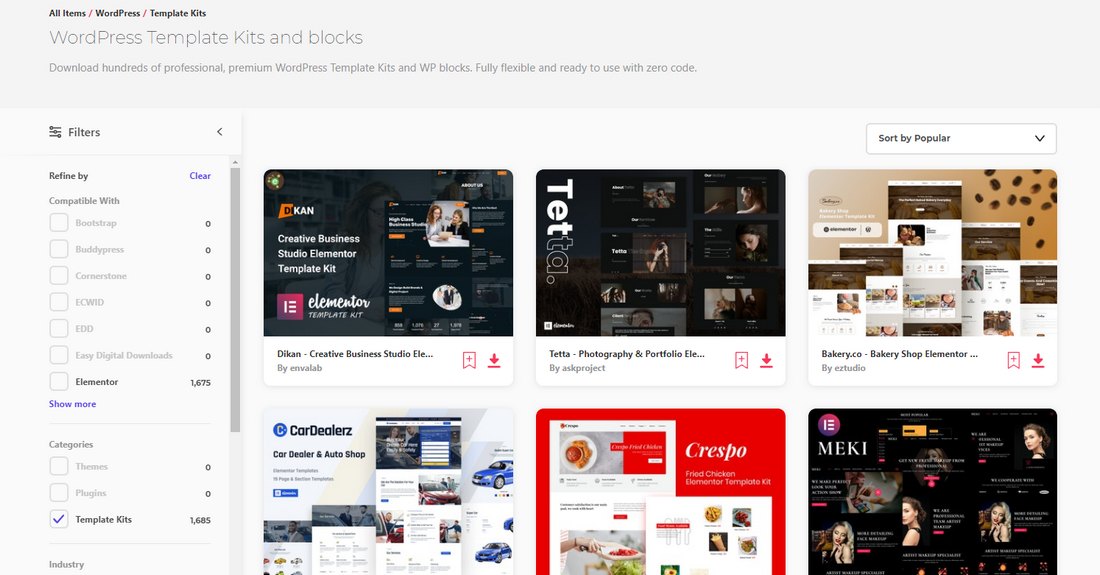 Elementor has solved this issue by providing an almost endless template library that caters to businesses of all kinds. For instance, an eCommerce business owner can browse through these templates and pick one that suits their niche the best. A photographer can pick from an endless array of portfolio websites, all designed to cater to their specific needs.
Best of all, these templates are optimized for performance thanks to sophisticated backend features. For instance, all Elementor templates are coded to minify HTML and CSS and allow designers to insert custom breakpoints. These features come prepackaged and non-technical users don't have to do anything other than customizing the template's front-end for their needs.
The result is a smooth website creation process that appeals to everyone.
Sophisticated Tech That's Easy to Use
Elementor is famous for its focus on website performance, and this might lead users to think they'll need technical knowledge to gain maximum performance. However, the opposite is true. Thanks to Full Site Kits bundling everything into a single package, designers and owners can rest assured that their projects adhere to best practices and look great.
Looking for WordPress hosting? We use Kinsta. They offer world-class WordPress hosting, built to keep your website fast, secure, and always online.