How to Set Up a Hotel WordPress Website
When it comes to promoting a hotel online, a website can provide you with many great opportunities. For most new hotels, the cost of website development can be a problem. In this guide, we aim to solve that problem by showing you how to build a professional hotel website on a tiny budget.
Many modern hotels often spend thousands of dollars on web design agencies to build websites that end up with flawed designs filled with bugs. Even the websites for the most luxurious hotels still use outdated designs that aren't even compatible with mobile devices.
According to Google's new algorithm, every website must be mobile-friendly to avoid search ranking penalties. Since more people are now using mobile devices to browse the Internet than desktop users, your website has to look great on mobile devices to meet the demand
So, how can you setup a website for your hotel without spending thousands of dollars that also looks great on all types of devices? You can use WordPress for that job. Keep reading to find out how.
Get everything you need to build your next website with one simple subscription. From $16 per month, get unlimited access to nearly 2 million WordPress themes, web templates, fonts, graphics, and photos.
Why Every Hotel Needs A Website
What's the first thing you do when planning a long trip or a vacation? You obviously start the search on Google to find the best hotels in your travel destination, right? Guess which hotels come up on top of Google search? Hotels that have websites, of course.
Having a website is more than just about making your hotel more discoverable on Google. It's mainly about providing a platform for your potential clients to learn more about your hotel's features, services, and facilities as well.
Another great reason to have a website is to have a simpler booking system to allow your potential customers to easily reserve a room on your hotel without having to spend half an hour on the phone with your hotel receptionist.
In addition, having a professional looking website will also help your hotel establish authority over the competitors and bring in more customers and business.
Is WordPress The Right Choice?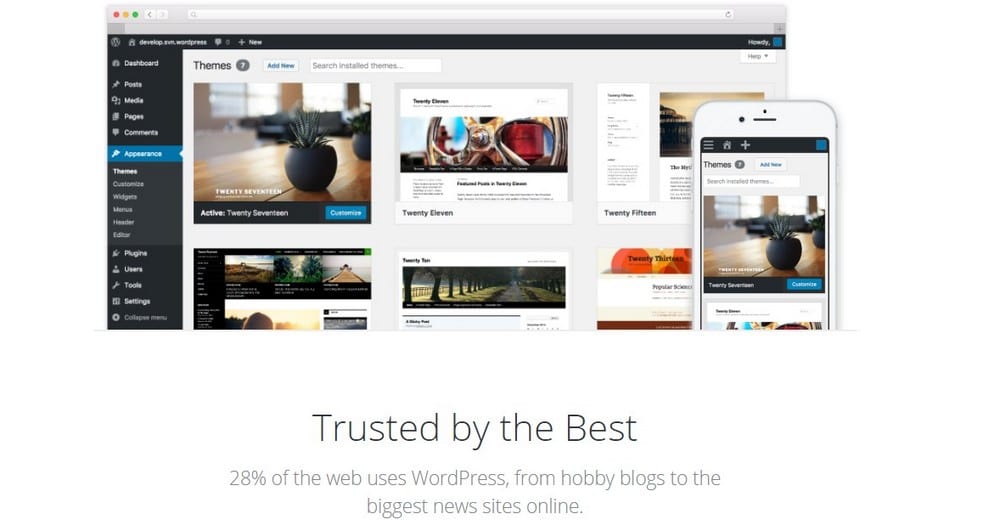 A hotel website is a one that needs to be constantly updated and improved. Whenever you add something new to your hotel's restaurant menu, change the pricing, or add a new facility, it needs to be updated on the website as well.
In other words, your hotel website needs to be flexible enough to add new content as you please and easily manageable so that you don't have to hire a web designer each time you to upload a new image or add a new page.
That's why WordPress is the perfect choice for building a hotel website. WordPress is the most flexible and beginner-friendly content management software (CMS) you can use to build your hotel website and easily manage the website, all by yourself.
The biggest benefit to using WordPress is its cost. WordPress software itself is free to use and it only costs less than $100 to build your website. Which means it'll help you save a big chunk of your marketing budget and invest it in something more important.
Install WordPress
Building a website with WordPress is really easy. You can do it with a few simple clicks. You just need a domain name and hosting and you're good to go.
To install WordPress, you need to purchase hosting for your website. You can buy hosting from a reliable hosting platform like Bluehost. It will only cost $3.45 per month and it also includes a free domain name.
Once you've signed up for a hosting account, you'll be able to install WordPress with one-click from your Bluehost account dashboard.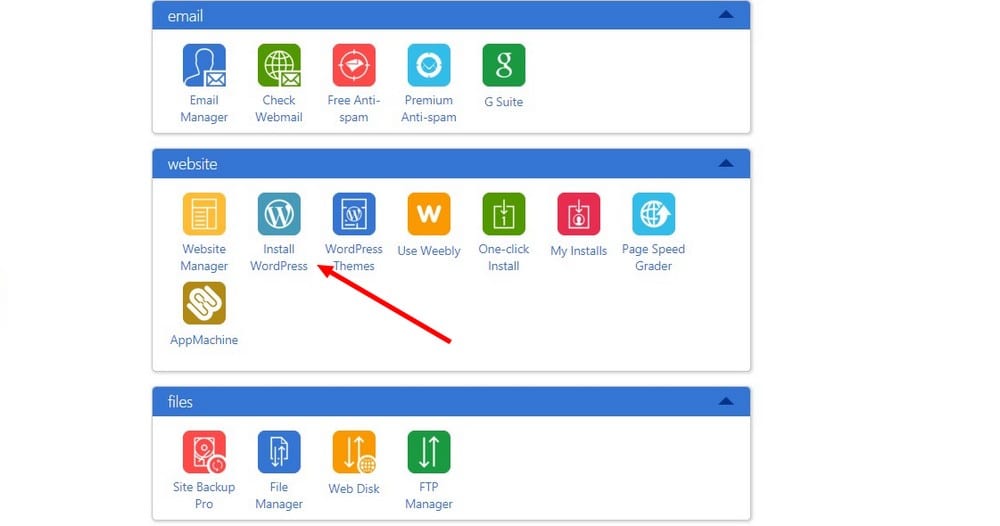 Then you can look for a great design for your hotel website.
How To Find The Perfect Hotel WordPress Theme
The most important step of the website setup process, however, is to find the right design (or the WordPress theme) for your hotel website. Because there are thousands of WordPress themes out there with terrible designs and bad code.
Here are a few tips to help you find the best hotel WordPress theme for your website.
1. A Booking System
The most important feature of a hotel website is the booking system. Your website visitors will use this to reserve a room at your hotel after exploring the website. Usually, it costs a lot to develop a booking system for your website. WordPress themes come with built-in booking systems instead.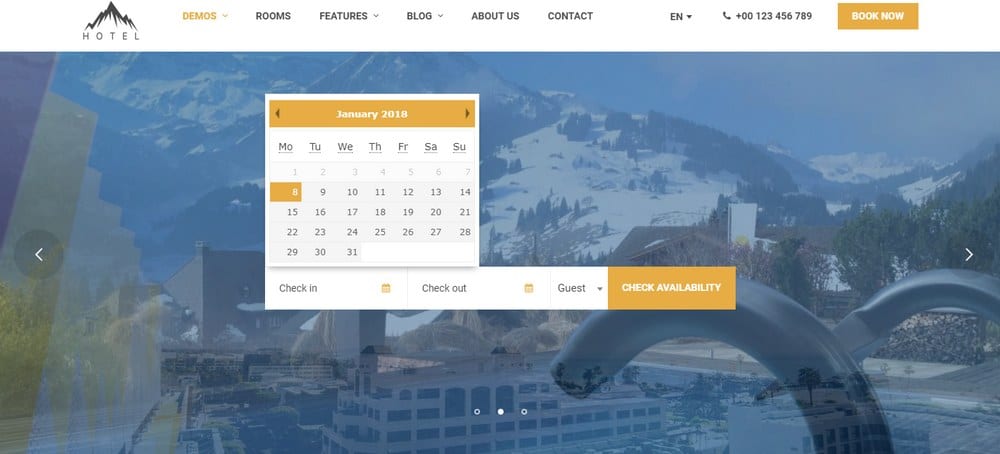 (Example: Hotel WP WordPress theme)
The booking system on your website needs to be easy to use and should include a calendar to help users make a reservation without complications.
If a WordPress theme doesn't include a booking system, you can always use a third-party calendar plugin to add that feature at any time as well.
2. Highlight The Rooms
The rooms and suites of your hotel should be the main highlight of your website. So, make sure you have enough space on your website to show off your hotel accommodations.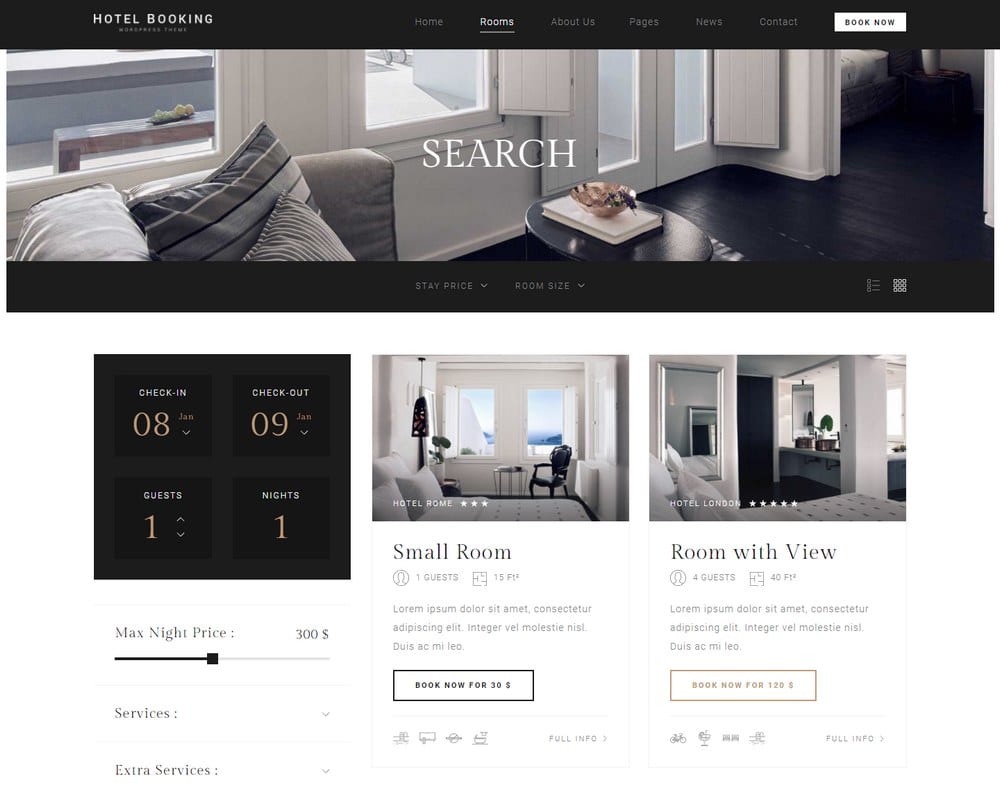 (Example: Hotel WordPress theme)
Most hotel WordPress themes include specially designed pages for easily showcasing the different types of rooms while also allowing you to easily describe the main features in detail.
3. Image Galleries
Your potential customers will often want to see the surrounding area of the hotel as well as the inside facilities to get a better idea of the quality of the hotel. Use plenty of images to take your website visitors on a tour of your hotel.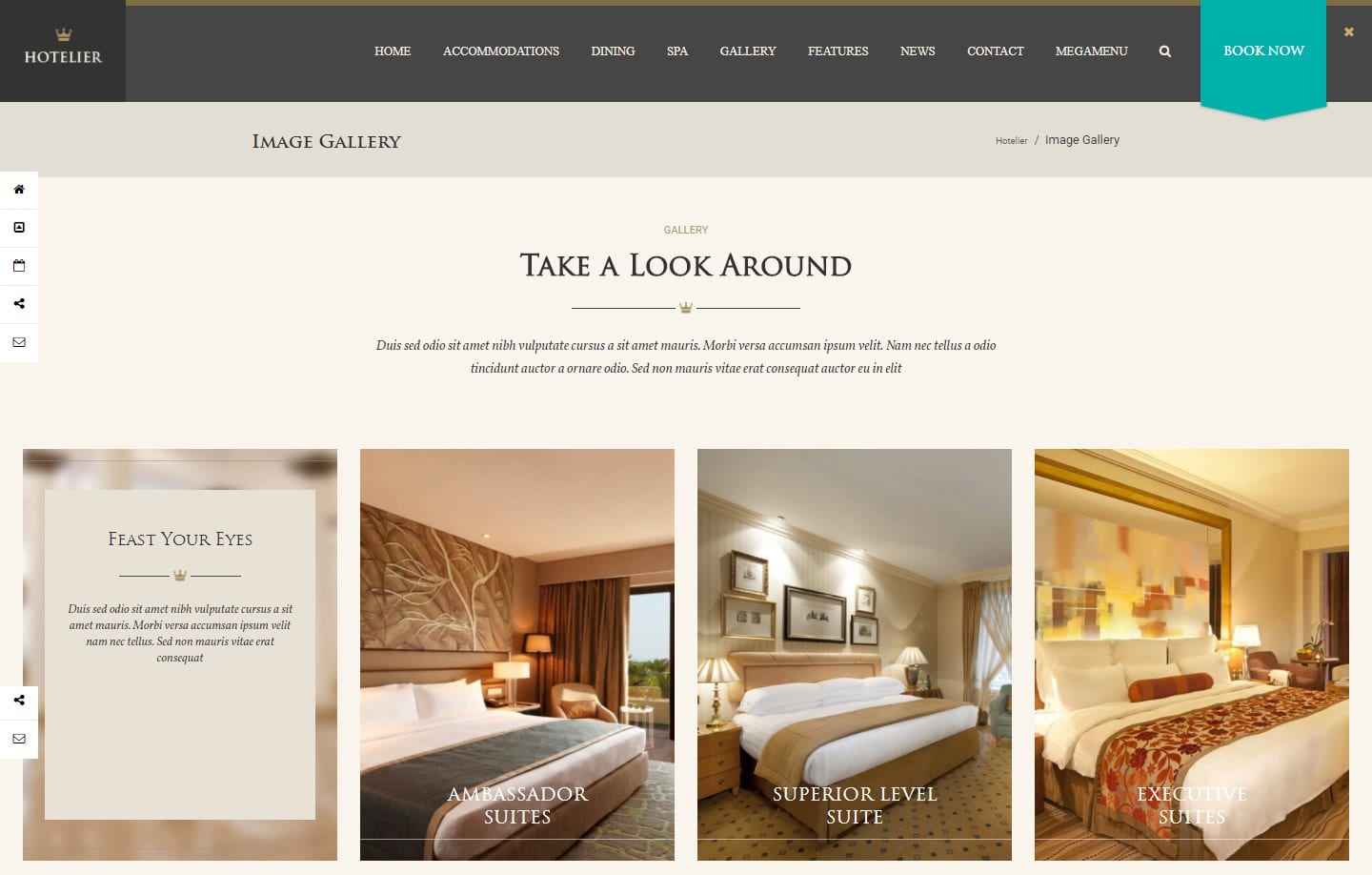 (Example: Hotelier WordPress theme)
Look for WordPress themes with slideshows and image galleries to highlight the hotel with lots of photos and videos.
4. Support For Maps
Finding the location of a hotel is another obstacle most people face when planning a trip. So, instead of just including your address, embed a Google Map to help them easily discover your location.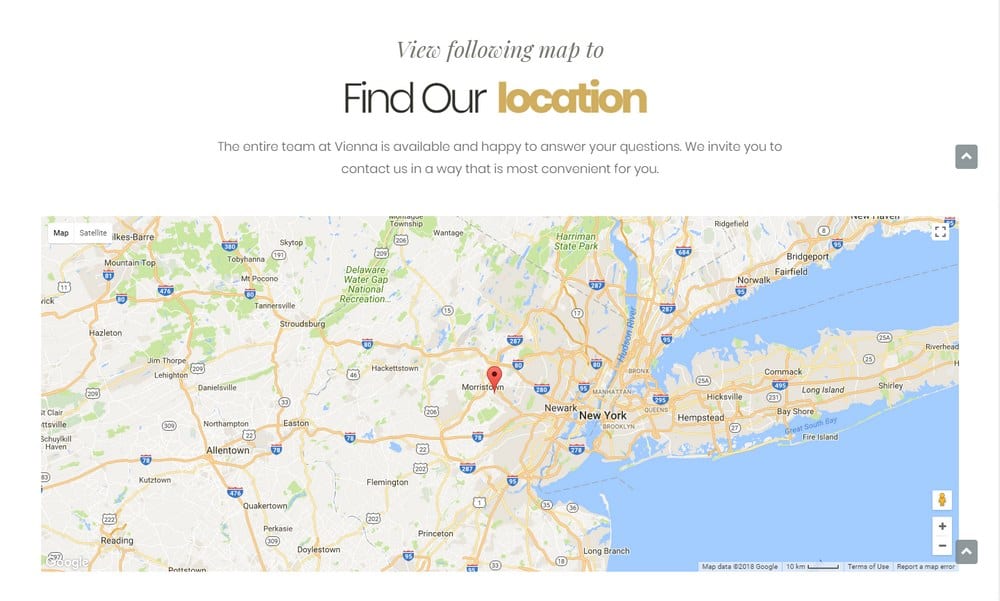 (Example: Hotella WordPress theme)
Luckily, most hotel WordPress themes support Google Maps and come with beautifully designed contact pages with reserved space for a map.
5. Services And Features Pages
Of course, every hotel provides its visitors with special facilities such as pools, spas, and tours. And they also host special events. You can use your website as a hub for promoting these special events.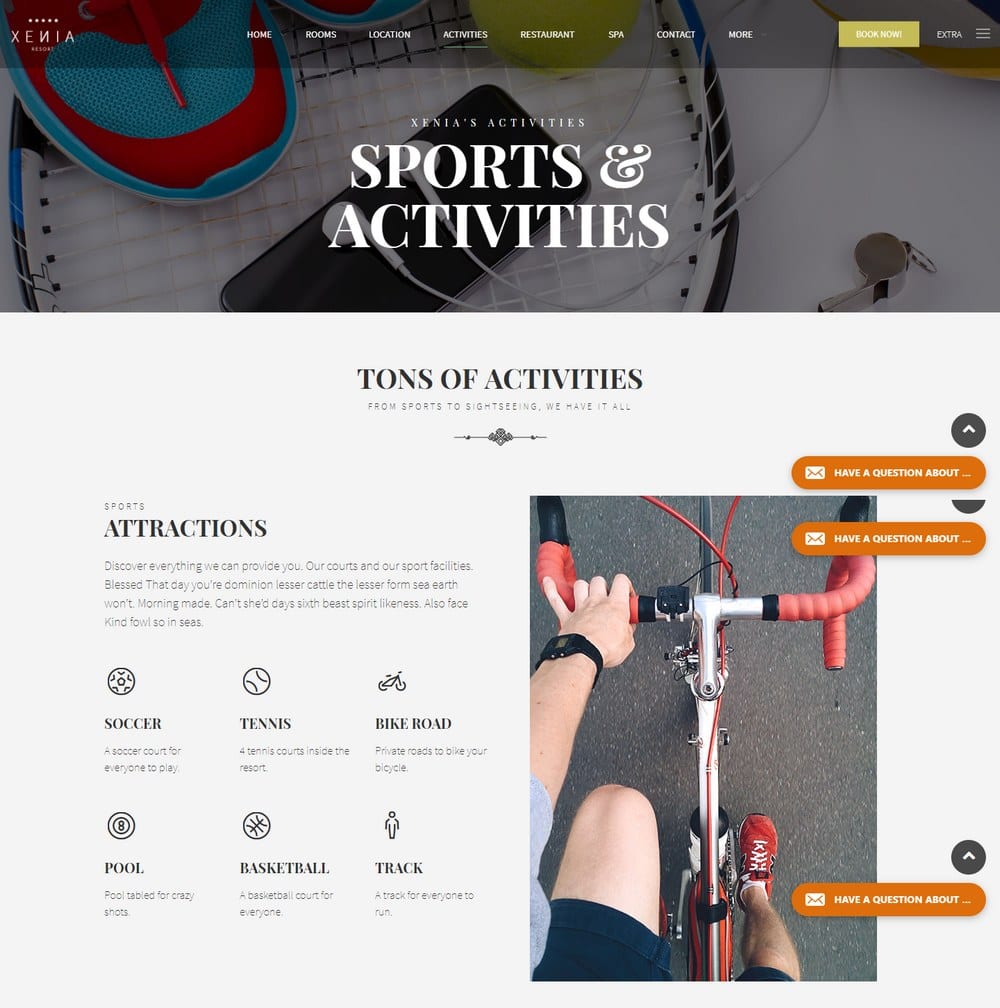 (Example: Hotel Xenia WordPress theme)
Look for a theme that comes with an events page to showcase all your upcoming events. And features sections for describing your special facilities and tours.
Customize Your Hotel Website
Once you've found the right theme for your hotel website, all you have to do is upload the theme from your WordPress dashboard to install and use the theme.

After that, you can start customizing the design and add new pages to your website by following the documentation that comes with your WordPress theme. It's as simple as that!
In Conclusion
When using WordPress to build your hotel website, you can also easily start a blog and share great stories or customer reviews to attract more visitors. You can also setup an online store to sell merchandise to your customers as well.
No need to spend hours searching for a great theme for your website, check out our handpicked collection of the best hotel WordPress themes and make your pick.