40+ Best Hotel WordPress Themes 2021 (Free & Premium)
We're taking a look at our favorite WordPress themes for hotels, hostels, guest houses, and accommodation. Every theme comes with a booking and reservation system and is remarkably easy to customize.
The internet has completely changed how people find, research, and book hotels. What used to be a process that involved a travel agent can now be done quickly and easily with sites like TripAdvisor. Having a professional, helpful website for your hotel can have a huge impact on the first impression you make with a potential guest (and our tips for making a hotel website with WordPress can help a lot).
You'll want to be looking for features to give guests the information they need, quickly. While at the same time, reinforcing your brand and identity. All these WordPress themes come with functionality like booking/reservation systems, live price/availability, maps, menus, room profiles, and much more. And they all come with page-builder type systems that make creating and customizing your site super-simple.
Choosing WordPress as your platform makes all this really simple (and it's a much more cost-effective approach compared to designing your own website from scratch). You'll be able to get started quickly and set up (or improve) your hotel website in no time at all. Then you'll just need to sit back and watch those bookings come in!
5 Tips For Making A Hotel Website With WordPress
Making a hotel website is different from building other types of websites. Hotel websites need to have specific tools and features that help promote your facilities and attract more customers.
Here are a few tips you can use to find a great hotel WordPress theme and build a better hotel website.
1. Add An Online Booking System
A booking system is a must-have feature for every hotel website. With a properly functioning booking system, you'll be able to allow your website visitors and customers to easily book a room or reserve a tour without having to wait in line to call a receptionist and talk for half an hour.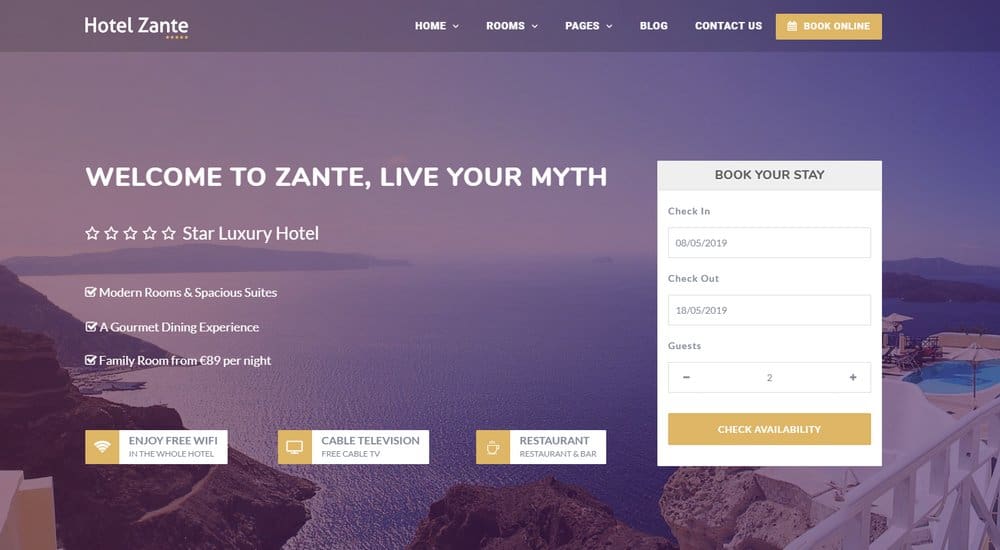 When using WordPress to build your hotel website, you can easily setup and manage a booking system without having to hire web developers. Most hotel WordPress themes come with a built-in booking system. You can also use third-party booking system plugins to add your own booking systems as well.
2. Showcase Your Services & Facilities
Every hotel offers a series of special services, facilities, and programs for its visitors to help them spend their free time doing fun activities.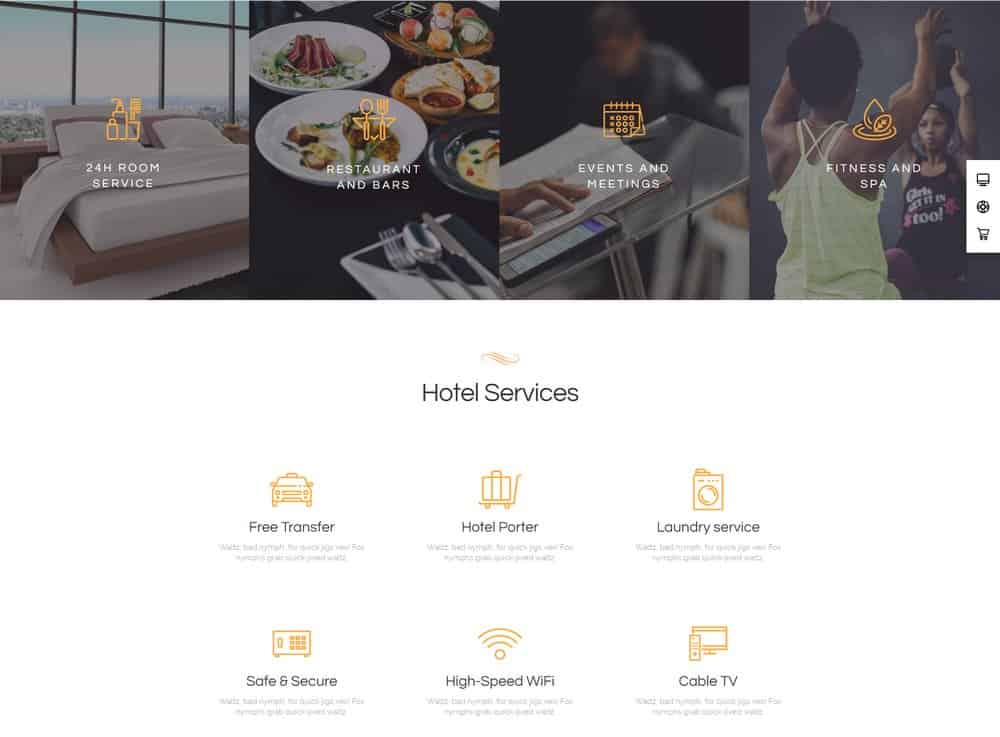 Use your website to show how fun it can be to stay at your hotel. Add a dedicated page to showcase the tours, activities, services, and facilities included in your hotel.
3. Highlight The Best Suites & Rooms
One of the main reasons people visit hotel websites is to check the prices for the hotel rooms and see what kind of facilities are included with each room.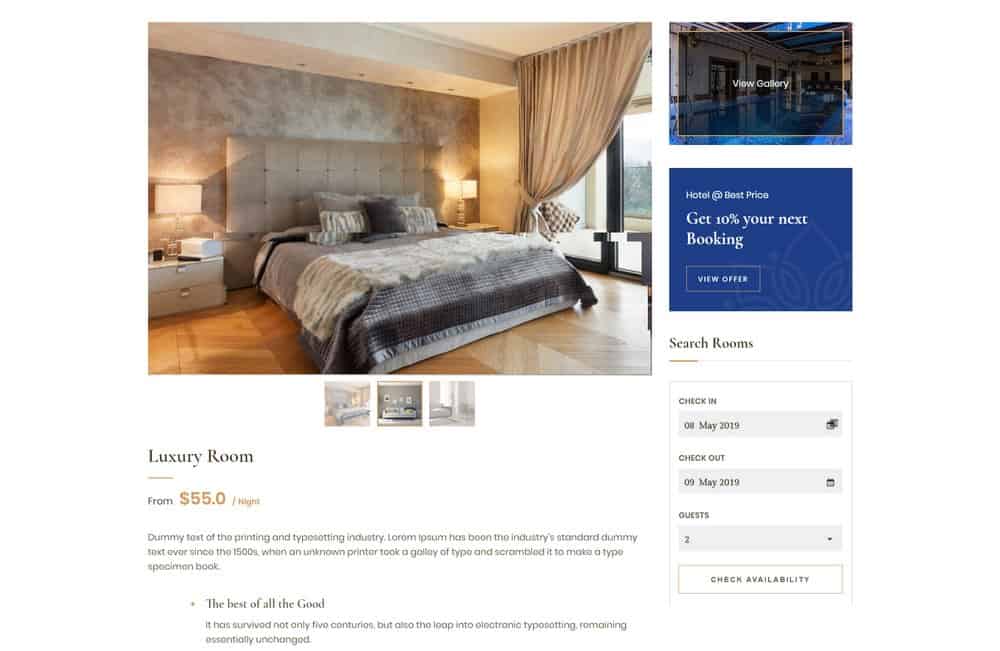 You can satisfy these potential customers by using a hotel WordPress theme that comes with professionally designed room page layouts where you can include details about the room features, pricing, availability, and booking options in the same place.
4. Add Client Testimonials & Reviews
There's no better way to promote a hotel than letting previous customers say all the good things about your business.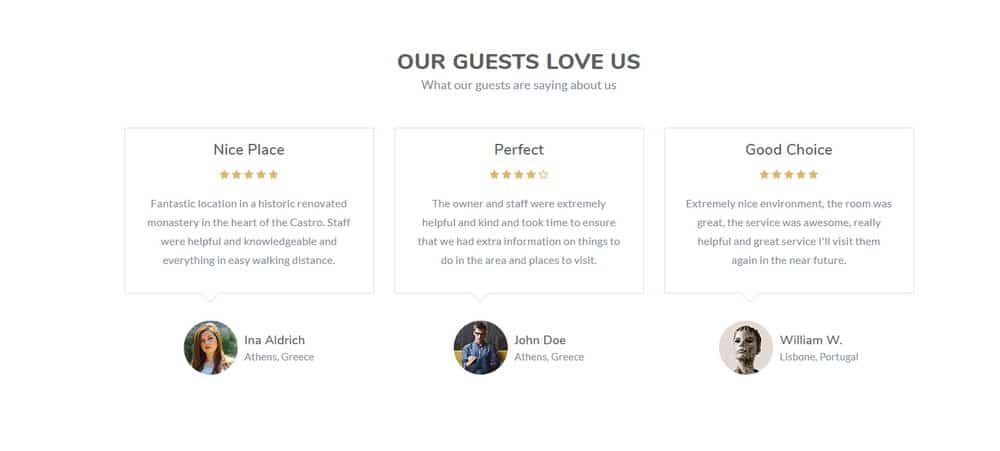 Make sure to include a customer testimonials section on your website to let people share their reviews and experience of staying at your hotel.
5. Include Maps & Contact Information
Make it easier for your customers to find your hotel by including a map on your hotel website. Look for a hotel WordPress theme that supports Google Maps integration.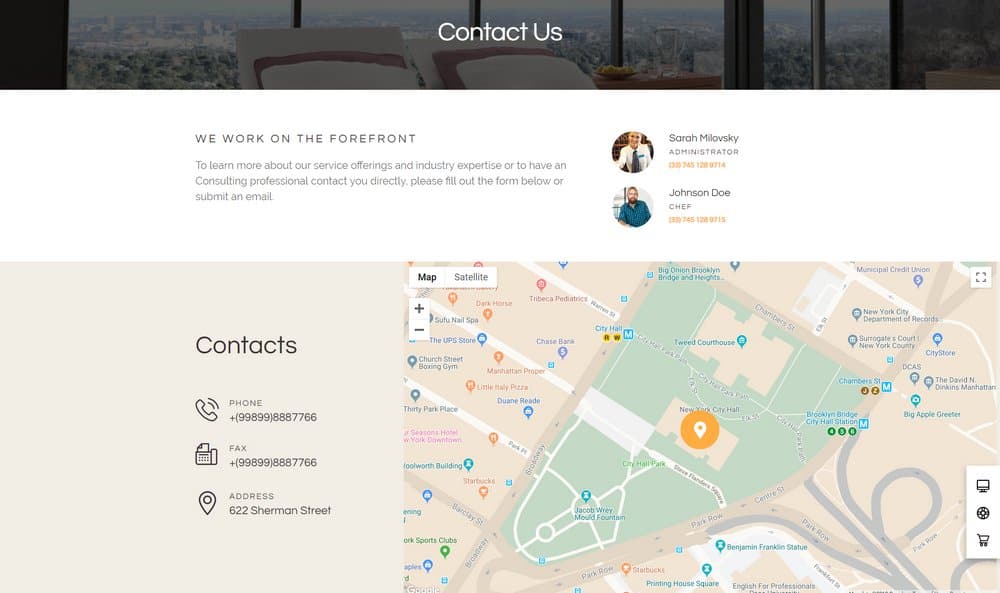 Also, you can include a contact form on your website to let customers leave feedback and contact customer support.