How to Block Tags on Tumblr
Tumblr is a very open platform filled with a wide variety of content. And it's easy for you to come across content that you don't want to see on your Tumblr feed. So how can you filter and block tags on Tumblr to prevent that content from showing up?
Tumblr's Safe Mode will only block adult content, and it doesn't work as well as advertised. What if you wanted to block certain types of posts from appearing on your feed?
For example, one of the most common problems with using microblogging platforms like Tumblr is avoiding TV and movie spoilers. Many people hate when others post spoilers about the latest Game of Thrones episode or Avengers Infinity War.
Thankfully, Tumblr lets you avoid these posts using its Filtering system.
If you ever wanted to block posts with certain tags from appearing on your Tumblr feed, then this guide is for you. We'll show you exactly how you can blacklist tags on Tumblr, step-by-step.
Method 1: Use The Filtering System
The simplest way to block tags on Tumblr is to use its built-in Filtering system. From here, you can easily add and remove specific tags that you want to blacklist from Tumblr so that posts tagged with those hashtags don't appear on your feed.
Here's how it works.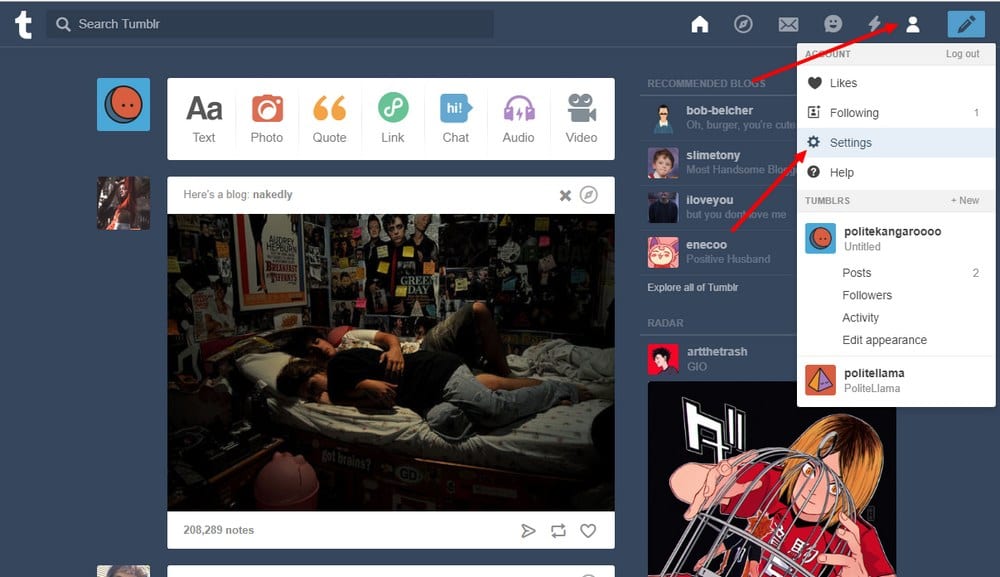 Step 1: Login to your Tumblr dashboard. Click on the Account icon and choose Settings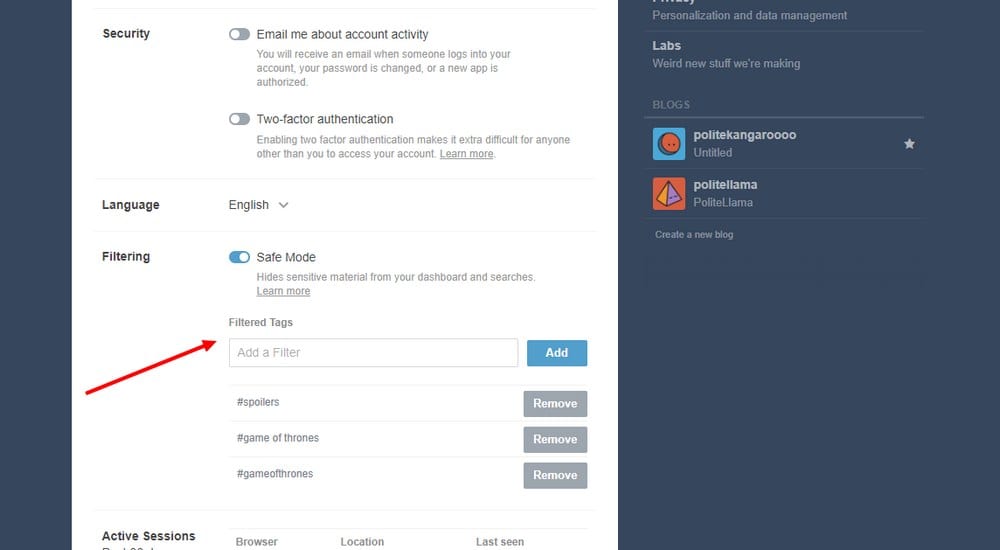 Step 2: Scroll down to find the Filtering section.
Step 3: Click on the Edit button next to the Filtered Tags section to start adding tags to your blacklist.
Simply type a tag and hit the Enter key to save.
Method 2: Use Tumblr Savior
If you want an advanced way to block tags, you can use the Tumblr Savior Chrome plugin. This plugin not only comes with a blacklist but it also has a whitelist. This allows you to block certain tags and also always show posts with specific tags.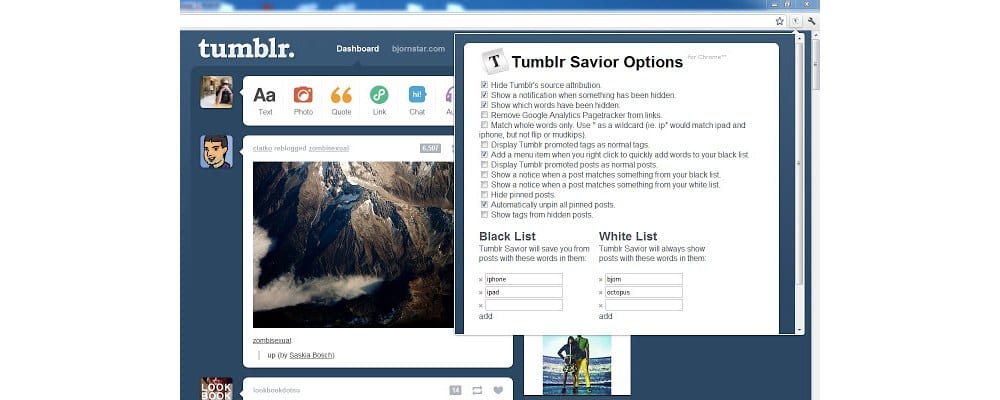 It also features many other useful tools and functions, such as removing Google Analytics trackers, get notifications whenever a post matching a blacklisted tag is blocked, hide Tumblr source attribution, and more.
The only downside is that this plugin is only available for Chrome and Firefox desktop users.
Conclusion
Remember that these filtered tags apply to your entire Tumblr account. So, even when you switch between secondary blogs, these tags will keep blocking content from appearing on your feed.
If you're new to Tumblr and still use the default free themes, check out our premium and free Tumblr themes collection to give a custom look to your Tumblr blog.