25+ Best Hologram Photoshop Effects & Actions
Photoshop is a program with very few limits when it comes to graphic and visual designs. It is at the forefront of what designers can be capable of and never ceases to fall behind that curve.
One truly impressive feat in the Photoshop resume is its ability to create holographic effects. Many who use Photoshop may often find themselves wondering how to make a hologram in Photoshop. It's for that reason that we decided to compile a list of hologram Photoshop actions and effects. Our list consists of both premium and free options, ensuring there is something for everyone.
If you've ever found yourself pondering how to make a hologram in Photoshop, then look no further than our list right here. Every option here will help you emulate a captivating hologram effect in Photoshop with ease.
Read on!
Get everything you need to supercharge your Photoshop workflow. From just $16, get unlimited access to thousands of Photoshop actions, Lightroom presets, templates, graphics, fonts and photos.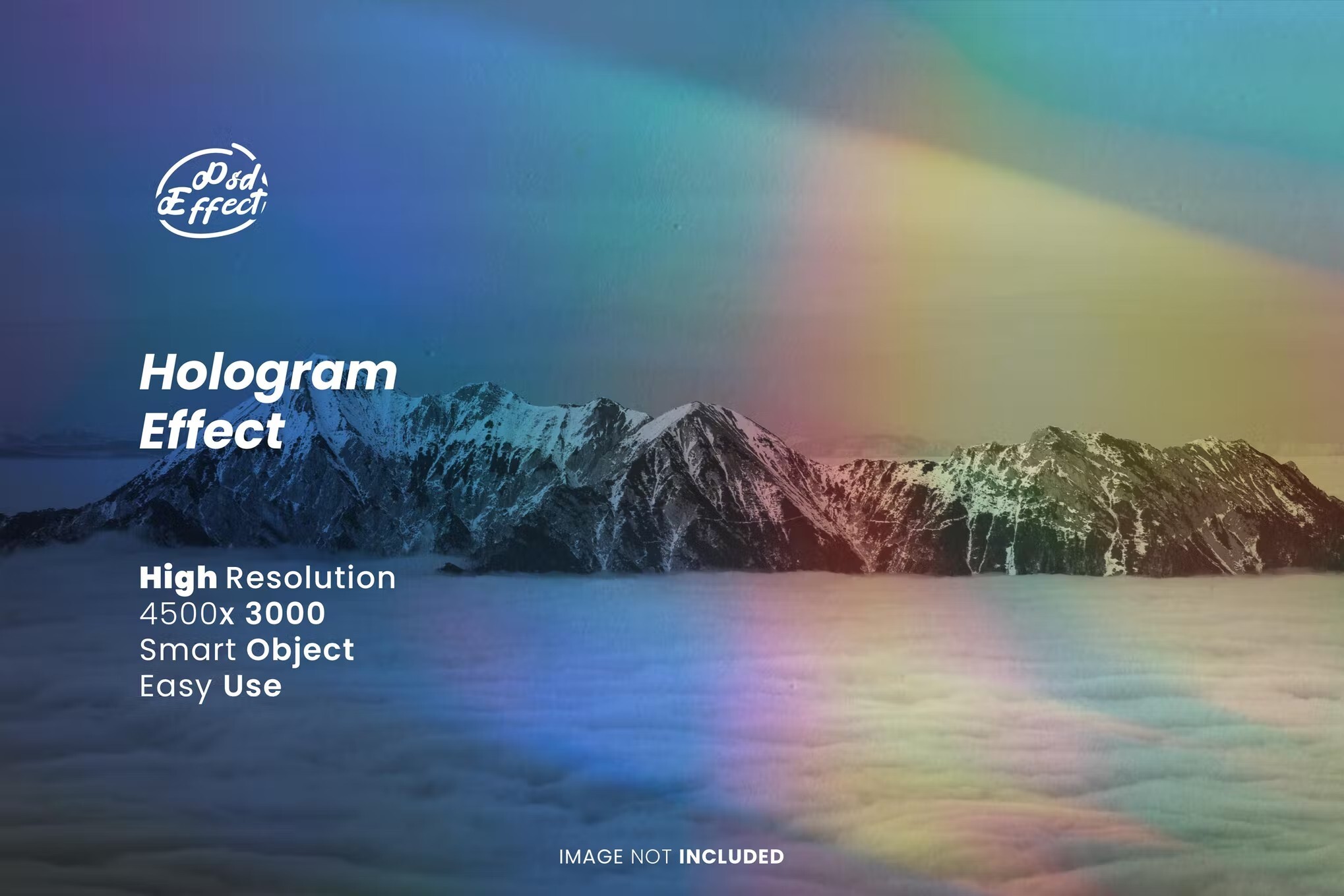 If you're wondering how to make a hologram effect in Photoshop in the easiest way possible, look no further than this holographic overlay Photoshop action. It's a high-quality PSD effect that will give your pictures a colorful, and radiant look in an instant.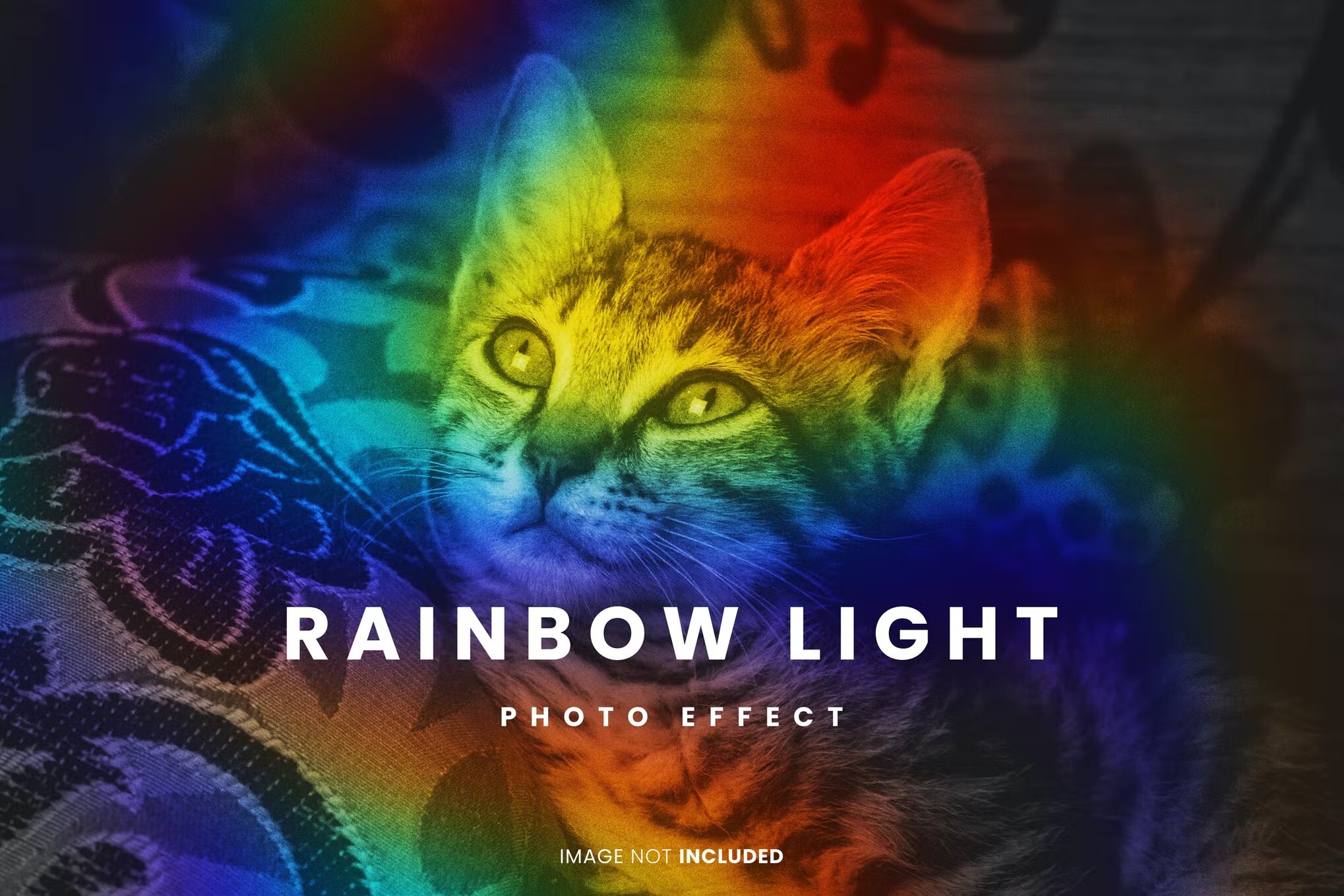 Use this hologram Photoshop action to give your photos a rainbow-esque glowy appearance. It provides you with well-organized layers, and smart object replacement functionality so you could easily achieve a professional-grade holographic gradient Photoshop effect in just a few clicks.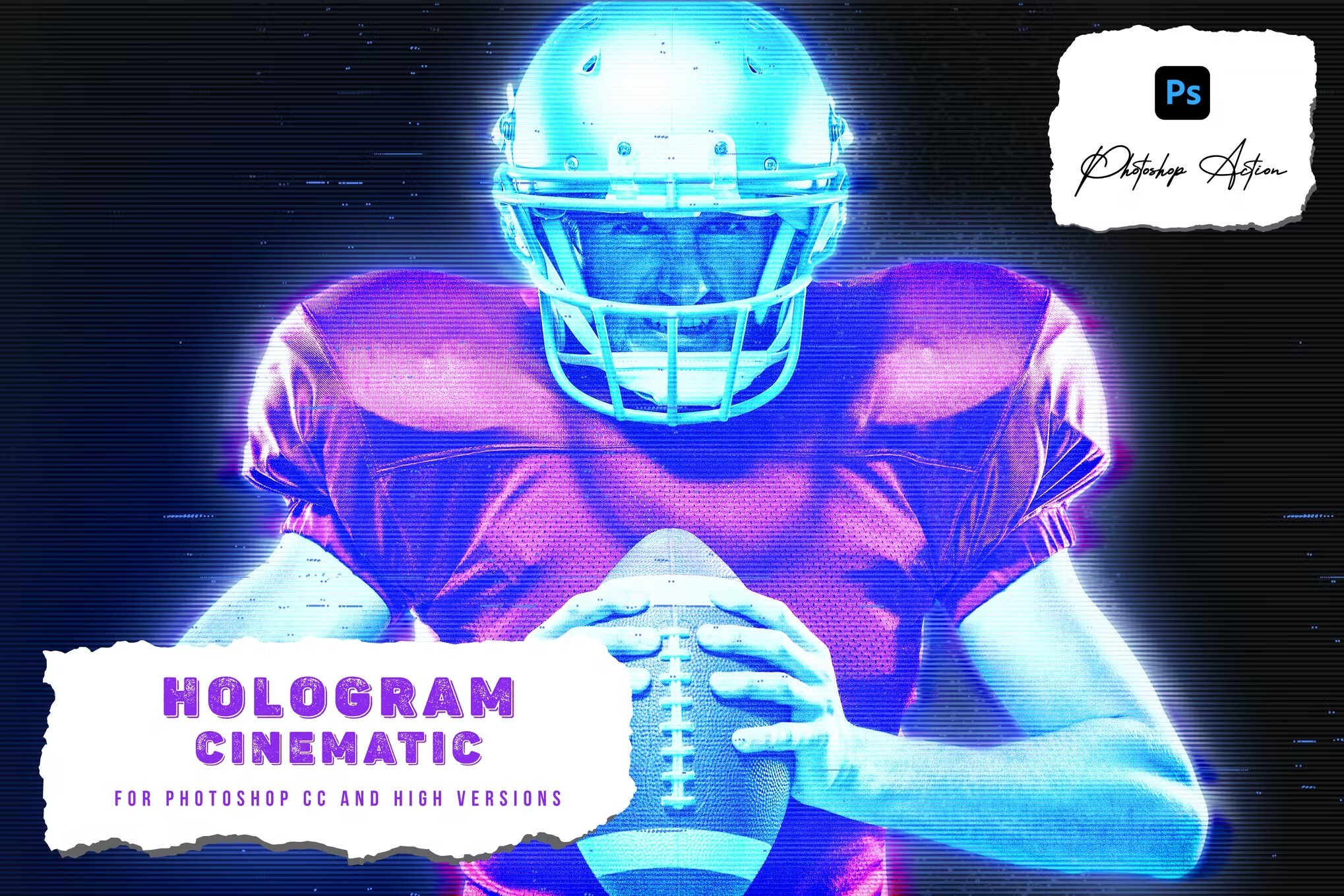 Specially designed for social media influencers, and bloggers wanting to take their everyday pictures to next level, this hologram effect is compatible with Photoshop CC and higher versions. It's super easy to install, and use; so get it now.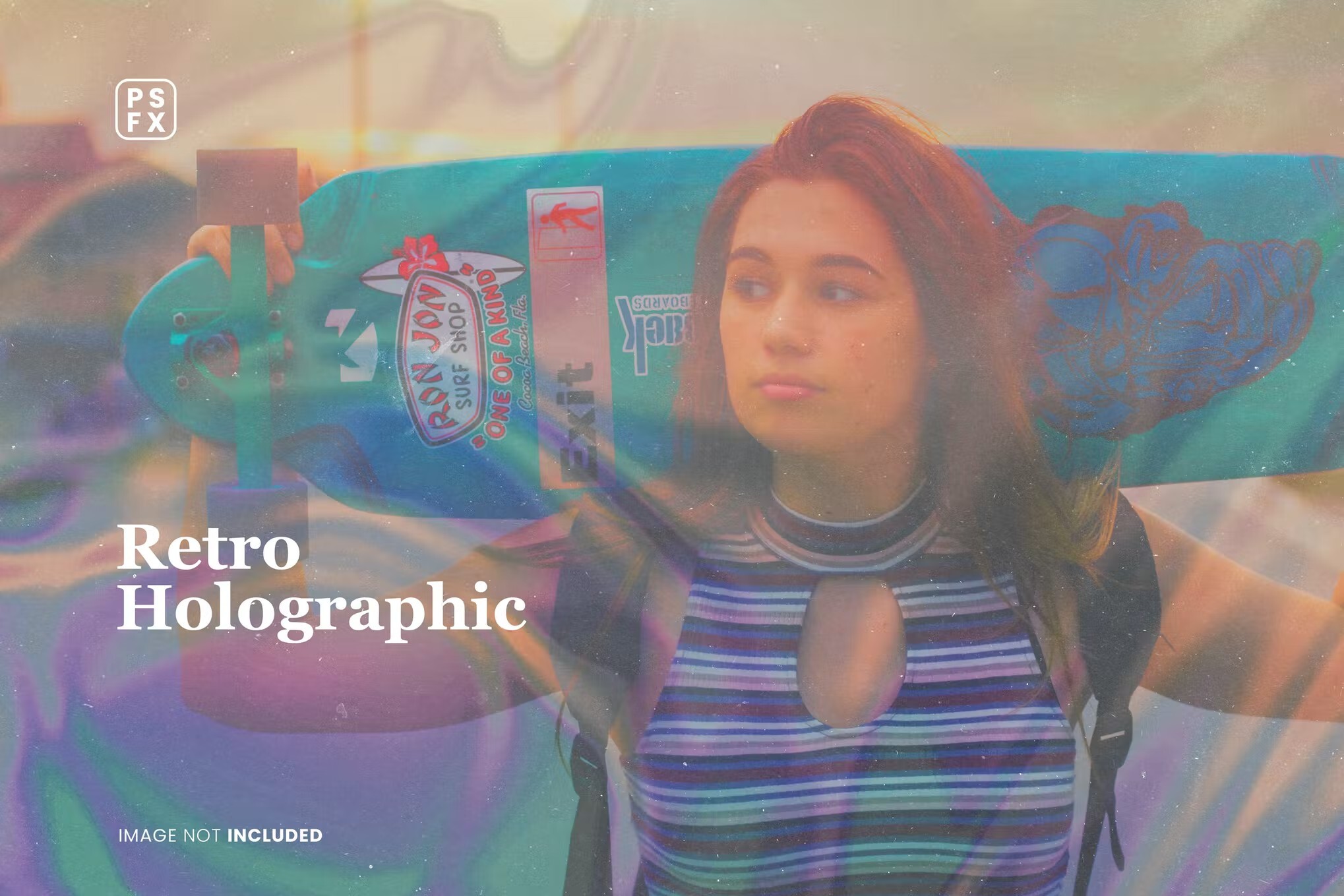 Get that aesthetically pleasing look that you've always desired for your Instagram photos with this incredibly remarkable retro holographic Photoshop effect. Easy to install, and use, it's a great choice for both beginners, and professional graphic designers and photographers.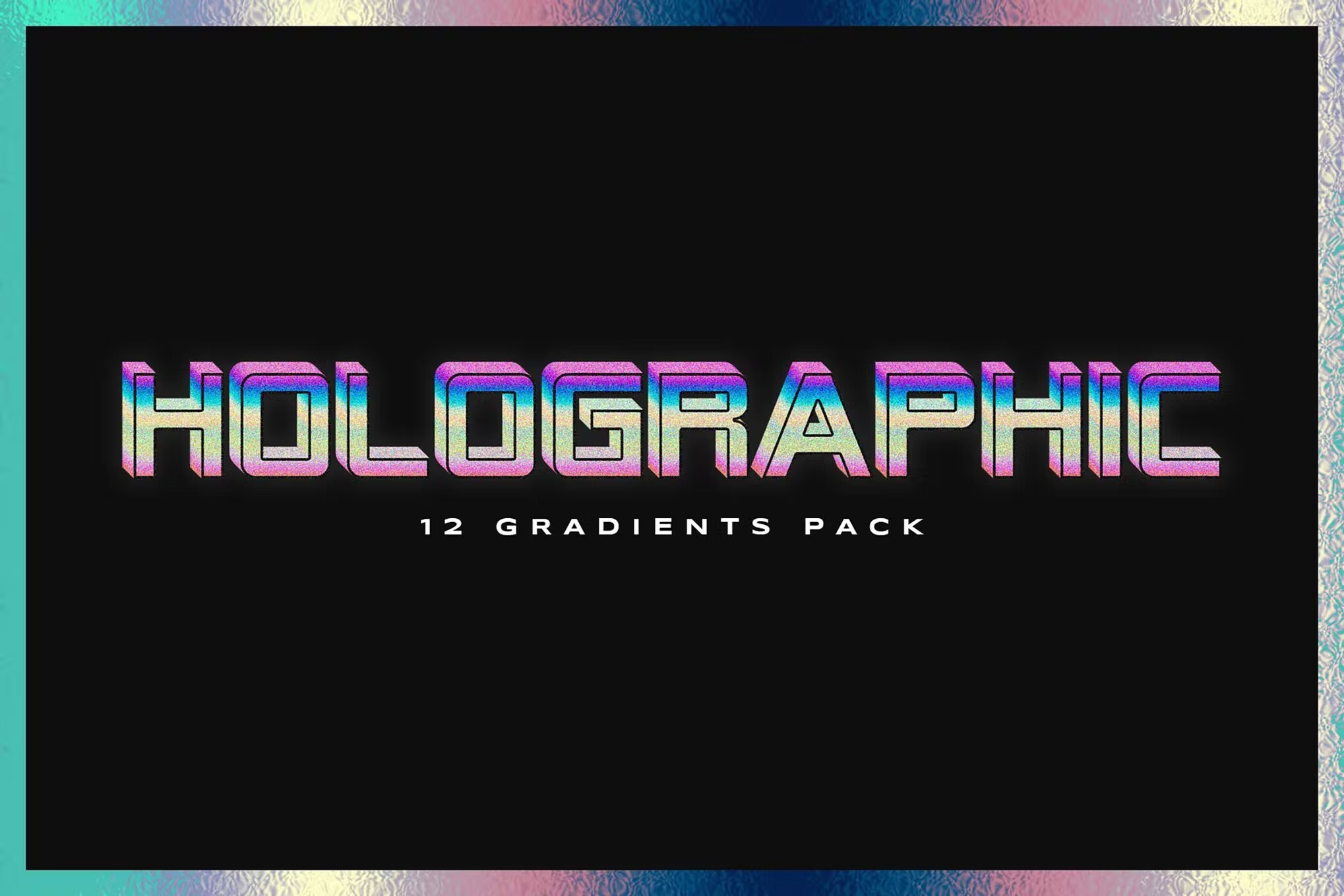 Here we have an awesome collection of 12 holographic gradients for Adobe Photoshop that you can mix and match to create something truly praise-worthy. It's one of the most popular holographic effect Photoshop resources out there; do check it out.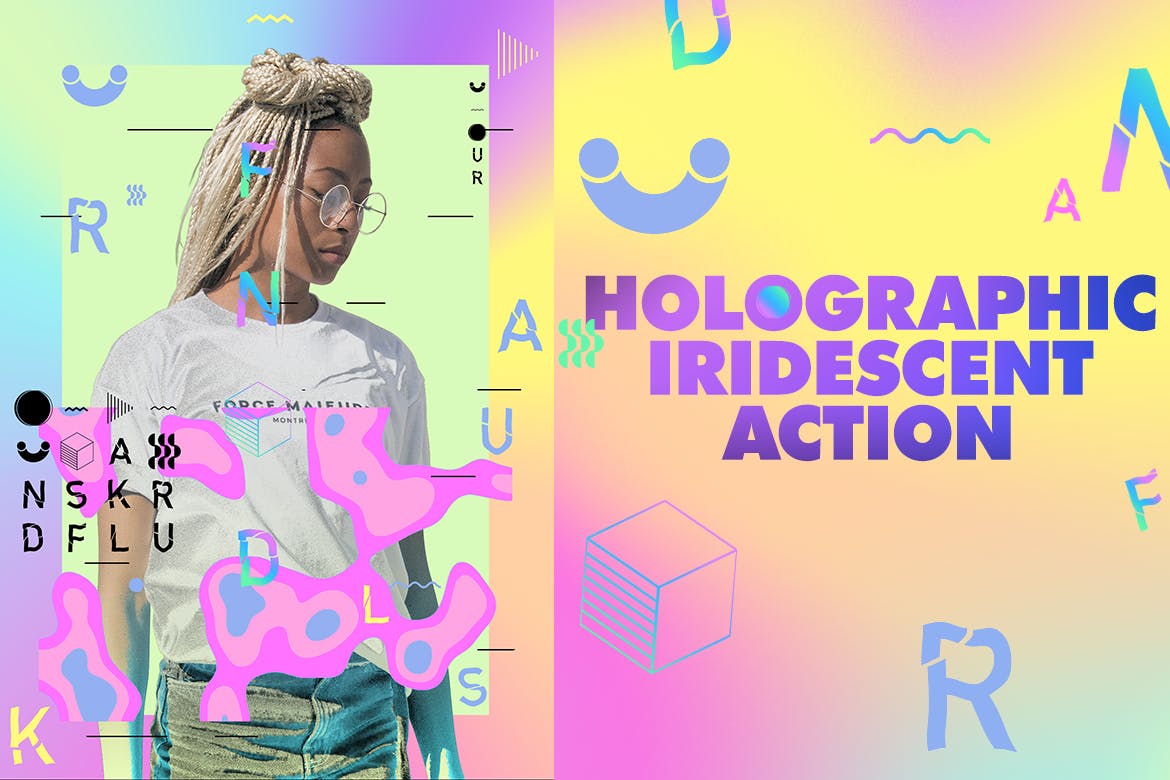 If you're looking to emulate a subtle hologram aesthetic, then you need the Holographic Iridescent Photoshop Action. This action allows you to transform your pre-existing pictures into a holographic design, and add geometric shapes and typography elements with ease. A great option for those looking to experiment with the hologram look!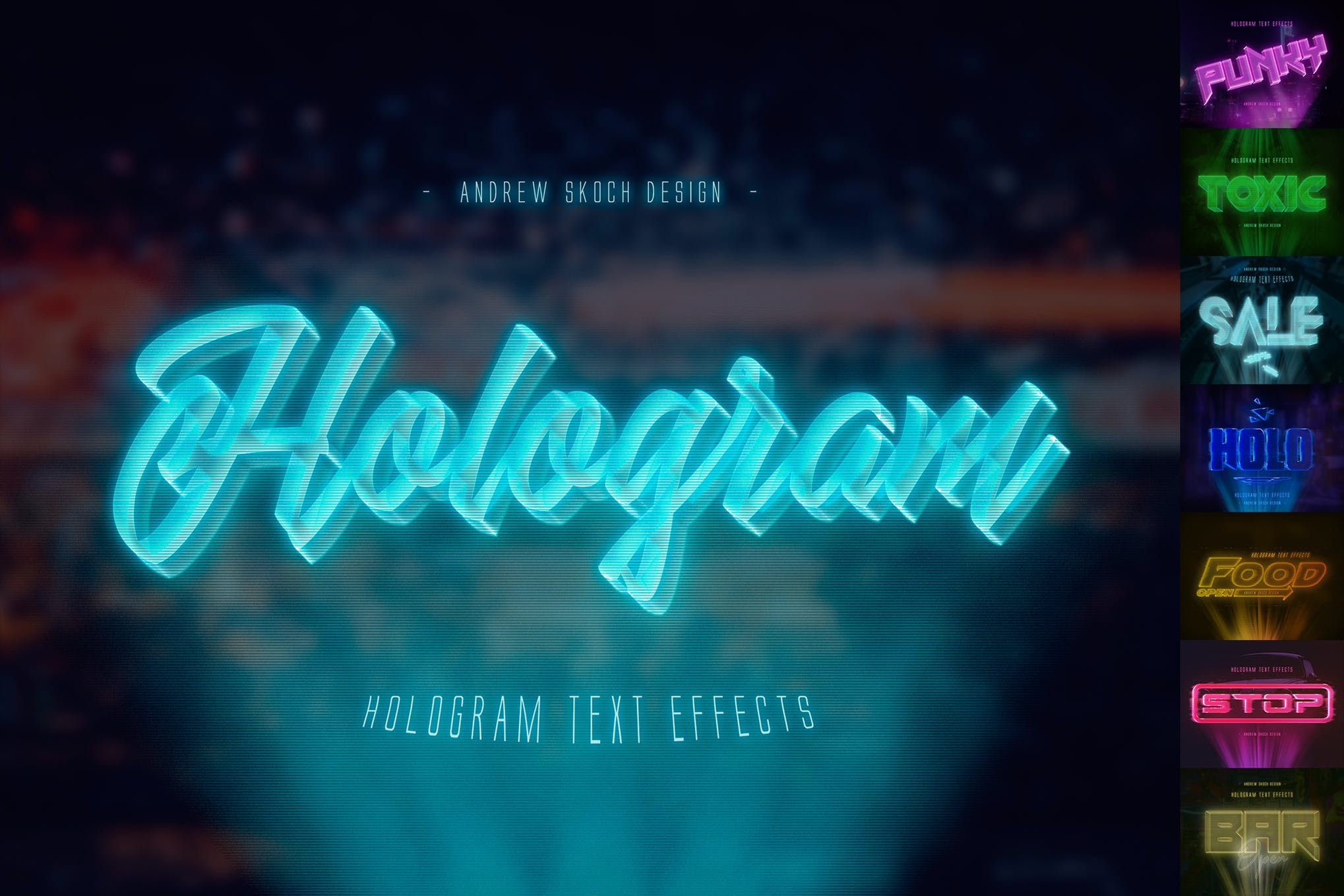 Want to emulate the holographic aesthetic with your text overlays? Then look no further than the Hologram Text Effects package. Inside you'll find eight different holographic styles, each rendered in 2K resolution. They come with a range of color and typeface customization options and provide smart object replacement for you to enjoy.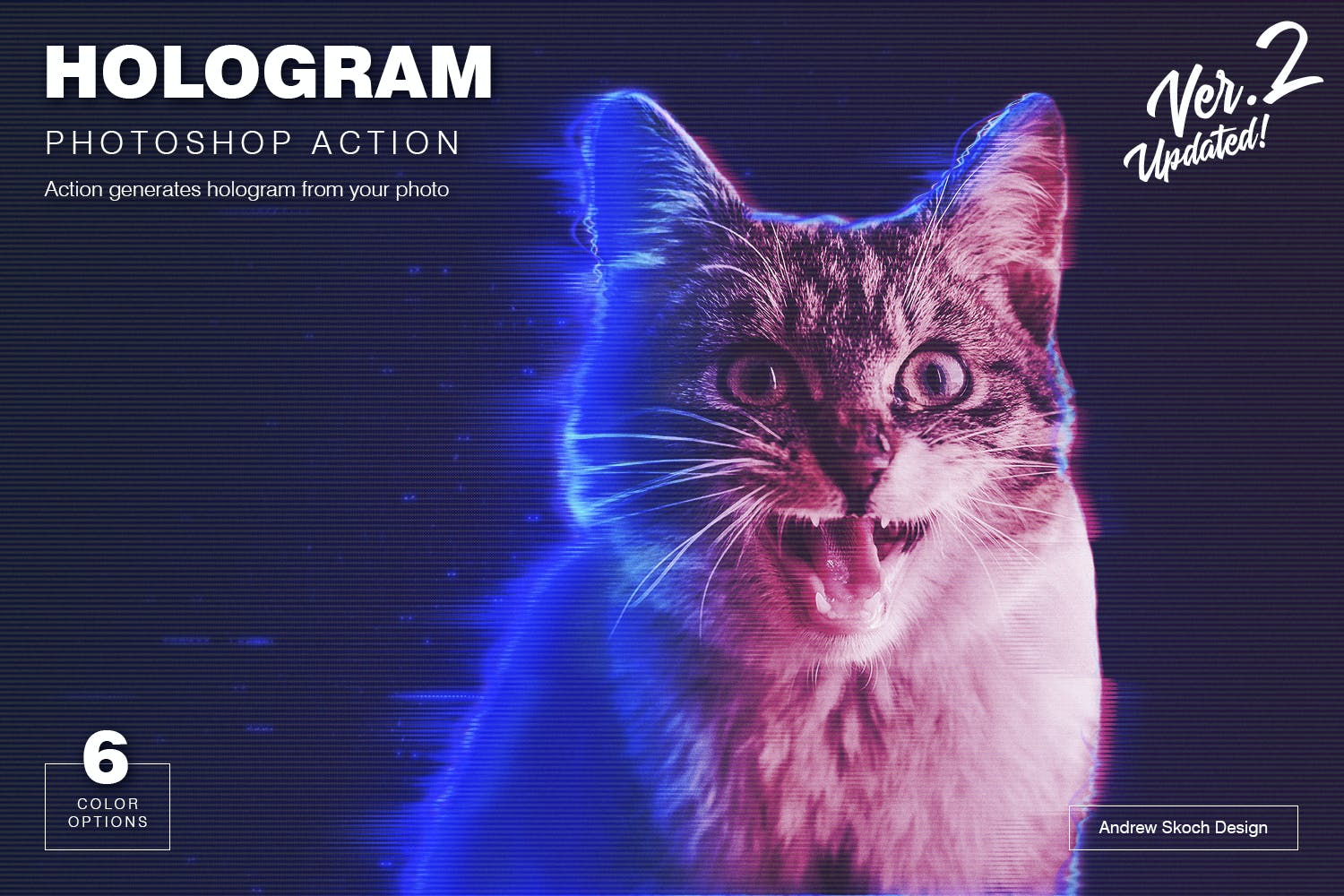 Turn any picture into a hologram with this simple and straightforward Photoshop action providing you with an easy solution to getting that hologram aesthetic onto the screen. The action provides you with a brush, which can be used to transform any area of your picture into a hologram within a few minutes.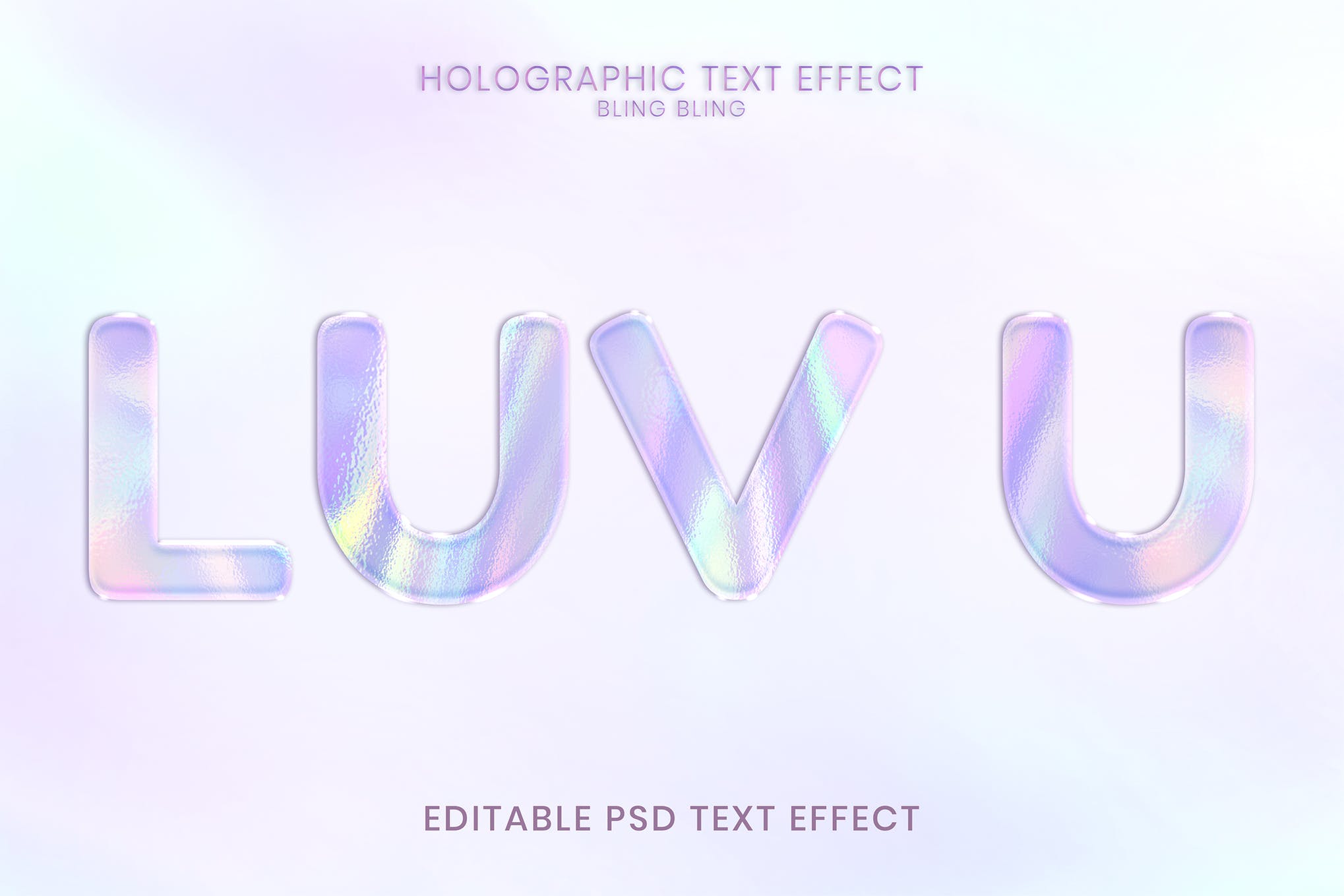 Bring a touch of pastel beauty to your text overlays with the Pastel Holographic Text Effect. This simple text style allows you to transform any text layer into a holographic beauty with a few simple clicks. A must-have resource in any designer's toolkit for creating a hologram effect in Photoshop!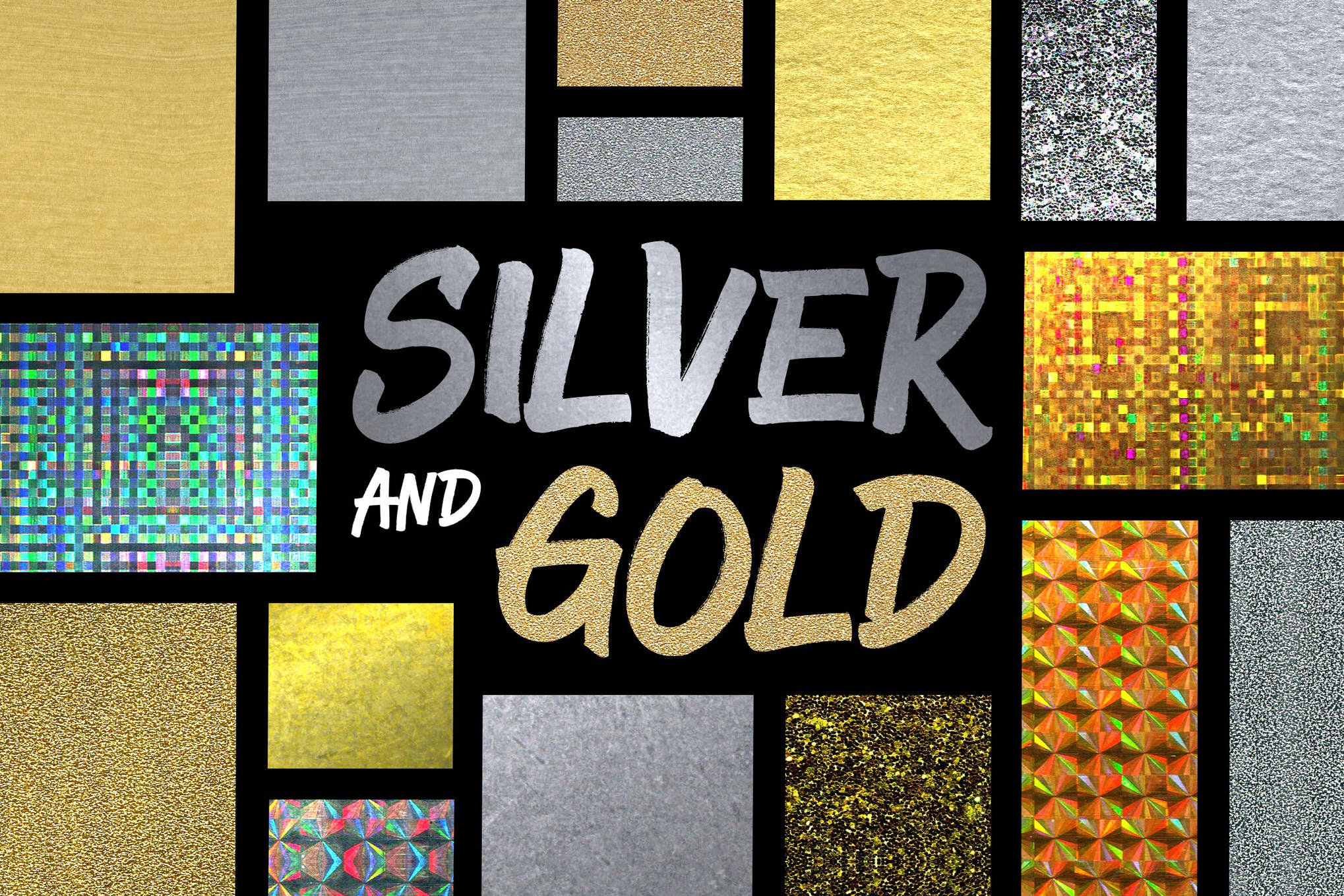 Create a unique hologram foil effect in Photoshop with this amazing product. This creative collection offers a range of gold and silver styles to help you achieve the perfect hologram effect in Photoshop.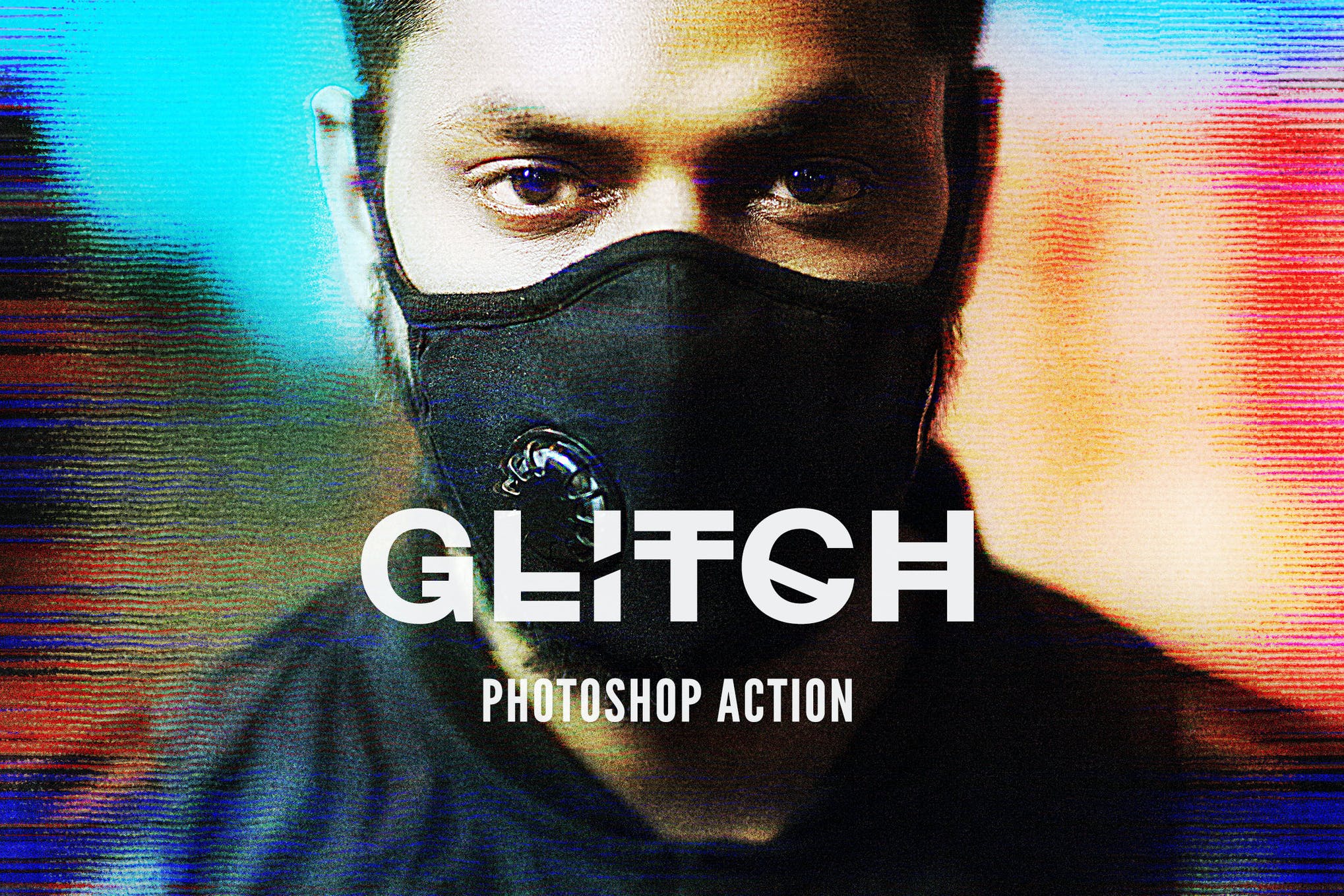 Create a more subtle hologram style with the Glitch Photoshop Action. This futuristic design allows you to mold any picture into a glitched masterpiece and enables you to push towards a balance between a holographic and glitch style. A great choice for a wide range of design projects, and a highly versatile action with a wide range of customization options!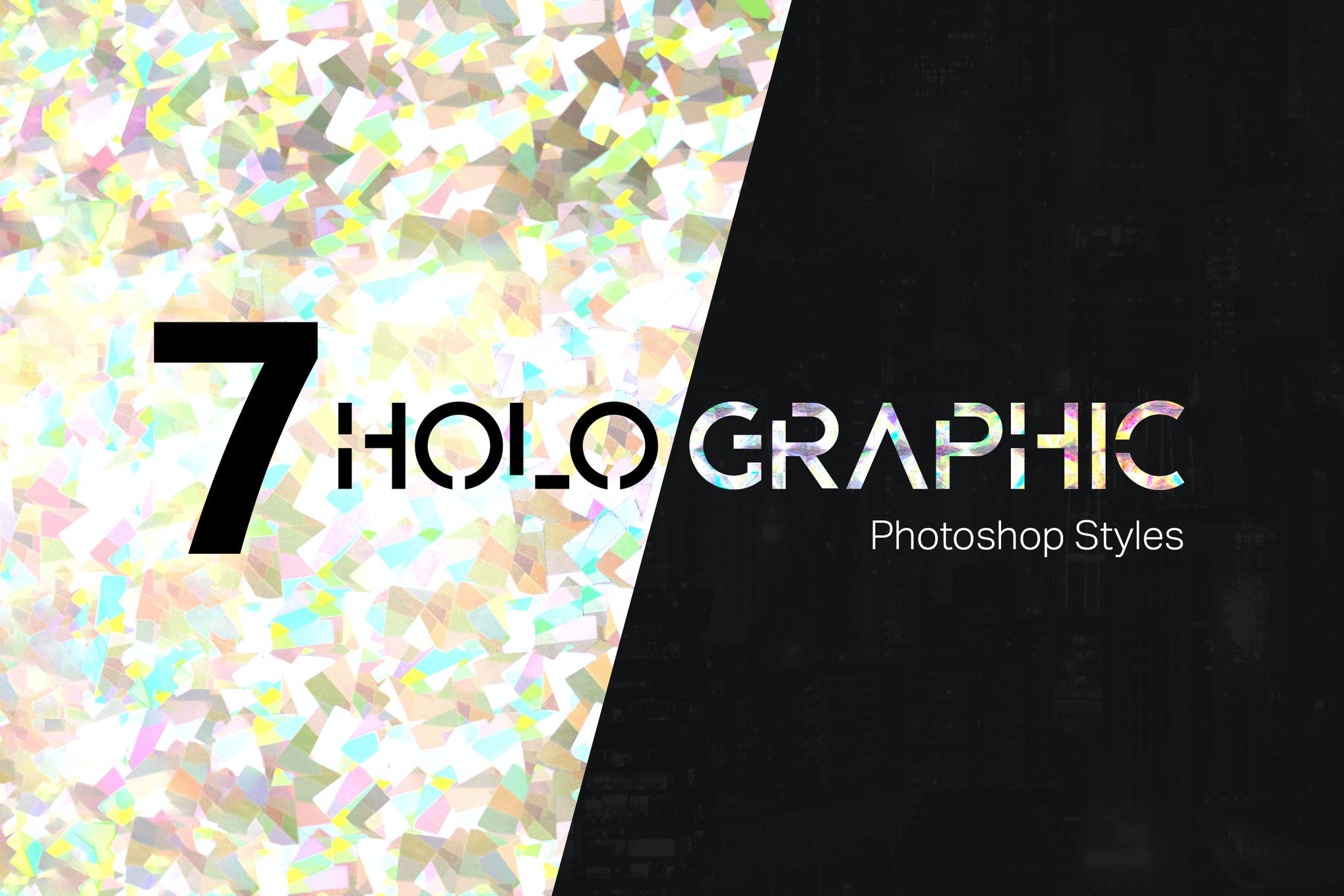 Need a little more freedom with how you bring a holographic aesthetic to your work? Then you need the Holographic Photoshop Styles package. Inside you'll find seven holographic Photoshop options, ranging from crystal, diamond, magic, pixel, smooth, spiral, and streaks. A great resource for those looking to dabble into the holographic aesthetic!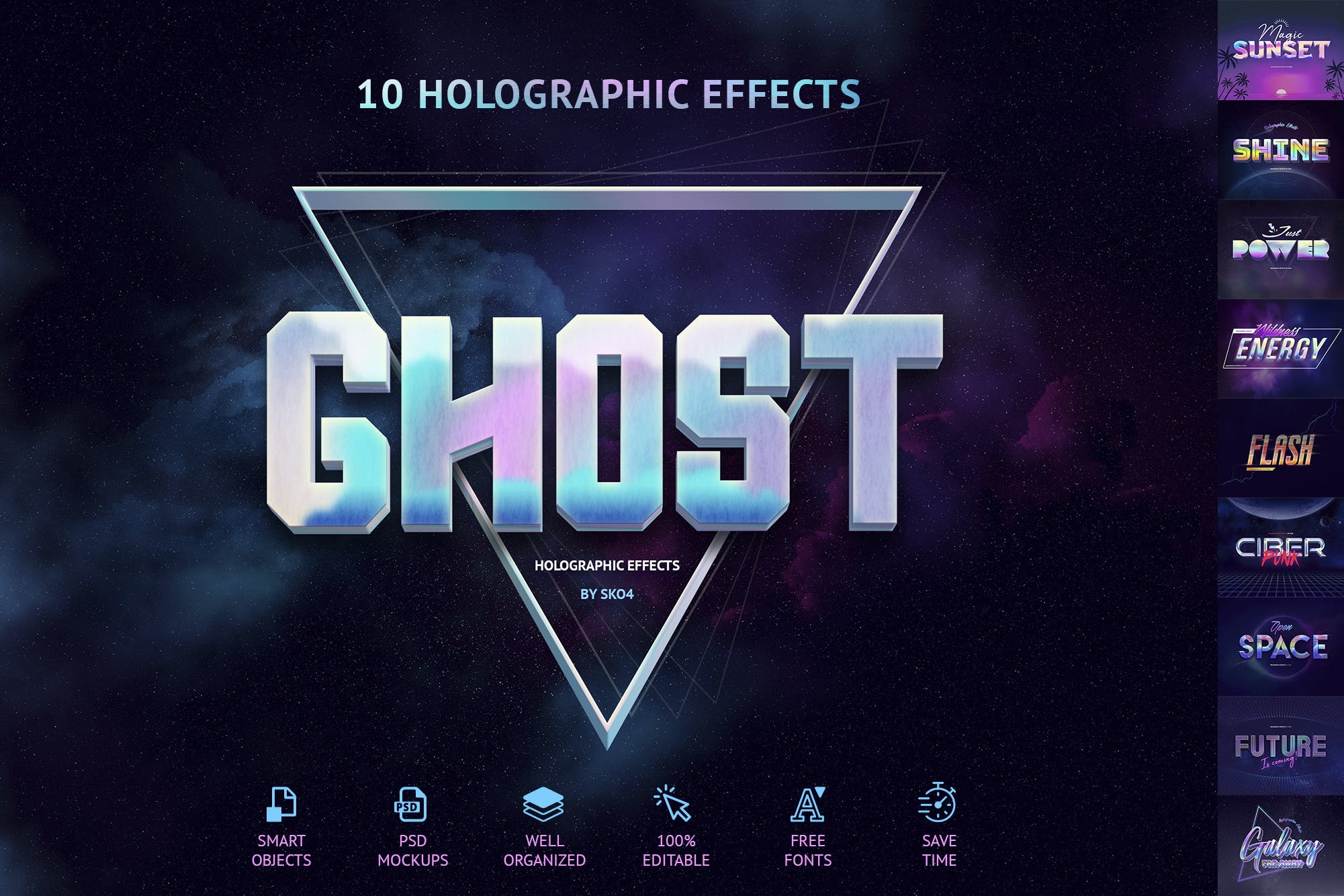 Bring in the holographic style to your text layers with this Holographic Text Effects collection. It contains a range of captivating holographic aesthetics that will transform any text layer into a captivating style with ease. There are ten options to choose from, covering a wide range of aesthetic styles.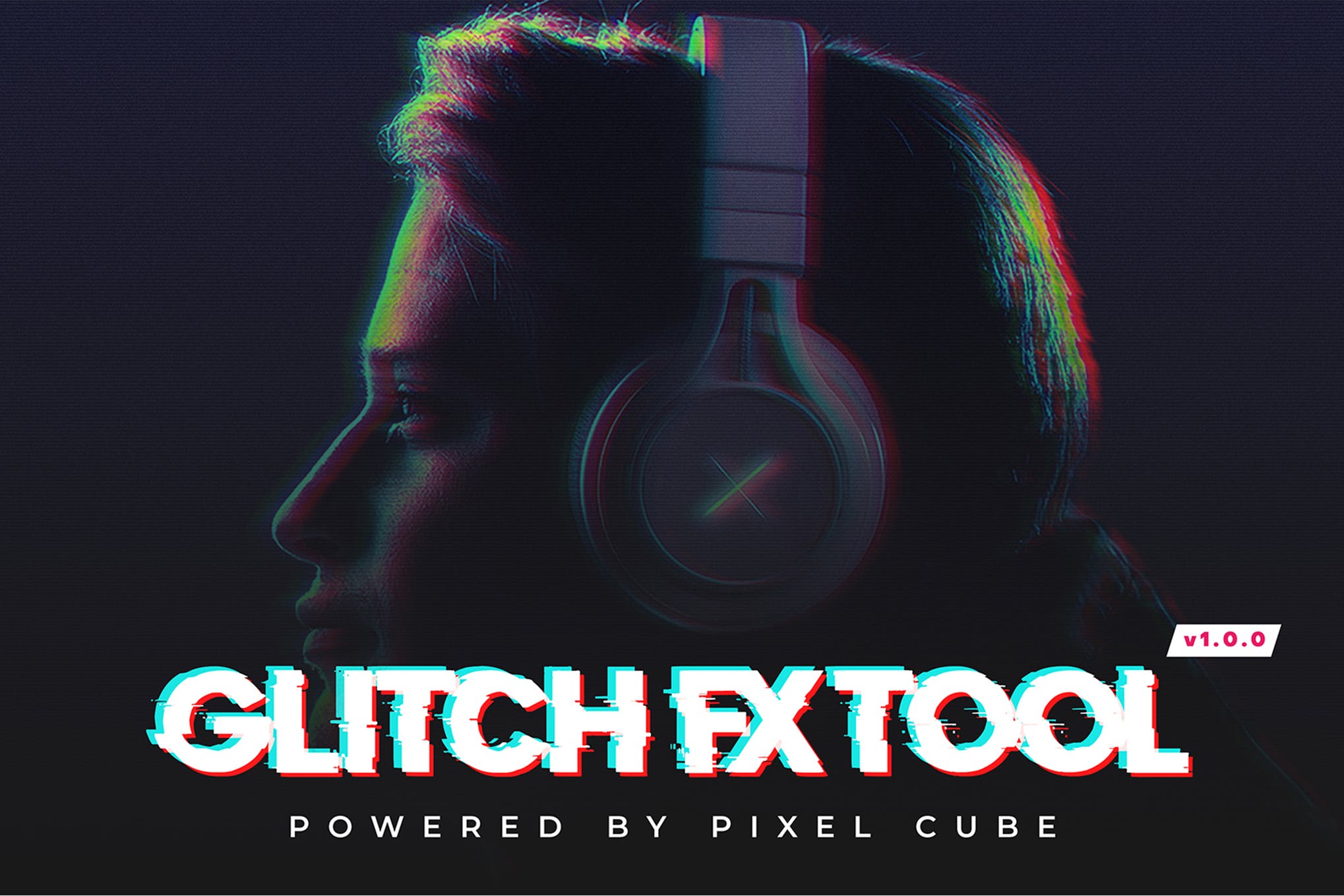 The Glitch FX Tool is a versatile Photoshop tool that provides you with incredible freedom in creating your own hologram style on the screen. With over forty-five different options to choose from, each with its own customization options, there is plenty inside the Glitch FX tool to keep you busy for hours. The tool also provides a video tutorial to help you make the most of the effects.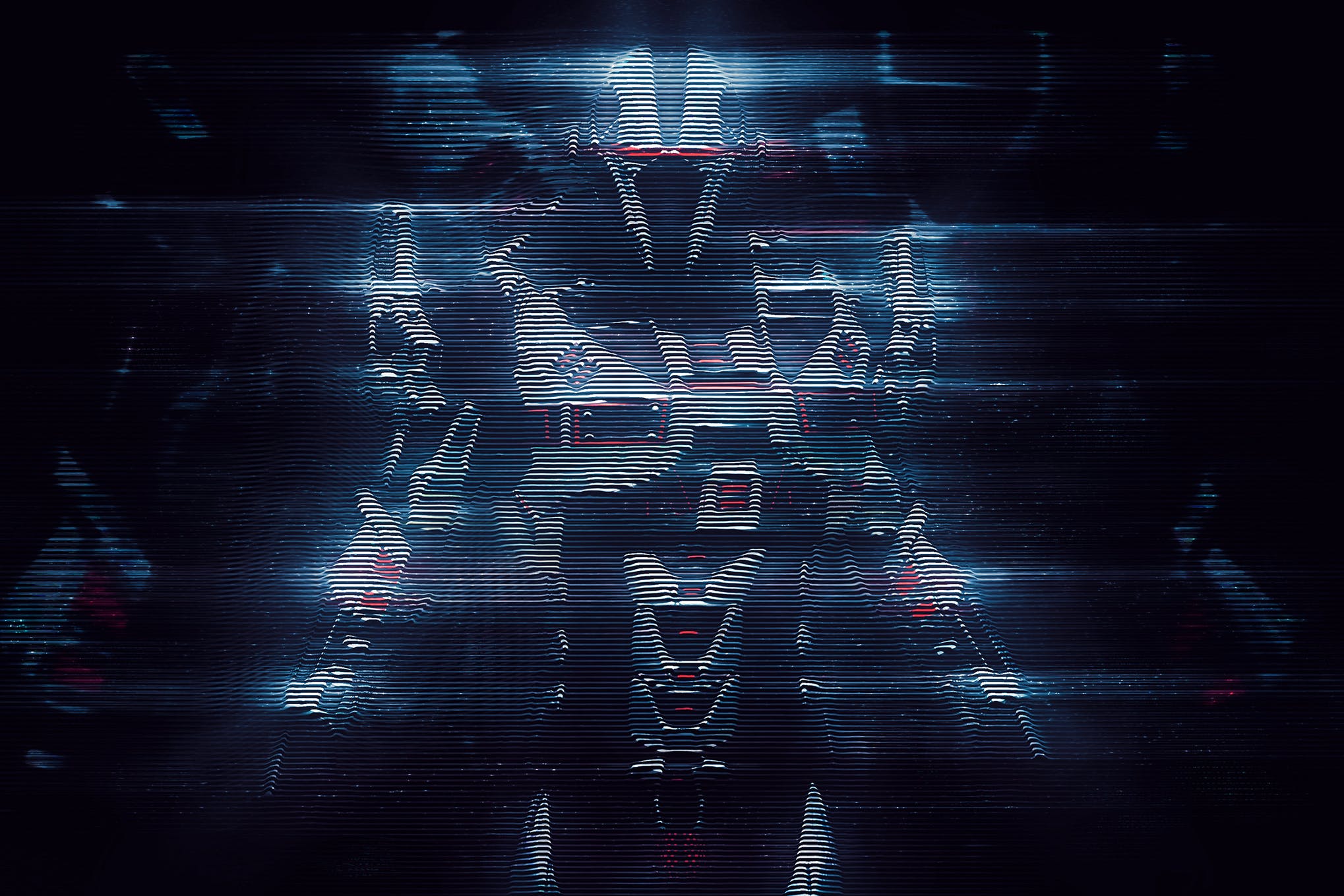 Create a futuristic hologram with this Photoshop action that whilst providing a complex and captivating effect, is extremely easy to use. Simply input your image, activate the action, and you've created a realistic hologram. What's not to love about that?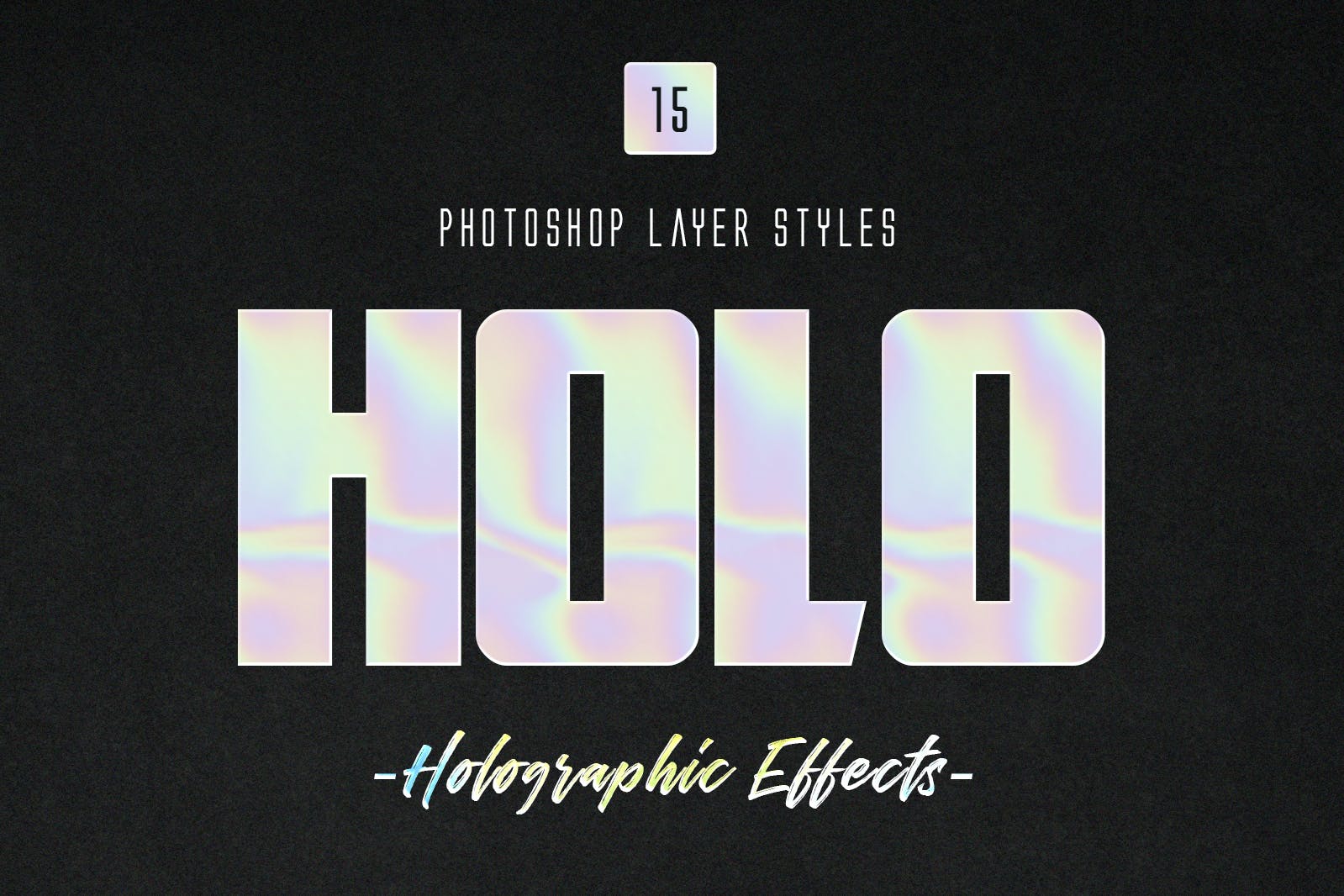 Make every typeface you use a holographic dream with the Holographic Photoshop Layer Styles collection. This collection provides you with an impressive amount of versatility in how you apply the effect and equips you with fifteen different styles for you to use.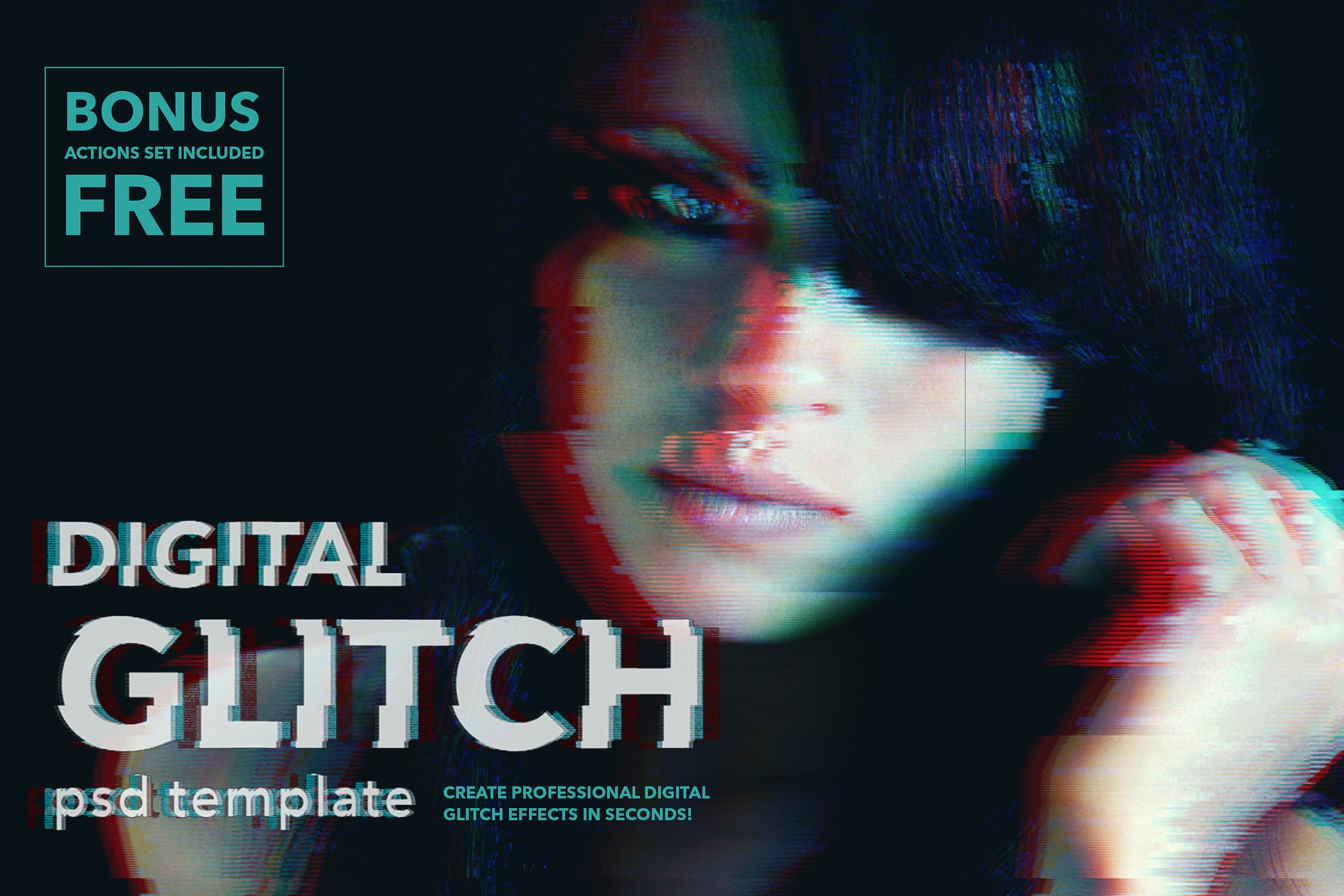 Craft a more rigid hologram aesthetic with the Digital Glitch Effects package. This set provides you with an overlay that will transform any picture into a hologram-styled design with ease, more in line with a retro VHS style. A unique take on the traditional hologram style that we love to see!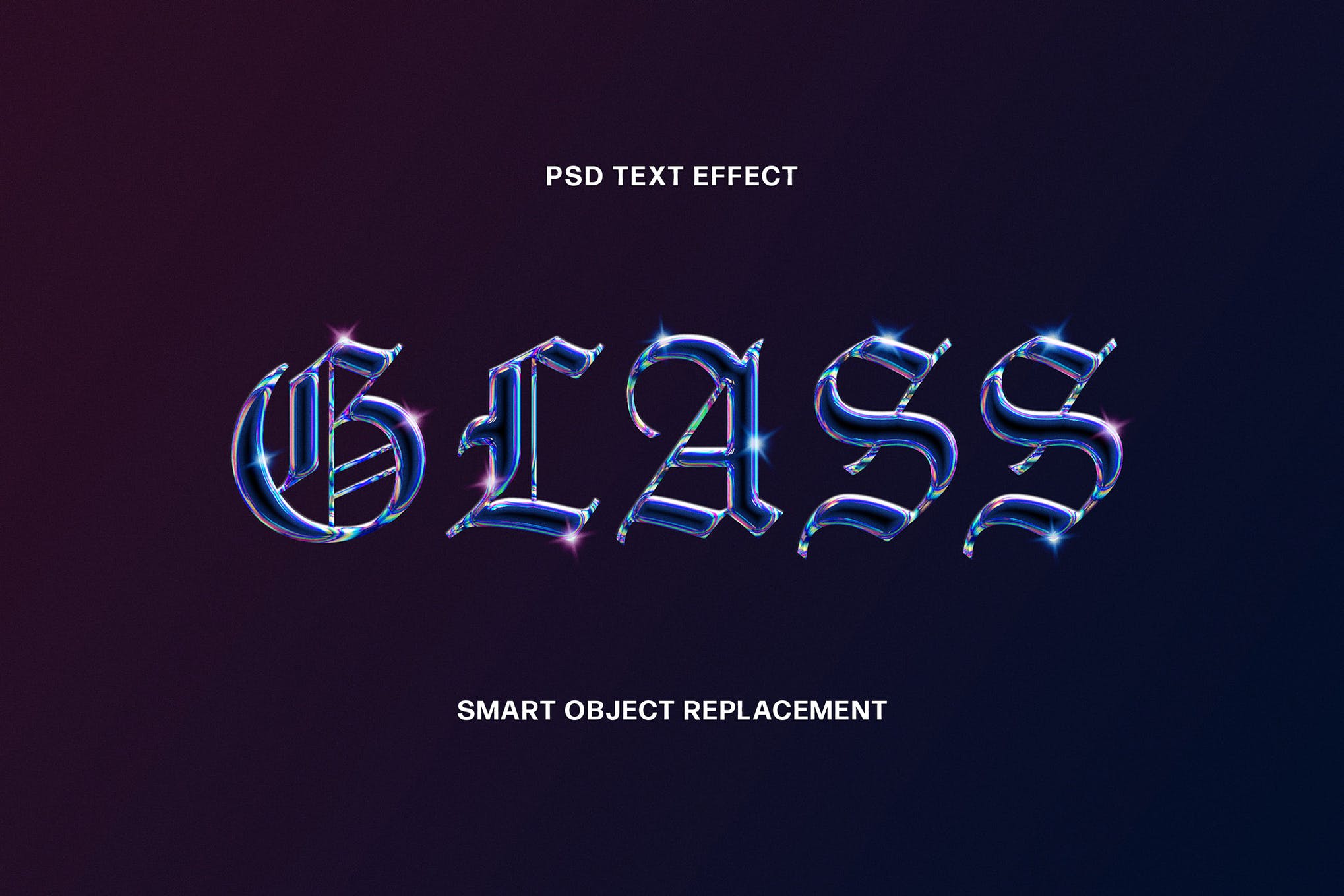 Bring the essence of holographic reflections, flamboyant bends, and alluring gloss to your work with this Photoshop text effect helping you emulate a marvelous glass texture and believable hologram aesthetic with ease. A great tool helping you create the hologram effect in Photoshop!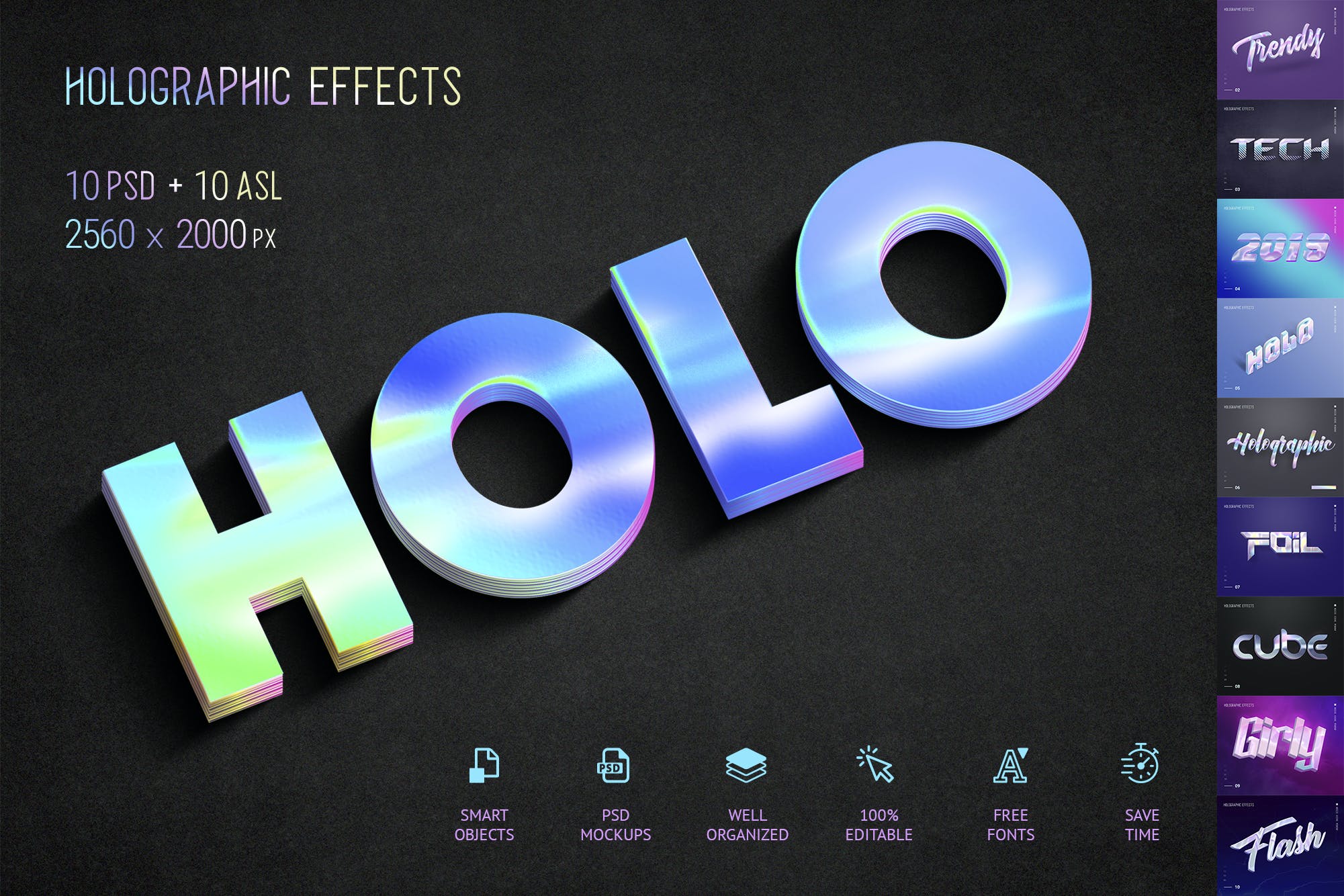 Make your text shine with this collection of hologram-styled text overlays. Inside you'll find ten different styles, each with their own unique aesthetic. A great option for those looking to bring a touch of style to their text overlays!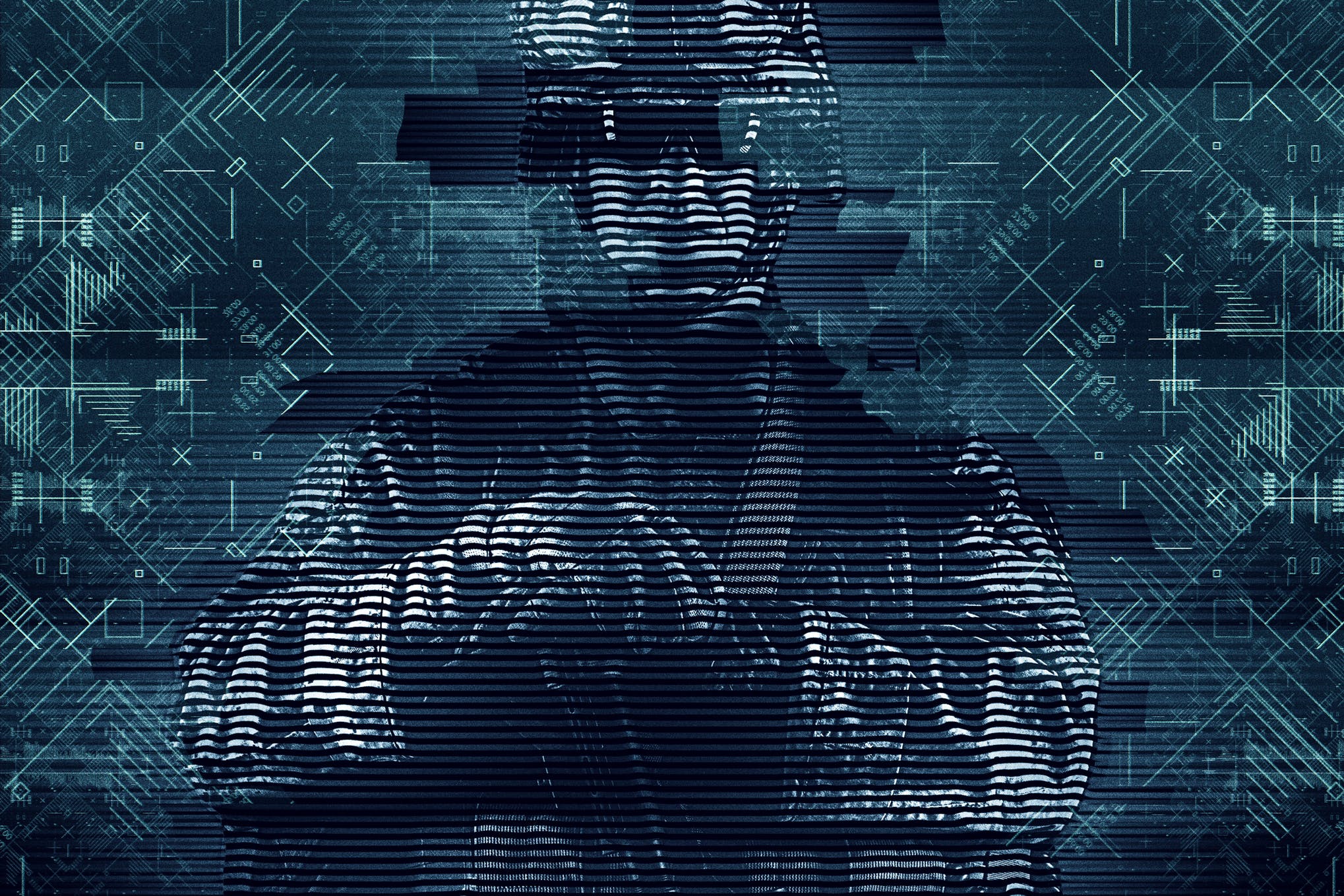 Emulate the design of a real hologram with the Artificial Intelligence Photoshop Action. This action is tailored to help you mold your photos into a retro- hologram style with ease. A great option for a wide range of design project styles!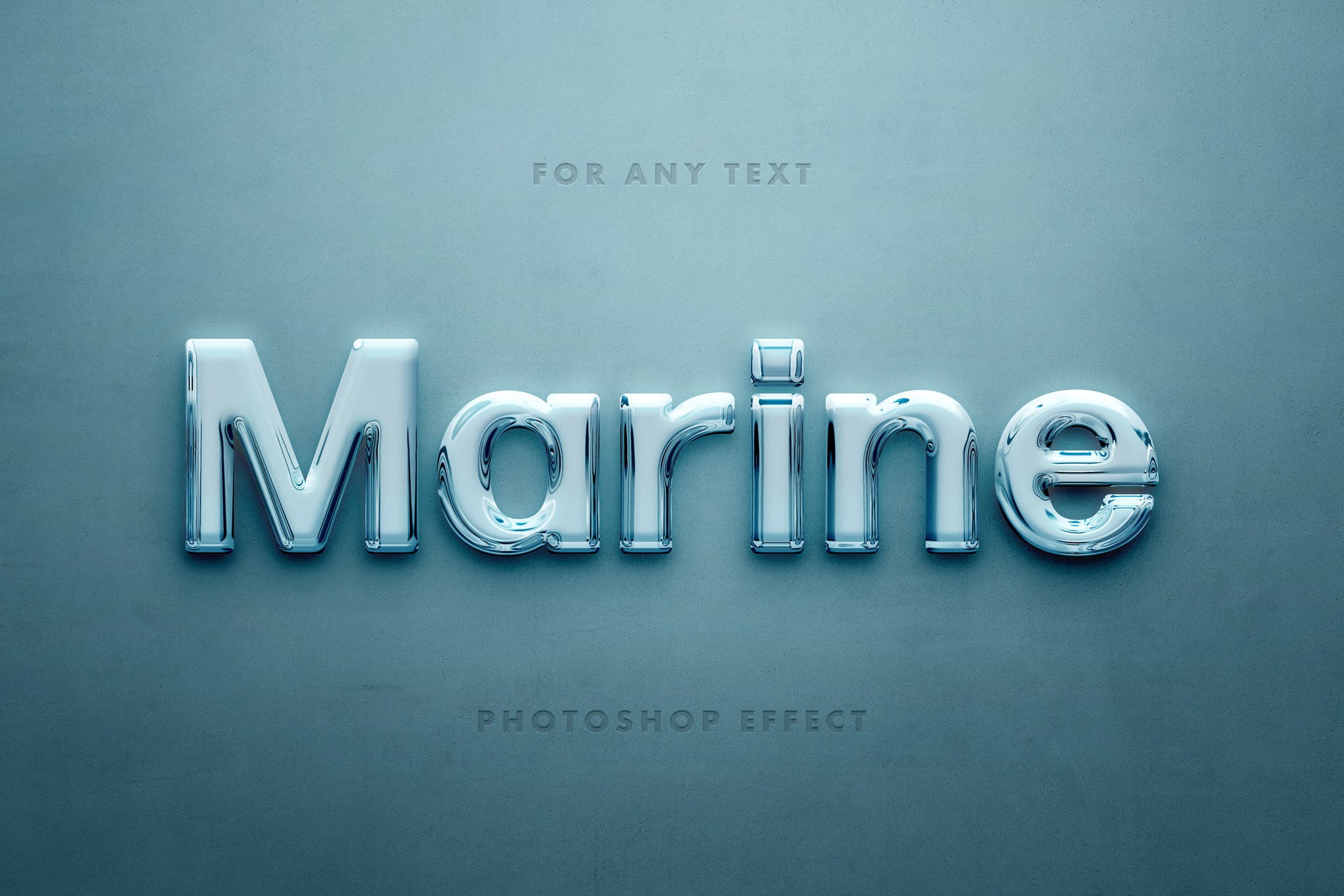 Check out this stunning marine-colored text effect perfectly suited for headlines, logotypes, product packaging, and other branding requirements. It comes in a 4500×3000 px resolution and helps you create your very own aqua dystopian landscape in no time at all.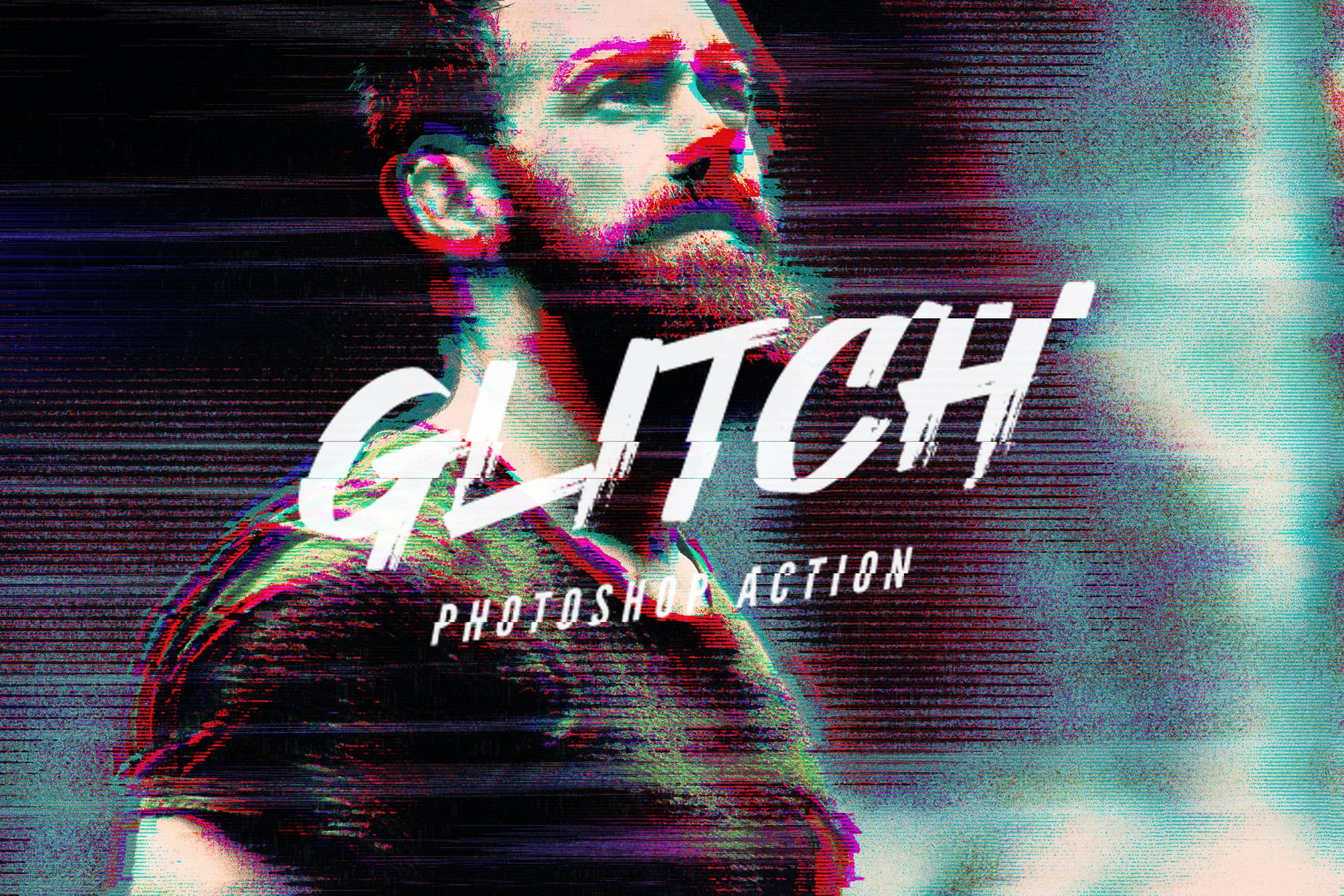 Have a little more freedom with how you create a hologram-styled effect with the VHS Glitch Photoshop Action. This set provides you with a holographic distorted glitch brush style, allowing you to control the intensity and style of the hologram effect you want to create.
Free Hologram Photoshop Actions & Effects
You don't have to invest any money to get some great hologram-styled effects under your belt. Let's take a look at some free options you can get your hands on right now!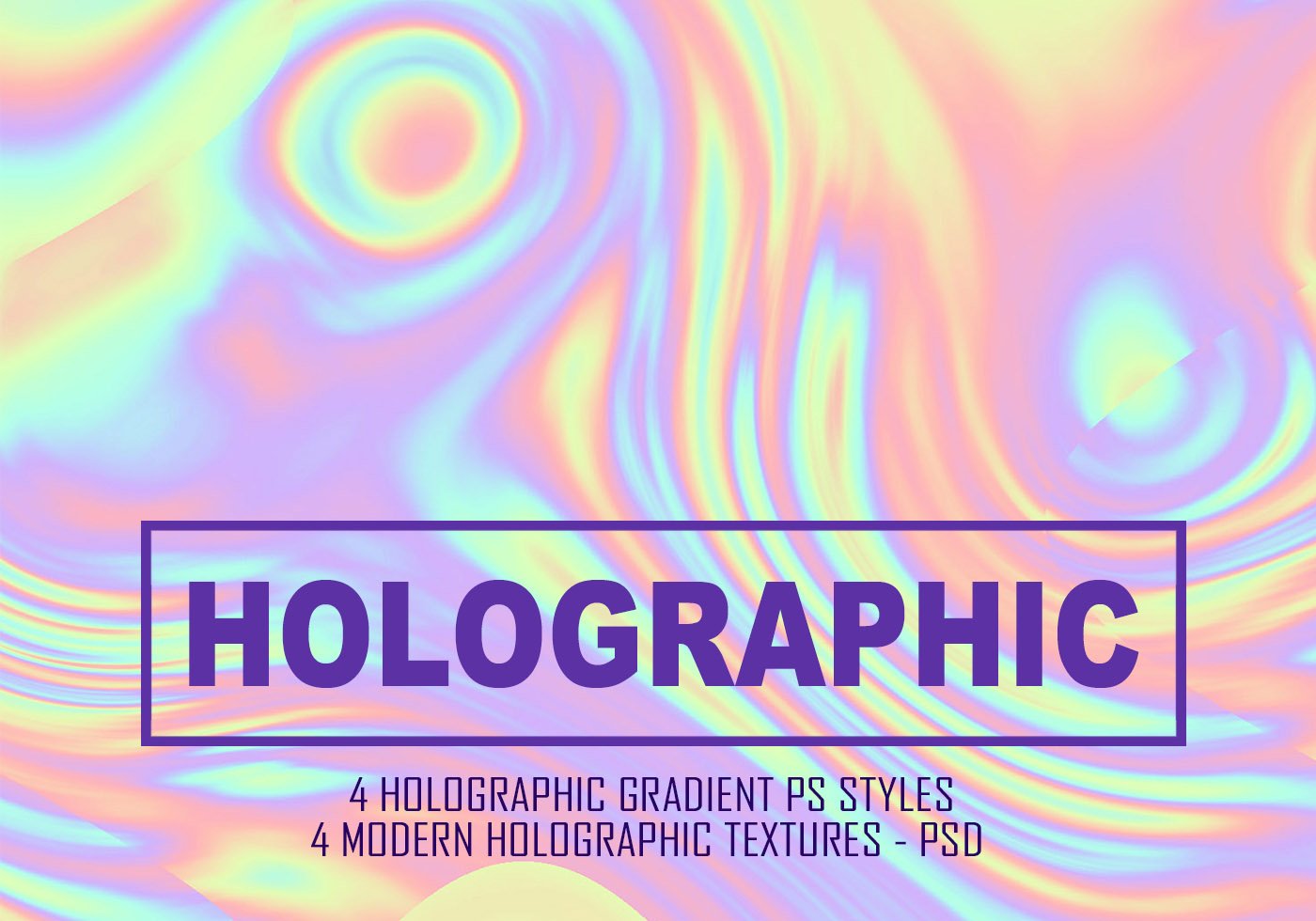 Make any surface a holographic beauty with the Holographic Gradient Photoshop textures. It's a free resource that provides a range of four different high-quality gradient textures that will make emulating the hologram effect in Photoshop a breeze.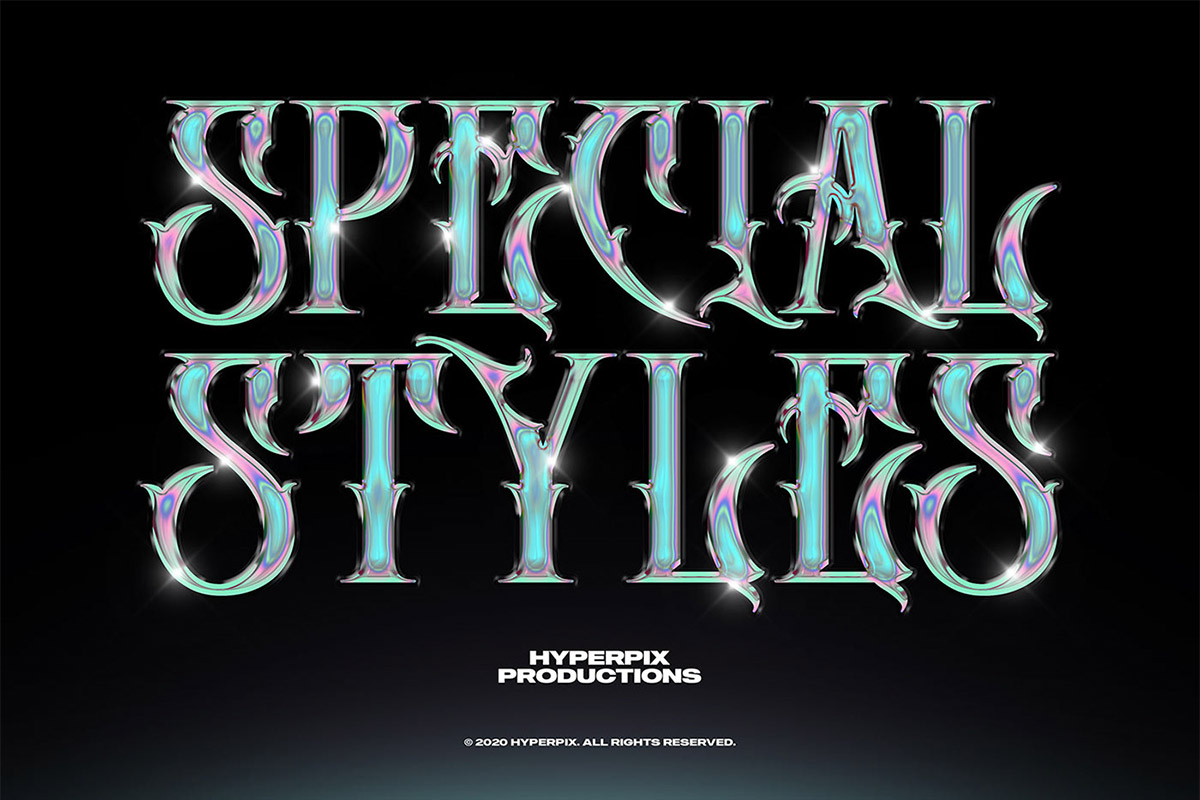 Create a traditional gothic-styled holographic text effect in Photoshop with this free resource. Inside you'll find an easy-to-use text effect, allowing you to customize the entire look as per your liking. A gold standard in the world of free hologram resources for Photoshop!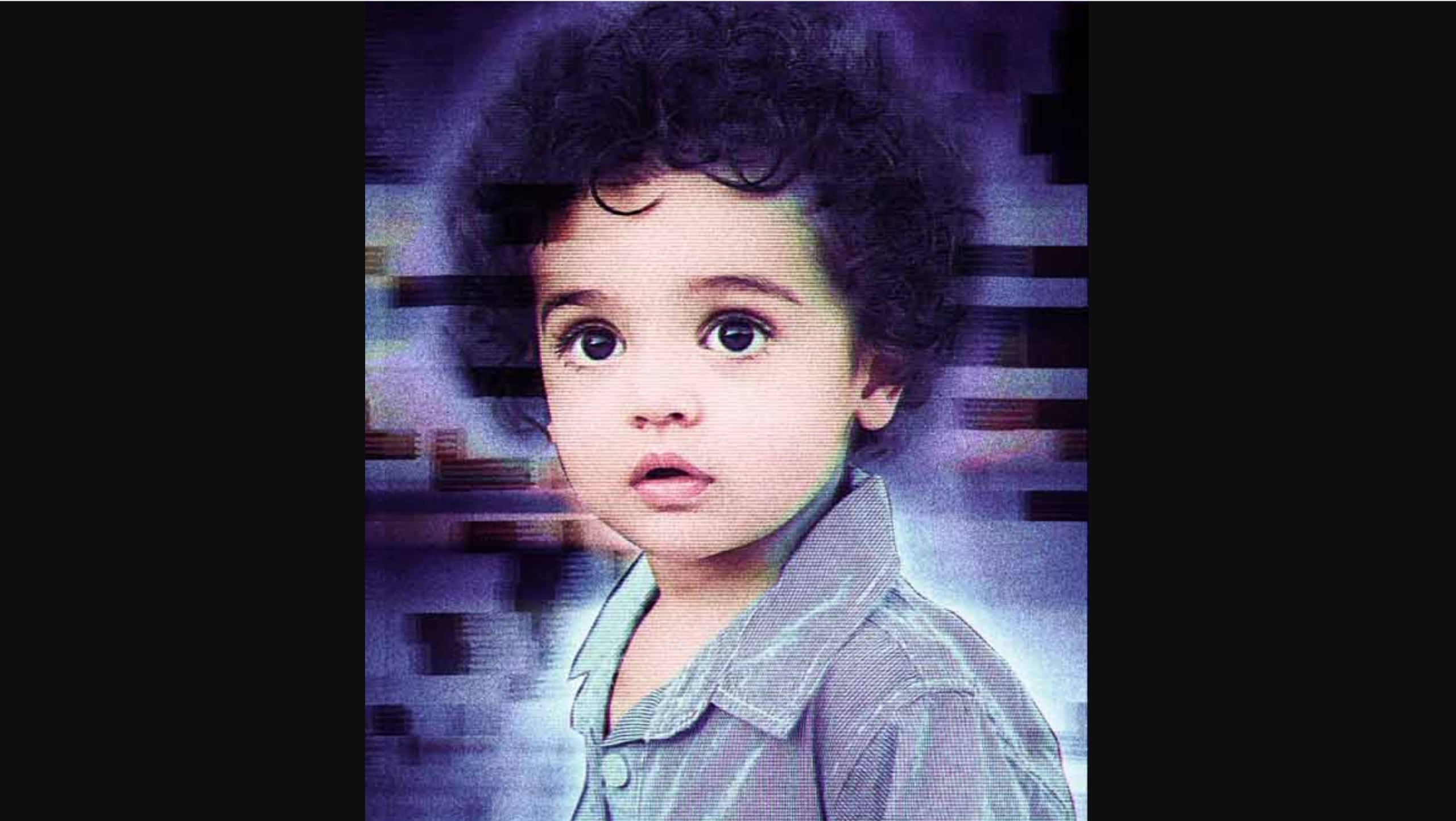 The Holographic Pattern Lines Photoshop Action is an impressively extensive, yet simple, free resource. It provides you with seven glitch line patterns that will transform any picture into a life-like hologram with ease.
Create A Hologram with These Effects with Ease!
Finding great quality hologram and holographic Photoshop effects can be a struggle, but that struggle is now over. With this selection of Hologram Photoshop actions under your belt, you're ready to make any picture seem as if it was pulled from a distant future with a few simple clicks.