8+ Best Google Analytics Alternatives For WordPress 2023
Knowing where your website visitors are coming from, which devices they use, and how much time they spend on your website, are all important metrics you need to track for developing any website.
Understanding such statistics allows you to optimize and improve your website to better serve your visitors. As well as to get higher rankings and more traffic from Google. This is why you need to implement website analytics.
Google Analytics is usually the go-to solution for implementing analytics for any website. Even though it's free to use, many users are often concerned about Google's policies on sharing user data with advertisers and how it puts the privacy of visitors at risk.
If you're also concerned about privacy or looking for a more simplified solution for your website analytics, finding a Google analytics alternative is the best approach.
In this guide, we're covering some of the best alternatives to Google Analytics that also work well with WordPress. Let's see which solution is better.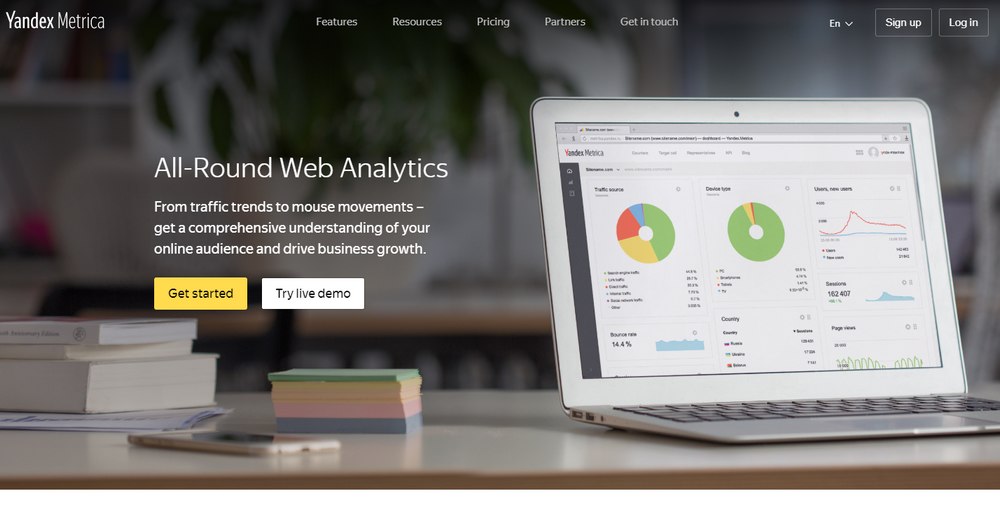 Yandex Metrica is one of the most popular analytics software available today. In fact, it's the third most popular analytics platform in the world. The software comes directly from the team behind Yandex, the Russian company behind the popular search engine.
The main reason we ranked Yandex at the top is because the platform is completely free to use. And it can be easily connected with WordPress using a simple third-party plugin.
Yandex Metrica also provides just as detailed analytics reports as Google Analytics. Along with many advanced features such as Session Replay and Heatmaps.
Best Features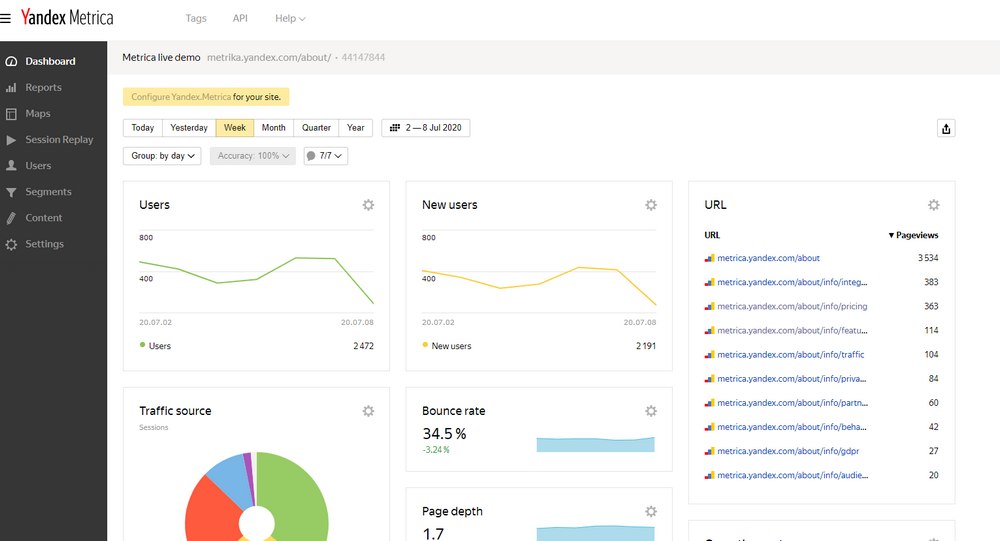 Simple and beginner-friendly user interface
Get detailed analytics, ad-blocker usage, and set goals
Heatmaps allow you to track how users engage with your website
Session Replay lets you watch how visitors behave
Keep the data for as long as you want
Why Use Yandex Metrica?
Now, you might be wondering that using Yandex Metrica, owned by a Russian company, would be even worse than using Google Analytics. It's quite the contrary.
US organizations such as the NSA doesn't have authority in Russia. And your data on Yandex Metrica is not shared across Google's many other apps and services. This should provide enough security for the protection of your visitor's privacy.
On the other hand, Yandex is known to share data with the Russian intelligence agencies upon requests.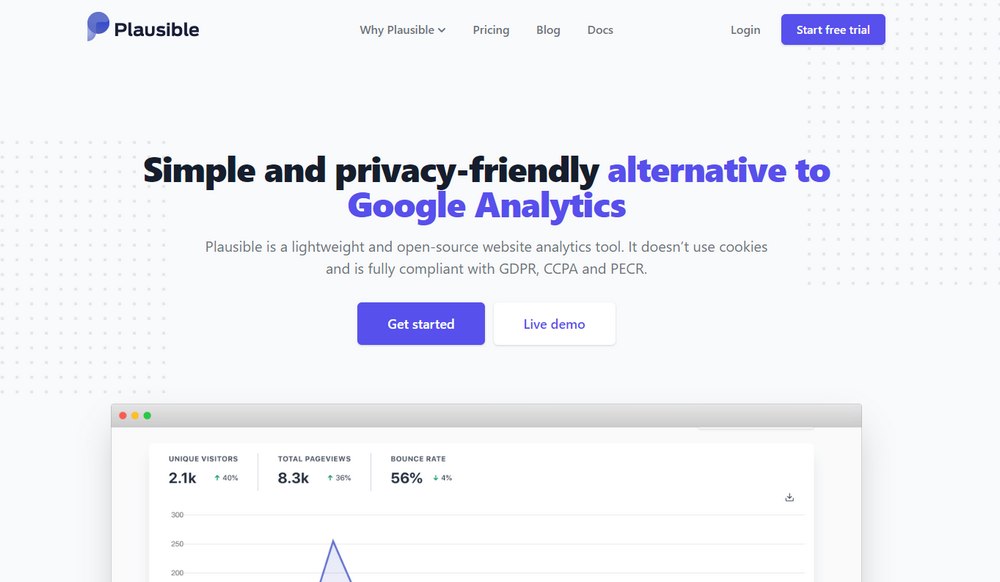 Plausible is a new platform that claims to provide a "simple and privacy-friendly alternative to Google Analytics" and they deliver on that claim quite well.
Unlike most other platforms, Plausible is a premium platform and it doesn't have a free plan. They make a strong case for their pricing by providing analytics that doesn't use cookies and fully compliant with all the latest privacy regulations. This means you don't have to add an annoying cookie consent message to your website.
Best Features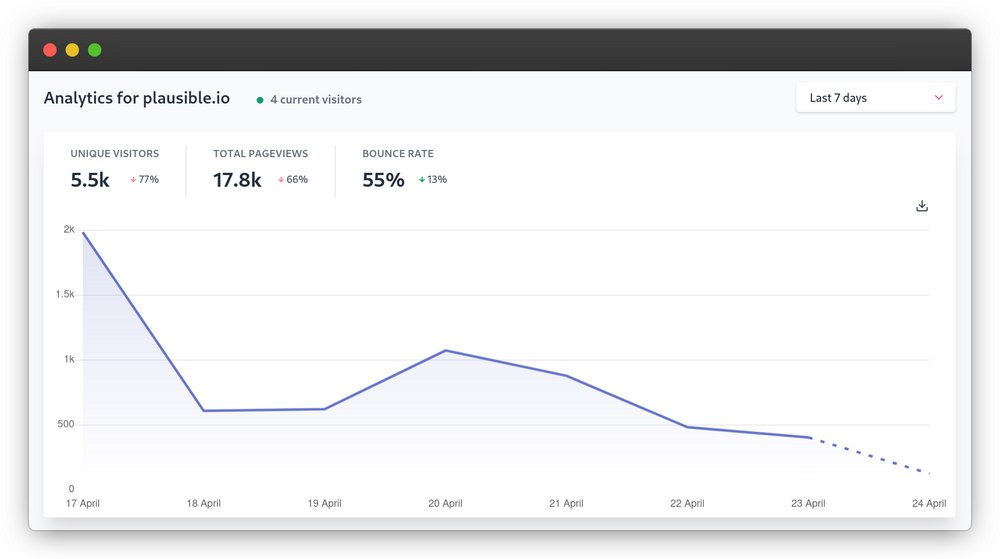 Simplified user interface makes it easier to understand metrics
Track visitors without using cookies
Fully compliant with GDPR, PECR, and CCPA
Easily integrates with WordPress and even Google Search Console
Uses a lightweight script that doesn't affect website performance
Why Use Plausible?
Google and other platforms are able to provide free analytics software by mainly collecting your and visitor's data and selling them to advertisers. Plausible gives you full control over the data you collect and never shares them with third-parties.
Of course, they have to charge a price for providing such a service. If you value privacy, Plausible is worth the price.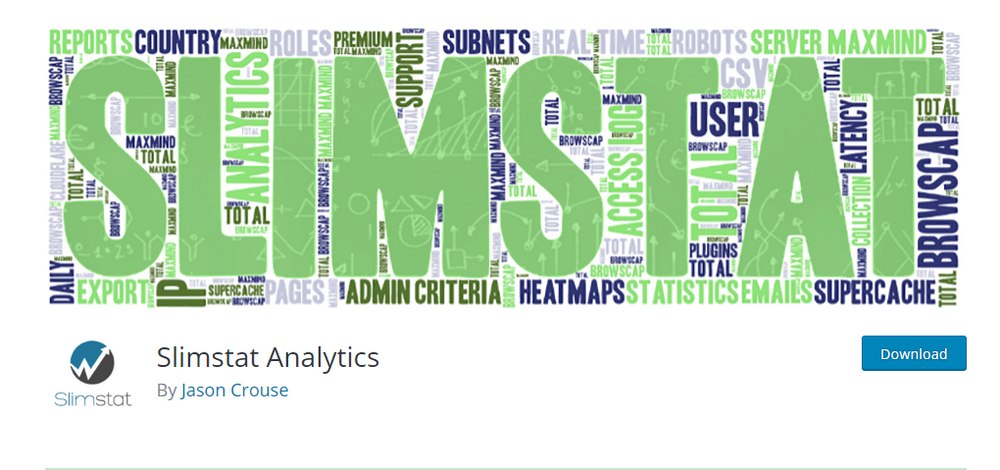 Slimstat Analytics is a simple and free WordPress plugin that provides a very basic and easier solution for tracking website visitors. With this plugin, you can track visitors and access data directly from your WordPress dashboard.
However, there's a small downside to using the plugin. Since it hosts all the data on your own website, if you decided to delete the plugin your visitor data will disappear along with it.
Best Features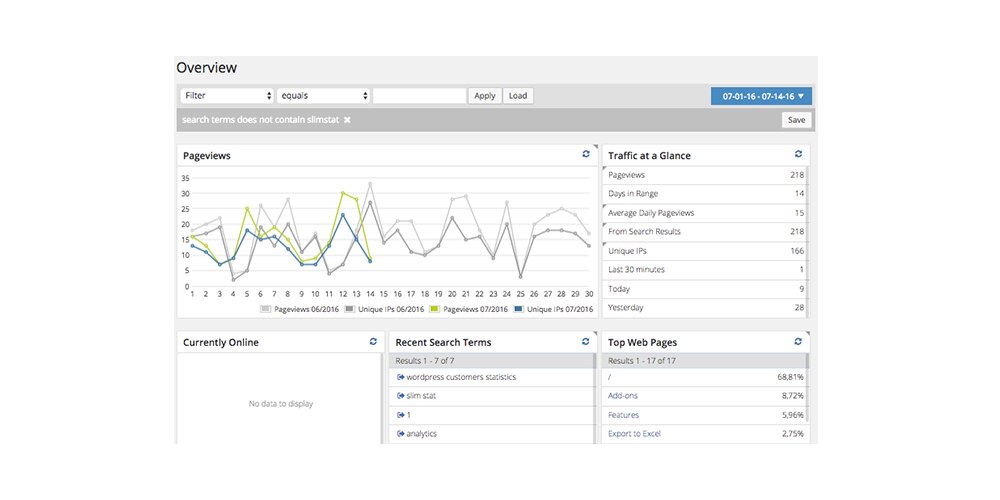 Basic website analytics directly on WordPress dashboard
Track visitors with real-time tracking
GDPR compliant and compatible with caching plugins
Export reports to Excel
Add heatmaps, email reports, and more with paid add-ons
Why Use Slimstat Analytics?
While Slimstat comes with a set of simple features for gathering important metrics, keep in mind that it's designed for beginners and for small websites.
It's ideal if you don't want to gather advanced metrics or set goals. And it's perfect for personal and niche websites as well.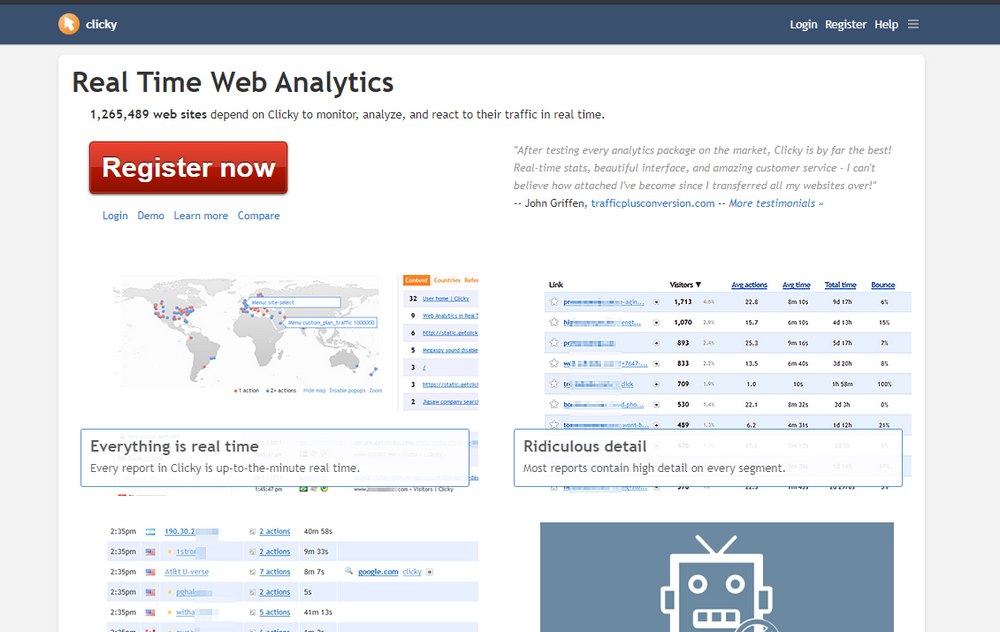 Price: Free / $9.99 per month
Clicky is one of the oldest analytics software for websites that's been around for a long time. It offers a simplified experience for tracking visitors. Even though the dashboard design looks a bit outdated, navigating through different sections is quite easy.
Clicky is perfect for small websites. The free plan lets you track up to 3,000 page views per day with limited features. Paid plans start at $9.99 per month for tracking up to 30k page views. And gives access to premium features such as heatmaps and outbound link tracking.
Best Features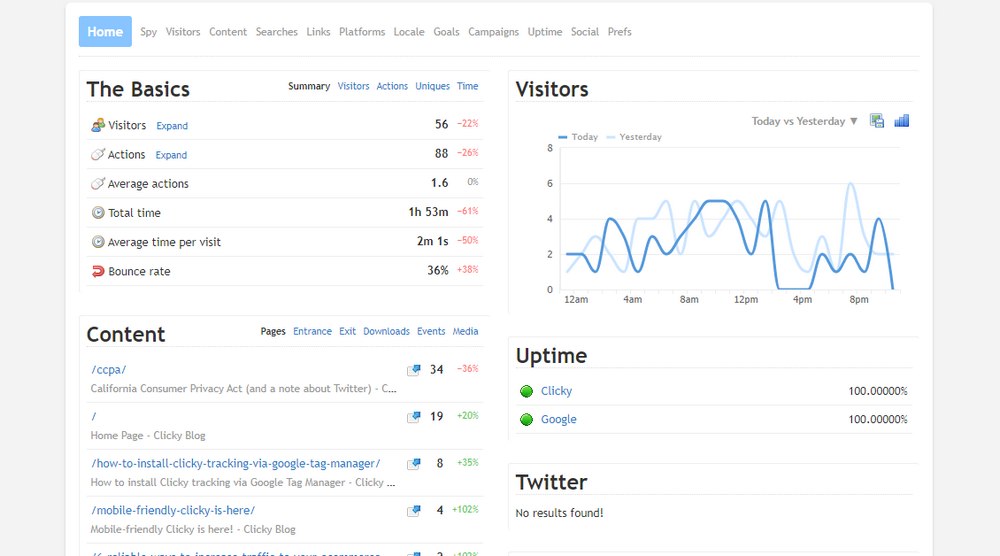 Simple interface with easier navigation for beginners
Real-time data with accurate visitor tracking
Track individual visitors and their actions to better understand users
Premium features for more detailed reports
Easily integrate with WordPress plugins
Why Use Clicky?
Clicky makes it much easier for you to understand the different aspects of analytics with its simple dashboard. The free version is more than enough for a small website for basic visitors tracking.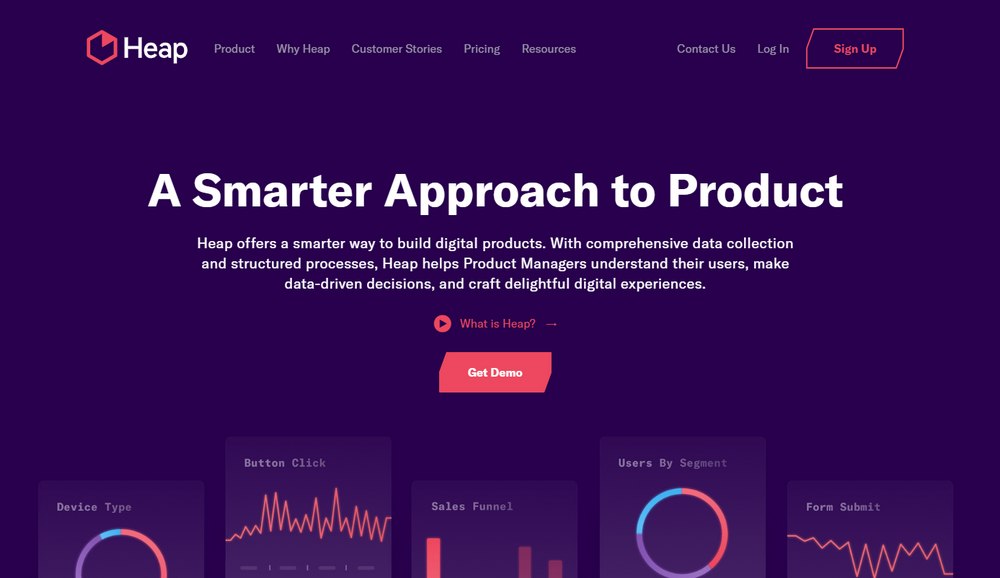 Heap is a new analytics platform that's designed specifically for product websites. If you have a WooCommerce store or a startup website, Heap has plenty of solutions to help generate more leads and sales for your business.
The platform also uses a very modern approach to analytics with visualized statistics to help you understand the data more easily. Heap offers a free plan for small and new projects. And you can contact the team to get a quote for bigger projects.
Best Features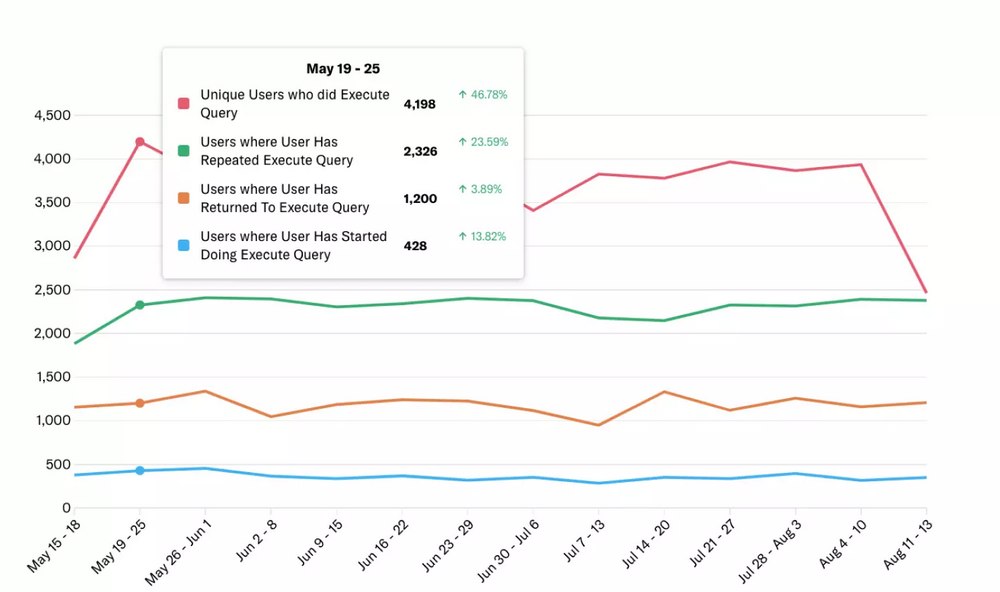 Highly visual and modern dashboard makes it easier to understand data
Track every interaction each visitor makes on your website and product
Constantly improve your buyer's journey with detailed insights
Ability to track both desktop and mobile visitors
Why Use Heap?
With Heap, you can track your visitors and potential customers through their buyer's journey to gather insightful data to help improve your eCommerce websites. It will help you optimize your site to generate more sales in the process.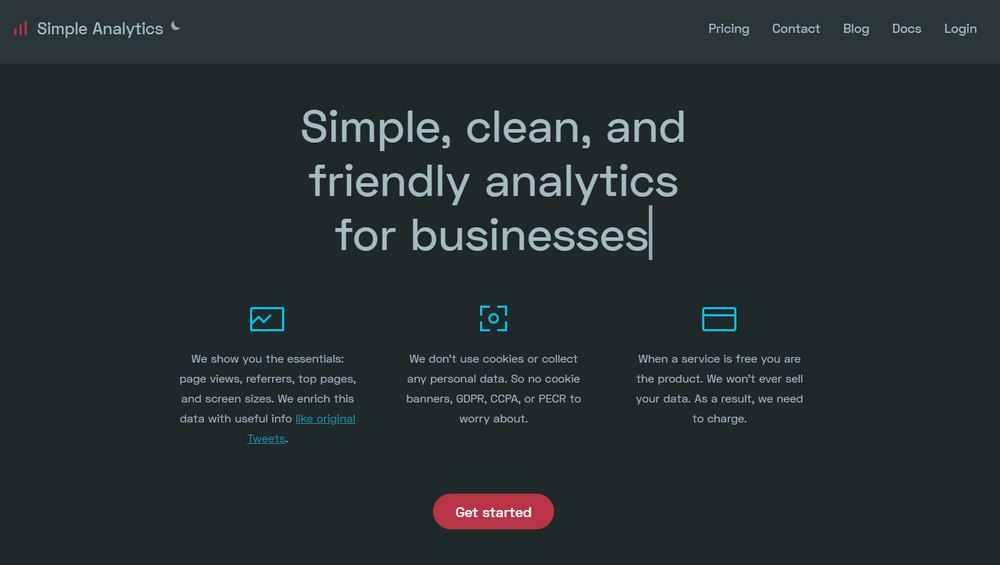 Just as the name suggests, Simple Analytics is a platform designed to give you a simplified solution for tracking website visitors. However, their pricing is not as simple as the platform itself.
Even though the prices are a bit higher, Simple Analytics makes up for it by allowing you to track visitors on unlimited websites. And a privacy-centric service that doesn't use cookies.
Best Features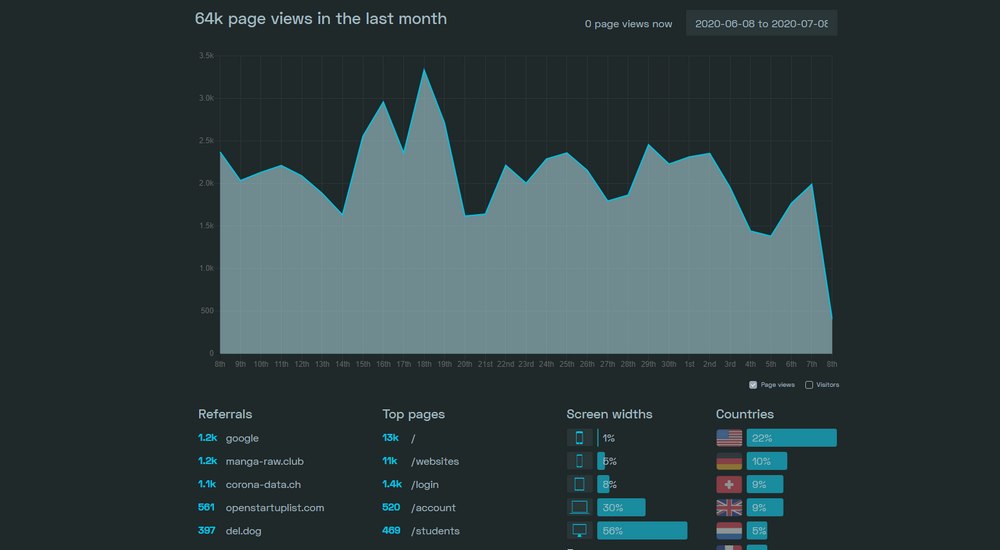 The simple user interface is perfect for beginners
Track visitors without using cookies
Fully compliant with GDPR, CCPA, and PECR
Easily integrate on any website with 2 lines of code
Why Use Simple Analytics?
Simple Analytics is a great solution for small websites. Especially if you're not tech-savvy or you just want to track basic metrics. The platform, however, is just too basic for more advanced businesses and websites.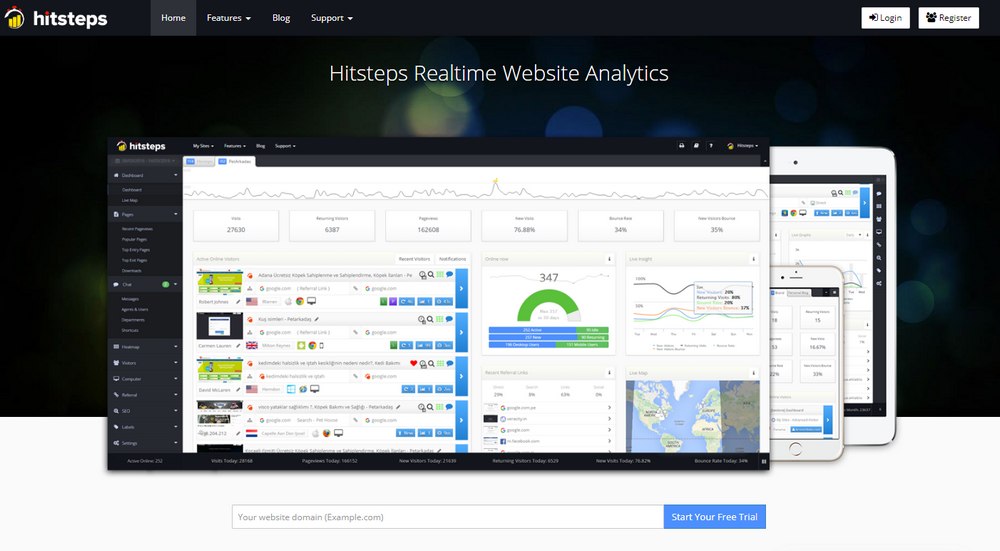 Price: Free / $4.99 per month
Hitsteps is another solid Google Analytics alternative that comes bundled with multiple solutions. In addition to tracking visitors, you can use the software to monitor visitors and usage of live chat, live map, and website uptime.
It's a great 4-in-1 solution. However, the free plan is not very useful for any kind of website as it has a 2,000 page views per month limit. Paid plans start at $4.99 per month for 10k page views.
Best Features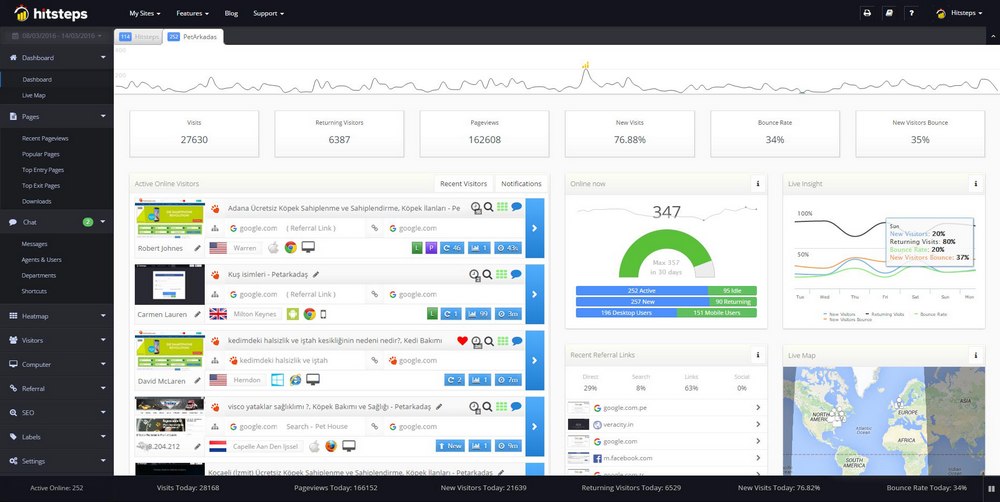 Detailed website analytics lets you understand visitors better
Ability to track customer live chat engagements
Monitor website uptime
Use the live map to track the location of visitors in real-time
Why Use Hitsteps?
If you can afford the price, Hitsteps is a great platform for managing multiple aspects of your website from a single dashboard. Especially for tracking your customers and engagements on the live chat system.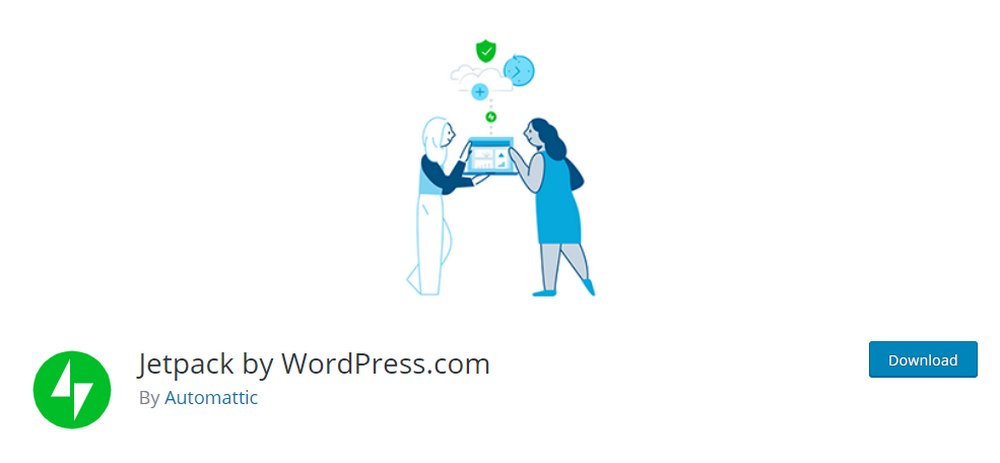 Jetpack for WordPress is one of the most underrated solutions that most users never use. Jetpack actually has a built-in analytics system for tracking website visitors as well.
Among many useful features, Jetpack stats feature allows you to gather simple metrics related to your website analytics, including daily/monthly visitors, visit counts per post, and more.
Best Features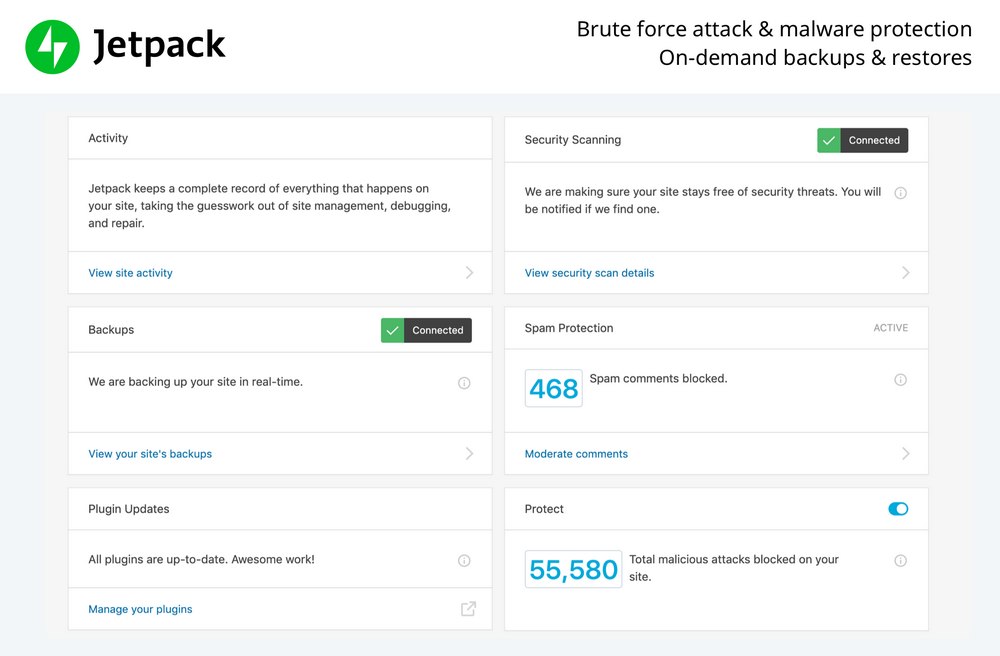 Get simple website statistics directly on WordPress dashboard
Protection from hackers and malware
Optimize the website for faster loading times
Simplified user interface is perfect for beginners
Why Use Jetpack?
Jetpack is an all-in-one solution that includes many useful tools such as uptime monitoring, image lazy loading, protection from brute force attacks, and more. The statistics Jetpack provides are simple, but it's more than enough for a small or personal website.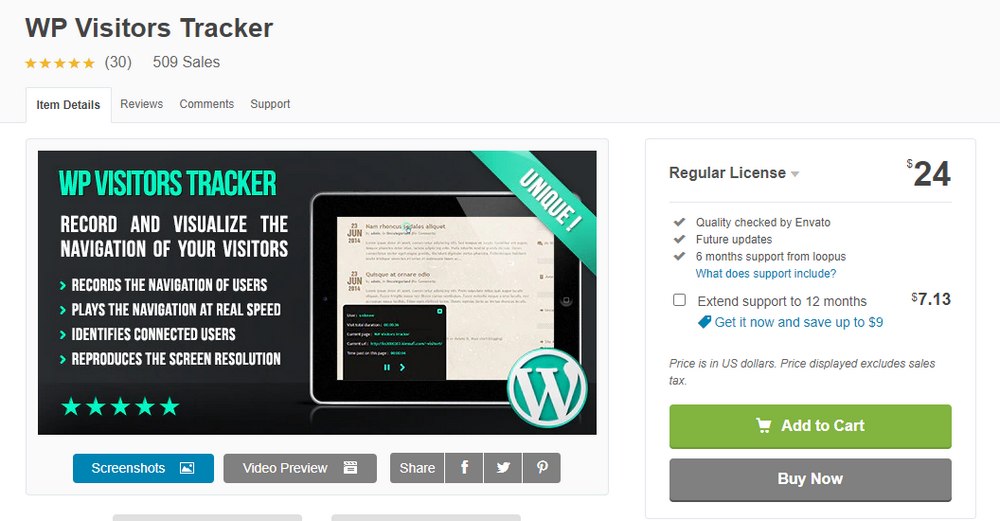 WP Visitors Tracker is a very unique WordPress plugin that allows you to monitor and track the behavior of your visitors. The plugin records the behavior of each visitor and lets you replay it to see how they engage with your website.
Why Use WP Visitors Tracker?
Even though this plugin is technically not a Google Analytics alternative, it provides a very useful solution for understanding your visitors. And in turn, helps you optimize your site based on user behavior.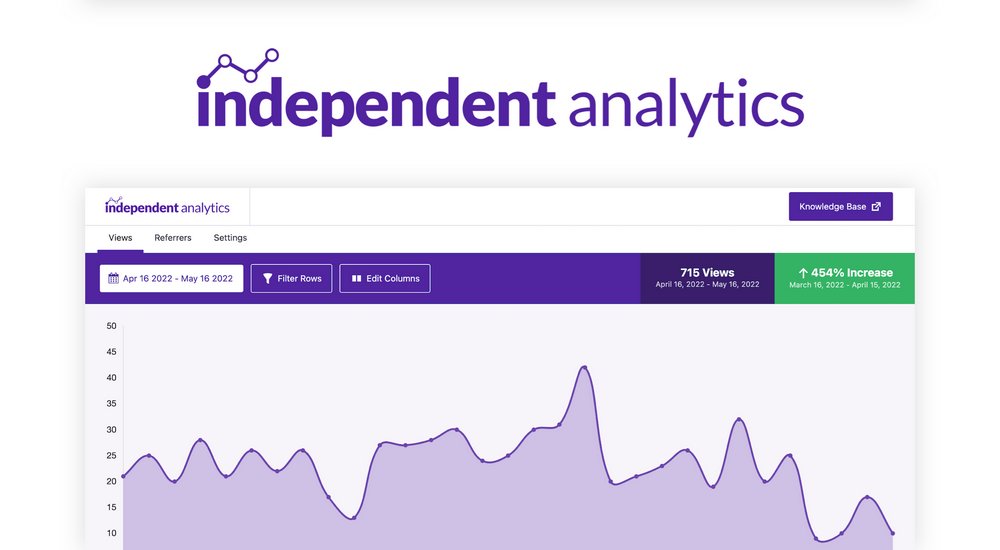 Independent Analytics is a wonderful plugin that truly lives up to its name. It allows you to easily setup analytics for your WordPress website without having to worry about an evil corporation having access to your visitor data.
Independent Analytics is a free plugin that integrates directly with your WordPress website. As soon as you install the plugin, it starts tracking your website visitors. There's no need to edit theme files or add tracking codes to pages.
The analytics system is also completely GDPR compliant since cookies are not used and your data is both collected and stored on your website's server.
Best Features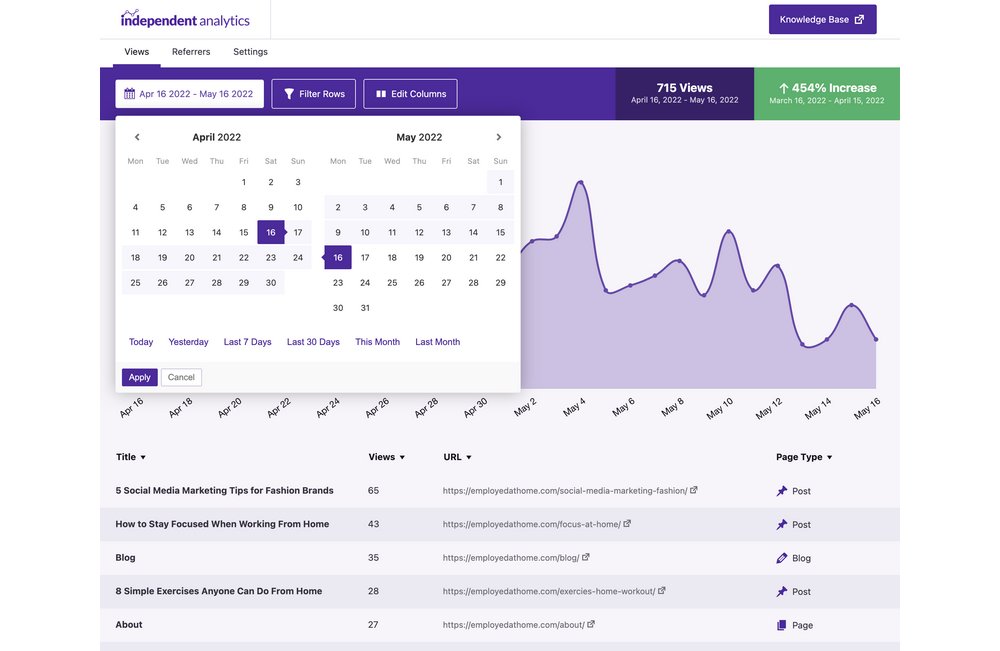 Easy one-click install process (no tracking codes necessary)
View and explore visitor data using the modern user dashboard
Track page views and see where traffic comes from
Offers automatic GDPR compliance for website analytics
Why Use Independent Analytics?
Independent Analytics is a great Google Analytics alternative for small websites, blogs, and magazines. Using the plugin, you can easily track daily page views and get referral reports on traffic sources. The modern dashboard makes it very easy for beginners to understand traffic stats as well.
For a completely free plugin, it offers a great solution for everyone who's looking for a simple and easy-to-use analytics platform for WordPress.
Which Google Analytics Alternative is Best?
Plausible is arguably the best alternative to Google Analytics. Its' smooth interface and privacy-centric visitor tracking system makes it a great choice for a user-friendly website. If you can afford the price, Plausible is the best Google Analytics alternative.
The best free option is Slimstat Analytics. However, the limited features of the WordPress plugin may hold back your site's growth. In such a case, go with Yandex Metrica.
Still think Google Analytics is better for your website? Then check out our guide on how to install Google Analytics in WordPress.
Looking for WordPress hosting? We use Kinsta. They offer world-class WordPress hosting, built to keep your website fast, secure, and always online.