How To Design A Lead Capture Page In WordPress For Free
Is your email list still stuck on 100 subscribers? Are you struggling to get your website visitors to download your lead magnets? Then you should start creating lead capture pages.
Email is the most effective method of marketing as it generates $38 for every $1 spent. There's no other marketing strategy that can beat this rate of ROI (Return On Investment).
However, you need a big enough email list to market your business in the first place. And growing an email list is the toughest part. Thanks to lead capture pages, this task gets much easier.
In this guide, we'll show you how to easily build a free lead capture page in WordPress without spending a single penny.
Get everything you need to build your next website with one simple subscription. From $16 per month, get unlimited access to nearly 2 million WordPress themes, web templates, fonts, graphics, and photos.
What Is a Lead Capture Page?
A lead capture page, often referred to as a squeeze page, optin page, or landing page, is a dedicated page you create on your website to convert your regular website visitors into leads.
Offering an incentive or a lead magnet, such as a free eBook, checklist, or an email course, is the best way to get someone to subscribe to your email list. When you create a separate page with more information about your free incentive, that becomes a lead capture page.
Lead capture pages are much more effective than a pop-up form or in-line forms. Mainly because it gives you a landing page that can be easily referenced to in your blog posts. You can even share your lead capture page on social media to drive traffic directly to the landing page.
Main Features of an Effective Lead Capture Page
Landing pages and lead capture pages have a lot in common. However, they are different from each other. Here are some of the main elements of a lead capture page.
Email Optin Form: The main purpose of a lead capture page is to convert visitors into email subscribers. So a form that captures the email and details of the subscribers is a must-have.
Call to Action: A well-designed call to action that gives clear directions on how to subscribe is also an important part of a lead capture page.
Short and Concise: Unlike landing pages or sales pages, a lead capture page should be shorter and concise without giving out too many details about the incentive.
Removed Navigation: Navigation that could take the visitor out of the lead capture page, like menu bars and outbound links should be removed from the lead capture page.
An Explainer: Even though it's not required, adding an explainer video will help boost conversion rates. You can also use images.
Best WordPress Lead Capture Plugins
WordPress makes it much easier to create lead capture pages. In fact, you can easily create lead capture pages using the default Gutenberg block editor.
But, there are plugins that you can use to create more professional-looking lead capture pages. Here are just a few of them.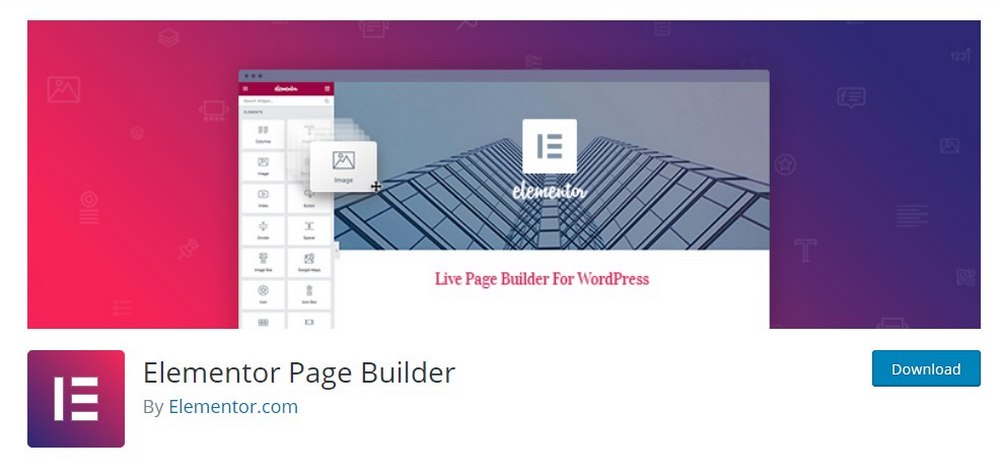 Price: Free / $49 per year
With more than 5 million active installs, Elementor is the most popular free page builder plugin on WordPress. Using Elementor, you can build all kinds of landing pages, lead pages, sales pages, and even design unique homepages.
The Pro version of the plugin, which costs $49 per year, comes with email marketing integration and pop-up forms as well.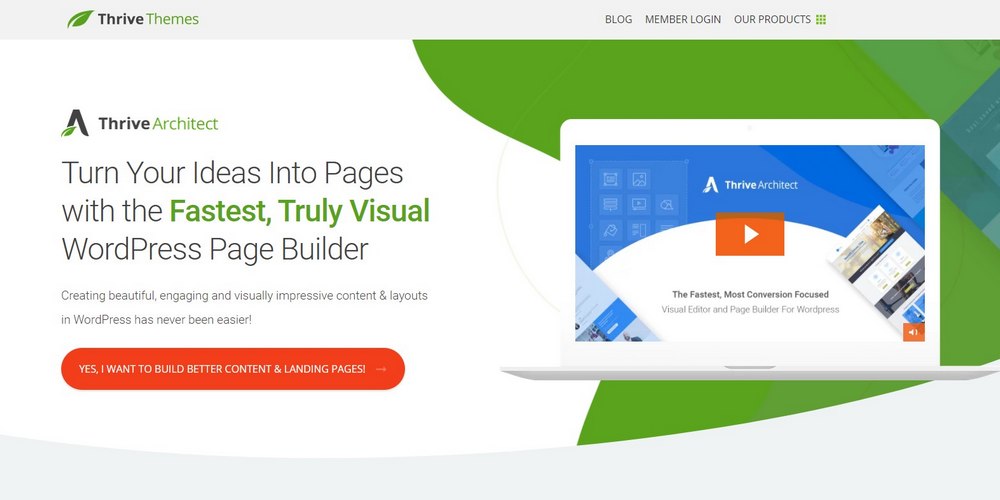 Thrive Architect is a plugin that's made just for building landing pages. It comes with more than 260 landing page templates, including ones designed specifically for capturing leads.
Thrive Architect also directly integrates with email marketing services like MailChimp and AWeber. If you plan on creating multiple lead capture pages, this plugin will be a good investment.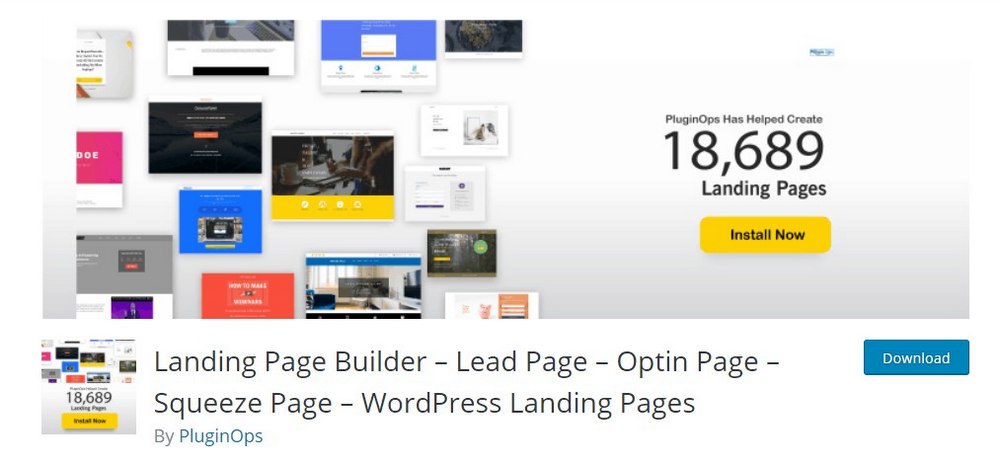 Landing Page Builder is an all-in-one plugin that allows you to build all kinds of landing pages, squeeze pages, and lead capture pages. It includes lots of great templates for quickly creating landing pages without an effort.
However, the free version doesn't allow you to integrate email marketing services. You'll need to upgrade to the Pro version for more benefits.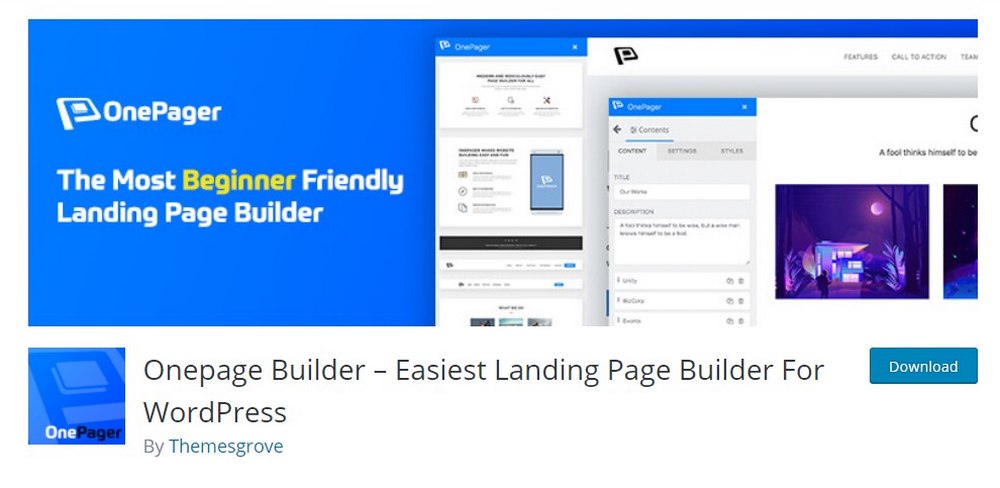 Price: Free / $39 per year
This plugin also specializes in building all types of landing and lead pages. It comes with a sleek and beginner-friendly drag and drop editor that you can use to create pages with ease. There are lots of templates to choose from as well.
It also has a limited free plan and you'll need the premium version of the plugin to access all of its features.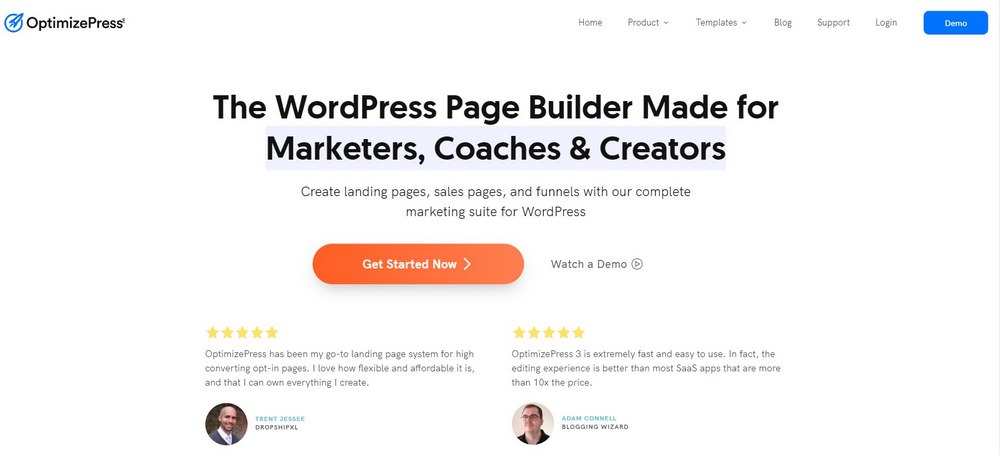 OptimizePress is a premium service that comes with many great tools and features for creating more effective lead capture pages. It gives you access to more than 100 pre-made landing page templates and integration with lots of popular third-party apps like Zapier.
If you have a business website, OptimizePress is a better solution for you.
How to Create Lead Capture Page in WordPress
Creating a lead capture page using a free plugin requires a bit more work than using a premium plugin. Mainly because email marketing integration is usually a premium feature in almost all plugins.
For this tutorial, we're going to use MailChimp for email marketing, Elementor to build the landing page, and ElementsKit to add MailChimp integration to Elementor page builder. All of these plugins and services are free.
Let's see how it works.
Step 1: Install Elementor and ElementsKit
Start by installing the Elementor plugin.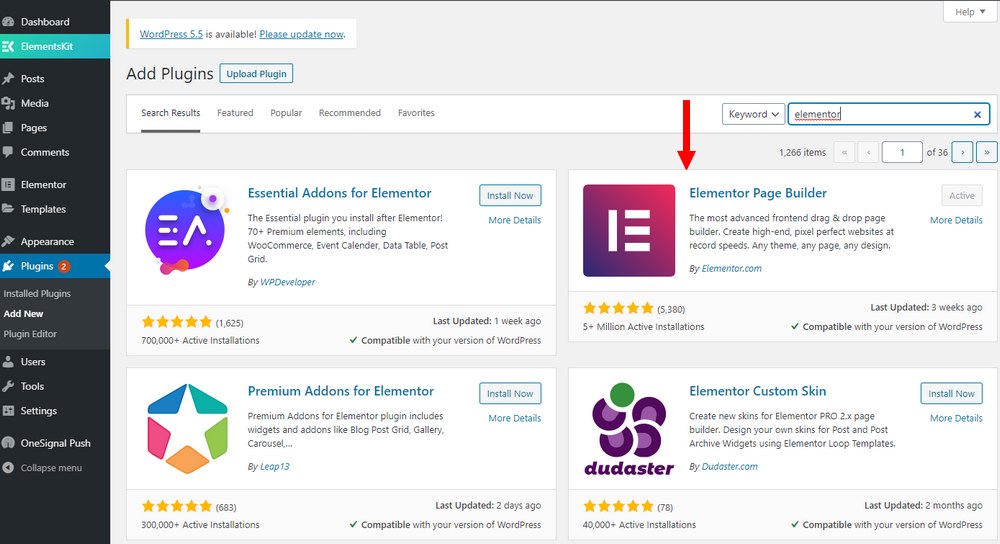 Go to Plugins >> Add New and search for Elementor. Then click Install and Activate.
Follow the same steps to install the ElementsKit Lite plugin.
Step 1: Integrate MailChimp
Create a free MailChimp account.

Once you've completed the initial MailChimp account setup, go to Account >> Extras and select API Keys.

Select Create A Key and copy the code.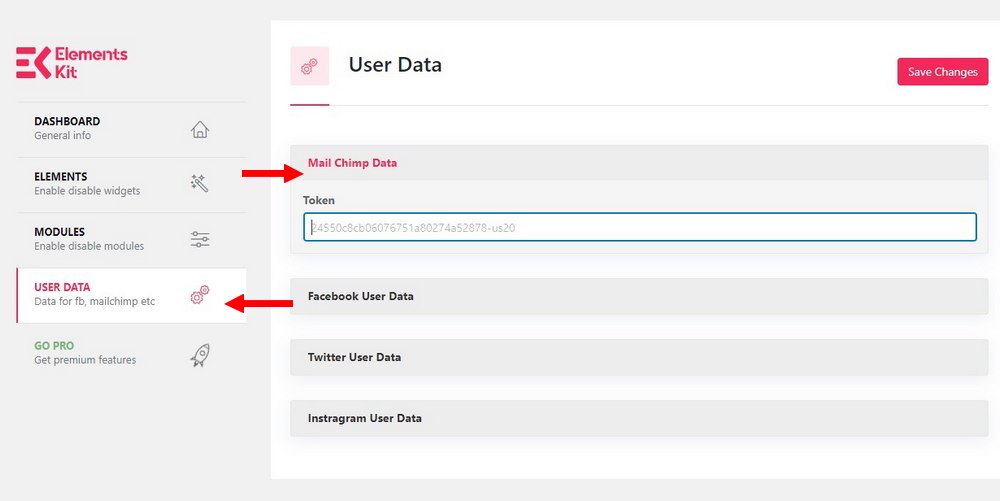 Go back to your WordPress dashboard and over to the ElementsKit settings page and to User Data tab. Paste your MailChimp API key to the MailChimp Data section. And Save changes.
This will integrate your MailChimp account with ElementsKit, allowing you to add an optin form to the landing page.
Step 1: Build the Lead Capture Page
Now, let's build the lead capture page.
Go to Pages >> Add New. On the Templates section, select Elementor Canvas. And click on the Edit with Elementor button at the top.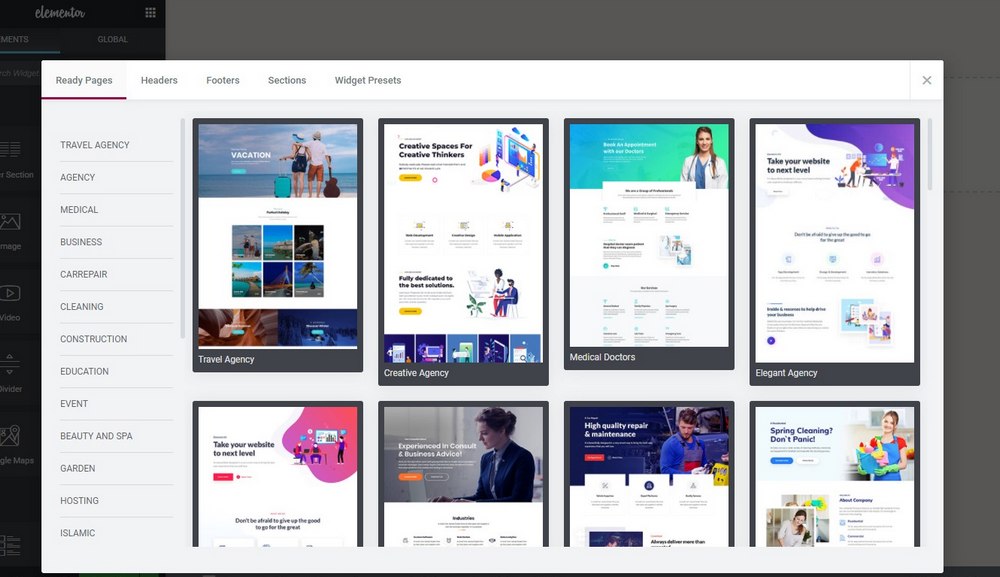 We're going to use a free Elementor template to build the landing page. But, you can create a page from scratch if you want.
After inserting the template, you can easily customize the template to add your own images and content.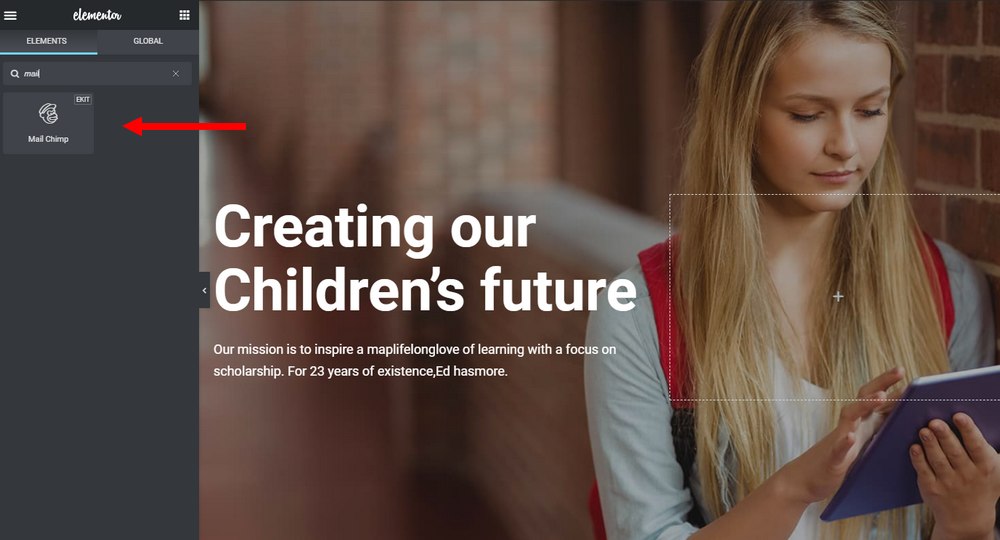 Then we're going to add the email optin form. Simply search for the MailChimp widget and drag it over to the page.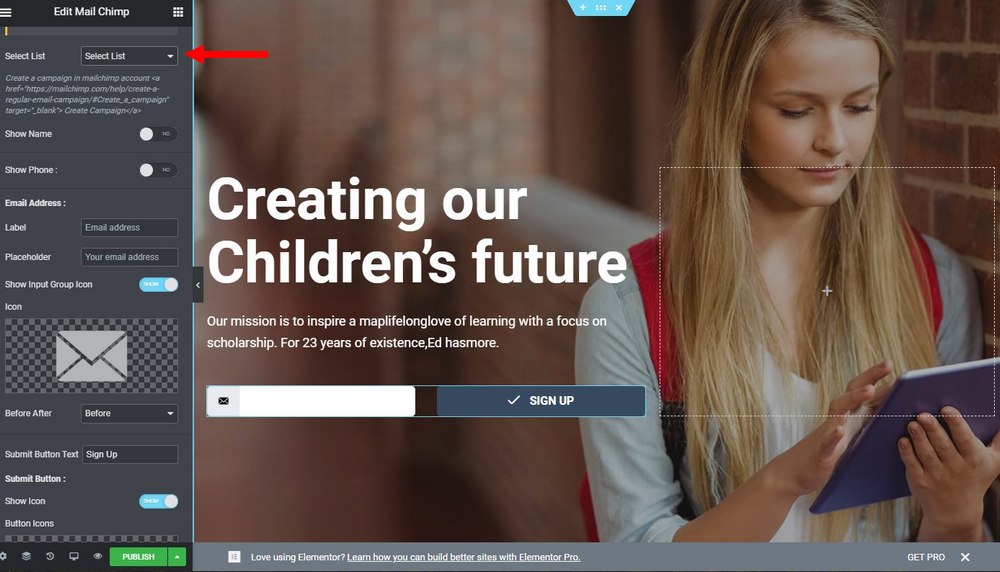 Now you can select which email list to connect with this lead capture page. As well as to customize the design of your email form.
When you're ready, click the Publish button on the bottom to publish the page.
Tip: Look up email automation to learn how to setup automated emails to deliver free downloads. For example, you can upload your free download into Dropbox and share the download link in an automated email that gets sent to new subscribers.
In Conclusion
Having more lead capture pages will increase your chances of generating more leads. If you're offering more than one incentive, be sure to create lead capture pages for each of them.
Be sure to read our guide on A/B testing tools to take your lead generation efforts to the next level. And check out our exclusive themes bundle for a special deal on premium themes.
Looking for WordPress hosting? We use Kinsta. They offer world-class WordPress hosting, built to keep your website fast, secure, and always online.