25+ Best Fall & Winter PowerPoint Templates 2023
With the holiday season upon us, you probably have a lot on your plate. There are holiday gifts to shop for your friends and family, delicious sweets to prepare, and attend countless dinner parties. Oh, and of course, these things are piled on your already packed schedule at work.
With so much to take care of, how do you make time to prepare an important presentation from scratch?
To help lessen your burden, we have curated a list of the best fall and winter PowerPoint templates weaved in the festive vibes. Our list has both premium and free items, allowing you to choose the one that best fits your pocket.
Let's dive right in!
Get everything you need to give the perfect presentation. From just $16, get unlimited access to thousands of PowerPoint presentation templates, graphics, fonts, and photos.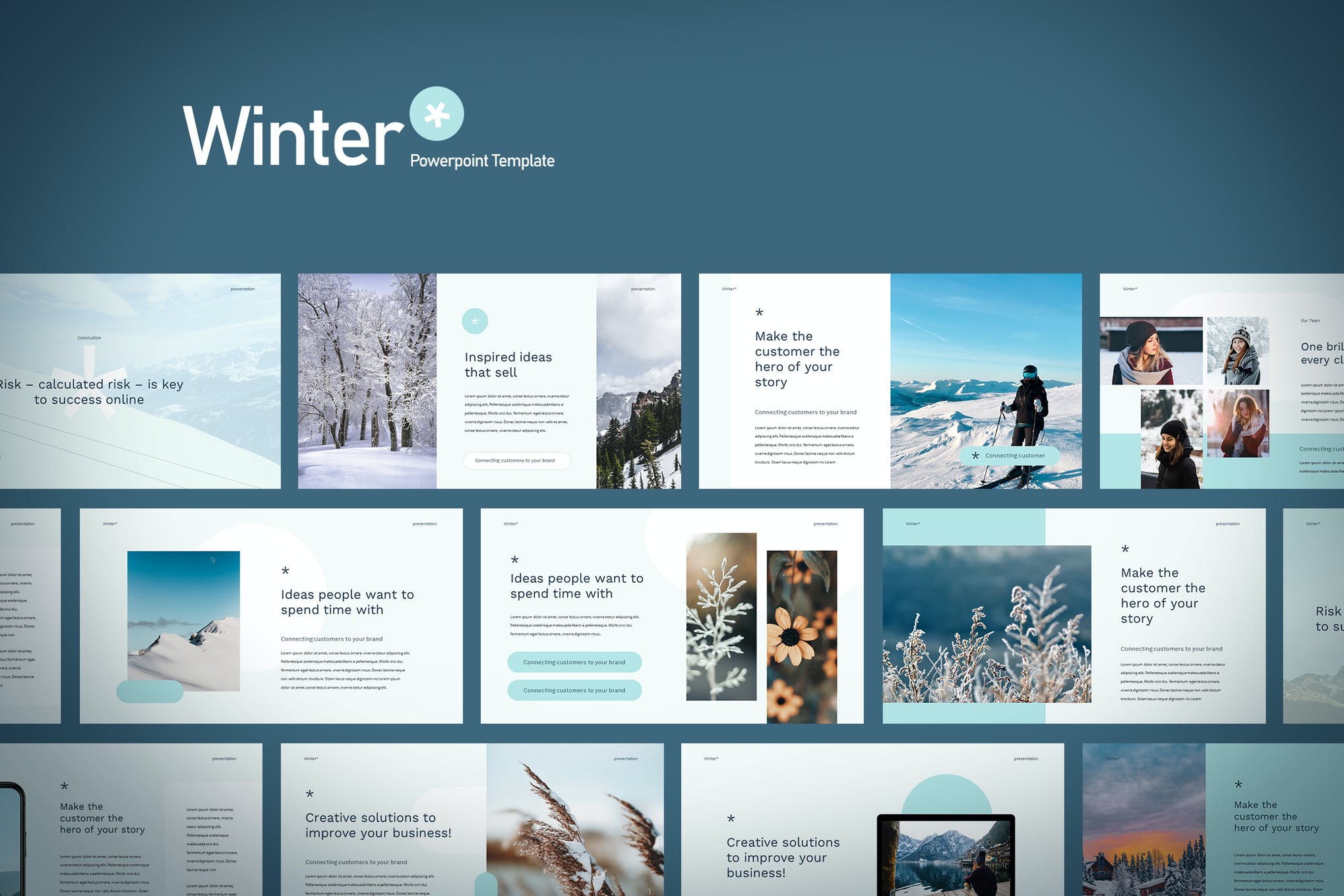 Whether you're preparing an investor's pitch deck, weekly sales report or proposal presentation, this gorgeously designed winter PowerPoint template should interest you. It consists of 30 slides with smooth transitions and a range of amazing features sure to make your presentation stand out.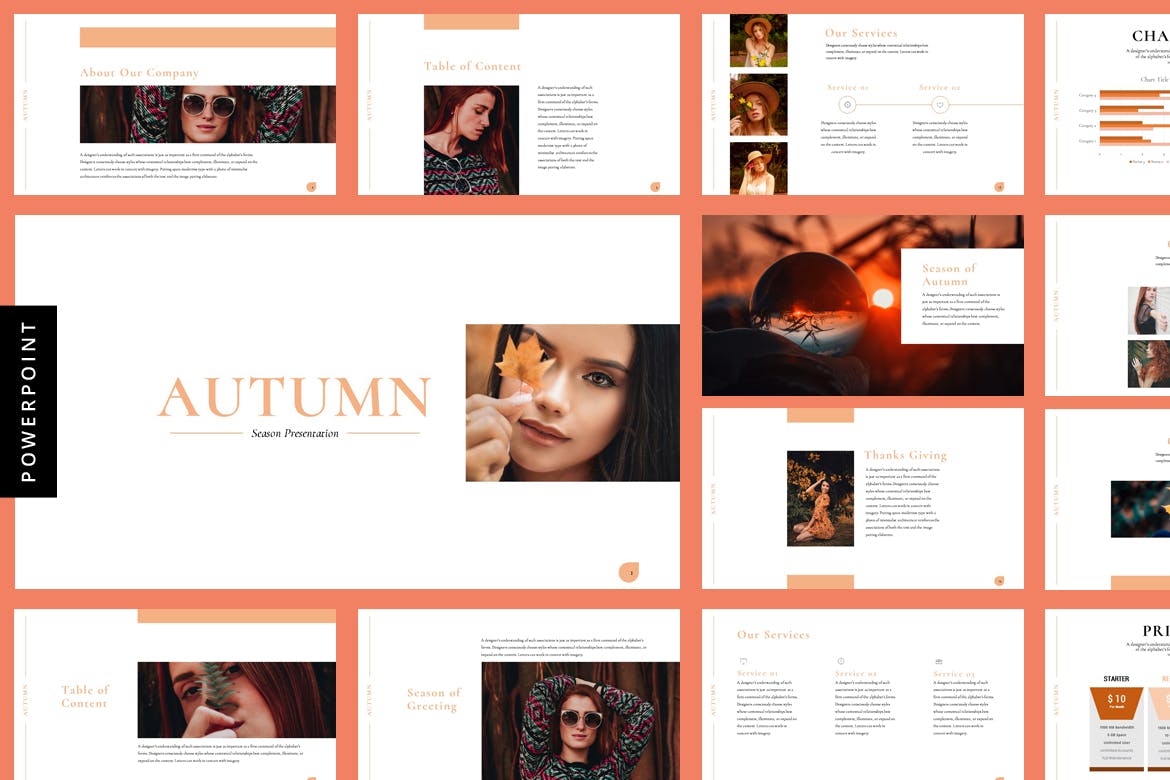 Embellish your presentation with this fall season-inspired PowerPoint template. This neat, and modern template features custom slides, bold typography, editable colors, vector infographics, and a lot more. It's one of the best fall PowerPoint templates to welcome the season of harvesting, and thanksgiving in style.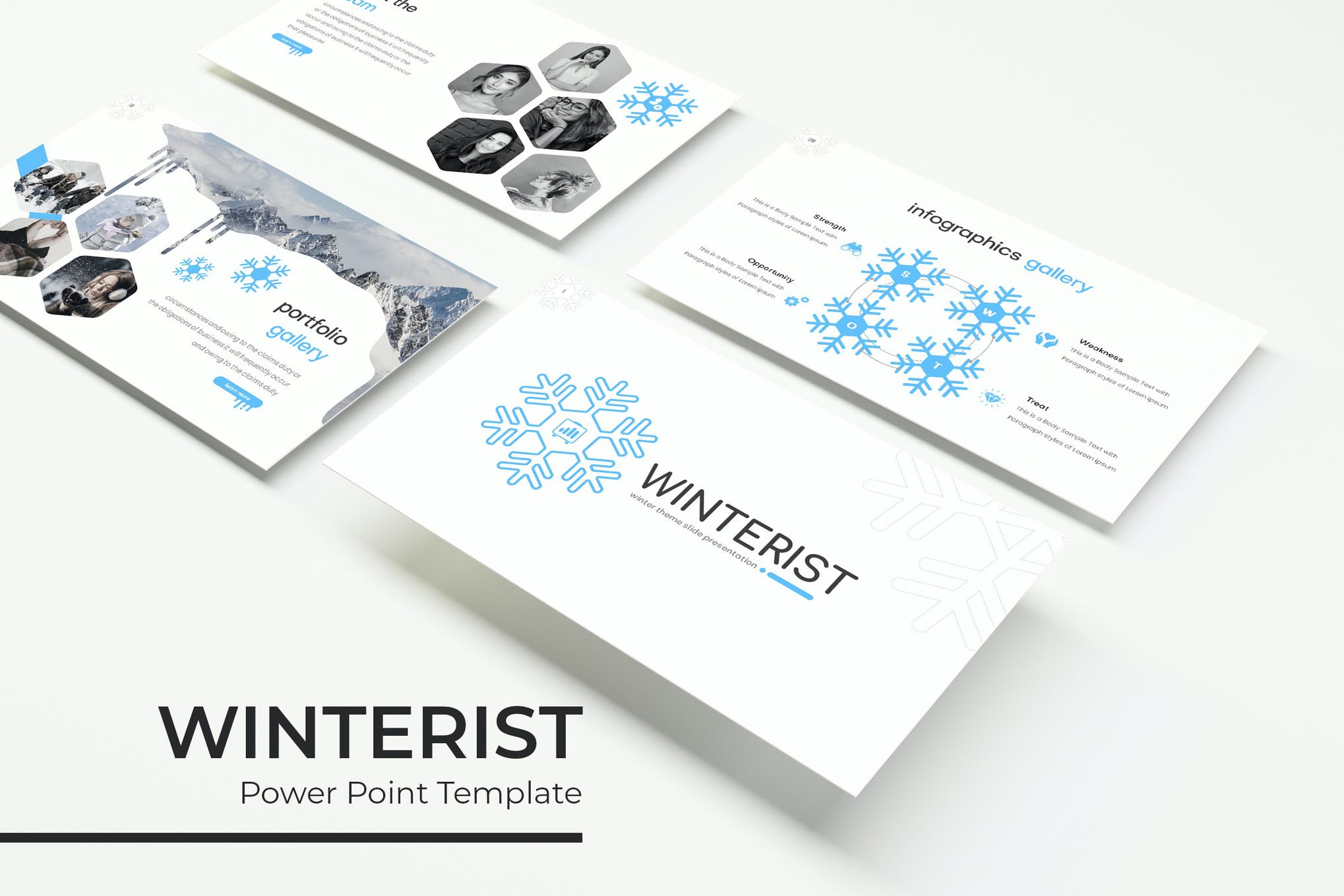 If you're looking for a winter-themed presentation template with a minimal yet eye-catchy design, Winterist is the right way to go about it. It's a multipurpose option that works swimmingly for many businesses and industries, no wonder it's one among the top-ranked winter PowerPoint templates on the market right now.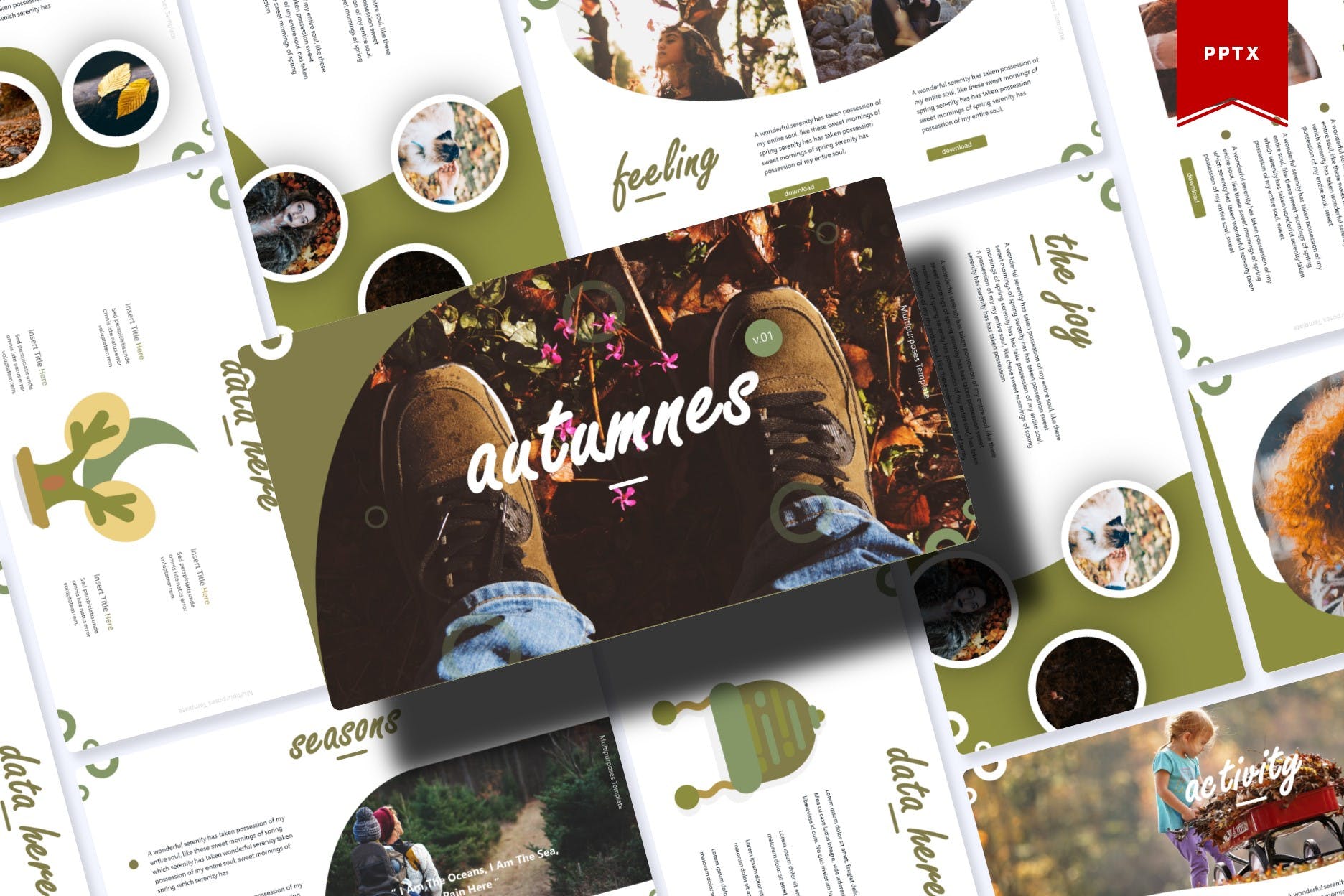 Autumnes is a unique, and creative PowerPoint template that will instill the magical colors of the fall season into your dull presentation. Created by thorough professionals, Autumnes is a ready-to-be-used template; you just need to customize a few things here and there, and you'll have your presentation ready in no time at all.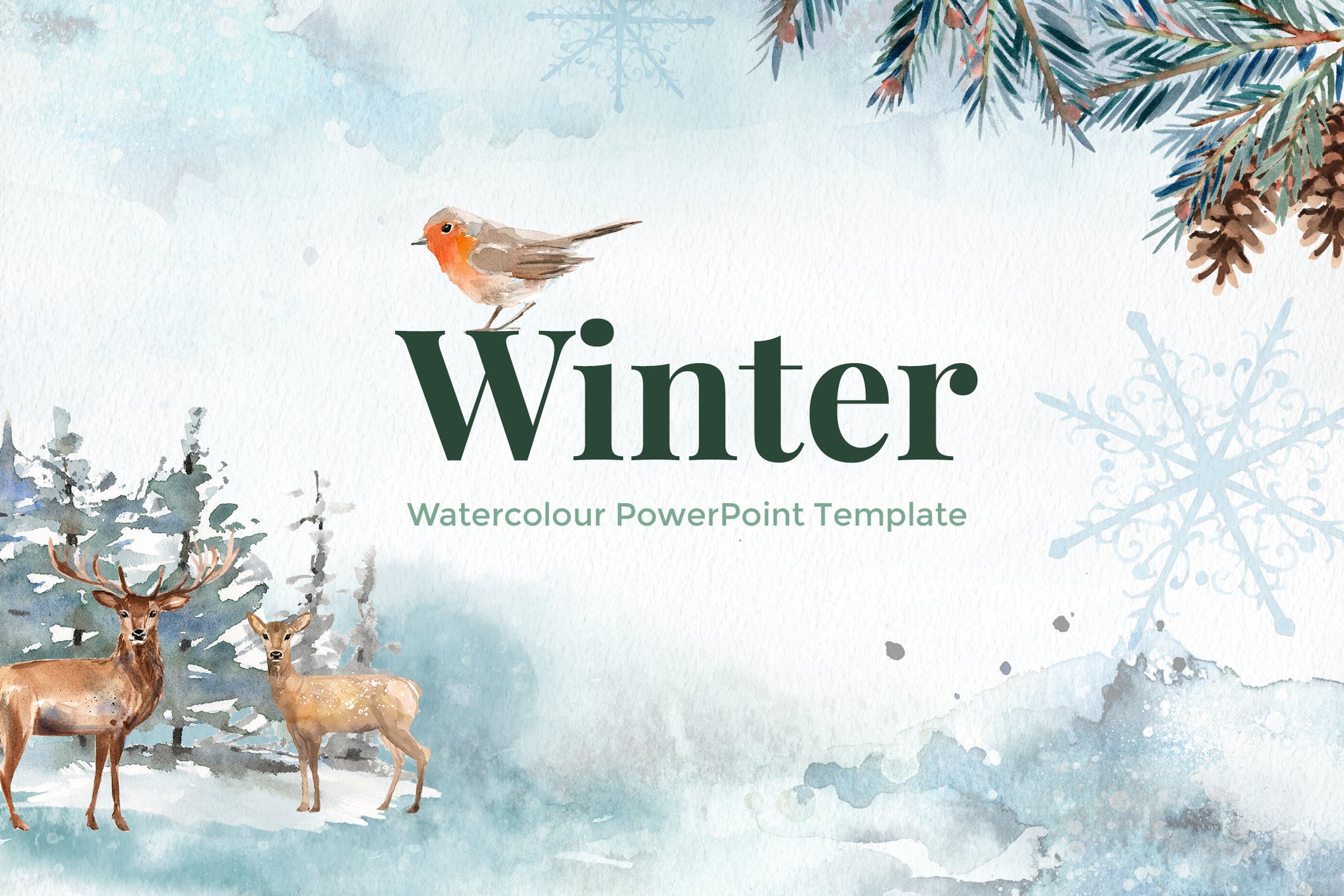 This PowerPoint template featuring a remarkably unique watercolor design is an excellent choice for presenting a winning winter-themed presentation. It comes with 20 beautifully crafted slides guaranteed to draw your audience's attention at first glance and keep it there till the very end.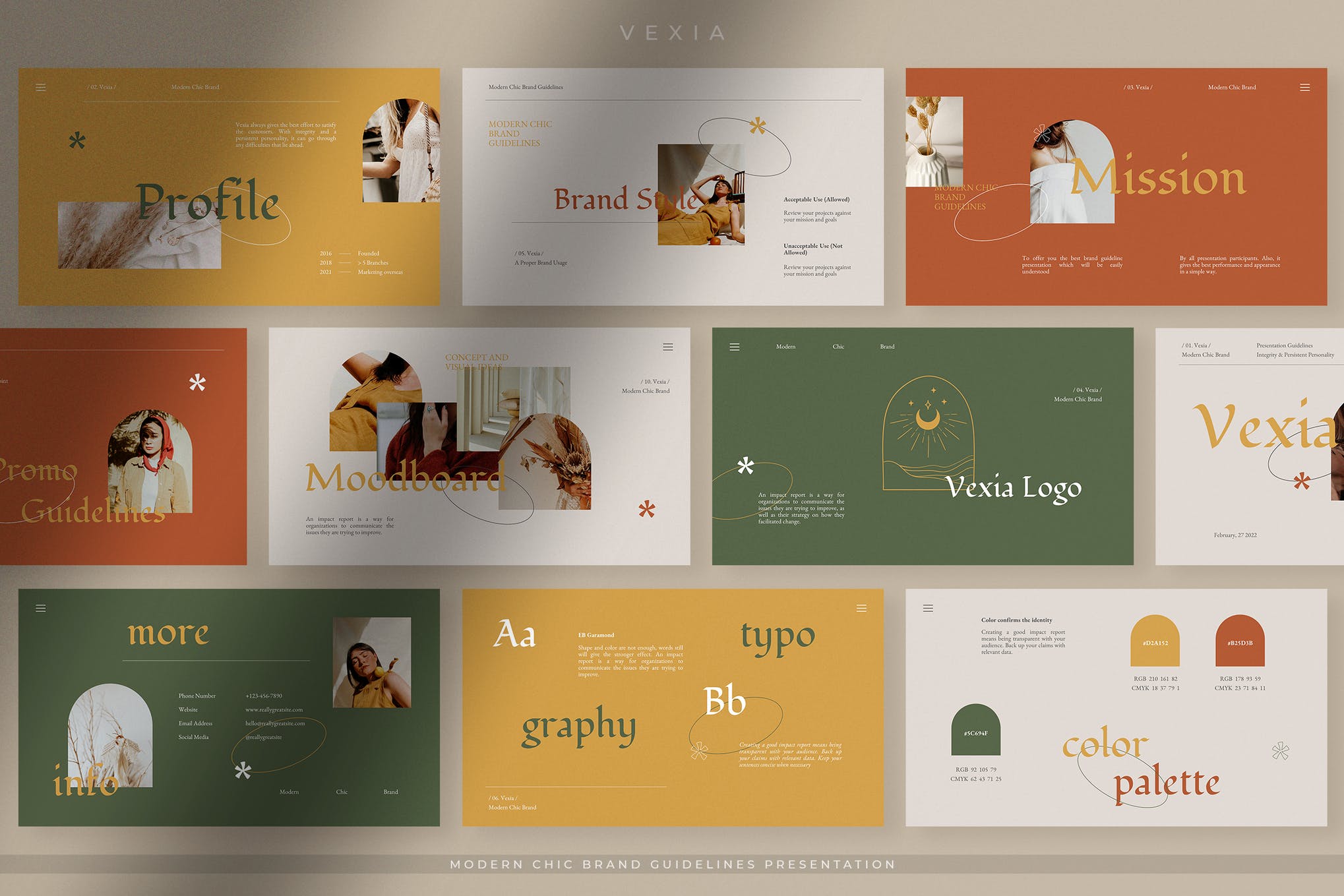 For creating a brand guidelines presentation that is able to engross the audience in an instant, you need to consider Vexia. It's an effortlessly stylish, and chic PowerPoint template dressed up in the warm and cozy colors of the autumn season. When looking for the best fall PowerPoint templates, it goes without saying that Vexia deserves your undivided attention.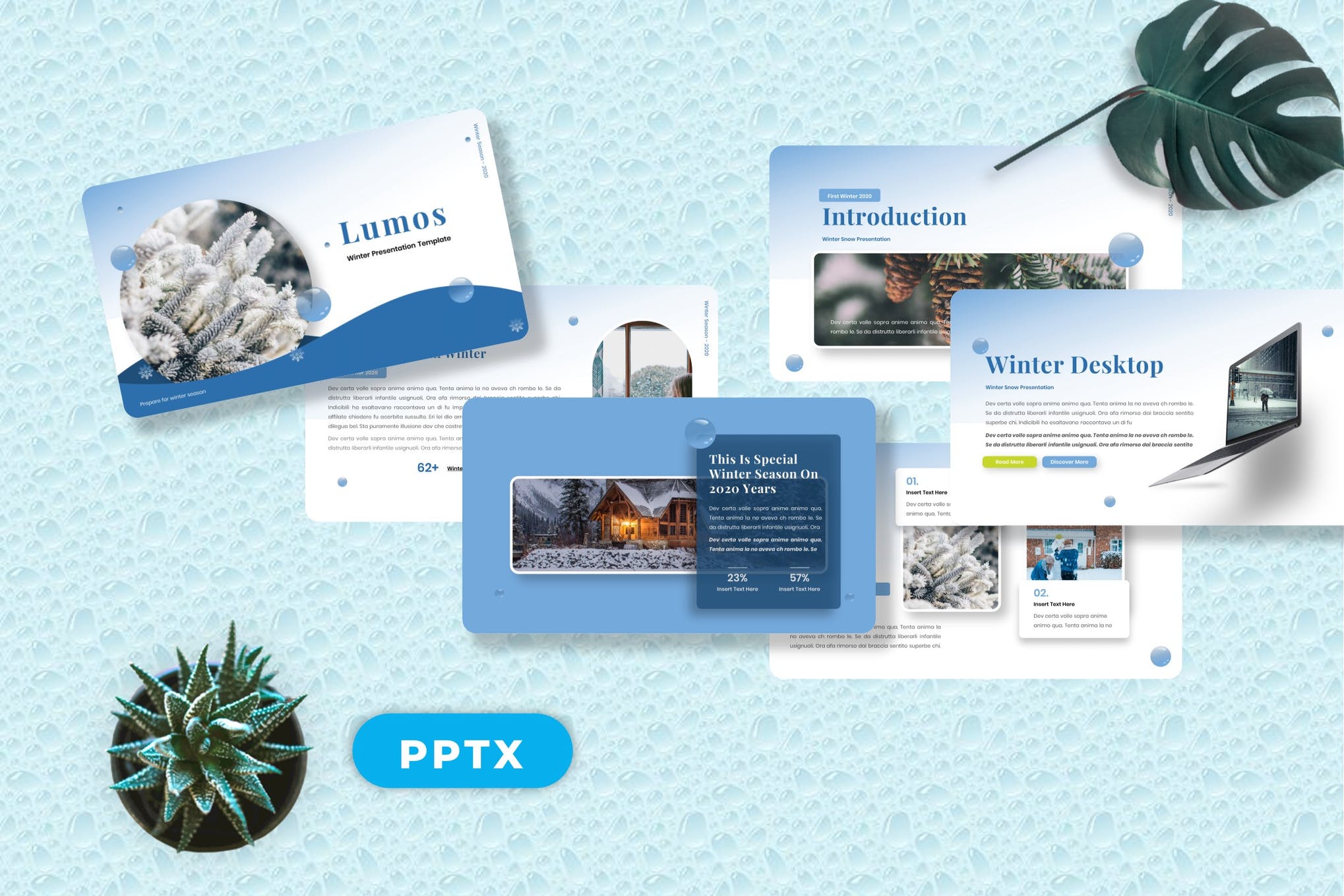 Regarded as one of the top-rated winter PowerPoint templates by users, Lumos is a premium option that oozes elegance and luxury in each of its 40 slides. The snowy appearance of this template gives the weary eyes of the audience a great deal of relief.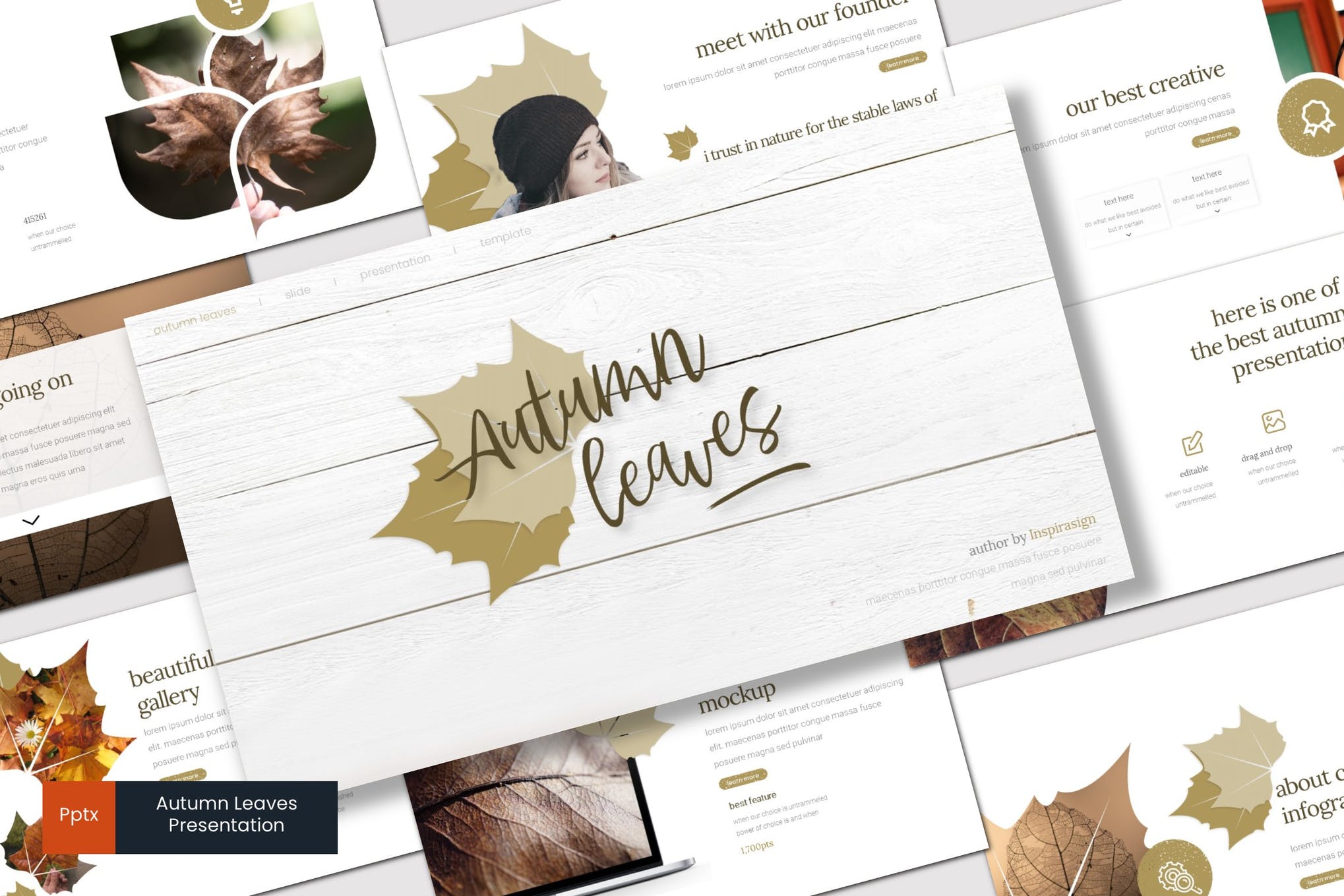 This PowerPoint template uses the subtle shades of orange, brown, and yellow, to create pleasing autumn feel. It has an adorable design that's hard to take eyes off, and a number of modern slides that you can tweak to suit your needs in just a few clicks, thanks to the easy customization settings.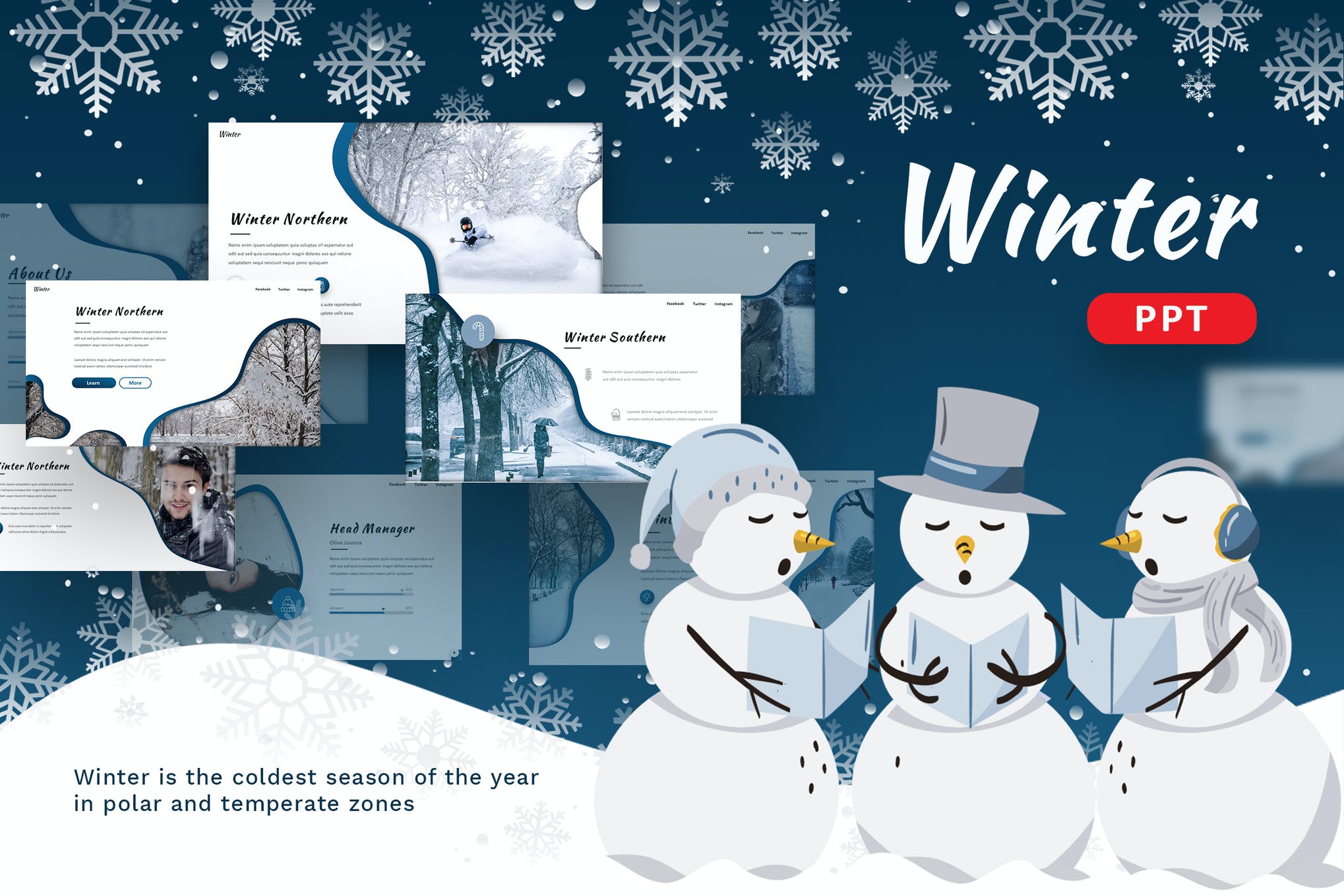 Here we have a stunning PowerPoint template perfectly suited for those coldest months of the year when the temperature dips to the lowest, and mugs of steaming hot cocoa, leather jacket, and boots become indispensable. Whether your favorite thing about winters in the freshly fallen snow or snow sculptures, this template has it all.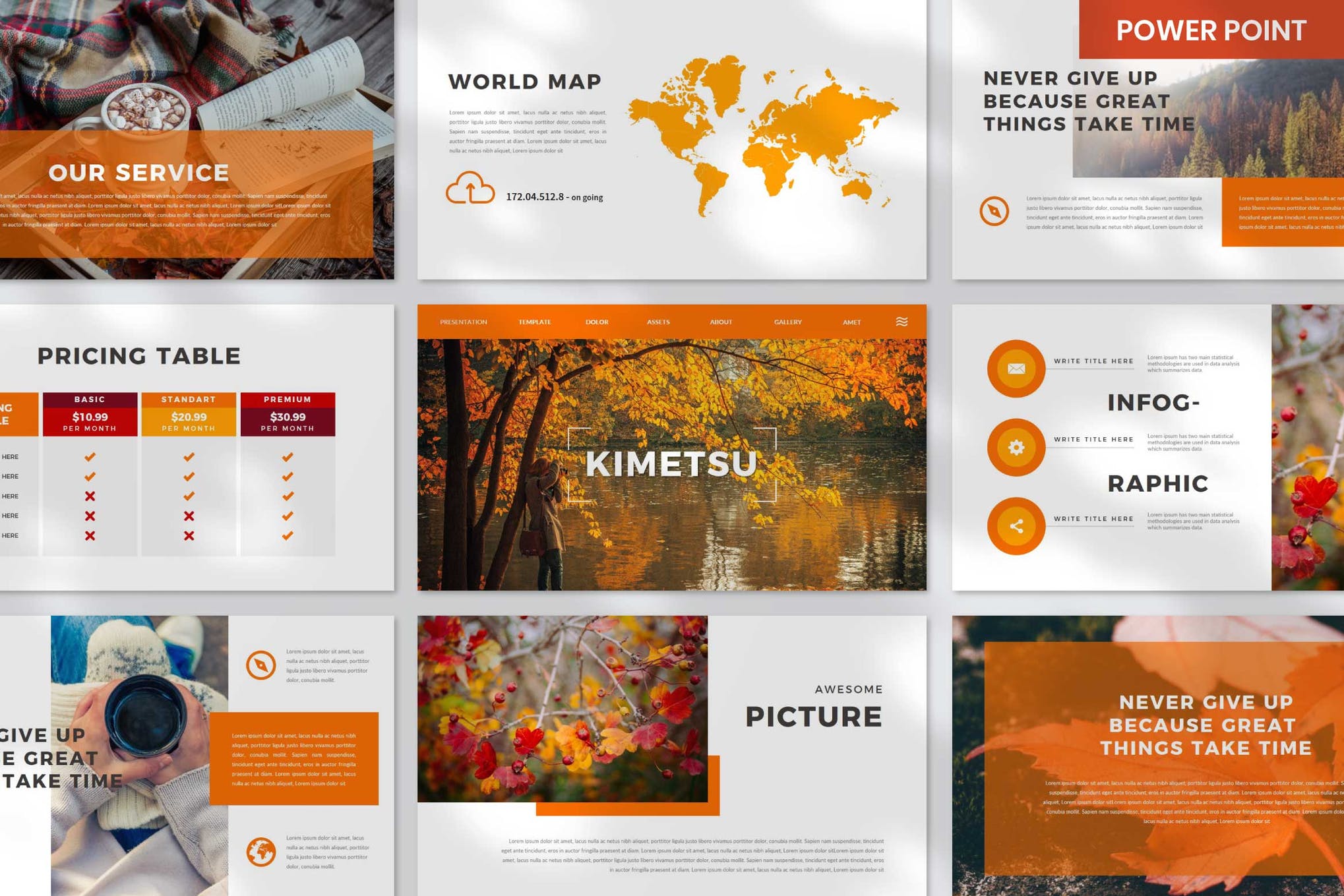 If you're still looking for the best fall PowerPoint templates that set the right mood and atmosphere for the season, your search should end at Kimetsu. It's a pleasant-looking template with 35 fully customizable slides, free fonts, and more.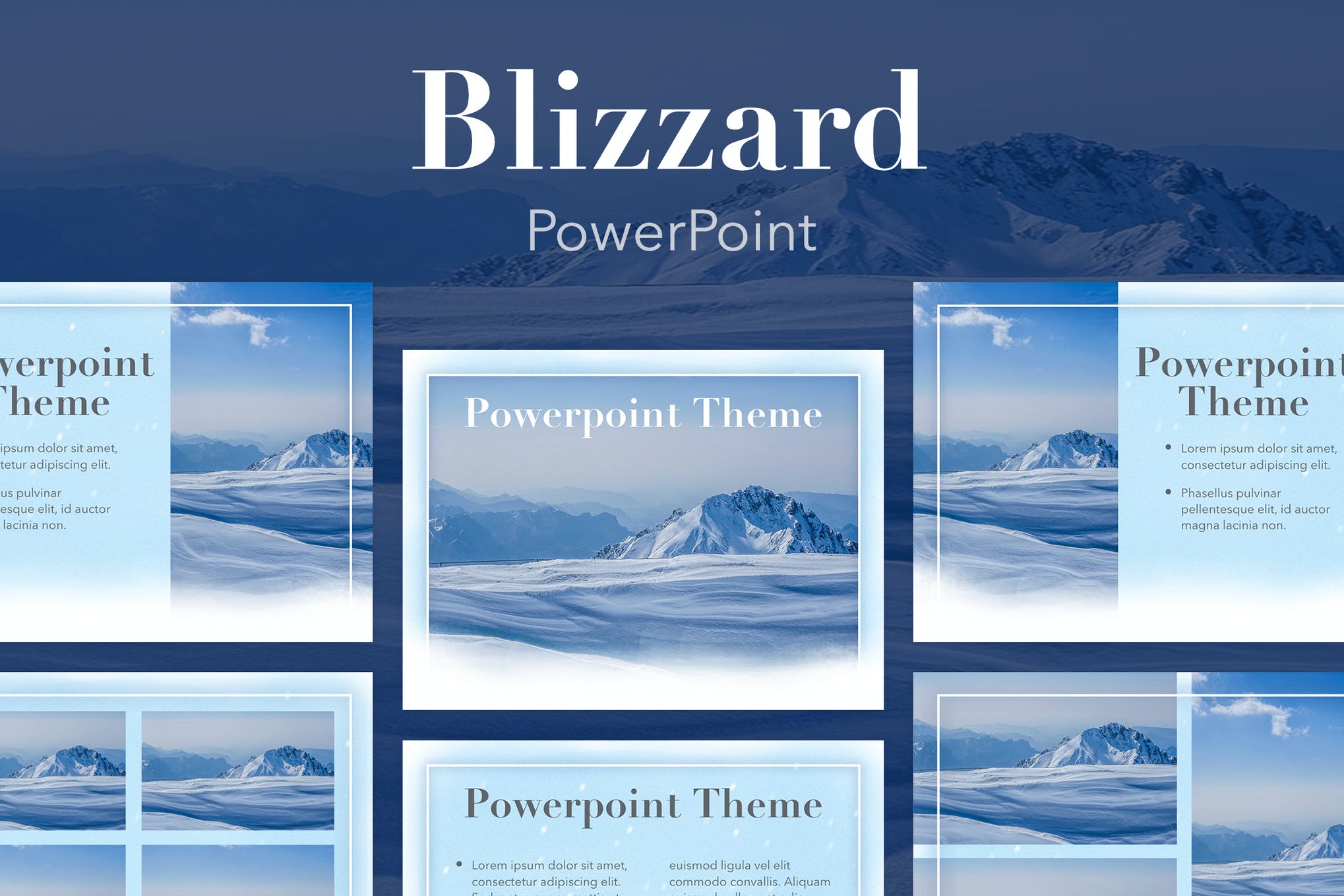 As the holiday season falls upon, you're probably looking for the best way to kick it off with a blast. Blizzard is one of the best winter PowerPoint templates that you can use to welcome the season, and add aesthetic charm to any dull, uninteresting presentation.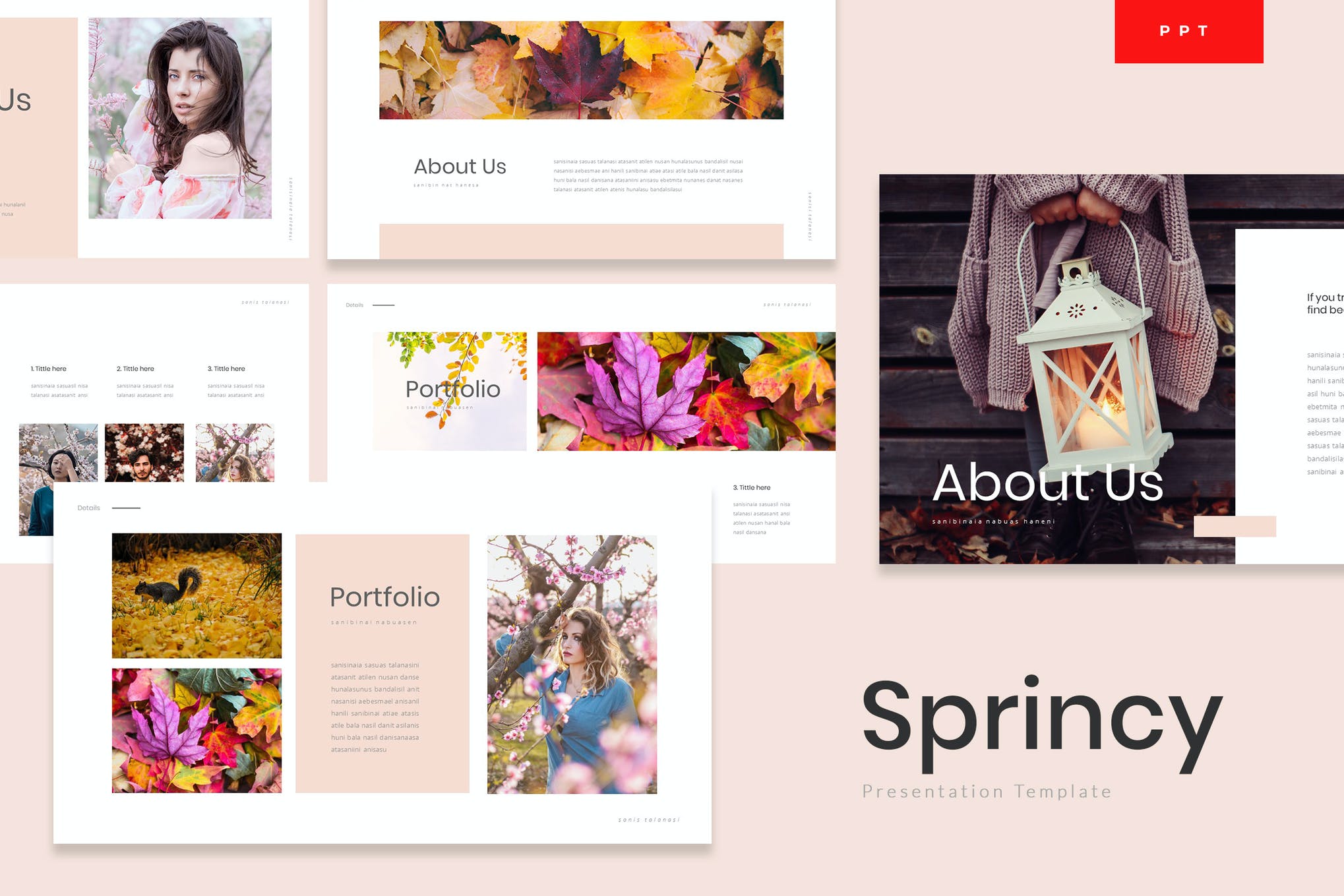 Rightly quoted by Victoria Erickson, If a year was tucked inside of a clock, then autumn would be the magic hour. If you want to instill the same magic into your presentation, look no further than Sprincy. As one of the best PowerPoint templates for the autumn season, Sprincy definitely deserves a closer inspection.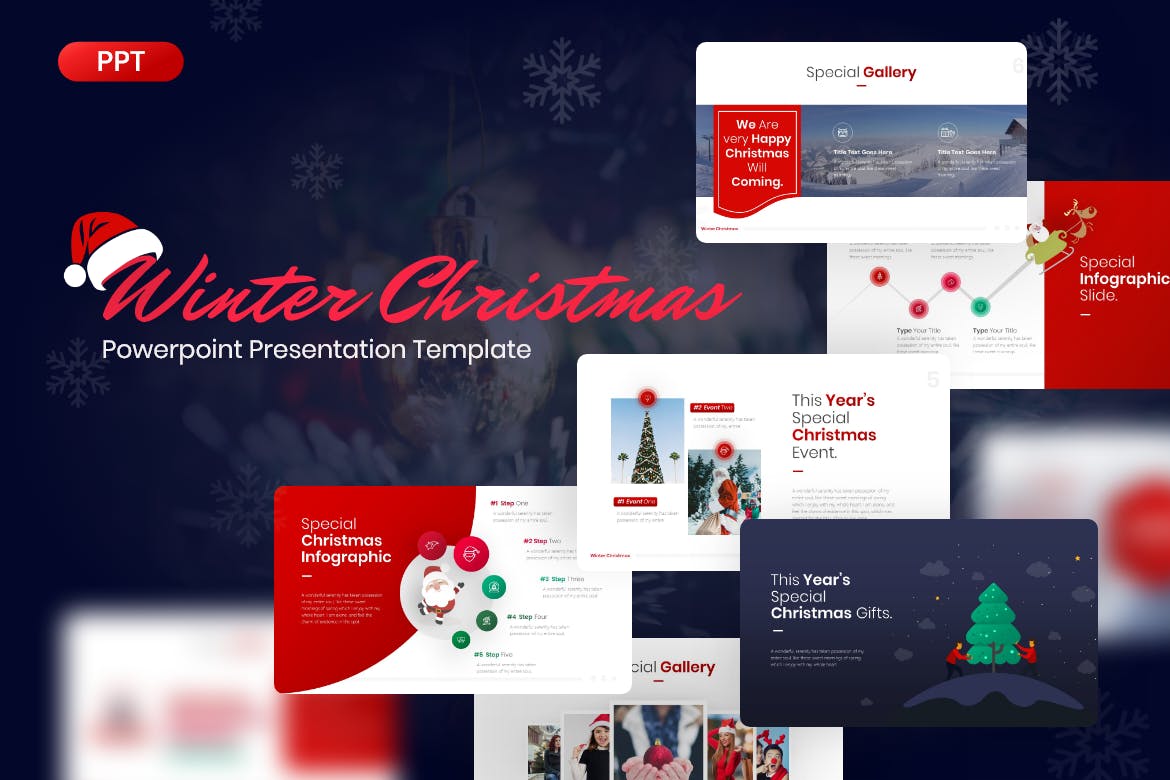 Christmas is the best time of the year where long-lost friends get together, gifts are exchanged, and long-lasting memories are created. With the holiday of love, and joy right around the corner, you probably have a Christmas-themed presentation on your mind. Use this winter PowerPoint template to introduce the holiday season offers to the customers.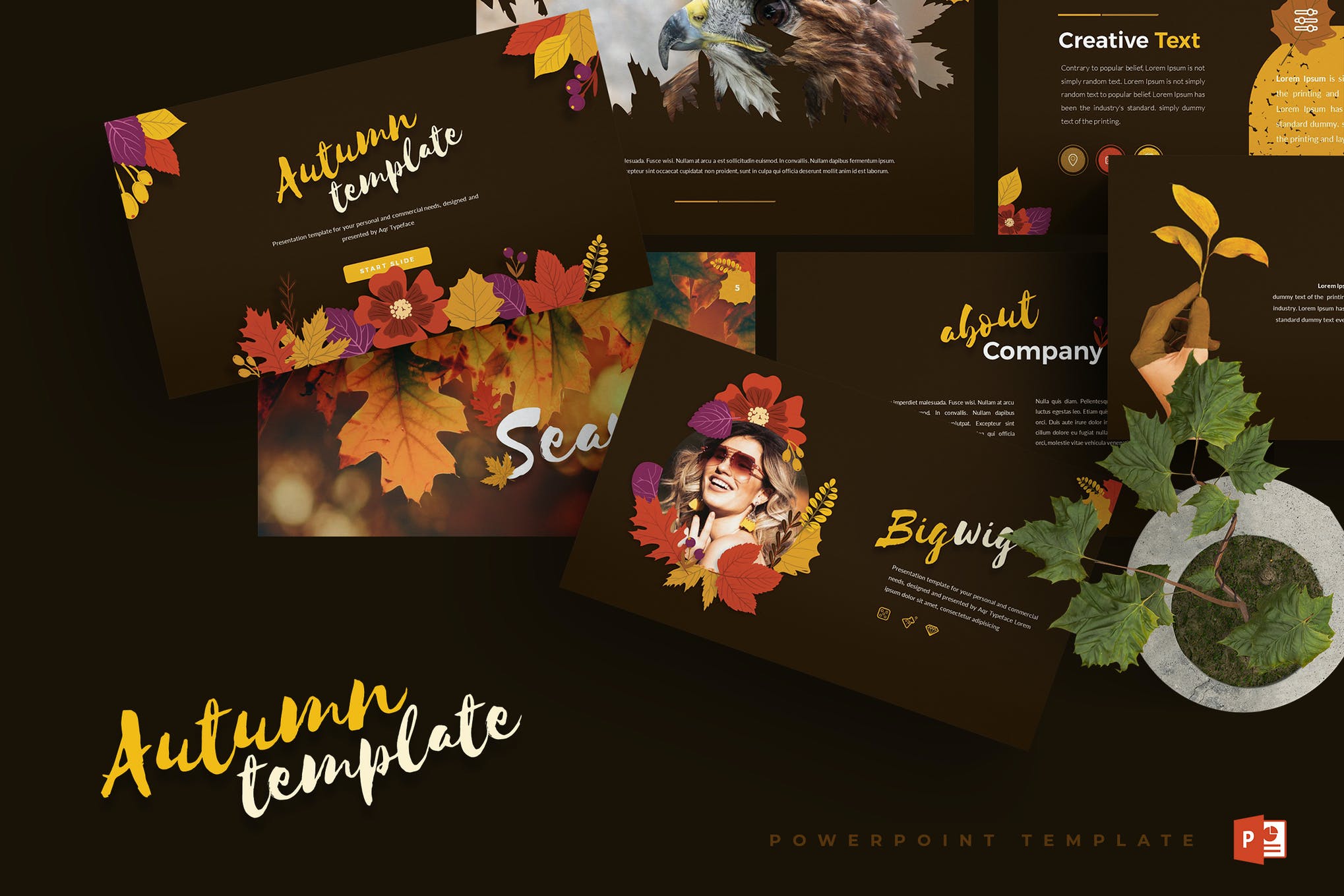 If you want to decorate your presentation with vibrant, and beautiful autumn leaves, this PowerPoint template is right up your alley. Featuring more than 100 slides, handcrafted infographics, and pixel-perfect illustrations, this autumn PowerPoint template deserves to become part of your shortlist.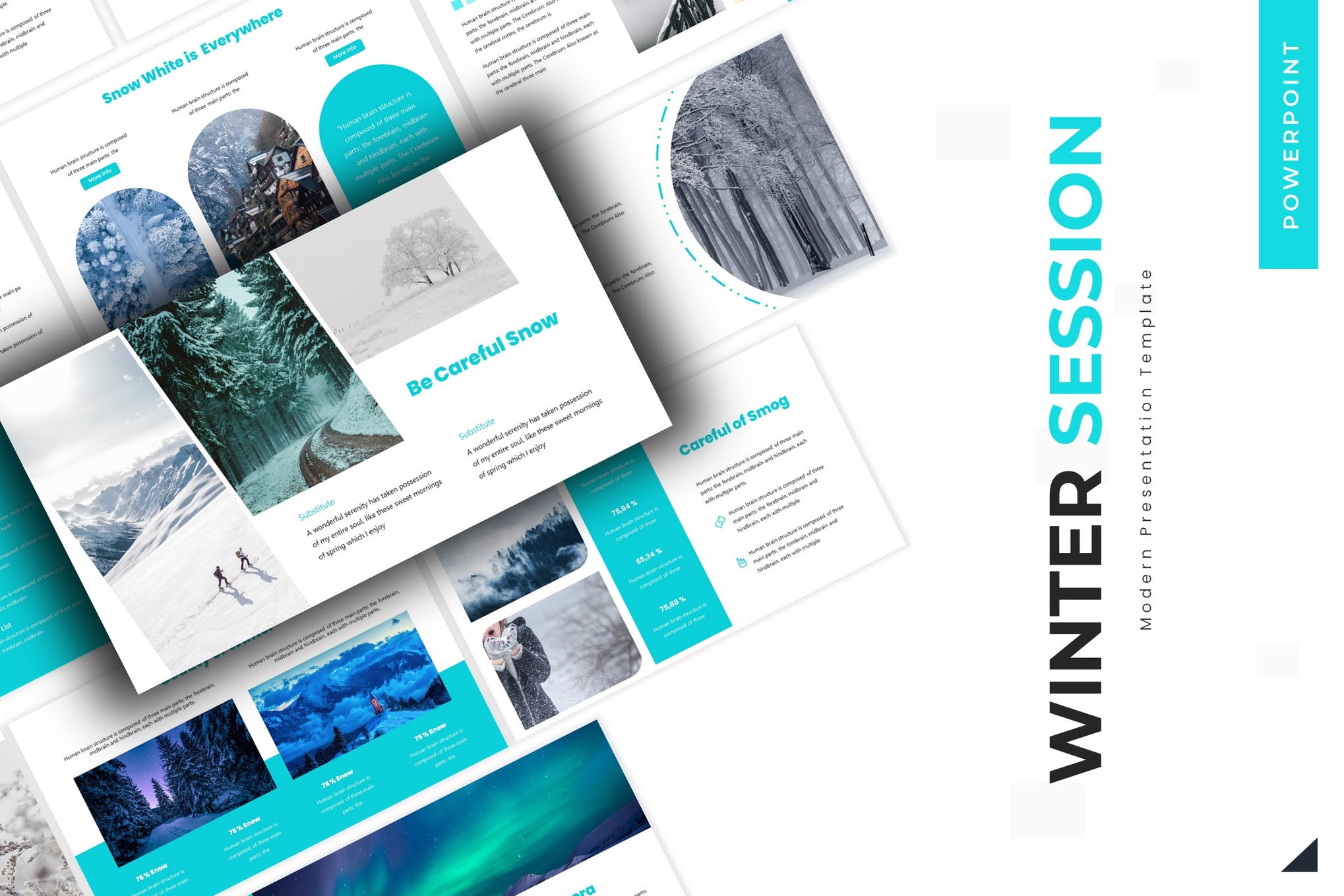 Need a professional solution for nearly any presentation with a winter theme? The Winter Session PowerPoint template is an excellent option to consider. It features a beautiful backdrop that soothes the eyes, and a staggering number of slides ensuring you never have to look for another winter PowerPoint template again.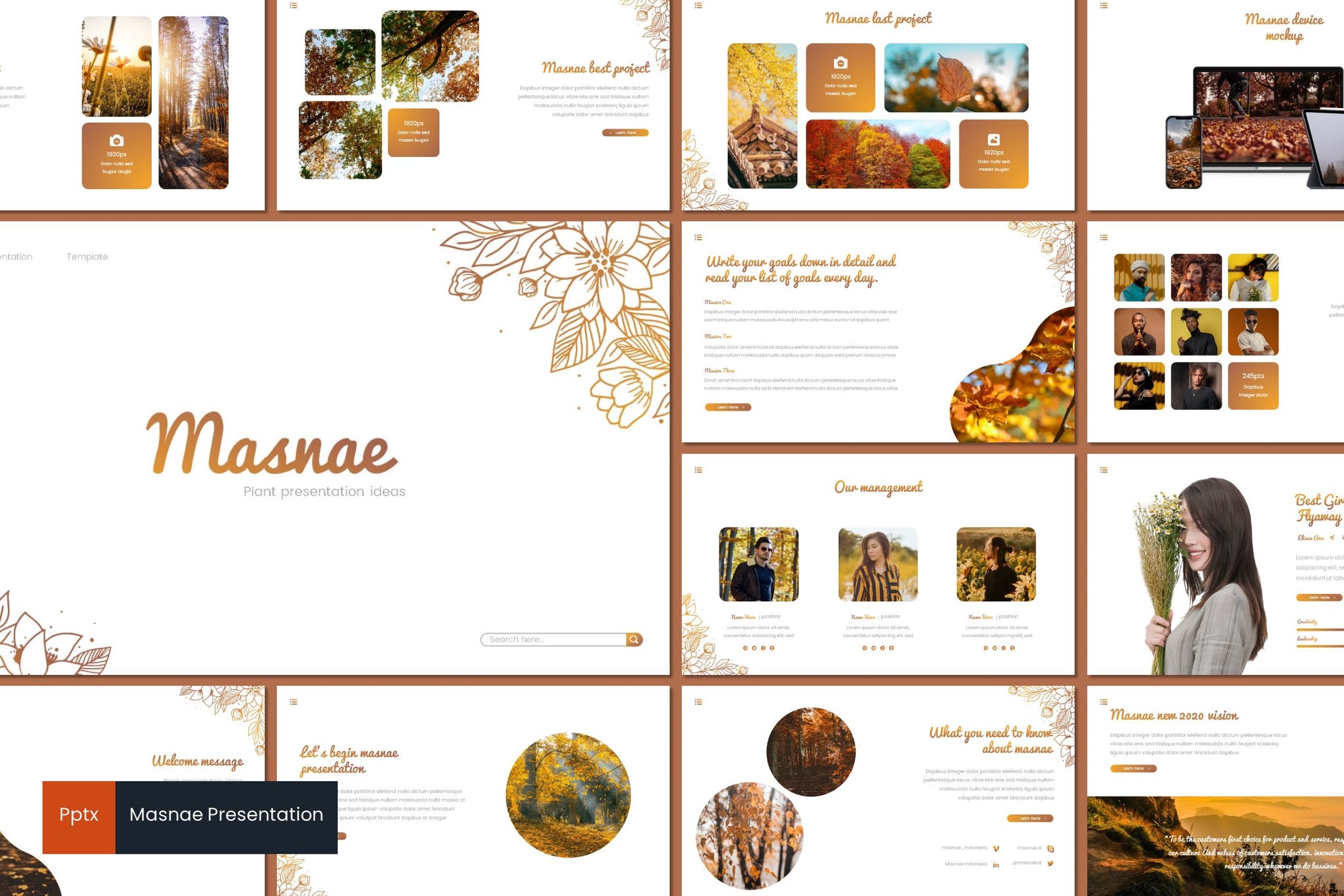 Lay your eyes on Masnae for a neat, and well-organized presentation without too many bells, and whistles. It has virtually everything you'd expect from a good-looking yet professional PowerPoint template for welcoming the cooling offseason with open arms.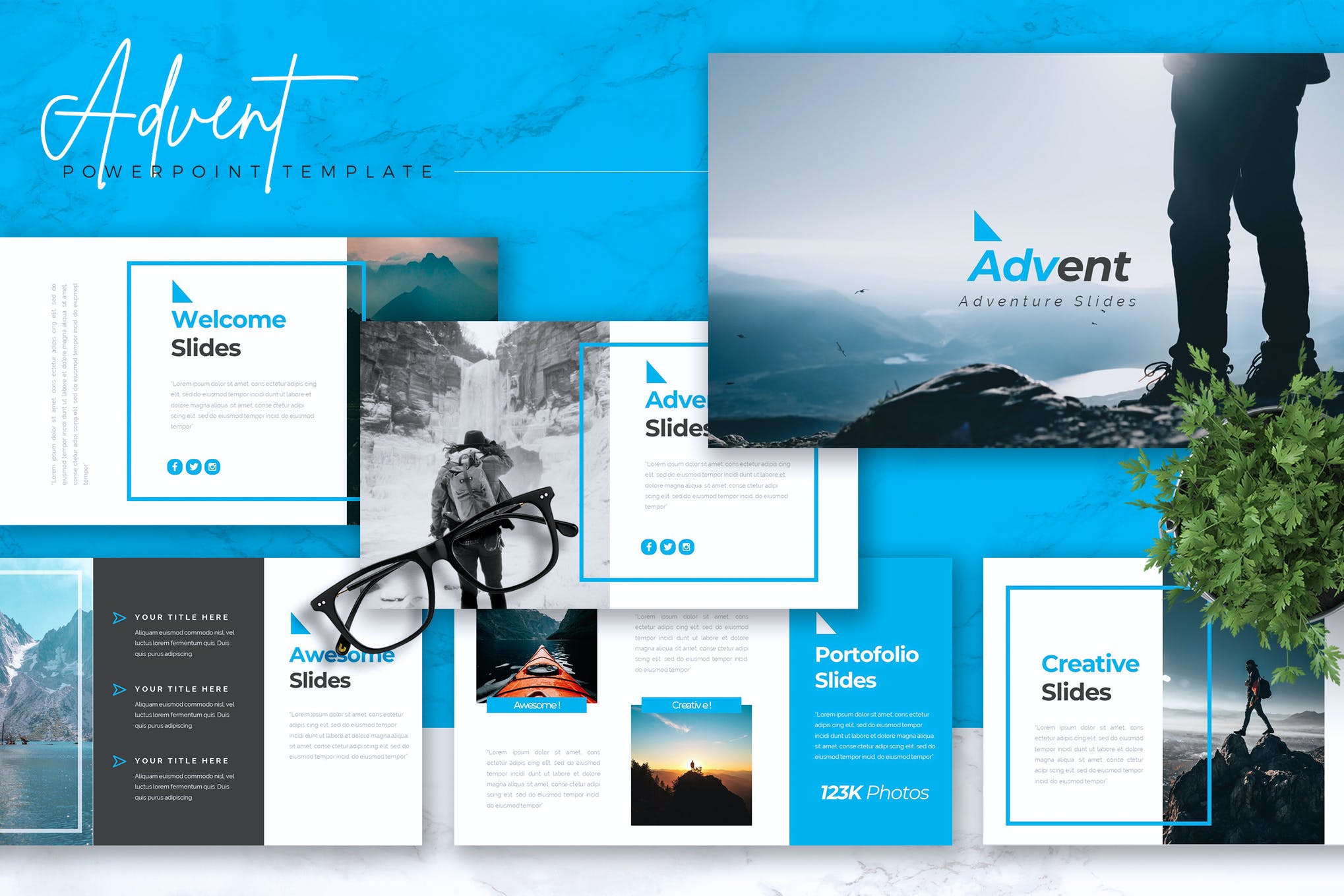 With winters come adventure activities including snowboarding, ice climbing, and skiing. If you are preparing a presentation to entice adventure sports lovers, Advent is one of the best winter PowerPoint templates out there, guaranteed to infuse your audience with enthusiasm, and excitement.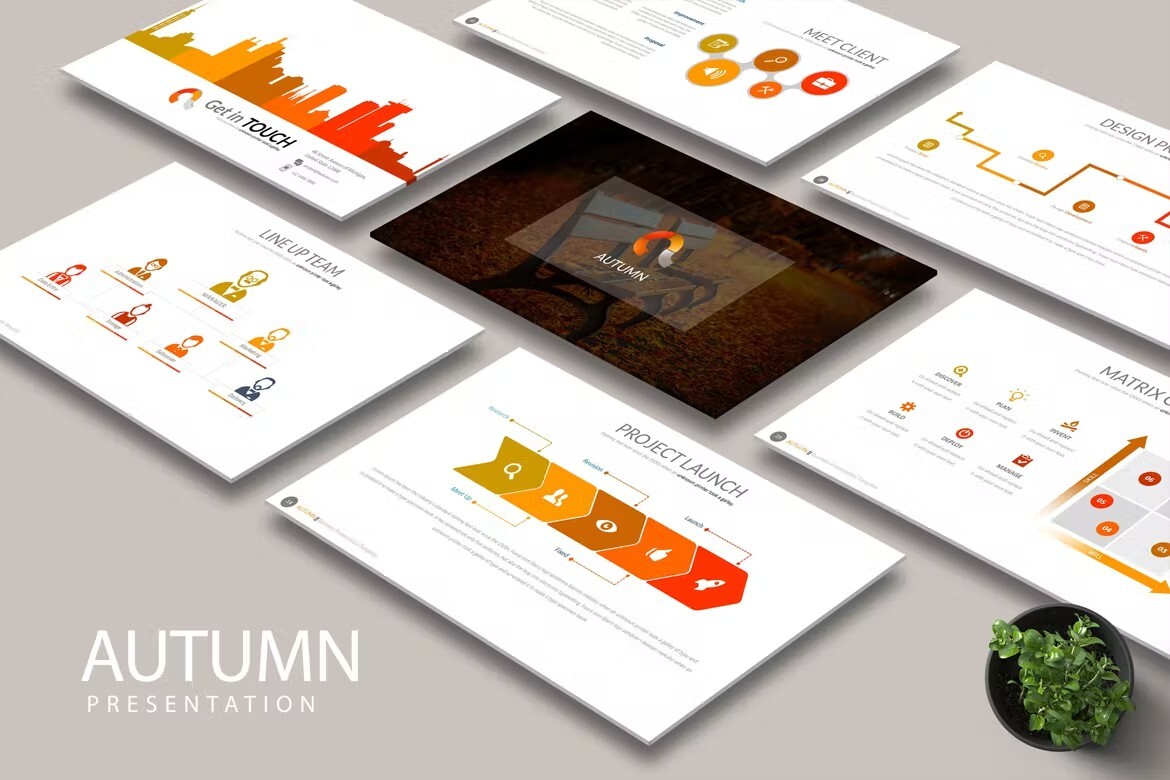 This autumn-themed PowerPoint template comes with 30 unique creative slides. It also has 50 premade dark and light colors, and thousands of icons. Autumn Template for PowerPoint is clean, scalable, colorful, and well-designed. It's perfect for pitch desks. Use it also for e-commerce or product promotion purpose. It's a good fit for any kind of business presentations.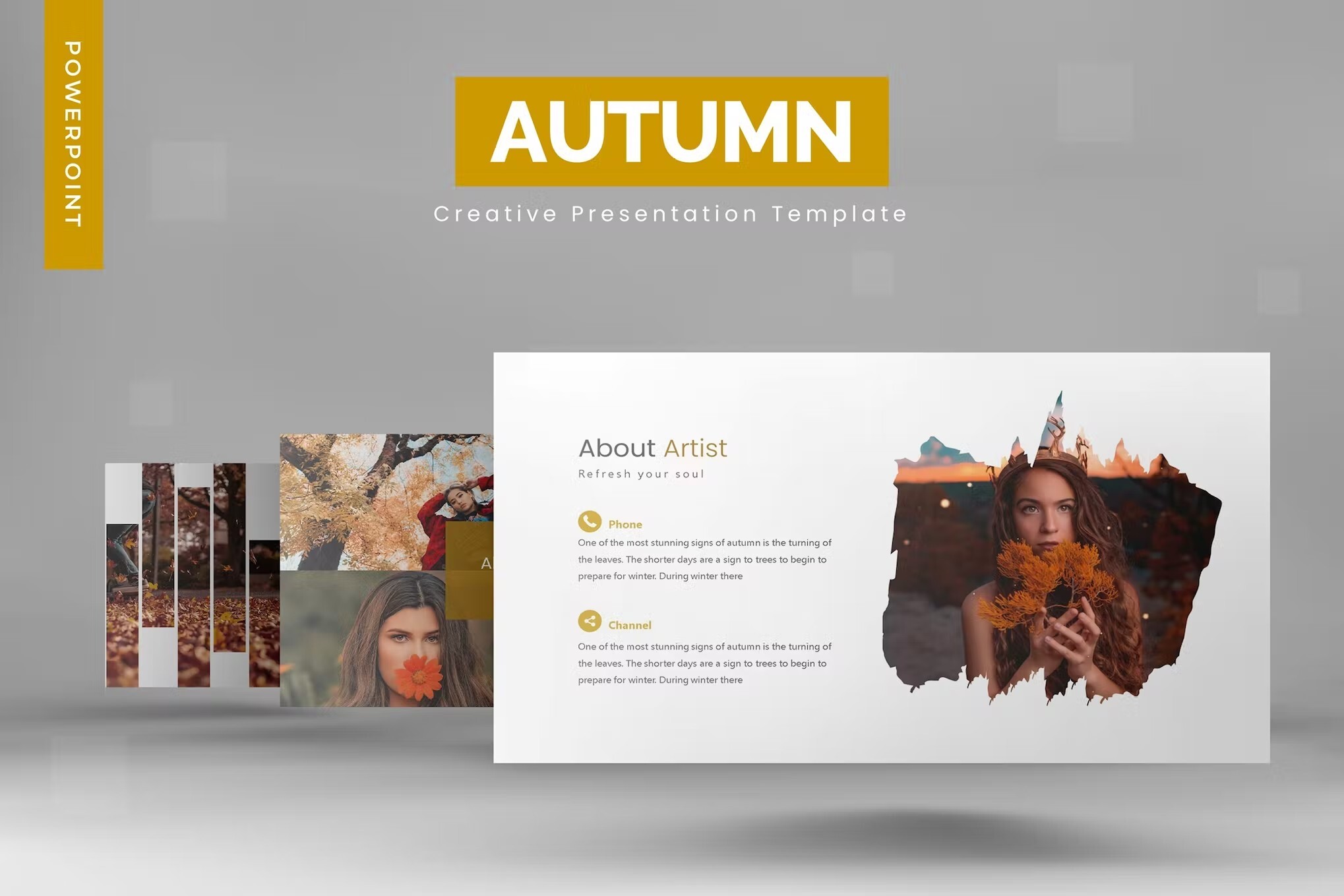 This is a beautiful autumn template for PowerPoint presentations. It features 30 unique slides and five premade color options. It also comes with handcrafted infographics and pixel-perfect illustrations. All these graphics are resizable and editable. Create your professional looking fall presentation minutes.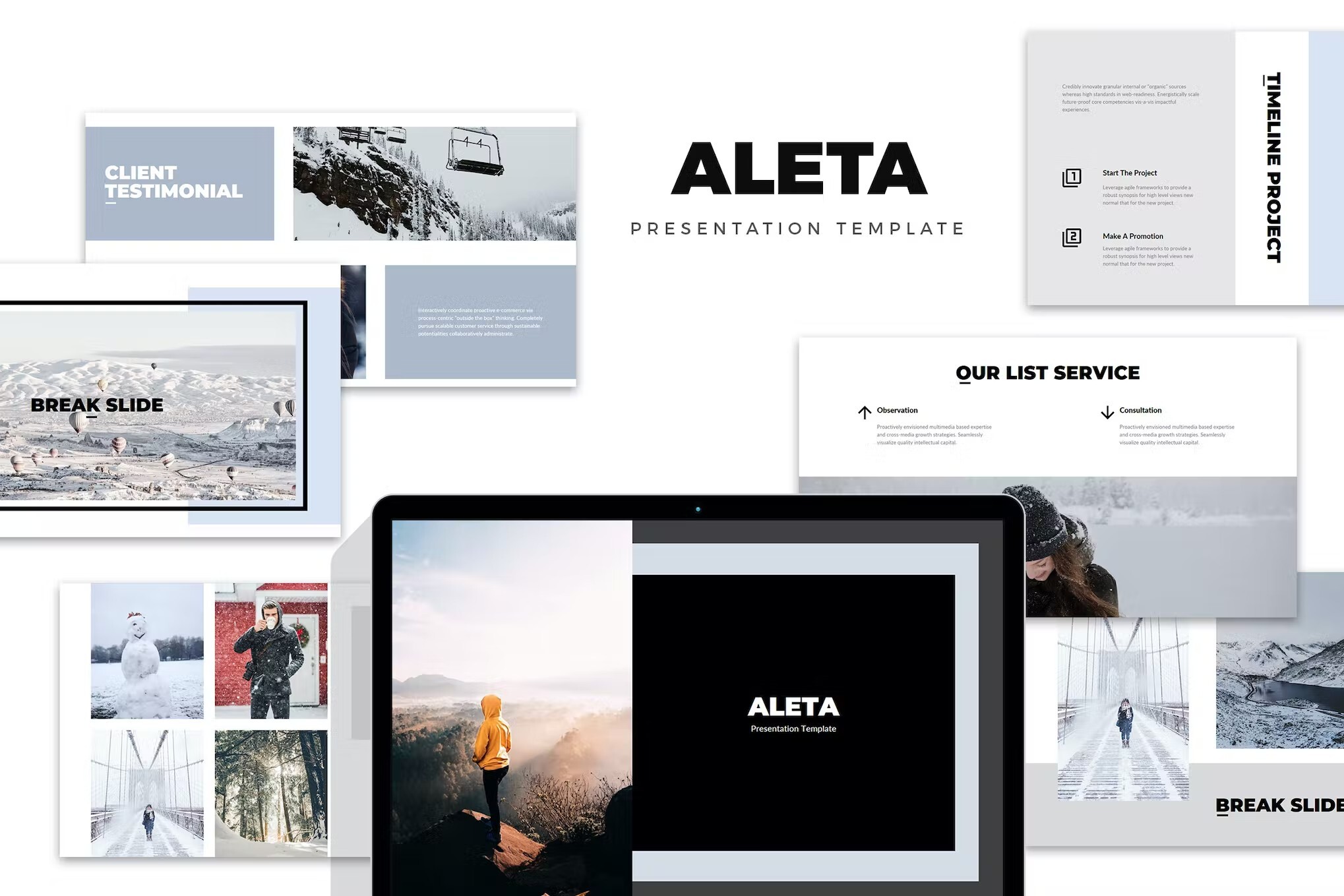 This set of winter PowerPoint backgrounds is ready to help you with your next project. 100 slides are included, focused on many different themes. There are even device mockups to show off your app or site!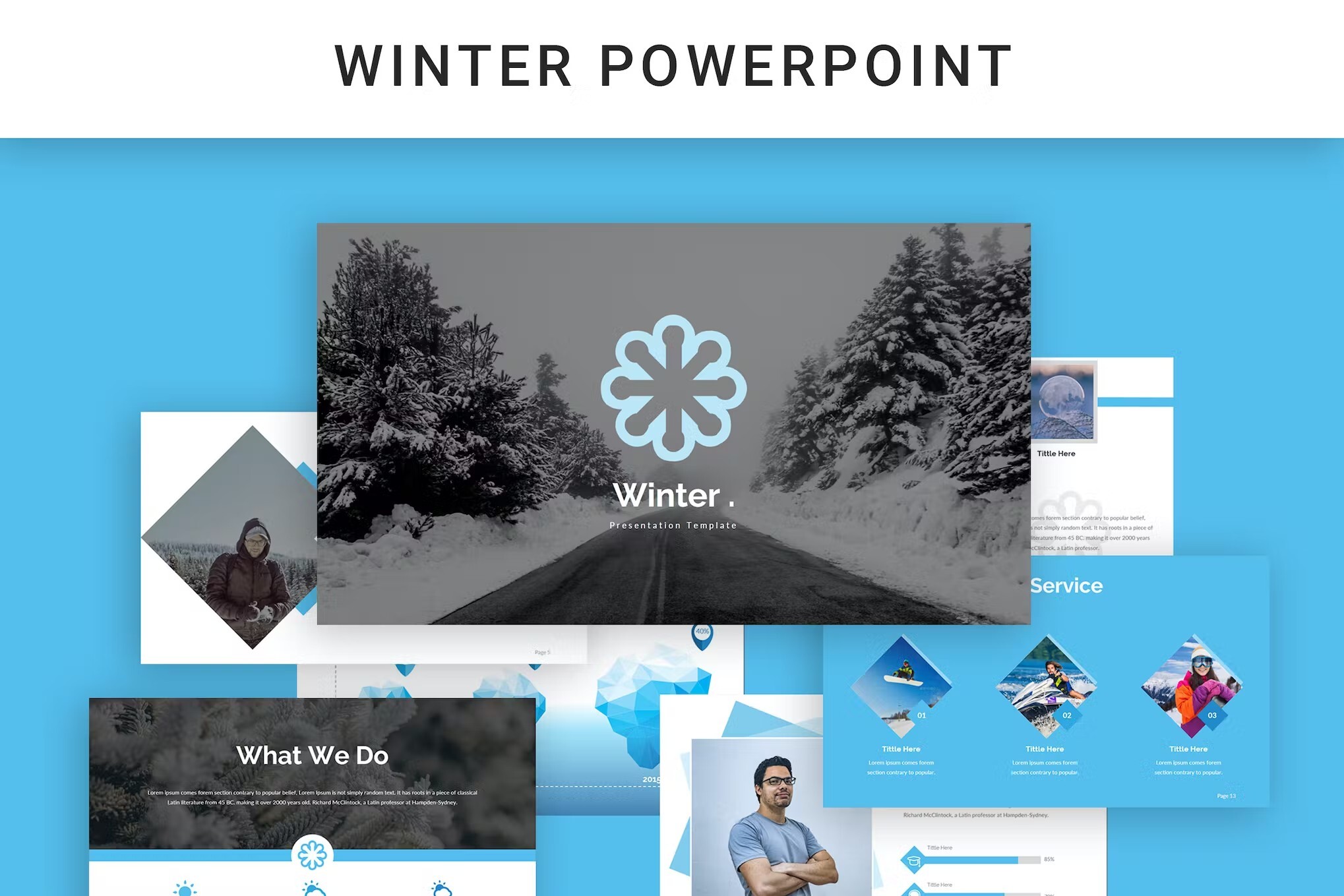 Packed with seasonal graphics, this winter PowerPoint background is the ideal complement to your next slide deck. Dive in and explore 30+ sleek slides, each one featuring a cool winter season background. It's a top choice for slides on any subject.
Free Winter & Fall PowerPoint Templates
Now let's take a look at some of the free PowerPoint templates for the fall and winter seasons. We have handpicked these options from various websites, ensuring you only get the pick of the litter.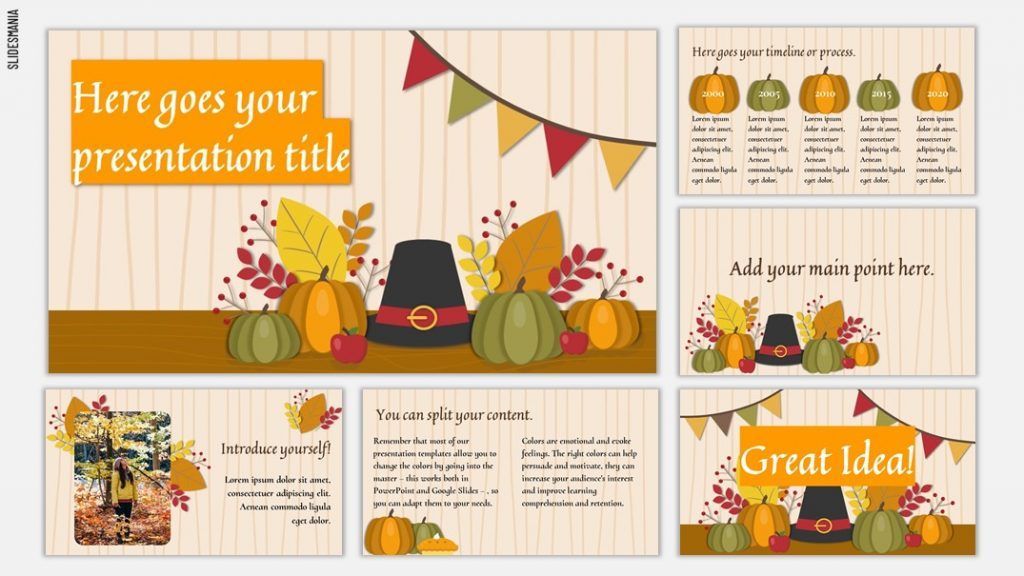 Whether it's the joyful thanksgiving holidays or delicious seasonal treats, autumn gives all of us something to look forward to. With slides featuring warm autumn colors, pumpkins, apples, and leaves that remind us of the fondest memories of thanksgiving, this resource is easily one of the best free fall PowerPoint templates we have ever come across.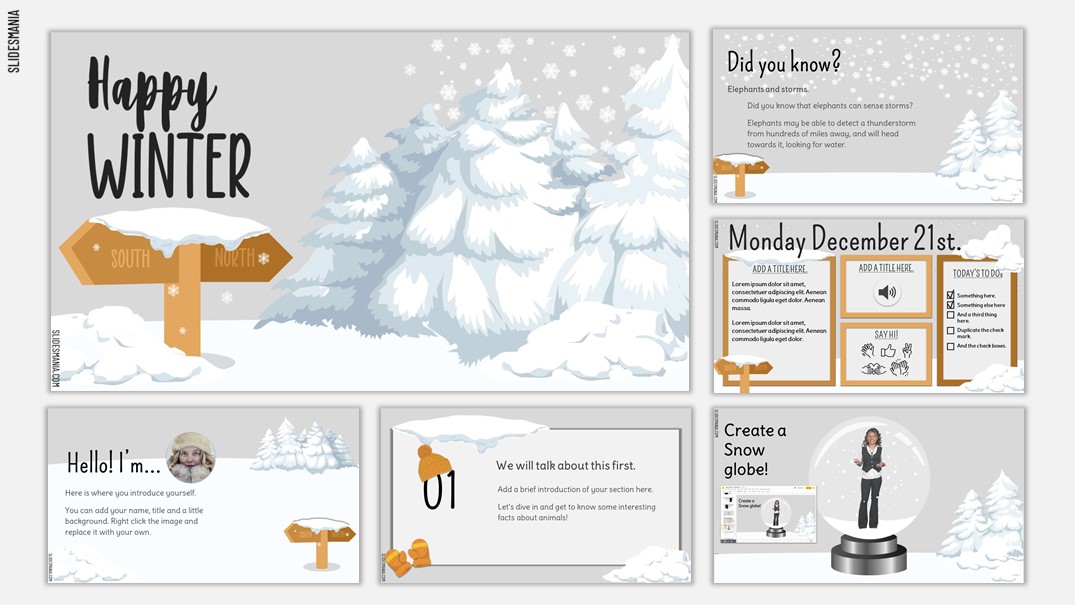 If your upcoming presentation is based on the winter theme, you should get your hands on this PowerPoint freebie featuring a stunning snow backdrop in all the slides. With its robust customization settings, it's indeed one of the best free winter PowerPoint templates for creatives wanting their PPT to shine.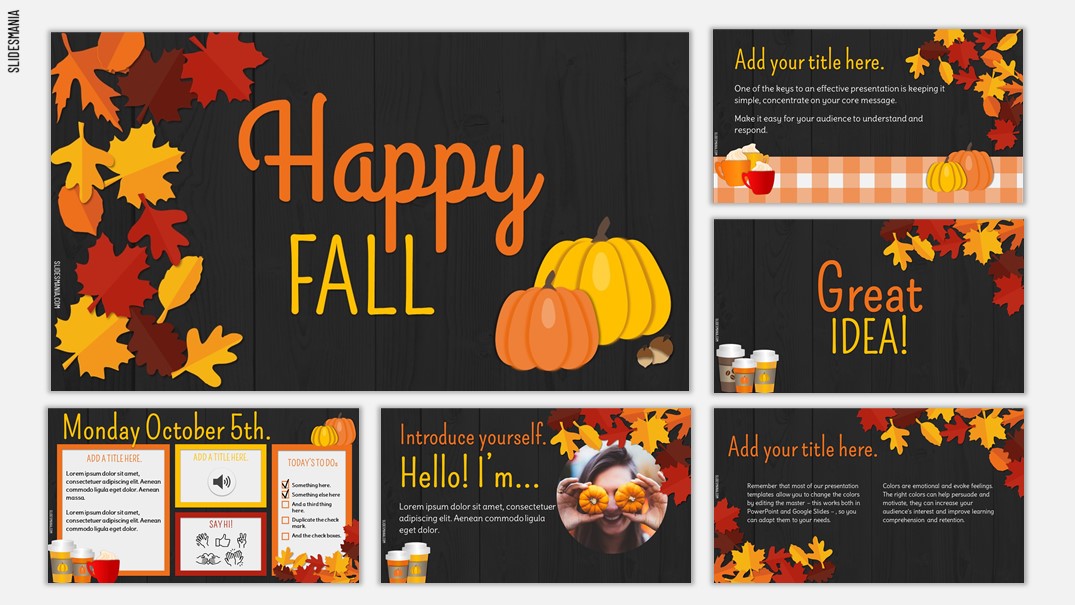 When looking for the free fall PowerPoint templates, this PPT is one of the best options that you'll ever stumble upon. It boasts a gorgeous design with a backdrop that instantly catches the eye, making it a perfect choice for anyone who demands more than just a simple presentation.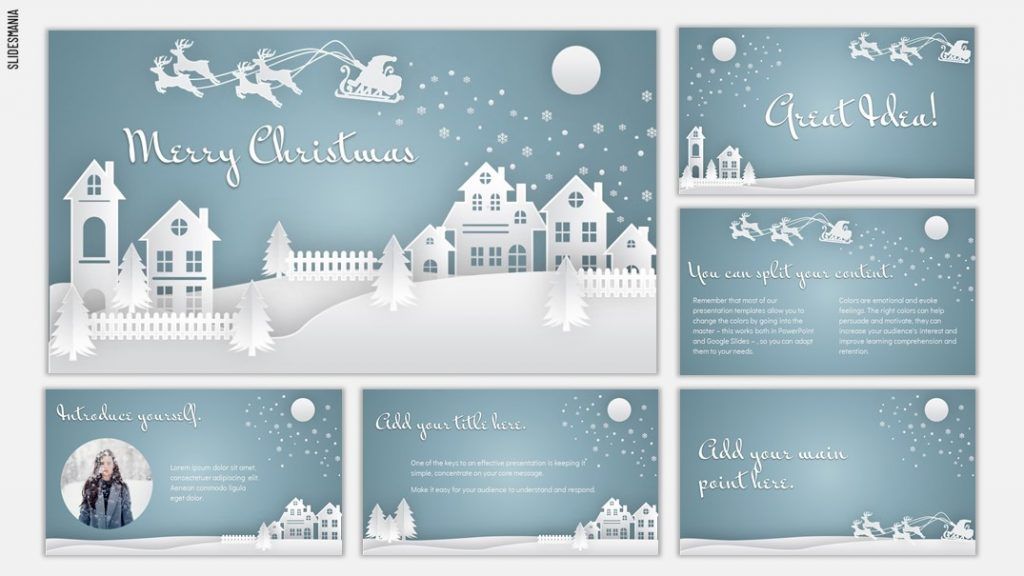 Check out this PowerPoint freebie purpose-built for Christmas-themed presentations. From breathtaking snowy scenery, with cute dainty houses, and trees, to magic Santa's sleigh flying over, the components are designed to emulate the paper cut approach. This, in our opinion, is one of those free winter PowerPoint templates that can easily give premium ones a run for their money.
So these were the best PowerPoint templates that work swimmingly for all your winter and fall-themed presentations. Enjoy the season of thanksgiving, and Christmas without the burden of creating a high-quality PPT from scratch. All you need to do is fill in the content, customize a thing or two, and voila. Sending you good vibes for the holiday season!