Davinci Resolve vs Premiere Pro: Pros & Cons
Video editing software have come a long way since their early days. Today, everyone has access to high-end apps and software used by Hollywood film editors at affordable prices.
Davinci Resolve and Adobe Premiere Pro are two of the most popular apps that come out on top when talking about video editing software. But, which app is best for professional work? Let's find out.
In this guide, we take an in-depth look at both Premiere Pro and Davinci Resolve to compare their pros and cons to figure out which app is best for you.
Grab a cup of coffee and dive right in.
What is Davinci Resolve?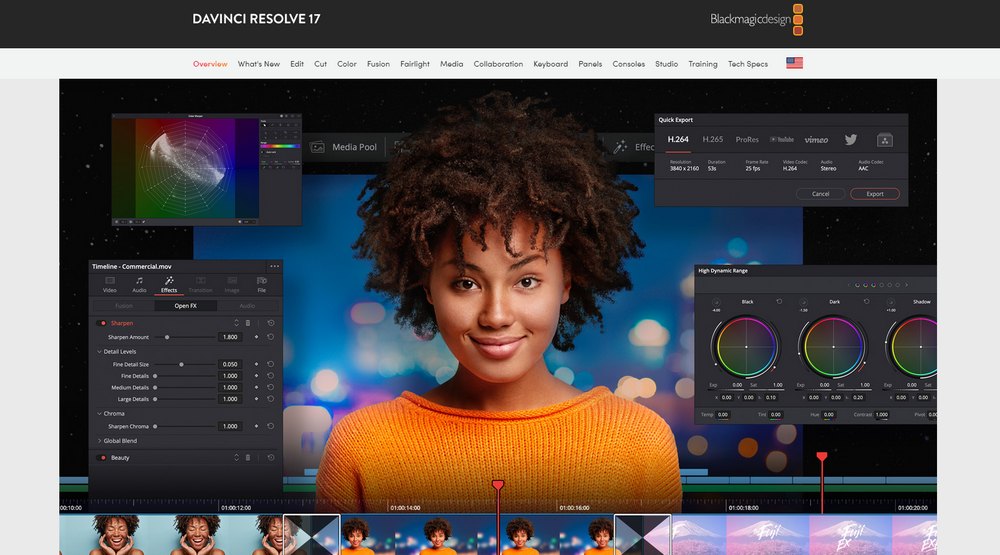 Davinci Resolve is a very popular video editing software, especially among Mac OS users, used for more than just video editing. It's also a great tool for color correction, motion graphics, and much more.
Even big-budget Hollywood movies like Fast and Furious: Hobbs & Shaw to Adidas commercials and hit music videos have used Davinci Resolve. So have no doubt, it's an industry-level software that you can even use for free.
What makes it great is its combination of different features.
More Than Software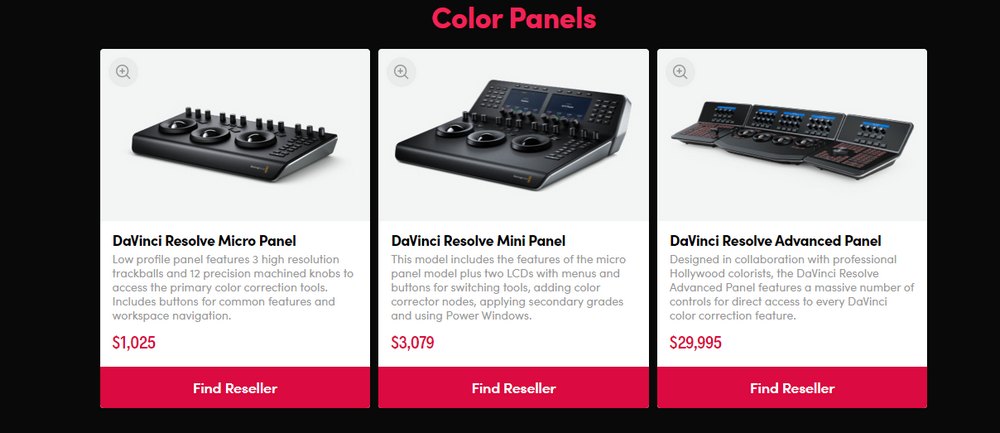 Davinci Resolve is more than just software, it's a combination of tools and gear for professionals. In addition to the software, Davinci Resolve has accompanying hardware equipment, such as editing keyboards, color panels, and audio consoles, that when put together make way for amazing productions.
While the additional equipment isn't required, it's nice to know that you can easily find the right gear that is compatible with the software from the same brand.
Cut! And Edit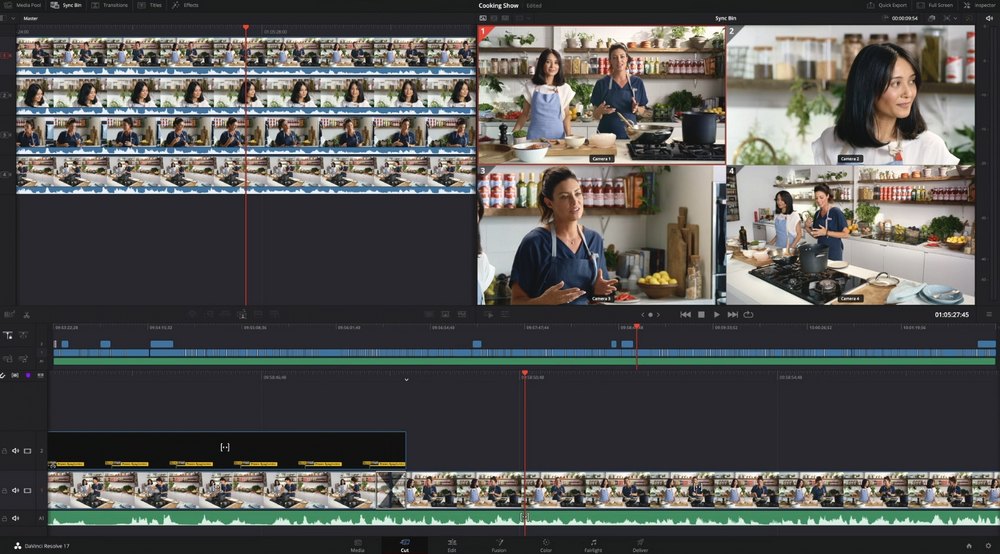 Davinci Resolve provides you with separate pages for cut and editing, which you can easily switch between at any time. This makes it easier to manage your clips and the overall editing workflow.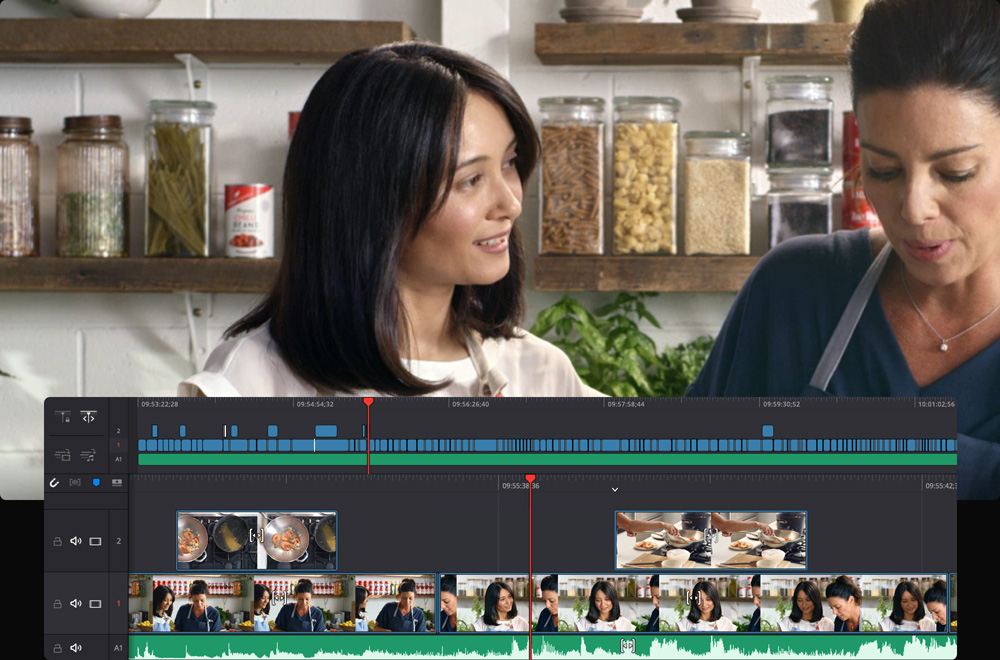 The editor also features dual timelines, one with a zoomed-in view and another with a zoomed-out. This will allow you to easily jump to specific sections without having to constantly zoom in and out on the timeline.

The software has many other intelligent tools like automatically switching to the trim tool with various trimming options.
Modern Interface
Blackmagicdesign, the developers behind the software, makes a bold statement on its website saying Davinci Resolve is "the World's fastest professional editing software".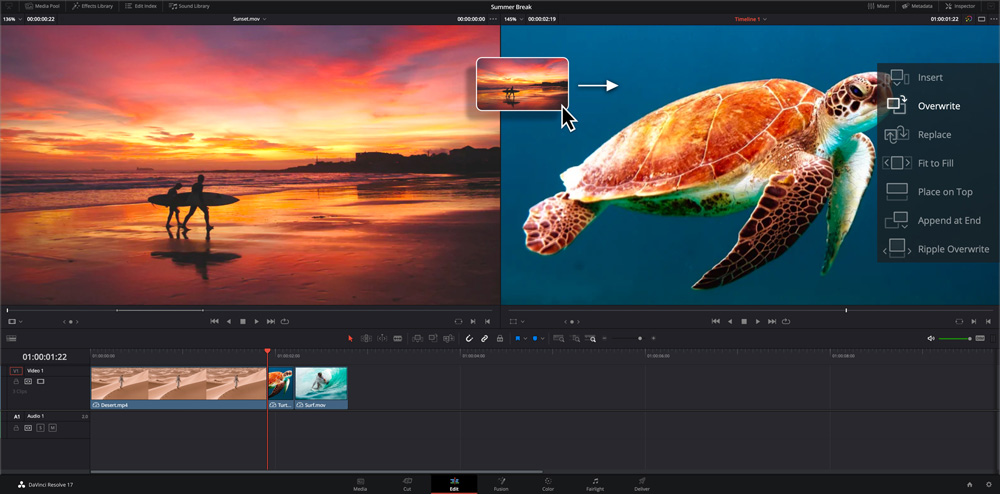 We're not quite sure what that relates to. But, they may be talking about the software's clean and elegant interface that makes your editing work much simpler and faster.
Color Correction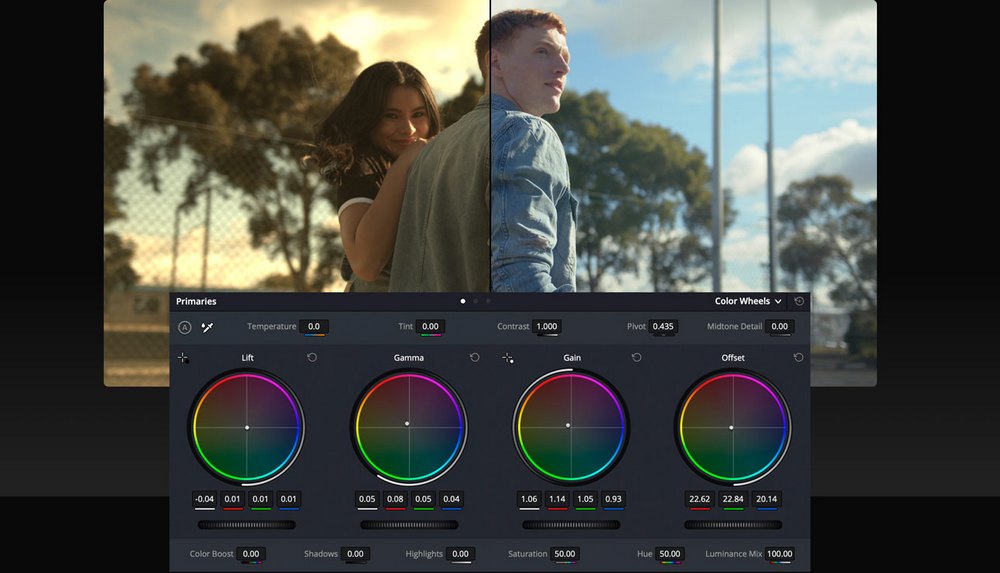 Davinci Resolve has some of the best color correction tools available in video editing software. In fact, it's the main reason why the software is popular in the industry, even in Hollywood.
The software offers many different tools and panels for professional color grading, including HDR grading, auto-balancing and matching, visual effects plugins, and much more.
Fusion and Fairlight
Fusion and Fairlight are two of the unique features included in Davinci Resolve.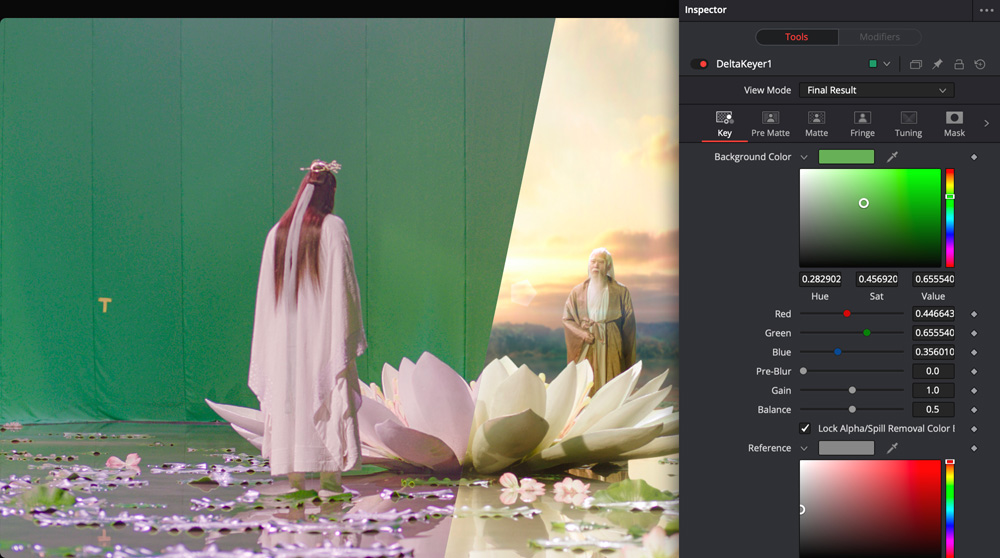 With Fusion, you can create Hollywood-quality visual effects using its 2D and 3D toolkit. For example, it can be used to remove green screens and replace them with other backgrounds. This same tool kit was used in Avengers, Hunger Games, and many other movies as well.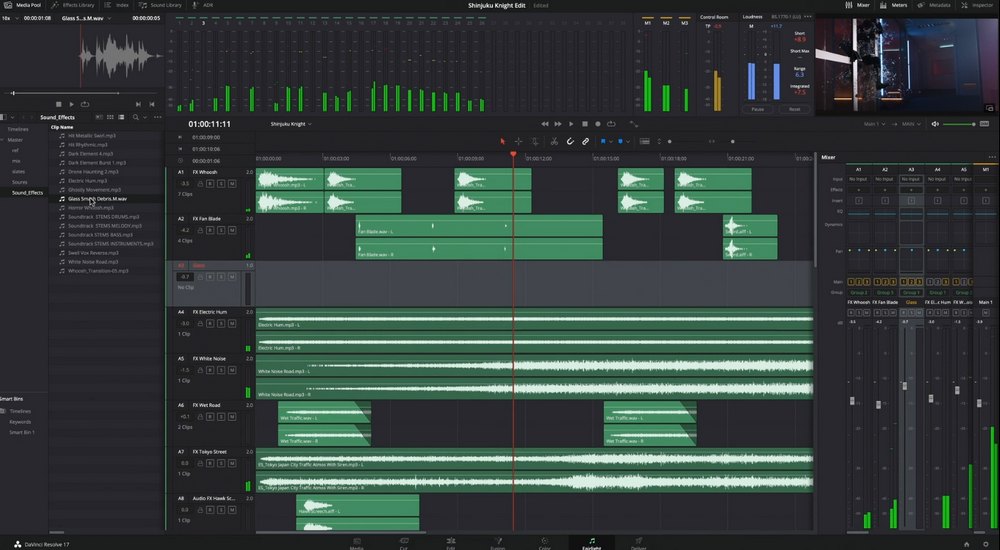 Fairlight is used for audio production and it's the only audio post-production tool that comes built-in with a video editor. You can use it for everything from editing soundtracks to creating them.
How Much Does It Cost?
Davinci Resolve comes in two options: A basic free version and a premium version.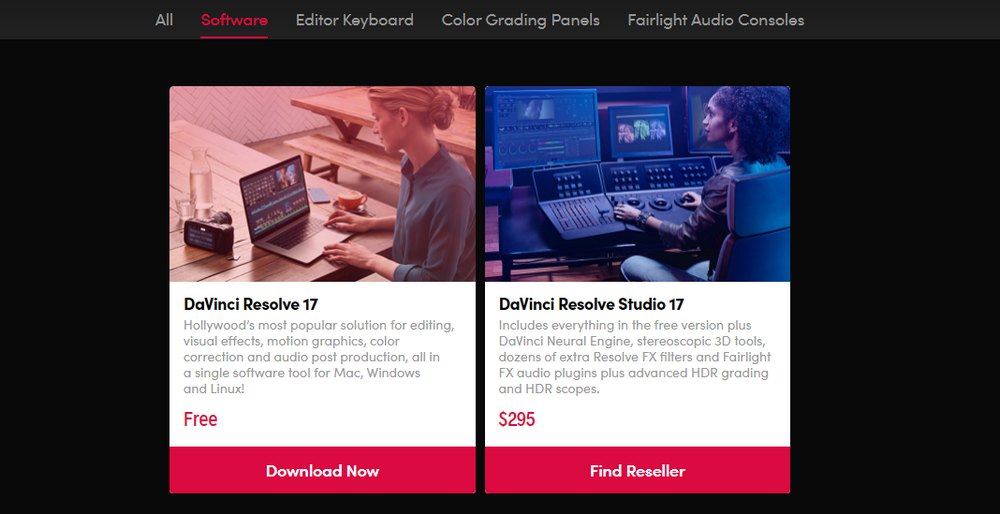 The free version includes all the tools you need to edit and process high-quality videos, color correction, and even audio production.
The premium version costs a one-time price of $295 and it includes advanced tools such as Resolve FX filters, HDR grading, Fairlight plugins, and the DaVinci Neural Engine.
Pros of Using Davinci Resolve
The free version is more than enough for professional video production, especially for YouTube
It's very easy to learn and comes with many training videos and guides you can access for free
Being able to manage both video and audio post-production makes the software one of a kind
The DaVinci Neural Engine provides AI-powered tools for easily fixing complex problems
Lots of affordable hardware equipment choices for professional editors
Available on Windows, Mac, and Linux platforms
Cons of Using Davinci Resolve
The biggest downside to using Davinci Resolve is that you can't buy the premium version directly from the website. You need to buy it through a reseller
Davinci Resolve lacks support for pre-made templates and presets that can be used to make your workflow much faster and easier
What is Premiere Pro?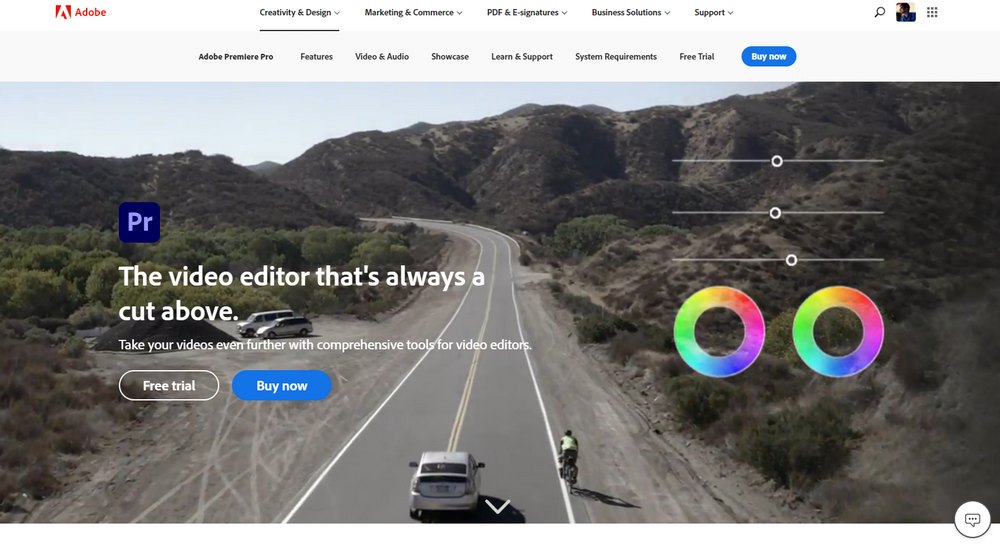 Adobe Premiere Pro is not just another video editing software. It's one of the industry-leading software used by both individual creators and Hollywood directors.
Premiere Pro was part of many AAA quality Hollywood movies like Terminator Dark Fate, Blade Runner 2049, Deadpool, and more.
One of the best features that make Premiere Pro stand out is how well it works with the other software in the Adobe Creative Cloud apps family. And there's no shortage of Premiere Pro templates for supercharging your workflow either.
An All-in-One Toolkit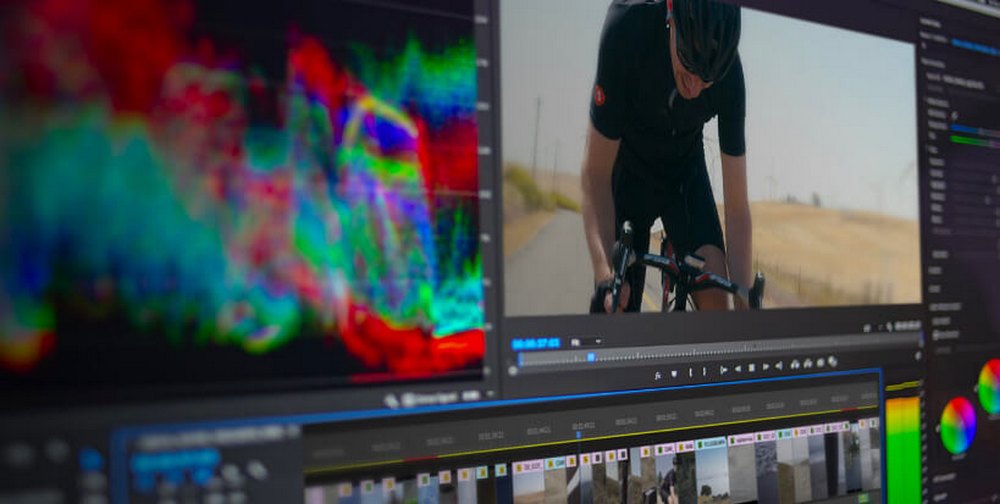 While you can use Premiere Pro on its own for video production, the software is most useful when you use it with a combination of other Adobe software.
For example, you can cut and edit a video with Premiere Pro, add some stock footage from Adobe Stock, use a MOGRT template to create an intro scene using After Effect to produce high-end videos seamlessly.
There are plenty of other lesser-known Adobe apps, such as Adobe Audition and Adobe Character Animator, that can be used with Premiere Pro for more advanced projects.
Adobe Sensei AI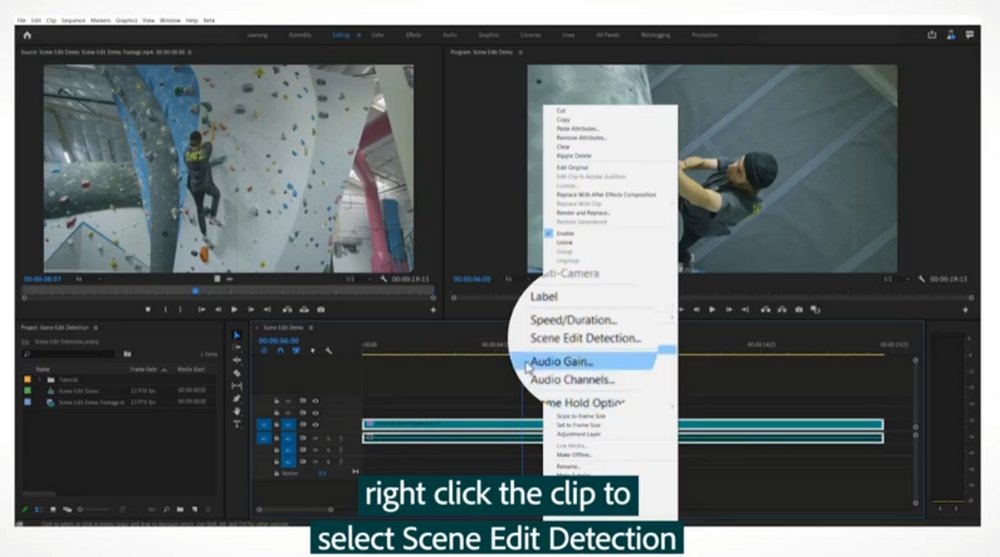 Adobe has perfected its AI for the video editor over the years. Now it can make your entire cutting and editing process a breeze.
Adobe Sensei AI can now accurately detect edit points in your timeline and automatically add cuts, markers, and even make adjustments on its own.
Tools for Creatives and Professionals
Premiere Pro features a set of tools that are more suitable for creatives. For example, the automatic reformatting feature lets you easily optimize videos for various social media platforms.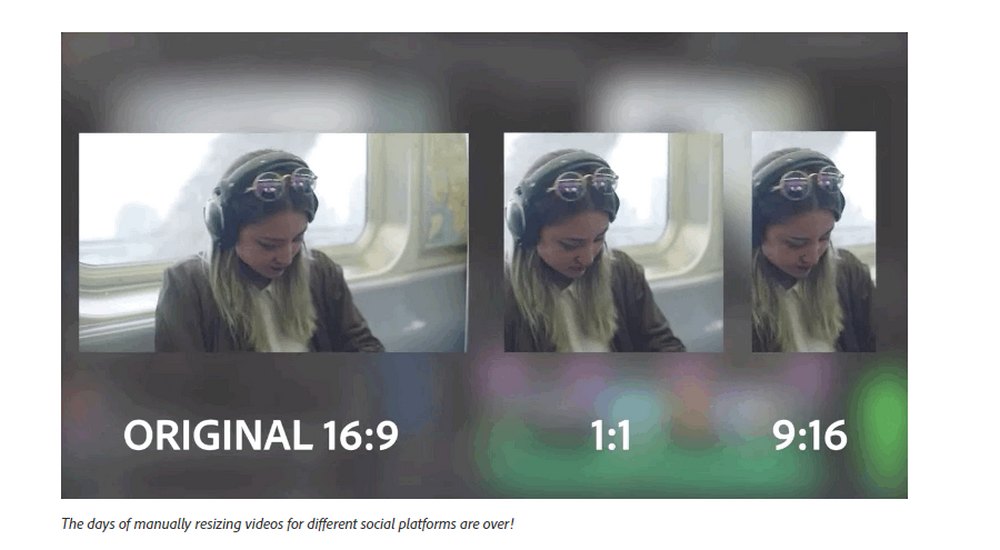 There are also other more advanced tools in the software for professionals as well. Like tools for creating and adding animated motion graphics.
Color Correction and Audio Editing
Premiere Pro has a special panel called the Lumetri Color panel where you can easily adjust the colors and white balance of your videos. This panel is very easy to use and beginner-friendly as well.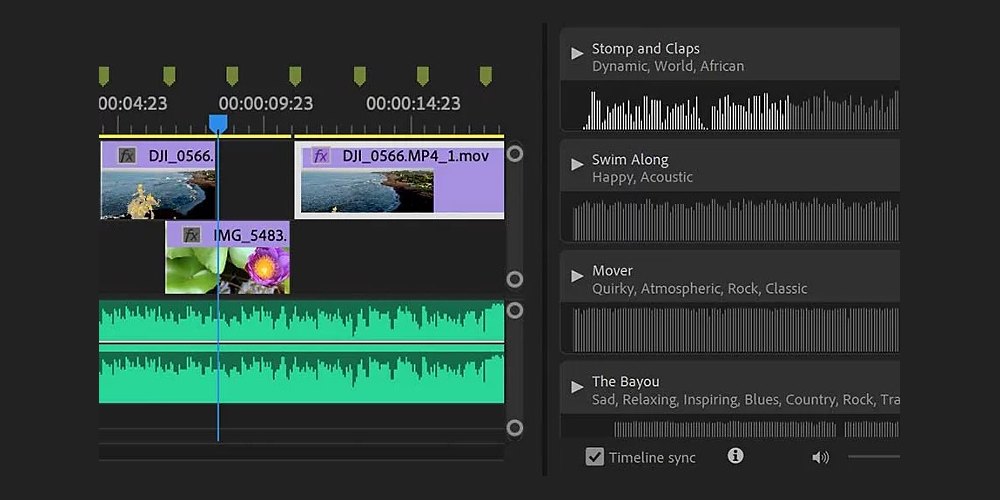 You can also use the Essential Sound panel for all your basic audio editing and syncing work. It's not as advanced as Davinci Resolve, but it's enough for most production work.
Community Support
Premiere Pro has a much bigger community than most other video editing software. As a result, you can easily find pre-made templates, motion graphics, and presets to get things done much faster when working on client projects.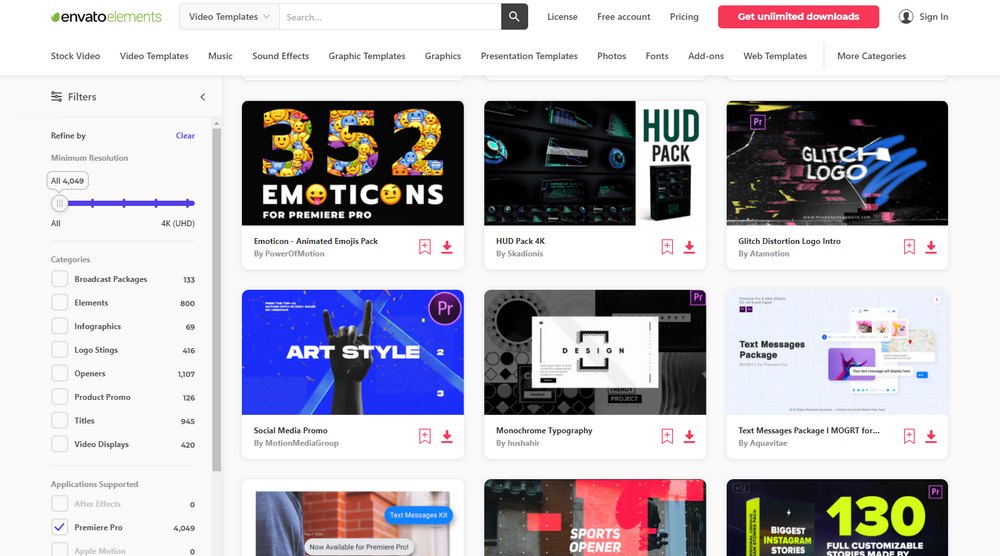 Marketplaces like Envato Elements have thousands of Premiere Pro templates available to download and use with your personal and commercial projects.
How Much Does It Cost?
Premiere Pro is part of Adobe Creative Cloud subscription. But, you can subscribe to Premiere Pro individually or get the entire software package.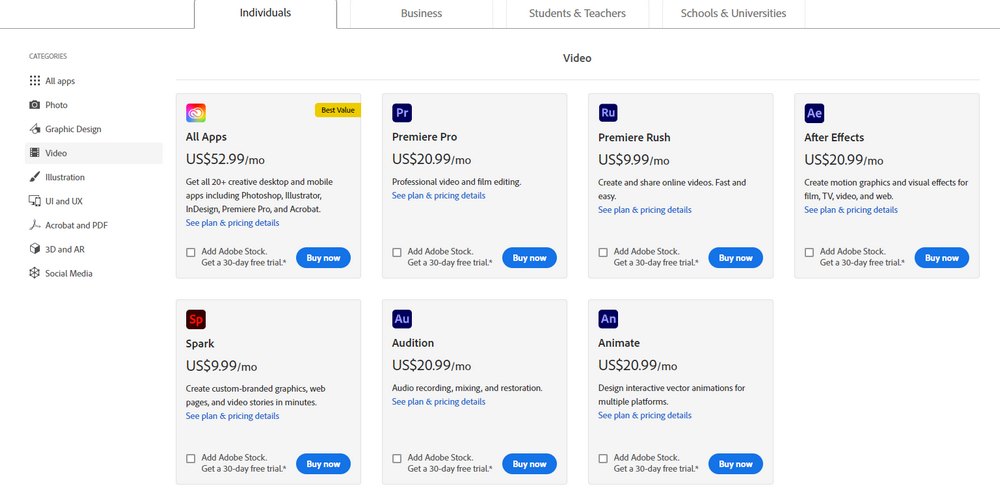 It costs $20.99 per month to access just the Premiere Pro app. And it's $52.99 per month for the complete Creative Cloud All Apps package.
If you can afford it, we recommend going for the Creative Cloud plan as it gives you access to other useful Adobe apps like After Effects and Adobe Audition.
Pros of Using Premiere Pro
Ability to use the video editor with other Adobe apps to create professional productions
A well-polished software that's been improved over 17 years
Perfect for all kinds of projects from social media content to Hollywood movies
Innovative AI-powered tools that make your job much easier
Compatible with both Windows and MacOS platforms
Adobe Premiere Rush, the mobile app, will help you do basic editing work on your mobile devices
Cons of Using Premiere Pro
The expensive subscription is the downside to using Premiere Pro. It will cost you $240 per year to access just the Premiere Pro app
Premiere Pro lacks advanced audio post-production tools like the ones in Davinci Resolve
Premiere Pro doesn't offer branded hardware for professional video editing work
Premiere Pro is not available on the Linux platform
Now that we have an overview of both video editing software, let's compare the features to see which app is the best.
Which Video Editor Has the Best Tools?
Both Davinci Resolve and Adobe Premiere Pro have very competitive sets of tools that are catered towards different audiences. Each software performs better than the other in some areas.
For example, the Premiere Pro Sensei AI is much more advanced and well-polished than the Davinci Resolve Neural Engine.
However, Davinci Resolve has many unique features that make it stand out, like the Fusion and Fairlight systems for dedicated visual effects and audio production.
In a way, Davinci Resolve is like Premiere Pro and After Effects bundled into one app.
Which Video Editor Has the Best Interface?
The interfaces of Davinci Resolve and Premiere Pro have very similar layouts. Of course, you can easily customize and rearrange the panels to your preference as well.
This makes it much easier for beginners and experienced editors to start using either of the software. Since both apps have similar layouts, you'll be able to easily switch between apps if necessary.
Which Video Editor is Beginner Friendly?
Davinci Resolve comes loaded with lots of complex features that are most suitable for advanced users. While the app is not that difficult to learn, complete beginners may find it a bit too overwhelming.
On the other hand, Premiere Pro has a slightly simpler approach to getting started as a beginner. Plus there are many online courses and YouTube tutorials on how to use the app as well.
Which Video Editor Has Best Audio Editing Tools?
Adobe Premiere Pro has several great tools for audio editing, like the Essential Sound panel. But they are no match for the options available in Davinci Resolve.
Even if you're an audio engineer, you can do most of your work using Davinci Resolve. Its' Fairlight audio production system has its own plugins you can use to even post-produce soundtracks.
Which Video Editor Has the Best Templates & Presets?
Being able to access pre-made templates and presets is an important part of creating a smoother workflow as a professional. And that's part of what makes Premiere Pro more appealing to freelancers and professional editors.
You can find thousands of video templates, transitions, logo reveals, lower thirds, and much more for Premiere Pro from all over the web.
Davinci Resolve supports templates as well. However, they are very limited in numbers. The community around Davinci Resolve is slowly growing so hopefully this will change in the near future.
Which Video Editor Is Fastest?
Performance is another important aspect of video editing that most professionals are concerned with. It's difficult to pick a clear winner for this category as it mostly depends on your computer specifications.
A minimum of 16GB of RAM with 4GB dedicated graphics card and a full-HD display is recommended for both Premiere Pro and Davinci Resolve.
It's also worth noting that some Davinci Resolve users have found the free version of the app slightly slower in rendering videos than the premium version. Although, it could be because of a codec issue.
In Summary
By now you're probably wondering—which software should you use?
While both apps have their own merits, we recommend you start with Davinci Resolve.
The free version of Davinci Resolve is perfect for a beginner to get into video editing. As well as for an industry professional to take their skills to the next level.
Of course, you can also test out Premiere Pro with its free trial. But trying out Davinci Resolve beforehand will help you compare the two apps before making a commitment.
5 FAQs About Davinci Resolve and Premiere Pro
If you need further convincing, some of these frequently asked questions about the two video editing software will help.
1. Why Is Davinci Resolve Free?
Davinci Resolve comes in two versions—Davinci Resolve (free) and Davinci Resolve Studio (premium). The free version includes lots of great tools for producing videos and even indie films.
But, if you want to take things to the next level with filters and plugins to produce feature films, the premium version is more suitable for you.
The software is developed by a passionate group of editors and engineers. As Grant Petty, the CEO of the company states "Blackmagic Design is dedicated to allowing the highest quality video to be affordable to everyone, so the post-production and television industry can become a truly creative industry". That could be the reason why the software has a free version.
2. What File Formats Does Davinci Resolve Support?
Davinci Resolve supports all popular video formats and file formats across MacOS, Windows, and Linux distros. You can find a full list of supported file formats in this document.
3. Is DaVinci Resolve Better Than iMovie?
iMovie is the default video editor that comes with MacOS. It has very simpler and basic editing tools to make the app appealing to the general user.
Davinci Resolve is much more advanced than iMovie in every aspect. A short answer to this question is that iMovie is best for editing your family vacation videos while Davinci Resolve is more suitable for your YouTube videos and film projects.
4. Why is Premiere Pro So Slow?
Video editing software requires a lot of resources, especially when rendering videos. So it's important to have a good computer to do your editing work.
While Premiere Pro can even run on low-end systems with 4GB of RAM, it's not recommended. Consider using a computer with 16GB of RAM and a dedicated GPU for faster video editing.
5. Premiere Pro vs Premiere Rush
Premium Rush is the mobile version of the Adobe Premiere Pro. It's available on both iOS and Android. However, they are not the same software.
Premiere Rush is a very light and basic app you can use to quickly edit your mobile videos before uploading them to social media. While Premiere Pro is the software you use for more complex video editing projects.