25+ Cute PowerPoint Templates (Free & Pro Cute PPT) 2023
There is nothing more enjoyable than making something cute, cuddly, and joyful most especially when it involves pets, children, or just our own cute tastes. This is especially important for those that need to teach children, and present the information in a PowerPoint.
We know the struggle of finding that perfectly cute design that will keep your children focused, show off your furry friends, or just make you giggle to yourself as you're putting it together.
This is why we've decided to put together some cute PowerPoint templates, from premium and free sources, including, but not limited to: cute PowerPoint templates for teachers, for pets, for general learning, and even for keeping track of your schedule.
Read on to see our list of the best cute PowerPoint templates out there right now!
Get everything you need to give the perfect presentation. From just $16, get unlimited access to thousands of PowerPoint presentation templates, graphics, fonts, and photos.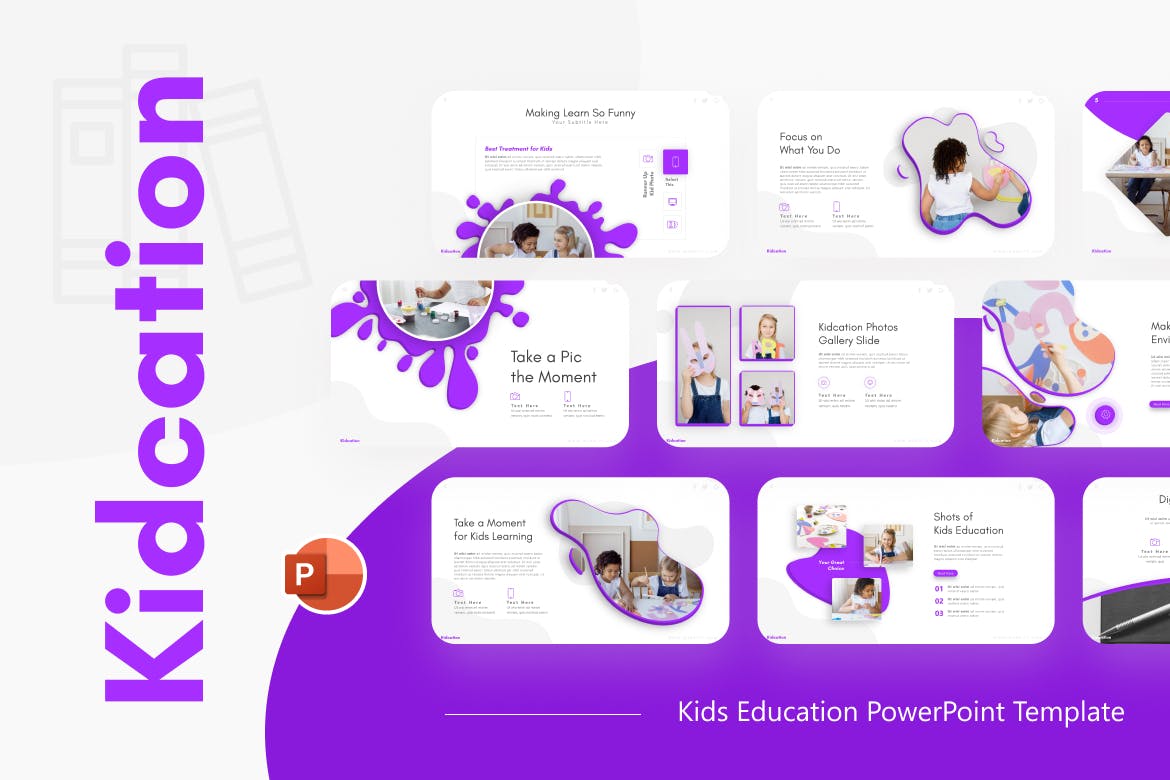 If you're looking for the best cute PowerPoint templates for teachers, Kidcation stands at the top of the league. It comes with an adorable design that will keep the kids engaged from start to end, and 30 beautiful slides, fully customizable to your heart's content.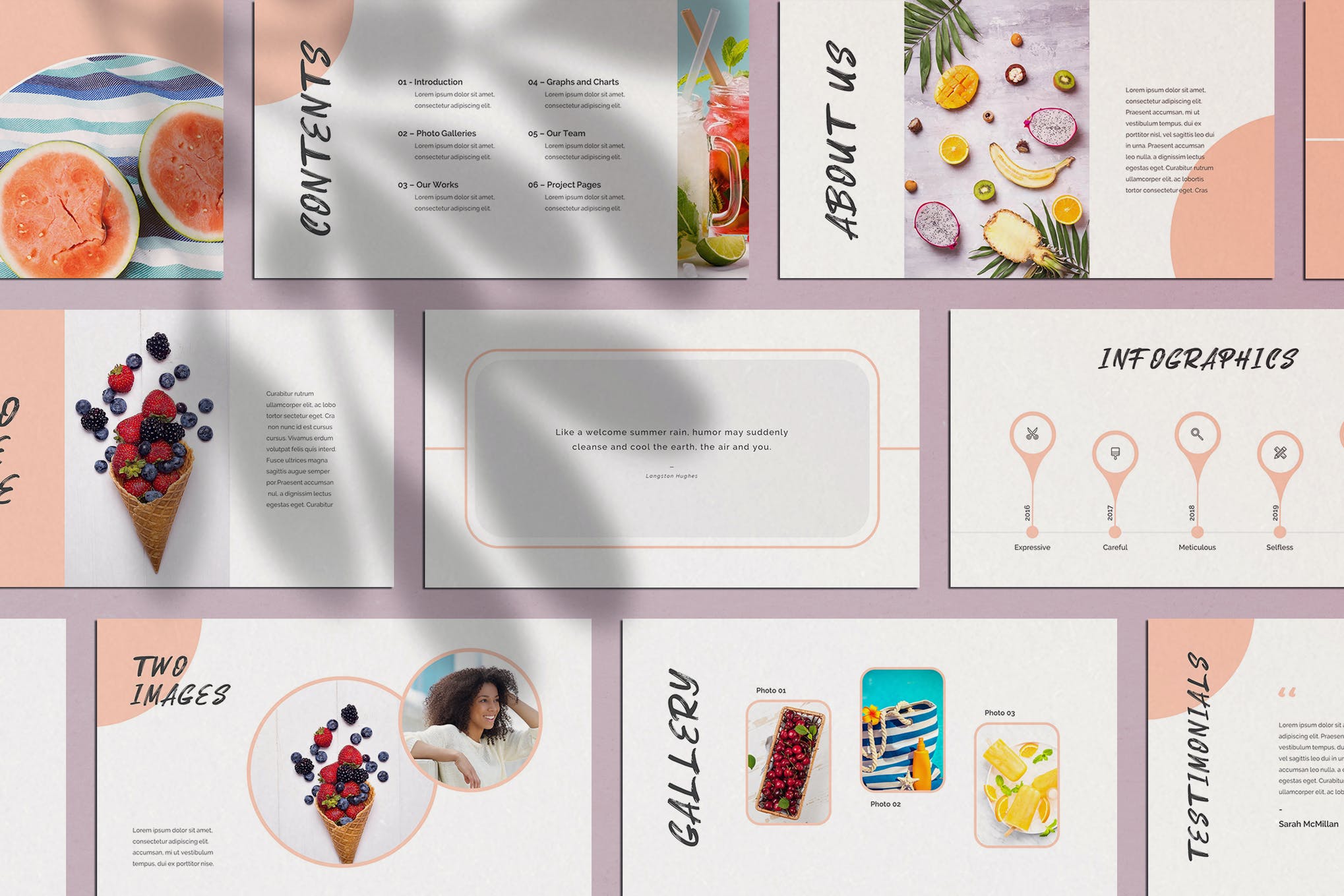 Nectarine is a minimalistic PowerPoint template, employing a cute design fashioned with fruits, smoothies, and other colorful elements. It offers over 180 unique slides, 2 premade color themes, handcrafted infographics, and pixel-perfect illustrations.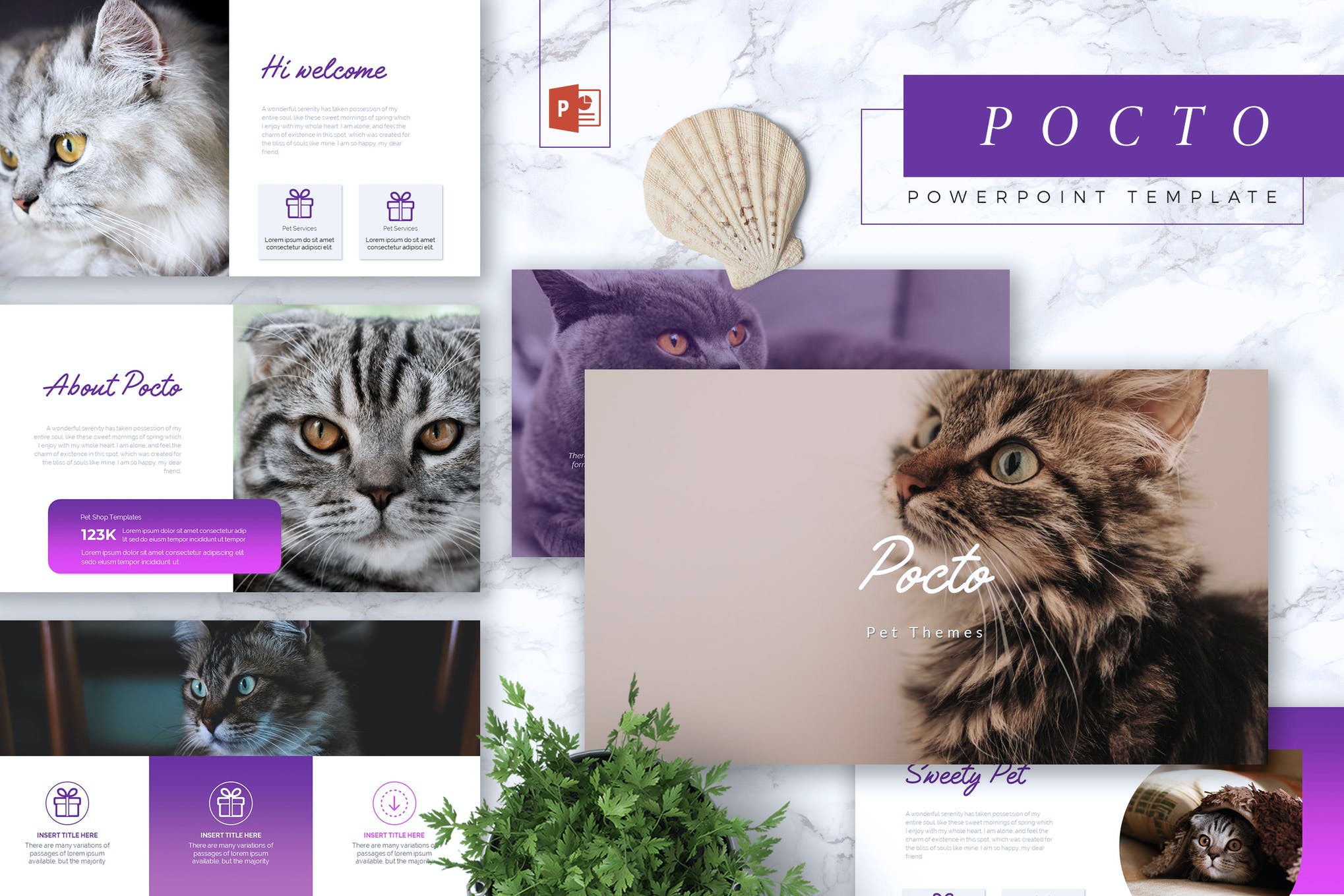 Looking to show off your fur family in style? The Pocto PowerPoint template comes loaded with everything you need to bring your furry friends to the forefront in style. The template comes with 30 unique slides, image placeholders, several color themes, editable charts, and much more!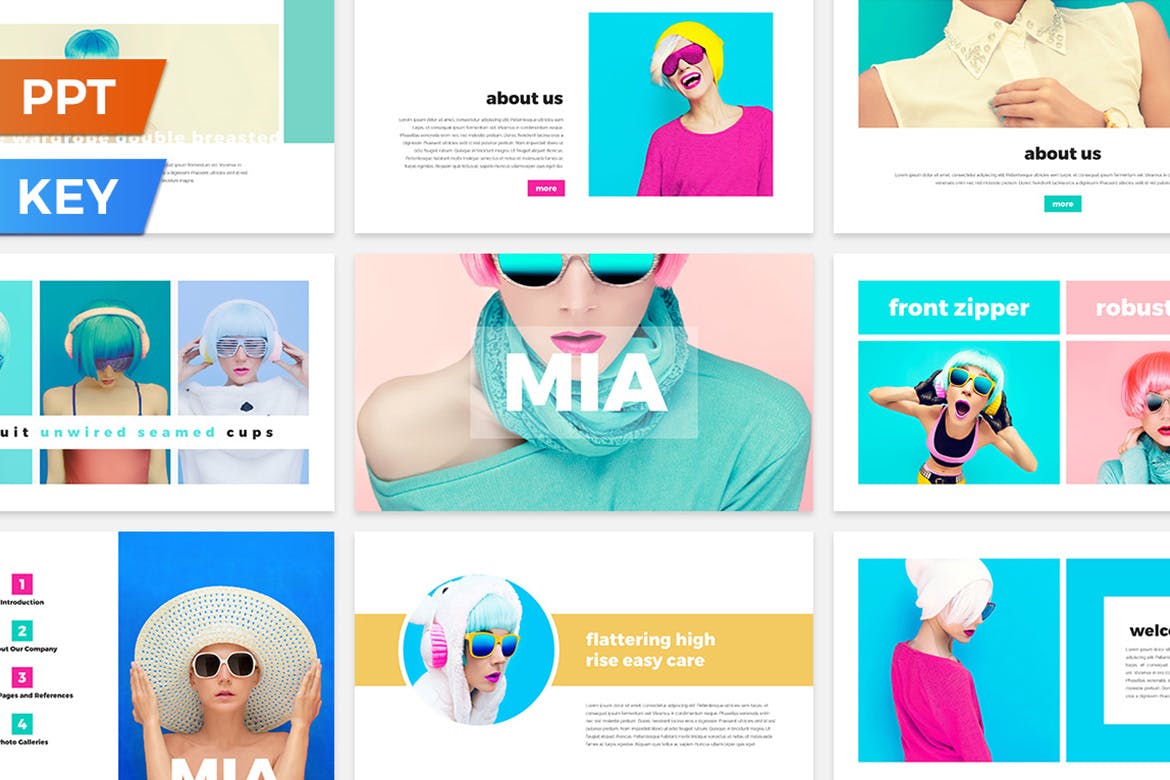 Mia is a PowerPoint template designed to help you show off your fashion blog, or presentation, in a cute style. Designed in a simple yet impressive manner, the template comes with 90 unique slides, image placeholders, several themes, and even a free font pack!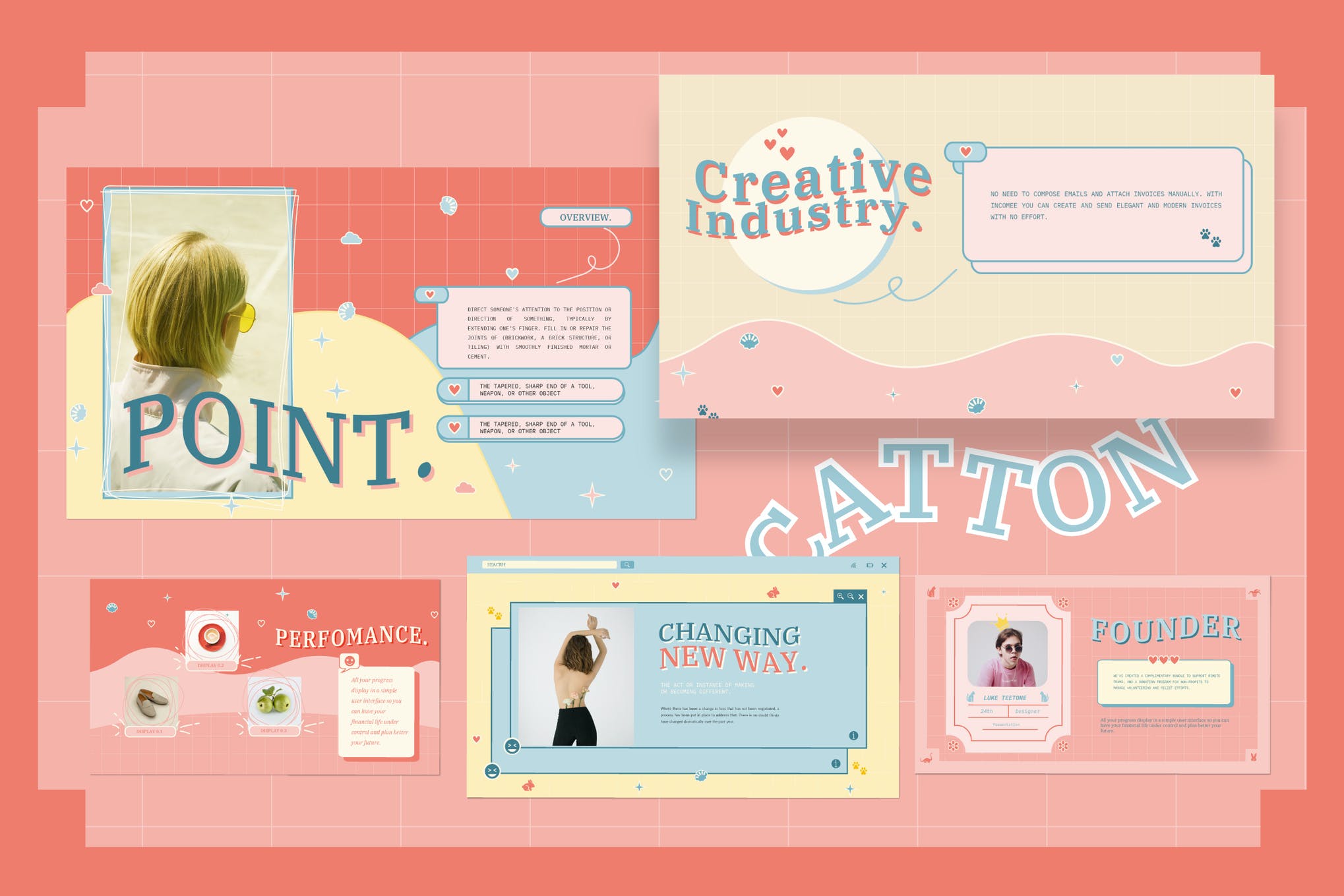 Catton is an adorable PowerPoint template designed with soft pinks and blues. Fashioned to be a professional, ultra-modern aesthetic, the template is highly versatile; able to be used for a wide range of personal and professional applications. The template includes image placeholders, drag, and drop functionality, and much more.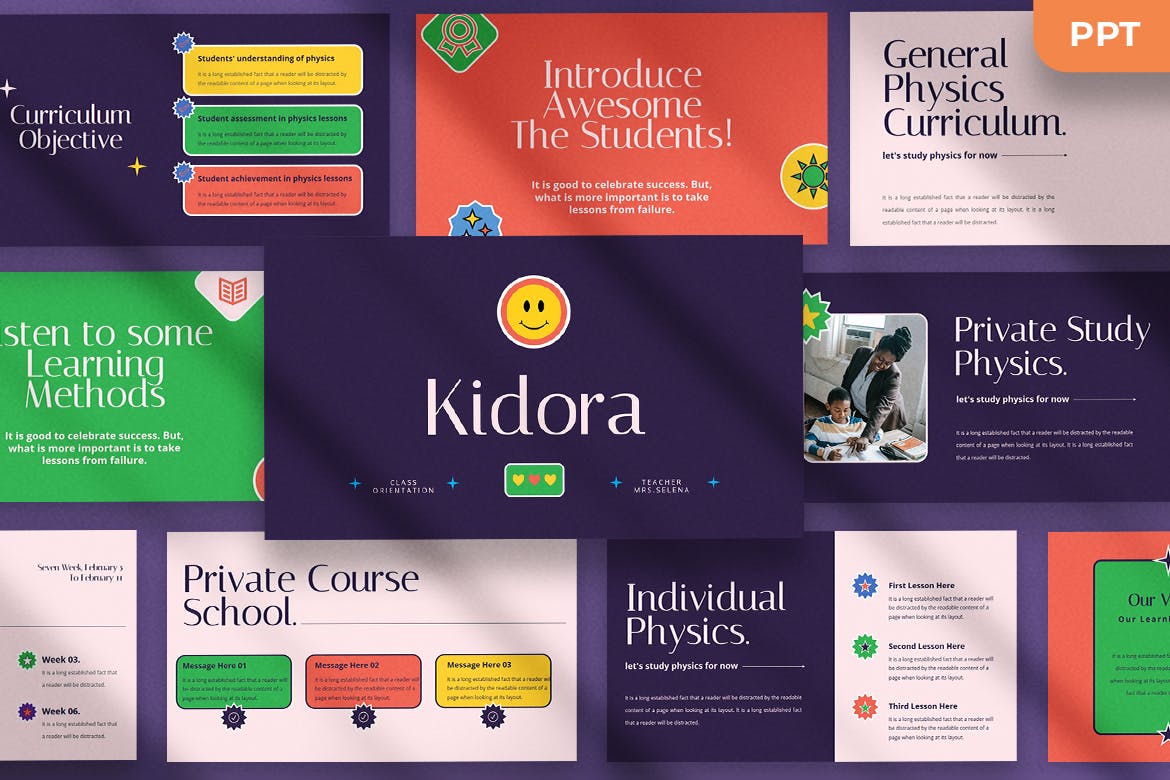 Kidora is a fun, and playful presentation template featuring 30 slides, unlimited color options, free fonts, drag, and drop image placeholders, and more. Kidora is one of our most favorite cute PowerPoint templates on this list, and we recommend you give it a go.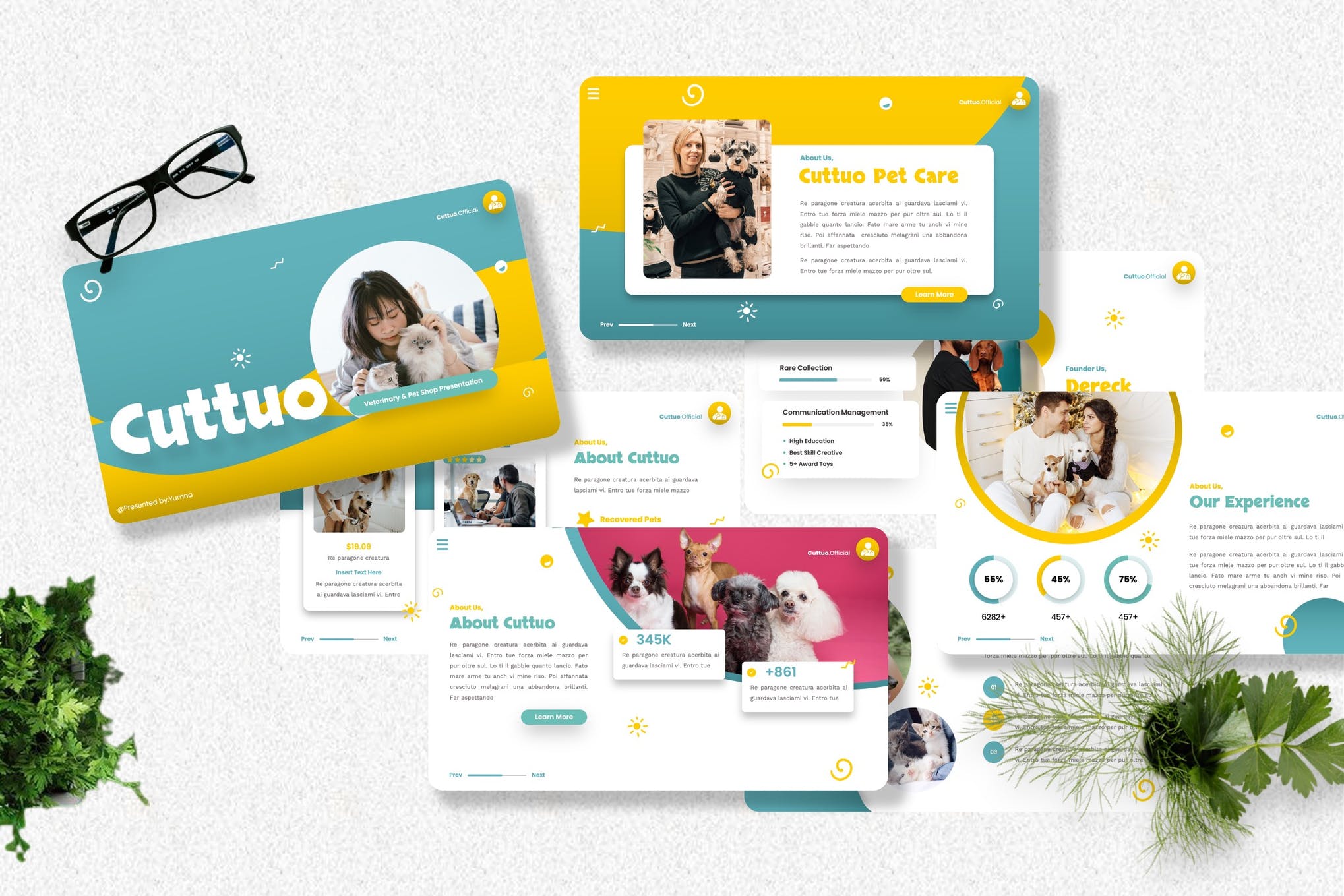 Cuttuo is essentially a pet-themed presentation with a versatile design that can be put to use for virtually any subject under the sun. It features a range of professionally designed slides sure to impress your audience at a glance.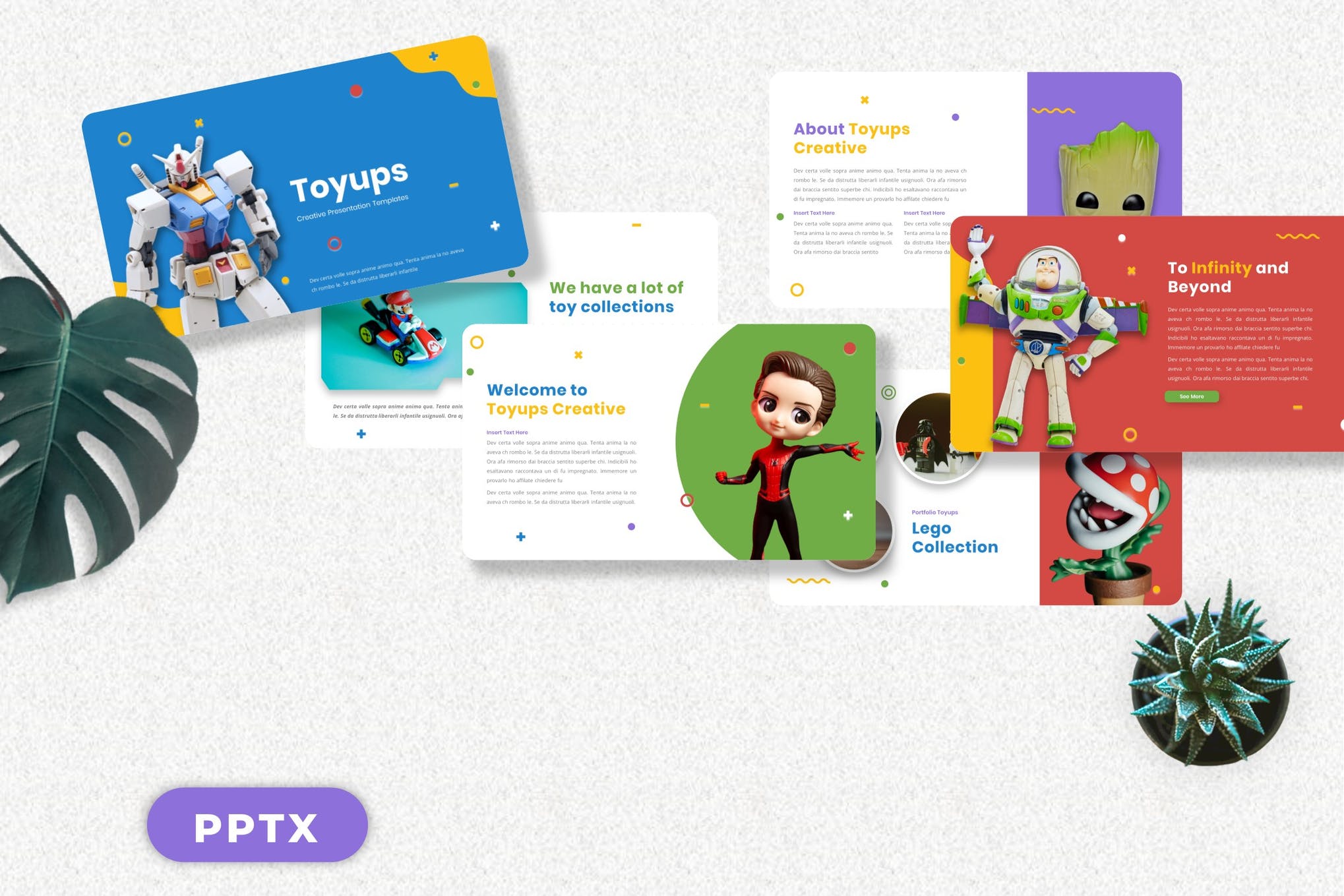 Toyups is a sleek and modern PowerPoint template that comes absolutely loaded with features. With 40 unique master slides to choose from, a range of free graphics and icons, widescreen support, and a number of different themes to choose from.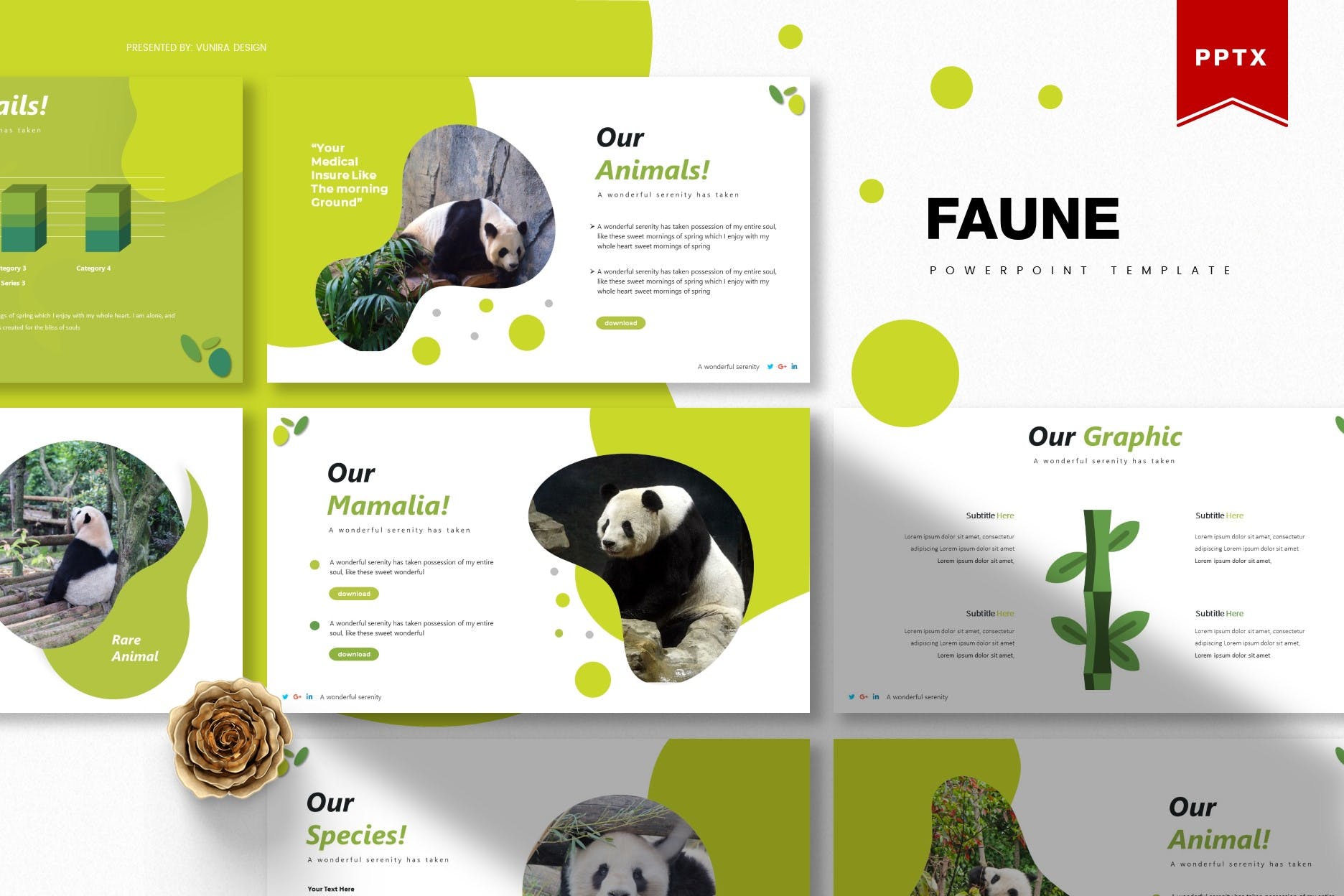 Faune is a minimalistic PowerPoint template design, using soft greens and smooth shapes in its slide design. Great for both professional and personal presentation use. The template comes with 150 unique slides, several themed templates for certain applications, and a range of infographics for you to take advantage of.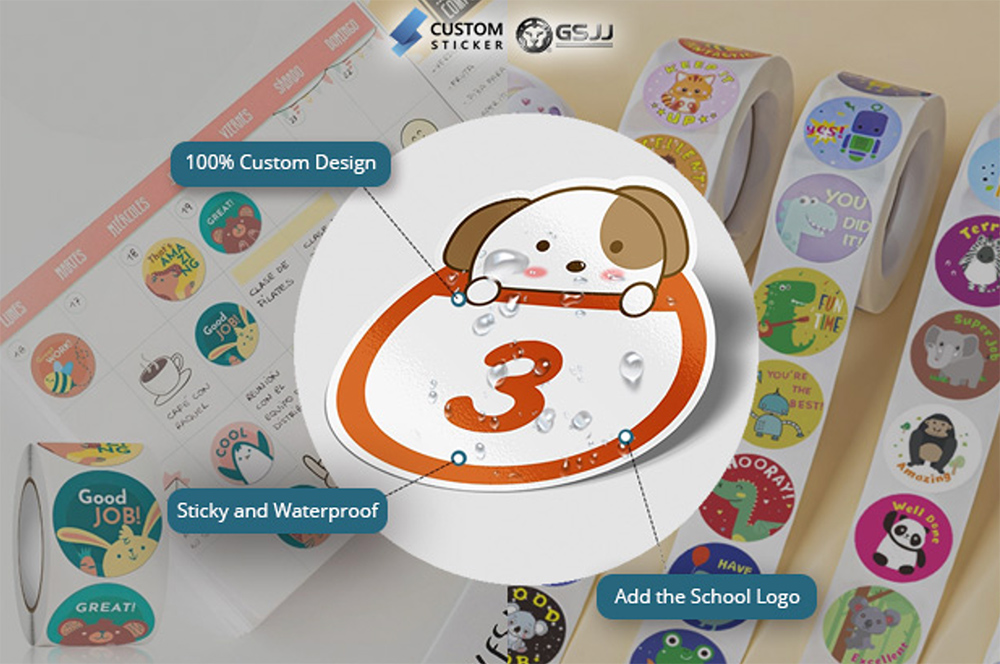 As well as making a great PowerPoint template to capture your students' attention, there are plenty of other creative ways to help your kids focus on learning. Reward stickers for students is a popular low-budget solution—a practical way to reward children for effort and achievement. Customized motivational stickers with the name of your choice, school logo, or other designs can be used on classroom activities, homework papers, and daily assignments. They can be a smart investment to spread joy!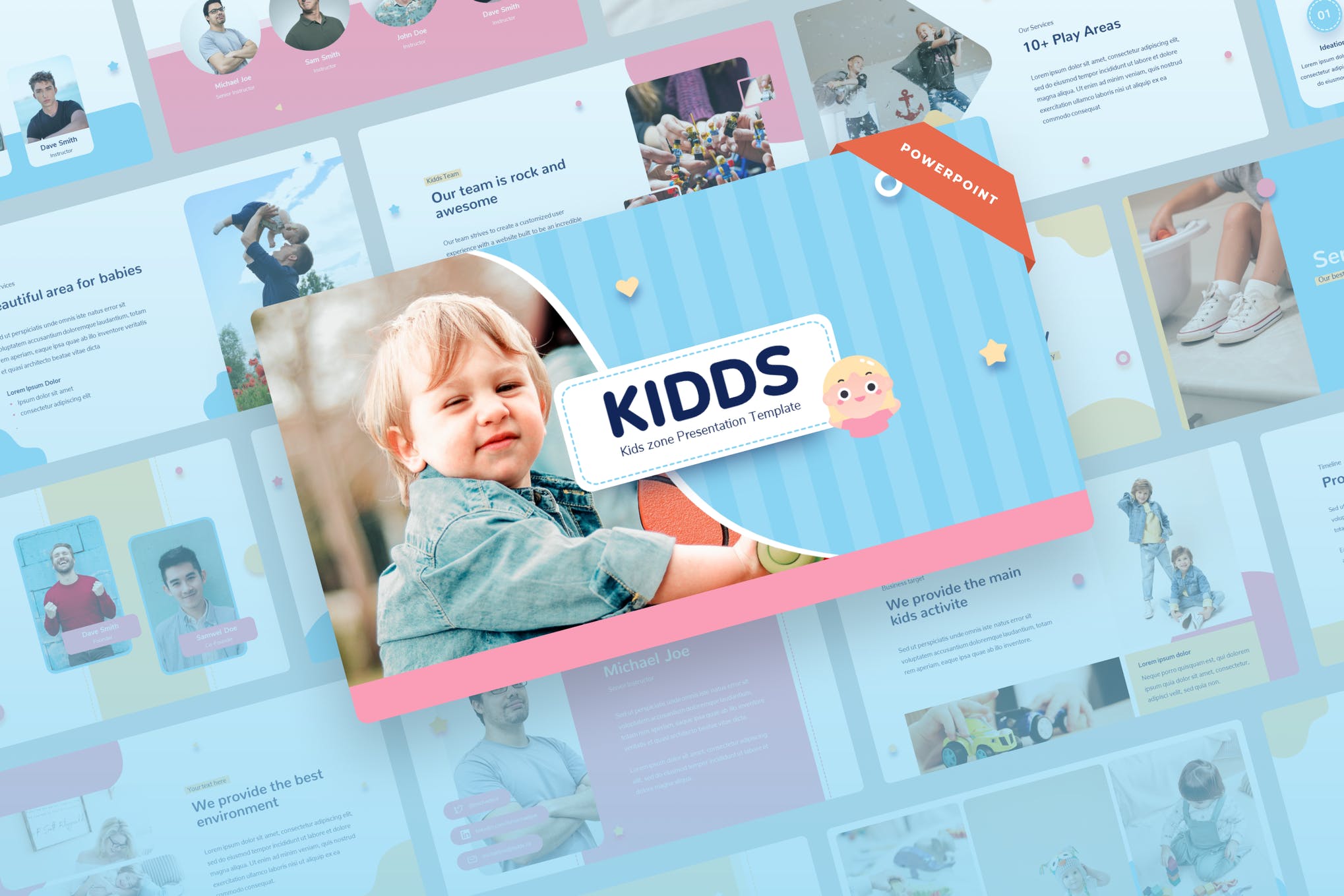 If you're looking to craft up a piece of presentation material for a kid-friendly business, then look no further than the Kidds PowerPoint template. An adorable premium design, filled with 40 unique slides, widescreen layout support, a range of free icons, and even a built-in slide master!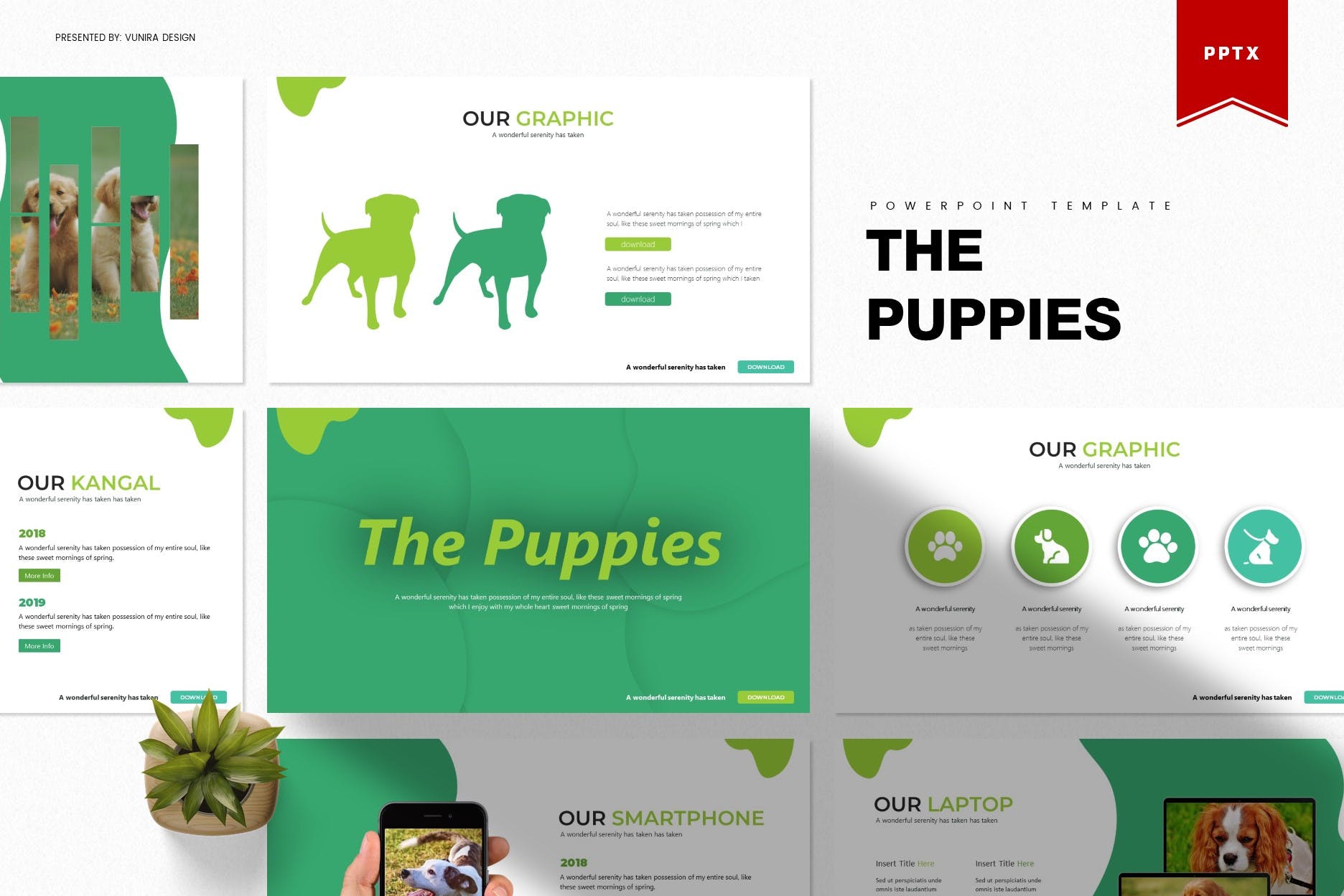 The Puppies is a presentation template designed to offer a level of versatility in its application. Themed with soft greens, and a range of placeholder animal pictures (Both stencils and actual real-life shots) this template has everything you need to make your next presentation animal friendly.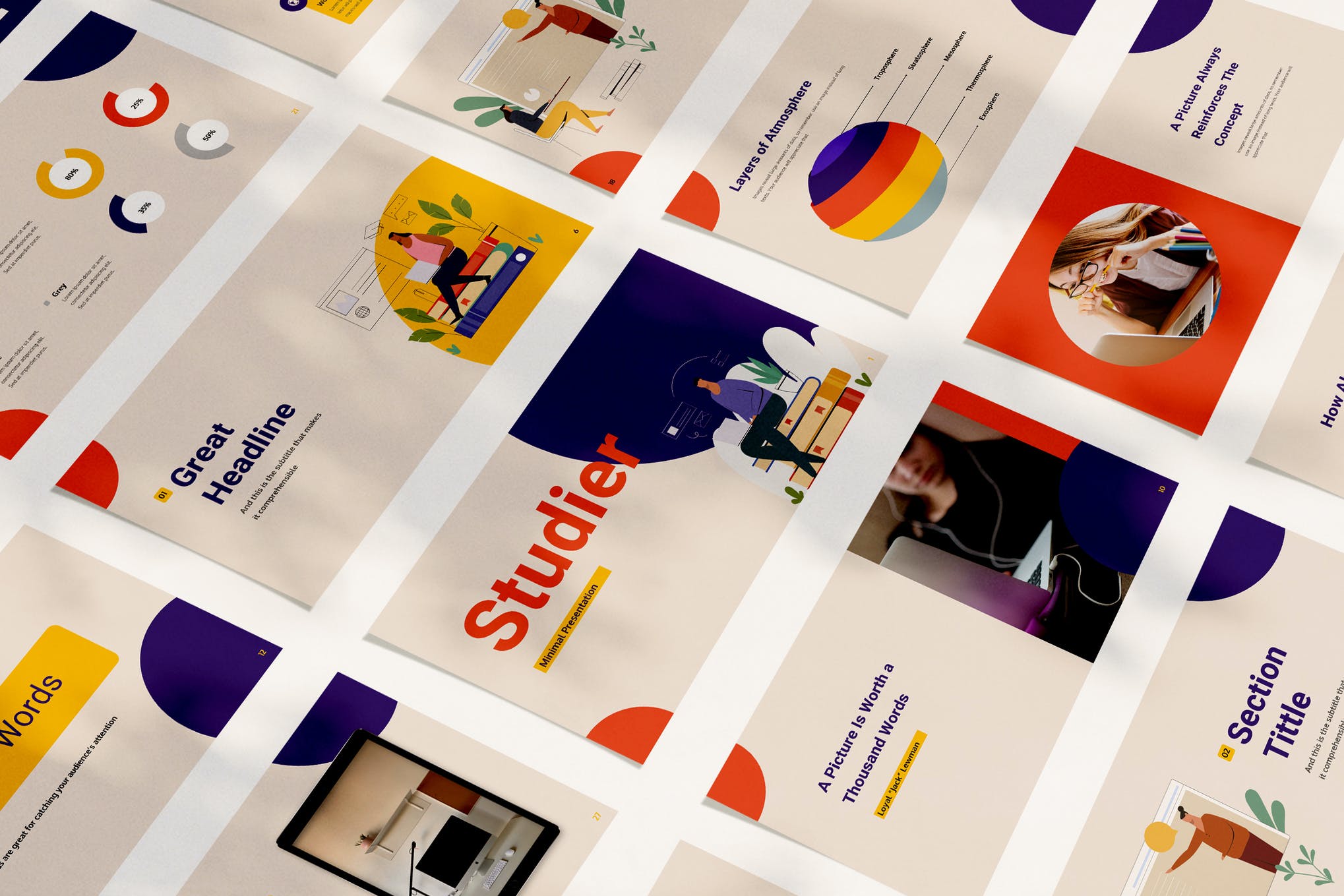 Studier is a uniquely designed template for PowerPoint, using a stunningly cute aesthetic to draw your attention. With a range of colored and stylish slides and a smorgasbord of amazing features, this template is versatile enough to fit almost any application.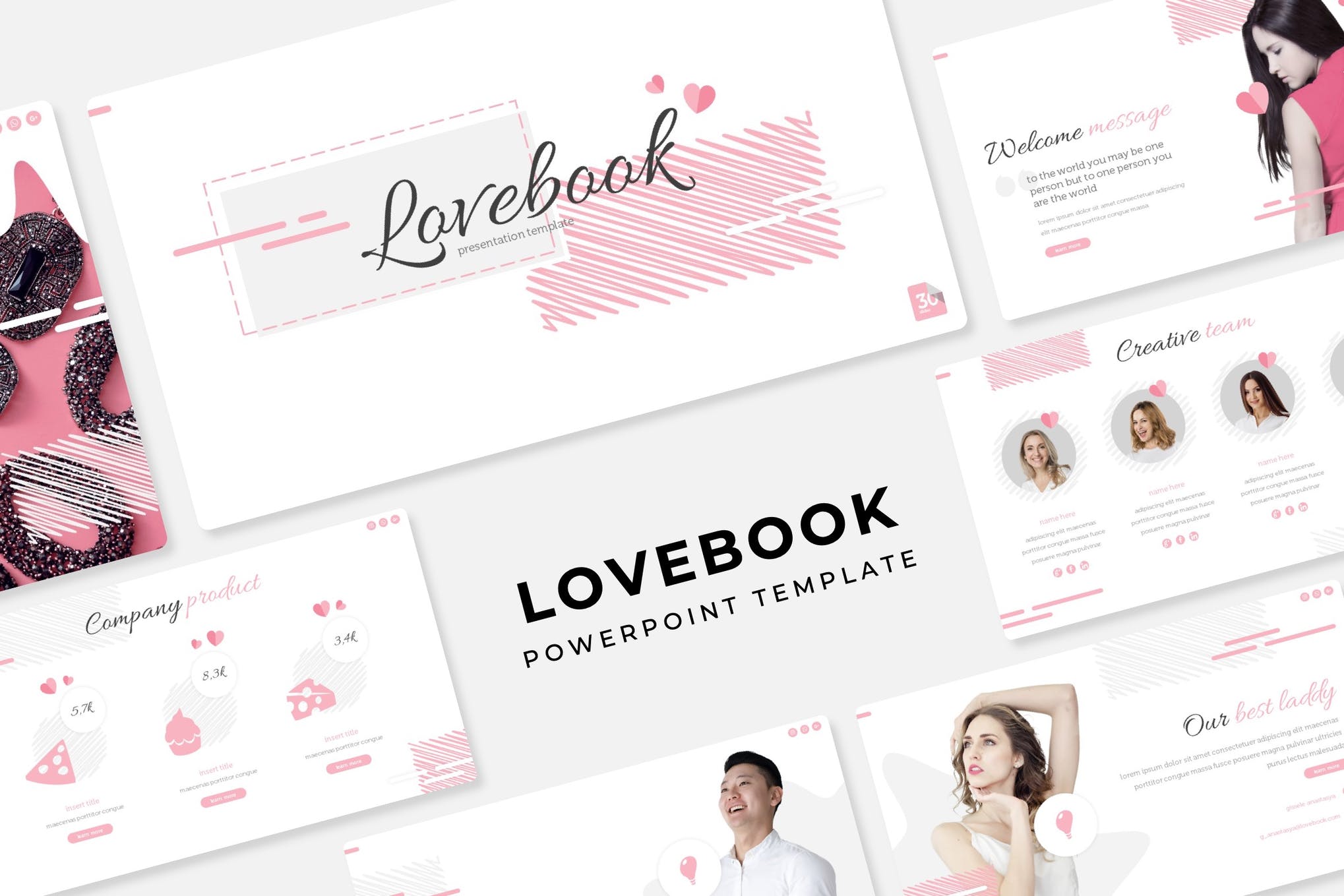 Lovebook is a template that speaks for itself. A wonderfully cute PowerPoint template that is washed over in a feminine glow. Great for dating, social media, and wedding applications, the template comes with 5 unique themes, 150 plus total slides, and much more!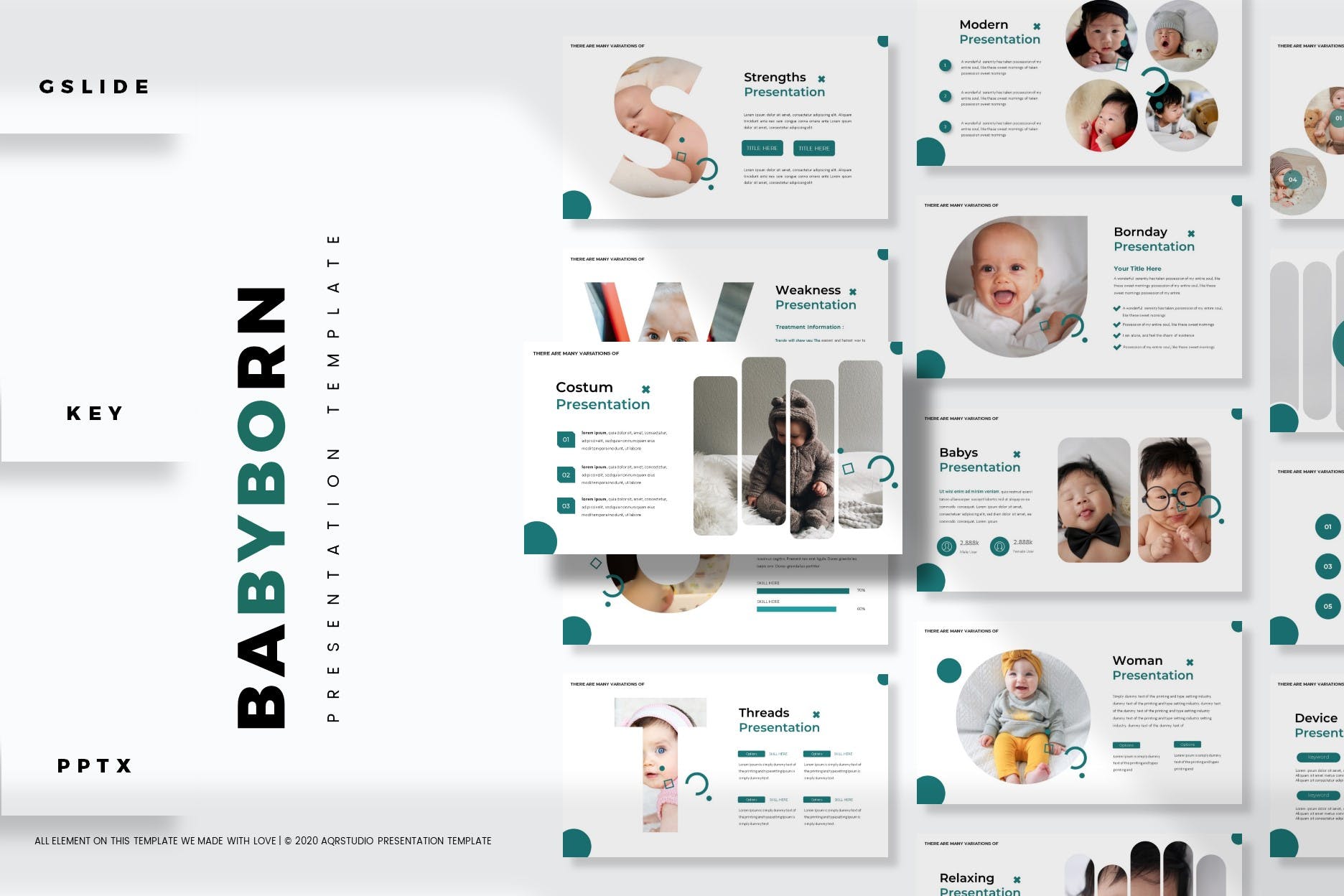 Baby Born is a cute and cuddly PowerPoint template, perfect for showing off your new addition to the family. Fashioned to hit a modern and abstract aesthetic, the theme comes loaded up 150 slides, 5 unique themes, and a range of supports that will make using it a breeze.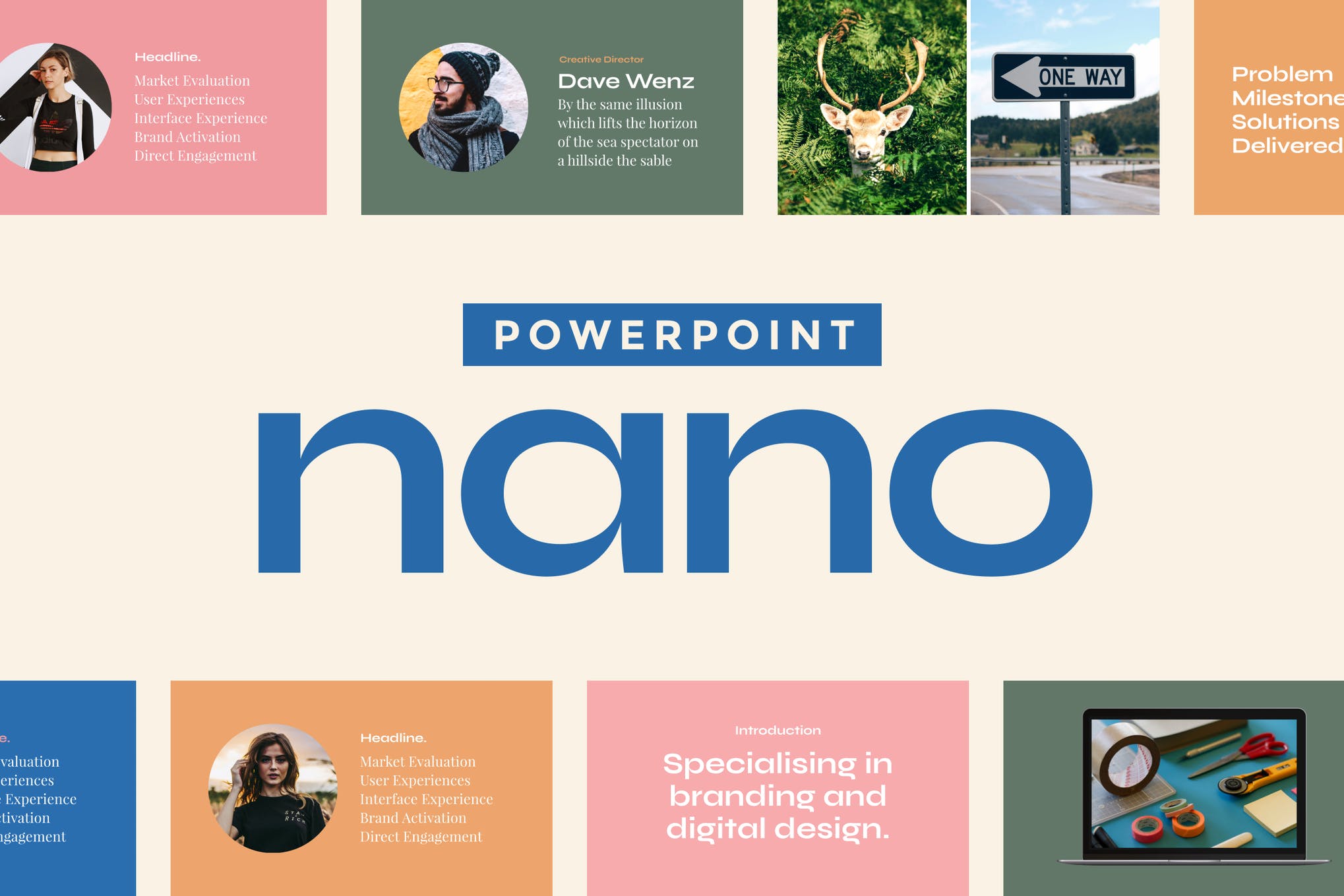 Nano has been designed to meet that fickle balance between a modern minimalist look, and a cute fashionable aesthetic. A highly versatile theme that can be great for personal presentations, and professional ones. The theme comes with 160 plus unique slides, widescreen support, and much more!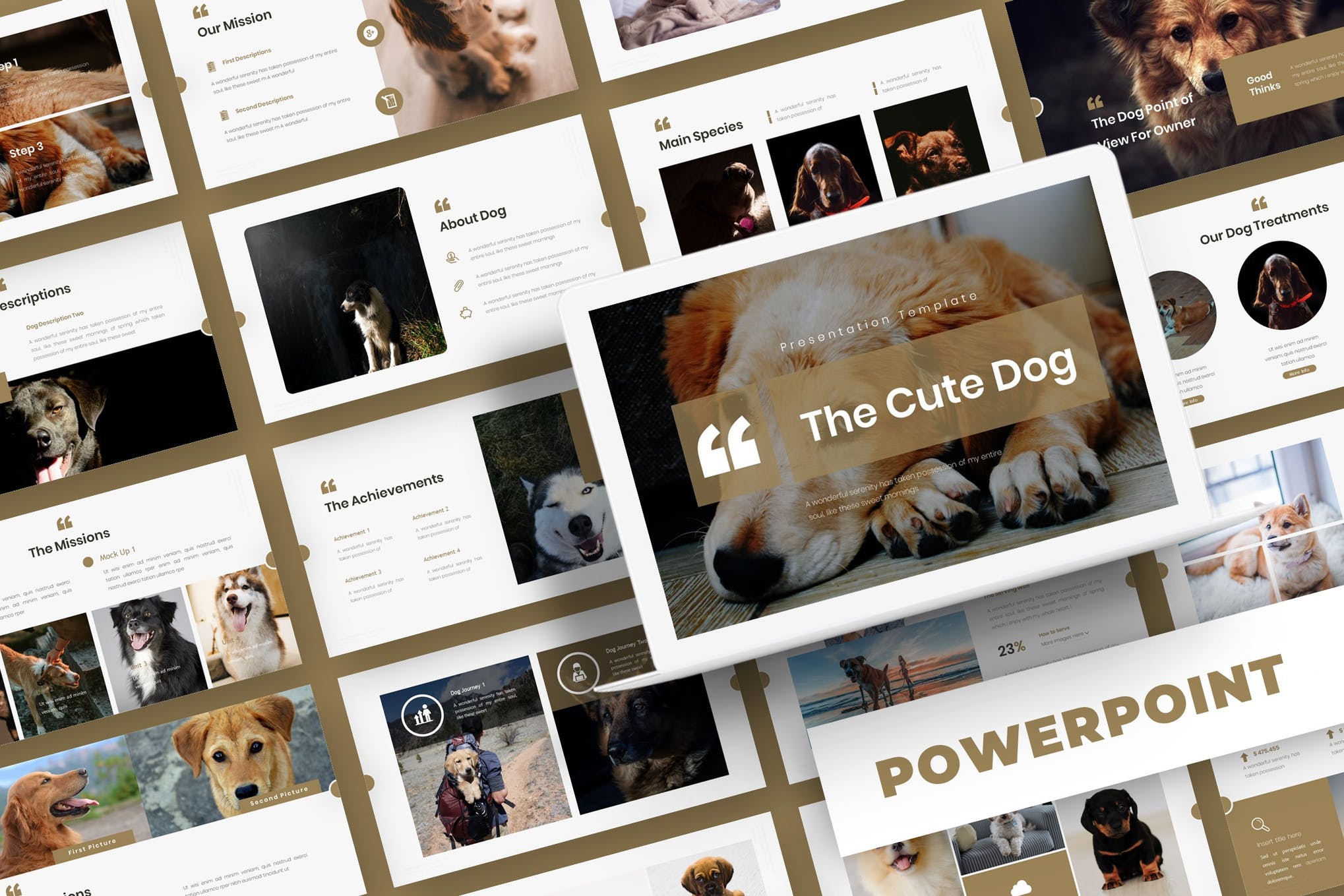 Don't let the name fool you, although we agree – It is a cute dog. The Cute Dog is a PowerPoint template designed for flexibility, able to meet the needs of both professional and personal applications. Equipped with over 150 unique slides, drag and drop functionality, several master slide options, and much more under the hood.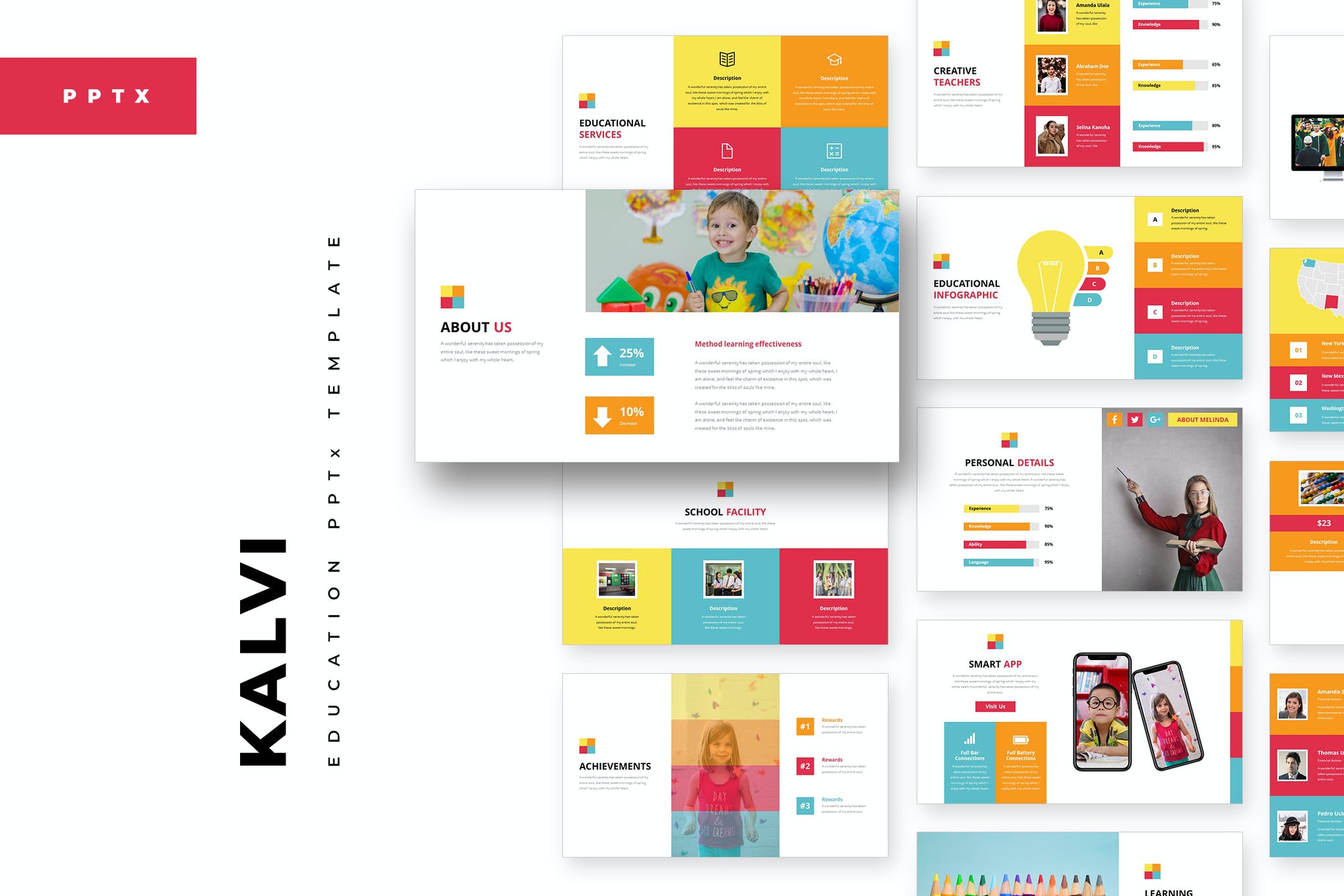 Kalvi is a template that works to encompass everything adorable into a single-catching design. The template is highly versatile and comes with 30 unique slide designs, wide-screen ratio, a range of unique icons, and easily editable and resizable graphics. What's not to love about that?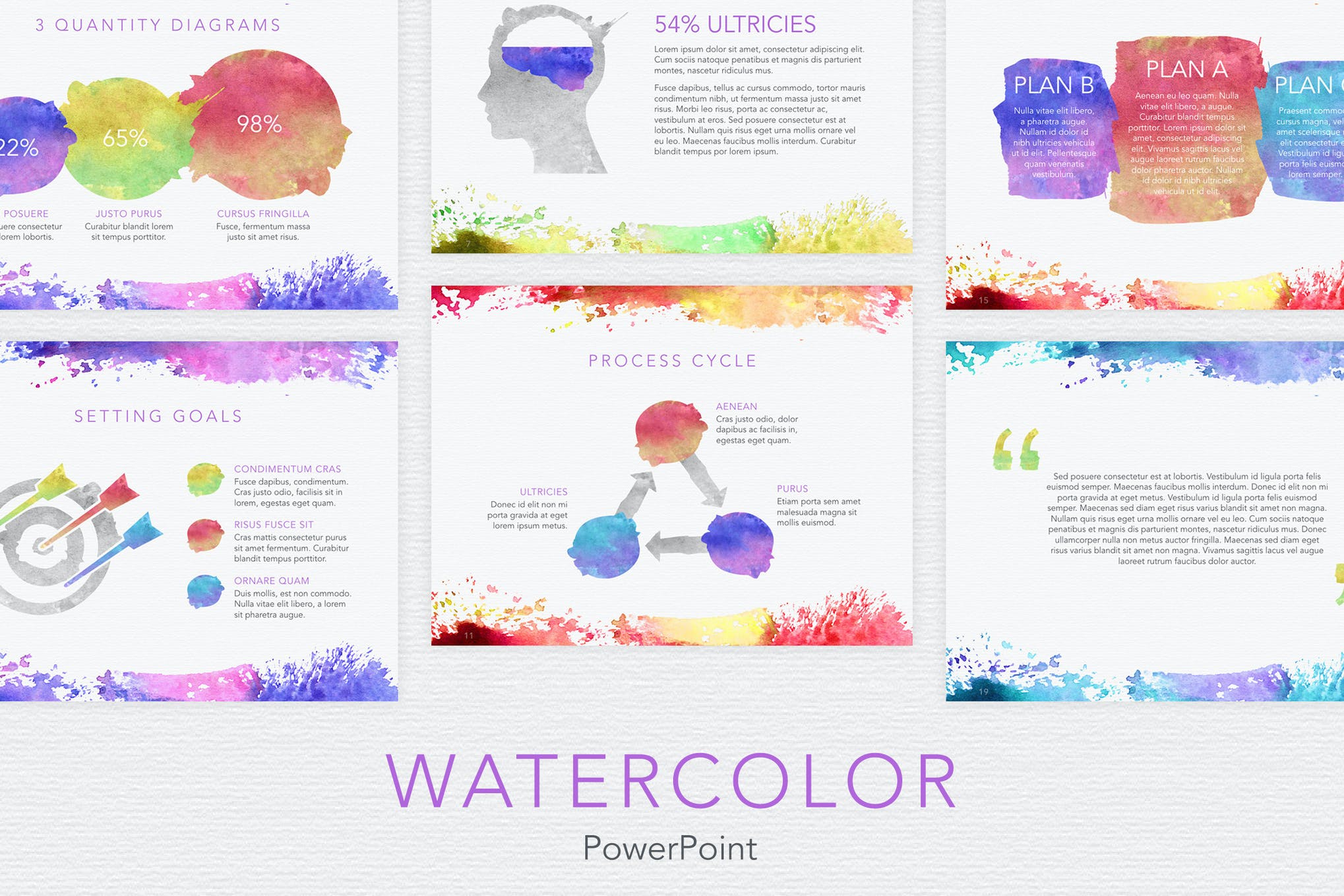 Next up is a presentation option that is one of the best cute PowerPoint templates for teachers. With a sleek and captivating watercolor aesthetic, the template is sure to make you go aww. Loaded up with a range of unique slides, data visualization elements, background color variations, and much more!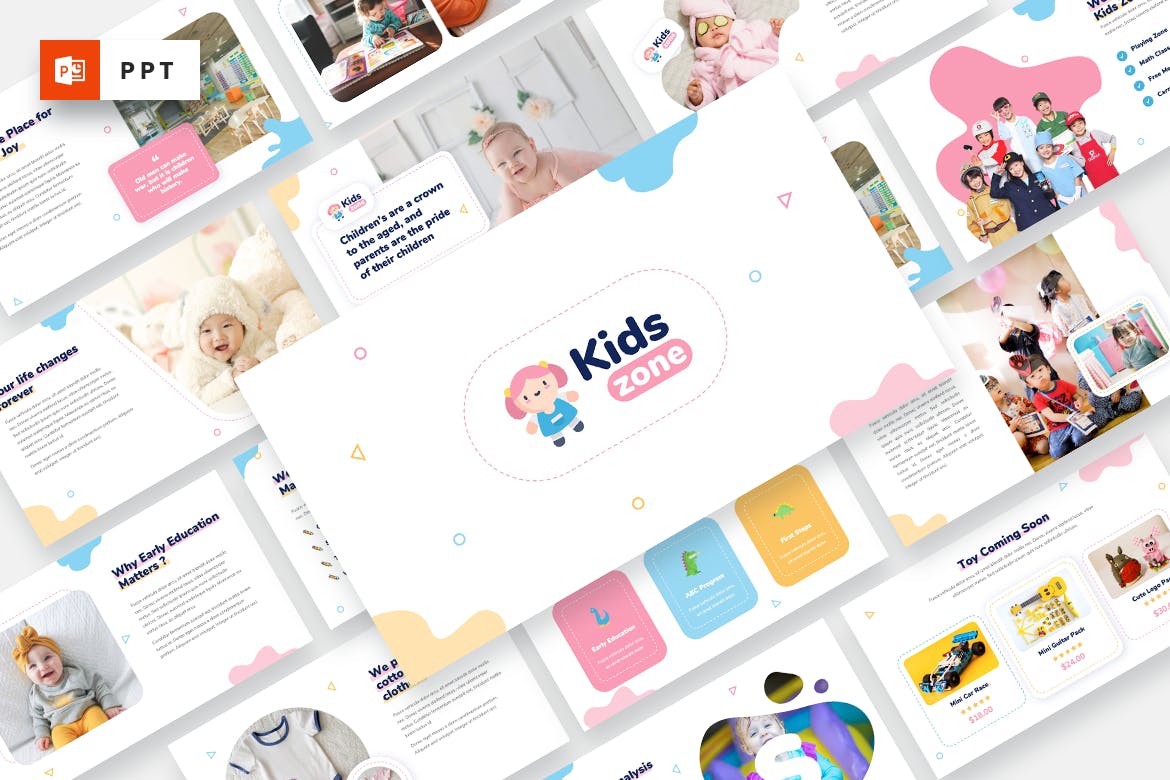 Kids Zone is a playful and fun option that is one of those cute PowerPoint templates for teachers that is godsent. It has great functionality for the classroom, comes equipped with 40 unique slides, a range of image placeholders, and is surprisingly easy to use.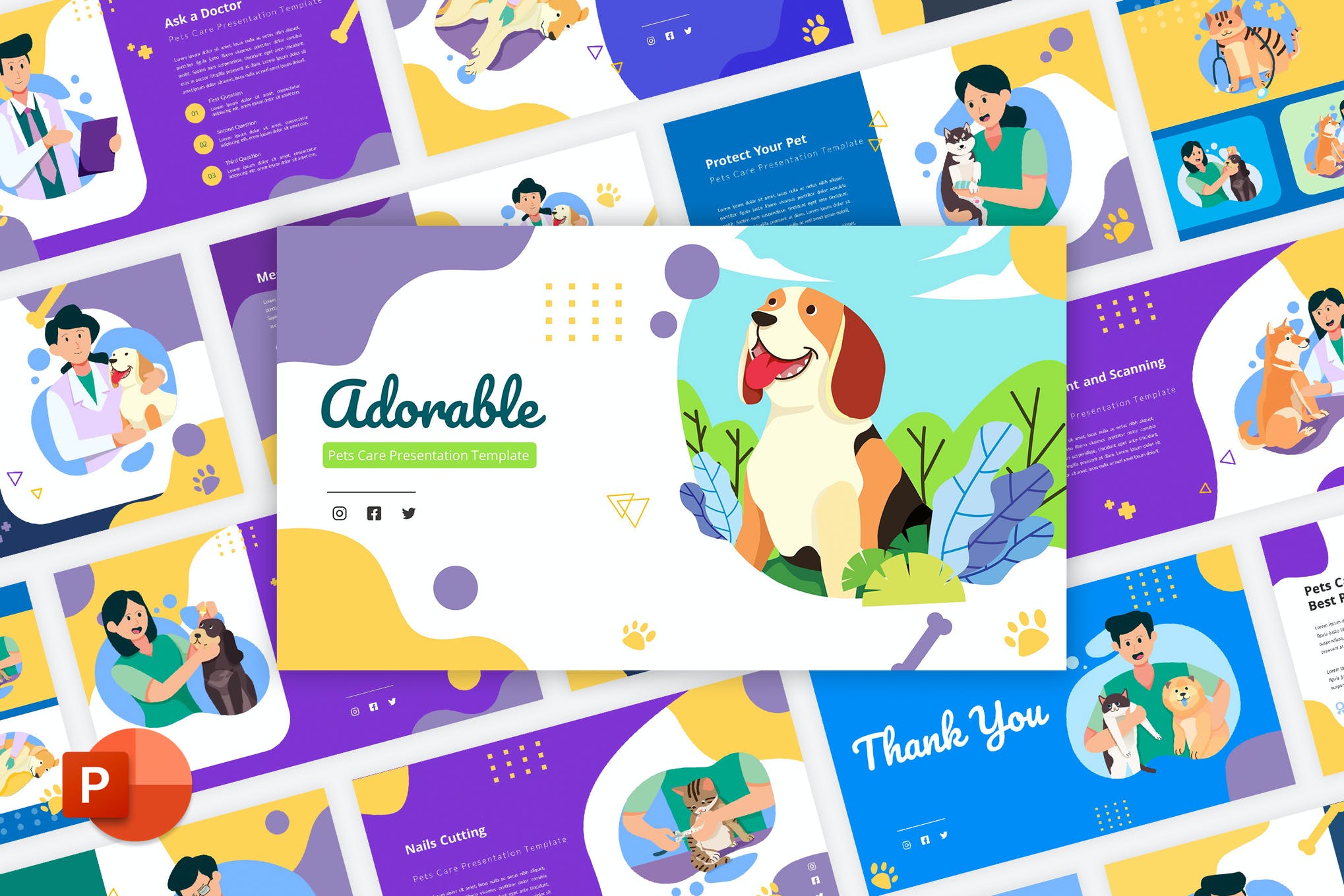 Looking to show off your furry friend in style? Adorable is – to no surprise – an adorably designed PowerPoint template that is great for vet care needs. It comes loaded with a range of unique illustrations, vectors, master slide designs, and much more!
Free Cute PowerPoint Templates
Finding premium PowerPoint templates is easy, but what about free cute PowerPoint templates? There are plenty out there to choose from. So let's take a look at some free options we think are something special.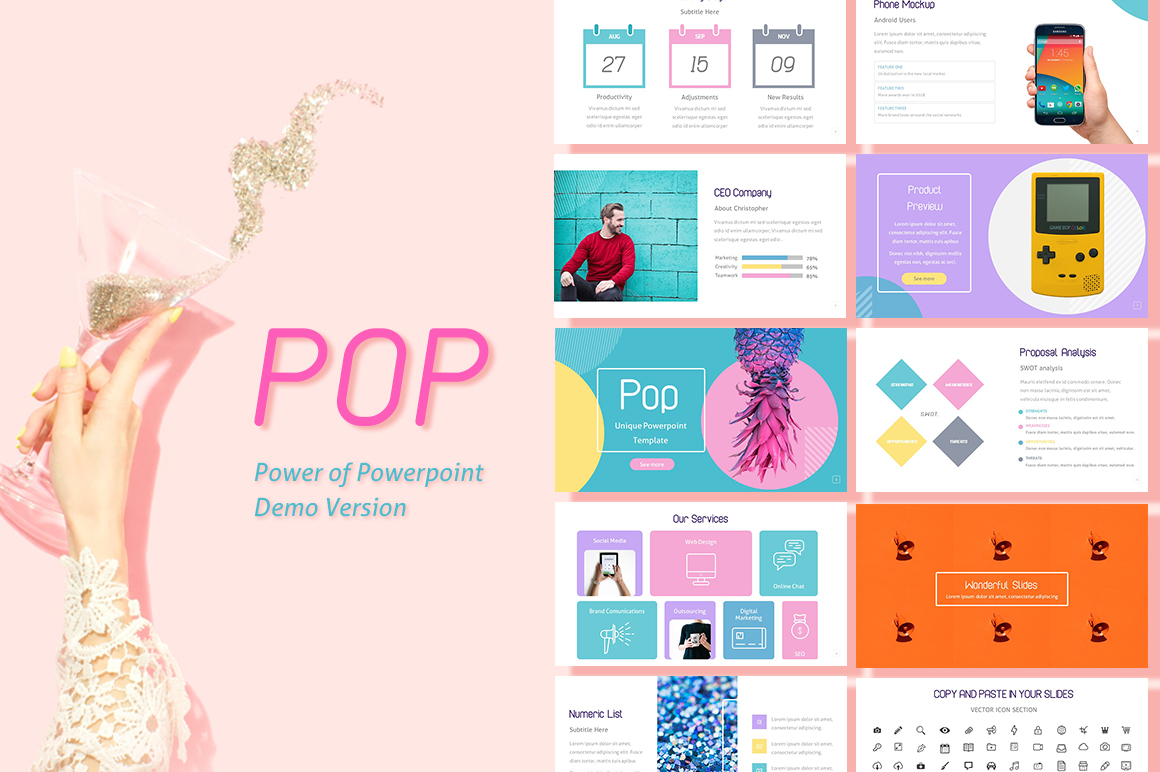 Pop is a stunning PowerPoint template that is sure to make an impression. It comes with a range of slide designs for you to take advantage of, as well as free illustrations and vectors to make your next presentation something special.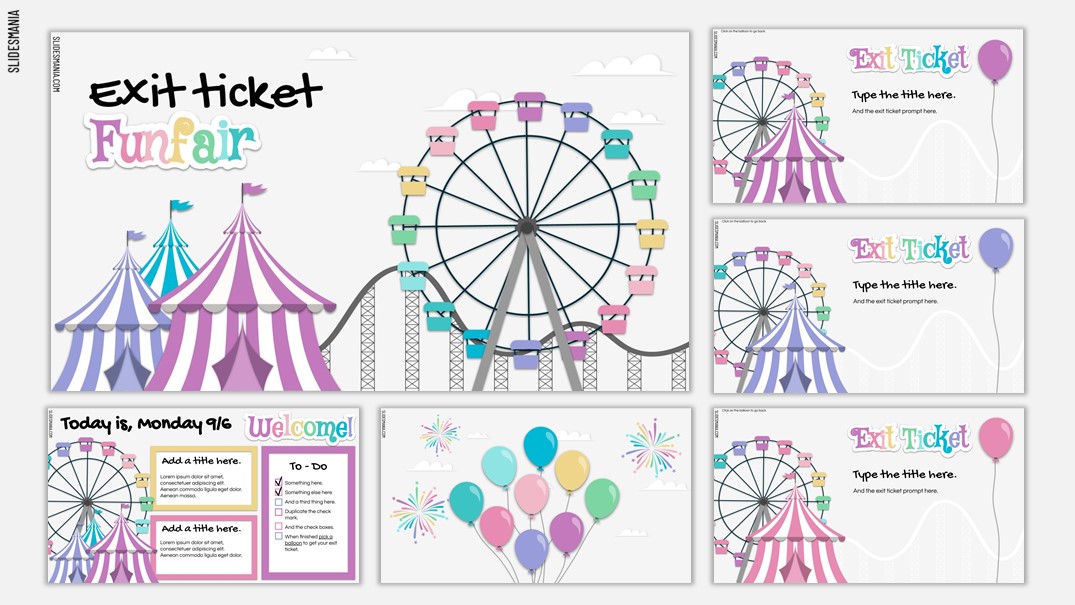 Here we have a funfair-themed presentation template featuring animated ferris wheels, carnival tents, balloons, and all things cute, and adorable. Everything can be tweaked as much and as little as you'd like, making this gorgeously-designed template one of the best freebies on our list.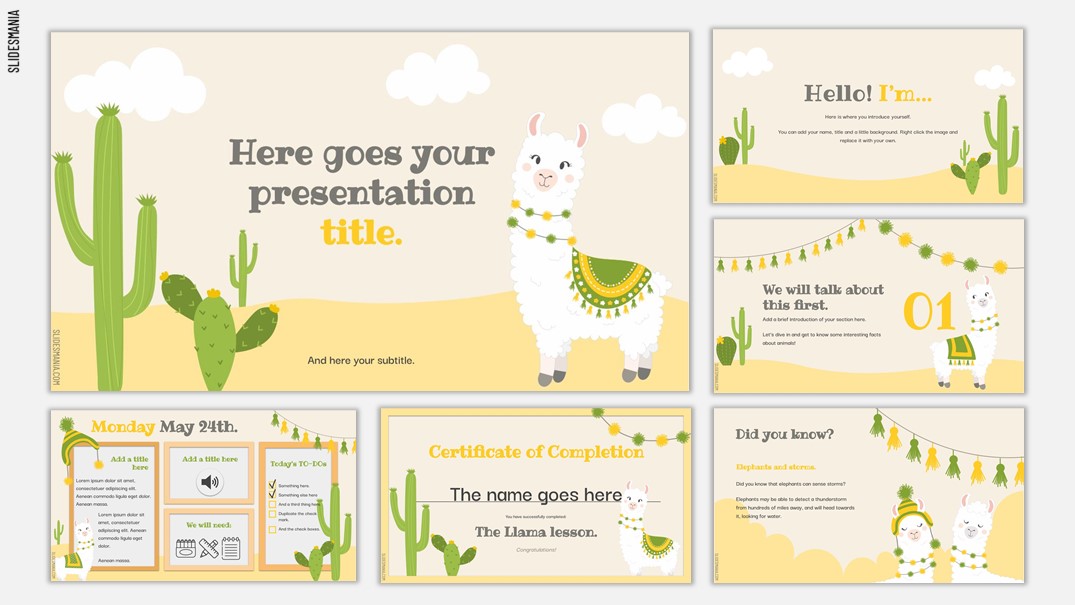 Darla is another cute PowerPoint template for teachers offering colorful slides with endearing, and delightful llamas guaranteed to please the kids. It's an excellent free resource that we really think deserves a place in your PowerPoint toolkit.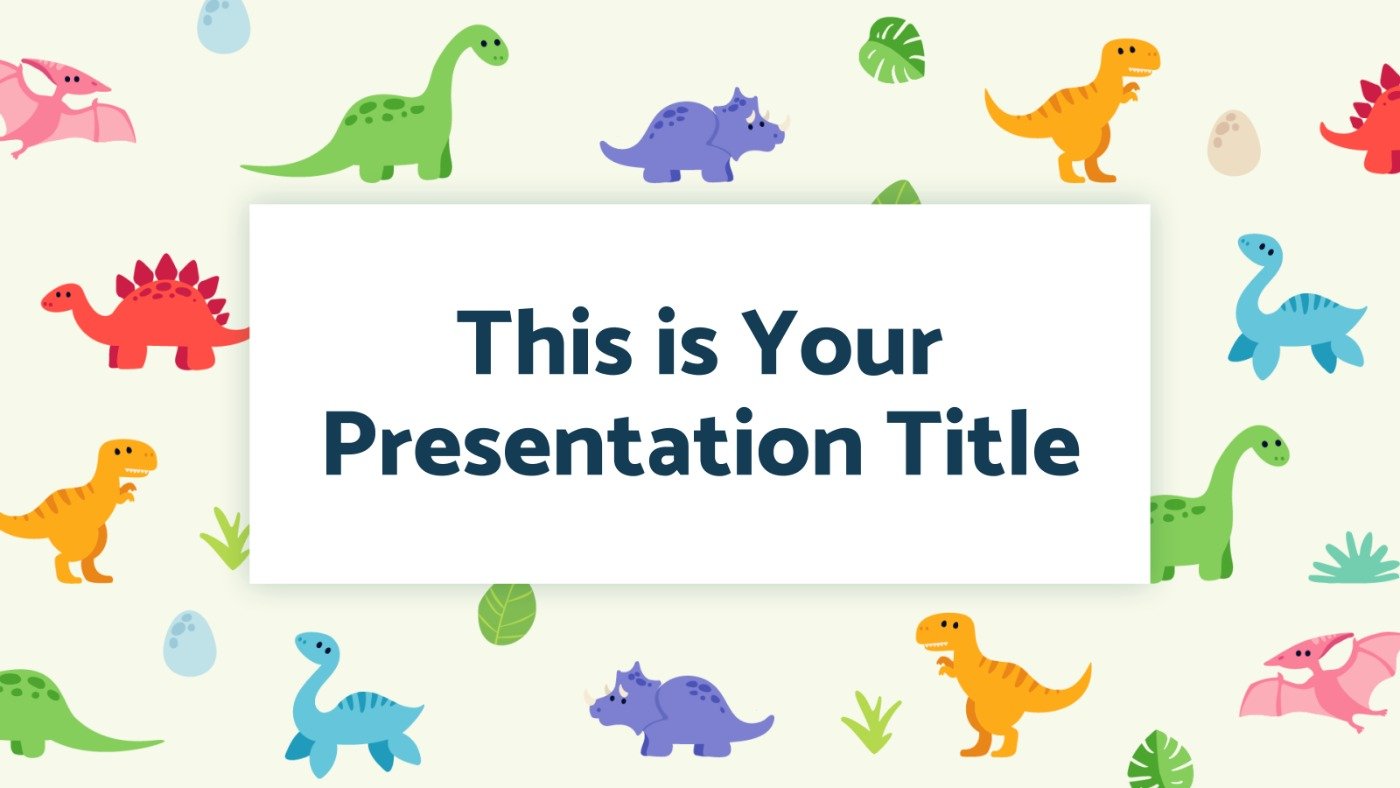 Looking for a fun, playful presentation for your elementary classroom? Then look no further than Bagot, a PowerPoint template that comes with cute slides that will provide everything you need to keep your class on track.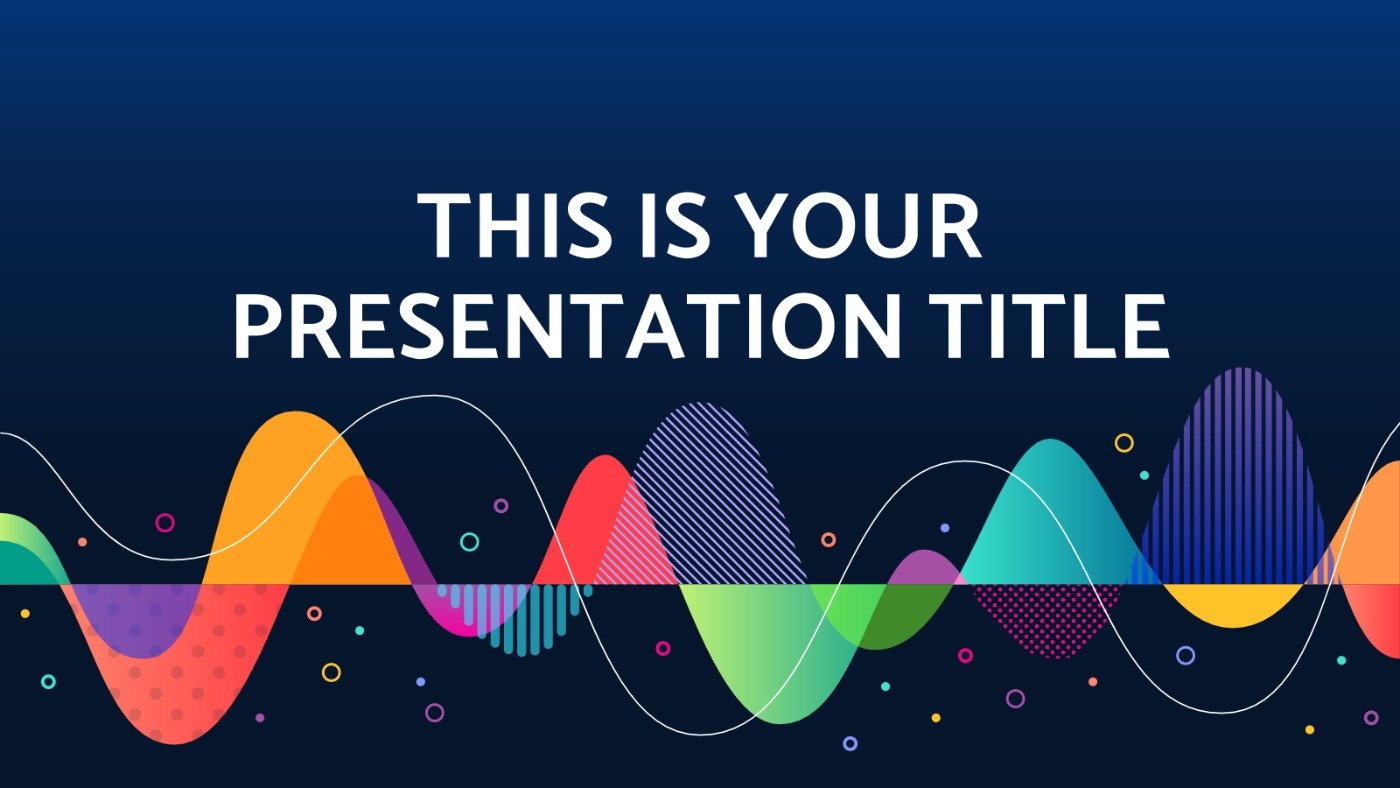 The Hubert template is an adorable way to help keep your child's studies focused, and have them learn the material with ease. This template comes with a range of pre-designed slides that only require you to input the learning material. How easy is that?
Craft Your Next Cute PowerPoint Presentation with Ease!
Finding something truly cute and adorable has never been easier, now that you have access to these absolutely little template cuties. Pick the one that suits your needs, and begin crafting that presentation with all of the cute flair you could ever desire!