Buying WordPress Themes: Where to Buy & What to Look For
Making a new website can be a fun and exciting process. But don't let that excitement lead you to make bad decisions, like buying an overly-priced outdated WordPress theme.
Buying a premium WordPress theme is one of the most important steps in your website building process. You need to carefully look for various aspects of the theme and its design before purchasing, like checking for responsiveness, customer support, and page loading speed.
Don't worry. It's not that difficult to find a great theme for your website. You just need to check for certain features and run some tests. We'll help you go through the process. Keep reading.
Get everything you need to build your next website with one simple subscription. From $16 per month, get unlimited access to nearly 2 million WordPress themes, web templates, fonts, graphics, and photos.
Why Use Premium WordPress Themes?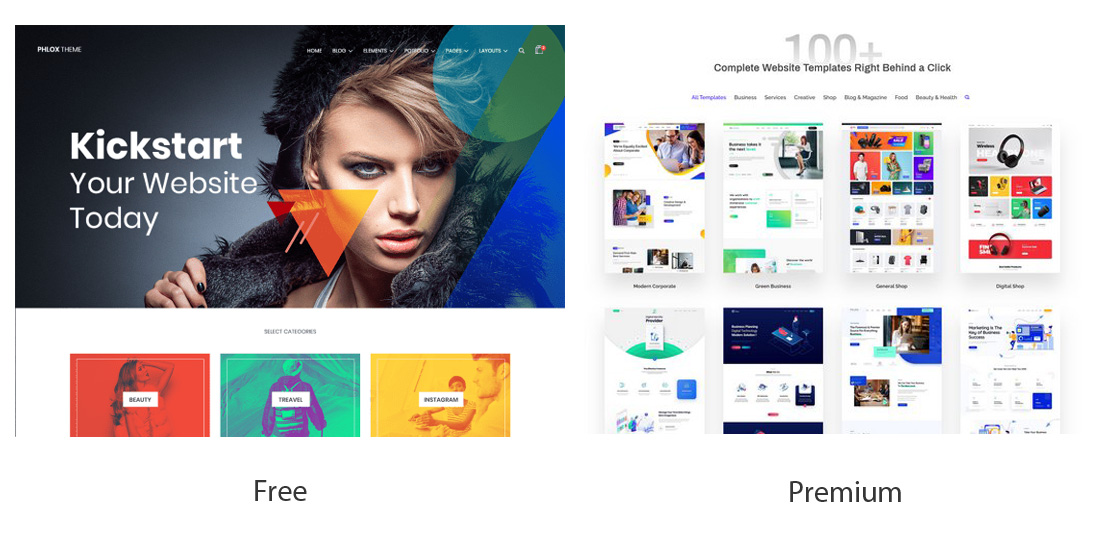 WordPress Themes directory has over 3900 free themes. So why should you buy premium themes?
This is a question all WordPress users ponder when making a website. Sure, you can use free themes to build a website. However, there are many downsides to using free themes.
Free themes are often used by thousands of websites, most of which are low-quality spam sites. If you use such a theme to make your business website, it will only hurt your brand and reputation.
Free themes also offer limited options for customizing. And you must attribute to its author. This will make your website look less professional.
Free themes often use outdated code and rarely receive updates. You won't get customer support for free themes either. If you run into an issue with the theme or find a vulnerability in the code, you're on your own.
Considering all these negative aspects of free themes, spending a few bucks on a premium theme is one of the best investments you can make for the future of your business.
What To Look For In A WordPress Theme
Before you start looking for a premium WordPress theme, you should learn how to spot a good theme from a bad one. Here are a few things you should look for when buying WordPress themes:
Flexible Layout: A flexible design that looks great across mobile and desktop devices is a must for modern websites. Themes that use frameworks such as Bootstrap perform best in terms of design fluidity
Customizability: You should be able to customize your theme without any coding experience. Themes that offer support for WordPress live customizer or page builder plugins gives more options for easy customization
Customer Support: You will run into problems when using WordPress themes. Make sure the theme developer offers quick solutions to customer problems
Lightweight Design: A fast-loading website will help you rank higher on Google and reduce bounce rates. Make sure the theme has a minimal design with fewer scripts and animations
Plugin Compatability: If you're planning on using plugins like WooCommerce, Elementor, Slider Revolution, you should check to see if the theme support these popular plugins before buying it
Mobile-First Design: More than 50% of website traffic comes from mobile devices. Choose a theme that's properly optimized for mobile devices
We'll show you how to check and test a WordPress theme before buying. First, let's explore some of the best places to buy a theme.
Best WordPress Theme Marketplaces
There are many different marketplaces that sell premium WordPress themes but only a few managed to maintain a good reputation over the years. The followings are some of the best WordPress theme marketplaces you can trust to buy a great theme at an affordable price.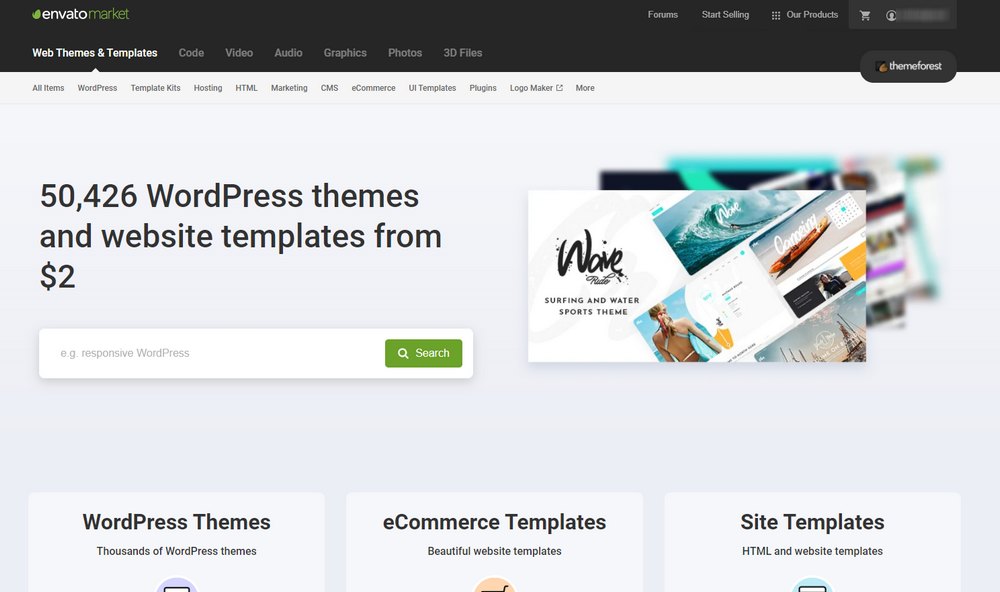 Price Range: $19 – $60
Theme Updates: Free forever
Customer Support: Free for 6 months
ThemeForest is one of the most popular and trustworthy marketplaces for buying WordPress themes. The platform runs each theme through a strict review process before listing them on the marketplace, ensuring that each theme lives up to current web standards.
ThemeForest has more than 11,000 WordPress themes in various categories ranging from blog and magazines to non-profit themes, eCommerce, education, and more.
You'll find themes at prices between $19 to $60. Six months of customer support is offered free with each purchase and you can extend it up to 12 months with an additional $8.25. All future updates of the theme are free as well.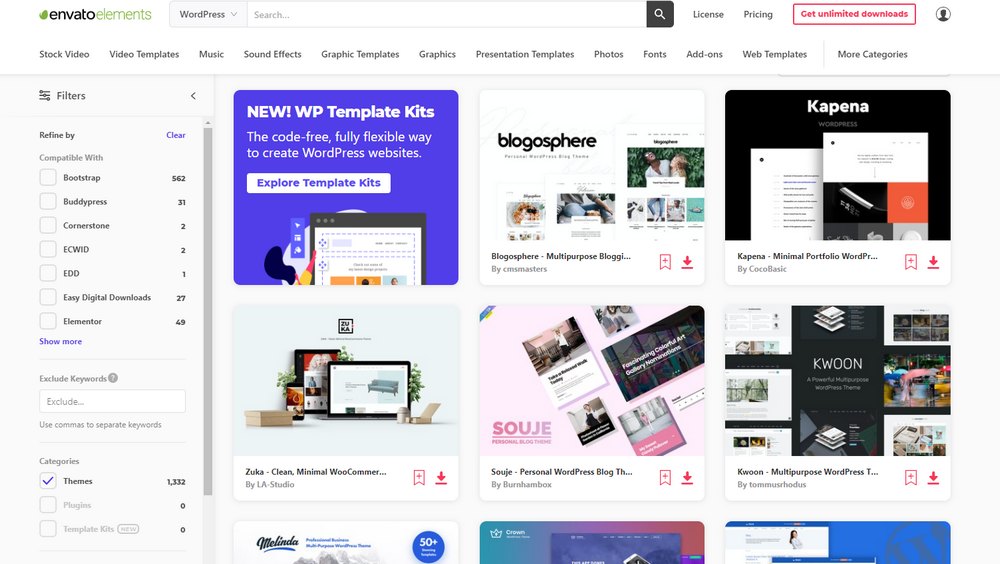 Price Range: $16.50 per month subscription
Theme Updates: Free forever
Envato Elements is a new subscription-based platform that features all kinds of design resources, graphic templates, web templates, and much more. It also includes a large collection of WordPress themes and plugins.
The specialty of this marketplace is that when you subscribe to Envato Elements, you get access to its entire collection of WordPress themes and plugins, along with all the other design templates and resources.
Envato Elements has over 1300 premium WordPress themes, over 600 plugins, and WordPress template kits. All available for just $16.50 per month. As long as you have the subscription, you'll receive free updates for the themes.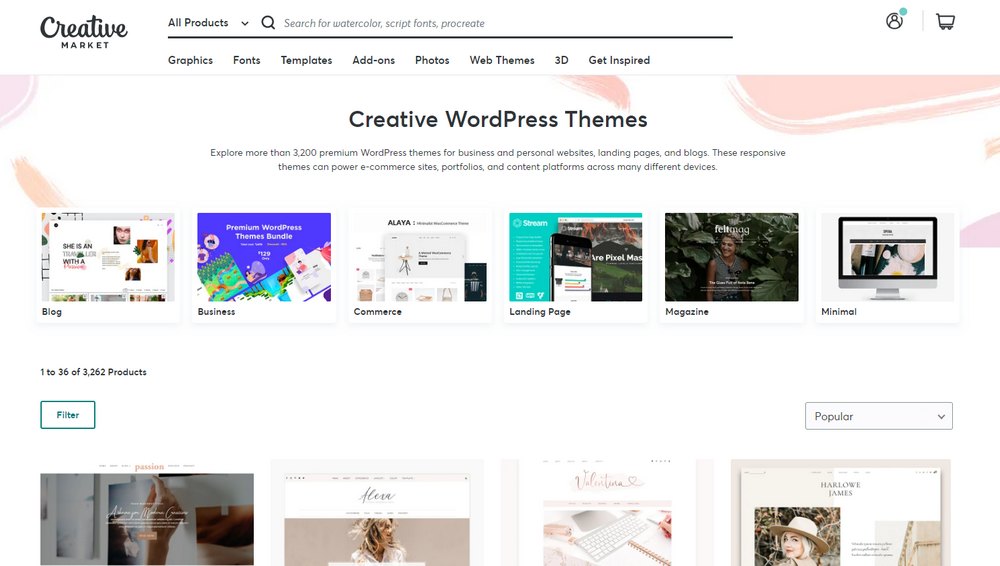 Price Range: $29 – $80
Theme Updates: Free forever
Customer Support: Free for 6 months
Creative Market is another good platform you can use to find premium WordPress themes. However, since it's a marketplace for design resources, the WordPress themes collection is a little outdated.
Creative Market features over 3,000 premium WordPress themes and if you look hard enough, you'll find some great gems in the collection. The prices for themes on Creative Market are slightly more expensive than the ones on ThemeForest.
The platform also offers free theme updates and free 6 months of customer support with each theme you purchase from Creative Market.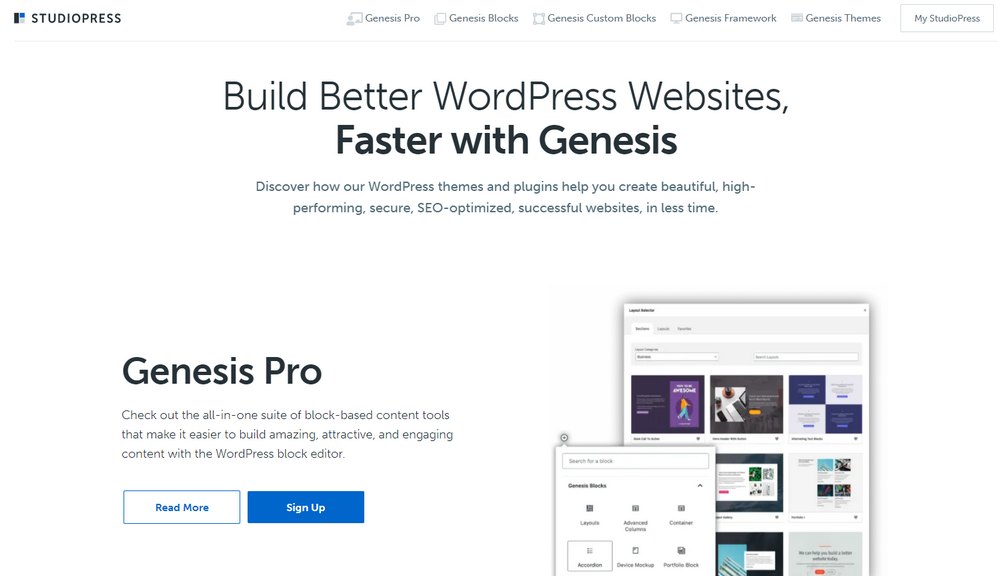 Price Range: $100 – $150
Theme Updates: 1 year
Customer Support: 1 year
StudioPress is the developer behind the Genesis WordPress theme framework. Genesis is quite popular among many WordPress professionals as it offers the flexibility to build any kind of website you can think of.
StudioPress is technically not a marketplace but it offers plenty of themes built using the Genesis framework. Which you can buy individually at around $100 to $150. Or you can subscribe to Genesis Pro subscription for $360 a year and get access to all of its Genesis themes.
It's an expensive price tag but Genesis themes will give you an edge when it comes to standing out from your competitors.
5. Niche Websites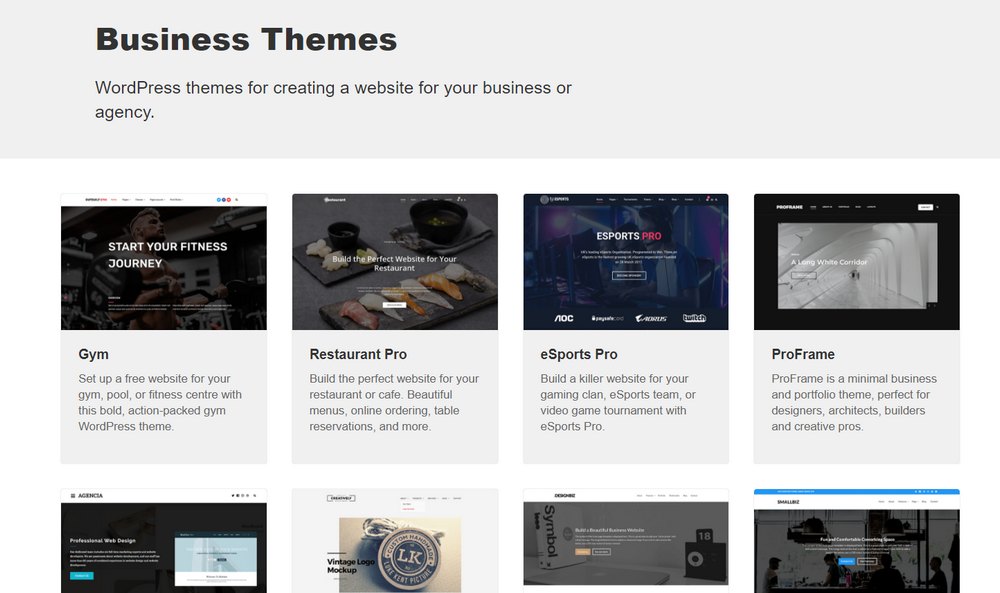 You can also find high-quality themes from smaller platforms and niche websites that sell premium WordPress theme bundles and exclusive theme collections that you won't find anywhere else.
For example, our own Theme Junkie themes bundle includes more than 60 premium WordPress themes. You can download them all for the cost of just one theme.
When buying themes from niche websites you'll also have the advantage of using theme designs that are unique with clean code and have great customer support.
How To Test WordPress Themes Before Buying
There are a few tests you can do to find out whether the theme you're about to buy is a good theme or an outdated theme. Start with the steps below.
Check for Updates and Compatability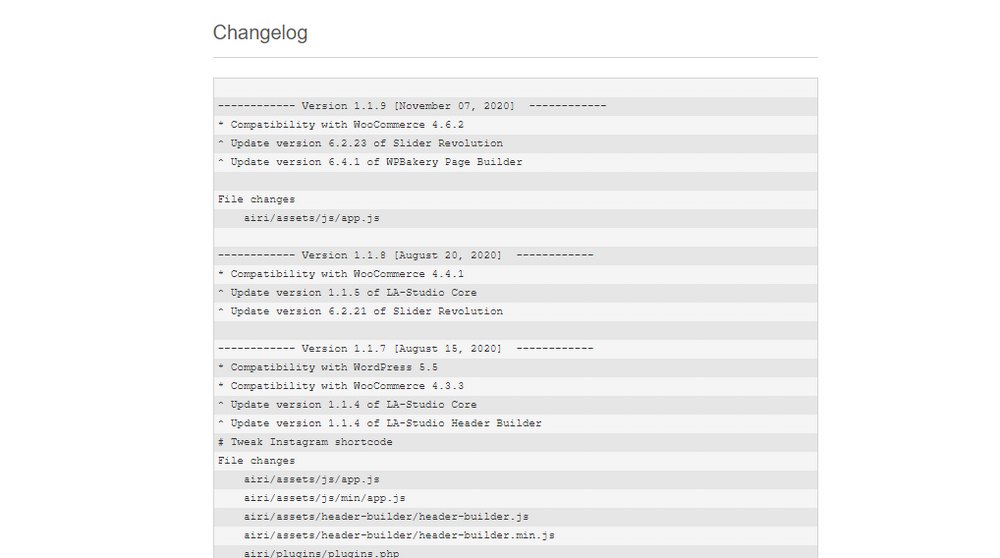 WordPress is an evolving platform and the CMS gets updated with new features quite often. The theme you buy needs to be regularly updated to be compatible with the WordPress core updates.
Before buying the theme, make sure it's been updated to be compatible with the latest version of WordPress. Also, scroll all the way down on the theme product page to find the Changelog. This highlights how often the theme has been updated by its author.
Test Responsiveness and Mobile Support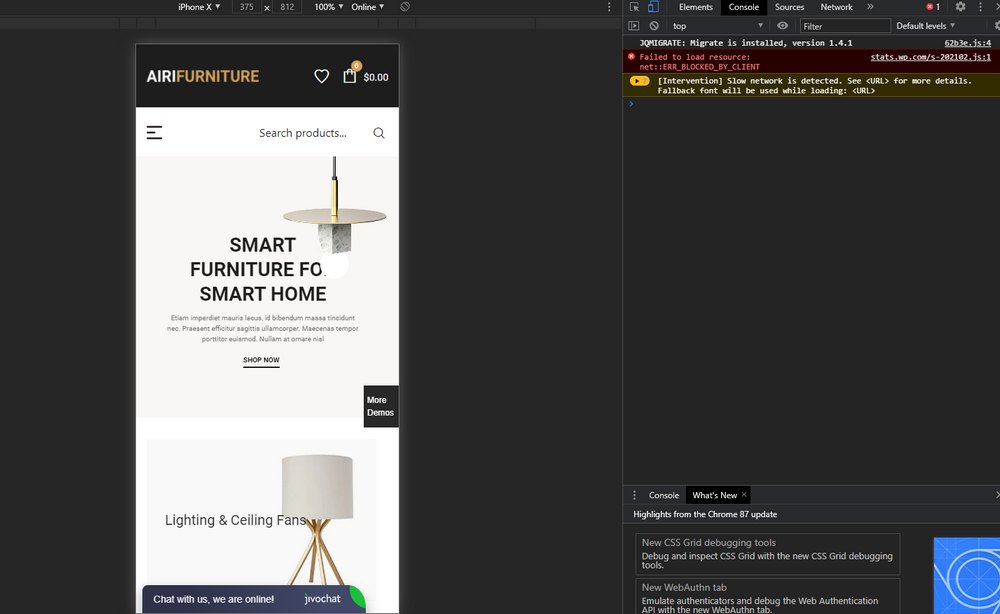 Next, you should run a few simple tests to make sure the theme you're buying is compatible with mobile devices and responsive enough to look great on different platforms.
Simply open the live preview demo of the theme and press Control + Shift + I on Chrome or Control + Shift + M on Firefox to bring up the console. From there you can test the demo website on different device resolutions to see how well it performs.
Run A Page Loading Speed Test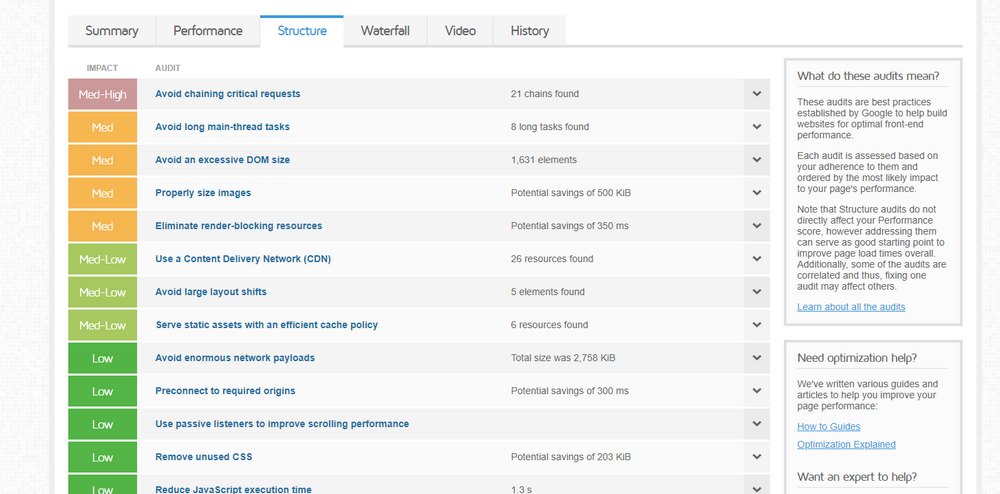 Running a speed test on a theme is not just about testing its loading speed but also about checking its code and the scripts it uses that may slow down your website.
Copy the URL for the theme demo website and then run the test on GTMetrix website. This test will give you a detailed report on elements that causes the website to load slower.
Just keep in mind that most theme demo websites are hosted on cheap shared hosting platforms and aren't optimized with caching and CDNs. So don't make decisions based entirely on this test.
Check for Customer Support & Reviews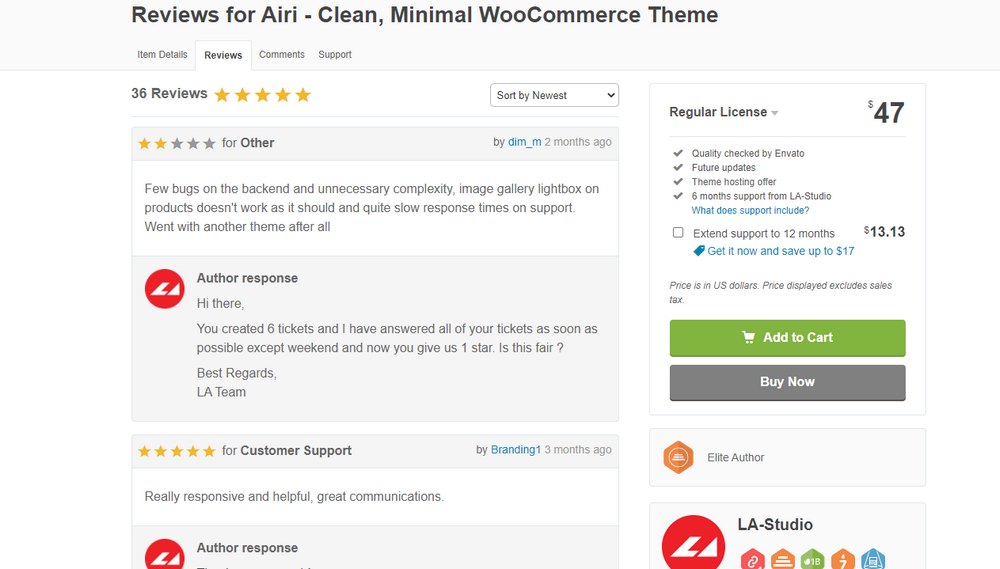 Last but not least, check the reviews left for the theme by people who bought it. Check the comments page to see what kind of problems they're having.
Also, you can contact the theme author to ask questions about the theme and see if they actually care about the customers.
Even the most expensive themes often have their flaws. Only good customer support can help solve your issues.
For more detailed instructions, check our guide on how to choose a theme.
Conclusion
All of this may seem like a lot of work to go through just to find the right WordPress theme. But, by following these steps, you'll be able to avoid a lot of issues you'll otherwise encounter when using bad theme designs.
Looking for WordPress hosting? We use Kinsta. They offer world-class WordPress hosting, built to keep your website fast, secure, and always online.