20+ Best Blackletter Fonts (For Stylized Blackletter Type)
Looking for a standout font that will give your designs a stylish and edgy feel? You need a blackletter font.
Blackletter fonts are bold, eye-catching, and alternative, which makes them a great choice for a range of different designs. But with so many options, which one should you choose?
Well in this article, we'll be answering exactly that. We've trawled the web to find the best blackletter fonts of 2022 to use in your designs.
But before we get started, let's first learn a little more about the characteristics of blackletter fonts.
Get every varied font and typeface you could ever need with one simple subscription. From just $16, get unlimited access to thousands of fonts, typefaces, graphics, templates, photos and illustrations.
What Are Blackletter Fonts
Blackletter, also known as Gothic script or Old English script, is a calligraphic style that was popular for writing manuscripts and books in German-speaking countries during the Middle Ages. During the 20th century, blackletter-type styles were adopted by new audiences and came to be associated with punk, street art, and heavy metal.
It's this blend of medieval influence and modern rebellion that makes blackletter and Gothic styles always look moody, cool, and dramatic. They're great for adding edge and interest to posters, T-shirt designs, and logos.
Read on to discover our top blackletter font picks.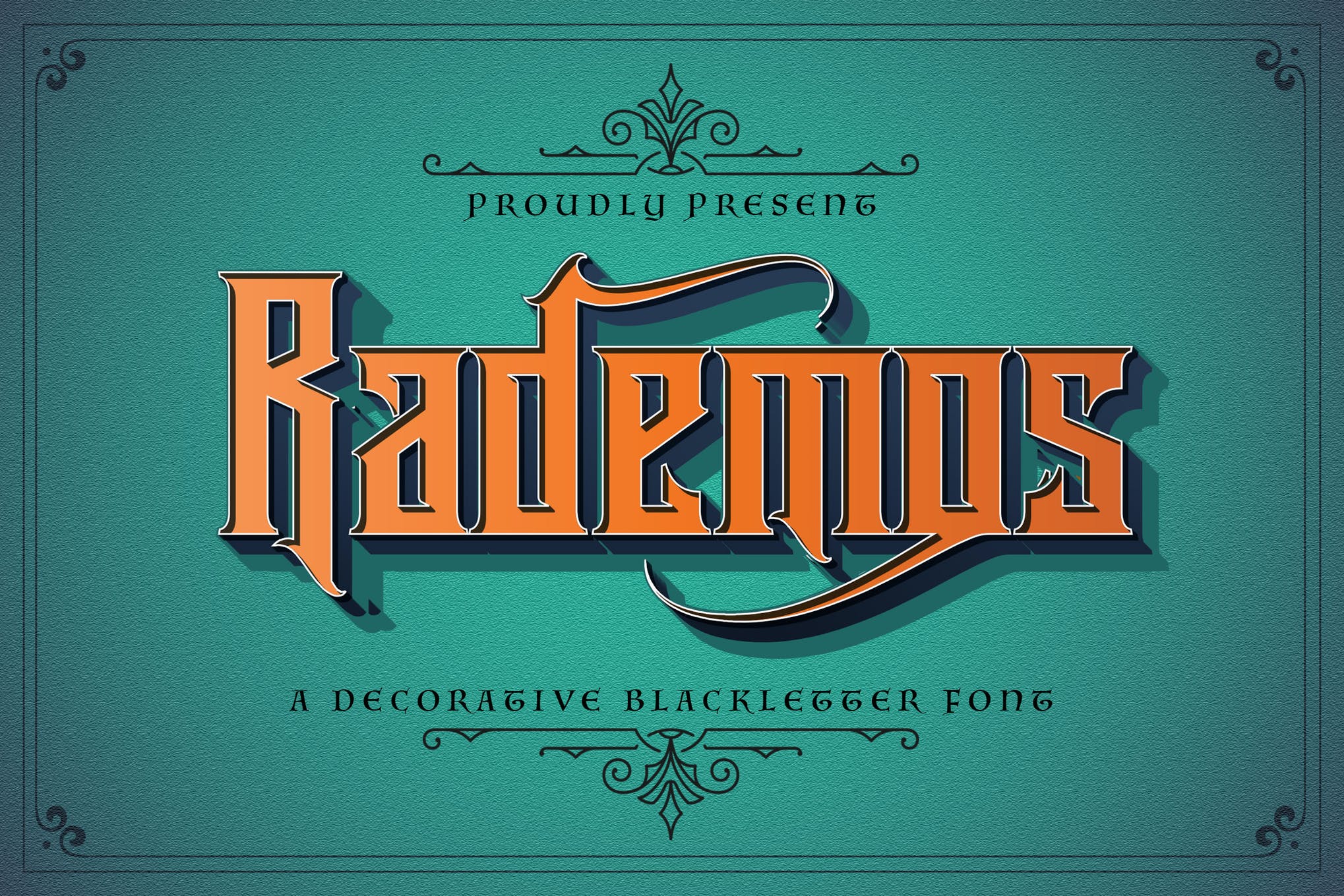 If you're looking for an authentic and daring option, consider Rademos, a typeface that stands out from the daily flood of Blackletter fonts we see on the internet. It comes with alternates, ligatures, uppercase and lowercase letters, and much more.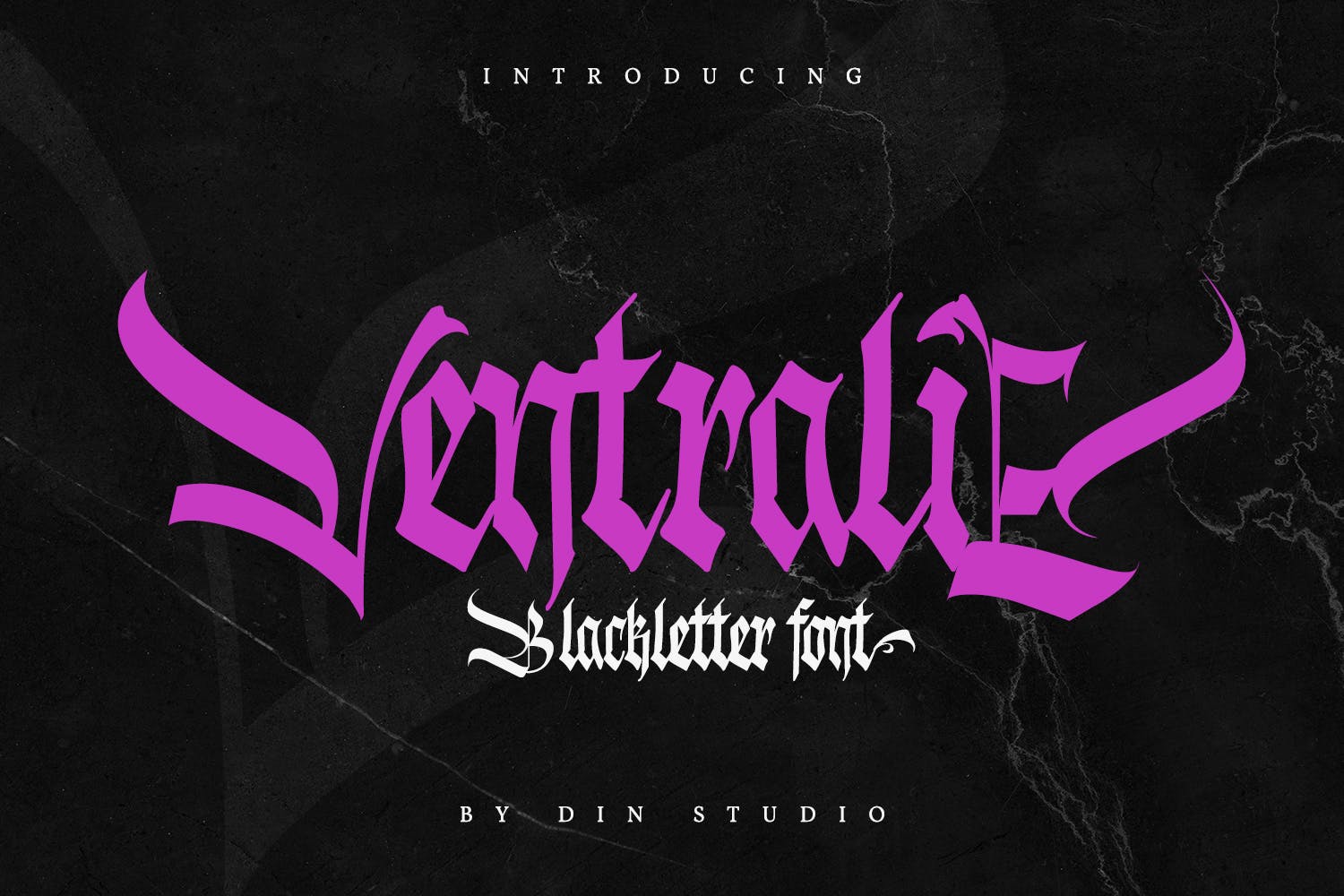 Suitable for virtually any design requirement you may have, Ventralie, is an ideal Blackletter font for logos, t-shirts, tattoos, book covers, and albums. Featuring alternates, accents, numerals, punctuations, and extra ornaments, Ventralie is a product that will pay for itself many times over.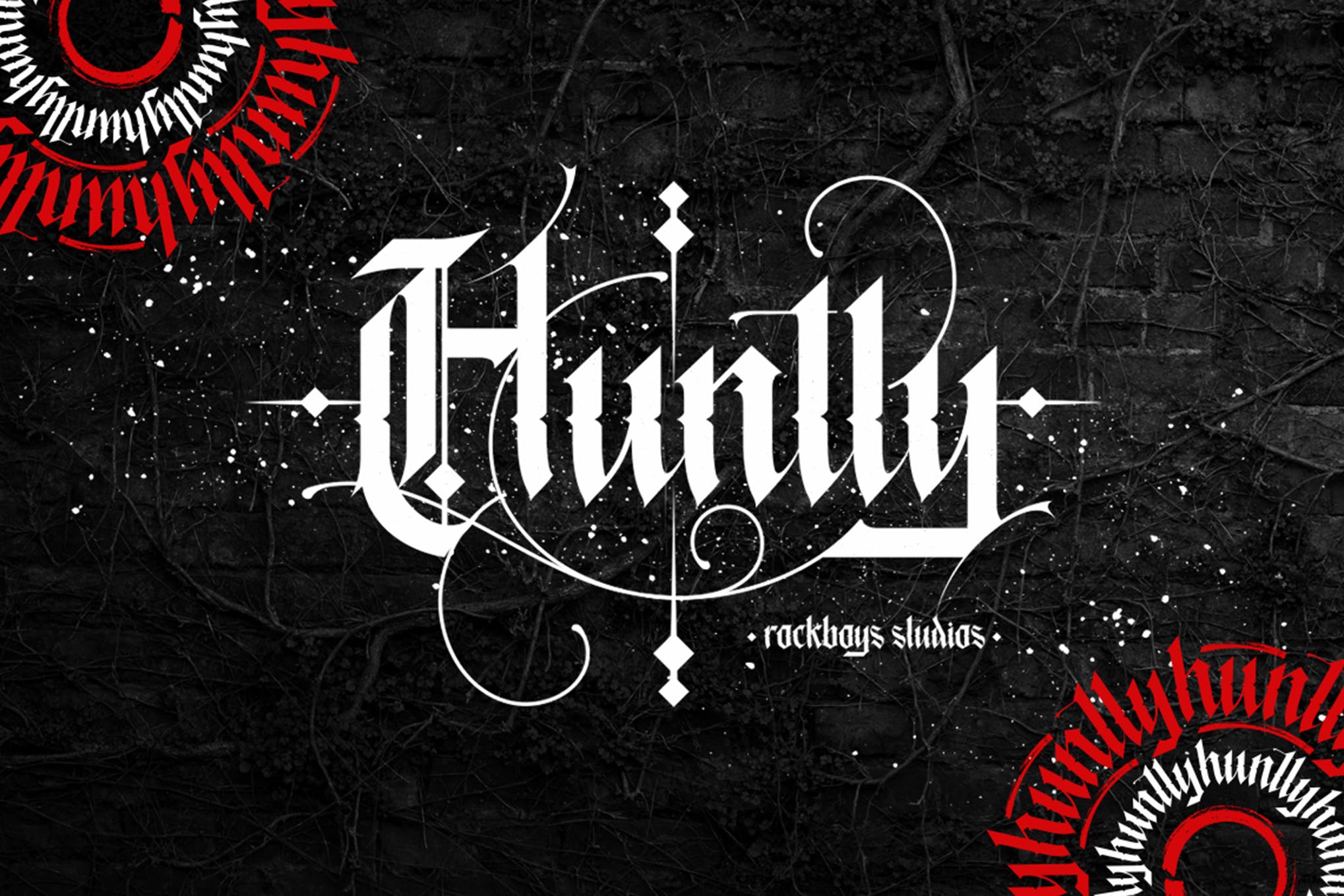 A very nice choice for creative projects, Huntly is a distinct Blackletter font that will give a unique look to your designs. It comes with a range of amazing features and is compatible with Adobe Illustrator, Photoshop, InDesign, and Microsoft Word.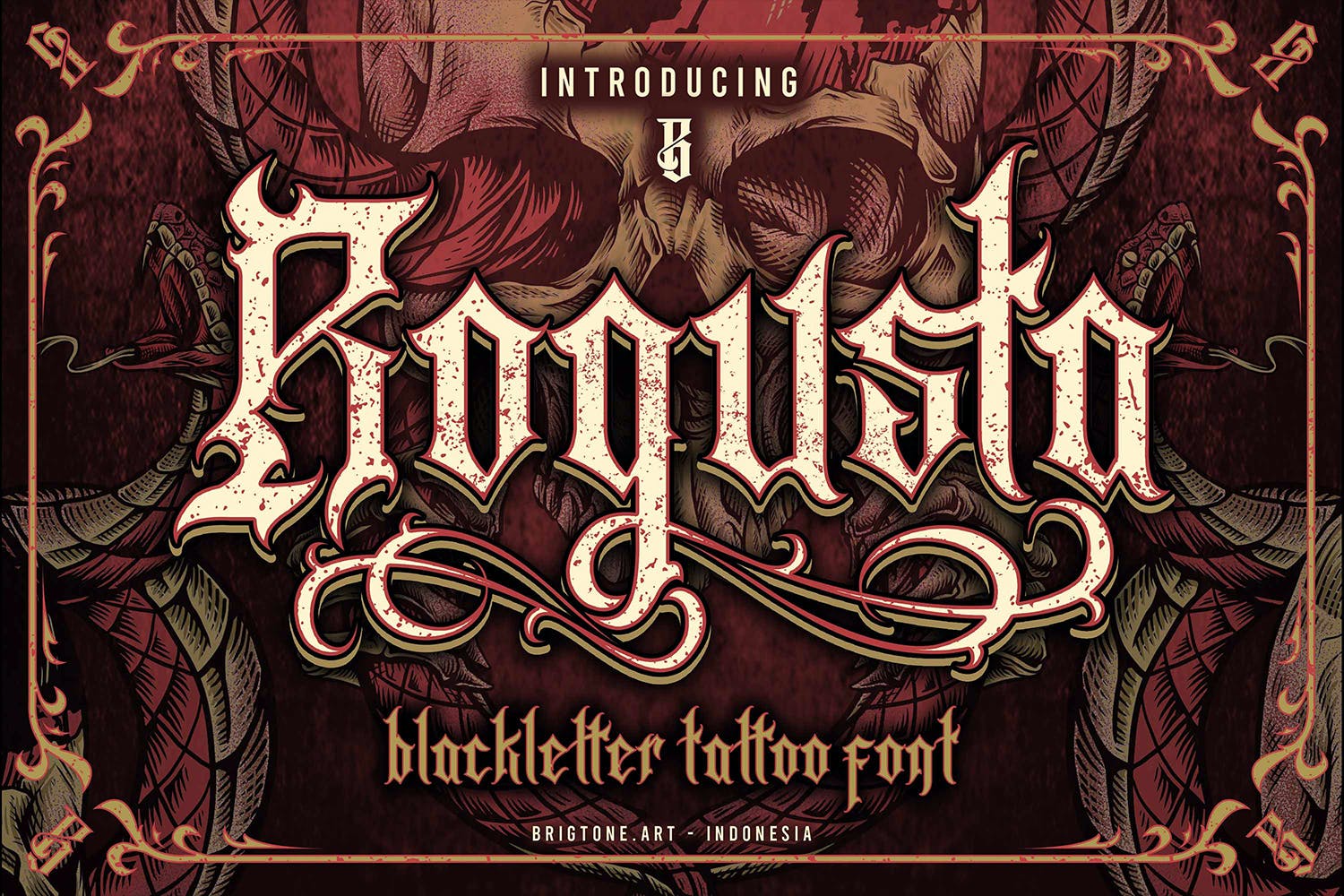 If you need a contemporary blackletter tattoo font that feels right at home on logos, t-shirt designs, posters, flyers, and other brand identity material, Rogusta is at the top of the league. It's an excellent typeface to integrate your artwork with.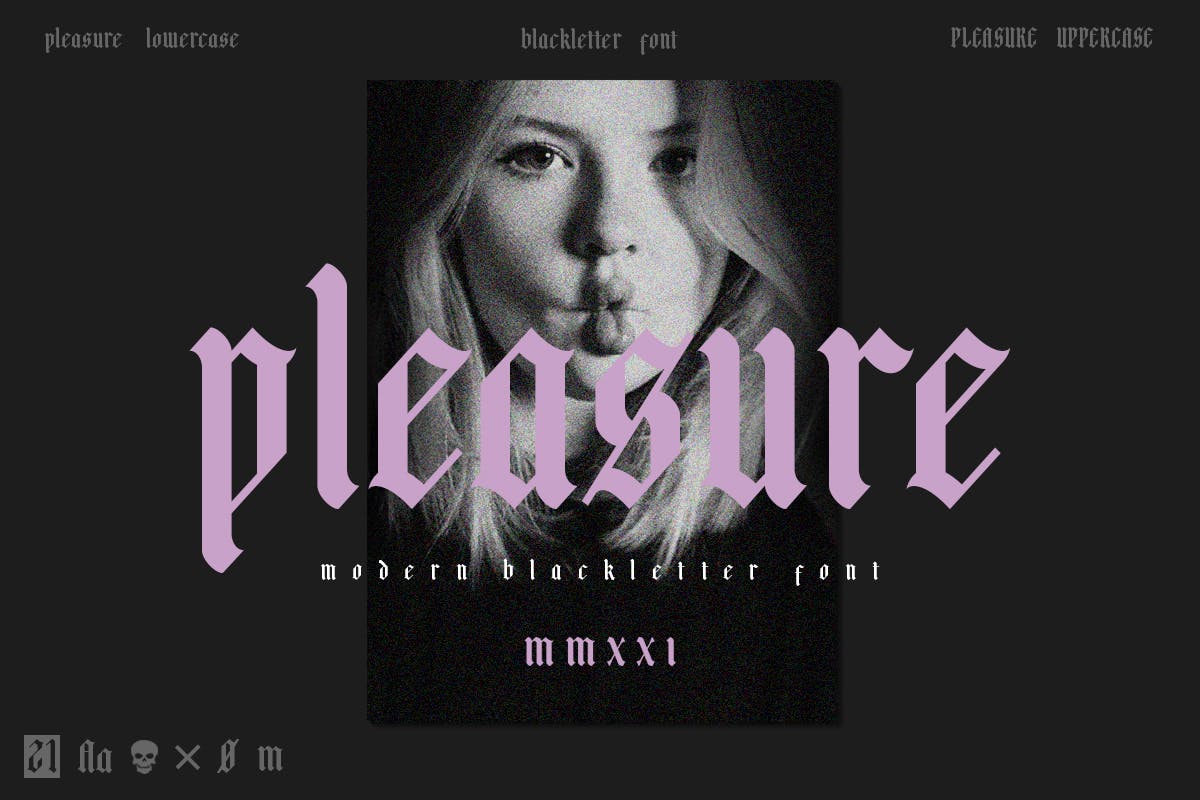 Wanting your designs to stand out from the pack? We recommend giving Pleasure a shot. It's a modern blackletter font with uppercase letters, numerals, and punctuation. If your goal is to create head-turning designs without compromising on readability, Pleasure is what you should be spending your cash on.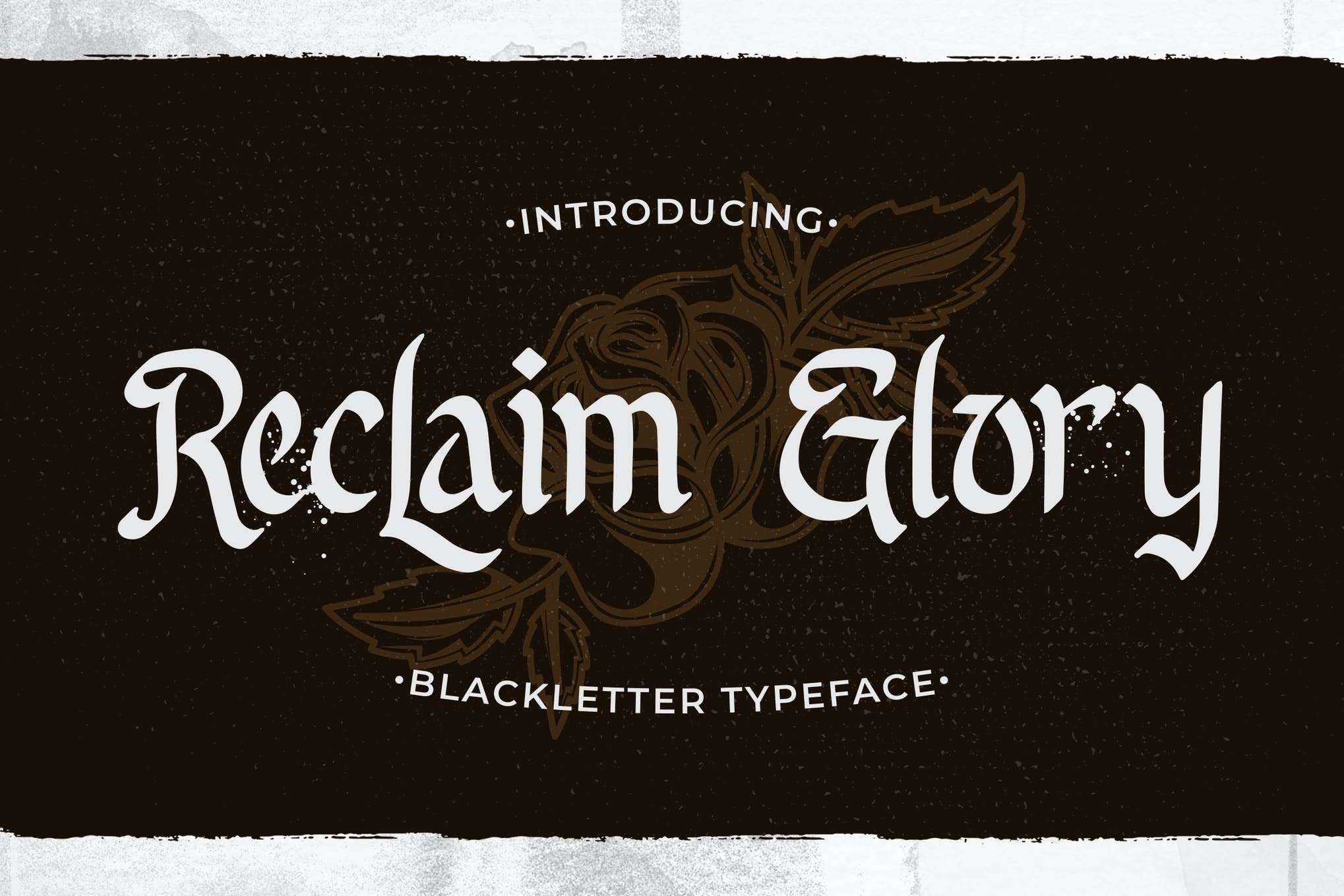 For a cool and gothic look, consider Reclaim Glory from Envato Elements. It's a solid font for nearly any kind of branding design from labels, logos to posters, headers, and more. It ticks all the boxes you might ever need in a great-looking, readable font.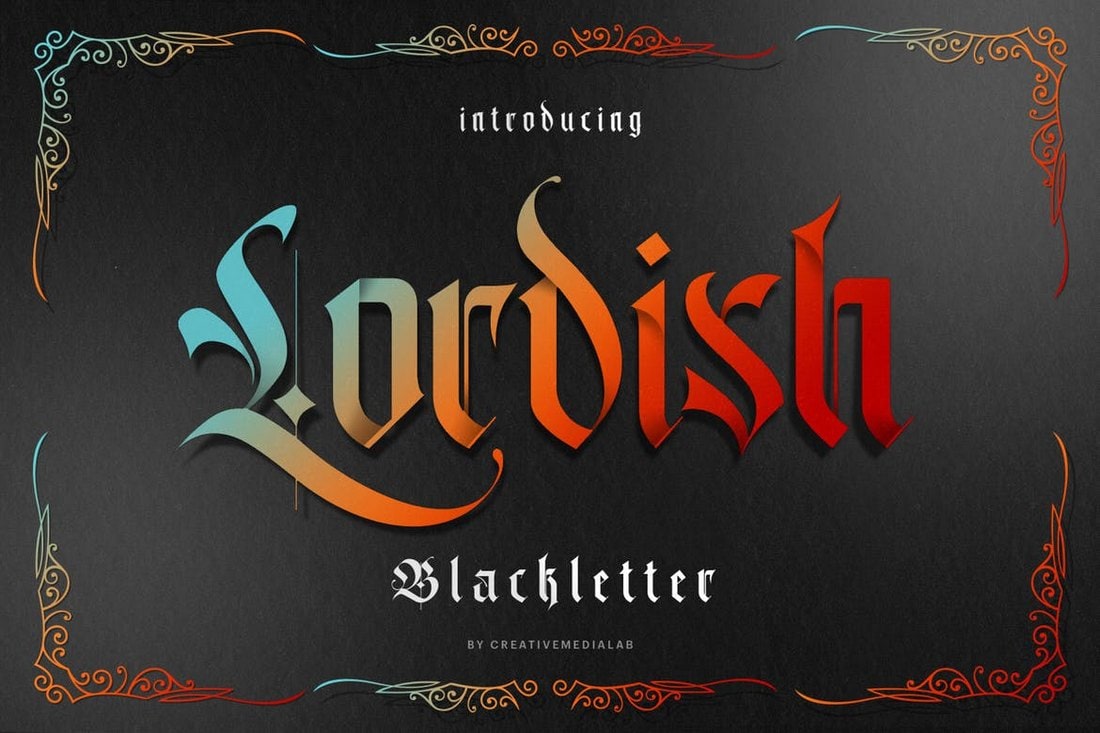 Lordish is a beautifully modern blackletter font featuring a creative design. This font is perfect for medieval-style designs such as labels, logos, and badges. It includes both uppercase and lowercase letters.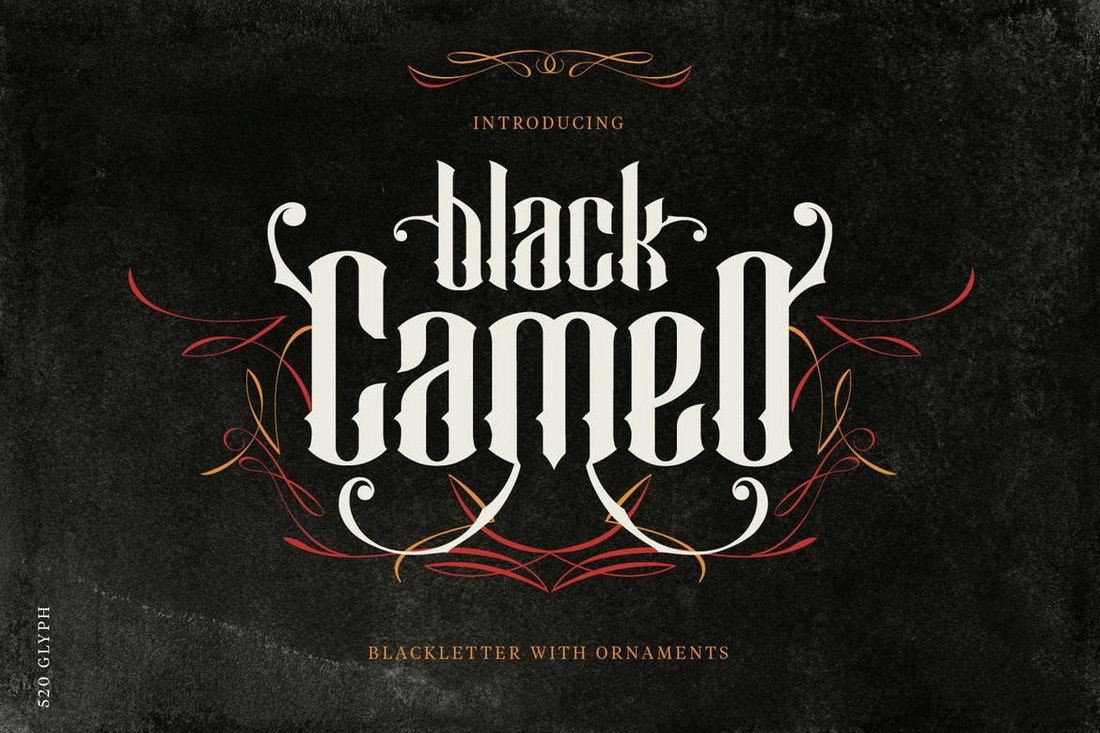 As soon as you see this font you can see it's a great choice for designing titles, logos, and posters for rock music festivals and bands. The font includes uppercase and lowercase letters as well as 525 glyphs.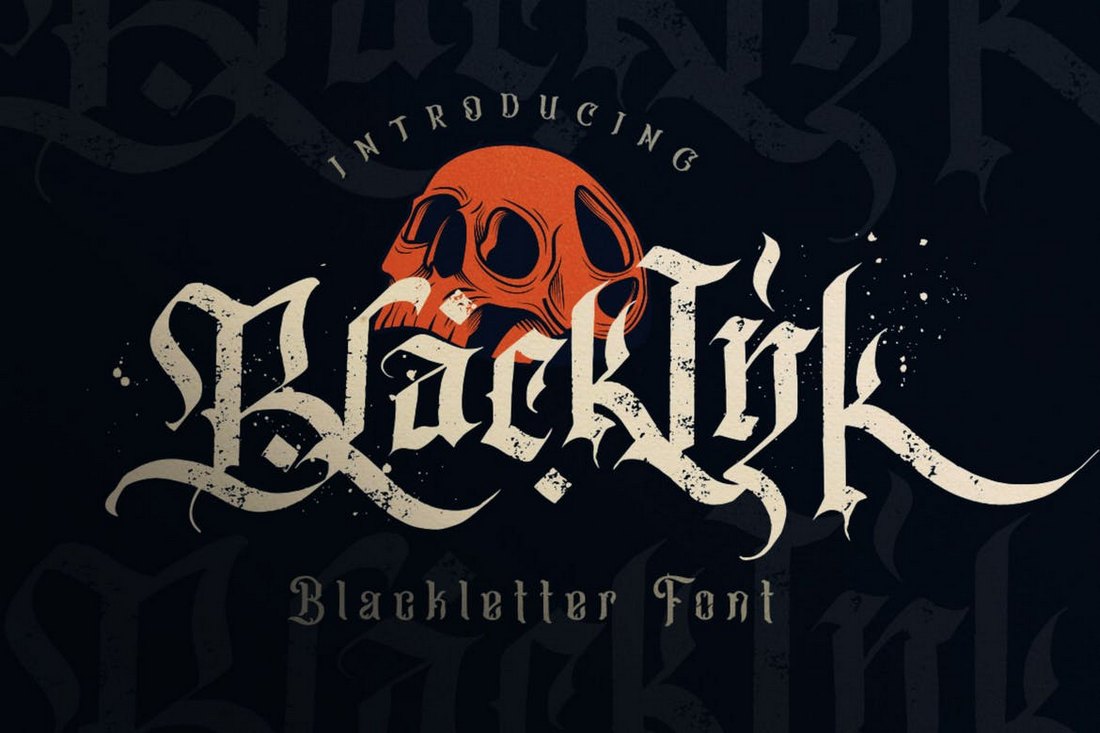 Blackink is a creative blackletter font that features a design inspired by pirate movies and designs. The font features a hand-painted design and it comes with multilingual support, swashes, and alternates as well.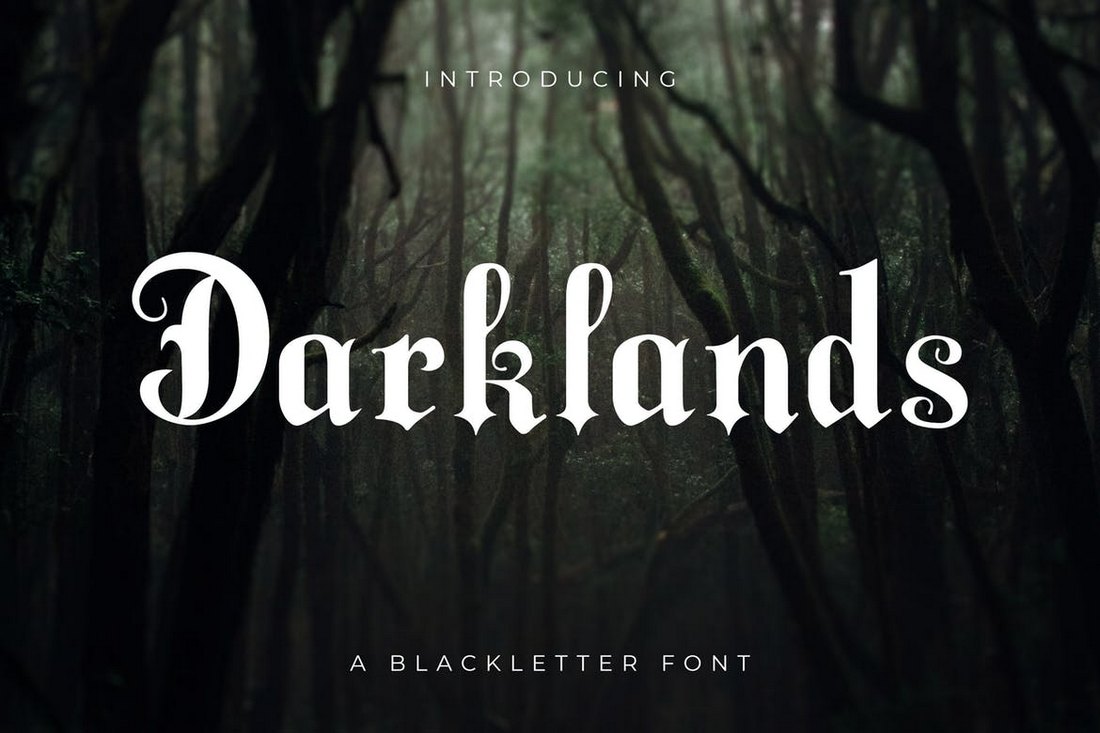 Darklands is another beautiful and minimal blackletter font that features a fantasy-like design. The font is perfect for designing titles, banners, posters, and more.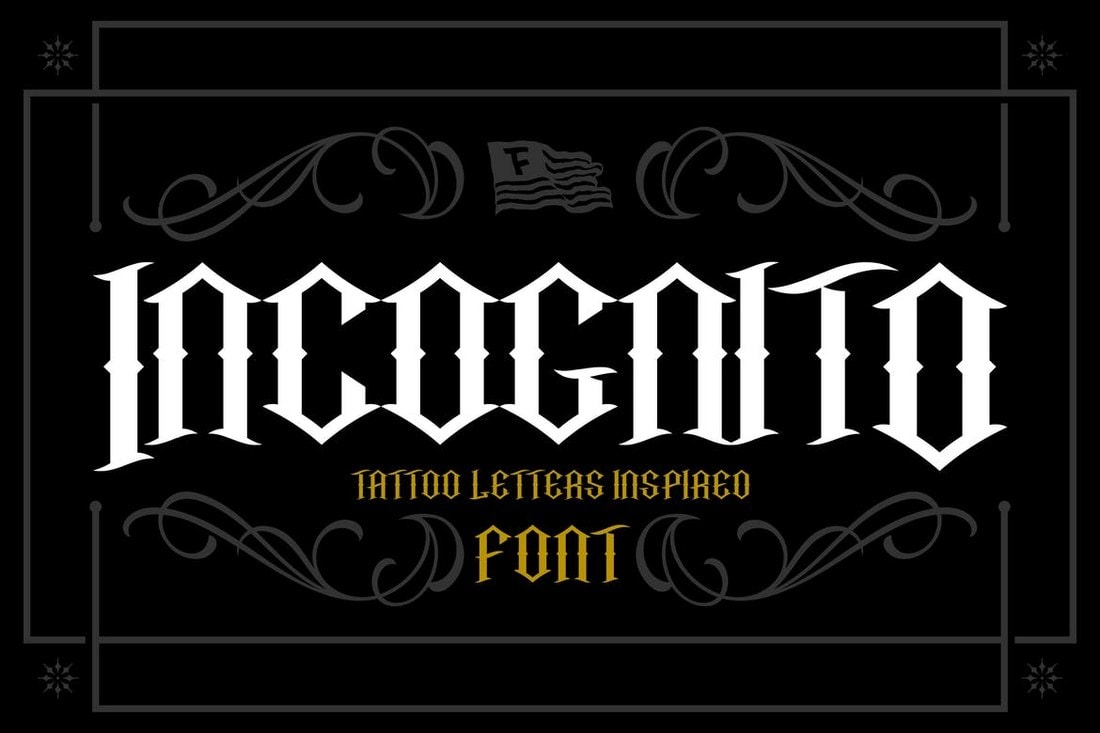 Incognito is a creative gothic tattoo font you can use to design various print and digital designs, including music posters, covers, banners, and more. The font comes in both TrueType and OpenType formats.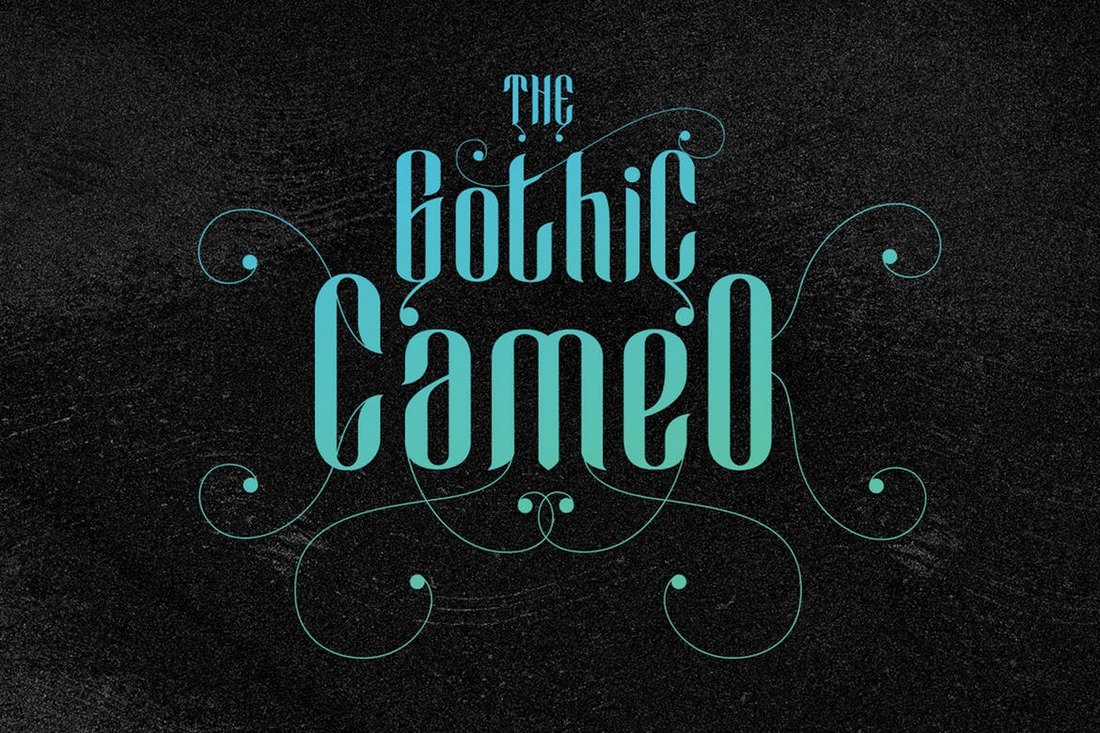 Cameo is a stylish gothic font you can use with your creative design projects. It features a set of beautiful characters with long stylistic swashes and curved edges.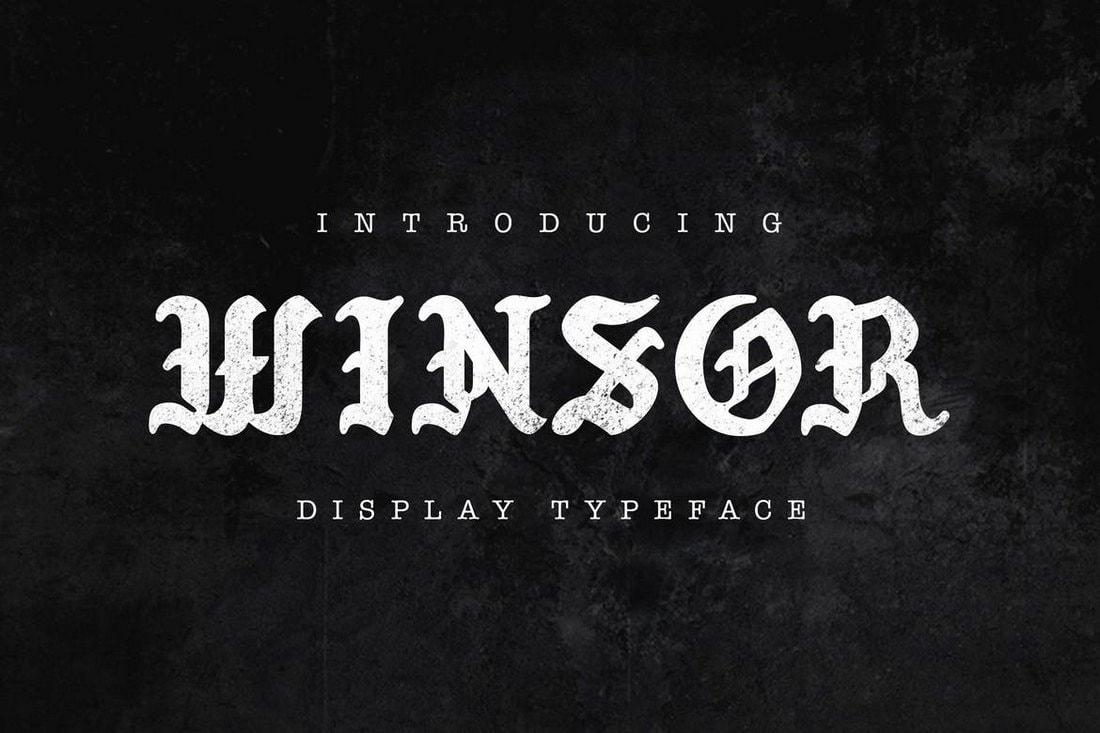 Winsor features a mixed modern-vintage design that gives it a unique look and feel. The font is perfect for crafting logos and badges as well as modern posters and website headers.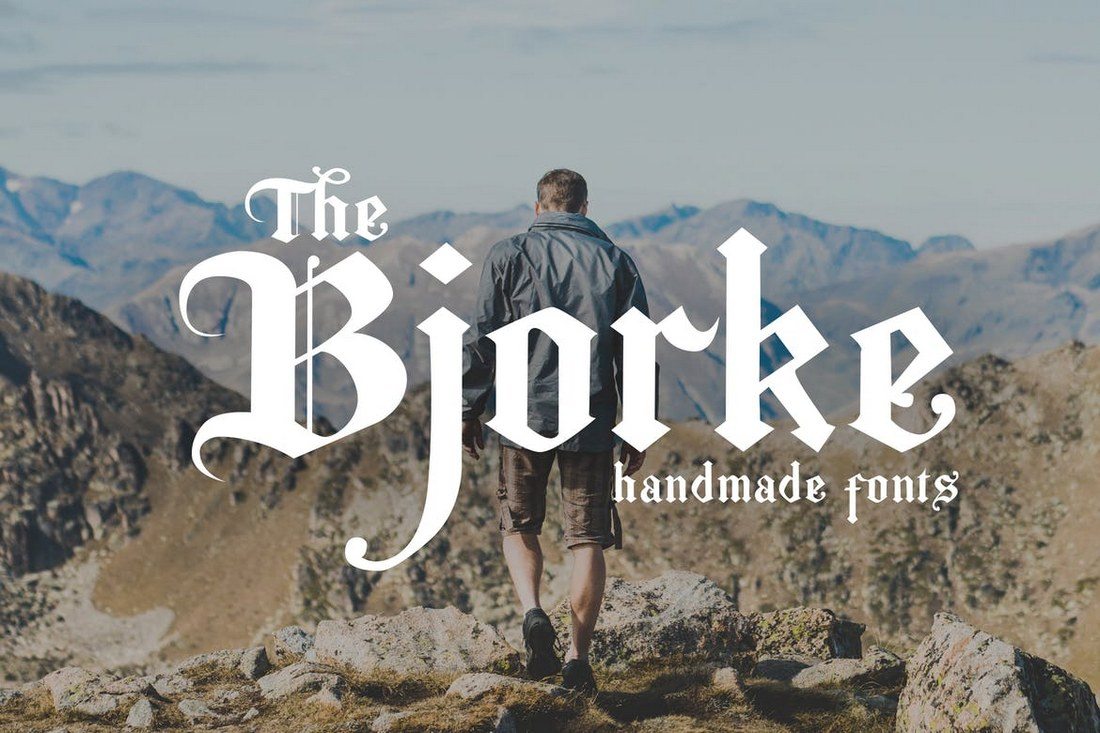 Another beautiful handmade font that features a Blackletter script design. This font design has a great design that's perfect for all kinds of design work from digital designs, greeting cards, and even T-Shirt designs as well. The font also comes with both regular and alternative styles.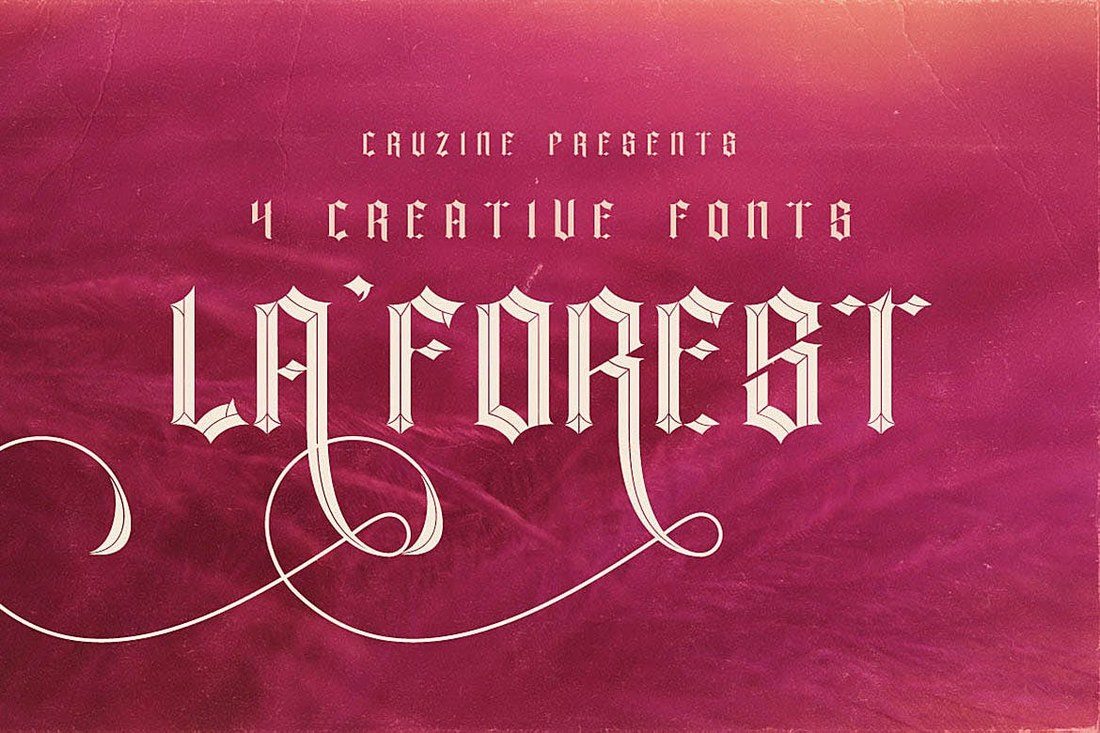 This is an elegant Blackletter display font that comes in 4 different styles: Regular, grunge, inline, and inline grunge. Making it suitable for your vintage and modern luxury design works.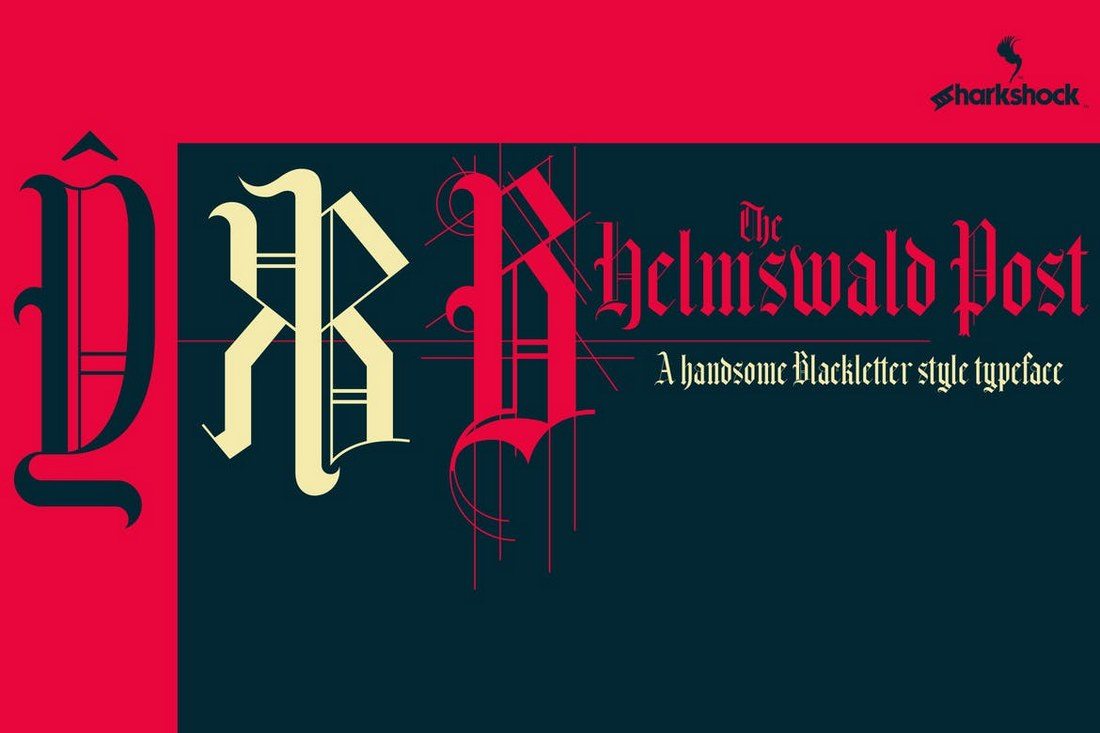 This font follows a design similar to the logo of the Washington Post. Although, you can use it with various types of designs including logo design, website headers, social media posts, book covers, and more.
Free Blackletter Fonts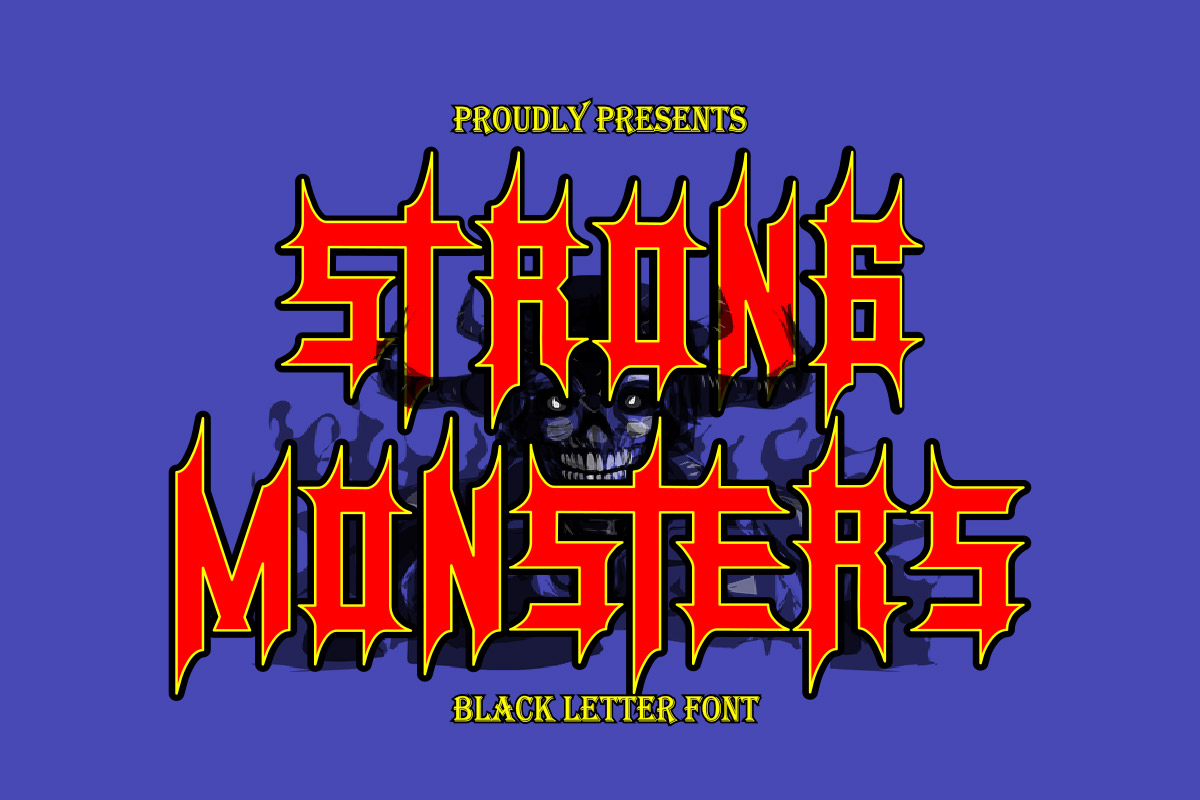 Demonstrating a unique and distinct style, Monsters is a great Blackletter font for those projects that need a little drama including Halloween, monster print t-shirts, and video games. The best part? It's available for free download.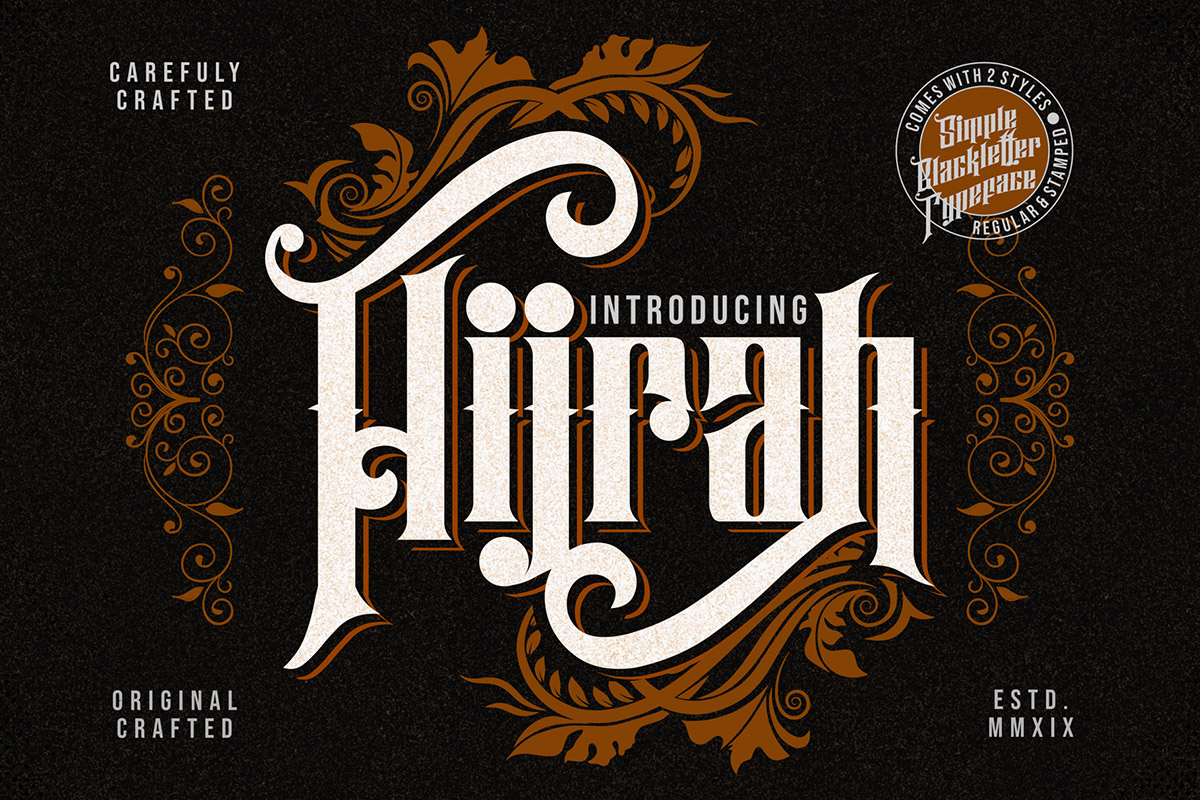 Here we have a stunning, modern-looking Blackletter font that you'll be hard-pressed to pass up. It's a freebie that contains everything you'd expect in a versatile font. One of the best free Blackletter fonts on our list!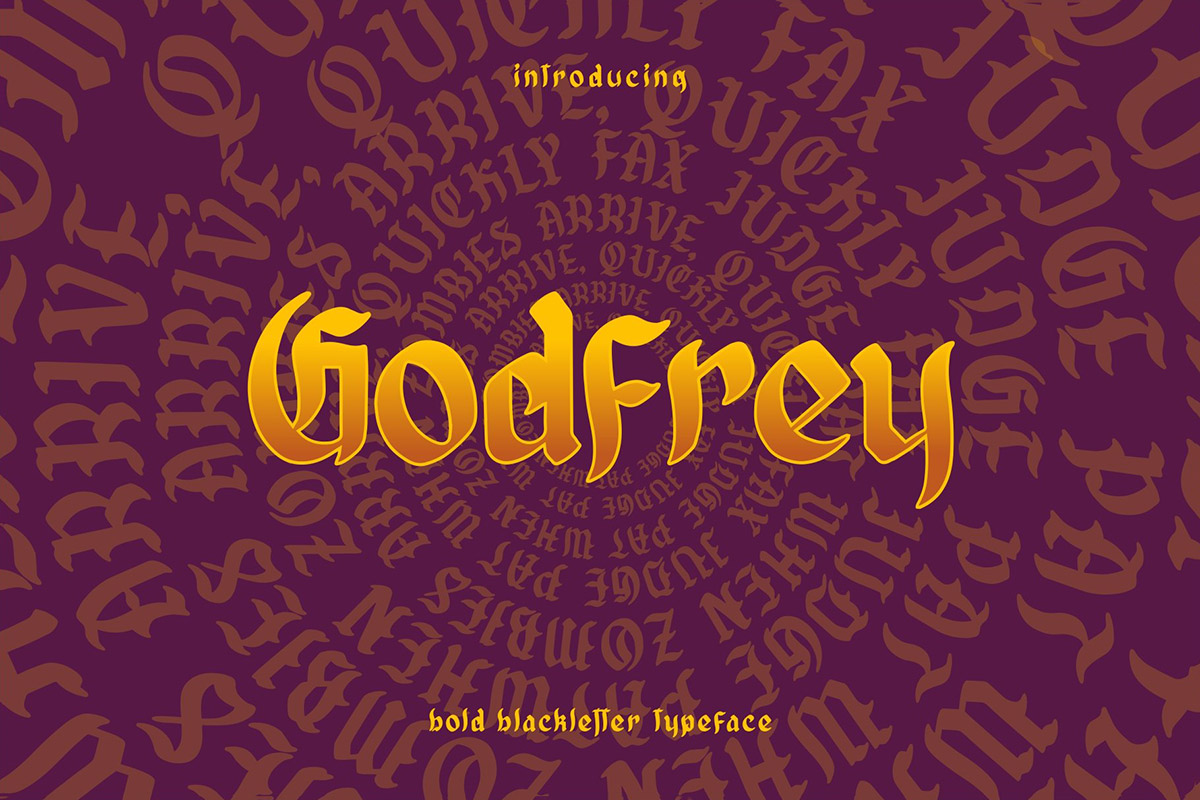 Bold and versatile, Godfrey is a free blackletter font that you should try out for those branding projects that needs you to be a little more creative. We think you should download Godfrey instantly, or add it to your shortlist at the very least.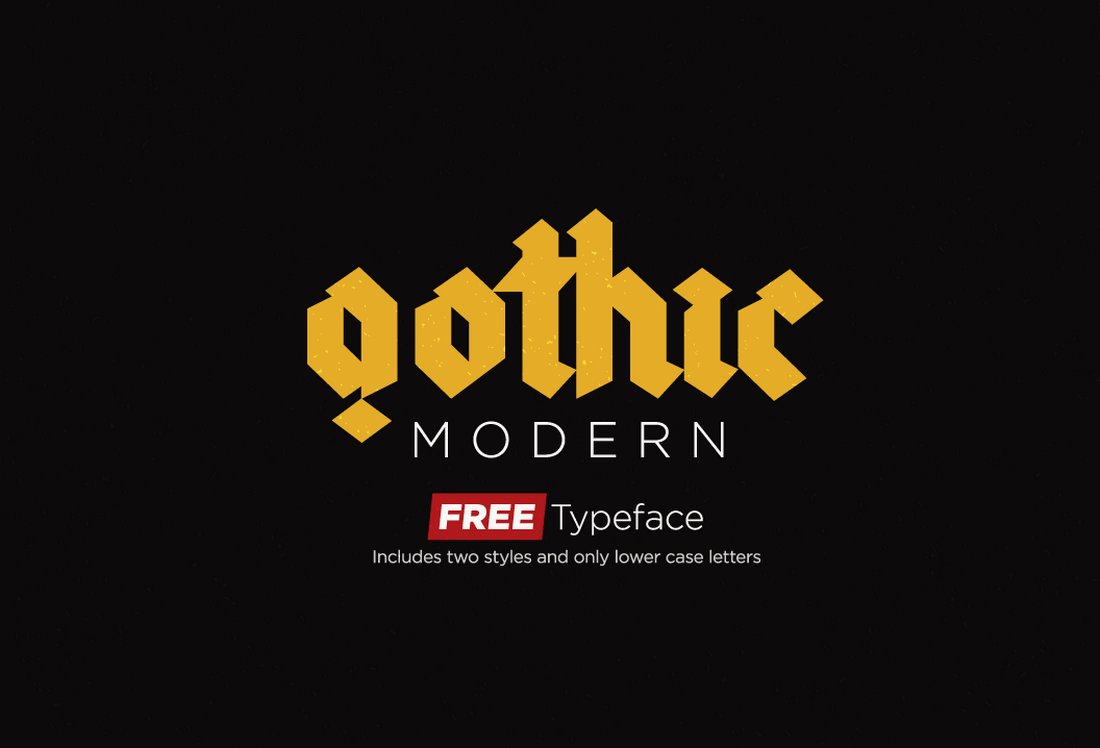 This free font comes with a unique and modern gothic font design that will allow you to add a personal touch to your gothic-themed designs. The font features only lowercase letters and it comes in 2 styles.