55+ Best School WordPress Themes 2020 (Free & Premium)
Looking for fantastic school WordPress themes for your college, university or academy? These themes, coupled with our tips on how to use WordPress in your school, area perfect for a school or educational establishment.
There are lots of WordPress themes out there that focus on the needs of a school, college, or university. But they're not all created equal. When it comes to representing your institution to the outside world, you want a design and layout that looks smart and professional.
These educational themes are packed with features that make them perfect for a school. You can take advantage of class timetables, event calendars, tools for creating online courses, quizzes, questions, attachments, and more. Plenty of functionality that will really set your school website apart from the competition!
All of these themes are fully customizable. Whether your school has years of tradition and heritage, or if it's completely new, you'll be able to make the website match your brand and identity in no time. Most themes have drag-and-drop functionality for layout out pages, so you won't need to delve into code (but you're also not restricted to a fixed layout). Take a look at our overview of the key things to look for in a school WordPress theme, and our tips for making a school website then dive into the collection!
5 Tips For Making A School Website With WordPress
One of the biggest benefits of using WordPress to build a website is its ability to add useful functions with third-party plugins. You can use this to your advantage to make your website more than just a hub of information. Here's how.
1. Highlight Your Courses, Teachers, & Facilities
It doesn't matter if you're making a website for a college, an academy, or a high school, the main focus of your website homepage should always be about showing people why your school is better.
The best way to show off your authority as a school is to showcase the courses you offer, highlight your team of teachers, and show the main facilities of the school.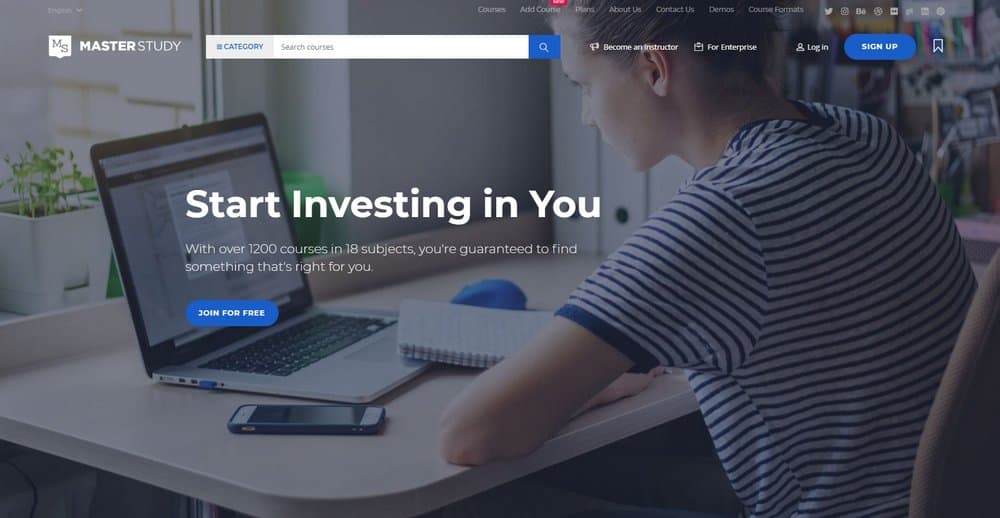 WordPress themes make this process easier. Using an image slider as the website header, you can showcase all these features in a professional way.
2. Build A Student Community Using bbPress & BuddyPress
BuddyPress and bbPress are two of the most popular community-building plugins available on WordPress. With bbPress you can create a forum section to let students create discussions and ask questions. BuddyPress allows you to make a social network-like membership platform to allow students to create an account and manage their assignments and courses in one place.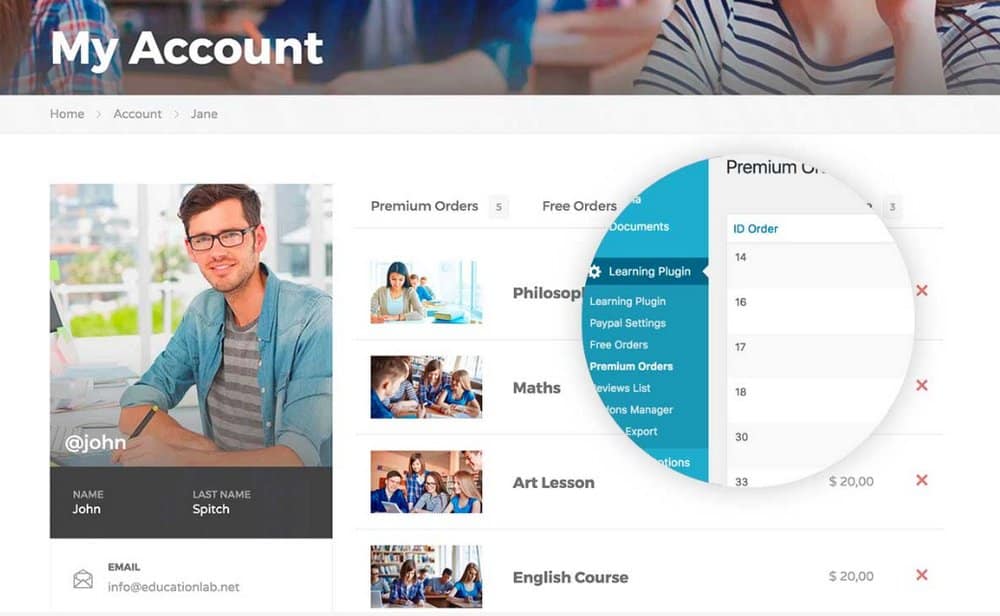 Most school WordPress themes come with full support for these plugins and with page designs made for creating communities and forums directly on your website.
3. Add An Events Page To Showcase School Activities
If your school host special events like seminars, gatherings, sports events, and celebrations, you can use your school website to showcase the events and educate your audience about them, especially the parents and people outside the school system.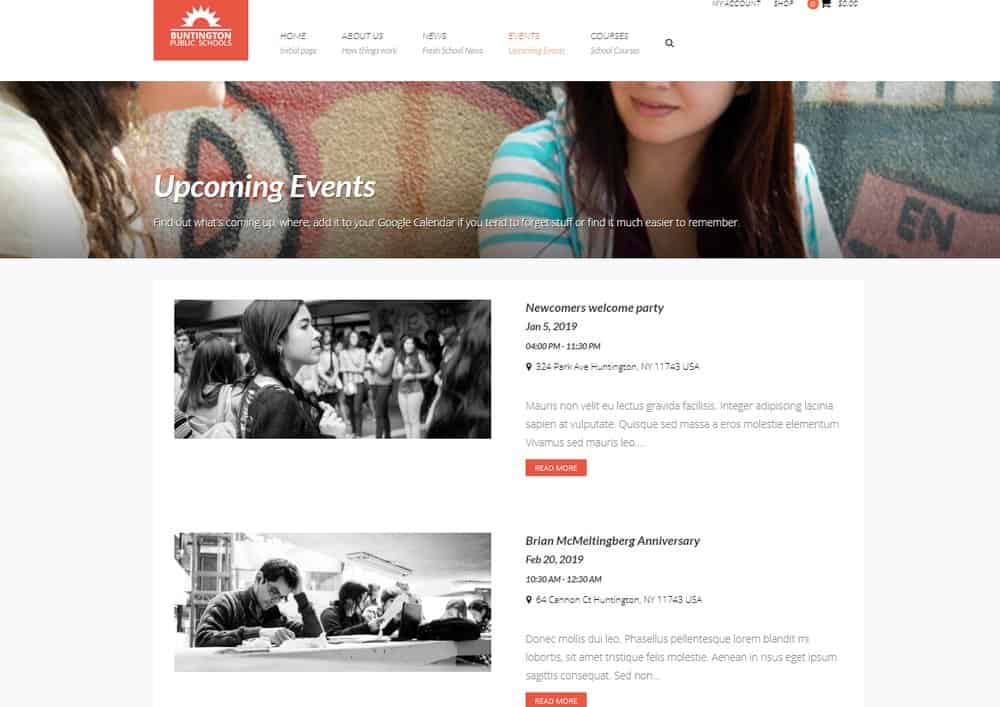 You can also add a booking system to your website using a calendar plugin as well. Make sure to look for a theme that comes with a built-in events page to make the process easier.
4. Integrate A Cloud Storage To Easily Share Documents
Imagine sharing assignments directly through your school website with students who have registered with your website. And allowing students to submit their completed assignments directly on the website. You won't have to deal with stacks of paper ever again.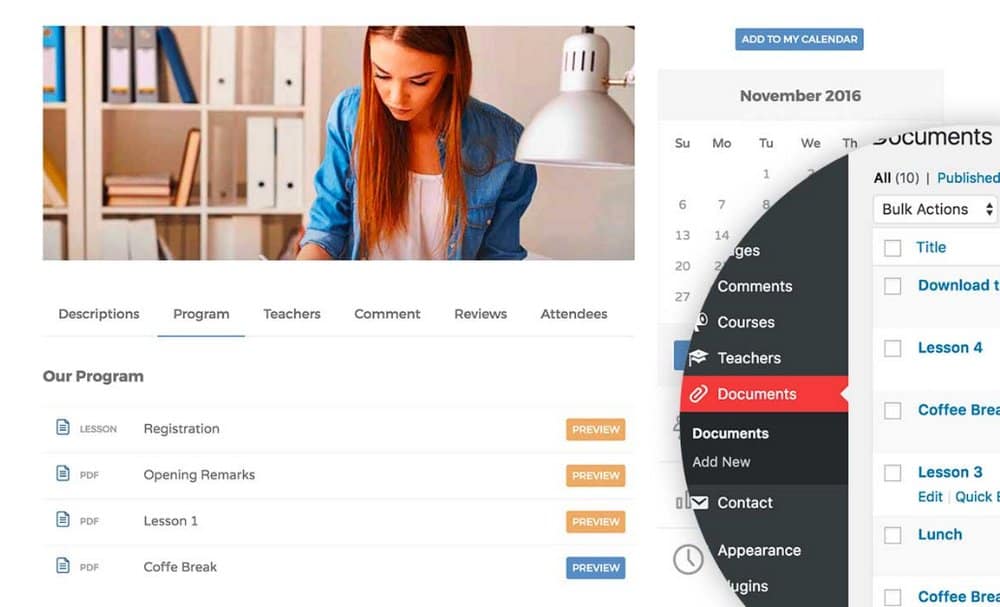 Thanks to WordPress plugins like Out Of The Box, you can integrate your website with a cloud storage like Dropbox to easily manage and share documents and files with your students. In fact, the Education Pack WordPress theme comes with a built-in document management system as well.
5. Use LMS Plugins To Sell Courses Online
Many colleges and schools are now using their websites to sell programs and courses online. This is not just a great way to monetize your website but it also offers students from around the world to experience higher education at the comfort of their homes.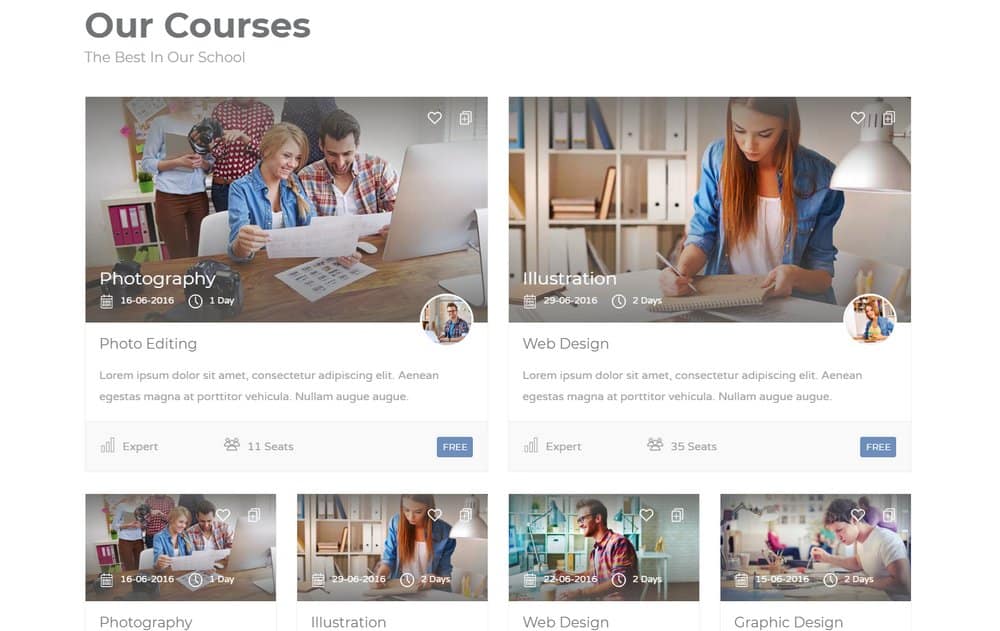 With WordPress, you can easily create and sell courses with the help of a Learning Management System (LMS) plugin. Educational WordPress themes usually come bundled with LMS plugins and with beautiful page designs for detailing the courses.