Looking for fantastic school WordPress themes for your college, university or academy? These themes, coupled with our tips on how to use WordPress in your school, area perfect for a school or educational establishment.
There are lots of WordPress themes out there that focus on the needs of a school, college, or university. But they're not all created equal. When it comes to representing your institution to the outside world, you want a design and layout that looks smart and professional.
These educational themes are packed with features that make them perfect for a school. You can take advantage of class timetables, event calendars, tools for creating online courses, quizzes, questions, attachments, and more. Plenty of functionality that will really set your school website apart from the competition!
All of these themes are fully customisable. Whether your school has years of tradition and heritage, or if it's completely new, you'll be able to make the website match your brand and identity in no time. Most themes have drag-and-drop functionality for layout out pages, so you won't need to delve into code (but you're also not restricted to a fixed layout). Take a look at our overview of the key things to look for in a school WordPress theme, then dive into the collection!
Ed School - School WordPress Theme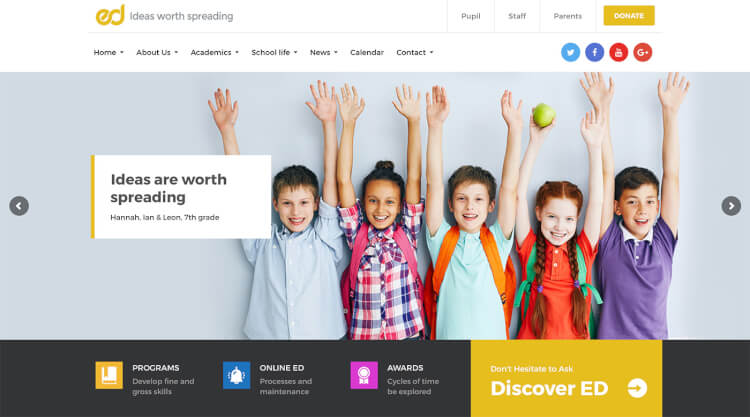 Ed School is a WordPress theme for a wide range of school related websites, including elementary, middle, and high school sites. As well the different homepage layouts, you also get access to 24 niche page designs that have been created for school websites. Visual Composer is included to help you modify any of the Ed School demo content, Header, Footer or Mega Menus.
Sakola - Professional School WordPress Theme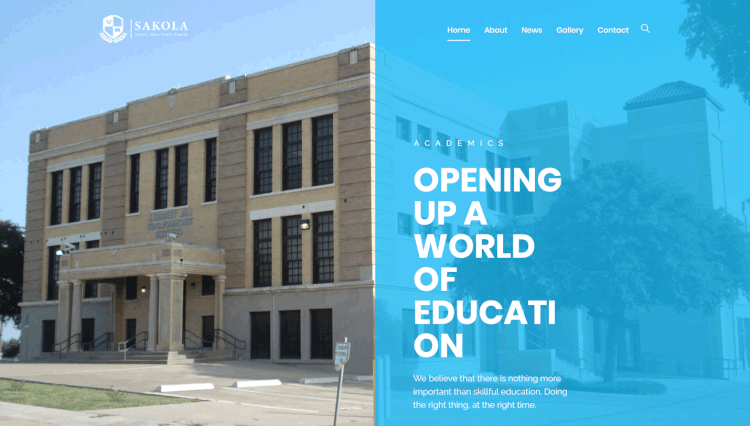 Sakola has three pre-built school website demos to help you get your new site online as quickly as possible. Thanks to the drag-and-drop page builder that's included in the Sakola theme package, you can quickly and effortlessly carry out any customization work on your site without having to edit any code.
Ademy - Educational Institute and School WordPress Theme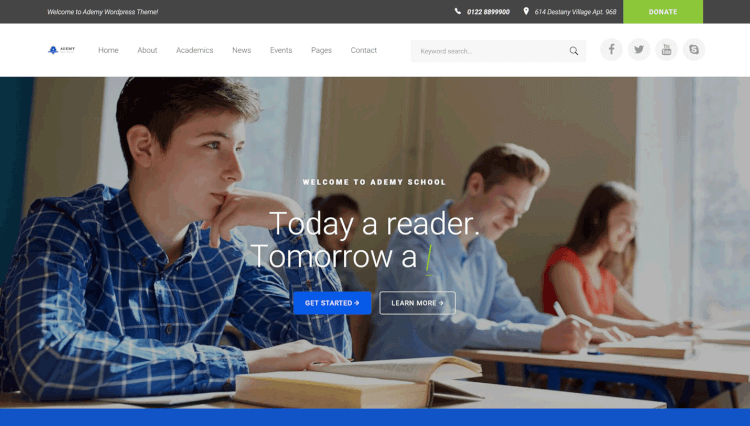 Ademy is a purpose-built WordPress theme for creating websites for schools and other educational institutions. The pre-built website design has a professional appearance that should appeal to prospective students and their parents. As the package includes a full set of page templates, you can easily add all the essential pieces of content to your website without much effort. Other features like drag-and-drop editing are included as standard.
Greenwich - Multilingual Language School WordPress Theme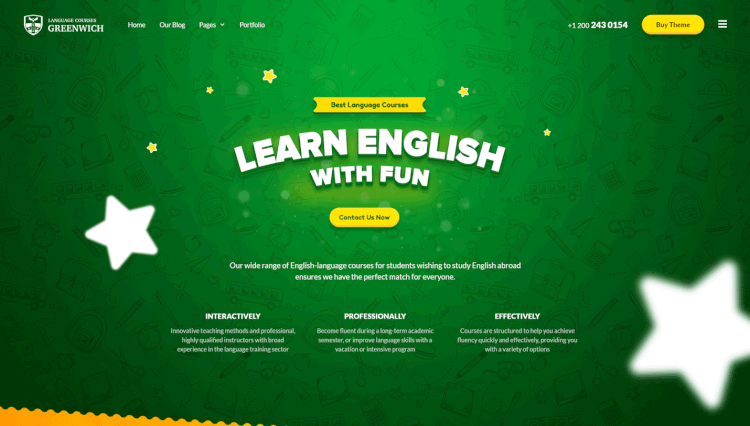 Greenwich can help you get your language school website online with as little effort as possible. After you've used the one-click importer tool to use the demo website to lay the foundation for your site, you can start adding your own content to the theme. As you'd expect from one of the best language school WordPress themes, Greenwich has support for the leading multilingual plugins so you can manage and publish your content in more than one language.
Rochester - Drag-and-Drop Driving School WordPress Theme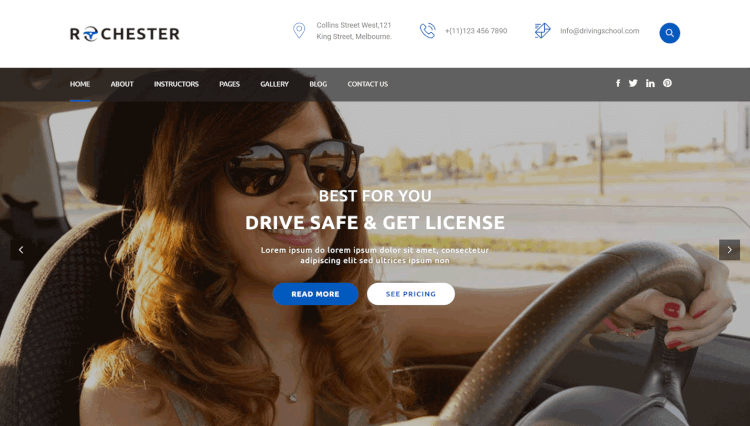 Rochester is something slightly different but if the website you want to create is for a driving school, then this theme should have everything that's needed to help you promote your business and find more clients. The pre-built driving school website that's included in the Rochester package can be fully customized using the premium WPBakery Page Builder plugin that you get access to with this theme.
Bambini - Kindergarten and Pre-School WordPress Theme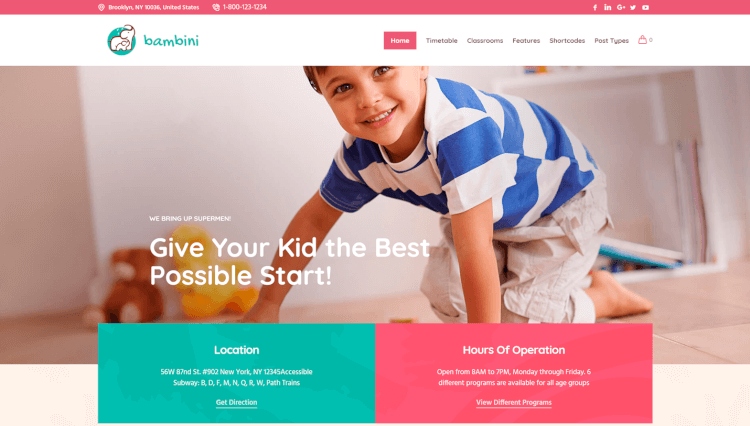 Bambini is ideal for schools and educational centers that cater towards younger children. Some of the useful features of Bambini include a timetabling tool, an events manager, and lots of pre-built templates for the different content your site will need. So if you want to create a website for a kindergarten or pre-school, the Bambini theme could be just what you're looking for.
Ology Education and Courses Theme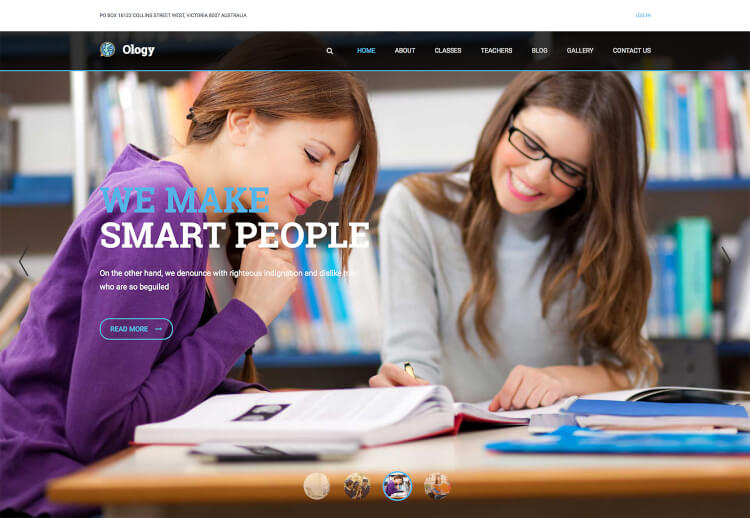 Ology is a theme, perfectly suited for all types of education, school, and business. Packed with all the functionality you need for a basic website, with lots of different designs and layouts to use as a starting point. Also featuring an events page, products, courses, your team, and more.
Education WordPress Theme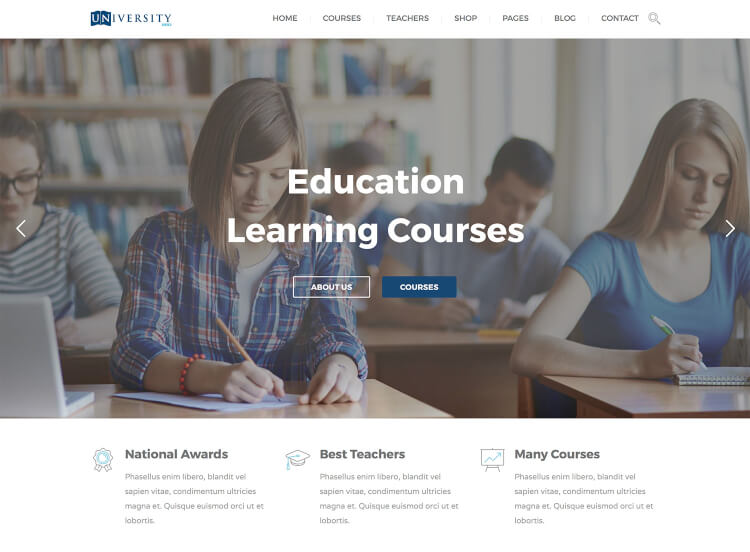 The generically named Education WordPress theme is a strong choice for creating an educational website for any teaching or learning use. Thanks to the many education demos included (for a university, design school, language school, and more) you can choose the best design that fits your education needs as a starting point. It works with Visual Composer, Gravity Forms, WPML for translation, and more.
Lacero - Education & University WordPress Theme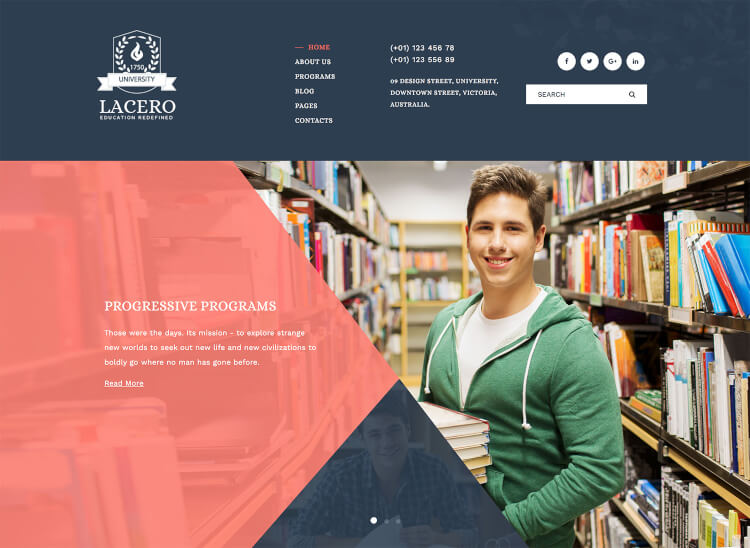 A high-end, stylish theme, perfect for a professional academic institution. Built on Visual Composer to make it easy to create your own layouts and pages, and comes with everything you need to create a beautiful website for your school or college. Tweak it to match your own colours and branding, and you will be ready to go in no time.
Sekolah - Academic Calendar School WordPress Theme
Sekolah works well for creating WordPress websites for schools, colleges, and other educational institutes. As well as the homepage demo, Sekolah also includes pre-built content for the all the inner pages your school website is likely to need. Thanks to the other features of this theme, such as the academic calendar and timetabling tools, you can easily present your students with all the information they'll be coming to your website to find.
Bornomala - Drag-and-Drop School WordPress Theme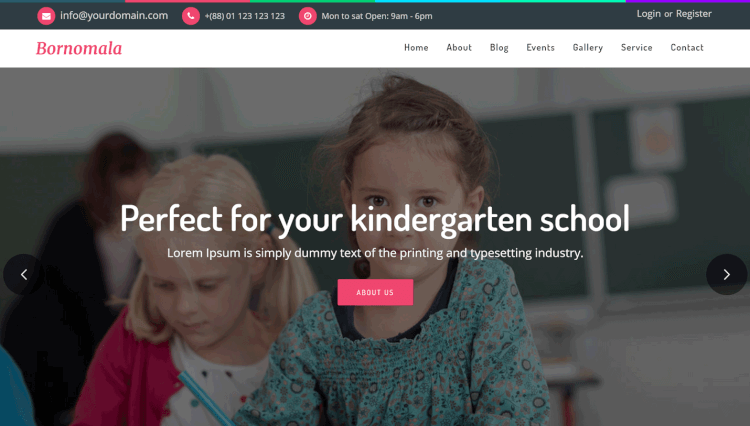 Bornomala is another school WordPress theme that comes equipped with a drag-and-drop page builder tool. Once you've imported the Bornomala school website demo, you can then start customizing the colors and fonts through the control panel or use the page builder to redesign the included templates and layouts.
TeachMe - Learning Management System and Schools WordPress Themes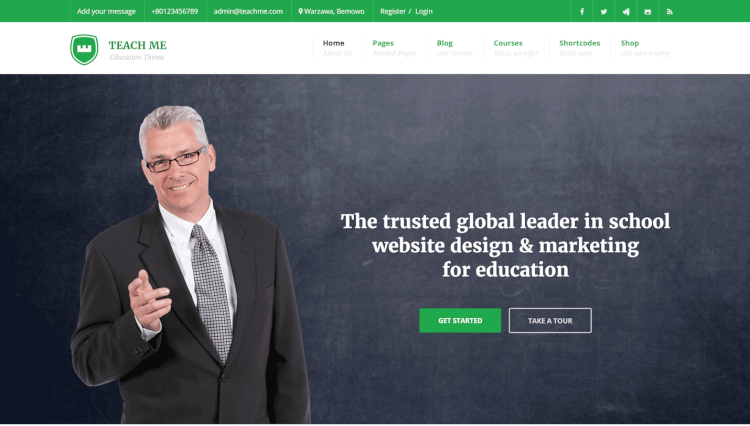 TeachMe is a WordPress theme for schools with a strong learning management (LMS) component. Due to this, whether you want to promote your school online or offer courses from your website, TeachMe could be a good option. All the templates you'd expect to find in a school WordPress theme are included, alongside support for the best WordPress LMS plugins.
Saratov - Kindergarten and School WordPress Theme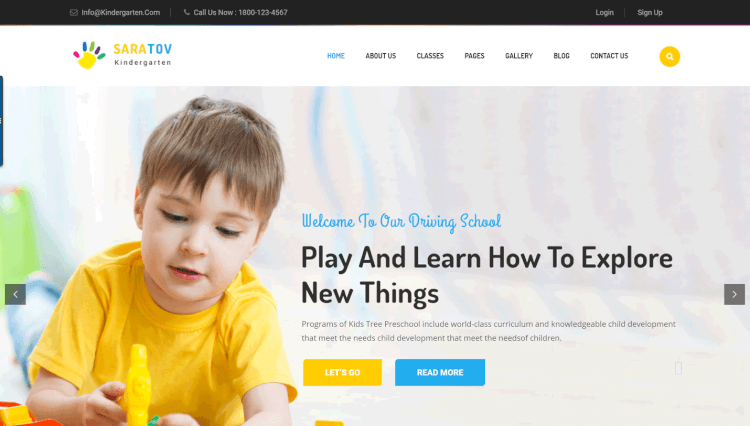 Saratov can be used to create daycare, kindergarten, and school websites with WordPress. As well as the focused design of the three homepage layouts, Saratov also includes lots of customization features to help you personalize your school website. The King Composer page builder tool, the detailed theme options settings, and the Slider Revolution plugin are just some of the options available for creating a unique school website with this off the shelf WordPress theme.
Baby House - Flexible School WordPress Theme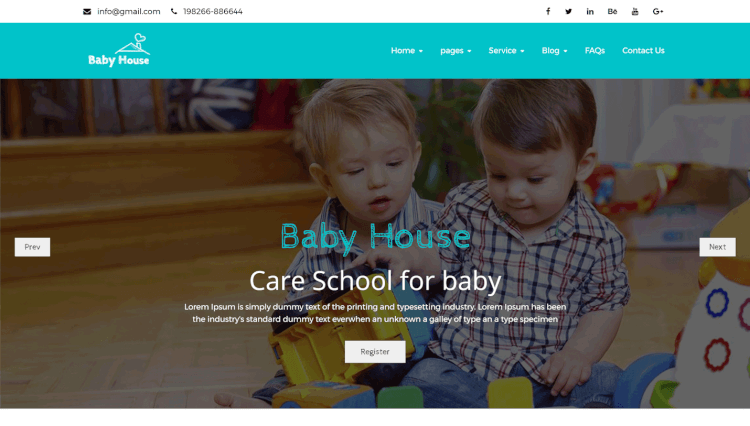 Baby House is a school WordPress theme that's aimed at educational facilities catering to younger children. Whether you're creating a website for a kindergarten, preschool, or regular school, the design and features of this theme should appeal. With two homepage layouts, over 10 inner page templates, and a drag-and-drop page builder, creating the right school website with WordPress and the Baby House theme shouldn't be a problem.
Melody - Music School WordPress Theme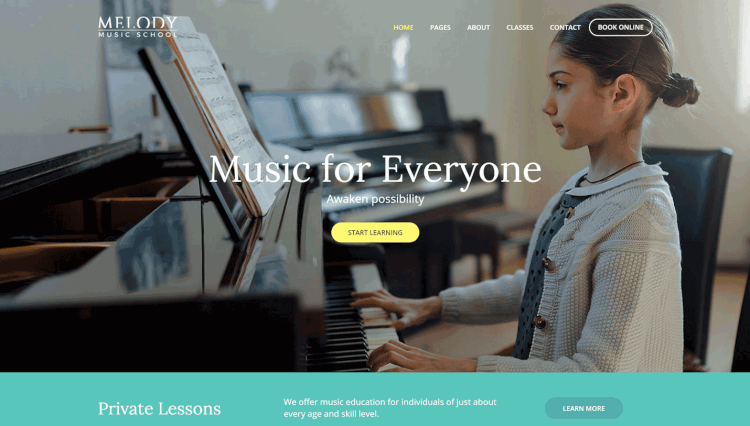 Melody is a music school WordPress theme. Therefore, if you need to create a website to promote your music related educational project, this could be the theme for you. Importing the demo content only takes a few clicks, leaving you to choose a homepage design from the available options. Whether you want to offer music courses from your website or promote your music school, Melody is a flexible option in this collection of the best school WordPress themes.
Lets Play - Sports School WordPress Theme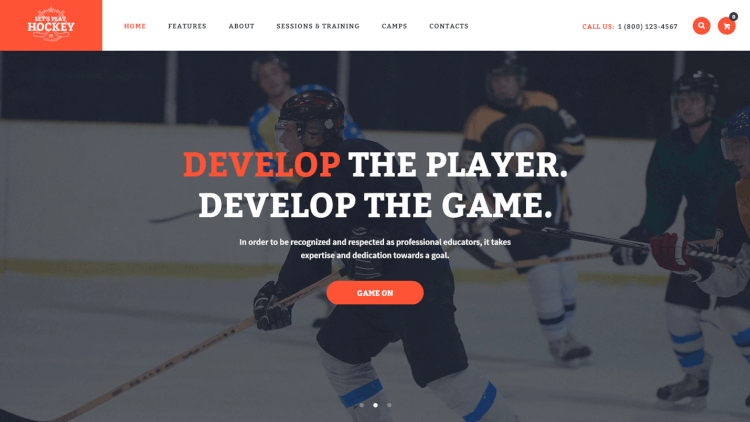 Let's Play will help you promote your sports related classes or school online. The demo content and page builder tool makes this a WordPress theme that can be used for a wide range of sports websites. Thanks to the full WooCommerce support, you can easily sell access to your content or add an online store to your school website.
DriveOn – Driving School WordPress Theme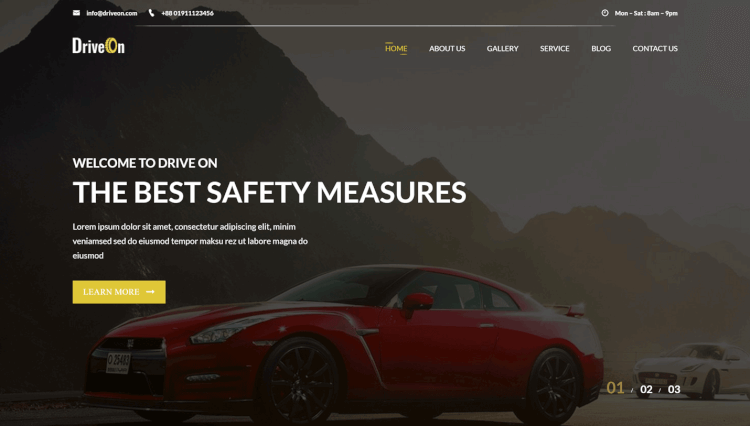 DriveOn was created to help you build a driving school website with WordPress. If you want to ensure your driving school website has a professional design that will help you find more clients, DriveOn is a purpose built option in this collection of the best school WordPress themes.
Kindergarten - Child Focused School WordPress Theme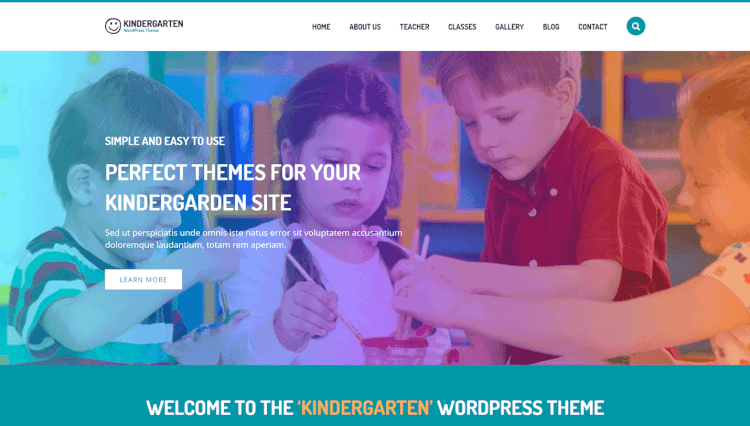 Kindergarten has everything you need to create an effective website to promote your childcare services or preschool center. The design is bright and colorful to help appeal to your target audience. There are also lots of opportunities to add photos to your kindergarten website, enabling your visitors to get a better sense of who are you are and what you have to offer.
Primary - School and Education WordPress Theme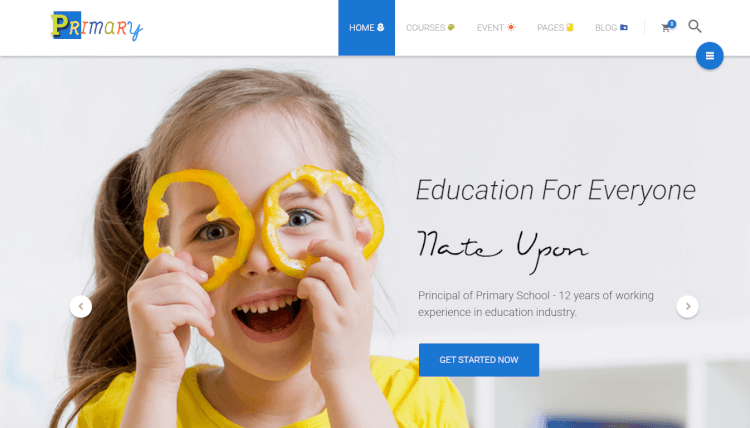 Primary is a flexible school WordPress theme that is accompanied by all the online documentation you'll need to make your website a success. Thanks to all the customization options and settings, you'll be able to ensure that your websites matches the branding and vision of your school.
Kids Play - Kindergarten and School WordPress Theme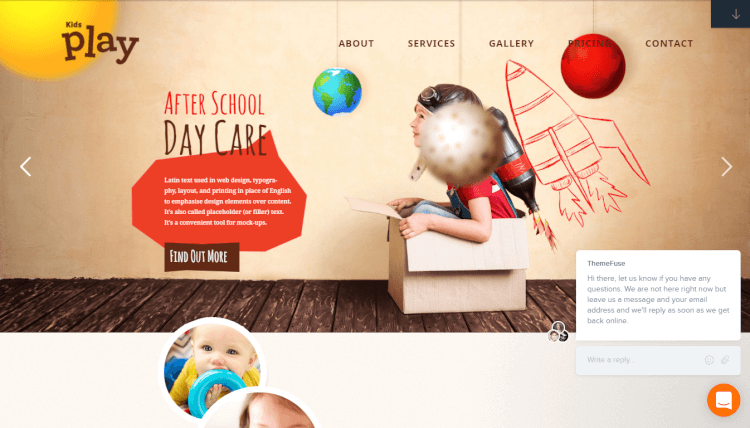 Kids Play has been designed primarily for kindergarten websites. However, as this theme has many customization tools and a visual page builder plugin included in the package, it won't take much time or effort to modify it to suit your school or another place of learning. The design of the Kids Play theme is fully up to date to ensure your website has a modern look.
NT Priskul - Education and School WordPress Theme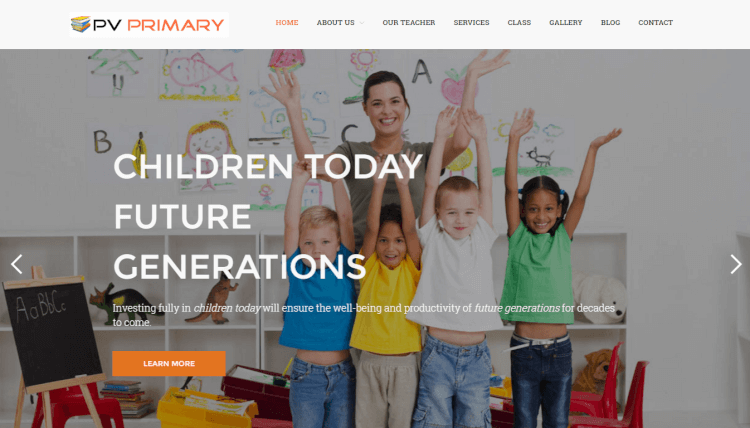 NT Priskul has been designed for a wide range of educational websites, including kindergartens, schools, and colleges as well as websites delivering online courses. This school WordPress theme is packed with useful content templates to help you add all of the essential pages to your website. With the LayersWP drag-and-drop page builder included, customizing the pre-built content is straightforward, too.
The Children - Kindergarten and School WordPress Theme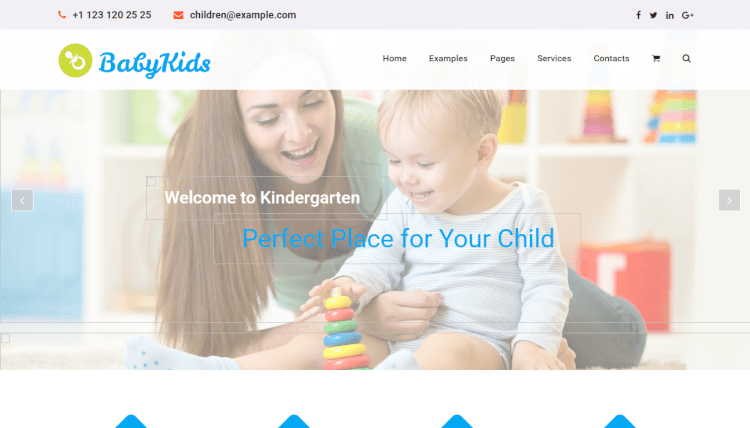 The Children WordPress theme aims to help you get your new website online in no time at all. The main demo content can be imported in just a few clicks. After that, you can choose from a selection of custom header designs and page templates. Firing up the included Visual Composer page builder is also an option, giving you even greater creative freedom.
Total School - Education WordPress Theme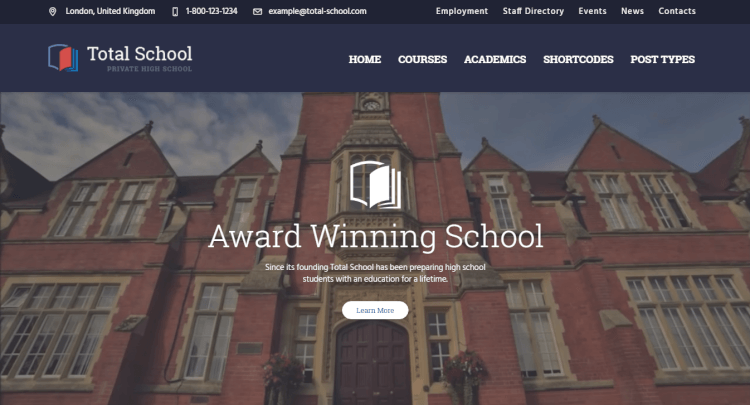 Total School is a full featured education WordPress theme. Thanks to this theme's support for the LearnPress plugin, your website will be able to deliver courses online. There's also a handy timetable plugin included in the package, as well as an events calendar tool. If you choose the Total School theme, your website will not only look great but will also be a useful resource for your students and pupils.
Enfant - School and Kindergarten WordPress Theme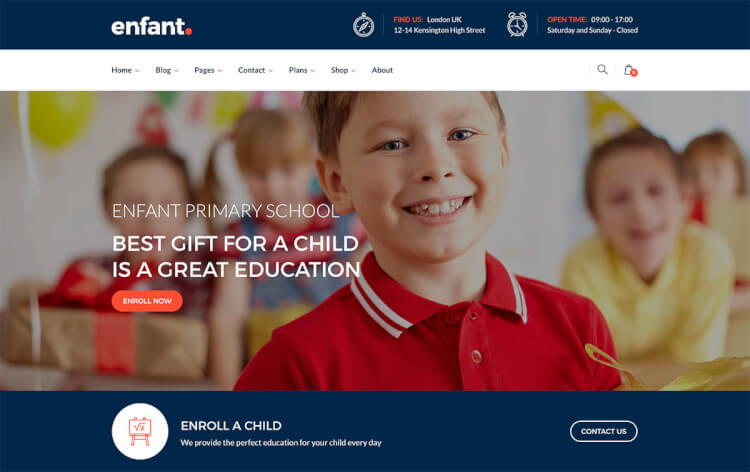 Enfant is a premium educational WordPress theme, with a friendly approach for schools and kindergartens. It contains all the features you need to create a stunning website for any education related business, with a smooth and simple process to get things set up. There's a broad selection of predefined pages for you to choose from, and Enfant integrates with Visual Composer to make building your own page designs super-simple. Interested in selling books, uniforms, or other school goodies on your website? No problem — it integrates with WooCommerce!
Carry Hill School - WordPress Theme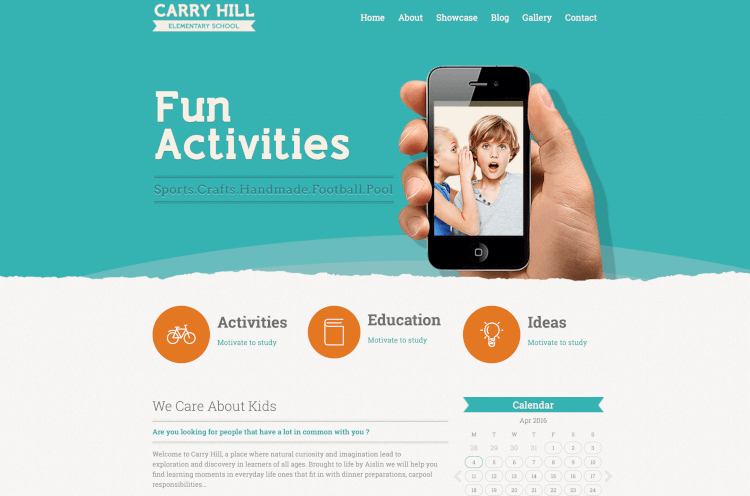 Carry Hill School is a beautifully designed WordPress theme for your child's school, child care, but it would suit any art, craft or creative website. It comes with Visual Composer – a drag-and-drop page builder which enables you to create your page content with ease. You can re-arrange your content blocks any way you like. It has a very powerful and yet very easy to use theme options panel.
Academy - Learning Management Theme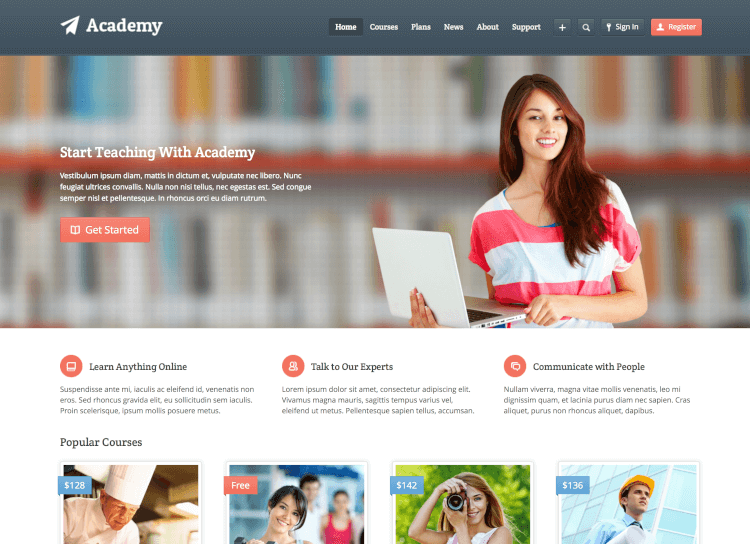 Academy is a perfect theme for sharing and selling your knowledge online. It's not just a theme, but a learning management system that makes learning and teaching online easier for everyone. This theme provides features for creating online courses, such as extended user profiles, rating system, questions system, file attachments, embedding self-hosted media, tracking course progress, WooCommerce integration and more.
Education WP - WordPress Theme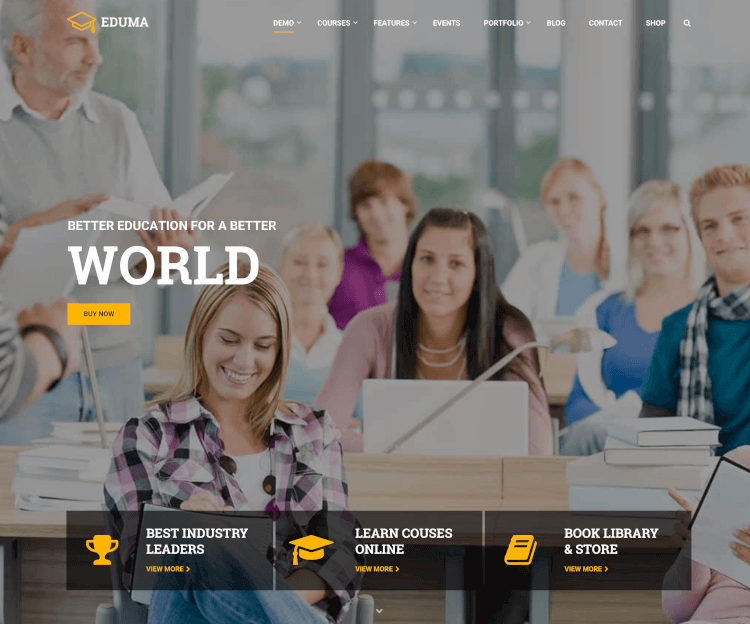 Education WP is a next generation WordPress theme for education, schools, and colleges, containing all the strength of eLearning WP but with a better UI/UX. With over seven different unique demo homepages, this education WordPress theme gives you options to build your own, one-off site.
WPLMS Learning Management System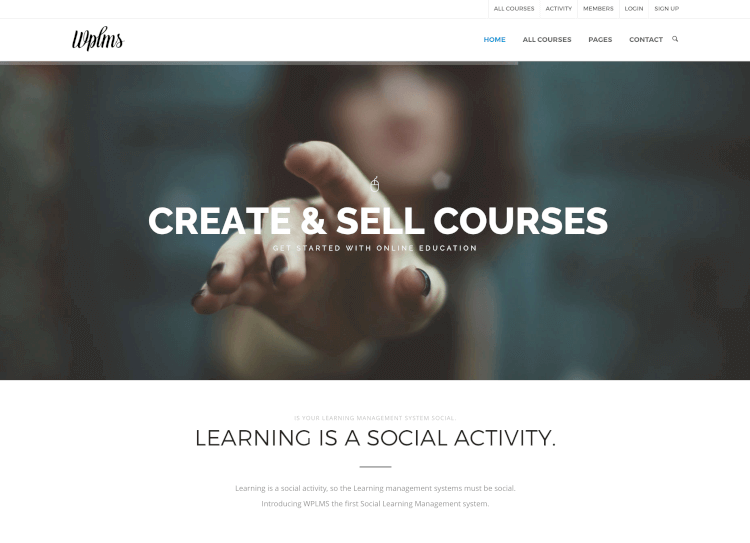 WPLMS is a social learning management system built on BuddyPress. The social networking features like activity recording, user groups, private messaging, notifications, profiles and custom profile fields are closely integrated within the theme. Other unique features include course drive (for storing attachments), course activities (tracking everything that happens in a course), front-end course creation (an easy to use front end interface for creating courses), and a notes and discussion module.
Grand College - Education Wordpress Theme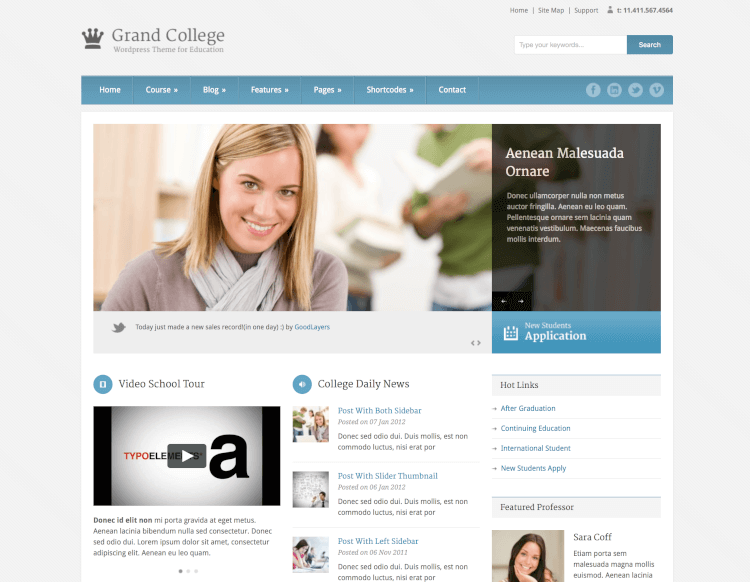 Grand College is a great theme for a school, university, college or even your business. It's clean and modern, with well crafted design and functionality. You can change almost ever element color easily via admin panel (or translate the entire theme into a different language if you want to!). You can also create unlimited sidebar widgets, and choose from over 450 fonts.
University - Education, Event and Course Theme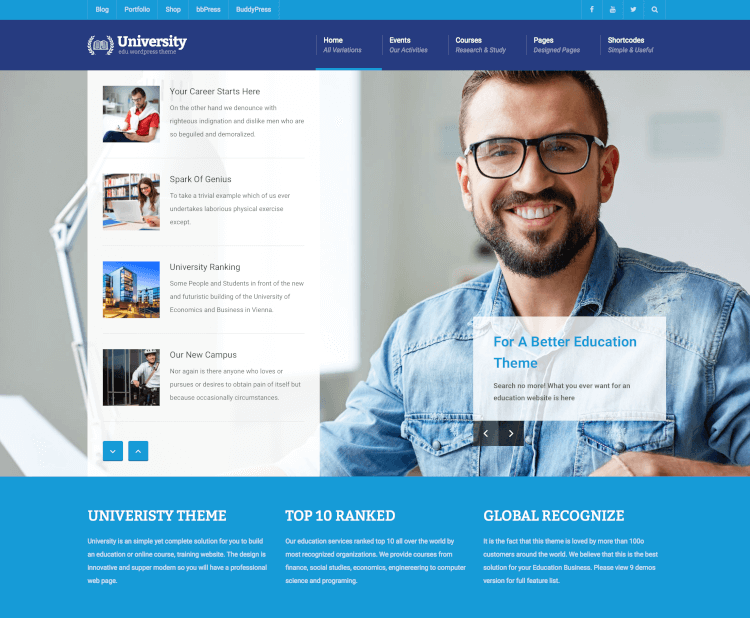 The University WordPress theme is great for educational institutes, educational events, courses and even a full Learning Management System, if that's what you need! It comes with a fully responsive design, the powerful "Slider Revolution", Facebook and Disqus comments integration, event management, course management, and much more.
LMS - Learning Management WordPress Theme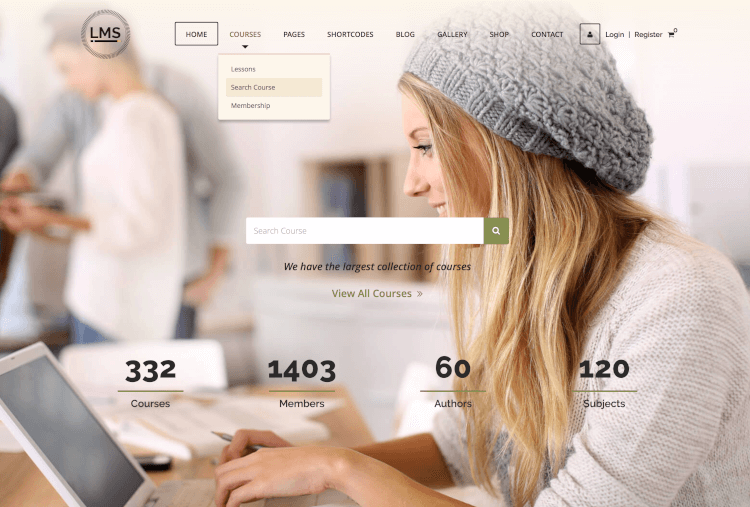 LMS is powerful learning management theme, with awesome features for creating online courses, teacher profiles, extended user profiles, lesson management, a quiz system, video hosting, a ranking / rating system, questions system, attachments, and much more. It's an incredibly powerful solution, to make learning and teaching online really simple. Get started quickly, and teach students around the world!
Masterstudy - Education Center WordPress Theme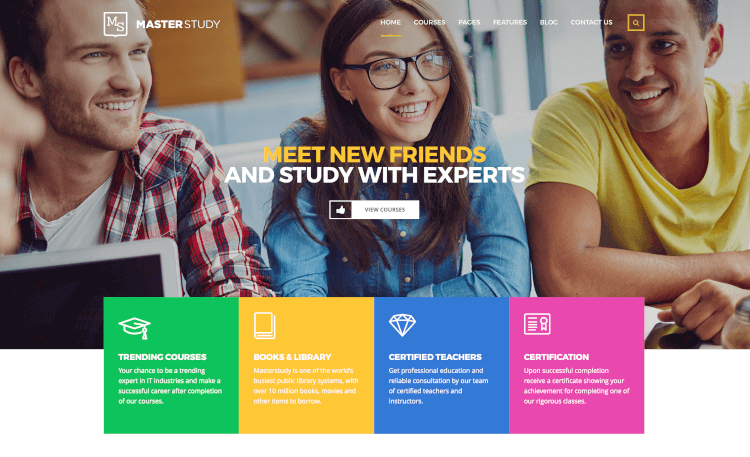 MasterStudy is a great WordPress theme for the education and learning center – for educational organizations, who sell courses and organise classes locally. It was designed as the perfect education WordPress theme for your learning center. Whether you specialize in local workshops or online courses – free or paid – Masterstudy is a great theme for building a vibrant and effective learning hub for your educational organization or business.
Campus - Multi Purpose Theme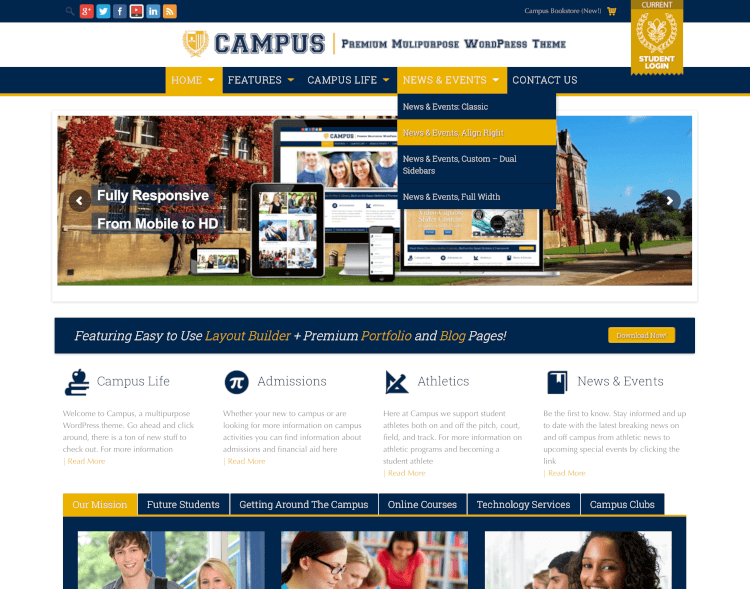 Campus is the best new theme for education and business. It's recently been re-built from the ground up, to use the latest and greatest features of WordPress. It features a great drag and drop layout builder for you to create your own layout from scratch. Perfect for showcasing your university or school to prospective students.
Buntington - Education WordPress Theme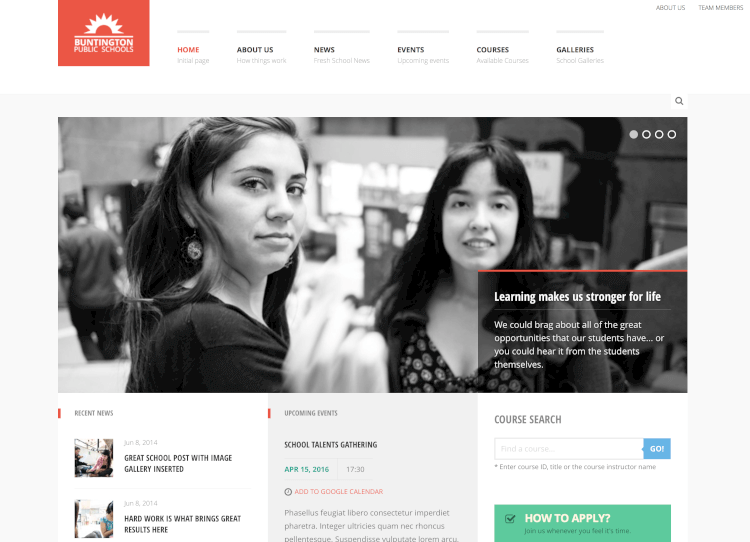 Buntington is the perfect WordPress theme for a school, or university. It's a powerful, plugin-less solution for any type of school, education or a non-profit organisation, so you're not needing to connect lots of disparate plugins together. It has a visual home page builder, events, courses (with powerful search included), a slider builder, galleries, reusable content library, and much more!
Magicreche - Responsive Crèche Theme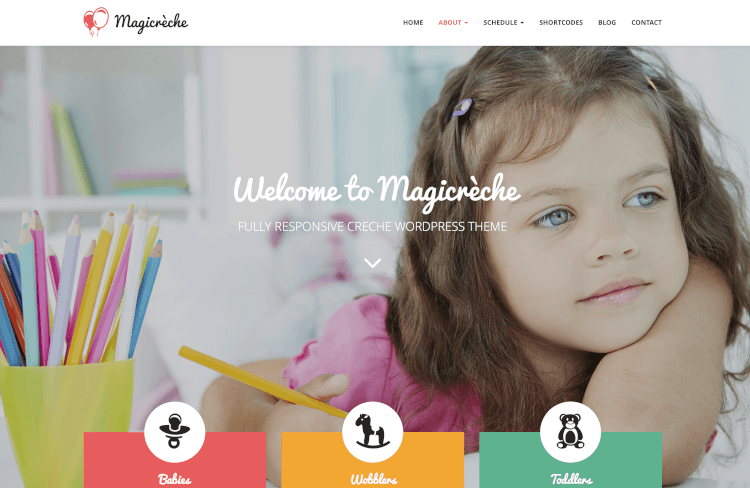 The Magicreche responsive theme is perfectly set up to work on mobile devices (including retina screens), and is packed with various colours, layout styles, shortcodes, and features to create the perfect pre-school or creche website. These include a location map, a timetable and schedule plugin, and the ability to translate the theme into various languages.
Fable - Children and Kindergarten Theme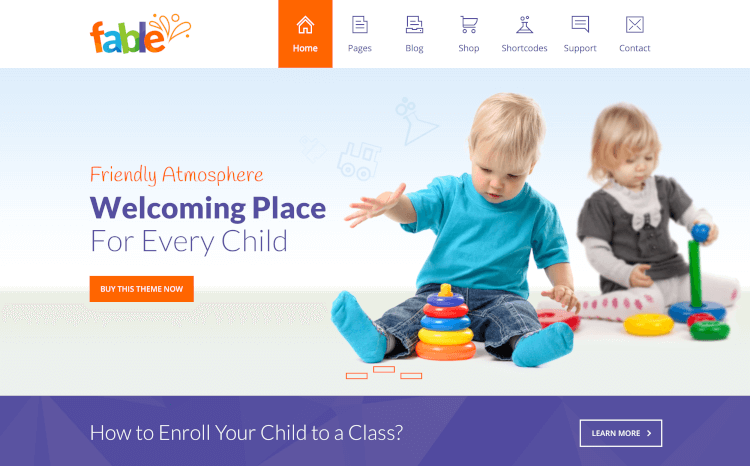 Fable is a responsive WordPress theme, well suited for kindergartens, primary schools and elementary schools, junior high school, colleges, child care centres, creches, preschools or nurseries. It's also great for any children or education related projects like toy stores, babysitting (babysitter) website, summer camp websites, education courses, craft or art school.
Preschool - Multi-purpose School WordPress Theme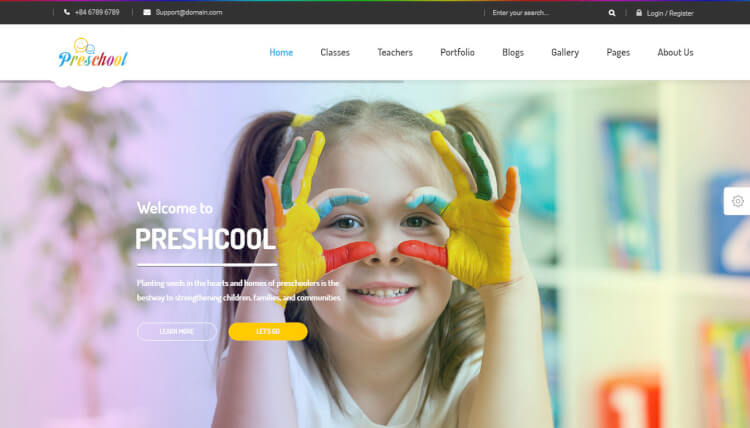 Preschool is the perfect choice for anyone who needs to create a website for schools and educational centers that cater to younger children. The full-screen homepage slider gives you a great opportunity to highlight the best features of your preschool, while the selection of page templates give you an easy way to publish all the essential information, such as teacher profiles, timetables, class information, and your location.
Kinder - Kindergarten and School WordPress Theme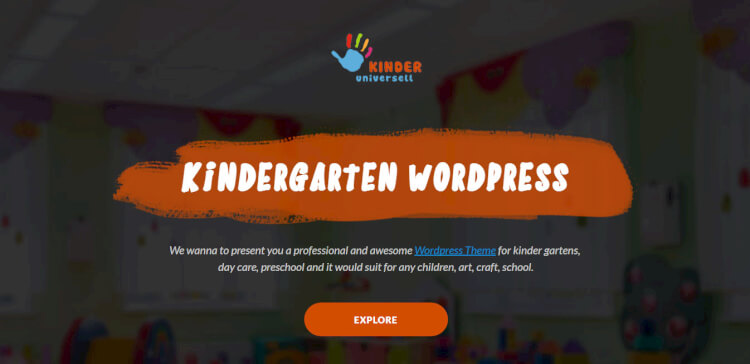 Kinder is another colorful option in this collection of the best school WordPress themes. Although the main demo has been configured to promote a nursery or kindergarten, thanks to Kinder's customization options, you can easily tweak this theme to better suit your needs. As well as the page builder tool and detailed control panel, you'll also have access to the powerful Slider Revolution plugin, giving you an easy way to add animated slideshows to your school website.
School Time - Modern Education WordPress Theme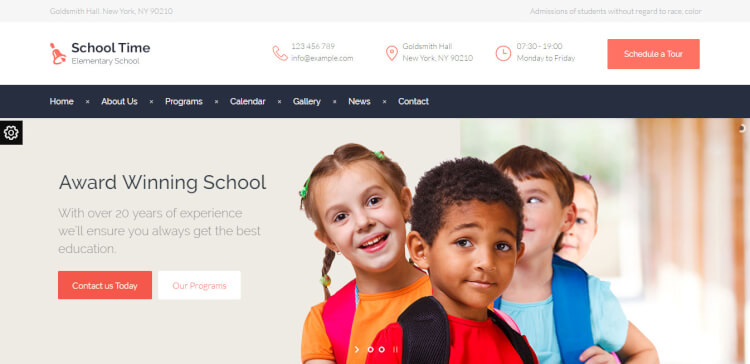 School Time is one of the most versatile school WordPress themes available. With the Visual Composer page builder, LayerSlider 5 slideshow creator, and Smart Grid Gallery plugins included in the package at no extra cost, you get plenty of options for customizing the School Time theme. However, with two school website demos to choose from and countless settings and options, you might not even need to use these tools in order to create a stylish website with this theme.
Educaz - School WordPress Theme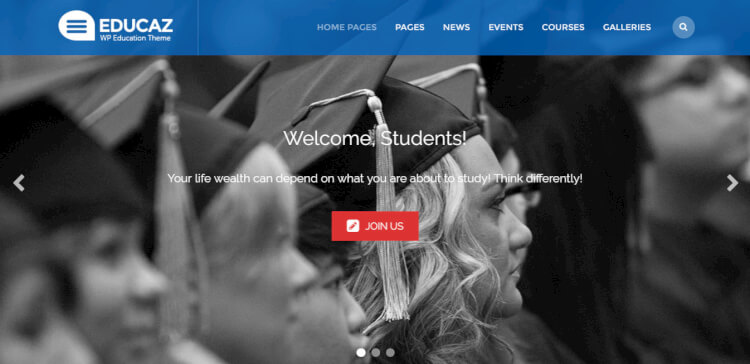 The default configuration of Educaz is perfect for educational institutions that are aimed at more mature students, such as colleges and universities. If you do choose Educaz for your website, you'll have no trouble publishing course information, details of upcoming events, and all the other essential information current and prospective students need. Thanks to its more serious or corporate design, Educaz does a great job of setting the right tone for your place of learning.
Skilled - School and Education WordPress Theme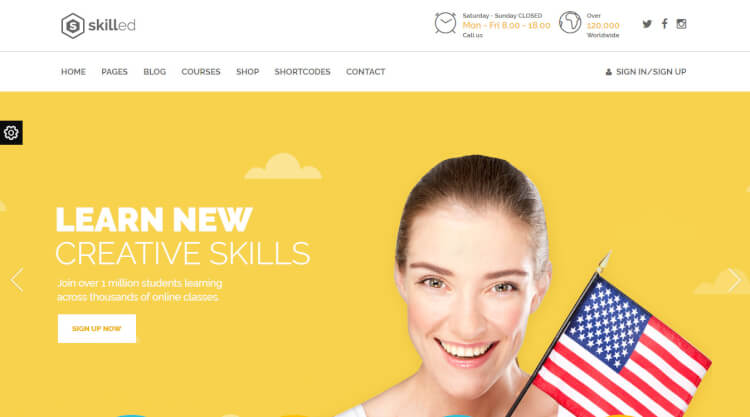 Skilled is a powerful WordPress theme that not only helps you promote your school or place of learning, but also gives you the ability to deliver courses online. As well as the four website demos to choose from, the learning management system features of this theme give you an easy way to create and offer free and paid courses from your website, as well as the ability to interact with your students, award certificates, and collect payments. The vibrant design of Skilled makes it one of the most attractive options in this collection of the best school WordPress themes.