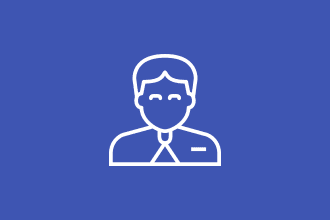 Looking to set up a personal website, online C.V, or resume? We've got you covered, with this collection of amazing personal WordPress themes for creating a professional, personal online presence.
Having a professional presence online for your personal brand is a great thing. Whether you're a freelancer, consultant, academic, or other professional — people are going to Google your name. And when they do, it's a good idea to have a friendly, welcome website that can create a good first impression! These personal WordPress themes are the perfect way to do that. Here are a few different types:
C.V. and Resume WordPress Themes
These themes are perfect for creating an online version of a curriculum vitae (C.V), or resume. Next time someone asks to see your resume, send them a link to your beautiful website that shows your skills, education, training, experience, and references. It can't fail to impress!
vCard WordPress Themes
A vCard theme is one that takes simplicity to a new level. Create a virtual online "address book card", but one that's fully interactive. It can be as simple as your name, contact details, and links to social media profiles. Or it can take the minimal design and pack in features like a mini portfolio, blog, and more.
Taurus - Personal Blogger WordPress Theme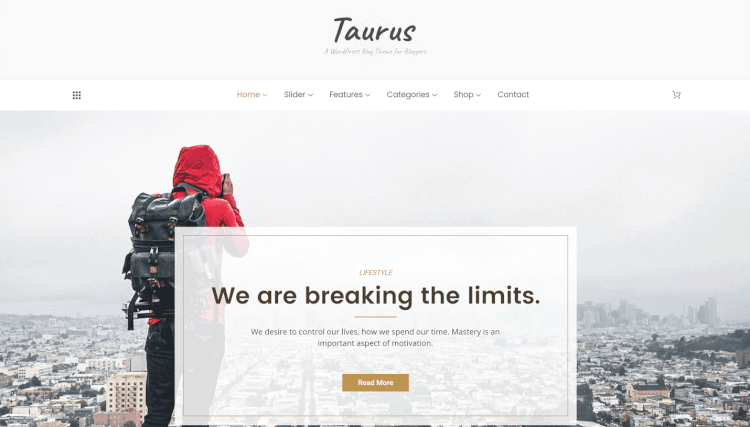 Taurus currently has eight personal blog homepage demos to choose from. There's also a useful selection of templates and layouts for the inner pages of your website. Creative options aren't in short supply either, with a powerful set of theme settings and controls that make it easy to tweak the appearance of your website.
Cooper - Creative Personal Portfolio WordPress Theme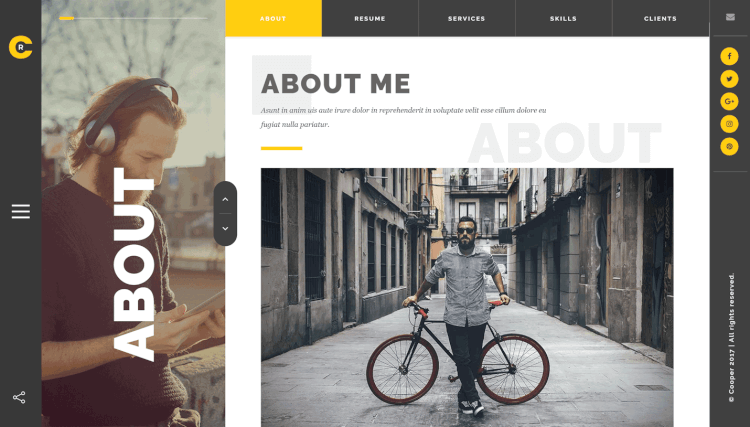 Cooper wants to help you build a creative personal portfolio website with WordPress. No matter what type of work and projects you want to display to your target audience, Cooper should have a pre-built layout or template that's suitable. If not, then the bundled Visual Composer drag-and-drop page builder plugin is sure to come in handy.
Madison - Personal WordPress Blogging WordPress
Madison is a new personal blogging theme for WordPress users. The design and layout of Madison gives you plenty of opportunities to convey your personality to your visitors, from the prominent author profile box on the homepage to the about page template, you can easily describe yourself and mission to your audience.
Larue - Personal WordPress Theme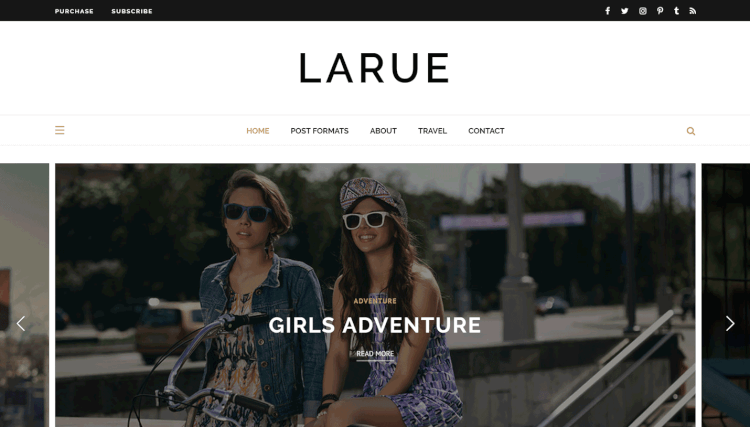 Larue is a personal WordPress theme for bloggers who need a stylish yet modest design for their website. If you choose Larue, you'll get a great selection of homepage templates to choose from, with more being added all the time. If you'd rather give your personal blog a more custom look, there are plenty of options and settings to experiment with.
Olivia - Personal Blog and Shop WordPress Theme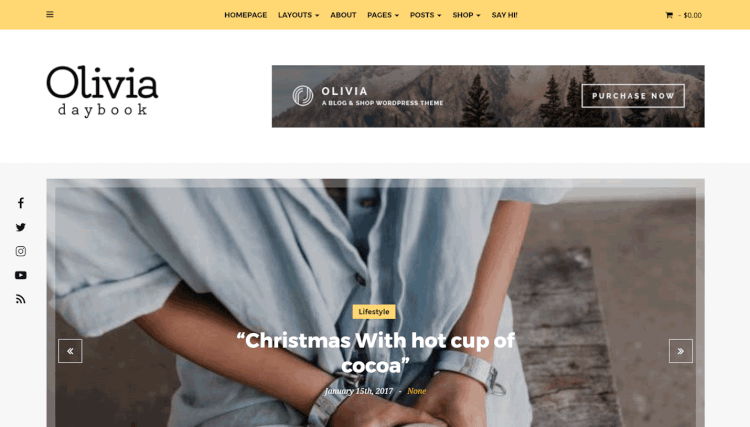 Olivia is ideal for blogs and ecommerce stores. In fact, this is one of those personal WordPress themes that can be used for a wide range of projects. However, thanks to the full WooCommerce support, anyone should be able to create an online store with this theme, or simply add a few products to their blog.
MiResume - Personal CV WordPress Theme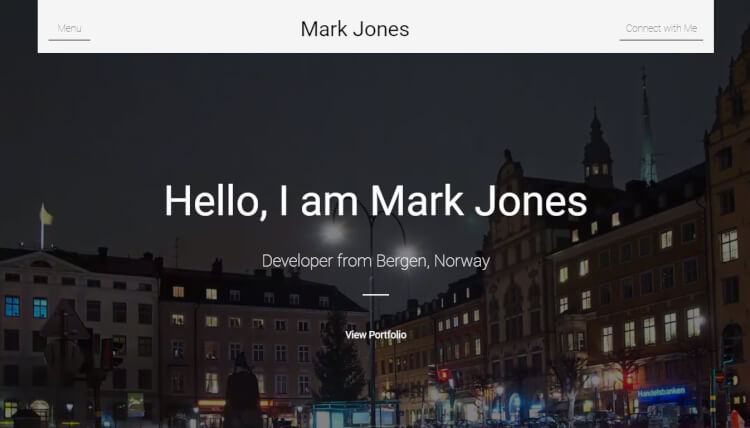 MiResume is a stylish personal WordPress theme with multiple demos. Whether you'd like a video background for your online resume website or something a bit more traditional such as a static photo or an image slider, MiResume gives you those options. In addition, thanks to integration with the Layers page builder plugin this is one of the most flexible personal WordPress themes around.
Signature – Personal Resume WordPress Theme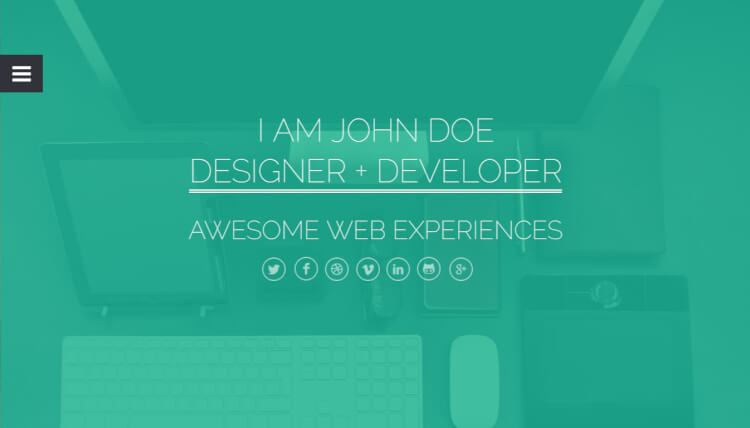 Signature is the perfect personal WordPress theme for creating either a basic online resume or a fully featured digital portfolio. With Signature, you actually get six different demos and layouts to choose from. This includes more traditional layouts to those featuring full-screen homepage sliders. Signature also includes a powerful page builder plugin to help you get as creative as you need to.
Hire Me - Personal vCard WordPress Theme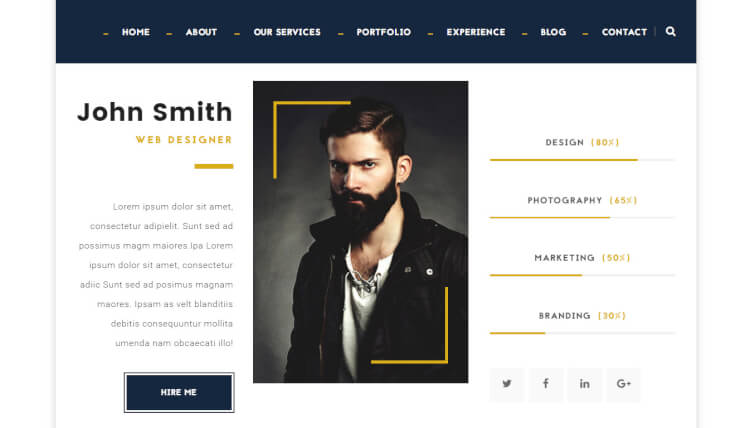 Hire Me is one of the newest personal WordPress themes in this collection. It might also be one of the most flexible vCard themes as well. With multiple page templates, header layouts, and customization options, you'll have no trouble giving this theme and therefore your website, a personal twist.
Gridus - Personal vCard WordPress Theme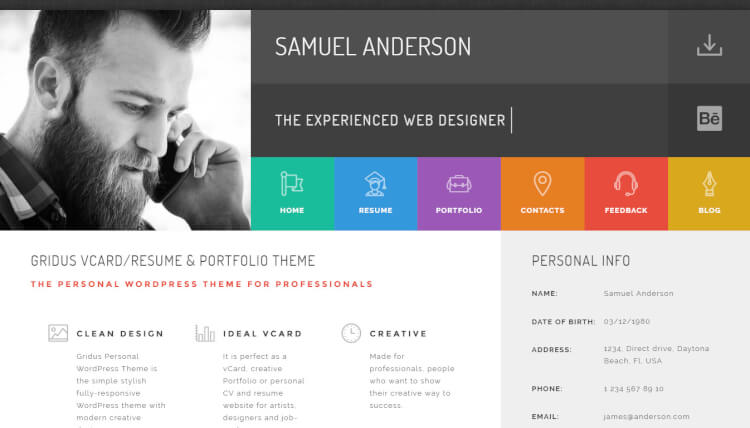 Gridus has been created to help job seekers and freelancers promote themselves online and find more employment opportunities. In addition to this, Gridus is fully responsive to help your website accommodate mobile internet users while also being fully customizable. Consequently, you should have no trouble creating an effective and user-friendly personal website with this theme.
Fair - Creative Multipurpose WordPress Theme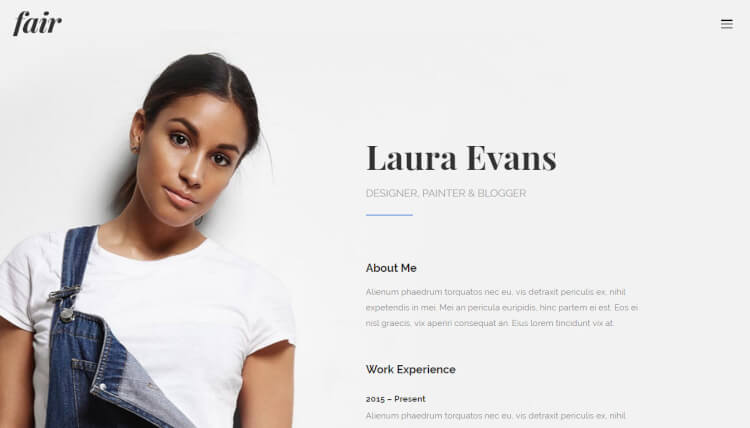 Fair is a multipurpose option in this collection of the best personal WordPress themes. However, while all of the demos that this theme includes are ideal for creatives, the Personal homepage demo is the perfect choice for building an online resume or portfolio with WordPress. Due to the inclusion of the Visual Composer page builder plugin, you can customize any aspects of the Fair theme you're not sure about.
Squareroot - WordPress Resume Theme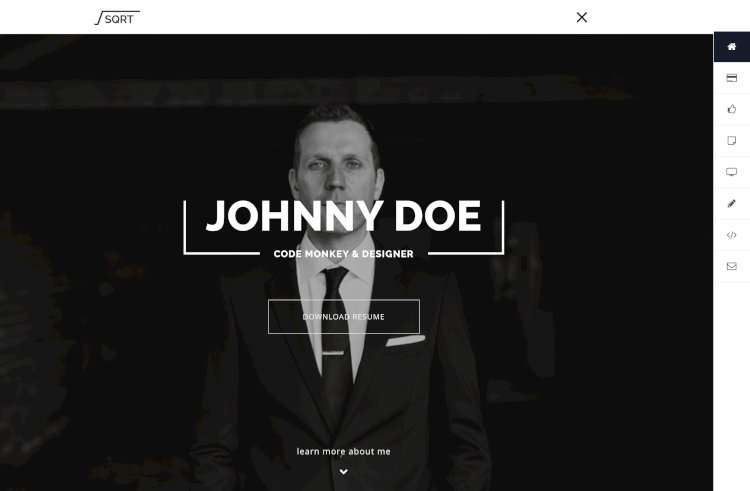 This Squareroot CV Theme has a fully responsive layout, and comes with four home page variations, three navigation styles, and fully customisable backgrounds (colors, images or patterns). It has a fun parallax effect to give your personal website a dynamic touch, and can feature your blog, portfolio, and more.
cvCard - Responsive vCard Theme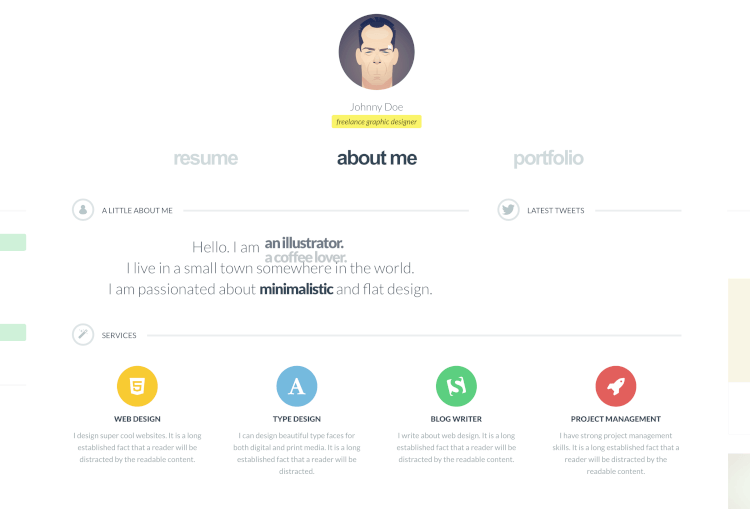 cvCard is a responsive, dynamic vCard theme with a sliding horizontal layout (to make you stand out from the crowd!). It features HTML5, CSS3, and a jQuery powered retina-ready design that works in all browsers. Create a filterable portfolio, a blog, and more, all on a slick platform for your personal website.
Bionick - Personal Portfolio WordPress Theme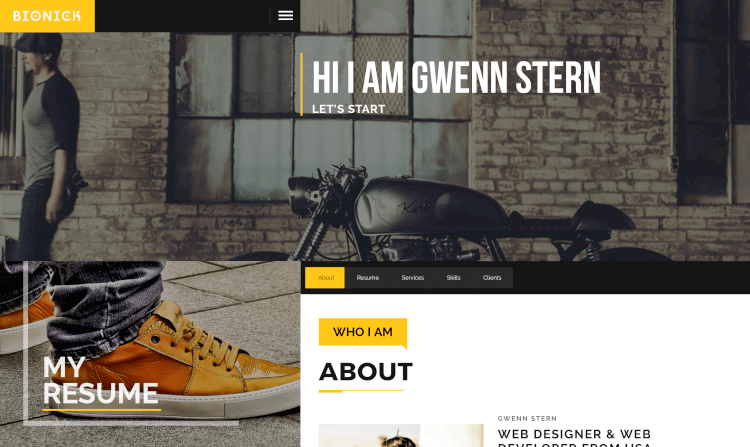 Bionick is a fully responsive, personal WordPress theme with a scrolling page built to showcase your top-notch portfolio. It's made for designers, photographers, illustrators, video producers , architects and others who need an easy, attractive and effective way to share their work with clients (or showcase an online resume when searching for a job!)
One - Responsive, Personal Resume Theme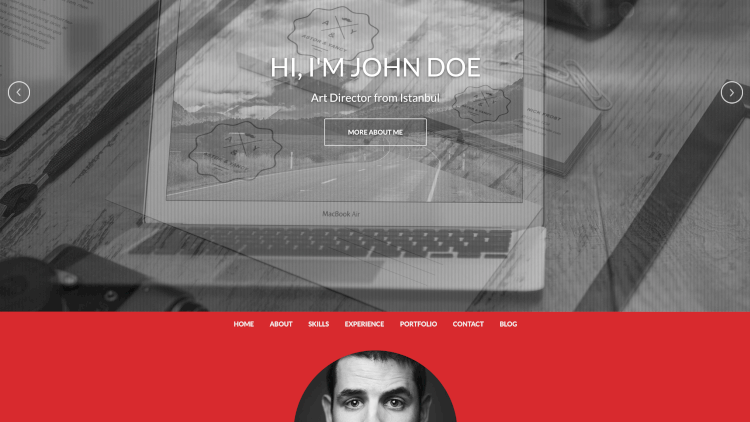 "One" is a flat-styled, responsive resume and personal portfolio theme. It has a big header photograph and call-to-action, pie charts of your different skill areas, a creative portfolio area, and a contact form. You'll be hired in no time...
Flatoo - vCard, Resume & Personal WordPress Theme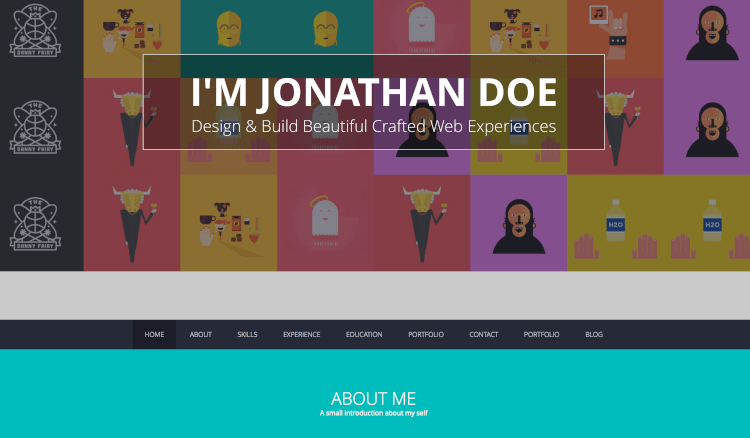 "Flato" is a flat, minimalist, and multi-purpose vCard for showcasing your personal information, whether you are a designer, programmer or manager. It's a one-page resume WordPress theme that lets you share contact details, skills, portfolio examples, and more. Plus, a powerful contact form for people to get in touch with you.
Self - vCard Theme & Resume Builder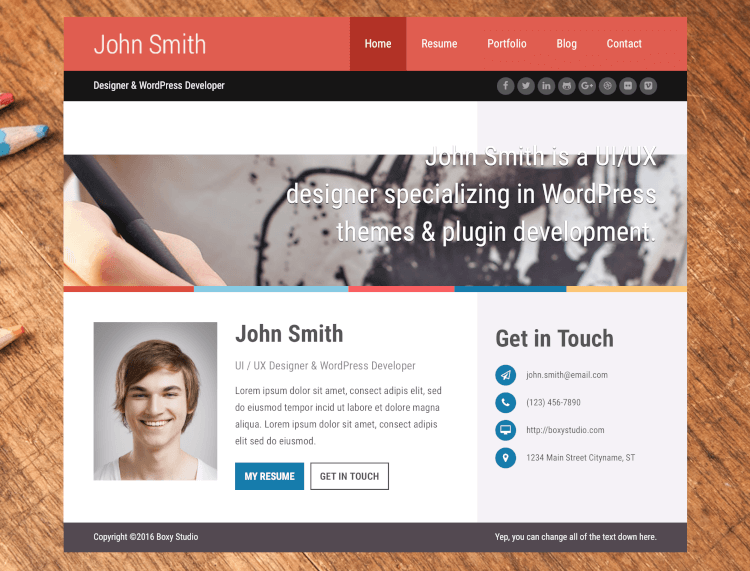 Build your own online resume using the Self theme. Perfect for crafting a professional, personal presence online (and it includes the Envira Gallery for creating beautiful portfolio pages). Fully responsive, and a great way to build a drag-and-drop resume website in no time!
Empathy - vCard WordPress Theme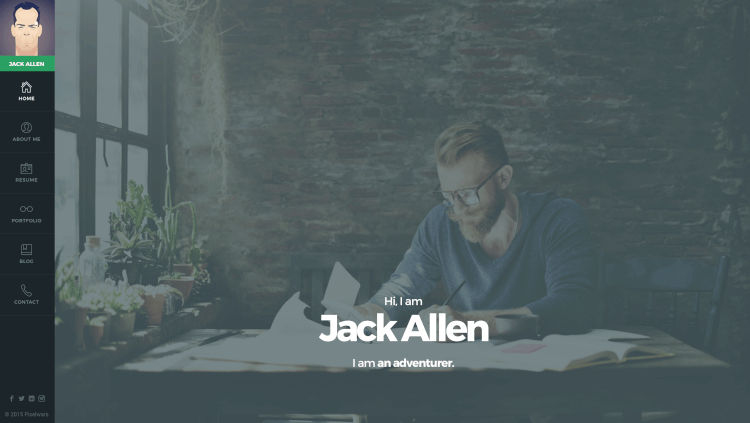 Empathy is a professional way to represent your online identity. It has a unique layout and sleek design, with plenty of customization options that you can tweak to reflect your style. It has a minimal sidebar for navigation, crisp typography, and bold colours. Perfect for a personal blog, portfolio, and identity.
Zwin - Responsive vCard Wordpress Theme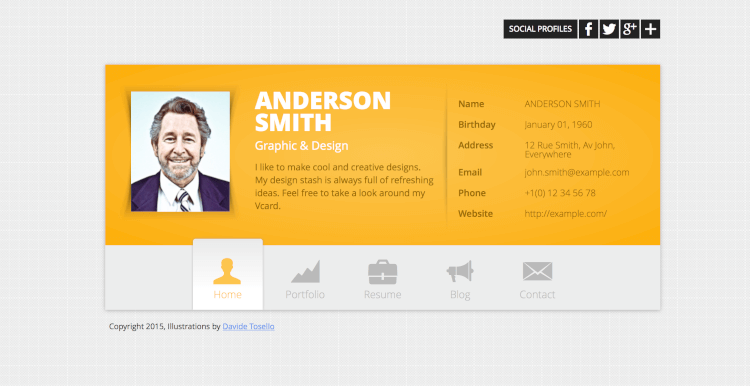 Zwin is an impressive and professional online vCard, a beautiful portfolio with sliding effect, resume and contact information card. In one! It's small, simple, and a literally online representation of your contact details and profile.
Interested in a Portfolio Theme?
If you're interested in a theme that can showcase your portfolio of projects beautifully, we have you covered. Take a look at our collection of the best portfolio WordPress themes to find one that's a great fit!