50+ Best Health WordPress Themes 2022 (Free & Premium)
With over 50 of the best health WordPress themes in this collection, if you need to build a website for a health and wellness related project, you've come to the right place.
In this collection of the best health WordPress themes, you'll find a range of great options. If you're creating a website for a clinic or medical center, then there are a number of suitable themes here. Thanks to the high-quality designs of these themes, you'll be able to make a professional website for your business that will signal to your target audience that you can be trusted with their health. Some of these themes are even suitable for creating websites for hospitals.
If your business is more focused on the wellness end of the health industry, then there are plenty of themes here that can help. With themes that are ideal for yoga, personal training, and physical therapy websites, you'll be able to promote your services and show off your credentials in style.
Many of these health WordPress themes give you multiple website demos and pre-built page layouts to choose from. You'll also find a wealth of customization options and settings to help you personalize your site with ease. Some themes even include the powerful Visual Composer drag and drop page builder plugin for even more flexibility.
This collection of the best health WordPress themes (and our tips for building a health website with WordPress) do a good job of demonstrating that no matter what type of website you want to create, WordPress and its library of templates can help you.
5 Tips for Building Health or Medical Website Using WordPress
If you're in the process of building your first health or medical website, these tips will help you take full advantage of WordPress to build a more effective website.
1. Customize Your Theme
It may seem like obvious advice but with premium themes being so easy to use, many users simply opt-in for using the default pre-made theme designs for their websites without making any customizations to the layout or even changing any colors.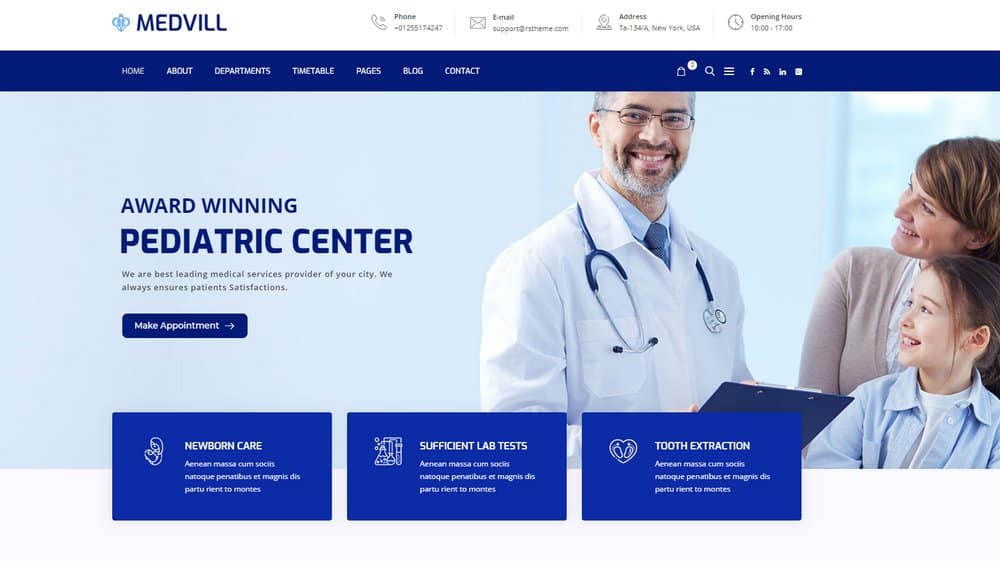 This can affect your business reputation in a bad way. Especially when making a website for a medical center or a health-related business you need to establish your authority and you won't be able to achieve that goal with a website that looks just like someone else's website.
Thankfully, many premium medical WordPress themes come loaded with many different options for customizing the design and layout to your preference. You can use them to add image carousels, change colors, use custom fonts, and much more.
2. Take Advantage of Page Builders
Page builder plugins are another reason to choose WordPress to build your medical website. Once installed, these plugins allow you to customize your theme layout, rearrange content, and even build your own unique page designs using a drag and drop user interface.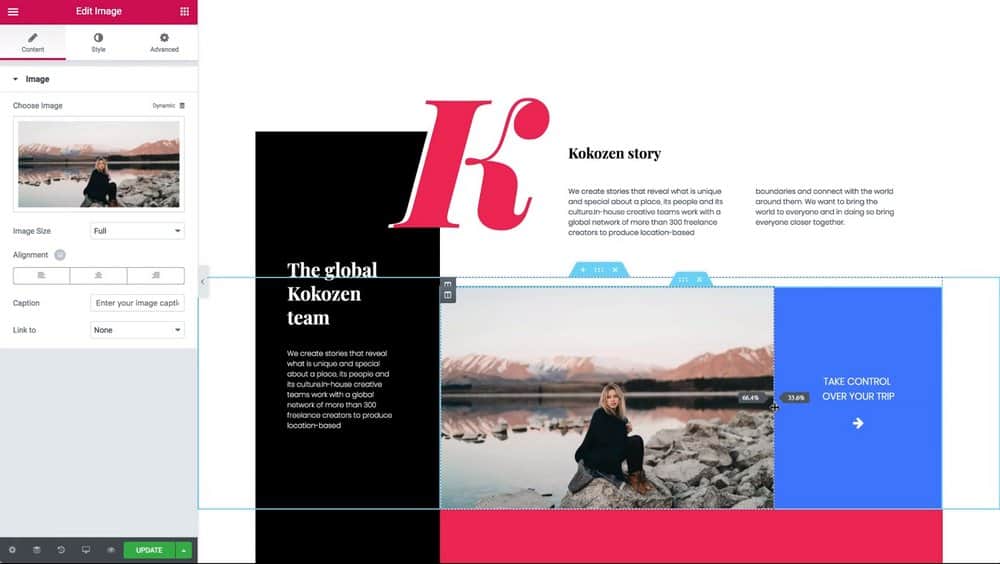 Make sure to pick a theme that supports page builder plugins like Elementor and WPBakery page builder to allow yourself to easily customize the design of your theme however you like.
3. Offer Online Appointment Booking
An appointment booking system is a must-have for a medical website and you can easily setup a booking system using a plugin.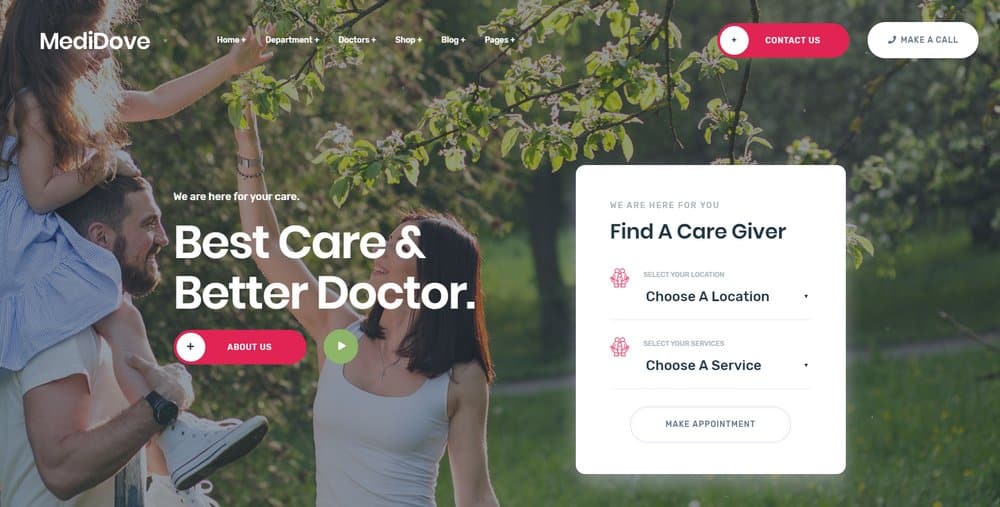 There are many great appointment booking plugins you can use to setup a responsive and user-friendly system to provide an easier appointment making system to your customers. You can find one from this list. Or get a theme that comes bundled with an appointment booking system.
4. Add a Timetable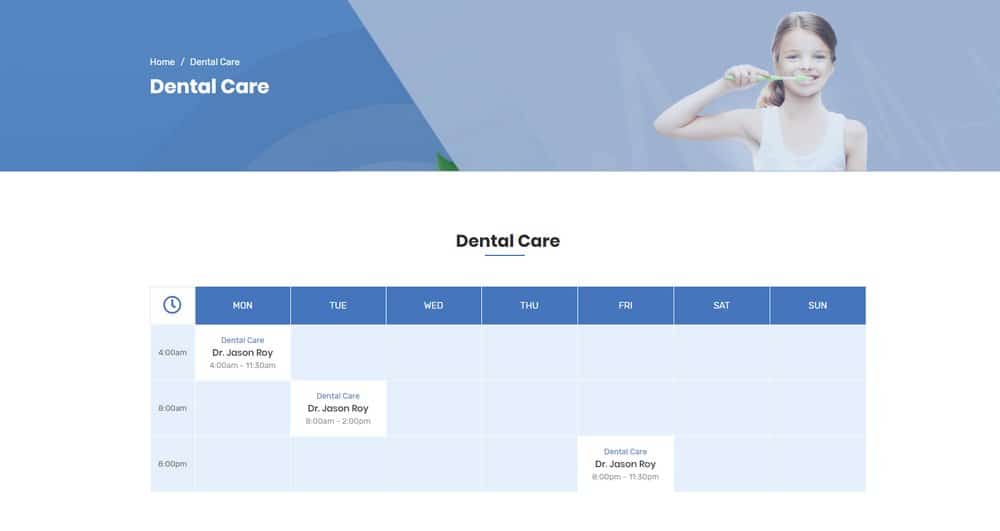 A timetable is another important feature you should add to your medical website, especially if you offer medical services on a daily basis. This will allow your patients and customers to learn about the specific times and commencements with just a few clicks to avoid any confusion.
5. Showcase Departments and Services
You should also use your medical website to showcase your facilities and detail your services to provide a simpler way for customers to learn about your departments.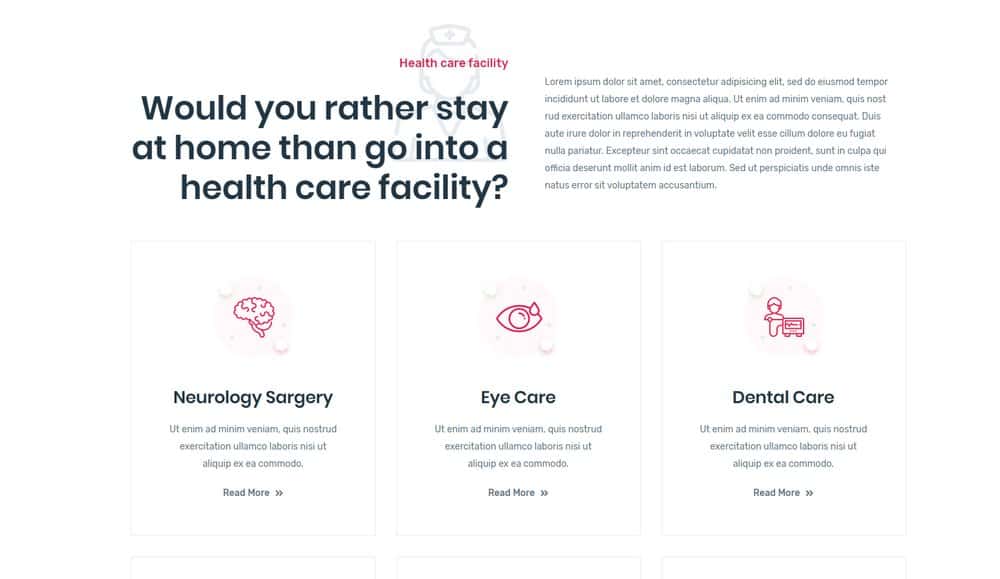 Most medical WordPress themes include unique layouts just for creating such pages. But, if your theme doesn't have one you can easily build it yourself using a page builder.