33+ Best Gothic Fonts 2023 (New Free & Pro Gothic Styles)
Sometimes to add that extra spice to our projects, we need to look back for inspiration. The gothic era is an iconic style that was forged into the fabric of our history and has one of the most recognizable aesthetics out there today.
One key place we can emulate that gothic style is through gothic fonts. Everything from gothic calligraphy fonts, letter gothic fonts, alternate gothic fonts, and even new gothic fonts pushing into a modern aesthetic, there is an option for every project.
We have collected a selection of the best gothic fonts, both premium, and free options, for you to browse and pick the aesthetic that will match your creative project, and bring a little medieval charm in the process.
Get every varied font and typeface you could ever need with one simple subscription. From just $16, get unlimited access to thousands of fonts, typefaces, graphics, templates, photos and illustrations.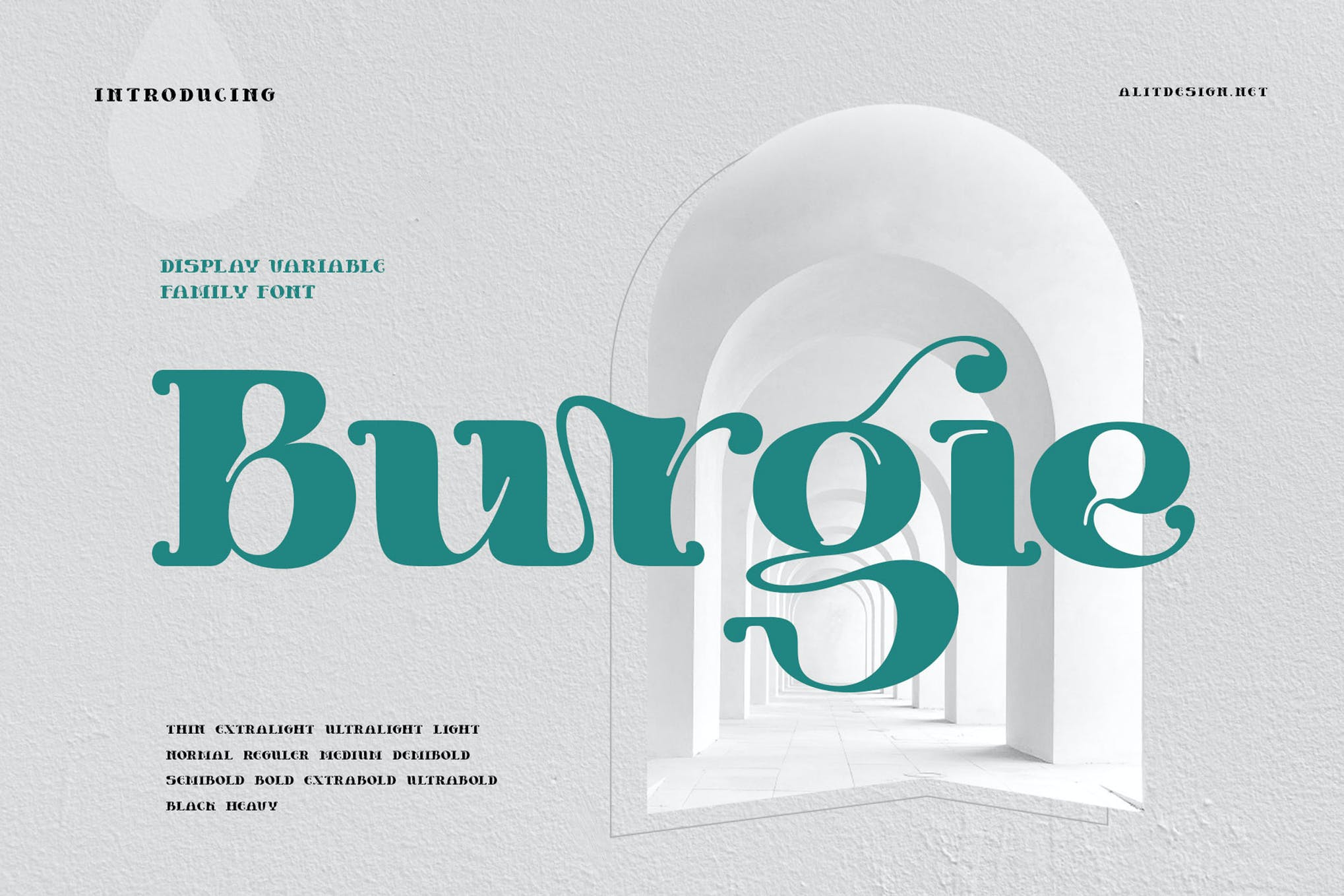 Burgie is a modern gothic font that exudes elegance, and luxury. Perfectly suited to projects with a classic vintage theme, Burgie is an excellent contender for your cash guaranteed to pay for itself many times over. Use it with confidence!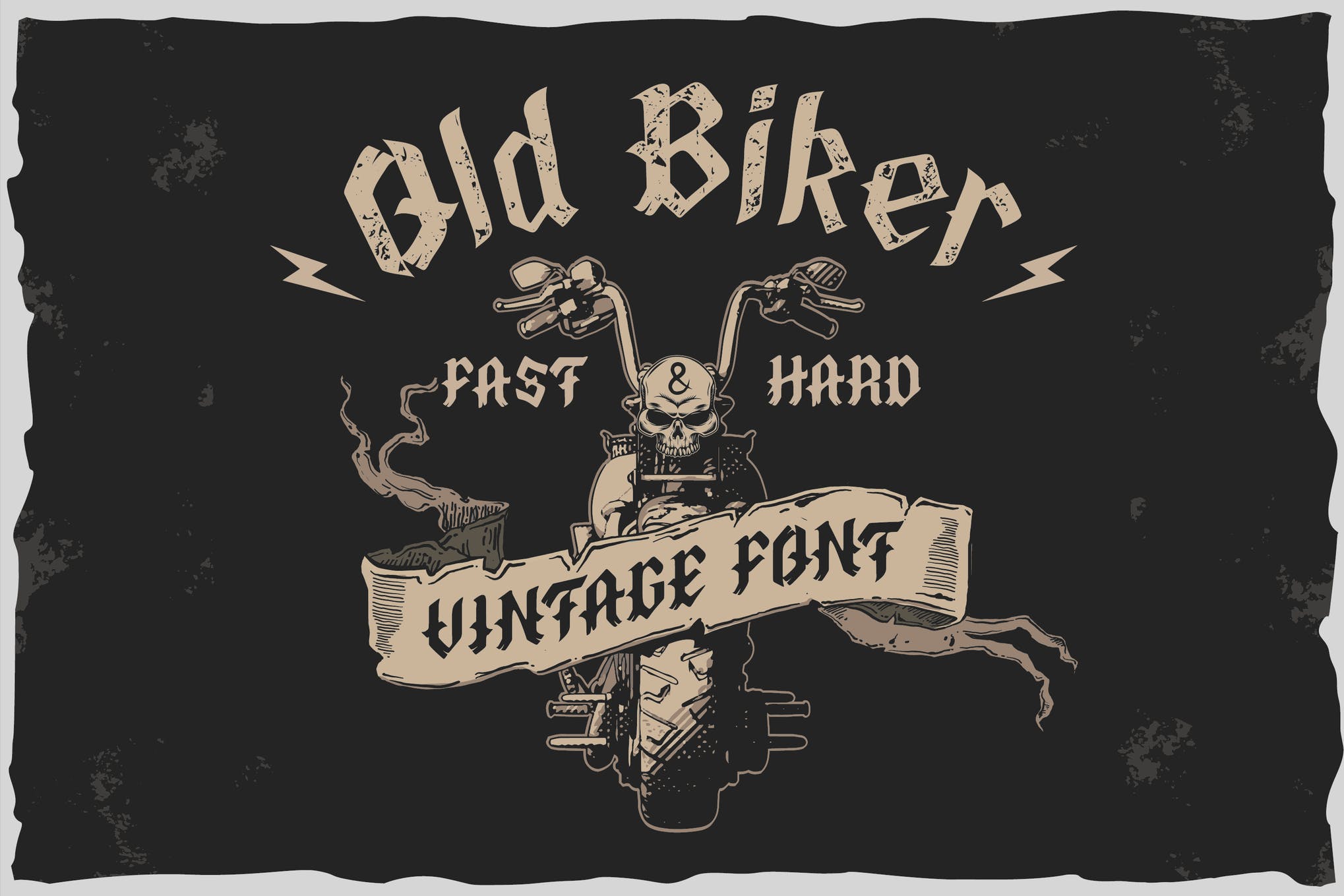 Modeled after the biker, and rock culture, Old Biker is a decidedly offbeat, and quirky gothic font that can be used for a range of design projects. As one of the best gothic fonts out there, Old Biker provides you with five font styles to choose from.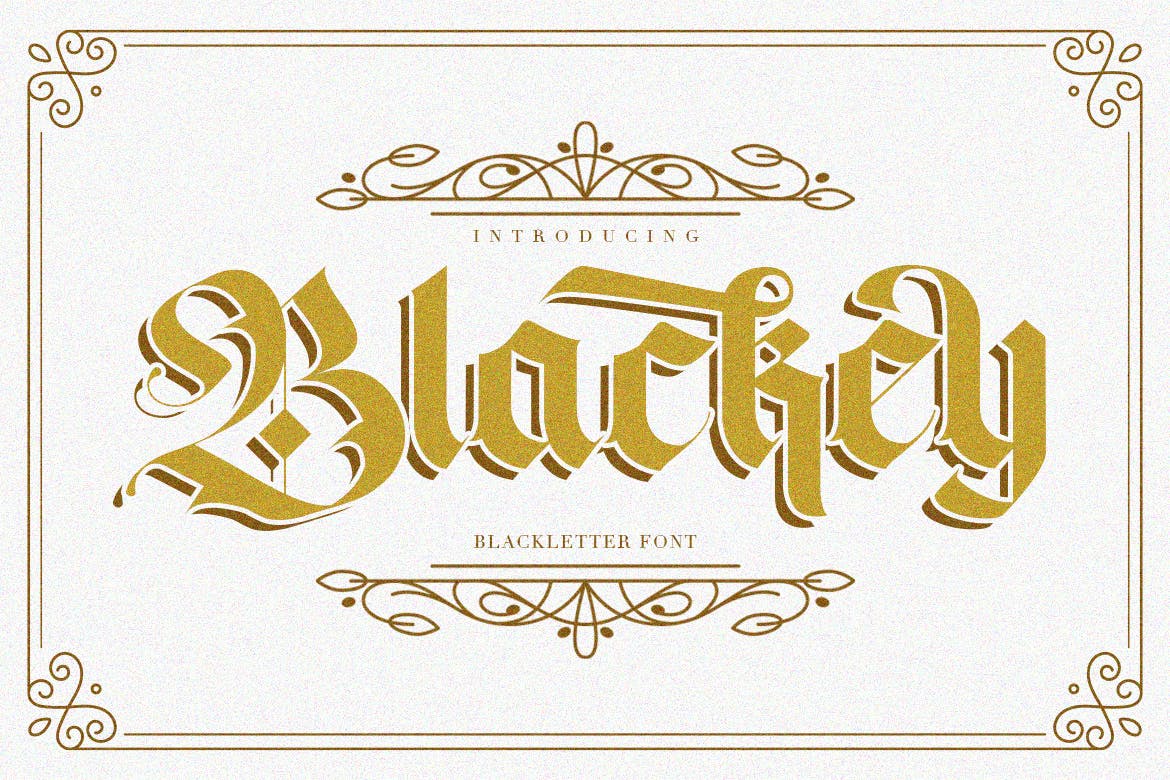 Blackey is a victorian style gothic font that will take you straight to the early 18th century without a time machine. This modern hand-lettering typeface will feel right at home on a variety of branding, and packaging projects.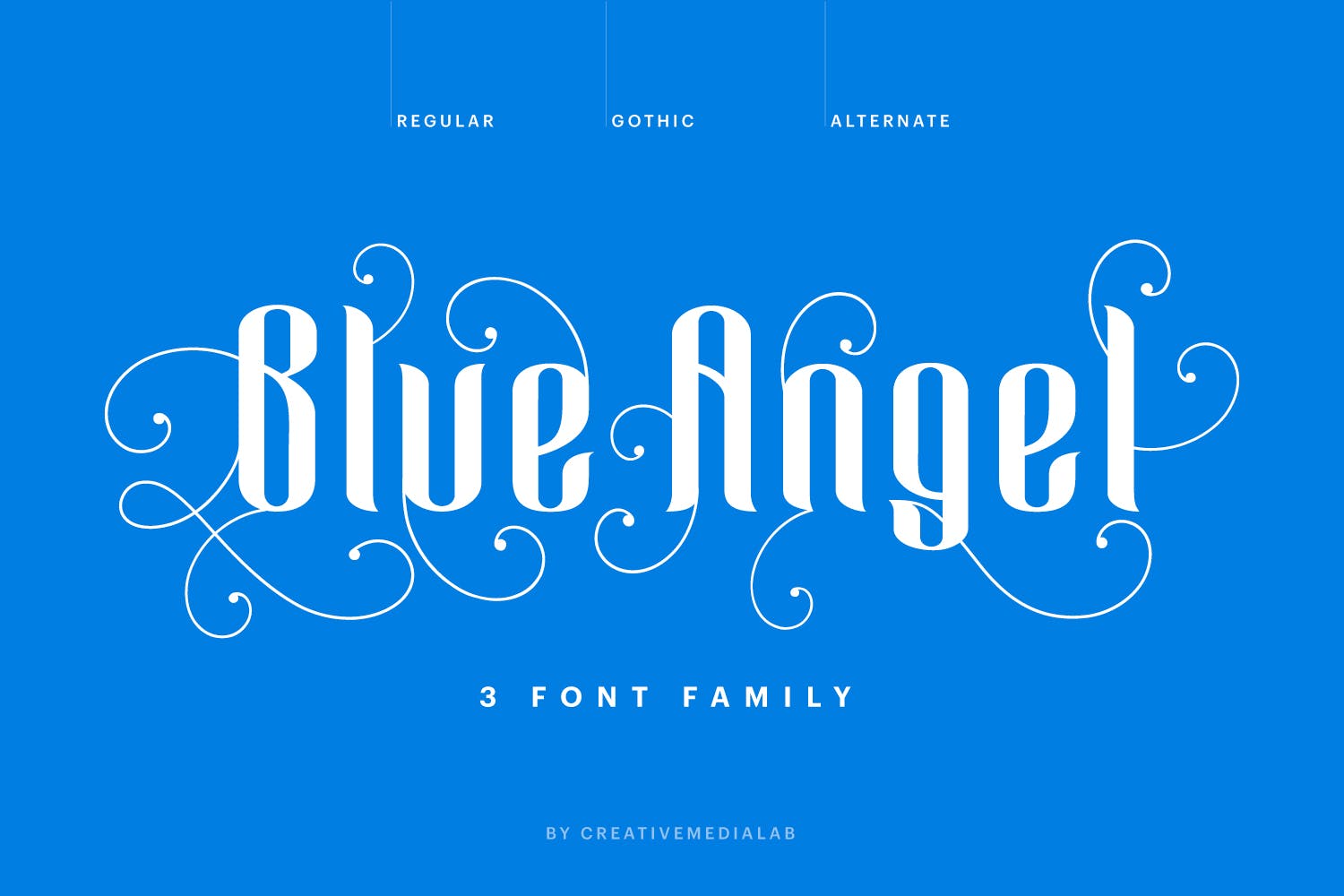 If you're a minimalist looking for a classy, and sophisticated typeface for your next project, give Blue Angel a try. It features a delicate floral-esque design with three styles, and a set of ornaments, ensuring you make the most out of your purchase.
Midwinter Fire is a versatile gothic font that can be used for the book covers of ancient mythological, campsite horror stories, and fairy tales, rock albums, and movie titles. It's one of those new gothic fonts that will scare the shit out of your readers.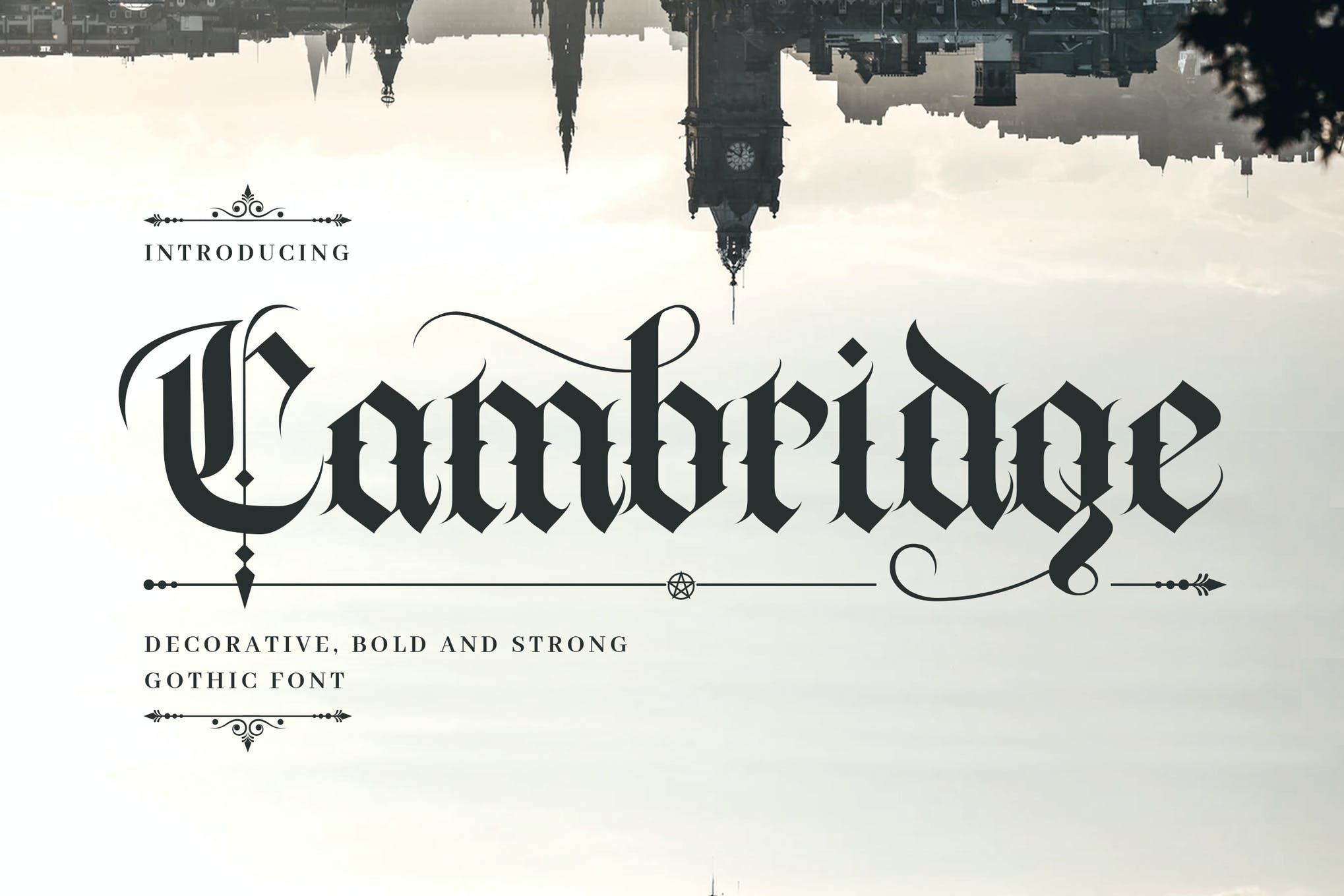 Cambridge is a beautifully crafted handwritten gothic font, styled in that classic medieval vibe. A captivating showcase of gothic aesthetic, Cambridge is a font tailored for book covers, logos, print publications, games, event posters, and music cover display font needs.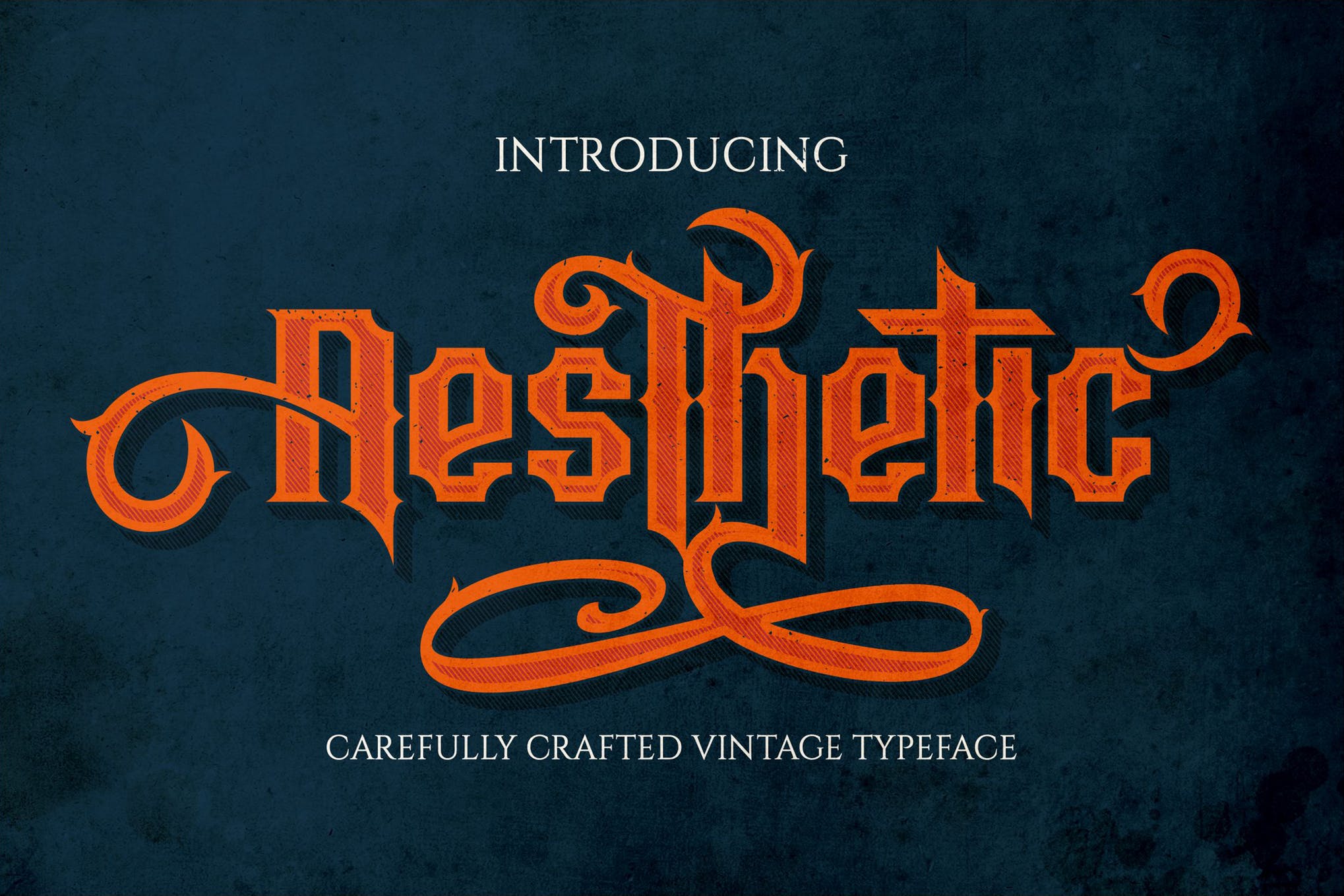 True to its name, Aesthetic is a rigid gothic font with a dash of vintage style. Able to separate the elaborate line work that defines the gothic style, and keep the core readability of its characters intact. A carefully crafted masterpiece of a modern gothic font, and well suited to a wide range of branding needs.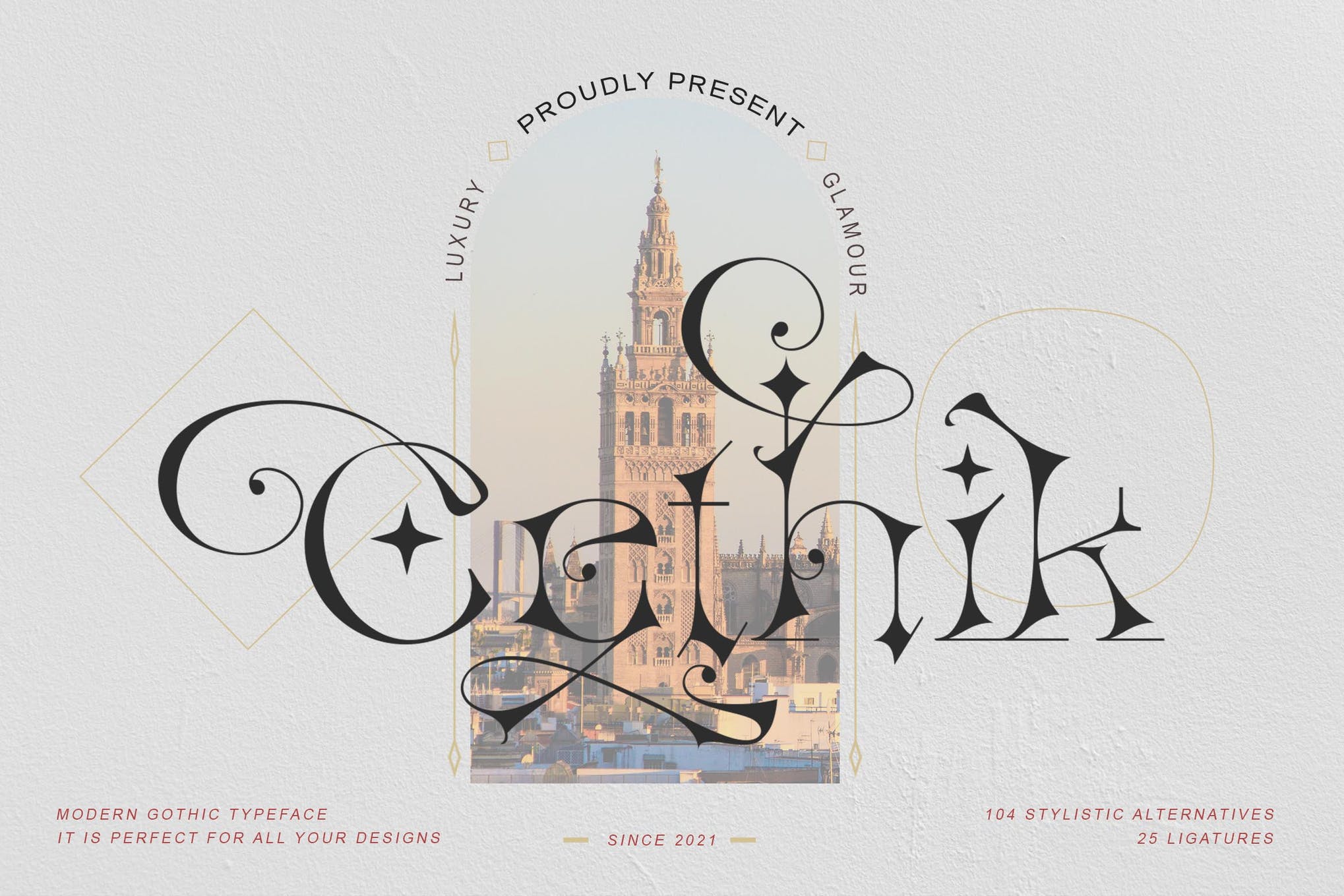 Next in our list of the best gothic style fonts is Cethic, a typeface coming with a range of beautiful ornaments making your design stand out, and get the attention it deserves. A perfect choice for tattoos, boutique logos, book covers, and any project that needs a bold and gothic touch.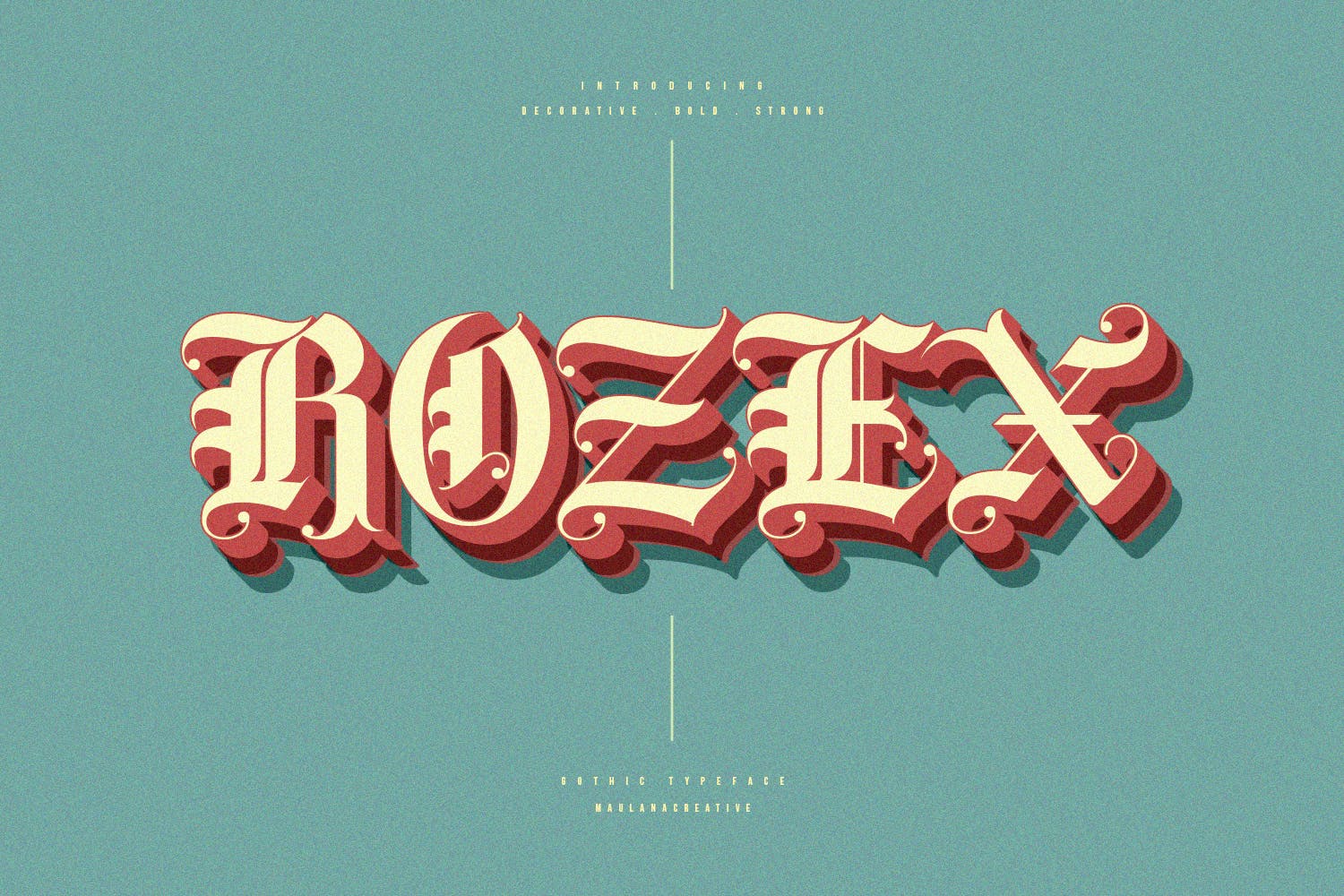 Rozex is one of those new gothic fonts that works to set itself apart from other gothic style fonts with a close attention to detail with every character. With a medieval inline aesthetic, overlapped with a captivating border style, this font will stand out against any other gothic display font there is.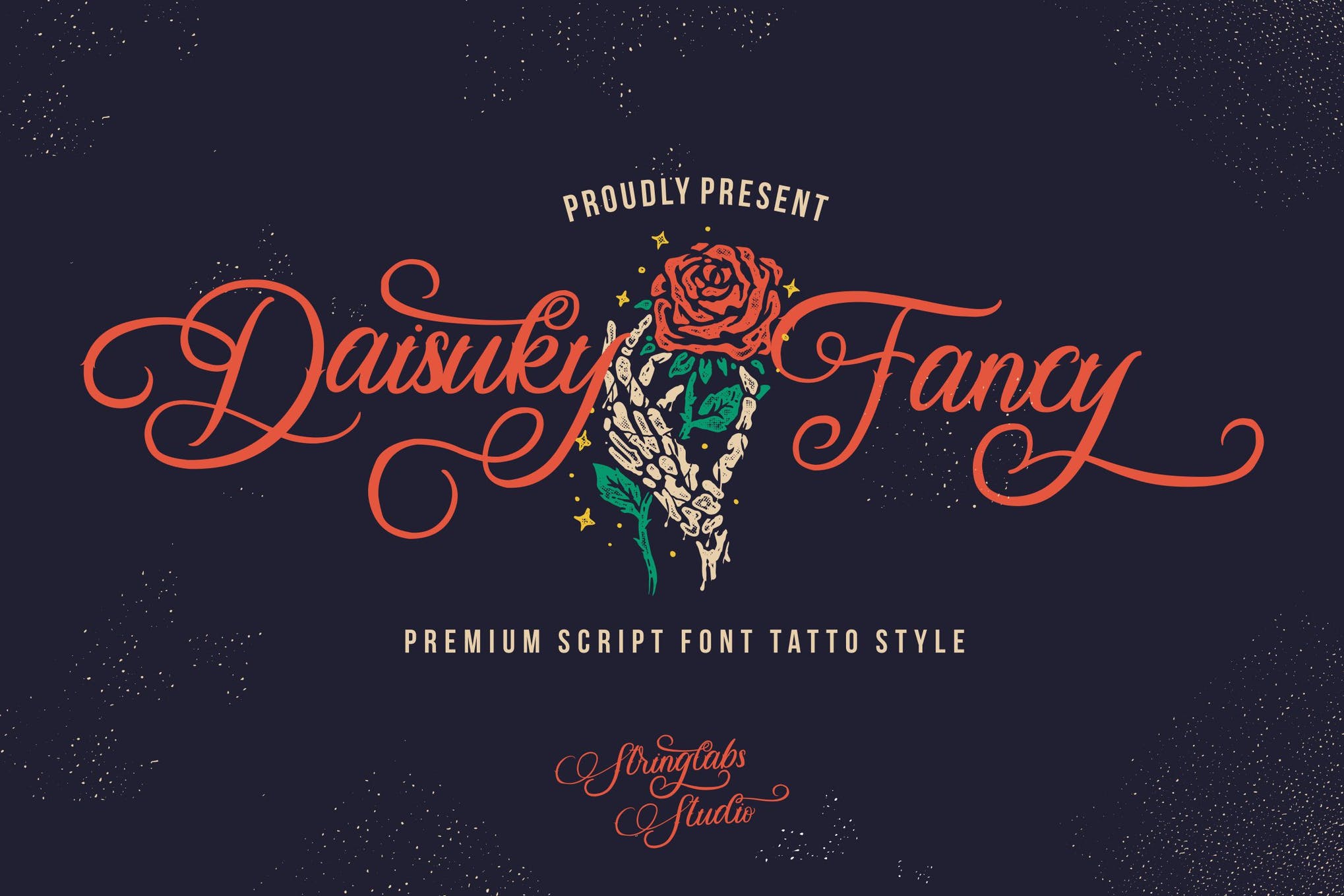 A great addition to your design projects, Daisuky Fancy is a tattoo-styled vintage font that is sure to make an impression on your audience. It's one of the best gothic calligraphy fonts out there and is supported on Adobe Photoshop, Adobe Illustrator, Adobe InDesign, and Microsoft Word.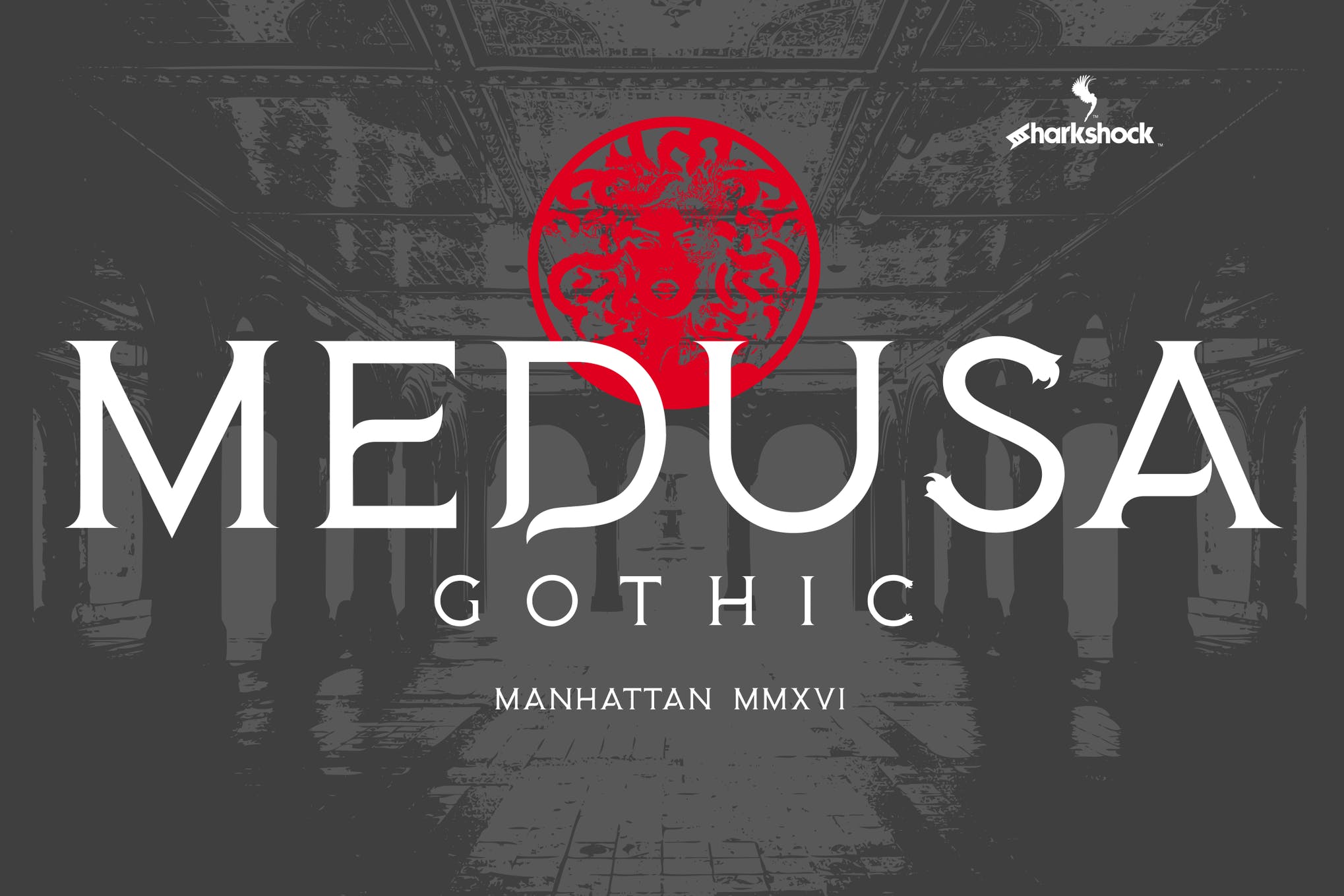 Medusa is an intuitive take on many of the letter gothic fonts out there. With a minimalist approach, usually not seen in gothic-styled fonts, Medusa manages to bring that iconic gothic vibe with a set of subtle design choices, making it a perfect option not just as a display font, but also as a captivating text font as well.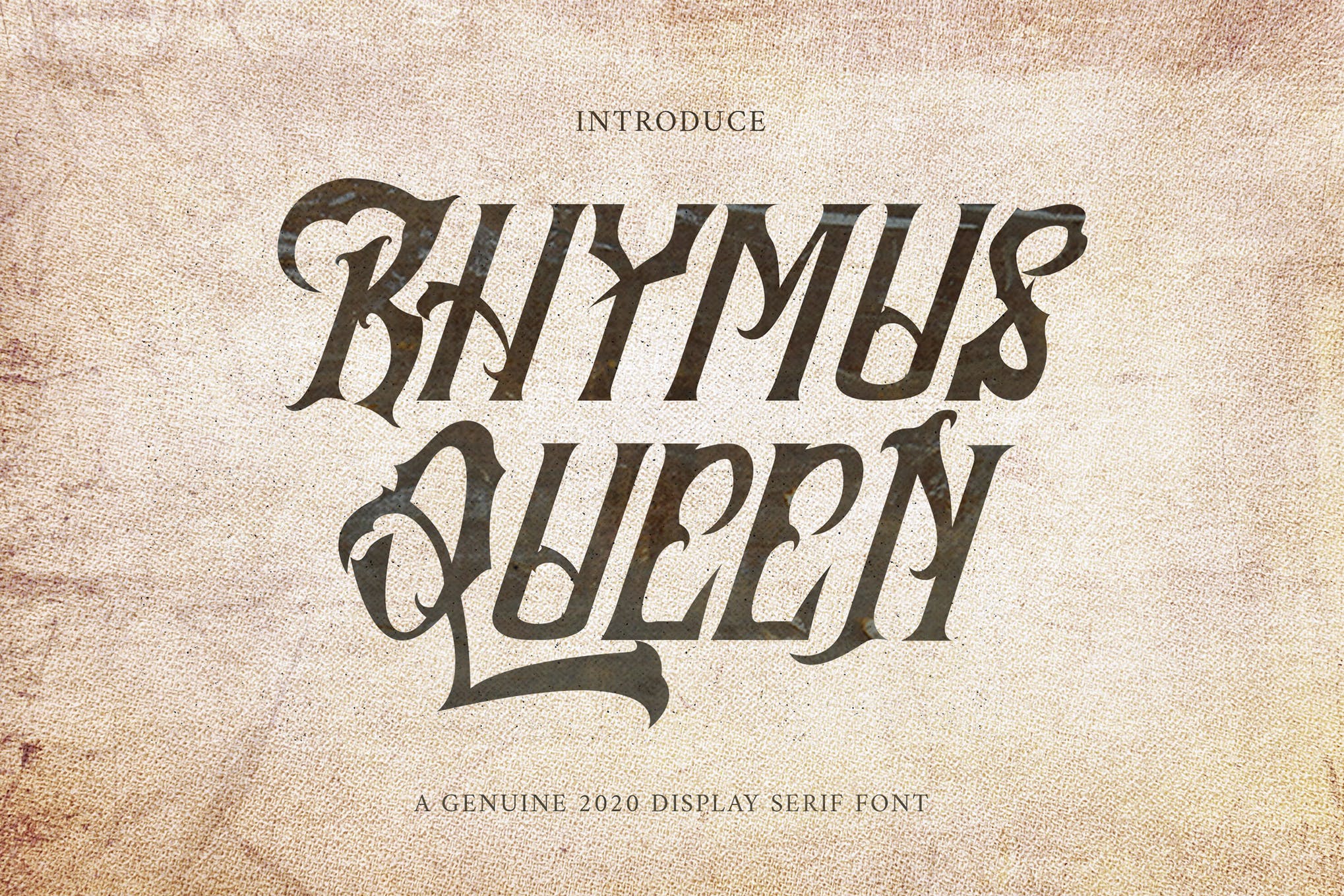 The tattoo-inspired gothic font Rhymus Queen is a revolution in the gothic format. Keeping the elaborate gothic linework designs, and combining it with the tattoo text style, to make it into a powerfully eye-catching display font. Well suited to packaging, branding, advertising, logos, and much more!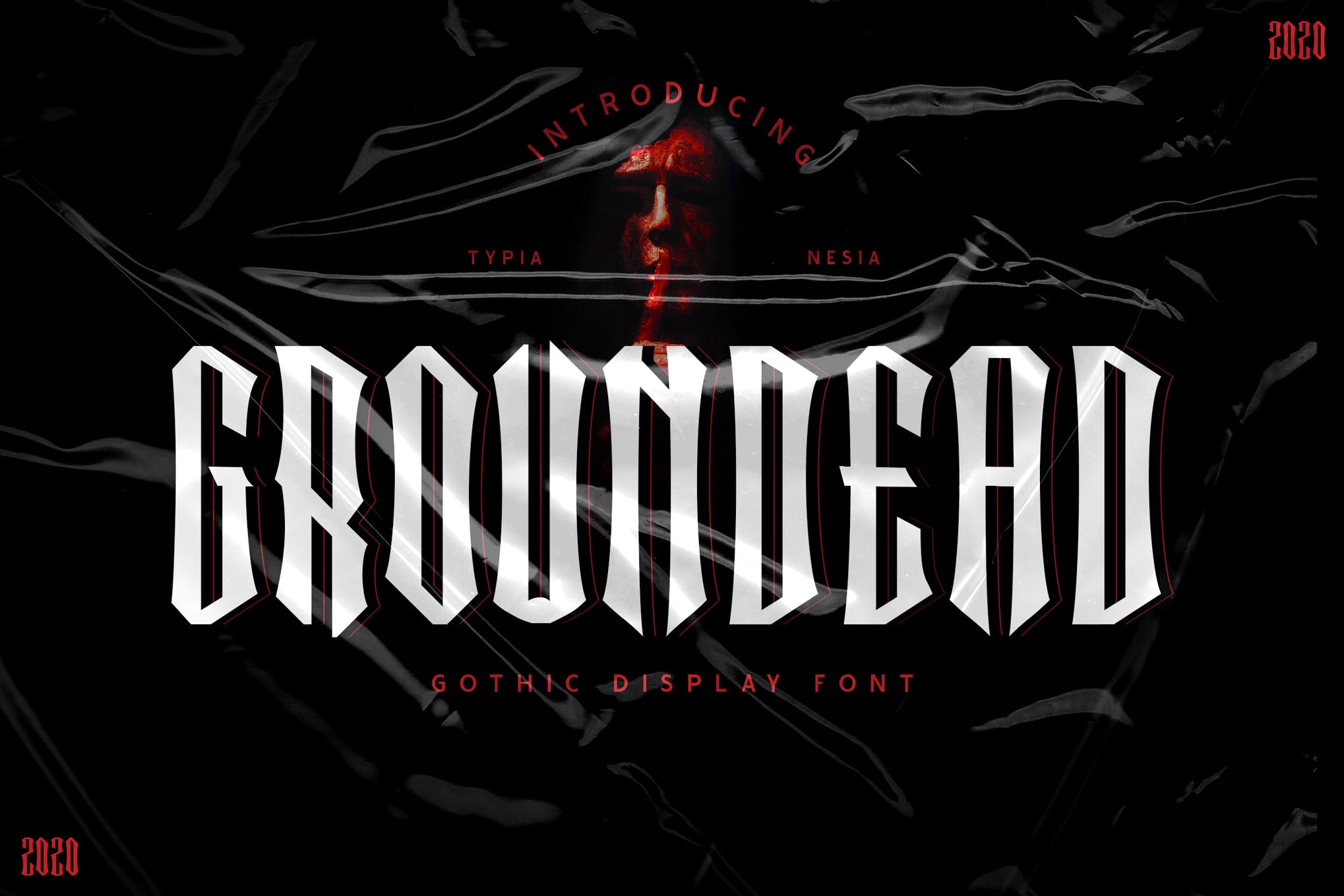 Groundead is a gothic display font that is designed with the iconic wide arc line work design. Reminiscent of the heavy metal gothic aesthetic, Groundead is designed as a captivating display font that is well suited for branding, advertising, logo, magazine, and illustration tasks.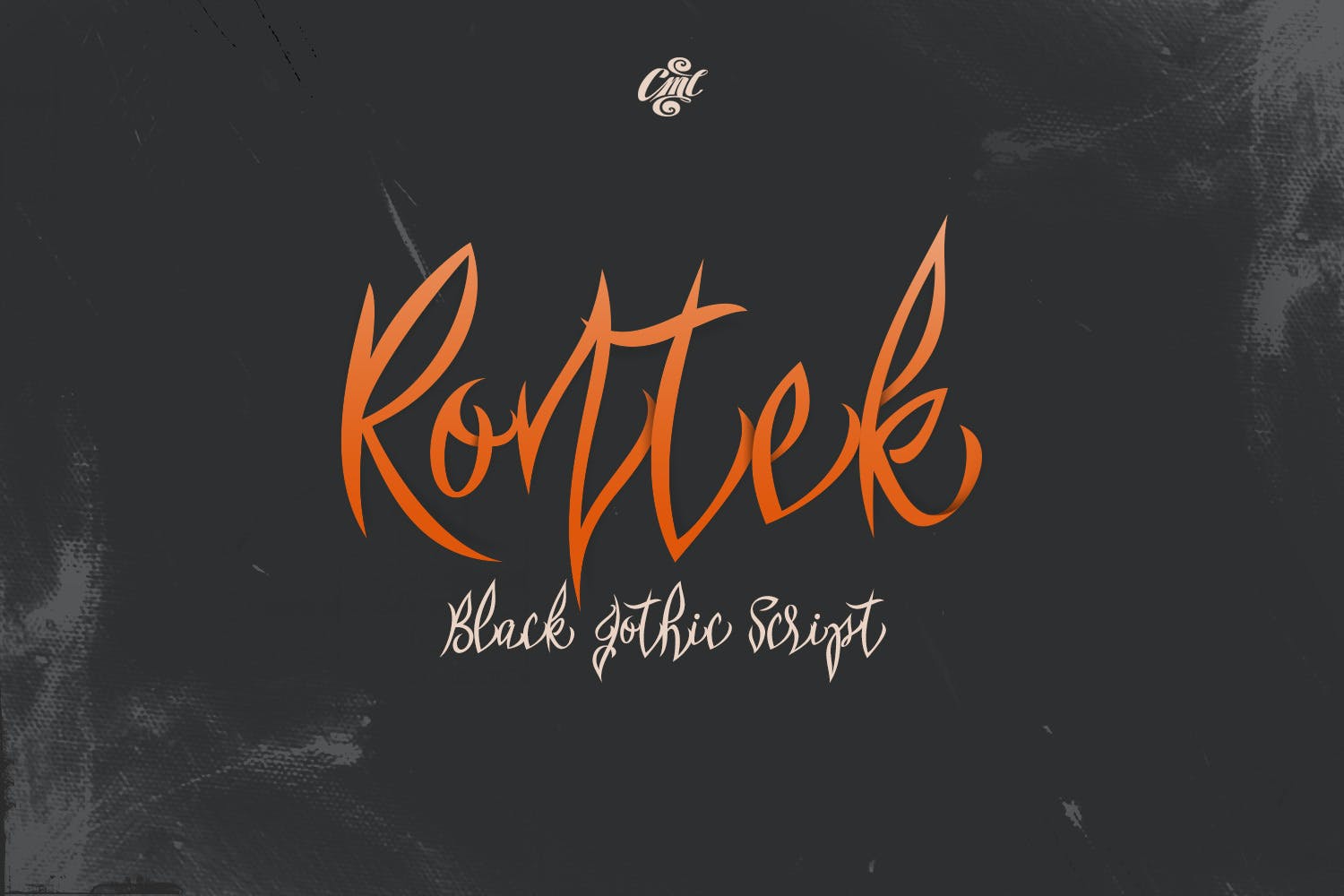 Wanting alternate gothic fonts that help your designs get standing ovations from clients? Take a leap of faith in Rontek, a script font exclusively designed for dark-themed projects. It's one of the best blackletter gothic designs on our list. Do check it out!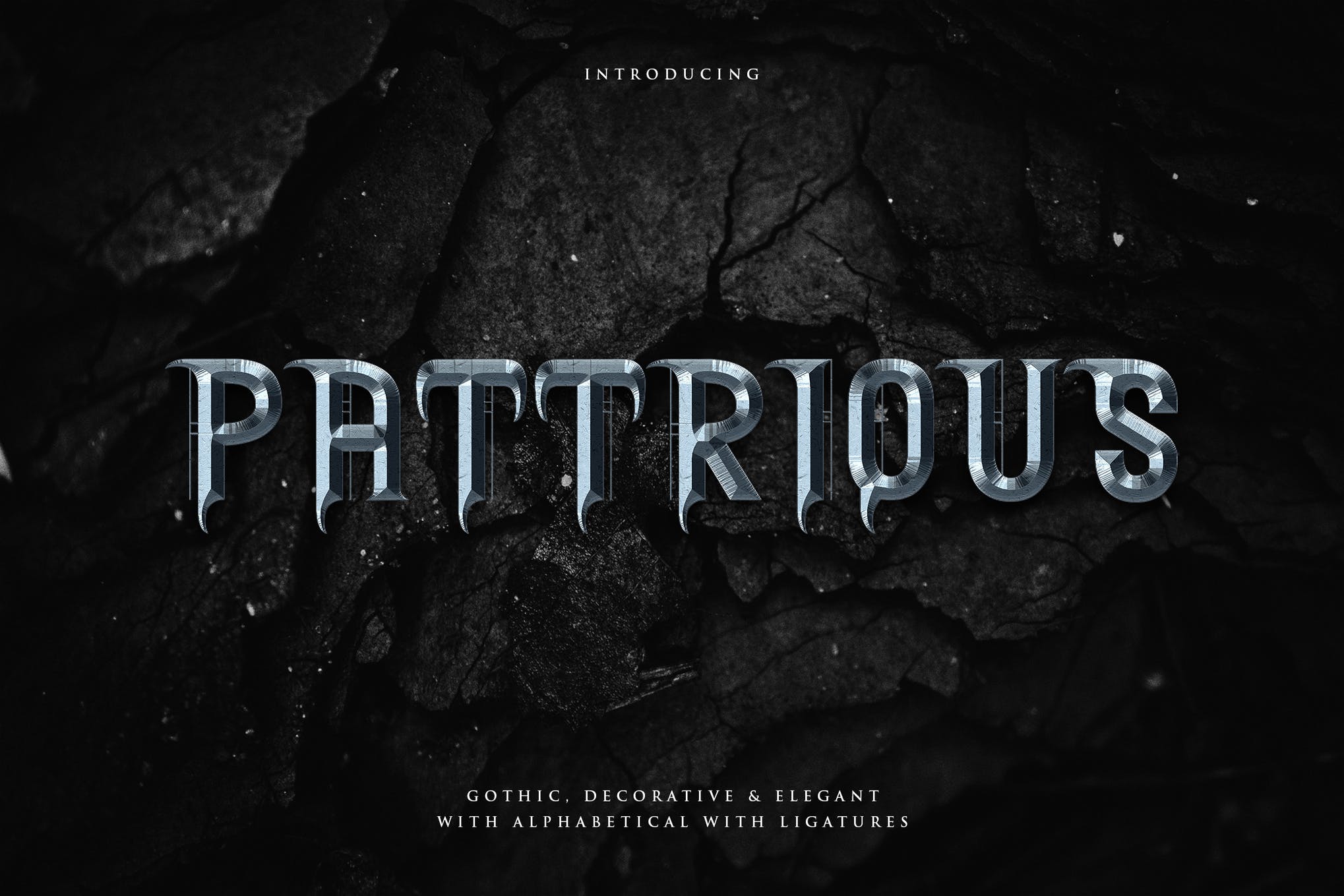 Pattrious is a battle cry of a font, captivating us with the heavy bold linework designs, and topping it off that pointed character aesthetic. The font excels as a display font and manages to stand out best in darkened designs.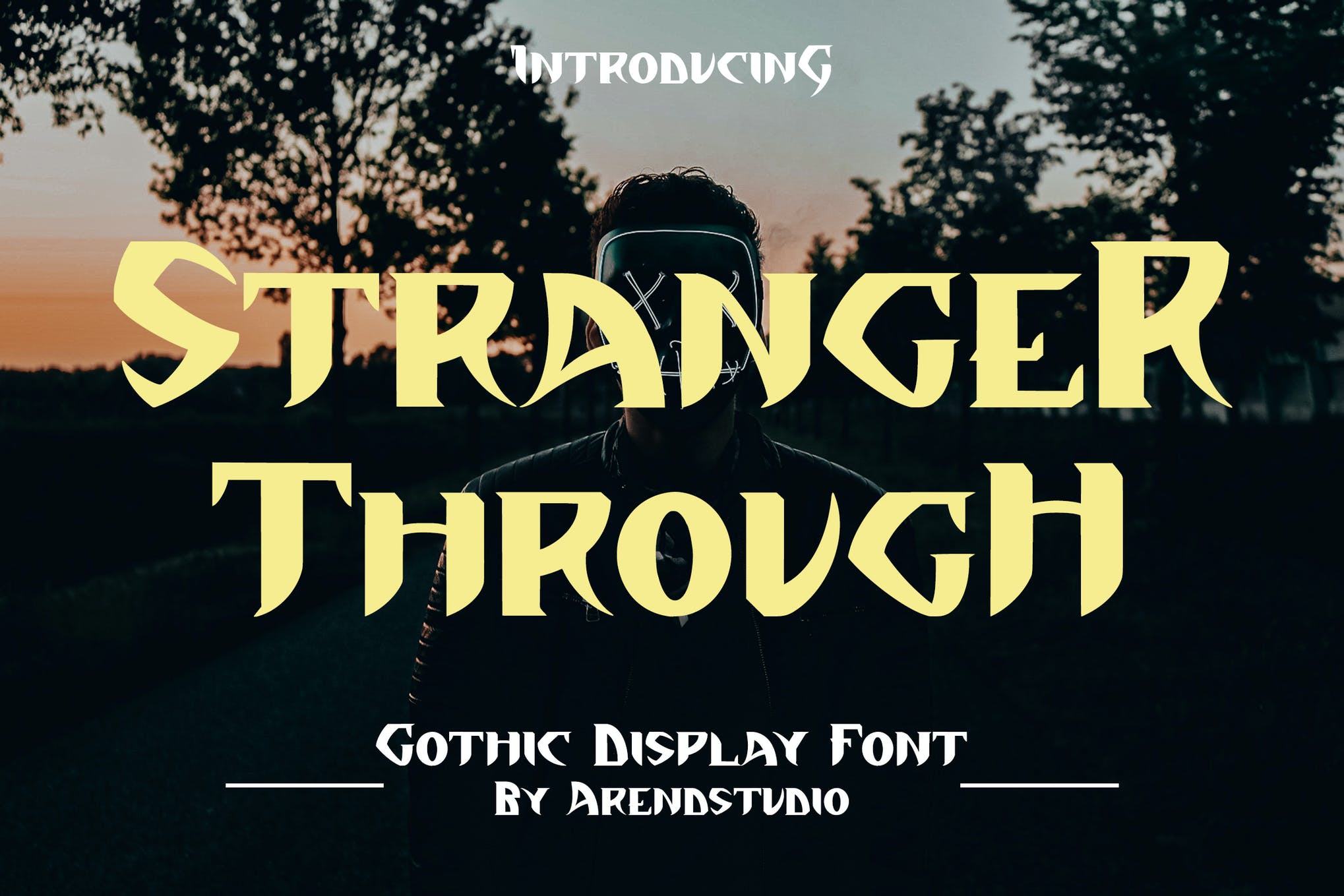 If you are looking for some unique and new gothic fonts, consider Stranger Through, a stunning typeface offering a spooky aesthetic that goes with a variety of projects. It comes with uppercase and lowercase letters, numbers, symbols, punctuation, and Opentype features such as ligatures, stylistic alternates, and sets.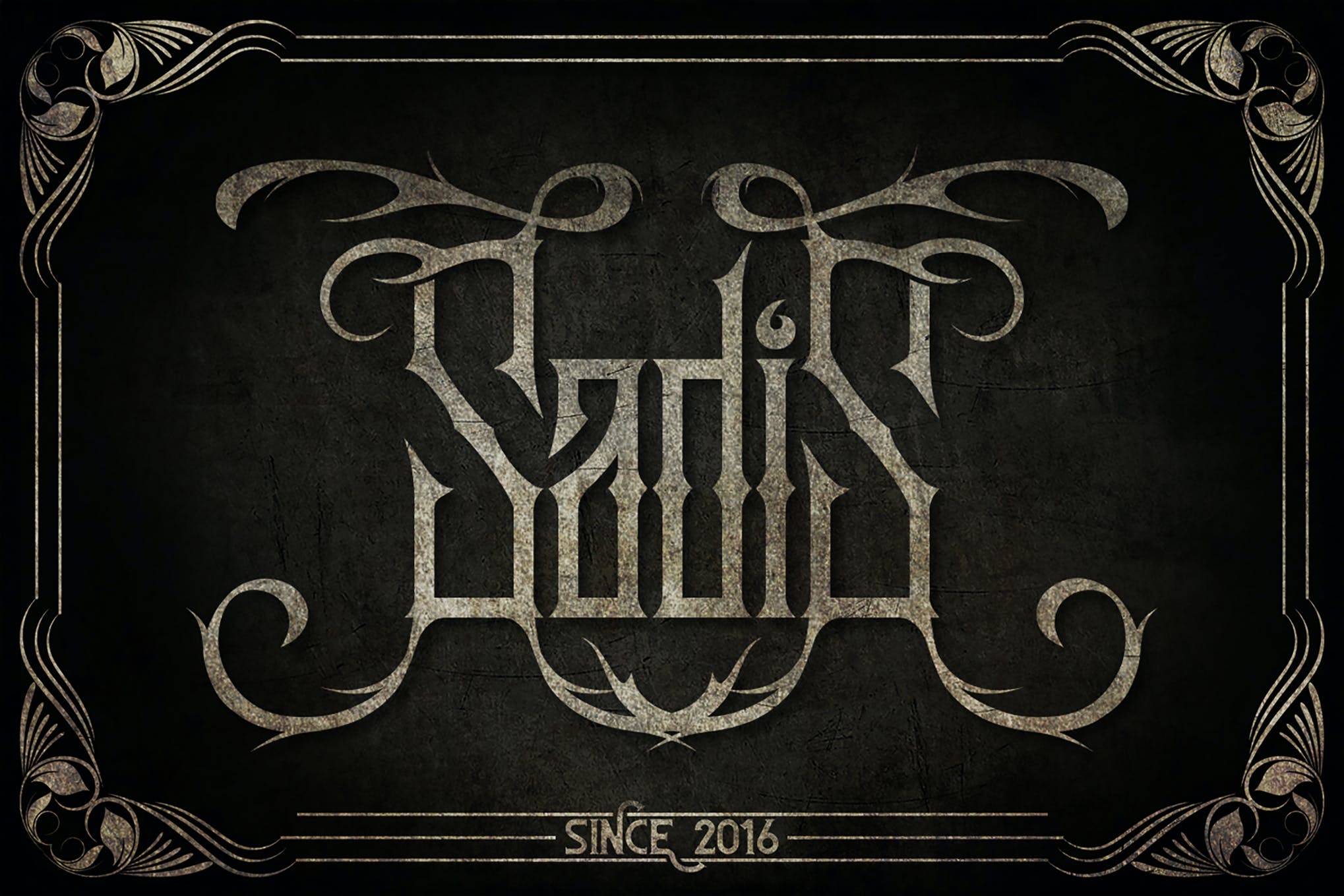 Sadis is a blackletter font inspired by the gothic style, and it's not hard to spot the inspiration. Whilst Sadis is a much more elaborate font, with expertly handcrafted characters, and over-the-top linework designs, it manages to maintain an impressive amount of readability.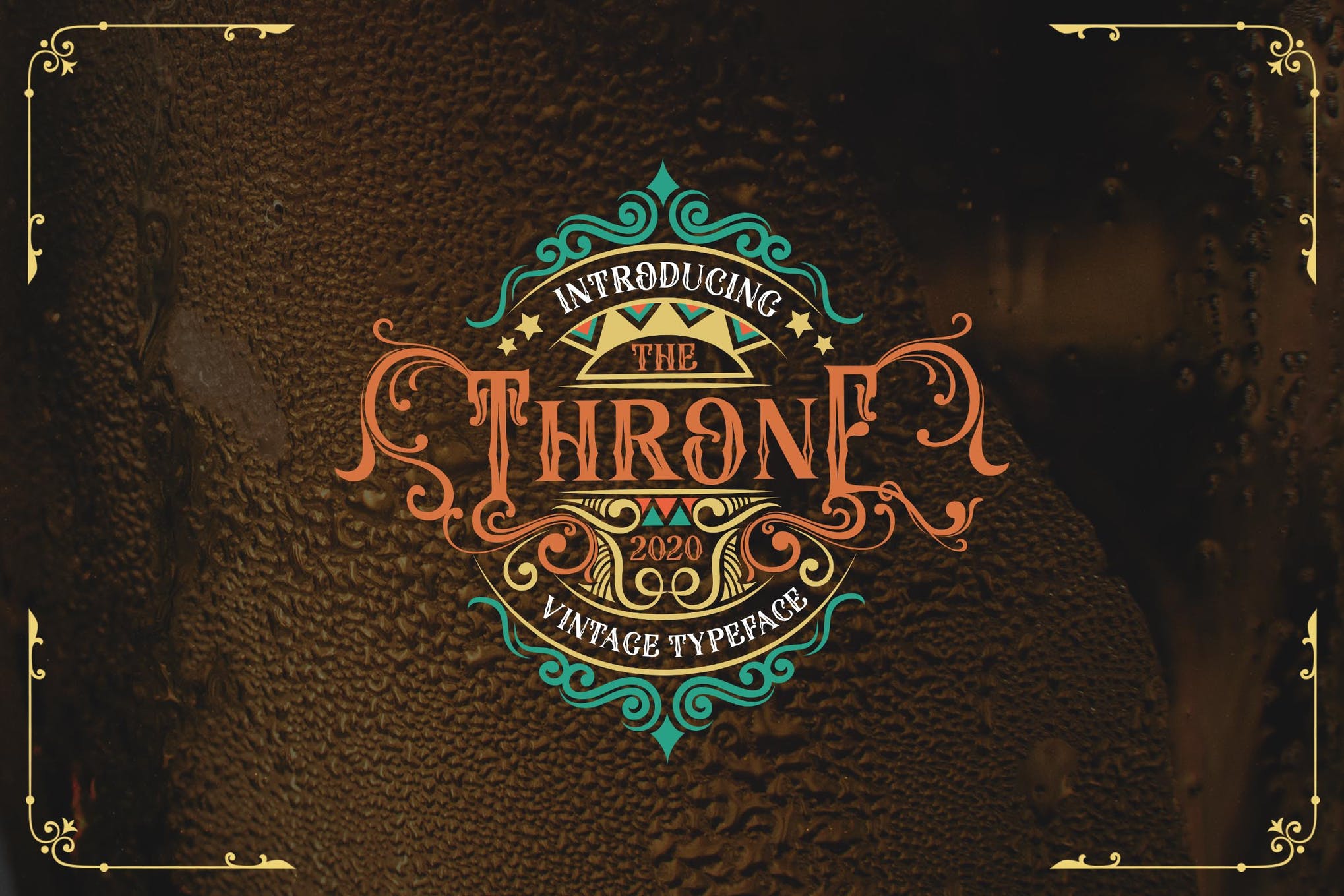 The Throne looks like a font pulled directly from an old gothic text, and thrust into a modern display font. With its elegant and floral linework designs and an impressive inline touch, The Throne stands out as a vintage display font. It's a great pairing for a variety of branding, advertising, logo, web design, and illustration style tasks.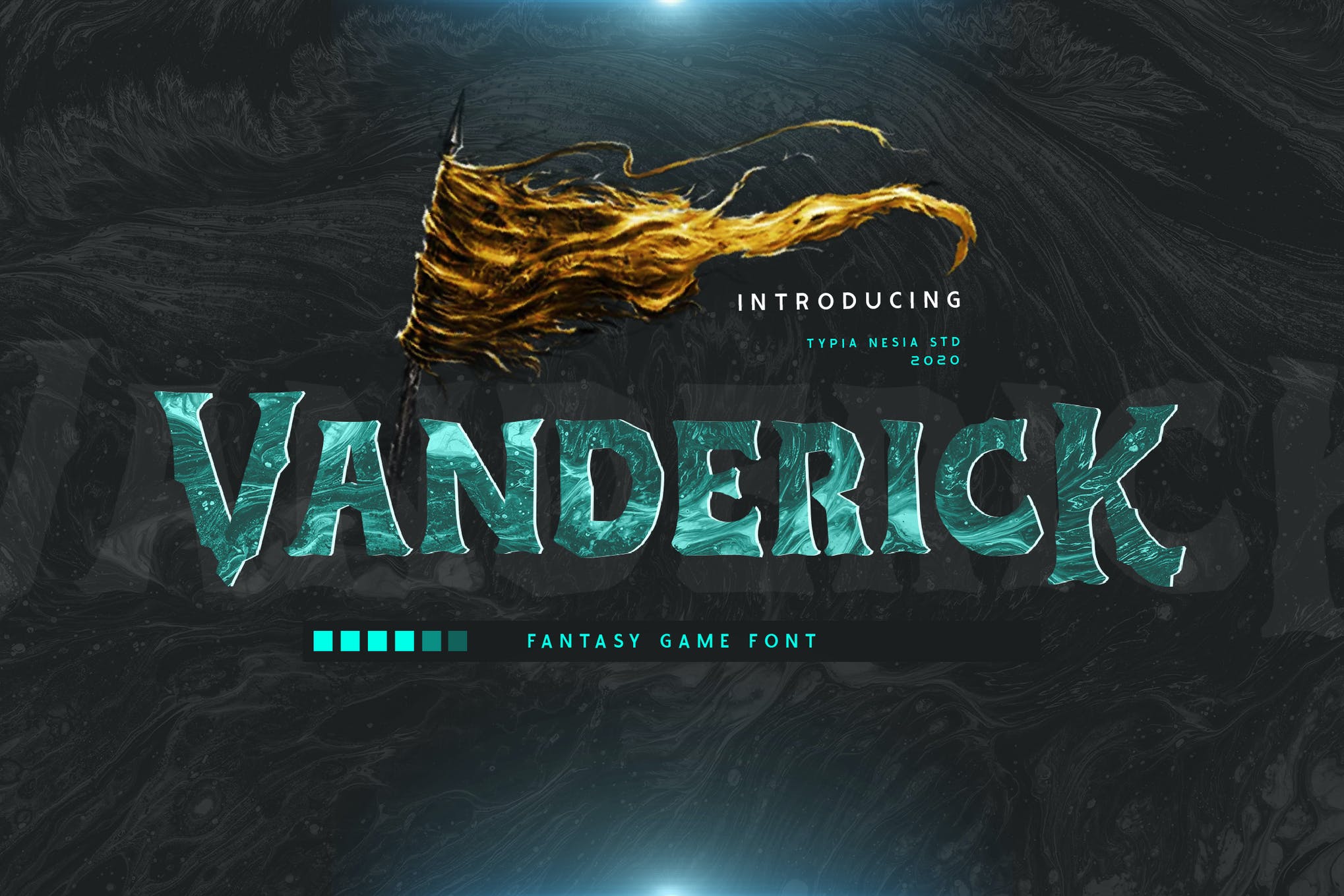 Vanderick is an absolutely stunning font that strikes a balance between the gothic pointed line work, and the fantasy genre carved runic look. The font is not well suited to body text but excels as a captivating display font for all of your branding needs. One of the most impressive alternate gothic fonts out there.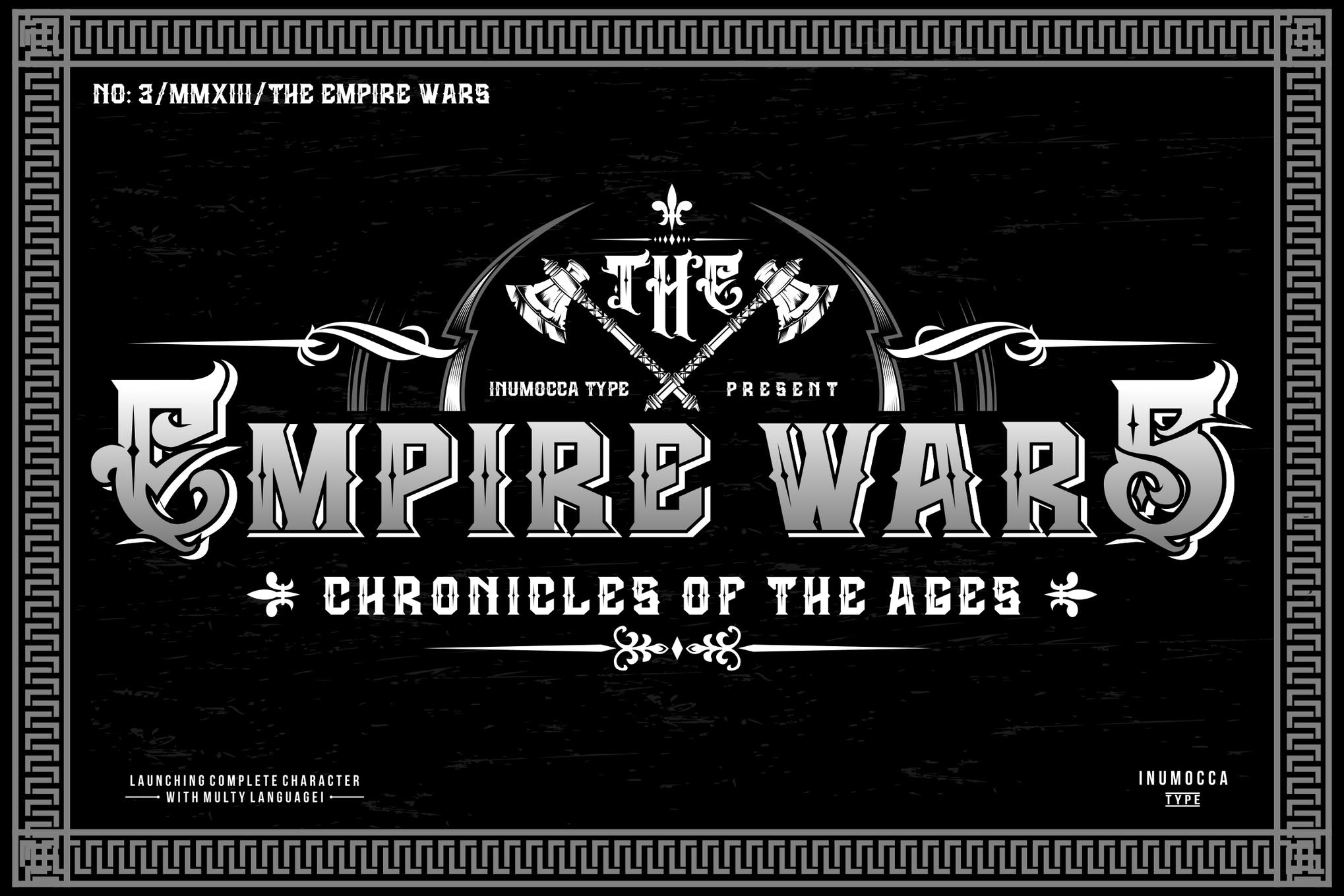 The Empire Wars strikes an interesting balance between a strong gothic style and a minimalist character design. With hand-crafted capital letters and easy-to-read lower case letters, Empire Wars is a highly adaptable gothic font that can be applied to a wide range of projects with ease.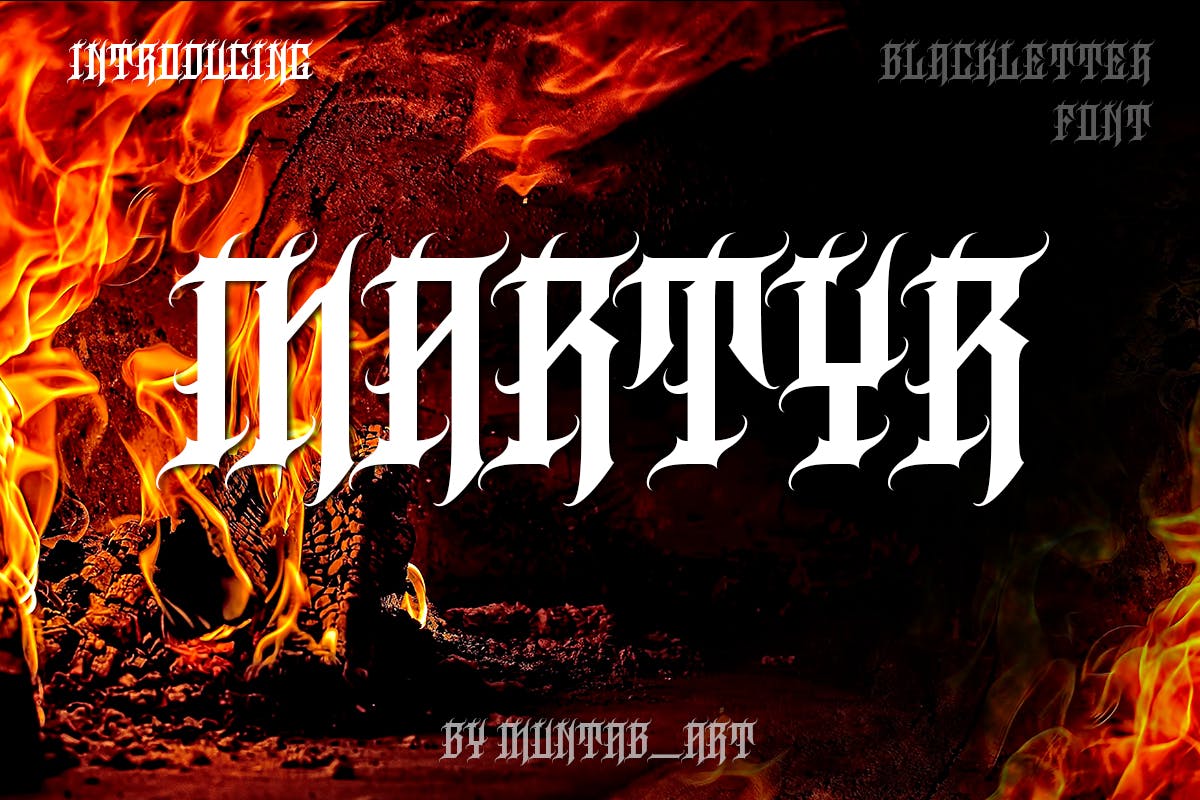 The Martyr font looks like something that has been pulled from Dante's circles of hell. With a tattoo inspired pointed gothic design that doesn't get in the way of the almost slab style linework aesthetic, Martyr is a premium gothic font that provides unmatched flexibility to its applications.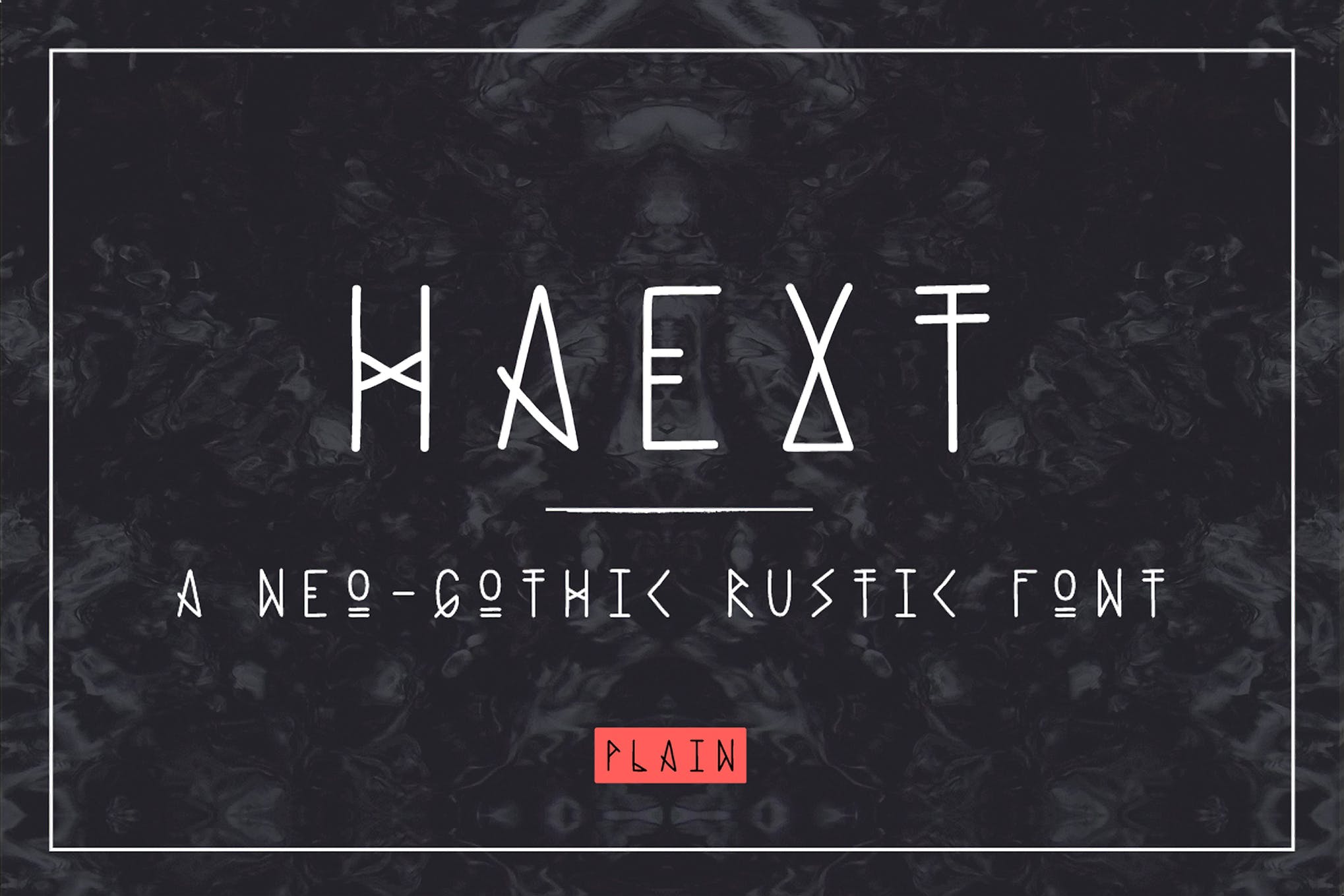 Many gothic fonts focus on medieval design, yet Haext takes a different approach. Creating a font that is reminiscent of thin-lined Nordic runes, mixed with a subtle gothic touch of character. A great display font for branding, advertising, and illustration tasks, whilst also being applicable to body text.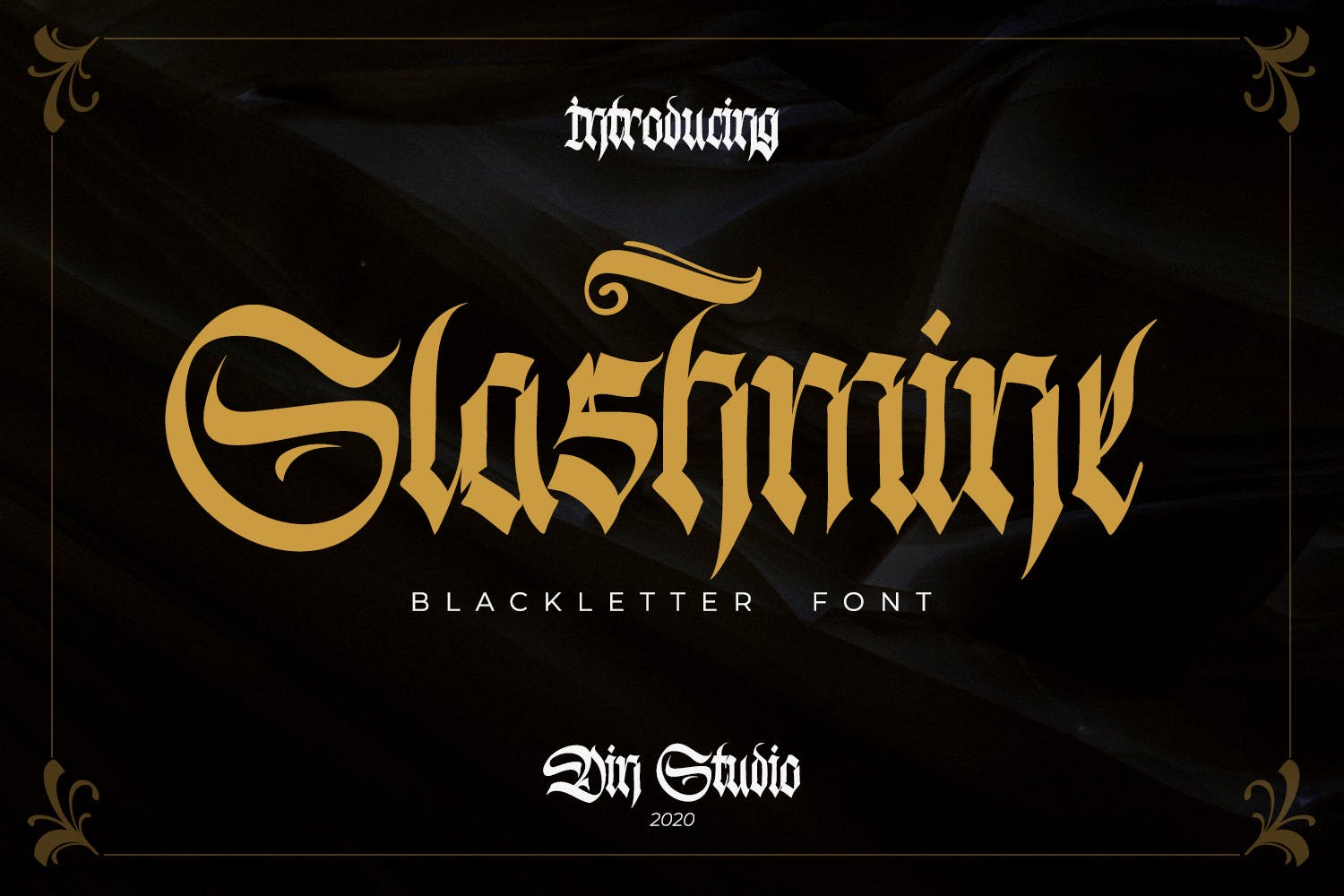 Slushmine is a blackletter gothic font modeled after an Arabic brush-work design. With elegantly curved uppercase aesthetics that sacrifice a little readability for an absolutely stunning amount of personality, there is no doubt that Slashmine succeeds as one of the modern gothic calligraphy fonts adapting the style on the market today.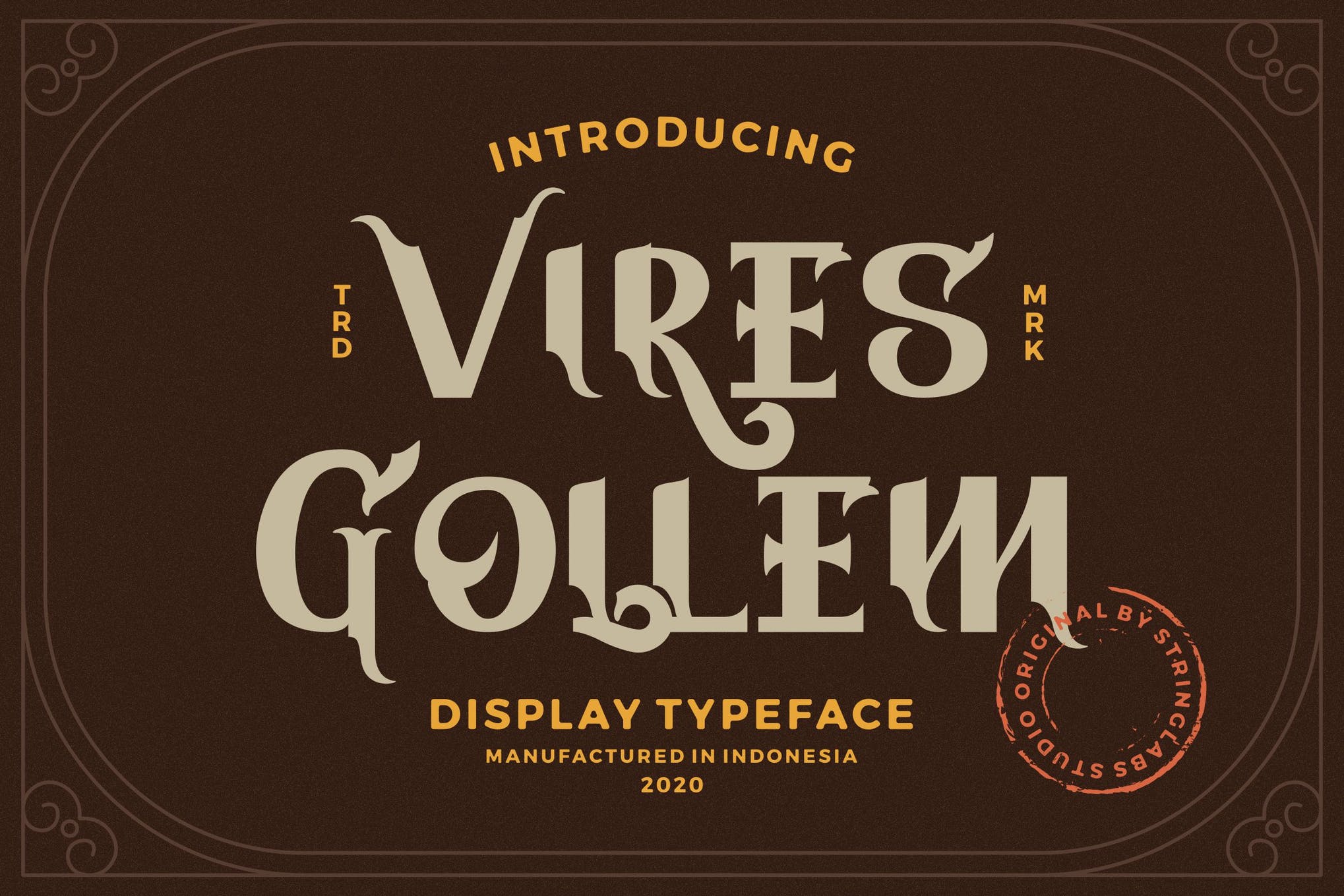 Vires Gollem is a minimalist vintage display font that bakes in subtle gothic themes into its handcrafted character design. As readable as any slab font, Vires Gollem allows you to have the best of both worlds with style and readability.
A Selection of Free Gothic Fonts
Now that we've had a good look at the premium options out there to get your gothic fix, it's important we take a look at some of the stunning free gothic fonts out there waiting for you right now.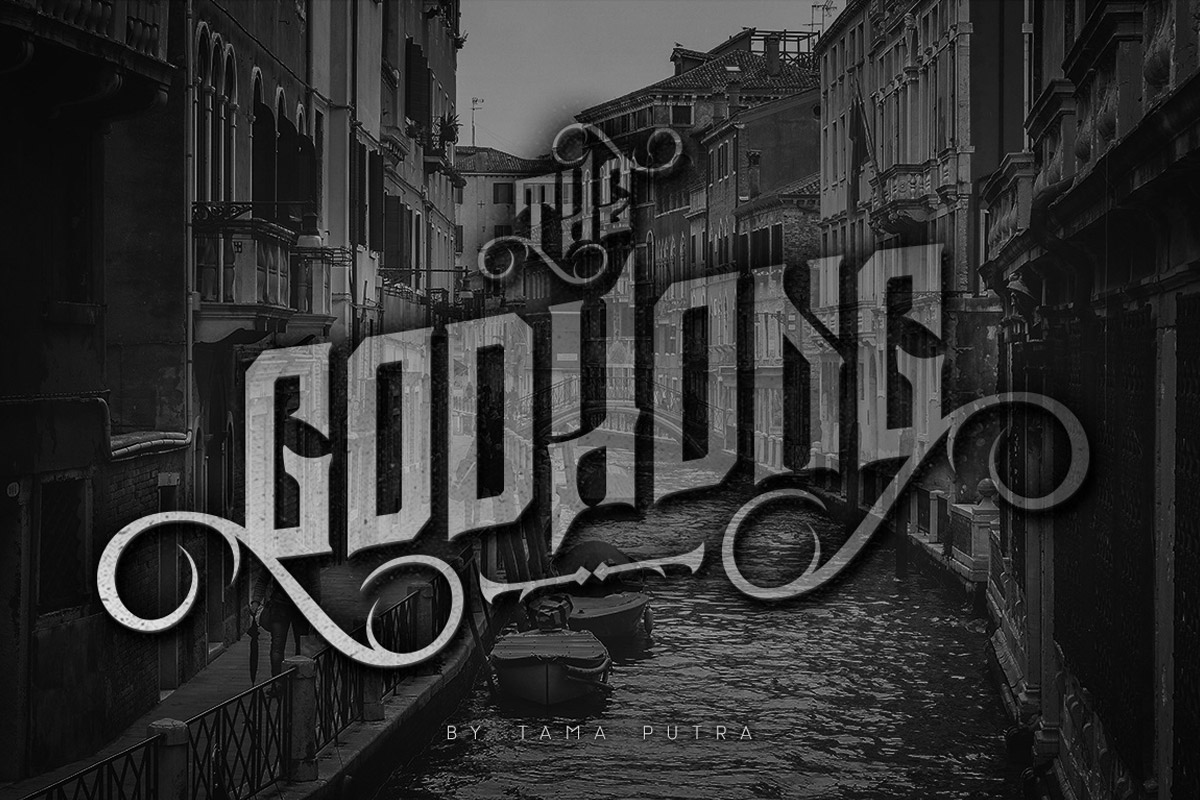 Godhong is a fun, and creative option for your upcoming design projects. This free gothic typeface sports a powerful, and rebellious style, suitable for an array of marketing designs. We recommend you give Godhong a shot, or add it to your shortlist at the very least.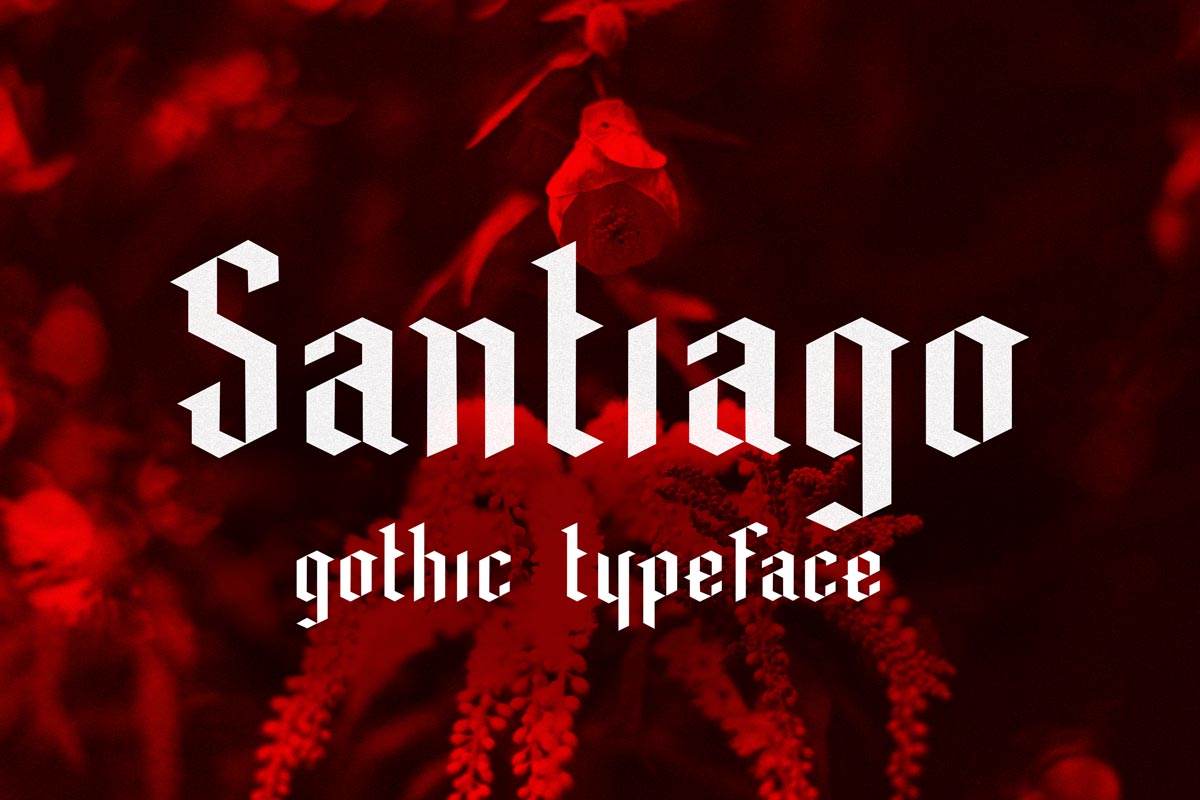 Here we have Santiago, a traditional blackletter font inspired by the gothic typeface designs of the 90s. Use it for posters, flyers, product packaging, apparel designs, or tattoos, and it will surprise you every single time. Easily one of the finest free gothic fonts there is!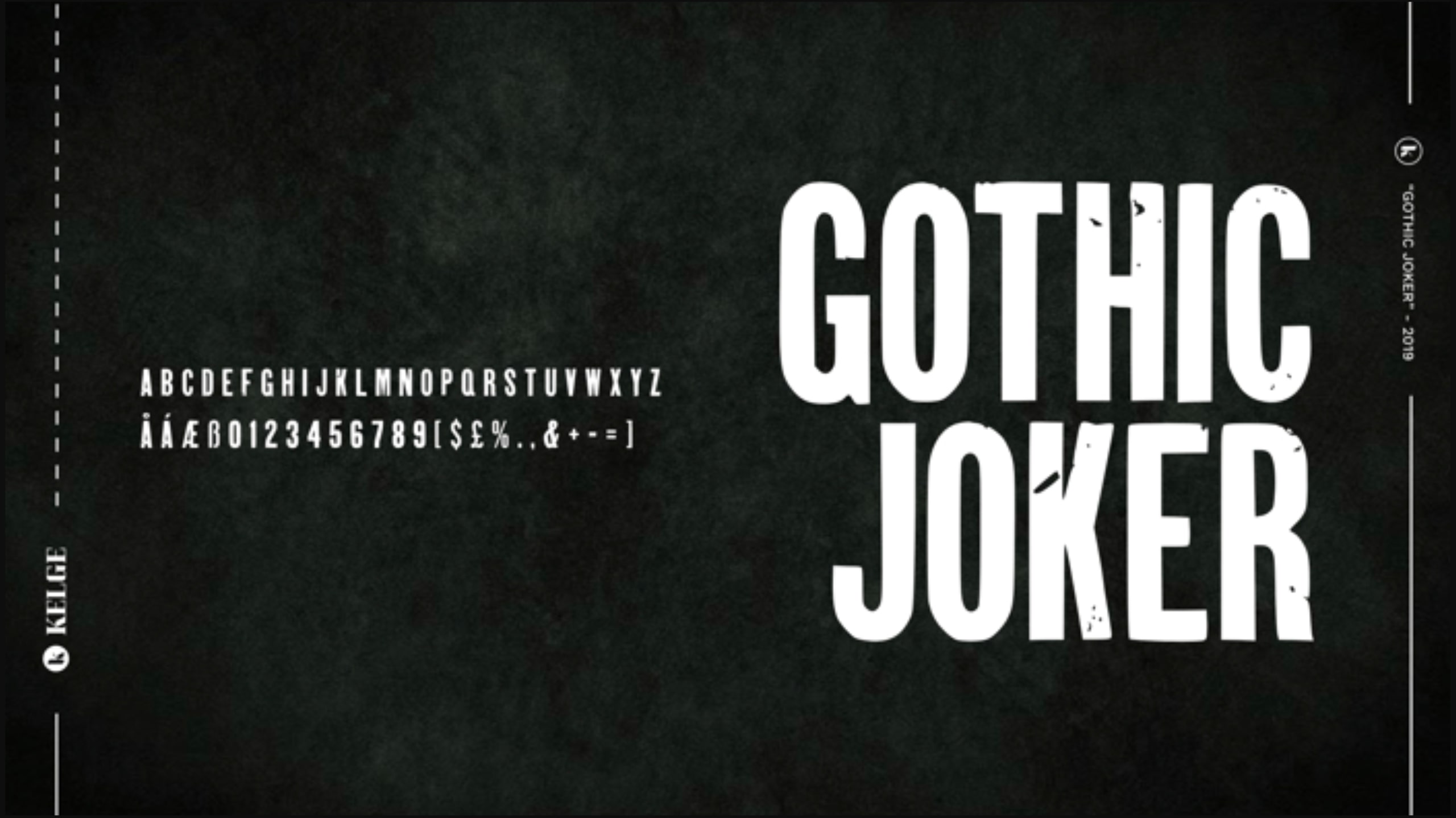 Gothic Joker is a minimalist font that brings that subtle gritty design and mixes it with a gothic overtone. A highly adaptable font that is well suited to be both a display font and a text font for your projects.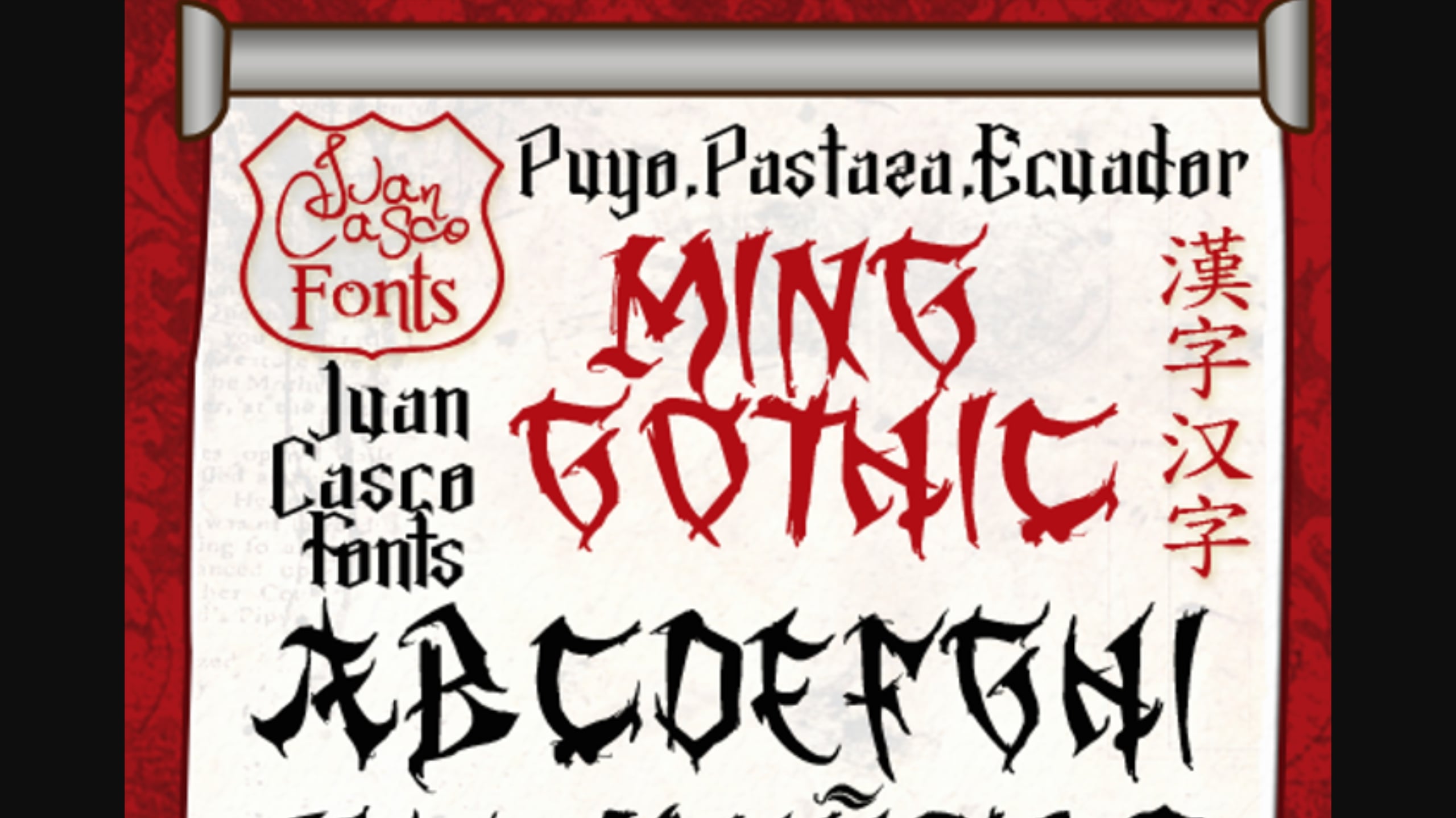 Ming Gothic is a collection of two primary inspirations. Bringing in the Asian brush-stroke aesthetic, and combining it with the rigid linework designs of gothic. A fantastic display font that brings a unique character to your branding, with a lower case option that can even be used as an effective subtitle choice.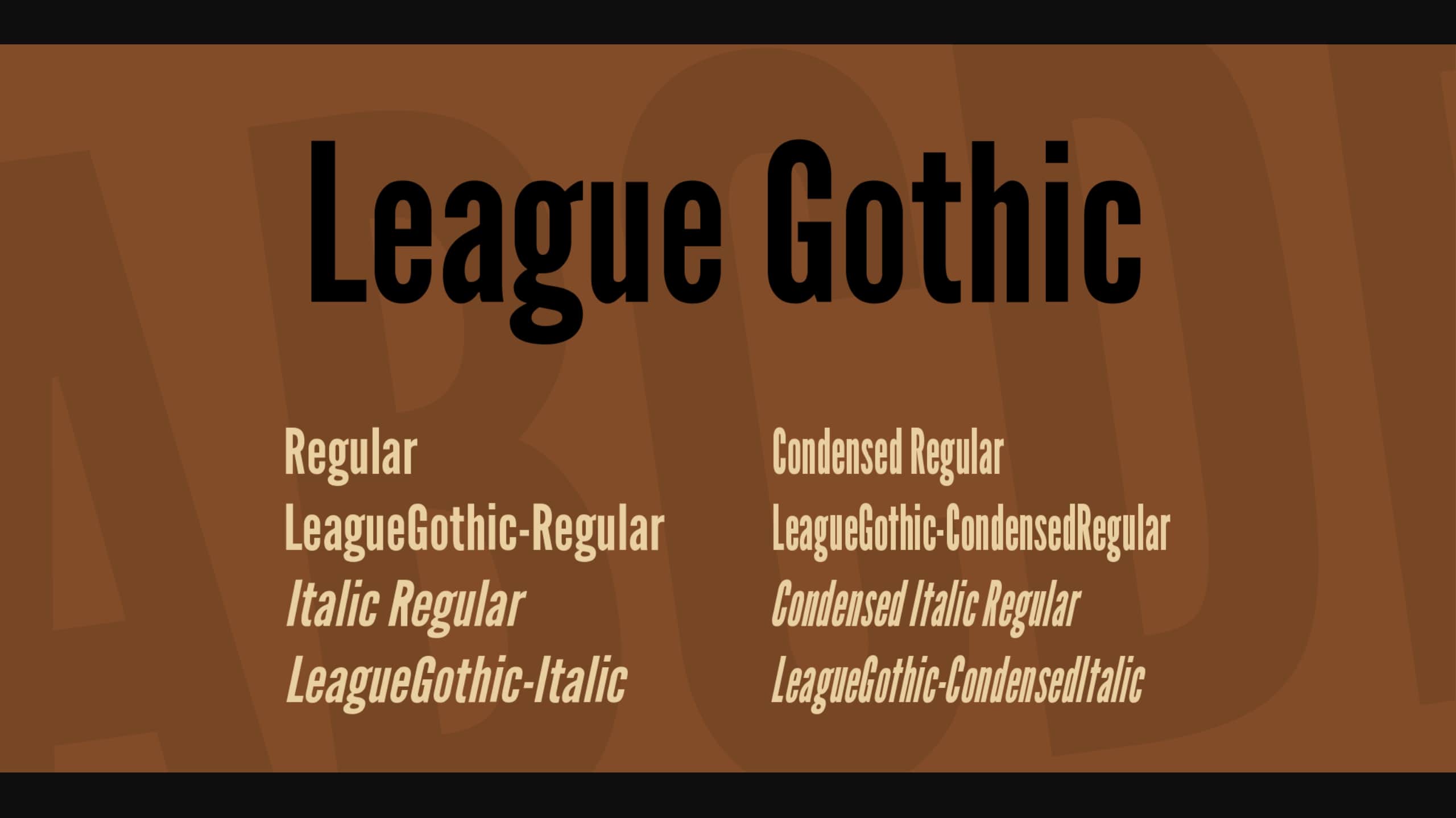 All types of gothic style fonts have a habit of elaborate design, yet what if we're looking for a more professional typeface? That's where League Gothic comes in, with its iconic yet subtle gothic aesthetic mixed with a modern sans serif typeface.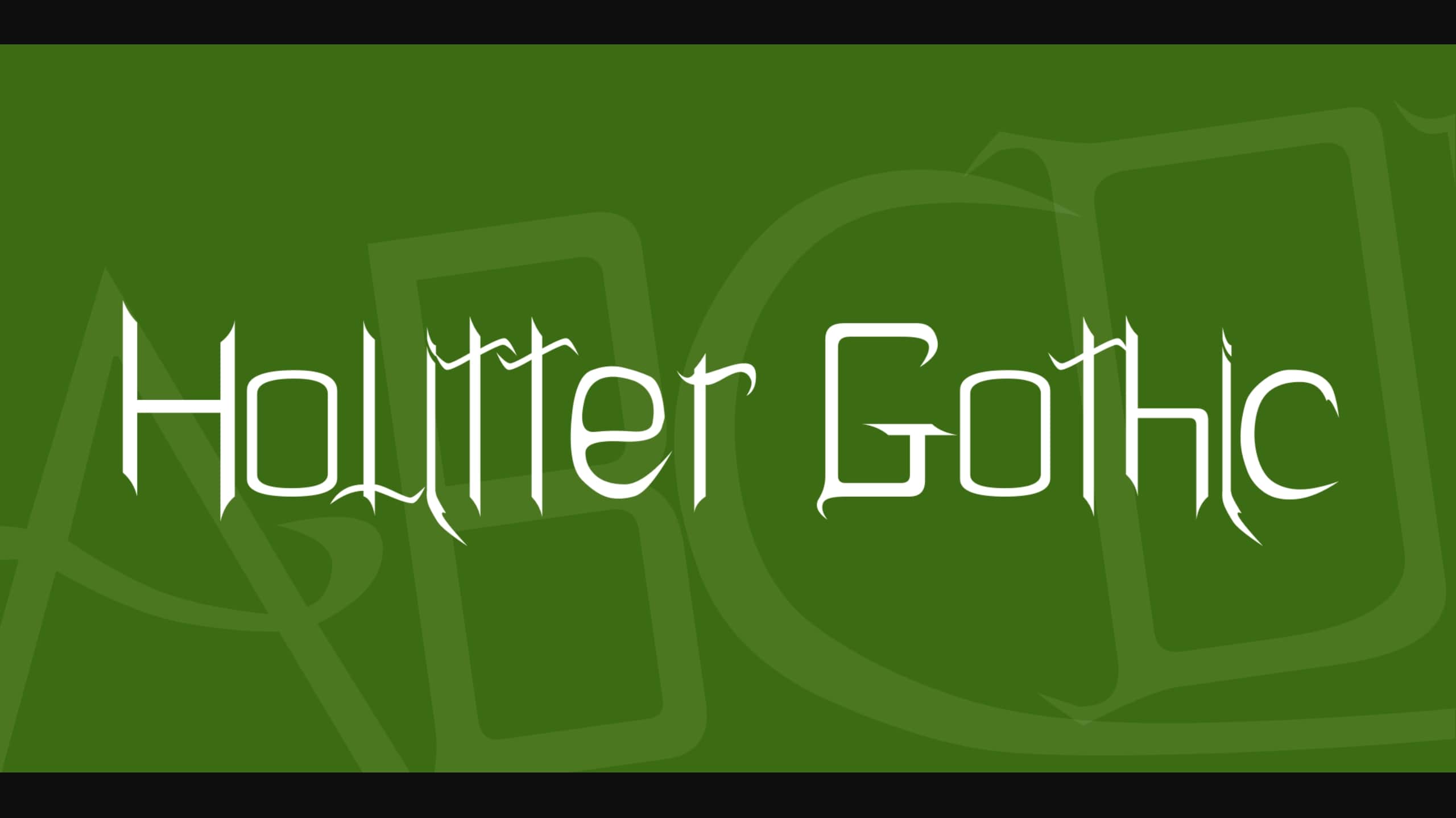 Holitter Gothic is a thin-lined gothic typeface that brings that gothic personality without the bold bombastic display font design. Each character of Holitter Gothic has been hand written to give us the feeling not found in many gothic calligraphy fonts out there.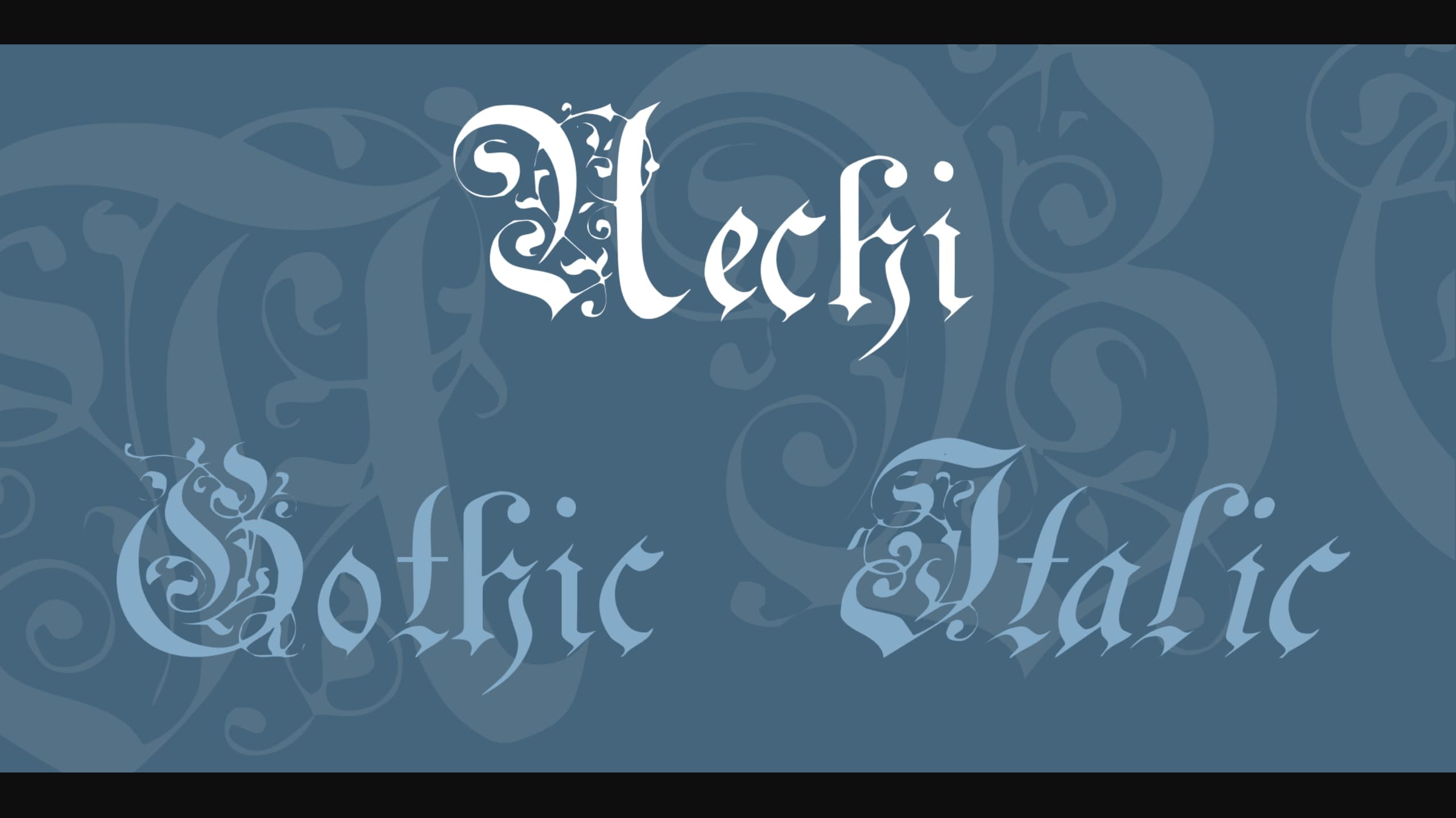 Uechi is a more traditional gothic font, taking inspiration from the biblical character designs that first made gothic as iconic as it is. With beautiful floral uppercase designs, Uechi can give you that capital letter display font feel, and keep easy to read lowercase typeface in the process.
There is Nothing Better than Gothic
The gothic style is a captivating style that continues to turn heads and bring us back to the history of humanity in a subtle and charming fashion. Now with a range of exciting and beautiful gothic font choices under your belt, you're ready to encapsulate that medieval aesthetic for your own creative project!